By 1987, Adam Film World magazine had been going strong for almost 20 years. An offshoot of Adam and Adam Film Quarterly, the first of which launched in the 1950s, Adam Film World had earned the reputation as a reliable profiler of porn films, stars and culture. Its success spawned a series of guides and directories and even an incursion into awards territory, including the X-Caliber and AFWG Awards.
The magazine had a number of editors through the years, including adult film actor Tim Connolly, but by 1987 Carl Esser was at the helm. Carl had a past in adult film, starting out as a writer and composer on the 1975 film Carnal Haven directed by Carlos Tobalina, and he had dated adult film star Lesllie Bovee.
Carl Esser passed away in 1995, but input from former friends and colleagues as well as Carl's son, paints a portrait of a multi-talented artist and performer who strove to understand what drove him, including some of the demons in his life.
With special thanks to Sky Esser and Jared Rutter.
Fully digitized copies of each 1987 magazine can be found in the article below. You can find The Rialto Report's growing collection of digitized resources by choosing Library in our site menu. 
Click on the covers below to access the full magazines. Due to the fact that the magazines are scanned in high definition, allow time for each page to load. If you are viewing on a phone, view in landscape orientation.
Magazines are fully searchable; use the icon displayed in each magazine to search by keyword.
Publications are being shared here purely for the purpose of research. They should not to be used or reproduced for any commercial gain.
_______________________________________________________________________________________________
Carl Esser: A Life and Legacy
Carl Esser was born in Mobile, Alabama in 1935, but his parent's relationship wasn't long-lived due to Wright Esser's – Carl's father – philandering ways.
After Carl's parents split up, he briefly moved with his mother to Washington State before joining his father on Hawaii's Big Island where Wright had found continued success as a performer. In addition to local radio, TV and theater, Wright went on to have a recurring role in the TV series Hawaii Five-O. Wright also made his name in advertising and as commodore of the Hawaii Yacht Club.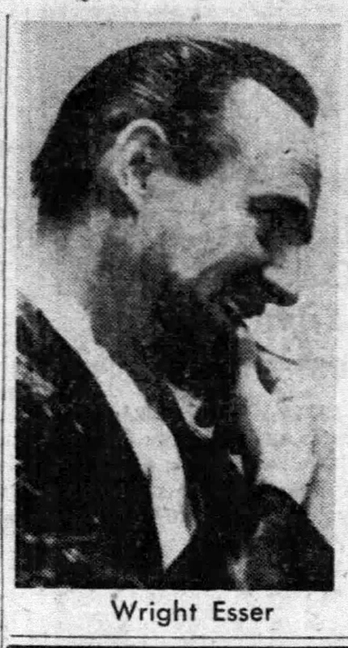 Carl's father Wright Esser
Wright was eager for his son to follow his footsteps into the arts, guiding Carl through a combination of encouragement and pressure. While attending Hilo High School, Carl participated in school plays and, helped by Wright's participation as director, landed a part in a local weekly TV show called 'Campus Canteen,' described by Carl's son Sky as 'a musical version of Happy Days'. During this time Carl also developed an interest in dance and became one of two young men on his high school's cheerleading team.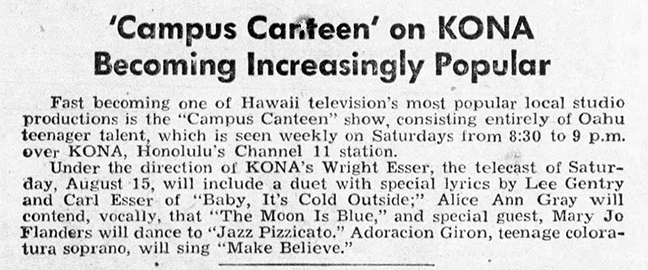 A review of Carl's first TV show 'Campus Canteen', directed by his father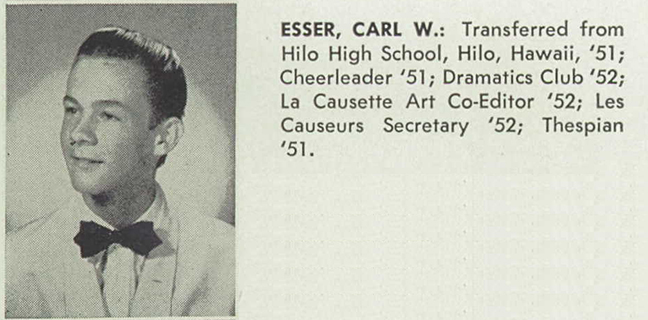 After a brief stint at the University of Hawaii, Carl applied to and was accepted by the performing arts program at UCLA, making his way to Los Angeles. There he studied arts and theater and gained notice from faculty, peers and even the media when Time's Life magazine profiled him as part of a UCLA musical theater production.
Upon graduation with a degree in Drama, Carl made his way to New York with dreams of becoming a star on Broadway. He had some success with small parts in several live productions and landed a role in the 1958 film South Pacific. A few years later he earned a more sizable part in the 1965 Broadway production of 'Half a Sixpence'.
While living in New York Carl took his love of music from the stage to the clubs and bars of the city, playing guitar and singing with friends. Among those friends was a young Barbara Streisand whom he had met in a local acting class.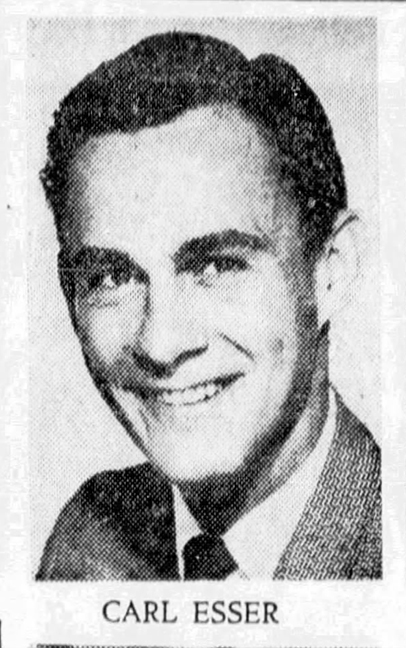 The 1960s were rolling on and Carl leaned into the emerging hippie culture, briefly moving up to Woodstock with artist friends. It was at this time that Carl became a fan of marijuana, a habit he claimed unlocked his creativity and that would become a daily habit later in his life. He even immortalized his devotion to the drug as one of the main performers on a 1971 comedy album called 'A Child's Garden of Grass: A Pre-Legalization Comedy'.
It was around the late 1960s that Carl began what was to become one of this main life's works. Titled Neighbors: An East River Anthology, it was what Carl called a "Pro-Life Rock Musical" when the term pro-life meant life-affirming. Based on a 1915 collection of poems called the Spoon River Anthology by Edgar Lee Masters, the show profiles a series of dead everymen, looking back on their lives through song and verse. Carl's band 'A More Perfect Union' provided the music for the multi-media affair.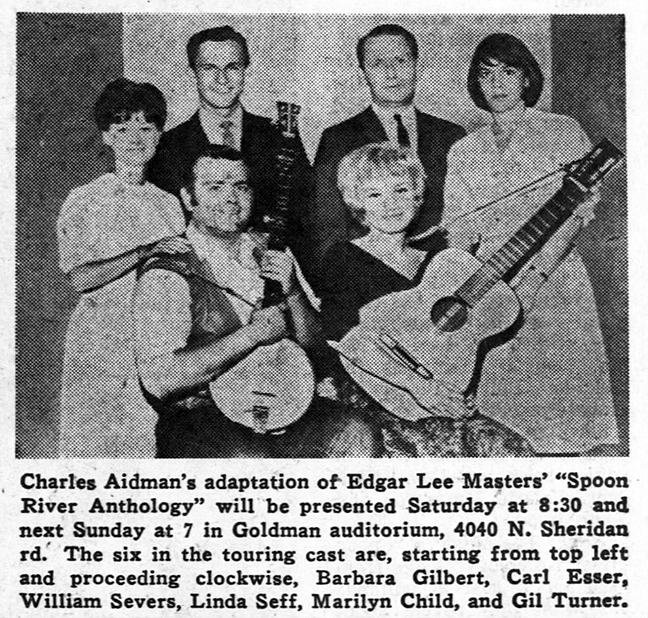 Carl Esser (top left) in a 1964 precursor to his rock musical Neighbors

Carl finding success with his own production
Promotion of 'Neighbors' brought Carl back to the west coast, and he moved to Los Angeles with his partner and a young son born in 1971. As he tried to find investors for his show, Carl picked up work as a voice actor in commercials and on TV. It was a craft he began to hone while back in New York and, while it wasn't where his heart was, the work helped to pay the bills. His credits included 'The Flintstone Comedy Hour' and 'The Pebbles and Bamm-Bamm Show'.
Life in California kept Carl in contact with all different manner of artists and performers – visual artists, musicians, avant-garde theater actors and mainstream film aspirants. Somewhere along the way, it also put him in touch with the world of adult film and magazines.
Carl's first credit in the adult industry is as a writer and composer on the 1975 film Carnal Haven directed by Carlos Tobalina and starring porn film notables including Sharon Thorpe, Lesllie Bovee, Annette Haven, John Leslie and Joey Silvera.
By 1974, Carl had separated from the mother of his child and was living with the movie's star, Lesllie Bovee. Carl and Leslie wound up living together for three years, and for that short time Lesllie played a meaningful role in both Carl and his son Sky's lives.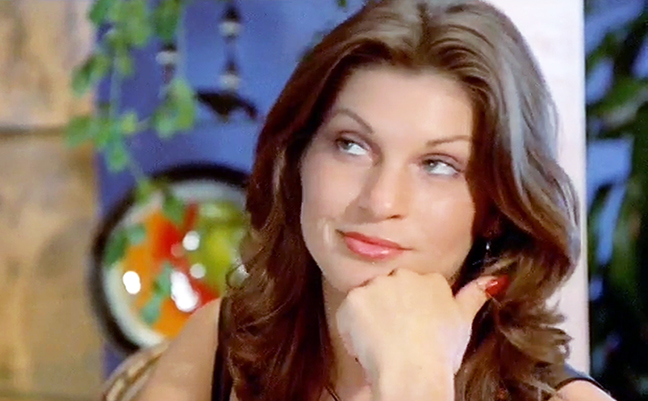 Lesllie Bovee
Sky remembers Lesllie as warm and caring which was welcome, because while Sky felt very close to his father, Carl could be judgmental, particularly as Sky grew older. Sky believes Carl shared criticism in the hopes of helping his son be the best he could be, but it was tough to manage at times.
Sky also credits Lesllie and his father for opening his eyes to the world of sex. As a young child of three, Sky distinctly remembers hearing his father and Lesllie having loud, energetic sex in the next room, Lesllie's cries of passion awakening an early yearning in Sky.
By the time Sky was six years old, his father's relationship with Lesllie was strained. Sky remembers coming home with his father one day and finding Leslie passed out drunk in the bathroom. As Sky came to later understand from his father, Leslie was an alcoholic and the pressures of her addiction became too much for the relationship. Sky clearly remembers the day Leslie left because he and his father searched the house and grounds to get rid of all the alcohol Leslie had hidden in various places.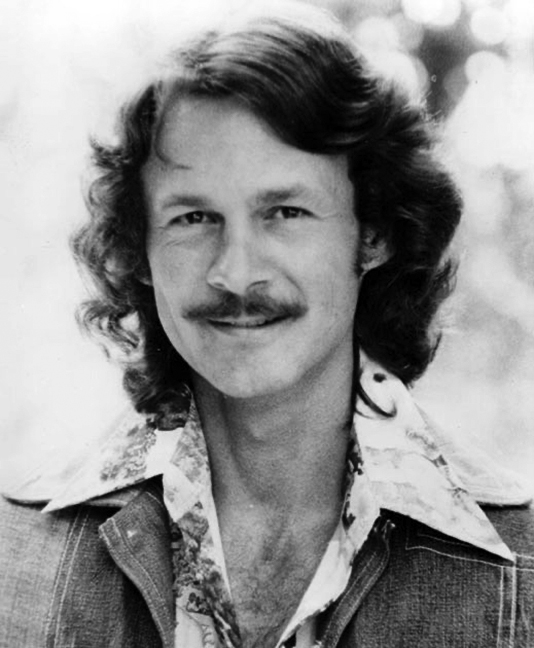 Carl in the early 1970s
While Carl's relationship with Leslie was at an end, his participation in the adult industry wasn't. Carl used the writing skills he had honed and found work in men's magazines like High Society and, eventually, Adam Film World where he served as Editor. He became a member of the American X-Rated Critics Organization (XRCO) and was a host at the First Annual XRCO Adult Film Awards in 1985. That same year Carl got married, but it was a short-lived marriage as his wife passed away shortly after in 1988 at the age of 34.
Carl's son Sky says his father never hid his participation in the adult industry and was proud of the work that he did. Carl continued to write scripts for many adult films, and by the early 1990s acted a few non-sex roles in films like On Trial 1: In Defense of Savannah, Telesex, and Stiff Competition 2.
Carl seemingly would have been happy to continue his work in the adult industry alongside his mainstream efforts – including continuing to promote 'Neighbors' and developing a new passion project he called 'Eye Candy' which focused on the way Hollywood treated women in the mainstream film industry. Carl regularly spoke about how courageous he felt the women in adult films were for sharing the natural and intimate sex act in a real and public way.
But in 1995, Carl abruptly passed away from a cocaine-induced heart attack just shy of his 60th birthday. For those that knew Carl, his death from drugs, while extremely sad, wasn't a surprise. In addition to his daily marijuana use, Carl experimented with psychedelics in his hippie days and was an early user of cocaine when he came to California. In fact, to help keep him in regular supply and put a little extra cash in his pocket, Carl on occasion would deal drugs like marijuana and cocaine. At one point he served time in jail for distribution of drugs.
But for Sky, this is far from what defines his father. Carl's many creative talents and curiosity about life are what stay with his son. Sky talks about picking up his guitar and playing songs Carl wrote as a way to visit with his father even though he's no longer here. In addition to his family, it's the art left behind – in all its many forms – that is Carl Esser's legacy.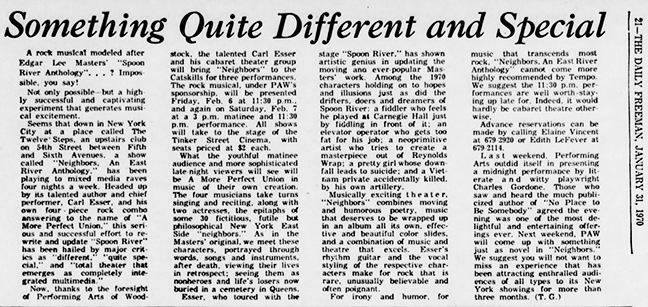 A review of Carl Esser's life work, Neighbors: An East River Anthology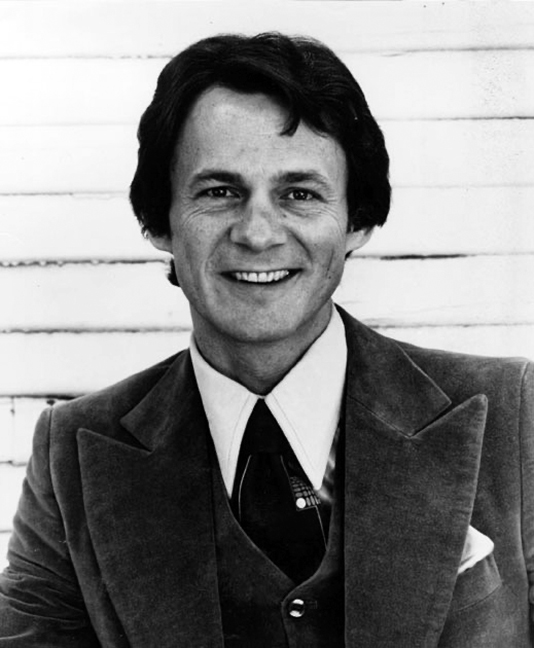 Carl in the late 1970s
*
Adam Film World: The Complete 1987 Issues
January 1987 (Vol 11, No. 9)
(click on cover to view full magazine)

Contents:
____________________________________________________________
March 1987 (Vol 11, No. 10)
(click on cover to view full magazine)

Adam Film World contents:
____________________________________________________________
May 1987 (Vol 11, No. 11)
(click on cover to view full magazine)

Adam Film World contents:
____________________________________________________________
July 1987 (Vol 11, No. 12)
(click on cover to view full magazine)

Adam Film World contents:
____________________________________________________________
September 1987 (Vol 12, No. 1)
(click on cover to view full magazine)

Adam Film World contents:
____________________________________________________________
November 1987 (Vol 12, No. 2)
(click on cover to view full magazine)

Adam Film World contents:
*