Punk music. Adult films. Both were subversive art forms in New York in the 1970s. They challenged conventions, shocked audiences, and took artistic expression to another plane.
After The Rialto Report's recent two-part story on Wendy O. Williams and Monica Kennedy, we continue our series looking at the way the punk music scene and adult entertainment overlapped in the 1970s.
Tim Connelly was a drummer who rubbed shoulders with Richard Hell, Patti Smith, the Ramones, and many others, and regularly played at legendary venues such as CBGBs and Max's Kansas City in New York.

He also had a long and colorful career in the adult industry – as a performer in loops in the 1970s, an actor in XXX feature films in the 1980s, and as an editor and writer for magazines such as Adam Film World and Adult Video News. His first-hand account of working in a 1970s live sex show – at the notorious Show World – is the most colorful and entertaining we've come across.
Oh, and did we mention that he was married to Helen Madigan, Kelly Nichols, Kimberly Carson, and Christy Canyon?

This is Tim's story.
Note: At the time of writing this article, Tim's IMDb record is conflated with that of a different performer named Timothy Beckley. We hope that this article inspires a correction of Tim Connelly's film record.

_______________________________________________________________________________________________
1.     The Early Years
Where are you from?
Near the South Side of Chicago. It's the most melting pot of melting pots because all the immigrants came through there when the city was evolving after the Great Chicago Fire. Every nationality would go to the South Side because that was where all the work was. Unskilled labor. They worked at the Union stockyards or the steel mill.
My dad was first-generation Irish, and my mom was Croatian.
What did your old man do?
He wasn't really trained for anything, wasn't really book smart, and never even finished high school – but he grew up with Mayor Dick Daley (mayor of Chicago from 1955 to 1976). They played a lot of baseball together. My Dad was a pitcher – he had a rubber arm and could throw junk balls – and Daley was his catcher.
My Dad worked in the steel mills for a while, but when Daley became the mayor he immediately had my dad go to work for him. All politics are local in Chicago, and my dad become the Cook County paymaster.
Were you close to your father?
Oh yeah, really close. I had a passion for baseball because the sport was so big back then, and my dad played ball with me every day. I'm ambidextrous, so he taught me how to pitch and hit both ways.
He was the life of every party. He was somebody that everybody wanted around, and he just knew how to talk to everybody. I really loved that. My mom used to say "Your father is going to end up in politics."
But then he got sick with Parkinson's, and needed constant care. We had to learn how to shave him, feed him, and clean him up. By the time I was eight years old that became the first thing I did every day. It was tough, man. He was in real bad shape because of it.
Sometimes he would just freeze. My brother and I would have to go pick him up because he'd fall flat on his face and he couldn't help himself. He'd hit the ground and lie there frozen. And we'd try and pick him up, and we were embarrassed and pained because he was bleeding, and people didn't want to help us because they thought he was drunk. It was really hard for me.
How did you deal with it?
I became an altar boy and I found solace in the Latin mass. It was meditative and reflective. And it was warm in church too, whereas it was so cold in our house. I liked it so much I volunteered to be an extra altar boy. They'd assign me the first mass at six o'clock in the morning. It made me calm and it was really what I wanted and what I needed.
I really got into it, and it became a big thing for me. Some days before I started school, I'd say three masses.
How did your father's illness affect your family financially?
Mayor Daley continued to pay for our education because we were in Catholic schools, but it was tough. My mom worked late, and it was difficult to keep things together.
I remember the only time she ever hit me was when I complained about our situation. I was bitching that I didn't have clothes ready for school, and she broke down and cried. I kicked the wall, and our walls were so cheap that I kicked right through it. I said, "I hate being fucking poor." She cuffed me so hard that it lifted me off my feet.
She said, "We're not poor. We're broke. There's a difference. Understand? Don't ever say that again."
I went to bed and thought, "I don't want to be broke either, and I can change that."
What happened to your Dad?
When I went into sixth grade, he volunteered to have an experimental surgery done at the Veteran's hospital. They thought that if they could short circuit the nerves in the cerebral cortex then it would stop the tremors he was having.
Did it work?
No – they lobotomized him. I remember when he got wheeled out from behind this curtain, he was hunched over in the chair. I looked at him and said, "What the fuck?" My brother just said, "He's gone. He's gone."
*
2.     The Seminary
I understand that you went to a seminary in your youth?
Yeah, the missionaries would come to our school, and announce that they were looking for possible seminary candidates. And I was fascinated by it. So in seventh grade, I first went away to a retreat in Techny, Illinois. I knew all the prayers in Latin and they really resonated with me… they had such cohesiveness.
Was this something you wanted to pursue in your life at that stage?
Yes. By the time eighth grade came around, I expressed a keen interest in becoming a missionary and a teaching brother. I liked the idea that you took vows of poverty and celibacy. And they said, "Well, it's expensive to go… but maybe you can get a scholarship. You can do something that reflects on your contribution to the community. You have to prove that you have the calling."
I ended up in East Troy, Wisconsin, where the priest seminary was.
What happened there?
They assigned me to work in the sacristy with a teaching brother who was 70-something years old. In the sacristy, they have the Eucharist which represents the body of Christ. It's put into the tabernacle, and the priest is the only one that can touch it. You're only allowed to receive it at communion when he blesses the host and puts it in your mouth.
I was curious about it, and so the brother said, "When you come here tomorrow, we'll talk about it."
I was excited that I was going to learn something secret. The next day I went in there, and asked the brother why he had a special dispensation to touch the sacristy because he wasn't a priest.
He came up behind me, and took my hands in his, and he was ready to touch the tabernacle… and all of a sudden, I could smell wine on his breath. He was drunk. And he put his tongue in my ear.
I just turned around, and I hit him with everything I had. I broke his nose. I was so outraged and disgusted, because he groomed me. I cursed at him. One of the priests came in because he heard me screaming – and heard him scream too. He was bleeding out of both sides of his nose. I kicked him a couple times. I felt so violated.
In that moment, everything I felt about the church just disappeared. I went home, and I told my mom about what happened. She said, "How dare you say that about Father Joe? How could you think that? You're getting an education. Don't look a gift horse in the mouth. What's wrong with you?"
I got called into the Dean's office, and they said, "You're expelled. You don't go to school here anymore, and you're not part of the seminary. You've lost your chance to become a priest or a brother. You're lucky if you're going to be able to ever go to mass again."
What was your reaction to this?
I just said, "Who the fuck cares?" I felt like just saying, "Fuck you," because the Dean knew what was going on, and he wouldn't do anything about it.
My mom walked in and said, "Come on. Let's go." They handed me of all my possessions in a garbage bag. I got into the car, and she said, "Shut up. I don't want to hear a word out of you. I don't want to hear another word about what happened. They told me all about you."
The whole story taught me a profound disrespect for authority.
*
3.     Discovering Music
Where did your love for music come from?
My mom and dad loved music, so it was always there. My dad loved to listen to the radio. That was his big thing. He liked any kind of programming on the radio, because it transported him. It takes you places. He didn't have a TV for a long time.
My mom just loved all music. She loved to dance. She danced with the USO. She could do any kind of dance you could imagine.
Did they play instruments?
No, neither of them could play. My mom got us a Magnus chord organ as kids, the one with the numbers on the keys. I really took to that. Then she put the wooden spoons in my hands when I was four, and encouraged me to play drums. She took me to go to a music school that was taught by Harry Grebb, who was a big band leader. His son, Marty Grebb, was the guy in the Buckinghams. They were like rock stars to me.
I didn't know how to play, but I knew from watching Gene Krupa that it's really HOW you play the note rather than WHAT you play. It was how you felt it. Drumming was difficult at first – and I couldn't do it unless I practiced, which I never wanted to do – but I was fascinated.
Do you remember your first appearance on stage?
I won the talent show in kindergarten because I mimed to Bobby Darren doing 'Clementine.' I just loved how he held the mic. I couldn't sing, but my folks got me a little sharkskin suit at the thrift store, put a tie on me, and did the pompadour hair. My mom would let me stay up and watch Steve Allen, so I got to know Bobby Darin's act and I learned his dance moves from the TV.
I got the bug, man, because I was on stage. It got me. I always wanted to be some kind of performer after that.
When did you start performing with a band?
The first gig I did was at 11 years old. I played in a VFW hall with an accordion player. Then I went to Cleveland and did a solo for the first time, and Ed Shaughnessy (famous swing music/jazz drummer) was the judge. I won second prize because I tried to improvise and do something too elaborate.
That same night, it was my birthday, and Harry Grebb took me to see Gene Krupa. Gene announced me as, "Another drummer friend of mine from Chicago." He made everyone give me a big round of applause for my birthday – and I almost fucking died, man. He came over and said hi to me after that, and I'll never forget that.
What kind of music were you listening to?
Don't forget, I grew up right near Maxwell Street. So I'd take a bus to go across town and there's Muddy Waters, JB Hutto, and Little Walter out on the street. I got to see all these people, Koko Taylor, Buddy Guy…
I grew up with AM radio. I had a transistor like everybody did back then. When the Beatles came to Chicago, I was right outside Sox Park. I could barely hear them, but I was there. I saw 'Hard Day's Night' a dozen times the first week it played. I wanted to be one of the Beatles. I just loved all that music.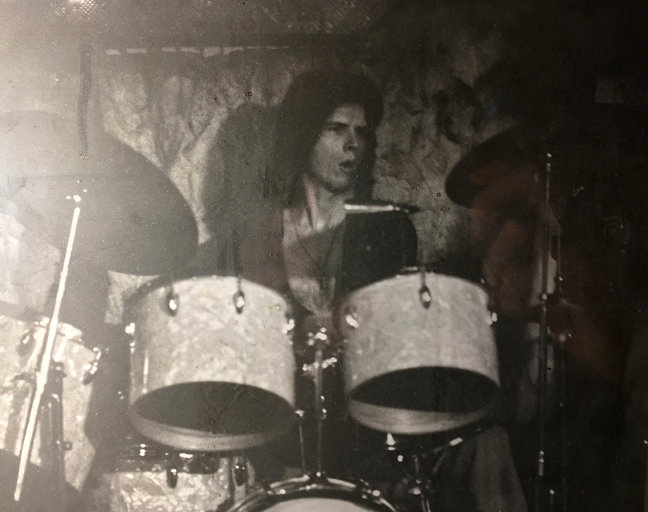 Tim Connelly
*
4.     The Boo Hoo Band
Did you date much?
I met this English girl, Kay, in Chicago, and we bonded.
Was she involved in the music scene?
No, she was a paralegal, working for the Canadian consulate. She was ten years older than me, and she grew up in Croydon, England. She'd hung out with Soft Machine, and just loved Roxy Music and Wizard, and all of this great music that we both loved. And we sat there and played records forever. She'd been part of the radical newspaper 'Oz.' She had an automatic green card because she worked for the consulate. And then she supported me and helped me get my white drum set and encouraged me to keep going. Sharp as a tack. And we had great sex. I wanted to marry her because she was just so cool and just so great.
In fact, we got married pretty much right away.
Was it a successful marriage?
The day I got married, I was standing in the drug store getting some film, and I suddenly thought, "Why am I getting married? I don't really love her." I mean, we were friends and we really bonded, but it just wasn't a great romance. I was only 19 at the time.
Then I went on the road with a band for three months, and I kind of forgot what she looked like. When I got back, she came to one of my gigs, and saw some girls sitting on my lap. Basically, I was fucking around. I was devastated that she caught me because I'd never let her know that.
What was her reaction?
She kinda understood, and she said, "You know, Tim, I haven't done anything with anyone else, but I'm going to do something now." It was that time when people were experimenting sexually. And there was a guy who I used to buy a lot of my stage clothes from who had an antique store, and he had a thing for both of us. He said he was bi, and he had us come over. We thought about doing something with him, but in the end I thought, "I'm not gay, you know? So I don't want to do this."
Did the marriage survive?
After I came back from being on the road, I started playing with an Elvis impersonator. Kay and I decided we should split up because the marriage wasn't really a marriage. It was a sham, and she wanted to be on her own because she felt like it wasn't going anywhere.
She just said: "I wasted time waiting for you, and you wasted time not telling me you were messing around." So we split up.
We'd stay in touch, and we realized we were really good friends and we liked each other. What's more, we both wanted to get out of Chicago, and we needed to save our money, so we made a plan to move into the same apartment together, and we'd go to New York when we had enough money. The idea was that we'd support each other, and when it was time to go our merry way, we'd split again.
So we did. I was dealing weed and we started to save our money.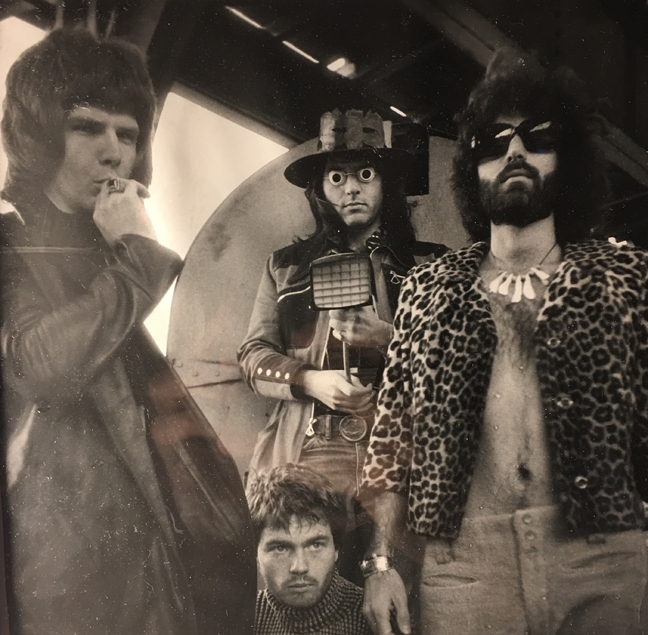 Tim Connelly (far left)
You started the Boo Hoo Band around this time?
We formed the Boo Hoo band in Chicago as a protest against what was happening musically in the clubs at the time. Before that we'd get work as a Top 40 band. We'd throw in our songs too, because if you were good, you'd get away with it. Cheap Trick developed their whole first album like that. We used to open up for Cheap Trick.
Who was in the Boo Hoo Band?
August Christian, our singer, had gone through the Vietnam War in long-range reconnaissance patrol. He was declared insane, and given a pension for life. Steve Levine was a Jewish kid that wanted nothing to do with religion. His parents were very unorthodox. They lived in Skokie, where Steve was beat up by Nazis. He went totally the other way, and got into Eastern philosophy. And then there was me, Tim Yippie.
What music were you playing with the Boo Hoo Band?
We played rock and roll, and we all wanted to get the fuck out of Dodge. But it was more like performance art at times. We only ever played originals – we never played covers with the Boo Hoo band.
Why was it like performance art?
We were doing all kinds of crazy shit. We did a song called 'Thalidomide Kid', and August did this thing where he folded up his body, and I was festooned with strings of lights, and we did a show. We did costume changes and everything – which was unheard of.
How did you get your name?
This guy suggested we call ourselves the Boo Hoo band because he said, "It's a crying shame that you guys are never going to make it – because you have a lead singer who's a mime and screams at everybody in this weird wardrobe."
*
5.     Moving to New York
How did the move to New York come about?
I moved to New York with Kay and the guys in The Boo Hoo Band. There was no place to go in Chicago. We were losing all of our gigs because they were starting to get disco balls.
We knew that the jig was up in Chicago. We weren't going to start playing KC and the fucking Sunshine Band. I didn't want to play any fucking weddings anymore. We were pissed off. We were righteously pissed off.
So you moved to New York?
Yeah, Kay and I moved first, and we got a room at the Chelsea Hotel.
Stanley (Bard, longtime manager and part-owner of the Chelsea Hotel) gave us room 714, which was (Andy Warhol actress) Viva's old room. So there was some history in that space. You could still hear the roar of Quaaludes.
Do remember your first impression of New York when you got there?
Yes! We went to CBGBs on our first night, and saw The Cramps open up for the Ramones.
Bryan Gregory was the guitar player at the time for The Cramps, and he had this strange comb-over hairdo and the worst acne scars I've ever seen in my life. He came up to me, and he says, "We don't wear bell bottoms here."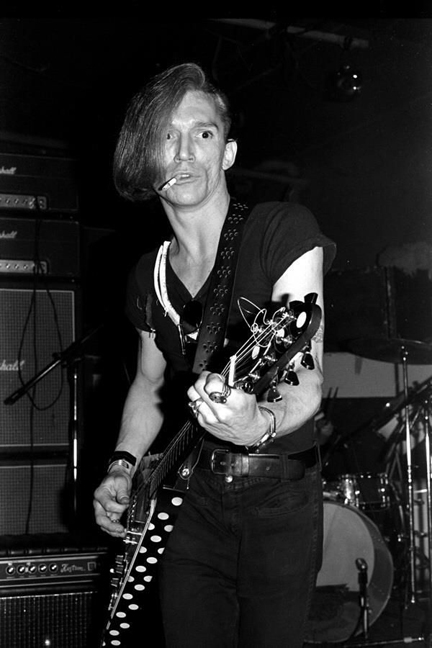 Bryan Gregory
I was devastated, because I'd wore them at the time in Chicago. I didn't know what to do. So I took all my bell bottom pants, threw them in a bag, and put them under the bed. The very next day I went to Trash and Vaudeville and bought some proper black pants.
A few days later I was coming back to the Chelsea Hotel, and Johnny Ramone came down in the elevator. He was fighting with Dee Dee, who was fighting with Connie, and they were all drunk. And when they got out of the elevator, Dee Dee punched Connie.
In the middle of this, I went up them, and said, "Hi. Do you remember me from CBGB's last night?"
And Johnny says, "Yeah! You were the one wearing fucking bell-bottom pants."
I thought, "Oh, fuck man. I can't ever get away from those pants…!"
Do you remember first seeing Times Square?
That first night after we went to CBGS's, Kay and I walked up to Times Square, and we went into Show World. We hadn't been having an active sexual relationship because by that stage, we were more like friends. We didn't have a lot of money, but Show World still had the windows-up quarter peeps. So we went into one of the booths together. You weren't supposed to go in there as a couple.
What was the experience like?
It was too fucked up and in-your-face. The girls were going, "Hey, Papi," and banging the fucking wall in front of us for money. It was unnerving.
So we went into one of the one-on-one booths which had individual dancers. That was more discreet and classy. This beautiful Puerto Rican girl started writhing and masturbating in front of us. Then she came up to our booth and said to Kay, "You suck his dick."
I was like, "Suck my dick? What the fuck are you talking about? Why don't you do something?"
She said, "Baby, you got to be nice to me."
I said, "Fuck this shit, Kay. Let's get the fuck out of here."
Kay was pretty normal about sex but she liked the experience, so I fucked her on the staircase back at the Chelsea Hotel.
What was your reaction to the adult theaters?
I remember walking down 42nd St and seeing a picture of Sharon Mitchell from the movie Joy (1977). They'd painted her on the whole side of a building. It stayed there for a couple of years.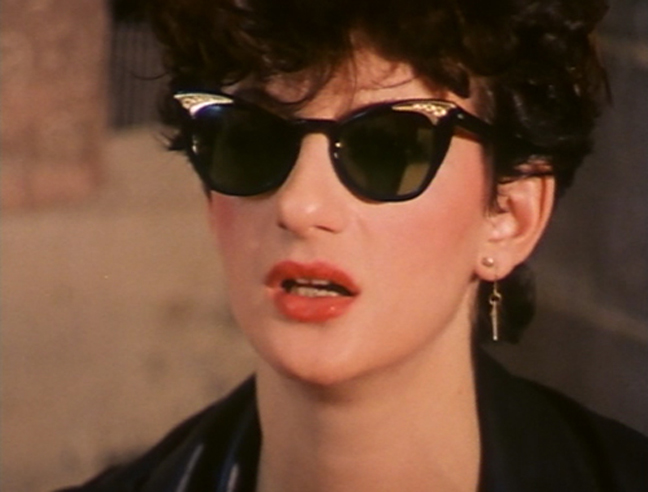 Sharon Mitchell
What was your reaction to seeing that?
I thought, "Wow! She's so fucking androgynous. She's so hot."
The next night, Kay and I went to Max's Kansas City, and Sirius Trixon was the headliner.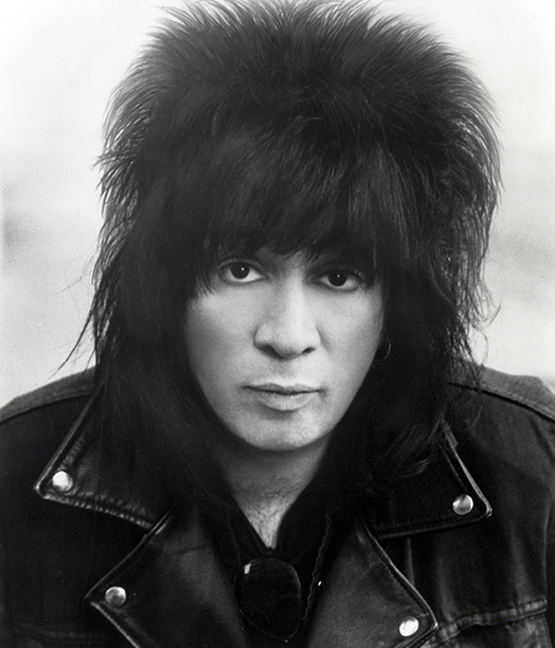 Owner of the greatest mullet, Sirius Trixon
And Sharon Mitchell walked up and sat down right across from me.
I said, "Wow, I just saw you."
She goes, "Yeah? Where did you see me?"
I said, "On 42nd Street."
She laughed, "Larger than life, huh?"
I said, "Yeah. Wow, you're beautiful!"
She said, "You are too, honey."
Mitch was a larger-than-life celebrity then – just like if Andy Warhol had walked in.
And she and I bonded. After that I always felt that we were soul mates… I still love her, man.
Are you in touch with Mitch nowadays?
Not so much anymore. It's funny: as many times as we've had sex and as much fun as we've had together over the years, I couldn't sleep with her. I mean actually 'sleep', you now? There are some people you just can't sleep with, you know?
I remember around 2001, I was standing in her bathroom in the middle of the night, and we'd just had sex, and her parrots were going fucking nuts, and she came in and smiled. And she says, "Honey, why don't you just go home, and I'll come over in the morning when I get up, and fuck you. I get it. I understand. You don't need to stay here."
She's cool. We've always gotten each other.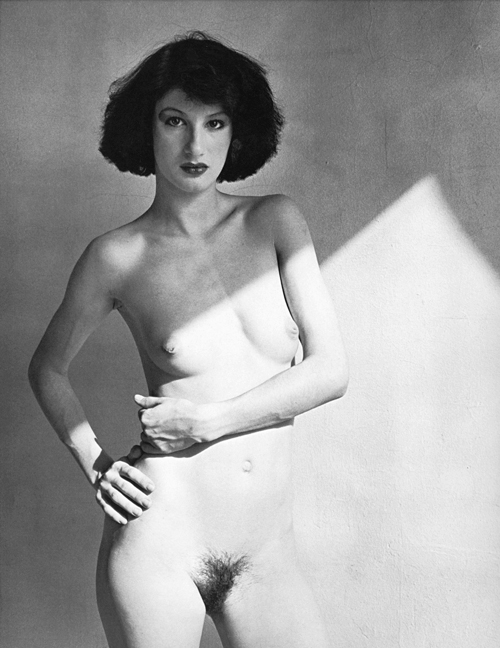 Sharon Mitchell, at Show World
Mitch was a fixture on the punk scene back in the mid 1970s.
Mitch was with Sturgis, who played guitar with John Cale, and later on I played in a band with Sturgis. Ming Toy was in that band too. In fact, we were on TV.
At the time, Mitch and Ming Toy used to work at The Dominant, which was a private S&M club. They used to be dominants together. We partied and hung out together.
I remember Mitch coming to see the Boo Hoo Band, because she said she'd heard about us.
When did The Boo Hoo Band come out and join you and Kay in New York?
I found a loft for us all to live in, and then the band came out. We all moved into a place on Sixth Avenue and 17th Street. It was at 104 West 17th Street.
We got a pay phone installed there because you could get one in your loft if it was a commercial business. You just had to put a sign up saying you had a pay phone there. This meant you could get incoming calls – which was important for getting gigs. We figured shit like that out right away.
But what happened if someone came to your place and actually asked to use your phone?!
Every so often somebody would see the sign, and come to the door, and say, "Hey, I need to use the phone."
We'd just say "Fuck that sign. Don't believe everything you see. Get the fuck out of here."
So you and Kay and the other two members of the Boo Hoo Band all lived together in the loft?
Yeah. It was one big space, 500 square feet. It had an accounting office, that was about eight by 10, that had two windows in it. One of them framed the Empire State Building perfectly. We had a coin toss. Kay didn't count in the coin toss. She wasn't in the band. The three of us got to toss the coin to see who won the bedroom.
I won the coin toss, so Kay and I had the room.
When the band first moved to New York, how did you get gigs and how successful were you?
We did what we'd always do: We'd get right in your face. I learned that pretty quickly and early on in my life from watching my dad and watching how politics worked in Chicago. If you go up to anybody and say whatever you want, if you're that brash, people will listen. They may tell you to go fuck yourself, but at least in New York, they'll say that right away, and then you know.
We went up to every club owner. We walked up to Hilly (Kristol, CBGB owner) and said, "Hilly, you should have us play here. We're from Chicago, and we're as good as the Dead Boys." And that was our thing, because the Dead Boys sucked and it was true: we were a lot better than them.
Was your stage act still unusual?
Yeah. I remember meeting Legs McNeil at CBGBs. August, our singer, had a blow-up doll that he was molesting on stage, and Legs went up there and started goading August, so August punched him and knocked him out while on stage. He just fucking let him have it.
That's how I got to know Legs. He was working on a layout for the second edition of Punk magazine, called Monster Beach Party. August was the monster, Joey Ramone was the savior, Richard Hell was the detective, and Debbie Harry was in there as well.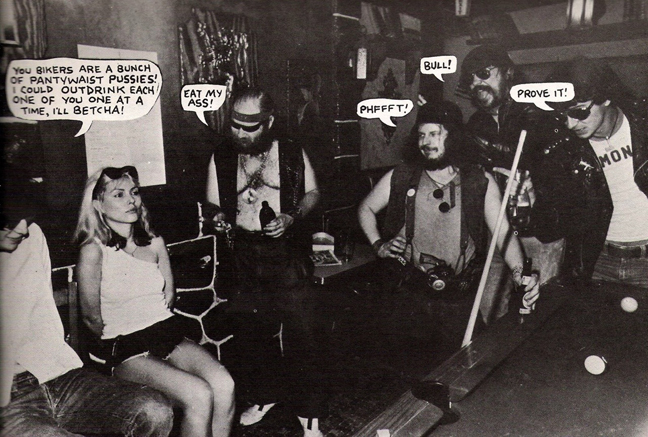 Punk magazine – Monster Beach Party
How long did you continue to live in the loft with the band?
That ended one New Year's Eve when I was playing with The Boo Hoo Band at CBs with Harry Toledo. I got home that night, and I thought, "Well, that was a great night, man. We killed it on New Year's Eve. I've kicked the new year off right." I'd invited Kay to see us, but she didn't show up. I opened the door, and the TV was gone. There was a note from Kay that said, "Happy New Year. I deserve the TV. I earned it." She'd left and taken everything else.
I realized, "You know what, man? It's the same thing that always happens. No matter what's going on in a relationship, when you get divorced, it's every man for himself."
And at that point, the band decided to get out of the loft.
*
It must have been an exciting time to be on the music scene in New York
Yes. For example, we were introduced to Robert Downey, Sr. We'd all loved Putney Swope (1969), so we were excited when he told us that he wanted to make our song, 'Thalidomide Kid' into a movie. But then the money guy that we had lined up hit the news for illegally trading futures and so it all fell through.
Who else do you remember from the scene?
I used to see the girl from the Plasmatics, Wendy O. Williams, almost every day, because we were both into health food and we bought it from the same place. Me and the guys in The Boo Hoo Band would laugh, because she was not quite in her full glory when she came into the Yoga Institute. That Mohawk wasn't up, and without makeup on… well, she wasn't great looking. But she had a banging body.
How successful was the Boo Hoo Band?
When we got to New York, we got hot for a time.
John Cale came to see us and he said, "I fucking love the way you play. I like what you do. You're like Keith Moon, but you can keep time!"
I thought, "I don't know if that's a good thing or not."
Did you record any material with the Boo Hoo Band?
We'd recorded a demo of four songs in Chicago.
We gave the demos to John and Brian Eno and John Cale. This would be in early 1977. John called me up one night, and had me come down to a Spanish restaurant on 13th Street because he wanted to talk to me about the band. He was there with Lester Bangs. Lester used to drink there because he lived across the street. John lived on 14th and Sixth Ave. with his girlfriend, Jane Friedman, who was Patti Smith's manager.
I wanted John to take over as producer. We were supposed to be on Miles Copeland's CIA records, with guys like Harry Toledo and Wreckless Eric. The guys in the band argued about whether to give our master tapes to John to work on. Steve didn't think we could trust him, and he wouldn't let it go. I disagreed: John did Raw Power, and Horses. The argument ripped us up, and it broke up the band.
What did you do after the band broke up?
John Cale hired me as his drummer for a time, and I had a few other gigs.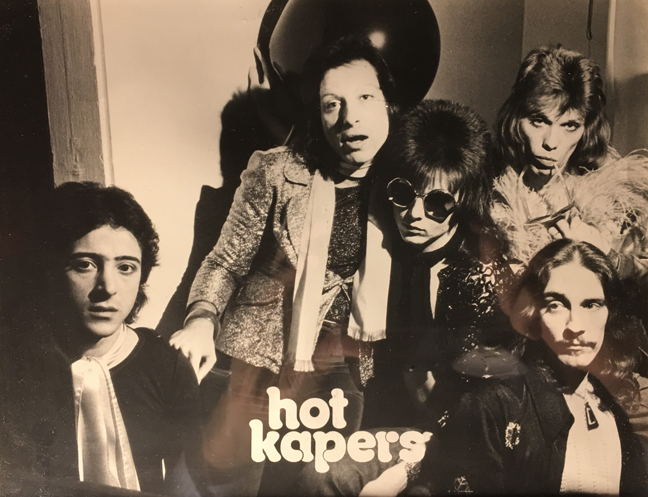 Tim Connelly (third from left)
*
6.     Hanging Out With Helen Madigan
Where were you living when the band broke up?
I was living with Janis from the band Crayola. She was seeing August, The Boo Hoo Band singer.
What'd you do to survive?
I got hired to be a fashion model. I was in some magazines. And then I took this job working as a customer service rep for a photo stat company because I'd done photo stat work in Chicago.
One day, Janis asked me, "Do you want to make some money? We need a drummer who can teach this girl named Helen (Madigan). She's a ball of fucking fire, and we want her to join our group, but we need someone who can teach her how to play drums."
I was single, so I was interested. I said, "Who is this chick?"
Janis says, "She's a stripper at the Melody. You should go and see her show. And then she'll buy you dinner, and you can give her a drum lesson, and she's going to pay you for it."
And I'm thinking like, wow, this could really be something. I could probably end up fucking this stripper girl…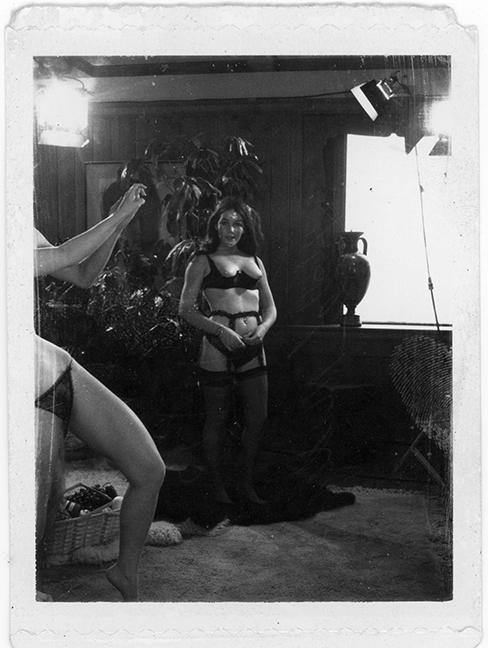 Helen Madigan
Did you go and see Helen at the Melody?
Of course. I went to see her strip – and she danced to some great music. She stripped to Joe Jackson, tracks from Look Sharp!, and one of her big numbers was Different for Girls.
Afterwards we went to the Pink Teacup for dinner, and then I took her to CBGBs because I wanted to make it an evening, you know? But it work out that well because at CBGBs there was fucking Johnny Rotten, because the whole Sex Pistols tour had just blown up his face, and he was bitching about everything. So we got in a cab and went to Max's, and Sid Vicious was there, all fucked up over Nancy.
Helen just said, "Why don't we go have our drum lesson now?"
I said, "That's a great idea."
I took her back to the loft, put some drumsticks in her hands, sat her down at my practice kit, put on a song, and started giving her instructions. And at the time, I'm going, "Oh, my God! She's as hot as fuck. She's got these little capri pants on, and the fuck-me pumps that she'd strip in. And she's Irish, so I start comparing freckles with her. After a while, she goes, "Are we going to do this lesson, or not?"
I said, "Helen? You can't play drums. Do you really want to do this? How bad do you want to do this?"
She goes, "You're right…! I don't want to do this at all! The girls pushed me into it. I just like hanging out and having a good time. I don't really want to do it if this takes this much work!"
I say, "This much work?! We haven't even started the lesson yet! Don't worry: I'll tell them you don't want to do it. And you don't have to. it's not your fault. Okay?"
And she says, " Do you mind if I hang out, and we do some coke?
Our relationship started that night. We fucked that night, for three days straight. We did nothing but have sex and do coke, and we were pretty much inseparable for a time from that point.
What was Helen like?
Very sweet. She told me about growing up in California, and making a few pornos in San Francisco. She said her first had been a movie called Teenage Peanut Buttes Freaks. She told me she had an on/off boyfriend called Marc Stevens, whose nickname was Mr. 10 ½ on account of the length of his dick… I was intimidated by her stories of all the porno guys she'd been with, but she seemed to dig me so I thought I'd see where the relationship went…
Who was Helen hanging around with at that time?
Jeanine Dalton was her girlfriend. Jeanine was kind of hot, but she was also redneck, hillbilly, white trash. She was from Georgia, and they used to call her the Georgia Peach. They were really close friends. They used to hang out at Bernard's together and they were thick as thieves. The two of them and a blonde stripper at the Melody called Nikki Knights.
I remember Jeanine once had a whole thing going about cancer, and she got Bob from the Melody to do benefit shows for her.
(from left to right) Helen Madigan, Marc Stevens, Janine Dalton
Then suddenly, when I came into the picture, Helen just hangs out with me. And when Helen was with me, she went hog wild, so she's not going to work or making any money, because she's fucking me all the time. And then, when she finally went back to work at the Melody, she didn't want to do the Mardi Gras, which was when the customers line up to lick the strippers.
I remember I took her to drop her off at the Melody one day, and Mitch was there. I stayed to see Mitch, and she did a reverse strip. She came out on stage naked, by the end of it, she was fully dressed – and then she left the stage and walked out the front door! And she was so good! When she did that, I loved her even more.
How did you feel about Helen stripping once you started a relationship with her?
I knew what the fuck was going on. I made up my mind pretty early on that I didn't want to have anything to do with this, because it's not for me to tell her what to do. If I'm going to date her, I've got to accept what she does. What am I going to do? If she doesn't want to be with me, she'll fucking leave. If I can't take it anymore, I'm going to tell her to get the fuck out.
Was that difficult?
Sure. Look, she'd come home sometimes smelling like cigars. And that creeped me out, because I'm thinking how many fucking guys was she with tonight? But eventually Helen didn't want to do it anymore.
Helen was a trip. She'd bring strippers home for us to have sex with. I'll never forget one named Serita. She was from New Jersey. Helen brought her home one night, so I got out of bed and got involved because I know Helen wants it to be a threesome. Serita was definitely into Helen. She's chowing box, and then she wants to fuck me. Helen suddenly got really pissed, rightfully so. And I was just like, "Man, I can't win for losing! I'm damned if I do, and I'm damned if I don't."
Did Helen move in with you?
Yes. Helen moved from the Upper East Side down to Chelsea. And we moved into Janis' duplex on 21st St.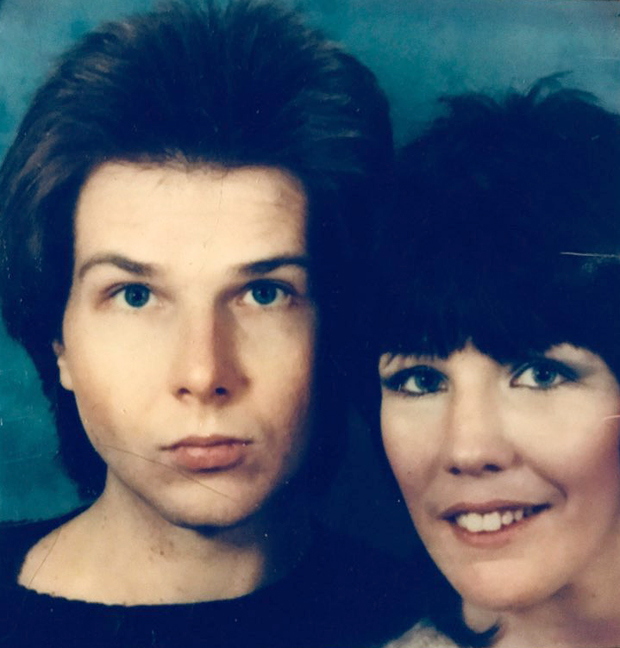 Tim, with Helen Madigan
What were you doing for money?
I was telling everybody I needed a band. I heard that Tommy quit the Ramones. I campaigned so hard to get an audition with the Ramones because I knew I could do that drum chair like a motherfucker. But Johnny Ramone didn't want anybody in the band who wasn't from New York, so fuck that. And when I found out they hired Marky, and I was like, "Mark Bell?! Fuck me, man."
And then Janis found out that Richard Hell was looking for a drummer, and she said, "You should be in his band."
I was like, "No way. He sucks."
You didn't like Television?
I loved Television, but I didn't like Richard Hell. I didn't think he had any fucking talent.
But I ended up touring with Richard, which was a nightmare because I broke all my cymbals and destroyed my drums. I was used to nailing them down, but when we toured, the Teamsters union wouldn't let me do that so my kit ended up scattershot everywhere by the end of our set. By the second encore, when we did 'I Want to be Your Dog', I'd kicked them into the orchestra pit. I just walked off-stage because I couldn't play them anymore. The crowd went mental.
Afterwards, I was sitting there soaking wet next to Richard, and Patti Smith came over. I was excited: "Oh, my God, it's fucking Patti Smith, man, one of my heroes. Holy shit."
And she came up to me, and she says, "If you ever fucking do that with your drum kit again, I'm not only going to see that you're taken out of this band, but you're going to never play another club in New York. You fucking hear me? Don't try to upstage me." She was so coked out and so fucking full of herself.
I said, 'Who the fuck do you think you are?"
Richard goes, "Oh, man, you fucking stood up to Patti. Fuck yeah, man. You're all right, man."
He said, "Just keep playing like you're playing. Play like an animal." And they pushed me every fucking show. So I almost destroyed my whole kit and all my cymbals. When we got back, they fucked me on the money, and then they fired me. They said that I wasn't like them. They said I was too mouthy.
I was pissed: they had encouraged me to break my drums, and now I couldn't pay my rent.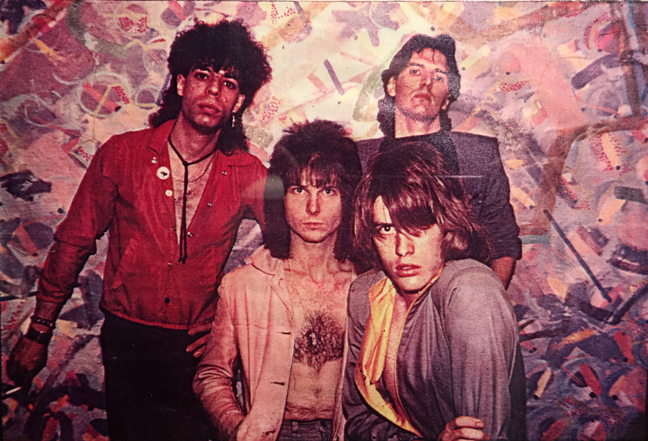 Tim Connelly (second from left)
*
7.     Sex Films
How did you resolve the cash flow issues?
Helen got us some work making loops.
She just said to me one day, "Look, we need the money, so do you want to do a loop? I can get us some work. You can fuck me on camera."
When she said, "You can make money doing loops," what did you think?
I wanted to do it because I wanted to pay my rent! We were living in the duplex, and I was like, fuck this! Plus I loved fucking her. And porno didn't matter to me. I didn't like to watch it, but I liked to fuck. Looking back, I was probably making up for all the time that I didn't fuck as a teenager.
You have to understand the sad, real truth about being on the road as a musician is that when you play bars, girls don't want to fuck you because you're going to come and go. If they fuck you, they're a slut, and they've got to live in that town. And you're just some fucking guy that's never coming back. Or you're a scumbag who's fucked everybody else, and you're going to leave them with an STD. So… you don't get laid.
When you started dating Helen, she'd been making porn films for five years or so. Was she still acting in them by then?
She'd still do them occasionally, but she'd kinda retired from that. I think the only one she did while we were together was New York Babes. That was when I met Bobby Hollander, that piece of shit.
Who did you shoot the initial loops for?
The first ones we shot were for Jason Russell and Tom Van Der Feer.
The first one was for Jason Russell at Vince Benedetti's studio out in Queens.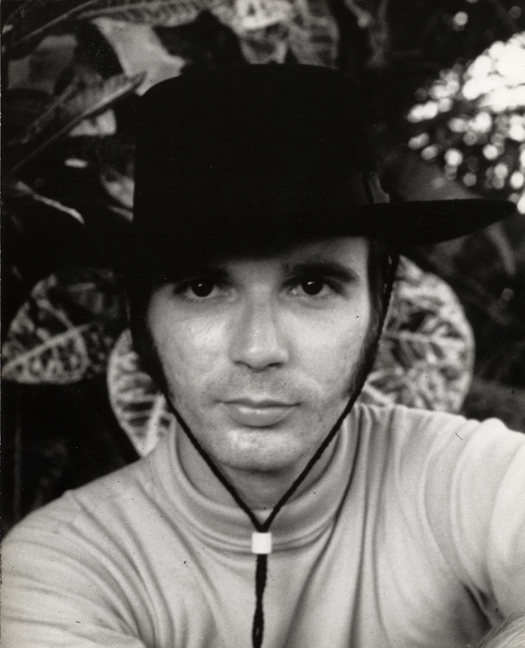 Jason Russell
Do you remember your first scene?
Sure. I couldn't wait. It was called 'Banging Out a Tune.' The story outline was that I was auditioning her for my band. There was a piano in the studio, and Jason's said, "You're a musician. You can play the piano, right?"
I said, "No, I'm a drummer."
He said, "Drums are a percussion instrument. And so's a piano. Start playing."
So I played '96 Tears'. That was the only thing I knew how to play.
Jason said, "That's good enough. Don't mention the name of the song, though."
What kind of instructions did you get for your scene?
Helen took me aside and said, "Just listen to Jason. He knows what he's doing. If he tells you to assume three positions, do them. Take them slowly. And just go through it like you're in slow motion. You can only cum when he tells you to. And when he tells you to come, do a countdown, like you're counting out a song in music."
I remember saying to her, "What happens if I can't do it?"
Helen said, "Well, then you don't get paid. They've got a dozen people out there that can do this. If you're going to fuck it up, Tim, why should you get paid?"
And I was like, " Fuck! That's cold."
How did it go?
OK, except that I came in her eye…
I just don't like to blow in a girl's face. I don't find it very erotic. I think it's the Catholic in me. I'm sorry, I'm old school, man.
So I didn't want to cum in her face. I thought Helen would know where to go. I just wanted to stand still, because I know they had to get a clear shot of it. And I came a lot. You know, I was young. And BAM! I fucking blasted her right in the eye.
Was Jason angry?
I don't think Jason was mad, but Helen was mad. Helen was pissed! Because I made her eyes all red and she was blinded. I fucking hit her smack dab in the eyeball. And it's right there on film!
I saw that first loop years later. AVC put it out. Freddy Hirsch, Steve Hirsch's dad's company, put it out.
What do you remember about shooting for Tom Van Der Feer (aka Navred Reef)?
Tom shot on 47th St in the Diamond district, where he had a sort of studio apartment. Tom was an asshole. He was a complete fucking, intimidating asshole. Plus he was one of those guys who was very quick to jump in and push the performer out of the way, saying, "I'll finish the scene for you."
To make matters worse, when you finished your scene, Tom would hand you a can of paint and ask you to paint some shit. Or he'd have you fucking gripping on the next shoot! He'd say, "Pick up this piece of furniture, and carry it over here. Because that's where we're shooting now."
How did you react to that?
In the beginning, I was like, "Oh, sure! What do you want me to do?" I was just like a kid in a candy store. I was going to do anything he asked me too, because I was excited by the whole fact that I was getting paid to fuck.
But then Helen said, "You don't have to suck up to him, Tim. He's going to hire you because you can fucking get your dick hard and you can come."
Tom would also set things up to torture Helen because he knew that Helen was jealous.
After those first loops, did you think to yourself, "Hey, I can get more money if I do more work like this?"
Not really. I was a musician. I didn't want this to become a regular event. What's more, I didn't want to have this on record. Back then, if you shot a films, or even a loop, it would end up in a store with a photo of the performers on the box. Bad, bad, bad for a musical career! And all the record companies were up in midtown. I didn't want them seeing me like that, you know? Walking into their offices and telling them how good I am as a drummer, and they've already seen your photo having sex? Not a good look. I didn't think that would help me at all.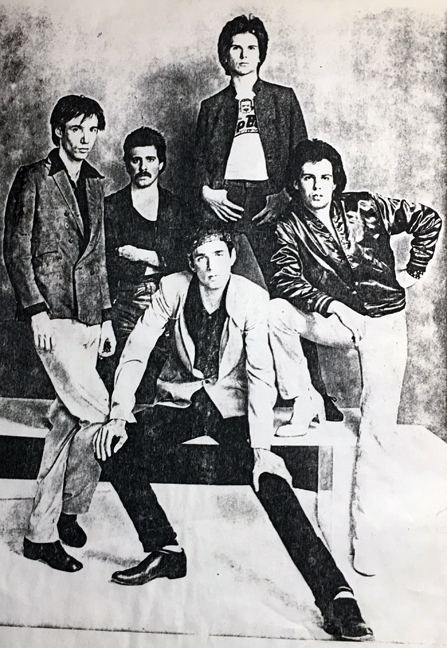 Tim Connelly (at back)
*
8.     Show World
How did you get into the live sex shows?
Helen had been dancing for Freddy Lincoln, who I just knew as this guy with the long hair from the film Last House on the Left.
One day she said, "I met this guy, Ron Martin, through Freddy Lincoln."
Ron was the manager of Show World, and he wanted Helen to do live shows.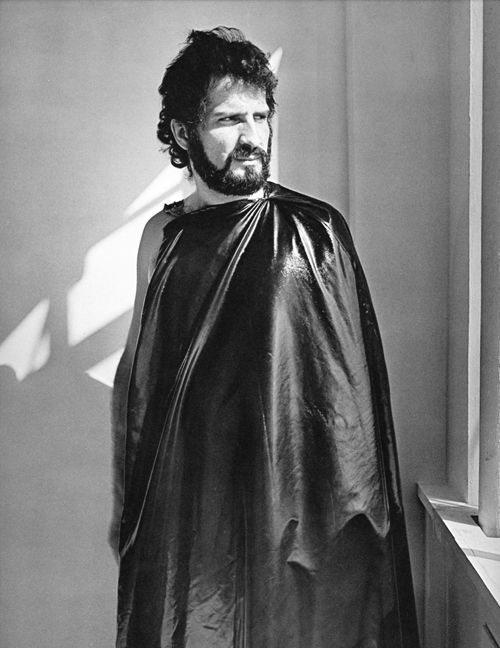 Ron Martin, at Show World
Rod Swenson had been the first guy to book sex shows at Show World. He was the guy who discovered Wendy O. Williams, and he managed the Plasmatics. When the Plasmatics became big, Rod handed it over to Fred Lincoln for a few years, and then Ron Martin took over from Fred.
Helen agreed to do some live shows if she could do them with me. So Ron wanted to meet me to talk about it.
What was the concept behind the live shows?
Fred started this thing called the Ultra Burlesque, which consisted of anything… from strippers to S&M shows and sketches based around sex. The downstairs theater at Show World was basically an old burlesque theater, with about a hundred seats and a stage with curtains, and a dressing room behind it.
Helen said, "I don't want to see you working a boring nine to five job, making $100 a week at the photo place." She was right: that job was killing me.
When we got to Show World, Helen just announced, "We're going to work together tonight!"
I said, "I thought I was doing an interview?"
She goes, "We're not going to waste time with a fucking interview! We're going to make more money tonight than you are in a week in your day job."
What was Ron like?
Ron was a fucking shyster, man. A genius on some levels too, but an abusive, domineering, sadistic asshole, who claimed to be the descendant of Horace Greeley (founder and editor of the New York Tribune).
At the time, Ron was living on Sutton Place. None of us could work that out. He was the manager of a live sex show, so how can he afford to live there? He sure didn't need the money if he lives on Sutton Place.
Ron didn't like being alone, so he used to have everybody come upstairs and do coke on their breaks with him. And he was always macking on the girls. I figured the best way to handle it was to let it go – and get as much coke out of him as I could.
Who else worked at Show World?
Jack Archer was the tech guy at Show World. He was an older cat, and he had the longest yellow sheet in the city, because he'd got busted at every fucking theater over the years. He was the guy who always went to jail. He lived at a flophouse in midtown. He ran the tech for me for most of my shows, and we'd always talk between shows.
By 'tech', you mean the guy who plays the music, and does the lights, and everything like that?
Yeah, Jack ran the music. I'd give him a tape of the songs I wanted him to play during the sex show. I made a special tape that included stuff from the Rocky Horror Picture Show, Pink Floyd… basically really good music to fuck to. But Jack? He'd put on Benny Goodman instead… He'd put on whatever the fuck he wanted to. It didn't matter to him. So you really had to make an impression on him if you wanted him to play what you wanted. It should have been ipso-fucking-facto, but it wasn't with Jack.
Weren't films also played between the live shows?
Yes, and Jack also manned the XXX film projection booth too. One of the most popular films was Surfer Girls with Joey Silvera.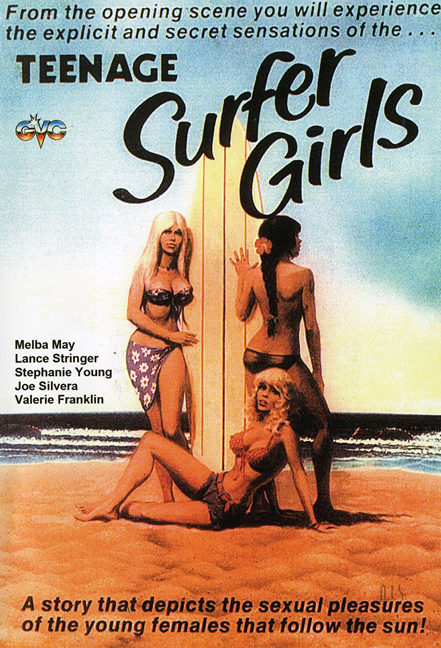 It was a two-reeler, 16mm, but Jack only had reel two – so the movie would start with the fucking orgy where everybody was pissing on everybody else. And the Show World audience would shout, "Hey, what the fuck, man! Rewind the movie! We wanna see it from the beginning! "
And Jack would shout out, "Don't worry – the live show's going to start in five minutes."
And then he'd come in our dressing room, and say, "You guys have got to get on stage. They're getting crazy out there!"
I'd protest and say, "Hey, man. We only took a 20-minute break. Get the fuck out of here!"
He'd be like, "Fuck y'all. Fuck everybody. Get out there and start fucking…!"
Jack was crazy. Sometimes he'd put a spotlight on you that was really bright. Or he wouldn't start the music for your show at all – so I'd have to run back to his booth. And Jack would just be standing by the door, reading the racing sheet. Over the years, I got to become good friends with him because I humored him. I realized, no matter what, he's going to fuck me up, so I've just got to make the best of it. He was what he was.
And Jack could talk: I heard all about legendary performers like Monica Kennedy from Jack. Everybody told me about her. Jack was wistful because she'd 'taken care' of him in the old days. Monica would take care of just about anybody back then – and she was apparently really good at it too. And there's something to be said for that.
How many live shows would you do each day?
Seven a day. Each one was half an hour.
I was good about it, because I wanted to keep my job. I didn't want to go back to that photo house shit.
Did you enjoy doing them?
I loved doing the improv acting parts of the shows. People like Bob Kerman were there. And we did some fun stuff.
They had all kinds of costumes to play with – I remember someone brought in some outfits from a hospital that was closing. I walked into Show World one day and all of a sudden there's stethoscopes, doctors' jackets, and things like that. So I became Dr. Hardon, and whoever I worked with was Nurse Tits, the night shift nurse. I had this therapy for curing sore throats.
How did you get on with the other live show performers?
All the girls liked me because I was easy-going, and I was never offensive to them. I knew how to play it, and Ron liked that. So he booked me four, sometimes five, times a week, for two and a half years.
The only time I ever got an STD in the business was when I did a show with Tara, the girl that did the Midnight Blue gang bang.
What do you remember about the Show World complex?
There was a strange hierarchy in the building. There were the booth babies, which is what we'd call the girls in the quarter booths. The managers never wanted to send the booth babies to our live shows, because if they ever found out how much money they could make doing live shows, rather than hustling quarters, they'd never wanted to go back to the peep shows.
How was that enforced?
This fucking lesbo, ex-con, dyke, named Lightning, ran the booth babies. And she'd fucking castrate you if she saw you hanging around with any of those girls. She didn't want you poaching her girls. So I stayed away from them.
How did you keep your live shows fresh and new?
I tried different things. I had a show that I did called 'Talent Isn't Everything'. You see, everyone was always asking me about porn stars, what they were like… Everybody had things they wanted to know about these girls. So I thought it'd be a great idea to interview a porn star on stage.
Was it successful?
No! The guys in the audience had come there to masturbate. They didn't want to have anybody talk to them or bother them. They didn't want anything to break through that wall of that fantasy, and disrupt their psychodrama – so that particular show didn't last long.
*
Do you remember any of the other people who were live show performers?
Joey Silvera. He was a good friend of mine. We became and stayed really good friends through until the end of my porno career. In recent years, he lived up the street from me on Mulholland in L.A. He had the 'multi-million dollar home that she-males built.'
In the beginning, he did live shows with his girlfriend, Lisa, who was the youngest, prettiest thing you ever saw. He found her in upstate New York. She never did do any movies, just live shows. He wouldn't let her work with anybody else. She was fucking gorgeous, man. So fresh-faced… oh man, oh man, oh man.
On stage she played the character of a country girl. They had this whole act with a bale of hay on the stage.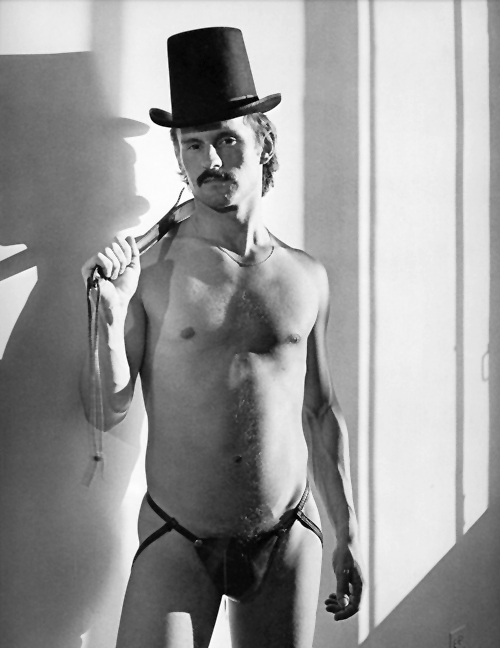 Joey Silvera, at Show World
There were some other strange characters on the scene – such as this guy named Bill, who was a legitimate TV actor. He was probably horrible as an actor because he couldn't fucking improv to save his life. And he was gay – but he could get it up for women, for some reason. Then there was a guy named Chuck, who looked like Danny DeVito with a shaved head. He was from Queens.
What about female performers?
Serena was already working there when I started. I was supposed to work with her, but she looked unclean, man. I went and smoked a joint with her. I knew Jamie'd been banging the shit out of her, and she was rough and feral. She had hair under her arms… which turns me on, but not to that extent. And she smelled like a fucking goat, eating a huge gyro sandwich, burping, and farting.
I said, "Serena, you're disgusting!"
She said, "What are you so fucking prissy about?"
I said, "Come on, Serena! What are you going to do, wash up in the urinal next?"
She just smiled and said, "Maybe. Jamie would like that."
Serena, at Show World
Did you get to see much of Jamie Gillis?
I loved Jamie. He used to come by all the time with Marc Stevens to say hi. I liked Marc too – he was great.
He used to bring his lover Billy. Annie Sprinkle was living over at Marc's apartment, and we'd go there for parties.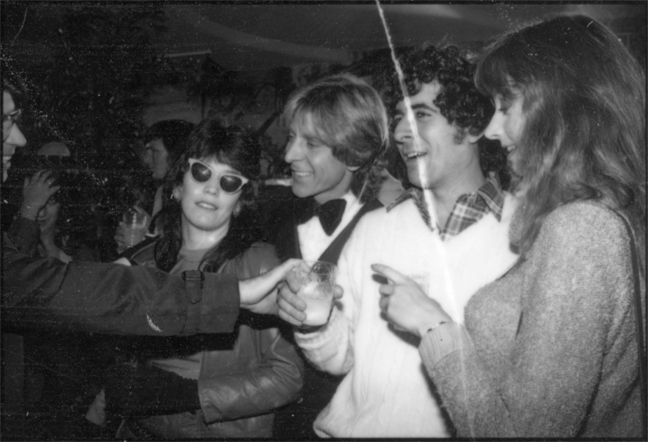 (from left to right) Helen Madigan, Marc Stevens, Jamie Gillis, Dian Hanson
One day, Marc said he was going to bring over his transsexual friend, Jill Monroe. He'd married her in this ceremony at one of the New York clubs. I was fascinated to meet her because I'd never met anybody who's gone through this process. Helen told me she was really nice.
That day, Marc and Jamie showed up at Show World with Jill – and we started talking, and we really hit it off. She was beautiful, man. She was fucking beautiful. And Helen didn't give a shit that I was interested in Jill. By now, Helen didn't care about anything. She was off in her own world, and she just wanted to go have a cigarette or do drugs, or whatever it was she was doing.
Out of the blue, Jill says, "Can I do a live show?"
We all liked the idea, so Jill agreed to do the rest of the shows that day. We decided to do 'The Dating Game' on stage: Marc, Jamie, and myself would be the three bachelors, Joey would be the host asking the questions, and Jill would be the bachelorette.
And we did it. Live on stage. And it was fucking hilarious. Joey was funny as fuck, and Marc and Jamie were fucking perfect. We agreed that Jill had to pick me because I was the guy who was being paid to fuck on the show that day. Actually, Jamie wanted to do it, but he didn't want to be limited by the timeslot.
I said, "Jamie, I'm getting fucking paid here. And I get off in an hour, man. Don't fuck my schedule up. I don't want anyone to come in and tell me I'm not getting paid because of what you're doing. And Ron'll have you thrown out of here if you fuck a girl on stage that you're not supposed to fuck."
When it came to the moment that Jill picked me, Ed Corelli, the bozo who was the assistant manager, came on and said, "The show's over. You guys have been up there for over half an hour. Get off the stage."
The audience was dissatisfied, so Joey announced, "Stay tuned, guys. In half an hour, they're going to come back and consummate their relationship. Don't go away. In the meantime… here's Surfer Girls coming right at you."
Backstage, I was nervous about what I had to do next.
And Jill said, "I'll take care of you, honey. Let's just go out there and do it. We'll start the music. Don't do any of your talking stuff, because that's not going to turn me on. We don't need to delay anything, because I promise you, whatever we do will be just what we need to do, and they'll be fine with it."
And that was pretty much what Ron Martin always told us. He used to have a saying, "Whatever you give them – is what they expect they should get." Truer words were never spoken about pornography than that.
So I said, "Well, shit. I guess we'll do it." And we did.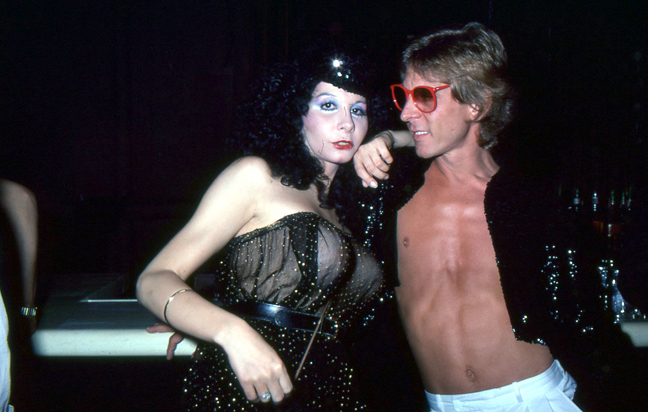 Jill Monroe and Marc Stevens
*
Did you ever feel threatened on stage?
I remember one girl named Tiki, who came to us from an ad in the Village Voice, with her junkie husband.
The first night, she walked up to me and said: "You going to eat my pussy?"
And I'm stuttered, "Well, I, I, I mean…"
She said, "Why are you being all mealy mouthed, man? I'm gonna tell you sumtin'.. You ain't going to eat my pussy. Unner-stood? My old man's going to be watching the show from the front row. And you ain't gonna eat my pussy."
And I look over at her boyfriend, and he's fucking high on heroin.
She says, "You know, he got a gun. If you fucking do anything to me, he going to cap yo ass."
I'm thinking, "Oh, this is great. I'm really getting turned on now. Okay. Wonderful. Whatever you want. You got it."
How do you do a live sex act under those restrictions?
Well, I did my typical elevator skit. Which is: the couple get stuck in the elevator, and they end up fucking while they wait for it to be fixed. And Tiki was actually kind of funny. She improvised well.
And then all of sudden, she said, "Eat my pussy, motherfucker. My man's sleeping. Eat my pussy good, baby. Then you can fuck me. Quickly while my man's asleep."
I look over, and see that her old man is dozing in the front row. But I'm thinking, "No way!"
Why?
Why?!? You know what's going to happen? This guy is going to suddenly wake up while I'm banging his woman, and I'm going to get fucking capped and die on stage in Times Square. It ain't worth it.
I say, "Tiki, I can't. I'm not ready to die…"
She goes, "You a pussy? Or you a man? You a fag? Fuck my pussy. I'll suck your dick. Quick."
How did you react?
So we ended up fucking. Very quietly. With an eye on the guy half asleep in the front row. Who had a gun in his pocket…
Was there ever any actual trouble in the audience?
Sometimes when Ron needed somebody for 'Bingo', he begged me, or asked me, or threatened me… depending on where we were in our relationship.
What's 'Bingo'?
'Bingo' was the name for the live shows that took place from midnight to 5.00am. In that time-frame, anything goes. So… Bingo!
What might happen in that time shift?
Anything! It was crazy. You never knew what was going to happen. Guys would start fighting each other, sticking each other with a knife… anything.
Once I was on stage with Lisa Be, who did some porno movies. I said, "Why don't we order a pizza?" I figured Joey would bring the pizza on stage, I'd fuck Lisa, and then during our break, we'd eat it.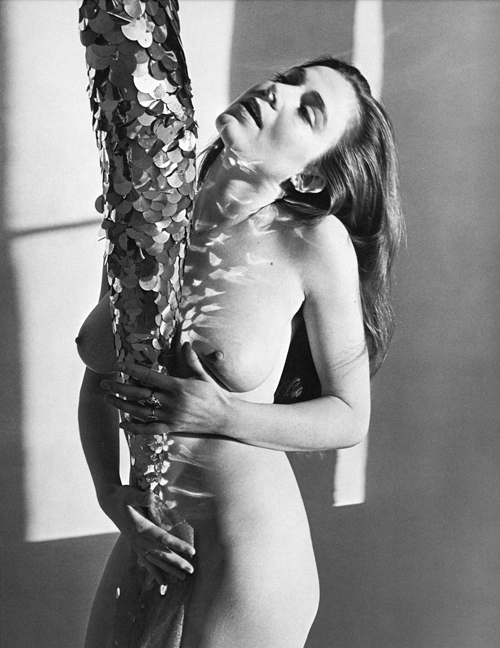 Lisa Be, at Show World
How did it go?
When we were on stage, this guy walked down the aisle. And I said, "Where's Joey with the pizza?"
This guy stopped, and he was standing right at the second row, and he said, "Fuck you looking at?"
I said, "I was looking at you. You happened to walk here. I was waiting for my pizza."
He goes, "You don't wait for no fucking pizza, man! You fuck the bitch."
And Lisa says, "Don't call me a bitch. I'm not a bitch."
He responds, "Fuck both of you, man. You fuck the bitch, because I said so!"
I said, "Excuse me? Who the fuck do you think you are?"
And he goes, "Who am I?! I'm a motherfucker with a gun."
I said, "Fuck you, because you're fucking ruining my show, you asshole. You come down here and you threaten me with a weapon. These guys paid good money to see us fuck, and you're fucking killing it, man. You're killing the mood, that's what you're doing. You ruined it for all these other guys. Fuck off!"
And I said, "The show's over."
I walked offstage with Lisa, and we went back into the dressing room – and then I had a meltdown. I thought, "What the hell did I just do? Holy fuck. Holy fuck. Lock the door! Lock the door!"
Joey came in, and he goes, "What the hell did you just do?"
I couldn't explain it. There was something about standing there naked, with a hard on, and this motherfucker was behaving so badly, I just… I don't know where it came from.
Lisa quit that afternoon. She quit right after that moment. She never went back on stage.
*
In the concluding part of Tim Connelly's story, he talks about his XXX film career in the 1980s and his marriages to Kelly Nichols, Kimberly Carson, and Christy Canyon.

*