Punk music. Adult films. Both were subversive art forms in New York in the 1970s. They challenged conventions, shocked audiences, and took artistic expression to another plane.

This week The Rialto Report starts a short series dedicated to the way that music and adult entertainment overlapped in the 1970s.
We start with the story of two fearless female performers – and the man who stood in the shadows behind them, helping them to shine.
It is the story of Monica Kennedy, perhaps the most notorious and legendary stripper and sex performer in 1970s New York; Wendy O. Williams, live sex show actress-turned shock rock queen as lead singer of the Plasmatics; and Rod Swenson, the mercurial intellect behind the scenes who created the perfect stage for them both.
Thanks to Vice.

_______________________________________________________________________________________________
su·per·no·va
/ˌso͞opərˈnōvə/
(noun) a star that suddenly increases greatly in brightness because of a catastrophic explosion that ejects most of its mass.
*
Monica, Rod, and Wendy
1976.
Three people sit backstage at New York's Show World sex emporium.
In some ways, they couldn't be more different, but in other ways they have much in common.
Monica – glamorous, extrovert, outrageous – is the undisputed star of the anarchic show, Captain Kink's Sex Fantasy Theater, that shocks nightly on stage.
Rod – sharp and inquisitive eyes darting nervously – is the brilliant, entrepreneurial Svengali behind the production and other sex-related ventures.
Wendy – shy and unprepossessing at first sight – is the seething newcomer, an insurgent lost girl looking for a new path that will match her seditious worldview.
They share a contradictory desire to satisfy an audience by giving them exactly what they want – while also shocking spectators into questioning their own beliefs.
But tonight the three of them are together to separate.
There is a silence in the room. But they all know.
This is a crossroads for each of them. A passing of the torch. The moment one person suddenly loses their place, becomes less relevant, and ages overnight, at the same moment that another rises to take their place in the spotlight, and have a shot at immortality.
Tonight everything is about to change.
*
Monica
It was a mismatch from the get-go: if a person is meant to be a product of where they came from, what the hell happened to Monica Kennedy?
Amelia County, 35 miles southwest of Richmond, Virginia, is a sparsely populated, impoverished rural area. Hunting and fishing country. Family values. Church on Sunday. Guns, barbecues, and pick-up trucks. High-tone girls with frosty pom-pom curls. 'Merica in its purest white trash form.
Monica Kennedy was born there in 1946, and she stood out like a psychedelic peacock in a flock of crows.
She was a light-skinned, African American girl, pretty in a way that drove the farming men hog wild. And she didn't make life easier for anyone as she ruthlessly flirted with the local hayseeds. That was a problem in Amelia County in the 1950s, where moral purity was as important as apple pie on Sundays.
Monica remembers: "Sex was a sin when I was growing up, and it was hidden and suppressed in every way it could be. My grandparents were particularly outraged by anything having to do with sex. In fact, the whole town was. You couldn't even kiss your boyfriend goodnight on the cheek without people calling you the worst of names."
Her upbringing was sheltered, but on occasion she glimpsed the shining Babylon beyond the rural villages. Ten cent movie magazines, like Photo Play and Screen Book, revealed Hollywood sirens with fancy cosmopolitan names. Monica dug the vampy blondes the most: Jean Harlow. Veronica Lake. White-hot hair, tight wound gowns, lustful cool.
By her teen years, Monica had had enough. She knew she was clever, but she was through with school. Books and lessons no longer held her attention. She left home at 16, and took a bus 500 miles north to Boston, MA. She lied about her age to get a job as a secretary in an insurance company, but soon realized she'd traded one form of repression for another. Sure, city life was better than rural Virginia, but she hated the rigid 9-5 job, she hated being broke, and she hated the grating sexual advances from her boss. So she enrolled at the Boston School of Modeling and crossed her fingers for an escape route from her office desk.
The modelling course had an immediate effect: it allowed her to be herself for the first time. She flourished and felt beautiful. She liked showing off her curves, and all the attention made her feel like a woman. But as comfortable as Monica was in her own skin, she was business-minded too. She knew that being an African American girl was going to be a drawback in the modeling world, but was determined not to let anything limit her opportunity to make some green. Monica may have resembled Cardi B – all booty, attitude, and sass – but this was decades before hip hop culture and the acceptance of a sexualized strong black woman on stage. She figured she needed a new persona, a whiter version, and one that emulated her silver screen idols. So she donned a platinum blonde wig, applied body make-up, and soon her golden skin found favor modeling bikinis.
She also got herself a boyfriend – Stelios, fresh off the boat from Athens. Monica was starry-eyed though naïve about him: "I adored him, but we were a couple of kids without a clue. I was a struggling model, and he… hell, I don't even know what he did… But I knew we were in love."
Monica and Stelios got hitched, to the relief of the Virginia Kennedys back home: "I still had my beautiful cherry when I got married. The family was all proud of me. In fact, I didn't even lose it on my wedding night because I locked myself away in the bathroom all night."
But the marriage was short-lived: it was broken up when Federal Immigration came knocking. It tuned out that Stelios had entered the country illegally, and so he was deported back to Greece with a recommendation to forget about applying to return.
Monica was broken by the loss: "If Stelios and I had been allowed to stay together, I could've stayed pure. Forever. Everything else that happened in my life would've been different."
Monica needed a second fresh start, so she left Boston for New York, and left secretarial work for show business. She'd heard that go-go dancers made good dough, so she bought a cowgirl outfit, cut off the sleeves and pant legs, and sewed on as many rhinestones as she could afford. It worked. She got dancing gigs straight away at clubs all over the city, as well as upstate on the Catskill Mountain Borscht Belt circuit where her showgirl act supported comics like Don Rickles.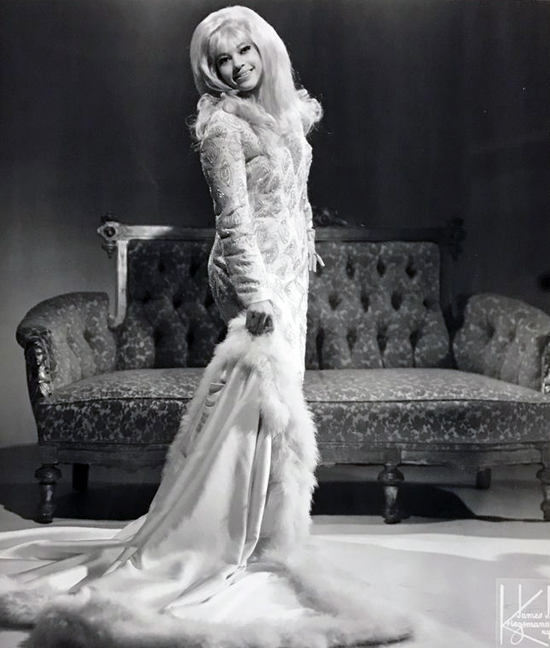 Monica found work at bigger venues too like the Peppermint Lounge, a disco on West 45th Street that was around from 1958 to 1965. It was run by Genovese crime family captain Matty 'The Horse' Ianniello, and was the hottest spot in town for a time, with The Beatles visiting during their 1964 U.S. visit. Monica danced between featured music acts, that included the Beach Boys, the Ronettes, Liza Minnelli, and the Four Seasons.
TV work came her way when she was hired as a dancer in a cage on The Clay Cole Show, a rock music show that aired on WPIX-TV, and featured appearances by acts such as The Rolling Stones, Neil Diamond, Dionne Warwick, and Simon & Garfunkel.
When the Peppermint Lounge lost its liquor license in early 1966, Monica lost her regular cash flow. But she was on a roll, and decided to take her dancing in a different, more risque', direction: "I was wild and restless. I'd seen the nightlife in New York, and I wanted more. I didn't want to be on stage between the star acts: I wanted to BE the star act."
She signed with Sol Goodman, an agent legendary for all the wrong reasons. Working out of Baltimore, Sol's greatest claim to fame was changing Fanny Belle Fleming's name to Blaze Starr and putting her in his Two O'Clock Club, in the heart of Baltimore's red-light district. But Sol was more than that, and he farmed out a large stable of burlesque girls into strip joints across the country. It was rumored that his M.O. was to send out sexually explicit pictures of his acts to club owners – who'd rush to book them in expectation of the raciest possible show, only to be disappointed when a more modest, pasties-and-bloomers gal turned up to dance.
Monica was clear about the act she wanted to deliver. She wanted to be different. She wanted to stand out. She wanted to combine high production values with novelty. But most of all, she wanted to add as much raunch as she could get away with.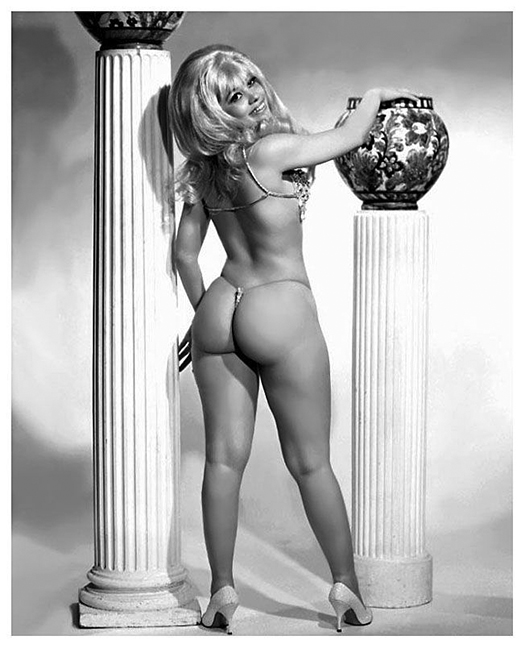 But at that time there were limits. The burlesque circuit in the 1960s was still stuck in the pre-war past: show a little T&A but always maintain the tease. Monica remembered: "I loved playing the theater circuit in the good ol' days. But you had to keep your pasties and G-string on. I had a wardrobe mistress to catch my clothes and there was always a lighting director. And timing was everything. Shows were seven minutes long, and they had to be exact."
Monica's new act was successful, and she was soon headlining in clubs. Her regular theaters form a long-forgotten minor league trail of arcane Americana sex joints. In Pennsylvania: the Argo's in Pittston, and the Seville in Scranton. In Wisconsin: the Dangle or the Whiskey A-Go-Go in Madison, and Tubby's Show Lounge in Racine. In New York City: the 42nd Street Playhouse, and the Broadway Burlesk. In Vegas: the Palomino Club, one of the first clubs to have both a liquor license and totally nude dancers.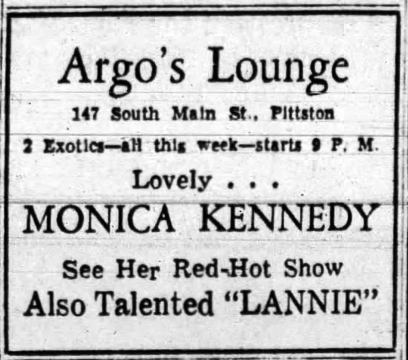 Monica appears in Pennsylvania in October 1967
But times were a changin', old-school burlesque was turning into newly-permissible stripping, and Monica was on the front line of the assault on American decency. In fact, whenever standards changed – legal, moral, social, you name it – she updated her act to take advantage of new, more permissive rulings. When G-strings came off and pubic hair was finally visible, she was the first burlesque dancer to trim hers into a heart shape, or an arrow pointing downwards into her crotch. And of course, on the Fourth of July she dyed it red, white, and blue. God Bless America.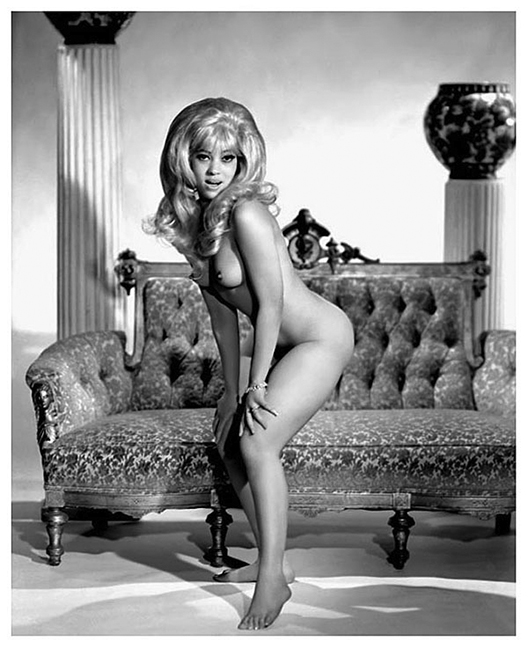 Audiences loved her for it. She was re-booked time and again to the same venues as growing legions of fans clamored for her return – and each time her rate went up.
Since time immemorial, all headlining dancers worth a damn were billed with an instantly recognizable nickname. Monica's moniker was simple: she was 'The Sexiest of Them All.'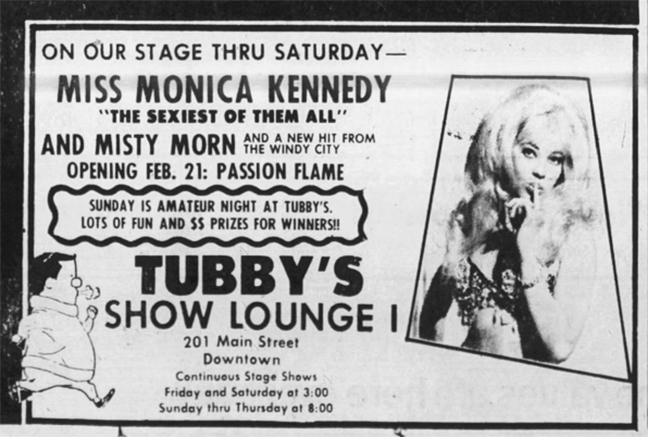 Her act became more outrageous: she went further than the rest of the girls, insisting on pushing limits and doing things that hadn't been done before, things that the other girls were afraid of doing: "All of the other girls thought I was out of my mind. But it's very simple: I've never been afraid to take the chance for my fans, or to face an arrest. They know that. They want a piece of it, and when they leave, they're happier than when they came in. And that's the ticket. I'm making people happy."
And Monica would stop at nothing to please her audience, as columnist Earl Wilson learned when he witnessed her show at New York's Broadway Burlesk in 1972: "A high-spirited girl, with a bottom that was bulgier than her bosom, she was obviously adored by her audience. When someone yelled, "Take it off!" – an unnecessary remark since she had already taken off everything – she pulled a few hairs out of her pubis and threw them into the audience."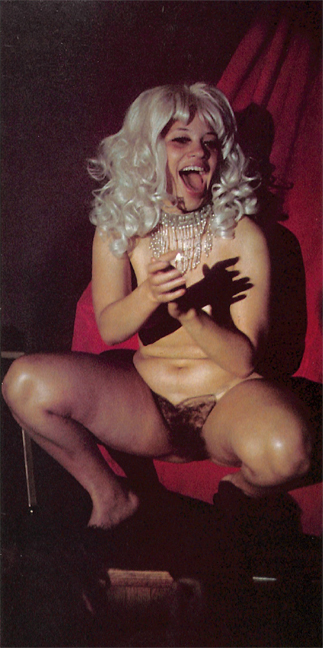 A backstage worker on her show recalls another story: "She always went out there bouncing, bubbly and laughing. Everybody loved her. Once she sat down on top of this guy's head and when she stood back up, she had this guy's toupee stuck inside her. When she realized what she'd done, she tried to pat it back on without being too obvious, but we were laughing so hard, I nearly fell out of the light booth…"
Another trick she did included an audience member's spectacles. After collecting a pair from a volunteer, she rubbed them over her breasts and between her legs before apparently inserting them into her rear so the audience could see them protruding out. Monica was keen to qualify this: "I didn't really put them up my butt. Just in the muscle at the top. Let's be clear about that." The clarification is appreciated, your honor.
Other favorite parts of her act included whipped cream, sparklers inserted in private parts, even the ability to pick up a bottle of chianti with her lady parts: "But it must have a cork in it," she specified. "With an uncorked bottle you run the risk of vacuum." A cautionary piece of advice we can surely all relate to.
As Monica drew bigger crowds, her fee continued to rise. The downside was that the law also turned up to see her – and started arresting her frequently. But her charge sheet must've been a treat: she was once busted in Port Washington for standing on her head with a cigarette in her vagina blowing smoke rings out of it. Honestly officer, it isn't what it looks like.
She worked with all the strippers of the day – including future adult film director Phil Prince and his wife Teresita when they were a live sex-show fixture in Times Square. And she always wore her trademark white cowgirl outfit, with a sombrero, and a belt holding her two toy pistols.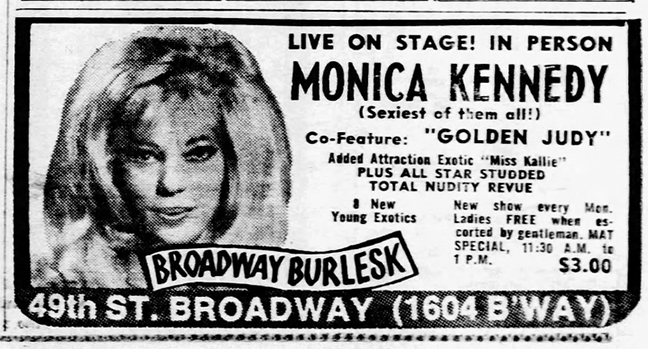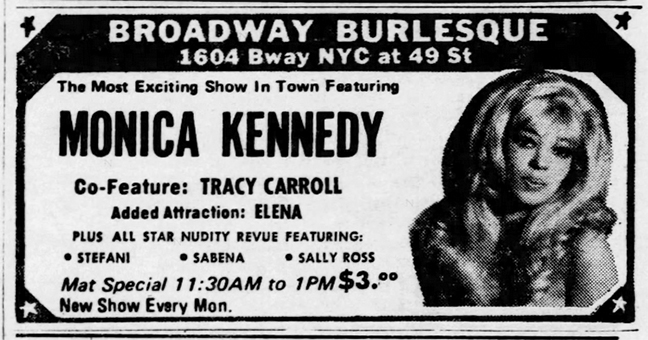 Along the way, Monica acquired a second husband, an Italian with whom she had two girls, though that didn't stop her from lamenting to journalists that her sex life wasn't exciting, and sure didn't live up to her volcanic stage exploits. In fact, she considered herself frigid, and spoke openly about being incapable of orgasm.
She claimed music was her first and deepest love. She put together a band, 'Monica Kennedy and The Family Jewels', and put out a record called 'Football Pete.' The band gigged around New York. It was a departure for her as this was a family-friendly show, the first time she wasn't selling sex. But a problem lay ahead: "Everything was sweet. I could bring my family and friends to my shows. But then the theaters began to show porn movies before my music performances.
"At first, I protested: I launched a campaign on the radio to keep porn films out of my music shows. They refused. So I decided, 'Ok, if they want to play dirty, I'll play dirty.'"
If you can't beat 'em, then fuck 'em. Monica did that literally. And she knew how to play dirtier than anyone: "One night I brought in a case of champagne, popped the corks, and told everyone in the first row to take out his cock. I washed them all in champagne, and then sucked the champagne from 79 cocks."
So what's the truth behind this story? This is New York in the 1970s. It's the Wild East. Who knows..? But when the legend becomes fact, print the legend.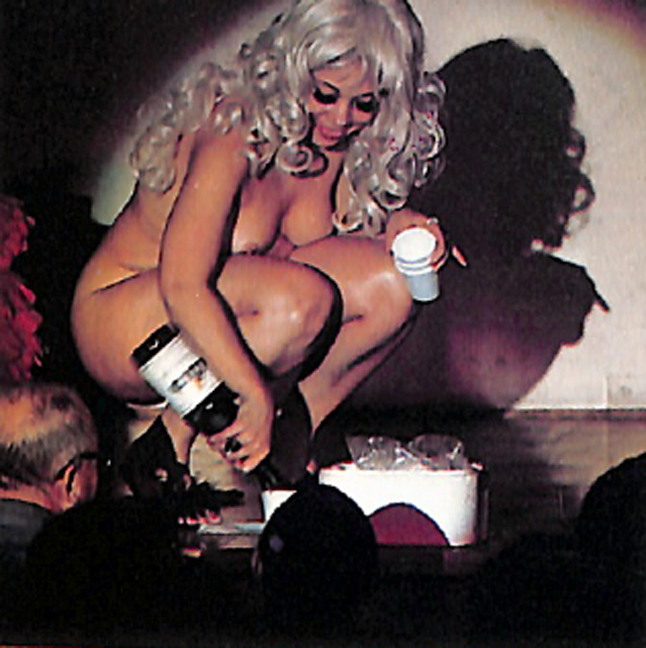 What is true is that Monica's shows perfected the art of breaking the fourth wall with the audience in the most flagrant way ever seen on stage: "I'd bring out flavored douches, and I'd douche right on stage into this nice little pan. Then I'd cover my pussy with whipped cream and cherries and say, "C'mon babies, it's feeding time." That was my catchphrase."
Soon the interaction became a staple of her act: for the climax of her act, she would lie on the stage and take on up to ten audience members in a single show.
Once people saw Monica getting away with it, other venues and strippers followed suit, like the Melody Burlesk in New York which started the famed 'box lunch'. The Melody assistant manager, Dominique, remembers: "Things were starting to get raunchy. The girls started to charge for sitting in the customer's laps – and we weren't getting in trouble for that… so we thought – let's go further. Bob (the theater manager) would say, "Come to Mardi Gras, we're serving lunch today." He even put that on the marquee."
Before long, newly minted porn stars like Annie Sprinkle strutted on the T-shaped Melody stage, before reclining on the edge and offering themselves to the audience members. One dancer at the Melody was even nicknamed 'Starburst', in tribute to the candy pessary she used to refresh her intimate areas between tricks.
But Monica remained the most outrageous show in town, interacting intimately with audience members in every show.
One day, a young sex-business entrepreneur, Rod Swenson, stopped by to check her out for himself. He'd heard about her barely-believable act, and he wanted to see how much was true.
He wasn't disappointed.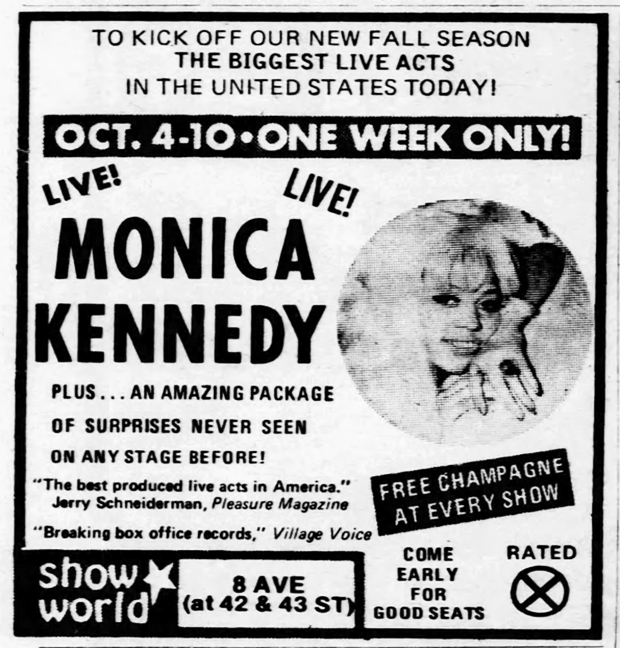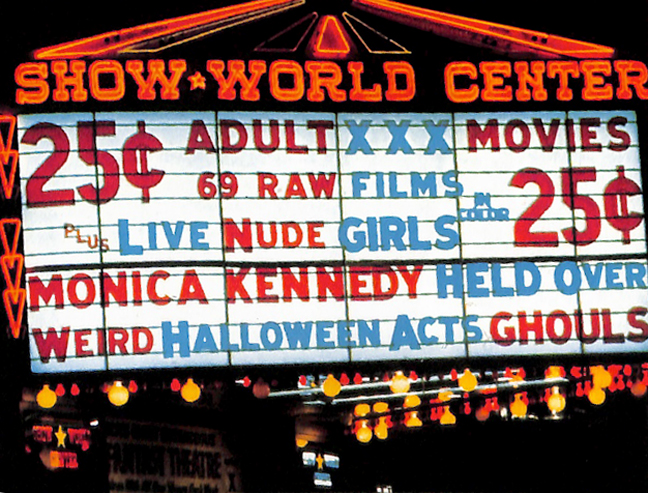 *
Rod
Unlike Monica, Rod was a native New Yorker. But just like Monica, he believed in the shock value of entertainment. The difference for Rod was that he wanted to create shocks that served as political statements, not just sexual titillation.
Born in 1945, Rod developed an early passion for painting, earning a scholarship to the Brooklyn Museum and studying at the Art Students League as a teenager before going to Colorado to earn a BFA in painting from the University of Denver in 1967.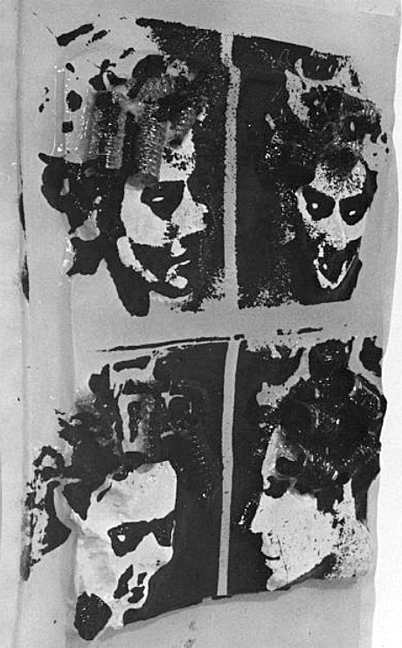 'Rock n Roll Stars' (1967) by Rod Swenson
He then traded painting for conceptual, performance, and neo-Dadaist art, enrolling in Yale University where he pissed off the faculty with his avant-garde concepts, but was still awarded a Masters degree in 1969. Another of his interests was packaging consumer goods: "I was doing a mass-produced thing. I built a plastic vacuum-forming machine in my studio, which wasn't too popular," he said.
After graduation, Rod kicked around in a few jobs before discovering granola on a trip to the West Coast. He'd tired of making plastic multiples for their own sake, but now saw an opportunity to join his packaging know-how with large-scale granola production.
In 1971, he founded The Good Shepherd Cereal Company with his brother to mass-produce the first granola to be stocked in East Coast supermarkets. It was a sensation and expanded rapidly: New York Magazine called it the "patriarch" of granolas, and credited the company with the commercialization of the cereal. Suddenly Rod was president of a large successful company, and had the world at his feet.
But Rod didn't see it that way: "For me, it was sculpture, not food. I didn't call it art, but that's what it was."
Nevertheless, it made him a rich man at age 22 and a "hippie capitalist" in business features written about him. "I suppose I could have stayed," he said. But he didn't, selling the business to Sovex Foods in 1973, and deciding to do something completely different. He joined the Sunshine Park nudist camp in New Jersey – a community built around the health aspects of nudism.
On the surface, Rod looked every inch the young nudist: a lithe body with a golden perma-tan, a receding hairline, and a small satyr's beard. But Rod was a natural entrepreneur, and in 1974, he was commissioned to set up and run a natural foods restaurant at America's largest naturist resort. The same year he also published a guide to naturist resorts through Popular Library. But his most high-profile venture was the creation of All-Bear Entertainment Corporation, whose principal activity was to stage the Ms. All Bare contest ('America's Honest Beauty Pageant'.)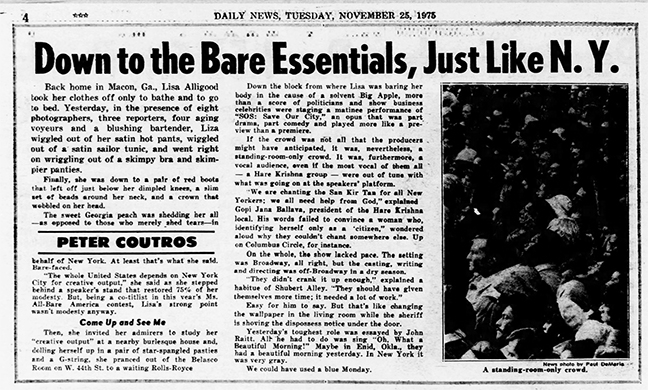 Ms. All Bare Ms. America ran for three years from 1974 to 1976, and was widely covered by mainstream news outlets, which included lengthy interviews with the deep-thinking, earnest man behind the enterprise.
The second All Bare Ms. America was held at the Beacon theater in New York in September 1975, and Rod insisted that this was no tacky throwaway, no peep show. It was to be a fantasia. Don Imus was the compere, and Rod had big plans for the event: he intended for the pageant to be broadcast on closed-circuit television and transmitted all over the country. Big sponsorship was on the way, and the event would rocket the lucky winner to stardom.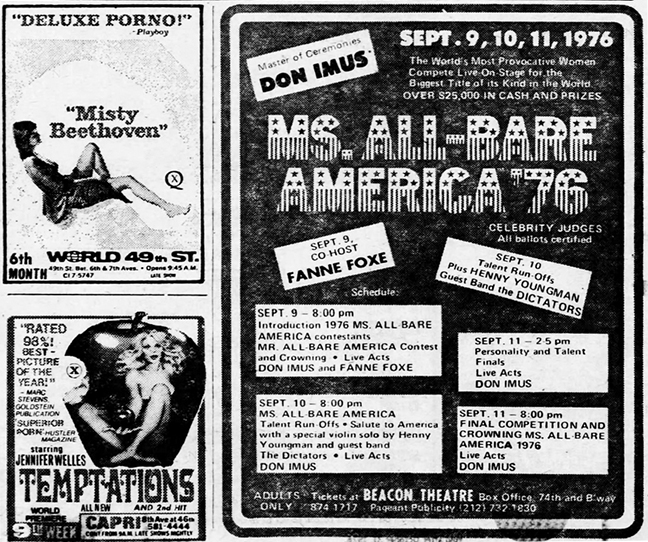 The reality was less glamorous – at least according to New York magazine:
"The girls came out topless – for the 'personality segment' ("How are you", "Are you feeling nervous", "What would you do if you won"). Then they came out completely naked, parading patiently, like race horses in a paddock.
The biggest cheer went to a lady truck driver with the shoulders of a George Foreman, the belly of a Jackie Gleason, and a chest straight off a men's room wall.
"Why did you enter this business?" Imus asked her, consulting his notes.
"None of your fucking business," came the swift reply.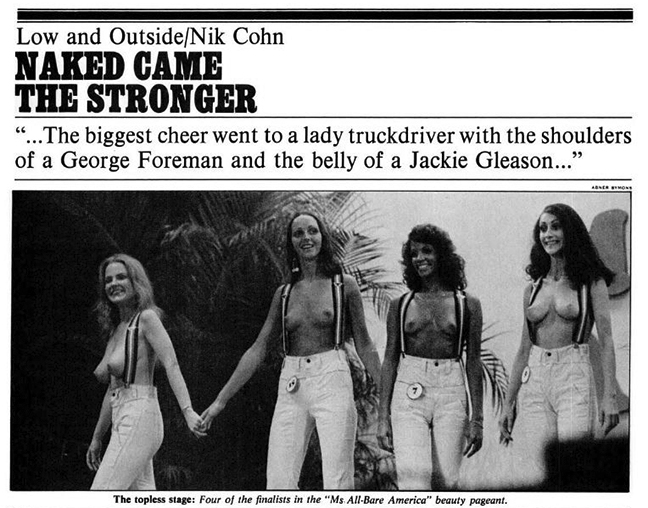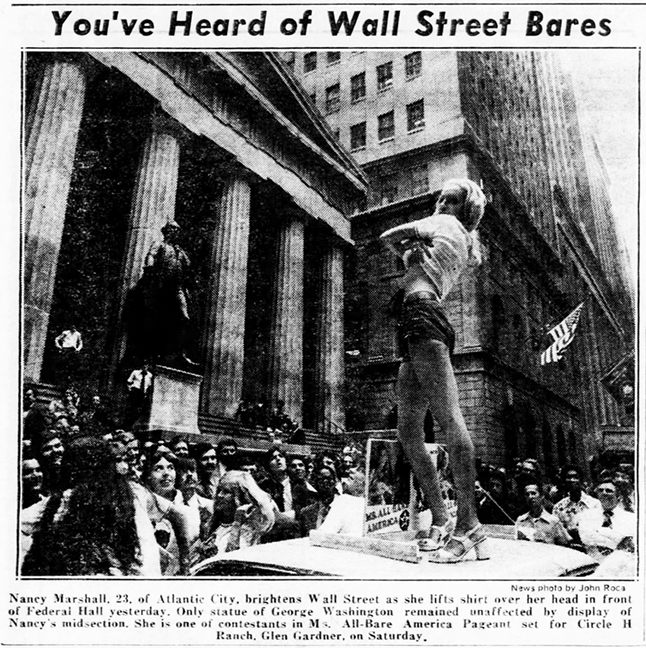 If Rod had spotted commercial opportunities in marketing sex in New York, he was also acutely aware of the city's cutting-edge music scene: "I became involved with the underground rock scene in New York. Rock 'n' roll to me was the most legitimate form of contemporary art, and places like CBGB's looked to me like ideal experimental laboratories to spawn culturally shattering things," he said. "I liked CBGB's for the same reason I liked Eighth Avenue – because it was very free. I thought it was explosive and dynamic and exciting and real."
Rod started shooting videos of then-unknown, emerging punk groups like The Ramones, Blondie, and The Dead Boys. He promoted shows too – being the first to put on a Patti Smith show in an actual theater-sized venue in New York larger than CBGB's (the then-Elgin Theatre in Chelsea).
The common denominator for Rod's sex and music projects was simple. He held that true or high art should be measured by how confrontational it is: "The extent to which art confronts the status quo or conventional ways of seeing and thinking… that's a measure of how important it is. Things that pass as art are often just imitative or redundant, so they are measured by how well they imitate some already existing ideal or model. That's always been extremely boring and meaningless to me."
In Rod's mind, great art should revolutionize the way people see and think about things. And it can only do that if the artist takes risks in the most unexpected areas. He decided that a perfect synthesis of his aesthetic was to start a counter-culture theater company. The shows he would produce would deal with political satire and sexual taboos. They would shock people out of their mediocrity.
He was in the right place at the right time – in the heart of Times Square: "I was looking for a place to produce experimental theater with a repertory company, and at the time before the 'cleaning up' of Times Square. Eighth Avenue was the section of town for doing outlier kinds of things. It was seedy and fairly dangerous late at night, but loaded with energy, character, and grit, all of which have now been eliminated in favor of corporate, mass-produced vacuity."
The venue he chose was Show World, a newly opened, multi-level, 'supermarket of sex': "There were a lot of old burlesque theaters around that had well run their course and were sitting empty most of the time, so I made a deal with the owners to front me their theatre for a percentage of the ticket sales after the basic overhead was reached, which they agreed to cover."
Rod called his show 'Captain Kink's Sex Fantasy Theater', and it was a hit from the start: "The deal started on a week by week basis, but soon drew solid crowds. It seated about 150 people, and we ended up running five shows a day beginning at lunchtime seven days a week."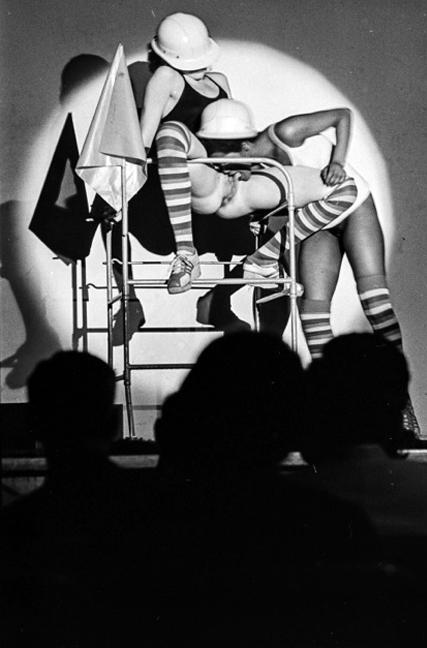 Captain Kink's Sex Fantasy Theater
The show itself was an anomaly, combining old-world burlesque (theatrical, well-executed, and naked) with coarser sections involving carefully choreographed scenarios ending in live sex ("bare-assed secretaries and big black mama with tits full of milk," as Cheri magazine described it).
Rod remembers: "The format was short, fast-paced vignettes, typically intentionally absurd and comedic, often with erotic themes, each running for about 20 minutes for a total show of about an hour and half backed with a lot of (then) cutting edge music. It was a lab of sorts."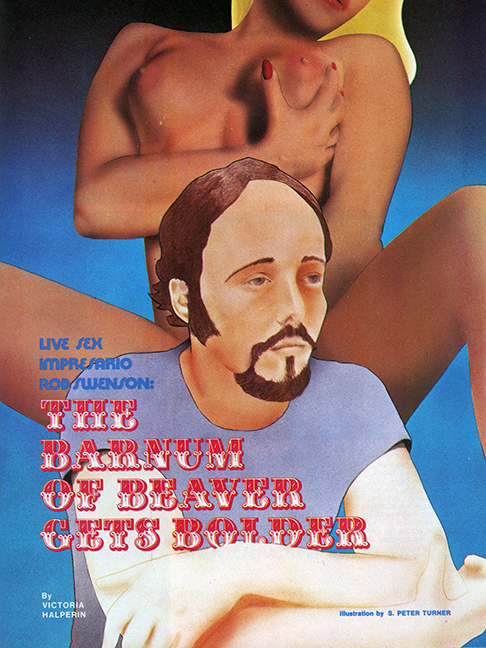 Rod always insisted that Captain Kink's Sex Fantasy Theater was first and foremost a political act. Explaining one act, which featured Dr. Marx – a puppet complete with realistic genitals, who ejaculated all over the audience – Swenson explained, "It's a total imbalance of values and pure hypocrisy for America to condone and permit a brutal and violent exhibition like prize-fighting, while sex on stage in all its forms is one of the very most important and beautiful things in life, and until people in general – and society at large – achieve public consciousness of this, we're all living a lie."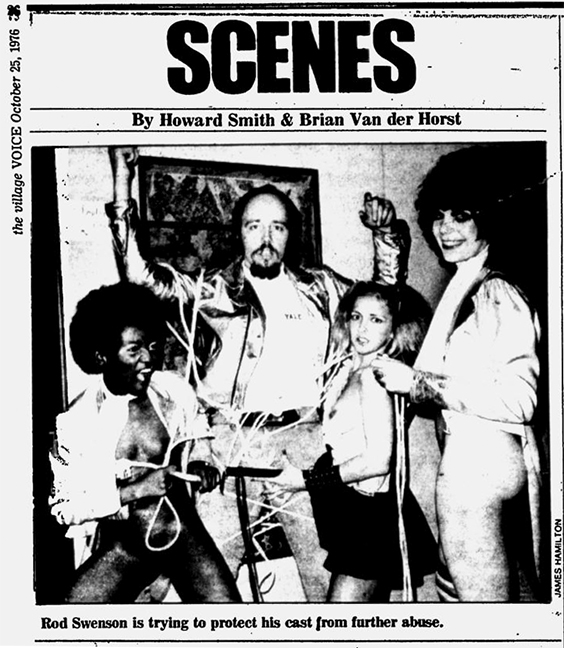 It was busy and it was a lot of work, but demand for tickets was high: "We launched a new show each week on Monday, so the new show had to be written and rehearsed on Sunday night after the theatre closed at midnight so that it would be ready to open for the early matinee on Monday. We hardly ever slept.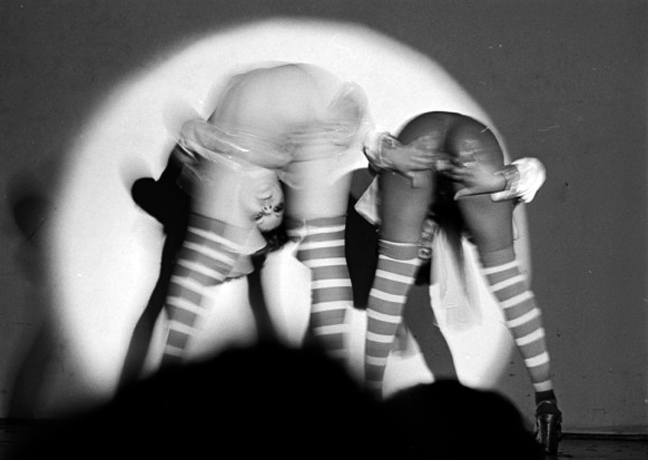 Captain Kink's Sex Fantasy Theater
"We never sold advance tickets and there was always a line for our opening show on Monday and many other shows typically sold out. It was kind of a small cultural hub, and there was a lot of traffic between CBGB's and Captain Kink's with various performers from CB's coming to shows at Captain Kink's, and also to work there on the technical crew doing lighting or helping with props. It was a real energy-charged environment."
By late 1976, Rod was talking about expanding Captain Kink's Sex Fantasy Theater to go national via a six-theater tour. But the success had a predictable side effect: as it grew, and its reputation spread, police busts became more frequent. In one two-week span, there were thirteen arrests reported.
Then Rod met Monica Kennedy.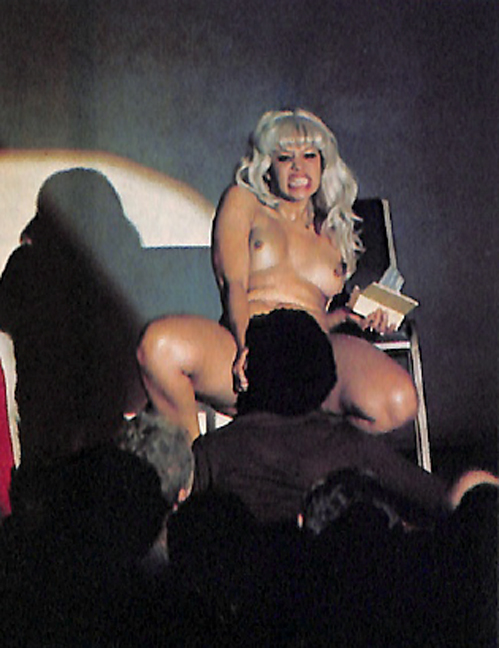 *
Rod and Monica
Lisa Alligood was the reigning Ms. All-Bare America, and thus Rod's protégée. She was a roving ambassador for his All-Bear enterprise, and she'd heard about Monica's act at the 42nd Street Playhouse in New York. She insisted that Rod and her go see Monica in action.
Monica was 30 now, older perhaps than the newer strippers, but her act hadn't mellowed. Au contraire. Monica was now taking sexual performance art to new levels.
Rod remembers seeing her for the first time in 1976. He wrote about his first impressions in Cheri magazine: "Out of the thousands of shows and acts I've seen and produced as a live-sex show promoter, Monica Kennedy has not at any time, in any way, ever ceased to be mind-blowing.
"When Lisa, myself, and some friends entered the Playhouse, Monica was already on stage. Some of the customers in front of the theater were lined up to eat her out, while others scattered around the decaying old theater had their cocks out of their pants and were jerking off. You have to remember that this kind of wide-open sex was much less prevalent at that time and there was virtually no performer-audience contact in any of the theaters I was then involved with.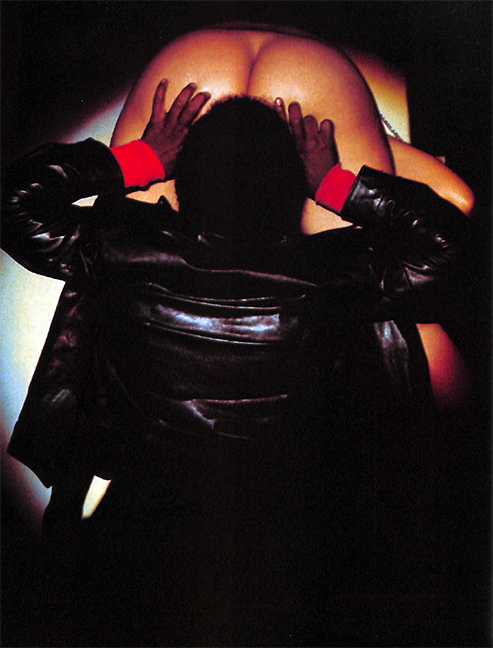 "But even these facts seemed to me to be far less shocking than the outrageous physical conditions braved by both Monica and her fans. It was mid-winter, and there was no heat in the far-from-full theater. Still, there were a good 30 fans sitting in the ice-cold strip joint, shivering in their winter coats and earmuffs, and yes – most of them were jerking off with their gloves on! How's that for fan loyalty?"
Rod approached Monica and brought her onboard as part of the Captain Kink Sex Fantasy Theater. The first night she came on stage in her trademark costume, performed a brief dance routine, and then invited audience members onstage by bellowing: "OK babies, it's feeding time."
Another day she asked, "I'm always showing you mine. How come you're never showing me yours?" A short man ran to the front, taking his clothes off along the way, as the audience started to applaud.
Hecklers fared no better: when one shouted, "Hey baby, eat me!" Monica stopped her routine and forced him up on to the stage as the crowd egged him on. She had sex with him, before discarding him back into the audience. Other times she would climb over the front rows to get to the men at the back.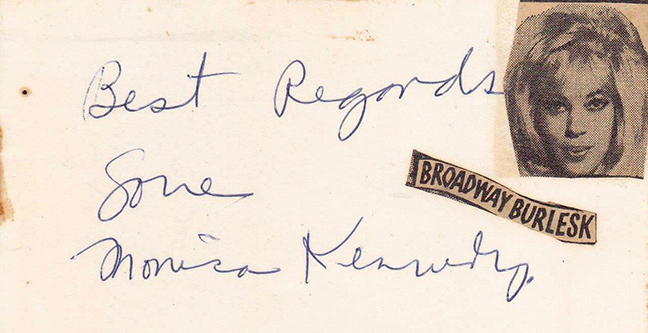 Monica's appearances started breaking records for attendance. People fought for front row seats, and some days ticket lines began forming at 8.15am outside the theater.
Cheri magazine reviewed Monica's show in 1977, and was in no doubt as to her impact: "She is the raunchiest, most direct performer, but also the most intelligent and conscious, and warm and gentle. She develops the best relationship with the audience; she is like a sex therapist, never making anyone feel bad. She reacts to seeing a small penis by saying, "Wow – three inches, just what I like."
"And they keep coming back. They never know what she was going to do next. Of all the guys that I've seen leaving the show, I've never seen one who felt he didn't get his money's worth. The most common expression is one of disbelief and utterances under the breath to the effect of, "I don't believe it.""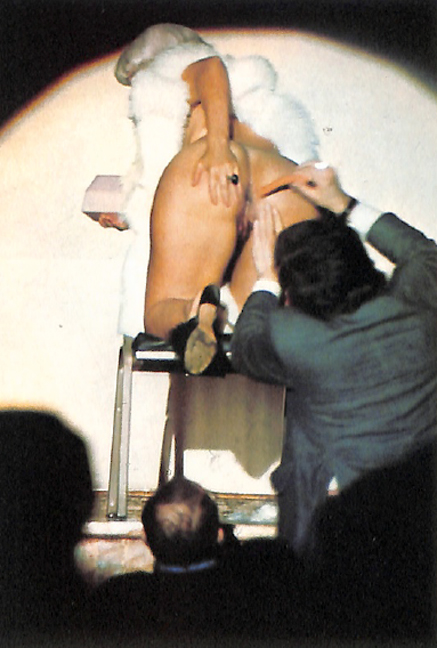 And Monica being Monica always had to take everything one step further. Next stop? She started to become known for her golden showers on stage, getting help from the audience by asking them to make the sound "shshshshsh" as she delivered. "It sounds like an Indian chant as everyone says it unison," she'd say.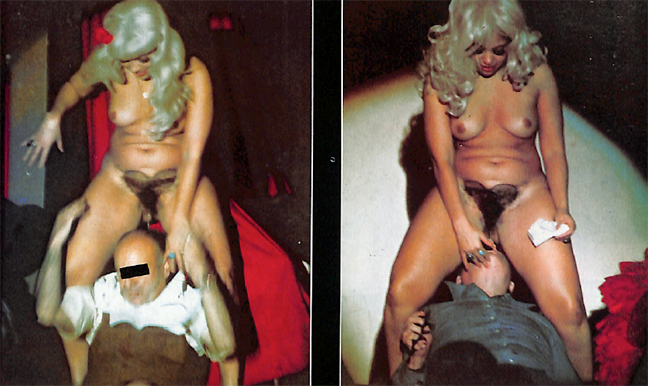 The marriage of Monica and Captain Kink worked well. Monica was good for Rod, and Rod was good for Monica.
But Monica had gone as far as she could go: after all, what the hell do you do next when your act consists of literally fucking your own audience?
Rod knew this. What he needed was someone who could take his political agit-prop statements to a different level. He needed a front person who had a similar amount of brazen rebellion, subversive charm, and sex appeal as Monica, but someone who could be marketed to a bigger audience.
That's when Wendy walked in.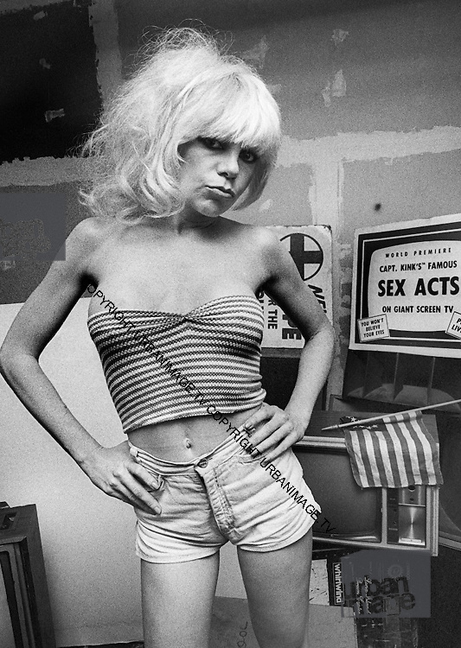 *
Wendy
Wendy Orleans Williams liked her middle name – mainly because her initials spelled 'WOW'. And that conferred a more exciting identity than she inherited at birth.
Wendy O. Williams was four years younger than Rod and Monica. She was born into a comfortable but strict family in Rochester, NY, on May 28th 1949. She referred to her parents – her father, an affluent Eastman Kodak chemist; her mother, a stay-at-home-housewife – as "cocktail zombies," and Wendy felt misunderstood from an early age.
It wasn't any easier at school: classmates and teachers recall Wendy as a "shy and pretty girl who spoke so softly you had to lean toward her to hear her," but other kids were less charitable, making fun of her "birdlike figure and hand-me-down clothes." Wendy retreated into caring for animals, bringing home strays — from wounded birds to raccoons — and caring for them in the family's four-acre backyard in suburban Webster, NY. "The thing about animals," she said, "is that they don't judge you. They accept you the way you are."
But Wendy liked to be the center of attention as well: "She grew up feeling out of place. She had something that needed to come out, and it was big," Rod said. "And it couldn't come out when she was younger."
Wendy's first taste of show biz came at age six, when she won a local tap dance competition and was selected to appear on the Howdy Doody show as a member of the Peanut Gallery. Later, as a teen, she was a clarinetist in her high school's concert band, and won a scholarship to the prestigious Eastman School of Music in Rochester.
But Wendy had deeper problems. Rod remembers: "By her account, her childhood, and especially adolescence, was really difficult for her. She felt differently than the way people around her seemed to want her to be, and she grew up feeling frustrated, thwarted, and often times coerced and punished for trying to be who she was. She was an original, and she paid a price for it growing up. As a teen she became increasingly rebellious and got into all kinds of trouble. Despite all kinds of measures to keep her under control, including the attempt to medicate her and even institutionalize her at one point, by her account, she refused to submit."
Wendy phrased it more simply: "I'd rather be dead than be brainwashed into the complacent robot everybody wanted me to be."
Her teen years have been the subject of much mythologizing over the years, much of it from Wendy herself. She always claimed that a turning point in her life was her first run-in with the law – a bruising incident that supposedly occurred at the age of 15 – when she was arrested for sunbathing nude. Shortly afterwards she took off by herself, losing her virginity in an "act of mutiny," and spending the rest of her teenage years in a sea of "drugs and furious sex," traveling, living rough, and working in a variety of temporary jobs.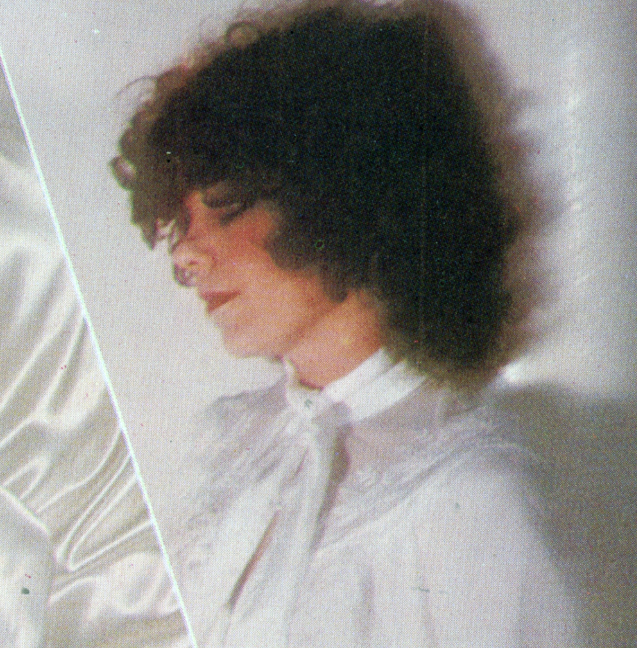 This story has always been widely accepted. But newspaper articles from the time reveal that, far from being 15 when she was arrested for nude-sunbathing, Wendy was in fact 21 – and still living with her parents in Rochester. Whatever the reason for this embellishment, her early 20s were characterized by a restless wanderlust that she said took her all over the world. She claimed to have hitchhiked her way to Boulder, Colorado, where she camped outside the town in a tent. She made and sold beaded necklaces, worked part-time at a Dunkin' Donuts, experimented with LSD and mescaline, and began dabbling in Far Eastern religions. She traveled down to Fort Lauderdale, Florida, where she slept on the beach and sold string bikinis that she crocheted herself. She also sold handmade macramé, hanging plants and vitamins, and worked as both a lifeguard and sailing instructor. She went to Europe and wound up bartending in an Amsterdam bar, then working as a macrobiotic cook in London, before joining a traveling gypsy dance troupe, with whom she developed a bizarre original dance that involved a six-foot Buddha. She claimed to have studied with a guru in the Himalayas, worked as a stripper, was arrested for shoplifting while in England, and spent a night in an Italian jail for passing counterfeit money.
Whatever the truth behind this period of her life, by 1976 Wendy had turned up in New York City, where she rented a roach-filled room in a seedy Times Square hotel, trying to figure out what to do next.
She happened upon a copy of Show Business Weekly, discarded on the floor of the Port Authority Bus Terminal station. In it she saw a casting call for a 'performance artist' dancer that would act out scripted sex fantasies at Rod Swenson's Captain Kink's Sex Fantasy Theatre, located on 42nd Street near Eighth Avenue.
It sounded like a big fuck-you to the world. And that appealed to her.
So she answered the ad, ready for the chance to raise a defiant middle finger to New York and beyond.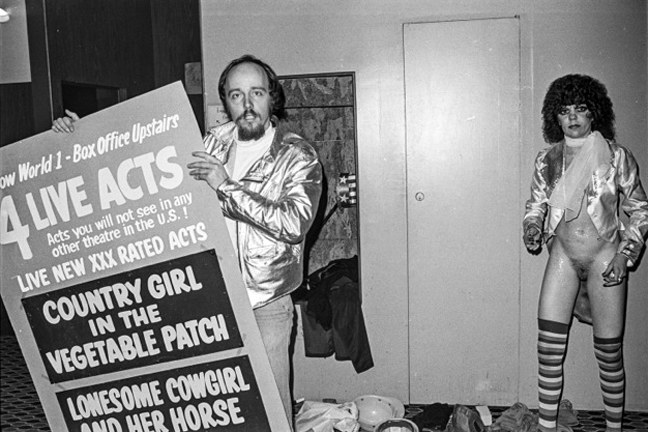 Rod and Wendy at Captain Kink's Sex Fantasy Theater
*
To be continued in the next Rialto Report.