We continue our digitization project with the east coast film publication Cheri, looking at the birth of the magazine, and reviewing all the issues from 1976, its first year in business.
How did editor Peter Wolff go from launching a successful magazine to getting an issue of the magazine banned – and almost getting fired himself – within the first five months? The full story is revealed here.
These issues include articles and photo spreads with Annie Sprinkle, Marlene Willoughby, Vanessa del Rio, Honeysuckle Divine, Clea Carson, Jamie Gillis, Terri Hall, Jody Maxwell, Veri Knotty, a $1,000 'Blow Job Contest', and much more.
You can find The Rialto Report's growing collection of digitized resources by choosing Library in our site menu. Check back for more digitized adult film magazines soon.
Click on the covers below to access the full magazines. Due to the fact that the magazines are scanned in high definition, allow time for each page to load. If you are viewing on a phone, view in landscape orientation.
Magazines are fully searchable; use the icon displayed in each magazine to search by keyword.
Publications are being shared here purely for the purpose of research. They should not to be used or reproduced for any commercial gain.
_______________________________________________________________________________________________
The Birth of Cheri magazine: 1976
Peter Wolff was the brains behind Cheri magazine. God knows, he had the experience and the track record. By 1976, he had already worked on magazines such as Rogue, Topper, Bachelor, Ace, Follies, Frolic, Gala, Tab, Vue, Jaguar, Duke, Stud, Escapade, Daily Girl, Caper, and Gallery, to name but a few. He'd even been the editor of rival magazine High Society.
As indicated in Taschen's History of Men's Magazines, "Publishers would hire Peter to start a magazine, and while his magazine would be incredibly innovative and profitable, he'd be partying and obviously having way too much fun. As part of his deal with any publisher, he always insisted on a tab at a convenient bar, with his own table. He was a compulsive gambler and four-pack-a-day smoker. His office was littered with betting stubs, cigarette butts, take-out food, random slides, and manuscripts. His t-shirts and jeans were stained, and his long gray hair was often unwashed: he was fat and not particularly handsome. And yet he managed to have sex with most of the models, through his immense charm and intelligence. He never believed a publisher could fire him, but eventually the drinking, the arrogance, plus spending tons and tons of money, would always be too much for them. So they'd dump him… and get his great ideas."
But to view Wolff as purely an adult magazine veteran is to underestimate and undervalue him. His first experience as an editor was on a student newspaper at Queens College, when he was active in the Women's Liberation and Civil Rights Movements, even risking his life in black voter registration drives in the South. He became involved in the world of counter-cultural publications in the late 1960s, before becoming involved in erotic magazines. But Wolff differed from the vision of porn magnates like Hugh Hefner and Bob Guccione in that he had little time for the fantasy world of the beautiful people. He was fascinated in the sexual interests of common men – and their wives. He wanted to democratize the content and involve the readers directly in the magazines he produced.
In early 1976, Carl Ruderman needed a figurehead to divert attention from his position as publisher. He hired Peter Wolff – but Wolff suggested he appoint a nominal female 'publisher' instead. And not just any female – he wanted a glamorous woman already associated with the New York sex scene. Wolff suggested adult film actress Bree Anthony, star of porno hits Oriental Blue, The Vixens of Kung Fu, Highway Hookers, and others. Appointing Bree Anthony proved a smart idea – and selecting her eventual successor, adult film actress Gloria Leonard, an even smarter one.
Wolff was fired by Ruderman after the first two issues, May and June 1976, but soon found a home at Cheri, the magazine that would prove to be his most lasting success.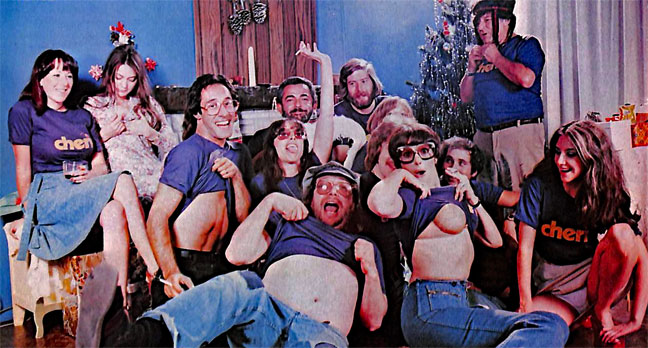 Peter Wolff (front) with Cheri staff, including Annie Sprinkle and Gloria Leonard
____________________________________________________________
Cheri: The Complete 1976 Issues
August 1976 (Vol 1, No. 1)
(click on cover to view magazine)

Contents:
The first issue of Cheri came out in August 1976 – with a typically over-the-top announcement by Peter Wolff that mirrored a similarly hyperbolic introduction he had written when he launched High Society just three months earlier:
"Here comes CHERI! A star-spangled, Yankee-doodling dingdong of a magazine! A motherfucker of a book! Bid farewell to commercialized cunt-mongering. We're free-swinging, free-thinking family, larynx for the morals revolution, an arsenal for all liberationist movements. We're out to shatter all the old sexual formulas."
In fact, Wolff brought a number of ideas with him from High Society, notably assembling a group of female 'contribution editors' – each supposed experts in a different field of sexuality – who would pen new columns each month. Their writing would ostensibly be a form of gonzo journalism, but would include enough titillating sexual detail to appeal to the raincoat crowd.
For Cheri magazine, Wolff hired adult film regulars Kim Pope and Jody Maxwell as contributors. According to a recent interview The Rialto Report conducted with Kim Pope, she was living with Wolff and his wife at the time, and her column was largely ghost-written by Wolff himself using conversations about Pope's experiences as the basis of the column. Jody Maxwell, who was then living in Kansas, was described as a "former Young Republican who will be covering the Bible belt – and up-coming presidential elections."'
Other columnists were less well-known but equally colorful. There was Terry Kolb (founder of the New York Eulenspiegel Society, "dedicated to masochist liberation"), Maureen Murphy ("editor, writer, model, and revolutionary sexual crusader"), Mistress Roseanne ("a prominent New York dominant"), Renee Rousseau (a "journalist at large"), and nudist/swinger Audrey Andrews. Wolff wanted Cheri to feel like an inclusive family party, so he invited readers to correspond with all the columnists c/o Cheri.
In the first few months, the photo spreads were often generic picture sets acquired from agencies, but photographer Peter Hurd contributed a pictorial of Annie Sprinkle accompanied by an interview of the adult film star conducted by Wolff.
One of Wolff's big ideas for the launch of Cheri was a $1,000 'Blow Job Contest'. When he had been at Gallery magazine, Wolff had held an amateur photo contest that had drawn a huge response – and which had got him fired. This time, readers were asked to write a 150-word essay on "the superlative cock-sucking abilities of xxx (wife/girlfriend/secretary/friend/sister (gulp)/roommate", and submit it to Cheri for consideration. These essays would be judged by a jury consisting of Gloria Leonard, Kim Pope, and Wolff himself. The winner would come to New York to receive the cash prize in person (and no doubt be required to offer some proof of their alleged expertise.) Five runners-up would receive $100 cash prizes as well.
Writer Diana Clapton (who had written both volumes of the paperback biography of Marc Stevens) contributed an article on the Star Family, a self-described "first porn commune" based in Southern California. The Star Family were a rag tag group of underground writers and artists, headed up by husband and wife Paul and Shirley Eberle, and they published the underground newspaper, the 'L.A. Star'. Photos of the family having sex were provided by Ric Dante, who was also a member of the group.
As Peter Wolff said in his opening editorial: "I'm fucking tired of following other people's formulas. I'm sick of producing mindless, sexless, sexist shit. CHERI has what you've told me you want. Not what (Supreme Court Justice) Burger wants. Not what Ford (U.S. President) wants. Not what the slick, hip, cool, big-money cats wants.
"It's our magazine. Yours, mine. And it's going to happen BIG."
____________________________________________________________
September 1976 (Vol 1, No. 2)
(click on cover to view magazine)

Contents:
One of the biggest differences between the early days of Cheri compared to it's local competitor, High Society, was the stability of the editorial team. Whereas Carl Ruderman, publisher of High Society, seemingly hired and fired his senior team on a monthly basis, Peter Wolff wanted continuity. He surrounded himself by friends, who worked hard, and partied hard – and they helped him make his unique vision for a magazine a reality.
By the second month, Wolff had added a number of additional staff members, including Gloria Leonard (who would use her experience gleaned at Cheri to later become 'publisher' at High Society), photographer Carl Kravatz, and Bob Amsel, the editor of adult film magazine, Flick.
The big exclusive in the second issue of Cheri was a feature on Elizabeth Ray. Ray was the central figure in a much publicized sex scandal earlier in the year that ended the career of U.S. Rep. Wayne Hays (D-Ohio). Ray had been on the payroll of a committee run by Hays for two years as a clerk-secretary. During that time she stated her actual job duties were providing Congressman Hays sexual favors. Ray also admitted having sex with married Sen. Mike Gravel (D-Alaska) arranged by her then boss Rep. Kenneth J. Gray (D-Illinois) in exchange for Gravel's support of a bill Gray was pushing.
Wolff obtained nude pictures of Elizabeth Ray, taken before the scandal broke, and published them under the heading, "Meet The Beaver That Blew Washington's Cool."
Peter Wolff and Peter Hurd followed up their profile of Annie Sprinkle in the previous issue with a similar feature on the "current pop tart in Big Apple blue films," Jeanette Sinclair. Who could forget her portrayal of Justine in Love in 'Strange Places',\ where she was credited as 'Janet Sucatitt'?
There were photo spreads featuring a pregnant woman ("Ninth-Month Nookie"), a review of the new film 'Ilsa, Harem Keeper of the Oil Sheiks', a bizarre pictorial of Gloria Leonard seducing a (supposedly) underage boy scout (don't panic – the accompanying text reveals that they got married afterwards), and a much-needed and helpful guide to breast bondage.
Peter Wolff covered The All-Bare Revue at New York's prestigious Beacon Theater, where he was part of the committee that selected 'Miss Naked New York' (adult film star Beth Anna was one of the contestants).
Bob Amsel contributed an interview of west coast photographer Nippy Phillips, which included pictures of Sandy Carey.
Best of all, there was a selection of photos taken by Peter Hurd featuring Jamie Gillis and Terri Hall – "together for the first time since The Story of Joanna". The location for the shoot was the basement of Terri's own apartment in the Village.
The regular columns continued – with Jody Maxwell in particular taking her writing gig seriously. She reported from Kansas, where she met with prostitution activist Margo St. James.
Now that Cheri was established, readers were invited to subscribe to the magazine and be part of the family: "Cheri offers you a direct, one-to-one dialogue with the makers and shakers of the erotic blitzkrieg. We offer you a membership in our little enterprise. We are a fucking Super-family, an alliance of readers and performers joined by common curiosities and passions."
____________________________________________________________
October 1976 (Vol 1, No. 3)
(click on cover to view magazine)

Contents:
Issue 3 saw the first appearance of "superstar stripper" Honeysuckle Divine. The marriage of Cheri and Honeysuckle Divine was perfect. They were both lewd, rude, and glorified in shocking convention: the climax of Honeysuckle's act consisted of her expelling ping pong balls out of her vagina. She was regularly in the news as her act was busted frequently, and Honeysuckle would become a regular feature in Cheri magazine over ensuing years.
In her first appearance in the magazine, Honeysuckle Divine re-enacted her act for the cameras, while recounting her recent legal issues in detail.
The regular columnists weighed in with their latest essays, and Annie Sprinkle joined the team, standing in for Kim Pope. Jody Maxwell found herself in the right place at the right time. She was in Kansas City, the location of the upcoming Republican convention. This enabled her to report on the preparation for the event – from unusual angles. This month she spoke to prostitutes in the city about their rights.
The issue also included an article about "new art" – a male sex surrogate and a feature on glory holes (which included pictures of adult film stars, Arlana Blue and Juliet Graham).
____________________________________________________________
November 1976 (Vol 1, No. 4)
(click on cover to view magazine)

Contents:
The November issue added more contributors to the masthead – which now totaled a sizeable 42 people – including future adult film director Richard Milner and porn star Marlene Willoughby.
Several of the more senior names – Gloria Leonard, Honeysuckle Divine, Richard Milner and Peter Hurd – traveled down to Washington D.C. to report from a gathering of the nation's sex workers. The workers had gathered under the aegis of Margo St. James' activist group COYOTE (Call Off Your Old Tired Ethics) to call for legislation protecting their rights. Continuing the theme of reporting on the lives of prostitutes, new columnist Elizabeth Dean also wrote about street-walkers in Houston.
Two new writers were added to the roster of regular contributors: Honeysuckle Divine, who wrote about her reaction to the Elizabeth Ray scandal, and swingers Scott and Suzanne Murray, who introduced themselves as follows: "We've been married for over four years… but being married doesn't mean that we don't like a bit of spice in our lives. We've tried to sample just about anything that came our way – or their way."
This month's porn star interview featured Marlene Willoughby, and was accompanied by a series of photos of Marlene dressed up as a maid, a dominatrix, and Fidel Castro (seriously…). She described appearing in the off Broadway play, Che, having sex with John Holmes, and her relationships with men.
There was also an interview with Richard D'Antoni and his wife Barbara, the young directors of the adult film 'Teenage Cheerleaders' featuring Harry Reems and Jamie Gillis. The directors discussed the challenges they encountered in casting the female lead, one-film wonder Susie Mitchell: "She was the very last girl we interviewed. The moment she walked in the door, we both knew she was just what we wanted – a very intelligent, highly sensitive girl with the kind of charisma that will put a film over."
Continuing the adult film theme was a photo feature on Veri Knotty – whose specialty was having, in the words of Cheri, "Labes so limber, she can loop 'em and link 'em… tieing up her twanger in a bow is part of her strip act."
And after feverish anticipation lasting several months, the first semi-finalists in Cheri's $1,000 Blowjob Contest were announced with a defiant flourish: "They all laughed when, in our inaugural issue, we announced our contest. Nobody, critics chortled, is going to enter that one! But they did enter. In droves. And they weren't pros, uglies, or crazies. They were attractive, normal, people-next-door people. And here they are." Quite what the criteria were that were applied to the essays is unknown, but it is not believed that any of the essays received were submitted to the Pulitzer committee for consideration.
____________________________________________________________
December 1976 (Vol 1, No. 5)
(click on cover to view magazine)

Contents:
The year end issue included a gift: a comic book featuring three stories from the pen of Robert Crumb, 'R. Crumb vs. The Sisterhood', 'Big Fine Legs', and 'Anal Antics'. Or, as it was described in the magazine. "More Sick Humor Which Serves No Purpose."
Jody Maxwell contributed her most detailed article, reporting from the Democratic Convention at Madison Square Garden in New York. And there was a piece which asked one of the most pressing issues of the day: "Is There Sex On Mars?"
Live sex impresario (and future partner of Wendy O'Williams) Rod Swenson was profiled, with photographs of his 'Sex Fantasy Theater' which was playing at New York's Show World Center. It was described as "the best of old-world burlesque – theatrical, well-executed, and naked – and the coarsest of our mental images." Swenson also provided photographs for another feature , a nude profile of model Tammy Ward.
For the first time adult film reviews, penned by Peter Wolff and Flick magazine editor Robert Amsel, were included. The movies selected were 'Easy Alice', 'Sweet Cakes', 'Through the Looking Glass', 'Peach Fuzz', 'Candy's Candy', and 'Teenage Sex Therapy'. 'Water Power' actress Clea Carson was also featured in an extended photo spread.
But what really rocked the boat were two features that nearly got Wolff fired.
Firstly, there was a controversial feature on the René Guyon Society, a possibly mythical American group that was said to have advocated sexual relationships with children. How on earth do you illustrate such an article? In this case, with children's dolls. All very strange.
Secondly, in perhaps the most bizarre pictorial seen in a 1970s mainstream adult magazine, Vanessa del Rio featured in intimate physical contact with a cow. Yep.
These two articles caused the December 1976 issue to be banned from many retail outlets, and it was a near-miracle that Wolff held onto his job.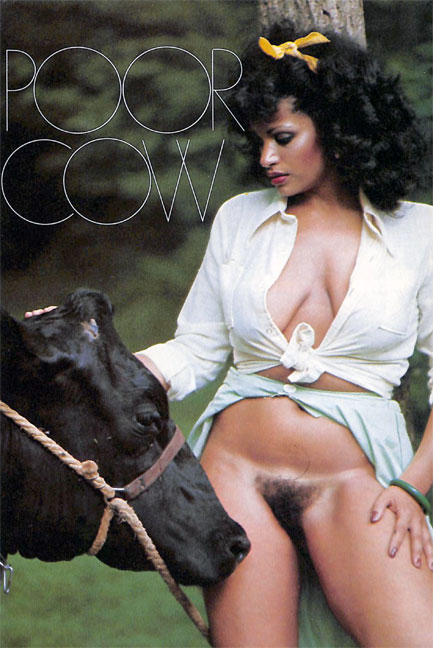 *