Marc Stevens was one of the most recognizable, larger-than-life, and flamboyant adult film performers in New York in the 1970s and 1980s.
He was a bi-sexual icon on the New York porn scene and featured in the landmark film Devil in Miss Jones (1973) – as well as a host of straight and gay movies. He was famously photographed by Robert Mapplethorpe as 'Mr. 10 ½' (1976), and, in 1975 and 1977, he published two celebratory autobiographies, '10 ½' and 'Making It Big'. He toured college campuses, appeared on major network talk shows, and held public debates with legislators to defend sex films and sex performers – while giving contradictory interviews condemning the misogyny he experienced in heterosexual pornography.
He was known for his erotic dance troupe, and for the many wild parties he organized in New York discos. His mother was said to be his manager, and he famously married the first transsexual adult film star. He had his own fan club that sold merchandise promoting the 'Marc Stevens' brand, and hosted his own cable TV chat show.
In many ways Marc created the template for the self-publicizing porn star that still exists today. He was a reality star before the concept was invented. He was born for today's world of Twitter, gossip, and self-promotion.
So why is Marc Stevens almost forgotten today?
And why has it taken us this long to feature him on The Rialto Report?
The truth is that we wanted to do Marc justice, and this meant tracking down as many people who knew him as we could, so that we could separate fact from fiction. Marc was fond of self-mythologizing – his two autobiographies are partly true but often embellished – and he freely admitted to making up stories in interviews to enhance his own legend.
However a detailed look at his life reveals a more complex, conflicted and compelling person. It consisted of constant re-invention, and he inhabited multiple roles as he moved from being a soldier, street prostitute and live sex show performer, to porn star, industry spokesperson, party maven, talk show host, and much more.
In this Rialto Report, we look at the life and times of Marc Stevens, by gathering the thoughts, memories, and opinions of over 50 people who knew him well.
The concluding part of 'Marc Stevens: 'Mr. 10 ½' will follow next week.
All quotes are from interviews conducted by The Rialto Report, except where noted.
Marc changed the spelling of his name from 'Mark' to 'Marc' when he started making adult films. This article uses the former spelling when he is referred to by those who knew him as 'Mark'.
_______________________________________________________________________________________________
Prologue:
The Rialto Report:
Can you tell me what you remember about being in Marc's apartment at 90 Lexington Ave. in January 1989?
Anonymous:
Why is important for you to know?
The Rialto Report:
It was the month Marc died. I'd like to know what his last days were like.
Anonymous:
But why do you need to know?
The Rialto Report:
I've heard rumors. Some disturbing rumors.
Anonymous:
Like what?
The Rialto Report:
Aren't I supposed to be interviewing you?
<Silence>
The Rialto Report:
I heard that Marc was in bad shape at the end. Perhaps AIDS. Perhaps drugs. And that he was unable to care for himself.
Anonymous:
That's true.
The Rialto Report:
I heard that some of his close friends… they pulled away from Marc. They had less to do with him. They were afraid.
Anonymous:
Afraid of what?
The Rialto Report:
I've heard stories about drug dealers. Guns. People robbing him of his possessions.
And characters that moved into his apartment, who neglected him when he was helpless.
<Silence>
Anonymous:
You have to see where I'm coming from. There's nothing in this story for me.
The Rialto Report:
I'm not interested in creating a problem for you or anyone else. I'm just looking to find out what happened. I don't have to use your name.
<Silence>
Anonymous:
I only knew him at the end. I can only tell you what I know. From my perspective. That's all I can do.
The Rialto Report:
That would be good. I've spoken to many people who knew him.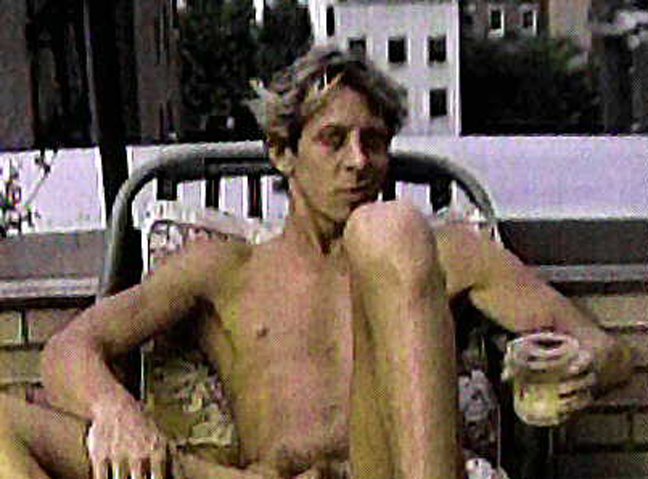 Marc Stevens (late 1980s)
*
1.     Beginnings (1943 – 1960): Brooklyn
Marc Stevens (from 'Making it Big' (1977)):
Ah, my childhood. It's the first thing the interviewers ask about. Was I deprived? Depraved? "Was your mother really a traveling stripper and your father an abortionist?"
The answer is very complex, and it lies in the confused roots of my unfortunately mostly normal Brooklyn family life.
Marc Stevens was born Mark Kuttner in Brooklyn in 1943.
Lee Kuttner (Marc Steven's older sister):
I was the oldest of four children. Our next sister, the second born, was Mickey. Her real name is Michaelle.
Then came Mark – spelled with a 'k'. He was born September 2nd, 1943. 'Stevens' was not part of his name back then. He was just Mark Kuttner. He had no middle name.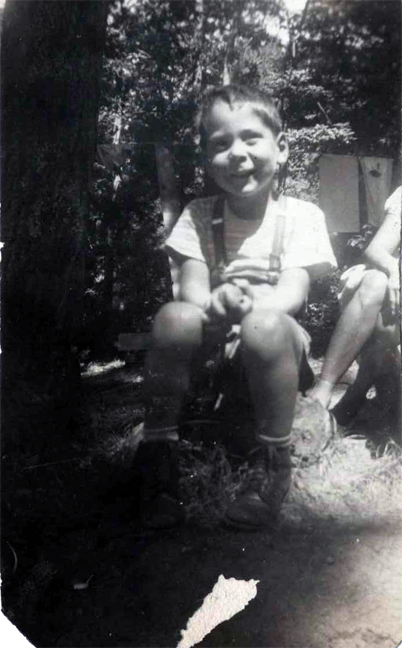 Karen Kuttner (Marc's youngest sister):
And I was the youngest of the four children. In fact, I still am.
Lee Kuttner:
Our mother and father were both Jewish, and they were first generation Americans. Our grandparents were all from Europe. Our paternal grandparents were from Hungary and our mother's parents come from Austria. They immigrated to the U.S. and most of their children were born here.
Our parents met at a wedding in Brooklyn. They fell in love and eloped shortly after. I think they ran away to Harrison in upstate New York to get married. They were in their early twenties at the time.
My father was named Walter but people called him Wally. He'd been enrolled as a student at Brooklyn College, but when they got married, it was the height of the depression. Because times were so bad, he had to drop out when he was a senior and get a job so he could earn some money.
For a time he worked for Ebinger's Bakery Company in Brooklyn – which was very famous at the time. He was a truck driver for them and he delivered baked goods across the borough. He was a hard working man. He had to be to feed four children…
We lived in the Crown Heights section of Brooklyn at 566 Maple Street.
Karen Kuttner:
Our mother was named Hannah, or Hanni for short, so people often thought her name was Honey. She was an attractive woman, dark haired, and petite.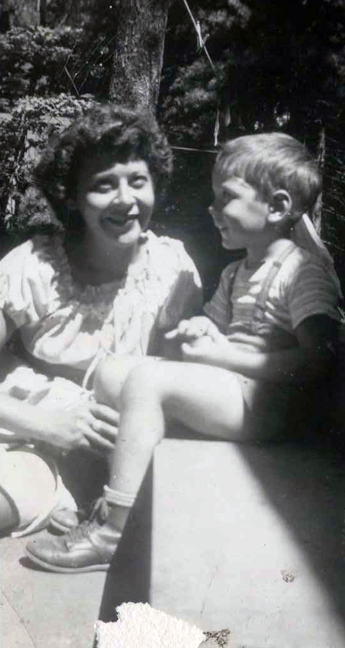 Marc and his mother
Marc Stevens (from 'Making it Big' (1977)):
My mother, who closely resembled Claudette Colbert, quickly decided on the life of a career woman after the first dose of motherhood. She had a zillion different jobs – in banks, restaurants, schools and offices and left young Lee home to run the show.
Lee Kuttner:
She was not very maternal in terms of taking care of us children. Because I'm the oldest, I had to step in many times and be a substitute mother. Especially to Karen. By the time Karen was born, I was ten years old. I took care of her. Not all the time, but a lot of the time.
I didn't take care of Mark like I looked after Karen. He was more of a wild child.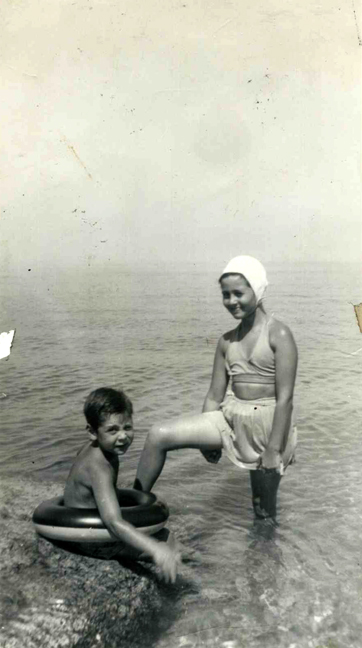 Marc and his sister
Marc Stevens (from 'Making it Big' (1977)):
I was the first born (and only) male and naturally very spoiled. My two older sisters subverted this by bullying me mercilessly when they were left in command, which was much too often.
Lee Kuttner:
We girls felt close to Mark in many ways, though there were times when we resented him. For example, he was allowed to have his own bedroom because he was the only boy… we three girls had to share, so for us it was like living in a dormitory.
Marc Stevens (from 'Making it Big' (1977)):
You have to understand, I was the kind of kid that would make anyone crazy, and they were the kind of sisters who didn't see the natural superiority of males in a brother like me.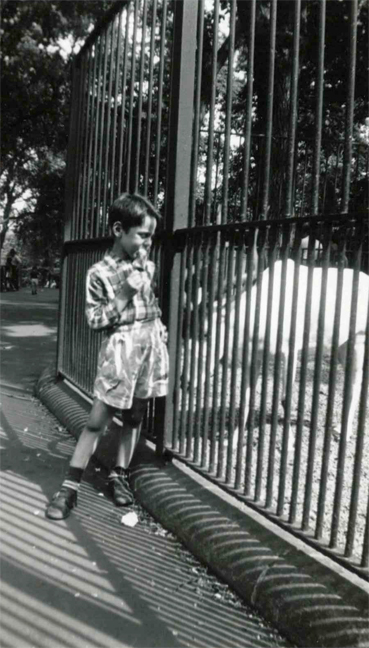 Lee Kuttner:
We didn't all go to the same school. Mark and Karen went to Midwood School in Brooklyn, and Mickey and I went to Erasmus Hall High School. By then, we'd moved to a new home just round the corner from Marc's school at East 22nd St and Campus Road which was on the periphery of Brooklyn college.
As a high school student, Marc and his classmates would exercise on the same school football field, and shower in the changing rooms, that were immortalized twenty years later in the film 'Debbie Does Dallas' (1978).
Marc Stevens (from 'Making it Big' (1977)):
When I was coming of age, Barbra Streisand was a close friend of my sister Mickey, and was convinced even then that she could bludgeon her way to super stardom.
Lee Kuttner:
No, that wasn't true. Mickey and Barbra were in the same graduating class, but that was it. Nobody was friendly with Barbra Streisand… she was a loner.
Karen Kuttner:
I don't think Mark was what you'd call a good student. Basically he didn't want to be there. He was bored. He wanted to do something else. I wouldn't call him a juvenile delinquent but he was definitely rebellious, and yearned for something exciting.
Lee Kuttner:
He was an intelligent person but he occasionally got into trouble… I do remember he once stole a parking meter. He'd also bring pigeons into his bedroom and hide them under his bed. He just did his own thing, and neither my mother nor father could control him. He marched to the beat of a different drum.
He didn't have a strong father-son relationship and, being the boy child, I think that really affected him. At first he sort of faded into the woodwork.
Marc Stevens (from 'Making it Big' (1977)):
Very patiently, my father would sit at the kitchen table with my school books, attempting to kindle whatever spark of knowledge might lie in my TV blasted brain. I'd yawn.
"That's it! There's no hope!" he would bellow, slamming the book shut.
That started a gap between us that was never bridged until shortly before his death.
Marc Stevens (from 'Making it Big' (1977)):
The things I was best at as a kid were sports, eating and getting my way. The things I was worst at were anything whatsoever to do with school.
I was tremendously embarrassed by my body, which was small and slender and with this huge log between my legs. Comparing with the other boys in school was the worst thing a child can be – different. I was somehow cursed by fate, a freak for life, because of this extra flesh I found between my legs.
According to his (often self-aggrandizing) autobiography and many interviews, Marc's early sexual experience was sporadic, something he attributed to the fact that he was so well-endowed.
Marc Stevens (from 'Mr. 10 ½' (1975)):
I knew my cock was above average from the locker room and because I took an adult-large supporter from the time I was 12. But I didn't know it was a good thing to be hung. I was made to feel it was a freaky thing, like having a hunchback.
Marc claimed that he lost his virginity to Roberta, an NYU undergraduate who was six years older than him.
Marc Stevens (from 'Making it Big' (1977)):
Roberta. How can I ever begin to describe this sex machine? She has an ordinary, skinny, Jewish body topped by an equally semi-okay face full of pimples – and, no lie, the biggest tits I've seen in my life.
She taught me so much. We did it swinging from the rafters, bent over the bed, hanging out of the window. Fortunately I was in top stud shape with those soccer thighs, or she might have snuffed me out completely.
Marc's teenage life was complicated by his parent's worsening relationship at home. His father had returned to college in a bid to become a teacher, a move that Marc believed was resented by his mother.
Lee Kuttner:
Karen and I have different perspectives on my parent's relationship. Since I came along first, I remember more harmony in the home. But by the time Karen came along, it wasn't so good. They were having marital problems and they had their own set of issues. None of the four of us felt well nurtured by them.
Marc Stevens (from 'Making it Big' (1977)):
I couldn't avoid the fierce bickering I heard in my parent's bedroom night after night. I realized that they'd stayed together only for us rotten kids.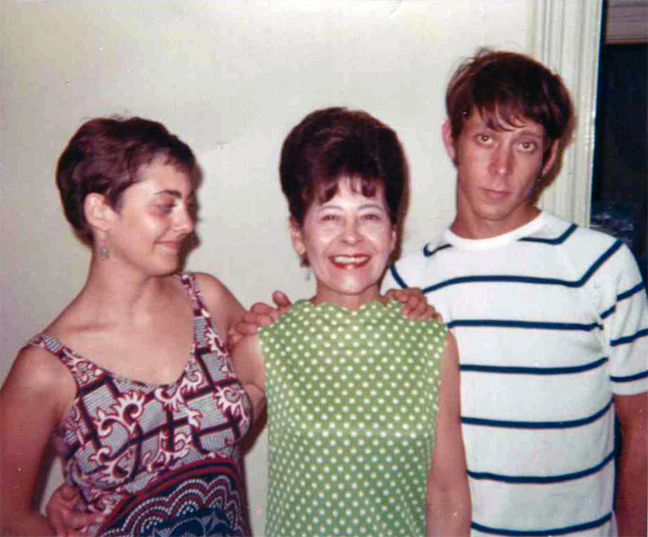 Marc with his mother and sister
Karen Kuttner:
I remember my mother as being depressive.
Lee Kuttner:
My mother drank too. She became an alcoholic, which is unusual for a Jewish woman. That really destroyed our lives as young children.
Marc Stevens (from 'Making it Big' (1977)):
My mother was drinking heavily suddenly, and was even less affectionate with the kids. Maybe Dad drove her to it, in his own quiet, book-wormish way. Maybe she was never meant for the stresses of motherhood. There would be violent explosions we couldn't understand. The vicious howling struck deep into my heart, and I became very depressed.
Honey Kuttner (Mark's mother) (from 'Making it Big' (1977)):
I thought only of my own anguish – never realizing that he was struggling so hard. Later on I realized that I'd been selfish, and not ready and willing to help him.
When Marc was 16, matters came to a head during a summer vacation with the family in Woodstock, NY.
Marc Stevens (from 'Making it Big' (1977)):
Mom was a little unstable, a little moody. She got nastier, despite Lee's best efforts, and took herself farther and farther away from us each day.
I was down swimming, late one afternoon, when my sister Mickey came screaming down to the beach.
"Mark, quick! Mommy's taken all these pills – you've got to help!"
Lee Kuttner:
That incident affected him emotionally a lot.
Karen Kuttner:
We were all affected by it. It was very traumatic because we were all there.
Lee Kuttner:
I remember our father rushing my mother to the hospital. It was an attempt to kill herself. To be honest, I think it was an attempt to get attention. I don't think that she really meant to finish herself, but I think that she wanted to get the attention of somebody because she was so depressed. She drank a lot, and that added to her load.
Maybe it affected Mark more as they had a close mother-son relationship.
Marc Stevens (from 'Making it Big' (1977)):
Mommy had been unhappy, we couldn't deny it. The only profanity we'd ever heard in our house had come from her – the only bitterness, the only accusations. Now I see that it must have had a lot to do with my father's finally going on to become the professor he'd always dreamed of being. She must have been fiercely envious to the point of poisoning everything around her.
Marc's mother recovered in hospital from the overdose, and the family returned to Brooklyn.
*
2.     Leaving Home (1960 – late 1960s): Germany and Greenland
Lee Kuttner:
Mark was a troubled teenager, and to give my mother credit, she knew that. So she had the brilliant idea of enlisting him in the army to give him some discipline and to get him away from the home environment. It was her who signed him up.
Marc Stevens (from 'Making it Big' (1977)):
Mommy took my arm. "Now, listen carefully," she told me, with a blazing look in her eyes. "Your father hates you, and he'll destroy you – the way he has me. You've got to get away from here! You'll never survive unless you join the army. Promise me you will!" Her nails dug into my forearm.
My mother pressured me into enlisting before I'd even had time to think about her accusations.
All I knew is that I had to get away from the hideous tragedy that our family life had become.
Honey Kuttner (from 'Making it Big' (1977)):
My solution seemed a little strong at the time. The army accepted him, and I signed, as he was underage. He looked so beautiful in his uniform.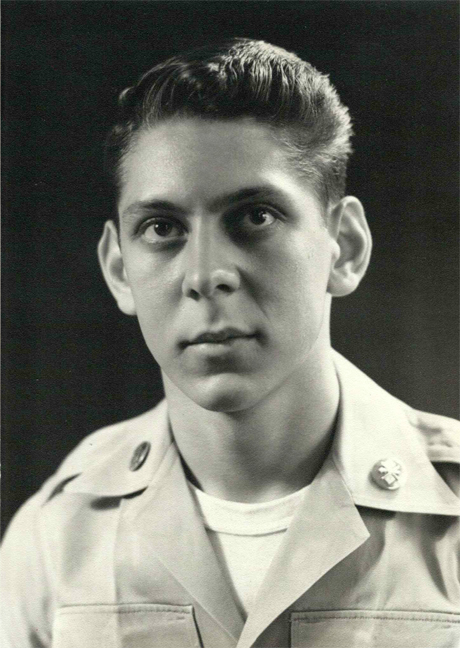 Lee Kuttner:
He went through basic training in Fort Dix, New Jersey. Then he was sent to Heidelberg in Germany.
Marc Stevens (from 'Mr. 10 ½' (1975)):
The Army took away my baby life-rules and handed me some street smarts. They made me a man.
Lee Kuttner:
Marc seemed to do well in Germany. I think he was a telecoms operator for the army.
Marc Stevens (from 'Making it Big' (1977)):
I was chosen as an aide-de-camp to various generals running around Europe. My days were filled with driving generals around. A position like this, though I was but a lowly enlisted man, dropped innumerable goodies into my lap.
Mostly I'd drink in the Enlisted Men's Club and listen to the boozy old sergeant's blab about the good old days, namely The War.
Right behind the barracks was the notorious Two-Mile Park, where you could get a sordid variety of German gropings. If we were highly horny and still walking, we'd make it to the regular whores, whose base price wouldn't sink below $5.
Lee Kuttner:
I think that's where he may have had his first experience with drugs. All I know is that someone there, maybe another soldier, turned him on to them. I think he told me that once.
Karen Kuttner:
That was the era of Vietnam. I'm sure all the soldiers were smoking pot and doing drugs. It was much more common among soldiers.
Marc Stevens (from 'Making it Big' (1977)):
If we were completely blitzed, we'd go to Mumbles. Mumbles must remember the soldiers of a lot of wars, being about fifty. She was a little fractured in the smarts department, and a raging nympho to boot.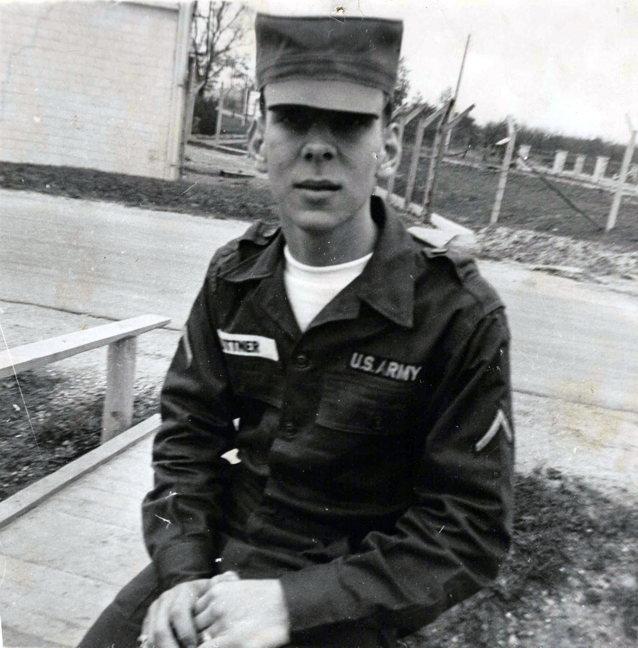 Karen Kuttner:
While Mark was away, our father continued to work to get his college degree. He was in his mid-forties.
Lee Kuttner:
He finished the college degree that he'd started all those years before and graduated with honors. He then became a teacher in a middle school in Brooklyn. He was very smart.
Marc Stevens (from 'Making it Big' (1977)):
In the midst of this big party, I received word that my father was in hospital for exploratory surgery on his liver. How could this be? He'd just got his degree and a big write-up in the papers and a good teaching contract right away.
When Lee called, I felt a choking sensation that meant things were really serious. "You better get home here, Mark," she said softly, and that was enough.
Lee Kuttner:
Our father died in 1967 aged 50. It was sad; he didn't get a chance to teach for very long. Maybe he taught for a couple of years but that was it.
Marc Stevens (from 'Mr. 10 ½' (1975)):
The truth was that my father had been keeping company with a merry widow for years, only Mom never knew. None of us did.
On his deathbed, he apologized to her for the years and years of thoughtlessness, and died in her arms. I was sorry to lose him, and I grieved for a man who'd shown me so much in his brief flashes of warmth.
Lee Kuttner:
Mark flew back to attend the funeral. We were all there.
Marc Stevens (from 'Making it Big' (1977)):
His death broke our hysterical waiting, my mother's feverish vigil, the desperate bickering of a family that had no ability to disguise its helpless pain.
I remember the tears falling over my swollen face as they started heaping the final earth over him. It was snowy and bitter cold.
Honey Kuttner (from 'Making it Big' (1977)):
I entertained the thought that Marc might work towards the upper echelons of a permanent army career. "Feel proud of what he's doing now – out on his own, a real man," my friends and relatives advised.
As it turned out, Marc had a very successful army career, but left the service when his duty time was up.
Lee Kuttner:
Marc left the army, and got an honorable discharge on August 31, 1966.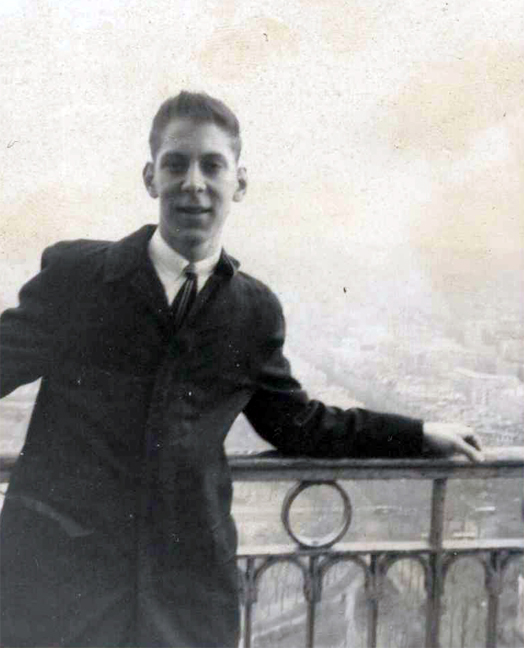 Marc Stevens (from 'Making it Big' (1977)):
I had big plans when I got out of the army. I was going to go to school on the GI Bill and travel a lot and get a knockout job and fuck every girl in New York. It's very easy to convince yourself that these things are your rightful due when you're a trippy twenty one with two years of Continental experience behind you.
Lee Kuttner:
When he came back to New York he actually worked on Wall Street for a while. He was on the floor of the exchange. He got a job as a runner; it was a good job and he was young and had the energy and endurance for it, but the job didn't last very long. I think he just tired of it.
Marc Stevens (from 'Making it Big' (1977)):
In the meantime, my private life was rampaging on, the parties and the drugs and the women.
Marc's two autobiographies and subsequent interviews emphasize his promiscuous relationships with women. He describes his numerous sexual encounters in detail, and also a six month spell in Colorado with a girlfriend where he becomes a Range Rider.
The truth however was different and more complicated.
Karen Kuttner:
My relationship with Mark really started when I was a teenager and he got back from Europe. Before that, I was too young and he was doing his own thing. I remember once we took a walk, and he came out to me. No ceremony, he just told me.
He said was actually bisexual, not gay, and was already involved in a gay-bisexual community by then. That was no small potatoes because it was still against the culture of the day.
Lee Kuttner:
I didn't know this at all. He didn't disclose it to me. He just came out to Karen. I didn't know until much later.
Karen Kuttner:
That's when he and I were close. Mark and I became really close for about ten years of his life when he was in his twenties.
I would go out with him on weekends to gay bars. He liked the fact that it was okay with me, that he felt accepted by me. I liked that too. It made me feel closer to him. I remember meeting some of his boyfriends too. One was named Aldo. He had quite a few boyfriends even though he was still not openly 'out.'
Lee Kuttner:
Out of the blue, he was offered a job as a Communications Expert in Greenland, and so he went over to Greenland.
Marc Stevens (from 'Making it Big' (1977)):
The important thing was to land some structure in my life. The salary was incredible for a two year contract. There was a catch though. You had to work in fucking Greenland, wherever that was.
Interestingly enough it would be the longest steady employment I would ever have. (When it finished) I packed up all my BX goodies, glommed my tax-free check and flew south to the real world.
*
3.     Marc Stevens: The Hustler – New York (Late 1960s)
Back in New York again, Marc picked up a few short term jobs, but appeared unwilling, or unable, to hold onto anything for more than a few weeks. Friends remember his restlessness and melancholy. Nothing maintained his interest. He yearned for more excitement, and an identity to match.
After a few months he started to hustle himself for money on the streets.
Marc Stevens (from 'Making it Big' (1977)):
I don't know what it was, exactly, that made me try back then – probably somebody whispering in my ear, late at night, that it was a place where a kid like me could make money. When you're twenty-one and full of yourself, you like living on the edge.
I saw my fortune in men's eyes.
I'd lean against the building, careful to be at least fifty feet away from any other hustler, baiting the traffic with my body and my smile. Usually I'd show up at twilight because everyone looked good then. There was an air of expectancy, of easy sex as the dark approached.
Marc Stevens (from 'Mr. 10 ½' (1975)):
At that time in New York, there were about three or four different areas in Manhattan where you could pick people up for sex. One was up along Central Park West, one over on the Upper East Side, and then there was 42nd St. The absolute bottom line, though, was lower Third Avenue. It makes 42nd St look like the Via Veneto. Thank God, it didn't last long.
After a few bad experiences Marc takes his new business away from the streets and into the burgeoning gay bar scene.
Marc Stevens (from 'Making it Big' (1977)):
The smartest thing I did in my whole six months on the street was to take my ass inside where the money was better. I moved into the world of specialty bars.
Leon Gonzalez (friend):
I first saw Mark at an after-hours bar called The Sewer on East 16th between Fifth and Union Square around 1967, 1968. He was very loud, very gay, and very entertaining. Bars like that attracted a unique mixture of gay men and celebrities. I saw Liza Minnelli there. Rudolph Nureyev too. Even the boxer Emile Griffith was a regular. And Mark seemed right at home.
Susan Jay (friend):
I used to serve drinks at a few of the gay bars. That's when I first remember Marc. He seemed to be friends with everyone and always made people laugh. I think he was still hustling on the streets too though. He was making money from passing cars. And he always seemed busy.
Marc Stevens (from 'Making it Big' (1977)):
I wasn't pretty, handsome, exactly but… distinctive. I could carry a conversation. I didn't get uptight about anything. I was smart. I wouldn't lie and exaggerate, the normal hustler's rap… I'd lay back and listen a lot. And I'd make a very good impression.
Leon Gonzalez:
After The Sewer, I bumped into him all over downtown. The Thrush, The Toilet, The East Four Seven. I became friends with him. It wasn't difficult. He was an open, fun guy.
He wasn't effeminate, but he was definitely gay. I don't think I ever saw him flirt with a woman.
Marc Stevens (from 'Making it Big' (1977)):
I wasn't gay. I'd had one experience with the guy who picked me up in the bar, and it felt great. But it wasn't anything heavy. I was drunk and he was pure pleasure.
Susan Jay:
Over time he seemed to change outwardly. He became more aware of himself, more confident, more sexual, and more… cool. It was like a new Marc was emerging.
Marc Stevens (from 'Mr. 10 ½' (1975)):
I guess I was changing myself slowly. The way I dressed. My hair grew longer. I combed it different. Wore sunglasses. Tight pants. Whatever it was, women began to be aware of my power.
I was Mr. Self-Confidence. A stud.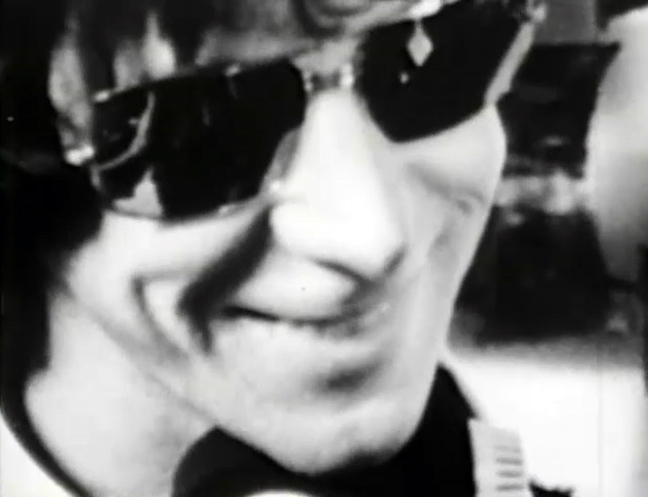 Leon Gonzalez:
I don't know if he had a deep-seated problem being gay, or didn't like hustling, or came from a bad family, but he also developed a drug habit. He popped pills all the time. He said he'd picked it up in the army when he was stationed in Germany. He could get badly strung out at times. He was wired.
Marc Stevens (from 'Making it Big' (1977)):
I'd numb myself out, drown out my sensitivity with Seconals or Tuinals or Nembutals. In no time I was completely hooked on barbiturates, downs, to calm down the screaming in my head. That horrible noise, the whole city coming down on me on that corner, the cops hiding, waiting to pounce, the instant you stopped being aware.
Pretty soon I was gobbling over thirty a day to survive, and regulating my trick trade to support my habit.
I tried never to go below $10 with these guys, but on a couple of desperate occasions, I had to.
Leon Gonzalez:
On the outside, Marc was still Marc. Happy go-lucky, kind, and interested in you. But you could see that he was suffering too.
Susan Jay:
I was worried about him because he seemed so vulnerable at times, but he was resilient. Besides, he had a big heart and he was always looking out for me and the rest of us, so it seemed strange for me to be worried about him.
We were all lost misfits, and he was one of the good ones.
Marc Stevens (from 'Making it Big' (1977)):
Hustling is rotten.
I was still deep into downs. Why? Simply because I despised the way I made my money. What I really wanted was love, not men paying to play with me.
Marc Stevens (from 'Mr. 10 ½' (1975)):
This period was the utter nadir of my existence on this planet. I reached the pits – physically, psychologically, and financially.
I started crying a lot when I was alone. I realized for the first time how much I needed love and affection just like everyone else. And I wasn't getting any.
As I look back on it today, I can see I was lucky not to have gone under during those days.
In his book 'Making it Big' (1977), Marc describes living with an assortment of friends who included junkies and psychiatric patients. He continued to hustle but also claimed he did mainstream modeling (he was told that his portfolio was too 'continental') and worked at a celebrity call-boy service called Adam's Athletes (where one of his clients is described as 'the world's most successful concert pianist').
It is impossible to verify these claims, but by the start of the 1970s Marc's life had lost direction.
*
4.     Marc Stevens: The Live Show Performer
In 1971, Marc met Bob Wolfe, a hippy filmmaker, who was also running a regular live sex show on 42nd St. Marc referred to Bob Wolfe as 'Four X'.
Marc Stevens (from 'Mr. 10 ½' (1975)):
Some orgy friends presented me to one of the Big Apple's classier sickies, Four X. Four X, smutlord and hustler, was right out of Central Casting under 'pornographer' and there wasn't a goddamn cliché that escaped him.
Industry rumor had it that his father was an abortionist and his mother a strip queen.
Twisted and evil, frustrated and perverse, he was running live sex shows over on Times Square.
Alex Mann (live sex show performer, actor):
Wolfe was the first cat to put on a 'real sex' show. Except that it wasn't real. At least not at the beginning. No one dared to do it for real. I worked there with my old lady, Pam. We faked it ten times a night for a desperate audience.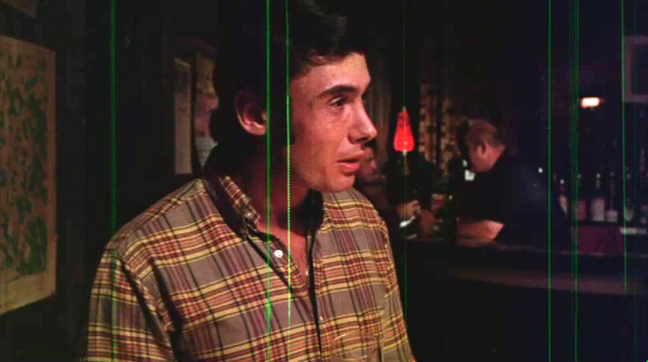 Alex Mann (circa 1969)
Marc Stevens (from 'Mr. 10 ½' (1975)):
Despite the fact the all the 'sex' was simulated and the guys kept their briefs on, Four X was sucking up suckers at $5 a throw and making a fortune.
Hustling me for his sex shows, he baited me with fantastic pay. How could I refuse? It seemed the natural next step in my tumescing erotic career.
Jason Russell (live sex show performer, actor):
(My wife) Tina and I actually first met Marc at a live sex show we were doing for Bob Wolfe. It was a small, sleazy thing in a room near Times Square.
Marc Stevens (from 'Mr. 10 ½' (1975)):
(Bob Wolfe) offered me many, many dollars to jump around and look sexy on a small stage and I thought – what could be so bad?
I found out fast. His 'theater' was on the second floor of a sordid bookstore cum peepshow combination, which attracted all the lice of Times Square.
Alex Mann:
The 'theater' wasn't a theater. It was a dirty room with fold–up chairs. It wasn't sexy at all, but I tell you… it was never short of customers. Standing room only.
Marc Stevens (from 'Mr. 10 ½' (1975)):
Incredibly filthy, crusted… strangers came and split, ceaselessly, night and day…
For all the tens of thousands of dollars we brought in, Four X couldn't find $10 to spend on a cleaning lady.
Alex Mann:
Working there wasn't for the faint-hearted, but it built your character, you know? My old lady and I made some good dough. But you really had to work very hard.
Marc Stevens (from 'Mr. 10 ½' (1975)):
We worked a twelve hour shift, with six or seven shows during that period… so there was no time to go anyplace else between sets. Within a day or two, morale would hit bottom. We drank. We smoked all the dope we could lay our hands on.
Jason Russell:
Tina and I were performing to Ravel's Bolero. We had outfits, we'd dance, and it was very erotic. It was acrobatic too. We were real good. People loved it, and they crowded in that place to see us.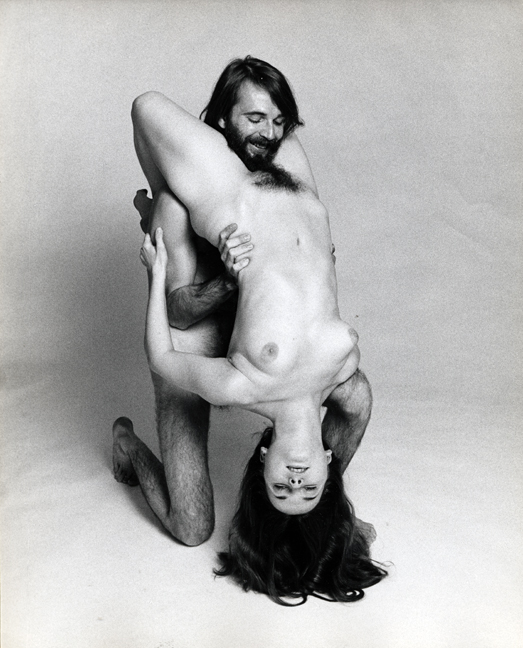 Tina and Jason Russell
Marc Stevens (from 'Mr. 10 ½' (1975)):
Two of the spaciest creeps I'd ever run into, not to mention the most loathsome. Not bad looking – but in 'bed', they'd make these wild, incredible moans – like they were thrusting each other through a wall. I'd be laughing my ass off to hear this, but disgusted just the same. Plus, they did it to Bolero, which is hands down the dumbest balling record ever made. This skinny jerk would pick up his chunky lady and heave her over his head. No class at all.
Jason Russell:
Marc thought he was better than everyone at the beginning. He was a snob, but he soon got over it. He was a good guy. He became a close friend of ours.
Marc Stevens (from 'Mr. 10 ½' (1975)):
After a day, I began picking up on audience reaction. I mean, we're here to entertain. The guys would come out nodding in approval, saying, "Hey, wow! They were really great!" and looking happier than when they went in.
Jason Russell:
Marc found this girl named Cindy West. She'd been acting in sex films for a while, and was really cute. Her real name was Terri.
Marc Stevens (from 'Mr. 10 ½' (1975)):
Cindy West slogged into my life at this time. She's a porn girl who's made a zillion one-day wonders and features, and still looks like a cheerleader in a South Dakota high school.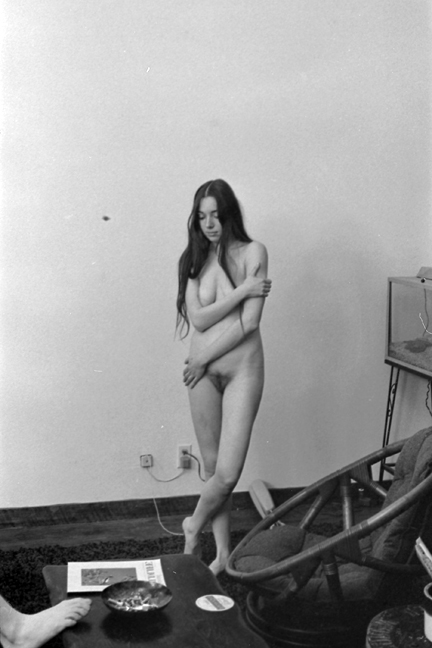 Cindy West
Jason Russell:
Marc and Cindy developed a sex act show together. The scenario that they played out was that Marc was a rock star called 'Marc Super-Star' and Cindy was a groupie.
They got a good following and became popular. Their show wasn't as classy as ours, but they had some success.
Marc Stevens, From 'Marc Stevens: The Superman of Porn' buy Noel Kilgen (1976):
The girl would dance for like half-an-hour and then I'd come out and do some dialogue with her. It was fun.
Marc Stevens (from 'Mr. 10 ½' (1975)):
Cindy established the scene by talking out loud… "Oh, how happy I am to have made it to Marc Star's dressing room!!" I'd prance in, flaunt my body around, and drag her out squealing and twisting. The audience dug the hell out of that.
"Get her, get her!" they'd yell.
It was so good I later made it into a one-day wonder as 'Joe Cock'.
Alex Mann:
Marc and Cindy's act was really something. They had a strange relationship in real life, and it played out on stage. Part of the act was simulated rape, and of course they got busted. I was arrested at the same time.
Marc Stevens (from 'Mr. 10 ½' (1975)):
The cops grabbed me once when I was performing with Cindy West. They waited until our act was through. I had long hair and skintight jeans and nervous eyes so I must've resembled the average street speed freak. They locked up everyone in the room.
So I spent a night in the infamous Tombs.
This marked my absolute disenchantment with this sick way of making a living. I never wanted any trouble from the cops, ever.
I survived a full seven months, which is the world's record. My nerves were going haywire. I spent a lot of my salary on dope, just to keep my head from exploding.
At the same time as the live shows, Marc was earning extra money by posing for veteran photographer, Sam Menning.
Marc Stevens (from 'Mr. 10 ½' (1975)):
When you started out in sexploitation, there were only two big names to deal with, Four X and Sam.
Sam is, by way of introduction, the largest producer of soft and hard core photos in the land.
Sam Menning:
Marc was a regular. He looked like a skinny hippy, but he had a third leg that the ladies loved, if you catch my drift, heh, heh. I took hundreds of pictures of him. The trouble was that in 99% of them, Marc had his eyes closed or just looked disinterested.
One of my other models said maybe it was because Marc preferred men, and didn't even want to look at the women he was screwing!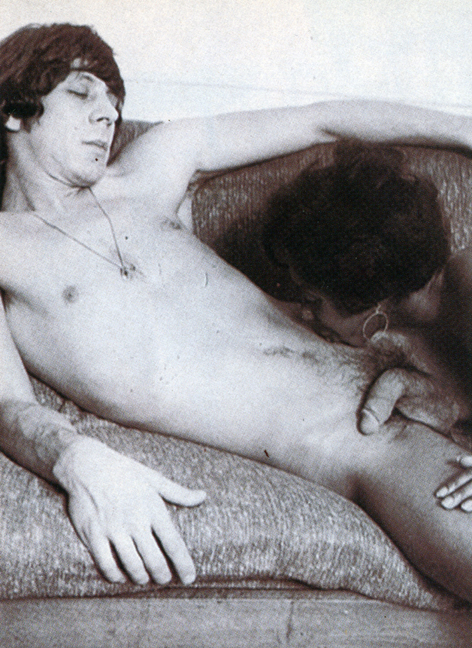 Marc, in a picture taken by Sam Menning
Marc Stevens (from 'Mr. 10 ½' (1975)):
(Sam) was basically an ok guy. He was in love with dirt, and his pig pen mentality covered everything from his scuzzy studio to the raunchiness of his spread shots. But he was filthy, he was funny, like a hog in a mud puddle.
Still sessions are very painless, usually running from one hour to three and getting you $25-$75 in the process. I've always found this nice fill-in cash, and a great way to go over my best body angles.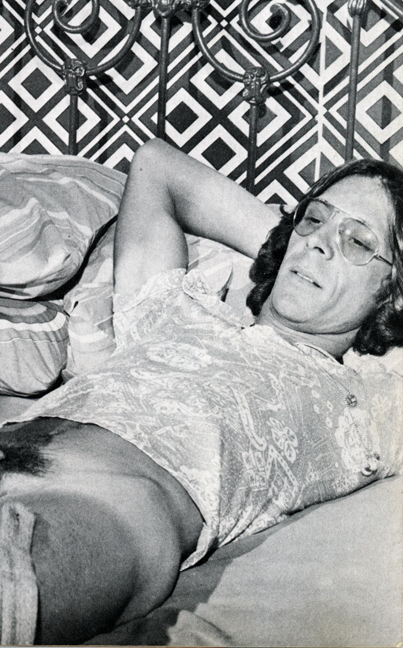 Jason Russell:
Tina and I worked for Sam. The pictures we did with him pretty quickly went from soft to hard. Thank God! It was easier to do hardcore. I hating all the faking. This way I got have sex properly.
Marc Stevens (from 'Mr. 10 ½' (1975)):
They'd throw a bunch of hardcore shots into a kind of marriage manual, with text by some swinging abortionist with the right letters after his name. This would give it socially redeeming value.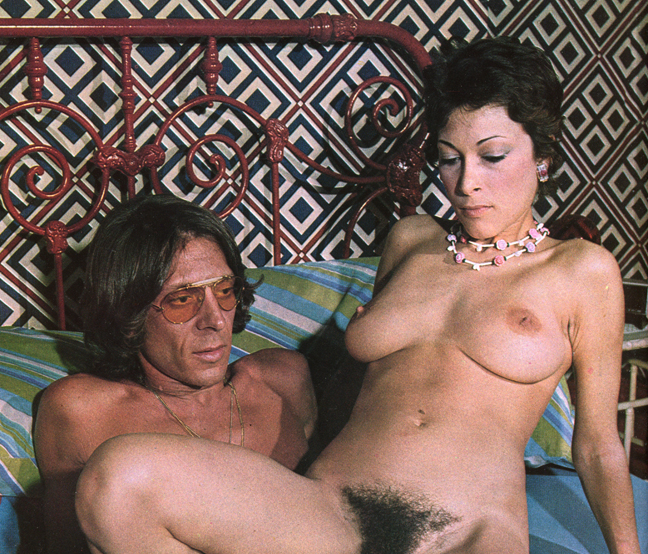 Marc, with Any Mathieu
*
5.     Marc Stevens: The Porn Actor – 72 Bedford Street, New York
Bob Wolfe also specialized in shooting 8mm loops in his basement studio on 14th St. He gave a start to many of the first generation of adult film actors, including Tina and Jason Russell, and Jamie Gillis.
Marc Stevens (from 'Mr. 10 ½' (1975)):
Four X asked me to do a movie for him one time. I thought, why not? A fifty dollar bill is a fifty dollar bill. So I decided to do it. It was my first porno film. And it was gay.
I made the film with Jamie. We're still good friends. In fact he was the first good friend I made in the business.
Jamie Gillis (actor):
I vaguely remember the loop with Marc because that may have been my first loop too. My first day on an adult film set, in fact.
But I don't remember it being a gay scene. I don't even think that Bob shot many gay loops. I think that is Marc getting carried away with his own legend… Maybe he wanted it to be a gay loop with me… As far as I remember, it was a threesome with a girl off the street.
One thing we both remembered was that Bob's wife came to look as soon as we started… and then Bob suggested we take care of her afterwards. That was, er, interesting.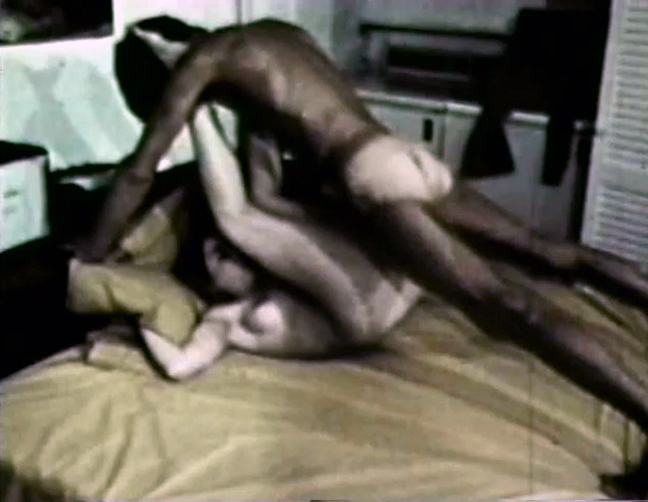 Marc in a loop with Cindy West (around 1972)
Jason Russell:
We were all making loops at the same time, and Marc loved Tina. Maybe not as much as he loved his own penis, but he loved her a lot.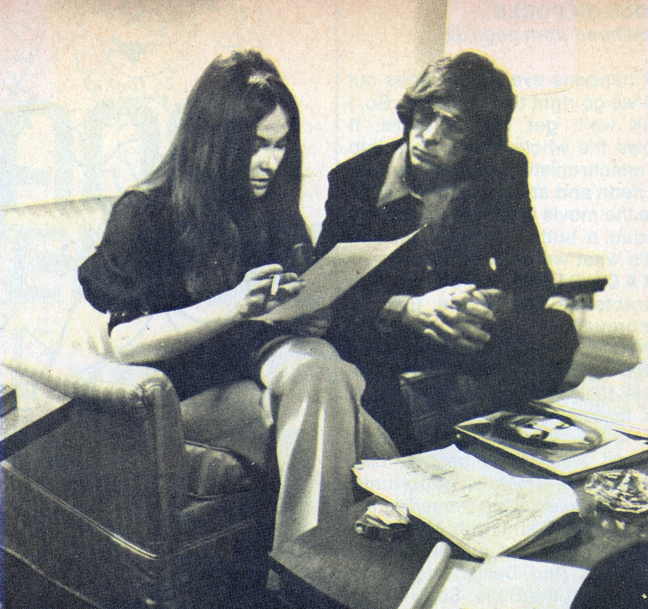 Marc, with Tina Russell
Marc Stevens (from 'Mr. 10 ½' (1975)):
I am the official top cock, measuring in at 10 ½ inches. The only actor who beats me is out on the West Coast, Johnny Wadd, with 14 inches.
Jason Russell:
He never shut up about being 10 ½ inches long! In the end Tina just started calling him 'Mr. 10 ½' as a joke. But he loved the name, and it became his thing. He told us he trade-marked it.
Harry Reems (actor):
It was a time when you'd bump into the same people shooting loops all over town. Marc, Jason, Tina, Jamie, Eric (Edwards). We made a few documentary-style sex films too, but mostly it was loops, loops, loops.
Us guys spent our time wishing new women would show up on the scene.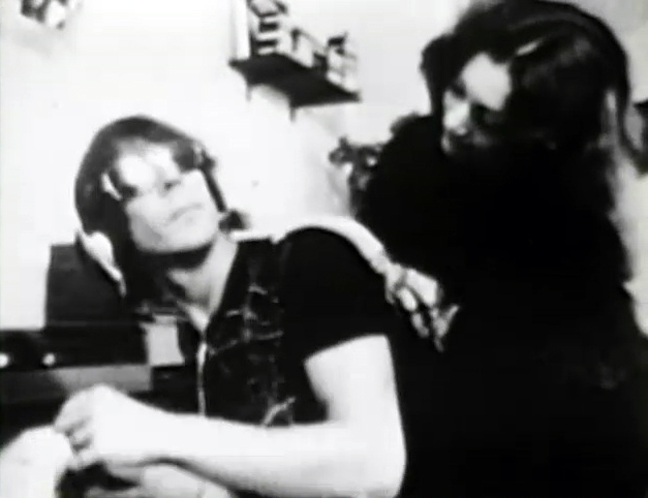 Marc, in a loop with Day Jason (around 1972)
In June 1972, 'Deep Throat' was released. It was a game-changing event. Suddenly adult films were acceptable, 'chic' even. And Marc found himself in the right place at the right time.
Marc Stevens, from 'Porn King – Marc Stevens' by Kathy Gayle:
Nowadays everything is dated 'BT' or 'AT' – Before or After Throat. Linda (Lovelace) had become a household word.
I think art films and the sex films are beginning to merge. For example, Deep Throat is always discussed with Last Tango in Paris in one long, hot, horny breath. We're coming to a point where soon there are going to be good artistic fuck films.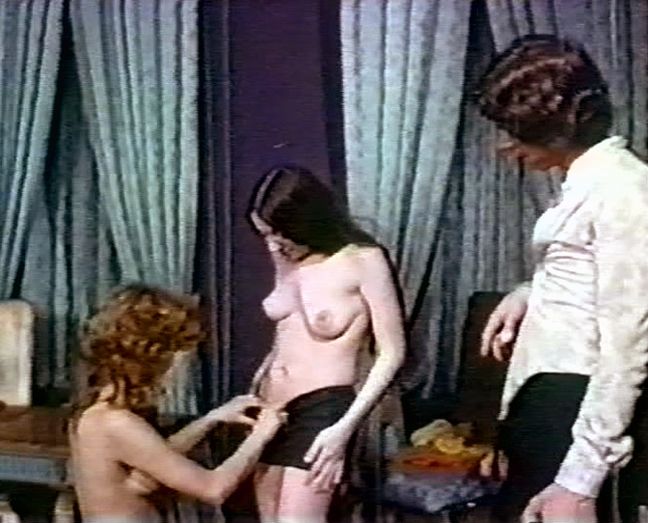 Marc, with Cindy West (center) in Cherry Blossom (1972)
In 1973, Marc starred as a Satanic Priest in Beau Buchanan's film 'High Priestess of Sexual Witchcraft'. On the set he met Georgina Spelvin, making her first appearance in an adult film.
Georgina Spelvin, from 'The Devil Made Me Do It' (2008):
Marc Stevens, known as Mr. Ten-and-a-half (not his hat size) sits regally on an elevated throne at the far end of a forty-foot long ballroom. A huge furry headdress with great curled ram's horns almost obscures his droll features. A foot-long dildo suspended from a tasteful gold chain rests on his hairless chest. This is the sum total of his costume.
"I should have refused to wear this damn thing," he groans, waggling the rubbery replica in my direction. "What're these idiots trying to do to you? Intimidate every member of the audience?"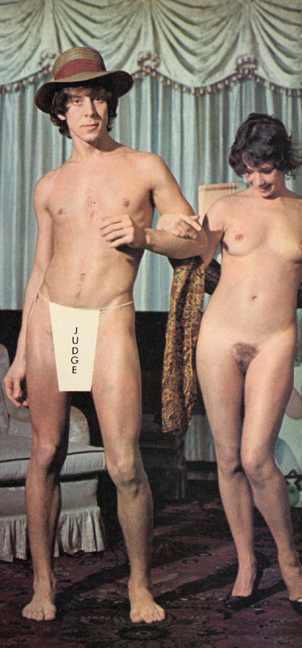 Marc, with Georgina Splevin
In the early 1970s, Marc moved into an apartment on the top floor of 72 Bedford St. in Manhattan. It was to be his home for nearly ten years, and became the focal point for many of the early adult film performers.
He lived with an array of weird and wonderful roommates and exotic pets – including large snakes and tropical fish.
Marc Stevens (from 'Mr. 10 ½' (1975)):
My building is full of outlaws and I never feel ashamed of whatever kinkies I bring home for overnight dalliances.
Helen Madigan (actress):
Marc loved that apartment. It was his court. It was always full of his friends. In the summer he would pretty much live on the roof with his phone – which had a long extension cord – and speak endlessly to friends.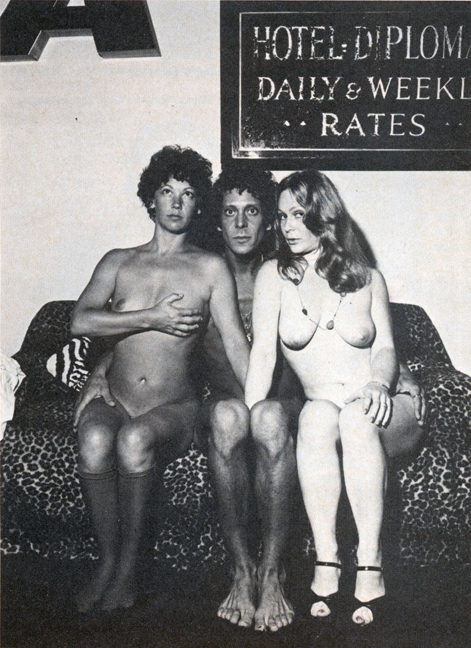 Marc, with Georgina Spelvin and Darby Lloyd Raines in his apartment at 72 Bedford St.
Marc Stevens (from 'Mr. 10 ½' (1975)):
Our house has a lot of heavy action up on the roof. I bask out there with my entourage in the summer months when I don't have the cash for Fire Island or the Hamptons… naturally nude. The most that ever used to happen was when neighbors in higher buildings would look out and wave. We never did anything filthy, but of course, faced with a free audience, you get tempted.
Jamie Gillis:
It was a place where you'd go just to hang out. It was opposite the Edna Vincent Millay house, which is a landmark in the city, as it's the narrowest house in New York. Marc's apartment was our base.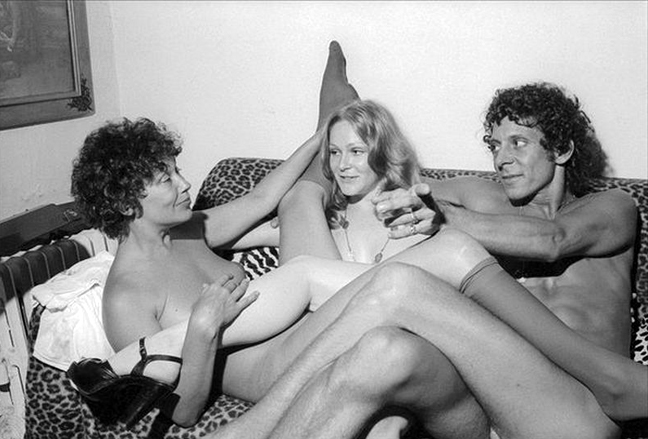 Marc, with Georgina Spelvin and Darby Lloyd Raines in his apartment at 72 Bedford St.
Sandi Foxx (actress):
At first Marc had two roommates, Joey and Donna. He was tight with both of them.
Joey was a boyfriend, and Donna was a stripper who went by the name of Lady Tondelayo. Donna was one of his earliest girlfriends. He met her at a party and asked her what her sign was.
She said, "I'm a Stop sign, baby."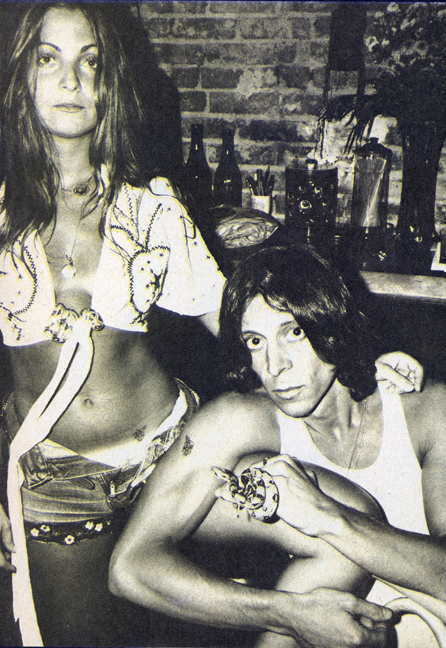 Marc, with roommate Lady Tondelayo and snake
Marc Stevens (from 'Mr. 10 ½' (1975)):
The happiest year in my life was spent with the Lady Tondelayo, and my lover Joey, a shark and three boa constrictors. It was such a sweet time.
Georgina Spelvin, from 'The Devil Made Me Do It' (2008):
Marc's apartment is filled with huge plants. Some could be called trees. An old-fashioned dentist's chair dominates the space near the bay windows that overlook the street. There are two large aquariums on the divider that separates the eat-in kitchen from that area. One is filled with some silvery fish about the size of your hand. The other holds jillions of teeny bright goldfish.
"Wow," I exclaim, admiring the tanks. "What are those?" I point to the larger fish.
"Piranha," he says, matter-of-factly. "Come meet Herman."
I follow him into a small bedroom that scarcely manages to contain a king-sized bed and a huge aquarium wherein a beautiful Brazilian Boa drapes elegantly over an attractive array of branches.
"Want to hold him?"
"Sure. I'm an equal-opportunity pet lover"
Marc rests the four-foot long Brazilian Boa drapes across my shoulders. The slithery creature coils around my arms and slides down over my bosom. A sexual excitement shoots through me.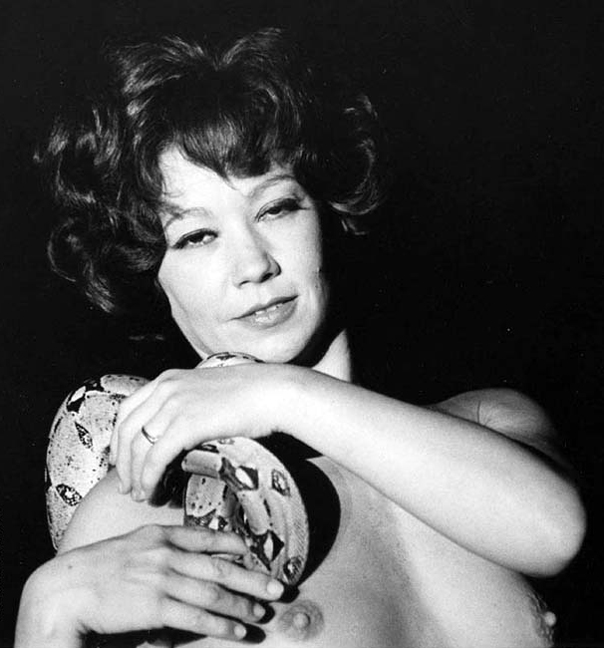 Georgina Spelvin (and snake)
Sandi Foxx:
Marc had a snake when I knew him. It ate rodents every few weeks. I was just thankful that it liked being in a cage with a light for warmth and a very secure glass top. I never felt comfortable around it.
In 1973, Marc featured in the landmark film 'Devil in Miss Jones', directed by Gerard Damiano. The film was shot two hours from New York in Milanville, Pennsylvania.
Marc brought along his pet Boa, Herman.
Marc Stevens (from 'Mr. 10 ½' (1975)):
My serpent and I have been together through thick and thin, caviar and cheeseburgers, and I thought, sure, it would be cool to make a film with him. Bring him to Pennsylvania? Why not.
Georgina Spelvin, from 'The Devil Made Me Do It' (2008):
"Where are Herman and I going to bunk?" asks Marc, holding up a carrying case not unlike that used for a cat. He has brought his pet Boa! "I didn't want to leave him alone for a whole weekend. He's just a baby," explains Marc as he sets the case on the edge of one of the two large double beds pushed against the far wall. He opens it and lifts the snake up into his arms.
I lie back beside the case and let Herman the Boa wind his curious way about my various limbs.
"Be still me aging heart," exclaims Gerry (Damiano). "Would you do a scene with it?"
"Herman?"
"That's its name? Yeah."
"Depends on what you want us to do," I reply gingerly.
"Whatever you two kids feel like doing."
"Well, sure, I guess so, if it's cool with Marc."
"He gets the same as me," interjects Marc forcefully: "one hundred a day and meals."
Marc Stevens (from 'Mr. 10 ½' (1975)):
Snakes are very tender and sensitive and their skin dries out superfast; I had to keep dunking him or he'd have made a taxidermist's trophy by this time. Did Damiano give a damn? And do you know – he didn't pay either one of us a dime for his services?
Georgina Spelvin:
I had experience with snakes growing up so it didn't hold any fear for me. I just played with it and let the camera roll. People tell me it was erotic, but it was just playing for me.
Marc Stevens (from 'Mr. 10 ½' (1975)):
She later told me she found it hugely erotic to take him in and out of her mouth like that, and to feel his tiny ribs pulsing over her belly.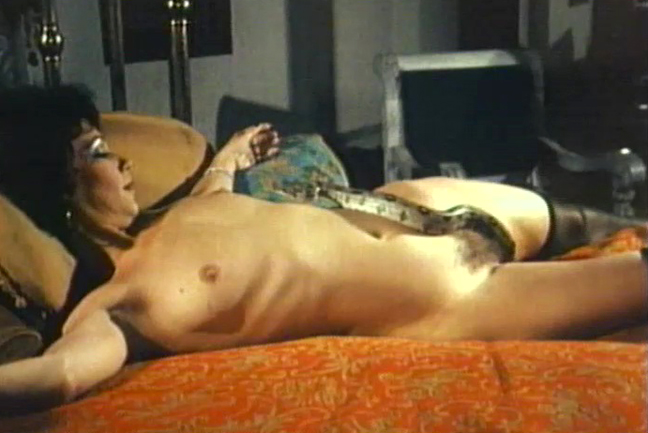 Georgina Spelvin and Herman, in Devil in Miss Jones (1973)
As for one of Marc's sex scenes in the film – a rare early example of a double penetration scene – he was disappointed he wasn't featured more prominently. In fact, he blamed Damiano for deliberately obscuring his face.
Marc Stevens (from 'Mr. 10 ½' (1975)):
The three-way we did with Rick Livermore was one of the most spectacular sex scenes ever filmed. No film reviewer ever fails to note this, either.
It amuses me to tell fans that I had a big part in the most famous sex film ever made. "Yeah, don't you remember me?" – and they never do. That's because the director, Gerry Damiano, made damn sure my eighteen minutes on-screen were completely anonymous.
Why Herman didn't bite him in the balls when he had the chance, I'll never know.
Gerard Damiano:
Marc was… Marc. He was playful and happy, but he could be a great pain to have around. Others liked having him on set, but for me, he took his appearance and his performance a little seriously. For a director, that should be a good thing, but Marc slowed things down with his drama.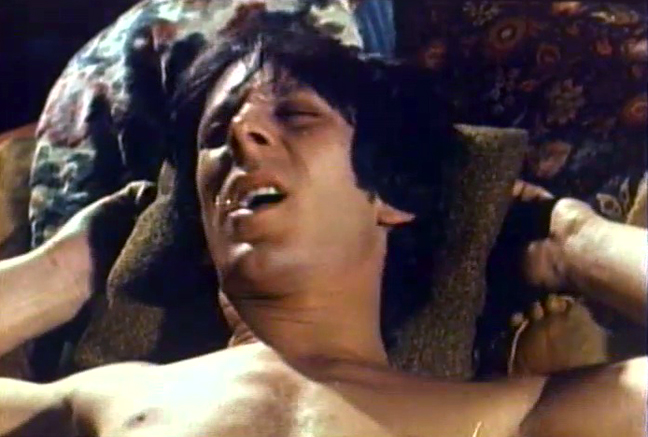 Marc, in Devil in Miss Jones (1973)
Marc Stevens (from 'Mr. 10 ½' (1975)):
Soon Georgina was 'the great lady of porn,' written up in all the ladies magazines and seen gliding through TV interviews with marvelous eloquence. The toast of New York.
I love her dearly… her tender nymphet body, her dancer's grace, her warm compassionate nature.
From 1973 and 1976, Marc worked most weeks, appearing in over 100 films – from loops to feature-length film like Al Goldstein / Wes Craven's 'It Happened in Hollywood' (1973), Joe Sarno's 'Sleepy Head' (1973) and 'Deep Throat 2' (1974), and Roberta Findlay's 'Angel Number 9'.
Most often he showed up in quick, cheap 'one day wonders'.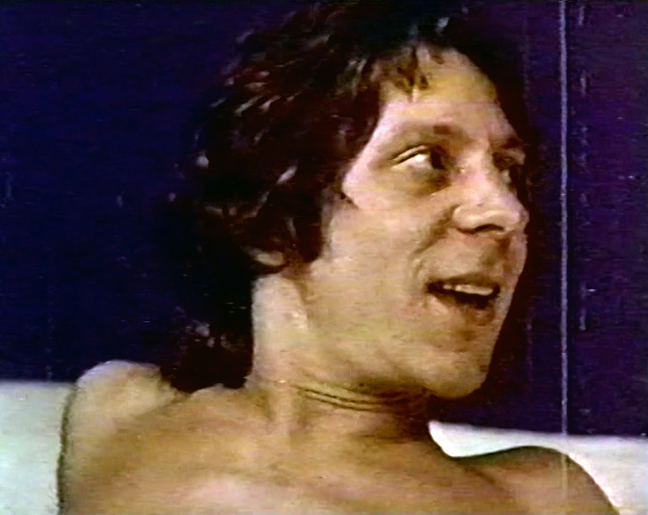 Georgina Spelvin:
Harry Reems kept me working in 'One Day Wonders' after the Devil shoot. We were never the close pals that Marc and I became, but I had a great deal of respect for his talents.
There were many "one-day-wonders" shot with 16mm cameras and a cast of six. Harry produced/wrote/directed/shot/fucked in and edited (cut out the flash frames) most of those that I did. Marc was usually involved.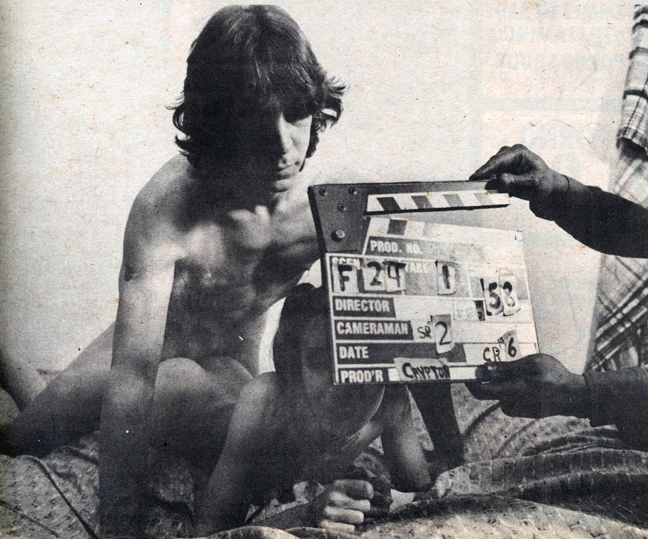 Harry Reems:
When I started making my own films, I had to rely on the same small group of people, and Marc was one of the few. There was a time when I was making a new film each week. I mean I was putting it all together, and doing everything. And each time I thought, "Who shall I put in the next film?" the answer was always, "I'll call Marc!"
The truth was that he was high maintenance, but he was fun to have around. Also I knew he'd bring along some new girls that he'd met that we could use as well.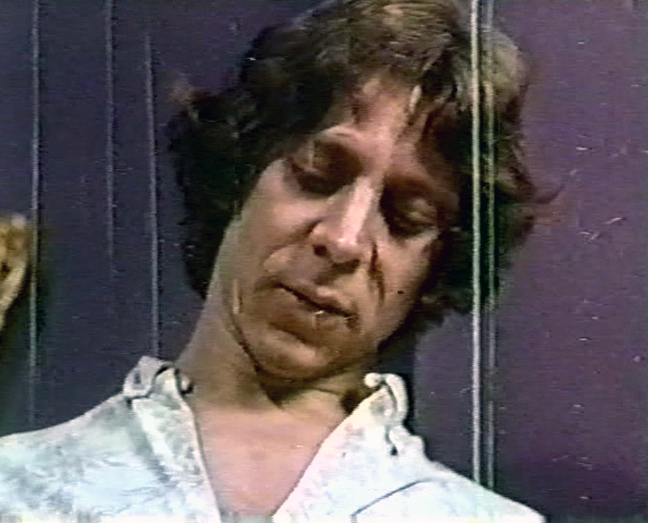 Valerie Marron (film actress);
I was a troubled, troubled kid. I was underage when I appeared in nearly all of the films. Nowadays that would cause a huge scandal. But, and I know this will sound strange to most people, the films helped me stay stable.
I think it was because it was a community that was operating in such a gray area – legally, morally, and socially – so everyone looked out for each other. You had to, in order to survive.
Marc was like a brother to me. A freaky brother. But a caring and good one.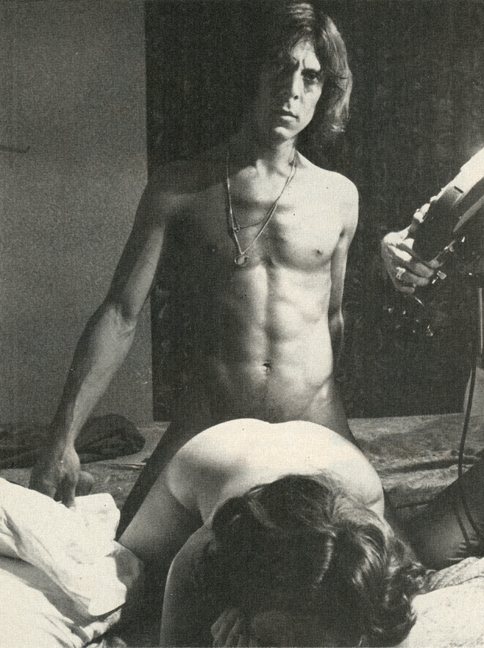 Jeffrey Hurst (adult film actor):
Marc's claim to fame was his ten and a half inches of manhood.  It looked even larger on his thin, wiry, chicken-skinned frame. Marc had already acted in hundreds of hardcore films. Marc was a pro.  He always got it up, kept it up, and came on cue.
The great John Barrymore was such a controlled actor, he could produce a single tear from the right eye, or if more desirable, the left eye, and he could do it in three speeds. Marc Stevens had the same reputation in porn. Besides being able to cum on cue, he had three varieties of money shots: the dribbler, the spurter and the shooter. All delivered with flawless precision and accuracy, and all delivered… on the money.
Marc took me under his wing and offered some helpful guidance. "If you cum too quick, they don't have enough coverage. If it takes you too long, you're wasting footage. And if you can't get it up, you're wasting time and money, causing anxiety to every motherfucker on the set. Now get out there and knock 'em dead."
He gave me a good luck pat on the ass and sent me on my way.
Marc was a different type of porn star. While many performed in films as discretely as possible, hoping that their films would only be seen by the dirty raincoat brigade, Marc wanted everyone to know who he was. He wanted to live in the public eye. He actively courted publicity, giving interviews to anyone who wanted to listen. He was happiest when people were watching him.
And people had started to take notice.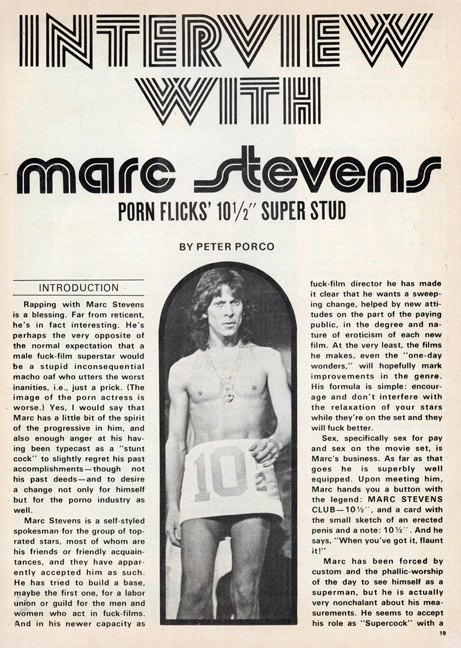 Chicago Daily News, Kathryn Christensen:
Marc Stevens likes to say – and in fact says it often enough to sound like a broken Chatty Cathy doll – that he has gone from the streets of middle-class Brooklyn to the gutters of Times Square.
The boy chosen by his high school class as most likely to succeed had become a star of pornographic movies.
"Make that superstar. I'm a porno superstar," he said, in a grinning attempt to confirm his former classmates' prediction. The 29 year-old Stevens has convinced himself that he's successful, and that it there's any slime on that success, it's okay with him. Money and fame, he shrugs, are money and fame.
Often when journalists turned up at his door, Marc would appear – and conduct the whole interview – in the buff.
From Pornocopia (1975):
This guy didn't dress. There we were forced to sit and bullshit with this guy whose dick was bigger than ours – and he was flaunting it. We tried to be cool, and ignore it – not even look at it (directly), but this guy can flash his tool. He knows it and uses it.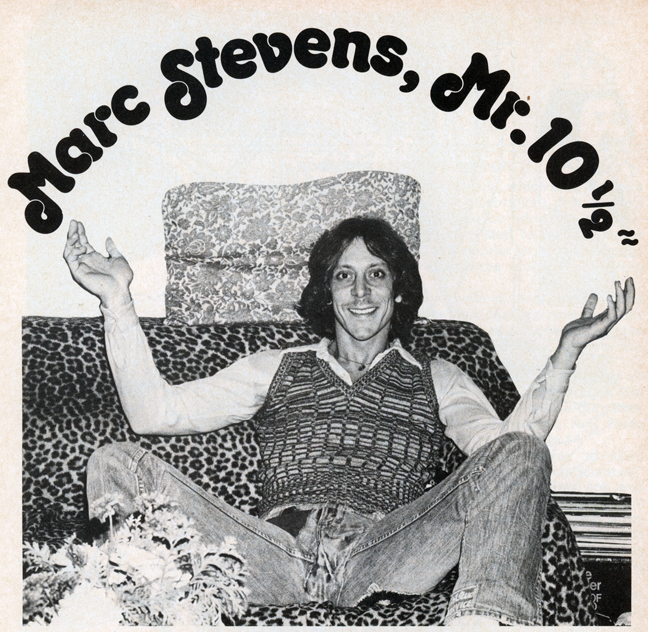 Al Goldstein (editor of Screw magazine):
Marc was a gift to the pornographic film industry. He was my favorite actor and loved attention. It was simple: he was Jewish, he was good-looking, and he had a huge cock. So of course I liked him.
I started having lunch with him every week, and we laughed so much every time, my body would hurt.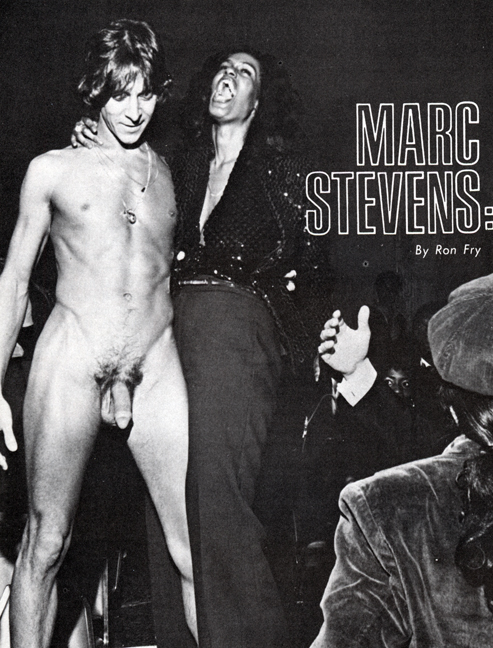 For the first time in his life, Marc was starting to feel fulfilled. Friends talk about how he reveled in the pseudo-stardom accorded to him by the fledgling adult film industry. Suddenly he was in demand at parties, featured in magazine articles, and had a steady income from the never-ending production line of porn films.
He also appeared on stage in theatrical reviews – such as one featuring Marilyn Chambers that marked Marilyn's supposed retirement from the pornographic film business.
Marc Stevens (from 'Mr. 10 ½' (1975)):
I was still doing loops and an occasional one-day wonder, getting by… and then one day an old friend of mine, Bobby, turned me on to the idea of going legit. The legit theater that is. Some mad genius had conceived the idea of combining porn and burlesque into a live stage show in deepest New Jersey… and naturally he wanted me to star.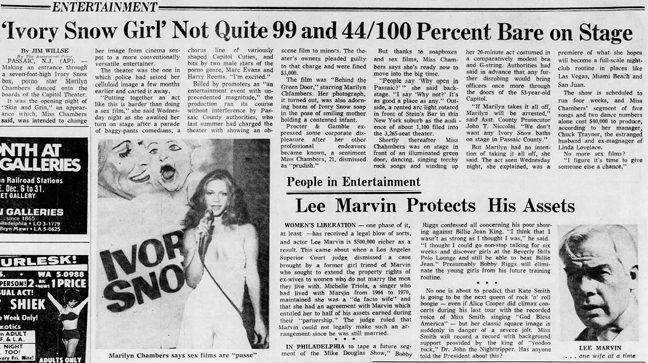 Al Goldstein (editor of Screw magazine):
He was always extending himself beyond the fuck films too – and there weren't many who had that ambition.
If we'd had more people on our side like Marc, maybe we would have won the porn wars. Most porn people were schmucks.
I went to see him in a theater review once. It had Marilyn Chambers and Harry Reems. It was called 'Fuck and Suck'. Or maybe 'Blow and Go'. I can't remember the name. It was horrible though.
Marc Stevens (from 'Mr. 10 ½' (1975)):
This show, called 'Skin 'n Grin,' would be the entertainment extravaganza of the century and no expense would be spared. We would all make millions.
Harry Reems:
We had high hopes for the show. But it was terrible. It closed quickly.
Marc was really good, really funny though, and I think he was bitten by the bug from that moment: He always wanted to perform in a proper live theater afterwards.
Marc's health improved too. He kicked his pill habit, improved his diet, and took care of himself. He finally felt he had become someone. And that 'someone' was someone he'd always wanted to be. A star.
And more and more money was starting to be invested in adult films.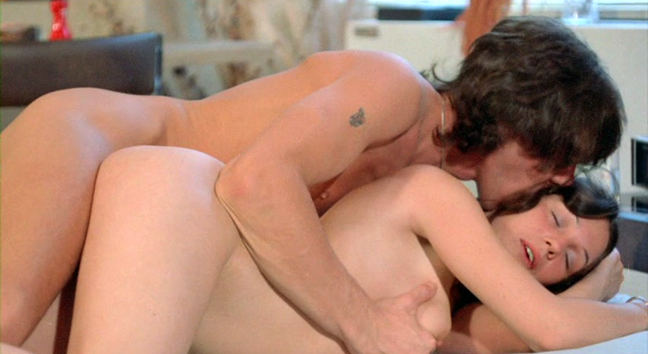 Marc, with Helen Madigan in Virgin and the Lover (1973)
Marc Stevens (from 'Mr. 10 ½' (1975)):
The best film I ever made with Tina was a lush and glorious extravaganza, called 'Not Just Another Woman'. Without question it was the most luxurious erotic adventure ever shot. The director, the great Toby Ross, spent a good $350,000 on penthouse apartments full of mirrored walls and satin bedspreads. Then there was the yacht, the helicopter and the burgundy Mercedes-Benz.
One of Marc's closest friends in the early days of the adult film industry was a new actress in the industry, Sandi Foxx.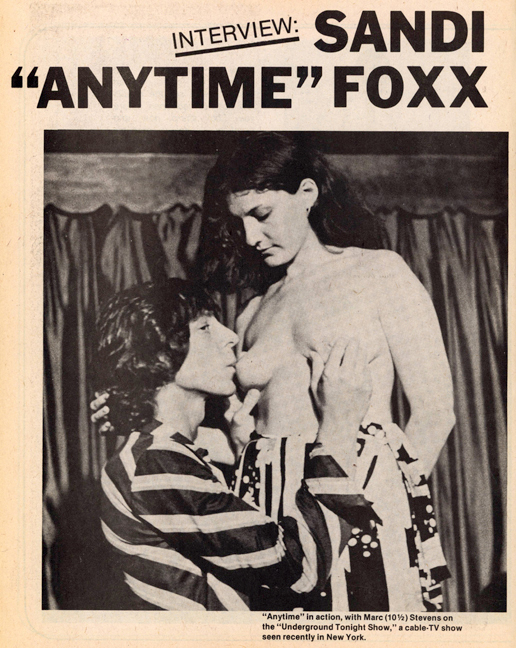 Marc Stevens (from 'Making it Big' (1977)):
My favorite companion is the notorious Sandy Anytime, my co-starring partner in slime. She came to prominence in our twisted little world – when directors found how many guys (cast, crew, delivery boys, who cared?) she could bring off at once.
Sandi Foxx (Adult film actress):
I was active on the swinging scene, and had done a few double insertions in a swinger's setting. Don Allen was one of the other people there, and he'd worked in adult films. He suggested I go and meet this film director. As a new face, I was immediately hired.
Once it became obvious to me that these films were a quick way to earn cash and I didn't have to get up and go to the office, I knew this is what I would be doing for a while.
Marc Stevens (from 'Mr. 10 ½' (1975)):
Sandi's a stacked, cheerful, raunchy, sweet-natured, brunette of a flower-child, and the best groupie who ever angled into my orbit.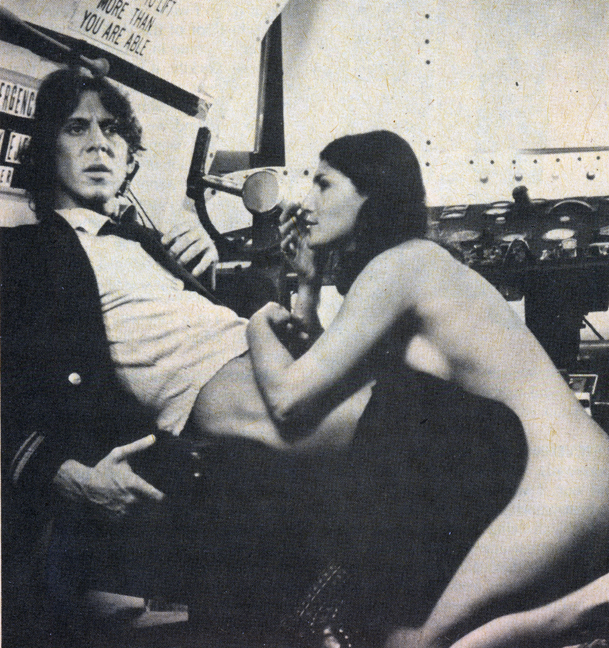 Marc, with Sandi Foxx in Slip Up (1975)
Sandi Foxx:
The first film I made was 'Lady on a Couch' (1974) and Marc was on that set that first time. He liked me and I liked him. He took pity on me and decided to show me the ropes about working in the adult film business. I must have gone home with him several days later.
Marc told me his real name was 'Mark' – but he heard there was already an actor called 'Mark Stevens' so he changed his name to 'Marc'.
Jamie Gillis:
Marc called Sandi 'Anytime' because he said she was always ready for sex. But then I learned that he also had a cat named 'Anytime' as well, so who knows?
Soon 'Anytime' became his catchphrase. It was on his business card, on his stationery, and it was his most frequent response when you asked him anything.
He would just say, 'Anytime.'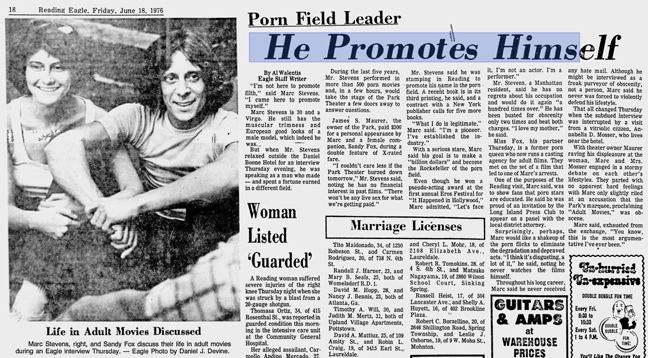 Marc and Sandi Foxx interviewed
Sandi Foxx:
I had a personal relationship with Marc. We had so many fun times together aside from working on the film sets.
I liked to pal around with him, but I always knew he was more gay than straight.
One time we picked up a guy and had a threesome. Marc screwed the guy and then screwed me. We also liked to go out dancing and come home as the sun came up.
I can't remember how often I slept at Marc's place but I remember it was a big hike to get to the top floor in his walk up on Bedford St.
We also spent time at my house in Davis Park on Fire Island. We had some wild, wild parties there…
Another important person in Marc's life at this time was fellow adult film actress Helen Madigan, whom he lived with for a while.
I did some modeling and this photographer suggested I make a porno loop. I was scared at the idea. I thought, "What if the guy was gross?!" Fortunately the guy was Marc. And I fell in love with him…
Helen Madigan, in Porncopia (1975):
Marc is just about everything to me, father, brother, friend and lover. It's perfect for us.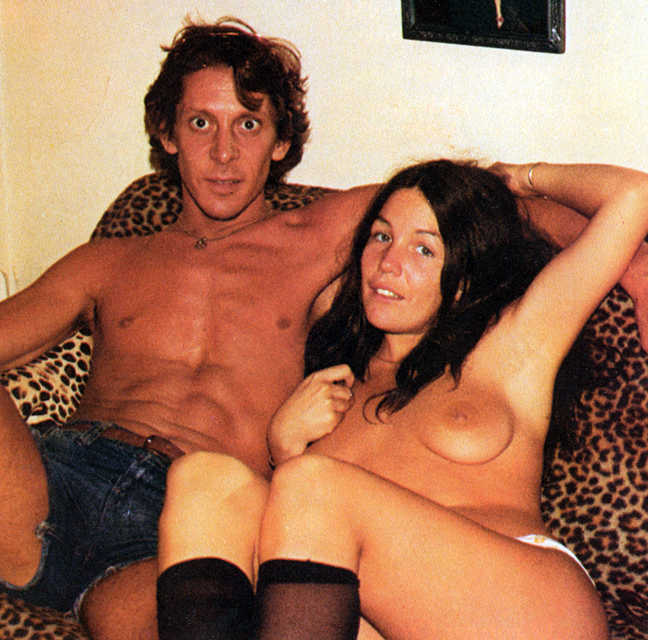 Marc, with Helen Madigan
Marc Stevens (from 'Making it Big' (1977)):
The happiest hooklet I ever worked with was Helen Madigan, the Helen Ready of porn. With her baby-blue Marilyn eyes, throaty giggle, tomboy overbite, and brain-frying figure, she was an instant sensation in film circles and circular beds.
Helen Madigan:
Marc was the craziest. Oh man, we had some crazy times together. He also got me nearly all the porn film work I did.
We did everything. We were friends, we were roommates, and we were lovers. Even though he was gay. Unfortunately.
Jamie Gillis:
Helen and Marc were always together. They were almost a double act – like the George Burns and Gracie Allen of their time. Just really good friends together.
Marc, with Helen Madigan (left) and Jean Dalton (right)
Marc Stevens (from 'Making it Big' (1977)):
From the instant we started doing those lousy loops together, (Helen and I) had a tight super-loving relationship that went far beyond either public or private sex (which it had to – Helen hardly knew the difference between the two).
We were as natural as the sunset from the moment we eyeballed each other on the set. I'm in awe of her sexual appetite, which is fearsome.
Helen Madigan:
I was in love with him, but I could see he was interested in men. I thought I could change him! I was young, so what did I know? But I really thought that if I was a good enough girlfriend for him, then he'd become straight. I thought if I was good enough in bed, he wouldn't want to be gay. I spent so long thinking like that.
Maybe I tried too hard to impress him, because I got into some wild situations. I remember going to discos dressed only in gold paint. No clothes, just paint. I can't believe we weren't arrested walking home…
Marc Stevens (from 'Making it Big' (1977)):
Oh, the scenes we threw together were not to be believed. She got very hot very fast in the Big Apple, but still, her taste for the high life got even hotter.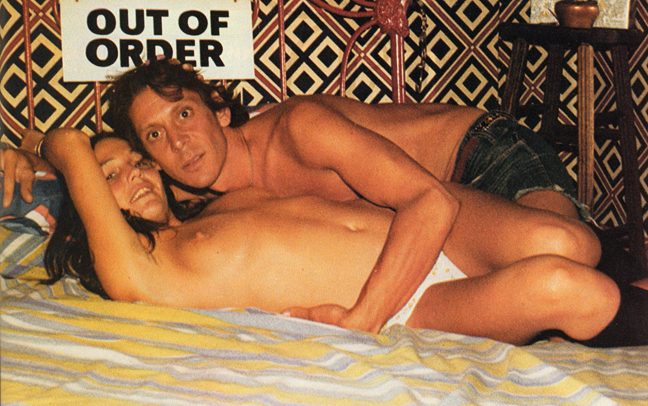 Marc, with Helen Madigan
Dave Peller (friend):
I was at the Bottom Line club in New York, and saw an old college friend who was there with a girl named Helen Madigan. Dave called me a few days later saying that Helen liked the look of me and wanted to have sex. So I went to see her where she lived.
I was living round the corner with the folk singer Phil Ochs. Helen was Marc's roommate at 72 Bedford St. And that's how I met Marc.
Erica Eaton (actress):
Marc was like the glue in the porno biz. He knew everything that was going on. Every shoot, every new director, every party. One call to him and he'd hook you up with someone.
From Dapper magazine, July 1974:
Marc is a self-styled spokesman for the group of top-rate stars, many of whom are his friends or friendly acquaintances, and they have apparently accepted him as such. He has tried to build a base, maybe the first one, for a labor union or guild for the men and women who act in fuck films.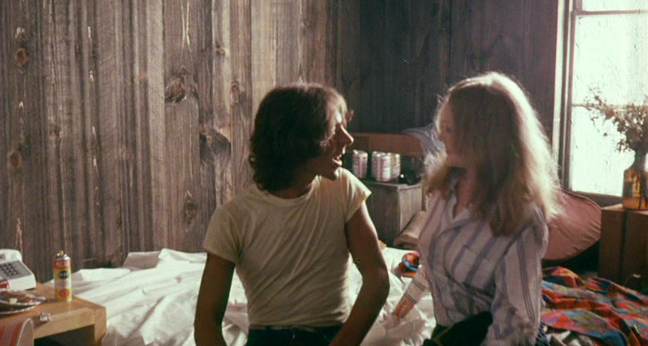 Marc, with Darby Lloyd Raines in Angel on Fire (1974)
Dave Peller:
I immediately clicked with Marc, and I was close to him for the rest of his life. We were so tight Marc would introduce me to others as his brother. People even started calling me 'David Stevens'. Once or twice, someone challenged Marc about whether I was really his brother and he'd get indignant.
I always found his sexual orientation to be strictly gay. Sure he could be a drama queen but he was a good kind person.
Annie Sprinkle (adult film performer):
When I arrived in New York and first got into adult films, Marc was a big, big male porn star. I started working as a script girl for Leonard Kirtman for a few months and I think Marc might have been in a movie or two that I worked on because he was definitely one of the first male porn stars I met.
Marc was everywhere. He was there at every event, screening and opening so I saw him all the time. We made several loops together.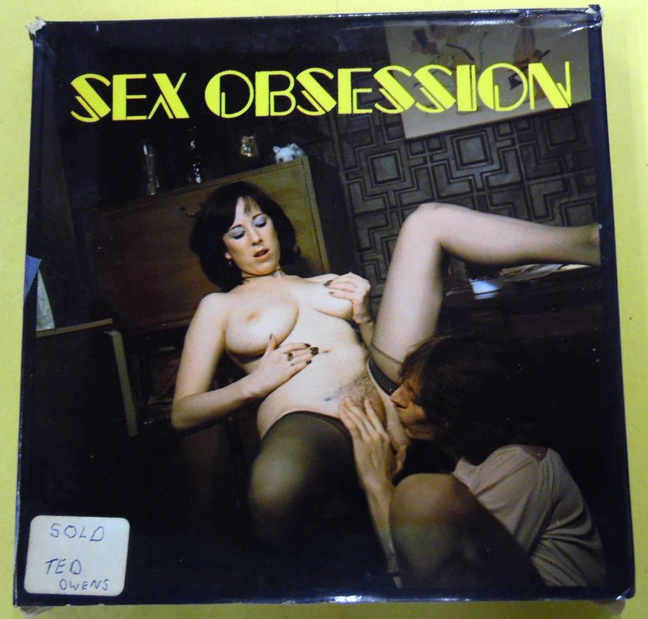 Marc, on the cover of a loop box, with Annie Sprinkle
Dave Peller:
Marc was always ready for a party or premiere. I remember he took me to the premiere of S.O.S. (1975). It premiered at 12 West, which was this legendary disco nightclub at 493 West St. Al Goldstein was there. I remember Al being fun, arrogant, obnoxious, and self-centered. He really loved Marc though…
Annie Sprinkle (adult film performer):
I liked Marc immediately. He was very charming, very lovable, very sweet, and very cute. A real charmer.
He was different from the other male porn stars though. He was basically a gay man even though he had no problem having sex with women. He was straight for pay.
I can't remember the first film I made with him, but I remember a threesome with Marc and Helen Madigan in a film called 'French Shampoo'.
Marc was popular and always in demand on the film scene, but his ego could get the better of him. As a result, not everyone found him easy to work with. In 1974, he featured in a rare high(er) budget film, Radley Metzger's 'The Private Afternoons of Pamela Mann'.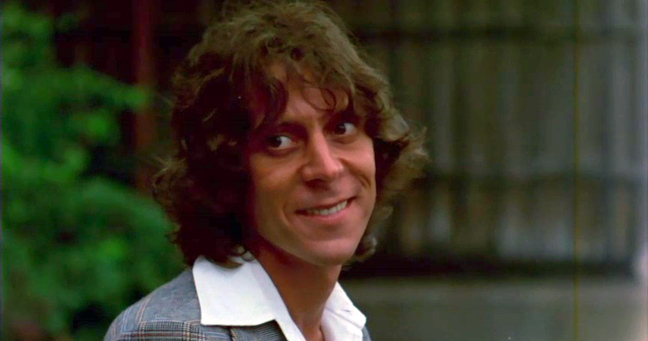 Marc, in Radley Metzger's 'The Private Afternoons of Pamela Mann' (1974)
Radley Metzger (filmmaker):
I'd been aware of Marc on the grapevine. I'd heard that he was good-looking, well-endowed, and reliable.
Well, we met… and I suppose two out of three isn't bad.
I paired him with an actress named Barbara Bourbon. Very pretty. We brought her in from the west coast just to make our film. I thought they'd be well suited to each other.
I don't know what the problem was, but he just couldn't perform with her. He found fault with everything, except himself. I think it took us all day to shoot his scene.
I'd heard he was gay but that he could perform equally well with women. Unfortunately that wasn't the case.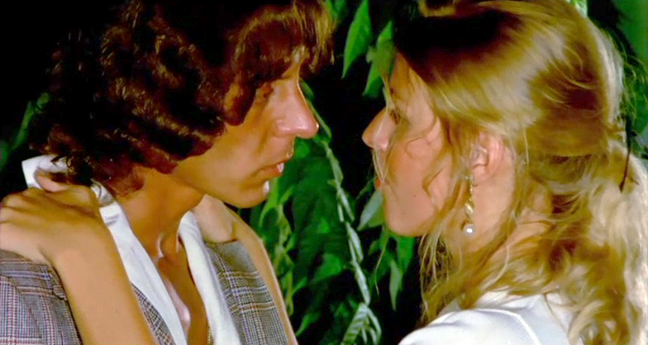 Marc, with Barbara Bourbon in Radley Metzger's 'The Private Afternoons of Pamela Mann' (1974)
Carter Stevens (filmmaker):
Marc was a legend in his own mind. He and I never got along. I hired him for a small part of a psychiatrist in 'In Sarah's Eyes' (1975) and he was a pain in my ass the whole time. It took me almost half an hour to convince him not to wear wraparound sunglasses for a scene.
Like I said, he was a real asshole.
Jamie Gillis:
I noticed Marc became a little more cynical about the film industry after a few years. I think he expected that he would find mainstream fame and fortune, but when that didn't materialize he started to bite the hand that was feeding him.
Despite Marc's sexuality, he appeared in relatively few gay films, many of which were loops. One feature-length gay film in which he starred was John Amero's 'Michael, Angelo and David' (1976).
John Amero (filmmaker):
We cast Marc '10 ½' Stevens – who we'd met on the set of 'Every Inch A Lady' (1975). Fortunately I didn't need to audition Marc – by now, he was ubiquitous and never slow to recommend himself to anyone.
Marc was a veteran by sex film standards, and the size of his ego matched the size of his penis. He had an opinion on everything – from camera angles to costumes to script improvements. I wasn't in the mood to have a high maintenance person on set for such a low budget film, but in the end we decided that he was worth the risk.
John's cinematographer on the film was Michael Findlay, who despite a lengthy and successful career in sexploitation films dating back to the mid-1960s, was an uptight Catholic who had qualms about working on a gay porn film set. The filming did not proceed according to plan.
John Amero:
Mike started the day strongly and was holding his own until we got to an intense sex scene between Marc and David Savage. I came up with the idea of staging a Hitchcock-style POV shot which would show Marc lowering himself onto a prone and fully erect David. I envisaged the camera shooting the action from the perspective of David's groin.
I mentioned the general idea of a POV shot to Mike, and before I could explain the details to him he said, "Great! I love POV shots!" I got him into position – which consisted of getting him to lie on the floor pointing his camera upwards – and then instructed Marc to slowly squat down towards the lens. I warned Marc to do it carefully to avoid actually sitting on Mike and his camera.
It slowly dawned on Mike what he'd let himself in for, as Marc's spread ass descended towards his face and wide-angle lens. And predictably, despite my instructions, Marc couldn't help himself and sat straight down right on the face of the camera – jamming the eyepiece into Mike's eye with predictable consequences. There was a look of sheer terror and panic on Mike's face at what he'd just seen, so I called, "Cut!" fearing that he was about to lose it.
He choked back a Valium, and seeing how visibly shaken he was, I took him around the corner to Emilio's where I bought him a shot of Dutch courage.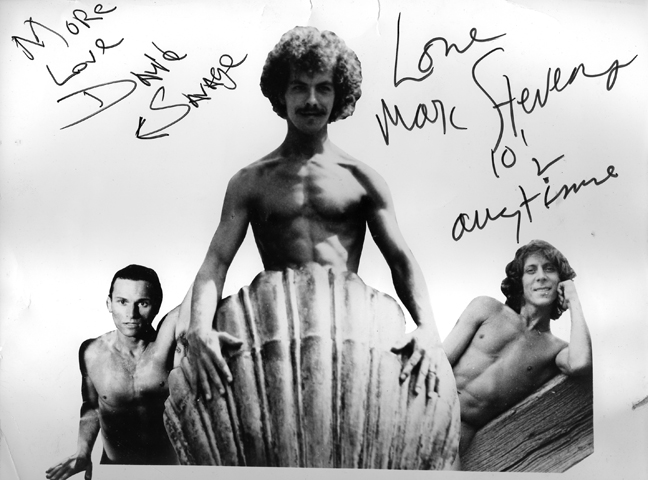 *
6.     Marc Stevens: The Brand
With a large number of adult film credits behind him, Marc was one of the most recognizable faces on the New York adult film scene. He'd been one of the original porn stars, and he'd now grown into one of the biggest.
Only five years earlier, he'd experienced the lows of hustling himself for $10. Now he was a name. He was in demand.
But being a big fish in a small pond wasn't enough for Marc. He wanted to be a much bigger fish. Or at least make the pond much bigger.
And, unlike fellow actors who aspired to be famous in Hollywood as stars of the silver screen, Marc just wanted to be famous. For anything.
From Hustler, August 1975:
"I've always loved exposing my body to turn on strangers; there it is," he tells you with his normal no-bullshit smile. Then he hands you his baby-blue calling card with a nice, fat erection engraved with the word, 'Anytime!' Then his phone number. You begin to see why they gave him all those starring roles.
Can a man live by cock alone, or can he just get rich and famous and laid all the time? Yes.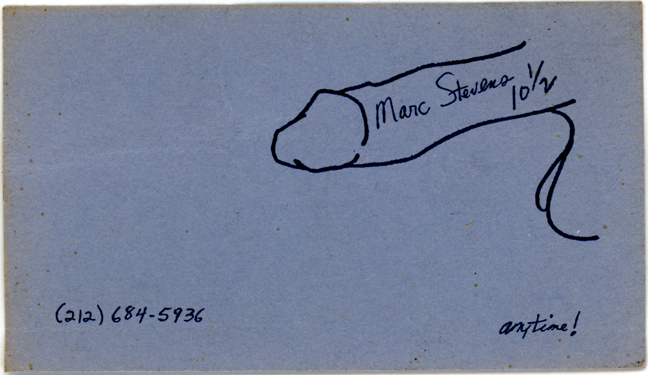 Gary Montanile (friend):
In 1975, I was a teenager in Connecticut, and I'd go to see adult films at the local theater. I went enough times to be familiar with the stars of the films. People like Harry Reems, Linda Lovelace, John Holmes, and Jamie Gillis.
But the one I became fascinated with was Marc Stevens. I kept seeing him on the screen, and was almost obsessed with him.
Why was I so intrigued by a porn star, and not a politician, or a rock star? I don't know why, I just was. Maybe it was because I couldn't believe that he could earn a living having sex on film.
Marc Stevens (from 'Mr. 10 ½' (1975)):
I never set out to become the Evel Knievel of sex, but hype is the high art in the Big Apple, and I feel like I was born to it.
Gary Montanile:
One day I decided to do something about it. I dialed 411, somehow got his contact details, and tracked him down to his address on Bedford St. I contacted him and he invited me down to New York. I never left.
I'll never forget the first time I met him. I traveled to the city and knocked on the front door of his apartment on Bedford St. He opened the door completely naked. I looked at him in the eyes, then his face, and then inevitably my eyes slowly moved down to his 10 ½.
It was quite a first meeting. Tina and Helen were hanging out at his apartment, and they invited me in.
Marc and I became very close. I was from a more sheltered background, but he encouraged me to live my own life. He told me I was good looking and offered to find me work in the porn industry. I turned the offer down.
It was ironic because part of my attraction to Marc was that I could pretend to be straight. I was running away from my sexuality. I'd never seen him in a gay film so I had no idea that he was gay too.
Marc never missed an opportunity to make he presence known. He streaked at Sly Stone's wedding reception and at the after-show party when the Who appeared in New York, and made appearances on radio and TV shows, including two combative slots on Tom Snyder's Tomorrow show where he debated anti-porn campaigners.
In 1975, the first annual Eros Festival was held in New York, brainchild of Mike Luckman, producer of the pioneering cable television show, Underground Tonight. Marc, as always, was keen to make a splash: He and Helen Madigan attended, painted completely in gold, and danced and had sex in front of the assembled crowd. It wouldn't be last time he attended a party dressed only in shiny paint.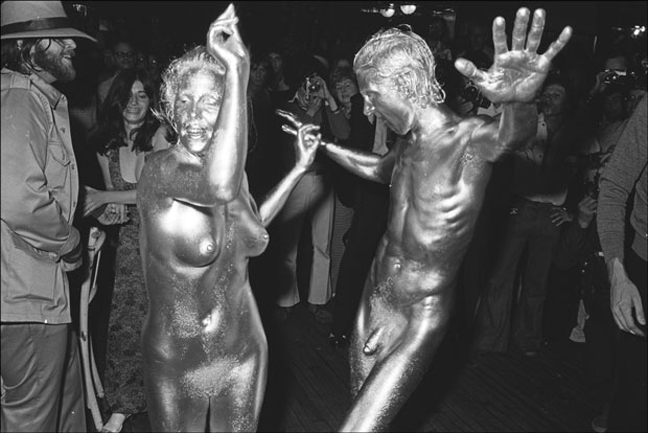 Dave Peller:
At some point Marc got a personal manager named Christopher Watson. Christopher was 10 to 15 years older than us, and was a publisher of swinger's magazines.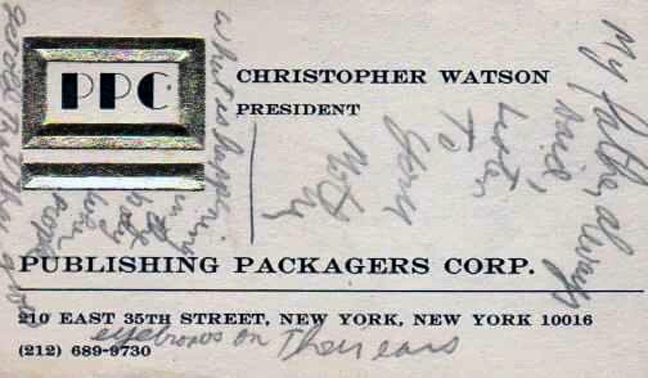 Christopher Watson (Marc's manager):
I had a company called Publishers Packagers Corp that produced magazines for other companies. We worked for big institutions like Time Warner, but we also handled adult publications like Swank.
I had this writer who worked for me. She was a rock music journalist who called herself Diana Clapton, after the guitarist Eric Clapton. One day Diana said, "You should meet this guy I know. He has a big personality which can be a little overwhelming at times, but I think you'll like him".
So she brought Marc into my office.
Dave Peller:
Watson's office was on the ground floor of a place in the East 30s – he lived there as well. Marc started hanging out there and they'd have a ball together, coming up with captions for the pictures in the girlie magazine that Watson published.
Christopher Watson:
I liked Marc. I thought he was an interesting character. By choice he was gay, but he had no problems performing with women if he wanted to.
Yes, there was ego, but when you're any sort of celebrity, you're going to have an ego. You've got to have an ego… He was no different. But mostly he was a decent person. Always very fair. A good guy.
Marc would come to the office a few nights a week and we always had a little soiree, something comfortable. It was like a happy hour.
Marc would bring other people, and the company was always very mellow. Tina and Jason Russell were often there. Tina was going through a difficult phase I think. I was always a little bit bothered that she was not a happy person. She was almost bitter, and she didn't really relax. Sandi Foxx was there of course. She was devoted to Marc. There were others too like Helen Madigan.
Christopher Watson:
Diana, being a rock journalist, often went to the Bottom Line so she introduced Marc to Stanley Snadowsky who was a lawyer and the co-owner of the place. As a result we'd get free tickets to the Bottom Line too, and we'd often go there.
Marc and Stanley became tight. They got on great.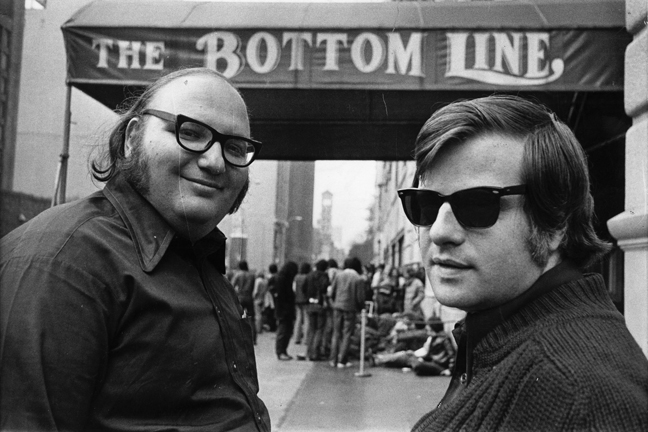 Stanley Snadowsky (left) outside the Bottom Line club
Dave Peller:
The Bottom Line was one of the great music venues at the time. I remember seeing Springsteen there in 1974.
Stanley became Marc's 'attorney'. Stanley was a really nice guy. Marc was just so proud that he had an attorney.
Helen Madigan:
Marc had an attorney! He had a personal manager AND an attorney… The rest of us were always struggling along so it seemed like he'd made it to the big time. We thought that was so cool. And not just any attorney. Marc's attorney was the best.
Jamie Gillis:
Stanley gave Marc respectability and… a certain street credibility too. He opened doors for Marc that were closed to the rest of us lowly porn folk. Marc craved this acceptance.
And Marc brought glamor and excitement to Stanley's world. And girls. Lots of them.
Gary Montanile:
Stanley was a large guy, and I think that Marc would get him laid in return for the services that Stanley would provide for him.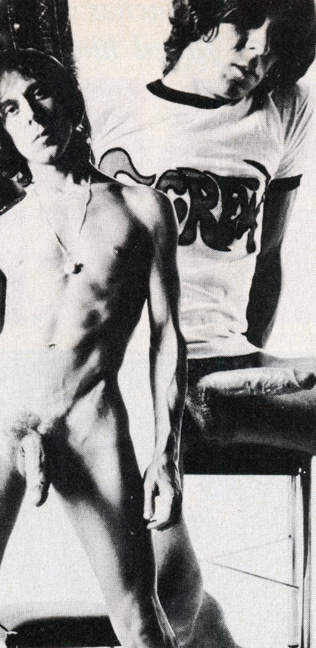 Darby Lloyd Raines (actress):
Marc once convinced me to do a personal appearance for one of our films that was showing in New Jersey. It sounded fun, but we got busted that night. Fortunately Marc got his attorney to help us.
Marc Stevens (from 'Mr. 10 ½' (1975)):
Out of a chauffeur-driven limo stepped my lawyer, my deus-ex-machina, my saviour in a shiny suit, Stanley Errol Snadowsky. I thought he looked so official with his set jaw and his bulging attache' case.
Stanley waded through all the sickness, amiable and smiling, mellow and non-threatening.
We got off. The theater got off.
Stanley was so indescribably excellent a lawyer that he got the town to repeal the entire law.
Christopher Watson:
I set up a business with Marc in 1975 which really thrilled him. We called it 'MS Productions'. The address was 210 East 35 St which was where my office was.
The company was mainly set up to sell Marc Stevens-related merchandise but we also issued newsletters telling people what Marc was up to. It featured interviews and offered signed merchandise like pin-up pictures. We sold these pins with '10 ½' on them.
We advertised in men's magazines because of course my company was producing them so we already had the advertising space.
All this was ahead of its time. This was before male porn stars had any kind of media presence.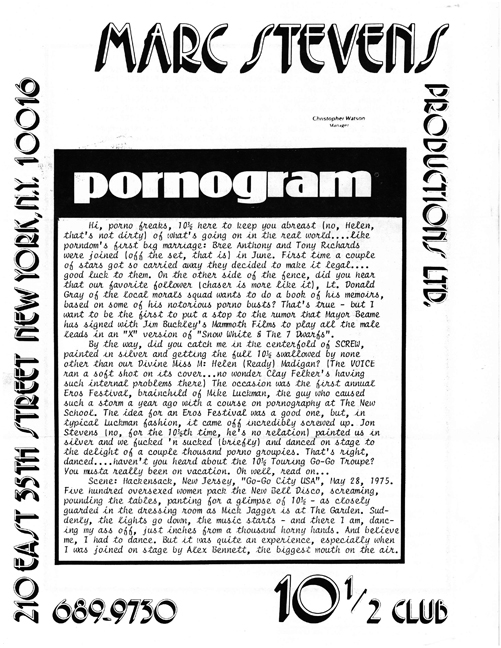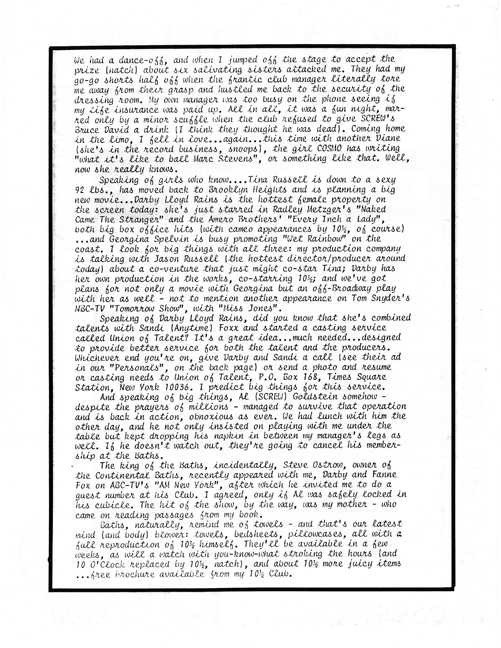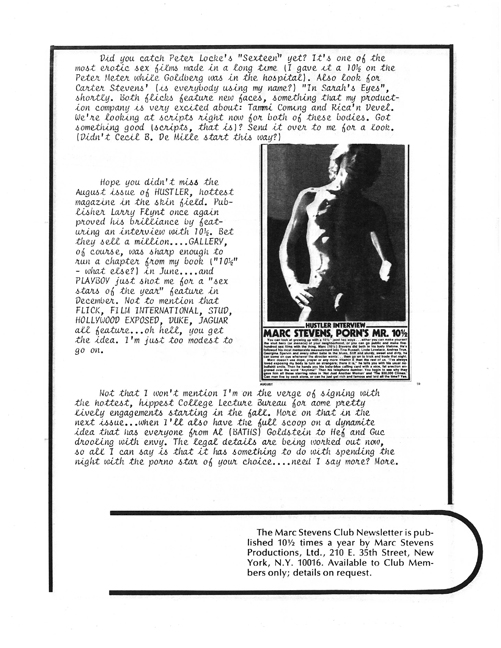 From Dapper magazine, July 1974:
He is superbly well-equipped. Upon meeting him, Marc hands you a button with the legend: 'Marc Stevens Club 10 1/2' and a card with the small sketch of an erect penis and a note: '10 ½'. And he says, "When you've got it, flaunt it!"
Marc Stevens (from 'Mr. 10 ½' (1975)):
My fan organization, the 10 ½ Club, is prospering even though Rona Barrett has yet to mention me in her column. Maybe my printed towels will get to her. Or my big blue buttons with 10 ½ in big blue letters. At the very least the subway stickers and skintight t-shirts that say '10 ½ Is Coming.'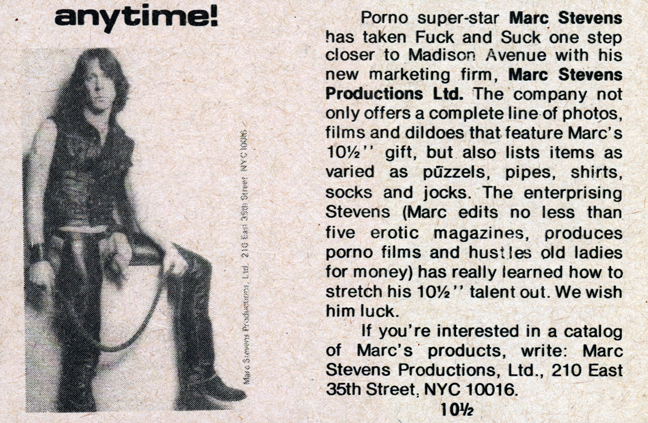 Gary Montanile:
I went to see Marc in his fan club office, and I amazed to see how much mail he was getting! There was so much… and I kept asking, "All this mail, because he has sex on film?!"
Christopher Watson:
We got a lot of fan mail, but after a while we came up with the idea that he should write an autobiography.
Fellow adult film stars Tina Russell and Harry Reems had already published autobiographies with a degree of success.
Marc was keen to follow suit, and in the end he wrote two books about his life, '10 ½' (1975) and 'Making It Big' (1977).
Christopher Watson:
I put the deals together for both of Marc's books.
There was a rumor that Marc's mother was involved in writing them. This is not true. They were ghost written by Diana Clapton.
Diana was close to Marc. They went to over to Jamaica to write the book, or at least so that Diana could get all the biographical information from Marc for her to write it.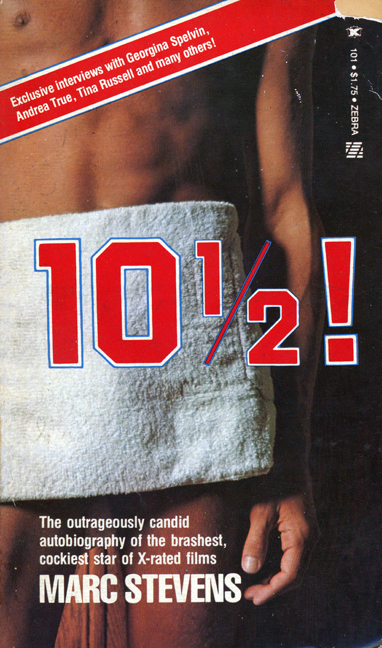 Sandi Foxx:
Marc dedicated his first book to Joey and Donna, his former roommates. I'm on the cover of it. I haven't the slightest memory from the photo shoot, but, sure enough, that's me…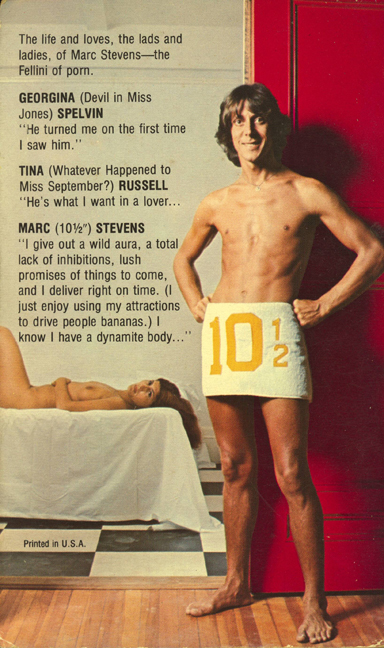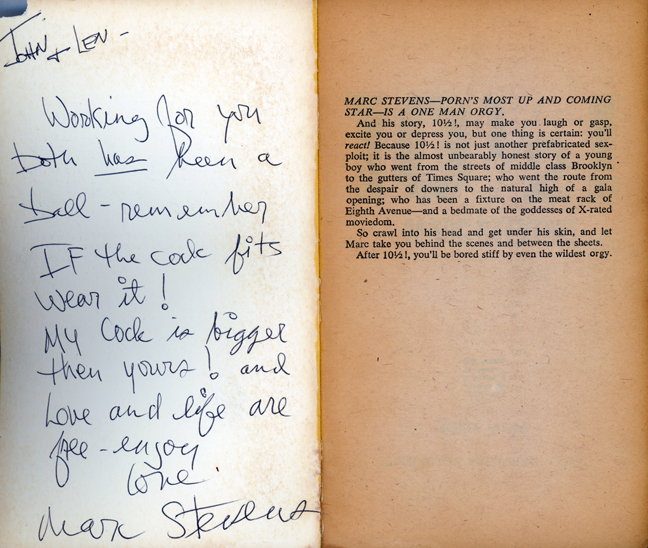 Marc Stevens dedication to John and Lem Amero, inside the cover of his first autobiography
Christopher Watson:
After the books came out, I arranged for Marc to make a number of personal appearances to promote them – and himself.
Marc toured the country in a number of capacities; he appeared in front of university student groups where he engaged in Q&A sessions, he attended book signings, and he was booked as a guest on a number of TV chat shows.
Christopher Watson:
Marc was happiest when he had an audience, like when he was talking to the people who came along to my office for example. Or when he was being filmed having sex. He just loved being the center of attention.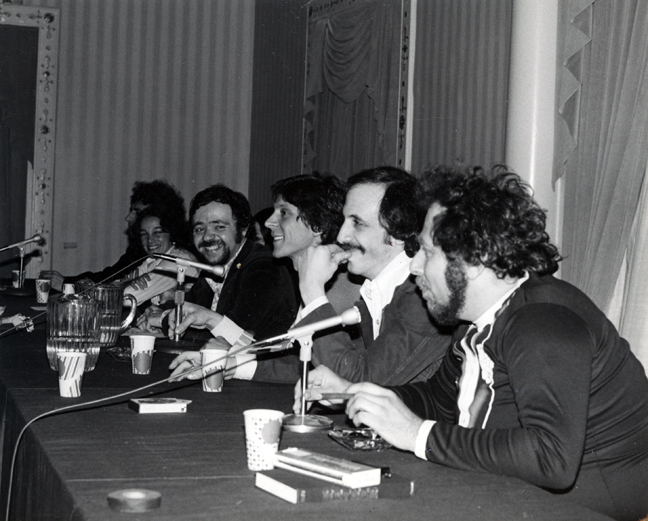 Marc, with Al Goldstein and radio personality, Alex Bennett
From 'Marc Stevens: The Superman of Porn' by Noel Kilgen (1976):
When not in front of the camera, Marc is busy promoting his career in other areas. He is an author (his autobiography has sold 200,000 copies to date) and he will soon be heard on a comedy album. He's created a special line of products for his many fans, including 'Essence of 10 ½', a body oil and a cock pipe cast in an exact replica of his own.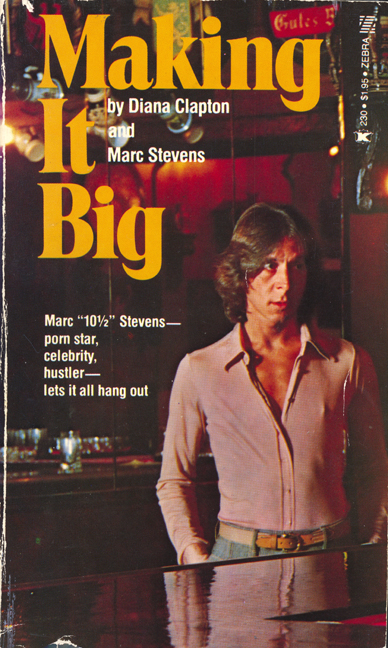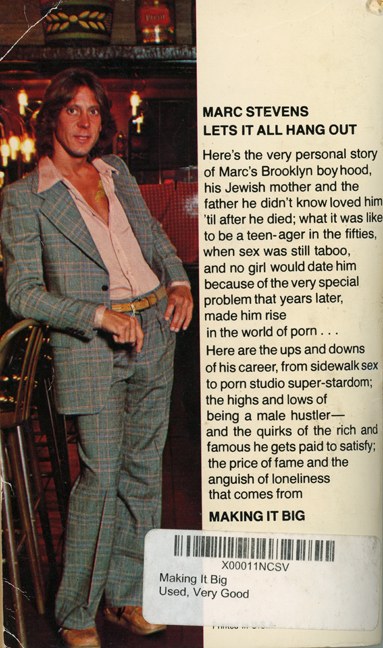 Dian Hanson:
The first time I met Marc Stevens was the first time I met Vanessa del Rio. He was the man in the first photo shoot we did for Puritan magazine in 1976.
We had him sitting in a chair, and the girls who were auditioning would come in and he'd give his opinion. The first two were nice and professional, calm, and then Vanessa del Rio pranced in, dressed in leopard. She sprinted across the room and straddled him, pushing his head back for a deep ravenous kiss. It looked like a leopard devouring her prey. When she finally pulled back Marc's head lolled to the side and his face was covered in red lipstick, increasing the 'prey' effect.
We all yelled, "That's the one!"
Annie Sprinkle:
Marc had such a beautiful body. He was a total nudist and such a body worshiper. He lived naked at home so if you were to go visit him, he would open the door with no clothes. He was always tanning and preening and shaving.
He was such a beautiful gay man.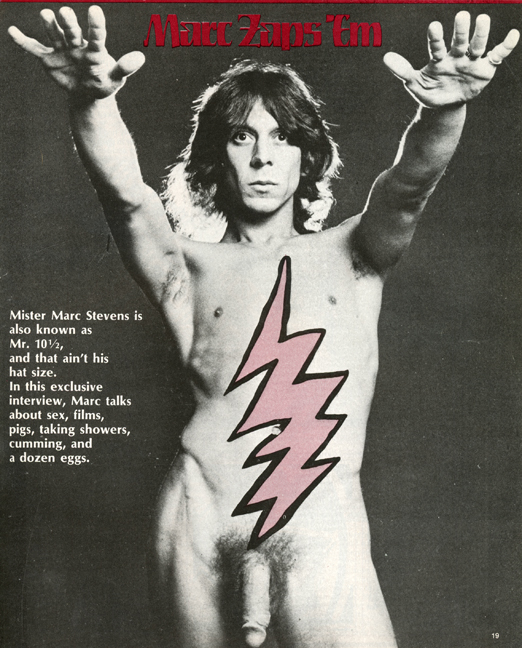 Harry Reems (actor):
I liked Marc but he was one of the vainest people you could meet!
I was always in the gym to stay fit, and I had my battles with alcohol, but Marc… it all came easily to him. He always looked great. I don't think he went near a gym.
Plus he ate carefully, and took good care of himself – no hard drugs or alcohol at this stage.
Jason Russell:
Marc was the first male porn actor to really pay attention to his appearance. The rest of us thought we were just there as furniture, a sex toy for the women.
Marc didn't accept that. He wanted to be the star of his movies. And he wanted to look as good as possible.
Dave Peller:
He had a naturally ripped body – which was remarkable because he didn't work out at all.
Annie Sprinkle:
He had high standards for physical beauty though…! I remember he told me, "You're starting to get little wrinkles on your back where your waist meets your butt. You've got some extra pounds here. You really need to watch it. You're getting some extra pounds…"
Jamie Gillis:
Marc may have loved his body but he loved clothes too. He dressed like a rock star when he went out to party. Which was ironic, because half the time he ended on the dance floor with no clothes on.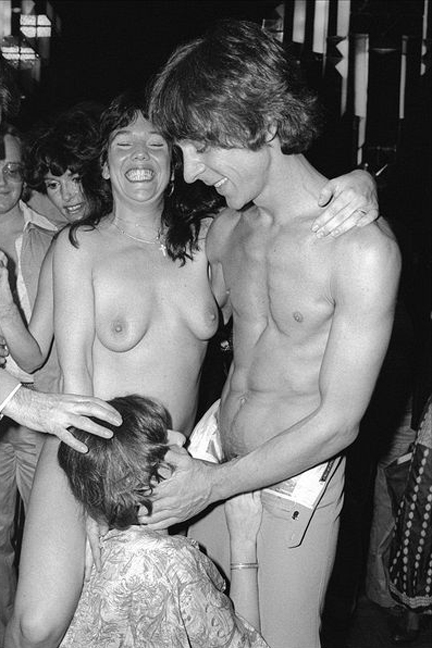 Marc, with Helen Madigan, and C.J. Laing (on her knees) and Gloria Leonard (over Helen's shoulder)
Annie Sprinkle:
He was a beautiful nude, and he had the most beautiful penis. To me, he had the perfect penis.
Also he was one of the first guys to shave his balls and shave around his cock, you know? He started that trend really. Now everyone does it! I hardly remember anyone doing it before then…
Harry Reems:
Marc would hop over to Jamaica or Bermuda or the Bahamas, and as a result he had this all-year-round tan. We could never understand how he could afford it on porno film wages…
The secret to Marc's all-year tan was that he'd became good friends with Lou Maletta, who later became a pioneering LGBT rights activist in New York. Maletta started out as a freelance photographer but by the mid-1970s he'd re-invented himself as a pioneering travel agent who specialized in organizing gay cruises.
Marc got special travel packages from Maletta – often to the Caribbean – and would often invite Helen Madigan.
Marc Stevens (from 'Making it Big' (1977)):
Helen was wild for the idea. But then she was wild for almost everything I ever proposed, being a dreamy, easily manipulated type that loved to be led.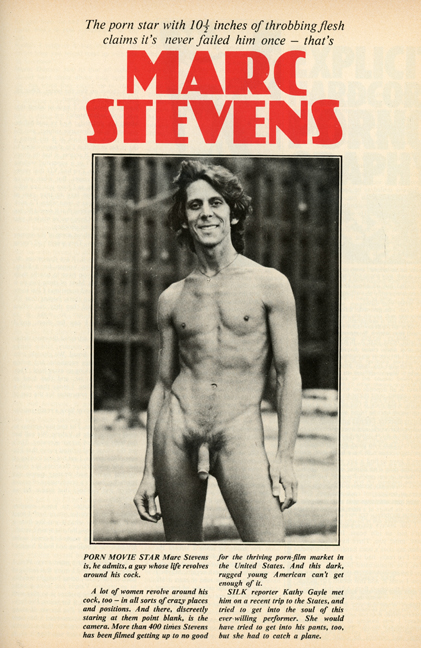 Helen Madigan:
Marc took me over to Jamaica for my 21st birthday. We drank a lot and partied hard, but it was sad too. I realized that he was never going to change and really be interested in me. He was just gay, and that was it.
After I realized that, things we a little different between us.
Marc's star was in the ascendant, and in 1976 he posed for photographer Robert Mapplethorpe for a notorious picture called 'Mark Stevens – Mr. 10 ½. The black and white picture shows a headless Marc bent over a stone slab – on which his genitals are prominently placed.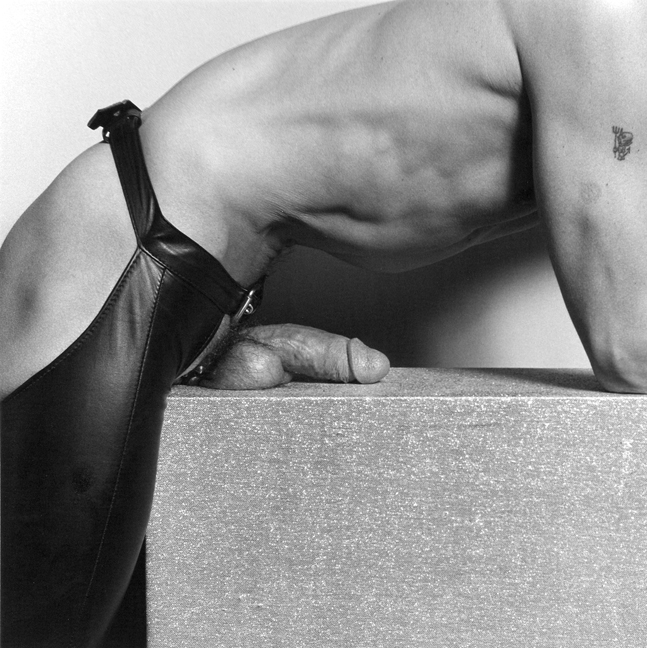 From: 'The Object of Performance: The American Avant-Garde Since 1970' By Henry M. Sayre
In the tradition of the porn industry, 'Marc Stevens' is undoubtedly a pseudonym, masking another, unknown identity, but furthermore, even the 'Marc Stevens' persona is absent in his photograph, his face cropped from the image, so that he becomes his member, itself cut off from the body, separated from the self, first in formal terms, by black leather chaps, and then, metaphorically, as it lies prone on what appears to be a butcher block.
The implication is that the only identity 'Marc Stevens' ever possesses is a function of the performance of his phallus – and that identity is itself constantly threatened.
Jamie Gillis:
Marc was always scheming, thinking up ways to make money from his own 'brand'. 'The Marc Stevens brand'. I just didn't see myself as a commodity like he did. He wanted me to help him start a male escort business.
I said, "No way! I'm a serious actor, not a cheap hooker…!"
Jeffrey Hurst (from his autobiography, 'Fade to Blue'):
Marc Stevens had come up with a revolutionary concept: A porn star escort service, and he wanted me to be part of his stable.  He assembled a group of the current stars of adult films and we met at Plato's Retreat, a swing club on the Upper West Side, to discuss his scheme.
Plato's was the ultimate trip. An entire club devoted to sex. Men and women strolled freely in various stages of undress. Some women wore panties, some wore G-strings. Most were topless. From my vantage point on the staircase overlaid with plush purple carpet, I could see people leave the juice bar, disrobe, and submerge into the first floor Jacuzzi.
We were supposed to talk about Marc's escort service; but once we got inside, everyone dropped Quaaludes. I popped a twosome, and separated from the pack.
Sex was a rhapsody in a horny tail wind, blowing and sucking decadent gusts of pleasure to all points beyond.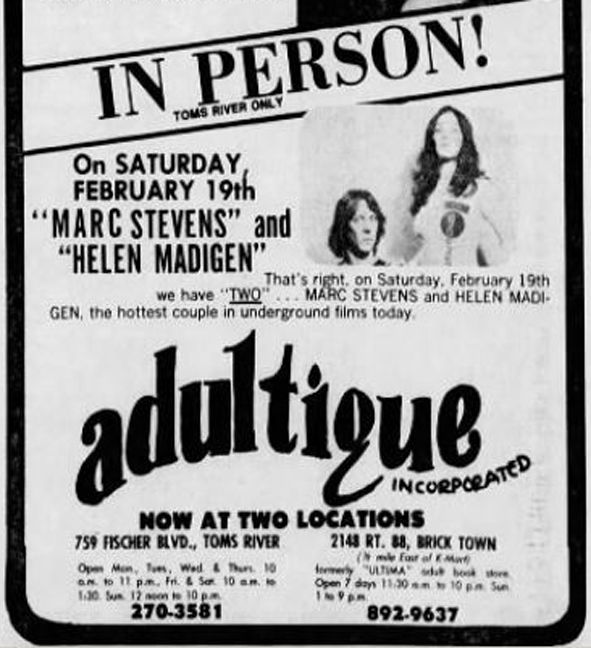 *
7.     Being Honey Kuttner – Marc's Mother
Marc's career as an adult film personality was in full flow. For those in the know, you couldn't escape him. Two of his sisters however, had no idea of his fame.
Lee Kuttner:
We were not aware that he was involved in making adult films at all.
Karen Kuttner:
He told us several years afterwards – when he said that he'd stopped making them. He mentioned that he'd been in 'Devil in Miss Jones.'
Lee Kuttner:
We didn't judge him. We thought, "Okay, that's fine."
It was a shame we weren't closer, but we didn't reject Mark. When we found out what he did for a living, we accepted him because we loved him and he was our brother.
To us, he was just our brother, not a porn star.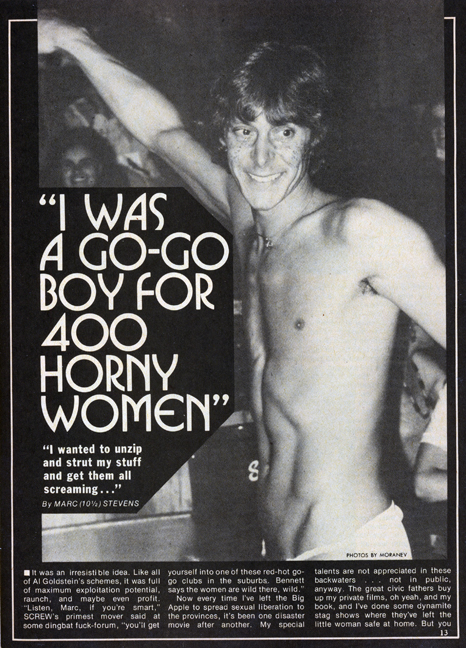 However Marc's mother, Honey, who was now a school teacher, was fully aware of everything Marc was doing. In fact not only did she know about it, at times she seemed to play an active role in his career.
Marc Stevens (from 'Mr. 10 ½' (1975)):
Mom launched into her present gig, namely menopausal mover and shaker, international party princess and media maven for the Big Apple slime scene.
Andrea True (actress):
Marc's mother was called Honey, and well… Honey was a riot. We all got to know Honey!
Marc Stevens (from 'Making it Big' (1977)):
Most porn kiddies are totally disowned by their disgusted parents – not me. My mother goes around blabbing my name to the disinterested masses in bingo games from Great Neck to San Juan. Her fellow widows are very polite about it… well, most of them are: "My son is a great actor – with a specialty!" That well-practiced line gets her some good laughs and also some beady stares.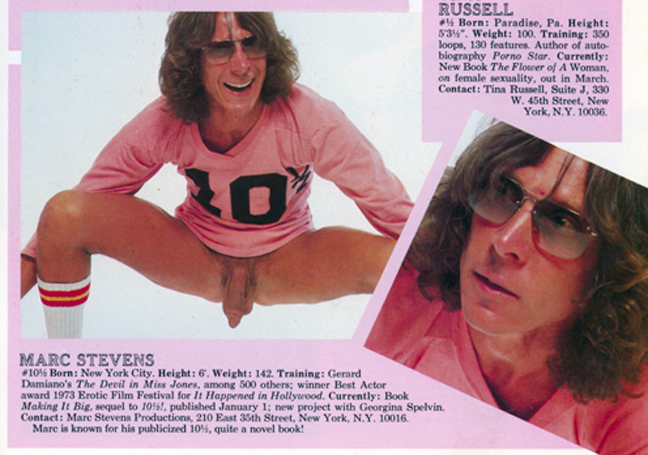 Marc's mother Honey even wrote the forward to his second book. Apart from expressing her pride in Marc, she used it to ruminate about her deceased husband and express regret over the absence of a relationship with her estranged daughters.
Honey Kuttner (from 'Making it Big' (1977)):
I was preoccupied with communicating with my silent, intellectual husband. In doing this, I overlooked the most important business at hand. Loving and understanding my children should have been foremost in my mind. I have often thought that my husband was inadequate as both husband and father. I lost him to cancer, and I lost my daughters in hatred.
Karen Kuttner:
I'll speak for myself. I did not have a good relationship with my mother from my teen years onwards. I hadn't had any communication with her for years. It was only Mark who really had a relationship with her.
Lee Kuttner:
Mark became closer to our mother as he grew older. He was closer to her than we were. Our mother was very proud of him.
Karen Kuttner:
I think that they probably saw in each other a lost sense of hope. I can recall a story of my mother smoking pot and getting high with my brother. More than mother-son, they became like compadres, or buddies.
She did her thing just like Mark did his thing. The rest of us were in a different sphere from them. We didn't really have much knowledge of what was going on at the time, or even have an opinion about it, because it was not on our radar.
Honey Kuttner (from 'Making it Big' (1977)):
Marc works so hard to communicate with others. He engages your sympathies as he sets you off into hilarious laughter and he *cares* how you react. He'll always have the biggest piece of my heart because of these qualities. My opinions may seem highly prejudiced – they're yours to criticize. I could not resist paying tribute to the beautiful and good person who is my son.
Marc Stevens (from 'Mr. 10 ½' (1975)):
Mom is so proud of me that she once schlepped me to a lecture in a psychology class about public fucking, while half the faculty went into culture shock and a couple of them even stopped speaking to her.
Honey Kuttner (from 'Making it Big' (1977)):
I never criticized his choice of work, finding happiness in his own happiness in success. I am proud of him and will never interfere.
Marc Stevens (from 'Mr. 10 ½' (1975)):
I take her with me to premieres and opening nights, and of course the press zeroes in on her like hyenas.
"I may meet my lovers here and there since Marc's father died," she explains to a sympathetic network camera, "but I'll never look at my son exposed."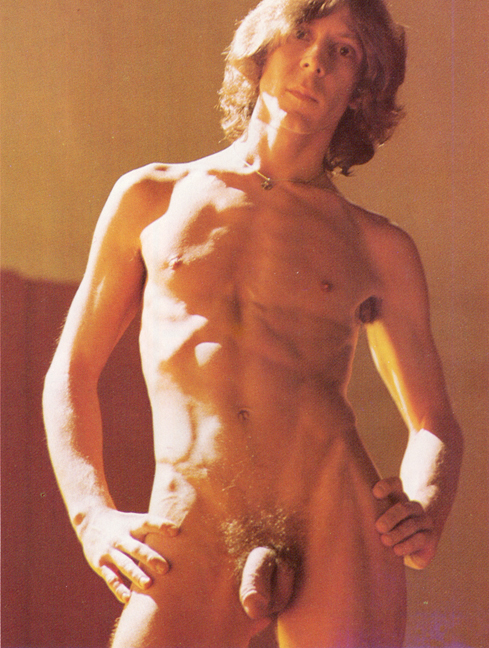 Jamie Gillis:
Honey would often turn up with him at premieres. Sometimes she'd be standing there handing out pictures of her son, or these pins with '10 ½' written on them, like a proud Jewish mother.
Erica Eaton (actress):
I organized an opening of a film in which Marc had a starring role. Of course he brought along his mother as his date. She sat there with a big bag of popcorn throughout the film, grinning away, watching her son have sex.
Talk about… "My son, the porno star!"
Honey Kuttner (from 'Mr. 10 ½' (1975)):
I always look for him in the pile-ups (her quaint terms for orgies) but when I find him I put my hands over my face. Except I love looking at his profile, it's so beautiful…"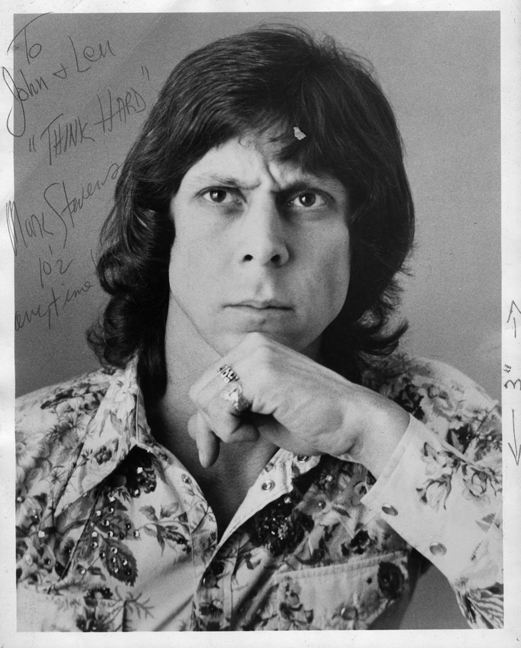 Harry Reems:
I didn't go to any of the swinger's clubs, it wasn't my scene – but I did go to Plato's Retreat once. I couldn't believe it but Marc and his mom were there! They were mingling, and talking to everyone, and his mom was making everyone laugh. It was almost wholesome!
Christopher Watson:
Marc liked having her around. And at times, she could be even more outrageous that Marc was…
Marc Stevens (from 'Mr. 10 ½' (1975)):
Sometimes she gets a little rambunctious and I have to drag her out of menacing situations where a lady shouldn't go unescorted… one drink and Mom thinks she's Wonder Woman.
Honey Kuttner also made appearances in films and on television with Marc. They were both interviewed for Lech Kowalski's documentary 'Sex Stars' (1977), and they showed up as guests together on several late night TV chat shows.
Lee Kuttner:
She appeared on Late Night with David Susskind. She was beaming about her wonderful son, who was sort of famous. She was his biggest fan, I guess you would say.
Dave Peller:
Marc and I once did an EST course together. They were popular at the time. The instructor tried to convince us that we hated our mothers. Marc was so angry at this suggestion. He was incensed. He was very close to his mom.
He was devastated when she died.
Karen Kuttner:
Our mother died in March 1978 when she fell from a window. She was living on the fourth floor of an apartment in the Greenpoint area in Brooklyn.
Andrea True:
I remember she died when she jumped out of her window. I think it was suicide.
Lee Kuttner:
It could have been suicide, but it also could have been accidental. It was never proven either way.
Karen Kuttner:
She could have just fallen accidentally. She was known to be a 'clean freak', and she had a ritual of cleaning her windows on the weekends. She was very fastidious. She could have been cleaning the windows and just fell. She had had a number of falls before the one that killed her. And when she was drunk, she could barely stand up.
Lee Kuttner:
I had seen her many times after falls. Once she came to visit me with bandages on her forehead and her eye, and I didn't know how to handle it. I would say, "Please Mom. Don't come to visit me when you're drunk. I have young children and I don't want you to show yourself like that." She got very insulted and she turned around and left. She was angry, very angry.
If her death was intentional, we don't know. There's no way to find out. It's just what it was.
Over the years I've come to think that she probably did it deliberately. My only basis for thinking that is knowing her depressive personality.
But who knows? We don't know the truth.
Karen Kuttner:
Our mother's death was particularly difficult for Lee. She had to identify the body.
Lee Kuttner:
No, I couldn't do that. I was no longer in New York. I was living in New Jersey. I had someone else do it for me. Emotionally, I couldn't do it. I had to send an uncle to do it.
My husband and I took care of the funeral arrangements, and that was very difficult for me to do but who else was going to do it? Marc was nowhere to be found so we did it. We had to have a ceremony.
Marc wasn't at the funeral that I arranged. Only later did he reach out to me. That was quite a while later.
Sandi Foxx:
I'm sad to say I was the one selected to tell Marc that his mother killed herself while he was on vacation on a Caribbean island and unreachable. This was long before cell phones. It's never good to deliver bad news to someone. They never forget the person who told them the bad news.
Gary Montanile:
Marc was devastated when Honey died. You could see he was crushed. Outwardly he bounced back after a while, but he probably continued to suffer inside after that.
Jamie Gillis:
Marc seemed lost after his mother died. Did he have other family? I don't know, but for whatever reason they didn't seem to figure in his life. Maybe he had a little shame about what he was doing to be completely open with them.
Karen Kuttner:
If Marc was so devastated, I find it interesting that he never reached out to us when our mother died. It is sad that he was that isolated and marginalized from the rest of us in the family that he didn't look upon us as comfort.
Dave Peller:
After Honey passed, I remember Marc and I started driving out to see his sister, Lee, in New Jersey. He liked that contact with his family.
Lee Kuttner:
For a time he became close to my family and me. He loved it. He derived so much pleasure from that. He felt very much at home. He loved my boys and they loved him. They just thought he was the best thing since sliced bread. It was like something he'd never had. My husband got along very well with him too. It was just a very pleasant experience.
He brought a lot of friends. We never turned him down. I looked forward to those occasions.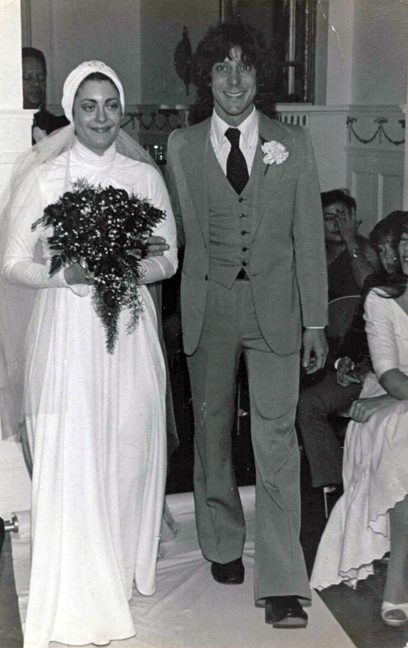 Marc, at his sister's wedding
Karen Kuttner:
He visited me when I was living in Arizona in the late 1970s and we had a lovely time with him. We went horseback ringing and camping, and we took him to The Grand Canyon. I still have the pictures. I remember us washing our faces in the river. It was great. It was like he was different in nature. It was so different from what he was used to.
Maybe he suffered from bipolar disorder, because he was either up and happy… or sometimes we just didn't see him for long periods of time. He would lose touch with us. He was the one that called the shots. He decided when he wanted to be close to us and when he wanted to go away again. He was always the one to come out of the shadows.
It was sad. He was a sweet man. He was just so good-hearted and sweet, and kind. That's how we knew him.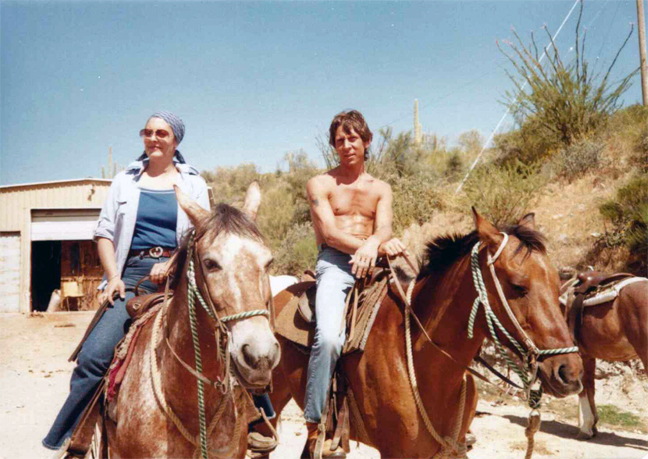 Marc, with his sister
Jamie Gillis:
After his mom's death, I think something broke in him. And perhaps that explains what happened in the remainder of his life.
Marc, and his mother
*
The concluding part of 'Marc Stevens: 'Mr. 10 ½'- The Wild Life and Tragic Fall of the New York Porno Party King' will be on The Rialto Report shortly.
*