To call Honeysuckle Divine a stripper would be like describing the Pope a Catholic. There's a little more to it than that.
Yes, she stripped, but in the words of one writer, "Honeysuckle Divine's line is the public pubic propulsion of provisions from what people used to perceive as private parts".
Quite.
Today she is almost forgotten were it not for her brief, but memorable, appearance in the adult film 'S.O.S: Screw on the Screen' (1975).
But back in the 1970s it was an altogether different story. Here's what Bruce David (then editor of Screw, now editor of Hustler) wrote about her:
"The sex storm they call Honeysuckle Divine is well on her way to becoming an American institution.
She is probably the best-known stripper in America today.
She can play 'Jingle Bells' on her ovaries.
She can quench a candle flame from two paces with one mighty flatus from her talented pudenda.
She is said to give excellent head in the back rows of burlesque houses.
She has lain with presidents, knelt before bums.
She is probably the only sex performer who crusades militantly for the rights of her fans.
And, foremost of all, she has become the peeping Pepys of her time, a consummate diarist whose vivid, honest, ingenuous portraits of an X-Rated world have become the favorite reading of thousands of hump-mad Americans."
So what did she do to deserve such accolades? Who was the woman behind the outrageous character? And what happened to her when she packed up her props for the last time?
This is a story of nuns and convents, of Screw and screwing, of Presidents, newscasters, and multiple busts for obscenity. And Jergens lotion and ping pong balls too.
This is the story of Honeysuckle Divine.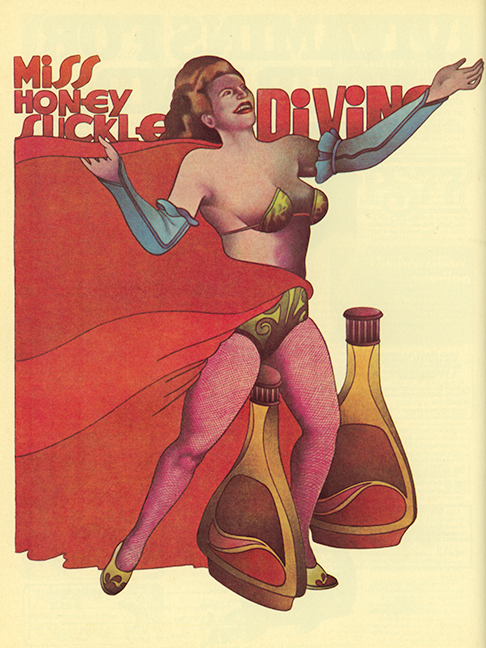 With special thanks to Michael Gross for his memories and photographs.
_______________________________________________________________________________________________
Honeysuckle Divine: Las Vegas, 1985
Honeysuckle Divine's name was in lights again, except this time it had been written by someone who couldn't spell.
'HONEYSUCK DIVIN' read the billboard outside the strip club.
Inside the small, hot building, Honeysuckle sat in the cramped backstage quarters looking tired. A local house stripper, Misty Rae, who'd worked with Honeysuckle on a few occasions, remembers that night. It was the last time she saw Honeysuckle Divine.
"She was looking pretty beat after the show, so I said "Tired, honey?"
She barely raised her head, so I asked her if she was ok. After the longest time she said something about finishing. Retiring for good. She must have been about 50 years old, and looked every one of her years.
We got chatting, and Honeysuckle talked about her many years on the road. She said she knew her act was bawdy, rude. Lewd even.
Honeysuckle said: "I've always done it because I like to entertain people. Make them happy.
"I used to think I was in on the joke, but now I wonder if that was ever the case. I just seem to be the joke.
"And sometimes I just wonder how I got here".
*
1.     Beginnings (1938-1958)
Honeysuckle Divine came into this world in Rock Island, Illinois in 1938 as Betty Jane Allsup.
Her arrival was hardly noticed at first. "I came from a family of 14 children; my father kept my mother knocked up and barefooted. And I was number ten," she observed.
Rock Island is a small city on the Mississippi river. It was a rough, rural and raw upbringing; money was scarce, luxuries non-existent, and her parents had little time to spend on raising kids. Betty described her father as a "hillbilly, banjo-playing lumberjack."
Her large extended family was spread over Ohio, Iowa, and Illinois with many of them involved in sawmills and the lumber business. "I have relatives all over the Mid West and most of them are very, very square. They are very old-fashioned and backwards types. There were some bad characters mixed in there as well. All my siblings achieved varying degrees of infamy, including one brother who was jailed for passing bum checks."
Betty was a loner, closer to her immediate siblings that to her parents, but believed that she was most similar to her French grandmother, an eccentric psychic who told fortunes, read tea leaves and palms, and analyzed dreams.
From an early age, two contrasting forces dominated Betty's life: Religion and Sex. For much of her life, she would alternate between them, searching for an uneasy and unlikely truce.
On the one hand was the word of the Lord.
Religion was not a significant part of her upbringing, but as a teen it started to dominate her every thought. Betty didn't drink, smoke, curse or gamble. She would help the elderly and those even poorer than her. She regularly prayed for the sick and the needy. She was a model Christian girl. Except where sex was concerned.
Ah, sex.
Betty had been a straight A, magna cum laude type of student until she hit puberty. At first, it was normal teenage misadventures; she discovered her body, dated boys, and had her heart broken. She fought her sexual urges but her academic promise soon succumbed to the juggernaut of her budding sexuality.
And just when the guiding hand of a family elder might have kept her on the straight and narrow, Betty discovered her Aunt Flo.
From Mink magazine interview (June 1981):
"(Aunt Flo) was a real free spirit, but all my relatives thought she was nuts. They'd laugh at her antics, but no one wanted their kids to associate with her. She was considered the black sheep of the family. Somewhere I have a few pictures of her standing on her head and smoking cigarettes in her pussy. She was a real wild lady.
I hung around her a lot and she liked me. I loved to watch what she did. My mother was terrified I'd turn out like her."
The teenage Betty became pregnant – and with no one offering her any support, she had an abortion.
*
2.     The Convent, and the waitress (1959 – 1963)
In summer 1959, Betty had had enough of Rock Island. She was 21, and wanted a fresh, more Godly, start to her adult life.
She left for Philadelphia where she became a postulant at the Grey Nuns of the Sacred Heart convent. (A postulant is the first step in the training to be a nun. After a period of time, a postulant becomes a novice and, after several years, a novice becomes a nun).
The new life started well, but after only three months, Betty had had enough. "I loved the nuns and the convent life, but I couldn't understand the spiritual lessons they tried to teach me. I felt an inner compulsion to run away."
One night the devil appeared to her and told her he would kill her if she stayed in the convent. Betty Jane, terrified, climbed out of the window and ran for her life.
From 'My Bust', by Honeysuckle Divine, Cheri magazine (October 1978):
"On November 13, 1959, I ran away from a convent in Philadelphia. Once I was gone I realized I'd better call and tell them I was okay. But if the Mother Superior spoke to me, I knew that I'd break down and go back. So instead I called the Missing Persons Bureau and said that if the convent reported me, please tell them I was fine. A police matron came to me and helped get me civilian clothes, and they took me to dinner. Then they drove me to the airport and saw that I got safely back to Rock Island."
Back in her hometown, Betty needed to support herself. "I went into nurse's training but I didn't get along. I couldn't take the rigid discipline that I was subjected to. I tried waitress work, being a nurse's aide in a hospital, and several other things, but I failed at everything."
Desperate for a regular income, she moved to Des Moines, IA and got work at the Bishops Cafeteria as a waitress.
"I answered an ad in the paper for a cocktail waitress. I had never worked around liquor because I thought it was sinful. I was still going to mass and confessions and everything; I was a very religious person.
"When I started waitressing, I learnt how to dance, because the girls behind the bar were doing go-go stuff so they taught me everything".
By her own admission, dancing never came easy to Betty Jane, but she liked the attention and she liked the money. In 1962, Betty Jane moved back to Rock Island where she got her first job in burlesque. "I was hired as a dancing barmaid at the Yankee Stripper Supper Club. I owe a lot to that place. It's really where it all began."
Betty Jane started to date a Clipper customer too, but despite the regular job and regular boyfriend, life wasn't all plain sailing. "The first time I ever got arrested was in Rock Island in the long, hot, summer of 1963. The charge was 'wiggling and squirming down the street in an obscene fashion with a skirt five inches above the knee'".
Betty's risque' garb was not unusual in the town, so some wondered why it drew the attention of the cops. Betty was under no illusions. A few weeks previously she'd turned down an offer from the local police chief to work in his whorehouse ("I said no… I was fucking morning, noon, and night, but on my own time. I'm an independent thinker"). The arrest was just spiteful blowback from the lawman.
The case was eventually thrown out of court, but not before it received much prurient coverage from the newspapers.

Betty had had enough of small town small-mindedness. When her boyfriend joined the army and moved to Washington DC, she saw her opportunity to escape and moved there to be closer to him. She figured she'd find bar work in the capitol.
According to a 1975 interview, she left Illinois "armed only with a dress, a douche, and a diary". When asked why she started writing a diary, she replied she had "a great desire to write. I can release my tensions because most people just don't want to be bothered listening to your problems".
Despite her best laid plans, her life in Washington didn't turn out as expected. For starters she split up from her boyfriend soon after she arrived. And she decided against seeking bar work: "When I heard that strippers earned more money, I just stopped looking for waitress jobs".
And so Betty began a double life that continued for the next 25 years: "When I was away from Illinois I was a completely different person. And when I returned home, no one spoke about my life as a stripper. They think I'm a writer. I know the truth would be a horrible shock to them."
*
3.     Dancing and Hooking (1963 – 1969)
Calling herself 'Pussy Bird', Betty Jane found regular work in burlesque clubs in Washington in the mid 1960s. It was a popular scene with many clubs to choose from – some of which were frequented by politicians. And strip-tease wasn't the only attraction on the menu.
From Cheri (June 1978):
"My first striptease job was in Washington DC at the old Tangerine Club on 144th St back in 1964 – the name of the place was later changed to Fredericks. I had a real sentimental attachment to the place, as I used to turn tricks with important politicians I met in there. I never got arrested there, but it didn't go so good when I started working on The Block in Baltimore."
The Block is a stretch on the 400 block of East Baltimore Street in Baltimore, Maryland containing several strip clubs, sex shops, and other adult entertainment merchants. In the first half of the 20th century, it was famous for its burlesque houses, and was a noted stop-over for many dancers, such as the likes of Lili St. Cyr and Tempest Storm. By the 1950s, the clubs became seedier, as old-fashioned burlesque started to be replaced by strip clubs and sex shops.
"I worked on The Block a lot. I loved it. We were hustling bottles of champagne and giving guys blow jobs back in the dark corners – most of the guys came in there expecting a blow job; that was the only thing on their mind."
One of Betty Jane's favorite clubs on The Block was the Two O' Clock Club owned by former strip queen, Blaze Starr. According to Jack Anderson, newspaper columnist and one of the fathers of modern investigative journalism, it was also a favorite watering hole for high profile politicians, such as Spiro Agnew, a future Vice President of the United States, who would make the forty mile journey from Washington to visit on a regular basis.
From 'The Secrets of Honeysuckle' by Deanne Stillman, Genesis, March 1975:
"I got busted twice there. The first time, I got framed for 'soliciting drinks for the purpose of prostitution'. The judge let me go on probation.
The second time was for making an 'obscene gesture' on stage. At the time we weren't even going all the way nude. I was just standing on the edge of the stage, and I had an itch. And all I did was to scratch myself, and they called that obscene. I got probation for that one as well".
Betty Jane danced and hooked in Washington and Baltimore for the rest of the 1960s, whilst keeping her apartment base in Washington. According to her diary, her clients included a senator, a governor, two Ambassadors to the UN, two union leaders, and a Pulitzer Prize winning author.
And, she claimed, the President of the United States, Lyndon B. Johnson.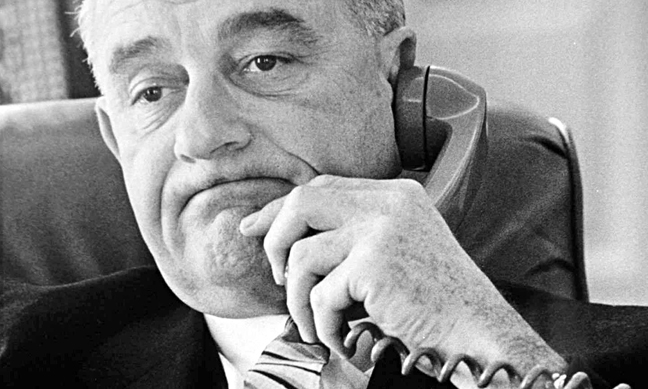 Lyndon B. Johnson
From Penthouse – UK (Vol. 9 No. 2, 1974):
"After I had been in Washington a couple of years, I met the President. I had been screwing one of his aides, and this guy told me (about the President). And then I screwed one of his relatives. So the President must have heard about me from these people.
One night (Johnson) came into the striptease club (Fredericks) where I was with some other guys and he bought me a bottle of champagne. He made a date with me, and we went to the Statler Hilton, and then he took me home in a taxi to my apartment."
From 'The Beehive' by Honeysuckle Divine, Cheri magazine (November 1978):
"The night I spent with the President at the Statler Hilton might have blossomed into a more lasting relationship if not for the Viet Nam war. He was a wonderful man who hated the decision he had to make. Fortunately, the times I went to bed with important people in Washington DC, it was strictly on a play-for-play basis, and no mistress-type emotional affairs."
It's a tall tale, though it was also reported at the same time that a full review of Presidential security was ordered after LBJ's security team had no explanation for a period of eight hours one night when the President went missing. Betty would point to this fact as evidence of their tryst, and would return to the same story many times in interviews over the course of her career.
In the late 1960s, Betty Jane also started to perform regularly in New York, usually staying at the Edison Hotel, appearing at various emporiums of gynocomania – such as the Roxy, the Psychedelic Burlesk Theater ("not a popular working spot because the men's room is located backstage and when the girls leave the stage at the end of their acts, guys are usually there waiting to ambush them – I was attacked three times in one day there"), and the Forty Second Street Playhouse ("the last sign of life before a desolate stretch of parking lots leading toward the Hudson river").
By all accounts, Betty's act was unremarkable; she wasn't a great dancer and she didn't have a particularly suggestive stage routine, but it was an era when the clubs were often being busted by cops on the lookout for anything resembling lewd behavior.
From Cheri (June 1978):
"I got busted in New York on 42nd St on New Year's Eve in December 1969 for obscenity. The case ran on and on. I went to court thirteen times over an eleven month period before the case was finally thrown out."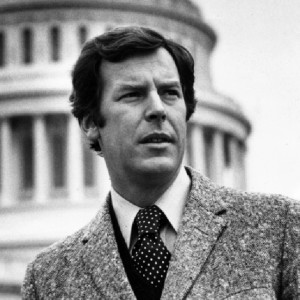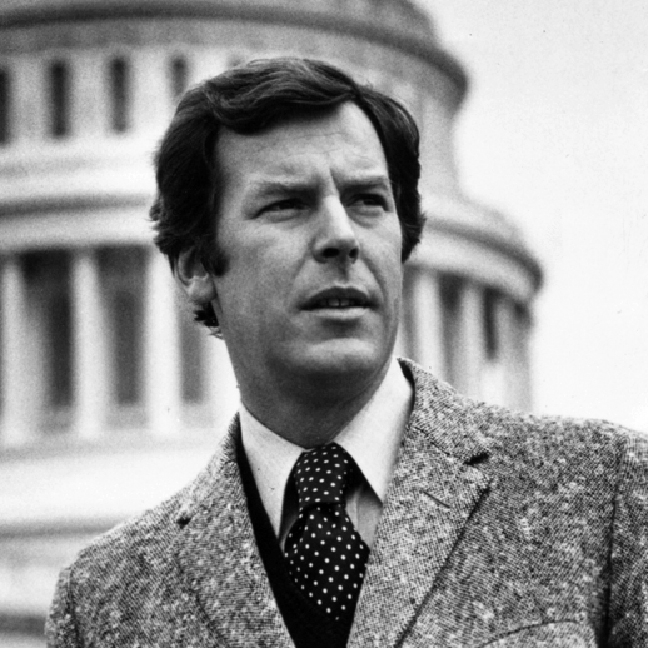 In addition to the notable politicians Betty claimed to have bedded, she also wrote about someone who would change her romantic life forever. Peter Jennings (right) was a renowned journalist, who had become the anchor of the ABC News flagship evening news program in 1965. By 1968 he became a foreign correspondent, reporting from the Middle East.
Betty Jane claims to have first met him on one of his visits back to the capital.
From Penthouse – UK (Vol. 9 No. 2, 1974):
"I met him on The Block in Baltimore on June 4th, 1969. He was a trick when I first met him. But I fell in love with him, so I gave his money back.
They say that love is the death of a whore, and it's the truth. Since I met Peter I haven't wanted to be with anyone else."
Whatever the truth behind their meeting, Betty Jane would write about him constantly for the next fifteen years. She also started sending him an incessant stream of letters outlining their future life together.
*
4.     The birth of Honeysuckle Divine (1970 – 1973)
From Penthouse – UK (Vol. 9 No. 2, 1974):
"I was working on the Block in Baltimore. All of a sudden one night, I had an inspiration. I guy came into the bar where I was turning tricks, and I said "Hi, my name is Honeysuckle Divine, what's yours?" And he laughed and said, "I haven't got anything that can top that". So I became Honeysuckle Divine from that night."
With a new name came a new look, and Honeysuckle Divine started to be known for her long blonde hair – in reality a shaggy wig she used for many years, which became progressively more unkempt and straggly.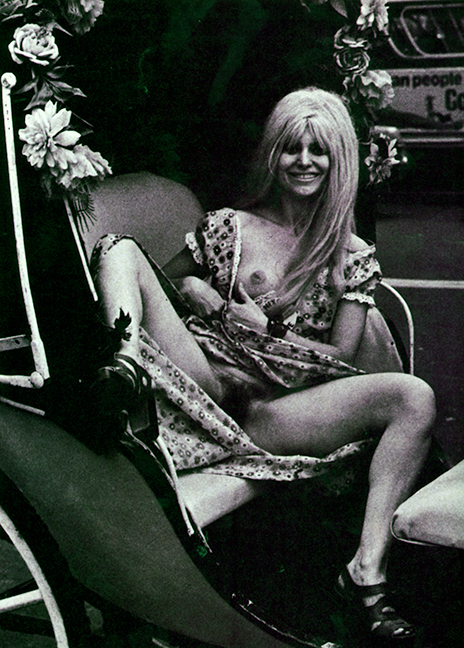 From Delaware County Daily Times, Chester, PA (August 7th, 1971):
Honeysuckle Divine is a knitter, a writer, a college graduate and a girl who strips to her toenail polish four or five times every day. Honeysuckle (who insists that's her real name) works in burlesque at the 42nd St Playhouse where the girls almost never get dressed. Honeysuckle has a gown that cost about $750 but she's had it on for less than hour and a half in the two months since she bought it. It'll never wear out. Between shows she sits in the dressing room and knits, or works on her autobiography.
Behind her cheery exterior, Betty Jane was struggling to make ends meet for the first time as a stripper. Strippers had been in big demand when she started out, but the sexual revolution had created countless young women willing to work in the clubs. The surplus of available girls meant they were often short-changed by club owners, and Betty would sometimes sleep in bus depots or under bridges when offers of pay or accommodation failed to materialize.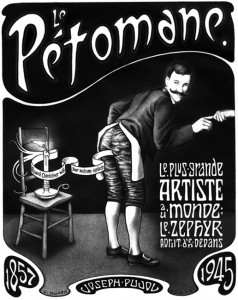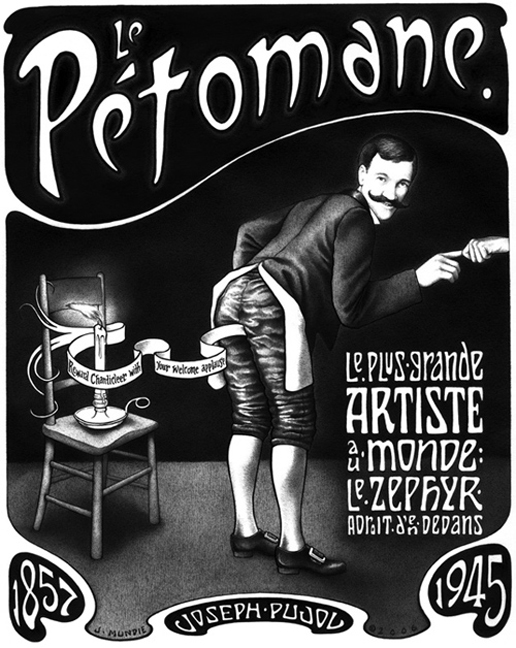 At a low ebb, an idea came to her from an unlikely source. In 1967, Los Angeles-based Sherbourne Press had published a small hardcover English language edition of a French succès de scandale, 'Le Pétomane'. Le Petomane was a French entertainer who delighted the kings and queens of Europe and packed 'em in at the Moulin Rouge in the late 1890s.
Or, in the words of Betty, it was a book about "a Frenchman who blew out candles with his butt and played tunes with a horn in it".
A fan of Betty's stripping act, Earl, had given her a copy of the book. A few months later on a visit to New York, she read an article about the same farting Frenchman in Al Goldstein's Screw magazine.
From Penthouse – UK (Vol. 9 No. 2, 1974):
"I was talking about it with a client and and he said "Well, if he could do it with his butt, why don't you try it with your pussy? I said "OK", and so one guy held up a match in the theater to see if I could blow it out with my pussy, and I couldn't do it the first time. I went home that night and practiced it in my hotel room, and after about an hour or so I got to where I could blow out matches."
Convinced that she had a gimmick that could extend her dancing career, Betty Jane set about developing an act based around the unique skill. Within months, she added various permutations to create a fully-fledged farteuse act – which she described in her typically breathless way: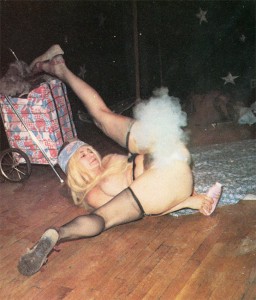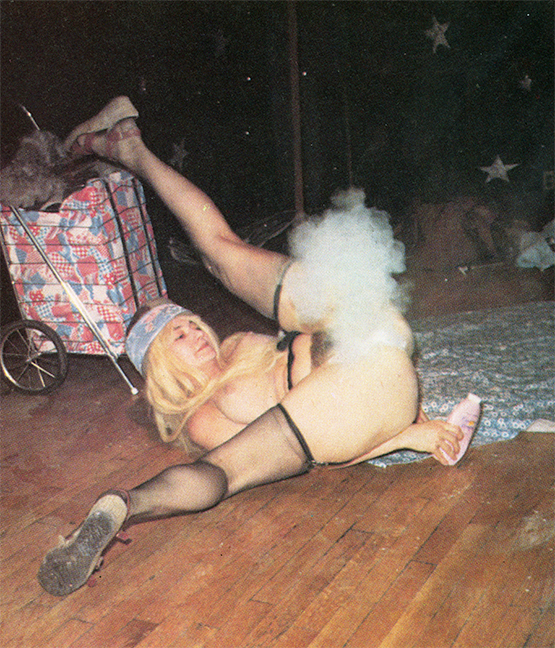 "I started by wheeling out my shopping cart full of surprises. The first thing I did was stick a mop handle in my puss and clean the stage floor. Then I pulled the mop handle out of my puss and made a lot of pussy farts. The audience always got a laugh out of that. I made my puss sound like a duck. I'd say "I fucked a duck and the duck's still in there". I lit a candle with a match, then extinguished the flame with my puss. Then I'd blow out the flame from three candles all at once. After that I put three candles in my puss, lit them, and stood on my head. I'd count down, and blast-off! The candles shot out of my puss like a rocket. I call that 'Pussy Propulsion'. After the candles, I smoked a cigarette in my puss and blew smoke rings in time with Glenn Miller swing music. This is an old time trick for the smoker's stag parties. I used to be afraid of cancer because of the smoke. Then I pour Jergens lotion into my parts, which I then shoot twenty feet into the air. The guys within shooting range scatter in all directions! I joke that the guys who are close to me are in the 'combat zone'. Then I put talcum powder in my pussy which I blow out in big white clouds. Then I shoot ping pong balls out; the powder gives me better grip on the ball so I can shoot them fifteen to twenty feet. I prepare each ball carefully: I write "Honeysuckle loves your balls" on them and then I wrap them each up in a baggie to keep the autograph dry, so whoever catches them can keep them as souvenirs."
From 'The Secrets of Honeysuckle' by Deanne Stillman, Genesis, March 1975:
The crowd jumps to its feet with cheers and applause, hoots and whistles…
Waving goodbye, Honeysuckle saunters toward the wings. The crowd calls for an encore, so she returns to center stage. Politely she asks her fans to return to their seats; they gladly obey.
It's time for the grand finale. Eyeing the puddles of lotion all over the stage, Honeysuckle fetches the mop. As refined strains from Strauss' 'Tales of Vienna Woods' emerge from the tiny sound system, she jimmies the mop handle into her pussy. With six inches of mop handle held firmly in her crotch, she's ready for action. Flashing a wink to the boys, she starts to 'clean up her act'. When every bit of lotion has been swabbed from the stage, Honeysuckle takes a bow. The audience applauds riotously and Honeysuckle Divine makes her exit.
To say that audiences loved the new act would be an understatement. It was a huge hit wherever she went, and suddenly 'Honeysuckle Divine' was in demand as the headline act across the strip clubs of the nation.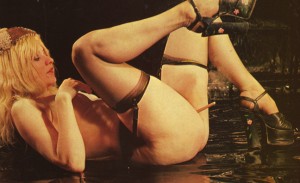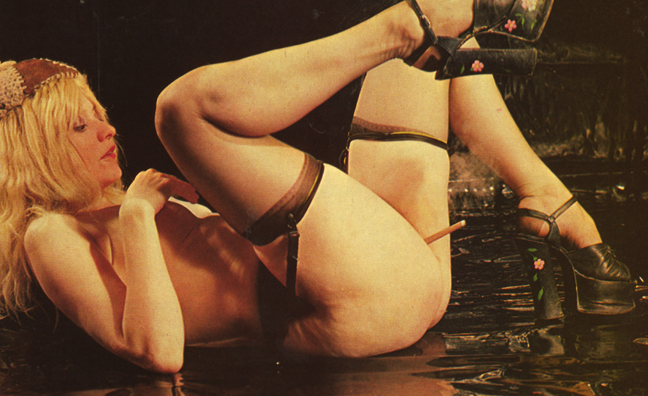 Mark James, a Honeysuckle regular remembers her act with affection: "Throughout my years of going to strip clubs, I can honestly say I never saw anything like Honeysuckle Divine and her talented vagina. He act would lift the roof off the place every time. The crowds would turn out for her in force every time she came to town. The rumor was that she was an ex-nun – and she spoke with this friendly, little girl voice."
Another fan remembers: "She would come on stage with a shopping cart full of props and proceed to shoot ping pong balls and streams of liquid into the audience, and blow several toy wind instruments simultaneously Roland Kirk-style with her pussy."
Robin Felt, another regular, recalls "I remember seeing her in Washington in the 1970s, and the line to get into the club went right around the block. I had to queue for ages just to get in. And you knew not to sit in the first three rows of the theater for fear of being 'hit' by something or other!"
*
5.     'Diary of a Dirty Broad' (1973)
Word reached Bruce David, an editor at Screw magazine, who was intrigued by the reports of Honeysuckle Divine's act when she was performing at 42nd Street Playhouse in New York in 1973, so he went to interview her:
From 'The Divine Miss H.' by Bruce David, Gallery magazine:
I was late and had missed her act. (Honeysuckle Divine) shook my hand. 'Sorry you missed my act. Want a demonstration? I can sing Jingle Bells with my pussy. Wanna see?'
My head was nodding from the shock, so she must have figured I was assenting. In fact, I was thinking that, perhaps, there are some things better not known. But it was too late, and only seconds later it was 'jingle all the way' in somewhat recognizable form, on the most unlikely of instruments. I noticed that, off to the right, one of the patrons was signing along.
During the interview she told David about her diary and he suggested showing it to Al Goldstein to see if he'd be interested in publishing it on a weekly basis in Screw. David arranged an introduction and invited her into the Screw offices on 14th St.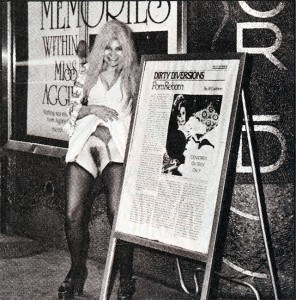 Honeysuckle Divine in New York to see 'Memories Within Miss Aggie' (1974)
The jaded staff in the Screw offices had seen most things, but even they were excited to see Honeysuckle Divine in the flesh:
From 'The Divine Miss H.' by Bruce David, Gallery magazine:
Curious editors and secretaries gathered to catch a glimpse of her as she arrived. They were not disappointed. Her blond wig streaming like a modern-day Medusa's, Honeysuckle entered the Screw offices pushing a shopping cart jammed full of the items she uses in her act. Including a set of giant wooden spoons and a broom.
"A broom?" I asked, looking into the shopping cart. "What do you do with a broom?"
"I stick it in my cunt" she replied – as if it were the most natural thing in the world.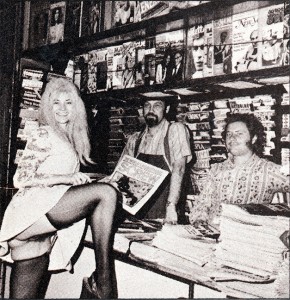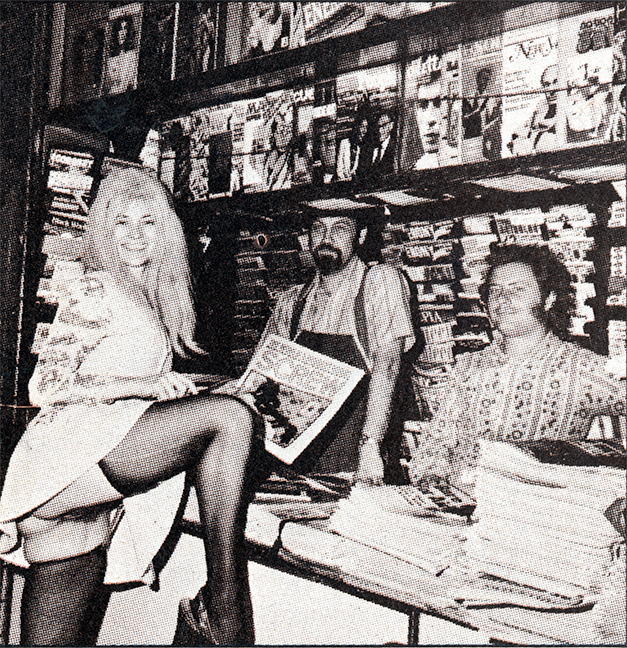 Al Goldstein has his own memory of first seeing Betty:
From 'A Candid Conversation with Al Goldstein, the Outrageous Editor of Screw', Playboy magazine (October 1974)
"I first saw Honeysuckle as I walked into Jim Buckley's office, and there was this girl standing on her head shooting Jergens Lotion across the room—ejaculating it from her pussy onto the wall 19 feet away. I thought that was unbelievably disgusting, so naturally, we made her our symbol—like the Playboy Rabbit.
She is without a doubt the most unhygienic mass of femininity I've ever encountered. She's a one-woman slum. Honeysuckle is so dirty even I wouldn't touch her. She would keep an army of 19 shrinks so busy that they'd need shrinks to take care of them. But you know something? She's a sweet, nice, almost innocent kind of creature. And she's the only person on the staff who calls me Mr. Goldstein."
Needless to say, Goldstein liked the idea and so Betty's 'Diary of a Dirty Broad' was included on a regular basis in the pages of Screw for the next few years. It was a big success from the start.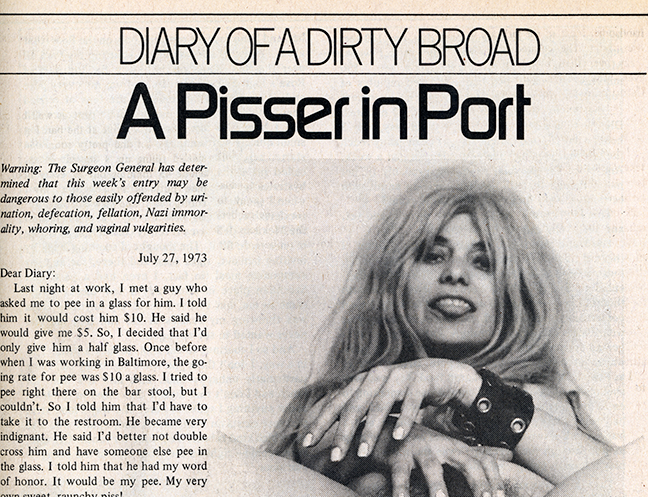 Honeysuckle Divine's weekly diary in Screw
From Penthouse – UK (Vol. 9 No. 2, 1974):
Great diaries are rare and appear perhaps only once a century. The 17th century had Pepys, the 18th had Creevey, the 19th had none at all. We in the 20th century are unusually fortunate in having Miss Honeysuckle Divine. Her devastating 'Diary of a Dirty Broad' must surely rank as one of the Most Important Social Documents of all time.
Published in Screw, the New York sex review, and accompanied by frankly bizarre photographs of the authoress engaged in intricate erotic maneuvers with mop handles, lit candles, cigars and the like, the 'Diary of a Dirty Broad' is – uh – unique.
To take but one example, what other great diarist in history could fart the tune of 'Yankee Doodle'?
Honeysuckle Divine and Screw magazine was a match made in heaven: Honeysuckle Divine's diary was earthy, bawdy, and often offensive – just like Screw itself. Screw billed her as 'The Dirtiest Broad in the World' and even published a Honeysuckle calendar with her period dates marked in red. ("And the days when she's probably got the clap are printed in black", noted Goldstein).
In December 1974, Goldstein immortalized Honeysuckle Divine's act by filming her on stage in Philadelphia for a segment of the film 'SOS: Screw on the Screen' (1975). It wasn't the first time she'd had the chance of being in a feature film. In 1973 she auditioned for a part in the porn film 'Deep Sleep' (1973). Director Alfred Sole remembers holding a casting call for actors, and watching with shock as Honeysuckle Divine meticulously set up audio equipment to accompany her as she proceeded to blow violent puffs of smoke into the air to replicate the volleys of cannon fire that close the '1812 Overture'.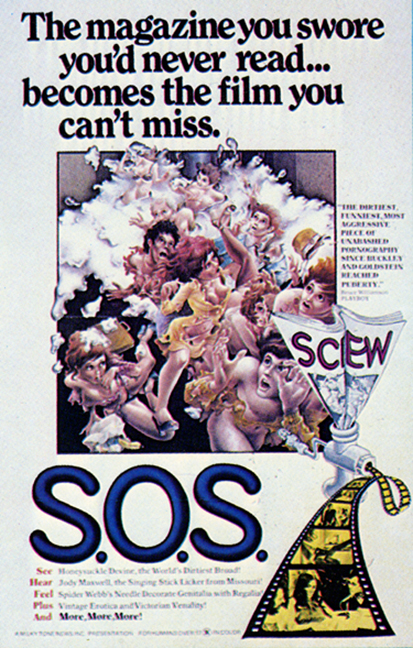 'SOS: Screw on the Screen' was a jarringly uneven, unfunny and unsexy attempt to transfer the Screw magazine format to the big screen. That meant sequences of Goldstein ranting about America's sexual hypocrisy mixed with screwball comedy – and interspersed with hardcore sex. In the words of Goldstein himself: "The film is a worthless piece of shit that made us appreciate other pornographic films even more. It should be avoided like a sexual disease."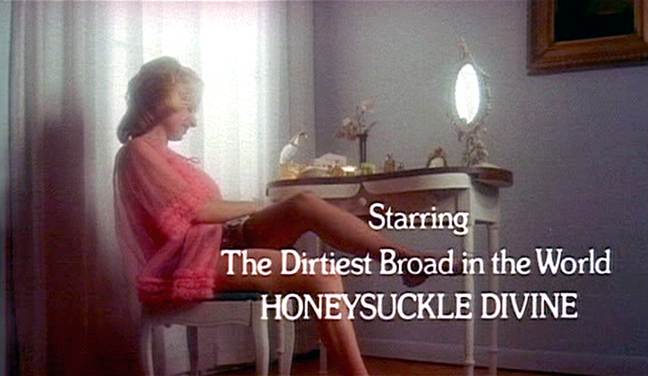 Whatever the demerits of 'SOS', it is notable for being one of the few filmed records of Honeysuckle Divine's act. Her scene was shot at the old Locust Cinema at 1233 Locust St in December 1974. The club had recently been renovated and rebranded by its owner Tom Rizzo and was now called the Golden 33. Betty was one of the first acts to appear there, and Rizzo can be seen in the movie, lighting a cigarette protruding from between her legs.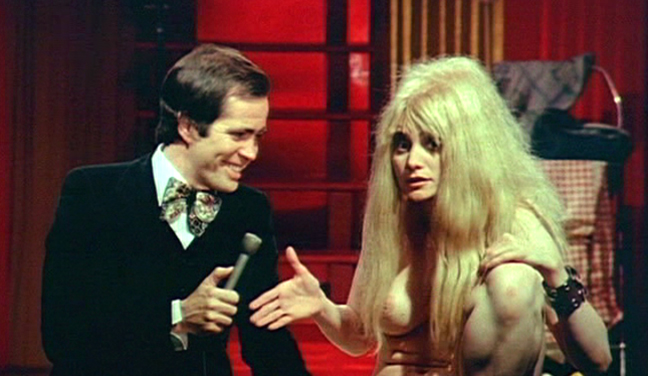 Screw's Jim Buckley with Honeysuckle Divine in a scene from 'SOS: Screw on the Screen' (1975)

Honeysuckle Divine showing her mop routine in a scene from 'SOS: Screw on the Screen' (1975)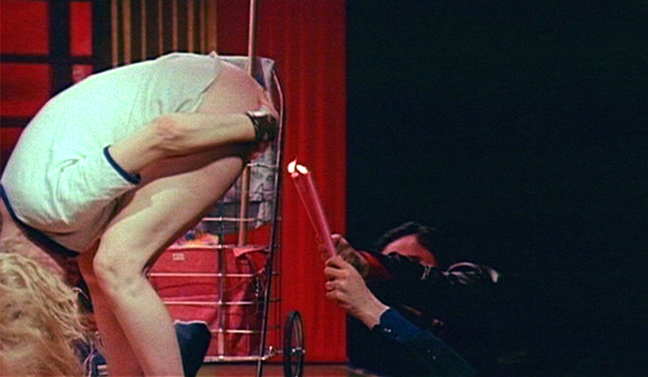 Honeysuckle Divine blowing candles out in a scene from 'SOS: Screw on the Screen' (1975)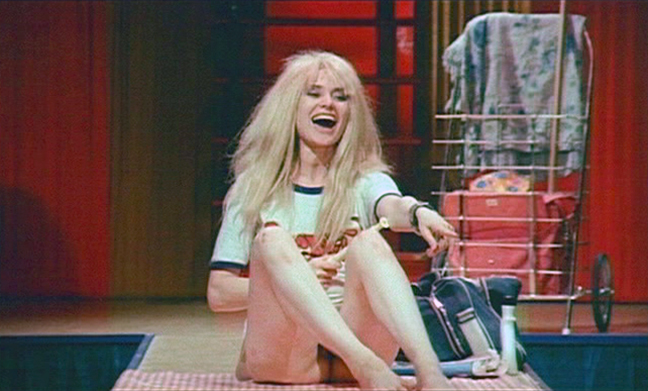 Honeysuckle Divine at the Golden 33 in Philadelphia in a scene from 'SOS: Screw on the Screen' (1975)
The money from the Honeysuckle Divine act meant that she didn't need to turn tricks any more. When asked by Penthouse in 1975 if she was still a hooker, she replied, "If a good deal comes my way I won't turn it down but I don't go soliciting. I have to be half drunk before I can turn tricks. I don't know why. When I'm sober, it's kind of hard."
Despite the extra money, her fans still meant a lot to her. When she heard from a fan who couldn't afford the ticket price because the club owner had increased the price by $2 for her appearance, she took immediate action. "I decided that I was going to have it put into my contract that the owner cannot charge over one dollar extra on the admission price. I was a great admirer of Joan Baez and I thought it was wonderful that she made her promoters stop charging people so much to see her. I belong to poor people too".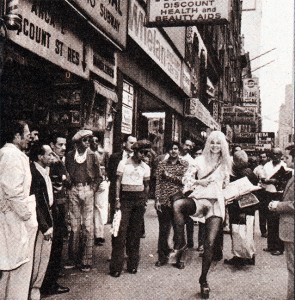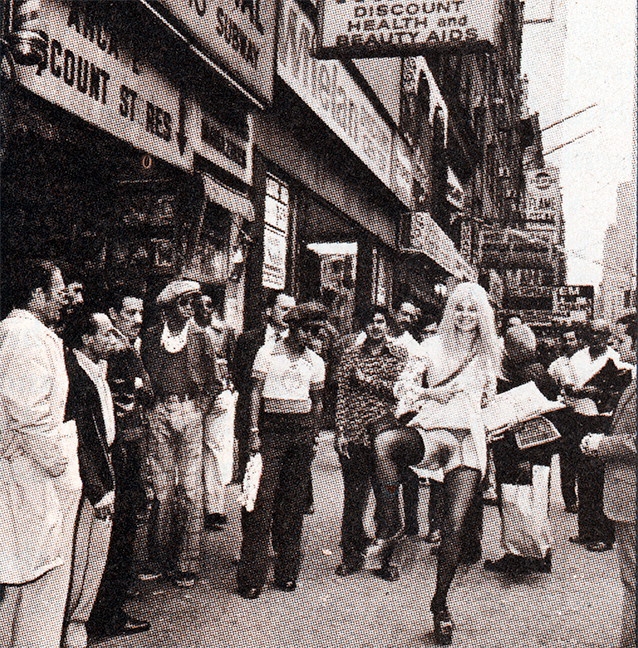 But Betty's success in a sexual arena caused her much soul-searching, and her mental state started to become more erratic. Was she really serving the Lord's best interests with her dexterous cooch, or should she return to an anonymous life with the Grey Nuns of the Sacred Heart? "I know what I do is totally obscene" she said, "but I still feel as pure as an angel".
From 'The Divine Miss H.' by Bruce David, Gallery magazine:
She is nothing if not a study in contradictions – and nowhere are these contradictions more apparent than in her diary, which displays an uncanny sensitivity, an unbending sense of rectitude, and a lovely, raunchy, self-aware wit.
To help reconcile some of her concerns, Betty started seeing a psychiatrist in New York. The seriousness of their sessions must be questioned given that she would take her shrink to Central Park for oral sex at night to thank him…
*
6.     Busted! (1974 – 1975)
After several years of travelling around the country performing her act to packed theaters, Honeysuckle Divine ran into legal trouble in December 1974 when performing in Philadelphia.
Betty's appearance in the city had received much good local publicity, with club owner Tom Rizzo being interviewed on the local evening news. But when she finished her act on opening night, she was promptly arrested and taken the local police cells.
From 'My Bust', by Honeysuckle Divine, Cheri magazine (October 1978):
"In December of 1974, two days after I had filmed my scene for 'SOS' I was arrested at the Locust Cinema (which had just re-opened as the 'Golden 33') at 13th and Locust in Philadelphia, on charges of 'open lewdness and criminal conspiracy'. Tom Rizzo was arrested with me, and together we were accused of 'conspiring' to present my 'lewd' performance."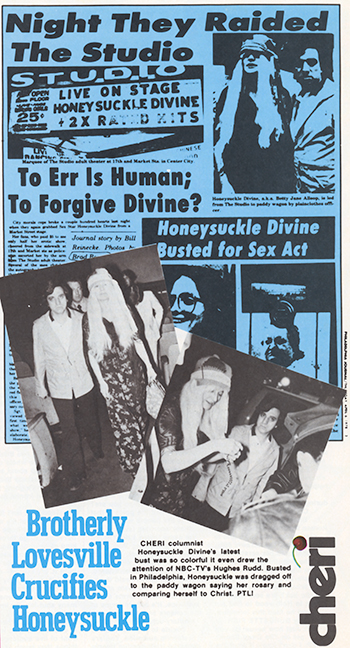 Whilst getting arrested was not a novelty for her, this time the charges and the attendant publicity were more significant than anything she'd faced before. But despite the seriousness of the charges and the potential consequences of a guilty verdict, the ensuing trial had moments of high farce:
From 'My Bust', by Honeysuckle Divine, Cheri magazine (October 1978):
"The arresting officer, Tom Ford, described my act in vivid detail to the courtroom. Everybody burst out laughing when he said I popped nuts out of my vagina and the audience caught them.
He even gave Judge Cosgrove a publicity picture I was giving out to my customers and requested that it be entered as 'Exhibit A'. I was nude with peanut butter spread on my puss.
When the Judge found me guilty I appealed my case and advertised in the Philadelphia Daily News for witnesses. About 35 people responded and offered to testify. Others got up a petition to "Free Honeysuckle" and the editor of the newspaper even wrote an editorial on my behalf."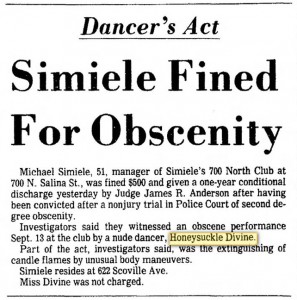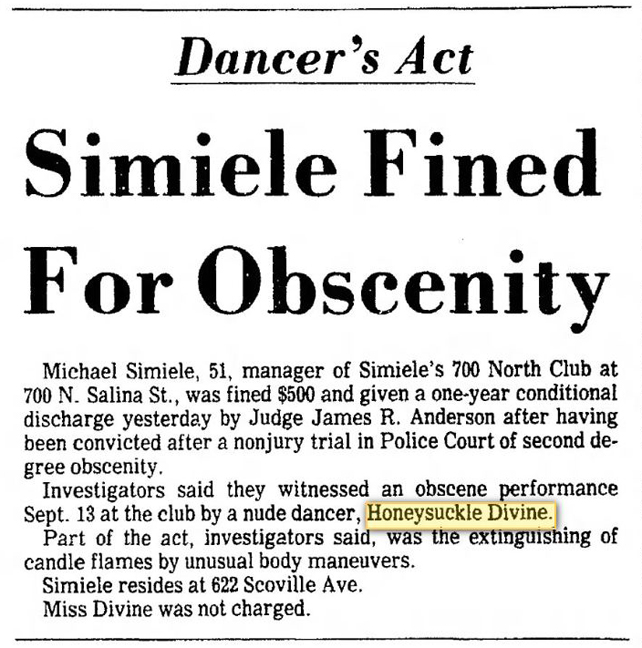 Unfortunately the Philadelphia arrest was not an exception, and suddenly the Honeysuckle Divine road show started to be busted in other parts of the country too; shows in Syracuse NY, Boston MA, and Albany NY, were all busted as a result of her appearances. Many times it was the club owners who were charged rather than Betty, but the message was clear: Honeysuckle Divine was being targeted.
When the Philadelphia trial came to court, Betty was found guilty – and was indignant. She believed that her act was a light-hearted performance, not a sexual show – and therefore could not be obscene: "I'm sick and tired of going to court to listen to the prosecution accuse me of public masturbation. My act onstage is a comedy act, before an audience which has paid to see it, and not even remotely connected to serious sexual stimulation."
Betty also felt angry that her case was in the hands of men: "I have men arresting and prosecuting and judging me on a matter about which I feel that have very little knowledge. A woman judge would know our anatomy much better. Men seem to have weird ideas about how women masturbate".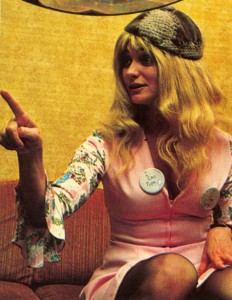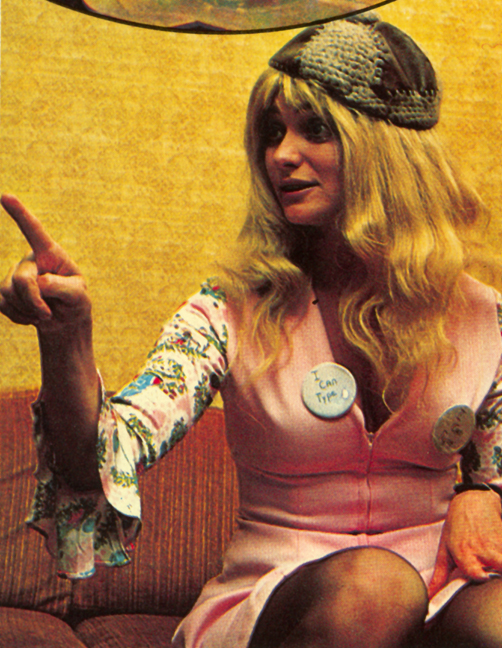 Fortunately for Betty, the responsibility for her appeal was assigned to a woman, Judge Lisa Richette. (Richette had her own history of battles with men, having once been thrown out of court for wearing a pantsuit).
Unfortunately Betty's funds had been completely depleted by fighting the various legal cases – which made an appeal expensive. She asked the court permission to represent herself, but Judge Richette insisted that the court would appoint a lawyer for her – and so Joel Moldovsky of the American Civil Liberties Union (ACLU) was ask to represent her.
*
7.     Honeysuckle Divine on hiatus (1975)
In 1975, whilst Betty waited for the Philadelphia appeal, she decided to temporarily retire the Honeysuckle Divine act for fear of further busts. She returned to Washington full-time after her prolonged touring schedule, and near penniless, she sought work as a conventional stripper working incognito under a different name.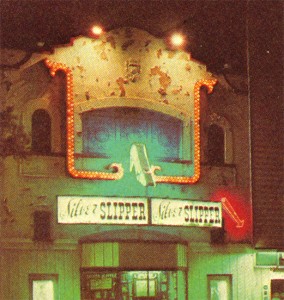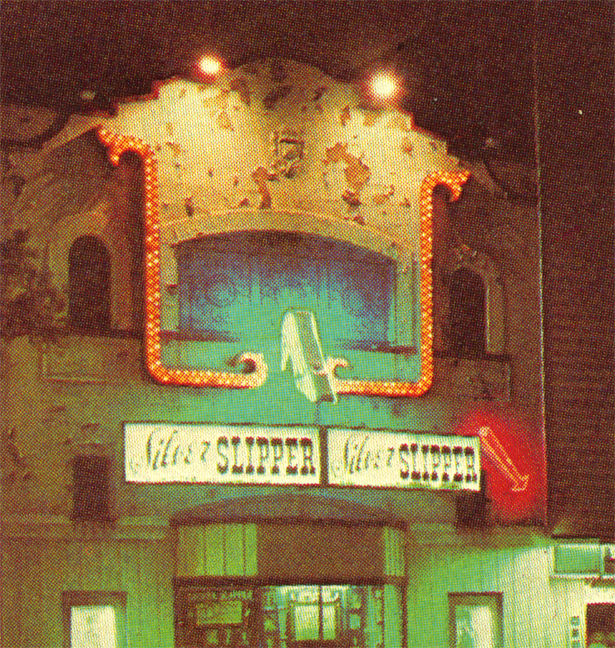 She worked long hours – finishing at 2am each night, five nights a week. "I did a slow seductive dance with my real waist-length brown hair; I looked as innocent as a new born babe and no one recognized me as Honeysuckle Divine".
The problem was that as much as people were fascinated by Honeysuckle Divine, they were indifferent to her when she stopped her vaginal variety act. At times she was even asked if she knew any 'Honeysuckle Divine techniques'.
Broke, Betty started to turn tricks again.
During this time, she worked in most of the burlesque theaters in Washington, using different names such as 'Francine' or 'Angie Baby'. She went back to Fredericks – where she'd made her debut as a stripper over ten years previously – but within a few weeks she'd been fired for prostitution. From there she went to work at Merryland for eight months, before leaving to dance at Le Marquise as she heard they paid more money. Here she started wearing her trusty blonde wig again, and called herself 'Semone'.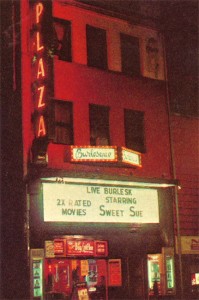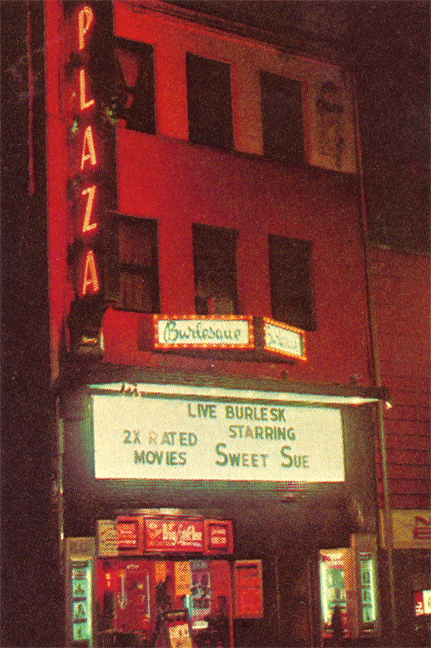 Though the risk of being busted had subsided, other dangers were always present – especially physical dangers. The performer's changing rooms were often robbed when the girls were on stage, and backstage muggings and rape were not unheard of. "I remember in one place, the changing rooms were located in a spooky basement. The customers sometimes sneaked down and raped and robbed the girls. Management would do nothing but fire you if you complained".
To make matters worse, sometimes the performers weren't paid either. On one such occasion, Betty decided to picket the theater in question by protesting in front of the entrance. "I wore a sign in front of me saying, "Won't pay on payday", and I carried a placard over my head saying "My pussy has to eat too"".
The owner called the police saying she was blocking the door, but the police convinced the owner to pay her after it started to draw attention from the local ABC-TV station.
From 'The Divine Miss H' by Bruce David, Gallery magazine:
You wouldn't think that a stripper as famous as Honeysuckle would have to worry, but money is a constant hassle with her. Many nights the busty blonde spent sleepless nights in bus stations for want of a better place to stay. She was even forced to give a seemingly endless stream of blow jobs to the cops so they wouldn't arrest her as a vagrant. To Honeysuckle it's all part of life, and she's willing to take it as it comes with barely a complaint. What's one more blow job, anyway?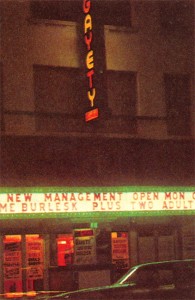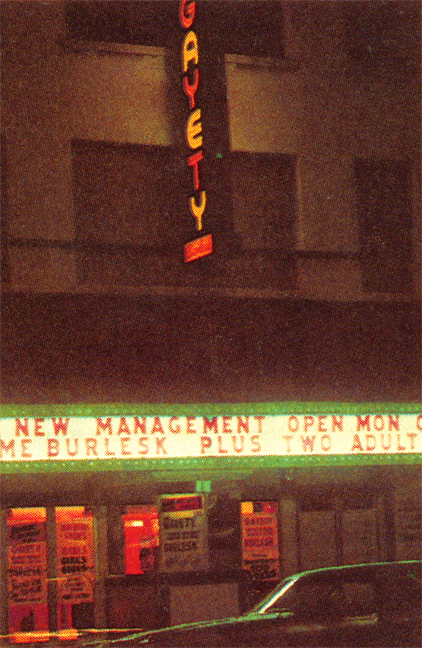 She cut an eccentric figure, often seen on the street in the early hours after a night's work – wheeling her shopping cart, loaded with publicity photos and props, down Constitution Avenue past NASA, the Smithsonian, the Agricultural Department, and a string of other Federal buildings. She was usually dressed in a cowboy hat, a long skin tight jersey dress with nothing under it, and was barefoot. Sometimes the police would stop her.
In July 1975, Al Goldstein and Jim Buckley brought her back to New York for the 'SOS: Screw on the Screen' premiere, and she enjoyed a rare moment of luxury staying in the Waldorf Astoria thanks to generosity of the filmmakers.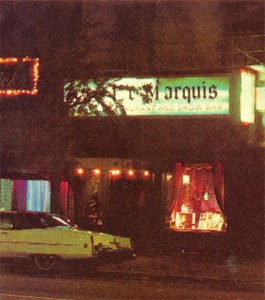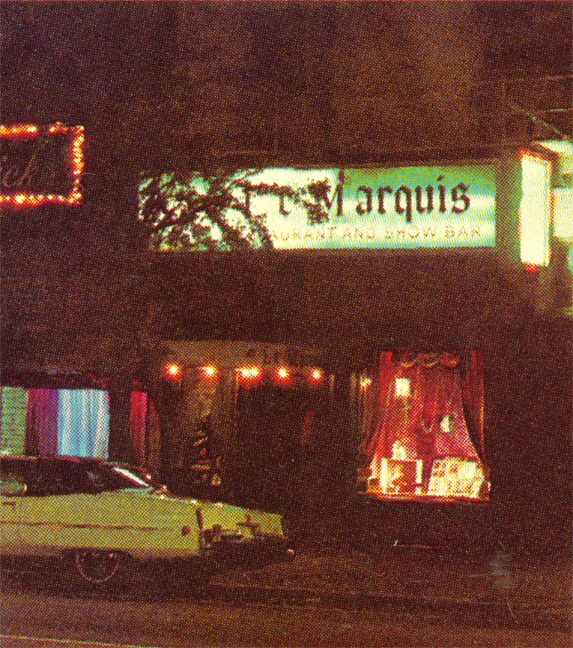 It had been difficult to make money as a humdrum stripper, but being back in Washington had one silver lining. Peter Jennings had returned to the U.S. at the end of 1974 to become Washington correspondent and news anchor for ABC's new morning program 'AM America', a predecessor to 'Good Morning America'. Honeysuckle wrote in her diary that they would speak regularly on the phone despite their hectic schedules, and her late hours stripping, she rose early every day to watch him on television at 7am.
Jennings' show never gained ground against its competitor, 'Today', and was canceled ten months later, resulting in Jennings moving abroad once again to cover the Middle East. Betty was heartbroken, covering the saga in detail in her diary, and writing lengthy letters of complaint to the network. She re-doubled her communication with Peter Jennings – sending him a further deluge of letters.
*
8.     The Comeback of Honeysuckle Divine (1976)
It was brighter news on the legal front, where Betty Jane's ACLU attorney, Joel Moldovsky, ensured that her case was dismissed on appeal.
Or in the words of Betty Jane: "Judge Lisa Richette of the Superior Court quashed the case stating that she did not consider shooting nuts out of the vagina, Jergens Lotion, or blowing out candles with it as masturbation".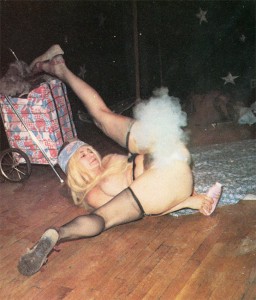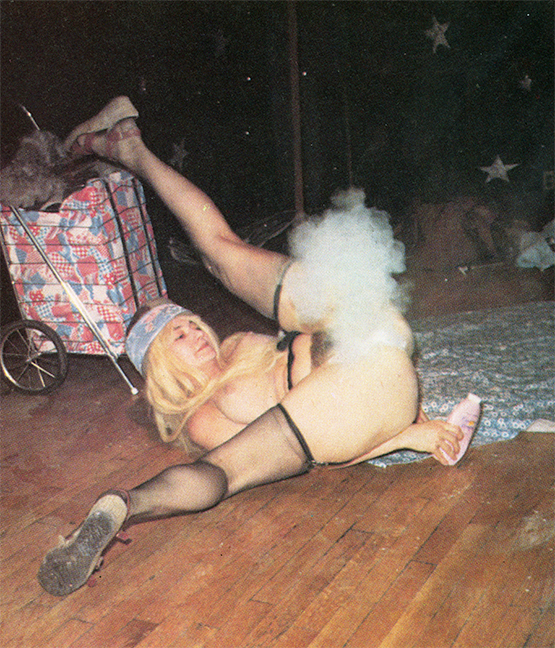 The stage was set for the return of Honeysuckle Divine, which took place in February 1976 in Cleveland, Ohio. All the old tricks were back – plus a few new ones. She would now make pussy burgers by inserting a pickle and spreading peanut butter on herself – which she invited customer to lick off. And she also added a 'cunt-cert' with a horn – on which she'd play 'Yankee Doodle' (in honor of the Bicentennial) and a seasonally-improbable 'Jingle Bells'. "Sometimes I get requests for 'God Bless America' and everyone sings along. It is really beautiful to hear them solemnly sing as my puss pumps away on the horn".
At first she was nervous about her ability to perform the act after a year away. On opening night she announced, "I have stage fright so bad, my pubic hair is standing on end". The Cleveland gig was a tiring way to start back: her contract stipulated shows from noon to 2am every day, and until 4am on Friday and Saturday – for 14 straight days. "Towards the end of the second week, I was too pooped to pop. My puss hadn't had too much action for a whole year and it was too much, too fast. It got to where I could hardly blow out the candles with it."
As usual controversy followed her when she appeared on the Gary Dee radio show. Dee was a pioneer in controversial talk radio, billing himself as 'America's 1st Shock Jock'. Whilst on his show, she played tunes on her horn in her own inimitable manner. A torrent of outraged criticism ensued – resulting in the firing of Dee. Betty also came under attack, but Dee defended her. "There is nothing wrong with Honeysuckle Divine, she just hears the beat of a different drum. She just strayed off the beaten path of life."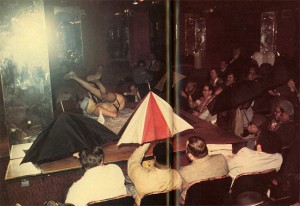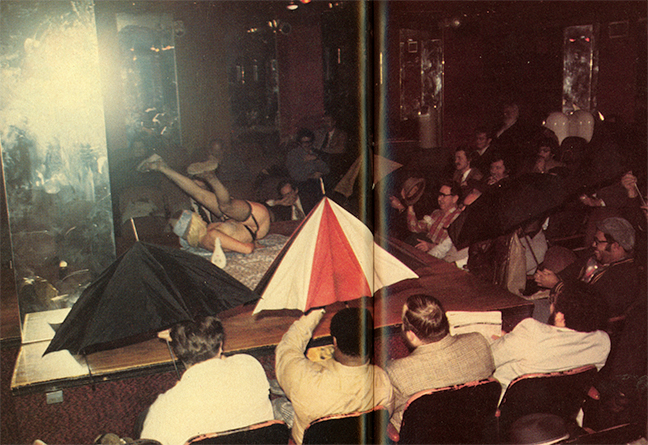 After Cleveland, Betty Jane hit the road as Honeysuckle Divine playing to packed houses across the country. She went to Detroit in March where she performed to 500 people. Then she played to standing room only crowds at the Palace Theater in Pittsburgh. ("In the 14 days there I shot out 1,400 ping pong balls"). Three hundred people turned up on Friday and Saturday nights, lining up around the block to get in. She became firm friends with the comic MC, Sammy Petrillo (who had featured in Doris Wishman's 'Keyholes are for Peeping' (1972)).
As a touring headline act, she'd cross paths with other burlesque acts: Chesty Morgan (star of Doris Wishman's 'Deadly Weapons' (1973) and 'Double Agent 73' (1974), who was billed as having a 73-inch bust), Bunny O'Hara ("she would inserting a snake and sparklers between her legs"), sword swallower Count Desmond ("he had an ambulance waiting outside, because if he put the sword was put in his throat wrongly it could puncture his lungs and cause instant death"), Lady James, Pennicillium, Busty Russell, Black Velvet, and many others. In particular Betty became good friends with Jacquie Brodie (star of the Mitchell Brothers 'Sodom and Gomorrah' (1975)) and the stripper Valerie Lavender.
And, as always, Betty always had time for other people:
From 'The Divine Miss H.' by Bruce David, Gallery magazine:
Success has not spoiled our Honeysuckle. Despite the success she has received both here and abroad, Honeysuckle remains totally unaffected, a stripper who works hard to satisfy her many fans and who is always willing to believe the best of people – a habit, incidentally, that causes endless problems as she travels the burlesque circuit. Usually her troubles are with theater managers and jealous strippers.
When a black man, fighting with a bar manager, accidentally dropped his knife, Honeysuckle picked it up and gave it back to him. She says she just wanted to let the guy know that not everybody was against him.
Although unconcerned about the quality of her own life, Honeysuckle has unlimited compassion for others. When she sees someone in trouble, she will spend hours giving that person heartfelt advice: the fact that none of it makes any sense is hardly reason to fault her.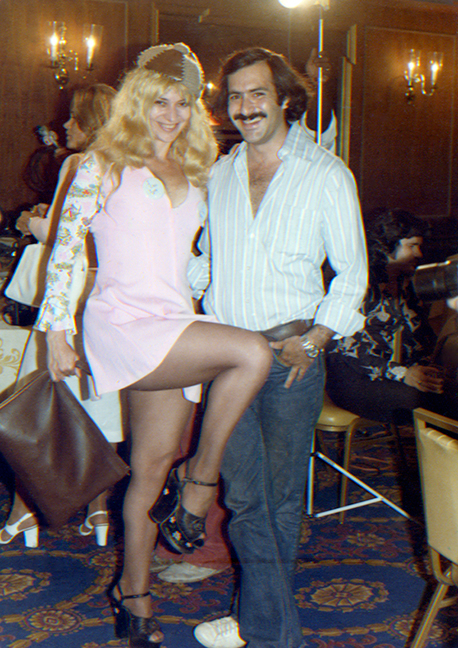 Honeysuckle Divine with fan Marc H. Miller (visit his site here) / (Photo credit: Bettie Ringma)
 At the same time, religion was never far away. As she said to a bewildered Penthouse magazine interviewer in 1975: "I would like to be remembered as a person who believed in St Augustine, and as somebody who was a very spiritual person. I believe in the City of God as opposed to the City of Man. The City of Man is mostly a physical thing but the only time you sin is when you transgress against spiritual things. The free will is a spiritual thing. Censorship is against free will. It is against God."
*
9.     Busted – Again! (1976)
Legal trouble was never far away, and once again it was waiting for her in Philadelphia. Betty had been invited back to work for Tom Rizzo at his Golden 33 Club, and on April 5, 1976, they both got busted again. This time Rizzo was called a "public nuisance", and Betty a "threat to local standards".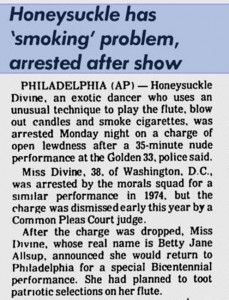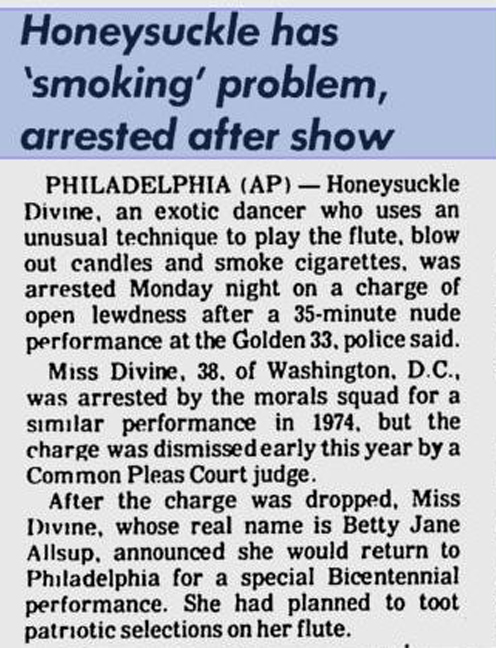 From Commonwealth of Pennsylvania v. Betty J. Allsup and Thomas Rizzo:
Appellee Betty Jane Allsup was charged in Philadelphia County with violation of the "open lewdness" section of the Crimes Code of 1972, and with criminal conspiracy to violate the "open lewdness" statute. Appellee Thomas Rizzo was charged with criminal conspiracy to violate the "open lewdness" statute. Both defendants filed motions to quash the charges.
Appellee Allsup, known by her stage name of "Honeysuckle Divine," appeared on a small stage in the Golden 33 Bar on April 5, 1976 and before an audience of 25 to 26 adult males, each of whom had paid an admission fee of $6, performed various acts of what can best be described as "vaginal acrobatics". Upon conclusion of the performance, Ms. Allsup and Mr. Rizzo were arrested by police who had witnessed the show.
While waiting for the trial to begin, even her solitary film performance, 'SOS', was busted for obscenity when playing at the Playhouse Theater on 15th Street in Washington, DC.
From 'My Bust', by Honeysuckle Divine, Cheri magazine (October 1978):
"Our case went directly to the Superior Court. Ray Henzell, the arresting officer, testified against me. He had caught one of my golf balls when I popped it out of my puss, and he had it there in a brown envelope. As a matter of fact, he was one of the most enthusiastic members of my audience that day. But I don't hold a grudge against him – he was only doing his job."
Betty Jane was eventually acquitted in 1978 for the second time on charges of 'open lewdness' and criminal conspiracy:
From Commonwealth of Pennsylvania v. Betty J. Allsup and Thomas Rizzo:
We find it indisputable on the state of this record that the 25 or 26 patrons of the 'Golden 33 Bar' were not 'affronted or alarmed' by the performance of Ms. Allsup.
However much one may be shocked, revolted or saddened by the antics of Ms. Allsup, one would be blind to the earthier instincts of human nature were we not to recognize that her contortions afforded amusement or entertainment for those present.
As she left the courthouse she distributed photos of herself in the buff to reporters who stepped in to interview her, and following her acquittal, Betty adopted the song 'Philadelphia Freedom' by Elton John (1975) as her theme song to come on stage to.
Throughout the trial Betty Jane had written copious letters to Peter Jennings. According to a biography of the newsman, Jennings did in fact visit her.
From 'Peter Jennings: A Reporter's Life' (2008) edited by Kate Darnton et al:
Karen Burnes: "When I was a kid, I used to read (Peter's) fan mail. I'd sit there reading through these huge piles of mail, and I kept noticing this same woman kept writing to him, saying, "I'm so in love with you, Peter, I can't live without you. I'm pining away for you. I'm sick. I need your help". She would sign them "Honeysuckle Divine". I said, "Peter, this woman is sick. She needs your help". He would say, "Oh, no, no, no, no, lovey – No, lovey, I can't. She's all right". I would say. "No, no, we have to go help her". He would say, "No, no, no, it's okay".
"I didn't know, of course, at the time, that fans could come in all shapes and sizes. I didn't know that Honeysuckle Divine was a stripper on 42nd Street. After a while, I said, "Honeysuckle Divine is going to commit suicide if you don't help her. We have to go see her". And because I was so sure she was going to kill herself, Peter, being a kind person, took me, this little girl, to 42nd Street. We actually went to a strip club, went back-stage, found Honeysuckle Divine, pulled her out, and made sure that she was not, in fact, going to kill herself. She was so amazed that Peter Jennings had come all the way to see her that for years for years she said it had changed her life."
Perhaps her long-distance infatuation with Jennings was a way of shutting off her availability to other men, which in turn, enabled her to avoid the reality of not having a fulfilled sexual relationship. Whatever the reason, Betty never saw Peter again after this – though she never stopped writing about him in her diary.
From 'The Divine Miss H.' by Bruce David, Gallery magazine:
Sex as business and survival is something that Honeysuckle seems to understand.
Sex as pleasure seems to be more elusive. By her own admission, she is turned off to sex, engaging in it infrequently and under circumstances of her own choosing.
*
10.  Betty's pages (1976 – 1978)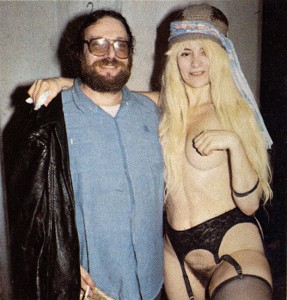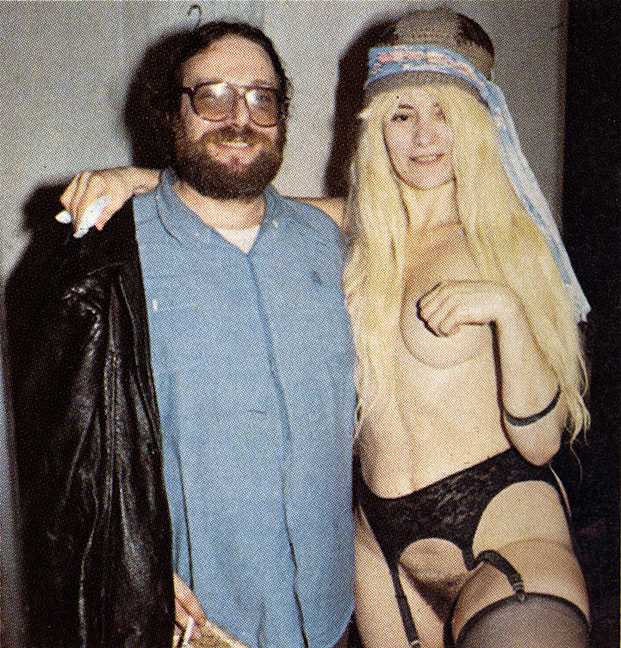 In late 1976, the editor of the newly created Cheri magazine, Peter Wolff (right), asked Betty to write for the magazine. Her contract with Screw magazine had ended, and Wolff wanted her to continue the diary in the pages of Cheri. Betty started her monthly column, 'The Beehive', which she wrote for the next few years.
Wolff gave her free rein to write about any aspect of her life, but wasn't expecting the voluminous output he received. Each month she sent pages and pages of detail that had to be drastically cut back so it could be accommodated in the magazine. She wrote about touring as a stripper, her sexual escapades, and of course her 'relationship' with her 'boyfriend' Peter Jennings. (Wolff stipulated only that she refer to him with a fake name ('Peter Lovejoy') for legal reasons). Betty's diary always opened with "Greetings Art Lovers", and usually ended with her promise to reply to every letter she received.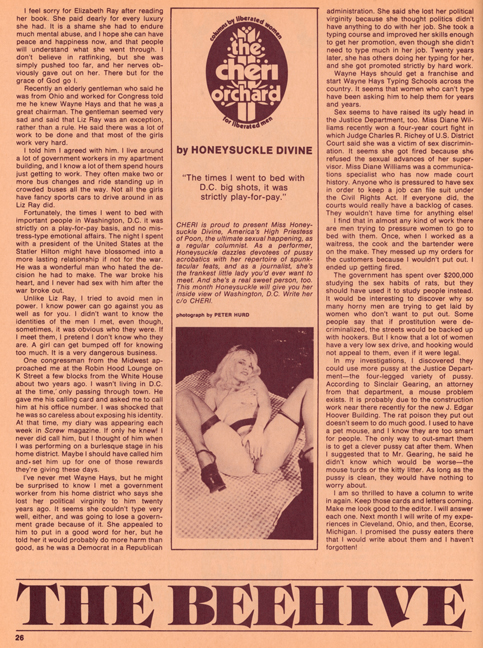 Honeysuckle Divine's diary in Cheri magazine
One of her first activities for Cheri was to record a 45 rpm record of Jingle Bells with porn actress Jody Maxwell ("the Singing Cocksucker from Missouri" billed as playing "Don Allen's organ")… and Betty of course playing the horn.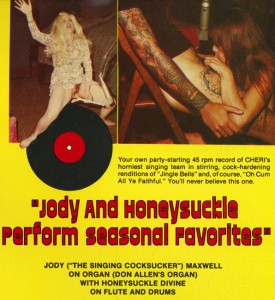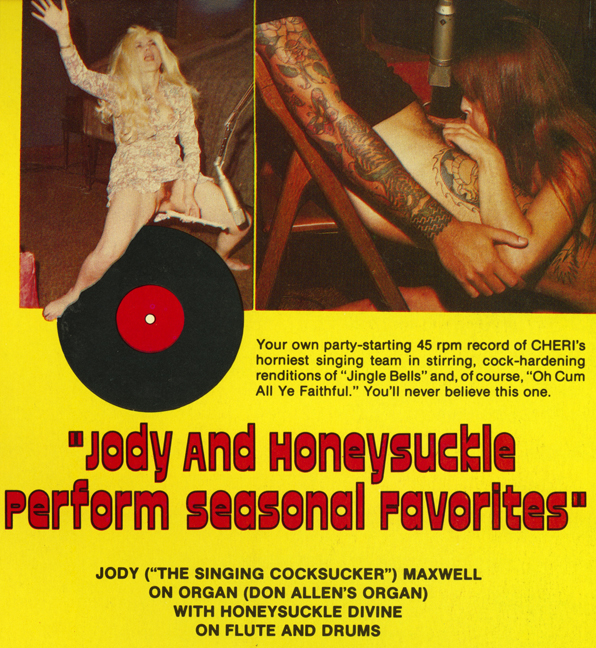 In between successful week-long stretches at the familiar burlesque theaters, Betty was also invited to a congressional reception at the First World Meeting of Prostitutes. The event was sponsored by COYOTE ('Call Off Your Old Tired Ethics', an American sex worker activist organization, founded by Margo St. James in 1973).
The event attracted much media attention – as well as many religious protestors. "A couple of protestors asked me if I believed in Christ. I took one of their pamphlets, and said that I believed in Christ and so did Mary Magdalene. Christ never looked down on hookers."
But as usual the appearance of Honeysuckle Divine proved to be controversial – this time with her fellow hookers. The trouble began when Betty started to give business cards to some of the men in attendance.
From Daily Times News, Burlington NC (July 6th, 1976):
At a congressional reception aimed at convincing Congress that prostitution is harmless, Honeysuckle Divine started handing out her business cards. Honeysuckle's card featured a photo of herself garbed only in a tangle of long blonde hair. And holding a jar of peanut butter. Finally (prostitute rights activist) Lottie Da seized Honeysuckle's supply and upbraided her for giving everyone a bad name.
In bad tempered and public exchanges, Betty was accused of turning tricks on the premises, "She's using the women's movement to get herself some cheap publicity", said one person attending the reception.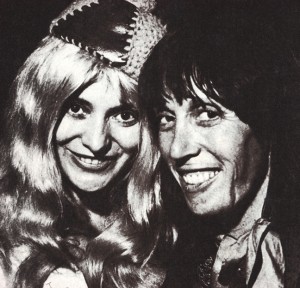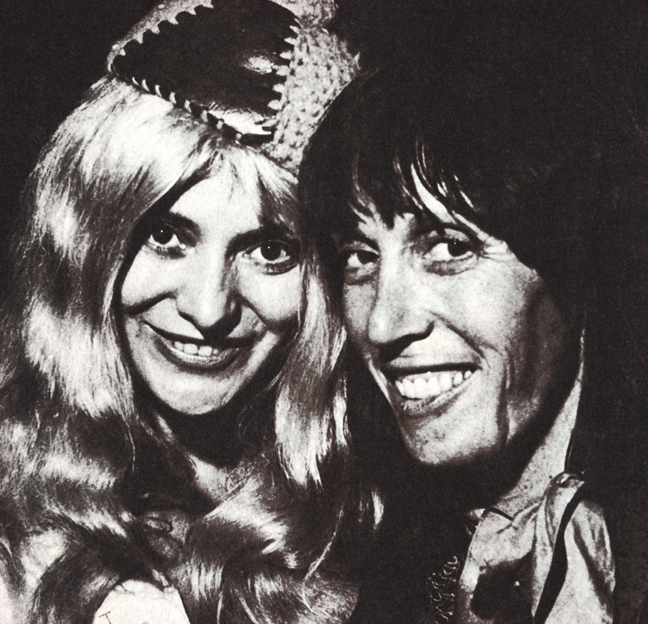 Only Margo St. James (right) stood up for Betty: "If she can't do that here and be accepted, where can she do it?" Nonetheless, the Divine Ms. Honeysuckle had been chased away, and was too intimidated to return to the convention. "It hurt my feelings, but after twelve years in burlesque, I was accustomed to that sort of thing."
The kerfuffle overshadowed the event, and so to smooth over any damage, feminists Irene Davall and Flo Kennedy paid a special visit to the Roxy Burlesque Theater on 42nd Street where Honeysuckle was appearing a few days later, to assure her that she was still welcome in the Women's Movement.
The event didn't stop Betty campaigning for prostitute's rights, and she often used her name to bring publicity to rallies, events and fundraisers. In February 1977, she appeared on the Panorama WTTG-TV show to discuss the decriminalization of prostitution. She formed a friendship with fellow panelist, Marion Barry, then a councilman on the City Council in Washington DC, who was also in favor of making prostitution legal. (Barry went on to be elected Mayor of the District of Columbia from 1979 to 1991, and again from 1995 to 1999.)
*
11.  Kellie Everts – the Stripper for God (1976-1979)
Betty's religious calling continued to play an important part in her life: "I often daydreamed of being in a group of nuns working secretly together as strippers – who mysteriously disappear after work going back to the convent."
In early 1976, Betty met her ideal counterpart, Kellie Everts.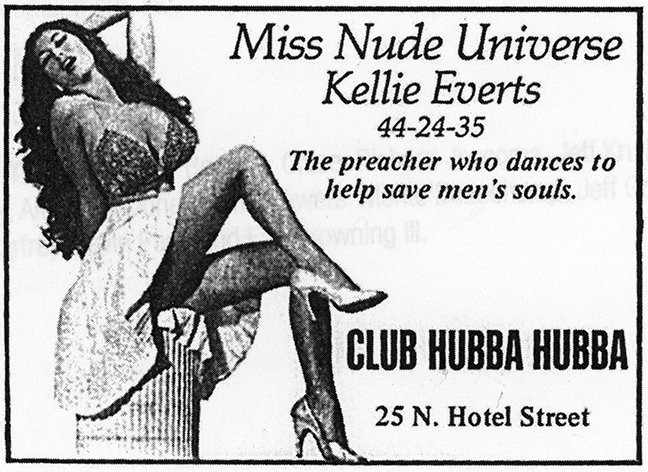 Everts was a bodybuilder and stripper, who had been Miss Nude Universe 1969 and Miss Body Beautiful 1974. She also had a deep evangelical religious conviction and was the self-styled 'Stripper for God', an ecdysiast who was also a minister. Everts was the Vice President of 'One World Light Church', a small offbeat Christian sect that sought to unite all faiths.
Betty was smitten with the idea of joining Everts: "I became a student and a disciple of Kellie Everts after seeing her on a T.V. show. I was impressed by her spiritual qualities. I believe Kellie Everts is a Living Saint, and her closeness to God can't help but cause me to love and admire her."
When Everts ordained Betty as a minister in February 1976, reactions were skeptical to say the least:
From Cheri magazine (April 1977):
God must be having a nervous breakdown. I dig that his job must be incredibly demanding but Honeysuckle Divine a REVEREND?! I guess the big G does work in mysterious ways but it sure is a sign of the changing times that his newest messenger's specialty is shooting pickles out of her snatch.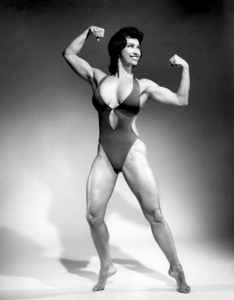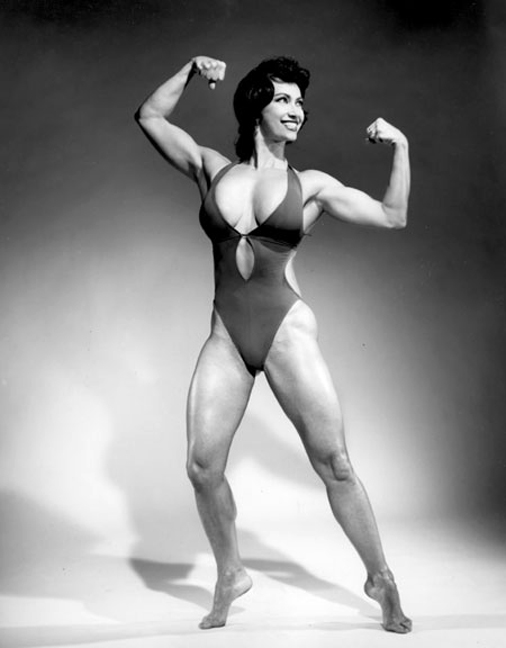 Betty and Everts (right) become close and talked about how stripping could spread the word of the Lord, and how they could set up a boarding home for children from poor homes in Fort Lauderdale, but their relationship was strained by Betty's frequent busts.
On March 8, 1977, she was arrested for performing at Aquarius Adult Center in Gloucester, NJ – whilst in the middle of playing 'Mary Had A Little Lamb' on the horn ("That's what you get for fucking sheep, I guess!") This time it was the Camden County sector of the New Jersey Health Department that was called in to inspect all equipment used. As a result her mop, grocery cart, ping pong balls, horn, and stage supplies were confiscated as evidence. Betty was released on a $5,000 bail until a health report could be issued. In the end no report was issued, and the case fizzled out – exhausting Betty's meager savings still further.
Then Betty was arrested in New York. She had returned to there in April 1977 for an engagement at the Melody Burlesque and stayed with Kellie Everts at her apartment in Brooklyn. Betty's show was big news, and Cheri's Peter Wolff came to cover it for the magazine. Other New York-based friends, such as fellow strippers Monica Kennedy, Jacquie Brodie, and Sonja Tokyo, and porn actors Tina Russell and Marc Stevens, joined the crowds eager to see her show again.
But on a Tuesday night, Betty was busted with another act, Wendy Williams (who, as Wendy O'Williams, would later achieve greater fame as lead singer for the American punk band, the Plasmatics). Rod Swenson, Wendy's partner and a Times Square live show impresario, got them a lot of press, including coverage on the ABC Six O'Clock News.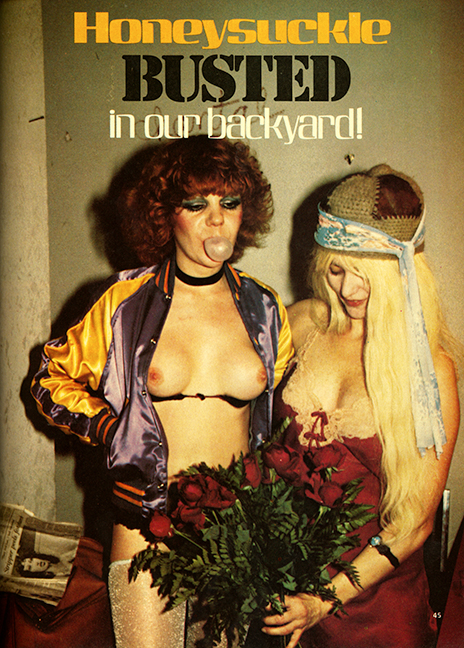 Wendy O'Williams and Honeysuckle Divine at the Melody Burlesque
Another bust came a few weeks later at the Studio Theater at 1632 Market St, Philadelphia where she was given a police citation.
Kellie Everts was not happy by this type of publicity:
From 'When Sex Was Dirty' (2005), Josh Alan Friedman:
The Stripper for God believes other starlets degrade themselves in porn or lesbianism. Kellie has never yet involved herself in hardcore porn, other than splaying tits, ass, twat as the Lord created it. Kellie Everts, a kindred spirit to Honeysuckle Divine, performed exorcisms on Honeysuckle, ridding pornography demons from her soul.
Betty was keen to prove her value to Everts and to the 'One World Light Church', and so on June 16, 1978, she arranged for Everts to preach a message to Our Lady of Fatima in front of the White House with the aim of bringing about the conversion of Russia. Betty Jane got the permit and sent out the press releases to all in Washington.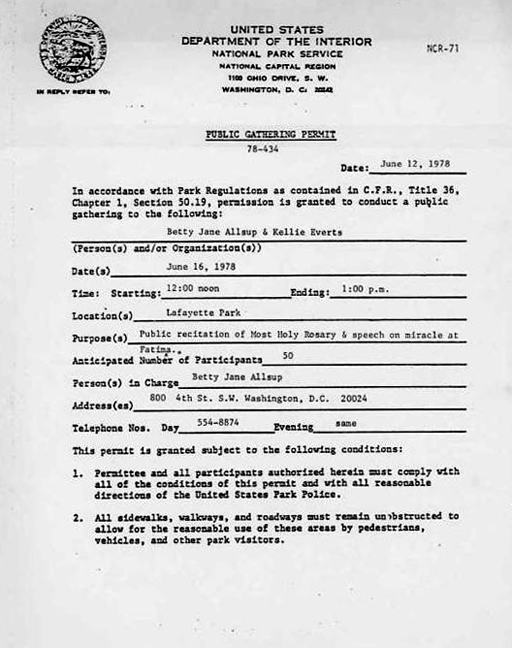 Permit obtained by Betty to preach in front of the White House (1978)
As a publicity event, it was successful (it was covered the following day on the front page of the Washington Post) but it was an undeniably bizarre mix of publicity, prayer, and pudenda.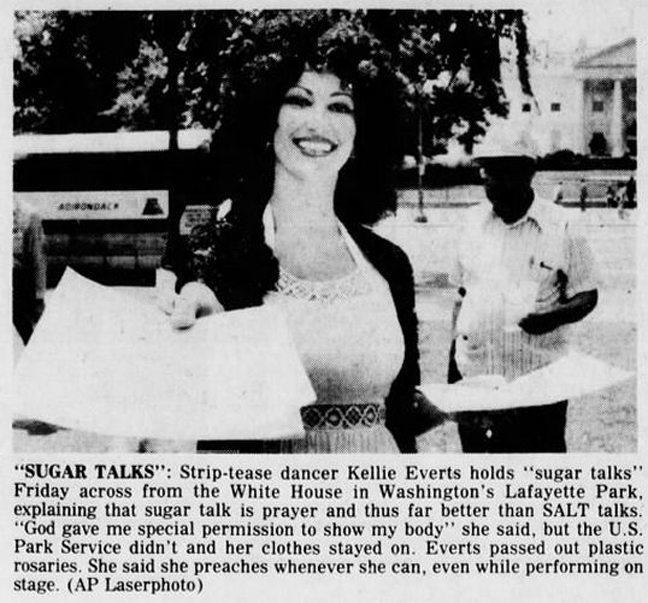 Betty's mental state seemed to be progressively less stable – and this was reflected in her Cheri column, which was a strange brew of sexual encounters, travelogue, news about her latest arrests, bizarre observations about religion, dreams, and politics, and sado-masochistic fantasies with Peter Jennings.
In one column she exhorted her readers: "A female friend requests your prayers that she may seduce a male homosexual she desires, as well as her Episcopalian priest".
To matters worse, her main sponsor at Cheri, Peter Wolff, was replaced by C.B. Lucci – who was more interested in nude layouts than Honeysuckle Divine's deranged diaries, and so her relationship with the magazine came to an end.
*
12.  Twilight of a Stripper (1979 – 1985)
Betty's act had hardly been seen on the West Coast, and in 1979, she got a call from the Mitchell Brothers who wanted her to headline at their 895 O'Farrell copulation complex.
"The Mitchell Brothers' O'Farrell Eros Center is pleased to announce", the tintinnabulous press release rang out, "the exclusive premiere engagement of Miss Honeysuckle Divine, January 12-18."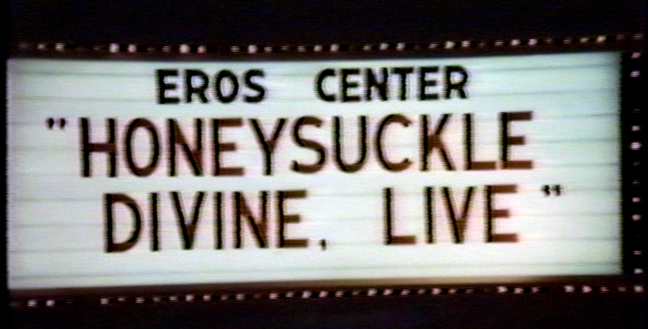 The event was filmed for posterity by the Brothers, and copies of the show – interspersed with interview clips – were sold by mail order.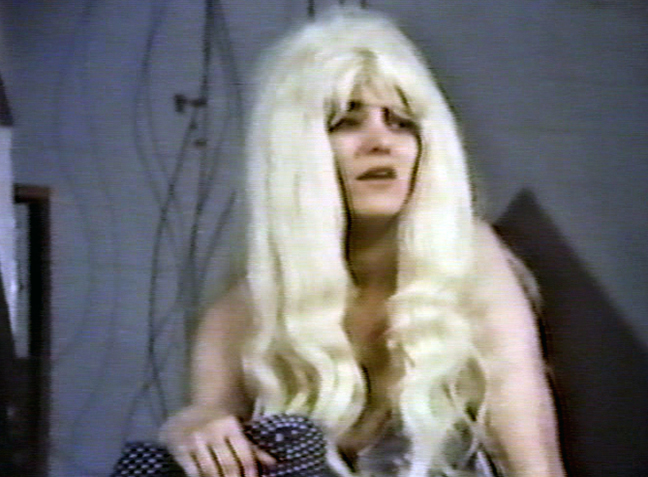 Honeysuckle Divine answers questions from the press before her engagement at the O'Farrell Theater (1979)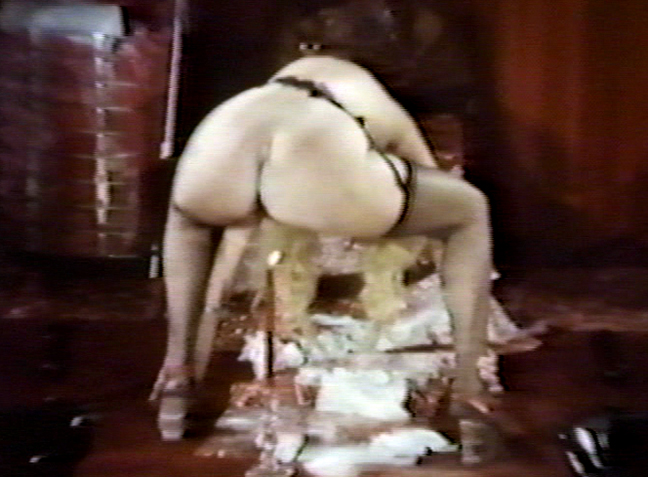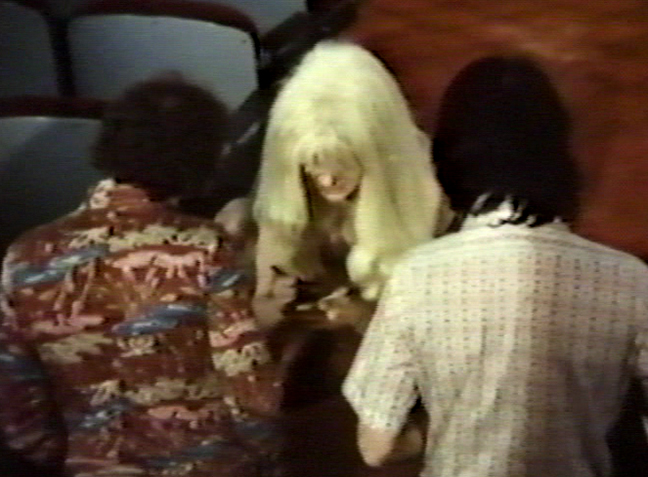 Honeysuckle Divine meets fans at the O'Farrell Theater (1979)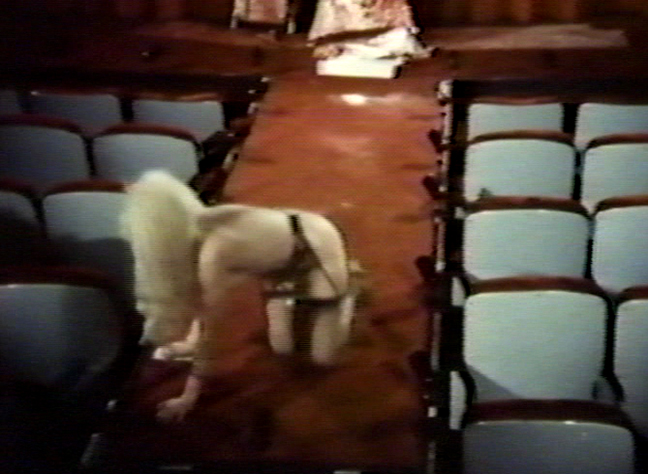 Honeysuckle Divine cleans up after her act at the O'Farrell Theater (1979)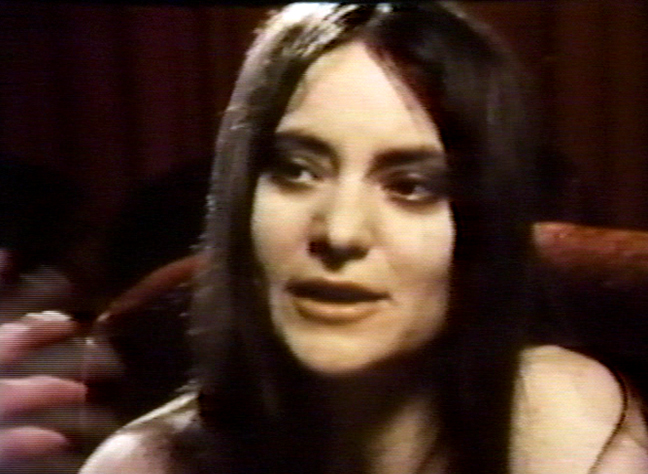 Honeysuckle Divine without her trademark blonde wig, interviewed at the O'Farrell Theater (1979)
Many of San Francisco's finest newspaper columnists turned out to witness her performance:
From 'Honeysuckle Divine Blows Her Horn', San Francisco Chronicle, by John L. Wasserman (January 15th 1979):
Miss Honeysuckle Divine shuffled on stage, towing a shopping cart. "You don't need to clap", she said cheerfully. "I've had too much of that in my life already".
She is dressed in a formless frock, wears no visible make-up, has lank brown hair, shuffles along in bulky, styleless platform shoes and tows a shopping cart laden with a mop, a tin horn, several containers of Jergen's lotion, cans of talcum powder and plastic bags filled with Ping-Pong balls. If she were a contestant on 'What's My Line', she'd have a longer run than 'Fiddler on the Roof'.
Honeysuckle Divine's line is the public pubic propulsion of provisions from what people used to perceive as private parts.
She is also a musician and philosopher.
As she spoke, she busied herself signing the Ping-Pong balls, meticulously wrapping each in individual baggies and flinging them to the giddy throng like a glowing bride dispensing bouquets to eager attendants.
"I do a clean act", she began happily, removing the mop from her shopping cart and propelling it about the stage by employing a motive force not generally associated with housework.
"Now," she said brightly, "let's do some sing-alongs". Out came the tin horn, in went the tin horn and out came one of the most moving versions of 'Jingle Bells' it's been my pleasure to hear.
Next, Honeysuckle blew out some candles ("They love me at birthday parties"), delivered an extended panegyric on the merits of Jergens lotion ("I'd like to do a commercial for them, but they won't let me") and followed that by unleashing a veritable Niagara of the estimable unguent.
Finally, Honeysuckle Divine lay supine on the floor, dabbed talcum on her pubics and effortlessly sent billowing puffs of white powder into the air.
"We have," one man cried exultantly, "a Pope!"
Betty also made her debut as a broad abroad in June 1983 when Willem de Ridder presented a show called 'Portable Vaudeville' in the Royal Theater in Amsterdam which also featured Veronica Vera and Betty Pearl.
Veronica Vera remembers: "'Portable Vaudeville' was held in a gorgeous old theater in Amsterdam, the Concertgebouw. I remember Honeysuckle Divine was shy, but she definitely got top billing. The subtitle of the show was 'A Concert of Body Parts', and she played the trumpet with her pussy. As an extra bonus I believe she also shot ping pong balls out of her pussy into the audience."
By the mid 1980s, Betty was still touring, though the days of the big theaters and the thronged masses were firmly behind her. She was almost 50 years old, and the years of financial hardship were taking their toll. "One guy yelled out, "Hi Grandma!" I couldn't let that go by. I pointed at him, smiling. "That's my grandson over there. He sure does eat his granny's pussy good!""
But despite her advancing years, she still retained the ability to amaze. A fan, Michael Gross, remembers seeing her back in Philadelphia in 1984:
"Whenever Honeysuckle Divine would perform her shows, the audience went wild… most of them had never seen this before and they loved it. She would finish with the ping pong balls. They were all wrapped in plastic (she had an entire bag full, maybe a hundred or more all individually signed and wrapped). And that was her show. What a way to make a living."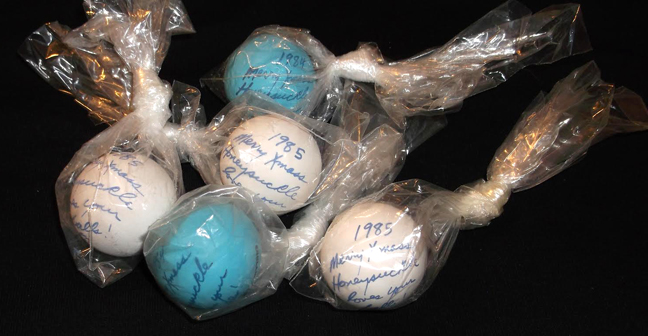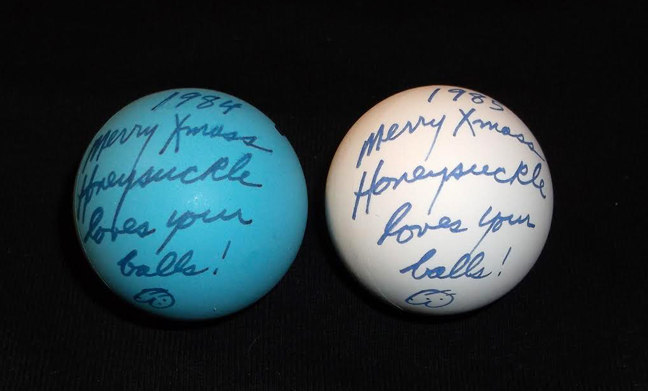 "And when she'd finished on stage she'd come into the audience and talk with everyone, taking pictures with the fans. The people loved her. I used to speak with her and she was a very sweet lady. She told me she'd never been married and lived with her many cats."
"The only sad part for me was that after she had finished greeting the fans she would go back to the stage and spend a long time wiping and cleaning up the lotion and powder from her act. I was surprised that the venue didn't have someone to help her – but there she was… down on her knees wiping it all up with a towel. I felt bad for her. By this stage, I don't think she had any money or was rich at all. It was a sad sight."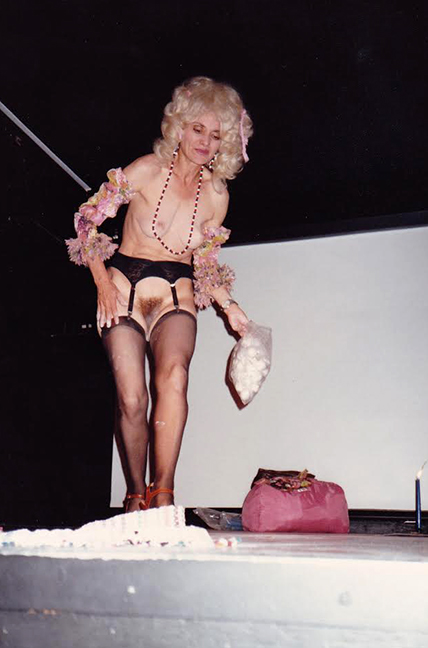 Honeysuckle Divine in Philadelphia (mid 1980s)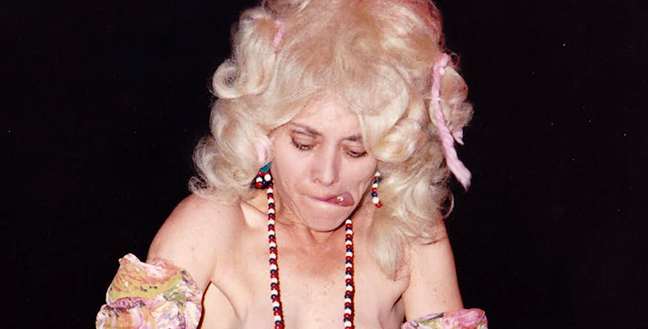 Honeysuckle Divine in Philadelphia (mid 1980s)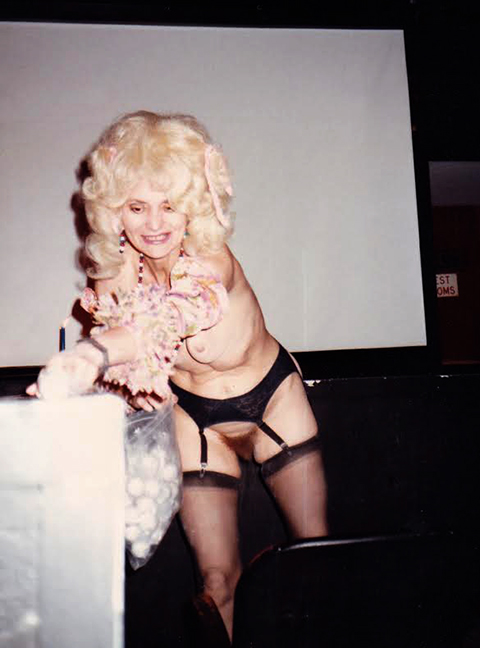 Honeysuckle Divine in Philadelphia (mid 1980s)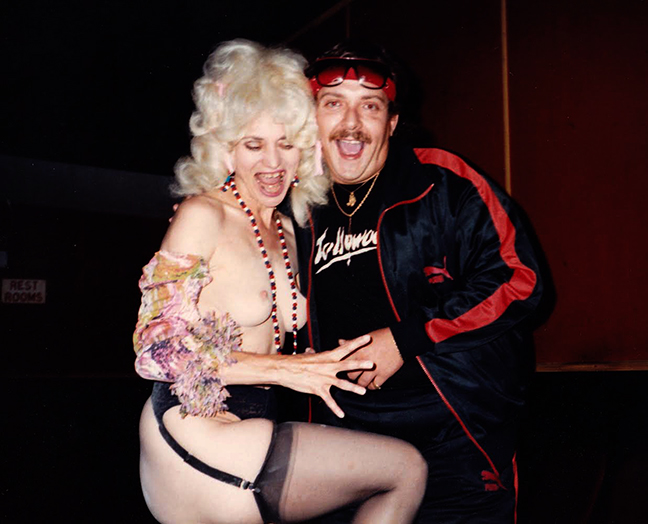 Honeysuckle Divine with fan Michael Gross in Philadelphia (mid 1980s)
*
Epilogue (1986 – today)
The Honeysuckle Divine train ran out of track in the late 1980s. By then, the business of stripping had being transformed by a new generation of porn girls for whom it was a sideline even more lucrative than making adult films.
From 'The Secrets of Honeysuckle' by Deanne Stillman, Genesis magazine:
Vaginal comedians don't get booked into Las Vegas, so Honeysuckle's income is barely enough to keep her supplied with lotions and powders and her intercity bus fare. What Honeysuckle manages to save she lavishes on friends".
Many of the old burlesque theaters that had been her home were now closed, and her old friends had scattered into anonymity.
The club owners, who had once been her loyal sponsors, had retired to comfortable condo and golf course lives in sunny Florida or Palm Springs. Champions of her diaries, Al Goldstein and Peter Wolff, had passed on. Even Kellie Everts, when contacted for this article, denied knowing Honeysuckle Divine.
At first Betty lived an itinerant life traveling around the country. She resided in San Francisco for a while, before moving back to the mid West. In 1991, Betty turned up in Cedar Rapids, Iowa for the funeral of her elder brother, Albert, but since then nothing. Her family lost touch with her, and Betty seemed to have vanished.
There were rumors she'd returned to the convent in Philadelphia. Others said she'd suffered further mental issues and was lost forever in the jungle of institutionalized mental health care. Most agreed that, like many of her cohorts from the era, she was probably dead. One ex-stripper even told us she'd heard that Betty had died and was buried in a pauper's grave in Washington.
And yet… Betty lives. The Rialto Report tracked her down to a small town in Illinois where she has lived for the past decade. She's been part of the local church community there, and relies heavily on assistance from the Salvation Army. She spends her days quietly and seemingly happily, the days of Honeysuckle Divine, crowds of fans, court appearances, ping pong balls, Peter Jennings and LBJ fading fast into the irretrievable mists of time.
The applause may have long died, and memories are fading to black, but for a time, in a unique post-sexual revolution, pre-internet era, Honeysuckle Divine was a footnote, a detail, a novelty. She meant something to a select few.
As she said at her height: "It was so beautiful to see all those people in the audience. I somehow never got over that awe-struck feeling when I look at them and think how fantastic it is that all those people come to see me. I just pray I make them happy, and I do the best I can and try not to worry about not being good enough. I just do my best and pray for the rest".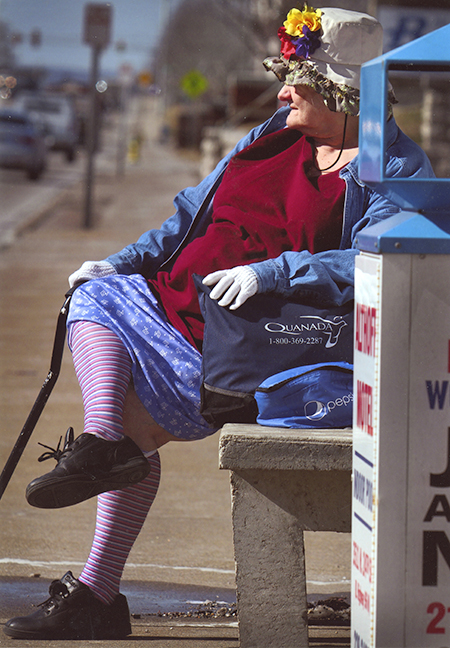 Honeysuckle Divine, 2014
*