Podcast: Play in new window | Download
Subscribe: RSS
In the 1970s, New York was a city on the edge: it was on verge of bankruptcy, beset by a crime wave, and overrun by the rampant sex industry that was taking over Times Square.
Different people reacted to the city's critical state in different ways. Some, like Phil Russo, an idealistic cop in the Public Morals Squad, were hellbent on reversing the trend, doing everything they could to identify and prosecute the criminal perpetrators, and restore law and order. Others like Varla Romano, one of the only female detectives in the NYPD vice squad, worked hard and diligently, but faced uphill battles of her own just to be accepted in what was a traditionally alpha male world. And then there was Michelle Lake, the daughter of distant immigrants, who desperately sought a role in life for herself that would give her validation, purpose, and a way of supporting herself – and found some hope in stripping at the Melody Burlesk.
Three very different people. Each trying to find their way on their own terms.
Their paths would cross in the summer of 1977, and their lives would be changed forever – and, when the dust settled, in some ways, part of New York would be changed too.
This is Part 2 of Cop Porn: When the NYPD made a Porn Film. (Listen to Part 1 here.)

This episode running time is 50 minutes.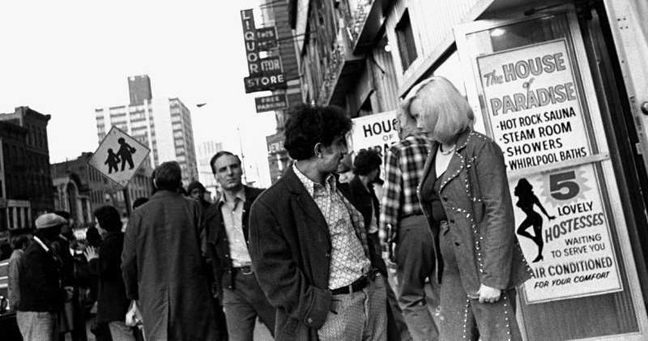 ————————————————————————————————————
April 1977, Public Morals Squad
If the first half of the 1970s had been a difficult period for New York, things got a whole lot worse in 1977.
One evening that year, two lightning strikes just north of the city led to a massive blackout. Instantly the light-filled city became a black pit of lawlessness that symbolized the city's problems. For the next 25 hours everything stopped. Elevators stalled and subways ground to a halt. Looting and arson broke out, over a thousand fires were reported burning down much of the Bronx, and almost 2,000 stores were damaged or ransacked. Added to that, you had the city's financial downturn, rising poverty and inequality levels, not to mention paranoia about the Son of Sam serial killer, and you were left with a city in a critical state.
Inside the Public Morals Squad, detectives continued their impossible fight against pornography. Bob Cantwell – captain to thirty-two of the Vice Squad's finest, including detectives Phil Russo and Varla Romano – had been at the heart of that battle since he joined the squad.
He remembers: "We managed to indict a few of the porn wholesalers, some of whom we believed were at the lower echelon of organized crime. But I'm sorry to say we hadn't laid a finger on what we considered to be higher level mob figures. Sometimes we got them into court, but they had heavily priced legal talent – and they rang rings around us. All in all, it was a very difficult area for New York City law enforcement."
Cantwell regularly aired his frustration, so Phil felt sure he'd have a willing audience for his pitch on how they could develop an undercover operation. Over the course of a week, Phil and Varla mapped out what they'd need to make their unorthodox concept work.
First, they figured the operation would take four cops. The two of them, plus two fellow detectives they already had in mind: the first was a veteran tough guy on the force called Irwin Cardona, who everyone called 'Lefty'. The second was Patty Kehoe, one of the only other women in the division, a detective who was an undercover specialist with good instincts.
Next, they worked out logistics: they'd need to incorporate their operation like a legit company. Phil thought the name 'Triple-X Enterprises' had a ring to it. Then, they'd need to rent actual office space where they could meet potential backers and wannabe production partners.
And it went without saying that they'd all need to assume undercover roles: Phil would play the part of the company head of Triple-X Enterprises. His back story was that he was a guy recently released from prison with some cash to burn. Varla would be his girl Friday, a savvy right-hand operator who'd put the female talent at ease. Patty would be their secretary, fielding calls and fetching coffee. And Lefty would serve as the heavy, there to keep things in line.
Phil put it all together and outlined a budget. It covered everything from the office rental to the cash needed to run ads for talent – as well as expenses to wine and dine potential backers and targets.
At the end of the week, it was time to present the plan to Cantwell. With Varla at his side, Phil took the details to their captain and made an impassioned pitch. He mentioned there was a precedent: the undercover Times Square bookstore operation that he'd heard about. He explained how they would convincingly pose as porn producers and lure people into their network.
Cantwell was surprised at the audacity of the idea – and he had questions. How would they start the operation, he asked?
Phil said they'd need to hit the ground running and establish themselves in the adult film production world to make themselves known to the mob without raising any red flags. He laid out how they'd spread word on the street about how they were new to the business, and how they would share their plans to make a number of adult features. Then they'd actively source people for both the cast and crew to pretend to put together a fictional film.
Cantwell pushed them: How close would they come to actually making any porn films, he asked?
Phil said that he'd been over departmental regulations with a fine tooth-comb, and was confident they could easily abide by all the rules without doing anything illegal.
To Varla's surprise, the captain was open to the idea but he said they needed to run it by the New York District Attorney's office. Cantwell said if the D.A. gave the OK, then the department would be on board too.
At that time Manhattan's District Attorney was Robert Morgenthau, a fierce prosecutor of crime. Morgenthau was aggressive but he was political too. If there was any operation that might bend any rules then he wanted some distance between himself and the NYPD – and this undercover idea fell into that category. So he ordered his deputy to speak to the detectives. The deputy listened to the plan intently and gave them thumbs up – with one caveat. If anything went wrong with the operation, there was to be no traceable link back to the D.A.'s office: the high jinks had to be kept on the down low. Sure, the D.A. would be happy to take any success from the operation, but until then, the cops were completely on their own.
Manhattan's District Attorney at that time was Robert Morgenthau. He'd taken office in 1975 after earning a fierce reputation as lead prosecutor for the Southern District of New York in the 1960s. Just like the NYPD, the DA's office was in disarray when Morgenthau took over. It was understaffed, underfunded and under water when it came to fighting the torrent of crime running rampant in the city. Like Phil, Morgenthau blamed organized crime for many of the city's woes and felt old fashioned prosecutorial methods weren't going to cut it. But while Phil wanted the insider evidence that would help shut porn operations down, Morgenthau was more interested in just getting a high profile mob head on a silver platter that he could serve up at a press conference for his political gain.
Phil, Varla and Cantwell met with Silvio Mollo, Morgenthau's chief assistant, and laid out their request. Mollo listened intently, occasionally interrupting with a clarifying question. When Phil was done, Mollo slowly sat back, glanced over the supporting documents in front of him, and raised one final question. "How much will it cost?"
Phil shared the figure; Mollo said fine. Not only was the operation approved, but the DA's office was good to foot half the bill, on one condition – the high jinks would have to be kept on the down low. While unconventional tactics might be needed, publicity around them most certainly was not. Mollo would be their point person going forward while Morgenthau maintained his distance, interested only in results.
'Triple-X Enterprises' was a go, and ready for action.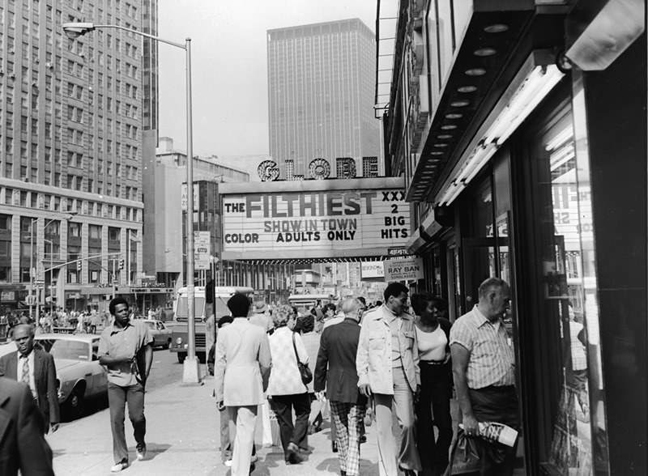 *
Michelle Lake, Times Square. April 1977.
After just a couple of months stripping at the Melody Burlesk, Michelle Lake found herself with a small but devoted following of regulars – a motley group of mostly middle-aged men hungry for a token of kindness in the form of a wayward glance or a signed Polaroid for $10.
Michelle also found herself with an expanding group of girlfriends, collected from the ranks of the other dancers. The women who worked at the Melody tended to fall into two camps. There were the local girls happy to earn cash from the adult business but unwilling to cross the line into anything more risqué. And then there were the starlets, porn film performers, looking to capitalize on their small-time celluloid fame by headlining at popular strip joints.
Michelle's friendships cut across all factions, but she was especially intrigued by the adult film stars. To start with, they made a lot more money than the local girls. Their advertised presence led to lines around the block, which ensured they were fawned over not only by customers but by the club management because of the extra cash they brought in. These porn stars were the A-listers of a B-movie game. They carried themselves differently too. They had an aura about them that made them seem a little bit more special – like they knew things that Michelle didn't… even though she wanted to. So Michelle would hang around between sets and listen in on their dressing room gossip about their life played out for the movie cameras.
It wasn't like these women sugarcoated their experiences though – there was talk of waiting on guys who couldn't perform, bending into back-breaking contortions so that cameramen could get their shots, and shivering in stone-cold bathtubs while pretending to be hot and bothered. But somehow, as bizarre as it sounded, these conversations took Michelle right back to when she was a young girl shooting a TV ad for the local dairy company; back to those brief moments in front of the camera when she felt electric, alive, and most of all, seen.
Michelle's interest was so keen that eventually one of the actresses told her that she was shooting a feature in town the next day – and that the director was looking for extras for an orgy scene. At first Michelle brushed the idea off with a nervous laugh, but she thought about it and slowly began to warm to it. "I thought… this might actually be good for me," she remembers. "Seeing how well things were going so far with my dancing, I thought maybe I should keep pushing my boundaries, testing myself. I figured, it was only going to be an orgy scene – I'd just be one of many anonymous shapes, hiding under the rest of the bodies as I try to find myself. So, I actually agreed to it. I laugh nowadays: I still can't believe I said yes."
Before Michelle had the chance to over-think the prospect of having sex on camera, the next day, and the shoot, arrived. Walking onto the set for the first time was jarring – but for different reasons than she expected. She remembers: "The first thing that struck me was how clean it all was. That may be a strange way of describing it – but that was my spontaneous reaction. It was clean, and everyone had a calm, matter-of-fact attitude. No one was unsavory. Nothing was unpleasant. That was instantly reassuring."
The orgy scene turned out to be relatively straightforward – the people were normal, the crew respectful, and surprisingly, the sex didn't feel strange. It all went well and Michelle was approached and instantly offered more work. Would she prefer fluffing, magazine layouts, loops, or feature films, she was politely asked? And what about girl/girl, gang-bang, or interracial scenes? Without knowing what all of the terms meant, Michelle mumbled a yes. And so, within a few months, she'd appeared in 'French-Teen' (as Orgy Girl in White), 'Sweet Wet Lips' (as Girl Outdoors), and 'Venture into the Bizzare' (sic) (as Velocity Hornbeck).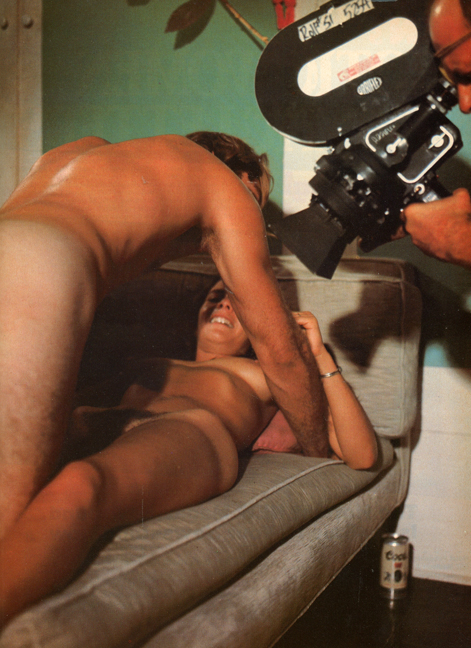 And she felt fine. In fact, Michelle was happy with her decision to make movies. The money was good, the work was easy, and she'd met interesting people on set – like a chatty Jew-turned-Buddhist who'd adopted the schizophrenic nom-de-porn 'Herschel Savage'.
There was another benefit too: working in the films put Michelle in touch with Peter Wolff, a maverick editor of popular men's magazines. Peter's gruff and disheveled appearance masked a keen talent for publishing successful top shelf titles. And apart from her dream of working with dolphins, Michelle had always wanted to write. So she offered Peter her services as a gonzo journalist reporting from the front lines of the sex business. Peter snapped Michelle up on the spot, and her pieces started appearing in Cheri magazine the following month.
It wasn't long before Michelle recommended the sex film business to her friend Erica. Erica said she'd think about it. Then one day Michelle turned around on a set and was suddenly confronted with a nude Erica in front of her. She still remembers the shock: "Oh, my God! It just dawned on us that we were meant to be in a lesbian scene with each other. We were girlfriends, sisters almost, but never had any interest in each other sexually. The director asked me to strap on a dildo, and told us to act as if we were hugely turned on to each other. We exchanged glances and fell to the floor, laughing hysterically. I guess they managed to film us at some point, but it was the most ridiculous sex scene you ever saw."
After a while, it occurred to Michelle and Erica that they'd never seen the result of their cinematic labors. In fact, they'd never even seen the inside of any porn theater. So they decided to go and watch one of their films on the big screen. When they saw themselves in close-up – 15 feet high, in grainy washed-out colors – it was in a heavy S&M scene where they were tied up and being whipped. The cinema was filled with their agonized screen-screams of forced ecstasy. Michelle remembers: "On the face of it, I admit it, the film was misogynistic – not to mention the bad acting, terrible lighting, and a plot that made no sense… it was just all-round awful. But to us that day, it was the funniest thing we'd ever seen. Once again, we collapsed in fits of laughter." Many of the patrons in the theater were dismayed by their reaction, zipped up and skulked out. They didn't know that they were being graced by the presence of the film's stars.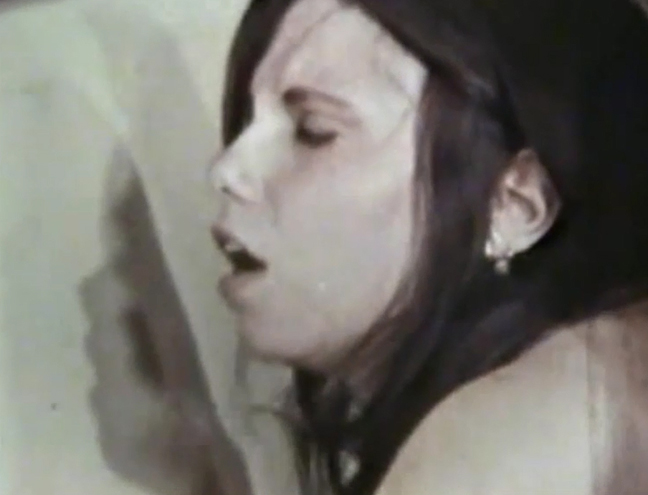 With several adult films under her belt, Michelle began to get offered the occasional audition for mainstream parts. She was excited by the idea so she went along and turned up to try out and read lines. The experience was very different from the sex films she was making. Michelle remembers, "It was an unpleasant experience. Just so nasty. No question – the mainstream casting guys were way sleazier than anything I'd experienced in adult films. The casting agents or directors would say, 'There's no nudity in this film, but just lift up your shirt so I can see your tits. Drop your pants so I can see what you've got' And they'd expected to get away with it. It happened all the time – but I never had that experience for an adult film.
"On an X-rated set, everything was pretty respectful. Nobody ogled me, or acted in an unpleasant way. There was no harassment. If anything, most of the time the crew was bored."
So Michelle continued to accept parts in sex films. The formerly chubby child of leftist intellectuals, previously plagued with bulimia and self-doubt, was now a voluptuous, in-demand porn star – and enjoying her life for the first time.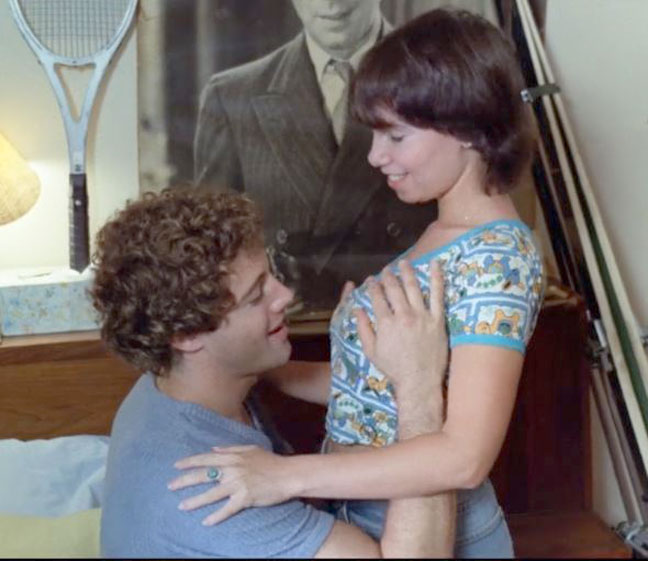 *
Phil, Needle Park. July 1977.
With the DA's approval secured, Phil jumped into action. The first order of business was renting office space as a front for the production company. There was only one place for it – the heart of New York's adult industry, Times Square.
Thanks to the city's floundering finances, commercial real estate was going for a song so Phil had no problems finding something cheap and spacious. They choose a building on 42nd Street at the west end of Bryant Park. In the 1970s, like many parks in the city, Bryant was referred to as Needle Park thanks to the drug dealers, junkies, and prostitutes that dominated it. The location fit the bill perfectly.
The office itself was two rooms a couple of floors above street-level. They set up the first room with a desk and phone for Patty Kehoe, aka the company secretary. Several chairs and an old coffee maker later and the entryway looked like a legit reception area. The second room housed Phil and Varla behind a couple of desks, next to a few file cabinets and a variety of seats.
They rigged the new office with hidden video and audio surveillance, securing the equipment behind drywall and insulation so that any of the noise from their listening equipment would sound like nothing more than the hum of old building mechanics. Lastly, they hung up a gold-colored door plate in the hallway: 'Triple-X Enterprises. Please ring bell.'
With the office established, the next step was to place ads for talent. They picked adult publications like Screw magazine as well as mainstream outlets like Variety, and copied the other similar ads they'd seen: "Actors, actresses, and crew wanted for upcoming film production. Experience and nudity required."
As sales pitches went, the approach may not have had the greatest finesse but it began yielding results immediately. The office phone started ringing and didn't stop – and the variety of people calling surprised even Phil and the team who were no strangers to the world of adult entertainment.
First there were the performers. Some were older, serious actresses with mainstream experience who did adult work on the side just to make ends meet. Others were people who waited tables or were in school, moonlighting in sex loops waiting to get noticed by a talent scout. Then there were some porn regulars – including several who came with their own acts. One went by the name Honeysuckle Divine and kept Patty on the phone for ages as she described an act which included propelling ping pong balls and talcum powder from her vagina. Another introduced himself as Dr. Infinity, who was proud of his unique talent for auto-fellatio. And nobody could forget Veri Knotty, a sweet-hearted actress who could tie knots in her unusually long and pliable labia.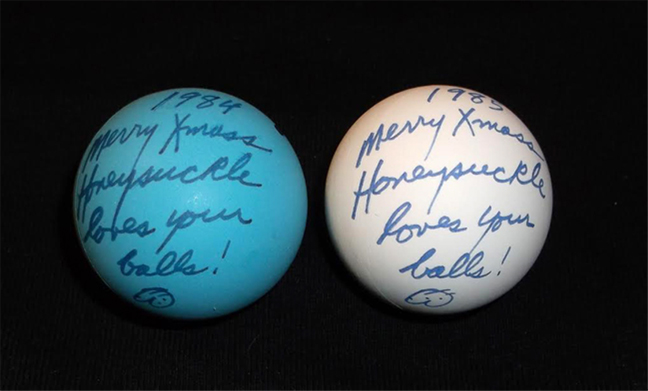 Souvenirs from Honeysuckle Divine's unique act
Then there were the crew – a wide range of characters from all walks. There were seasoned workers from the mainstream industry, looking to pick up some cash between Hollywood shoots taking place in New York. There were adult film regulars who always had an ear open for their next paychecks. And there were porn aficionados, exclusively men, who were regular adult movie consumers that felt their fluency with the genre made up for a lack of technical skills.
Among the mix they came across a guy named Paul Morini. Paul presented himself as a jack-of-all-porn. He rattled off a bunch of XXX movies he'd acted in and several where he'd served as production manager. He also revealed that he'd had experience dealing with the labs that printed the films and even with some of the money men on occasion.
Varla's shorthand notes from their first meeting with Paul said it all. She wrote, "Biiiig talker. Strange guy. But possibly the one who can pull things together for us while we keep noses clean. He says he can make it all happen for 10k – rental, people, locations.' So Phil and Varla signed him up as their production manager, sealing the deal with a handshake and an advance of $200 to find someone to write a script.
After a couple of weeks of pre-production, the operation was going well. They'd started to establish themselves in the business, made many contacts, and were being taken seriously. But there was one stumbling block in Phil's mind. One insurmountable challenge, and it was staring him in the face: they could plan to make a porn film all day long, they could hire and talk to people, but this operation was only going to move forward if they actually shot something.
Phil, Varla, Patty and Lefty sat in the office one night and pulled out a bottle of bourbon. They'd done a lot in just a short period of time, but deep down they knew they needed to go further. No one said it out loud, but they all knew what they were thinking about. So they asked themselves: "Are we really going to do this? Can we even do this?"
They knew if they didn't, the operation – the only real chance of making any progress – would be dead in its tracks.
It was time to report back to the captain at the precinct.
*
Phil and Varla, Midtown Manhattan Precinct. July 1977.
A few days later, Phil and Varla were sitting down opposite Captain Bob Cantwell.
Without beating around the bush, Phil laid out the problem and set out what he wanted to do next. He remembers his pitch: "I told the captain straight up, we needed to shoot a film in order to keep this thing going. I detailed exactly how we'd pull things off and what we'd do with the finished product. Basically, I thought of all the questions he could possibly ask. I knew making a movie was the only way forward and I wanted it to happen." Like before, Cantwell said he'd need to speak to the D.A. again.
To everyone's satisfaction, the D.A.'s right-hand man once again gave the green light. This time though he was much more reluctant, and he emphasized the same warning as before in more blunt terms: "Just keep it goddamn quiet".
Back at the Triple-X offices, Phil and Varla called Paul Morini and told him to pull the trigger. Paul snapped into action: within hours, he picked the director, the crew, and most of the performers. He knew where he'd rent the equipment, and had a couple of locations locked in. It was looking good.
But the next day, Paul got a call from his leading actor saying he could no longer make the shoot due to a family emergency. Soon after, Paul got a call from the director, saying he too was no longer available. And one by one, other people dropped out, excuses as flimsy as they came. Paul pressed them all for details, but people stayed tight-lipped, hurrying off the phone.
Paul couldn't understand it. He knew these people, and they were normally trustworthy and reliable. What was going on? Paul put a call into a director-friend named Carter Stevens. Carter was one of adult film's true originals. On the surface, he fit all expectations for a sleazy pornographer: he was overweight, wore a signature terry-cloth headband, and lived in an apartment-slash-film studio with a revolving cast of runaway girls. He'd started his career in the early 1970s and for a time he was everywhere, directing a series of increasingly popular films with names like Lickity-Split, Teenage Twins, and Honeymoon Haven.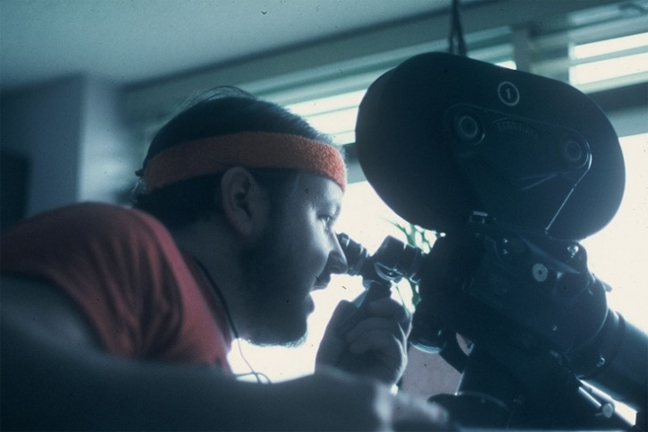 Carter Stevens
Carter knew everything about the business, and everyone knew about him. He could be relied on to find out what was going on. Carter told Paul that word was going around that something wasn't quite right about the people he was working for. This new company, Triple-X Enterprises, had appeared overnight and out of the blue, and it had raised suspicions. The porn business was tight, like a close-knit family. Everyone knew everyone, and they looked out for each other. Someone was warning people away from Triple X. Carter told Paul to speak to Sandi Foxx.
Sandi was a sometime actress and occasional talent agent. She'd heard about Triple X and at first was intrigued, so she'd stopped by the offices during their casting calls to get an understanding of what they were doing. She didn't like what she saw but she couldn't put her finger on it. There was something not quite right about the operation. Viewing herself as a mother hen to the 'kids' in the business, she began working the phones. She called everyone she knew, and recommended that nobody should take part in the production that Paul was pulling together. As Sandi was the gateway to a lot of work, people listened to her.
So Paul called Sandi. He remembers: "I was pretty pissed that she was messing with something that I thought was a big opportunity for me. So I laid into her, asking where she got off. She told me that something just didn't smell right to her. She said the big guy in the office – she meant Lefty – looked like a cop she'd seen somewhere. I told her she was crazy – that I'd been with these guys for a couple of weeks and they were nothing more than newbies trying to make a buck like the rest of us. But by that point it was too late: Sandi had blown it with the people I'd lined up and now I had to scramble."
Paul didn't want his benefactors to know that things had fallen apart so he spun things his way. He told Phil and Varla that he had a better idea than making a feature length film. He said, they could do better if they made a series of simple loops – short films they could sell individually to bookstores, or maybe combine into a feature to hawk to the cinemas. The real reason for the change in strategy was that loops would require way fewer people and simpler logistics. In fact, all Paul needed was a cameraman, a lighting guy, a single location, and a couple of performers. Paul said he could do all that for less than $3k.
Phil and Varla considered the suggestion, and gave Paul the thumbs up. They figured that the loops could get to market faster and put them in touch with buyers sooner.
So Paul switched gears and pulled together a skeleton crew. For the location, Paul decided to rent a motel room out by JFK airport where he'd shot once before. And as for talent, there was a relatively new actress that Paul recently worked with – a fresh face on the stripping circuit that Sandi hadn't gotten her claws into yet.
Paul picked up the phone and called Michelle Lake.
*
JFK Airport, New York – Hotel Room 1632. August 1977.
Michelle was on the fence when she considered the offer from Paul.
He'd laid out the offer – a few loops for a new production company looking to break into the business. An easy day of work – no crazy hours, and some fast cash. But Michelle wasn't in the business for a quick buck. She was in it for the camaraderie and the self-acceptance, and the adult film community was starting to feel like family to her now. Even though Michelle hadn't been on the scene long, she felt she knew everyone and everyone knew her. They may have been an unlikely group of misfits, oddballs, and kooks, but they were her group of misfits, and they'd been good to her.
This work was outta left field, with some people she'd never even heard of. But Paul pressed on. He offered her $150 for the day's work – and as Michelle was doing nothing on the day they were looking to film, she ultimately said yes.
On the day of the shoot, Phil picked Varla up and the two made their way to the airport motel. They hadn't expected to be present for the filming, but Paul insisted, saying it was an important part of their education as new producers.
When Phil and Varla walked into the motel room, it was just Paul, a guy he introduced as both gaffer and assistant cameraman, and a handsome guy named Keith who was the male performer for the day. After some hasty handshakes and small talk over lukewarm deli coffee, Michelle arrived.
Phil was immediately struck by how much Michelle looked like an older version of his youngest daughter: same wavy brown hair, same green eyes, same wide smile.
Michelle was immediately struck by the vibe in the room – and this time, not in a great way: "Usually when you walked onto a shoot," she remembers, "it was like a bunch of friends getting together. But here, the only face I recognized was Paul's. Also it was in a motel room, which was weird in itself because we always shot in someone's apartment or in a little studio. I remember the only set decoration was a vase of cheap carnations."
Phil and Varla also stood out to Michelle. She found them odd, and not just because producers were rarely on set – certainly not for something like loops: "They didn't seem comfortable with the process and they had no knowledge of what was unfolding in front of them," she says. "They had a nervous formality to them, which contrasted with the relaxed energy that normally came from adult filmmakers who'd done it all, and seen it all, before."
Michelle was right to notice Phil's unease. He remembers, "Making the films was a strange, strange experience. I was comfortable dealing with hustlers and criminals and mobsters, but not overseeing the action of a sex film in front of me. I didn't know where to look. It was embarrassing."
Paul quickly got down to shooting three scenarios, one of which was the old porn-chestnut of a contractor inspecting a housewife's plumbing. As Michelle and Keith peeled off their clothes, Phil and Varla nervously pretended to be engulfed in quiet conversation. As the performing couple pulled back the thin sheets to get to work, Phil stared out the window while Varla kept her nose down in a yellow legal pad pretending to take production notes.
Between calling out directions for the performers to leave open better angles, and barking orders at the gaffer to move in with the 'c-light' – a term Phil later learned stood for crotch-light – Paul would pick up a still camera to take some shots. And every once in a while, Paul glanced over to Phil and Varla, proud his production was finally happening.
The shoot finally finished early in the evening; Phil and Varla were surprised at how long it took to make three short films. When they finally called it a wrap, Michelle and Keith quickly showered off and pulled on their clothes as Paul and the gaffer broke down the lights and put the camera away. Paul kept saying how well the day had gone and promised to have the finished films back within a week.
As they prepared to leave, Paul paid both the performers in cash, and Michelle walked up to Phil and Varla to thank them. In response, Phil nervously picked up the vase of red carnations and handed it to Michelle – an act she found awkward, but sweet. Tucking the vase into the crook of her arm, Michelle left for the subway. Outside of the flowers, the day was already fading from her memory – just another unremarkable loop shoot.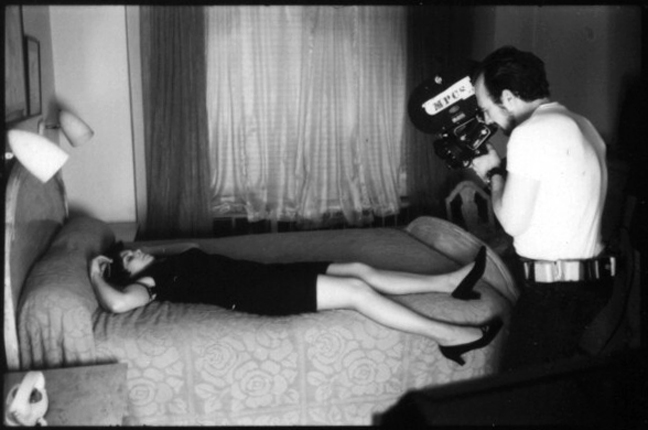 *
The following week, Paul proudly returned to the Triple X Enterprise offices with the edited loops, along with a projector so he could showcase the shorts.
Patty and Lefty arranged a few chairs to view the movies projected against the far wall. All four officers had seen loops many times before. Whenever a peepshow was busted, the films had to be viewed by a judge to determine if they met the definition of obscenity. The justice would host the cops, prosecutors and defenders in chambers for a surreal restricted porn viewing that was often met with off-color remarks and laughs. But for Phil and Varla, this experience felt different. Having witnessed the shoot first-hand, the loops felt more like home movies than porn films.
The loops may not have met the highest standards of cinematic art, but they would do the commercial trick. As the projector cooled down, Paul laid a selection of the still photos out on the desk. He said that photos on loop box covers were key to sales and suggested several he considered effective. One particular shot showed Michelle on all fours, facing the camera while her hair was pulled from behind. Phil glanced away. He knew he was doing the right thing, but he couldn't help feeling guilty that he was responsible for this. With the show-and-tell over, Paul set off to the lab to order the prints.
That night, leaving Triple X Enterprise to head home, Phil felt confident for the first time in years. "I felt we finally had what we needed to get into the business," he says. "I knew in my bones we were onto something that would be a game-changer. I could see the whole thing playing out in my head, including the headlines I imagined when these little films would lead to the big busts."
Phil got home, kissed his girls and wife goodnight, and slept without nightmares for the first time in years.
*
Phil and Varla. Midtown Manhattan. August 1977.
It was a couple of days later, when Phil and Varla were at the precinct filing paperwork, that the shit hit the fan.
Varla began over-hearing bits of conversation and turned sheet-white. It was a bunch of uniformed cops from another division laughing their heads off. At first it was just a phrase here and there: 'porno film', 'NYPD-produced'. Then it all came out.
A newspaper article that day had claimed the NYPD had made some adult films, and so journalists had asked the Office of the Commissioner for comment. Commissioner Codd's spokesman vehemently denied the claim, dismissing it as nonsense and reprimanding the newsman for giving voice to such a ludicrous idea.
Varla and Phil couldn't believe what they were hearing. They'd kept the operation so close and so quiet, it was impossible to imagine who could have leaked the story. They switched into damage control mode. Varla knew exposure of the sting could jeopardize all their careers, so she wanted to get to Captain Cantwell fast. Phil feared the revelation would kill the best chance he'd ever have to clean up Times Square. But before either of them had a chance to do anything, they were both called into Codd's office. It was the first time either of them had been granted an audience with the Chief Commissioner, and that was bad news.
That afternoon turned into grueling hours of debrief. Phil and Varla were made to share every detail of the operation from start to finish. To say 'Chief Straight Arrow' Codd was unhappy would be an understatement. He was caught red-faced in the glare of publicity. He'd forcefully denied the newspaper claims; now he was going to have to change his story and come clean.
The next morning a press briefing was called to address the previous day's claims. The same spokesman that had berated the reporter for his suggestion the previous day issued an apology. Yes, he said, it turned out there was a covert campaign to expose the mob's control of pornographic distribution. Yes, it seemed the cops had actually been involved in the shooting of a sex film. No, the Commissioner had no prior knowledge of the operation. Yes, they would be launching a full internal investigation into the matter to identify and punish those responsible. In short, Phil and Varla were being hung out to dry.
*
After that briefing, it didn't take long for a media frenzy to explode. Headlines across the city had a field day with the salacious story of a NYPD scandal.
From 'No Popcorn in Cop Porn,' New York News, August 31, 1977:
A spokesman confirmed for the first time that the films had been made by the department. He said that the spicy cinematography was never distributed because First Deputy Commissioner, James Taylor, ruled that the scheme would violate unwritten police rules that police should not initiate crimes.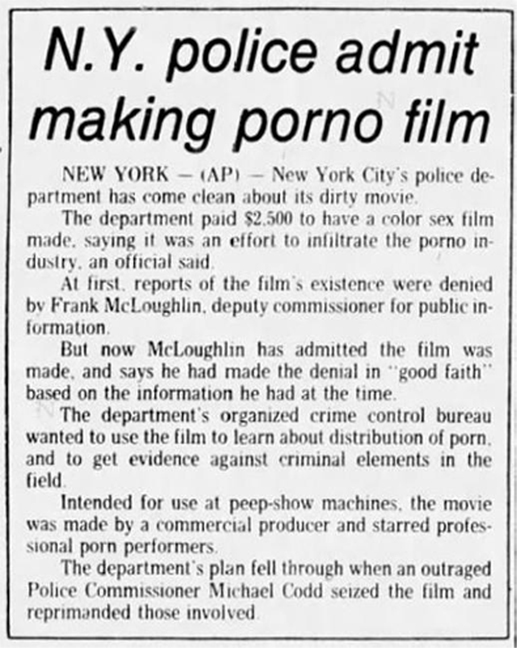 It was reported that the film had been confiscated and impounded – and that no one outside of the NYPD had seen it. Not true. Someone slipped a copy to the press, who passed it around and publicly shared smutty plot details.
This is from New York magazine, September 5, 1977:
The first portrays a damsel in distress who enlists the aid of a bellboy to fix a leaking faucet. As is typical of such loops, the couple becomes involved in explicit sexual activity in short order.
The second loop, also fairly standard, involves a burglar who breaks into the damsel's room and, again in short order, forgets about any stealing. The third loop, which includes some shower scenes, centers on a honeymoon couple.
Not surprisingly, Police Commissioner Codd condemned the whole operation. But his reasoning was not what many people expected. Codd said he was "morally outraged": Why? Because a female member of the force had assisted in the actual production.
That didn't go down well with Varla: "Seriously?" she says. "You're saying you're mad just because a woman was involved? That's your biggest problem? These guys were from a different century. It was the same sexism that I'd fought for years. Now I felt they were saying the operation was my fault – just because I was a woman."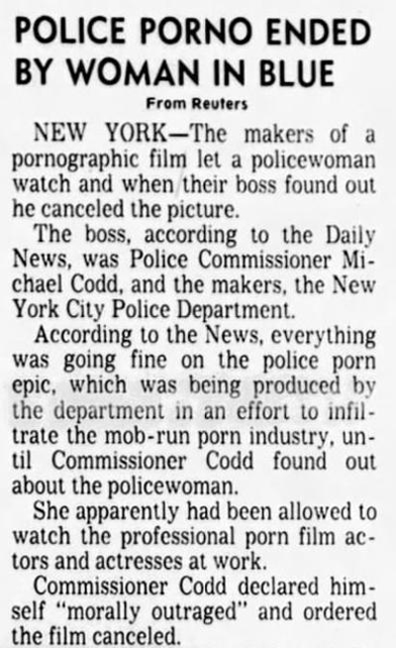 If Varla was angry, the newspapers were over the moon: the story had everything – sex, crime, incompetent cops, and the constant issue of sleaze in Times Square – and every day there seemed to be a new person telling their version. Everybody that is, except for Phil and Varla, who'd been slapped with an internal gag order by top city officials.
The tone of the press coverage soon turned to mockery.
From 'Nudie Blues,' New York magazine, September 12, 1977:
Police Commissioner Michael Codd really should be taking bows. New Yorkers are in debt to him for blowing the whistle on his own undercover unit and preventing peep-show devotees from seeing the cops' cinematic effort. For, take it from us folks, it ranks as the worst porno film ever made.
Take the setting: a hot-sheet motel in Queens. You wouldn't take your spouse there. Holiday Inn-provincial décor. No mirrors. Not even a water bed.
And the casting. Three twelve-minute loops, and there are only two characters.
The operation came crashing down fast. Just a couple of days after the story broke, Phil, the team, and the supervising investigators were back at the Triple X Enterprise offices boxing everything up for review. As they were closing out the space, Paul showed up, clutching a pile of newspapers. Varla remembers him wearing his indignance like a badge of honor: "He was yelling at us like we were the bad guys and he was the innocent victim. He ranted about how he'd risked his reputation for us and how we still owed him money. As he stomped off, he said he'd be seeking legal advice for breach of contract and defamation of character. Needless to say, we never heard from him again."
With the media storm going on, Paul was the least of their worries.
*
Michelle. September 1977.
Michelle was as blindsided by the sudden publicity as were the cops.
She first heard the breaking news from an adult film actor friend who asked if she'd seen the newspaper stories about a sex flick shot at JFK by the NYPD. The penny dropped immediately – and Michelle realized she was the star in question. When she confessed to her friend, he warned her that the story was spreading nationwide, and she should brace herself to be exposed… even more than usual, he joked.
It wasn't long before calls started rolling into Michelle's phone service. One of the earliest messages was from a local television station saying they wanted her for the six o'clock news.
Michelle panicked. Her first thought was for her parents: "I had to tell them before they saw me on TV," she remembers. "They knew nothing about the adult films I'd been making. I'd become a different person in the few years since leaving home. This secret life I'd been leading would be completely new to them.
"I called them up and said, "Sit down, I've got some news for you."
"I told them I was going to be on the news that night. And then I told them why.
"I still can't believe they didn't have heart attacks. Or hang up on me saying, "We're disowning you." In fact, they were calm and, true to their socialist principles, treated me fairly and didn't judge.
"With that, I went on CBS or ABC, and was interviewed by a reporter for the evening news."
While Phil and Varla had to keep quiet, their lead actress was under no such restrictions. Michelle wound up on several TV shows sharing her version of events. And she began to enjoy it. "It was an adventure," she says. "I was seduced by the process, the television, the media… everything. And by now I was comfortable in front of cameras."
From 'No Popcorn in Cop Porn,' New York News, August 31, 1977:
Michelle Lake, the female lead in the blue movie, said that she was not aware she was performing for the police until she heard about it from an editor.
"I had no idea what was happening," said the pert porno actress, who said she had received $150 for seven hours of sexual activity before the cameras in a motel near Kennedy Airport.
As Michelle shared her side of the story, she made clear to everyone that she never thought the cops had taken advantage of her. Even though it turned out that the job wasn't for a regular adult film production, Michelle said she didn't feel used or betrayed in any way. She'd been paid the money she was promised, and the cops had been nice – heck, they'd even given her flowers. She wanted everyone to know she wasn't a victim. The cops were just people like her, she said. People trying to do what felt right to them.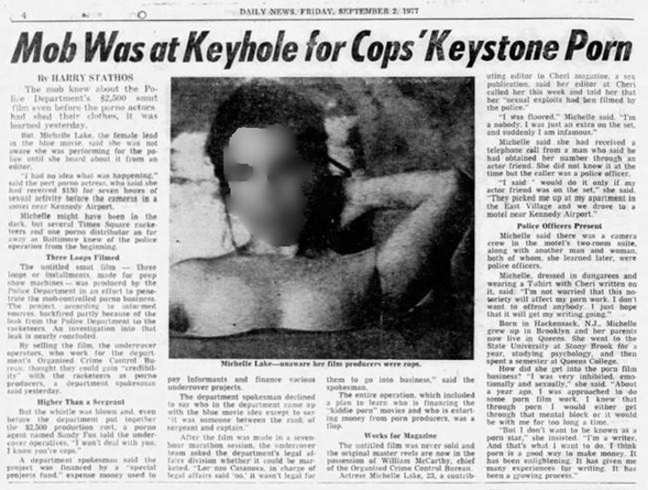 A week later, Michelle was invited to appear on one of the late-night New York TV chat shows to talk about her experience. When she was in makeup before the taping, Michelle mentioned to one of the producers that her parents would be watching. The producer asked if he could call them, so Michelle gave him their phone number.
Once the interview was underway, the host unexpectedly announced that he had Michelle's parents on the line. Michelle was shocked at her two worlds colliding in such a public way, but her mother was loving every moment: "My mom was the classic pushy Jewish mother," says Michelle, "and she quickly had the host in stitches. She was bright, witty, unafraid, and she could make anybody laugh.
"The host asked my mom what she thought about her daughter making X-rated films. She answered, 'I don't like it, but she's still my daughter.' The audience lapped it up.
"Then the host asked her about my talents, and my mom said that I was really a poet and I should recite something. I was mortified because the only thing I could remember in the moment was the first poem I ever wrote when I was eight years old called 'Loneliness'. So I performed that. It must've been incongruous having an X-rated actress recite a poem from her childhood."
Loneliness is like the stars without the sky,
a bird without a nest, hello without goodbye.
The worst thing in life is to be all alone,
to have no one near to help when you moan.
How would you like to deal with no one at your side?
It's such a horrid feeling,
you'll wish that you had died.
But when you have someone, you'll be in such a happy tone,
I hope you or I will never have to be alone.
*
Epilogue: Phil and Varla. New York City, 1978.
While Michelle basked in the publicity, Phil and Varla were bathed in criticism. The exposure of Triple X Enterprise's took a toll on their careers and made them the butt of jokes for a long time.
Varla strove to put the operation behind her as quickly as possible. She'd worked too hard to establish herself as a female detective to allow the exposed undercover operation to completely derail her career. She threw herself at the mercy of the Force and over the next years allowed them to assign her to some of the worst precincts in the city without complaint. For the most part it was thankless work, but Varla continued to take small satisfactions out of the occasional win on behalf of a domestic violence victim or neglected child. She fought her way back. It was slow, but she made a career that she was proud of.
As for Phil, for a time he became obsessed with figuring out who leaked the story. His first suspicions rested on Paul or someone from the adult industry who learned their secret and saw an opportunity to make a splash – and a buck. Then Phil learned that the mob had found out about the operation even before the newspapers had. The mob had followed them for a couple of weeks and had hung around the hotel when they'd shot the short sex films. But how did the mob find out? For Phil, there was only one realistic answer. Someone in the NYPD had ratted them out, and that meant putting their lives at risk. Phil never found out for sure who it was but he had his suspicions. There were plenty of disgruntled cops who resented Phil's idealism and work ethic.
And how does he feel about it now? When asked if he regrets the operation that he and Varla conducted, especially knowing how it all ended up, Phil shakes his head. "Even now I wonder what we could've done if we'd been allowed to pursue things to the next step. It wasn't like we were having any luck on other fronts. We were finally making some headway; who knows what it coulda gotten us."
Phil eventually found his footing again in the NYPD, the boy's club was more forgiving to him than it was to Varla. Michael Codd was eventually forced out of his position as Commissioner at the end of 1977 when Mayor Abe Beame was defeated by Ed Koch, and with memories short, the department placed Phil on a child sex trafficking task force.
Phil says he can't talk much about the work he did with the child safety unit, but he's proud of what he was finally able to accomplish. He says those achievements finally helped him feel like he was doing something useful. They helped end his nightmares about mole people too. And one day, he realized that he was sleeping through to daybreak, and hadn't thought about them for years.
*
Epilogue: Michelle. New York City, 1978.
In the months that followed the cop porn expose, Michelle was often stopped on the street, recognized from newspaper photos, news interviews, and late-night chat shows.
The truth was that she hadn't had a lot of time to process what had happened. One moment she was an unknown adult film performer, the next she was on TV and in the newspapers. She remembers: "I never considered the consequences. I'd been making X-rated films, which was a subversive subculture frowned upon by society, and nobody sat me down and said, 'Think this through. This is going to be recorded for posterity. Do you really want to be associated with this industry?'
"The experience had been fun, but the NYPD scandal was a watershed in my life. I realized I didn't want this to be my big moment. I didn't want to be defined as an X-rated actress. I didn't regret it, but it wasn't who I really was. I'd started making sex films almost by accident, but my real aspiration now was to be a writer.
"And so, overnight, I decided I was done. I thought, 'I'm out. I'm not doing this any longer.' I stopped contacting people from the industry, I broke up with my boyfriend, and I moved to another part of New York. I basically started again."
Michelle's life underwent one more immediate change. She met a successful literary agent at a social gathering, and shared some of her writing with him. He liked what he read, took her under his wing, and secured a contract for her to write a romance novel. She was 22, and the opportunity changed her life.
The book sold well, and Michelle was on her way. Its plot? The book was about a New York woman who falls in love with a dolphin trainer, and they live happily ever after on a tropical island.
What's more, ten years after the book was published, Michelle fell in love with a dolphin trainer, got married, and moved to Hawaii to live happily ever after. Since then, she has continued to write, and her books have been translated and published in numerous countries.
Michelle doesn't dream of dolphins any more, but when she swims in the azure, clear oceans today, she sometimes sees them in the distance.
And when she does, she still feels weightless.
*
Somewhere hidden in a police vault in New York lie three short pornographic films. Few people have seen them. Even fewer ever will. They are a missing, strange fragment from an almost forgotten moment in time.
*