The Honeymooners (1976) is not a great film. It isn't even a good film. In fact, it's the kind of film that made the golden age seem more like the stone age.

But…there are still several reasons why The Rialto Report has special affection for it.
Four main reasons to be precise: C.J. Laing, John Leslie, Jeffrey Hurst, and Terri Hall (who is so admired by The Rialto Report's April Hall that she adopted Terri's second name for her own nom-de-porn).
Plus the movie also features the always enjoyable trio of Ultramax, Jean Dalton, and Ursula Austin, and an uncredited Roberta Findlay behind the camera.

So we were excited when we recently came across a trove of previously unseen behind-the-scenes photographs from the movie. While the pictures are not in pristine condition, we like them just as they are: scratched, mysterious, timeless, ghostly images from a long-gone era.
We've combined the photographs with the memories of those who made the film, culled from interviews that we've collected over the past two decades.

Even lesser films have a place in our world.
(Oh, and 'The Honeymooners' wasn't directed by Bob Chinn as has been reported over the years. It was a Jack Bravman production, and you can read more about Jack's career, and his role in the notorious film Snuff (1975) here.)
___________________________________________________
The Honeymooners
John Leslie:
You've heard of The Honeymooners?! Oh man, that goes right back to the beginning. One of the first films I ever made. I've made hundreds of films since then… thousands probably, but I still remember that one.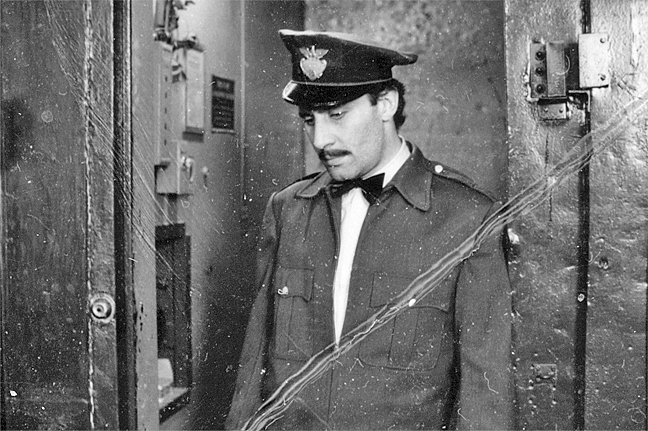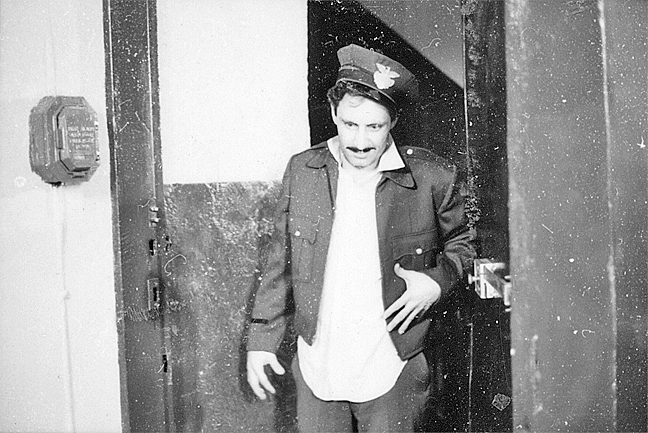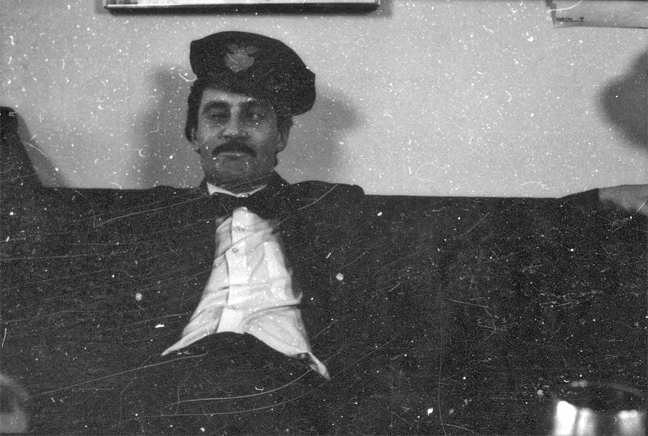 John Leslie
Ultramax:
Let me tell you that in New York in those days, swinging was really the thing.
I met this woman and she was a real swinger and she got me involved in the scene, and before long I became the queen of the swingers. I was the director, the producer, and so on. I was everything on the swinging scene! I had a friend who had a gorgeous apartment on Sutton Place and we'd have these great parties and his Jamaican cook would prepare food for us. It was quite the thing. I was quite the thing…
Then I ran into a guy called Eduardo Cemano. That wasn't his real name, but I met him at my girlfriend's house and he said "Oh, you would be so perfect for my next film. You've got to become a porno star"
I always wanted to become a star but not so much a porno star. He said "You're the queen of the swingers. It'll be easy. You're funny and loud, so why don't you get paid for it and do something creative?"
So I said, "Ok, but I have to have a stage name." I was known as Supermax in the swinging crowd, but that was also the brand of a hair dryer, so I wanted something better. Eduardo said, 'How about Ultramax?"
I said, "That's good!"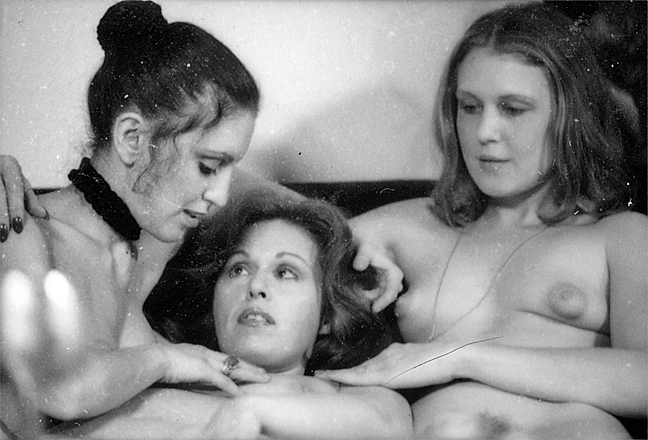 Ultramax (center), with Terri Hall (left) and Ursula Austin (right)
John Leslie:
I'd lived in New York since the late 1960s.
I was attending The Art Students League, taking courses in painting and sculpture. At the same time, I was playing in blues bands in Manhattan and Brooklyn. I had a small pad on East 32nd Street, which was wasn't so much a place for me to live in, more a place for my record collection! I played harmonica whenever I got the chance, and I supported some big names on stage, but I wasn't making enough money. So by the mid 1970s, I was looking around for something else that would help me survive.
Ultramax:
I think the first film I did for Eduardo was The Healers (1972), and I played an opera star. It was a cute film and I had so much fun doing it, and the people that I met were so funny.
I remember I said to one of the gals I knew, "Listen, I made this film, it's a soft porn, its playing on Broadway, why don't you go to see it?"
She said "Oh my God, are you in it?"
I said, "Yes, I'm one of the stars!"
So she said, "Can I bring somebody with me? I want to bring my boss's girlfriend."
Next day she says, "I went into the theater, I looked up on the screen and there's your pussy right there, right in living color! And the girl I took went crazy. She discovered she liked girls! Can you believe you brought this out in her?!"
I said, "Well I can't help that…"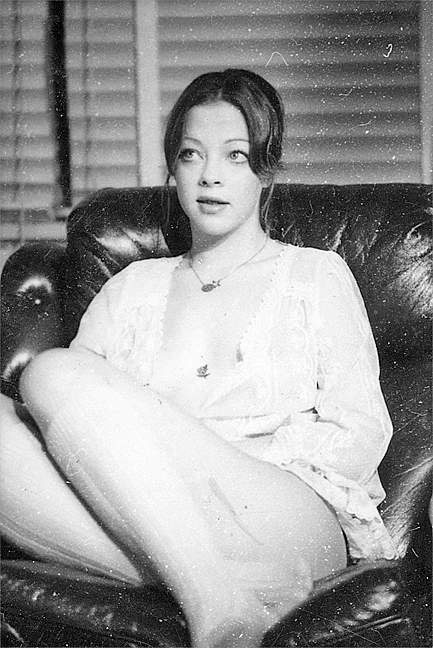 Jean Dalton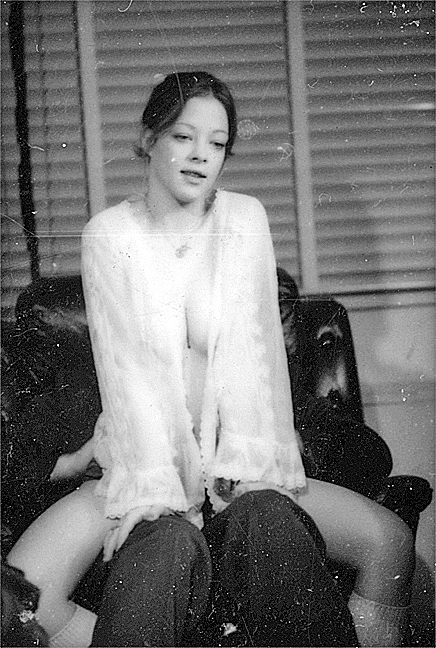 Jean Dalton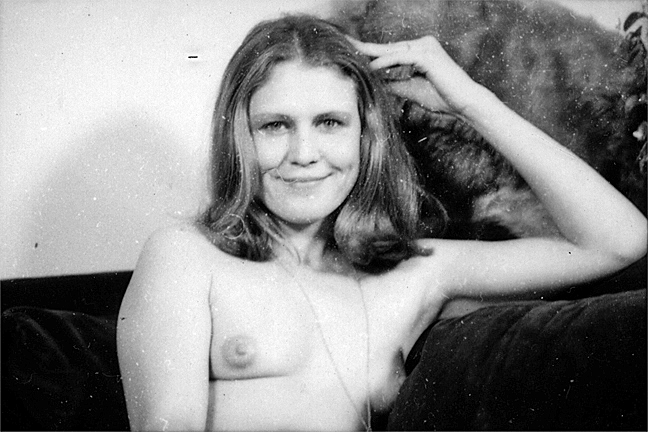 Ursula Austin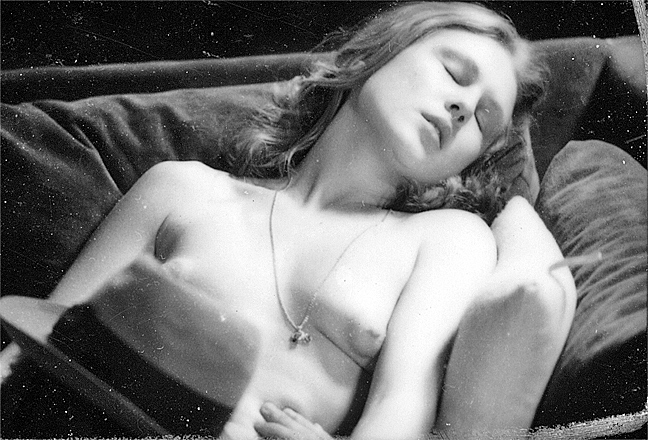 Ursula Austin
Jeffrey Hurst:
I was having a tough time as an actor.  Even extra work was hard to come by so I had to clean theaters to sup­port myself. I wasn't crying hardship, I just wanted the opportunity to act and I couldn't get arrested.  I couldn't even get an audition to get arrested.
Yet in the world of adult films, using my nom-de-porn Jeffrey Hurst, I was respected as one of the best actors in the XXX industry. Porn producers were constantly offering starring roles to me, but I continued to turn down any adult film that would give me a large amount of exposure – figuratively speaking.
Then my gay agent, Conrad, got me an audition for a big mainstream movie, Slap Shot, starring Paul Newman, about a minor league ice hockey team that resorts to violent play to gain popularity in a declining factory town. The only problem? The role called for someone who could skate, and I had told them I was a good skater. There were only two weeks before the skating audition: two weeks to prepare – to learn how to play hockey.  I bought a pair of skates, a hockey stick, and an orange, plastic puck from the sporting good's department at Sears.  Since I couldn't practice shooting the puck on a public rink, I be­came adept on the carpet in my living room.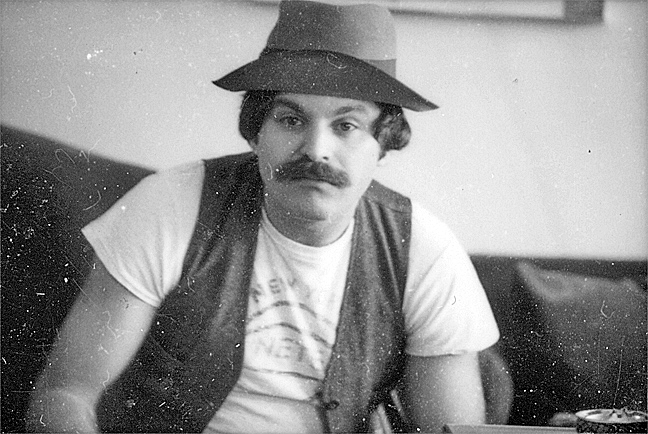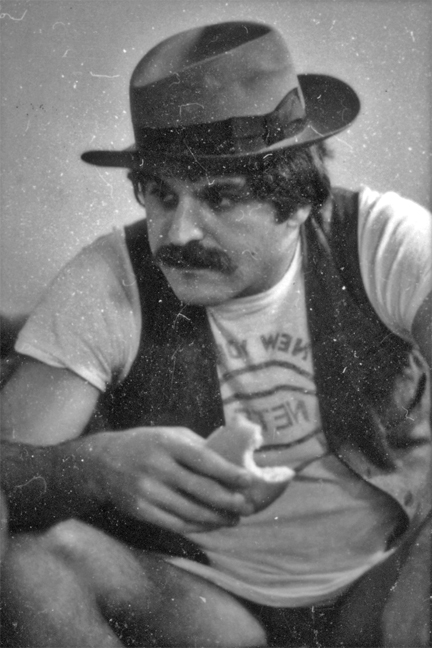 Jeffrey Hurst
John Leslie:
'The Honeymooners' was one of the only New York films I shot. I can't tell you who shot it, or how I got hired for it, but the whole thing only took a day or two to film. We shot it in the apartment of the director, or the producer, or the sound guy, or maybe the guy who sold us bagels that day… I don't remember.
It was based on the classic TV comedy show 'The Honeymooners', and I played the Ralph Kramden character. The other lead actor (Jeffrey Hurst) and I loved physical comedy so we goofed around all day – in between all the sex scenes.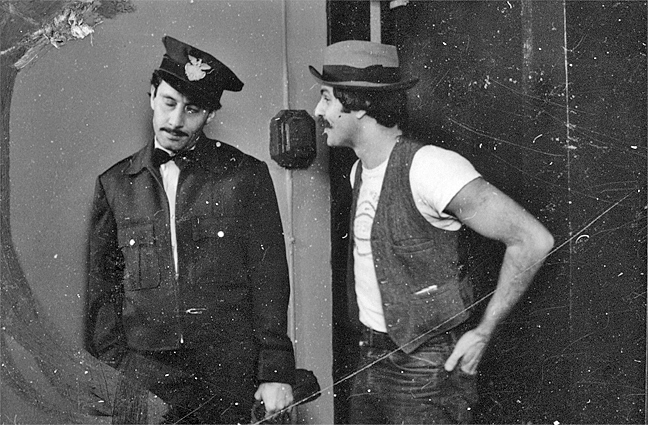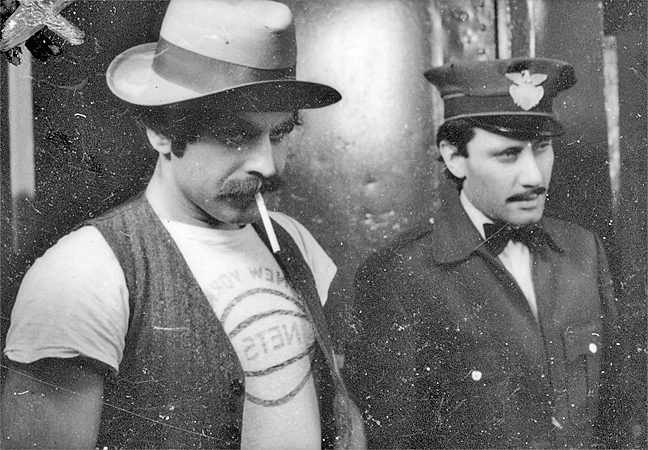 John Leslie and Jeffrey Hurst
Jeffrey Hurst:
I decided that the audition for 'Slap Shot' would mark the end of my porn career. Almost. I had already committed to star in 'The Honeymooners', a porno version of the old TV series with Jackie Gleason and Art Carney.  Although it wasn't a big budget film, I felt a little uneasy because of the title. It was almost sacrilegious to cheapen this classic television series, but in my own way I was paying homage. I loved the role of Norton and felt it was a real opportunity for me to do some acting – to try to capture the essence of the brilliant character that Art Carney had created. Since this was to be my last porn film I had to balance my ice skating and puck shooting skills with insertions and cum shots.
The film was shot over two days starting on February 16th 1976, and I was paid $460. John Leslie was new in the business, but he'd already proven himself as an up-and-coming sex star, and one of the better actors in adult films. We were able to play off of each other's characters with an impromptu fluidity. If it wasn't for the sex scenes, this could have been a pretty funny movie.
Some of the film crew who worked on my previous film, Chamber Maids, were also working on this film and were excited about my skating audition for 'Slap Shot.'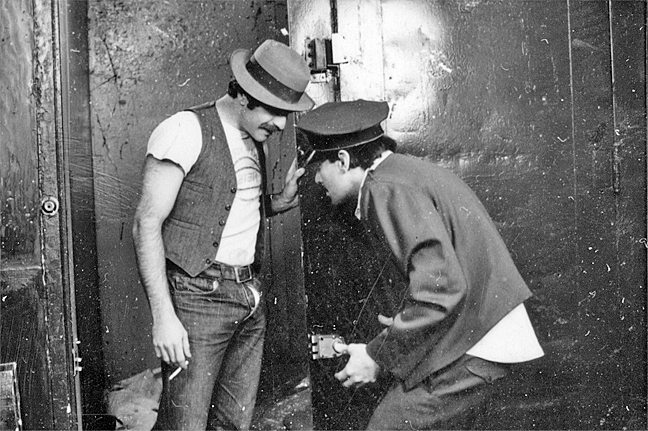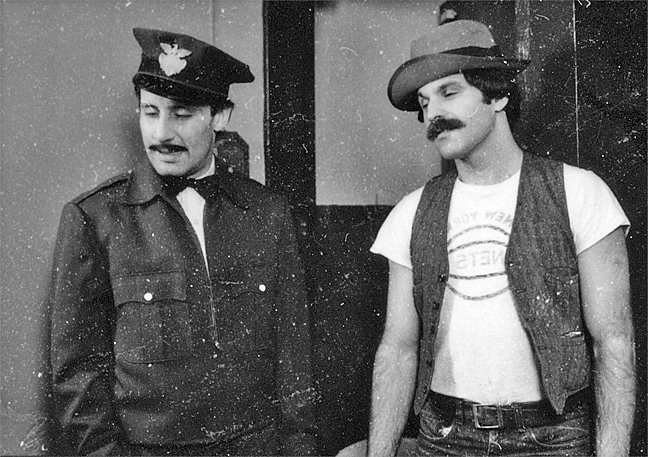 Jeffrey Hurst and John Leslie
John Leslie:
The person I remember best in 'The Honeymooners' was this cute Jewish girl called C.J. Laing. Man, was she hot… In real life, she was this bratty, bitchy, stand-offish, rich girl. Of course, that only made me want her more.
Years later, I attended a screening of a Radley Metzger film Barbara Broadcast (1977) and there was an incredible scene shot in a restaurant. C.J. suddenly shows up on screen talking to Annette Haven. I was knocked out. Annette was hot, one of the hottest, but C.J… I didn't know her name until then, she lit up the screen. Smoking.
That was the great thing about the films back then: you got these incredibly hot girls appearing who had no business making porn.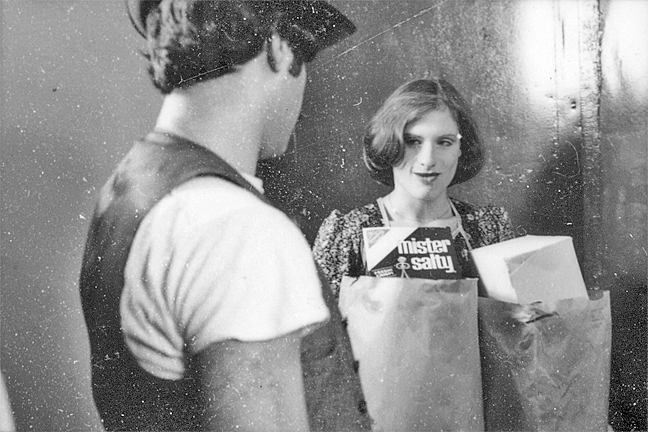 C. J. Laing:
Of course I can't remember this film! The films were like a brief summer job that I did forty years ago. It's too long ago, or I've blanked it all out.
Are you asking me if I want to see 'The Honeymooners' in case it jogs my memory? Are you crazy!? Of course not. It would be the height of embarrassment. Please keep it away from me!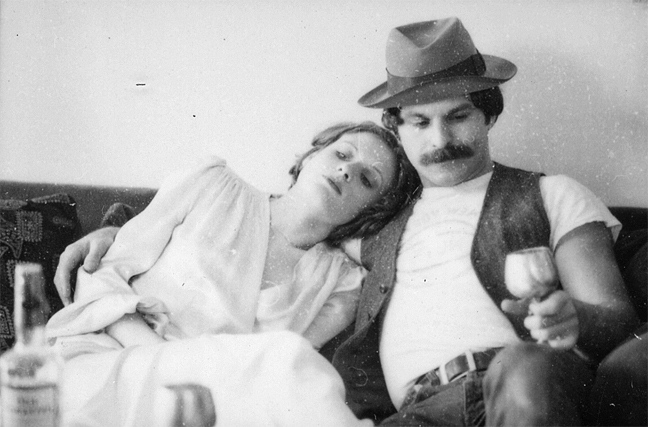 C. J. Laing and Jeffrey Hurst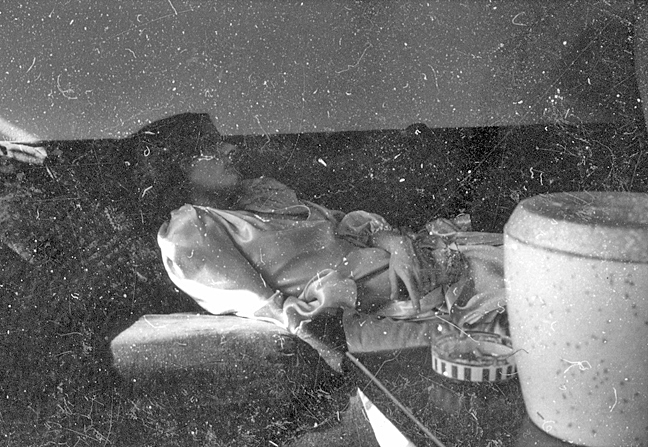 C. J. Laing
Steve Ziplow (Production Assistant):
The Honeymooners was shot in Roberta Findlay's apartment. I became friendly with Jeff Hurst on that shoot. He was a really nice guy. We used to play handball together but I could never beat him.
C.J. Laing was the star, and Jack (Bravman) was constantly trying to get her to act a little better. She ended up turning around to him, saying, "Listen honey, I don't get paid to act. I get paid to fuck."
C. J. Laing:
I was surrounded by guys who wanted to be actors. They only made fuck films because they wanted to aaaaacccct, darling.
They wanted to get the sex scenes out of the way, so they could practice acting on camera. They lived for the craft of acting. They were thespians!
I was the opposite: I wanted to get the silly acting done quickly, so we could get down to fucking.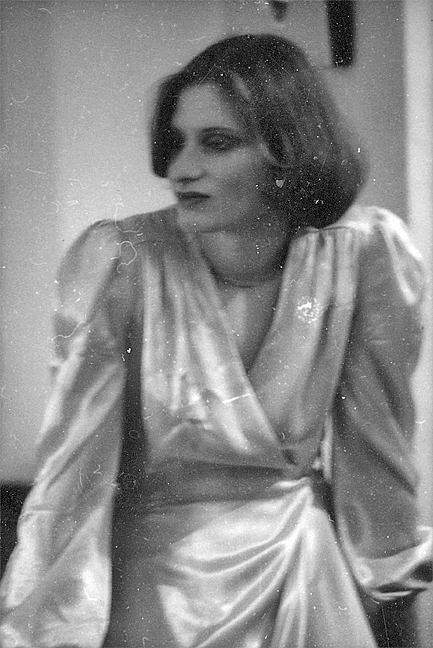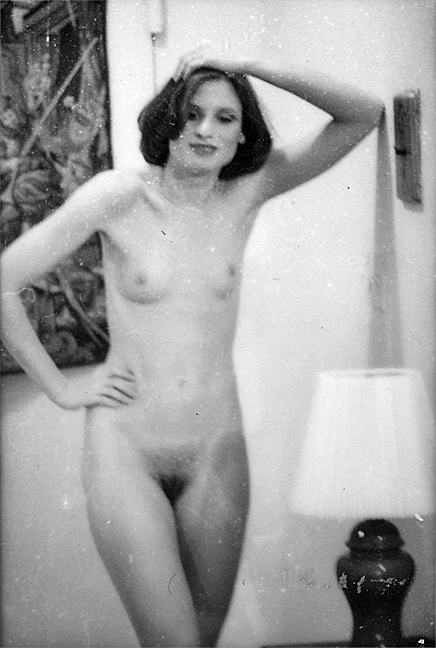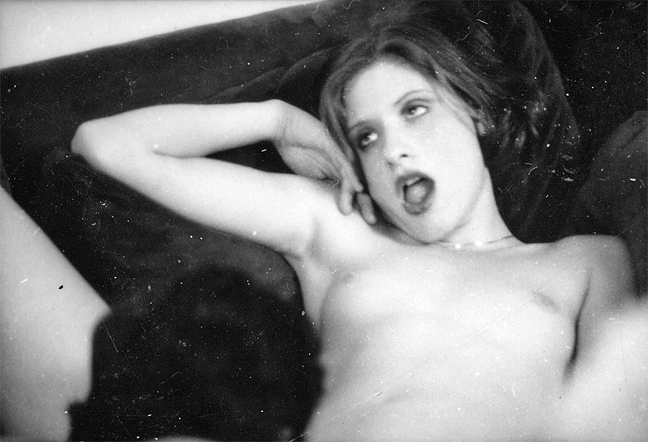 C. J. Laing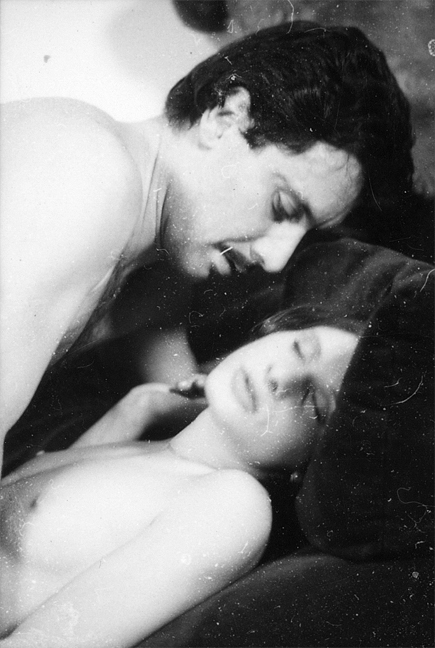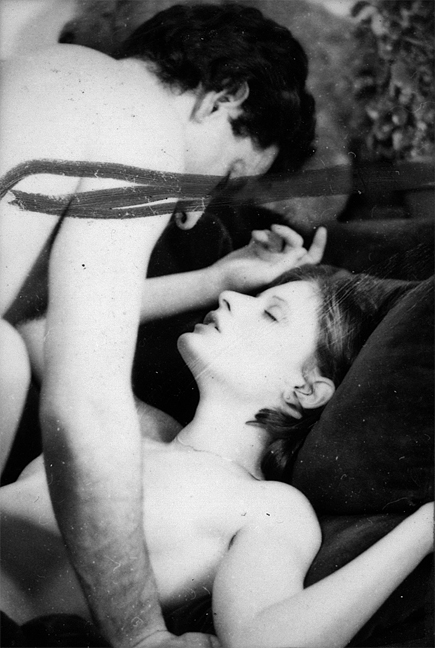 John Leslie and C. J. Laing
Ultramax:
I only remember 'The Honeymooners vaguely'. They all tend to run into one another. Tell me more about it.
I remember Terri Hall though. Of course I do, how could I not? She was beautiful and sexual, but just somehow mentally absent at the same time. She told us she was a dancer, and that her family didn't know what she was doing in Manhattan. They lived in upstate New York or somewhere, and she lived in fear that they'd find out. I don't know if any of that was true, but she was like an elegant statue.
She disappeared one day, and I always wondered what happened to her.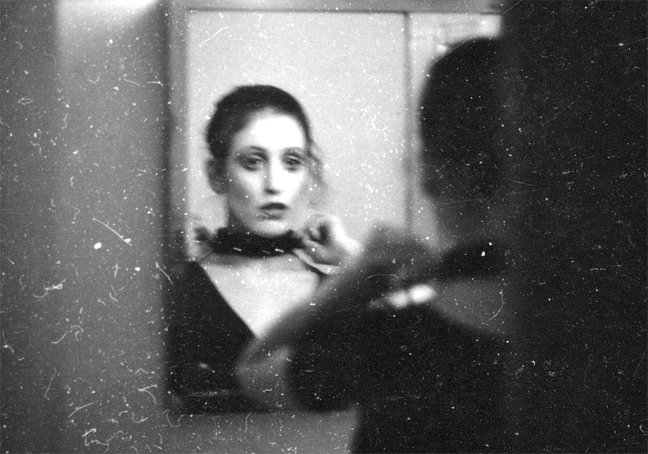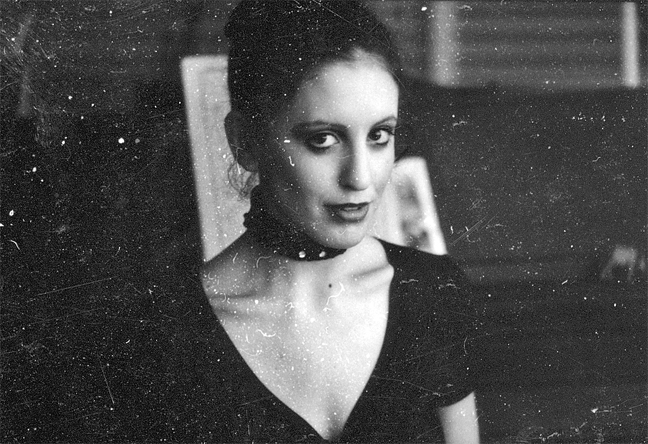 Terri Hall
C. J. Laing:
Actually I do remember Terri Hall. She was the only girl I was truly envious of. She had a perfect body, and moved gracefully like a cat. I was intimidated by her. She was so beautiful.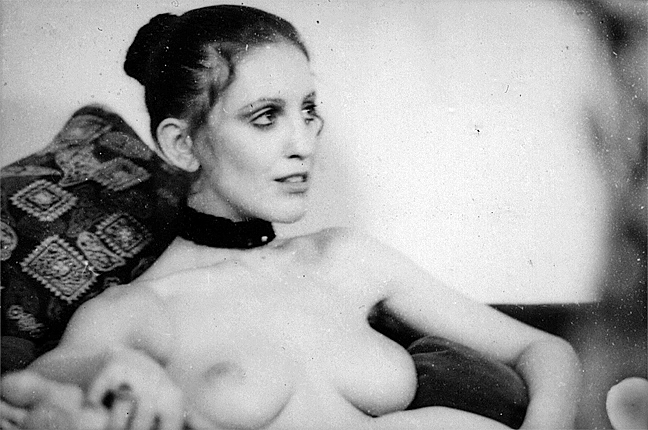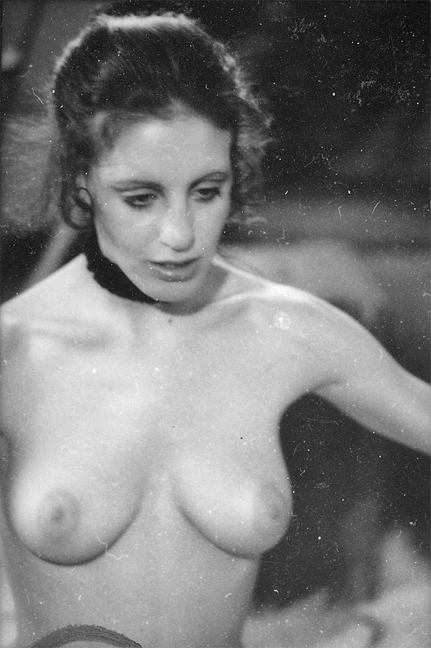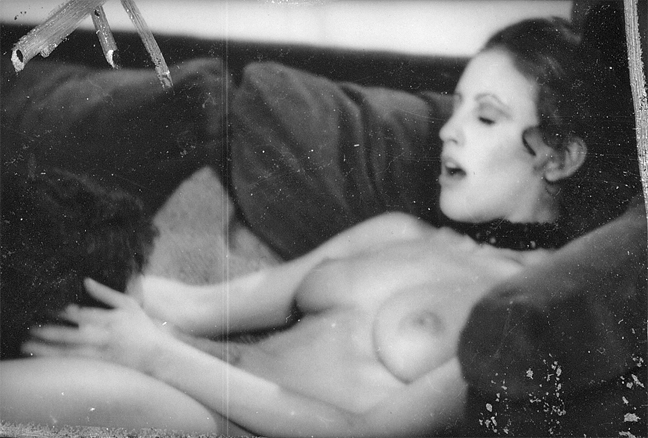 Terri Hall
Ultramax:
Fun?! I had the best time of my life! I had so much fun, I met such great people. I don't regret anything, not one thing. Well, I just regret not making enough money, cause those guys took advantage and I understood they really made a lot of money on us. A lot of these films went to Europe, Scandinavia, I mean they went all over the world and we got paid zilch.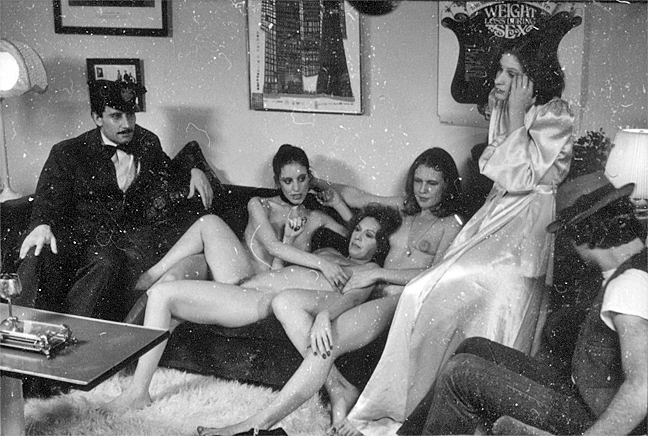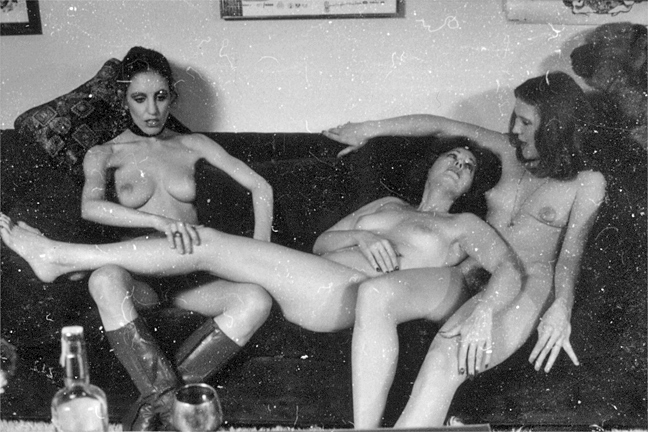 Jeffrey Hurst:
It took two and a half days and three Quaaludes to complete 'The Honeymooners', and then it was back to the ice.
John Leslie:
I think that it was on 'The Honeymooners', when they asked me for the name I wanted to use, and I said 'John Dupree.'
It was a spur of the moment thing. I didn't know if this porno thing was something that I wanted to do for long, so I wanted to use a different name. I'd been listening to Champion Jack Dupree, the great blues, boogie-woogie pianist and singer who recorded for Atlantic.
At the beginning of his career, he was a boxer. I liked his name. It sounded rough but classy, you know?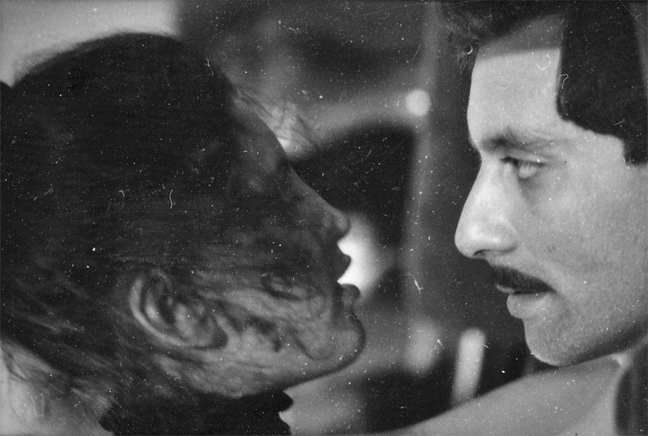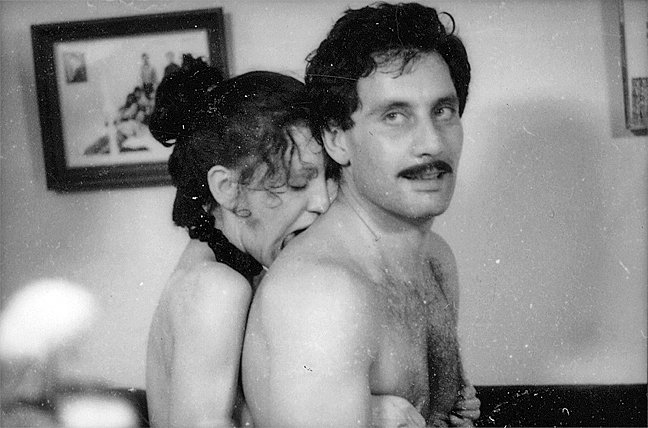 Terri Hall and John Leslie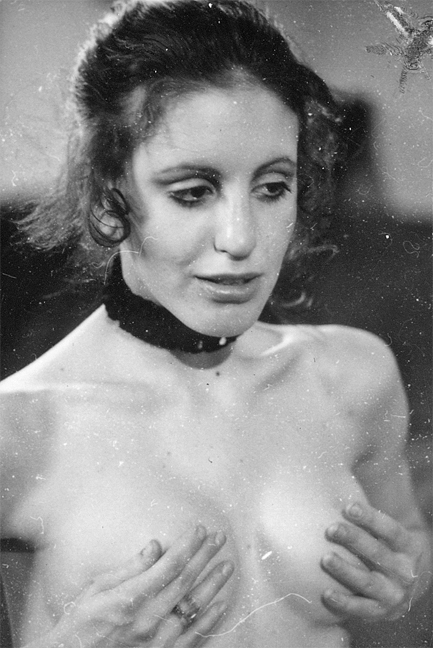 Terri Hall
Jeffrey Hurst:
A few weeks after we shot the film, the producer of The Honeymooners called to let me know that a mistake had been made.  Instead of using 'Jeffrey Hurst' in the credits like he had agreed, he'd used my real name. It was too late to make any changes and he said he was sorry.
He was sorry? He was fucking sorry!? My career was now on the line and he was sorry. My name wouldn't be on the marquee, but it would be on the movie poster. The best I could hope for was that during the week the movie ran, anyone who knew me would not walk by the theater or notice.
The 'Slap Shot' audition went predictably badly. I was shaking like a naked fat man in a walk-in meat locker. My body mechanics were awkward and uncoordi­nated, and when I swung the stick, the momentum sent me flat on my ass. What was even more hu­miliating was, I was only able to nick the puck when I tried to hit it.
Needless to say, I wasn't successful in getting the part.
John Leslie:
'The Honeymooners' was probably terrible. Or at least I think it was. I never saw it. Do you have a copy? I'd get a kick out of seeing it again. I'd love that.
Maybe it was great…?!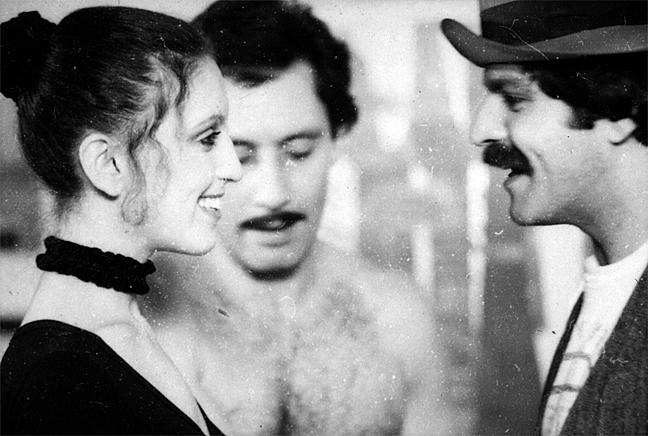 Terri Hall, John Leslie, Jeffrey Hurst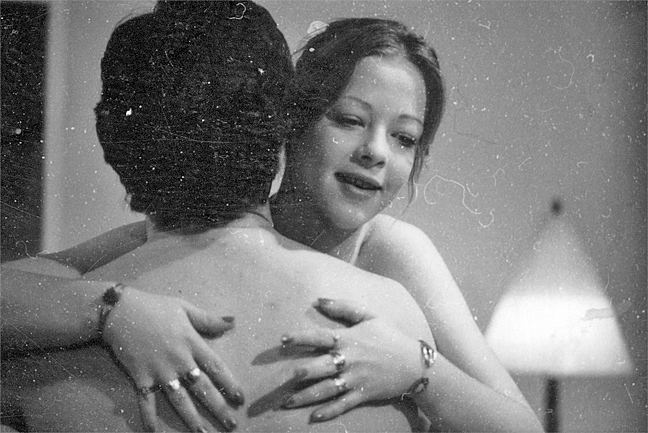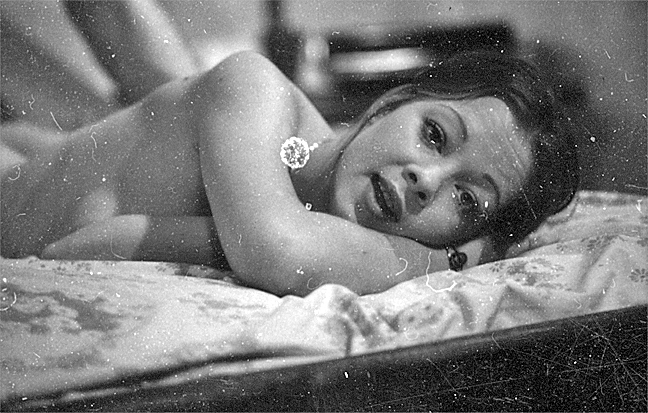 Jean Dalton
Jeffrey Hurst:
The day after I auditioned for 'Slap Shot' my agent, Conrad, called me into his office and he was pissed. I was sure word had got back to him about my so-called hockey audition. He glared at me for a while, sizing me up. "How many X-rated films have you done?"
Busted!
First I was going to try to tap dance around the obvious, but instead of getting deeper into more shit, I just conceded that the jig was up. I couldn't bullshit my way out of this one.
"How did you know?" I asked, relieved that he wasn't pissed about 'Slap Shot.'
Conrad removed his glasses, paused, and held them for effect.  "I just got off the phone with Nancy at Best Artists.  'Honeymooners' is playing at the Capri Theater on Eighth Avenue."
Nancy was a fox. I tried to suppress a smirk because I couldn't picture her in a porno theater watching me have sex.  "Nancy saw a porno?" I said. A chubby came to life and I forgot that Conrad was still grilling me.
"She saw a poster outside the theater that says, "starring Jeff Eagle". It's your face."
"So she didn't actually see the movie?" I said sounding a little disappointed.
"How many have you done?" Conrad demanded again.
"I don't know … a couple. Three or four … about a half dozen … maybe ten." My whole career was on the line, and I was acting like a cocky son-of-a-bitch. Maybe it was the relief of finally getting caught. The deception was over. It was hard to believe, but I actually felt free. "Most of them were softcore. I only did a few hardcore films," I lied.
Conrad eased his butt down on the edge of his desk and burned me with some serious eye cheese. "We think you're a talented actor and we're still willing to represent you, but we're going to have to cool it for a while."
"How long is a while?" I said, suddenly realizing the seriousness of the situation.
"Just until the films you've already made disappear, and things quiet down."  Conrad suppressed a grimace. "We'll still send you out–little things, but we have to be selec­tive. You can never ever do another porn film again. Do you understand?"
"Absolutely," I said, relieved that Conrad was still willing to work with me. "You will never again see the name Jeff Eagle on a porno film," I promised. Jeffrey Hurst maybe, I thought to myself, but never Jeff Eagle.
"One more thing," Conrad said, putting his glasses back on.
He took a long hard look, eyeing me hopefully. "You ever do gay films?"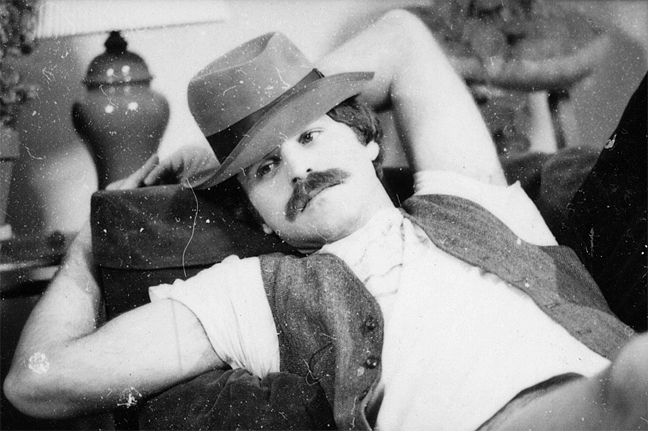 Jeffrey Hurst
John Leslie:
I've done everything in the business of X, or XXX, or sex films, whatever you want to call it. But I can honestly say, I had a ball on the set of those early films. I probably had more fun back then than years later when I was making money, winning awards, and supposedly a big shot.
That's definitely the case with a movie like 'The Honeymooners.' It was a blast.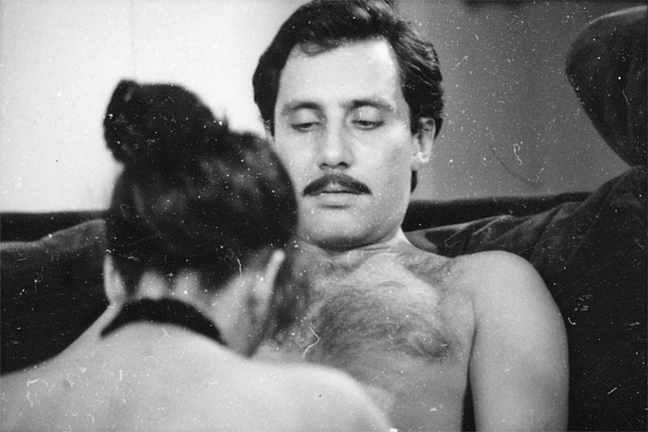 John Leslie
C.J. Laing:
I have no negative feelings of my time in films. I was going through a lot at the time, but the films were the result not the cause. If anything, the people I met through the films were a tight-knit community that embraced me and made me feel secure and validated in a strange way.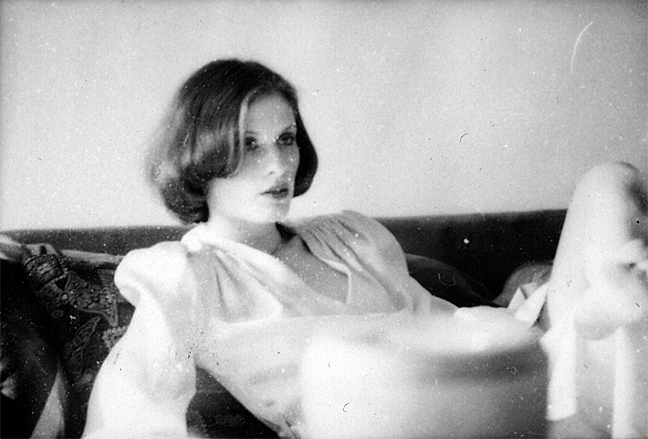 C. J. Laing
Terri Hall:
It was all so long ago. I don't really remember many individual films. But I remember people's kindness. Everyone cared for each other.
I thought of that after I returned to my hometown of Elmira, NY, and cut all my ties to New York. People looked out for each other.
Who knows, maybe it was because some of us were lost.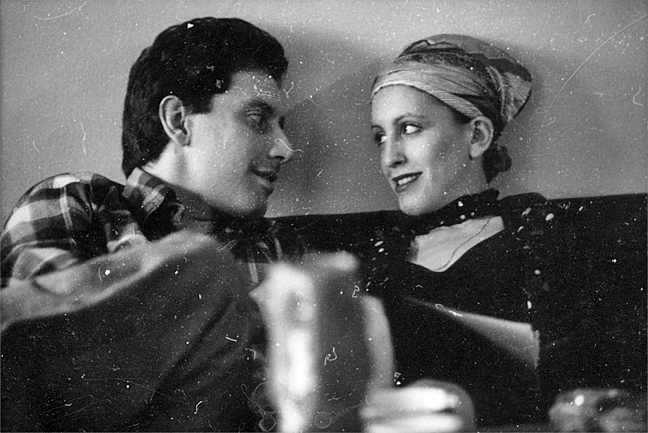 John Leslie and Terri Hall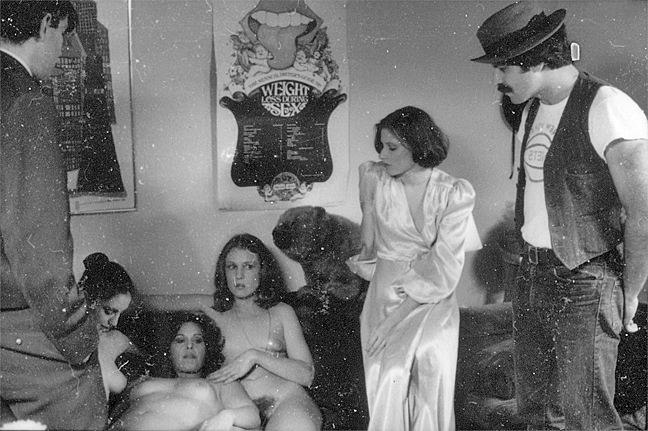 The cast of 'The Honeymooners'
*