Steven Ziplow's book 'The Film Maker's Guide to Pornography' was published in 1977. It was an unusual work: a detailed how-to-make-a-porn-movie for the second generation of adult filmmakers. It was written by someone who had worked in almost every capacity of the business (Steven had been a director, production manager, writer, soundtrack composer, and bit part actor in a number of sex films) and the book covered all aspects of the business.
In addition to tips on casting, raw film stock, managing impotent actors, setting up tax shelter financing vehicles, and lubrication (!), it also featured stories from Steven's own career such as the marketing of 'Snuff', the saga of 'Captain Lust', a detailed account of making 'French Classmates', and interviews with notable figures such as Gerard Damiano, Walter Sear, Jack Bravman, Beau Buchanan, Carter Stevens, Arthur Morowitz and David Darby.
Over the years, the book has increasingly been used by colleges and researchers to learn about the mid 1970s adult film industry, and its popularity with fans of the era has grown.
Steven Ziplow speaks to The Rialto Report about his adult film career, and the story behind the writing of a cult classic.
A full copy of 'The Film Maker's Guide to Pornography' is available below. Please click on the image to read the book.
_______________________________________________________________________________________________
Please click on the image above to read the full book.
Getting Started (1974-1976)
I wrote the book 'The Film Maker's Guide to Pornography' after I'd spent a few years in the growing adult film industry in New York in the mid 1970s.
It all started at Walter Sear's recording studio in Manhattan. Walter had the only vacuum tube recording studio in New York. It was a completely unique place, and Walter was one of the world's foremost experts in vintage recording equipment. He was also a pioneer in the development of synthesizers, as he'd partnered up with Robert Moog and built the first instruments.
Walter ran Sear Sound, his studio, and he recorded people like David Bowie, Paul McCartney and Patti Smith there.
The day after I graduated college, one of my parent's friends, who was Walter's accountant, got me a job as a grunt. I had to make the coffee, set up the studio, break down the studio… basically all the most junior work. Walter paid me $50 cash a week, which in 1973 was still not a lot of money. To put it politely, Walter was parsimonious.
After three days on the job, he said "You see that studio in the back? It's a film mix studio. And we still mix a lot of low-budget movies, including some of those X-rated type movies."
He said he hadn't been doing it long. The week before I got the job, they'd shot the movie 'Fringe Benefits' (1974) which he said was one of the first he'd produced himself.
I'd never really even seen a porn movie, so this was a big deal to me. Typical for Walter, he'd shot it on a shoestring but it nevertheless featured some of the bigger names of the time, like Eric Edwards, Georgina Spelvin, Darby Lloyd Rains, and Cindy West.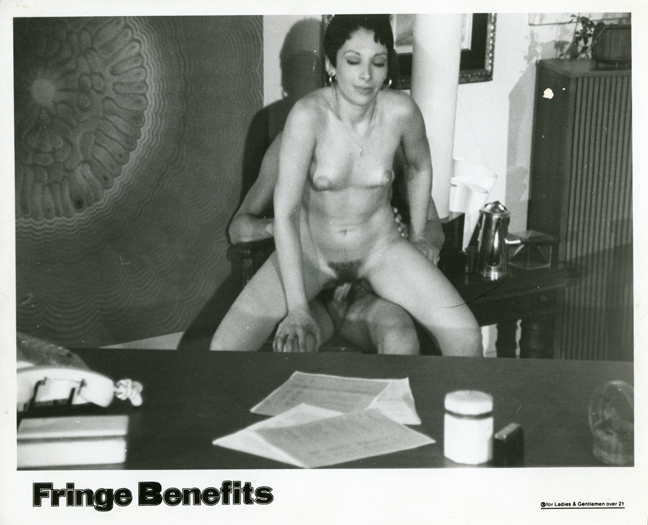 The director of 'Fringe Benefits' was this Rhodes scholar and a director of commercials. Walter did it all in-house, and when it came to the music, he basically stole it or told people who came into the studio, "If you want to do a demo with us, you can do it free, but I get to use it in a movie."
That's what he did in 'Fringe Benefits' with this group called Slim Pickins who were from Allentown, Pennsylvania. But he needed some help, so he said to me, "You think you could write some dirty lyrics?"
I said, "Hell yeah! I got thrown out of fifth grade for writing dirty lyrics!" So I wrote a few of the songs for the film – which was something pretty uncommon in the porn industry at that time. I remember Al Goldstein had the lyrics to two of my songs printed in Screw magazine – which I thought was the coolest thing in the world. Bear in mind I was only 23 at the time. That explains a lot.
I remember going to see the director editing 'Fringe Benefits' on a moviola, and I watched Eric Edwards ejaculate and then un-ejaculate, and ejaculate, and then un-ejaculate, back and forth on this screen. I had taken two semesters of classes in film school, and as I looked at this all I could think was, "I'm not sure about this… This is weird." I just didn't know what to make of it.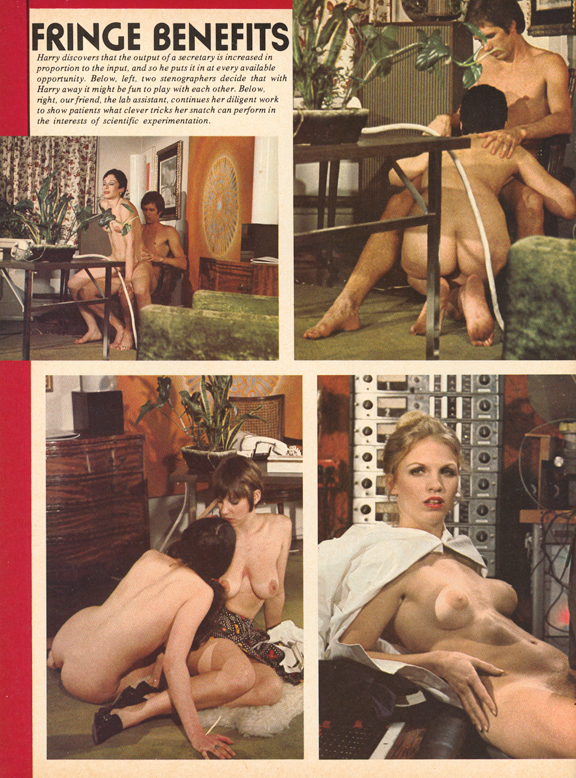 The success of 'Fringe Benefits' took Walter by surprise. Apparently, he thought it might be just a one-time thing. He had no idea that the movie was going to run for fourteen weeks at the Circus Theater. He made so much money from that movie that he wound up with a new townhouse and money left over, so he just stayed in the industry and made some more.
There was one golden rule though. He was a serious and respected guy in the music industry, and so he made damn sure his name was never connected with the films. He always used made-up credits for himself, and gave false names to everyone else involved. Not that you'd ever think that people were using their real names when you saw credits – that included gems like Mike Kutchakokof, Peter Pimpalot, Lonny Layitonme, Ronald McFondle, Johnny Cumquick, Curtis Cockalot, Donna Duitkwik, Henry Hardazarok, Connie Lingus, and Manny Munchcunt…
The studio itself was impressive, and I used the recording space for a sideline business of my own. A friend and I formed our own ad agency. We had clients like the Negro Ensemble Company and Little Hippodrome, and we'd make commercials for them. We used the studio at night, so when Walter left, I'd open up for business, turn on the mics, and got my company going.
Around this time, Walter became partners with Roberta Findlay – in life and in film. I remember them both working on 'Slip Up' (1974). My first recollection of Roberta was when Walter was doing the sound for some kind of a fuck scene, and they needed moaning and groaning overdubs. I wound up in a little tiny sound booth with Roberta, with me moaning and groaning like "Oh, oh," and she was going, "Ah, ah," and that went on for 15 minutes. I was rolling my eyes, thinking, "This is the way I'm earning a living!? Oy…"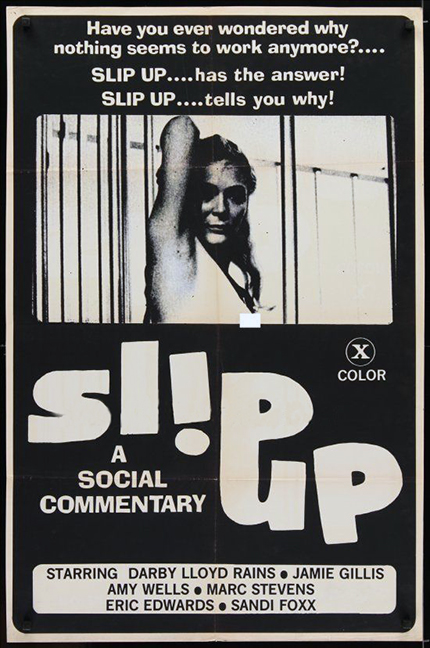 'Slip Up' was the first porn film where I was involved from the start. Walter wrote the initial outline of the script and then, unbeknownst to him, I retyped it and made it better. To be honest, he never noticed the difference. I was also assistant director and production manager on the film. Basically, I was assistant everything. Walter was not really the director on these films. The director of photography was the real director. Walter let the DP set the scenes up, and then one thing flowed to the other. (Excuse my turn of phrase there.) There really were no problems on set.
I actually volunteered to act in 'Slip Up' in a gorilla costume. I remember getting scabies from wearing it. That was a dumb idea.
We shot 'Slip Up' on one of New York's main TV sound stages. We used the studio where the TV soap 'One Life to Live' was shot, and that was a pretty old studio. It was located down in the Lower East Side, almost in the Bowery. That was a rough area in the mid-1970s. Walter always made me bring the cash which he used to pay everyone. This was a dangerous occupation. I walked from East Fifth St. with $5,000 in my army jacket, stepping over people lying on the street and looking out for anyone who could mug me.
Some of the music in 'Slip Up' came from the jingles for commercials that we recorded. We just cut out the words, and maybe Walter would add some piano, and then I'd write new lyrics. So the commercial would be, "Floor Shine. Come on down to Floor Shine," and at night I'd turn it to "Slip Up. A great big trip up. Nothing as fun. They're all out having fun." We continued to do this in other films, and no one ever even recognize that we were using their tracks.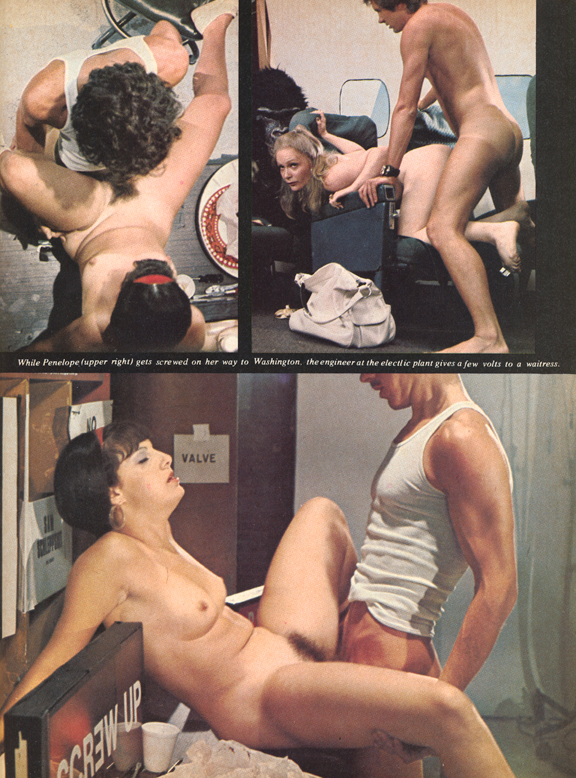 Stills from 'Slip Up'
I started dating this actress from 'Slip Up' named Ginger Snaps. She was the girl they killed in the film 'Snuff'. She was a nice girl, but the closest thing I've ever seen to a nymphomaniac in my life. I think she'd spent most of her life up to that point at a school for delinquents. I remember Sandi Foxx complaining that Ginger had been to an orgy at Sandi's place and apparently didn't follow the rules because she wound up sleeping with every guy there. Sandy was mad as hell, and was calling her a whore…
One New Year's Eve, I took Ginger up to meet my parents. They were having a little cocktail party, and they knew I was bringing a porn star girlfriend up there. After a while, my best friend walks in the front door, and she asks, "Who's that?" I tell her, "That's my best friend Julian." She says, "Great, can I fuck him?" I sighed and said, "Yeah, go ahead if you want to." A short while later, Julian comes up to me and says, "Is this all right? She says wants to fuck me?!" I said, "Yeah, sure. Go right ahead." So that's how that relationship ended…
Roberta was into making films more than Walter, and I worked on other film sets with her, in which she was the director of photography or sometimes the director. We also did a fair amount of work with the director Jack Bravman. Jack was the master of shooting two or three films in three days, and Roberta shot a lot of them. I often helped Roberta by carrying the battery pack for her camera. She would walk among naked bodies, and I'd be straight behind her carrying the pack. It was never easy.
Roberta was good though. She knew how to shoot fast too. She had a knack of knowing exactly what the producers or the director wanted. She knew what she was doing, and she was a straight-up, nice, fun person to work with. I liked her a lot.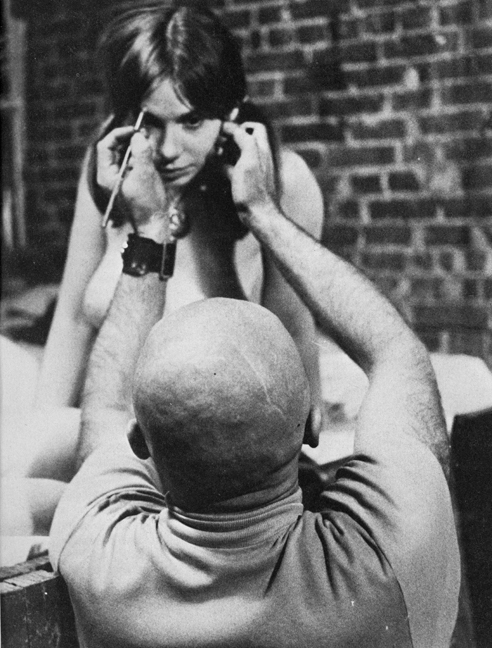 Walter's movies were so successful that soon he was funding the expansion of this highly successful recording studio by making porn. Walter used a lot of the profits to upgrade the equipment. When I got there, he had a vacuum tube control board which was a four-track. After the first movie, it was an eight-track, and then after the second movie, it was a 16-track. He made so much money on each film, and he ploughed much of it back into his studio.
Quickly I went from doing nothing to being in charge of everything. I was even doing the voiceovers for trailers – like 'Snuff' (1975) which Roberta and her husband, Michael had filmed most of in Argentina. I remember it well: "Made in Argentina, where life is cheap."
It was Walter Sear who had the idea to take Roberta's footage and turn it into the film 'Snuff'. He actually had the idea sitting next to me in the car. He said "Did you see the New York Times today? They're talking about those movies where people kill each other at the end."
He said, "I don't know if I believe it… but I bet you something: If I took the movie 'The Slaughter' and got them to shoot a new ending, and we named the movie Snuff, I could make a lot of money." So he did.
Eventually Allan Shackleton, who was another of Roberta's boyfriends, got the rights to Snuff. Walter didn't want to be the distributor because he knew that it would be controversial and a lightning rod. He was afraid of the publicity. So he kind of traded me over to Shackleton for a little while to work on it… and Walter was right. Allan and his company were getting hate mail every day, and the National Organization for Women made it into a big deal. I thought, "This is not what I wanted. I don't want to be here. I don't want to do this."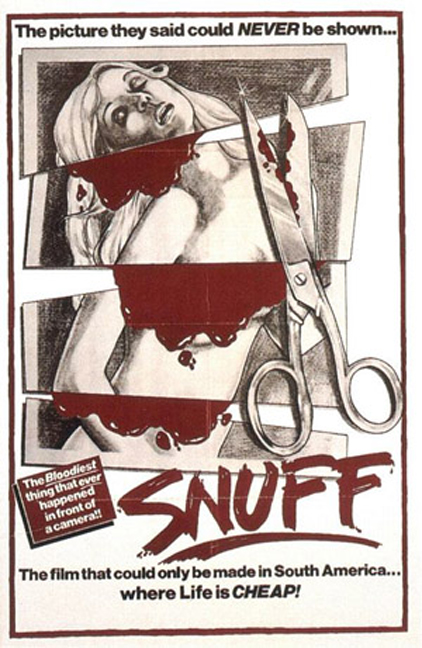 I started doing more work with Jack Bravman. I really liked him. He was the most normal guy that I worked with. He had a partner named Charlie who provided the finance, who was obviously mobbed up. Shortly after I went to work there, Charlie died, and his son inherited 50% of Jack's business. His son knew nothing about film. He was always there though, collecting his half of the profits as the beneficiary of the will. This guy did nothing.
I remember shooting two movies with Jack back-to-back, one of which was 'French Classmates' (1977). It was shot up in Nyack, and I told the story of the shoot in the book. Jack traveled up there in his Mercedes and met the rest of the cast and crew there. I got myself on the crew because I wanted to take some pictures, so I tagged along as Roberta's assistant.
I particularly remember the orgy scene. Something I had never seen before. There were so many bodies. Roberta was shooting, and I was just trying to hold the battery pack and stay as close to her as possible, while trying not to step on people's genitals. There was one scene with a young kid who was new to porn. He was "a grow-er, not a show-er", and all of a sudden, this thing pops out between his legs and just kept growing. Holy fuck! Eric Edwards was also in 'French Classmates' as were Sharon Mitchell, Bobby Astyr, and Jenny Baxter. It was a surprise for me to see Jenny because she'd been two years ahead of me at New Rochelle High School.
Another memorable shoot was Jack Bravman's 'The Honeymooners' (1976). 'The Honeymooners' was shot in Roberta Findlay's apartment. I became friendly with Jeff Hurst on that shot. He was a really nice guy. We used to play handball together but I could never beat him. I also liked Jamie Gillis, who really was an actor, and he used to take off and do summer stock and Shakespeare between the porn films. Bobby Astyr was a good actor too, and he was one of the funnier guys around. If you wanted a hyper, zany character actor, he was really good at that.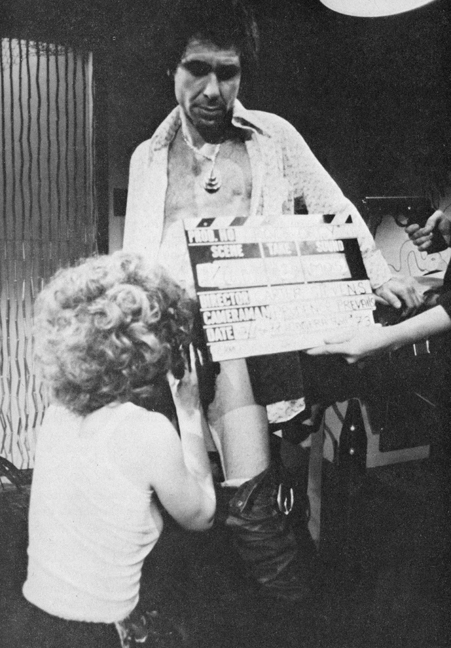 C.J. Laing was in 'The Honeymooners', and Jack was constantly trying to get her to act a little better. She ended up turning around to him, saying, "Listen honey, I don't get paid to act. I get paid to fuck."
*
'Captain Lust' (1977)
It was around this time that Beau Buchanan started to put together 'Captain Lust' (1977). Someone told me that he was looking for a writer. Gloria Leonard had been working on the script, but she'd just gotten a job at High Society and couldn't work on it anymore, so she turned it over to me. I met with Beau, and I knew he had done 'Happy Days' (1974) which had been a big success, and we hit it off.
I wrote the film with Leslie Manday. We scrapped most of the existing script, and only kept one part of it. I would go to Beau every day and we'd talk about a scene and then I'd go back and write it with Leslie. It was nice because we wrote it in my apartment in the Village and then we'd go out, we'd play pinball at the arcade next to Gerde's Folk City, and the next day we'd see If Beau liked it.
Beau did like the script, but said "Listen. Leslie's scenes sound too girly. Yours sound much more piratey." So he asked me to rewrite all her scenes in a more masculine, aaaaaargh, type of pirate voice. My pay for all this was $100.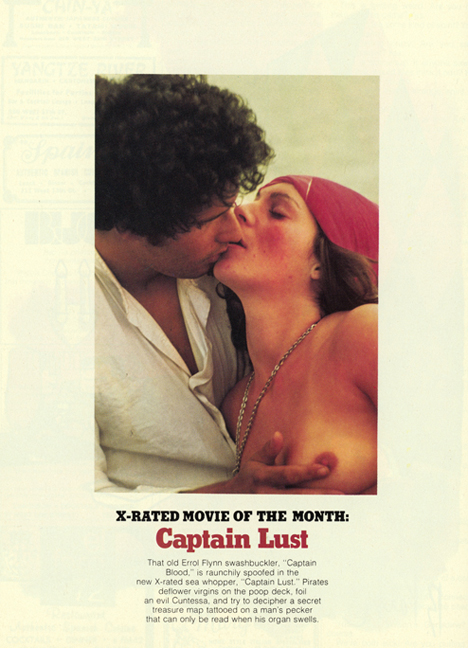 I believe this was one of the first X-rated films to be made with a budget of over $100,000 which was humongous at the time. Jack's films were less than $17,000 and Walter's stuff was around the $30,000 mark, so this was a big deal.
When I finished the script, I was excited to start work, but it really went downhill from there. It was a totally cursed production. Totally cursed.
The problems started with the ships. The first ship was one that was part of the bicentennial celebrations that year. They had all these tall ships in the New York harbor, and Beau managed to get an old one that needed fixing up. It looked good from a distance but was dilapidated. Beau paid $500 a day for it. The plan was to start filming in New Jersey on a three quarters replica of the Santa Maria at a museum there. Unfortunately, someone told them that we were doing an X-rated movie, so we were thrown off the boat after just one day of shooting.
Beau comes up to me and says, "You have to rewrite the script, so we can shoot everything on the rental boat instead." I had to rewrite a third of the movie with a manual typewriter and a couple of pieces of carbon paper. I complained so he promised me 1% of the net. I accepted… that was a dumb deal but I rewrote the entire movie. Different locations, different scenes, different everything.
By now, the cast and crew were living on the rented boat, and they stayed there for the duration of the shoot. Bear in mind, the boat wasn't moored in the harbor, it was out to sea. In fact, for some reason, it was far out to sea…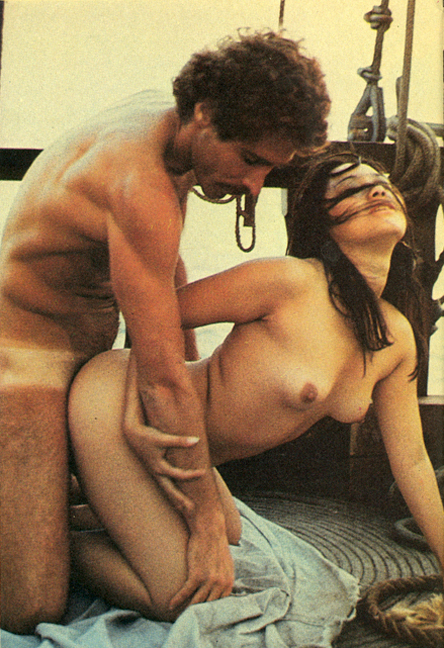 Conditions on the rental ship were not good either. For a start, there was no working shower. I don't know if you've ever been on a sailboat in the ocean but it gets pretty salty and grungy after the first day. Furthermore, there were no real places for us to sleep. Worst of all, there was only one working bathroom on the boat for everyone… and we had about 40 people onboard. It was horrendous, and I was sat there in the midst of this trying to type a new show.
People complained about the caterer too. It turned out this person could not do the cooking. We had toast with meat gravy for breakfast. No one had ever seen anything like it. It was unbelievably bad.
In the middle of all this, Beau just lost it. He was a different director than he was a co-writer – and he couldn't handle the pressure. Carter Stevens was the production manager on the set, and he was struggling with Beau too.
The battle scenes were particularly fraught. There was a lot of smoke, and a lot of guns. I know one gun was discharged close to this girl and she got powder burns on her breast, and wound up suing Beau. One guy had gone out to a bar on the first night, and gotten the hell beaten out of him. He came back with two black eyes. We considered it an opportunity, so we used his face prominently. We didn't even need makeup. His face was all purple. But at least the battle scenes came out looking phenomenal. You can't believe it's an X-rated movie when you look at it.
It turned out that somebody at the museum told the police one of the boats was filming a porn movie off the shores of Jersey, so by the third day we had the U.S. Coast Guard, the Customs Department and helicopters from the NYPD around the boat. ABC News reported the story, and my parents were sitting at home watching. Apparently they said, "Isn't that the boat Steve's on? I'm so proud of him. Four years of college…"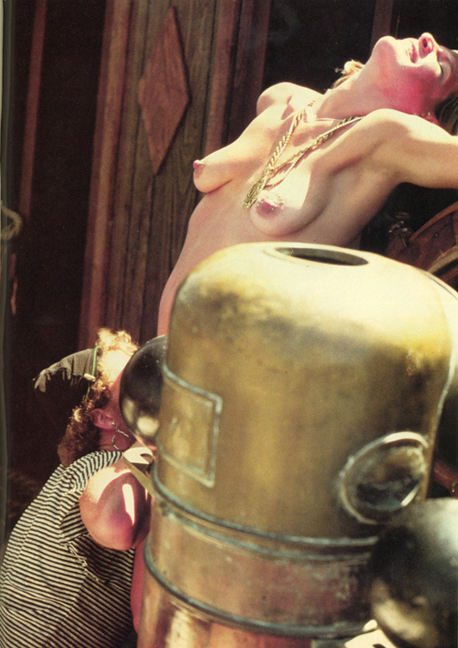 Beau got everyone together and said, "Firstly if anybody has any kind of drugs on them, throw them overboard right now. Secondly, only the men can take their shirts off on deck." It was really spooky to be watched like that.
Surprisingly the person who bailed us out was Sharon Mitchell. This was one of the first movies she'd been in. The story I heard was that her father was a sheriff somewhere in New Jersey. He got involved, and helped us out. If it wasn't for him, the authorities would have boarded the boat.
I lasted three days. I found out that someone was arriving with supplies, and Beau said if anybody wanted to leave at that point, they could. I said, "That's it. I'm outta here. I'm not staying another second."
I think that Beau felt I let him down, and maybe I did.
The film didn't go any better after I left the set. They lost over half the film at the lab so many of the scenes had to be re-shot. It was winter by then and they had to take some of the cast and crew down to Florida to re-shoot the second half of the movie. The finished film wasn't as good as the one I'd written.
*
'The Film Maker's Guide to Pornography' (1977)
I was looking for a new project and I knew I wanted to get out of the industry, so I came up with the idea of writing a book. I'd learned so much by making adult films, so I thought a guide on how to make an erotic film would be a good idea.
From 'The Film Maker's Guide to Pornography':
This book was written for two different types of people: those who really want to learn about the production of X-rated pictures and those who may be fascinated with the subject matter. If you cannot or do not want to become directly involved with porno but want to know all about it, reading this book is almost the only way.
For years, the only books published that had anything at all to do with porno movies were erotic paperbacks about the starlets of porn. No attempt was made to delve into what makes these productions unique to the field of motion pictures. No one has ever written a book explaining the intricacies of producing a low-budget, X-rated motion picture – so I did?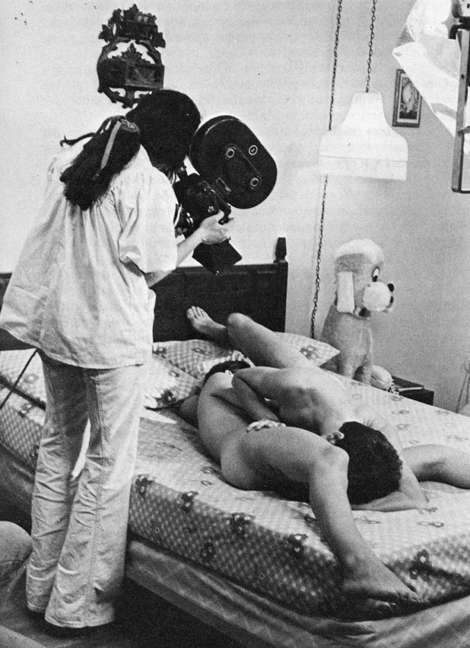 I actually did it ass-backwards. I wrote to every publisher, every book agent in the tri-county area about my idea. I wrote a chapter or two in advance just to show what it'd be like, but I got turned down by everybody. The rejection notices poured in… and I started scotch-taping them to the back of my closet. There were rows and rows of them. Nobody wanted to have anything to do with a book about porn.
Then I got a letter from a woman named Robin who worked for Drake Publishing. They were just getting big with the men's magazine 'High Society'. They invited me out for my first three-martini lunch, and they loved the concept. They gave me $1,000, and just said, "Give us 90 pages in three months' time, and we want a certain number of photos too."
So I wrote it all on this onion skin paper that was popular back then. I wrote about my experiences on films like the two-film shoot with Jack Bravman when we made 'French Classmates' and another film.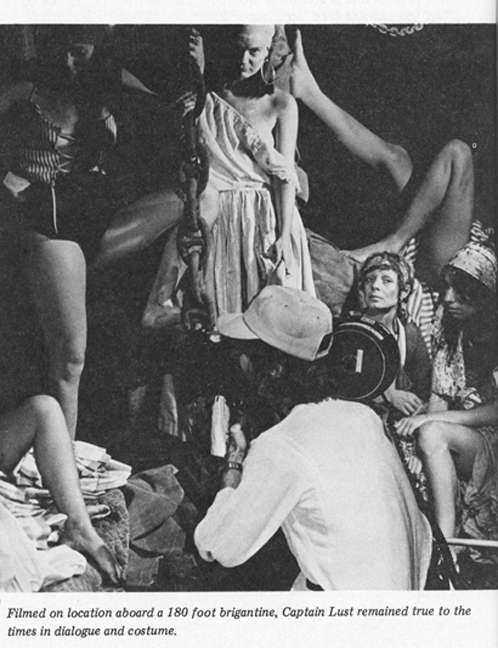 From 'The Film Maker's Guide to Pornography':
Our shoot was located in Nyack, New York. My van was the second-to-last in the five-car parade. I was followed by (Jack Bravman) in his Mercedes.
We were set up and shooting before 11.00am. The shooting schedule for the day was:
1. Hitching scene
2. Rape in car
3. Couple picnic
4. Couple with groupie
5. French schoolgirls looking at couple
6. French schoolgirls walking through field
7. Rock-group manager finds groupie
8. Rock group with girlfriends
Don't ask what these two movies were about – I never did get the story lines straight. What I do know is that certain scenes were meant to be included in both pictures. While the hitchhiking scene was being shot, the Mercedes was being prepared out in the field for our rape scene.
The rape scene went well until we asked for an insertion shot. The cold weather was having an effect on our actor's loins. I'm not sure, but the fact that this was his first experience at porno might have had something to do with it.
When I finished it, it only came to 60 pages. I panicked that I didn't have enough material, so I came up with the idea of doing some interviews with the filmmakers I'd worked with.
I went to people like Walter Sear, Jack Bravman, Beau Buchanan and Carter Stevens, and told them if they'd be interviewed I'd mention their company names. And they said, "Oh sure great!" It was free advertising to them. I also interviewed two other people I'd come across in my X-rated film work, Arthur Morowitz and David Darby.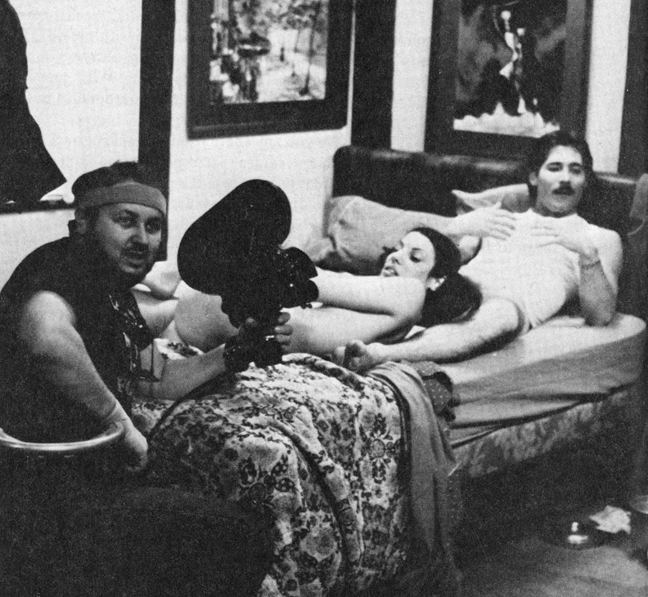 I'd met David Darby through Roberta because she was in business with him. He did more than just porn films. He had brothels and theaters outside of town. He was always very nice to me. Everyone thought that 'David Darby' was his real name, until one day he got busted. They came in with an arrest warrant for him. He just turned around and said, "No, that's not me." He showed them his license, which had his real name, and they had to leave without him. He was one of the smarter ones…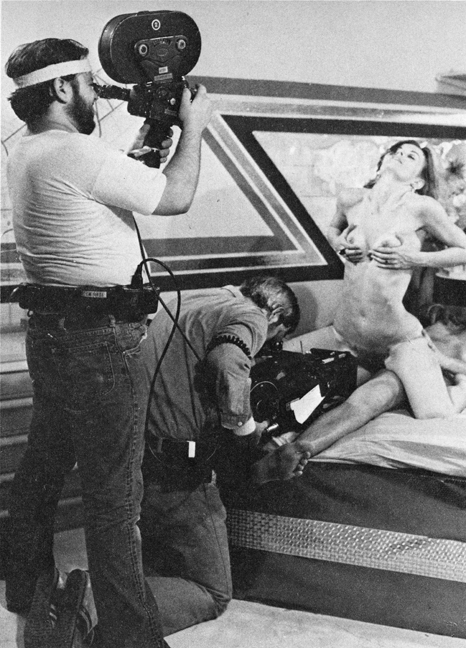 I just went along with my little tape recorder and I asked them all questions, and then I transposed the conversations word-for-word. Sadly the tapes got lost a long time ago. I wish I'd kept them.
Beau and Carter didn't mind me using their names, but the other guys were more keen on anonymity. So Walter became 'Mr. Blue', Jack was 'Mr. Brown', Arthur Morowitz was 'Mr. White', and Dave Darby was 'Mr. Gray'.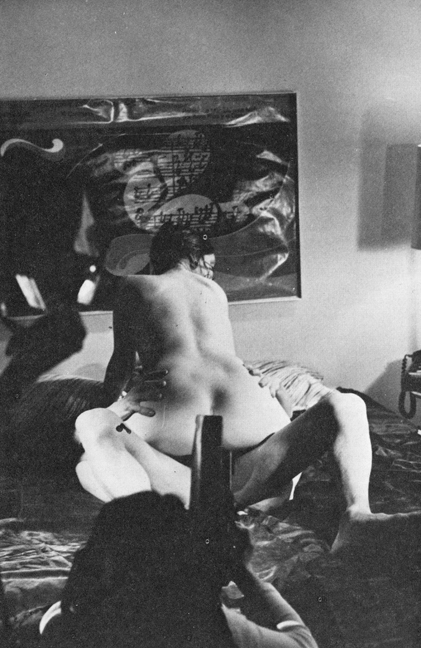 From 'The Film Maker's Guide to Pornography':
Carter Stevens is a well-known name in the porno field. He is 30-ish, extremely knowledgeable in the genre, and always on the lookout to become even more involved with the legitimate aspects of the motion-picture business. Carter is a film producer, production manager, jewelry salesman, director, and probably a lot of other things that I don't know about. He is approachable and genuinely concerned with the problems of the novice filmmaker. Some of his credits include: 'The Collegiates', 'Likity Split', 'Hot Oven', 'Mount of Venus', 'Sarah's Eyes', 'Highway Hookers', 'Rollerbabies', 'Teenage Twins', and 'Jailbait'.
Beau Buchanan is a film producer, film distributor, and yoga master. His film credits are few, but that in no way reflects his success. His credits include: 'Sexual Witchcraft', 'Soup de Jour', 'Happy Days', and the soon to be released 'Captain Lust'. The section on the shooting of 'Captain Lust' in chapter 7 shows that even a good producer can make mistakes and run up against elements that he has no control over.
Mr. Brown (Jack Bravman) is one of the all-time champion producers of the three-day wonder. His three-day, two-picture shoot is outlined and budgeted in detail throughout the book. He has more X-rated film credits than I can mention or he could remember. Some of his X-rated film credits are: 'The Saturday Night Special', 'All in the Sex Family', 'The Invasion of the Blood Farmers', 'French Schoolgirls', 'French Classmates', 'The Wetter, The Better', and 'The Honeymooners'. Mr. Brown distributes almost all his own pictures and enjoys dabbling in rock groups and racehorses as outside interests. He's just over thirty, drives a Mercedes Benz, and lives in a practically unfurnished apartment that also doubles as an office.
Mr. White (Arthur Morowitz) has been involved in the film industry for over 30 years but has only been distributing X-rated pictures for the past four. This man really knows the business of film. He has an understanding of how to get the most money out of a picture not only for himself but for the producer as well. White probably distributes more X-rated pictures than you've ever seen, and he does well with almost all of them.
Mr. Blue (Walter Sear) is the type of guy who works around the clock 7 days a week, 52 weeks a year. He is involved with close to 20 different businesses ranging from distributing chocolate in South America to producing X-rated motion pictures. His entrance into the world of porno was not pre-planned: he suddenly just found himself in the middle of it. The story of his entrance into porno is parallel to mine because I was his assistant at the time of his rise in pornodom. I will get to that little story later in the book, so keep on reading. Some of Blue's credits include: 'Fringe Benefits', 'Slip Up', and 'Dear Pam'.
Mr. Gray (David Darby) is a film distributor who seems to be doing quite well for himself. His name is often mentioned in the inner circles of porno, although many outsiders have never heard of him. He produces some of his own pictures, but his reputation is stronger in the distribution aspect of the business.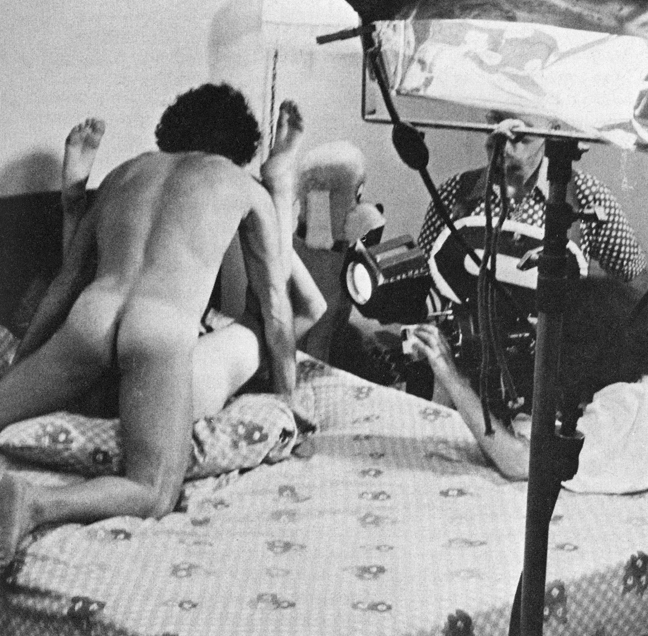 The book came together well, and I sent it off to Drake Publishing, but before it came out I got a call from them asking me to come down to their offices. When I got there, they said, "Bad news, we just sold the company. Your book's at the printer right now, and we don't know what's going to happen to it."
Eventually Sterling Press, who were the people behind the Guinness Book of Records, bought all the inventory from Drake. I went in to see them, and the head guy told me, "We have absolutely no desire to put this book out, but when the sale went through, your print type was already laid out and it would have cost us more money to take it apart… So, we're going to print 10,000 copies, and if we sell half of them, we'll consider ourselves lucky. Then we're through, and we're going to be done with it."
The book went on sale for $6.95, but I didn't see any of that. I never had an agent because it was the publisher that came to me. So instead of getting $4 on each book, I got a few cents.
I laughed when I saw the back cover because it has a bio for me that is made up. It says that I graduated from NYU, which I never did. I graduated from Hofstra. It says I went to Real Estate School at NYU, which wasn't true either but I did have a real estate license, so they probably decided it sounded better.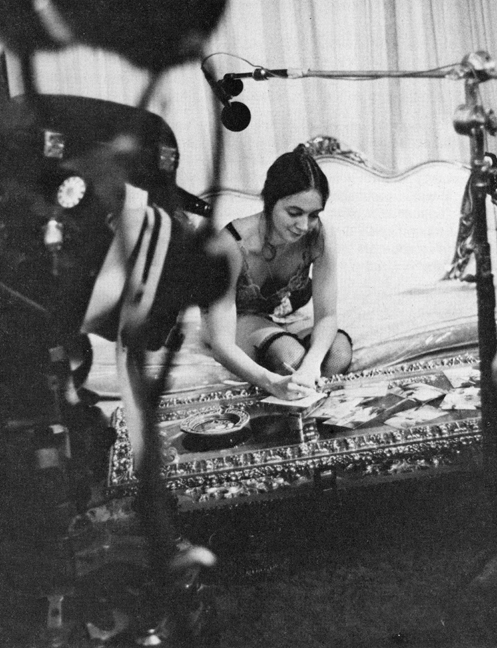 The front cover had a picture of C.J. Laing on it, and when the book came out, I suddenly got a call from her saying, "Is this Mr. Ziplow? This is C.J. Lang and I've just seen a book with my picture on it…"
I said, "Hi, it's Steven. Don't you remember me? We were just on the set a few days ago, remember? I was the guy holding the battery packs for Roberta while she climbed over you filming you in an orgy. That cover picture was taken from a Carter Stevens film. I have a copy of your contract saying you can be used as publicity."
She was silent. That just shut her up, and she never bugged me again. Good thing I covered myself, you know?
At first, the book seemed to disappear without a trace. The few bookstores that had it put it in the oversized book section, because it's slightly larger than normal paperbacks. I had friends going around to every bookstore in New York and ordering two copies of it just to get it on display.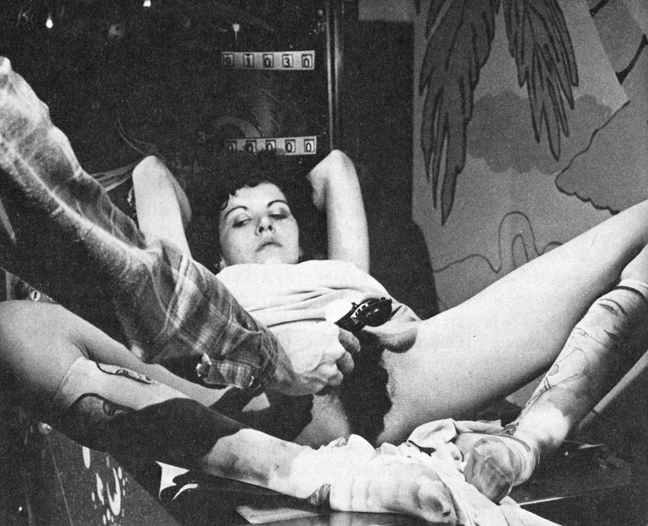 It was clear that the publisher wanted to hide the fact that it was publishing the book, so after a while they started putting it in the remainder bins to sell it off real cheap. I think that they sold it for $1. But here's the irony: The stores kept selling out, so there was suddenly a demand from the booksellers for more copies. The publisher figured they could make a little more money so they printed another 10,000. And then they'd sell out again. So even though they weren't charging more than $1 per book, it was slowly adding up.
They ended up doing ten printings of 10,000 copies each, all of which sold out. 100,000 copies was enough to get close to the New York Times Best Seller List for Non-Fiction! I wound up getting next to nothing because of the low retail price, so all I got was the $1000 advance that I had up front.
For years after the book came out, I'd get letters every day. Most of the letters went to the publishing house, and invariably they'd ask, "How do I get into the business?" Sometimes I'd write back and say, "Don't."
I did make one other adult film, 'Breaker Beauties', after the book came out. I was proud of it, and wish that I'd made it before I wrote the book because I learned so much from the experience.
The afterlife of the book has been strange. I started making some more money from it years later. This was after the internet started, and I started buying copies for $8 or $9 and then selling them for $40 on eBay. I probably made more money selling it on eBay 25 years later, than I actually did on the actual book itself!
Over the years, I was approached by more than one professor to rewrite the book and take out the sex. A few of the professors said, "I teach a film course, and I'd love to be able to have this on my syllabus, but I can't because of the sex."
But recently there has been a real interest in using it in college courses. Once I got a call from the head of the film department at Hofstra to come out and talk to them. He had no idea that I'd graduated from Hofstra.
It's strange that this book… that so many publishers feared getting involved… with has now acquired a certain respectability. If you live long enough, it all seems to come around.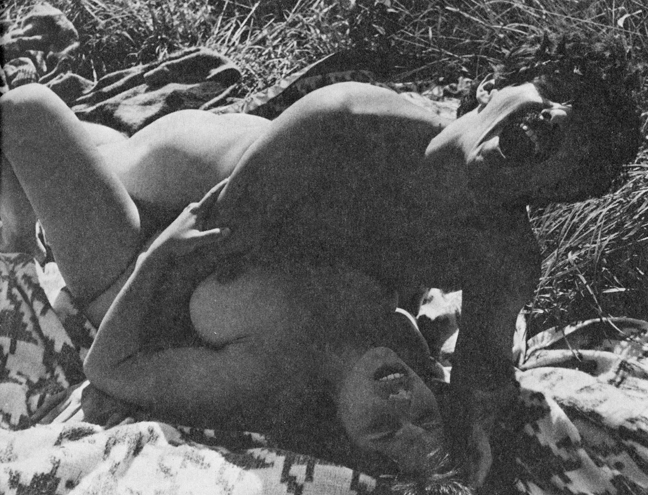 *