The Rialto Report has interviewed many people who had long careers in the New York adult film industry.
But what was it like to be a lower profile actress, someone on the periphery?
Sandi Foxx started appearing in films in 1974. She wasn't a big star, but she worked with people like Marc Stevens, Darby Lloyd Raines, Gerard Damiano, Wade Nichols, Tina and Jason Russell, Joe Sarno, John Leslie, Jamie Gillis, Leslie Bovee, Lenny Kirtman, Mary Stuart, John Holmes, Bree Anthony, Tony Richards, Veri Knotty, Abigail Clayton and many others.
And then, after a couple of years as a performer, she became the first in-house agent for porn talent in New York – using her contacts and knowledge of the industry to start her own business connecting the filmmakers to the talent.
We interviewed Sandi recently – and compared her answers to extracts from articles published about her in the 1970s to see how much her perspective has changed.
What was the New York sex film industry like in the early days? How easy was it to run a legitimate agency for an underground business? What happened when the tax authorities knock at your door – believing you are the one person who connects everyone in porn film industry? And what happened to Sandi's little black book – that contained the details of every actor, director and producer from the business?
This is the story of Sandi Foxx: Swinger, Adult Film Actress, Party Girl, Porno Agent.
Then and now.
_______________________________________________________________________________________________
Introduction
When was the last time someone called you Sandi Foxx?
Thirty plus years ago. A really long time ago. It feels like a couple of centuries at least.
When you look back at the time, how clear are the memories in your mind?
Some of the memories are really, really sharp as if they happened yesterday, but others… if you told me I was there, I'd have to say I don't remember a thing. I think you just forget some of the unpleasant things on purpose; the dirty sets, the unpleasant people…
I've recently sent you pictures of many of the people you worked with in the 1970s – and memories have started to come back to you.
Yes, when I look at the old photos, it's like time stood still. It's weird.
*
Sandi Foxx: Early years
Let's start at the beginning. Are you a native New Yorker?
Yeah. I was born in Manhattan. We lived in Brooklyn and then Manhattan. Then my dad took a job out in Ohio, but that didn't work out. He didn't like living there or the weather. And he didn't like the job so he went back to his old role in Manhattan and he was happy. We all moved back and lived in Riverdale which is part of the Bronx. I went to an all-girls high school.
What were you like as a kid?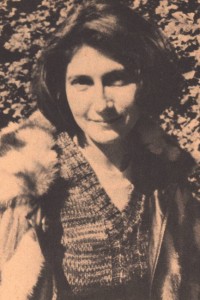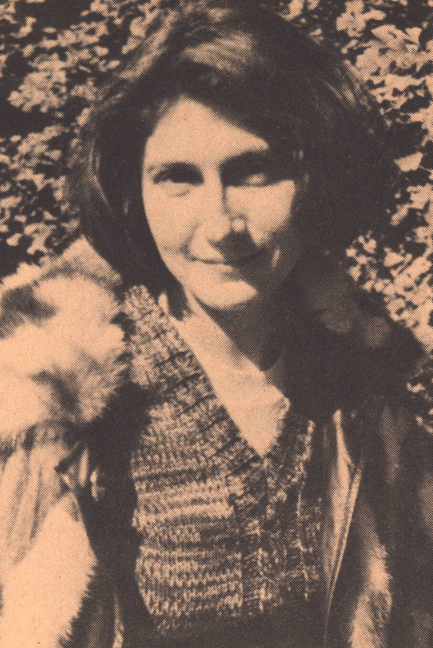 I was a spoiled only child, but I had a good relationship with my parents. They both worked so I could have all the extras.
I was okay in school and I went to college at CCNY – the City College of New York. It's in Manhattan, actually it's in Harlem. I started out as a history major but there was too much stuff to memorize, so I did sociology instead because that was popular in those days. I wound up not finishing because I got involved with the guy who turned out to be hubby number one. He was a mistake.
You must have got married fairly young?
Twenty one.
How soon did you realize it was going to be a mistake?
A couple of weeks. I think my father was right. My husband was a wild man. Strange as it might seem, he thought sex was like having a great dessert once a year. That was strange for two people in their early 20s so it was a peculiar relationship. I guess we both just wanted to get out of our parent's house. It was a dysfunctional situation.
Extract from '10 ½!', by Marc Stevens (1975)
"Her only tragic flaw is to have a genuine heart of gold. She had a husband once who allowed her to put him through college and pay all the medical and dental bills… and then he started asking for extra bread to take his girlfriend to the movies".
What was the final straw in the marriage?
He was an armed forces veteran so the government gave him money for education; he went to college and he drove a cab at night. But when he was in school, he found himself a sweetie. He brought her home and banged her on our living room water bed. How nice! At least he didn't screw her on the bed we slept in. Neighbors told me about it and so I packed up his stuff, put his clothing in a suitcase outside, and changed the locks. It was goodbye hubby number one.
That was the last you saw of him?
No. He came back and he hit me. That was the last I saw of him, and that was the end. Yeah. It was divorce court after that.
Extract from '10 ½!', by Marc Stevens (1975)
"(Sandi) makes fine bread, so in a nice role reversal she threw him out without a penny. Once liberated, she found herself coming and going, one for lunch, one for cocktails, one for dinner, and God knows how many at the party afterwards".
Was it at this stage that you went to work for a Catholic publishing firm?
Yes. I had bills to pay and I was on my own. So I got a job doing accounting clerical work and bookkeeping there.
How long did that last?
Until I got caught banging the art director!
What happened there?
Well… he was married and he was the art director and I was the junior accounting clerical – so… the person who got fired was always the lowest person on the totem pole. He kept his job and I got fired.
*
Swinging in New York

Extract from '10 ½!', by Marc Stevens (1975)
"Swinging had just been invented and Sandi bounced into the syndrome like a piglet into the trough and found she was one of the best players. At parties we've gone to she's the most popular chick in the pile. She even gets wild cheers the moment she juices through the front door, with all her clothes on".
Was it at this stage that you became active in the swinger scene in New York?
Around that time, yeah. I can't remember who introduced me to it, but I remember one night, I went with these people to this free-for-all orgy which was like something you'd see in a picture of the Romans in the first century.
Can you describe what the swinger scene was like in New York back in the early 70s?
There was one bar in particular in Manhattan in the Flower District, around maybe 26th St and 6th Ave. They had a regular lunch and dinner thing going on during the week, but on Friday night… that's when the swingers gathered to meet each other and arrange things. I don't know how or why that bar came to be our main meeting place, but that was the place. We'd break off into groups, and it was usually fifteen to twenty people going to someone's private home. We called the swinging part of the evening 'dessert' – but some people just couldn't wait to get to the dessert and they would end up screwing in the bathroom there.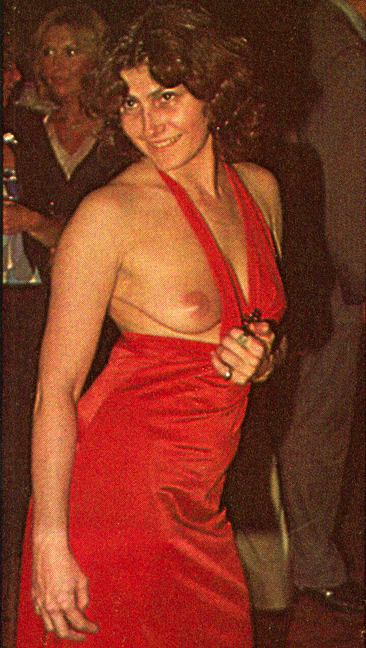 Sandi Foxx (mid 1970s)
It was a regular thing for me: I'd come home from my office job to my apartment in Queens, feed the cat, take a nap and have a bite to eat, then head into Manhattan to the bar. I knew many of the folks there, and each time we'd end up being invited to a swinger party at someone's home. No strings attached sex for fun. Perhaps that is what I was looking for at that time.
Extract from 'Interview: Sandi 'Anytime' Foxx', Man's Magazine, by Allan Brooks (February 1976)
"She is, it goes without saying, flamingly bi-sexual. Her primary rush comes from… deflowering fresh young virgins. Young gentlemen bring her young ladies as presents, and the way to Sandi's heart is through any available orifice".
What was the attraction to the swinger scene was for you?
It was just like a free for all sex thing, an exciting moment for a single person to live through. The worse we could catch was some sort of STD. If you caught something, you went to the doctor, got some medicine, and got better. It wasn't like AIDS. That happened years later.
You were swinging before places like Plato's Retreat started?
Way before. Plato's Retreat came along much later, long after I started in the whole swinger setup. Plato's cheapened the scene, and I found it a real downer. Men showing up with prostitutes. Men showing up wanting to screw everybody else's date but not having a date of their own. Not playing fair.
You partied in the nightclubs a lot at the time too. What was that like?
It was party city for me in my 20s. Actually it was party city even before that, when I was underage. I remember going to see Bo Diddley with a girlfriend in my mid teens, and we had fake IDs to get into a place that served liquor. We had fake IDs for the longest time.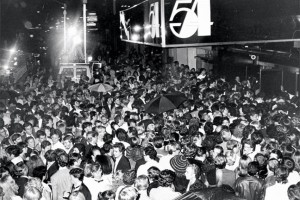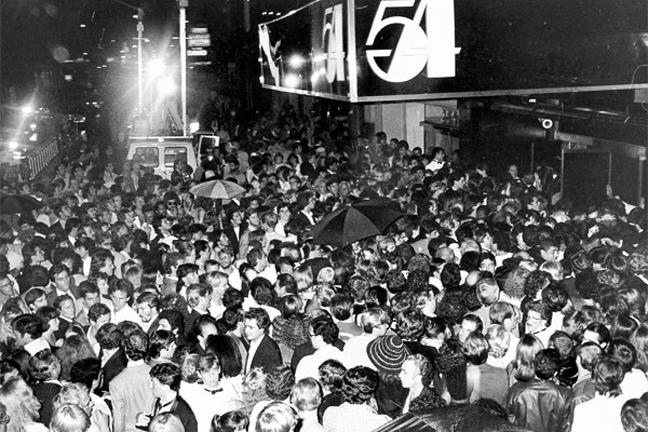 Did you ever go to clubs like Club 54?
Yes, but that was later too. It was a huge place; downstairs there was a big dance floor, whilst upstairs people were snorting coke and doing drugs.
I remember one particular private party there in the mid 1970s. C.J. Laing was sitting in a see-through bath tub. She had panties on, but that was all.
I often went to Le Jardin in the west 40s. It had a street level entrance but the club was downstairs. It was done in a garden motif with a big dance floor. They had shoots of booze served ice cold in test tubes. The idea was to swallow the icy booze quickly and return the empty tube to the waiter who was carrying the test tubes in a special holder.
*
Starting Out In Adult Film
During this time, were you aware of the 'porno chic' phenomenon that was growing in New York and across the rest of the United States at that time?
Probably not, although I vaguely knew that some of the swingers had been doing some nude print work or loops.
Extract from "Interview: Sandi "Anytime" Foxx, Man's Magazine, by Allan Brooks (February 1976)
"Sandi is a staple in the Big Apple heavy-swing scene. She organizes her love life and makes a lot of her screen connections across a crowded patchwork quilt. Which is hard because she rarely keeps her mouth open long enough for introductions".
Can you remember how you first were offered a part in an adult film?
I'm trying to put all the pieces in the puzzle together. This was a time when we thought nothing about smoking a fair amount of pot, so some of my memories are little hazy, a little smoke filled.
I still had an office job at that time, I'd divorced hubby number one and I needed some money. I didn't want to keep working in an office. I wanted to have a change of scenery in my life. I just didn't realize I would choose something so different!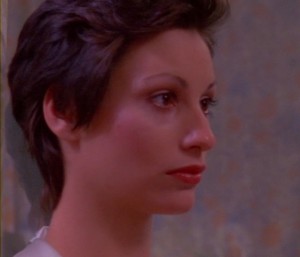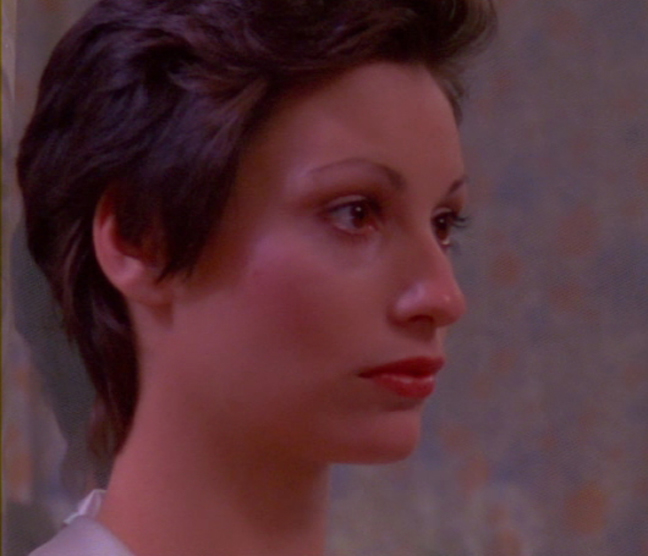 I heard that a few people in the swinging scene had started to make films. People like Mary Stuart (in photo) and her boyfriend Marc Anthony (aka Mel White), and Don Allen too. Mary lived with Mark, and I was over at their house more than once for little private parties. It's probably through them that I was offered my first film work. I remember that I went for an interview for my first film work by myself.
In a number of interviews from the mid 1970s, you mentioned that your first film was 'Lady on the Couch' (1974), a Shaun Costello film, which also starred Don Allen. Do you have any recollection of that being your first film?
Maybe. I thought my first was a Lenny Kirtman film, but it could have been 'Lady on the Couch'. I did a few feature films in a short time frame and they'd be released in a random order so I can't remember which was actually the first.
According to the same interviews, you mentioned doing a double insertion on your very first film set. Do you have any memory of that because that's a quite a way to start your film career?
See, I had done that at a few swinger's party with people like Don Allen – but that was in a setting where everyone is hot and sweaty, high on pot, and I was in a relaxed stoned state of mind and body… it was a very mellow atmosphere. But doing it on a film set was completely different – with the lights on and everyone looking at the actors from up close so it was a little unnerving.
It's a very weird physical feeling because the men can feel each other during the act because the wall between the front and the back is rather thin. It can be very uncomfortable because it literally feels very full. It's an odd sensation. I'm guessing it had very good financial incentives at the time for me to have agreed.
I think Marc Stevens was on that first set and he was one of the guys in the double insertion scene.
*
Marc Stevens
Extract from 'Innocent Bystanders at the Porno Shoot', Sir! Yearbook 1975, by Lisa Hoffman
"There is something very deadpan about Sandi, nothing seems to faze her.
Sandi: 'Well, I'm a swinger. And Marc was there (on my first set). If there is a person to meet on a first day, it would have been him, because the first day can make or break someone. We had a really nice time; he and I got along very well. We've been doing all sorts of things together. We are big friends".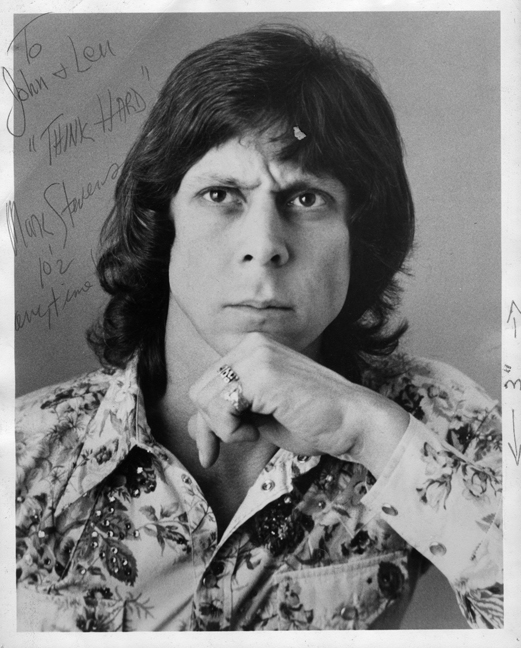 Marc Stevens publicity shot (1975)
What were your impressions of seeing Marc Stevens for the first time?
I thought he needed a good meal. He was thin and he looked jaded.
What was he like as a person?
He was a weird and crazy guy. Everyone says Marc was gay but I really think he was bisexual. I never felt like he didn't enjoy sex with a woman. He was fun though. He was up for everything and anything.
Extract from '10 ½!', by Marc Stevens (1975)
Marc: "Sandi is a girl who says "hi" in everything she does. She's a stacked, cheerful, raunchy sweet-natured, brunette of a flower child, and the best groupie who ever angled into my orbit".
Sandi: "Yeah, you could say I'm his groupie or camp follower, but so what? We're so good together that all the directors want to use us as a team. Marc is completely at home and relaxed in the most hostile atmospheres and he makes things cool for everyone else. That's a great art, believe me".
What role did he have in your decision to make more films?
Marc liked me and I liked him. I must have gone home with him several days later. He took pity on me and showed me the ropes about working in the adult film business. Once it became obvious to me that this was a quick way to earn cash and I didn't have to get up and go to the office every day, I figured I'd do this for awhile.
He mentions you a lot in his autobiography, 'Mr. 10 ½'. How accurate did you find the book?
Some of the stuff in his book is a little exaggerated. It's a little bit of fact, and a lot of fiction. There are some things that didn't really happen and others, I got to tell you, I just don't remember. I remember being photographed for the back cover of the book. Not that I got paid.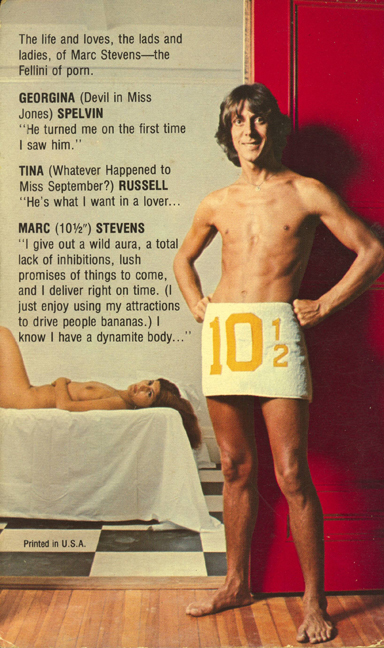 The back cover of Marc Stevens biography '10 1/2!' (1975), with Sandi Foxx on bed
Extract from '10 ½!', by Marc Stevens (1975)
"I call Sandi 'Anytime' because she she's always ready, in full flower every waking hour. Sound asleep you can arouse her without even putting her to the trouble of waking up. She's my twenty-five-hour-a-day Lady Natural, and we've been making orgies and fuck films and each other's buddies for about a year".
When Marc wrote about you in his book, he referred to you as "Anytime Sandi." Do you remember that nickname?
Yes. I didn't like it. In some ways that was the person I was those years. I guess I got the nickname because I was loose with my favors.
What sort of thing would you do with Marc when you'd hang out together?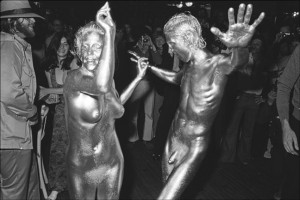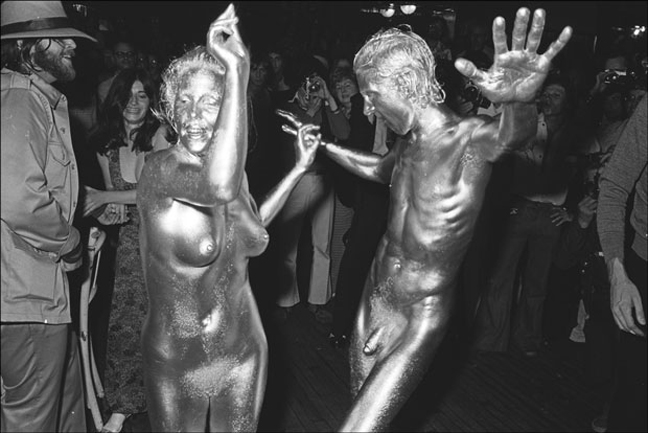 We'd go dancing at the discos a lot. That was always fun.
Also people would always be stopping by to visit him. He lived in an apartment in a Bedford Street walk-up, opposite a deli. It was on the top floor, so once you climbed upstairs, you weren't going to go back downstairs in a hurry so people would stay there all day. He had a lot of people coming and going. It was always a relaxed atmosphere.
He had a snake called Herman that he kept in the bedroom in a glass cage. Fortunately it had a sturdy top. He loved that thing. He went to the pet store, bought some kind of rodent, still alive, and left it in the cage as its dinner. Marc would take the snake out and play with it, but not when I was around. They're not my favorite critters.
Can you remember who else hung out with Marc and yourself from those days?
There were always other porn actors there such as Tina and Jason Russell, and Darby Lloyd Raines. Helen Madigan was often there too; she was ditzy and had nothing between her ears.
He dedicated his autobiography to this guy called Joey, who was perhaps the love of his life, and a stripper called Donna. When I came on the scene, Joey was gone though. He loved Donna too, and used to live with her. He met her at a party and asked her what her sign was; she said "a stop sign". I think Donna was more or less gone by that time but she would come by sometimes to visit. He also had a close friend called Billy who was a friend-friend, not a lover-friend.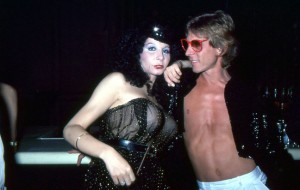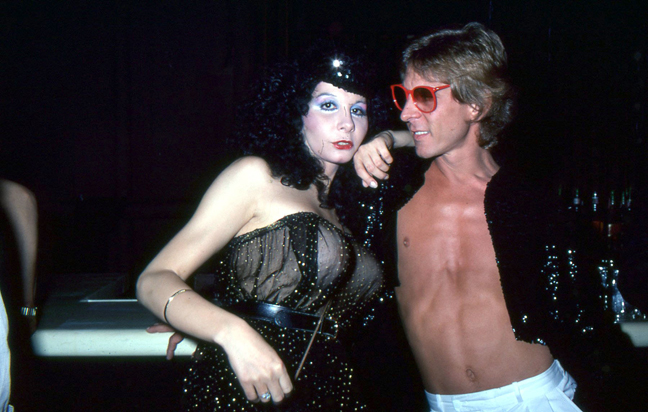 Later in the 1970s, Marc became friends with Jill Monroe (see picture on right). Jill was in the process of becoming a 'she' – she was already like a woman but if you looked closely you knew right away something was not 'right' about the femaleness. I can't describe it but aside from the Adam's apple protruding in her neck, Jill's face just looked male even with tons of make-up.
The story is that Marc's mother ran his fan club in the early days – but she ended up killing herself. Do you remember that?
Yes, she jumped out a window. Someone told me about it and I had to be the one to tell Marc. This would have been the late 1970s or early 1980s. It's not good to deliver bad news; it wasn't easy to tell him. Marc took it badly and wasn't in good shape at all. He'd been away on vacation to some Caribbean island where he was unreachable so he didn't find out until he got back. He knew nothing… He had a sister so by the time he returned she'd already taken care of everything.
He was very close to his mother. I think she was a school teacher.
I haven't a clue why she killed herself.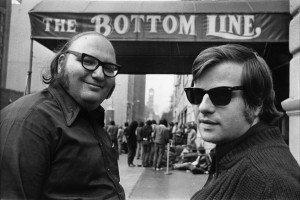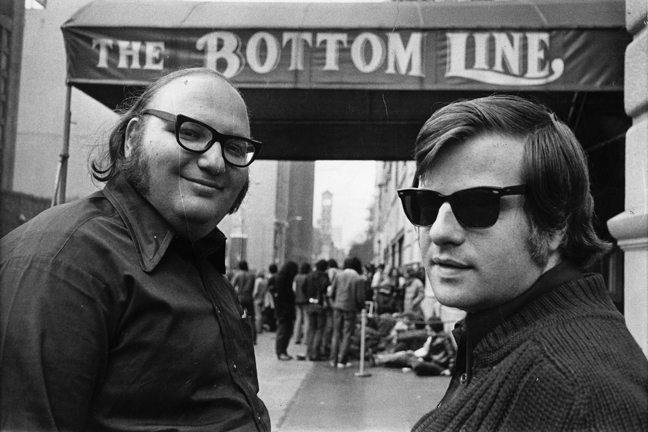 Marc had his own personal manager, Stanley Snadowsky (shown on the left in the photo), who was also the owner of the Bottom Line Club in New York where people like Bruce Springsteen and Billy Joel used to play. Do you remember much about Stanley?
Oh yes, very sweet man – and he was enormous! He was a good 6 feet by 6 feet, and must have been 300 pounds. We used to go to Bottom Line a lot, never paid to get in, and we saw people like Barry Manilow and Phoebe Snow there in their heyday. It was a really nice club at that time. Stanley took care of Marc in the early days and helped raise Marc's profile by getting him all sorts of non-film work. Stanley passed away recently.
*
More Adult Films
Extract from "Sandi Foxxe: Superagent of Porn", Adam Film World, July 1980, by Andre Hirschfield:
"Sandi Foxxe can best be described as a petite, foxy, whirlwind of a young woman with an exquisite body and seductive brown eyes that flash both desire and dollar-signs".
After you appeared in your first adult films, I assume that the experience was positive enough for you to want to continue. What was your main motivation behind this?
Financial reasons. Paying the bills. I really didn't want to go back to sitting behind the desk for a while. My rent was nominal and my parents gave me money towards it, but there were other things to pay for and I wanted to enjoy life.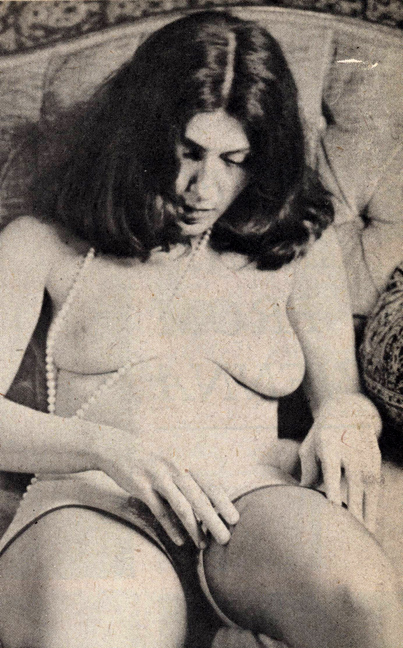 Sandi Foxx (1974)
As part of the swinging scene, you were used to having sex in front of people – but how self-confident were you when you started having sex in front of the cameras?
It was a completely different kind of scene. On the film sets I sort of spaced out to try to concentrate on keeping the guy going and rising to the occasion, and somebody would always be screaming "go right, go left, move here, move there, we can't see this". Lights were on, blaring heat, and it was usually hot in the room to begin. At the end of the day, you felt like you needed a good shower.
Extract from "Baby, I Can Make You a Porn Star", Mr. magazine (April 1977), by Rudy Mars
"Sandi: 'I guess you could say the Porn Queen generally gets the leading parts. I wasn't a huge star. I would be someone's girlfriend in the film or 'someone else' at the orgy. I can't act. I used to get the nice quiet roles in the corner of the room. I never even knew if the camera was on me'".
How did you find the acting work in those days?
There was Dorothy Palmer, but she handled the people who really wanted to have 'legitimate' non X-rated acting work. She was a crazy old lady; her thing was to send these aspiring actors out on X-rated jobs without telling them about the sex, and often these poor kids would be afraid to back out.
I found work mainly through word of mouth. Once you knew somebody, they would recommend you – especially if they like working with you. For a while it was this little tight knit group of us. There were about 30 of us in the New York scene. Occasionally they would spice things up and bring in people in from the West Coast, but most of the time they didn't want to pay anybody's airfare so they would only do that if someone was considered a real star.
Someone like John Holmes, for example?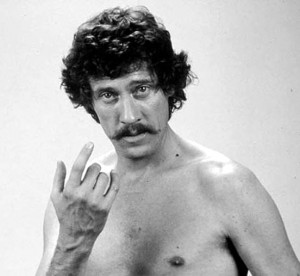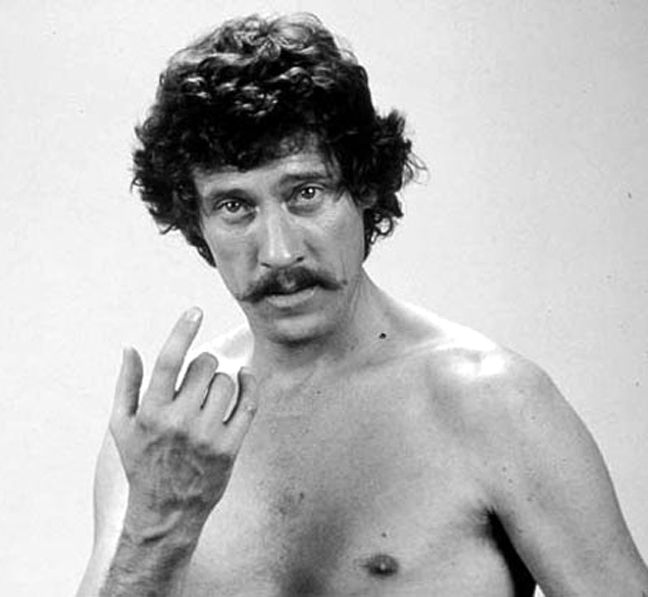 Right. I remember when he came into New York. And believe me, he did not pay for his airfare.
You met John Holmes I believe – and took him home one night?
Yes. It's hard to be tactful about this but I got to tell you that he did not rise to the occasion 100%. The parts functioned but he never got a full erection. I should leave it at that. He's deceased and they say you shouldn't say bad things about people who aren't here anymore.
Do you remember how you chose your stage name?
Sandi was easy because that's my name. I had to pick something simple and I always wanted to be a foxy lady, so I went with Foxx with 2 Xs – nothing too complicated. The producers sometimes used other names for me but I don't know where they got those from.
Did you ever gone see any of your films in the cinemas?
Hardly ever. Maybe one… and even then, I don't think I stuck around to see it all the way through. It's strange to see yourself on the screen. The whole sex thing was unappetizing. Even nowadays.
Since you first called me, I started to look at some X-rated stuff on the internet and… I don't know. I just don't find it a turn-on. Maybe if I'd had never done this work, I might be turned on. Who knows?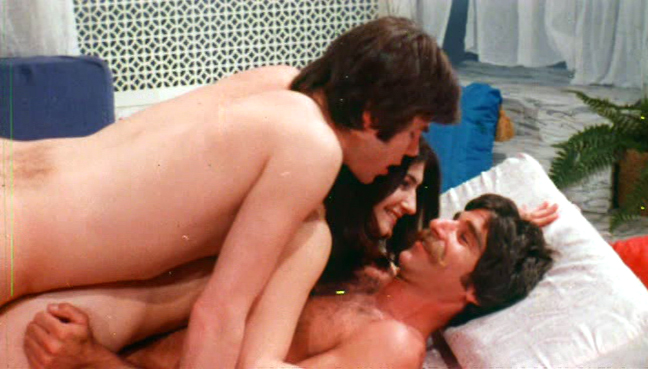 Sandi Foxx, with Harry Reems, Levi Richards in 'A Touch of Genie' (1974)
What did you think of the feature films that you were making?
Some of them were just fuck films. Strictly sex on the screen. One day wonders. You may as well just watch a bunch of loops because that's what it was.
But some people would at least make an effort to make something that was sensual. People like Radley Metzger, maybe Gerard Damiano. The Mitchell Brothers too, who made 'Autobiography of a Flea' and 'Behind The Green Door'. They made something you could sink your teeth into, something that would hold your interest more than just people screwing each other.
The joke amongst the actors was that every time you were handed a script (if there was one), the director would always say "Now, this is not just another fuck film – this one is going to be different". We'd all laugh behind his back.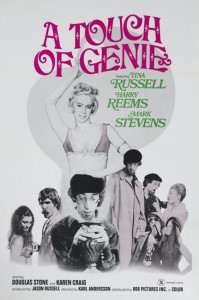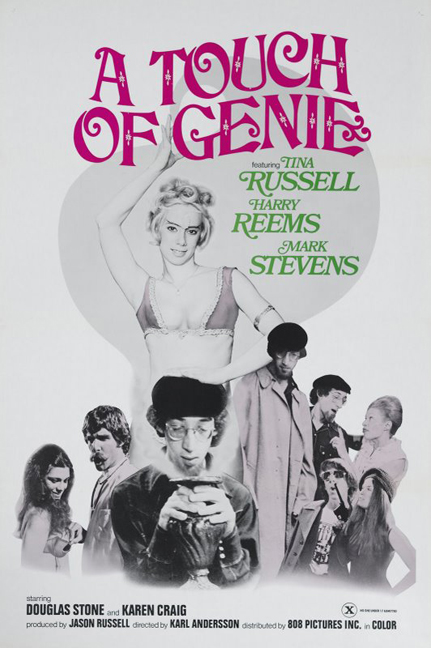 One film that you appeared in was 'A Touch of Genie' (1974). The director was Joe Sarno.
Joe was wonderful, but I remember zero about that film. What I didn't like was the ad in the paper. That's where my parents found out that I was doing those films. My face was in a little group underneath the genie and my father saw it.
He recognized you from that?
Yes. That was not a good situation. I think I probably said I was doing some modeling and they said to me, "What did you have on? No clothes?!" I guess they put two and two together. They weren't happy. By then I'd been married and divorced so I'd made my choices, and not very good ones…
Another director you worked with was Doris Wishman on the film 'Satan Was a Lady' (1975). Do you have any recollection of working with Doris?
No. I couldn't even pick her out in the crowd or a picture. In terms of female directors, I remember Roberta Findlay but not Doris. Roberta was smart and knew what she was doing. I remember she didn't want to have women portrayed as being dumb. In those days many of the films portrayed women as sex objects.
Extract from "Sandi Foxx: Renaissance Sexual Business Woman", Puritan No.1 Vol.1 (1977), by Larry Levy:
"Ms. Sandi Foxx means business. She is to the business of sex what Sammy Davis Jr. is to race and religion: they've both taken a crack at just about everything. Sandi has acted in at least two dozen full length hard-core porn productions and Lord knows how many 'loops' – those soundless quickies for which you pay two-bits for three minutes in a sleazy peep-show booth".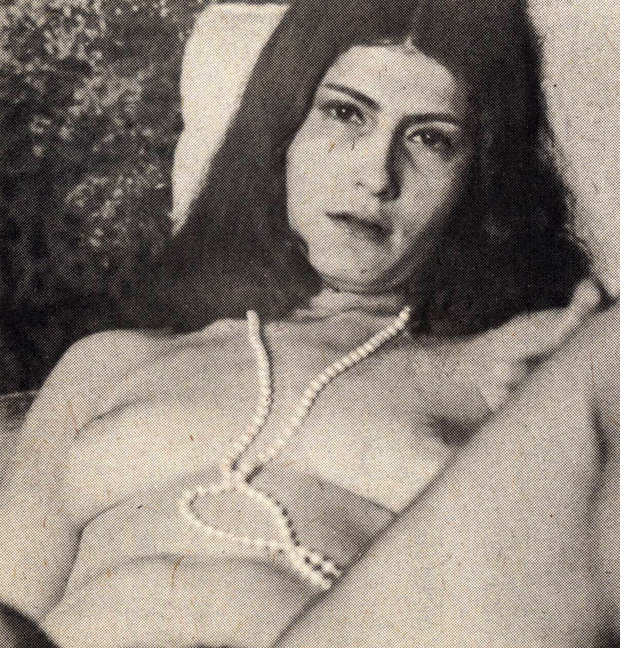 Sandi Foxx (1974)
What are your memories of making loops?
Actually some of the loops were fun to make. The big loop makers in New York at the time were called Peter and Iris and we actually went up to their apartment to shoot them. They were a couple and they really knew exactly what they were doing. They would work the whole week and gather everybody together – they'd shoot them one after another. In between loops we'd sit around in bath robes or shorts and T-shirts and chit chat. And then you'd take your money at the end of the day and be gone. It was fast money. It was over quickly…
I remember trying to disguise myself. I had a bunch of wigs – a red wig and a blonde one. I also had a butterfly tattoo on my shoulder that I tried to cover up.
The films were horrible but you'd hope that somebody would put enough quarters in the machine so the thing would tear and break and then somebody would put the loop in the garbage can. You hoped not too many people saw the thing.
You mentioned some directors were at the higher end trying to make quality product like Radley Metzger. At the lower end, you had directors who are making multiple films over the course of one weekend, such as Leonard Kirtman.
Oh Leonard… Lenny was well known but not well liked in the industry. I guess he's what everybody would think of as the stereotype of a porno director. He would rise to the occasion if the guy couldn't. He would step in. He was a standby cock. In fact he would often stand in even if the actor wasn't having performance issues… He was a scumbag. Always looking to get a freebie off the girls.
Extract from "Sandi Foxx: Renaissance Sexual Business Woman", Puritan No.1 Vol.1 (1977), by Larry Levy:
"If I have given the impression that Sandi is all business, then I must make amends. She's a healthy, free-swinging bi-sexual lady with a voracious, but quenchable, thirst for quality sex of almost any variety.
Was it possible to ever enjoy the sex on the sets?
It was hard. You really needed to close your eyes and concentrate, and I think it was easier if you knew the person and if you felt comfortable with them and if they weren't rough. You have to realize at the other end, the guy might need to be performing several times with several girls. It's pretty challenging to be able to physically do that. The gals have an easier time. We were receiving and not giving.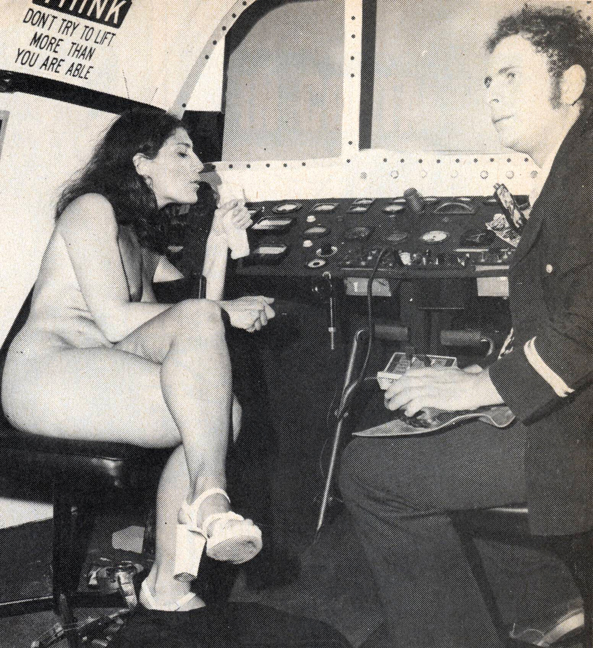 Sandi Foxx on the set of 'Slip Up' (1975), with assistant director Steve Ziplow
What about the acting? Did you enjoy learning the lines and delivering them on camera?
I hated acting! I'm a terrible actress. That was not my thing. I just… I couldn't… Some of the things were so ridiculous you want to laugh instead of delivering the lines. The sex was fine but the acting was not my thing. I never pretended it was.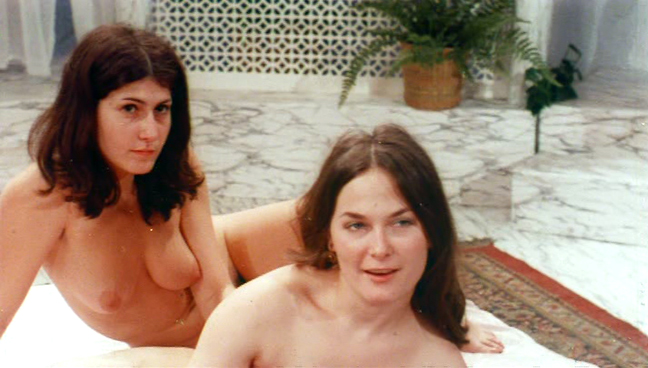 Sandi Foxx, Tina Russell in 'A Touch of Genie' (1974)
Were you ever concerned that appearing in the films might come back to haunt you?
I wasn't too worried. I was in my late 20s and considerably thinner than I am now and aside from a bit of tummy, I looked good. I was not thrilled now with the fact that film is a permanent record – but my feeling was that the films would be old news just as quickly as tomorrow's film was on the silver screen. And as for the loops, I felt they had an even shorter life since they were played over and over again and eventually tore or fell apart.
What other work did you do at this time?
It was a hand to mouth existence. All of us were looking for the next job while working on the current one. We did fill-in jobs like still photo spreads, or stripping for cash at parties. This was the era when men's magazines started to emerge, like High Society and Cheri. If you get a nice photo spread in High Society, it could help you command more money on a film set, especially if you were a new actor or actress.
Many actresses did escort work on the side. It was sex for money without anyone recording the deed. It was faster and could pay better than films. The working conditions were generally a nice hotel room, and a speedy exit for the gal or guy escort.
I had an acquaintance who ran a fancy 'private' club. She picked a street level store right on Lexington. The inside was very elegant with live parrots and a tropical theme. She got busted not long after opening. I can't imagine why she invested money in this club in such a public location when it was obvious that it was destined to be very short lived.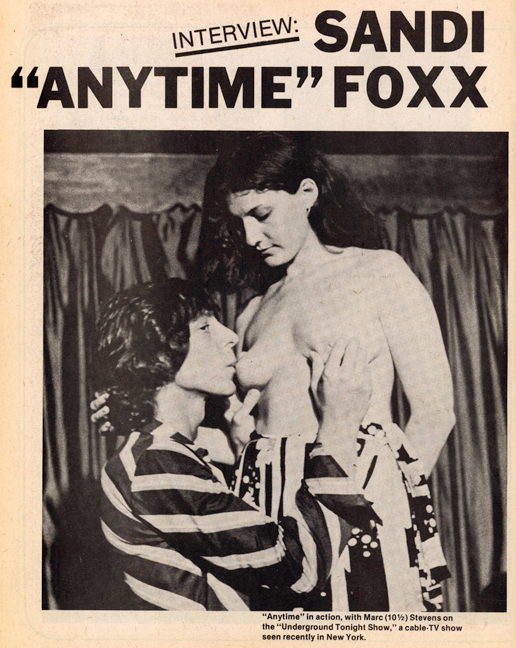 Sandi Foxx, Marc Stevens in Man's Magazine, by Allan Brooks (February 1976)
*
New York Actors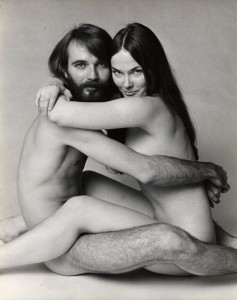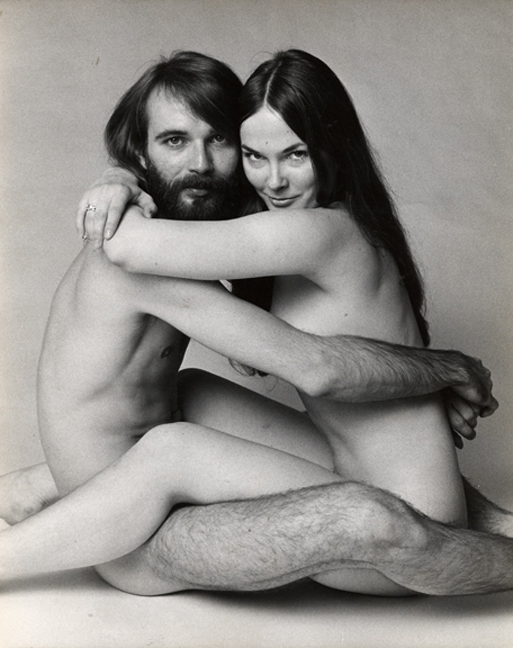 I'd like to give you some names of fellow actors, and ask you what you remember about them. Let start with Tina and Jason Russell.
They were devoted couple, but there were busy screwing everybody else as well. It was the strangest thing. It's like he would watch her screwing somebody and cheer her on. Strange, but hey, whatever makes you happy.
I think their relationship was essentially a good one, but it was hard to tell. I saw them on the movie sets and they were always professionals.
Extract from "Sandi Foxxe: Superagent of Porn", Adam Film World, July 1980, by Andre Hirschfield:
"Sandi: 'Jamie Gillis was very hot to work with on set. I just remember that he stole a pair of my underwear! Every set I've ever worked on when Jamie has been there, someone has lost their underwear.
'I once caught him taking a pair of my mauve string bikini panties with satin lining. He looked up at me nervously and I said: 'Jamie, those are mine!' He said: 'They fit me perfect!' (laughs). I knew there was no way I was ever going to get them back again so I said: 'But Jamie, they're clean!' He laughed and said: 'Don't worry, Sandi, I'll get them dirty!'
One of the people at the center of this scene was Jamie Gillis. What are your memories of him?
An A+ actor. And very kinky. He was up for anything. Anything. Guys, girls, S&M. There were no limits. I was told several stories about young ladies who went home with him, and so I made sure I never did. I'm not into getting screwed with my head in the toilet bowl!
One of your closest friends in the business was the actress, Darby Lloyd Rains.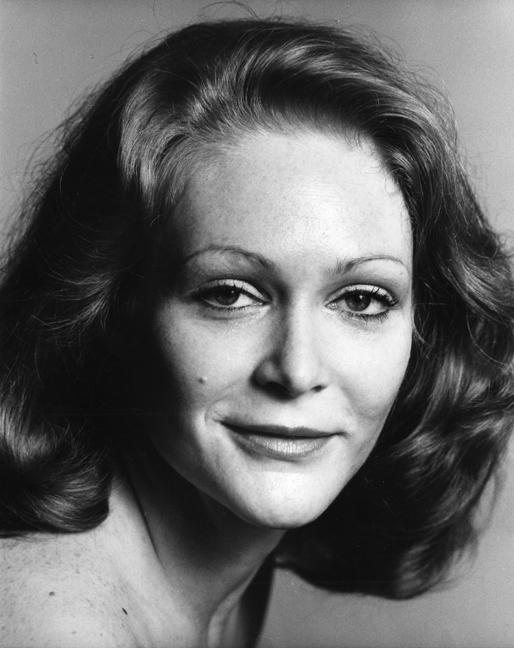 Darby Lloyd Rains (1975)
Terrific gal. She was a professional nightclub singer, and she had a self confidence and an air about her. She's a born performer. A super-professional. We hit it off. She's. She did film work for monetary reasons – mainly to support her singing. She had a role in 'The French Connection' (1971) which had been a big mainstream movie a few years before. Her scenes were cut but they're in the extras of the DVD release of the film.
When film work was slow, Darby did escort work too. She had clients for S&M sessions as well. They paid well for the 'lessons'.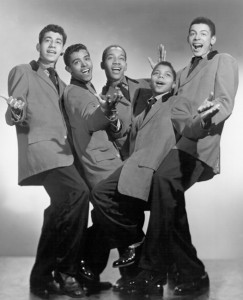 Her boyfriend was also a singer. He was Joe Negroni who was one of Frankie Lymon's original Teenagers – who had the big hit song 'Why Do Fools Fall In Love' (seen on the left of this group photo). Joe was a real character. He was married, plus he had a girlfriend, plus he had Darby. He was a busy guy. She had a tiny one bedroom apartment on the west side, and Joe was in and out of her apartment all the time; I used to see him there on several occasions.
Darby actually wrote a semi-autographical book based on her life as a professional singer and her relationship with Joe. I can't remember the title – I think that there was 'prince' in the title or something like that. I know she didn't use her given name or Darby. It was what you call an airport book, a book you would buy in the airport to read when you're travelling. She gave me a copy and wrote in it for me. I tossed it out when we cleaned out my books three years ago when we moved. I kick myself now for not having kept it.
What happened to one of your early swinger friends, Don Allen? He made a number of adult films. Did you stay friends with him?
He was a hot potato. I went home with him once. Actually probably more than once. What a great roll in the hay he was! It's funny – you work with these people, but it's not a friendship. It's more a professional association. It's like people who go to work and then go out for drinks afterwards. Instead, we would go home with somebody and screw them.
Don was an interesting guy. He was a big tall muscular guy, good looking. He looked like a walking painting; he was heavily tattooed from top to bottom. He was bi-sexual and an ex-convict. He also grew orchids – something he did with great care.
I don't know what happened to him. He just… disappeared like everybody else at some point.
How about the other swingers who did adult film work: Mary Stuart and Marc Anthony?
Marc was mixed race – he was light-skinned but I think he was half black. People of different races seemed to be pretty rare in the New York industry at that time.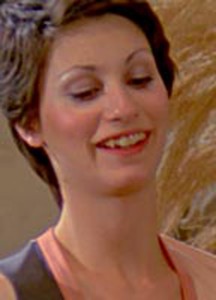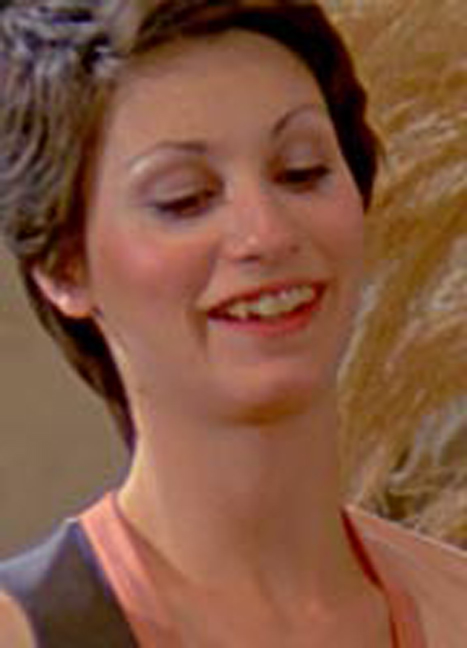 Marc and Mary were into this very odd S&M trip and were heavily into this bondage thing. I was at their house a few times and partied with them. One night I saw what they were into and after that, there was no reason to ever go back. Although they treated me kindly and didn't do all that stuff with me – we had just like a little sex stuff and that was it – it was still disturbing for me. I wasn't into S&M or the leather. That was not for me.
They both had this pendant around their neck. It basically looked like an infinity sign, and they explained that it meant they were looking for the ultimate orgasm. I'm not sure how you get there, but they were trying every direction they could go – including medications, some interesting drugs.
Before Mary, there was another girl Marc was seeing, called Vixen. She was a little off, a little disturbed. Then, Mary came along and she got sucked into the S&M thing. I think they did some loops and films with that too. From what I heard it was quite an abusive relationship.
Marc hanged himself eventually. I don't know what happened with that. After he killed himself, Mary packed it up and headed to the southwest.
*
Starting an Agency for Adult Film Actors
Extract from "Sandi Foxx: Renaissance Sexual Business Woman", Puritan No.1 Vol.1 (1977), by Larry Levy:
"Sandi Foxx is a consummate and compleat sexual business woman with a shrewd head on top of a voluptuous five foot two inch frame".
What gave you the idea of actually starting an agency for actors in the X-rated business in New York?
I thought it was something we really all needed. I felt that my days of being in front of the camera were over. I was literally over exposed in a lot of ways. I'd worked with everybody. I was not a star. I was just a pair of boobs and so it was just time to do something else. People needed something that was a little bit helpful, so I thought I'd give it a try.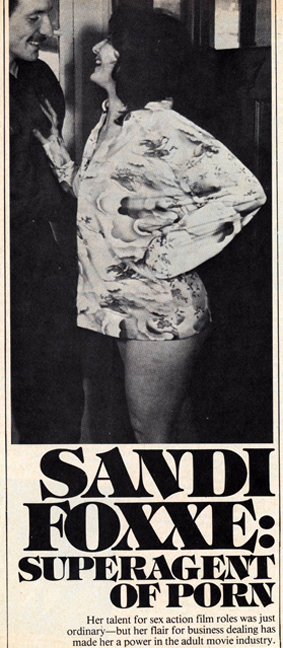 How did you come up with the idea?
I got talking to Darby Lloyd Rains one day. She was a singer so she had an agent for her shows. We figured it would make sense for the actors to have someone represent them too. We knew Dorothy Palmer was around but we felt that we knew the industry from the inside and she didn't. She was an occasional thorn in my side but not much competition.
Extract from "An Interview With Sandi Foxx: Ex-X-Rated Agent", Cinema X (October 1980), by Archibald Sims
"In the world of X-Rated feature films, women are playing a larger and larger role in areas other than being actresses. Women are now writing, directing, and producing along with the men, and Sandi Foxx was the first female agent in the X-Rated industry".
How did you split responsibilities because Darby continued to work as an actress in the industry?
Basically Darby was there to be a figurehead. She was a star, an important person in the industry who carried some weight. She continued acting but she was the glamorous name to add credibility with the actors and the producers. It was super helpful to me to have her perspective as well. At the beginning I split each check with her and she was there for like my moral support, but the agency was really my thing.

I found a little office space in the West 40s in the Diamond District. It belonged to a film maker called Tom, who I did some loops with. He let me take some space that was like a little cubby hole. I put a phone in there and the deal was no rent for me, I paid my own phone bill, and he would get first crack at whoever I found. He would use the talent I found in his loops. After a while I figured I didn't need the office as I could just use an answering service so I gave up the space.
Extract from "Sandi Foxxe: Superagent of Porn", Adam Film World (July 1980), by Andre Hirschfield:
"Sandi has been carrying the card of a thriving New York businesswoman for over five years. Her unique and fascinating business operation has established her as the No. 1 personal talent agent for some 60 movie stars – all of whom are undoubtedly the most successful, liberated bunch of men and women in the entertainment industry".
How did you go about recruiting actors for the agency?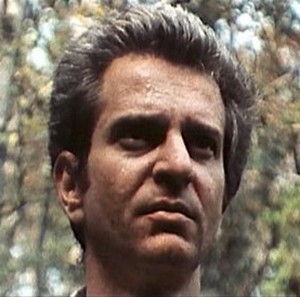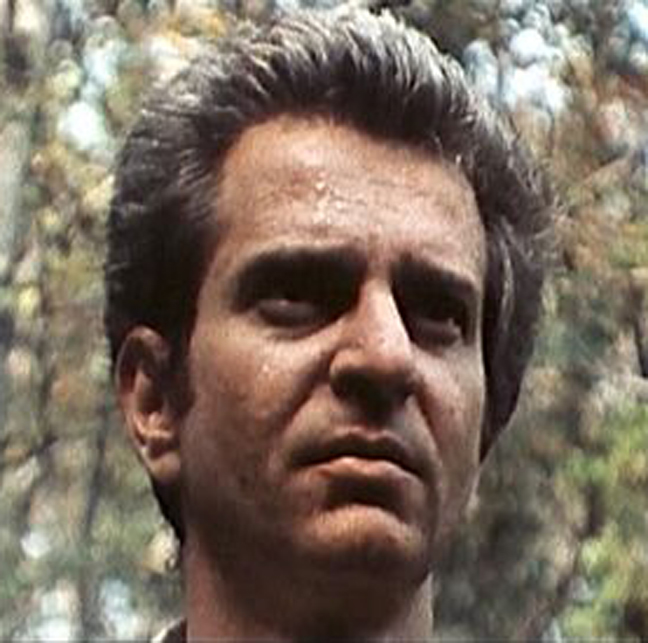 I started with the people I already knew. Then word of mouth got around, and I would go to somewhere like Show World where Fred Lincoln knew me. I would go in there and talk to the girls. People already knew who I was so no one got upset if I came looking for the girls to give them more work. At Show World some of them would be working in a booth having live sex, or the girl would be behind glass performing for the guy.
I'd also go to the Melody Burlesque. Leslie Bovee worked there. After watching Leslie at the Melody I realized that stripping was hard work. She had several costumes, a lot of pre-recorded music tracks, and many dance routines. You needed to be physically fit to do the dancing and stripping. Ming Toy and I often went to see Leslie's show.
I'd meet with the girls and go backstage. Remember I'm a girl so it's a lot easier. If I were a guy, I certainly wouldn't have been allowed back stage at the Melody.
Extract from "Sandi Foxxe: Superagent of Porn", Adam Film World (July 1980), by Andre Hirschfield:
"Sandi: I have a go-go dancer who ties her cunt in a knot. You can see her do it in a recent fuck flick called 'Jailbait'".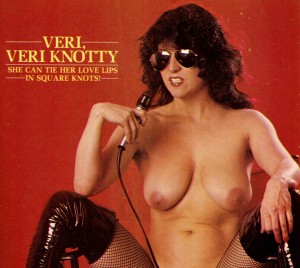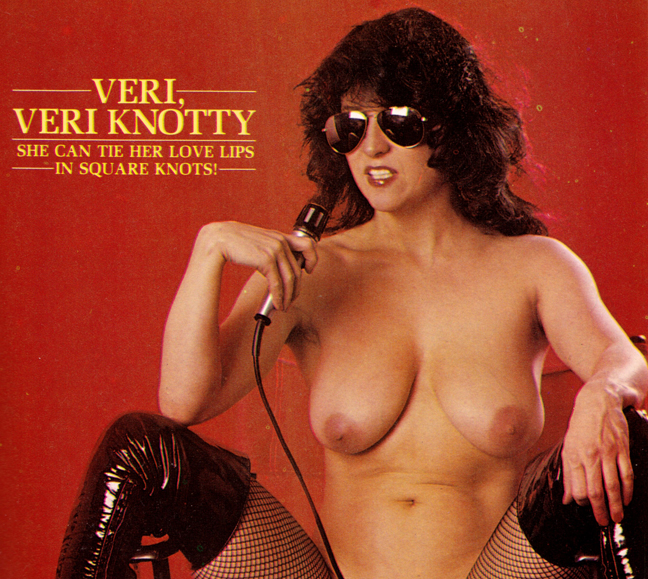 I met one gal at the Meoldy named Veri Knotty (who was given the name due to her ability to tie her labia in knots). She wore only ever wore shoes and a g-string on stage. She said that she was a topless and bottomless dancer, but since she always wore shoes, she'd insist she was not naked! She'd showed up all the time at the office I shared with Tom in tight leather pants in the summer and no panties underneath. I got her lots of loop work.
Did you ever advertise anywhere?
No. Nothing. All word of mouth.
When you came across somebody, did you do anything to audition them?
No. We'd just sit and chat. I'd get a good measure of them like that. I pretty much knew all the producers by then, people like Gerry Damiano, Arthur Morowitz, Armand Weston, Roberta and others. Gerry is still my all time favorite director and I was sad he passed on. He and his cameraman, Joao Fernandes, were great. Then I started getting calls from West Coast performers so I'd fly actors into New York too.
I don't know how John Holmes found me but he got in touch looking for New York work.
How did you make money?
I'd charge 10% over whatever the actor was paid. I didn't sign any contracts. Everything was freelance and everyone was usually paid by check unless it was a one day wonder in which case it was probably cash. I'd also go along to the sets to check up on everything and make sure everyone was happy.
Extract from "Sandi Foxxe: Superagent of Porn", Adam Film World (July 1980), by Andre Hirschfield:
"After you've met with somebody, how do you decide whether you are going to represent them as an agent?
Sandi: 'I ask them one question: what their motivation is for being in the business. If they don't tell me 'money', I usually throw them the hell out of my office. Because otherwise we just won't be able to relate'.
In those pre-cell phone days, how did you manage to keep in touch with people?
By phone service usually. Everybody had a service which was a second number which you called up and someone would be there to write down messages that you wanted to leave for someone. I kept everyone's contact details in my black book. That book was like my Bible.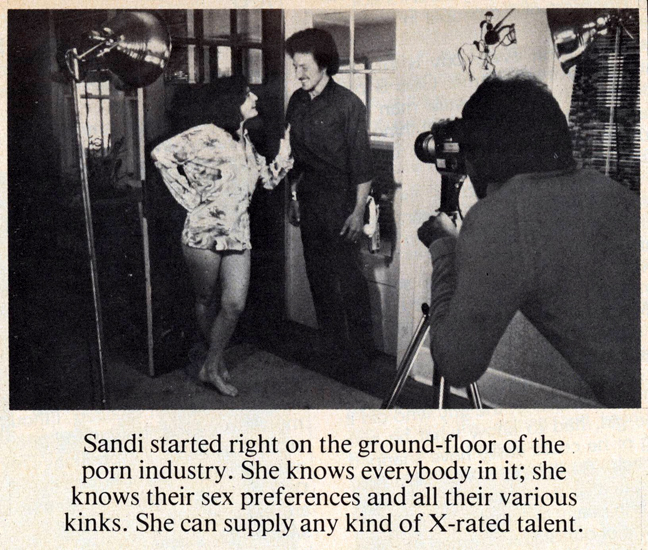 With all the contacts were you ever tempted to produce your own film?
The playwright Spalding Gray came to meet me looking for work as an actor once. He also had a screenplay he wanted to produce and he tried to get me interested in it, but it was too sophisticated for a skin flick. I met him a few times in Greenwich Village for coffee, but he was a rather weird and depressing person. I was sad to hear about his suicide a few years ago.
Did you ever come across people who you suspected to be mob-related?
I knew Mickey (Zafferano) who was one of the well known money men, but that's about it. He had a fatal heart attack when Feds came knocking on his door.
*
Actors and Actresses
Extract from "Sandi Foxxe: Superagent of Porn", Adam Film World (July 1980), by Andre Hirschfield:
"What all this involves for Sandi is "discovering" fresh talent and hopping around Fun City with a portfolio of porn personalities, meeting with a multitude of directors and helping them cast their latest erotic epics. Naturally, Sandi enjoys all the fringe benefits of the casting agent's life, especially in the porn world – where, as Sandi confides with a grin "I've always got one hand in the cookie jar and the other hand in the cookie!"
Let's talk about some of the people on your agency books. What do you remember about Leslie Bovee?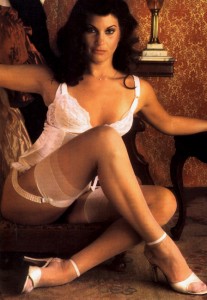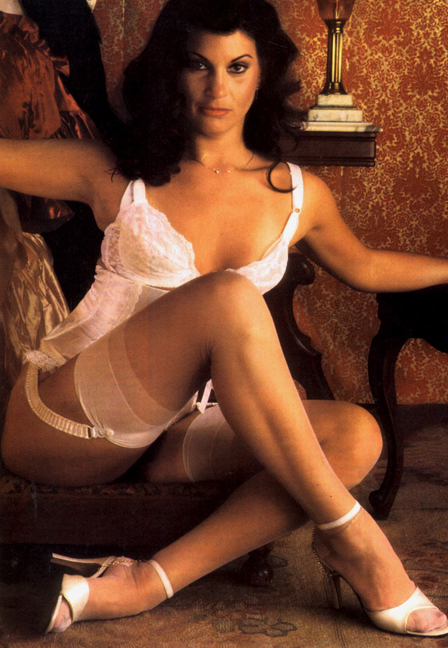 One of my favorites. Absolute favorites. I spend a lot of time with her socially. Her problem was the guy she was dating called Carl. I didn't like him. He was a freeloader. A manipulative freeloader. He took advantage of Leslie. Carl said he did voice over work for a living, but I never knew him to work while he 'managed' Leslie's career.
Apart from that, she was just a sweetheart with a very distinct idea of how she was going to make money and how she wasn't going to be debased in any way. She was going to do everything with dignity.
When she danced at the Melody, everything was done with an elegant touch even though she was taking off her clothes. She'd had a lot of outfits, some really nice costumes, good music, good dancing. She was bright and alert. She would take a satin comforter onstage to lay on instead of laying on the dirty walkway.
She wasn't tipsy like some of the others; she was a real professional.
You also represented Wade Nichols.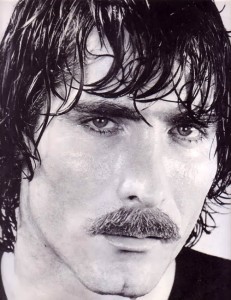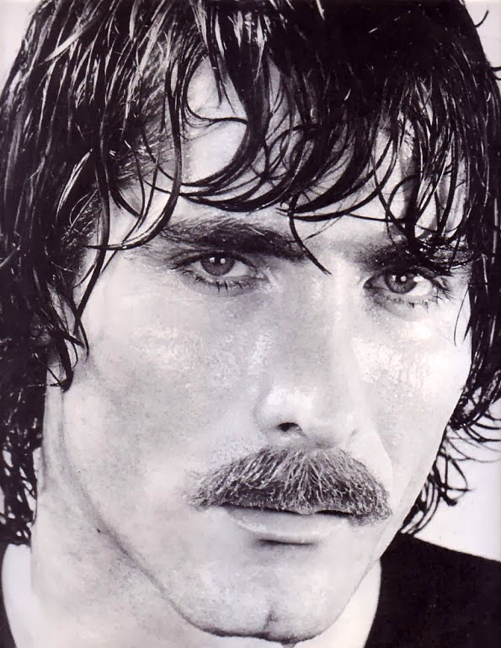 So sad. That makes me want to cry. I got to know Wade pretty well. Unfortunately for me he didn't like girls too much and he never made a pass at me, but we did have our chuckles. He bought me a beautiful leather portfolio so I had somewhere to put my papers. He liked boys and he did a few gay films. In many respects he was the total opposite of Marc Stevens. Wade was humble, polite and soft spoken.
He was stunning, very handsome; he had that Marlboro man look. He was always well groomed and had this very trimmed mustache and was in great shape. And then he made it big on the daytime soap 'Edge of the Night' in the 1980s. His death was heartbreaking.
Extract from "Sandi Foxxe: Superagent of Porn", Adam Film World (July 1980), by Andre Hirschfield:
"How much do your people get paid to work to work in a loop?
Sandi: 'From $50 to $75 minus my commission'
What's the payment for working in the features?
Sandi: "Bottom of the line is $150 a day – 10-hour day, nine hours work, one hour lunch, time and a half for overtime. At the top, pay is whatever you can get for a lead. I like to see my top people get $250 a day. Though some porn stars have made up to $500 a day".
Another actress you represented was Abigail Clayton who did some films on the West Coast and the East Coast.
Yes, and I also got her a starring role in a mainstream Italian film with Gérard Depardieu called 'Bye Bye Monkey'. I have no idea how the Italian producers found me, but I got a call inquiring about her. I don't remember why they wanted her specifically either or where they'd first seen her.
It was shot in New York and was a big budget affair. I went to see the daily rushes with her. It was interesting seeing how a big film was made.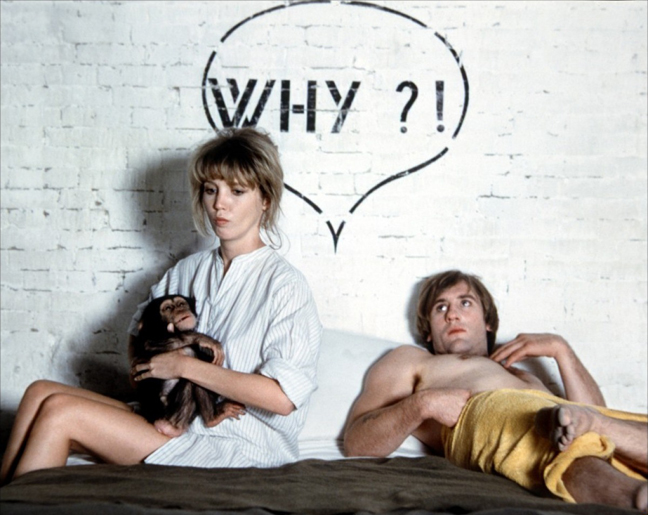 Abigail Clayton (billed as Gail Lawrence), Gerard Depardieu in 'By Bye Monkey' (1978)
She was very sweet looking with pretty blonde hair, blue eyes. Her problem was that she was a married to a male nurse who was a junkie. Very sad situation. She had the most beautiful little daughter. Fortunately I saw her with her young girl years later. By then she'd divorced that awful husband. She's probably a granny now.
Did you get many calls from oversees filmmakers?
Occasionally. I remember a Japanese producer calling me looking to hire Harry Reems. I just gave them Harry's contact details and the next thing I knew Harry was traveling to Japan where he appeared in at least one film.
Extract from "Sandi Foxxe: Superagent of Porn", Adam Film World (July 1980), by Andre Hirschfield:
"Do porn queens often start behaving like 'stars' – you know, giving everybody a hard time?
Sandi: 'Sometimes. C. J. Laing has a reputation for misbehaving. I think she has a very negative attitude toward the business'.
For instance?
Sandi: 'Oh, once she told a guy on set that when he came the taste of his semen was horrible (laughs). I don't think he could get it up for the rest of the week! And Helen Madigan's another spaced out prima donna. Helen could jump into a cab on her way to a shoot, and jump into the front seat, suck the cab-drivers cock, and forget about all about the filming. Sometimes she'll disappear for days!'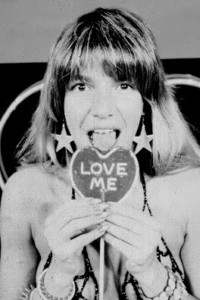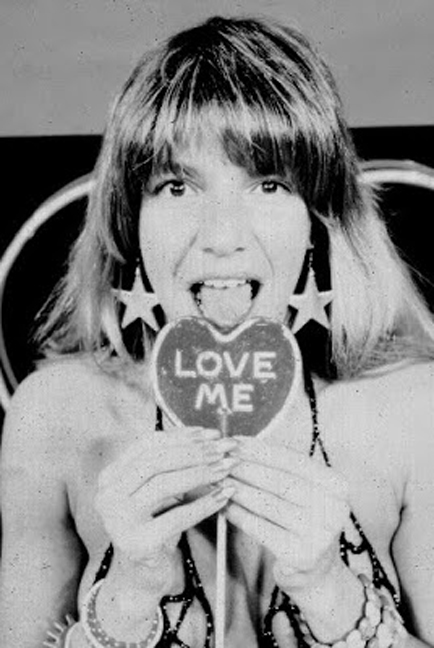 Didn't you 'discover' Robin Byrd?
Yes. I found her between the sheets at a party at somebody's house. I went with a date and she was with another guy. I don't remember if it was a little swinger's swap but there were about eight of us. During the orgy I got to chat with her and she wound up in 'Debbie does Dallas'. She went on to have that cable TV show for years.
For a time your apartment in Queens was home to a procession of actors too.
Yes, the first was Tony Richards who ended up acting in a number of films. I was going out with his friend, Stan, and Tony needed somewhere to hang his hat. One day, I remember it was really cold, I was going to meet this director in the city and see his hard core film. I asked Tony if he wanted to come with me. We get there and the director had brought Bree Anthony with him. Tony took one look at her. His eyes lit up. That was it. Love struck. Literally. A couple of days later, he was out the door with her, leaving. They ended up getting married.
Then they started to work together in films. They tried to work just with each other. I remember that on one film they went away and trimmed their privates significantly, before returning to shoot the balance of their hard core scenes. The director went crazy because the scenes they'd already filmed were not going to match with their post 'haircut' look. In the end they got Jeffrey Hurst to step and fill in for Tony and one of the other girls to stand in for Bree.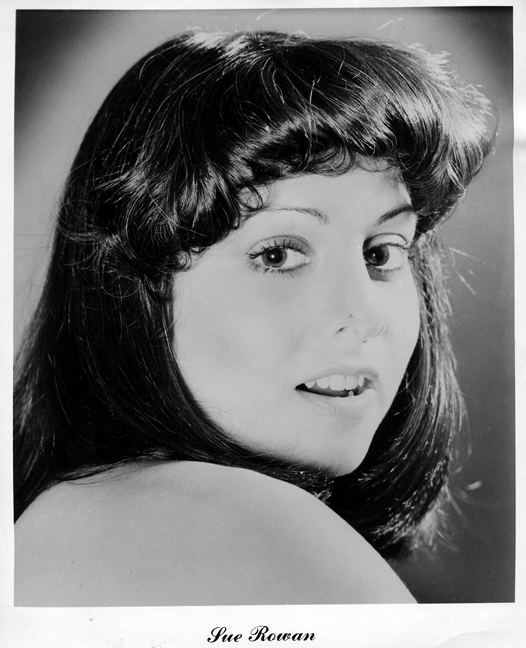 Bree Anthony (using the name 'Sue Rowan'), publicity photo (1976)
Extract from "An Interview With Sandi Foxx: Ex-X-Rated Agent", Cinema X (October 1980), by Archibald Sims
"I work with John Leslie who often commutes to the west coast and consequently we get quite a few people from San Francisco to come here".
Another one of your roommates was John Leslie.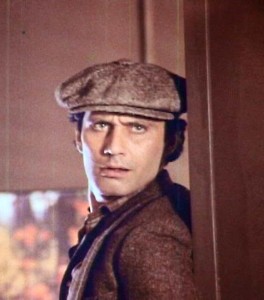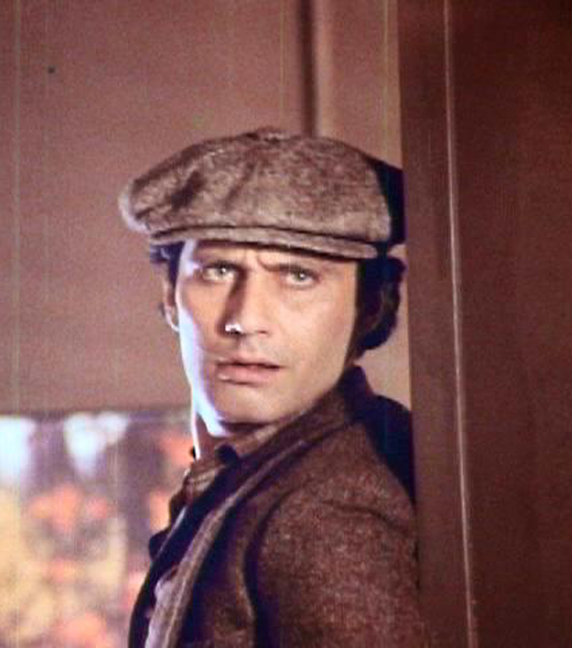 Yeah. He was Mr. Charming. He had huge crushes on girls. One was Constance Money. He used to call her in Alaska and I used to have a $300 phone bill as a result. He was infatuated with her. Head over heels. Unbelievable to see him like that. He was drooling. He was like a kid. John also had a big crush on Jenny Baxter who did some acting too.
How did he come to live with you?
He came in to New York to do a film. Somebody brought him and paid his airfare and somehow, I wound up meeting him. He had nowhere to hang out and he had another film to do a couple of weeks later, so he said, "Can I stay with you?" I said, "All right, but just until the next film." He stayed with me for the next 6 months.
One day I got a call from RAI – the Italian TV station. They wanted to do an interview with a porn actor so I suggested John. The interview was conducted by Isabella Rossellini and the crew filmed them both walking around in Central Park all day.
He finally went back to California as I think he got lonely. I didn't see him much after he moved back west, but I cried when I read his obituary. He was a good man.
It sounds like you got on well with most people?
Yes, there were only a few exceptions. There was this one girl, Peonies Jong, who did some acting like in films like 'Oriental Blue'. I discovered her at an orgy. She was a nasty person. She eventually got married to the actor Dave Ruby.
*
End of an Era
What brought an end to the agency?
Two things; the IRS and hubby number two. The IRS went through one director's books to see who they paid for a film. My name showed up a couple of times as I'd done the casting.
A few days later two agents literally turned up at my door one night and started asking me all sorts of questions about the film. They thought I must be making huge sums of money so they started looking into my finances as well which wasn't good.
Eventually it became obvious to them that I was living check to check. So then they became more interested in getting my black phonebook with all of my contacts. They were looking for details of all the people who made films at that time.
It was a wakeup call in that what we were doing was still only semi-legal. Before that, I had the feeling that I'd never get caught. But many people did. I remember Leslie Bovee spent a short time in jail for example after she was arrested at the Melody.
How did you handle the IRS?
I didn't have much to bargain with; I had my phonebook full of people's name and phone numbers but I refused to give it to the IRS. It stayed locked in my drawer.
The whole affair cost me a few thousand dollars. Basically I hadn't filed a tax return for a few years so it was a headache. I had to hire a lawyer who was a CPA. I had to file my back taxes, and I had to pay interest and penalties on what I owed. It was painful. I saw one of the agents on the subway months later and managed to kick him in the shins. I'm sure he knew who kicked him.
I think that was the last straw for the agency. I was shocked at how little money I'd made over the years with my agency and deep down I knew it wasn't worth the time and effort I'd put in.
I had maybe fifty people on my books at any one time, but the big problem was that as soon as a producer got the actress' phone number, it was "Goodbye Sandi". They didn't need me anymore. They were always looking for new talent and I just couldn't keep finding new people every day of the week. The actors weren't loyal to the booking agent either. In the end it didn't justify the time spent and the stress of taking care of all the actors.
That convinced you to get out of the industry?
Yeah. And by then I was married to hubby number two. I met him on a blind date. He had a regular job and it didn't sit well. It was unsavory thing for me to continue to do if I was married to him.
What happened to Darby Lloyd Raines?
She left New York because her boyfriend Joe died. He passed away when he was 37. He had a heart attack in Darby's bathroom. He once told Darby he would never reach 40 and he was right.
She discovered Joe's body. He was passed out on the john. Not a good situation. It was hugely traumatic for Darby. She left town shortly afterwards largely as a result of his death. That was it for her. That was like the last straw. She didn't want to stick around. It was just time for her to leave the East Coast.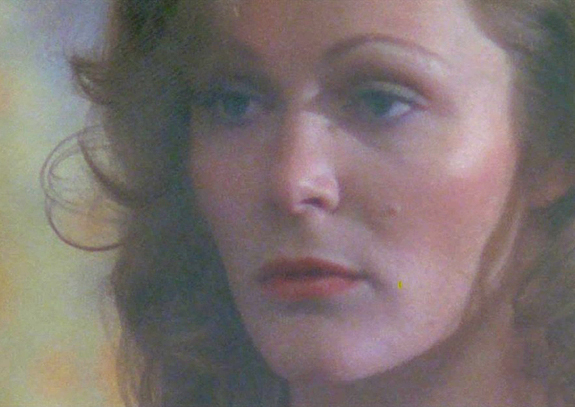 Did you stay in touch with her?
I did. She was sort of my soul mate those days. She was out in one of the West Coast states for a while. She had a 'green' house cleaning business using non-chemical cleaners, and then she worked with troubled teens.
Extract from "Sandi Foxx: Renaissance Sexual Business Woman", Puritan No.1 Vol.1 (1977), by Larry Levy:
"Writing (Sandi's) biography has been a somewhat startling experience for me. I had a hard-on for the first hour and a half of our initial interview – held on a couch in her very comfortable apartment. (There) was a wall poster of a nude Marc Stevens and an authentic, life-size ceramic model of his ten-and-a-half inch hard-on. Frankly, I found that intimidating".
In publications from 1978, I saw references to your forthcoming autobiography called 'Do You Want to be a Porn Star'. It was to be published by Manor Books. What happened to that?
I had a guy that I was working with, Larry, somebody. We got a couple of chapters done, but it just never get off the ground. By then I'd met my new husband, left the film business, and I'd gone back to an office job. I ended up keeping the advance but the book was never finished.
What do you think when you see the porn industry nowadays, and you realize you helped to create this modern era of adult films?
I think it's changed for a lot of reasons, like AIDS and the internet. It's turned into big business. After you found me, I started to look on the internet to see what was being put out. Even for me who lived that life many years ago, I was shocked to see what you could watch. It was like a medical show. I can't watch that! This was up close and in your face literally. They're awful. That's the best way I can describe them. They're beyond awful.
Do you miss anything about those days?
Some of the fun times. I had my moment. It's over. I've moved on. It's a part of my life. I certainly don't care to advertise it with my current life, but its part of who I was then. I'm just thankful I did it before there was the AIDS epidemic and I'm thankful I left, that I didn't get involved deeper. I didn't make it a career. I lived it as an adventure in my life and when it was time, I said goodbye. I moved back to the life I had before the adult films. I cry for people like Marc Stevens who basically never grew up and left the business.
My husband and I haven't discussed that era for over 30 years. I'm thankful I never became a star. When I read obituaries of John Leslie, Linda Lovelace, Harry Reems, Jamie Gillis and others, it is so sad that few of them were able to lead a normal life outside of the porno business.
But it has been cathartic for me to look back, and re-live the good times and bad with you.
I've got to ask you: What happened to your mythical 'little black phonebook' with all of the contact details of everyone from the industry in the mid-70s?
It moved with us many times, and then three years ago when we were moving out of the last house, I looked at the phonebook – and I said "Those days are over".
So I put it in the trash.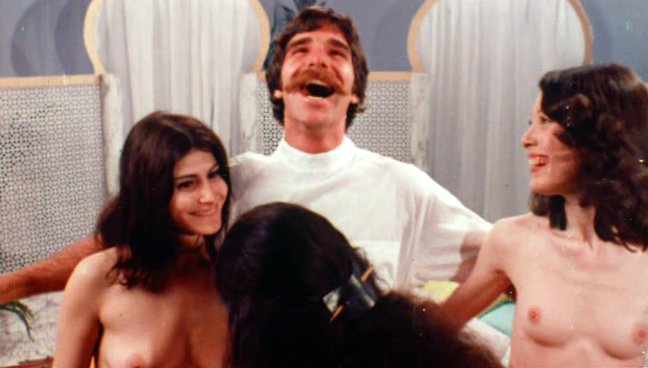 Sandi Foxx, Harry Reems, Lynn Stevens in 'A Touch of Genie' (1974)
*
Sandi no longer lives in the New York area. She lives with her husband and their cats. Somewhere far, far away from the 1970s.

*