'Anna Obsessed' has been shrouded in mystery since its release in 1978.
Reviewers and fans were immediately impressed with its story and technical skill, and have long speculated about the identity of the person(s) behind it.
Could the film's director – 'Martin & Martin' – be an established, well-known filmmaker hiding behind a pseudonym? Why did they never seemingly make another film? And how has their identity stayed a secret ever since?
The Rialto Report has spoken to actors Jamie Gillis, John Leslie, Sue McBain, and production manager Lawrence Delfiore to uncover the story behind the film.
But most of all we're indebted to the film's remarkable writer, known only by his shadowy nom de porn, 'Piastro Cruiso'. He not only consented to a lengthy interview (featured below), but also approached his former partners in the production, provided access to a remarkable selection of production materials, and allowed us to excerpt his own written account of how the film was made.
The truth behind 'Anna Obsessed' can finally be told, and the result provides a fascinating view of how one of the most mysterious adult films of the 1970s was made.
All interview answers are from Piastro Cruiso, except where noted.
Please note: the following article contains spoilers relating to the plot of 'Anna Obsessed'. (Not often you hear that in relation to a porn film, hey?)
_____________________________________________________________________________________________
'Anna Obsessed': The Cast:
– Anna Carson

– David Carson

– Maggie Ronson

– Lisa, David's Secretary

– The Secretary's Fantasy Man
'Anna Obsessed': The Crew:
Directed by

Written by

Produced by

Production Supervisor

Original Music by

Director of Photography

Film Editing by

Casting by

Hair Stylist / Makeup Artist
'Anna Obsessed': The Plot:
'Anna Obsessed' kicks off innocuously enough with the troubled marriage of housewife Anna Carson (cult goddess Constance Money) who no longer receives satisfaction from the lovemaking supplied by hard-working husband David, sympathetically portrayed by a startlingly handsome John Leslie. He claims it's not his fault and his performance with secretary Susan McBain seems to support this assertion. Waiting for the train ride home, Anna meets and befriends photographer Maggie Ronson (the spellbinding Annette Haven) who gives her the attention she craves. Following a number of not so coincidental encounters, the women become lovers with Anna pleading for Maggie's assistance in wooing back her husband. Meanwhile, there is a murderous rapist piling on the victims in the proximity, as frequently ignored radio bulletins keep informing us. How this unsavory narrative device ties in with the plot I will leave up to potential audiences to learn for themselves. It is just one more element that separates this strange, shocking yet undeniably erotic film from most of the porn produced at the time, or indeed since.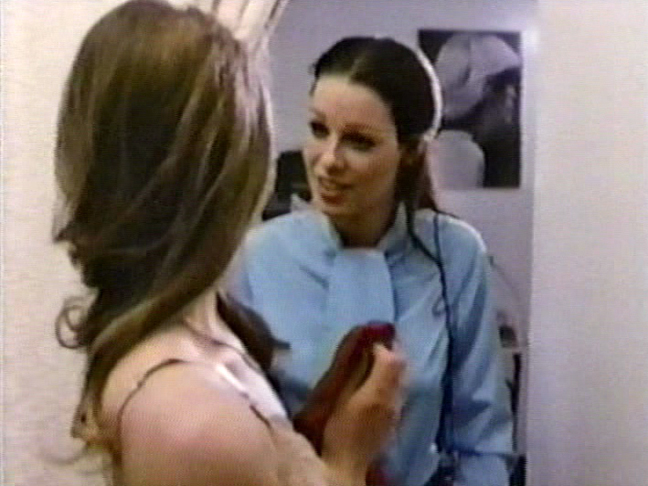 Constance Money and Annette Haven
This is without doubt the scariest porn thriller ever made, even more so because of its moral and psychological implications which only rise to the surface upon successive viewings. No one associated with this film, apart from the small but uniformly excellent star cast, appears to have any additional credits to his name, re-enforcing the credence that it was concocted by mainstream Hollywood talent "slumming it" in the adult industry. Plot and production are way too well-wrought – with special kudos for photography and editing, along with a subtle, disquieting score by 'The Avengers' – to be the work of inexperienced first-timers. All these elements that traditionally contribute to the effectiveness of film-making are superbly employed to twist the screws of tension to the brink of tolerability.
– Written by Dries Vermeulen, 2007
*
All interview answers are from Piastro Cruiso, except where noted.
'Anna Obsessed': The Development:
From 'Obsessed By A Liquid Stranger' (1978), an unpublished article by Piastro Cruiso:
Historians tell us that a war cannot be properly analyzed until almost a century after its passing. A porno shoot may need less time, but one thing is certain: no one can yet comment sensibly on what happened to the Stranger Group.
Who was the production team that made the film?
We had four partners that comprised our company; we called ourselves The Stranger Group Limited.
This was because the Maggie character, played by Annette Haven, was known in the writing process as 'The Stranger' before we gave her a name.
How did you get involved?
I was in the beer business in Niagara Falls and Buffalo, New York. I got a call from an old friend I knew from my time as an undergraduate at Boston University. I'd got a film degree there in the '60s. He was in Fine Arts. I'd been writing all my life and he called and said, "We want to make a movie of your novel. Come to New York so we can talk".
He had two other friends who were also acquaintances of mine. The three of them were managing a studio in Manhattan where they filmed a number of commercials.
Through this work they'd established a number of relationships and a good rapport with numerous union technicians on the filmmaking side. Their plan was to utilize that talent in filming the production.
This was in 1974 or '75… so I came to New York and we immediately started developing the story. At that stage it was called 'Liquid Visions'.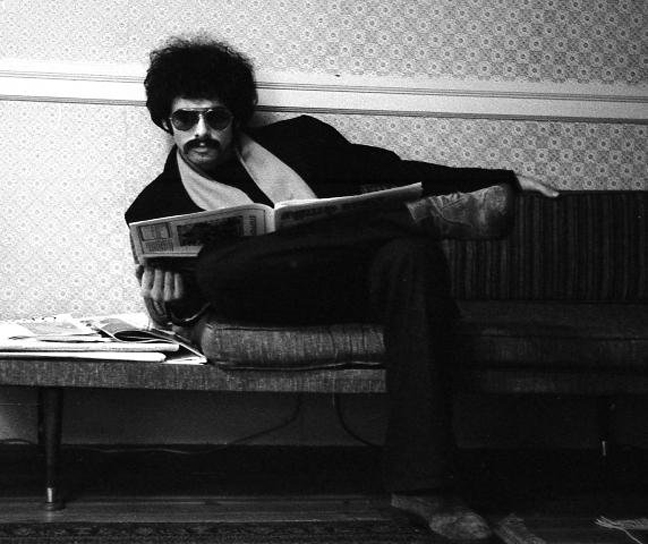 Piastro Cruiso, 'Anna Obsessed' writer (1968)

Did your partners have a clear idea of what they wanted?
At first it was just going to be a run of the mill sex loop – but soon this short sex film just evolved into a psychological suspense, murder mystery thriller.
Why did you decide that it should be a sex film?
Lawrence Delfiore (Production Manager): Being in film production, I knew many union techs. We wanted to make some "easy" money and thought a sex film would be "easy".
Because of the opportunity to make ready cash easily without worrying about the product. However we completely subverted that intent because the whole thing just turned into a crusade.
Had you seen many adult films at that stage?
Lawrence Delfiore: Many. I didn't like the non-stories. Most of them were very bad. Poorly photographed and produced.  Only 'Deep Throat' (1972), 'Behind the Green Door' (1972), and 'The Devil in Miss Jones' (1973) stood out.
Not really. It wasn't like I was a connoisseur or a user or anything. But we did start to view a lot of what was coming out at the time and also read about them a lot.
We understood that it was the 'porno chic' era where people were getting more and more serious, sophisticated and intellectual about adult films. But we thought we were better than that; we felt we were going to be the 'Citizen Kane' of porno!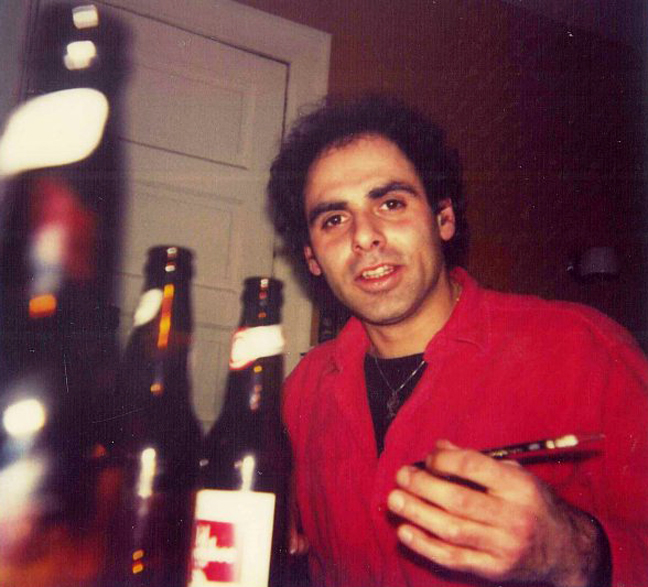 Piastro Cruiso, the writer in action
 Why did you think your film would stand out from the others?
Lawrence Delfiore: Acting, photography and story.
How did you divide up the work?
My role was the writer. One of the guys called Martin took on the director role, and the second guy called Martin became more of a producer. He was the face of our company.
The last gentleman, Larry Delfiore, was the production manager. He's the one who got all of the crew and the equipment together.
How did you come up with the story?
They gave me a little outline and I started to flesh it out. We began the long process of developing the story which evolved over a period of months. We'd meet together and discuss it all night, and then I would go back and write the scenes – and then we could come back and continue to flesh it out over a period of time.
The story went through so many different versions – but it was basically about a rape-killer stalking an island town.
Originally Maggie (Annette Haven) was a separate character, and the killer was a man. But then we hit upon the gimmick of making Maggie the killer. We thought that Maggie could rape the victims with a pistol. When we had that idea, it all seemed to come together.
We changed the title to 'The Stranger Within' at that point.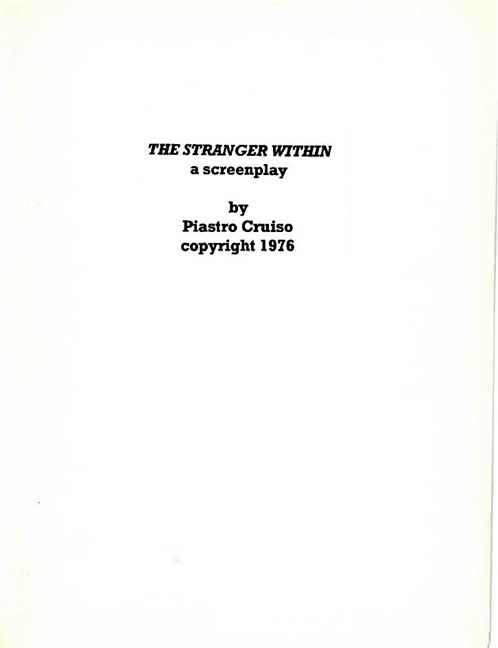 How detailed was your script?
Very detailed! I did the screenplay. Then we did a shooting script. Then we did shot diagrams. We did a shot book of every shot, every scene… diagrams, the camera movements, angles. We also did a full storyboard of every scene.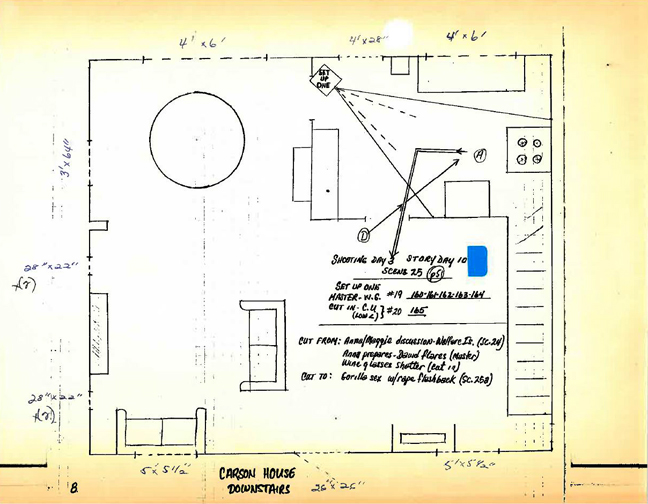 Shot diagram for scene in Carson house
We had volumes and volumes because we had all this time while we were raising the money to do it.
When we eventually assembled a crew, we handed them these big 9 by 12 binders with each shot in it. They said, "Oh, no! We've got to go study this…" They hadn't seen this type of detail before.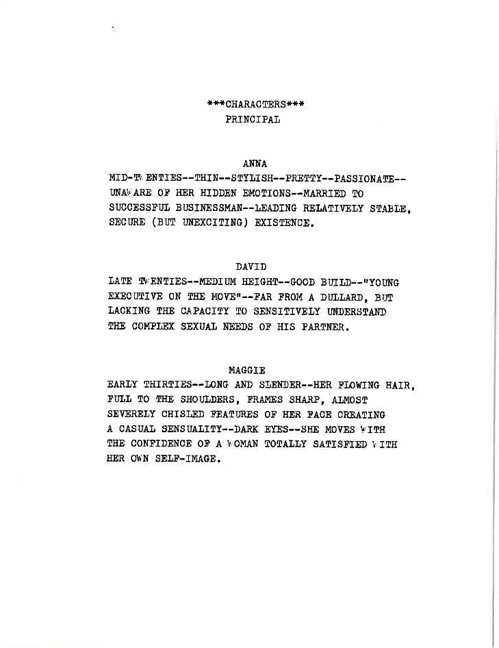 Outlines of lead characters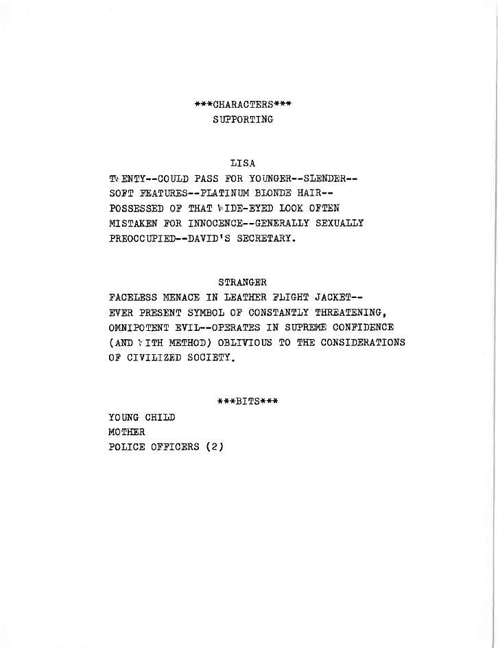 Outlines of supporting characters
How much was the overall budget?
Well over $100,000. The only people who got paid upfront were the talent.
All the crew's OT was deferred. A lot of the post production services, negative cutters, and sound was either deferred as well or purchased on credit. This meant we were able to make this $100,000+ movie with about $50,000 cash.
From 'Obsessed By A Liquid Stranger' (1978), an unpublished article by Piastro Cruiso:
"Now, hot to trot with the hope of bringing their pig to market, thoughts turned to finance. We consulted a lawyer friend intent on developing an appetizing investment proposal. He advised us on a 'friend and family' style offering, set us up as general partners in a limited partnership agreement. He furnished a respectable pro forma statement (to which we attached our budget and glowing production hype) and then we were in business".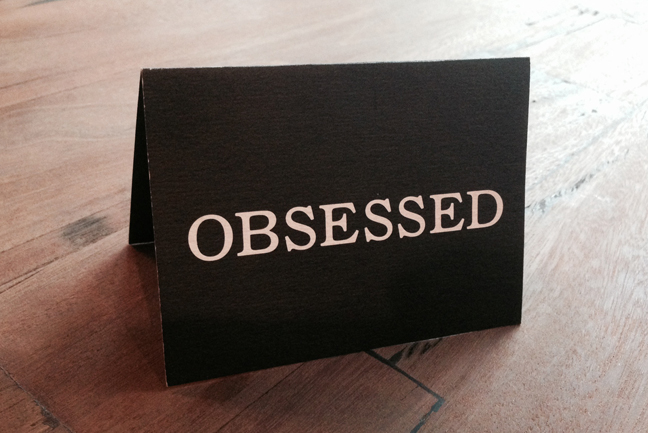 Promotional card for 'Anna Obsessed'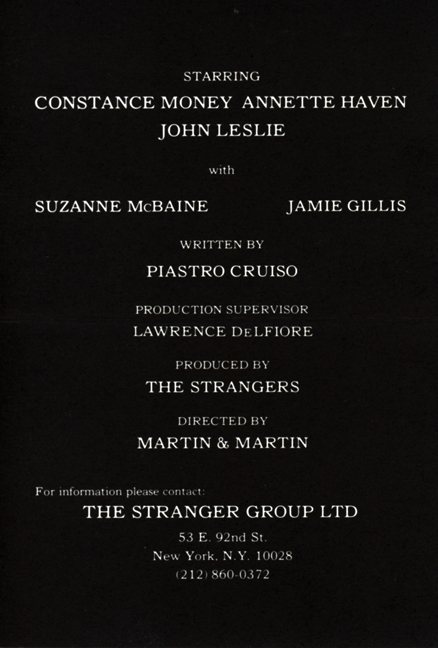 Promotional card for 'Anna Obsessed'
How did you raise the money for the production?
The four of us formed a general partnership, and decided to sell $500 shares to limited partners.
This raised around $50,000 which was enough to begin production.
How big was your crew, and how did you find them?
Lawrence Delfiore: The key members were all IA (International Alliance of Theatrical Stage Employees, or I.A.T.S.E.) whom I had become friends with from my days of studio managing and from many shoots I had worked on in the commercial biz. They included Alfred Hitchcock's gaffer, a makeup/hair stylist to the stars, our sound man from features and TV commercials, and a Teamster. We also had about 10 others as assistants for costumes, script and so on. All of them were friends.
From 'Obsessed By a Liquid Stranger' (1978), an unpublished article by Piastro Cruiso:
"Larry is a special kind of production manager. He assembled a crew like none other in porn; coaxing concurrent, ten day confirmations from a glittering line up of busy New York professionals – at a wildly deferred pay rate (he even obtained a Teamster in a package deal with a luminous lighting designer).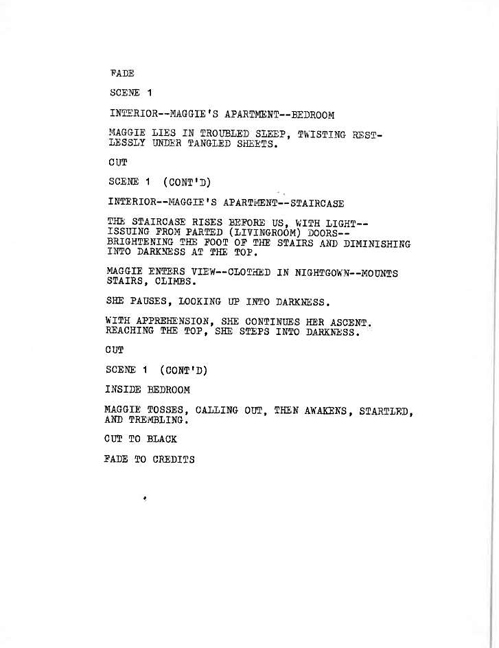 Opening scene from the 'The Stranger Within' screenplay
*
'Anna Obsessed': Casting:
Did you start the casting process then?
Yes. That also took months because we turned over pretty much every rock. We even advertised in Backstage Magazine: "Some Nudity Required"!
Somehow we got hooked up with Gloria Leonard who was the editor of High Society magazine – who was very helpful to us. She was a real champion and featured us in her magazine. We met a lot of people in the industry through her. In fact, we considered using her for the Maggie Ronson role that we eventually gave to Annette Haven.
We were put in contact with the agent Dorothy Palmer first.
From 'Obsessed By A Liquid Stranger' (1978), an unpublished article by Piastro Cruiso:
"Dorothy Palmer is a marginally endearing little dynamo who appears as if she pokes her face through a hole in a curtain to have her makeup sprayed on. She operates with brusque alacrity from a command post in her busy uptown office, cluttered with mingling shades of talent and filmmakers
Contemporized Rembrandt sunlight graced her hydrant-like frame through a muting of plastic venetians. For a moment, the room exploded with the reflected brilliance of a thousand crystallized Rayette droplets. "You do anals?" she said.
"Well, uh…"
"C'mon, c'mon."
"No," a demure whisper.
Dorothy into phone: "Sorry, sweetheart, no sale".
Yet Sandi Foxx gets the casting credit in the movie?
Yes, we met Sandi after Dorothy. Sandi was basically responsible for the majority of the casting. Sandi was around a lot. She was just always just laughing and honking. She has this honking laugh.
From 'Obsessed By A Liquid Stranger' (1978), an unpublished article by Piastro Cruiso:
"Sandi Foxx exhibited a winning personality and a most relaxed operation. She impressed The Strangers as an unrefined gem of a woman, with the particularly disarming tendency to bubble into exuberant laughter, not unlike a hog digesting slop".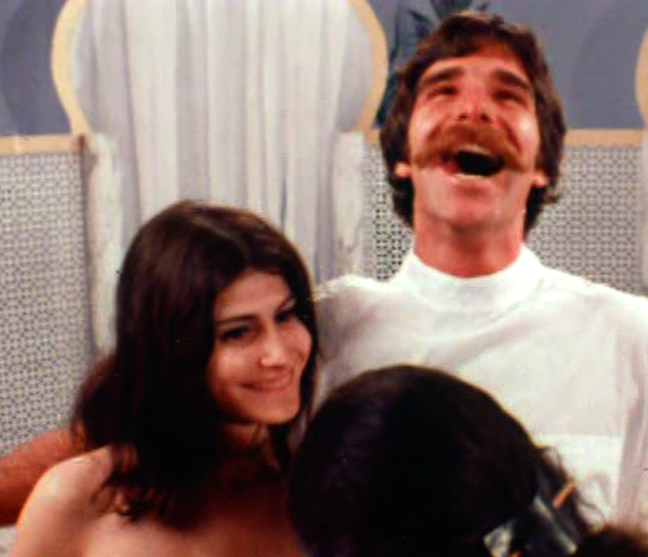 Sandi Foxx (and Harry Reems)
How did you conduct the casting sessions?
It took forever. We saw people from all over the country for months and months. We hired people for roles that we ended up never even having the opportunity to film.
Most people we saw were recommended to us. We saw all kinds of headshots, and auditioned people like Lesllie Bovee, Sharon Mitchell, and C.J. Laing… so many people. We saw them all. We did a lot of research.
We would get the actors to read a scene – usually the scene where Anna comes to Maggie's apartment after she's been raped and Maggie comforts her. It gave them an opportunity to show their acting chops. Then we took some photos of them and ask them to walk around in front of us.
From 'Obsessed By A Liquid Stranger' (1978), an unpublished article by Piastro Cruiso:
"One bizarre youngster issued the following stern directives: "I won't do anals… I won't be with a man after he's been with another woman, and do I have to swallow it?"
"You needn't worry" we soothed. "It's generally straightforward heterosexual sex we have here".
"What's that?" she wondered.
"I mean to say, there'll be no effronteries performed on your body".
To which she responded: "Oh! Effronteries are okay; it's backeries I don't like".
Who were the first people you saw?
The first people we liked were Bob Kerman, who was our initial choice for the role John Leslie played, and his girlfriend, Crystal Sync, to play Anna.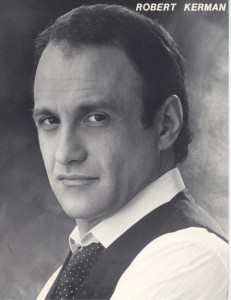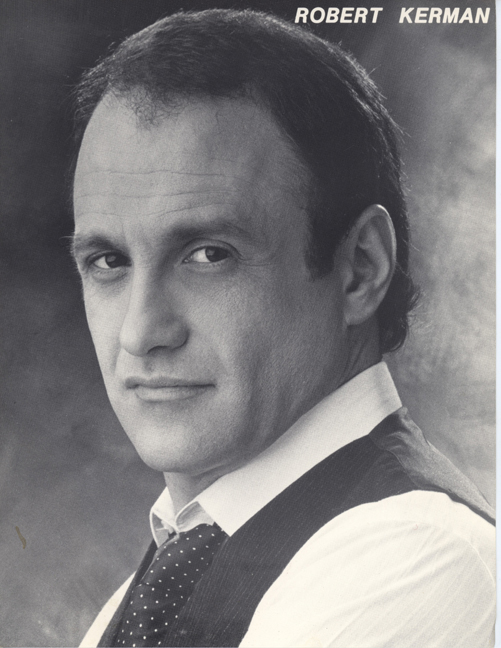 From 'Obsessed By A Liquid Stranger' (1978), an unpublished article by Piastro Cruiso:
"Richard Bolla and Crystal are two of a tiny coterie of legitimate thesps working in porn. Bolla is an active journeyman performer noted for broad comedy and heavy dramatics – nothing in between.
Bolla addressed us, patting his bare middle: "This", indicating his tummy, "is going to go". (We would have been happier had he aimed a little lower and said "This is going to grow!")"
How did you come across John Leslie and Annette Haven?
That was from Sandi – who also introduced us to Lesllie Bovee. We knew them all because we'd seen Alex de Renzy's 'Femmes De Sade' (1976).
From 'Obsessed By A Liquid Stranger' (1978), an unpublished article by Piastro Cruiso:
"The telephone rang and it was Sandi Foxx with news that Annette Haven and Lesllie Bovee (top temptresses from the Coast) were in town and available. The boys arranged a meeting, more for star gazing than casting, since our flyweight budget was not equipped with tall talent fees. Sandi would also bring John Leslie along; the harmonica player from Iowa, more widely known as the 'Peter Sellers of porn'.
Did Lesllie Bovee audition for you?
Yes, and we were completely sold on her. She read for us and was very good.
From 'Obsessed By A Liquid Stranger' (1978), an unpublished article by Piastro Cruiso:
"Lesllie's Anna became the embodiment of threatened delicacy. It was a sublime interpretation, climaxing as Lesllie took Annette's face into her hands, drawing the other woman closer, emphatically brushing her with moist lips.
Larry was the first to come to. "This performance calls for a standing ovation!"
Lesllie thought the story idea was intelligent and original, but she declined as she didn't like the combination of sex and violence. She said it was "irresponsible"."
Why did R. Bolla and Crystal Sync drop out of the picture?
We went to see Gerard Damiano's 'Odyssey' (1977) and weren't very impressed with them in that film. We actually gave Kerman another part instead but never filmed it due to scheduling constraints, although he did spend a day on the set waiting.
It was John who suggested that we contact Constance Money. She was running this lodge in Alaska at the time, so we talked to her via satellite.
She'd been in 'The Opening of Misty Beethoven' (1976) and 'Mary! Mary!' (1977) by this time. Both had been successful films, but she'd basically retired and just returned to Alaska. It was fortunate for us that John Leslie was still had contact with her.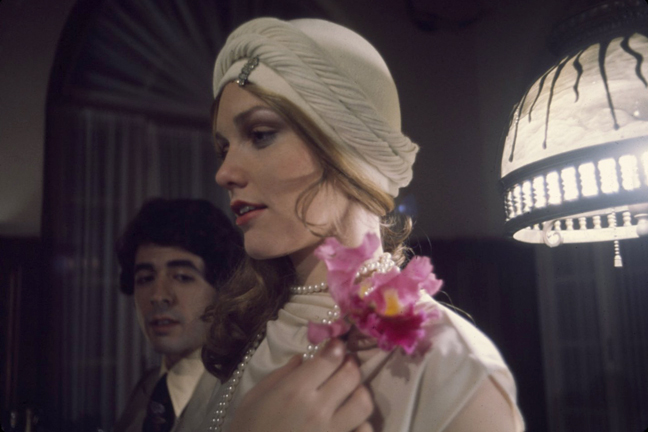 Constance Money, 'The Opening of Misty Beethoven' (1976)
From 'Obsessed By A Liquid Stranger' (1978), an unpublished article by Piastro Cruiso:
"We realized her fee would smother our choking budget, but weighing this against the bankability of a big name star in our stable, we decided to take the plunge. A script was forwarded to Sandi Foxx, who forwarded it to Ms. Money at her snowy retreat. To our unbridled delight, she accepted!"
Annette Haven was offered the role of Maggie and excitedly jumped at the opportunity, confiding heavy anticipation at the thought of working out with the beautiful Ms Money.
John Leslie, of course, would play David."
What was Constance Money like?
She was like an innocent; one you wanted to embrace and protect.
We called her and offered her the role and she said, "Hey, it might be fun." We paid for her to come into New York for the shoot. She stayed at one of the director's apartments on 62nd St.
From 'Obsessed By A Liquid Stranger' (1978), an unpublished article by Piastro Cruiso:
"Constance confessed she hadn't found time to actually read her script: "But I think that too much preparation makes the character stale and mechanical. I want my performance to be fresh and spontaneous. I don't see why there should be all this rehearsal. Can't we start shooting right away? I have to get back to the lodge".
After three days of rehearsal, we concluded that maybe Constance was right. It seemed she was the living example for the notion that too much thought is bad for art. And we realized that great care must be taken to keep this snow princess from melting".
You selected Susan McBain after meeting her in person.
Yes, we loved her in 'Odyssey'. She was a more accomplished actress. She came in and she was just totally professional and well prepared. When she arrived she just took her clothes off and posed for us.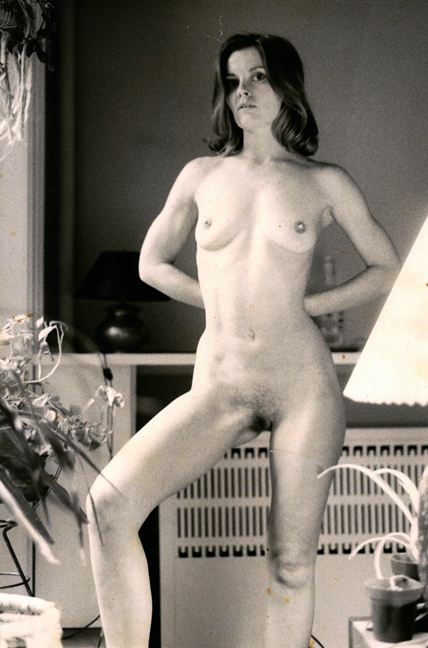 Sue McBain in a photo taken during the 'Anna Obsessed' casting sessions
She lived on a houseboat in Manhattan with her very young daughter. She was wonderfully sweet. Like a neighbor.
And we asked Jamie Gillis for a little cameo which rounded out the ensemble.
What were you looking for when you were casting?
We not only wanted people who we thought were physically right for the roles, but we wanted good actors as well. And fortunately that's how it worked out: When we sent them the script, they went nuts. It was their opportunity, their Shakespeare!
They all wanted the back stories. They were looking for their motivation and their reaction. They came prepared with their own ideas. We did two weeks of rehearsals, and then rewrites.
They really got into it. I mean it was almost annoying to us because it all ended up taking up more time. The pre-production took months and months; especially John Leslie. He wanted to know everything about his character and wrote some of his own lines for the scene where the husband and wife are at the dining room table in the morning and there's friction in the marriage.
John Leslie: I'd been in a few films by this time – but most of them had been out west. When I got to New York, I found a different vibe. This was one of the first times that I felt part of a 'serious' adult film, where the directors seemed to care about the quality of the acting. Naturally I ate it up.
From 'Obsessed By A Liquid Stranger' (1978), an unpublished article by Piastro Cruiso:
"John Leslie wholeheartedly endorsed The Stranger Group, sharing in our belief that the project was of value. But his willingness to offer suggestion and his ongoing inquiry into character development caused our directors to ultimately sniff an intrusion on their domain.
"I want to get the mood down straight", John repeated during an hour of restless discussion. "Just tell me what my motivation is".
"Your motivation is your paycheck, John"."
*
'Anna Obsessed':

The Shooting:
When did the shoot take place?
We shot it in May of 1976. It was scheduled to take place over eight consecutive days, but ended up taking ten as we overran on a couple of days.
Everybody had the scripts. And the crew had their books that they had to study also.
What do you remember about the shoot?
Lawrence Delfiore: CHAOS!!! It was ten days that shook the world!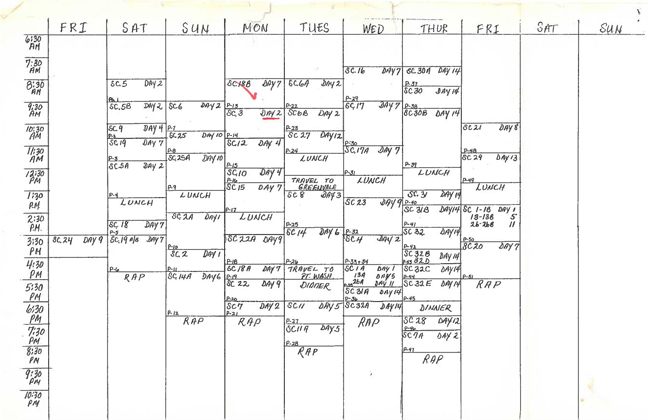 Original eight day shooting schedule for 'Anna Obsessed'
Day One: Friday 6th May, 1977
Location: Central Park, New York, NY
Scenes: Anna (Constance Money) and Maggie (Annette Haven) walking and talking
Did you get permits to shoot?
Sure, we did. We were a legitimate production! The first day we took delivery of all the equipment and we shot pick-up shots in Central Park where the two women are walking and they decide to get together with David.
We shot on 35mm, and released it in 35 millimeter as well.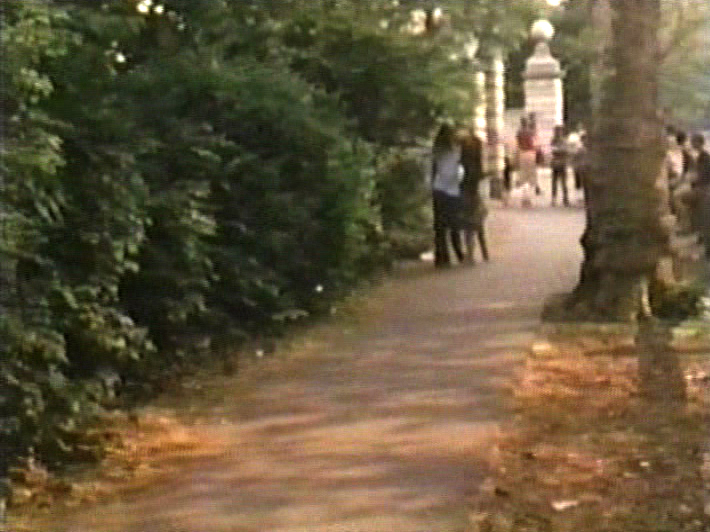 Annette Haven and Constance Money, Central Park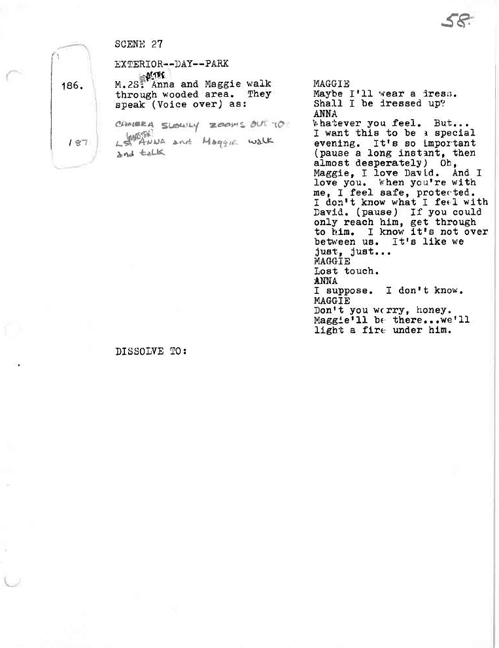 Excerpt from 'Anna Obsessed' shooting script, with dialogue used in Central Park scene
Day Two: Saturday 7th May, 1977
Shooting location: 747 3rd Ave, New York, NY
Scenes: David's (John Leslie) office; Susan McBain scenes with John Leslie and Jamie Gillis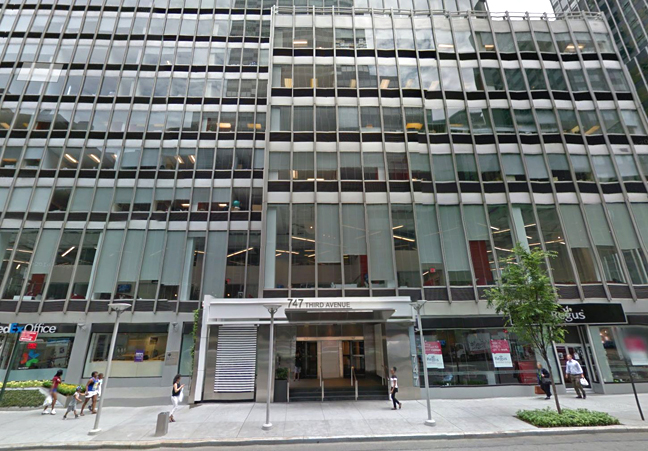 Location for David's office scenes, 747 3rd Ave, New York, NY (September 2014)

From 'Obsessed By A Liquid Stranger' (1978), an unpublished article by Piastro Cruiso:
An impressive suite of offices in a chic Third Avenue designer structure provided the ideal location for The Stranger Group's first bold foray into production. The Group was delighted at the ease with which their efficient crew operated. We were further graced with flawless performances by three gifted veterans (Susan McBain, John Leslie, and Jamie Gillis).
You started by shooting scenes with John Leslie and Sue McBain in the reception area of an office?
That was an office that was shared by a number of different companies in Manhattan. We rented that for a few days.
You were using a professional crew – but how did you know that you were getting the footage that you wanted?
We had a video camera – a 'slave camera' – attached to the main camera so we video-taped everything. This meant that we had a small crew actually filming – but the rest of us were in another room watching everything on video. That way we didn't have to wait until the dailies to see if we had a decent shot. We could review everything on video tape and determine what we wanted to print. This was a real sophisticated operation!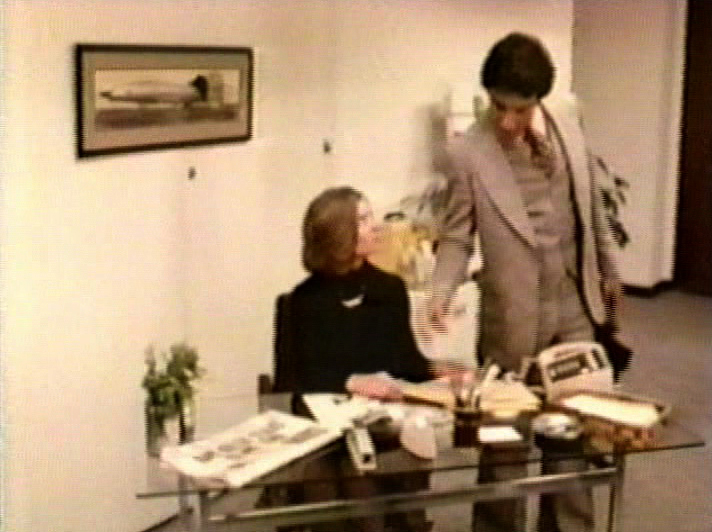 Sue McBain and John Leslie in office scene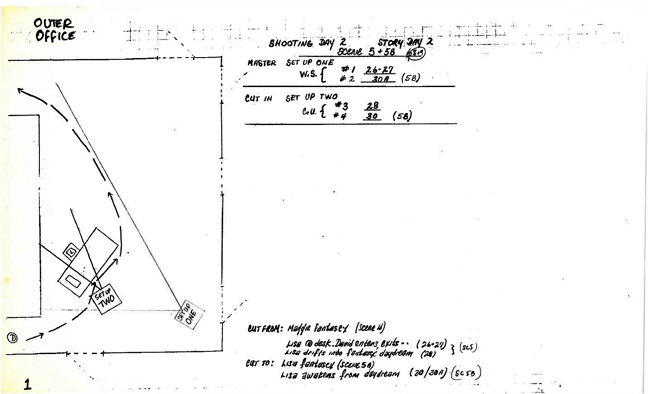 Shot diagram for office scene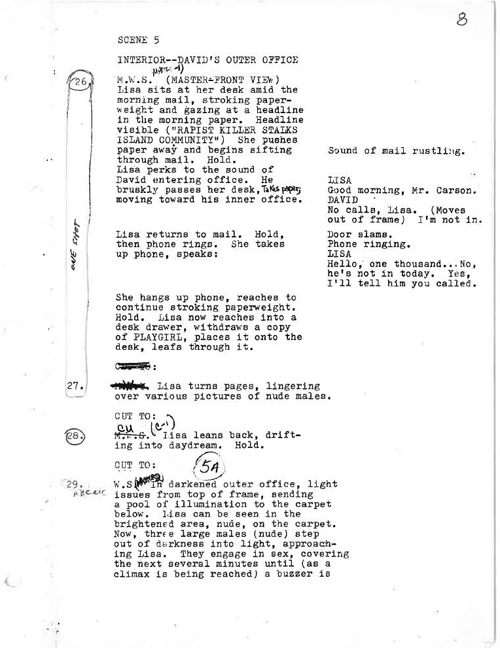 Excerpt from 'Anna Obsessed' shooting script, with dialogue used in office scene
How busy was this first full day of shooting?
We filmed all of Sue's scenes – including her two sex scenes in the same day. First we filmed her scenes at the desk. Then she has a scene with her boss David Carson (John Leslie), where they have sex together in his office. Then she has a dream sequence with Jamie Gillis on a bean bag in a dark room there.
Jamie Gillis: The guys in charge were all pretty young as I seem to remember, and they seemed well-intentioned – but it was difficult to know who exactly was in charge, you know? Anyway, a sex scene with Sue McBain was always an easy day's work so I didn't mind.
What was it like filming the sex scenes for the first time?
I remember at the end of the Susan McBain and John Leslie sex scene in the office where he explodes onto her, everyone just erupted in a spontaneous standing ovation. It was great.
Lawrence Delfiore: Filming the sex scenes wasn't a problem but it DEFINITELY wasn't a turn on. We were way too busy. But one scene between John and his secretary, Sue McBain, went great – and is generally acknowledged as one of the hottest scenes in porn.
Susan McBain: I loved John Leslie. He was just so intense and yet caring. The filmmakers seemed to be more serious than many other people I worked with at the time. I remember it was a looong day but I couldn't have wished to work with anyone better than John and Jamie.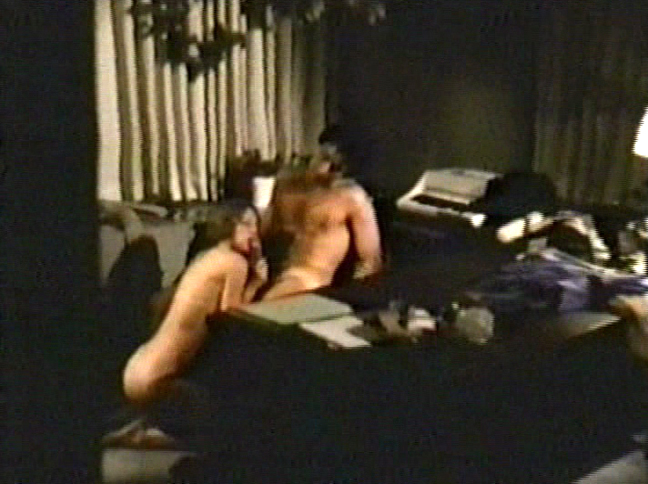 Sue McBain and John Leslie, sex scene in the office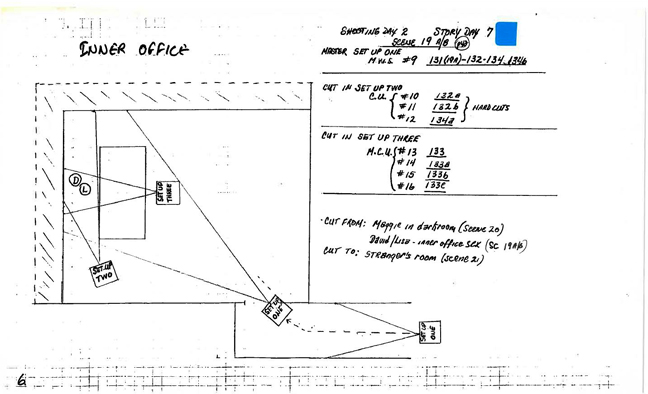 Shot diagram for sex scene in office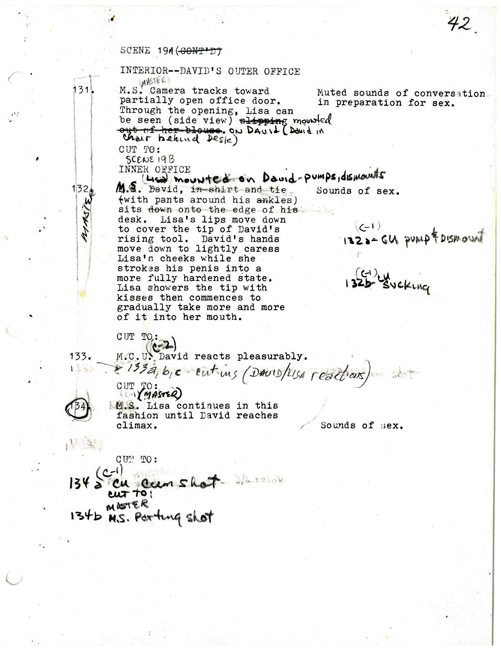 Excerpt from 'Anna Obsessed' shooting script, with instructions and dialogue used for sex scene in office
From 'Obsessed By A Liquid Stranger' (1978), an unpublished article by Piastro Cruiso:
The scene was red hot and The Stranger Group was glowing! Twelve hours of mostly fruitful labor left them strengthened and confident that the following days could only serve to enhance their position.
But a fairytale ending is not the destiny of this little story. As the days wore on, the glow wore off. What had been good dirty fun became a grim struggle.
Day Three: Sunday 8th May, 1977
Shooting location: Locust Lane, Oyster Bay, NY
Scenes: House of Anna Carson (Constance Money) and David Carson (John Leslie)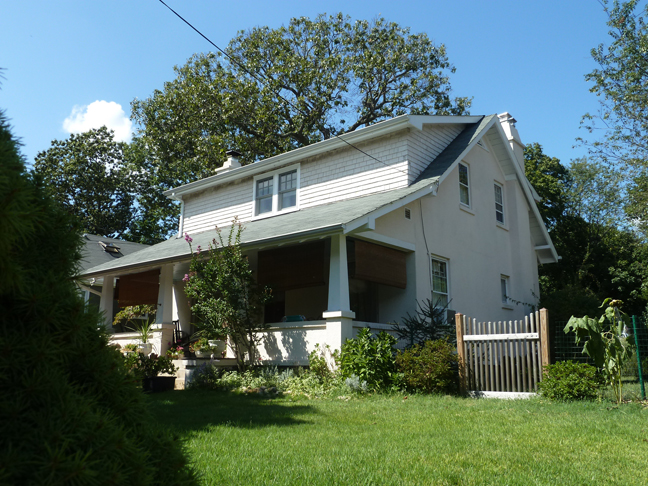 Location for scenes at Anna and David's home, Locust Lane, Oyster Bay, NY (September 2014)

Where were the suburban house scenes filmed?
They were filmed out on Long Island – in the Huntington area. It was a house owned by friends of ours.
From 'Obsessed By A Liquid Stranger' (1978), an unpublished article by Piastro Cruiso:
"On to the pleasant stucco cottage that would provide a filmic residence for the story's lead couple, Dave and Anna Carson (John Leslie and Constance Money).
One thing the location provided was the mercy of sufficient space. A rambling ground floor proved a comfortable enough shooting area. A large cool basement housed Central Control, for sound and video monitoring. Upstairs, separate rooms were outfitted for make-up, hair and wardrobe. A spare bedroom was set aside for rest, contemplation and – if you got lucky – maybe some quick head from an accommodating female spirit. Out back was a yard for barbeques, breaks, and a welcome retreat from the mounting frustration that surfaced inside.
After three days with The Stranger Group, this idyllic setting more resembled the encampment of a three ring circus".
The scenes in the house were the first chance to work with Constance Money; how did she fare?
She was kind of lost. She had an unfocused personality and she didn't really apply herself either like the others. She kept jettisoning lines because she couldn't remember them. She had a scene at the kitchen table where we came up with the bright idea of writing her lines down and putting them on the table in front of her. She was able to nail that one.
In another scene where she was talking on the phone, we did same thing. She was able to nail that one as well.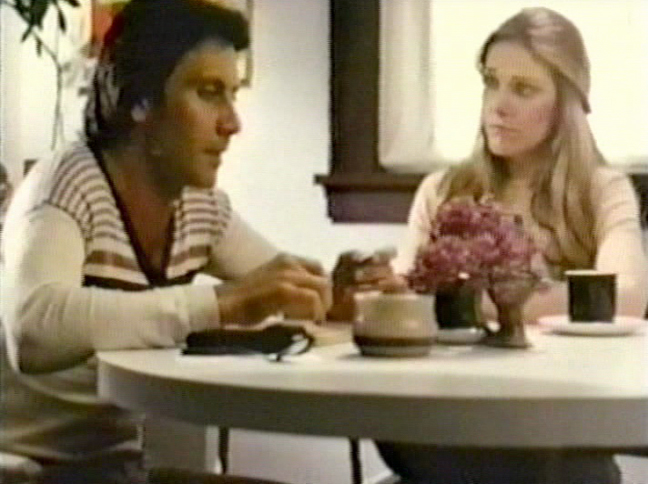 John Leslie and Constance Money at kitchen table (with Constance Money's dialogue sheet obscured by flowers)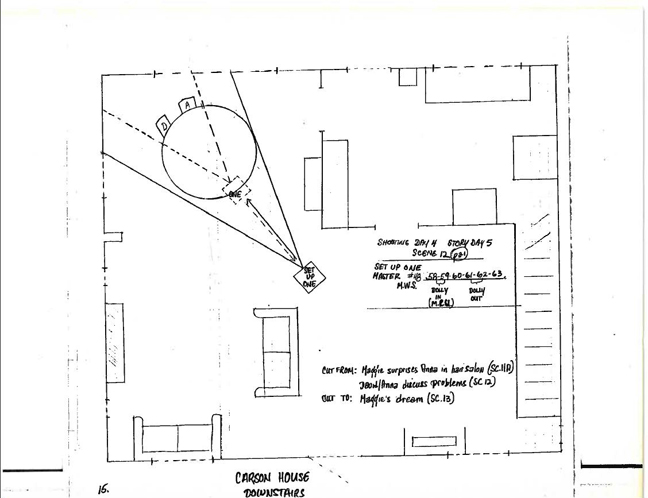 Shot diagram for kitchen scene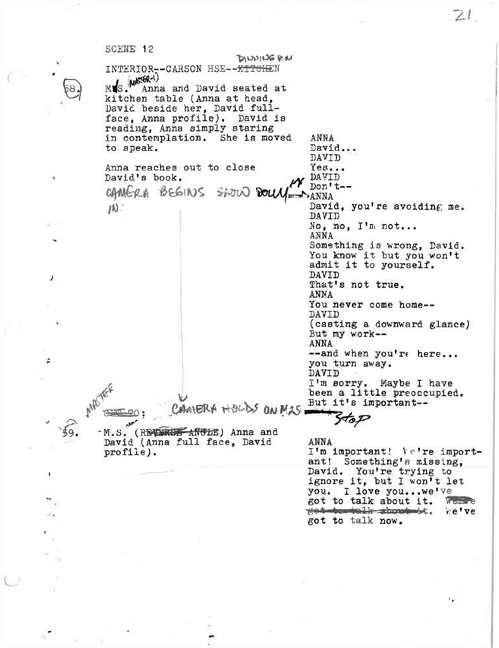 Excerpt from 'Anna Obsessed' shooting script, for kitchen scene

From 'Obsessed By A Liquid Stranger' (1978), an unpublished article by Piastro Cruiso:
"Trouble mounted as Constance found herself unable to act in straight scenes after performing in sex scenes – using too much time to re-compose herself. She bought a quarter ounce of cocaine and wondered why her sinuses continually clogged. It appeared to the boys that – while a genuinely sweet, intelligent, resourceful woman in 'real' life – she is one star in porn who truly does not belong.
"What am I doing here?" and "Why am I doing this?" were questions she asked herself – and could not adequately answer".
Given that the crew was used to working on mainstream productions, how did they get on with the X-rated cast?
Lawrence Delfiore: In between scenes, John Leslie and our unit manager, Micky, would be discussing things like hours, overtime, and John would be sitting there keeping himself 'ready' for action – while Micky remained nonplussed. Once our Teamster even went for pizza.
You also filmed the rape in the car on this day; where was this shot?
The rape scene that takes place in the car park of the train station was actually shot in the garage of the Oyster Bay home. That was the last thing we did that day.
Constance Money, assaulted in car by The Stranger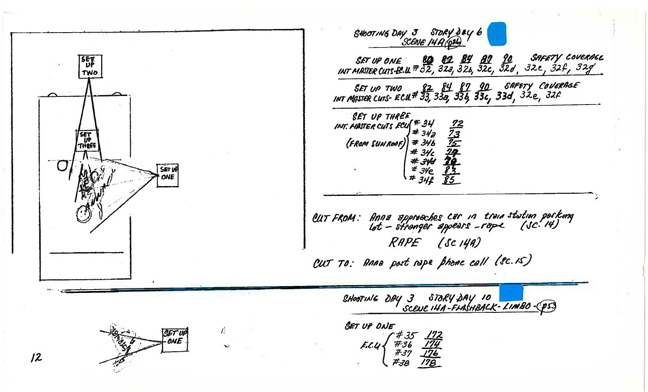 Shot diagram for the rape scene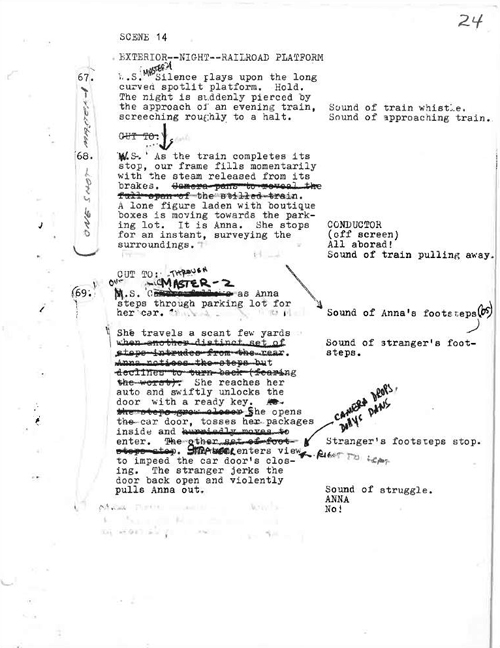 Excerpt from 'Anna Obsessed' shooting script, for rape scene

Day Four / Five: Monday 9th May, 1977 – Tuesday 10th May, 1977
Shooting location: Locust Lane, Oyster Bay, NY
Scenes: House of Anna Carson (Constance Money) and David Carson (John Leslie)
How was the relationship holding up between the guys in The Stranger Group?
Lawrence Delfiore: We were equal partners and we all had the right of veto. So it became a mess in all areas. It was amazing we turned out a pretty decent film.
Well – it was difficult. For a start there were four of us – which is a bad number. No tie breaker. Everything took way too long. We were up all night. It was always two against two. In the end we often had to flip a coin to make decisions.
In fact, if you ask Annette Haven she'll say there were four directors. She said that several times!
From 'Obsessed By A Liquid Stranger' (1978), an unpublished article by Piastro Cruiso:
"As people, the Stranger Group probably did not change perceptibly, but as partners, they became intolerable. These grueling days of preparation had seen surface some serious personality conflicts and they found themselves more adept at stepping on each other with their mouths than addressing the issues at hand – welding agony to progress".
Did you manage to keep the production on track?
We had one mishap, where John Leslie's money shot went astray…
That was the scene where he comes home after the two women had been together in the afternoon. Constance is hastily trying to prepare dinner, and he has this idea to take matters into his hands.
So he grabs her and they have rough sex – which is a magnificent scene where she has a rape flashback. Unfortunately John, well… he missed. He was so excited that he overshot the mark and hit one of the crew members in the leg instead.
How did you fix that?
First, we tried to make fake come and squirted a syringe and it just didn't look right. It wasn't natural enough.
We tried to make it using mayonnaise, a little egg white, and water. But we never got it right. They don't sell that stuff in a bottle. Basically you had to reload and fire again, which is what we did. We came back the next day and shot the splash scene over again. We needed to make sure we he got it on her face.
Day Six: Wednesday 11th May, 1977
Shooting locations: Raffles Tavern, Tower St, Old Roslyn, NY
                                     Train station, Greenvale, NY
                                     Le Jazz hair salon, Main St, Port Washington, NY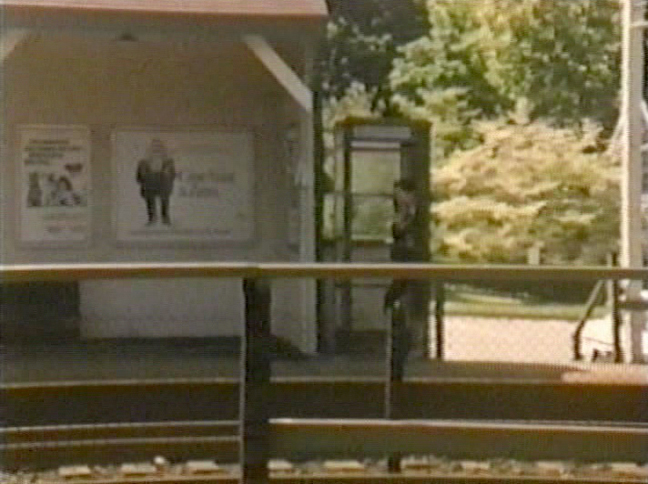 Annette Haven, at the railway station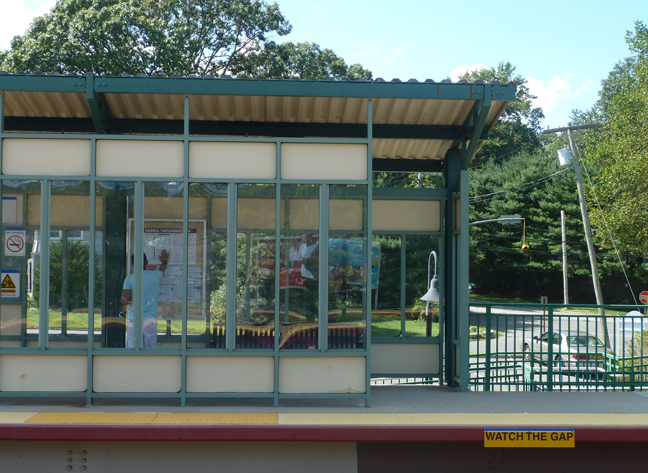 'Anna Obsessed' train station, Greenvale (September 2014)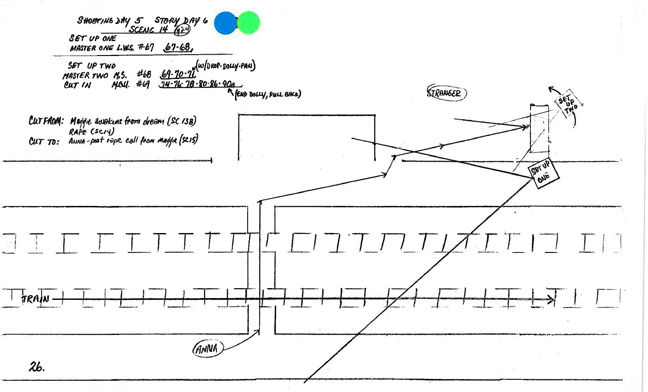 Shot diagram for the train station scene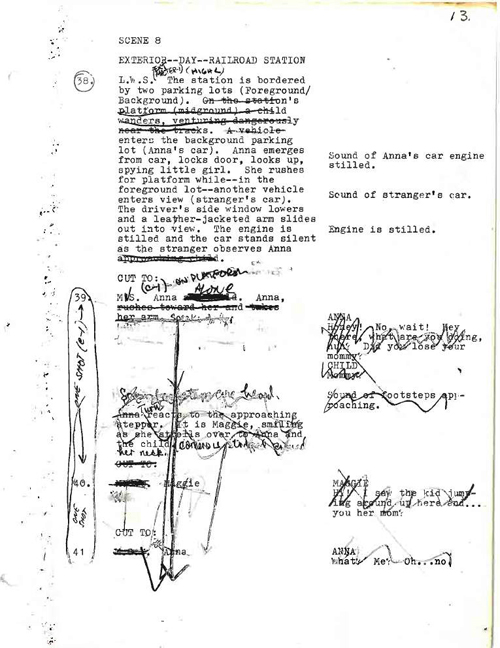 Excerpt from 'Anna Obsessed' shooting script, for train station scene
You shot a scene in a hair salon?
Yes – the same people who owned the house also owned a hairdresser salon – so we shot a scene there as well. It was the last thing that was shot that day. In fact it was shot in the middle of the night – which we didn't even attempt to hide. You can see that it is pitch black outside of the salon in the opening shot of the scene.
Day Seven: Thursday 12th May, 1977
Shooting location: 53 East 92nd St, New York, NY
Scenes: Maggie's (Annette Haven) apartment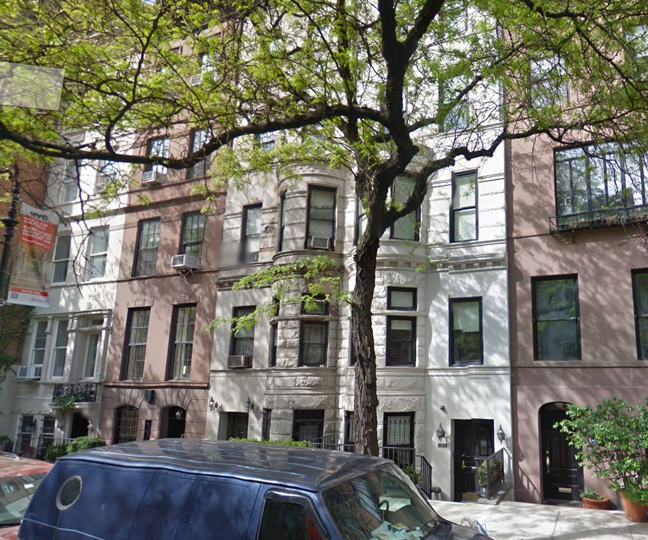 Location for Maggie's apartment scenes, 53 East 92nd Ave, New York, NY (September 2014)

Where were the scenes in Maggie's apartment shot?
Maggie's apartment in New York City was actually our office. It was a duplex on East 92nd Street near Madison Avenue. It was a really beautiful place.
What was Annette Haven like to work with?
Annette was professional and reliable. She was strong and pretty authoritative too. I remember we put her up alone at a rooming house type place.
She loved her big gargantuan California doobie joints. She had to have one before she did anything.
From 'Obsessed By A Liquid Stranger' (1978), an unpublished article by Piastro Cruiso:
"Annette – assuming a posture of the star that she indeed was – delivered an ultimatum, calling for a complete revision of one scene.
"I thought Sandi Foxx told you this. I won't use dildos. I don't like the way they feel; they're uncomfortable. You should try one sometime".
I proceeded to reverently expound on the psychological and dramaturgic relevance of the scene, illustrating its intrinsic importance toward the establishment of character and the advancement of plot.
"I won't use dildos". Annette remained unmoved.
"This film has been thoughtfully constructed. And we, as filmmakers, would be seriously disadvantaged in presenting our cinematic vision if this delicate structure must be altered as you suggest. Have our feelings been made clear?"
"Perfectly" she acknowledged. "But I won't use dildos".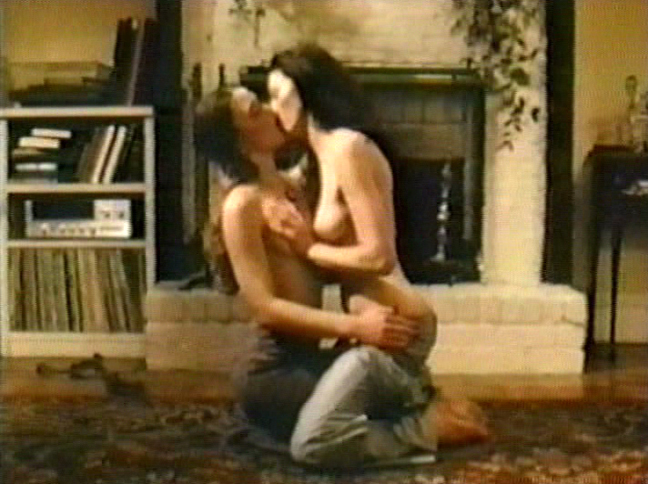 Constance Money, Annette Haven, at Maggie's apartment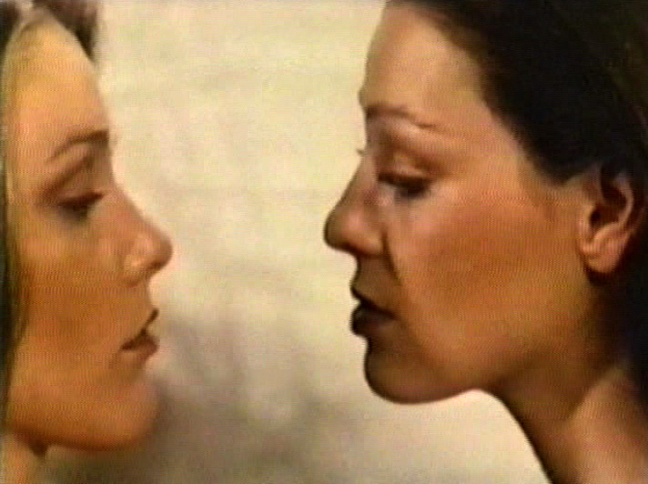 Constance Money, Annette Haven, at Maggie's apartment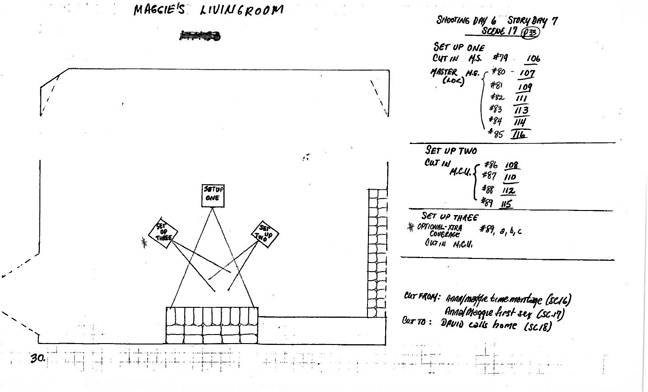 Shot diagram for the Constance Money and Annette Haven sex scene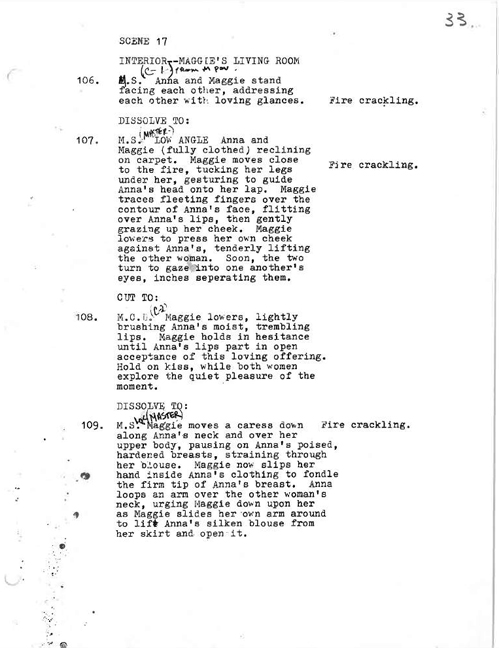 Excerpt from 'Anna Obsessed' shooting script, for the Constance Money and Annette Haven sex scene
Annette played this dual role of the friend and the killer?
Yes, but I have to tell you that it was actually me that played the killer not her!
We must have been looking to save a few bucks so I played that role and we let Annette go. I played it with a wig, a cap, my old coat, and a panty hose over my face. So whenever you see the killer in the movie, that's me. I'm the one who raped Constance Money with the pistol. I'm the one who broke into the house, and it was Constance Money who sat on my face in a fantasy scene–for hours and hours.
That doesn't sound difficult!
At one stage I became annoyed and asked the director, "Give me some direction!"
He just said, "You should know what to do… You wrote it!"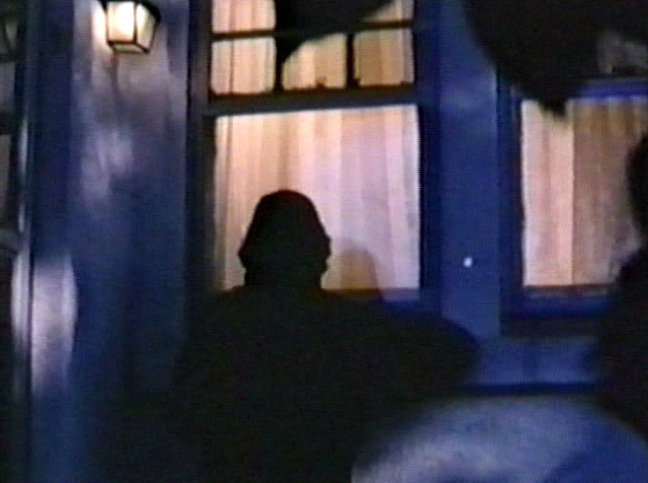 The Stranger – or is it Piastro Cruiso?
Day Eight / Nine: Friday 13th May, 1977 through Saturday 14th May, 1977
Shooting location: 53 East 92nd St, New York, NY
Scenes: Maggie's (Annette Haven) apartment
By now things were getting pretty fraught?
The shortest day we worked was 12 hours, and our longest day was Day 8 / 9 – which was 41 hours – which finished with us shooting the ending, the death scene where Annette was thrown against the wall countless times. By the end of that scene, I don't know what time it was. Half the crew was asleep.
By that stage of the proceedings I think our makeup man was directing it.
Annette actually had a breakdown in the middle of that 41-hour day. I think she lost it over caraway seeds in the rye bread in her tuna sandwich.
From 'Obsessed By A Liquid Stranger' (1978), an unpublished article by Piastro Cruiso:
"The eyes that remained opened were reddened and dark from lack of sleep. Breathing was labored and speech doled out in whispers. The crew was not rejoicing over a deferred overtime salary totaling $20,000. And the waiting; everyone waited for everything. The faithful huddled – on stairways, in hallways, bathrooms, closets and fire escapes – eyeball to eyeball, suffering in quiet agony".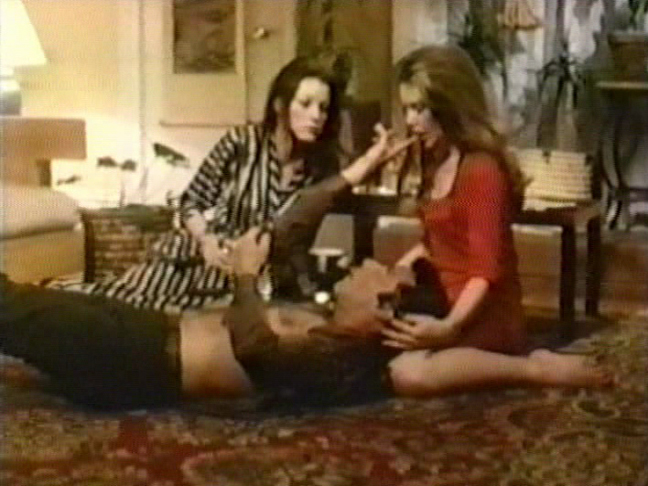 Annette Haven, John Leslie, Constance Money at Maggie's apartment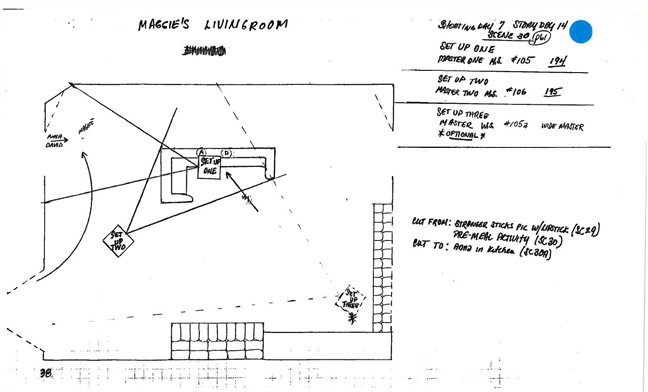 Shot diagram for the threesome scene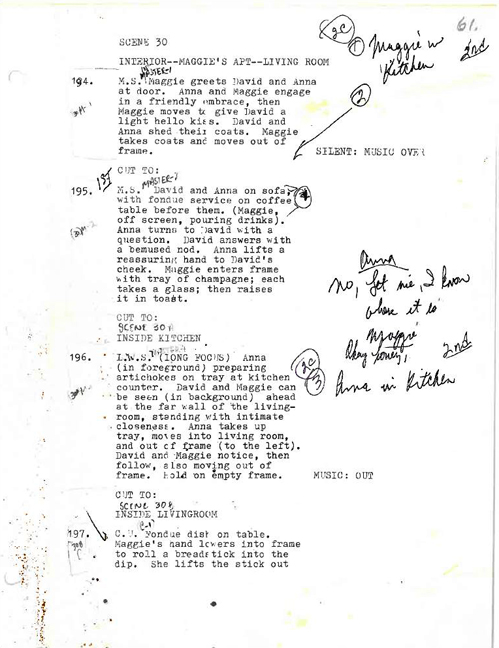 Excerpt from 'Anna Obsessed' shooting script, for threesome scene
How were the cast reacting to the long days?
We were just using John, Annette, and Constance at this point. And it was Constance who was showing the most signs of wear and tear.
From 'Obsessed By A Liquid Stranger' (1978), an unpublished article by Piastro Cruiso:
"Constance was fast developing into a precious, porcelain Barbie Doll. What we needed was a Chatty Cathy. Between scenes, she repaired to makeup and wardrobe, each time a little more unhinged than the last, worn down by the rigors of a fully realized characterization. And, on these occasions, she was consoled and strengthened by cosmetician extraordinaire, Pierre Le Coq".
Who was this make-up artist?
We called him 'Pierre Le Coq'- he worked on 'Saturday Night Live'. He was the one who did the bullet holes on Annette.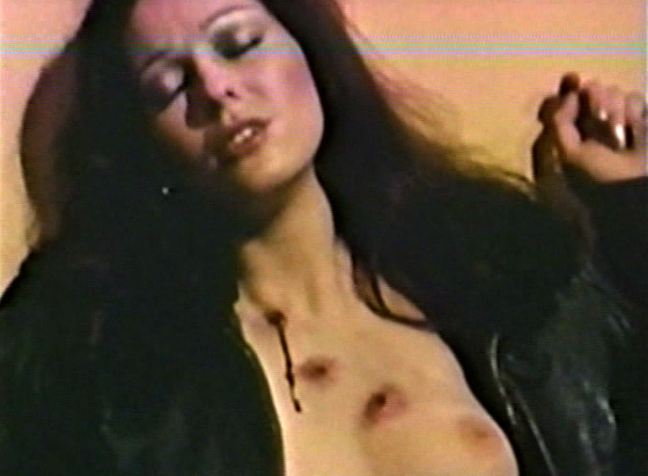 Annette Haven, death scene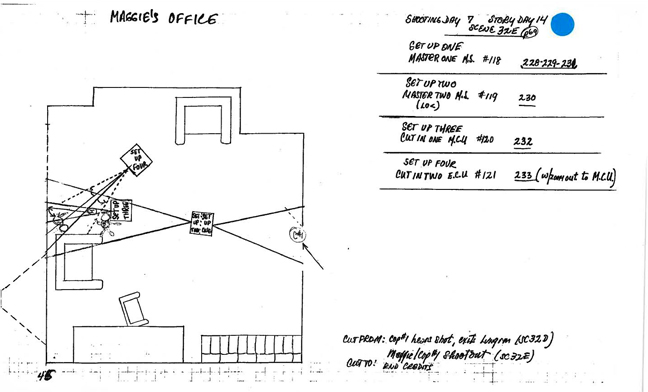 Shot diagram for Annette's death scene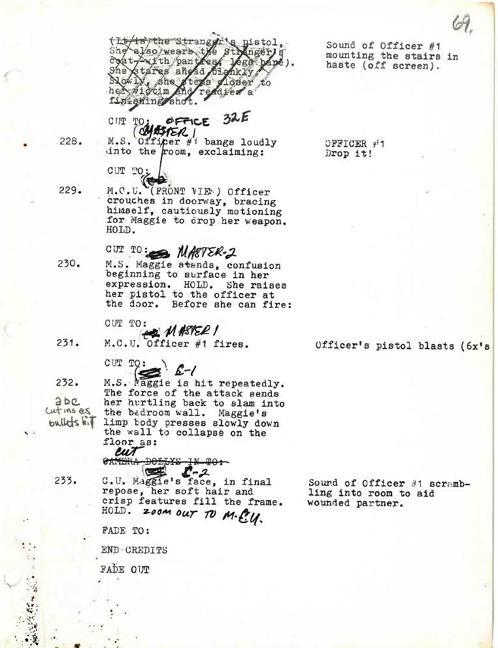 Excerpt from 'Anna Obsessed' shooting script, for Annette's death scene
Pierre had helped developed the Conehead characters' makeup on the show. He did the make-up and hair for us—and some radio voiceovers.
I met him years later here in Buffalo when they were filming 'The Natural' (1984) with Robert Redford, and I was an extra.
We were filming at the Richardson Towers and one day at lunch I was talking with Robert Duvall, and the make-up guy came out and it was 'Pierre Le Coq'! So we sat at the table with all the other crew and started regaling everyone with stories about 'Anna Obsessed'!
In the final scene, two cops are called to the scene of the crime; who were the two actors?
The Lieutenant was played by the brother of our Director of Photography.  The other cop was Steve James. He went on to act in several 'American Ninja' films (1985-89), Friedkin's 'To Live and Die in LA' (1985), and Keenan Ivory Wayans' 'I'm Gonna Git You, Sucka' (1988). He was a school friend of my partner, and went on to have a long career in film. He's since deceased.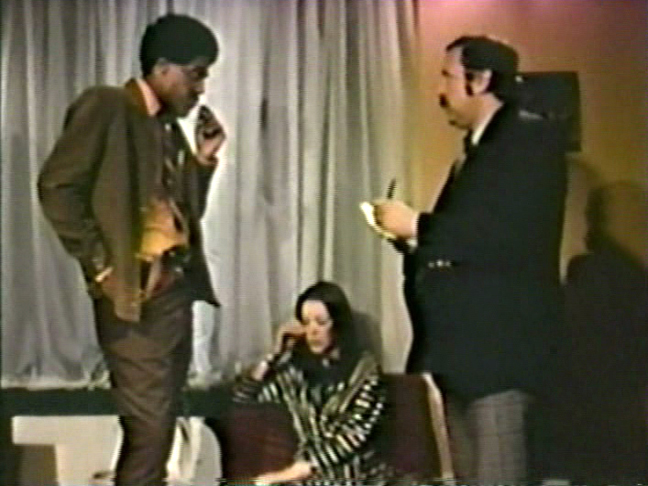 Steve James, Annette Haven, and the Lieutenant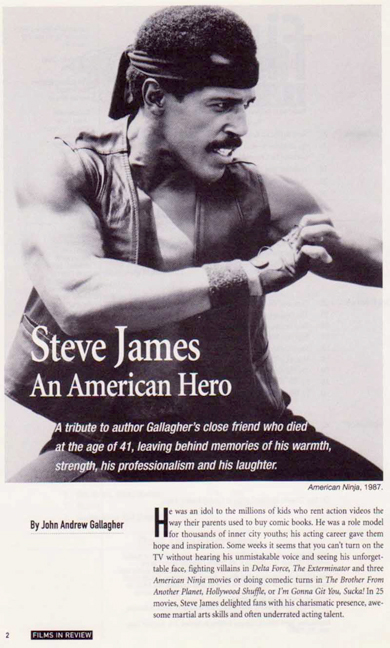 Day Ten: Sunday 15th May, 1977
Shooting location: 53 East 92nd St, New York, NY
Scenes: 'Limbo'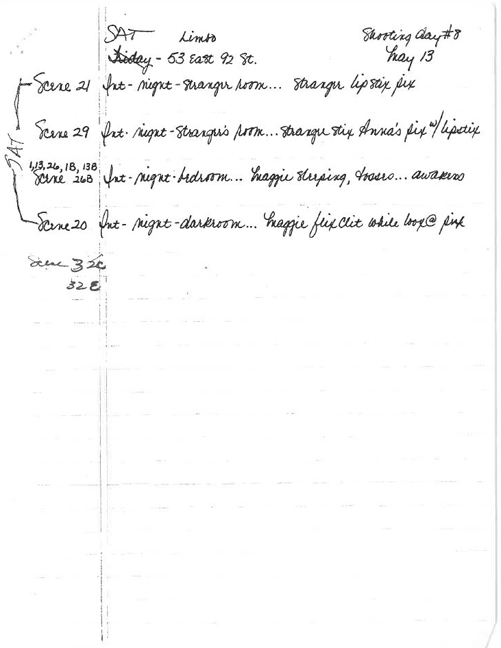 Shooting summary for final day
*
'Anna Obsessed': Post-Production:
How did the post-production process go?
We took all the footage back to the office to edit it. We edited over a period of months. We had 'Nick Roberts', a commercial editor, who'd just lost his job. He was on unemployment so he worked for us for deferred money while he was collecting his unemployment. He really got into the project. He did a really good job.
Was this just as fraught as the shoot?
Lawrence Delfiore: MAJOR. Seven months of hell.  The two novice directors wanted one approach, and Piastro Cruiso and myself another. The editor also wanted his way.
Were you all seeking your own version of perfection?
Yes, we definitely got very serious about it all. I remember that we even cut out Annette's masturbation scene because we didn't like the way the camera moved. We were pious pornographers!
What did you do for a soundtrack?
While we were editing it, we were also looking for original music. We talked to a lot of New York musicians. Stan Bronstein was interested; he'd formed 'Elephant's Memory' in the late 1960s, which was known primarily for backing John Lennon and Yoko Ono.
And we became close to Buzzy Linhart who composed "(You Got To Have) Friends" which became singer Bette Midler's theme song. We hung out with him a lot, and he wanted to do something really different and dangerous.
In the end, we hired some musicians from Long Island who did a good job. It was just two guys. They were electronic music type people. They were great musicians and had a studio. As we edited the film, we sent them the rough cut and they composed the music scene by scene. They developed themes and let them play out through the movie.
The last part of the post production process was sound mixing. We booked three days with the same sound mixer who worked for Woody Allen. It was a great experience, and he was very helpful.
From 'Obsessed By A Liquid Stranger' (1978), an unpublished article by Piastro Cruiso:
"The result was an opus unheard of in the annals of pornography. Two wops, a kike, and a spudnut (toiling months on a project others might have granted minutes) had conceived the quintessential "New York" fuck film: a tabloid psychodrama of dual identity, leaning alternately toward the best of Antonioni, Bergman, Hitchcock, and Sam Fuller; a work of stunning relevance and chilling vision, in a steamy pulp framework. 'The Stranger Within' was not merely a genre topper, but a film to transcend an entire species".
When did you get a rough cut together?
I remember we finished the rough cut in time for a screening on 7/7/77 where we got all the distributors together, as well our friends and contributors. We showed it to them to get some interest from a distributor. We got a nice response from… who was Radley Metzger's woman?
Ava Leighton, yeah. She didn't make an offer, but she directed us to Ron Sullivan (aka Henri Pachard).
Whilst we were negotiating with Ron, we'd decided to film a prologue that would help explain the psychological problems with the main character, Maggie (played by Annette). We were thinking of showing how her split personality developed in a scene when she was child with her mother. We were talking to Georgina Spelvin to come to New York play the mother.
Ron Sullivan said that if he was going to distribute it then he demanded to have final cut approval. Being the pious pornographers we were, we said good bye to him. And we ended up not shooting the prologue anyway.
We probably should have stayed with Sullivan, who knows?
Lawrence Delfiore: We should have gone with Ron Sullivan but we were greedy and went with two guys who really didn't have enough money for prints and advertizing. And they were real lightweights.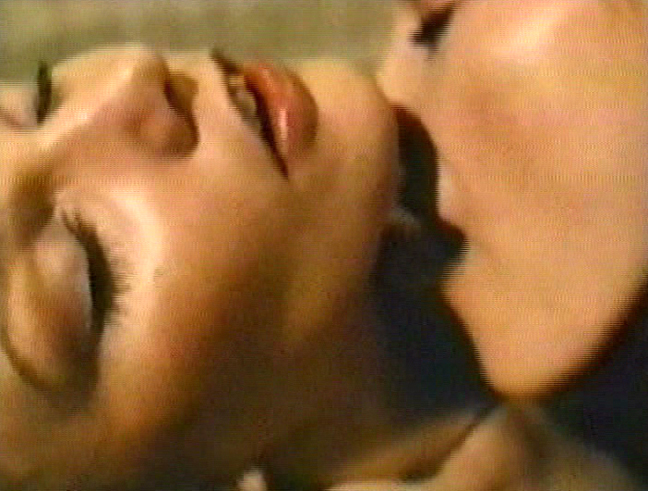 Constance Money and Annette Haven
Who did you end up choosing as your distributors?
We ended up with Republic Films. Jerry Garfinkel and Barry Goldfarb, I think, were their names. Anyway we called them Belly and Jelly. They had the Republic Pictures trademark. They were just getting into acquiring films. We were, I think, their first XXX film.
Did they ask you to make any changes to it?
Yes – they're the ones who convinced us, "It can't be a tragic ending. You got to cut out the death at the end."
I said "We already have a pistol fucking and stalking! This is hardly a shock given what came before!"
But they insisted that we had to make it all a dream. By that stage we'd burned so many bridges, and were concerned that there was no one left to distribute the film. So we cut the ending to make it a dream. The rest of the film was still intact including the rape scene.
From 'Obsessed By A Liquid Stranger' (1978), an unpublished article by Piastro Cruiso:
"The film was closer to them than it ever had been. And their cold, foreboding title seemed suddenly inappropriate. So they applied themselves to a final creative gesture. 'The Stranger Within' was a stranger no longer; it was now, 'Obsessed'.
*
'Anna Obsessed': Release:
Where did the film open?
We opened it at the Presidio Theater in San Francisco, in October of 1978 I think.
I think that was to take advantage of Annette Haven who lived there. We tried to get it into the Pussycat, but failed because we had no track record, no guarantee, so we basically took what we got.
Did you travel to San Francisco for the premiere?
No, we did not. The farthest I got I think was Alexandria, Virginia. We hung out in New York trying to keep the creditors at the bay.
We also had to raise more money after the production for the post production costs – so we went back to friends and family. We even managed to get a lesbian group down in Tribeca to contribute by buying shares in the film because they admired the girl on girl action.
Then it played across the country. It played everywhere, you name it. We played it in drive-ins in Carolina, Virginia, literally in drive-ins. It did modest business. I don't know how many prints. We had about seventeen 35mm prints, and they were all the version with the dream ending.
Do you remember the film opening in New York?
It was about a year after the San Francisco opening that we premiered the film in New York. I think it was late summer or fall of 1979.
That's when we restored it theatrically to the original version: the 'uncut' version that took out the dream ending.
We had a preview screening before we opened. It was at some NBC studio in the city. We had a lot of the critics come along. I remember Al Goldstein was there.
It was great; we got a standing ovation. Goldstein was standing on a chair spouting sentences like "this is a shimmering kaleidoscope of erotic imagery". We were just high. We thought we were really going places. You have to remember this was a time when the grosses of porn films were actually being reported in Variety!
Did you change the name at that stage?
Yeah, we'd been thinking about 'Deadly Erotic'. But then we changed our mind and decided not to put 'dead' in the title.
Then we had lunch with Bruce Williamson of Playboy magazine. He said we should call it 'Anna Obsessed'. He said "Anna is the main character. And people will think its 'Anal Obsession'. It'll arouse a lot more interest".
By this stage the name 'Obsessed' was burned into the film, but we marketed it and sold it and referred to it as 'Anna Obsessed'.
The film has a graphic rape scene where Constance Money's character is raped with a gun. Were you ever worried that this might cause you trouble with the authorities?
No, because we filmed it legitimately. There was an outlet for it and none of us ever felt threatened or worried. Our only concern was whether the film was commercial, marketable.
In fact if anything we played it up. At that time, the actress Carrie Snodgrass was in the news claiming that the music producer Jack Nitzsche had menaced her in the bathroom with a pistol by putting it up to her private parts.
Oh, life imitating art! We tried to use every avenue that we could to just create controversy.
Did you hire a publicity firm to market the film?
Not really. We did it ourselves in concert with the distributor.
We were in Playboy a couple of times. We had a good review of the film and then there was a feature on Constance Money after that as well. We sent stills to some of the other magazines and they reviewed it
Lawrence Delfiore: It was called the first 'serious' adult film. A work of art! People generally loved it. Our friends loved it. My family wasn't thrilled… those that saw it that is.
High Society review of 'Anna Obsessed', July 1978
You shot it in May 1977 and it took time before it came out across the country. I presume that you and your partners had day jobs during this time?
I did some day labor work. I installed solar panels for example – but we basically worked on the film continuously. Whatever jobs we had were just a distraction.
We kept our company going, and worked our relationships with the investors, and edited the film, for such a long time. Then we did the marketing for it and worked with the distributors so it was full time work for quite a while.
Did you make money from 'Anna Obsessed'? Was it profitable for you?
Not really. Everyone thought we had Swiss bank accounts where we kept the profits. Nobody got a return on their investment so on paper the film failed. However we were able to live off of the proceeds while we were working on it.
It ended up costing around $120,000 when you add up all the costs.
Were you happy with the film?
I think if we weren't so myopic, we could have done a better job. I'm pleased and proud to be responsible for it. I think it's still unique and  timeless. We filmed it that way so it would belong to no particular era.
Lawrence Delfiore: With hindsight I wish we'd shot it in 16mm – and had just one director!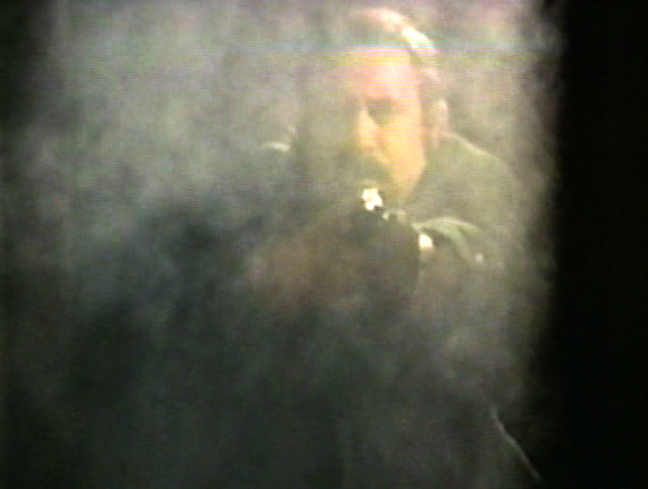 Cop number 1 fires the fatal shot
How did The Stranger Group come to an end?
I left in 1980 because my father got sick, so I returned home to work for the family company.
Before I left we sold the video rights – which was pretty revolutionary for the time. We also sold exhibition rights in Europe, Italy, Japan, and elsewhere.
As for the overall US rights, I think my partners ultimately may have sold them. The company just petered out when we felt we'd exhausted all the revenue. To be honest we had to shut it down because we still had a lot of debt; we settled the debt by just going out of business.
Did you any of The Stranger Group ever make any other XXX films?
Not as a group. After the film was released, we continued to work in commercial production. One of my partners had worked on one or two other New York adult films in some capacity. One was called 'Cherry Cheese Pie'—or something like that.
One of the group moved to Hollywood and became a producer there for many years.
*
'Anna Obsessed': Afterwards:
When was the last time you watched it?
I screened it at a tavern in Rochester a couple months ago where my friend has a music bar.
But previous to that, I've watched it countless times. I always enjoyed it because I like to make running commentary with each new group of friends.
Were you all adamant that you wouldn't use your own names in the credits?
Yes – as far as I know every name that appears is fake.
My porn name came about after a friend of mine started calling me Piastro which was the name of the manager of a local state park. This was long before 'Anna Obsessed'. His name was Mario Piastro. So the nickname just stuck. When it came time for me to pick a name, I said, 'Piastro' – and then 'Cruiso' just popped into my head.
None of us wanted it to affect our future job opportunities in the industry.
Even recently, I got in touch with one of the directors of 'Anna Obsessed' for this Rialto Report piece – but he was still concerned that talking about it could impact his current activities…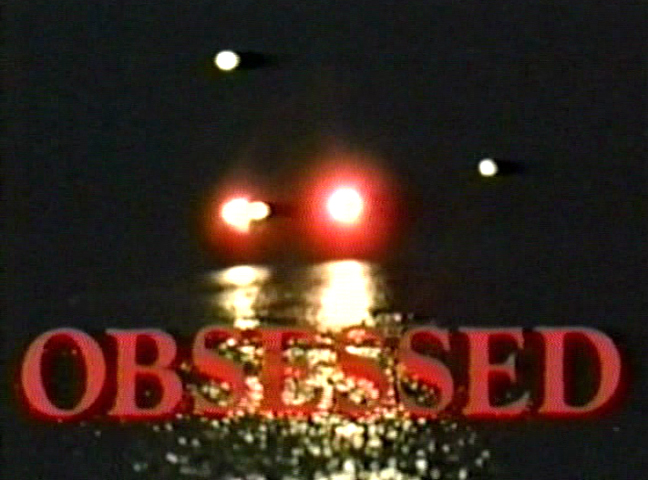 *