For the last fifty years, Allan Tannenbaum has been the quintessential New York photographer.
In 1973, upon the publication of the SoHo Weekly News, Tannenbaum became their Photo Editor and Chief Photographer covering the New York City art, music, politics, show business, and nightlife scene until 1982. In this capacity, he took thousands of pictures of events and icons such as Jack Nicholson, Mick Jagger and John Lennon – and many of these photographs are in his excellent books 'New York in the 70s' and 'Grit and Glamour: The Street Style, High Fashion, and Legendary Music of the 1970s'.
Tannenbaum's works have also been featured in books, exhibitions, and have appeared regularly in publications such as Life Magazine, Rolling Stone, Paris Match, and Stern. His photos have graced the covers of Time magazine three times and Newsweek five times.
But his work was not restricted to mainstream celebrities, Allan took countless pictures of the adult film and party scene in New York during the 1970s. Most of these pictures have never been published – until now.
The Rialto Report recently spent time with Allan and his huge collection of photographs (he retained just about every photograph he ever took), and are grateful to him for allowing us to share some of them here.
We chose seven categories to focus on:
'Blow Dry' (1976) – the film premiere
Harry Reems fundraiser
Eros 75 event
'The Underground Tonight Show'
High Society magazine party
Plato's Retreat
Club Scene
Terri Hall
Order a copies of 'New York in the 70s' here, and copies of 'Grit and Glamour: The Street Style, High Fashion, and Legendary Music of the 1970s' here.
Photographs © Allan Tannenbaum / Sohoblues.com all rights reserved.
_______________________________________________________________________________________________
1. 'Blow Dry' (1976) – film premiere
The adult film 'Blow Dry' premiered at the Circus Cinema at 1604 Broadway in New York on November 8, 1976.
The film was directed by one-time enfant prodige of the Canadian film industry, David Secter, using the nom-de-porn, Laser Scepter.
Back in 1965, when he was 22 years old, Secter had made the first English-Canadian film ever selected at Cannes, 'Winter Kept Us Warm' on a budget of $8,000. Taking its title from T. S. Eliot's 'The Waste Land', 'Winter' was thematically ahead of its time, dealing discreetly with homosexuality.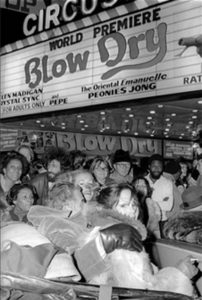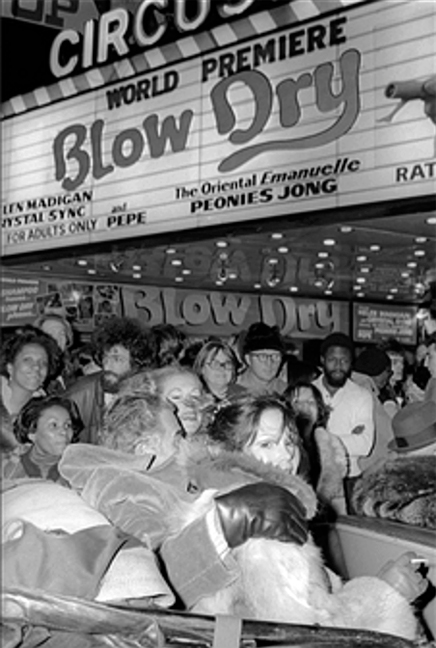 Hollywood beckoned, and Secter signed with the William Morris Agency to produce and direct films. He seemed destined for great things.
But then, just as suddenly as he emerged, Secter disappeared. He moved to New York, founded a filmmaking commune on the Lower East Side, and revelled in the flamboyantly sexual epoch of the seventies, making underground films few people ever saw. It was this artsy commune that made 'Blow Dry', ostensibly to finance a second, more commercial, film, 'Feelin' Up' (aka 'Getting Together').
'Blow Dry' was an attempt to cash-in on the success of Hal Ashby's 'Shampoo' (1975) which starred Warren Beatty and Julie Christie. Billed as 'The movie Warren Beatty was afraid to make, 'Blow Dry' featured Helen Madigan, Victor Colicchio (as Pepe), Jamie Gillis, Peonies Jong (billed as 'The Oriental Emanuelle'), Ultramax, and Robert Kerman. The premiere was an unusually extravagant black tie affair.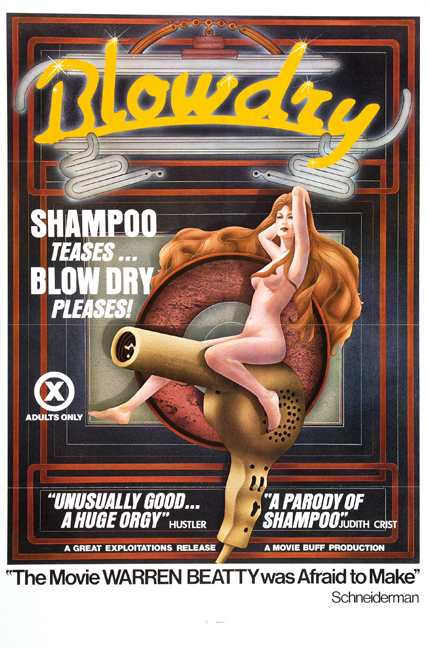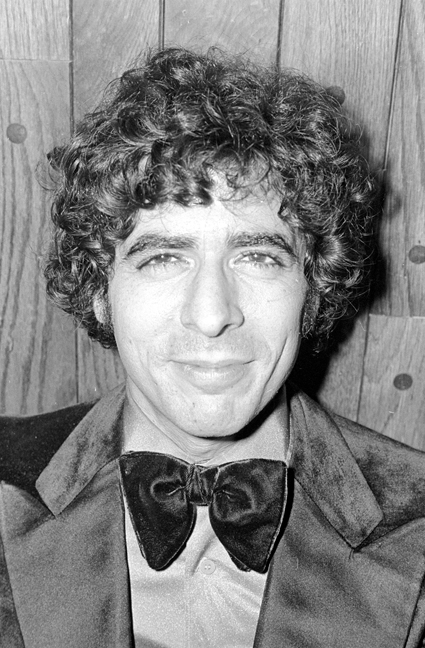 Jamie Gillis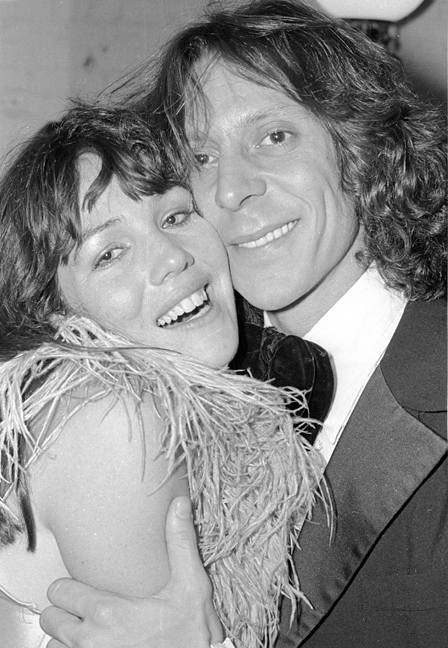 Blow Dry star Helen Madigan and Marc Stevens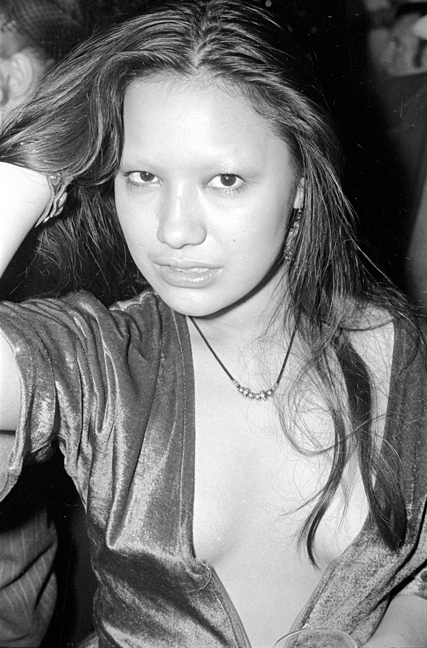 Ming Toy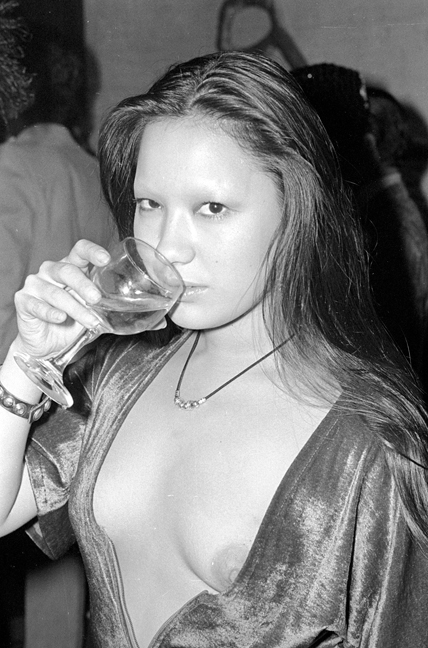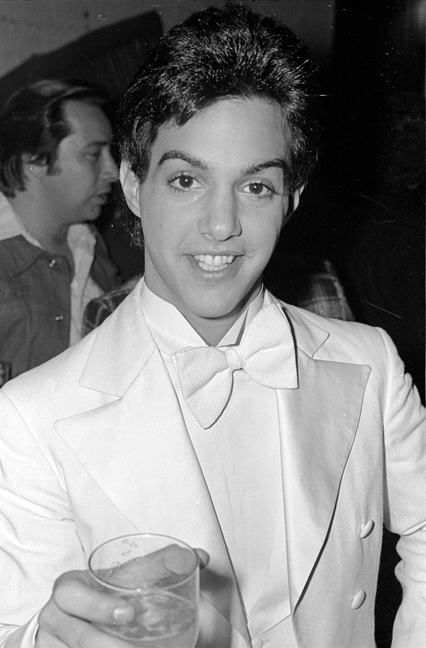 'Blow Dry' star Victor Colicchio ('Pepe')
2. Harry Reems fundraiser
On the morning of July 7, 1974, Harry Reems was awoken by a knock at the door of his Chelsea apartment. "I looked through the peephole," says Reems, "and there were three guys holding guns and FBI badges."
Two and a half years before, he had starred in the landmark adult film, 'Deep Throat', which was rumored to be funded by Joseph and Louis "Butchie" Peraino, associates of the Colombo crime family. The authorities had been working on the case for two years, and now Reems and eight reputed mobsters were indicted in a Memphis federal court for conspiracy to transport obscene material across state lines.
No one disagreed or cared that Harry had no role in the financing, marketing, or distribution of the film. The fact was that overnight he become the first actor or artist of any kind to face federal charges for his work.
The nine-week Deep Throat trial was one of the costliest endeavors in federal court history in Memphis, with witnesses arriving from New York, Florida, California and New Jersey. The choice of Memphis as a venue was cynical and creative. Logically since the film was being distributed from New York, and since most of the defendants lived there, New York would have been the natural location for the investigation, indictment, and trial. But have you ever tried to offend a New Yorker?
By contrast, obtaining an easy conviction in the chastest corner of the land, the federal government could create the means to set obscenity standards for the whole of the country. It was the "buckle of the Bible Belt" as Harry described it, and where Memphis went, New York may have to follow.
On April 30, 1976, a jury found all the Deep Throat defendants guilty. Harry faced a prison sentence of up to five years and a fine of $10,000.
He immediately went to work to clear his name, setting up a legal defense fund and retaining Alan Dershowitz for a possible appeal. "I became a professional fundraiser for a year" he said. "It was unbelievable. It cost me $400,000 to defend myself. Where does a guy get that kind of money to fight for his freedom?"
At first the support he received from the mainstream was remarkable. Press coverage was extensive, Alan Deshowitz was everywhere, and Harry was the beneficiary of fundraisers thrown by the likes of Warren Beatty and Jack Nicholson – all claiming that his conviction would have a chilling effect on their profession and on the First Amendment protection of freedom of speech. For a time Harry turned up everywhere addressing groups of his supporters. Everyone wanted to be part of Harry's team. It was like When Harry Met Rally.
Allan Tannenbaum attended one of the fundraisers.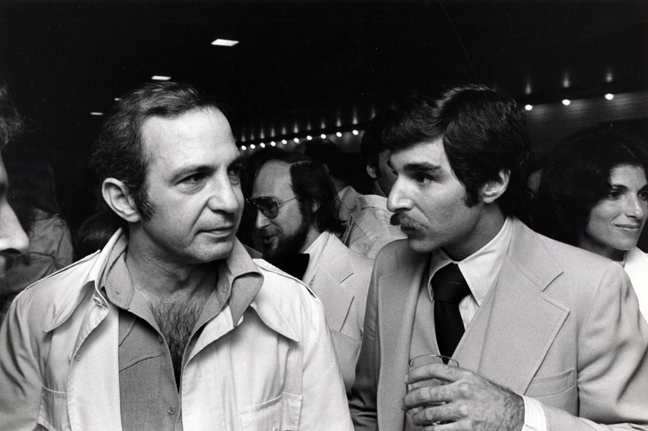 Ben Gazarra with Harry Reems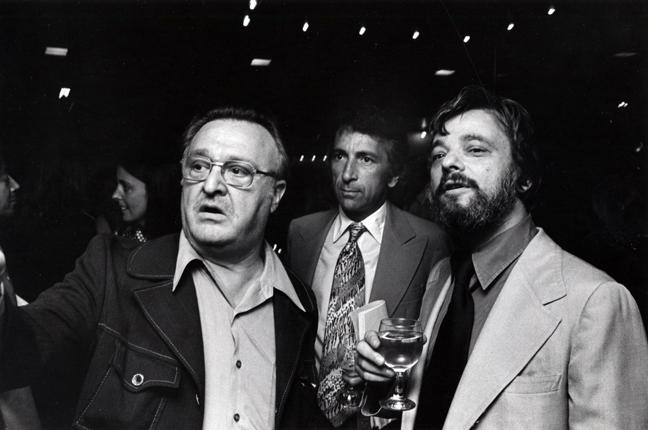 Vincent Gardenia, Gay Talese, Stephen Sondheim
Attorney Ramsey Clark, Harry Reems, Alan Dershowitz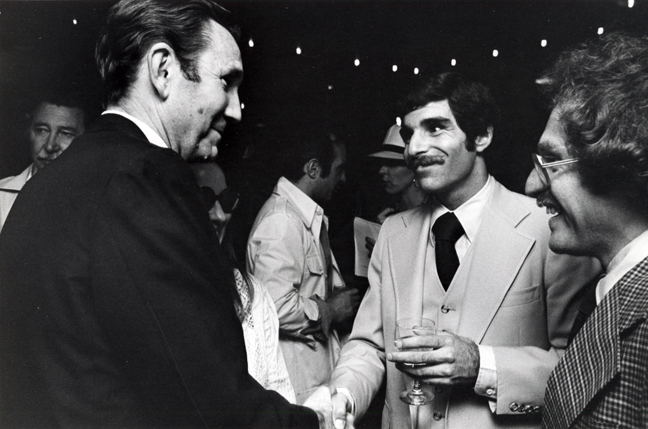 Attorney Ramsey Clark, Harry Reems, Alan Dershowitz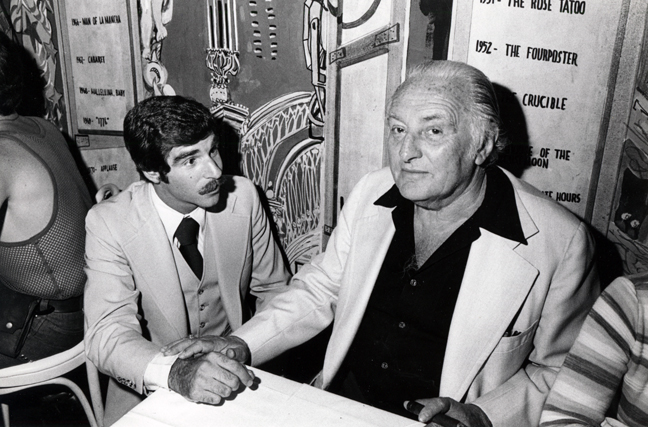 Harry Reems, unknown male
Harry Reems, unknown male
3. 'The Underground Tonight Show'
'The Underground Tonight Show' was cable TV's first adult talk and variety show.
It was produced by Mike Luckman and Roy Karch, and ran for three years from 1974, accumulating over 150 hours of programming.
The show was a parody of John Carson's 'Tonight Show' and was filmed in front of a live audience in the basement of Cafe' Wha?. It was broadcast at 10pm every Friday night, and featured a variety of underground artists, writers, musicians, and porn stars in an unrestricted whatever-goes environment.
It was allegedly watched and admired by the 'Tonight Show' producers.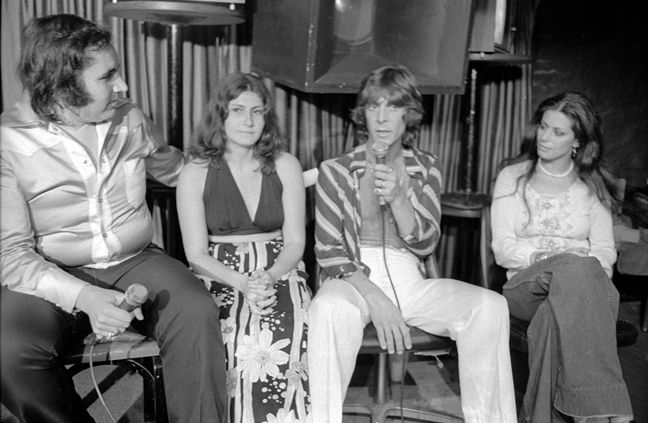 Hosts Mike Luckman (left) and Janet Himmelstein (right) with Sandi Fox and Marc Stevens (June 24 1974)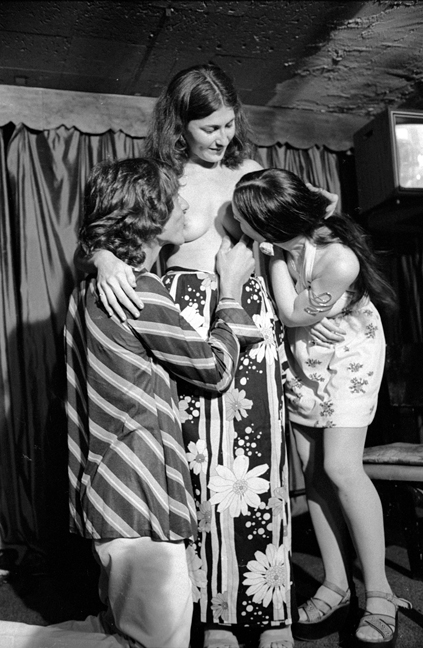 Sandi Fox, Marc Stevens, and Terri Hall (June 24 1974)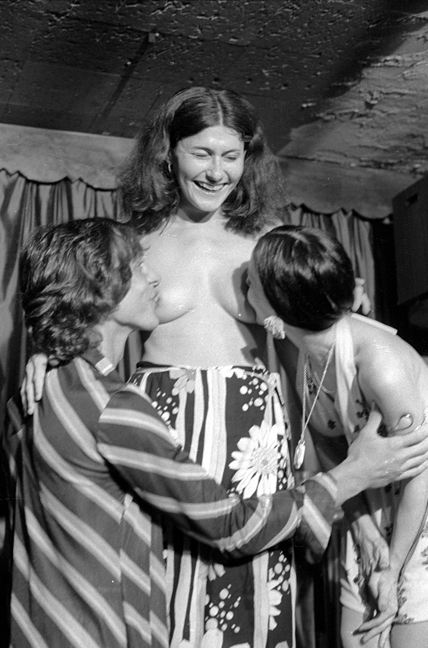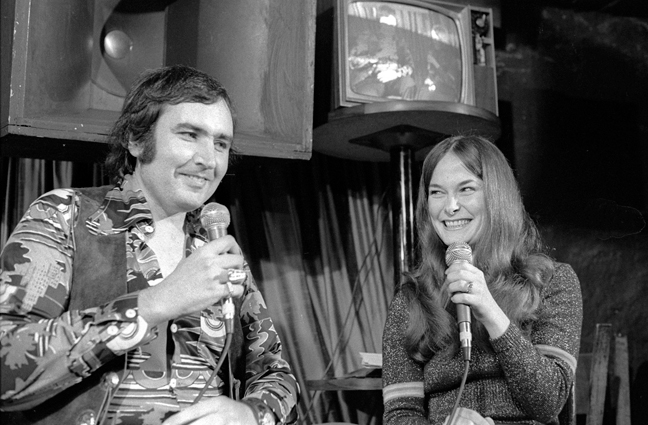 Mike Luckman with Tina Russell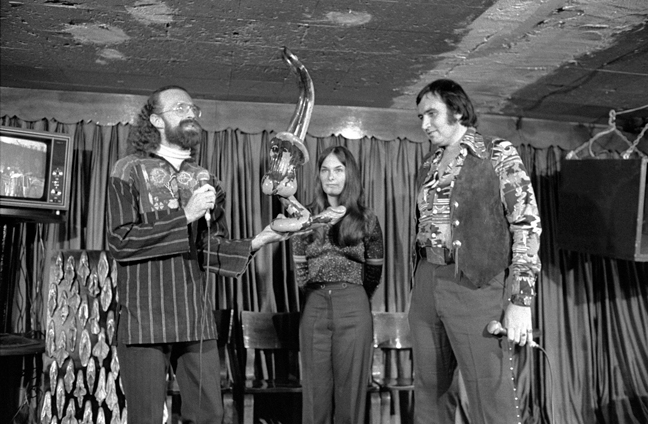 Mike Luckman (right) with Tina Russell, and erotic sculptor Doug Johns
For more details about people in the above pictures, you can read/listen about them here: Tina Russell, Marc Stevens, Sandi Foxx, Terri Hall.
4. Eros 75 event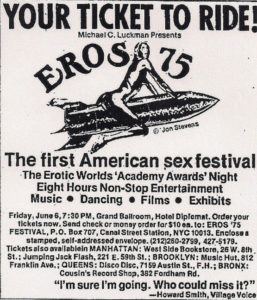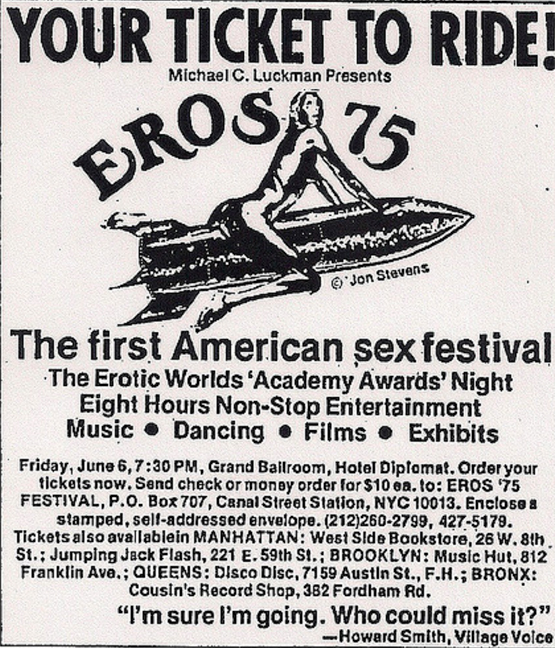 Eros 75 took place on June 2 1975, and was produced by 'Underground Tonight Show' producers Michael Luckman and Roy Karch.
It was modeled after the European Sex Fairs of the early 1970s. Billed as 'The First American Sex Festival', it promised the erotic world's 'Academy Awards' night, and 'eight hours of music, dance, films and exhibits.'
4,000 people attended the event, which included a male beauty pageant, performances by Fanne Foxe and Wayne County (later known as Jayne County), and appearances from a number of adult film stars such as C.J. Laing, and Sue and Tony Richards. The highlight of the evening was the presentation of the 'Tonguey' Award for achievement in the erotic arts – winners were Mick Jagger, Christie Heffner and Dr. Alex Comfort.
The event was filmed by mondo documentary filmmaker, Romano Vanderbes, and the footage was included in his film 'This Is America' (aka 'Jabberwalk').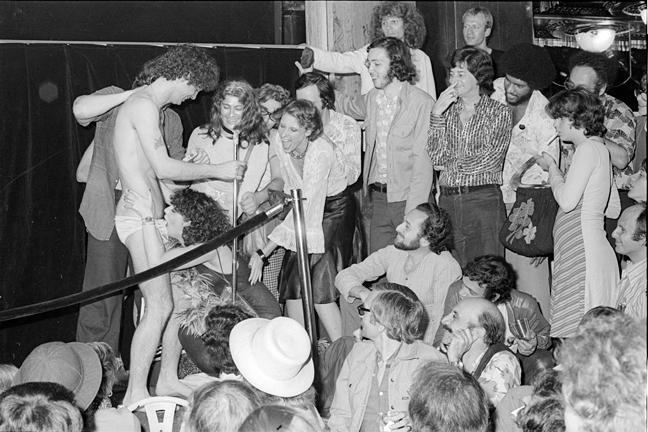 Tony Richards (in his underwear), Sue Richards on her knees, CJ Laing (behind Sue Richards)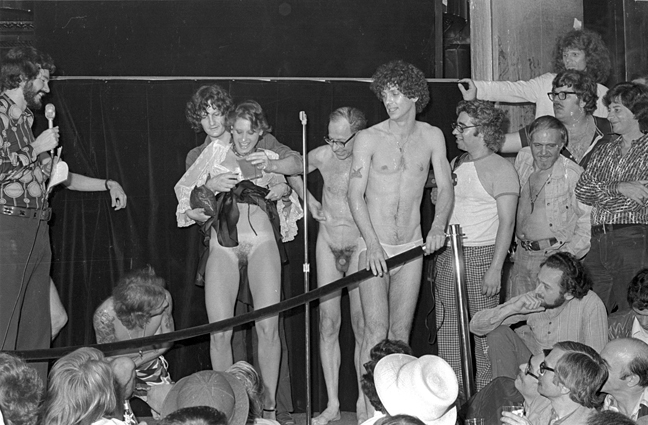 CJ Laing (with skirt raised), Tony Richards (in his underwear)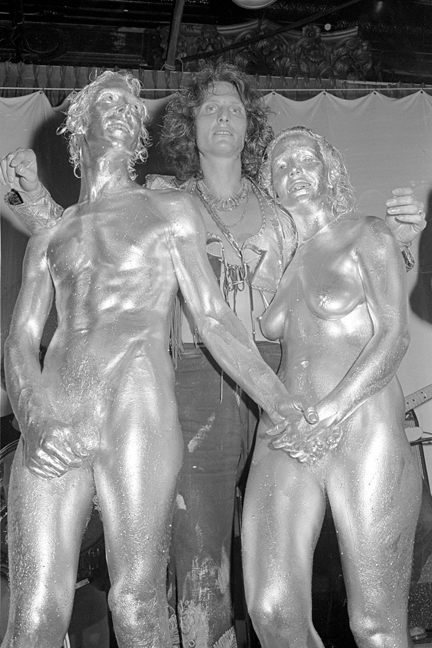 Marc Stevens and Helen Madigan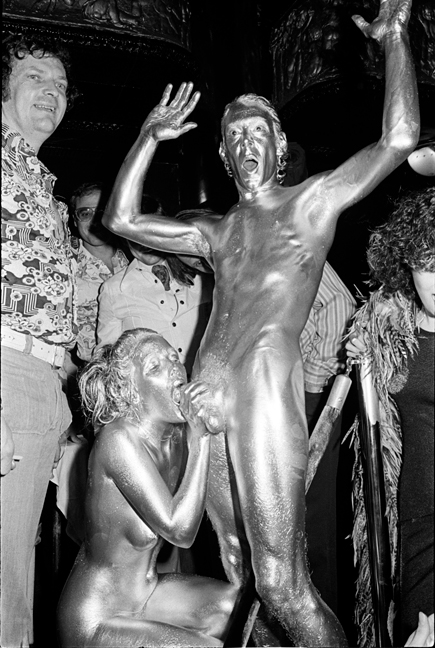 Marc Stevens and Helen Madigan
5. High Society magazine party
High Society magazine was first published in May 1976 by Carl Ruderman. He hired adult film star Sue Richards (aka Bree Anthony) as the magazine's first female 'publisher' before replacing her with Gloria Leonard in 1977.
A regular feature of the magazine was to hold parties – involving stars from the adult film industry. Salacious pictorials from the parties were then featured in the pages of the magazine.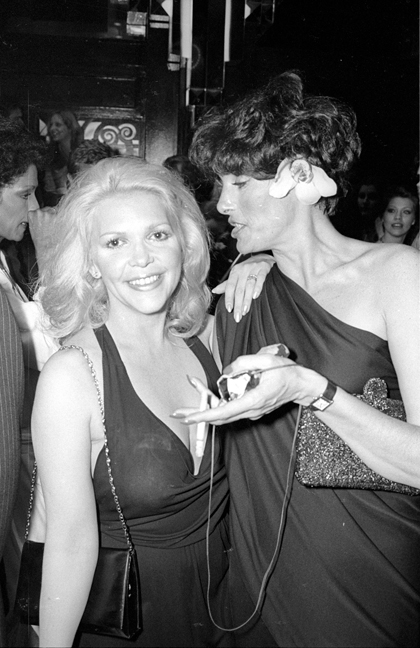 Jennifer Welles and Gloria Leonard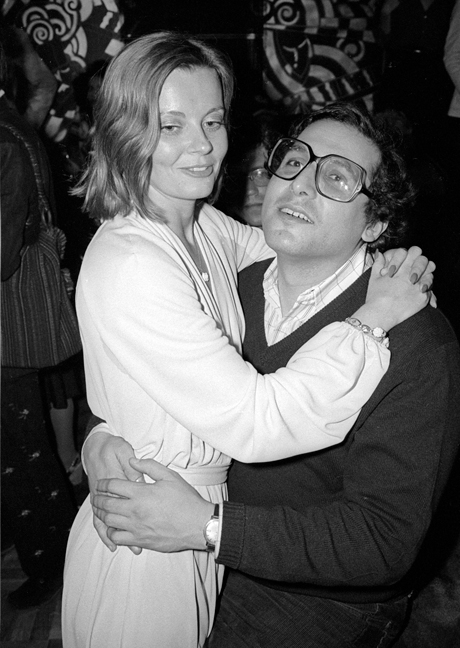 Sue McBain, plus unknown male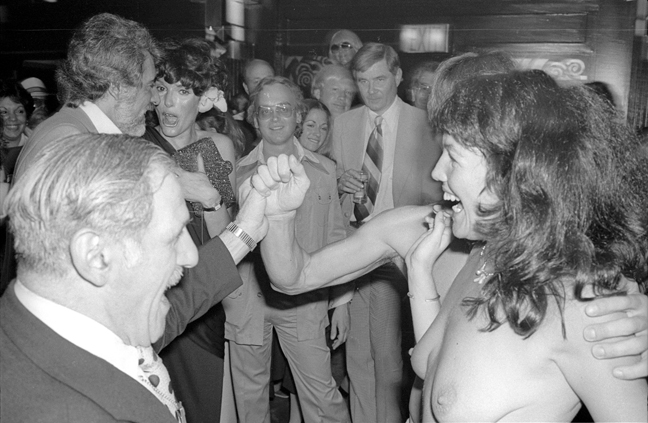 Helen Madigan dances as Gloria Leonard looks on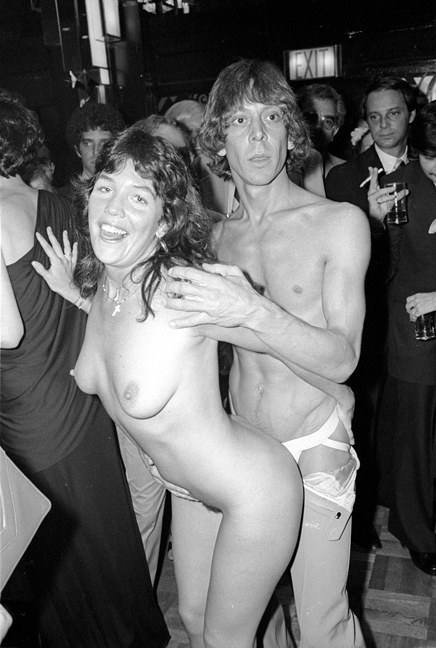 Marc Stevens (and Helen Madigan) could be relied upon to disrobe
For more details about people in the above pictures, you can read/listen about them here: Marc Stevens, Sue McBain, Jennifer Welles, Gloria Leonard.

6. Plato's Retreat
Plato's Retreat was a swingers' club in Manhattan that was first owned by Larry Levenson and later managed by Fred J. Lincoln.
The club was opened in 1977 by Larry Levenson, a high school friend of Al Goldstein, and was popular in the late 1970s and early 1980s. It was first located in the basement of the somewhat rundown Kenmore Hotel on East 23rd Street between Lexington and Third Avenues before moving to the basement of the Ansonia Hotel, an ornate 19th-century building on the corner of Broadway and West 73rd Street on the Upper West Side of Manhattan. Prior to Plato's Retreat, the building housed the Continental Baths, a gay bathhouse where Bette Midler provided musical entertainment early in her career. Plato's relocated to 509 West 34th Street in 1980.
During its heyday, Plato's Retreat was considered the world's most infamous sex club, popular with many celebrities, porn stars, and well-to-do couples. According to an advertisement published in SCREW, June 18, 1979, the club offered, besides a heated swimming pool, a sauna steam, rooms, whirlpool baths, disco dancing, free bar and buffet, "cozy living rooms and lounging areas", a "variety of swing areas", and a backgammon lounge.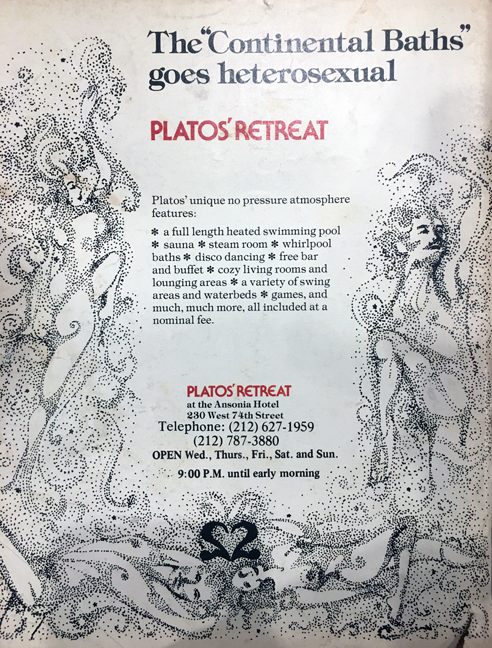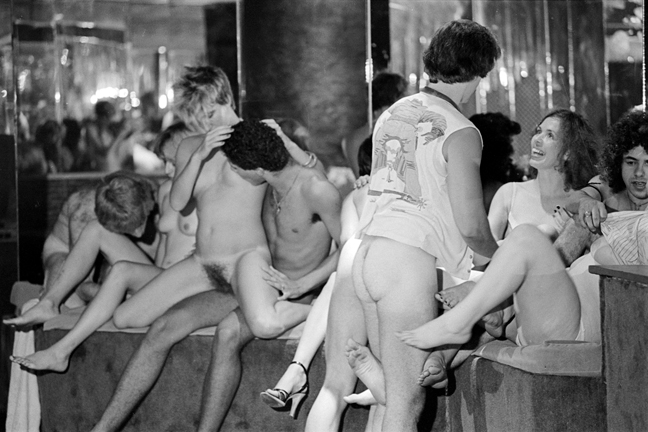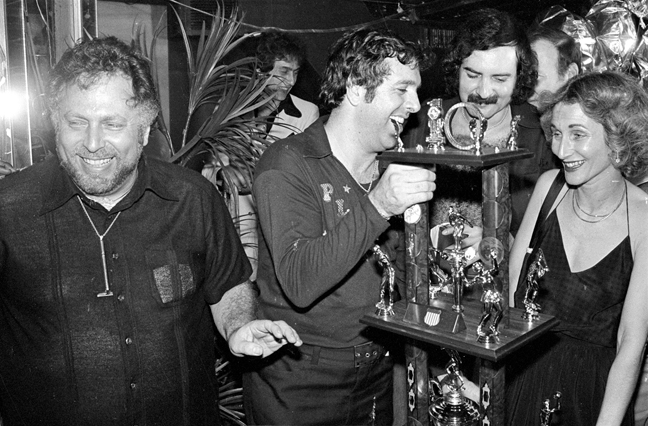 Al Goldstein and Larry Levenson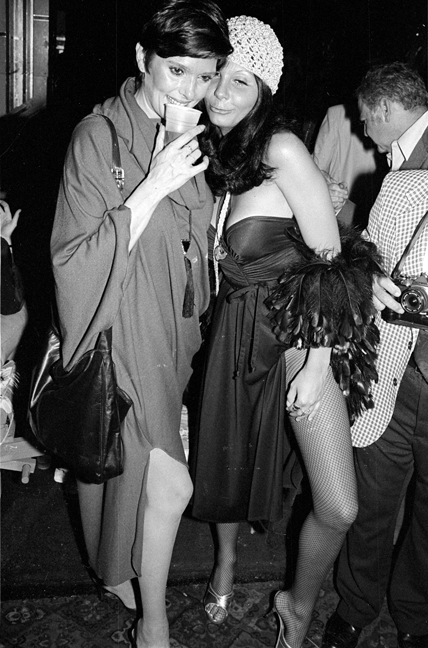 Gloria Leonard and Jill Monroe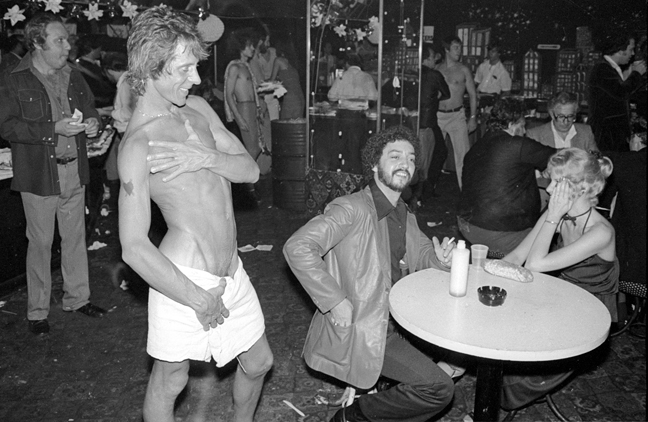 Marc Stevens undresses, again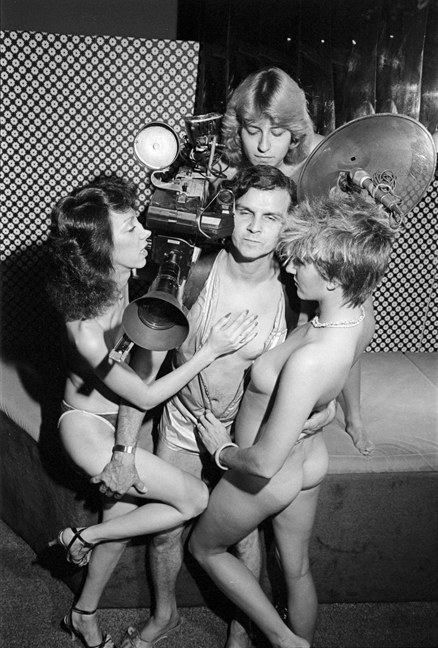 Ugly George
For more details about people in the above pictures, you can read/listen about them here: Marc Stevens, Gloria Leonard, Jill Monroe.
7. Club Scene
The club scene in New York was diverse to say the least. We selected photographs showing the range of entertainment on offer.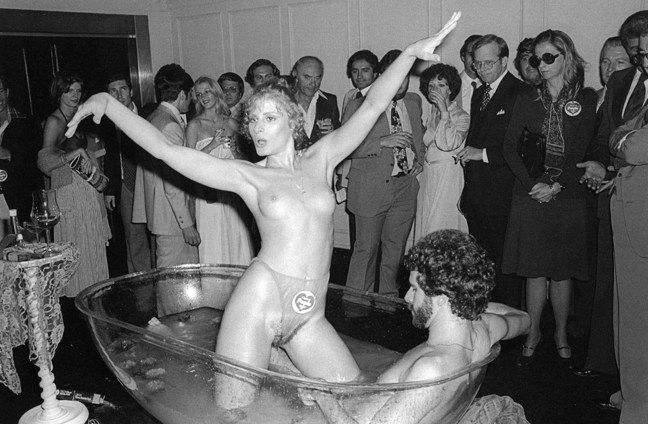 C.J. Laing at the Purple magazine party at Studio 54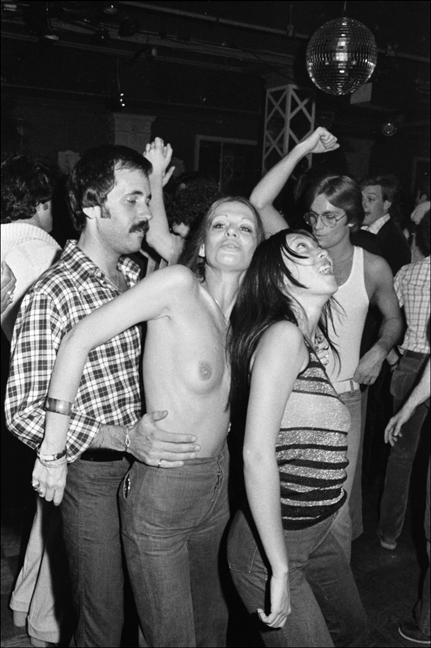 Le Jardin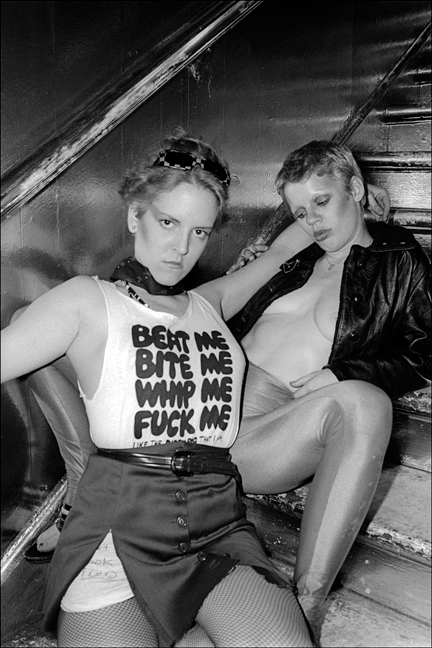 CBGBs, with Debbie Revenge (right)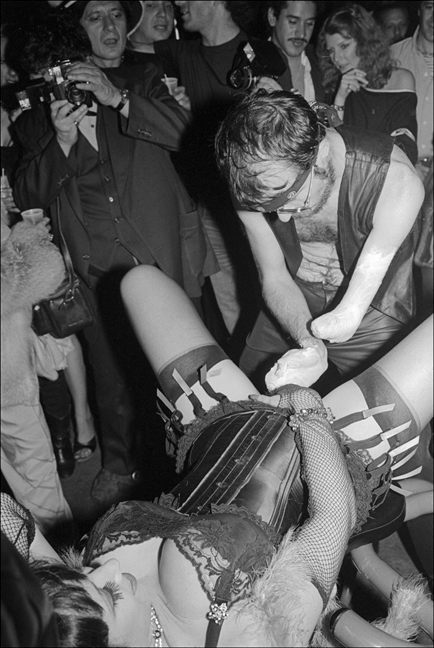 Annie Sprinkle (and friend) at the Hellfire Club
For more details about Annie Sprinkle, you can listen to her podcast interview with The Rialto Report here.

8. Terri Hall
We never need an excuse to share newly discovered pictures of Terri Hall.
For more details about her life, you can visit our piece about her here.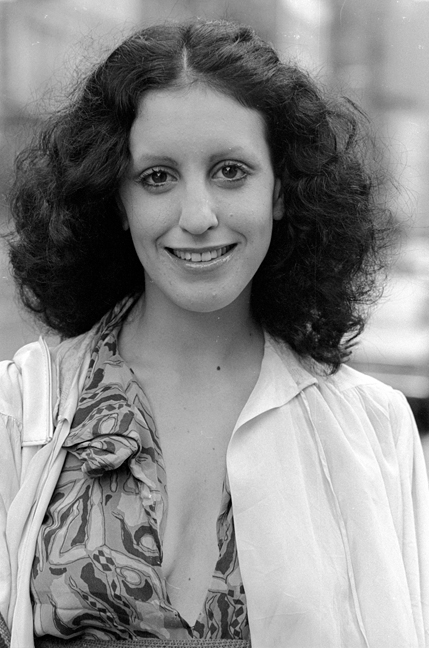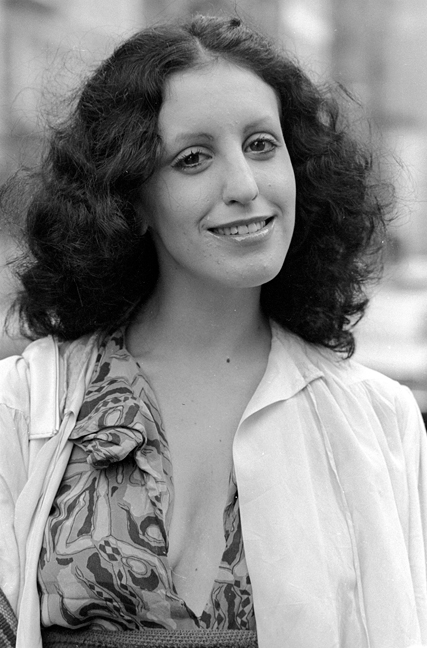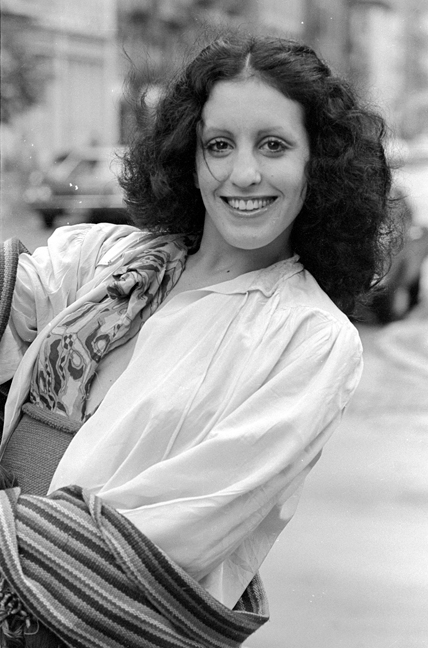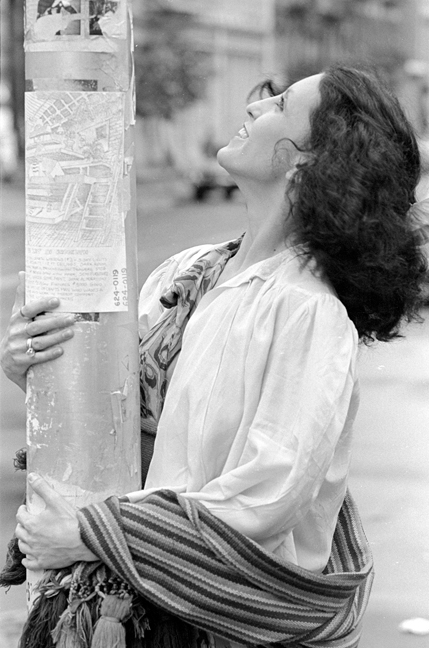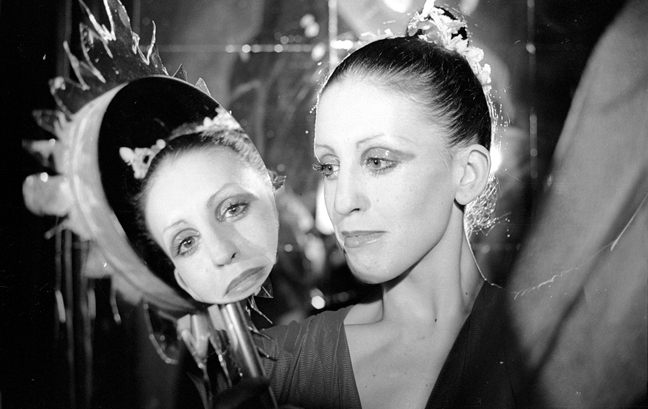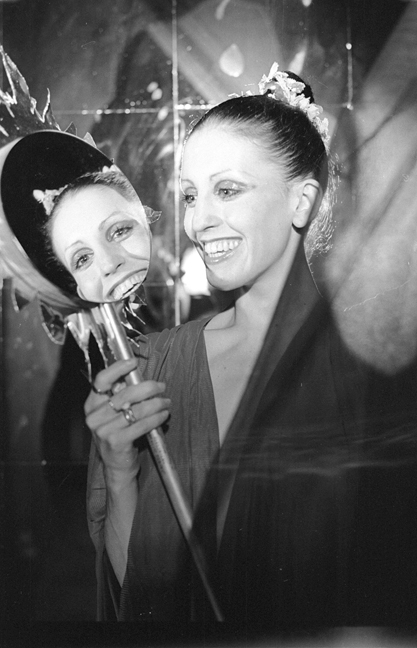 *