We're pleased to announce that we've been granted permission to reprint a number of vintage adult film star biographies first published in the 1970s – starting with 'Here Comes Harry Reems!' published by Pinnacle Books in 1975.
Written by Harry Reems and his ghostwriter Eugene Boe, the book is a fascinating, entertaining and intimate look at the early film career of the star of 'Deep Throat'.
The book is now available from The Rialto Report, and includes eight pages of original photos.
Below we present an extract from the book – telling Harry's story of the making of 'The Devil in Miss Jones' (1973), and also part of a new forward written for this edition by Ashley West.
_______________________________________________________________________________________________
'Here Comes Harry Reems!' – Extract from the new forward by The Rialto Report's Ashley West:
I first met Harry Reems in 2007 long after he had hauled himself back from the brink, and I was surprised on two fronts.
Firstly he was happy and eager to talk about his career in adult films. Reports that he'd become a born again Christian and was unwilling to revisit his porn past had been greatly exaggerated. In fact, the only thing he seemed unable to tolerate was intolerance. The trademark mustache of his youth was long gone but the humor and same easy charisma remained. He was willing to share his memories, and every answer was punctuated by his asthmatic laugh as he recalled the days when he was the most recognizable male face of the sex industry and ubiquitous star of hundreds of films and stag loops.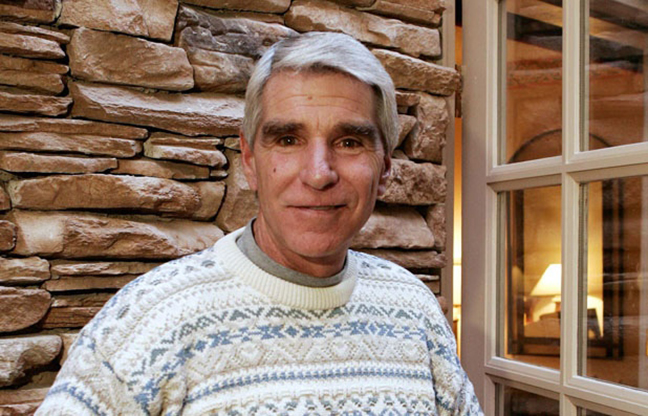 The second surprise was that his health had not weathered the years successfully, and at times it was alarming to see his physical discomfort. Old friends of his had told me that he was always the fittest amongst them back in the 1970s; he was a regular in the Broadway Softball League, would never waste time walking when he could run, and would likely challenge you to press up contest. When I met him, he walked with a cane, had a sickly pallor, and dragged an oxygen cylinder wherever he went. He was great company though, and still as garrulous and social a person as you could hope to meet.
Above all he was content. He was happily married, had kicked the bottle, and had reinvented himself as a successful real-estate broker in Utah (albeit still using his still infamous nom de porn). He was basking in the afterglow of the publicity from the documentary 'Inside Deep Throat' (2005) in which he played an understandably significant part. He was also upbeat about discussions with a major book publisher about writing an autobiography. "I'm one of the threads that tell the story of social change in America" he'd say. "I think I have an important story to tell."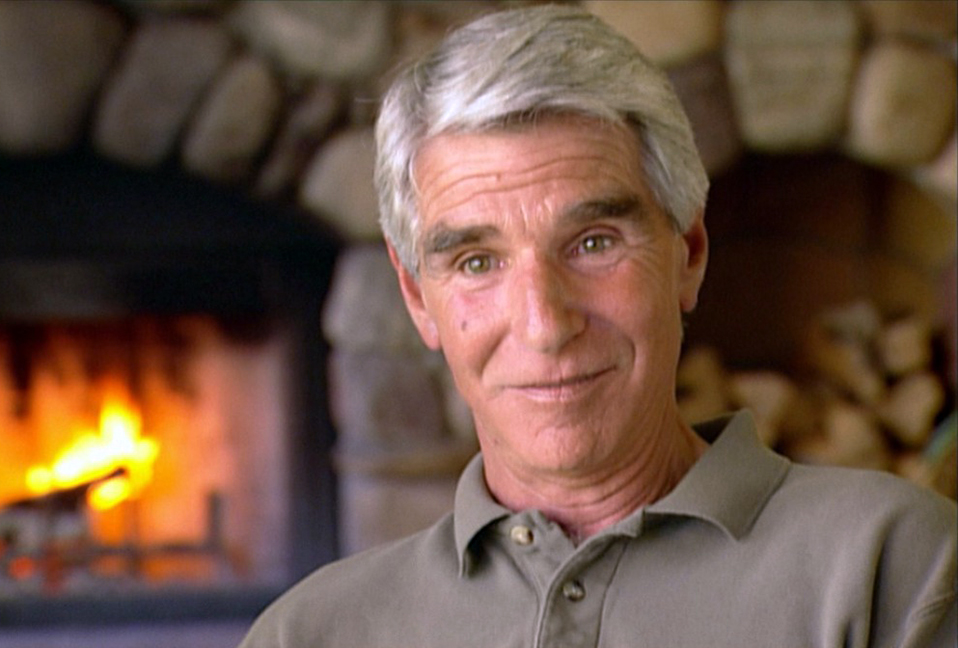 Harry Reems in 'Inside Deep Throat' (2005)
Eventually the book deal fell through, but it had reinvigorated his interest in his own past, and we began a series of weekly phone calls in which we would revisit the early chapters of his life. He'd been through many transformations – from pimply kid to athletic marine to aspiring actor to porn star next door. The alcoholism that had blighted his middle years had left his memory ragged, so I suggested using 'Here Comes Harry Reems!' as the basis for our conversations.
At first Harry dismissed the idea. The book was an attempt to cash in on his notoriety, he claimed. He didn't even write it himself. It was ghost authored by Eugene Boe, an author and former columnist for New York's Cue magazine, after a lengthy series of conversations between the two of them. Harry didn't even remember reading it at the time and he reckoned it was probably sensationalist.
He was curious though, and as we read through it, his impression changed, and with it fragments of memory returned. He re-discovered parts of his life that had been hidden for decades, and he was surprised, amused, even impressed with his younger self. The conversations increased his appetite to know more about his long forgotten exploits. For decades the world had reduced him to a one-dimensional media caricature of an old time porn star, and perhaps part of him had started to believe that version of himself.
'Here Comes Harry Reems!' contains a wealth of detail and chronology about Harry's early years as a performer in New York's first pornographic films. It tells the stories behind the making of many adult films – like 'The Devil Miss Jones' (1973), 'Deep Sleep' (1973), 'High Rise' (1973) and 'Memories Within Miss Aggie' (1974), not to mention the landmark 'Deep Throat' (1972). It provides a groin-eye view of what it was like to work in the nascent porn business, and it features character sketches of fellow early performers such as Tina and Jason Russell, Dolly Sharp, and Jamie Gillis.
Some of the names in the book were changed to protect the guilty (Harry's early burlesque dancer girlfriend 'Fabulous Fanny' became 'Astonishing Assie', early cohorts Patrick Michael Wright and Lillian 'Tallie' Cochrane were renamed 'Michael' and 'Florabel', Deep Throat house owner 'Handsome Harry' was actually Baron Joseph 'Sepy' Dobronyi, and early pornographer Sam Menning was simply referred to as 'Sam the cameraman') but by and large the cast of characters is a colorful who's who of who filmed who.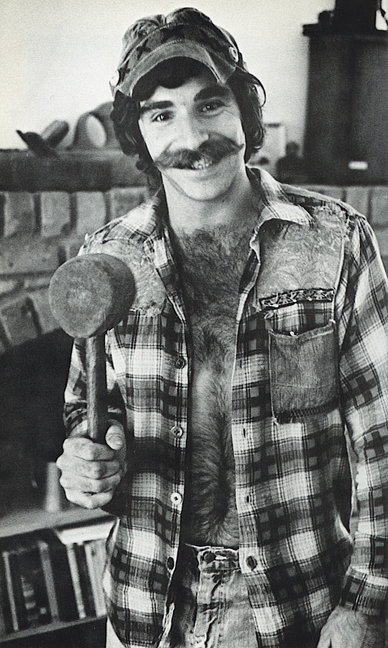 So how accurate is the book? Most of the events recounted have been corroborated by Harry's contemporaries over the years, and are faithful and honest accounts. Where discrepancies occur, it is difficult to piece together the truth. We spoke at length about the sequence of events concerning the filming 'Deep Throat' but his memory had been eroded to such an extent that the real story was long gone.
Harry's enthusiasm and good humor was not dimmed by the discovery of his terminal illness in 2012. Our conversations continued unabated and new anecdotes continued to emerge, the only difference now being the frequent detours to talk about his love for his wife Jeannie and the pivotal role she played in saving his life from the depths of drink, debt and despair.
It's a shame that Harry never got the chance to tell his full life's story. He was right; it is an important and sobering tale. On the one hand it's a broad social history – a cautionary tale about the puritanical streak that continues to define American conservatism. But it's also a simple story of one man caught up in events bigger than he can comprehend. "I enjoyed those early days, and I wouldn't change anything about them. It felt like we were pioneers creating something new. But we had no idea about what we about to unleash."
'Here Comes Harry Reems!' remains a valuable contemporary record of those early days of the adult film industry.
Extract from 'Here Comes Harry Reems!' recounting the story behind 'The Devil in Miss Jones' (1973):
Gerry Damiano stole my bottle of Jack Daniels, went home quickly, and dashed off something over a weekend. He asked me to read the completed manuscript.
"It reads great, Gerry," I said. "Where did you get the story?"
"I made it up."
"The only thing is," I said, "is that I seem to have seen this script before. Or something damn close to it."
"What do you mean, you've seen this script before?"
"Gerry, it's a steal. Jean-Paul Sartre. This is 'No Exit' in the thinnest disguise."
Gerry huffed and puffed for a minute before conceding anything.
"Well, what do you expect? I wrote it in a weekend."
So 'The Devil in Miss Jones' was born.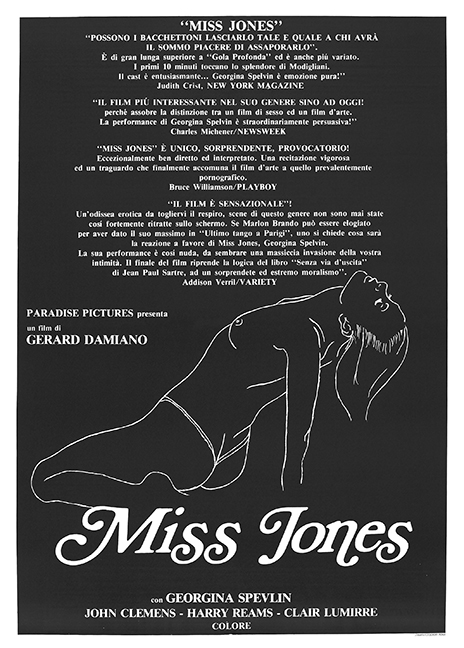 In addition to having a part for me, Gerry wanted me to be production manager and to cast for him – all except for the female lead. He had the lead, so he thought.
"She's really a dynamo," Gerry assured me. "She's voluptuous. She's got a wild afro-cut and an ass that just won't quit."
Her name was Ronnie. "I can fuck and suck better that any woman doing this shit," Ronnie was telling everybody.
I had seen Ronnie's dumpy body on film and knew she wouldn't do.
The film was going to be shot at the farm in Pennsylvania where I spend so much of my leisure time.
One late October day I was carving pumpkins in my New York apartment. I invited over a woman whom I had met a couple of days earlier at one of the casting sessions for 'The Devil'. She had made it plain she didn't much like this end of the acting business. She had been in Broadway and off-Broadway plays and thought of herself as legitimate.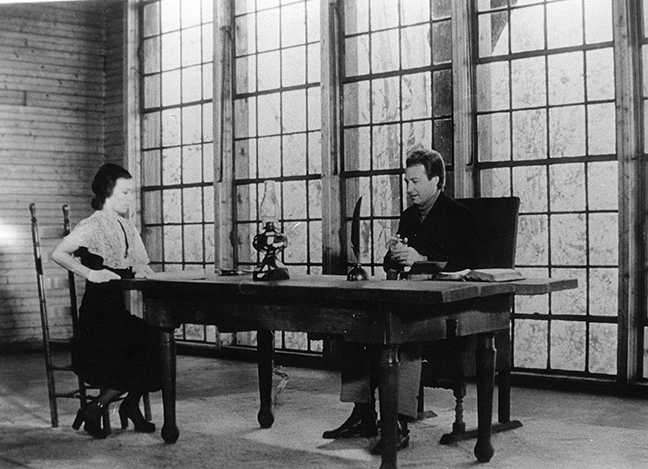 "Listen," I said, "we're cast and set to go. We haven't got a thing to offer you. But we're going to be up there in the boondocks. Miles away from restaurants or hotels or any kind of catering services. How'd you like to come and cook for us?"
"I'd love it," she said.
She dug carving pumpkins. I dug her.
"What are you into sexually?" I asked her casually.
"I'm gay," she said.
"Does that mean you won't make it with a man?"
"No. It's just that I prefer being with women. At least the woman I'm with now."
"Have you ever made it with a man?"
"I've made it with plenty of men. I've been married. I have children. Right now I'm into women."
"Could you do it on camera with a man?" I asked idly.
"It would depend on the man".
"If you dug the guy, what would you be willing to do?"
"If I dug the guy, I'd be willing to try anything. Sex can be very beautiful. With either sex. Even if it's somebody you don't know."
I liked her. She was honest, her body was good, and whatever way she swung, she was sexually 'together'.
"Gerry," I said the next day, "I've found Miss Jones."
Gerry was not impressed with my candidate – until she took off her clothes and he saw her marvelous body.
Fortuitously, Ronnie called in with an impacted wisdom tooth a day or so before filming was due to start.
"How's Ronnie going to do blow jobs with an impacted wisdom tooth?" I asked Gerry. Good question. Gerry threw in the dental floss. Ronnie was out and Georgina Spelvin was in.
A lot went wrong in the making of that movie. Locations were lost. We went over schedule. The picture was almost dropped in midstream. Two guys had each put up $15,000 to make 'The Devil'. When it was made, one of them was convinced it was a bomb and asked to be bought out.
But for those of us who hung in there, it was one of the loveliest shots ever. It was Georgina's first big movie, and she did a damn fine acting job in it.
No, she didn't really cut her wrists in that opening suicide scene. We got a little blood pack and covered it over with dermawax maybe half an inch wide. That's what the razor cuts into, spilling all that stage blood.
On the set Georgina fell in love with Herman. We all did Herman was the boa constrictor who appears in the movie. It's hard to direct a boa constrictor. But Herman was a born ham. We let him improvise his scenes and just photographed what he did.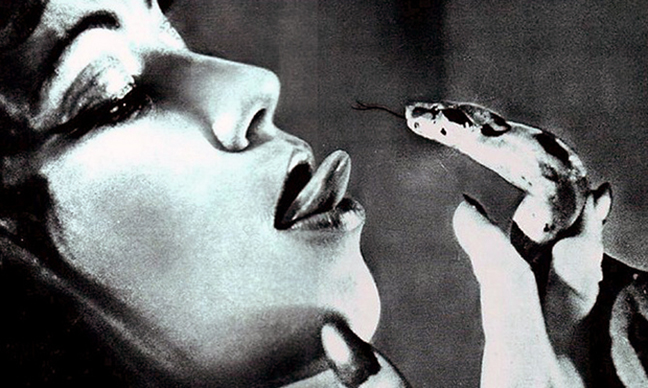 With the help of a good dentist, Ronnie got into the picture after all. Her mouth healed enough so she could do a scene where she gave head to the tremendous phallus of the actor who owned Herman. In one scene that same phallus meets another big cock head-on when each is exploring the charms of Georgina from a different angle. They almost dance, cock-to-cock.
'Borrowing' extravagantly from 'No Exit', as I said, 'The Devil in Miss Jones' is about a girl who takes her own life without ever having lived. En route to hell she has a stopover in some never-never-land long enough to discover all that she had missed when she was alive. It's as if she's trying to squeeze a lifetime of missed fucking and sucking into her brief reprieve. She becomes possessed with lust and is sent to the hell that's appropriate for her – a place where there's no fucking and sucking. Her cellmate is a guy. But he's a guy so deranged he's not going to be able to help her out. "I'm not crazy," he keeps saying. "It was a fly. A fly did it. I can see the speck."
For his cameo bit in 'The Devil' Gerry played that loony. And surprisingly well.
Gerry never saw much of the millions 'Deep Throat' made. He knew he had a masterpiece now and started editing carefully. He asked for – and got – extra money to commission an original score.
In total, 'The Devil' cost $37,000 to make. To date it may have grossed as much as $20 million. My salary was $125 for acting and $150 a week as production manager. With promises.