You know the situation. You may even have found yourself in the same position at one time or another.
You're young and athletic, and decide to become a soldier and commit your future to the army. It's not easy to get in because you dropped out of high school, but eventually you're accepted and you put your signature on the dotted line. The future is mapped out for you. Combat, conflict, commandos. Basic training is about to start.
And then you decide to become a porn star.
Of course you do.
So what do you do next? How do you get out of a binding army contract that you've already signed?
The Rialto Report tracks down and interviews Lisa Cintrice – who found herself in this position in the winter of 1981, and remembers the brief moment when a New York porn star hit the newspaper front pages and the TV chat show circuit, whilst trying to free herself from the grip of Uncle Sam.
_______________________________________________________________________________________________
Lisa Cintrice's time in adult films was short but sweet. She made a handful of films in the early 1980s, including Robert McCallum's film 'Society Affairs' (1982), Radley Metzger's 'Aphrodesia's Diary' (1983), and Henri Pachard's 'Mascara' (1983), before disappearing a couple of years later.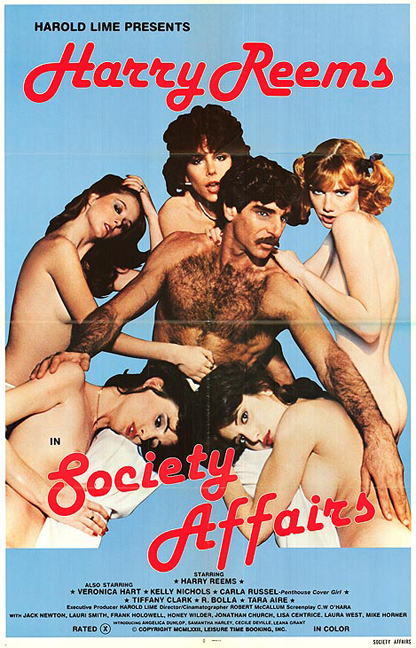 Cintrice – Beginnings:
Do you remember first being aware of the existence of adult films and magazines?
I remember seeing my father's sex magazines when I was a little girl and I was grossed out by them. I was such a late developer. I was from Long Island and had a pretty sheltered upbringing until I got married.
Did you get married early?
I lost my virginity when I was 15 and got married when I was 16!
Was it to the same boy?
No – my first time was with a boy who was five years older; he was 20. I held off for a long time but then got pregnant as soon as we did it for the first time. So I left school and started working at Dunkin' Donuts. The guy just took off and disappeared.
So if he left, who did you get married to?
I met this guy who came into Dunkin' Donuts. He took a shine to me, brought flowers and romanced me. He didn't care that I was pregnant. We planned to get married, but I lost the baby. We got married anyway on July 4, 1979.
What was the relationship like?
Not great – he drank a lot and we didn't have much in common. We had a very conventional sex life. We ended up getting divorced two years later on July 7th 1981.
Where were you working at this time?
I went to work at Jamaica Hospital, NY as a bookkeeper when I was still married. I worked there for two years. My husband made me quit that job, and then I left him. I started waitressing.
When did you decide to join the army?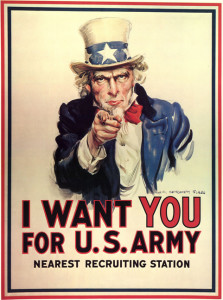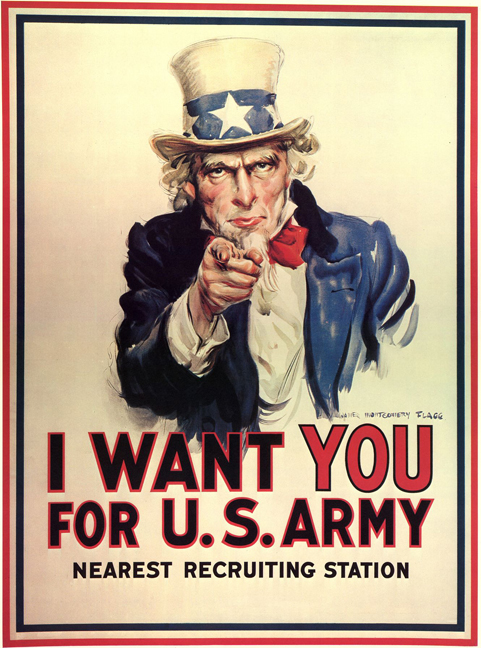 I've always been a tomboy – and I figured it would be a good way of sorting out my life after my divorce. I signed up in July 1981 and joined as part of the Delayed Entry program – which meant that the army would take me in November 1981.
It wasn't easy to get accepted to the army – I really had to fight to get in! I'd dropped out of high school in ninth grade and I had no high school diploma. My recruiter had to go to my high school and demand a diploma from the principal so that I could get into the army. They handed it right over, which was crazy…. all my friends had to go to summer school and work on their grades while I hadn't been to school in years!
What did you do while you waited to enter the army?
I was just waitressing waiting for basic army training to start. My ex-husband's sister was a dancer at the Melody Burlesk – she was called Dominique and she helped manage the Melody too.
She was also working with Peter Wolff at Oui magazine, and one day she suggested I try and get some extra work there. So she took me to meet Peter and one thing led to another, and I ended up doing my first adult layout in August 1981.
I also appeared in a December issue of Oui magazine as an elf. Santa was a midget!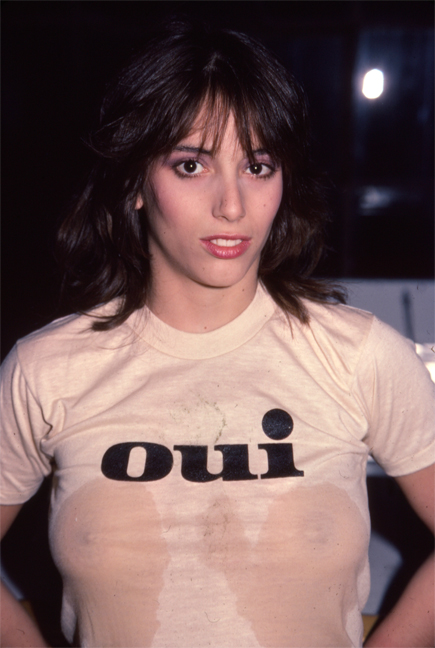 Peter Wolff was a pioneering adult magazine publisher in New York who changed the face of the business in 1970s. He worked on many titles, including Ace in 1972, High Society in 1975, Cheri in 1976, Partner in 1978, Adult Cinema Review in 1980, and Oui in 1981. He was almost as well known for being a bon vivant – partying all night, gambling at the OTB, and having tabs at numerous bars that he seemed to live in.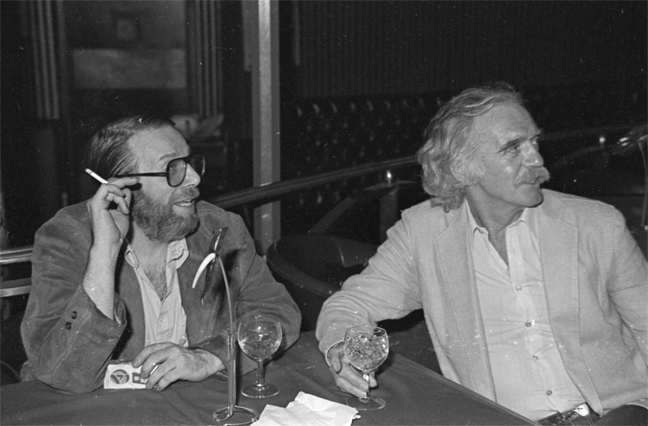 Peter Wolff (left) with photographer Peter Hurd
What was Peter Wolff like?
Oh my God, Peter was the best. Peter was … he was so cool, just laid back, and his wife was amazing. I stayed at his house a lot. He was an alcoholic, but he always looked out for me. He was brilliant and knew everything about the magazine business in New York. He was crazy, fun, and wild.
Did you enjoy the modeling work?
Sure. I'd led a sheltered life and I had little idea that this world existed so I got a kick out of going to the parties, and meeting all the crazy people who were producing the magazine layouts and making adult films. It was an exciting and wild world. It was unique.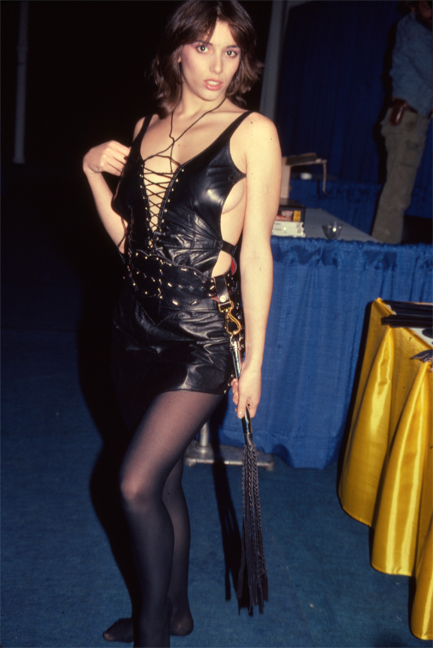 One of the first people Lisa met through Oui magazine was Ken Yontz. Yontz had entered the adult film industry as Seka's boyfriend but Seka had split from him acrimoniously. Ken didn't have a good reputation in the industry, being variously described as a suitcase pimp and abusive hanger-on by those who knew him.
When did you meet Ken Yontz?
I met him because he was hanging around that world. He'd just split from Seka, and he was still trying to get over it – and not doing a great job of it. He saw himself as a real player and insisted he didn't need Seka to be successful. He was trying to convince everyone that he was a producer of adult films. He was creepy.
Men magazine, 'Lisa Cintrice – 9 In The Can', Colette Connor, September 1982
Lisa Cintrice was a frail, shy 18 year old girl from suburban Long Island.
She was awed by midtown Manhattan, in love with her manager/boyfriend and simply agog at the lifestyle (sexual and otherwise) in which she found herself involved.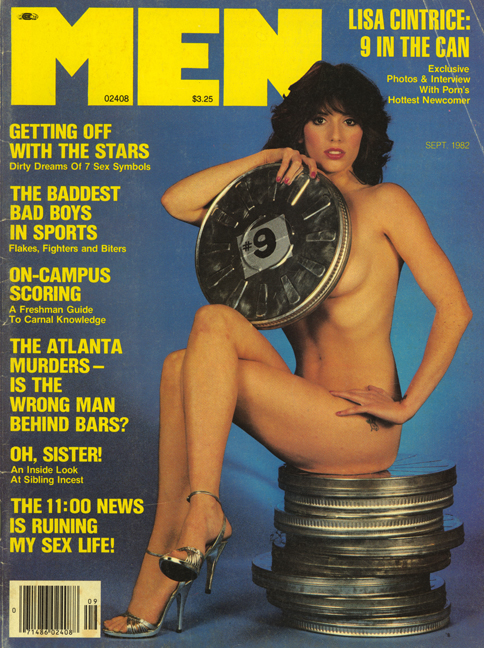 Did you start dating Ken?
Yes – very briefly. I was pretty naïve at that point in my life. He wanted to make me his new Seka, someone he could promote and live off.
Partner Sex Stars magazine, Winter 1982
Lisa Cintrice: "Meeting Ken was a real eye opener. That's why I think I'm in this business. My husband deprived me and I'm catching up on lost time. I didn't know shit from shinola."
What plans did Ken have for you?
Ken had written an autobiographical script called 'The Starmaker' and he wanted me to star in it.
It had many of the big New York stars of the time – Jamie Gillis, Tish and Dave Ambrose, Sharon Mitchell, Ron Jeremy, Robert Kerman, and was a pretty big production.
He truly believed he was the starmaker. He was the quintessential guy that winks and says, "You want to make some money?" So he made himself the star of the movie too.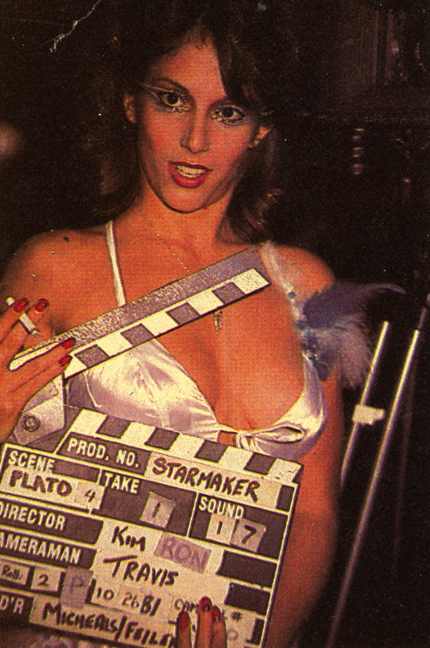 Partner Sex Stars magazine, Winter 1982
'The Starmaker' directed by Ken Yontz tells about Yontz' life after Seka left him. It starts with Ken depressed looking for another bombshell. Cintrice plays the innocent secretary who takes notes at the casting session and ends up getting the job.
What do you remember about the production?
It was my first experience in a porn film so I didn't know what to expect. It was intimidating but it was fun as well. Everyone treated it as a party most of the time.
You have to understand that I was doing things on camera that I'd never done before in my private life. My scene with Sharon Mitchell was the first time I'd been with another girl for example.
We shot one scene at Plato's Retreat because Ken was good friends with the owner, Larry Levenson. Larry even convinced Ken to give him a sex scene in the movie.
It all happened very quickly. My mom thought I was still waitressing.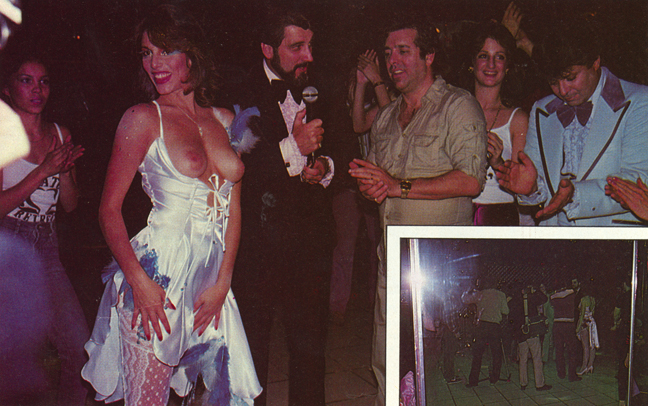 From left to right: Lisa Cintrice, Ken Yontz, Larry Levenson, Sharon Mitchell, Ron Feilen
Partner Sex Stars magazine, Winter 1982
Lisa Cintrice: "And then I met Ken. I got perverted, learned how to give head and all kinds of things like that. Everything I did in those first movies was the first time I was doing them."
What effect did all this have on your ambition to join the army?
Once I got involved in the sex business, I decided I didn't want to be a soldier. There was no reason to go as I was making decent money – the first time I'd made decent money in my life.
So I went to my recruiter and said I wanted out.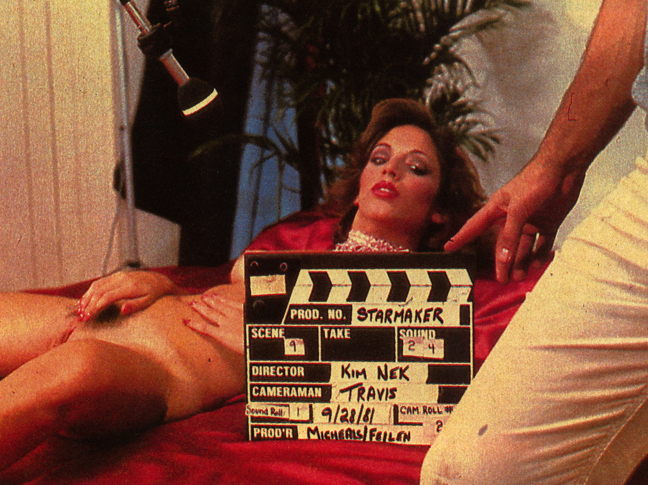 What did he say?
He just said that there was no way I could get out of joining the army. He said we have a signed contract that tied me to the army for years. If I failed to show up it would be desertion, and that could result in a jail sentence.
He asked me why I had changed my mind, and in desperation I told him the truth. That I'd made a porno movie. He said it didn't matter.
So I told him I had done lesbian scenes thinking that he'd be shocked by that. I even took out a picture of me and Sharon Mitchell having sex to prove it! He just smiled.
I reminded him I was going for the Military Police, and that this would be very bad for them. He told me that it didn't matter, as long as the scenes didn't misrepresent the army.
That's what he kept saying: It was all fine as long as I didn't link pornography to my army career.
So what did you do?
I went to see Peter Wolff and Richard Milner, who was another guy on the scene publishing adult magazines. I respected and trusted them both.
I told them about the problem and asked if they knew a lawyer.
The next day Peter called and said, "I have an idea. We're going to get you out of the army."
The Times Square Armed Forces Recruiting Station was opened in 1946. The station sits on a small traffic island between Broadway and 7th Ave., and it has the best view of the chaos that's synonymous with Times Square.
What was his idea?
Peter said that if the army was so concerned about me linking them to the porn film industry… then that was exactly what we should do. I didn't fully understand what he meant, but he insisted I should leave it all up to him.
The next thing I knew, he wanted me to do a striptease in front of the Army recruitment office at Broadway and 42nd St!
He told me to wear my Army uniform and to strip out of that.
When the day came, I remember going into a Beefsteak Charlie's restaurant with a big black body guard. I was wearing some sort of overcoat over my army uniform, and then I just threw it off and walked outside when I got the signal from Peter.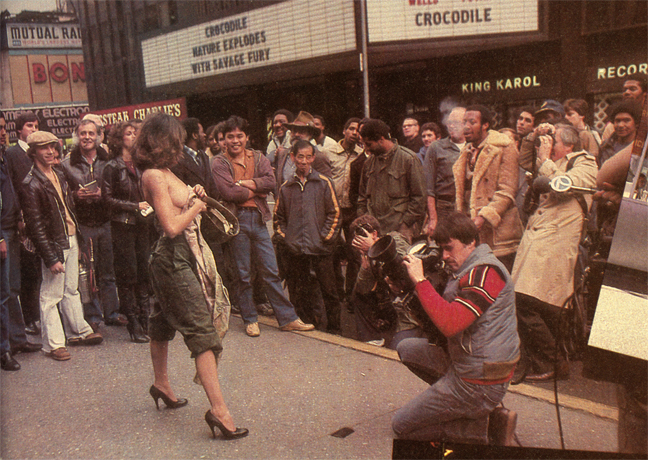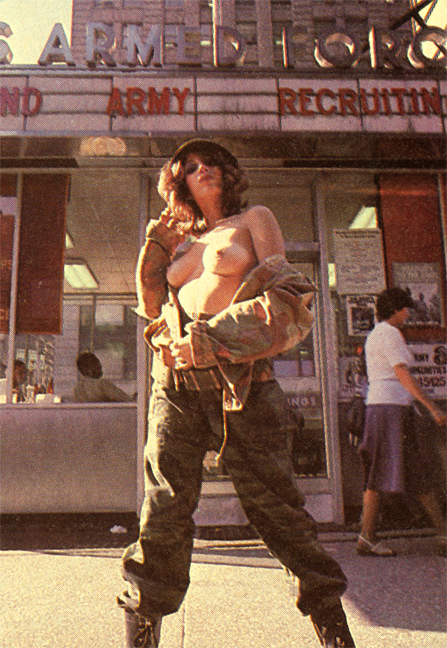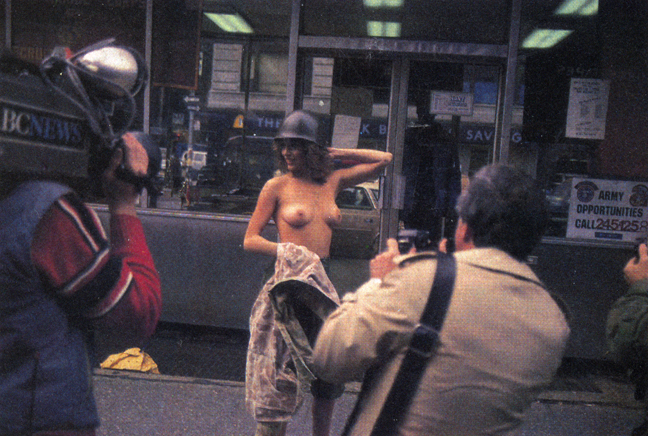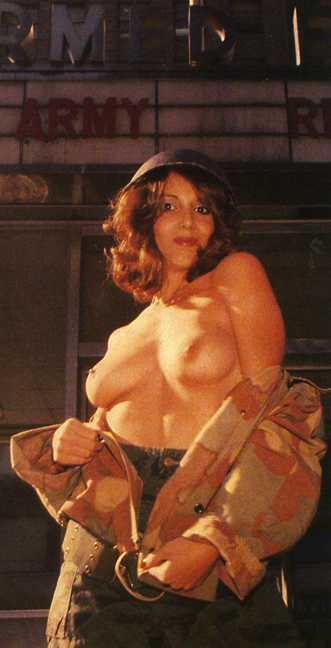 Partner Sex Stars magazine, Winter 1982
Lisa Cintrice: "They set up people with cameras in Times Square, and I waited across the street in my army uniform. I was wearing a helmet like in Private Benjamin. So I slowly walked up to the recruiting station and started unbuttoning my blouse. The recruiter was inside, and he didn't know what the hell was happening. And there were all these people walking by and taking pictures. We were there ten minutes, and we had two photographers there taking pictures so that we could get done faster, and then we got out of there – no cops or anything. People were applauding and following us down the street yelling 'More! More!"
It was great; I got a kick out of it."
Peter and Richard had alerted the press that you'd be doing this?
Yes. They'd called up newspapers, magazines and TV stations and told everyone to be there for the big event. And the press turned out in force – there seemed to more photographers there than people that day! We were covered by The New York Post, The New York Daily News, ABC-TV, the nightly news programs… you name it.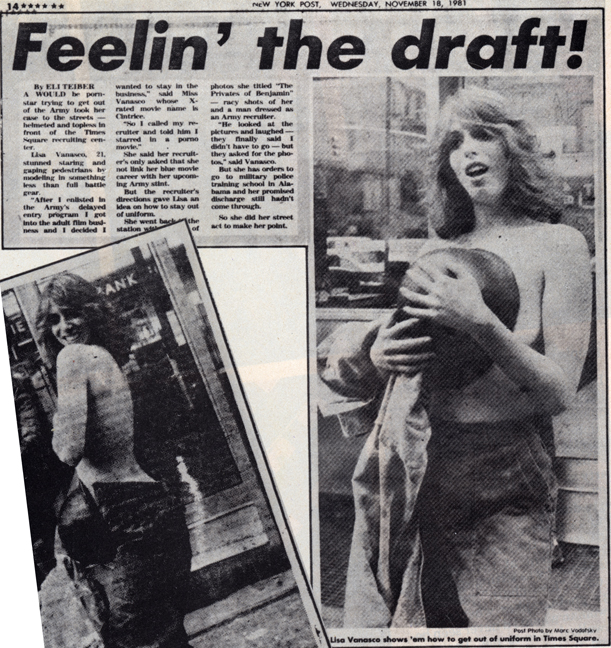 Interview with Ray Sturgess, police officer in Times Square, November 1981
"We had no idea what was going to happen. I just saw hundreds of people gather in front of the recruitment kiosk in Times Square so I walked over and saw this naked girl pose for pictures. Luckily no one had iPhones like they do today, so only a few people were taking pictures.
Unfortunately the newspapers were there though – and that's what made it very difficult for us patrolmen".
Were you at all concerned?
I was very nervous, especially when I saw all those people. I was kind of freaked out.
Interview with Ray Sturgess, police officer in Times Square, November 1981
"Everyone was in a good mood and treating it like a joke. But let me tell you, we cops got told off big time that evening back at the station.
It was a scandal from our side. All the kind of wrong publicity that we were told to stamp out.
It was bad news".
Men magazine, 'Lisa Cintrice – 9 In The Can', Colette Connor, September 1982
With the help of some folks in the adult press, Lisa sauntered into Times Square at midday and proceeded to strip out of a rented army uniform, right in front of the Armed Forces Recruiting Station.
The Army certainly didn't want anyone so rambunctious! One discharge for the naked private – as requested!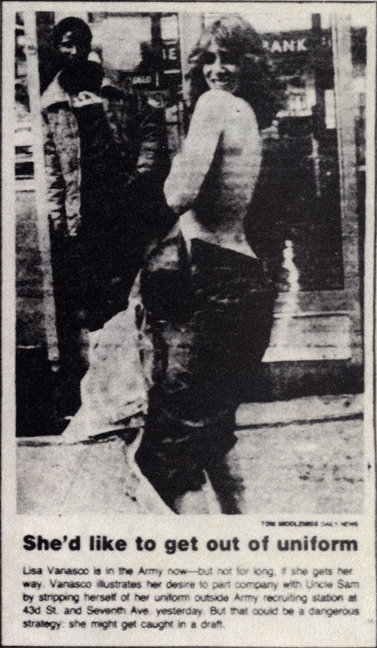 But the plan didn't stop there?
Richard wanted to publicize the event even more to show what I had to do to get out of the army.
They did a photo spread of me having sex in a made-up recruiting office. We had a guy dressed up as a recruiter, and they decorated this office to look like a recruiting office.
We played out a sex scene whilst they took photos.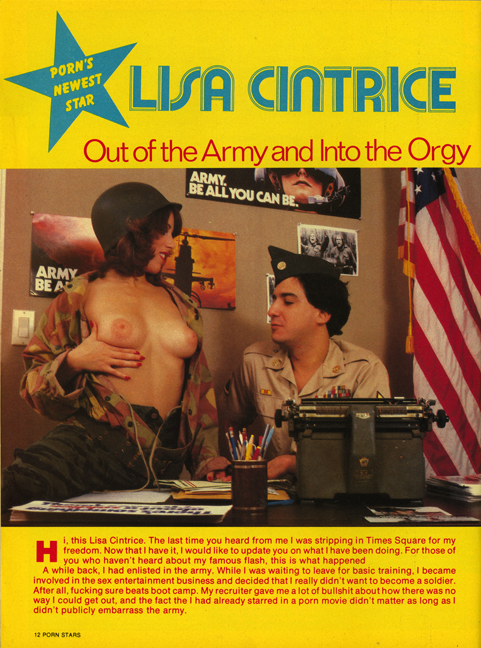 Didn't you appear on a TV chat show as well?
I was on Tom Snyder's 'Tomorrow Show' on December 7th. That was a really popular show back then so it was a big deal.
It was two weeks before the show went off the air. We got that booking through Jamie Gillis. He was amused by the whole thing, and he had an old girlfriend, Andrea, who worked for the production team of the 'Tomorrow Show'.
How was Tom Snyder with you?
He was very pleasant, very respectful. I was very nervous, because I didn't know what he was going to ask me, but it went well.
In fact I was on the same night as Jerry Falwell and Jose Feliciano.
I was going to flash Jerry Falwell in the hallway, but he wasn't very approachable!
Did the plan work in terms of getting you out of the army?
Oh yes. There was no way the army would take me after that.
In fact I got a call from the recruitment office, and the officer said I would be let out of the agreement – as long as I let him have a copy of the pictures from the photo layout!
We went to Fort Hamilton and got my discharge papers. And then we had a party to celebrate!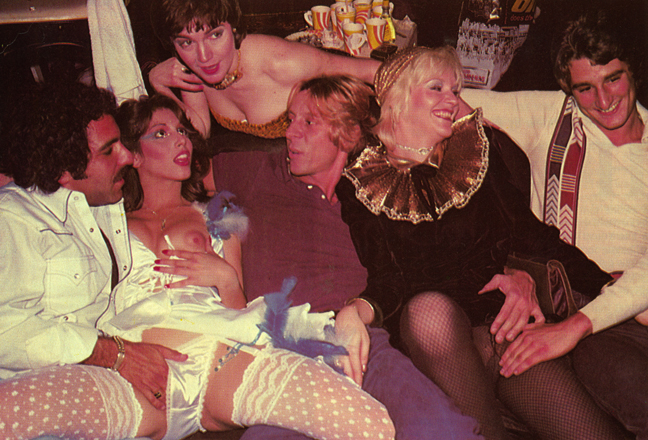 From left to right: Ron Jeremy, Lisa Cintrice, Lisa Be, Marc Stevens, Annette Heinz
What happened after that?
The week after I got out of the army, we finished shooting 'The Starmaker'. All the publicity made it pretty successful.
Porn Stars magazine, May 1982
Lisa Cintrice: "After we finished filming 'The Starmaker', I broke up with Ken. He is much older than me and I'm sure that he'll eventually find someone who loves looking at old Seka movies and admiring her stills in magazines.
I moved in with a photographer who I thought was my friend. One night Tiffany Clark and Fred Lincoln asked me to join them at the Hellfire Club. My roommate was there too and got jealous so I moved in with Fred and Tiffany instead.
I made two films straight after The Star Maker – one a documentary for Gerry Damiano called 'Consenting Adults'".
Men magazine, 'Lisa Cintrice – 9 In The Can', Colette Connor, September 1982
The publicity made her an overnight celebrity in porn circles and Lisa dove in head first.
After less than a year in the adult business, Lisa has made nine full length porn films. Yet unbelievably she'd never seen a porn film until after she'd made four of them herself.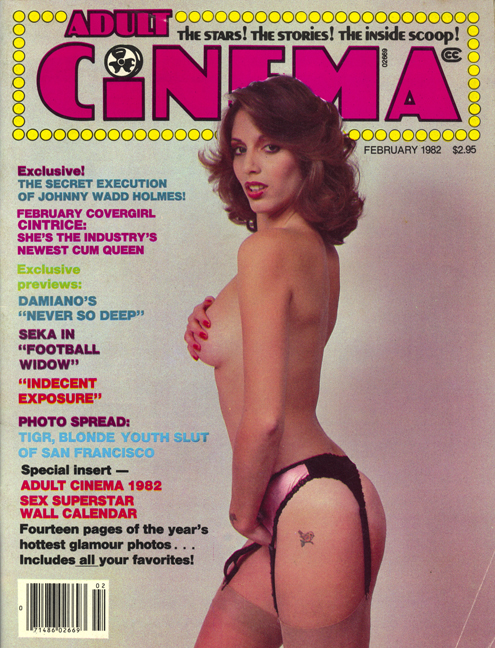 Did you stay in the adult film industry for long?
Not really. I made a handful of films, less than ten in total, before moving west to live in California.
In fact I lived with Ron Jeremy for a while – he used to babysit for me!
Men magazine, 'Lisa Cintrice – 9 In The Can', Colette Connor