One of the happy side-effects of running The Rialto Report is when someone from the adult film industry in the 1970s re-emerges and reaches out to contact us.
And that's especially true when that person is someone we've been trying to find for years.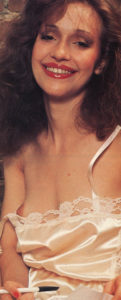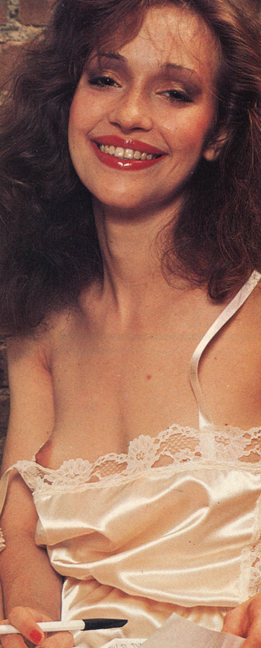 Take Alexandria for example.
Alexandria (also known as Alexzandra, Alexandra Cass, Anna, Anne Belknap, Wilma Case, Cindy Greenstreet, Nina, and Linda Katz) was in a number of adult films in 1975-77. She was also a regular dancer at the Melody Burlesk, and appeared in every conceivable men's magazine from that period too (including one photo layout with Nancy Spungen of Sid Vicious fame…)
There were interviews and articles about her too – suggesting she came from Philadelphia and had a rock star boyfriend, but when it came to finding out what happened to her… zilch. Nada. Nothing.
And we tried. We looked for Alexandria for years and years. We asked people who worked with her. People who danced with her. People who took her photograph. Still nothing.


A typical exchange was the one we had with Steven Ziplow, who had cast her in a lead role in his film 'Breaker Beauties'.
"Who was Alexandria?", we asked hopefully.
He said, "Sweet girl… I just called her Sandy. Maybe Sandy was her real name. But I'm afraid I can't remember anything else."
That was typical of the response we received: Everyone liked her. And no one had a clue what happened to her.
And then one day recently, completely out of the blue, we got the following email:
"Hi. You may have heard of me – I was once called Alexandria and I appeared in porn movies in the 1970s. If you'd like to know more, you can contact me."
So we did. And here's what happened…

_______________________________________________________________________________________________
Do you know how often we tried to find you over the years?!
I've managed to stay obscure for decades!
What made you get in touch with us recently?
My second husband worked in adult film distribution. That's not how I met him – it was completely coincidental. I told him about my X-rated film history, and one day he started fishing around on the internet – and we came across The Rialto Report.
I always wondered how I'd managed to stay obscure for so long, so I figured it was time to come forward.
We've been intrigued by your films, magazine appearances and dance career for ages…
Why were you interested in me?
You seemed to be everywhere for while in the mid 1970s – and then you just disappeared. Plus you had a different look from anybody else. Mischievous looking, natural and spontaneous.
Oh, I'm still mischievous looking. Once mischievous, always mischievous.
Let's go back to the beginning – and if you feel that I'm overstepping any boundaries, just push back.
I will, don't worry. I'm at the stage of my life where, if you ask me a question, then I'll answer you. But if it's something that I'm not comfortable with, I'll tell you that, too. I'm a late bloomer in that respect.
Where are you from, and what's your ethnicity?
I'm from Philadelphia. I'm the oldest daughter from a large Italian Catholic family. I am 75% Italian from the Abruzzi region, but I look like my red-haired freckled Swedish grandmother, so I'm almost the same ethnic mix as Isabella Rossellini.
How Italian was your upbringing?
We weren't super Italian. I mean we had the monthly fancy Sunday dinners at my maternal grandparents' house. They liked to have big, social dinners with the china and the crystal and the lace tablecloth.
My grandfather was a lifelong professional musician who had performed with Glenn Miller and Ray Noble, and toured with the Ziegfeld Follies, and played in the Rainbow Room. My dad followed in his footsteps and was an R&B sax player, but he was more in it for the parties and the pussy. He wasn't around much when I was growing up. And so of course, I went and married a guy who was just like him.
Did you marry young?
I left home at 16, and got married at 17 to a guy called Conrad. I was a high school dropout.
Were you as rebellious and crazy at that age as that sounds?
Yes, of course. Of course, I was!
Why did you leave home?
Well… being the oldest daughter in an Italian Catholic family, I was the little house slave. I cooked and cleaned and baby-sat, did the laundry, and did the shopping. One day, I had an argument with my dad, and he said, "Well, if you don't like it, why don't you move in with your boyfriend?" So I moved out.
What was the rest of your family's reaction?
Well… nobody stopped me. That wasn't so nice.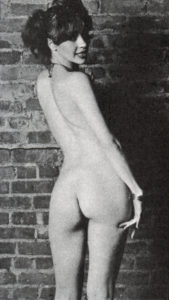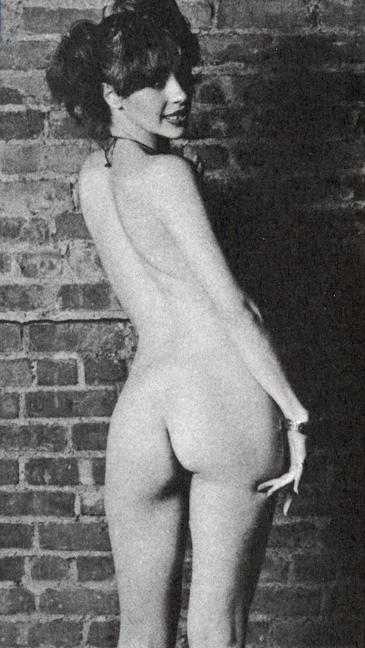 Where did you live when you moved out?
For a time, I lived in a commune. I made a little money by putting ads in these swingers' magazines for people who wanted a model for nude Polaroids. I made a few bucks doing that, though I still don't know how I managed to avoid getting into some bad situations doing that… I was so young and naïve.
And then you got married shortly after… What was your mother's reaction when you got married so young?
She didn't like it, and because I was under 18, my dad had to sign the documents to allow me to get married. He wasn't concerned. He just signed me away. We got married in October 1973.
Was your boyfriend a similar age to you, or was he a little bit older?
He was a couple of years older than me. He was a musician. Very talented.
We moved to New York in June 1974 so he could become a rock star… and I would find work – which was typical, but not ideal. From that point on, it just became a dysfunctional and co-dependent situation between us.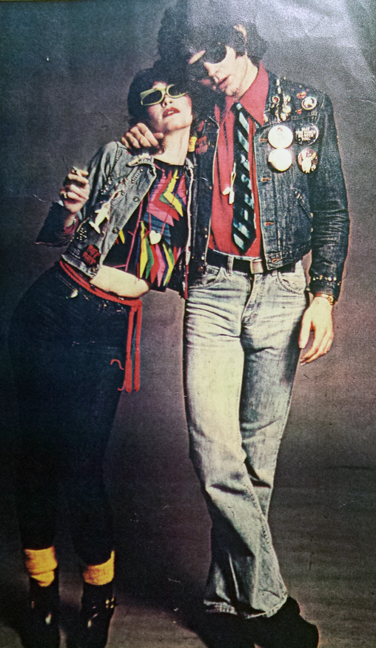 Alexandria, with Conrad
When you moved to New York, where did you live?
We rented an apartment in Alphabet City, which was frightening at that time. We were on Ninth Street between B and C in a fifth-floor walk-up. It was a real awakening… You'd open your mailbox, and there'd be a giant bag of heroin in your mailbox! It was a crazy time.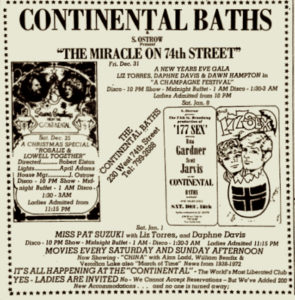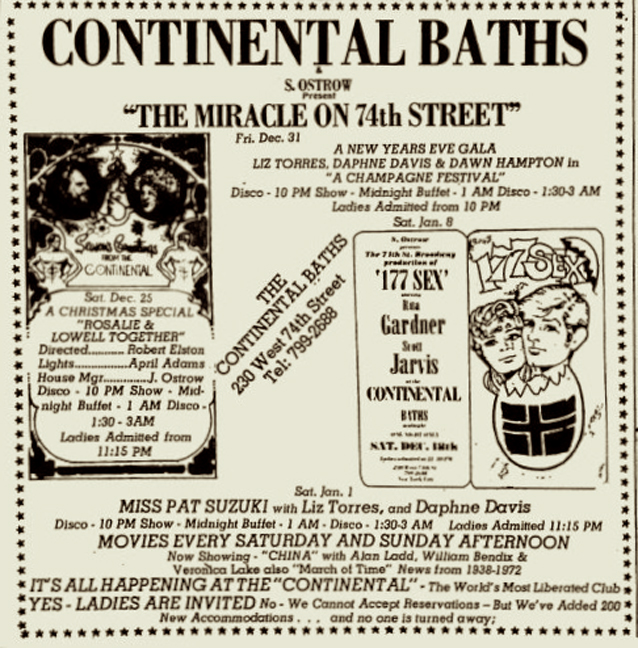 We only stayed there for a few months, before we moved to the Upper West Side to an apartment hotel that was right next to the Ansonia, where Plato's Retreat was to open a year or so later. Back then, the building housed the Continental Baths, which was a gay bathhouse, in the basement. I remember going with a gay woman to see the band Isis there. They were an all-lesbian band. That was the first time I went to the Bathhouse.
Shortly after we moved up there, the Baths became Plato's. And Plato's was where we'd go when we had nothing to do on a Friday night. It was a free buffet, and we were a great-looking couple, so it was fun.
What was Plato's like in those days?
A lot of Quaaludes and cocaine. And sex of course – if you wanted it. But often we'd just go for the buffet and to swim in the pool, and not even have sex.
If Conrad was a musician, did you hang out at places like Max's Kansas City and CBGBs?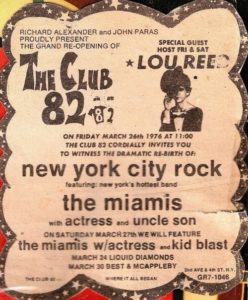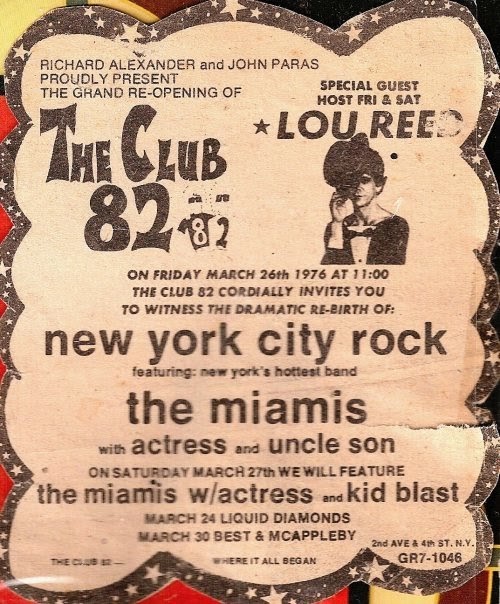 Yes, I was totally into Max's and CBGBs. And also a club on the Upper West Side called Hurrah. That was a gay club that became a rock club. You'd see people there like Ian Hunter (lead singer of the English rock band Mott the Hoople) wandering around with young girls in his toenail-length fur coat. And Rick Derringer, the guitar player, would come hang out there too. He'd steal people's cocaine. He'd walk over and say, "I'm Rick Derringer, get me high." Then he'd stick a straw in your bag and snort it all…
We also hung out at the 82 Club a lot. My husband's band became friendly with the owner and the door person, who was this old butch lesbian. That was a fun place.
Were you always attracted to the music scene, the musicians, and the bad boys?
Yeah, those were the people that I vibed with.
What work did you look for when you got to New York?
I started going on 'go-sees' for modeling jobs, but because I was short in stature, people would just ask me to take my clothes off. So, after enough people asked me to take my clothes off, I figured, "Well, that's what people want from me. I might as well earn my money this way."
When they suggested nude modelling, how did you feel about that?
It was strange, because that was all that people seemed to want from me. I was too short for fashion, and they told me that my face didn't have the features that the photographers wanted at that time. They all said I was too ethnic looking, not wasp-y or tall enough, and I didn't have an upturned or narrow nose.
But I photographed really well and I learned how to pose well. And I liked dancing so I knew how to shape my body to make it look good in a picture.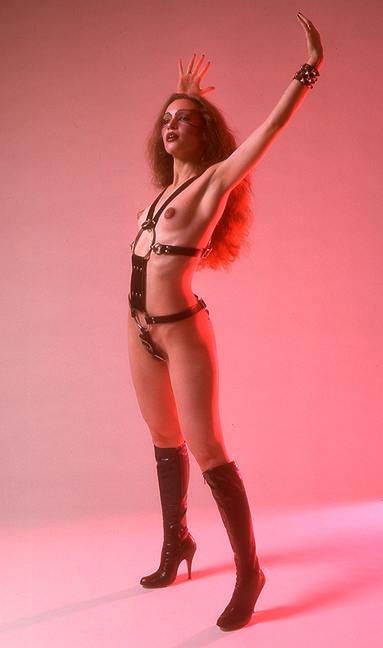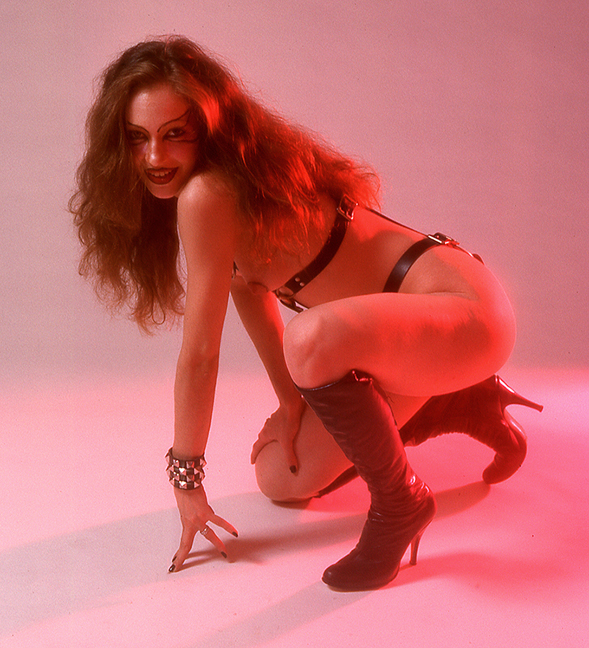 So you felt you had no choice?
I ended up in that direction essentially because I wanted my dad's approval.
How so?
When I was 15 years old, a neighborhood photographer asked my dad if I could pose nude for him. And my dad actually said to me, "Well, what do you think?"
So… you know, when your father asks you, "Do you want to take your clothes off for a photographer?"… what do you do?
That's tough.
Yeah. This became my understanding. This is what people wanted from me. So, for many years, I was told that was what my worth was. Even though I read books, and was cerebral in my interests, people thought that I was fluffy just because I had a pretty face.
I was used to being in the nude because of the Polaroid pictures, so taking my clothes off wasn't an issue, but unfortunately that was the only thing that people were interested in.
Did you get offered a lot of work?
Tons… I did lots of cheesecake and nude modeling for the next few years. I was in hundreds of magazines.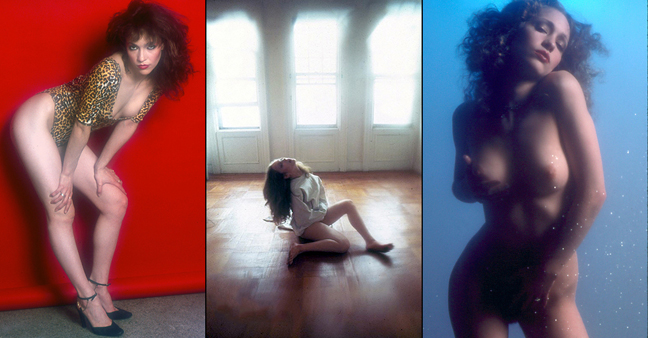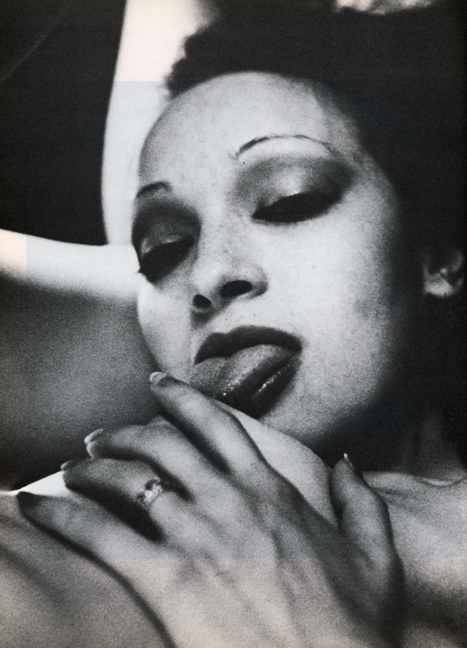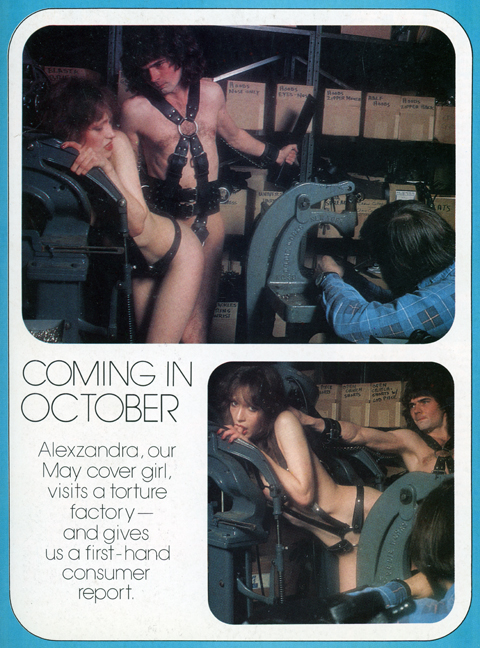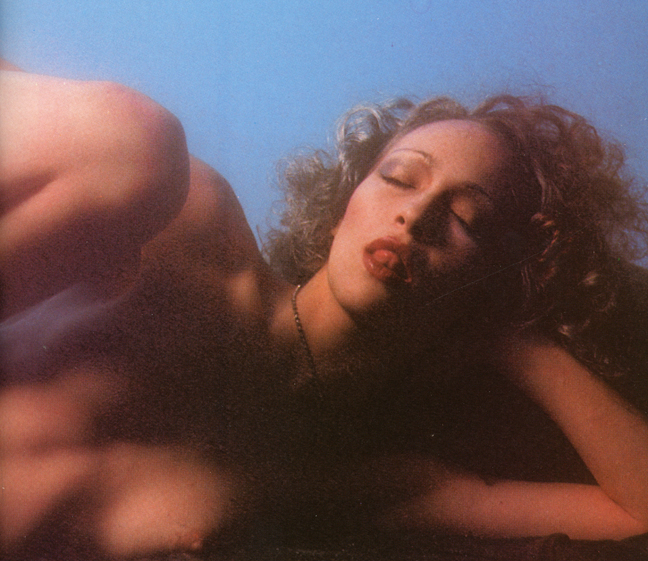 Did you start dancing at that time too?
Yes. I started doing burlesque and go-go dancing on Broadway. I was a very good dancer.
Did you ever have any formal dance training when you were growing up?
No. I wanted to, but my dad wasn't around, and so there was no money for lessons and things like that.
I just went to the Broadway burlesque places and watched the other women and learned from them.
Did the older dancers have any advice for you?
They looked at me and said, "Oh, you have to stop dancing like a psychotic freak-out hippie and slow the fuck down!" So I learned how to work the stage more. I learned quickly.
What was your act like?
I was hyper-mobile and flexible, so I would do Cirque du Soleil-type contortions as part of my act. Basically I was doing yoga on stage. You can see that in some of the pictures from that time. In fact, part of my stage act was putting both legs behind my head and spinning around.
Where did that idea come from?
A photographer named Ed Seeman took some pictures of me with a yogi. He was the one that got me to do that yoga pose first. He knew someone who was a Yogini, but she was a makeup artist and she refused to do that pose for him. I'd never done it before. He showed me, and said, "Do this pose." And then it became part of my act.
Where did you dance?
My first job was at the Broadway Burlesque. Then I used to dance at the Melody Bulesk. I would headline at the Melody, because I was such a good dancer that people would come to see me.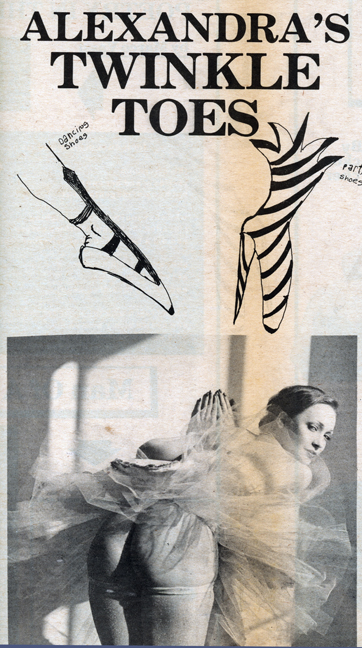 What music did you used to dance to?
I did one of my first acts to 'The Slider' by T. Rex and 'Songs in the Key of Life' by Stevie Wonder. But my most popular act was my dance to Kraftwerk's 'Trans-Europe Express.' I danced to the whole side of the album! And I would get to do my bendy yoga… People loved it. I could see they were thinking, "This is really weird, but I like it!"
What are your memories of the Melody like? Was it fun to be part of that scene?
I really enjoyed dancing there because they had a great stage.
It was a strange time, as it was the end of the era of the big names of burlesque. The old-school names like Tempest Storm were still around but starting to retire. I remember this older woman whose name was Angelique who did a whip and a dom act, and she was very popular.
I started at the same time as dancers like April Summers, Leslie Tulips, Crystal Blue and Arlana Blue. Leslie Tulips and I were very close friends. Crystal was a housewife from Brooklyn. The first time I met her she brought her baby to the frickin' 82 Club…! Crazy.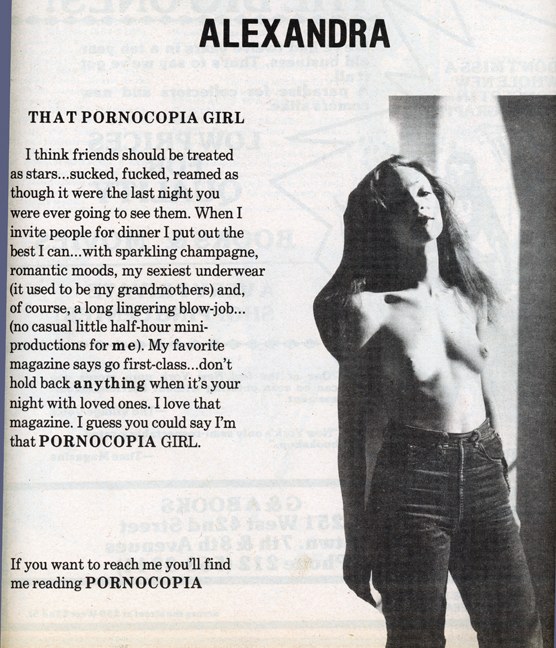 I used to go-go dance with Arlana Blue quite a bit. Arlana was so gorgeous, but she could never get modeling jobs either because she didn't have the right body type. She was a serious dancer and had studied acting, and she had the most exquisite muscular body, but muscular bodies just weren't popular. Her look just didn't go over.
People who danced in these places were often artistic, creative types who were starting out in their careers, and did this to get some extra cash. I danced lots at the Follies and the Melody with Anya Phillips. She and I were friends. She was Iggy Pop's girlfriend, and went on to co-found the Mudd Club.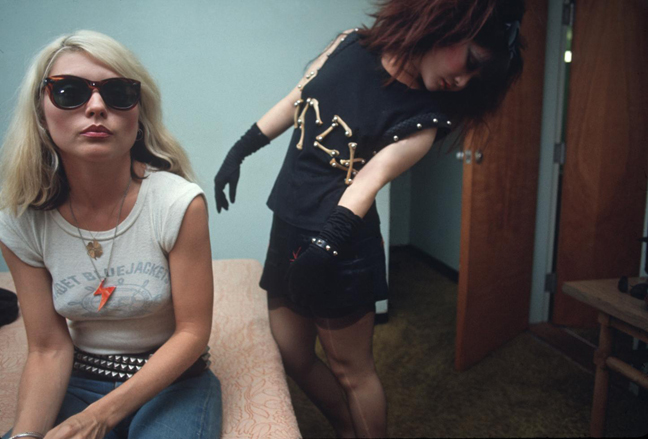 Anya Phillips, with Debbie Harry

Alexandria, with Anya Phillips
Then there was Bijou. She was a stripper who made costumes for other strippers, who later renamed herself 'Animal X' and moved to Soho to become a fashion designer. She designed costumes for people like Madonna and David Bowie.
We all started dancing around the same time.
Why did you eventually stop dancing?
The burlesque scene went downhill for me. When I started, it was the last gasp of real burlesque and real performing, having proper costumes and good music and some sort of a routine. That was coming to an end.
My husband and I went to London for a few weeks because he'd recorded a single and was trying to promote it. When we came back, I needed money, so I went back to the Melody. I knew I could just show up there on a weekend afternoon with a costume and do a show for tips.
But I found that the scene there had changed almost overnight. Now it was this $1-a-lick nonsense. The dancers would sit on the edge of the stage and the audience members would be invited to lick them. And that's when I stopped dancing, because I thought, "Well, if I'm gonna do that, I might as well just get 100 bucks and be with one person. Why have 100 guys lick you for a dollar in public? That's disgusting."
Sorry, but that was a little too much for me. I was not into that that at all.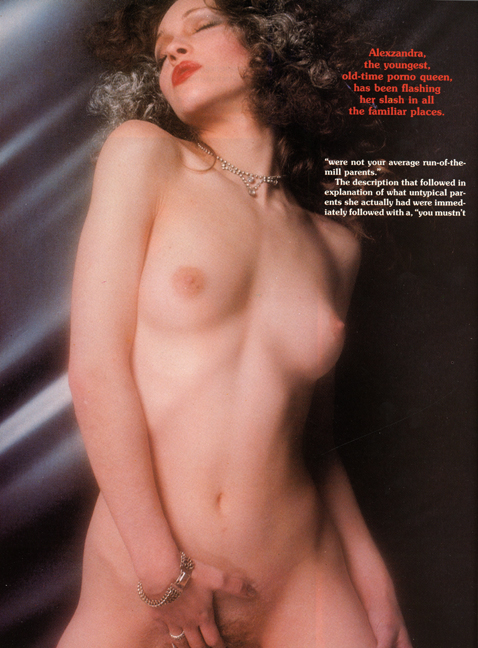 Were you into the drug scene at this time?
I was a skinny coke-head…
What was your drug of choice?
Coke. Coke and weed. And sometimes 'ludes. But then, when the real 'ludes disappeared, and all you could get were bootleg 'ludes, that was a little scary. I had a couple of bad experiences and so I completely stopped that.
Were you too late for acid?
Oh, no! I was a psychedelic motherfucker! I did my first hit of acid in 1970 when I was 14 years old. And back then, it was the Orange Sunshine, and we would do a quarter hit.
Yes, I had good acid, my dear…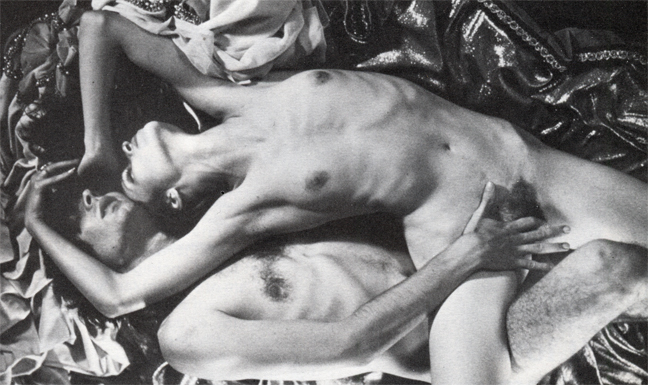 How did you get approached to make your first film?
What happened was this… my husband and I used to listen to the Alex Bennett radio show. He was on the air in the middle of the night, and one night, he announced that he was looking for a couple to perform skits on the Midnight Blue show – which he was producing.
Midnight Blue an off-shoot from Al Goldstein's Screw magazine, and it was just starting at the time.
So Conrad and I went in and we did a bunch of comedy skits.
What sort of comedy was it?
Conrad would have a idea, and we'd just improvise around it. Sometimes Alex would say, "Okay, I want to shoot this today," or some days, we'd just smoke a bunch of pot and get high…
How risque' was it?
I remember Al was bugging Alex about what he could show on public access TV. They wanted to push the envelope, so I did a striptease. I was just in jeans and a shirt, and I took my shirt off. I should add that I was wearing a full-head Planet of the Apes mask at the time…
Alex said, "I want you to point your boobs to the camera and give them a squeeze." So I did, and they actually censored me live during the transmission. Apparently, that had never been done before, so I was the first person to ever be censored on cable TV.
After that, I became a bit of a cult figure. They called our sequences 'Vintage Blue', and they'd play them over and over again.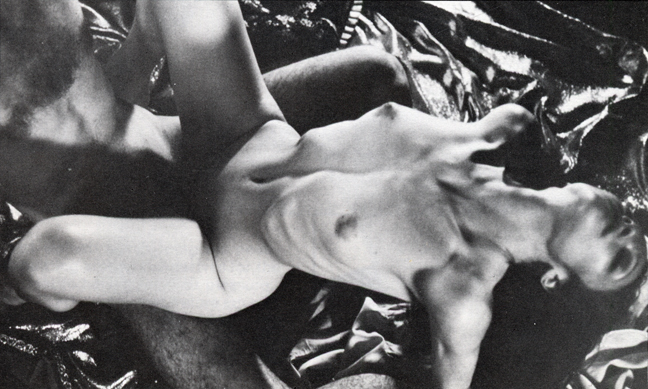 So how did adult films come into the picture?
One day, Alex got a call from Al Goldstein, and they were looking for someone to go on the TV show 'AM New York'. I went on the TV show, and they started asking me questions about being a porn star. I said, "Wait no, I'm not a porn star! I just do comedy skits…"
I'd never done anything pornographic at that point. Some of the skits were saucy, but they weren't explicit.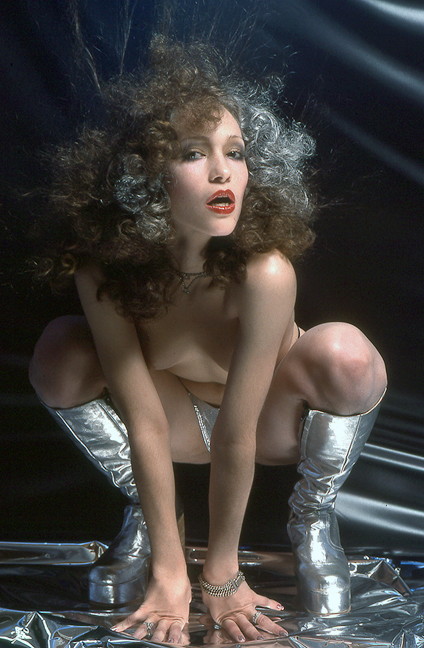 After that, people started asking Al and Alex questions about me. At some point, I think Sandi Foxx, the agent, contacted me and she offered me a part in an X-rated film.
I made my first film when I was 19. That was 'Temptations'.
What do you remember about that first film?
'Temptations' had Marlene Willoughby and John Leslie. I remember at the end of the movie, I danced in a loincloth and a camel tooth necklace. I don't know if they added it because they found out that I could dance, or whether it had already been written in for the character. But, either way, I was happy about that.
I remember the guy who filmed 'Temptations' was supposedly some hot shit cinematographer. His name was Joao. People thought he was amazing.
Jennifer Welles was in 'Temptations' too. She confused the shit out of me, because I thought, "Who is this old broad? And where'd she come from!?"
I went to her loft apartment down by Canal Street once, and she had this huge frickin' pad there. I thought, "What the hell does she do for a living?" She was probably a high-end call girl or something. I know that she got paid more than anybody on that movie.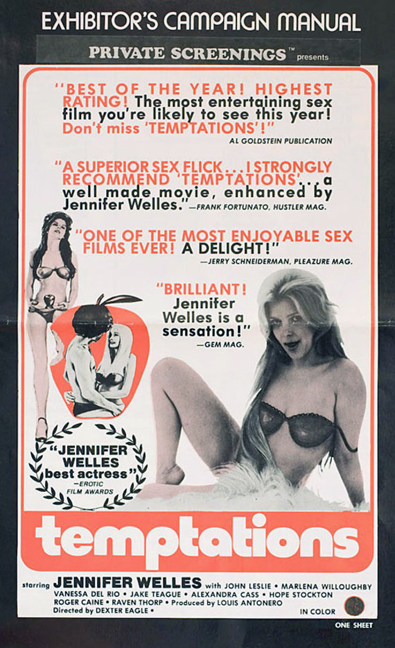 How did you feel having sex on camera?
I was really, really nervous. I couldn't make the moaning and groaning noises. I also made the mistake of smoking some pot beforehand, which made me paranoid. I was uncomfortable. But once I did it, I guess it was ok because I kept doing it.
The second film I made was 'Les Nymphoteens' for the Kaufman Brothers. And that was really freaking weird, because there were all these mafia dudes in sharkskin suits on the sidelines who were watching everything we were doing. That was very, very uncomfortable.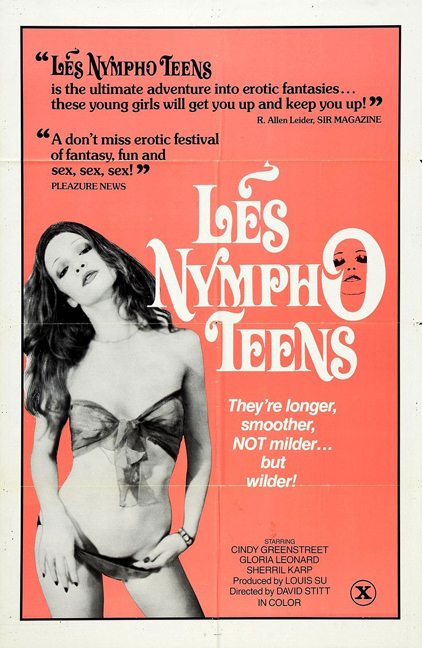 Alexandria, on the one-sheet for 'Les Nympho Teens'
When you started doing the movies, what did Conrad think? Did he have a reaction?
At first, he said, "You can only make films if I'm doing them with you." But he ended up being such a pain in the ass diva that nobody wanted to hire him.
Did he ever make any films with you?
He did, but only loops. No features.
So you just continued doing it without him?
Right, and the irony was that then it became a bragging point for him!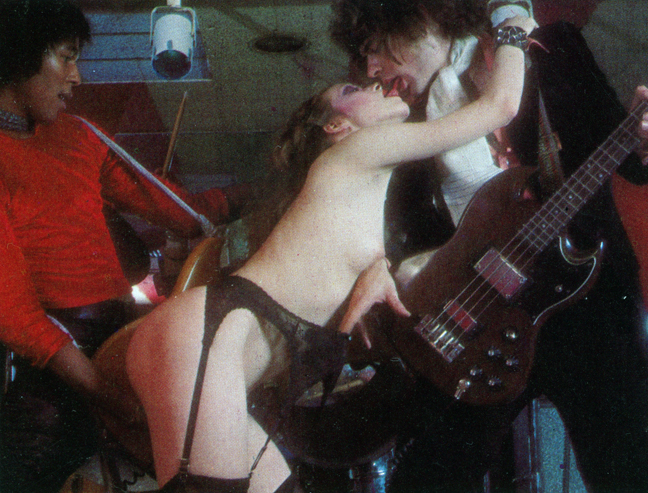 Did you get most of the work through Sandi Fox?
Yes, I often got work through Sandi. But also by word of mouth when I posed for all the magazines. I appeared in High Society, Cheri, Gallery, Game. Often the art directors knew the porn directors, and so they'd call me and say, "Oh, so-and-so's doing a film. Are you interested?"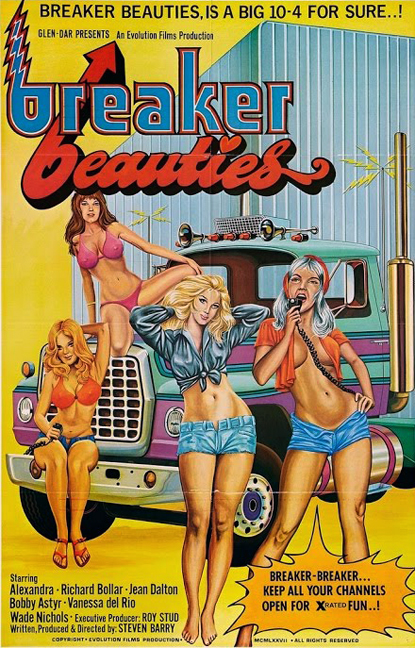 Did you become particularly friendly with anyone from the dancing or the films?
I was friends with Sharon Mitchell and Susaye London. Sharon and I in particular became close. I met her when she was making her first film, and she was underage. I think she was 17. I was 19 or 20.
I actually arranged for her first burlesque gig at the Melody. And then, when we doing adult movies, we did a double headliner there billed as: 'Sharon Mitchell and Alexandra, the two Porn Stars.' I think she was the first porn star to dance there. I negotiated that for her.
Sharon had the same problem getting modeling jobs as I did. Her 'look' wasn't right. They told her, "You look too hard." That was the one area where Sharon was competitive with me. She had a more firm, athletic, perky body than me. I was just thin, but I had the pretty face.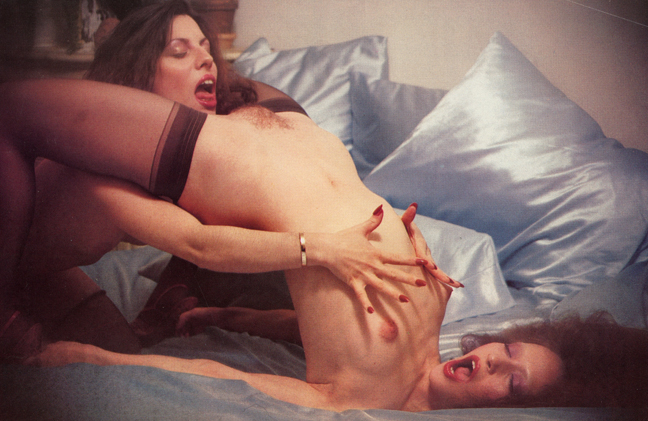 Alexandria, with Susaye London
I also remember a dancer and actress called Veri Knotty. I used to dance with Veri. We had a go-go routine together. She would tie her labia in knots – hence her name.
I knew her very well. She was the first truly kinky person that I ever met. She was like Jamie Gillis. She was deep into the leather and the S&M scene. I just didn't get that at all. She always wore leather pants and thigh-high leather boots even in the middle of the summer. And she was tough too. She reminded me of Grace Slick.
Another girl I liked a lot was Beth Anna. We were friends. I got a bunch of modeling jobs for her, and we used to dance together. I loved Beth Anna. For a time, I was recruiting models for magazines to do ads and stuff, and I hired her to do a lingerie shoot. And I did the makeup.
I also did quite a few films with Gloria Leonard. She was much older than I was. I remember doing 'Heat Wave' (1977) with her in which we did a schoolgirl-teacher scene.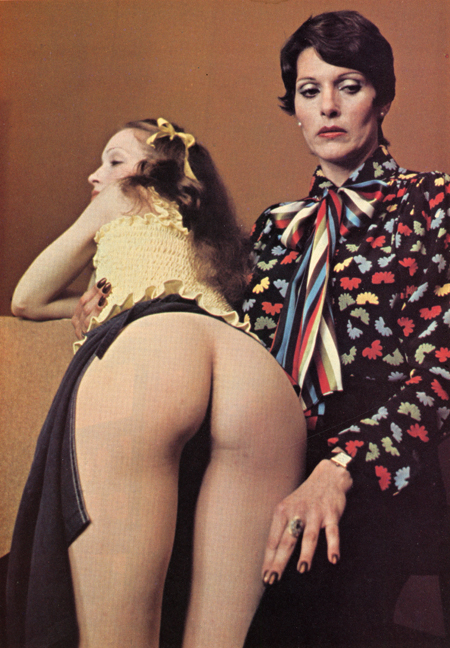 Alexandria, with Gloria Leonard
How about the male performers?
I remember Wade Nichols. He was one of the first guys that I ever worked with. He became a TV soap star later on, and he had that disco single. I saw him singing one day on TV, and I screamed, "Oh, my God! That's Wade from the porno films!" I worked with him a few times. He was lovely.
John Leslie was very sweet, full of energy, always cracking jokes, laughing, and making light of everything. And even if the situation was difficult, he'd make you feel good about it and comfortable, because there were a lot of times when we were being pressured. But he was always absolutely lovely. I was sad when I heard he passed away. Very sad.
Bobby Astyr was really fun. He was like a woodland sprite.
I knew Jamie Gillis, though I wasn't 'friend-friends' with him, if you know what I mean. But… if you knew Jamie Gillis, let's just say you KNEW Jamie Gillis.
Was there a big difference between the films you made and the loops?
Oh, yeah. When you made loops you were just cranking out sex scenes, and you only got paid $50 per loop. And the guys would only get paid if they could ejaculate. It was really just grinding it out. There was no glory at all.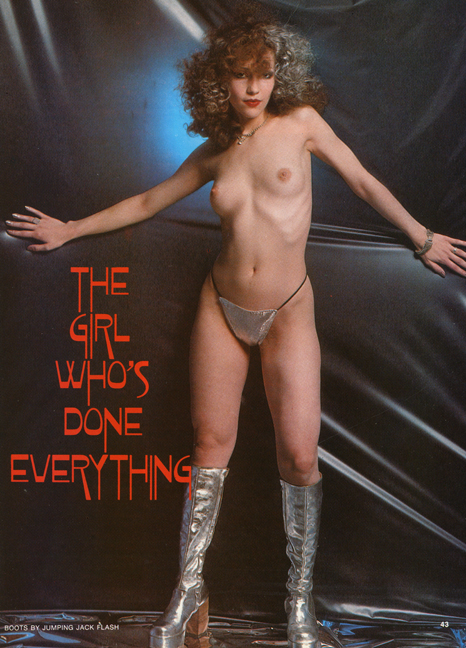 Do you remember any of the people that you made loops for?
Tina Russell's husband. What was his name?
Jason, yeah. He had a studio where he was cranking loops out. I did a lot of work for him. And I did a loop for him with Tina Russell in which I was wearing one of my gorgeous 1930s vintage movie star nightgowns. We double-fucked a pepperoni.
Ok…
A long pepperoni. I can't believe I did that. And I remember afterwards, I ran to the bathroom to scrub it off, but Tina just put her clothes on and headed out…
Joyce Baronio memorably photographed you for her art book, 42nd St Studio. You were on the back cover.
Yes! In fact, my all-time favorite picture is the one of me bending over in a tutu with a naughty smile. I love that picture. That tutu was part of my strip act. I remember I was having a really bad period that day, which was why my tits looked so fluffy.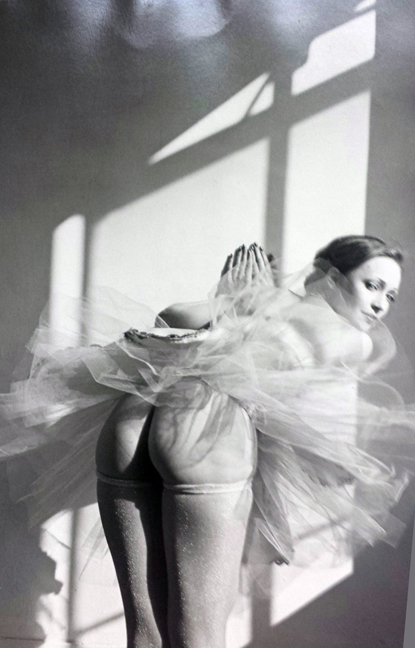 Alexandria, by Joyce Baronio
Ah, the secrets…
In the interview that The Rialto Report did with Joyce, she said some stuff that I wasn't thrilled about. She said that I was sad, and that I might have been abused.
But I just had cramps that day, I was so uncomfortable, and Joyce always had a big bag of Columbian stupid weed to help her subjects relax, so she'd smoke you out. I wasn't sad in those photos, but I was having my period and I had just smoked a little weed.
In the photo, my eyes are sparkling and I have this mischievous smile, and I'm mooning the viewer in my silver glitter stockings. I love that picture.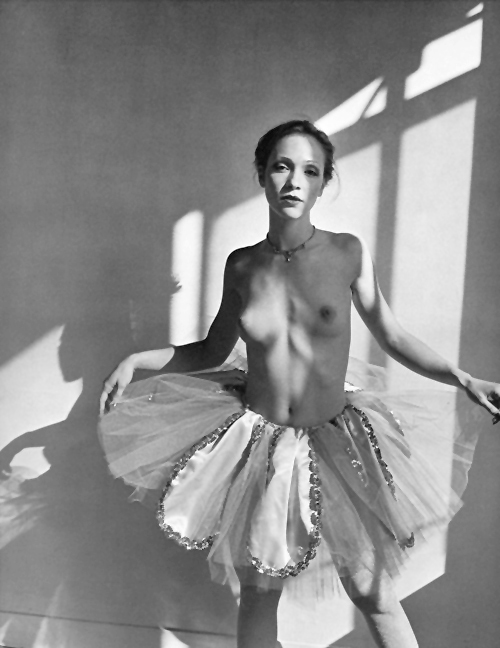 Do you remember anything about when that book was published?
One of the awesome memories that I have is when my husband and I were taking a stroll through Manhattan, and we came across the main Barnes and Noble store. I think it was on Fifth Avenue. And the whole window was full of copies of the book – and you could see me on the dust jacket cover.
My husband was in a terrible mood that day, and he was jealous. I wanted to go into the store, but he wouldn't let me. Still to this day, I don't have a copy of that book.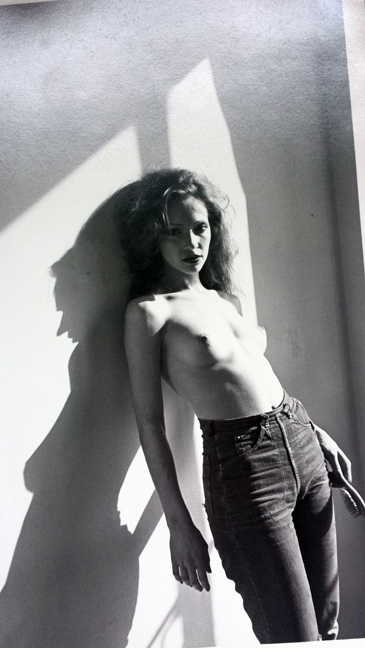 Outtake of Alexandria, from the Joyce Baronio photo sessions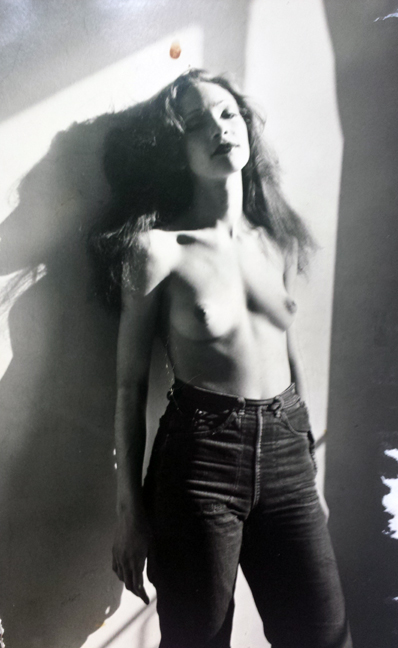 Outtake of Alexandria, from the Joyce Baronio photo sessions
You were in a so many photo shoots at the time. Do any stick out particularly?
I was in a famous picture that was published in a book called 'Submission'. It was a collection of photographs by Jimmy De Sana, which had a foreword written by William Burroughs. Jimmy also did some album covers for Blondie and the Talking Heads.
It was Terry Sellers who called me up for that one. Terry went on to become mistress Angel Stern, and the author of the book 'The Correct Sadist.' She called me to see if I wanted to model in this book. I agreed and Jimmy took this picture of me in bondage gear huddled inside a fridge. It became a notorious image.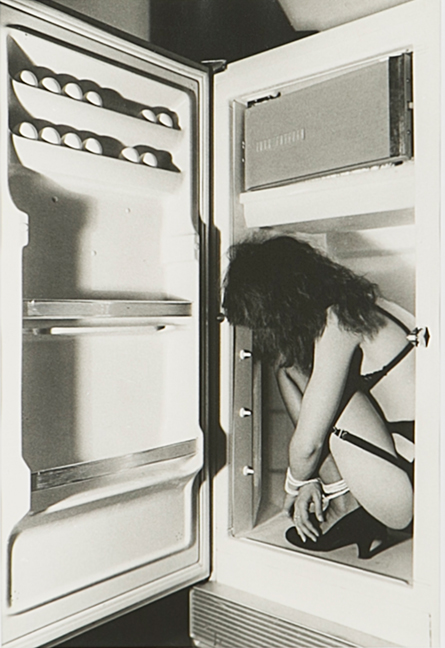 Alexandria, from 'Submission' by Jimmy De Sana
I also remember a High Society spread called 'Sex in the Psycho Ward' that Carl Kravats shot. It has pictures of me in a straitjacket, and Jean Silver in a wheelchair.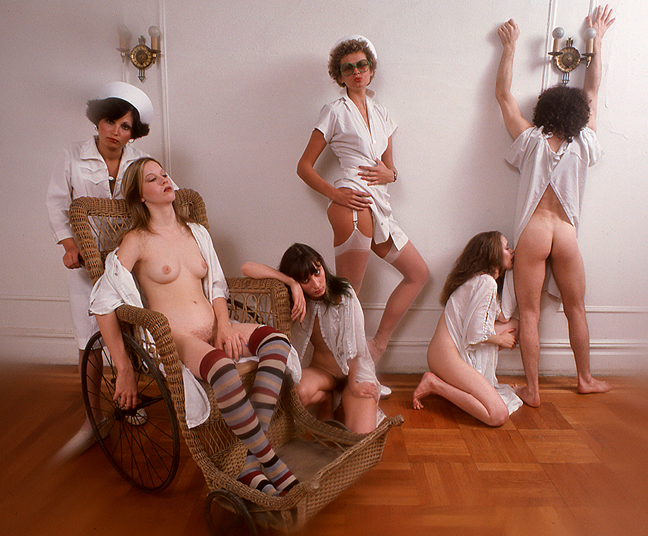 Alexandria (second from right) in Carl Kravats' 'Pyscho Ward'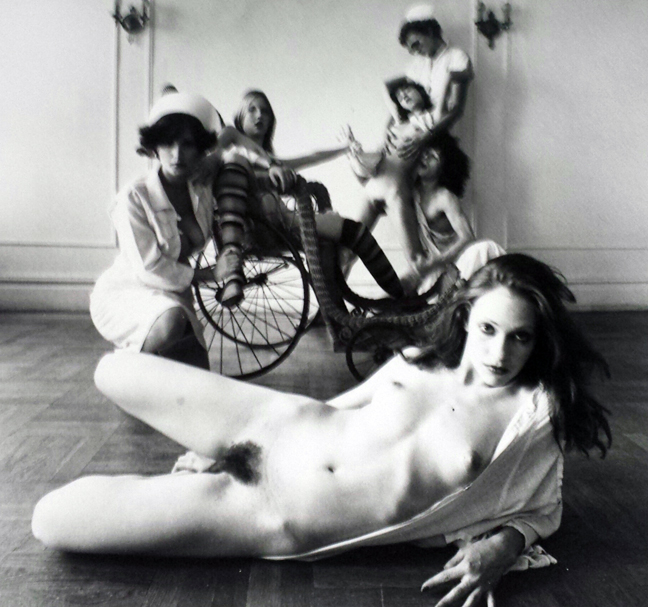 Alexandria in an outtake from Carl Kravats' 'Pyscho Ward'
You were also in the first edition of Puritan Magazine.
Yes, I'd just started doing porn, and they came to me and said, "Who do you like working with?"
I said, "Well, I like Marlene Willoughby a lot." So Marlene and I did the first issue of Puritan.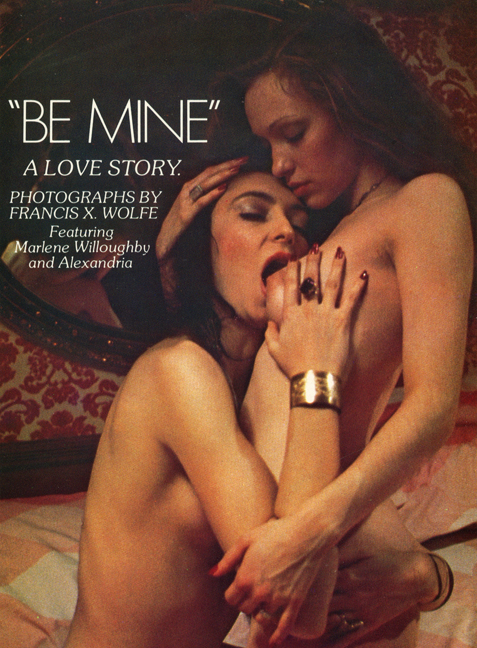 Alexandria, with Marlene Willoughby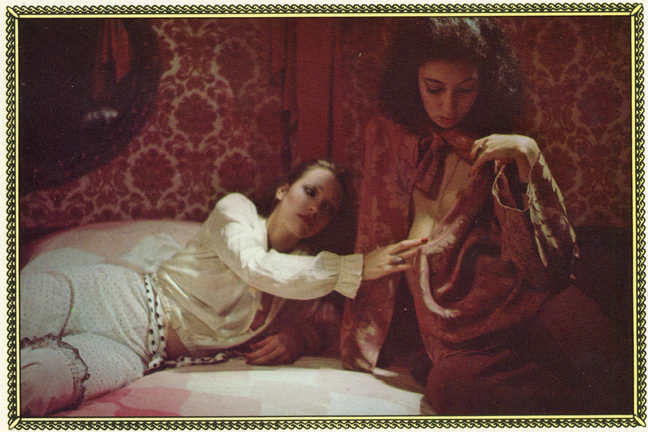 In that same issue, you also appeared in a photo layout with Nancy Spungen, Sid Vicious' girlfriend.
That was Nancy?! Oh, my God. I didn't even know. I thought, "Wow, she looks familiar." I didn't even know that I had posed with Nancy Spungen… wow. I have another bragging point!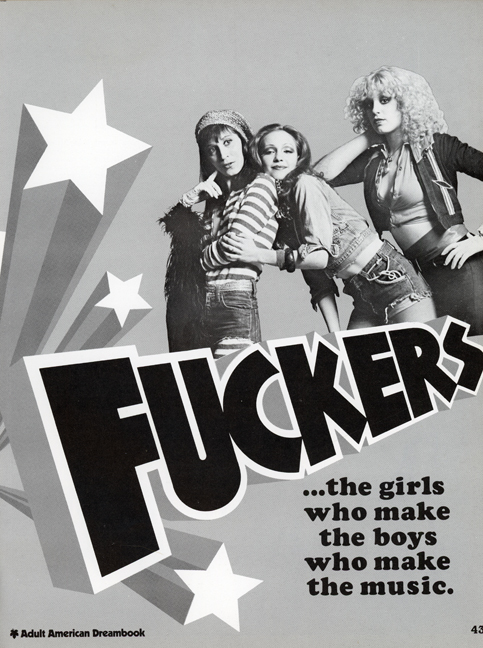 Alexandria, with Elda Stiletto (left) and Nancy Spungen (right)
I always wondered if you were friends?
No, no. Of course I kinda knew who she was, but I stayed away from the Chelsea scene because everyone who hung out with Sid and Nancy started shooting heroin. And once you started shooting heroin, you weren't allowed in my house.
That was your rule?
Yes. Junkies would just come in and steal shit.
What do you remember about the other person in those pictures, Elda Stiletto?
Elda was lovely. I met Elda at the 82 Club. Debbie Harry had just quit her group, The Stilettos. Elda asked me if I wanted to take Debbie Harry's place.
Really?!
And I said to her, "Elda, I can't sing!." And she said, "It doesn't matter. You have the right look."
I ended up working for her later when she had this little clothing business. I sold her stuff for a couple of weeks until she realized that I was faking it. I was terrible at it.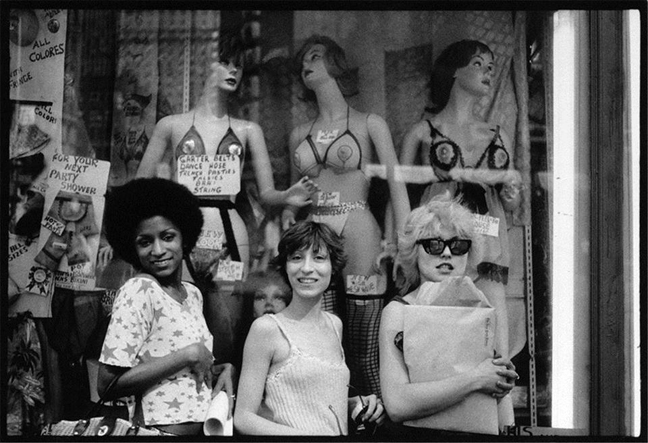 The Stilettos: (from left to right) Amanda Jones, Elda Stiletto, Debbie Harry
What was your relationship with your parents like by this time? What did they think of the burlesque and porn films?
My dad was a bit of a pervert who liked younger women. He thought it was great, so I finally had his approval…
That's an unusual reaction for your Dad to have…
Yeah, really strange. Of course, my mom, being an Italian Catholic, she just stuck her head in the sand and pretended she didn't know what was going on.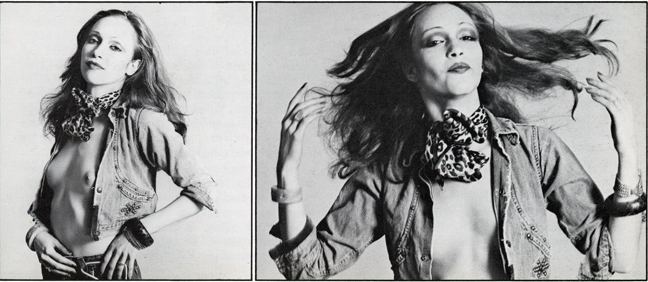 Were you ever recognized on the streets after you started appearing in the magazines or the movies?
No, that was weird. When I was with Sharon, everyone would be swarming around her, and no one would recognize me. And there were times when I was on two or three different magazine covers at the same time, as well as working at the burlesque house… and I would go and stand next to the news stand and the magazine covers, and still no one would recognize me!
How about later in life. Did you ever get recognized?
Nope. In all the years that I've lived, no one's walked up to me and said, "Oh, you're Alexandra, the porn star." It never happened.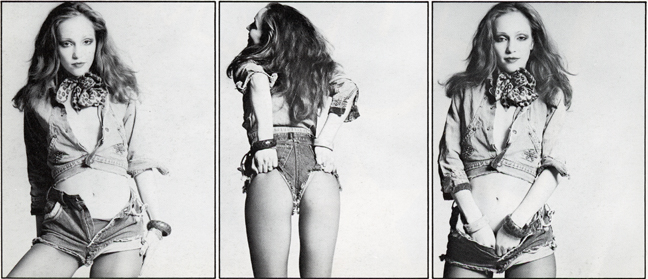 Did you ever pursue any mainstream roles in films?
Yeah, I tried out for 'Grease'!
How did that come about?!
I was dancing at the Melody, and I found out that there was a morning open call to audition for a dance role in the movie version of Grease, and you had to show up in 1950s clothes.
The photographer took a bunch of photos of the kids who were auditioning, and they sent me a few copies.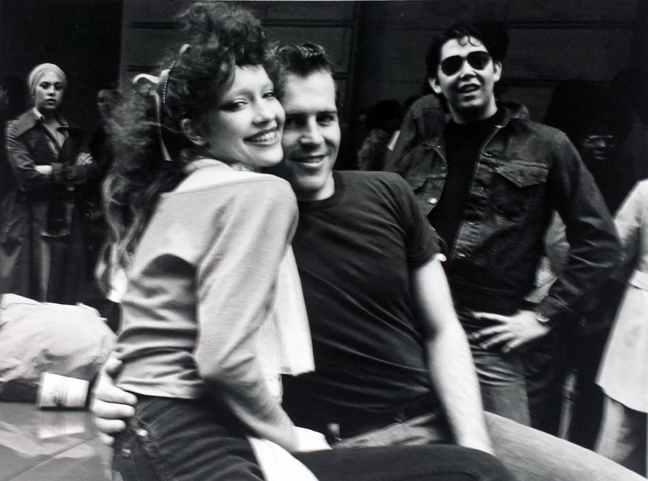 While you were making films and appearing in magazines, how was your husband's band doing?
My husband was a good musician, a good singer, and an excellent writer. He had many opportunities, but he had undiagnosed mental illness, and he was quite the self-sabotager.
We went to Paris for three months because the guitar player for his band had lived there for years, and my husband had an opportunity to become a huge studio musician, but he couldn't make it work out.
While I was in Paris, I did some modeling there for the famous French photographer Serge Jacques. One of his photographers also took some pictures of me, which were published in Game magazine. I had the cover and a spread.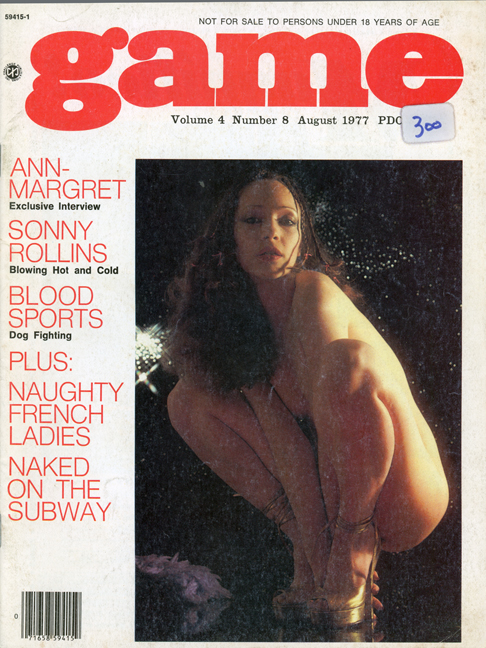 What bands was your husband in?
He had two bands. One was a glam rock band called Sister. And then he had a band with Sharon Mitchell's boyfriend, Sturgis. Spider and Stinker from Pure Hell were in that band as well.
Pure Hell is now a legendary cult band, but I remember Spider and Stinker as really sick junkies who had their 15-year-old nieces hooking. In fact they were both in some porn movies too.
My husband also had a few short-lived music projects like Ether and Man Ray. They did alright, and people came out for them, but in the end his career didn't go far.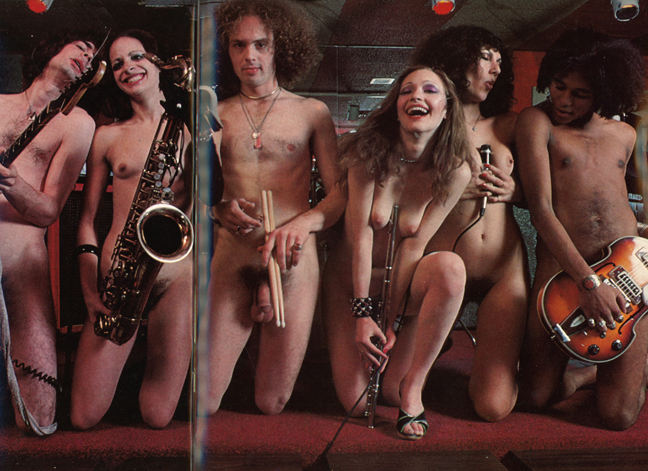 Did you ever go and see your movies on the big screen in Times Square?
Yeah, I did, but I don't remember what film it was. It must have been pretty traumatic for me not to remember it.
There's much that I have forgotten, or that I've only just started to remember. For example, there was this woman named Doris Wishman who made these awful horror movies. It turns out that I was in the opening scene of her movie 'A Night to Dismember.' I got a copy recently and it was hilarious. I get murdered in the bathtub…
You made less than 20 feature films and a handful of loops. Was that deliberate? Did you think, "I don't want to get too involved in this industry"?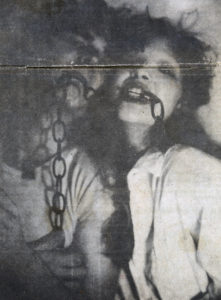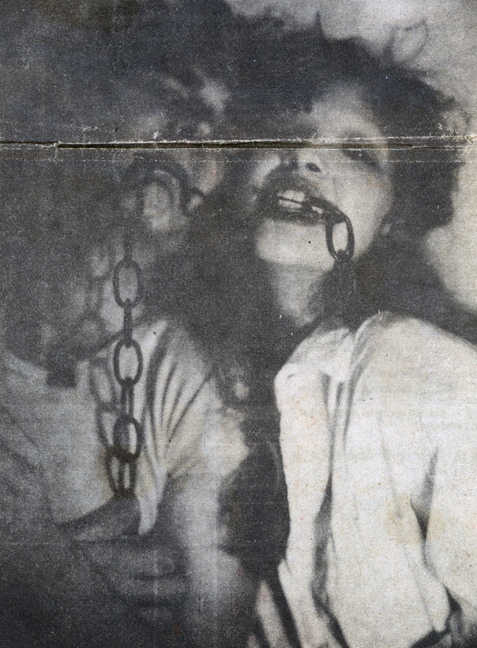 I think so. I didn't like how doing hard-core made me feel as a woman. I felt exploited. I felt abused. Pretty soon, I got talked into doing things that were rougher and more uncomfortable than I wanted to. And I realized that they were going to be on film forever.
I remember this one film called 'Tortured Woman' that was particularly unpleasant. It had a rape scene in it that I didn't like at all. So I made a conscious decision. I thought, "I'm not doing this anymore. It doesn't make me feel good."
To be honest I was pleased that I quit when I did, because I was relieved that I'd avoided perpetual notoriety for being a porn star.
After you retired, did you have offers to make more films?
Yes – I was approached to be the lead for 'Captain Lust' and 'Chorus Call'.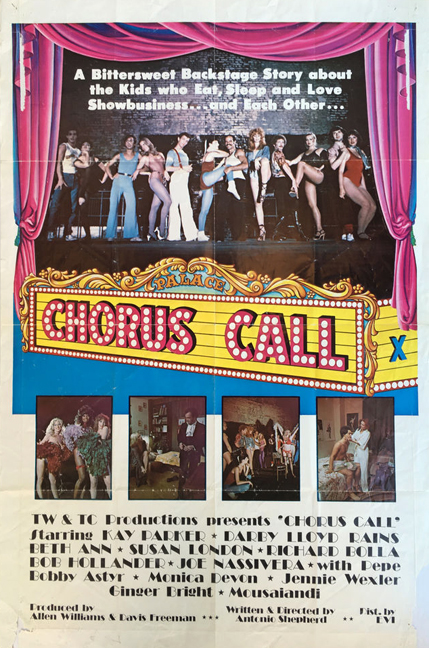 They wanted me for 'Chorus Call' because they were desperate: They had Susaye London, and she was terrible. She just couldn't dance. And she was frickin' pregnant when she made that film… Jeeze!
I refused to be the lead, but I helped the filmmakers out by choreographing the dance number, 'Six Tits In A Row', and training some of the other performers to do burlesque-style dancing. They paid me for that. But they really wanted me to star in it.
What did you do after the films?
I got into makeup work. I was a makeup artist for years. I had started doing makeup for the porn films and the magazines. I also did it for fashion shows and TV. It was a lot of work. I was good at it.
I disconnected from the adult scene. I picked up a modeling job here or there, and for a time Stag magazine used me as the face of their reader's questions page. I didn't write any of the responses, but they used my image as 'Anna' for their feature called 'Opening Up with Anna.'
But eventually I even stopped doing that because I didn't have the self-worth. I just couldn't handle the whole thing anymore.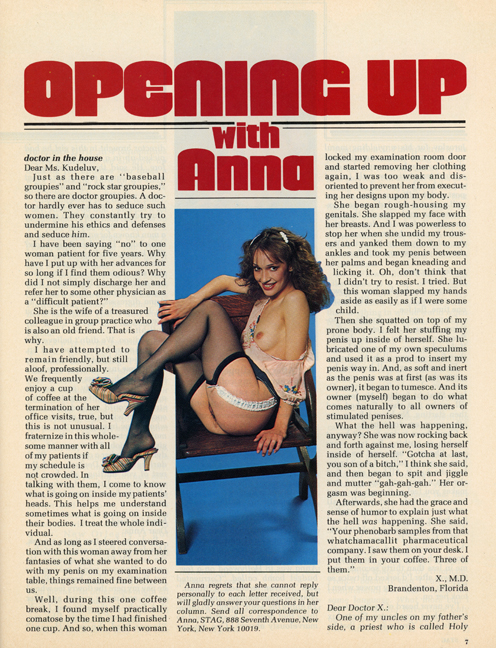 How had your relationship with Conrad developed?
I got pregnant and he greeted the news by becoming an alcoholic overnight. His response was to become a total scumbag, a psychotic alcoholic. So that wasn't so good…
By the time our daughter was 2½, he was beating the crap out of me, so I left him. I brought up my daughter single-handedly, while working as a medical massage therapist.
Did you separate completely from him?
He continued to see our daughter, but when she was 12, she cut off contact with him as well. He used to come in and out of our lives whenever he felt like it, and every time it was such drama. So finally she said, "I'm over it." We moved back to Philly.
I trained my daughter when she was in high school to do makeup work. And that's what she was doing for a living for a time.
At what stage did you decide to tell your daughter about your past? I imagine that was a delicate conversation.
I spoke to her when I was sure that I had done everything in my power not to have her feel like she was on autopilot for the path that I took. And she made a conscious decision when she was still in high school to work as a dancer. But she approached it from a different perspective than I had. She had trained in dance and movement.
And she didn't know that you'd danced?
She knew a little bit at that point, but I laid it all out to her.
Weren't you an artist as well?
I didn't start doing art until I left my husband. And then, for many years, I produced a lot of artwork. I've had shows. I ended up doing fabrication work in an artistic plaster shop doing prototype sculpture and decorative architectural molding. And then I got injured – I have four herniated discs – so I had to stop that.
Did you have relationships after you divorced?
I was single until I married my second husband, Jay, in June 2009.
How did you meet him?
I knew him socially for decades as a musician. And his office was across the hall from the doctor's office where I was working. We started bumping into each other. I had moved into a big house in a marginal neighborhood in Philly and I'd just gotten rid of this roommate so I was looking for a new roommate. I said to him, "I know you work with a lot of people. Do you know anyone who'd be interested?"
He'd left his wife a few years before that, and he'd just had a car accident and so was laid up for a while. He said, "I'm interested in coming to see the room you have for rent." He moved in as a roommate and as a friend.
We got on so well, that we got married in June 2009.
What kind of a musician was he?
He was a very well-respected local musician. He was a serious guitar player who had studied formally at the conservatory. But he was a local musician who broke a lot of boundaries. When he was a teenager, he'd been Patty Labelle's rehearsal guitar player.
Did you sit him down one day and tell him about your adult film past?
Well… he'd been a buyer for the adult film distribution company, TLA, and by this stage he was the manager of the customer service department. So he was a porn fan already. He'd been to a lot of the AVN Conventions because of his work. He had a lot of pictures of himself with different porn stars who were more recent than my time.
One day I brought out the magazines and I said, "If we are gonna be together, you have to know this. This is who I am. And if you can't handle this, then too badsky."
Luckily he was fine with it.
I was so sorry to hear that he passed away recently. What was the cause of his passing?
He had a heart attack. I came home from work and found him face down on the floor. I was in denial that he was already gone, and started performing CPR. I injured my hand and ended up needing reconstructive surgery.
It was such a tragic situation.
Since then I haven't been able to work so I have no income coming in. I'm actually planning to move to where my daughter lives. I'll be able to live there more cheaply. And I'll be close to my grandchildren too.
What happened to your father? Is he still around?
He passed away the day after my husband died this year.
What an awful time for you.
He'd been in hospice for a while. He had bladder cancer. Most of us were not in touch with him at all, because he was such a bad dad.
I went to visit him a couple of weeks before he passed. I knew it would be the last time I saw him.
When they had his memorial, I kind of… didn't feel a thing. He had pointed my life in a direction that it didn't have to go in. I originally wanted to go to art school, but he used to laugh at me and say, "Just learn how to type, and meet a guy at the office, and marry him, and have his children. He'll take care of you forever."
What happened to Conrad, your first husband?
He's still around, living somewhere in upstate New York. He's been a heavy smoker for many years, and now he has one lung. He's on disability. I don't know how the hell he's still alive, but he is.
Did you keep any scrapbooks or articles about you from those days?
I have some things. When I ended up becoming a single parent, I threw away hundreds of magazines that I had been in. In a fit of upright citizenship, I threw them all in the trash. And I kept one box of pictures, and that's it.
Now I regret it, but back then I was starting life as a newly single parent and working, so figured I wouldn't need them.
Back in the day I had my own costumes for the dancing. I wish I still had them. I have a couple of little tidbits, but they've been tucked away for so long that they might have disintegrated by now.
Did you stay in touch with anyone from the industry?
Sharon Mitchell came to stay with me Philly at one point before Spider died. But I didn't keep up with them. I was raising a kid alone, and I was just staying away from that scene. I regret losing touch with Sharon though. I would've liked to have stayed in touch with her.
How do you look back on things today?
I'm 61. Recently I feel very old and very broken, and I've been recuperating from the surgery. I've been staying in and binge watching Netflix.
But the part I love about being old is that people listen to me now!  If they ask me for advice, I dispense it. That's a big part of who I am as a person. I've waited my whole life to be taken seriously as a human being.
Do you have any interest in the modern day adult film industry?
I started watching the documentary 'After Porn Ends', and I saw these psychotic wenches on screen! I am not any of these people. I am not that person at all. I'm not a psycho. I'm not out of my mind. I'm not trying to look like I'm in my 20s, painting myself up and wearing crazy wigs.
And I still look good!
What made you want to come forward now, and speak to us?
I think it's because it was 40 years ago and I can get away with it. It seems like a different life.
It's a relief to be able to speak freely, you know. There are only a small number of people that I've been able to talk to about this. Now that I'm old, I started showing some of my friends some of my old cheesecake photos, but nothing explicit.
What has their reaction been?
They're usually quite impressed.
It makes me feel good. I know that I was part of a very interesting time in New York City. It's good to be able to tell some of my stories.
However I'm still keen on keeping my identity discrete.
We've been looking for you for years, so you've done a good job in disappearing…
I didn't know anybody cared…
We cared… so thanks for contacting us.
It's been fun, thank you.
Back in the 1970s, I remember I'd say to people, "I can't wait until I'm 60 years old, and tell people that I used to dance naked on Broadway."
And so now, I have.
*