The Rialto Report long been interested in the symbiotic relationship that existed between New York adult films in the 1970s and the men's magazines of the era, like High Society, Cheri, and Swank.
It was a perfect marriage: The XXX films and their stars wanted publicity and legitimacy, while the magazines were seeking glamor, excitement, and most of all, sex. As a result, the magazines regularly featured the latest adult film stars in lavish pictorials.
But what of the photographers that filled the pages with pictorials of the adult film stars of the days? Who were they, and what was their experience of the industry?
Over the years, certain photographer names stood out as being behind some of the best picture features – men with mysterious names like Carlos Dee, Carl Kravats, and Carlos De Norman.
When we dug deeper, we found that there was just one person behind these three names (and many more) – and that was the talented photographer Carl Kravats.
Whereas most photographers worked for one magazine (or magazine publisher) and their photographs would be completely owned by that publisher, Carl was different: He was freelance and he worked for all of the men's magazines based in New York.

What's more, Carl held onto these photographs over the last 40 years, and we're grateful to him for sharing a selection of rare and unpublished pictures – together with his memories of the times.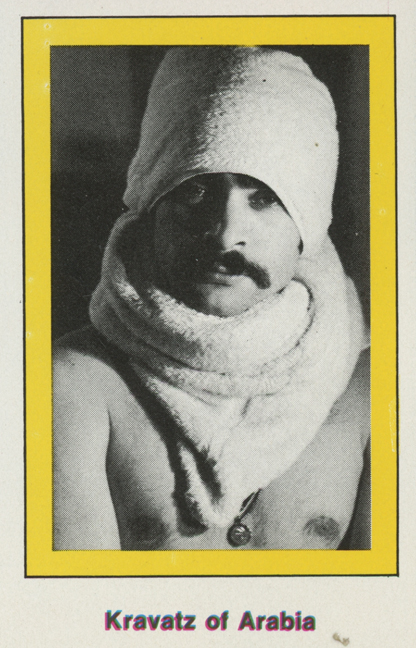 _______________________________________________________________________________________________
The Photography of Carl Kravats
It all started when I bumped into the photographer, Martin Schreiber, at O'Neill's bar in Manhattan. This was 1976. Martin went on to achieve fame because he was the one who shot the nudes of Madonna before she was famous.
That night, Martin was with Sue Richards (aka Bree Anthony), a model and adult film actress, who was the titular 'publisher' for High Society magazine. She was with Martin because she a photo of herself for the masthead of the magazine. We started talking, and she asked me if I was interested in shooting 'girlie pictures'. I'd been taking photographs commercially for a while, and so I said, "Sure." I was happy for the work.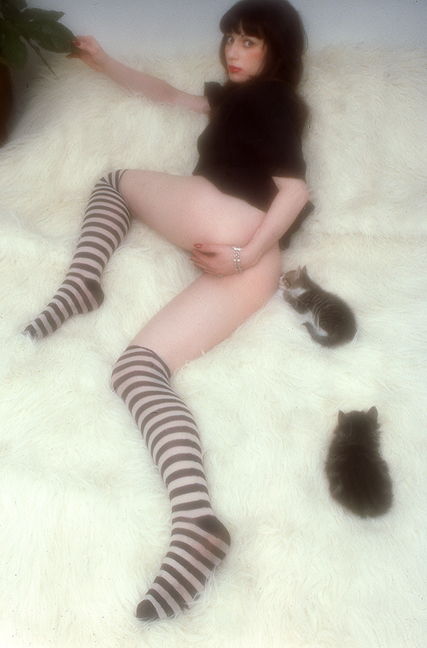 This picture was from my first 'girlie' shoot
After that, High Society kept giving me more and more work – including a number of shoots with Sue Richards.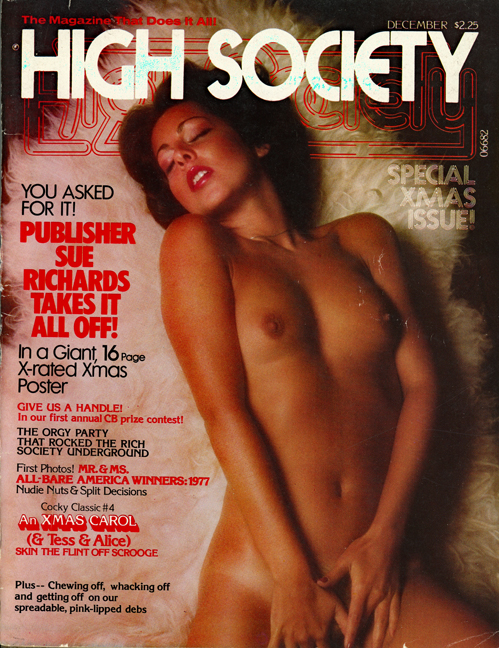 My first cover for High Society – which featured Sue Richards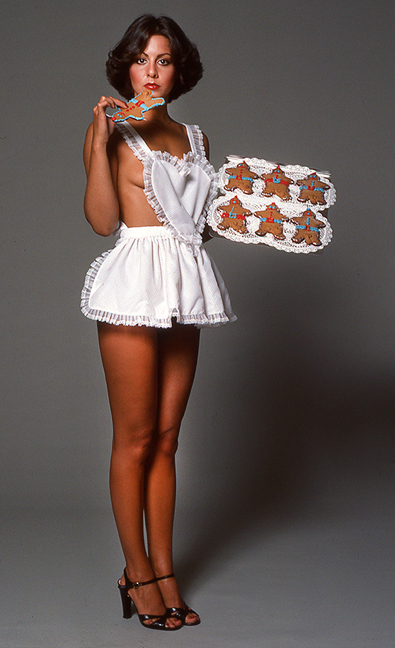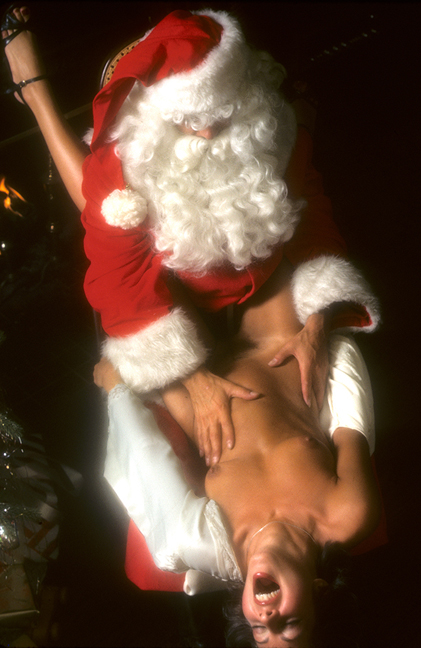 For one shoot, I went to Sue's house to take pictures of her boyfriend or husband and her. Their bedroom was equipped with chains and cuffs, so we shot the pictures using the equipment.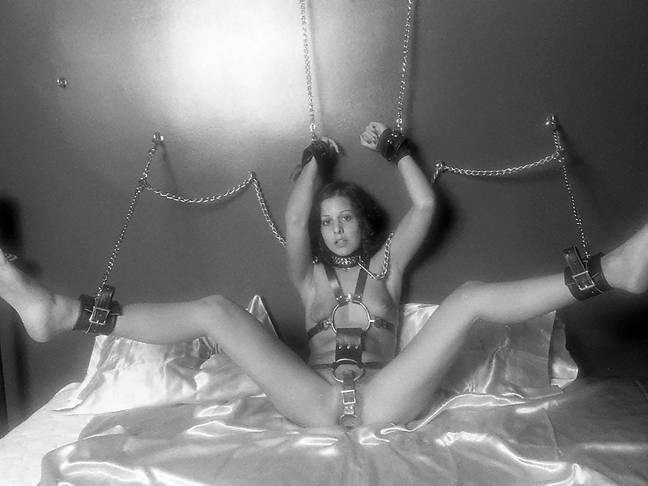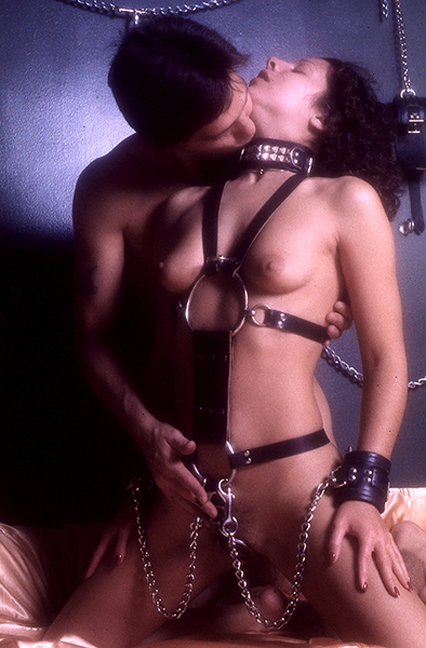 I also took pictures of social events for the magazine.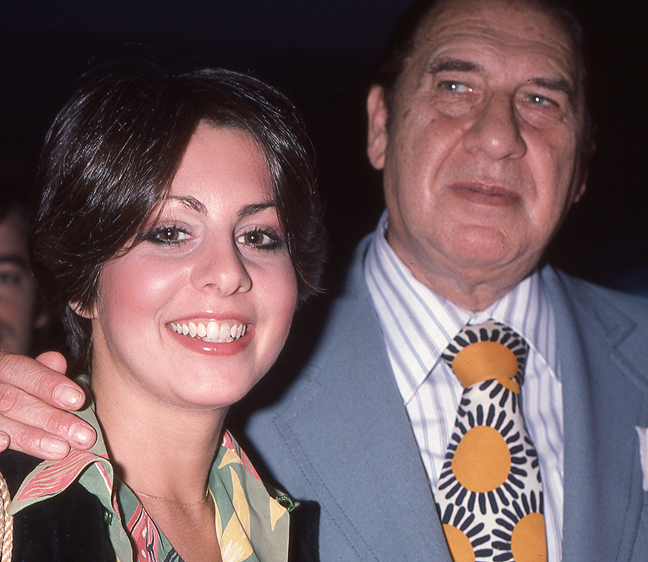 Sue Richards, with comedian Henny Youngman
I soon realized that it was important to use girls that were reliable. If I knew that a girl was going to turn up on time and be professional, everything would go smoothly. One of the models that I could trust was Samantha Fox, so we did a lot of photo shoots together.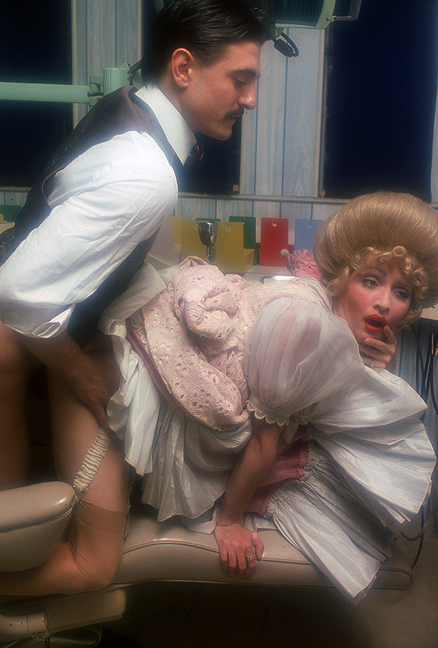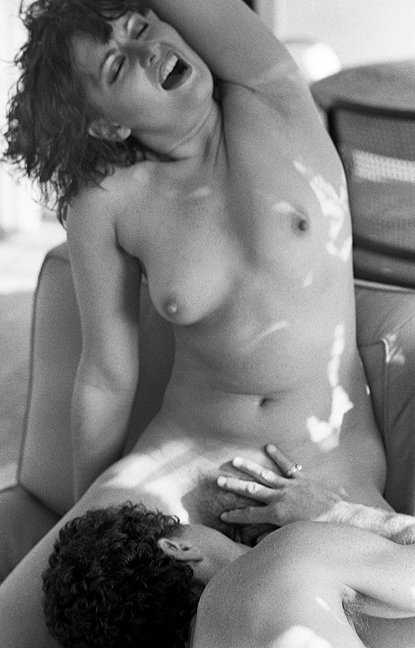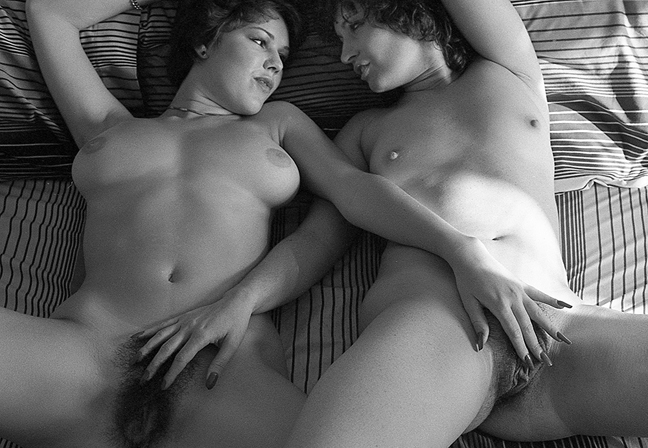 In 1977, I shot Samantha Fox for a one-off magazine called, 'Who's Who in X-Rated Films.' It was put together by Richard Milner, and featured interviews and articles with many of the stars of the era. I shot the cover.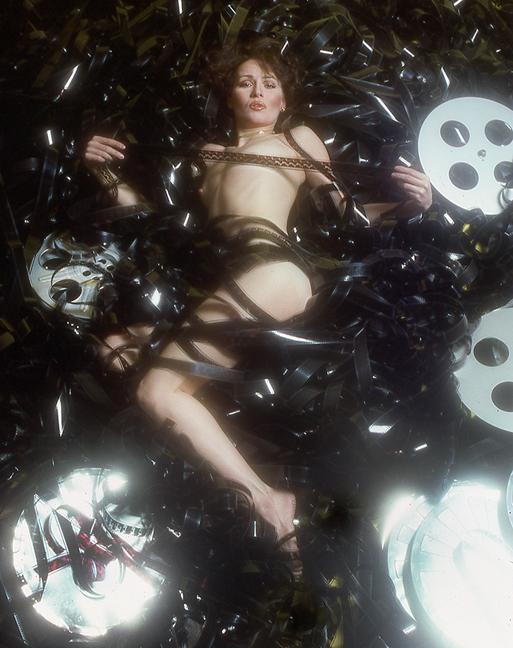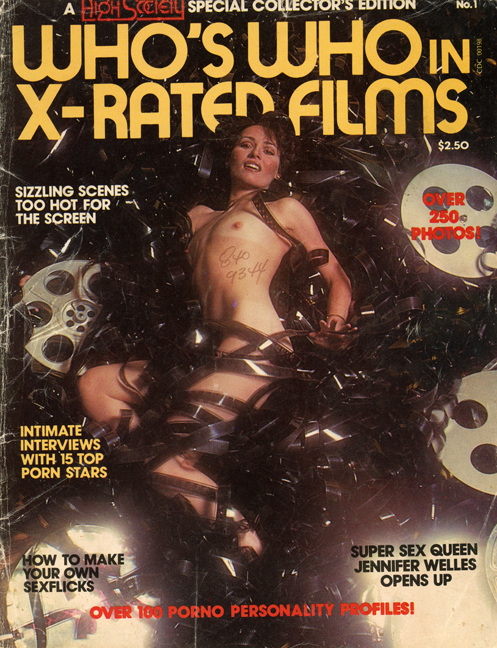 After a while, Sue Richards was replaced by Gloria Leonard as the 'publisher' of High Society. As a result, I shot a number of pictorials with Gloria too to promote the magazine.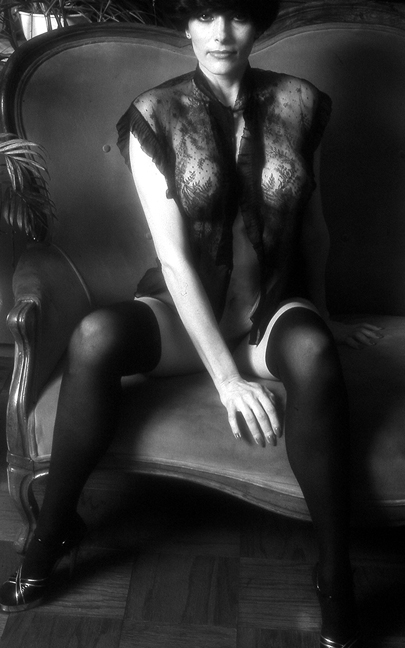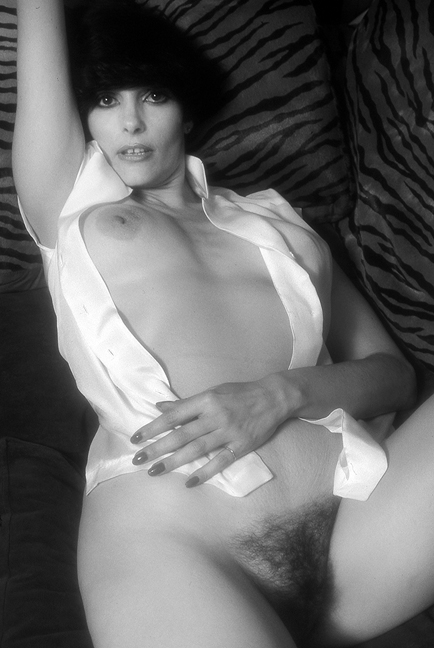 I was never an employee for High Society, and I remained freelance all the time. This meant that I was free to work for many magazines, and soon I developed a regular flow of work for magazines like Cheri, Swank, Gallery, and Genesis.
My favorite model was a girl called Alexandria. She had a thin, lean dancer's body, long reddish hair, and was absolutely beautiful. She made several adult films in the mid 1970s.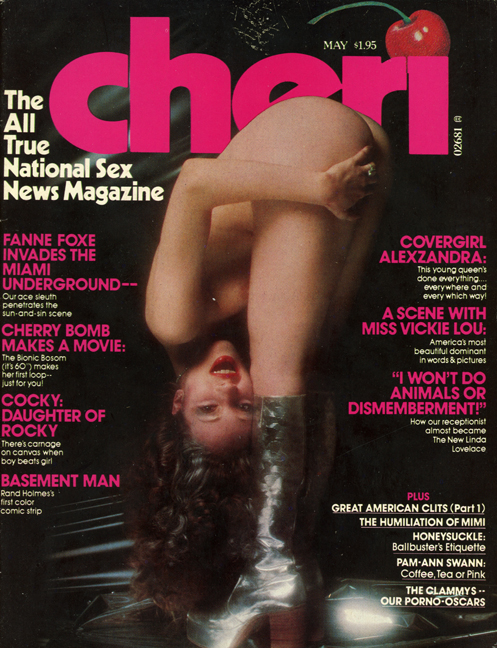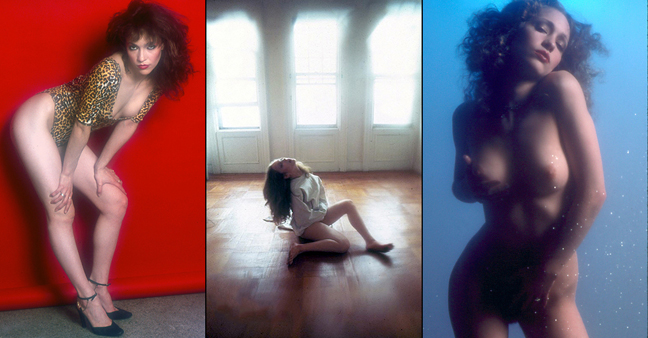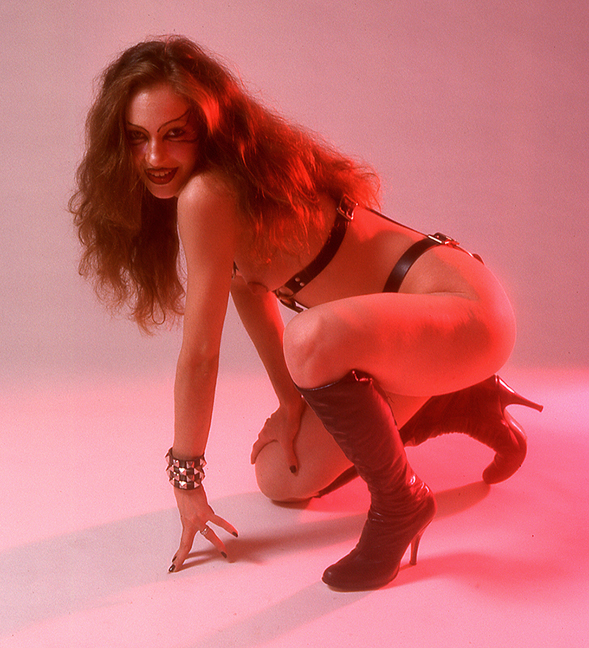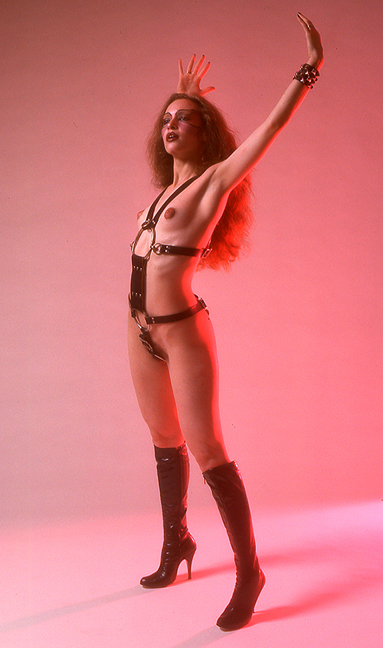 I was given free rein to be creative. I came up with one shoot called 'FutureFux' which featured Alexandria and her boyfriend.
I built a set with dildos and a rubber vagina. Then I built little sets where the robots would have sex with her. I positioned her in different poses, so the re-toucher could super-impose her in the scene.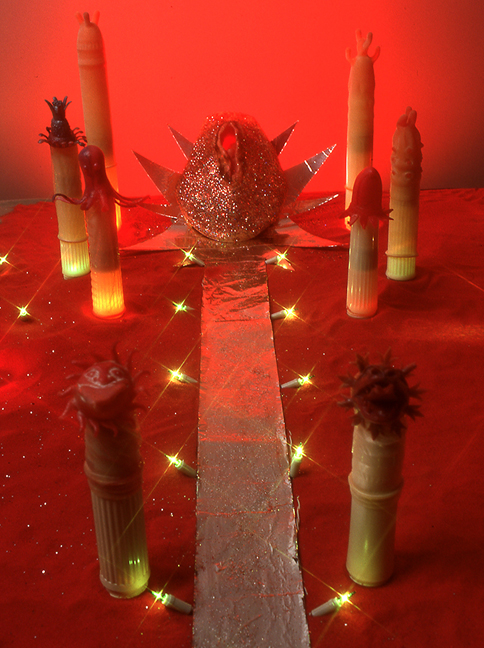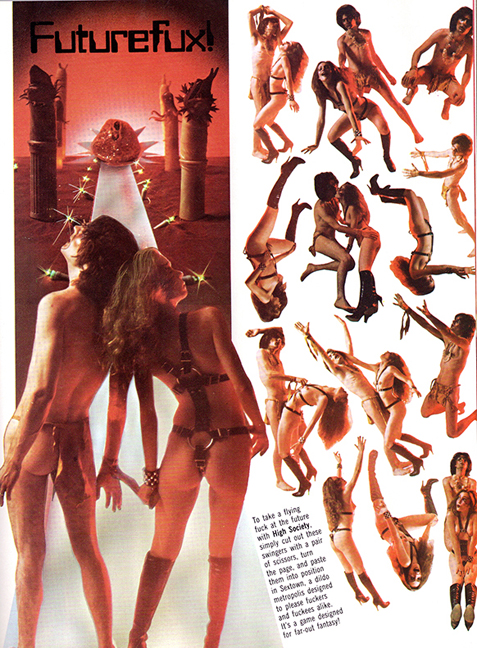 Some girls were less reliable than Samantha Fox and Alexandria, and one of those was Bambi Woods, who had just hit big with 'Debbie Does Dallas.'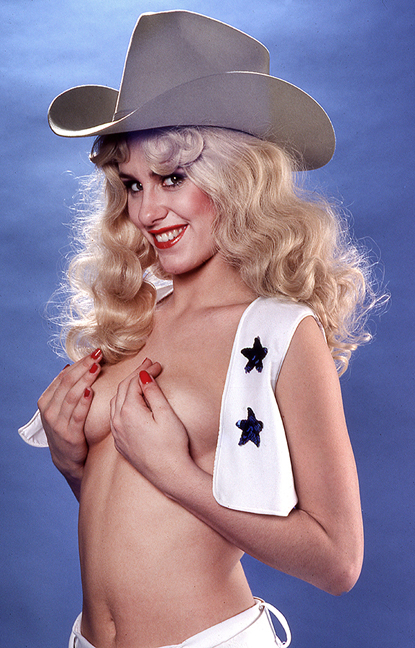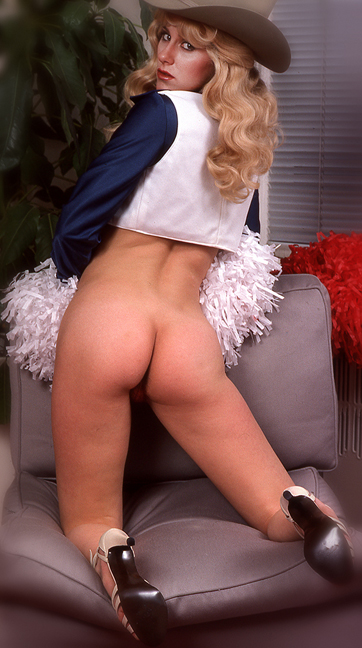 The work I was getting was so plentiful and I often used my own studio in a basement on West 67th Street, where I shot features, and then processed the pictures.
One of the scenes that I had most fun with was a photo set called 'Psycho Sex'. It featured Jean Silver, Alexandria, Elda Stiletto and a number of others.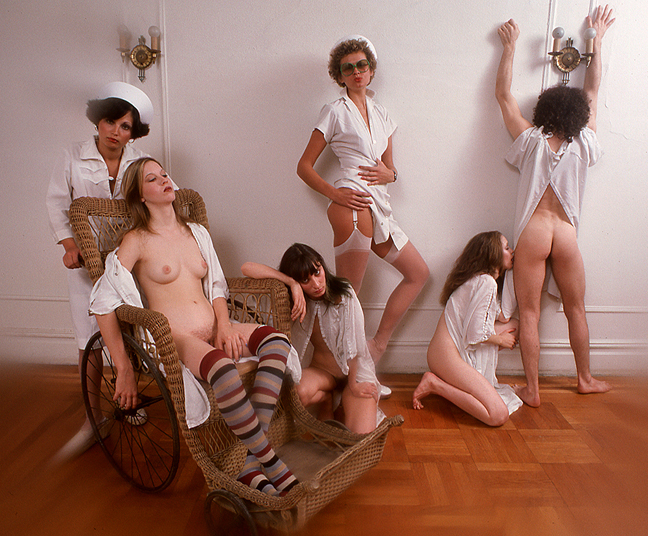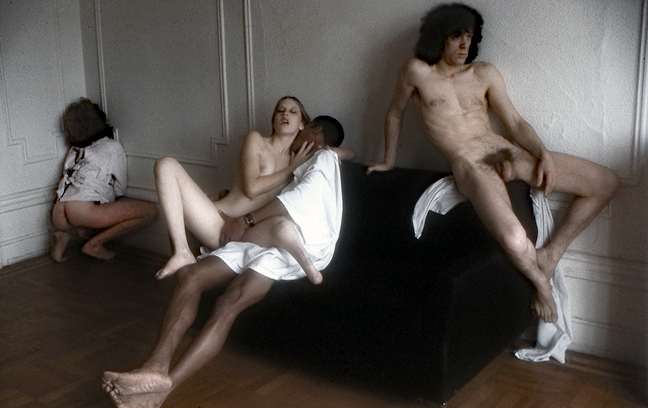 Before Sue Richards left High Society, she and her partner went to Atlantic City to do a story on the sex scene there at the time. The city was decaying from its bygone era. Folks were holding on for dear life, hoping that the legalization of gambling was just around corner. I took a number of pictures of the sex shop-fronts. These places aren't there anymore. Gambling was legalized two years later.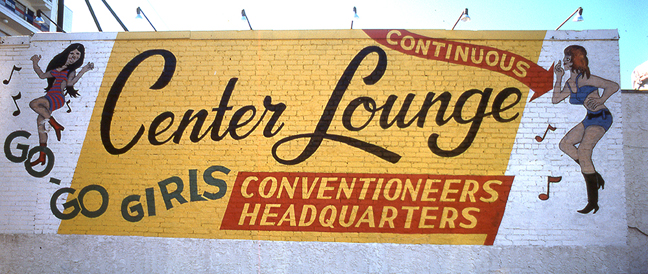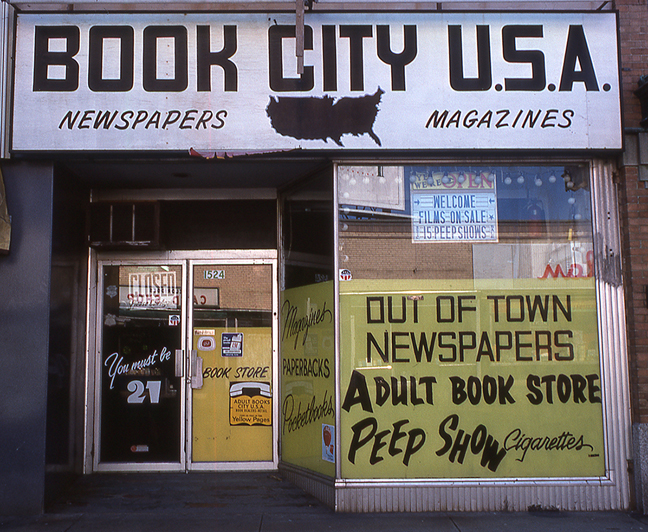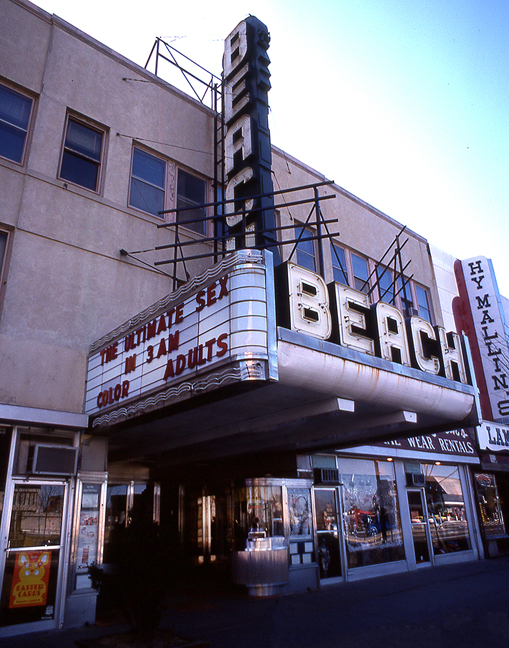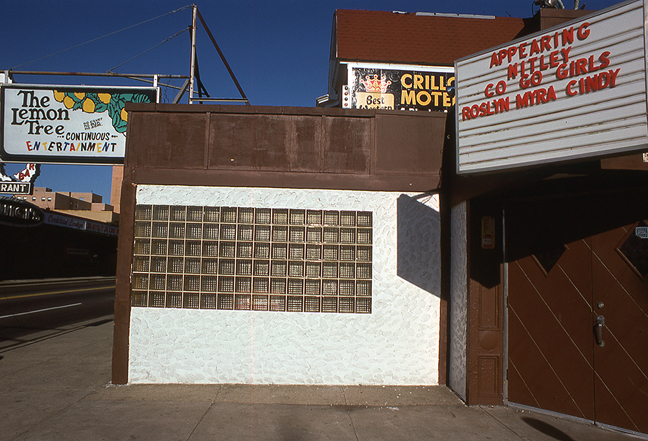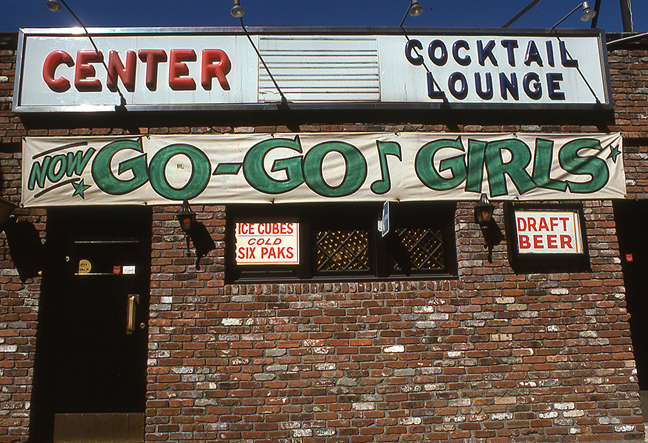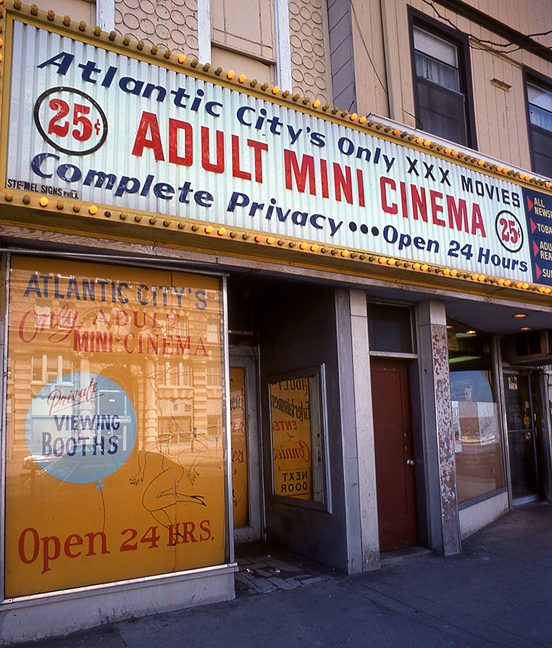 I liked the people that I took pictures of. We had a blast, and it was so much fun. It was the magazine publishers and management that I had a problem with… people like Carl Ruderman and Peter Wolff. I get that you have a business to run, but it doesn't mean you have to be an asshole about it.
But most of the time, we had a ball. Queen Adrena was one of the real characters of the time. She was a fetish wrestler.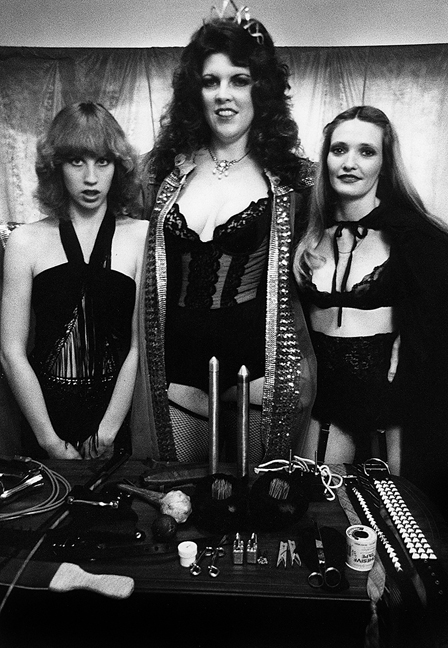 Queen Adrena, with Jean Silver (left)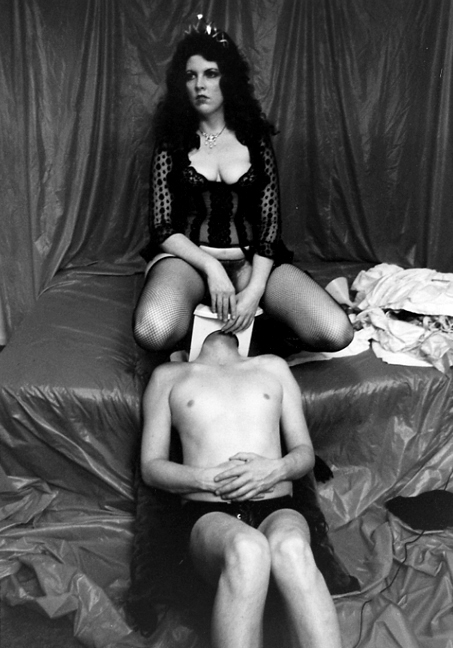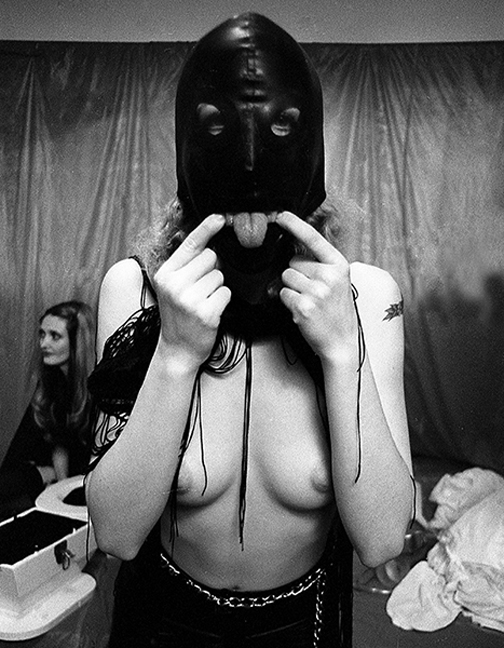 Jean Silver
I did a popular feature for Cheri with adult film actress C.J. Laing, called 'CJ, the BJ, at Home.' These are some of the outtakes that I took. I would only ever give the magazine the pictures they needed for the article. I would keep all the rest. I still have them all.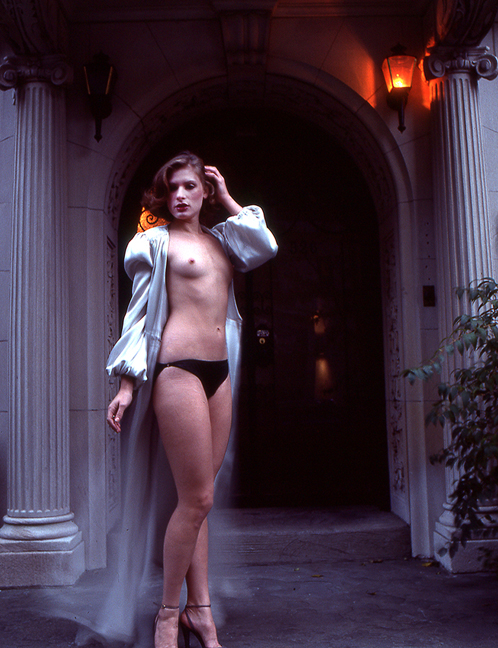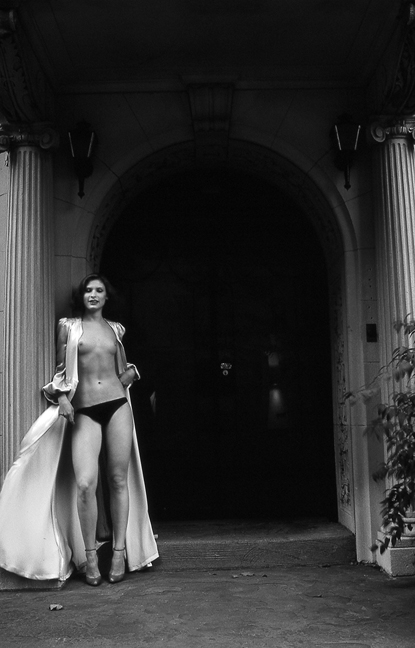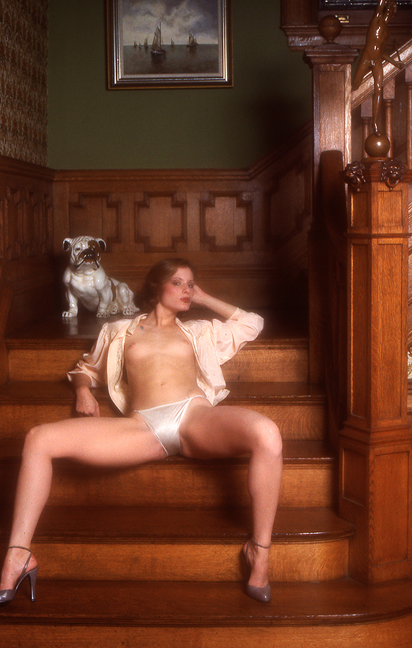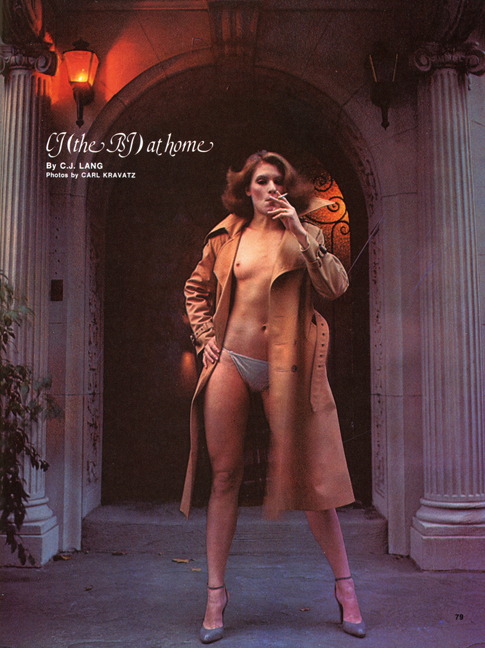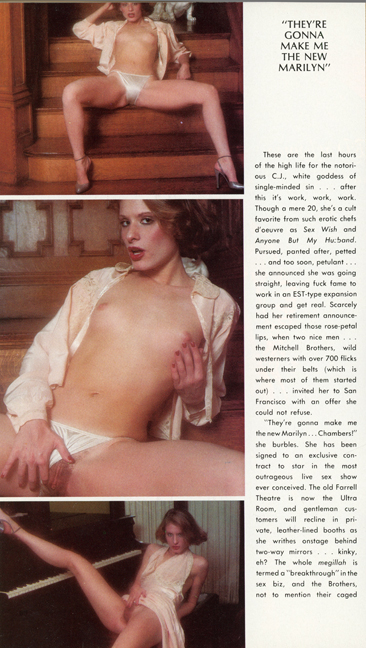 Fanne Foxe was one of the 'correspondents' for Cheri magazine. She'd been a stripper who'd been involved in a political scandal in the mid 1970s.  The magazine sent her out on 'assignments' and they featured her in many pictorials.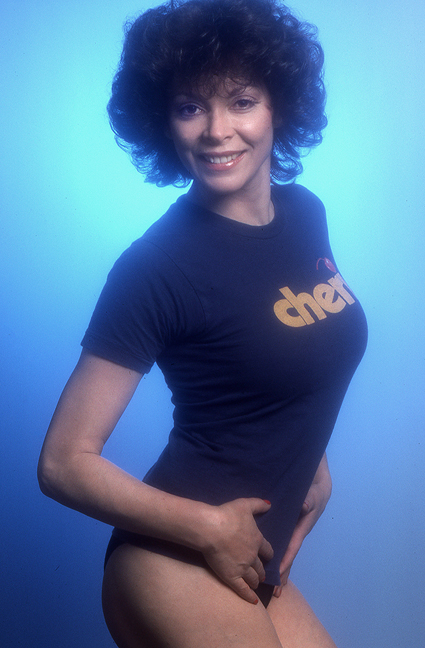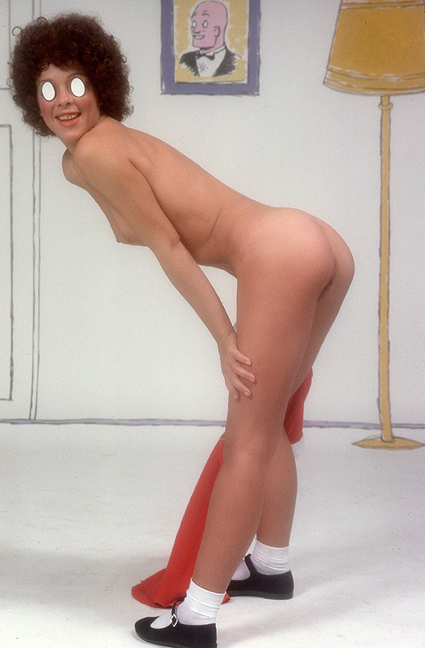 This was from a feature called 'Little Orphan Fanny' featuring adult film actress Jean Dalton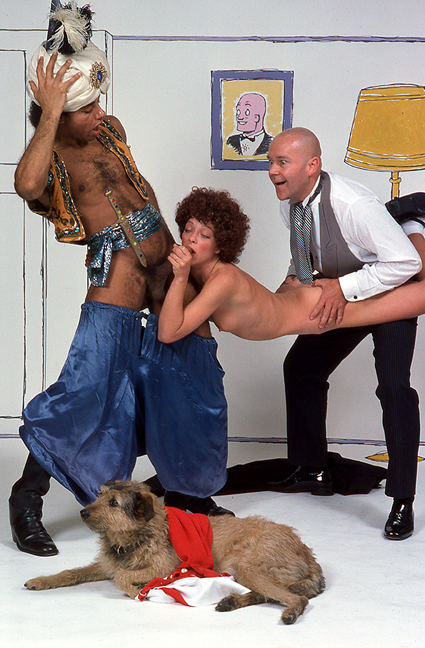 I did a number of covers for the magazines. This one entailed a model and a large amount of popcorn. She didn't like it because of the way the popcorn felt against her skin, so she complained a lot.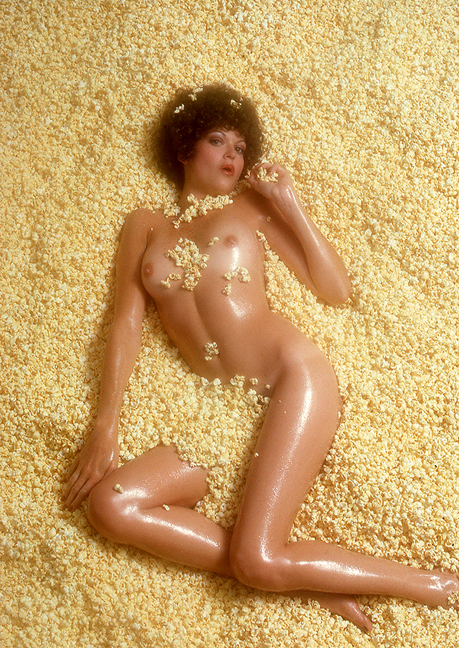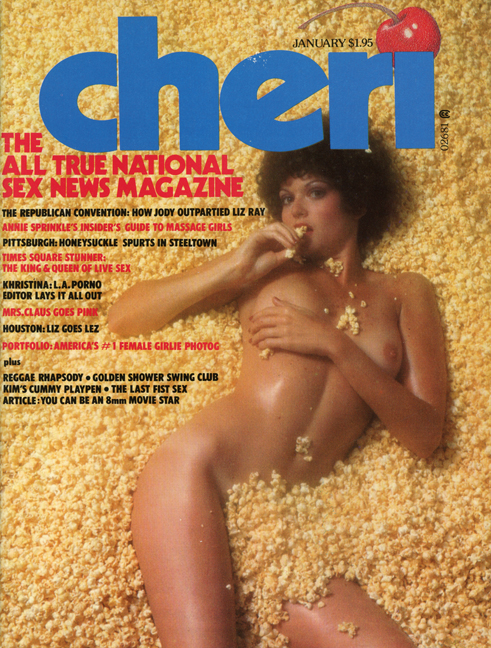 It was a wild time, and the stories of sex, drugs, and rock n' roll were all true. Especially the sex and drugs. I got caught up in the scene, and it was a riot.
The magazines often wanted pictures of the adult film stars of the time because they were already audience favorites.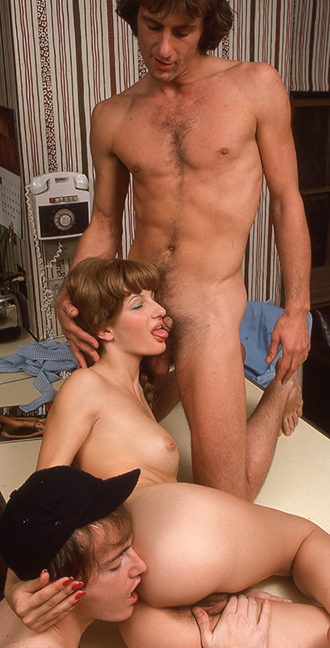 Sharon Mitchell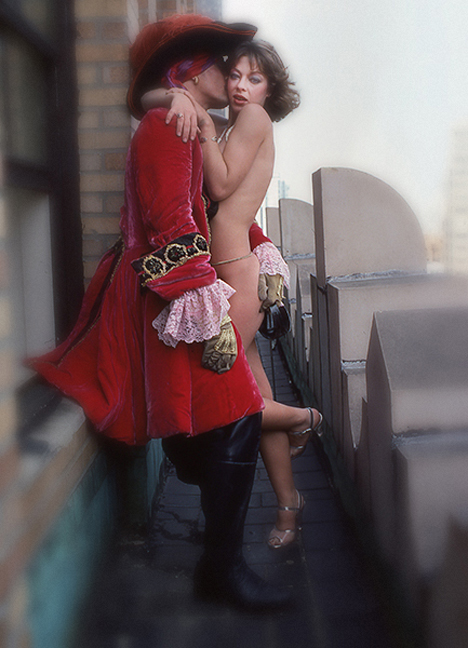 Jean Dalton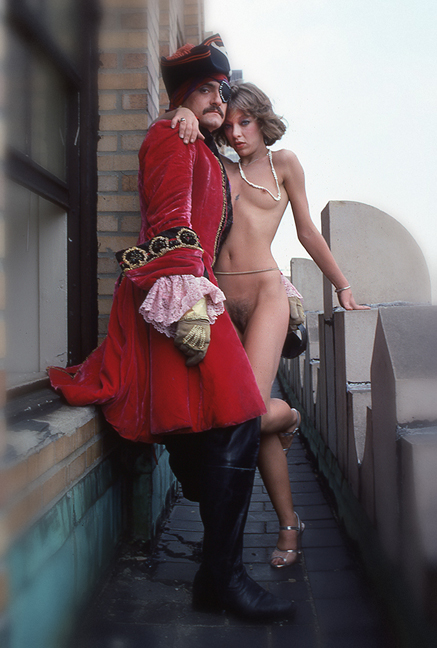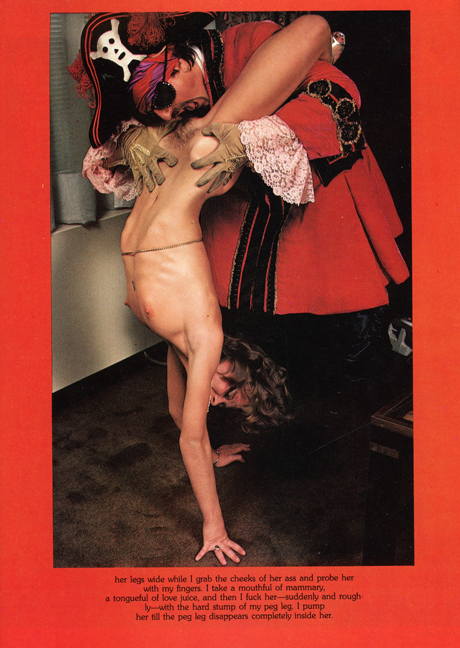 I did a few jobs for the pro-marijuana magazine High Times. They were the worst at paying so I had to take them to small claims court. I was told they did that a lot to photographers at the time. They knew how time consuming it was to go through that procedure in New York, so they figured most people would give up. But I didn't.
I was waiting to receive a check at their office one day, and after they'd made me wait for an hour or so, I just got up and took the ashtray on the table in the waiting room, and walked out. Nice ashtray, huh?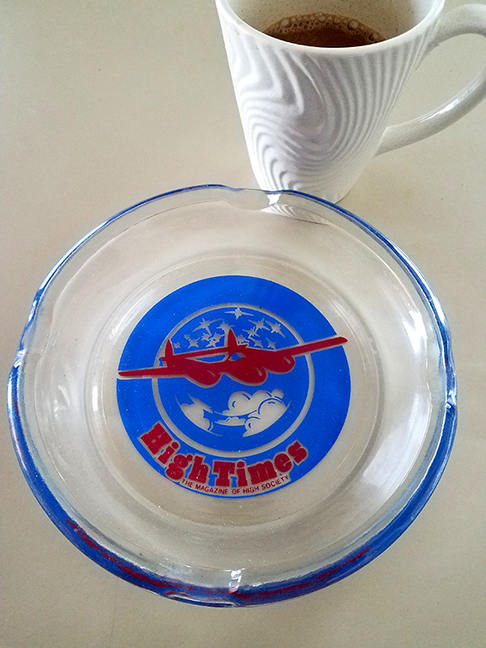 I got to do some 'field pieces' too where I traveled to an event to take pictures. One was Ms. All-Bare America in 1976 – which was a big event of the day.
The winner was apparently called Joy Rider. I took pictures of the event and two of the runners up, Dina Mite and Erika Joyce.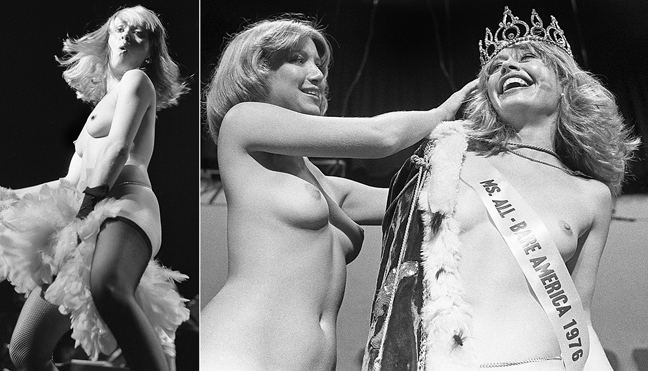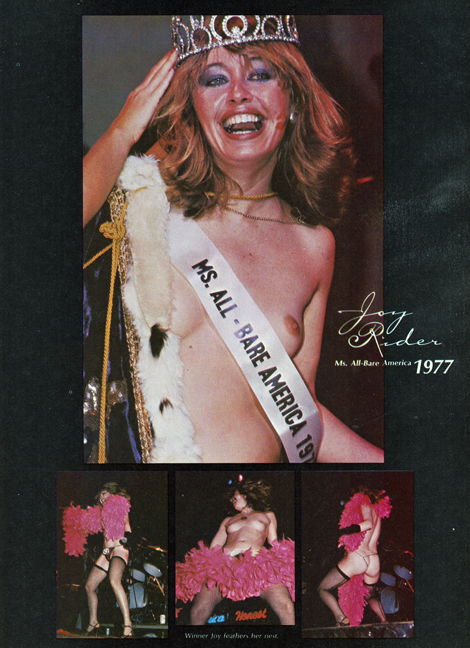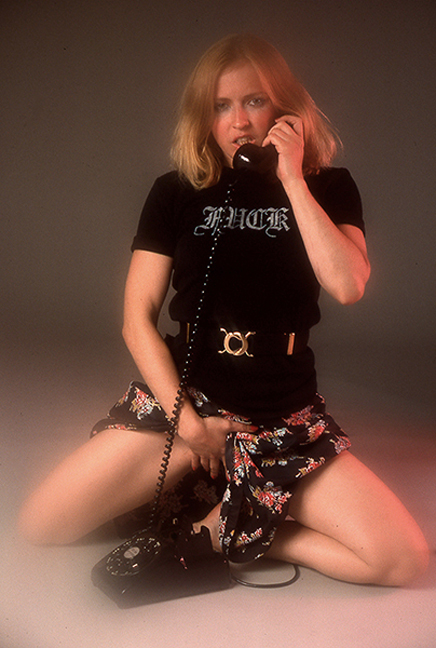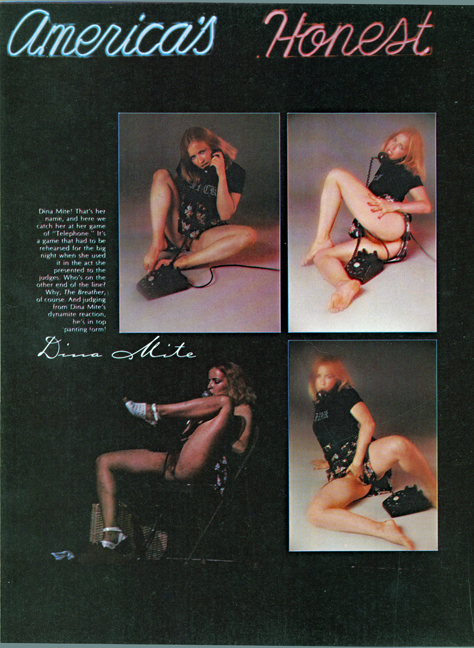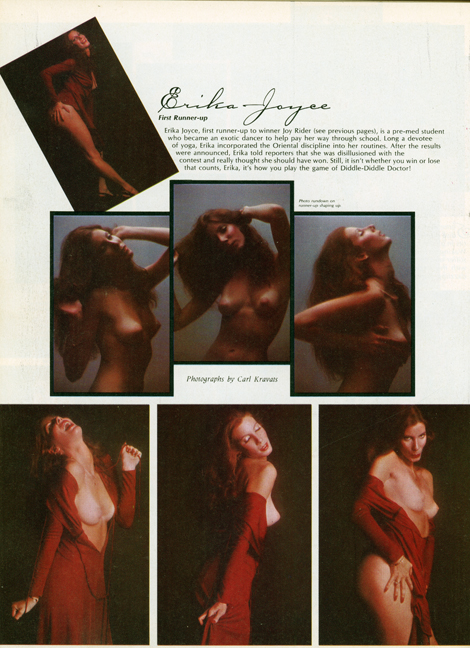 I remember going to the benefit for Harry Reems to raise money for his legal defense fund. There were a lot of big names there, like Julie Newmar in this picture.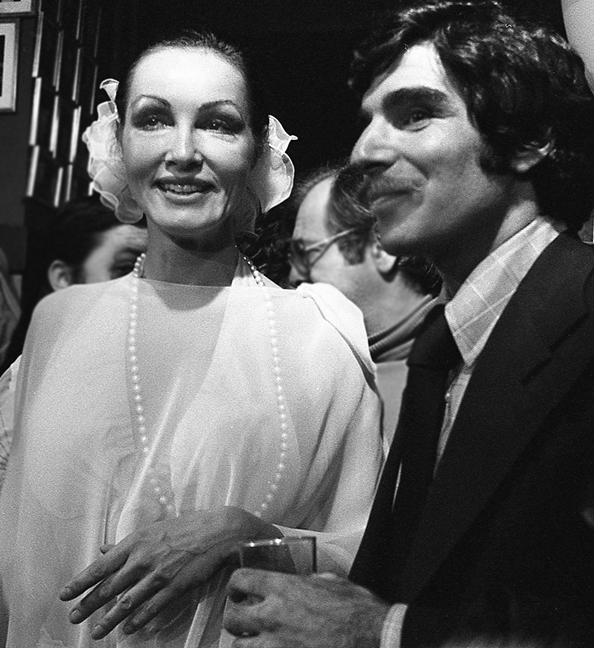 Other shoots involved models who were one-offs, and I never heard or saw from them again.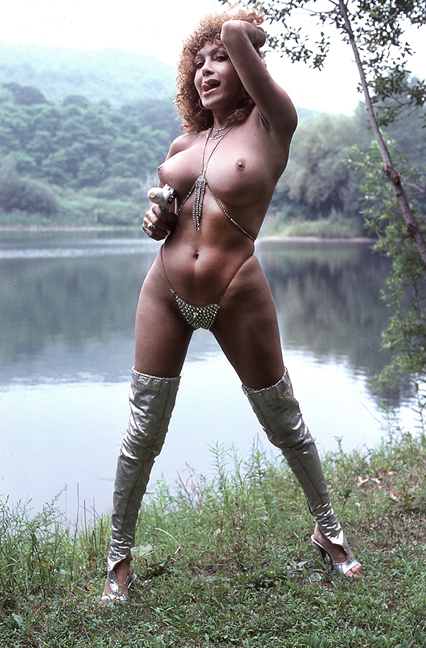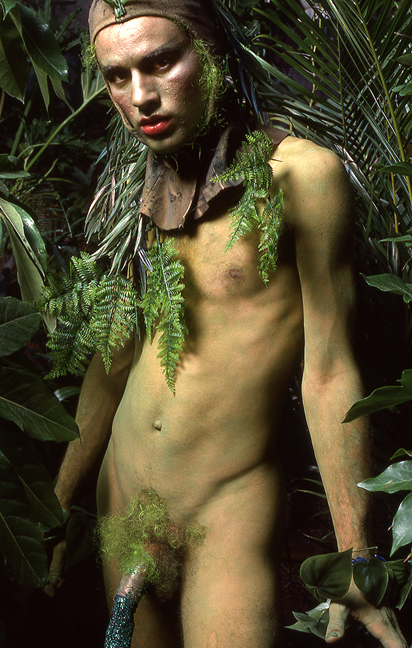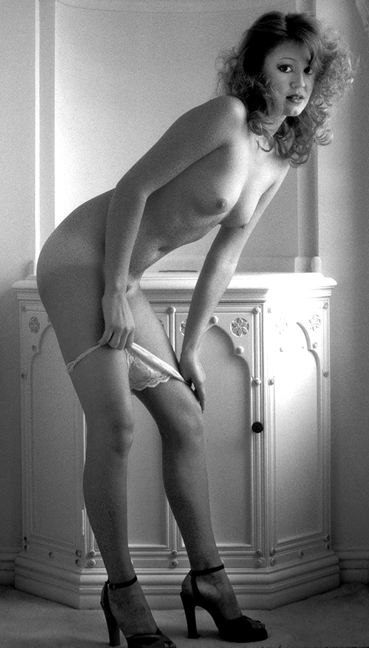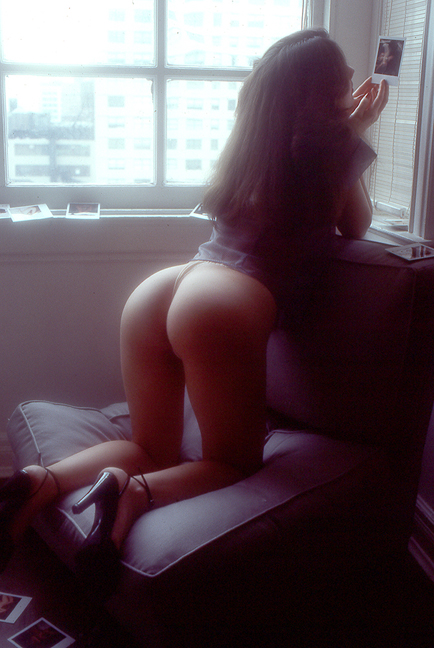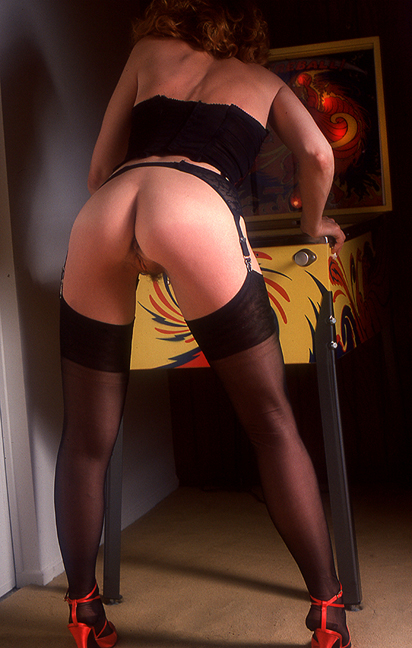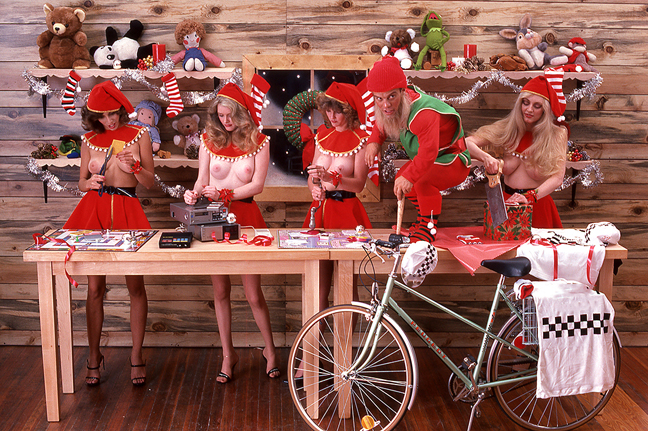 At the beginning of every shoot, I would take Polaroids to check that the lighting and composition was working. These weren't posed and just feature the models waiting for the shoot to begin.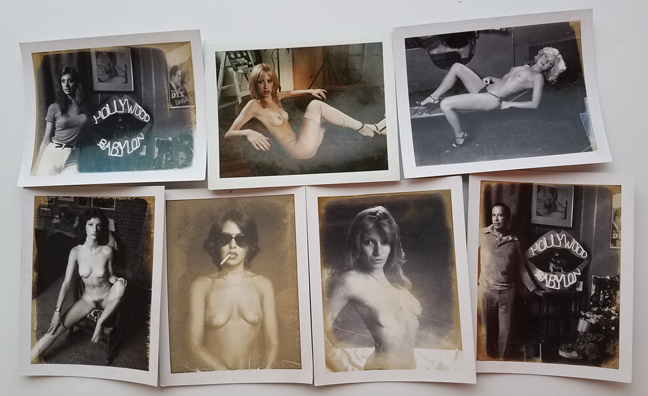 Polaroids featuring Dian Hanson, Jean Silver, Sharon Mitchell, Sue Richards, Robin Byrd, and Kenneth Anger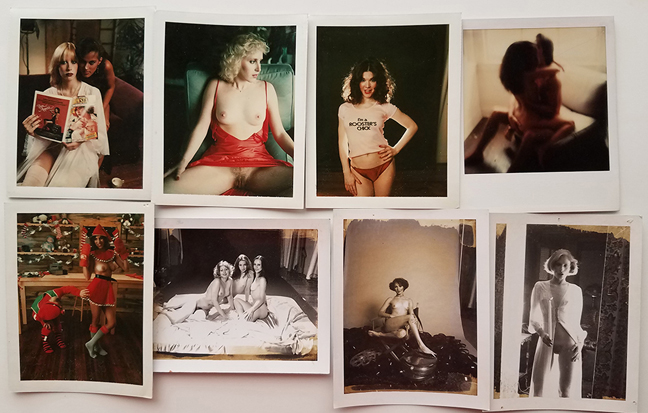 Polaroids featuring Jean Silver, C.J. Laing, and others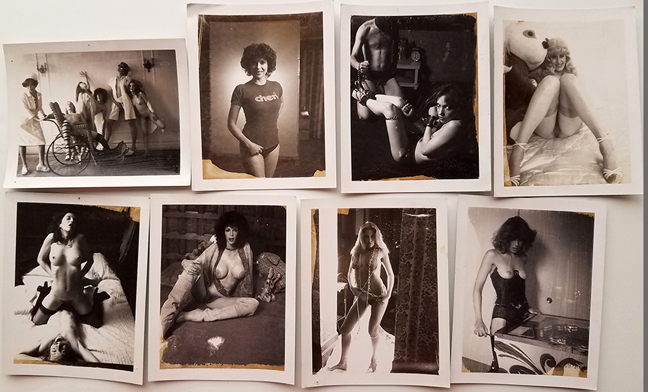 Polaroids featuring Jean Silver, Fanne Foxe, and others
There was this female mud wrestling troupe called the Chicago Knockers. They came in and I did a pictorial with them.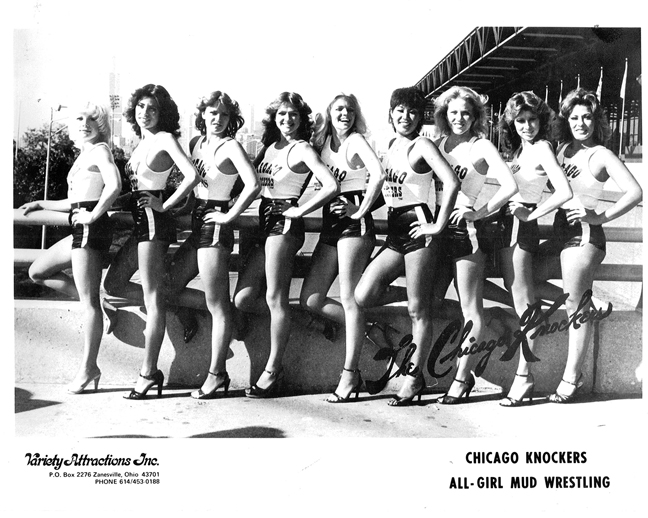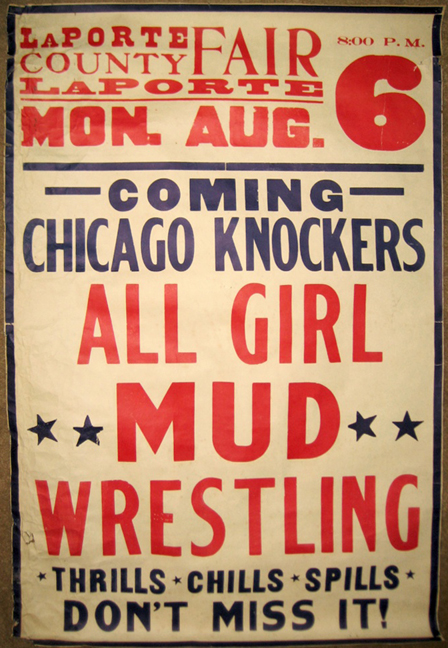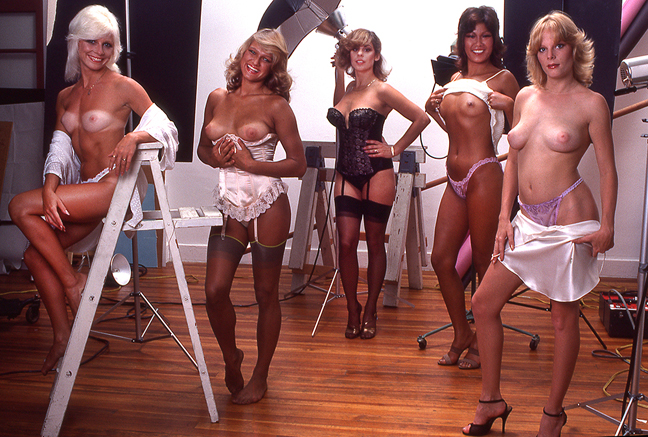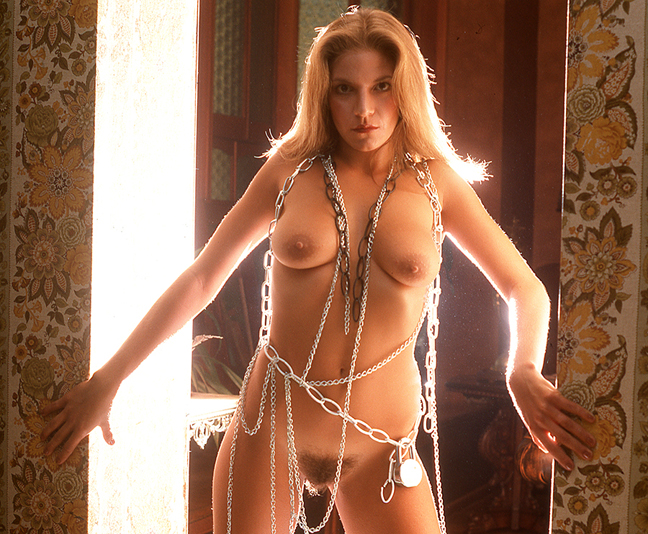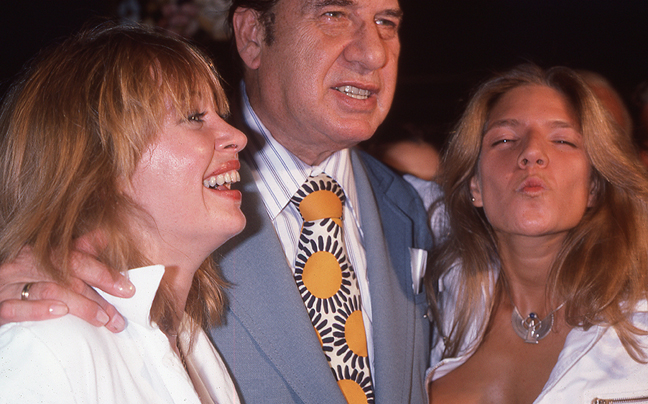 Robin Byrd (right), with Henny Youngman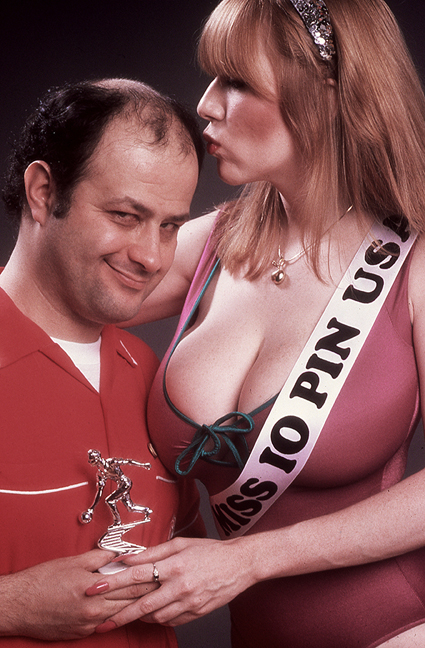 Cherry Bomb, with 10 Pin Bowling Champion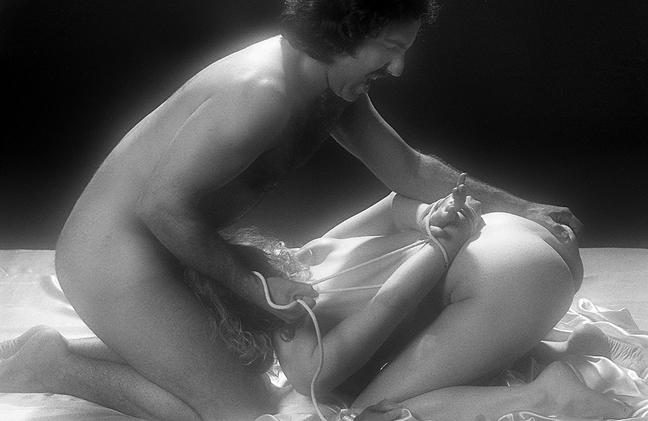 Pictorial with Ron Jeremy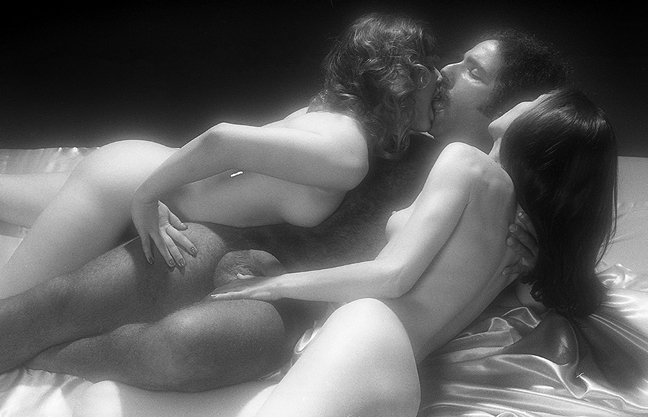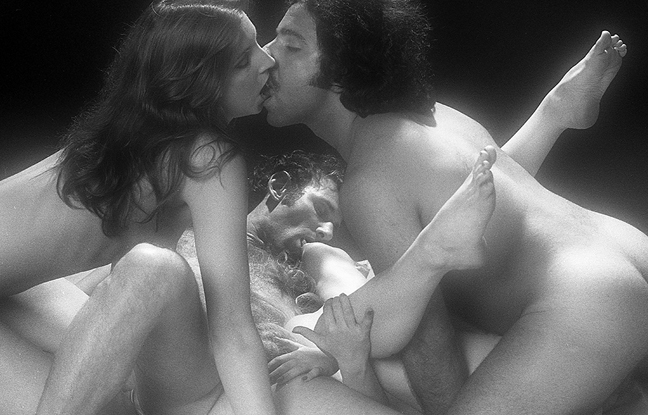 Humor was an important element to the picture-features that I did. I was not interested in doing anything overly sleazy or nasty, but I wanted to make people smile.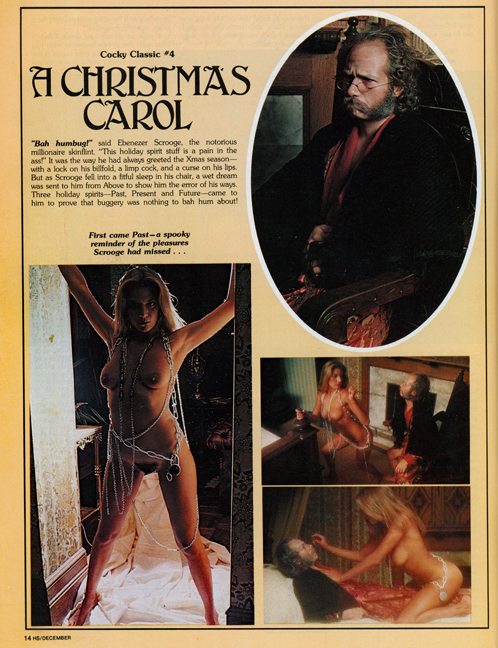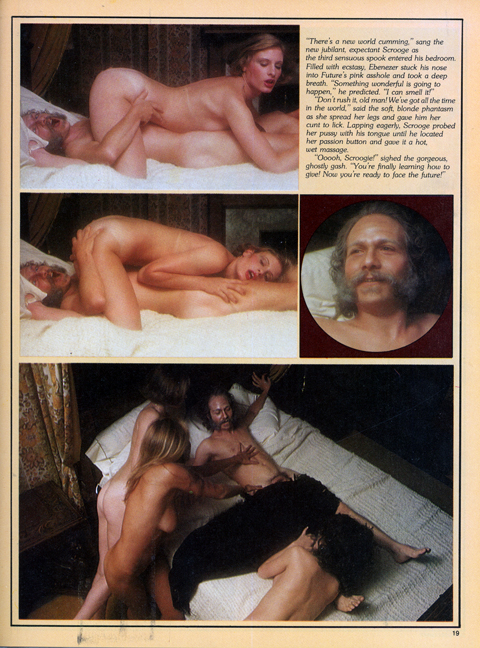 'A Christmas Carol', featuring C.J. Laing
Girls and cars were always popular. I'd fly over to California with my girlfriend, and hire a model and a vintage car. My girlfriend would do the makeup and we'd drive somewhere and take rolls of photos. Then I'd sell the pictures to a magazine back in New York.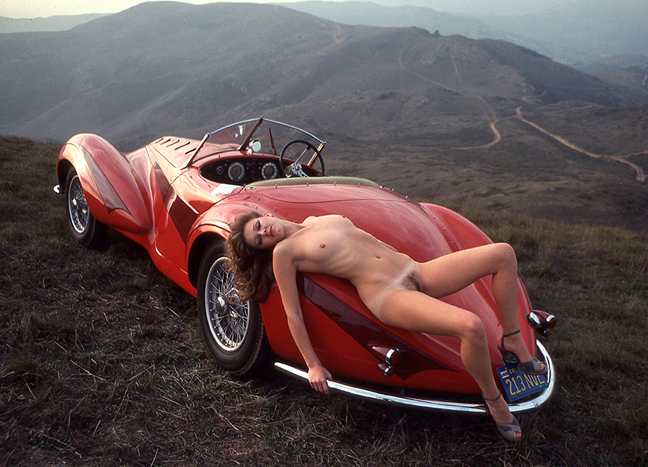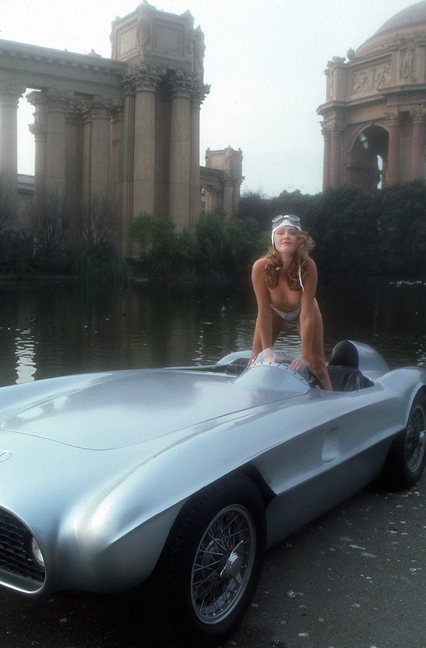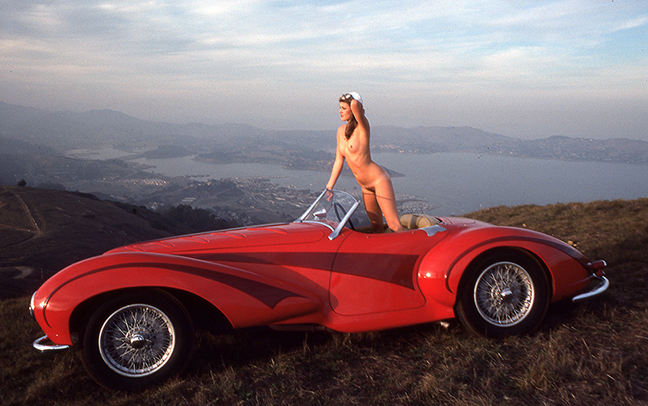 Another reliable model who I liked to work with was Linnea Quigley. This was before she became a big name in movies.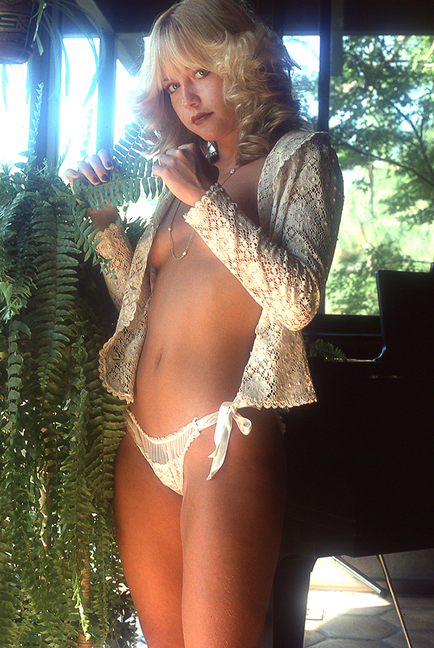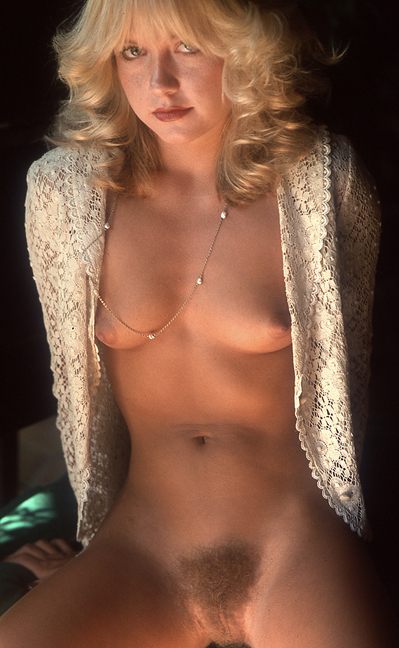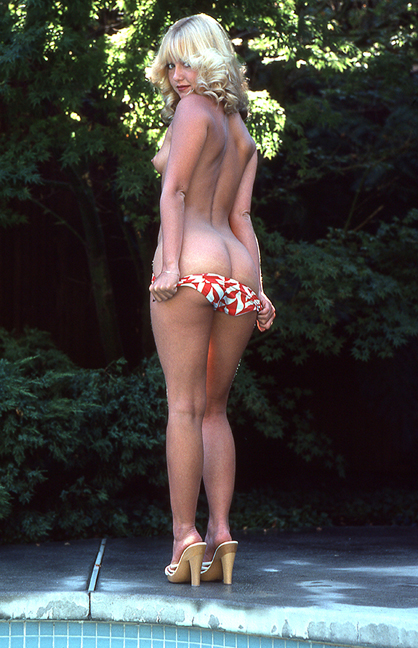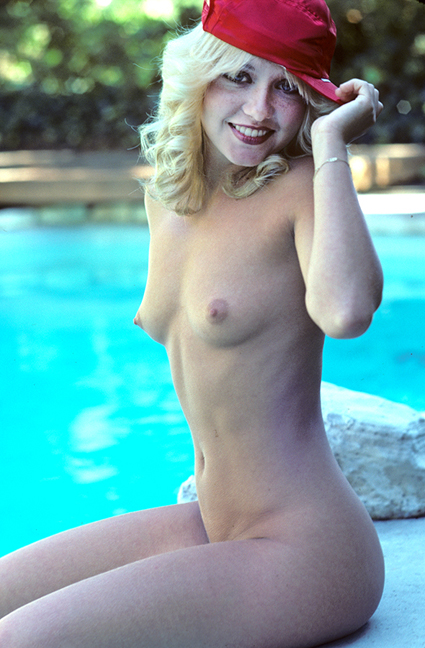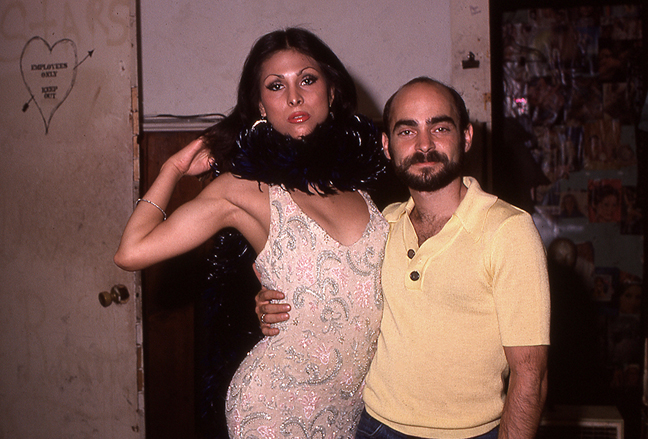 Carl Kravats, with a transsexual model
*
I shot for the adult magazines from 1976 to 1981. It was a great experience and I made good money. But then I realized that I couldn't use this work to transition into other photographic jobs. I mean what was I supposed to do? Take along a collection of sexually explicit pictures to a potential client?
Fortunately I had been photographing paperback book covers (I shot approximately 300) so my work wasn't exclusively sexual, but I knew I had to leave it behind if I was to move on.
For the last few years, I've worked as a food photographer. I'm still freelance, and I make a good living from it.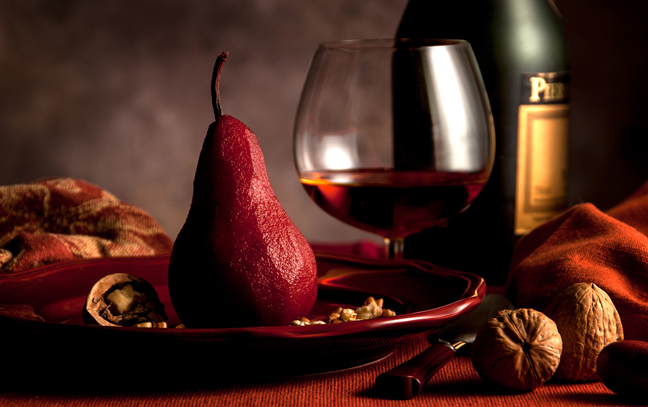 This is how I've stored the slides for the last 40 years. My desk has been crazy as I've sorted through the pictures for this Rialto Report article.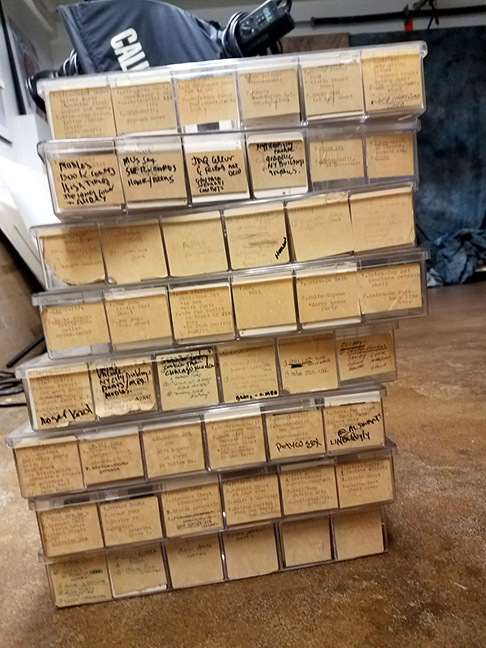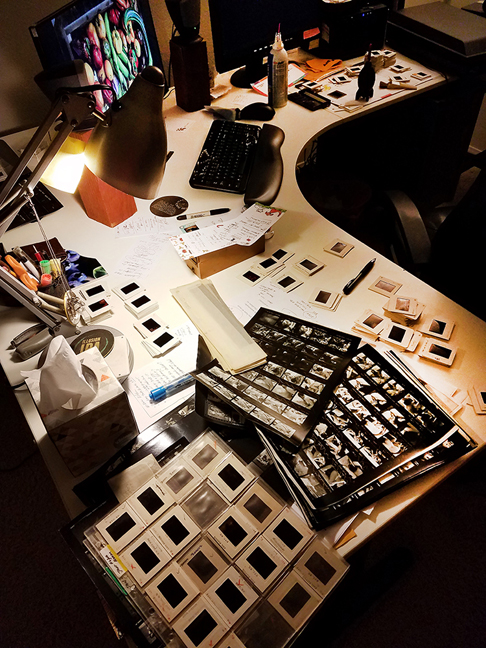 Thanks for giving me the opportunity to relive a time in my life that was adventurous, enlightening and fun.
I was young and full of life, living in NYC. I loved it.
*