This week, we conclude the story of Monica Kennedy, perhaps the most notorious and legendary stripper and sex performer in 1970s New York; Wendy O. Williams, live sex show actress-turned-shock-rock-queen as lead singer of the Plasmatics; and Rod Swenson, the mercurial intellect behind the scenes who created the perfect stage for them both.
This story forms part of our series dedicated to the way that music and adult entertainment overlapped in the 1970s.
The first part can be found here.
Thanks to Vice, and Veronica Vera.
_______________________________________________________________________________________________
Wendy and Rod
When Wendy O. Williams showed up at Rod Swenson's Captain Kink's Sex Fantasy Theater at Show World, she was carrying a small suitcase, and almost everything she owned was in it. The only exception was a gold Buddha which she carried under her arm.
She cast a distinctive, unusual presence: shortish reddish-brown frizzy hair with thick black eye make-up, a rail thin body that made her head appear oversized, and an attitude that projected both vulnerability and defiance at the same time. Her audition for the theater group was equally curious: she danced with her Buddha to an instrumental version of 'Foxy Lady' by the Jimi Hendrix Experience – but with her own voice on the tape.
Rod was intrigued, though he didn't quite know what to do with her: "I had no idea where to put her, but she made this impression on me. She was incredible in a way I couldn't define."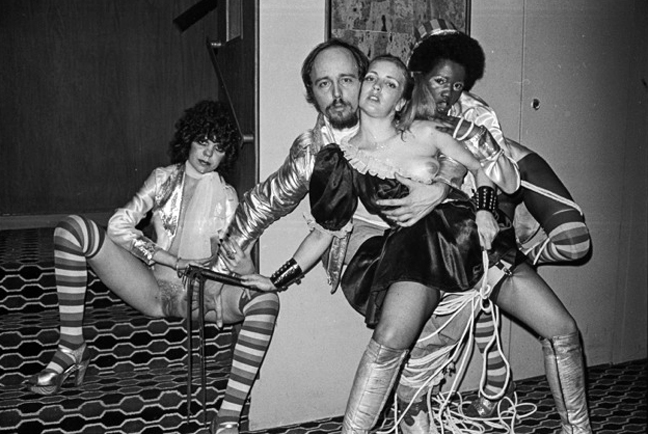 Rod and Wendy (left) at Captain Kink's Sex Fantasy Theater
Rod knew he had to hire her, so Wendy started performing in the sex shows. One of her regular routines was a ping pong spectacle where she shot plastic balls from between her legs.
A regular at the theater when Wendy was making her first appearances remembers: "Wendy was the strangest sex performer you'd ever see. And I saw a whole lot of 'em… She wasn't pretty in any conventional way, and the first time she appeared on stage, I feared for the worst because she projected… well, she look menacing. And that's not exactly what you want to see in a live sex show. But she had this utter conviction about her – and you just couldn't take your eyes off her. She was raunchy and hot, and she prowled the performance area like an animal. That was sexy. She was dynamite. She was so real.
"I remember an audience member went up to grope her once, and she smiled at him – before – BAM! – she hit him between the eyes, and he was out like a light. No one moved. We just sat there and she continued her act as if nothing had happened. It was like sex and violence were close neighbors in her mind. The guy she hit was still unconscious when we shuffled out ten minutes later."
Rod realized that Wendy was more than just a live act: she was creative, thoughtful, and had ideas about the fantasy productions and costumes the girls could wear.
But Rod and Wendy connected in a deeper way than just through the theater company. They shared the same political starting point: they felt revulsion for the banality and conformity of contemporary cultural consumerism and its consequences, and were both determined in their own ways to launch a head-on assault on superficial materialist values.
Rod remembers: "From the first time we met, I think we both knew there was big chemistry for something that was going to happen that was unavoidable. She scared a lot of people, but what scared them was just what made her so exceptional to me. It's really something you can't put into words. She was an absolute one-of-a-kind, just very authentic. I think we both knew this about each other; there was something that was going to happen there."
For Wendy, her attraction to Rod was more simple: "He was the first person who didn't try to change me. When I met Rod, I found what I'd always been looking for."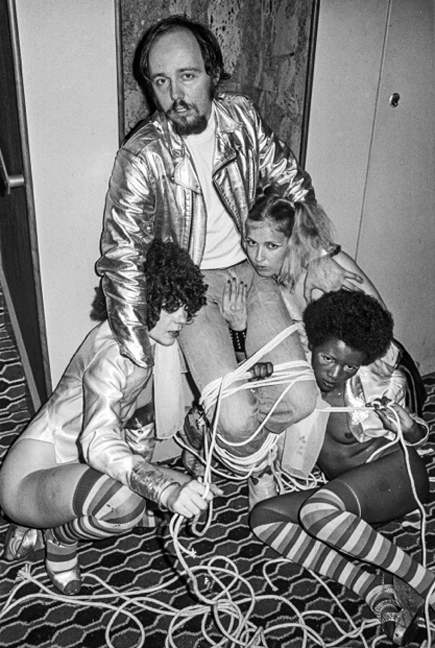 Rod and Wendy (left) at Captain Kink's Sex Fantasy Theater
Rod knew that Wendy had potential beyond Captain Kink, and he masterminded explicit photo spreads of her in High Society magazine's March 1977 and March 1978 issues. The articles were replete with Wendy's anarcho-sexual declarations: "Most people don't express their potential because they are afraid to let themselves go. I've made it with lots of different guys in almost every different way, and although my sex drive is so high some people think I'm a nymphomaniac, I find most men rather boring at this point in my life.
"Even though I'm one of the most independent women you'll meet, I like a man who can dominate me. I like to be the slave, and the man the master."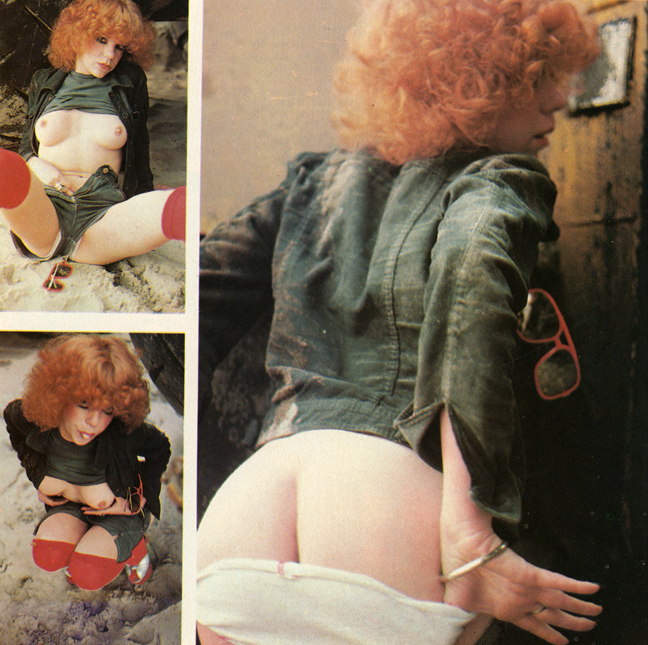 *
Rod
Captain Kink's Sex Fantasy Theater was a strange mix of vaudeville and live sex, but it was a success – and people who worked there enjoyed it.
Roy Stuart – a struggling drummer, sometime sex film actor, and future erotic photographer – remembers the atmosphere: "I got a job as a stage manager. I met Rod Swenson and thought he was very creative. My job there wasn't very complex. I would set the small stage, handle the spot light, things like that.
"The shows were… well, it's too bad that no one really filmed an entire show. There would be so many different things going on. Sometimes Rod had me wearing roller skates. He would announce, "Hold on while the stage manager resets the stage on his roller skates. I worked there for a year and a half or so. I enjoyed it."
Wendy quickly developed a fan-following at Captain Kink's, but one that extended to the NYPD as well. In a series of raids in the city, she was arrested eight times for live sex performances in a twelve-week period.

This was not uncommon. Monica Kennedy, the self-proclaimed 'most outrageous performer in town', was arrested for a number of reasons – the most common being for weapons possession on account of the toy guns that formed part of her costume.
But in the Spring of 1977, the city – led by Mayor Abe Beame – embarked on a more concerted effort to rid Times Square of smut. And Rod's Show World, now billed as "America's Most Outrageous Live Fantasy Theater," was in the firing line.
In March 1977, Beame personally led two police raids that resulted in the closure of an adult bookstore and peep show, a topless bar, and the Show World center itself.
The charges against Show World? A building code violation on the first floor of the 12-story building. The violation stated that the building was in imminent danger because it had no sprinkler system.
Rod decided to fight back – so he and Wallace Katz, the owner of the building that housed Show World, held a press conference in the theater. In a well-attended event, Rod claimed that the theater shows were in fact "a stabilizing influence in the neighborhood" and that his business employed 60 people. He was adamant that, "Sex between consenting adults is not against the law," and announced that he was bidding to have the theater re-opened within days.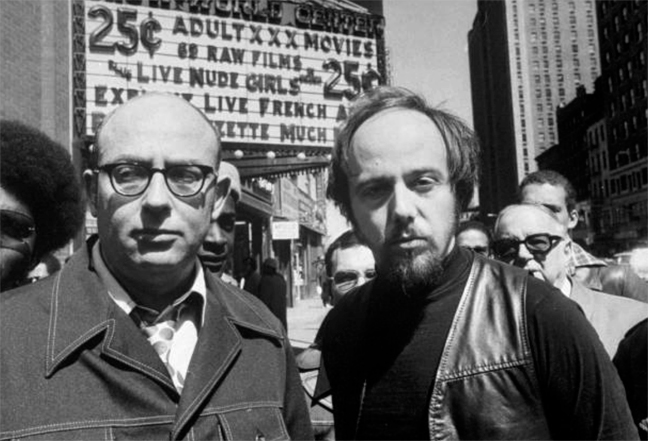 Rod (right), and Wallace Katz, Show World 1977
Katz declared: "I'm not ashamed of being the landlord of the building housing Show World – which is an asset to the community. In fact I'm happier with Show World than I was with Chemical Bank." (One informed source pointed out that this was because Show World paid triple the rent that the bank used to pay.)
Rod won his bid to reopen Show World, but decided that wasn't enough: it was time to go on the offensive. He sued the city for $3 million in damages and asked the federal government to withdraw its funding of the Midtown Task Force, which had led the clean-up efforts.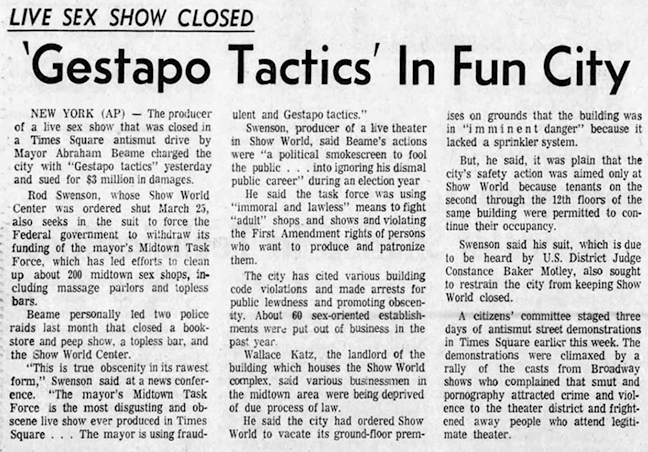 "This is true obscenity in its rawest form," Rod said. "The mayor's Midtown Task Force is the most disgusting and obscene live show ever produced in Times Square. The mayor is using fraudulent and Gestapo tactics. This is nothing but a political smokescreen to fool the public."
The lawsuit came to nothing, but it was an important part of Rod's emergence: he was ready to challenge authority at a high level.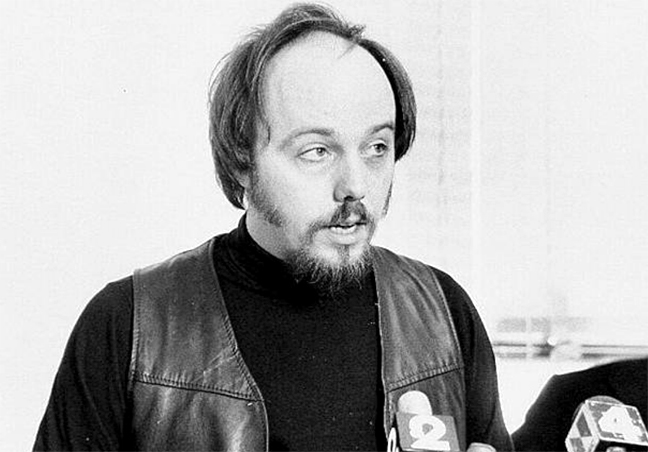 *
Monica and Rod and Wendy
Monica stood in the Show World dressing room, and realized that her time in the spotlight was coming to an end.
It was only yesterday that she'd been the star, the headliner, pushing the limits, and breaking every taboo. She was still only in her early 30s, but taking your clothes off for a living wasn't what it used to be. The business had changed completely in recent years. And she should know: she was partly responsible for that. Gone were the days of tits, tease, and tassels. Now people preferred seeing explicit sex films in color in theaters – with every imaginable combination of couplings. Somehow Monica's sex shows suddenly seemed anachronistic and old hat.
She had taken her act as far as she could go. She recognized that. But where does an old broad go when the audience moves on and leaves the star behind?
Perhaps she'd do more music and cut back on the stripping, she told herself. After all she had a couple of daughters now. Maybe it was time to start again.
Wendy stood in the same dressing room, outwardly resembling a clenched fist, but inwardly gentle and empathetic.
It was a silent changing of the guard. The old world, with its outdated conventions, was ending. A new order, that favored more political ideas and a different approach, was already here.
For Wendy, life was beginning.
*
Wendy and Rod and the Plasmatics
One day in 1977, Wendy and Rod were in a taxi cab together, and Wendy started singing an old Bessie Smith tune, 'Need a Little Sugar in My Bowl.' The song ignited a spark for Rod.
Rod had long been energized by his involvement with the punk bands that he'd filmed. Every so often, he was asked to guide a new band, but he always resisted: "I just didn't see any group that I wanted to manage," he said.
Part of his reluctance was that he was a natural-born control freak, and if he was going to be involved in a rock group, he would have to do it all his way: he would decide on personnel, select their look, design their stage show, and be involved in songwriting. In short, he would build the group from the ground up.
But even if he could find a group that could be molded and shaped to his satisfaction, who could front a band with his level of ambition? Who had the charismatic presence to embody a radical persona that could exploit punk music and performance art with a nihilist attitude?
And then Wendy started to sing in the taxi.
It was a strange sound – guttural, effortless, snarling, and non-musical – but it had something.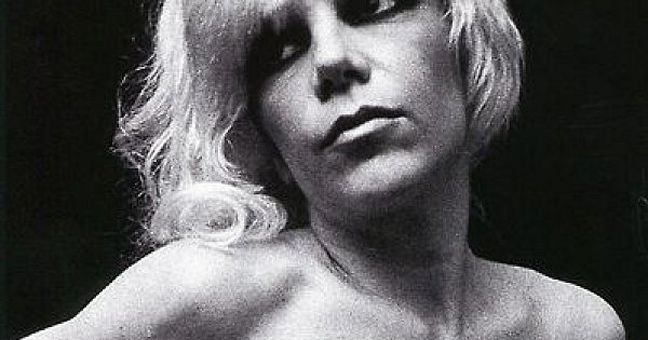 Rod had been taking Wendy to rock clubs while he was shooting videos of the bands, but it was only in the taxi that the idea to form a punk band around Wendy as the lead singer dawned. Her androgynous look, her anarchic energy, and her pitch-perfect, angry weltanschauung was a perfect combination.
Rod remembers: "Creating a radical challenge to the conformity of the status quo – became the compelling thing for me to do. Something way beyond anything anyone had seen before, and with Wendy as the focal point…"
Rod created and named and built the Plasmatics around her. Now all he needed was a group of supporting musicians, simpatico to their aesthetic.
In 1976, Roy Stuart, Rod's stage manager at Captain Kink's Sex Fantasy Theatre, had joined forces with two friends, the painter Michael David, and guitarist Richie Stotts, to form a band called The Numbers. They'd become a fixture in New York's early punk rock music scene, playing in clubs alongside pioneers Television, Blondie and the Ramones.
In 1977, Rod told Roy about his idea of forming an art-project punk band and that he was looking for backing musicians to put behind Wendy. Roy invited him to see one of their shows in an underground loft on Greenwich Street and Canal. Rod like what he saw – and co-opted the band. The Plasmatics were formed.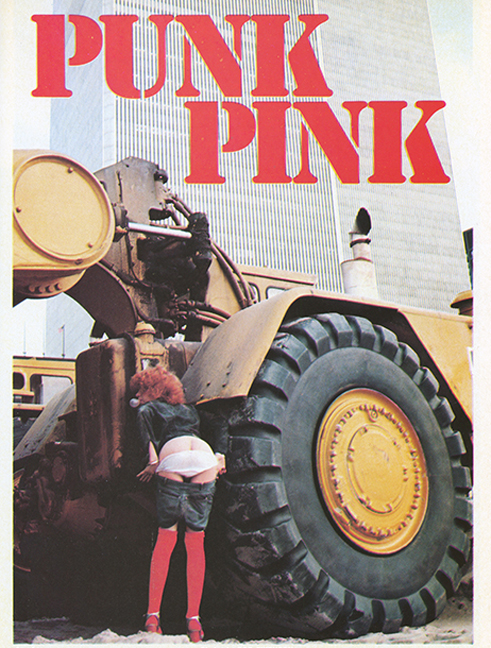 On a steamy Wednesday night on July 26, 1978, the Plasmatics were unveiled at CBGBs on New York City's Bowery. It was like Wendy's coming out party: "She was a natural," Rod said. "She was pure performer. And in a way, it became almost her vehicle because she exploded in it. She just became alive.
On stage, the self-described "marginal nymphomaniac and terminal exhibitionist" played the role of a fierce dominatrix, billing herself as 'The American Dream Girl Gone Nightmare.' Her fearless attitude and uncompromising aggressive vocals, claimed territory previously reserved for males.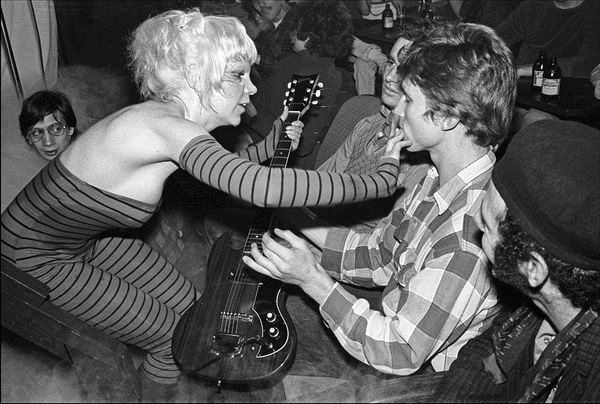 From their initial gig, the Plasmatics quickly rose in the New York City punk underground scene of the time, bringing a rabid, snarling ferocity that scared even the most jaded audiences. From playing a single weekday night, they moved quickly to playing repeated stands of four nights straight with two sold-out shows each night. They had lines stretching around the block and brought more fans into CBGB's than any other band during the time.
They realized they needed another guitarist to hold them together musically. Wes Beech was recruited and became, after Wendy, the only permanent member playing or touring in every Plasmatics and Wendy O. Williams show or record.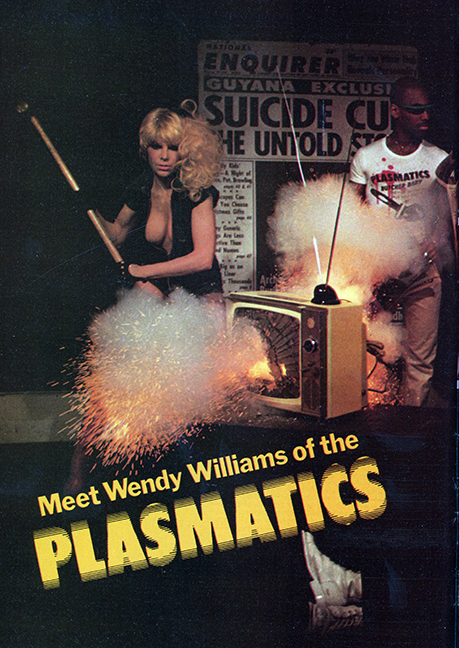 There was a strong emphasis on visuals. Wendy's hairdo seemed to change each show, from a pink mullet to a white skinhead – and most mutation in between. Her breasts were prominently displayed in push-up, studded bras. Her chest was a walking billboard for slogans such as 'Death to Techno Pop' or 'Tear Down the System.'
The backing musicians were a good foil for Wendy. Richie, a 6-foot-7 guitarist, was one of the first musicians to sport a Mohawk, taking inspiration from the Travis Bickle character in the movie Taxi Driver. And in an effort to keep up with his consistently outrageous lead singer, he'd cross dress in nurse's uniforms, tutus, wedding dresses and French maid outfits.
The band's stage shows became notorious, with guitars being chain-sawed in half as part of their performance (Richie was a big fan of Texas Chainsaw Massacre). Michael David, the group's bass player, remembers: "Half the theatrics came from Rod via 42nd St and Russ Meyer movies, and the other half came from Captain Sensible and movies like 'Freaks', and 'Friday 13th.'"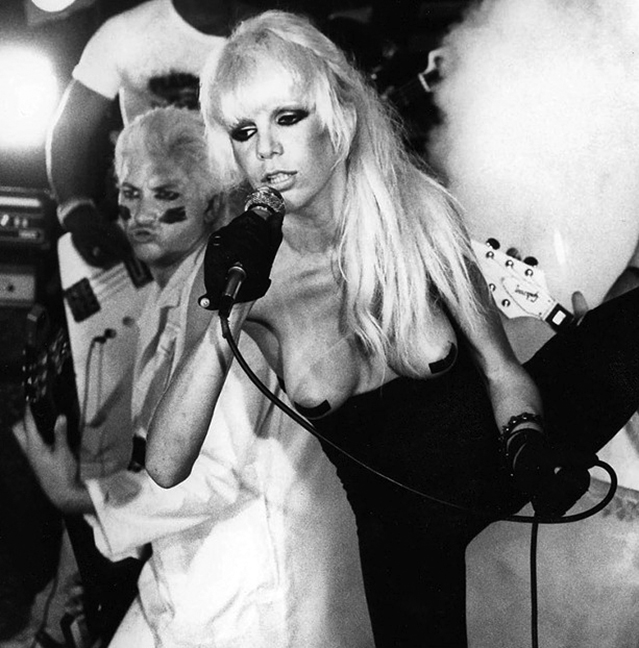 The group quickly outgrew CBGB's, so Rod made a deal to book what was then a little-known polka hall called Irving Plaza with the Polish War Veterans who ran it at the time. The band repeatedly sold out the venue, with the Plasmatics helping give Irving Plaza national recognition and launch it on the path to becoming an established rock venue in New York City.
In 1979, Wendy expanded her reach, and appeared in Gail Palmer's XXX film, Candy Goes to Hollywood (1979), where she was credited as 'Wendy Williams.' She was featured as a performer on a parody of The Gong Show, reprising her Captain Kink act shooting ping pong balls across the set from her vagina. It was a brief cameo, but it was a daring step built on her counter-cultural reputation.
The Plasmatics had arrived – and were achieving a more subversive and perverse success than even Captain Kink's Sex Fantasy Theatre had aspired to.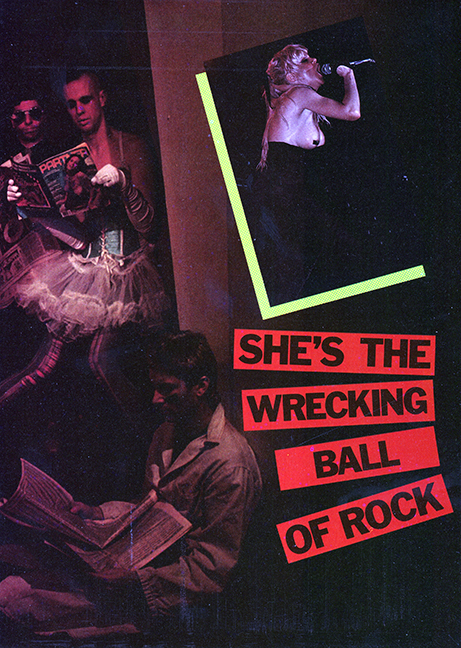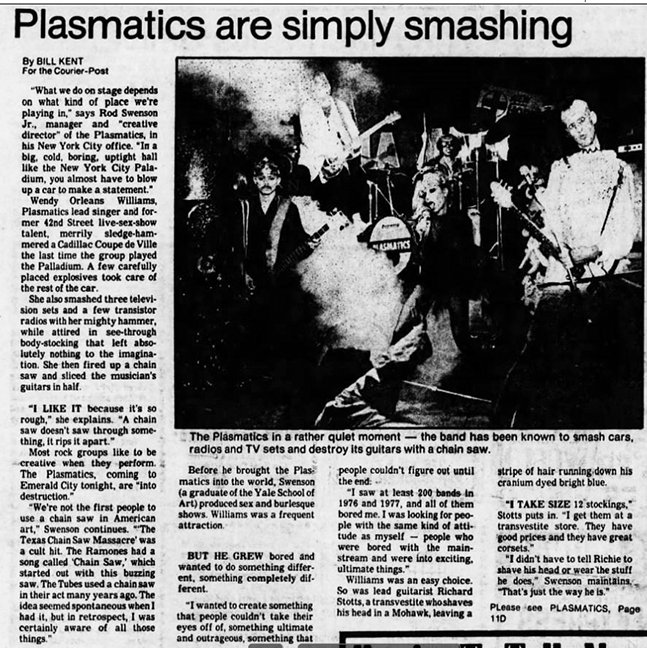 *
The Plasmatics and success
It was 1979, and even though it was barely a year since the Plasmatics started, they'd become one of the biggest drawing bands in New York. Rod was looking for even larger venues for the group, and secured a gig headlining the 3,300 capacity Palladium, the first band in history to do so at full ticket prices – and without a major label recording contract.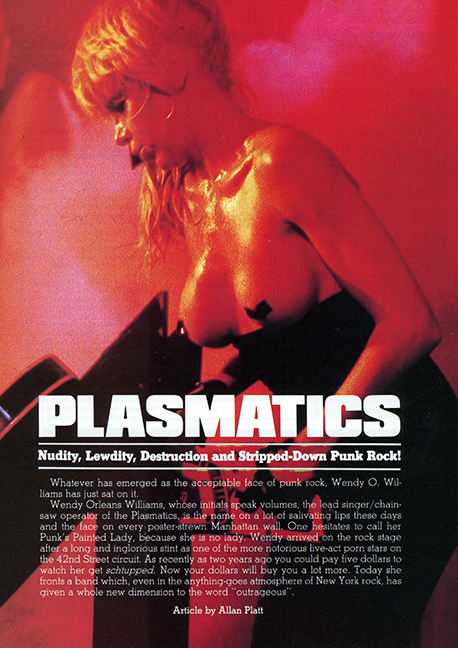 But headlining the venue wasn't enough. The big question was: What were they going to do on such a big stage – given that Wendy's goal for each show was "to put the audience's heart in their mouths"?
Rod remembers: "I started thinking about the stage – and the space that was on it. I thought, 'this is big enough to blow up a car, and it's gonna have to be a Cadillac.'
"It was an insane idea by ordinary thinking, but to us, in the mode that we were in, we saw it as an act of sanity in an insane world. We sold the idea to Ron Delsener, the promoter, very straight faced, and said that this is what we plan to do. He was fine to do it. We'd done a lot of stuff already at CBGB's without major incidents, so people trusted us to that degree.
"It took a lot of work and experiments to get the explosives to work right. We tethered the doors to wires so they would just blow to the edge of the stage and not into the audience. Wendy did things – like smashing out the windshield before we put the explosives in – to keep the glass from flying.
"One critic wrote in a review that he was actually afraid he might die during the Palladium performance, and I think he was sincere. And it's true, if you didn't do it right, or if somebody was in the wrong place at the wrong time, you could have gotten killed. Of course, we didn't want to maim the audience or hurt anybody, but it was tricky to design it so that wouldn't happen."
The Palladium show took place on November 16, 1979, and Rod wasn't sure what was going to happen: "I was a little apprehensive, but I wasn't really worried. That explosion was so loud, I couldn't hear the rest of the band for a couple of seconds. I was playing along, and hoping that once my hearing came back, we would still be together. It's fair to say that nobody else has ever dared to do it, and I don't think you'll ever see anything like that on stage again live."
Billboard called the stunt, "the absolute limit of what can be accomplished in rock and roll theatrics."
Just like Monica Kennedy's show had kept pushing the boundaries of on-stage depictions of sex until she reached an impossibly explicit conclusion, The Plasmatics pushed the boundaries of their live shows to became more comedically violent and extreme. Wendy cut an indelible, charismatic figure, screaming insurrectionist lyrics with shredded clothes barely covering her body, chanting openly about sexual needs, and demolishing stacks of televisions with sledgehammers. One song, 'Butcher Baby', featured a chainsaw sawing through a guitar instead of a guitar solo.
It was a perfect time to launch their attack: Reagan's 1980s, with its rampant materialism, was in full force, and Wendy was symbolically destroying symbols of American mass culture, consumerism, and conformity. Here was a muscular, mohawked woman, gleefully destroying television sets and automobiles, the beloved symbols of American middle-class complacency, while simultaneously belting out some of the most confrontational songs in the history of rock. This wasn't just entertainment; this was warfare. And the ringmaster behind this attack on consumerism and apathy was Rod Swenson.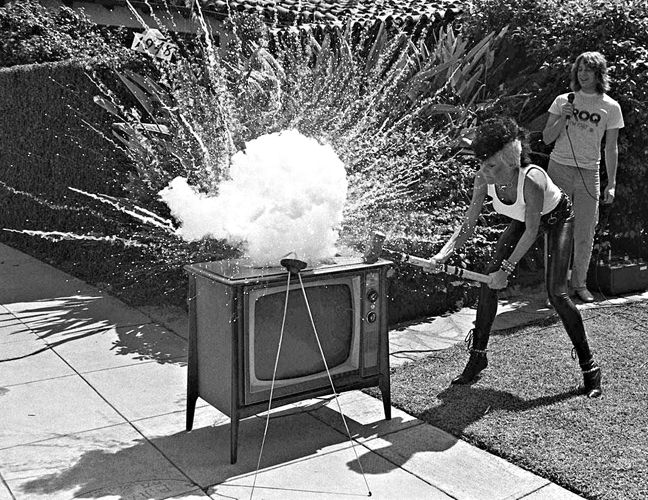 Rod: "One of the phrases we memorialized on one of our tour T-Shirts was from a message that was edited in backwards at the end of one of our albums so you had to spin the album backwards manually to hear it. It said "the brainwashed do not know they are brainwashed."
"People respond to shock in different ways. Shock can move people from one place to another in a good way, but others people become defensive, and denial is one form of it. Typically we did the TV smashing during the song "Living Dead," where part of the lyric is:
"You sold your life in the discount store
You watch TV you don't want anymore
You got ideas in your head
They won't happen
You're the living dead."
Wendy had become simultaneously the most authentic performer and most fearsome woman in music.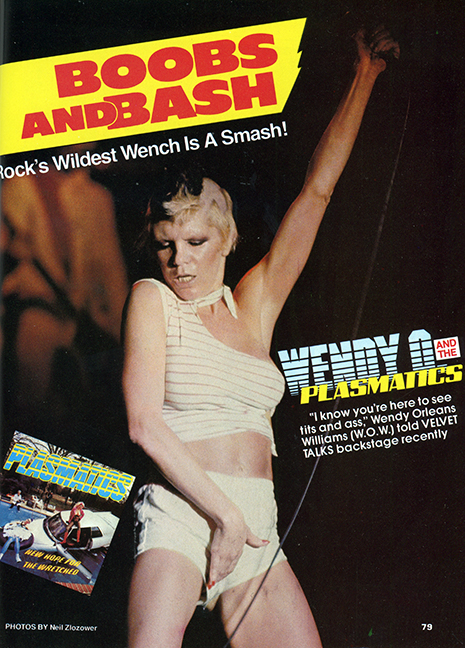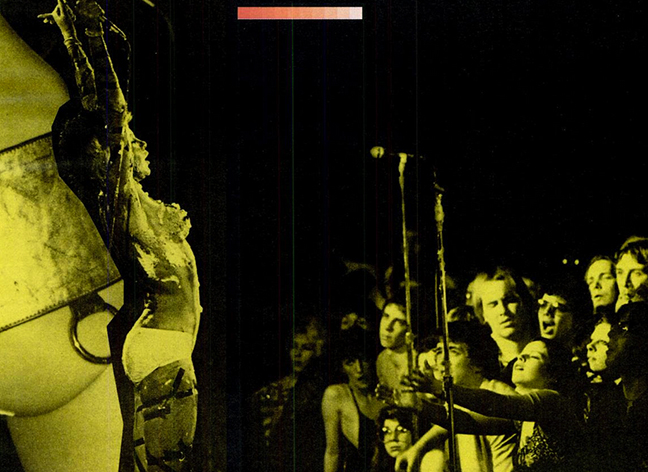 The notoriety of their stage act meant many U.S. record labels were afraid to sign the band. Stiff Records in England, famous for punk and new wave acts such as Nick Lowe, the Damned, and Elvis Costello – heard about the Plasmatics and flew executives to New York to see a show in person: could everything they'd been hearing and reading about actually be real?
The day after seeing the performance, Stiff made an offer and a record deal was signed within a month. Their company tagline seemed a perfect match for the Plasmatics: "If it ain't Stiff, it ain't work a fuck."
The Plasmatics blew into England like a cyclone, where Wendy told the assembled hacks she'd come to give "a cultural enema to the British people." Always knowing how to play showbiz at its own game, their planned debut at London's Hammersmith Odeon sold out way in advance. Amidst sensational headlines ('Queen of Shock Rock', 'Dominatrix of the Decibels', 'Evel Knievel of Rock') the Greater London Council banned the show at the last minute, labeling her an anarchist and citing safety reasons. No matter, they returned to the States to release their first record, and begin a sold-out North American tour.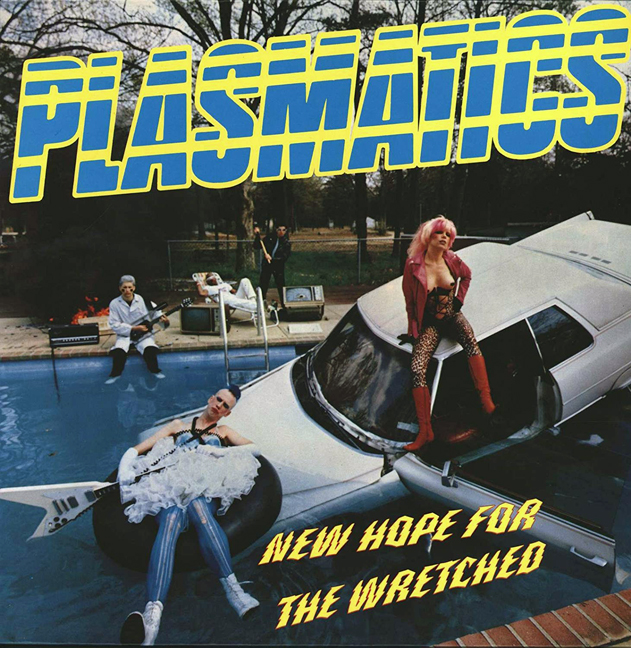 To kick off the dates, Wendy wanted to drive a 1972 Cadillac onto an exploding stage on Pier 62 in New York. The car would be loaded with explosives, and she would jump out moments before the car would hit the stage, blowing up all the equipment. The required permits were hard to obtain and only allowed for an estimated 5-6,000 people. The day of the performance, 10,000 showed up, jamming the downtown streets and lining the rooftops.
The couple who sold them the Caddy told the newspapers they weren't too comfortable selling it to the Plasmatics knowing it was bound to die a violent death.
"Everything must die," Wendy told them, "but your car will be immortalized".
The stunt worked and even though the whole exploit cost virtually the entire advance for the US release of their first album, Wendy was unrepentant: "It was worth it because it showed that these are just things and… people shouldn't worship them."
Some critics got it, such as Dante Bonutto of Kerrang! who said the group was designed as a "battering ram against the establishment from day one." Others, such as Jim Farber of Sounds, focused misogynistically on the female singer: "Lead singer/ex-porn star/current weightlifter Wendy Orleans Williams (W.O.W. for short) spends most of the Plasmatics' show fondling her family size breasts, scratching her sweaty snatch and eating the drum kit, among other playful events".
Guitarist Wes Beech saw Wendy from the other side and recognized the effort she was investing: "She was totally committed to her craft. People don't realize how hard she worked. She would work out, run six miles a day, and push the band to get the most out of us. We would rehearse every other day. We'd run through our whole set like it was an actual show at the same level and the same intensity. When we got through the set, we would be sweating and tired and panting, and she would look at us and go, "OK guys, let's do it again." That was the enthusiasm she had for it."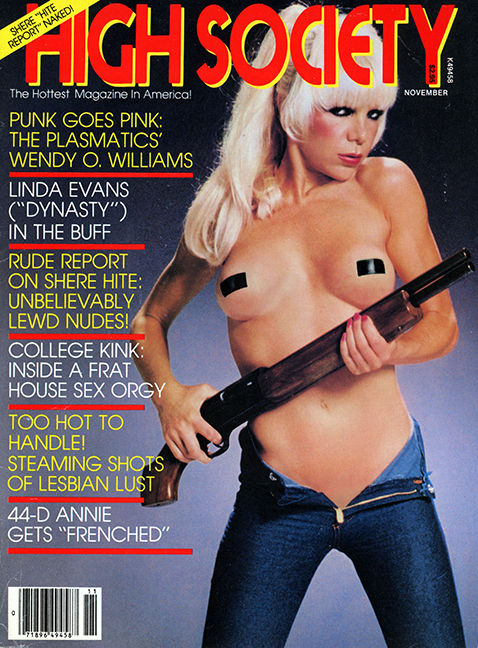 Wendy knew what the concerts meant to her audience: "The fans come to these concerts, and the blood gets pumping and the sweat starts flowing, and they get this relief and this release, and nobody gets hurt."
But Wendy was also clear what the experience meant to her specifically: "I don't know what I'd do without the Plasmatics – I'd probably slit my wrists."
*
The Plasmatics and the law
The barely-controlled chaos of a Plamatics show meant that fans who came to see them on their national tours weren't disappointed by the volatile mix of noise, sex and violence.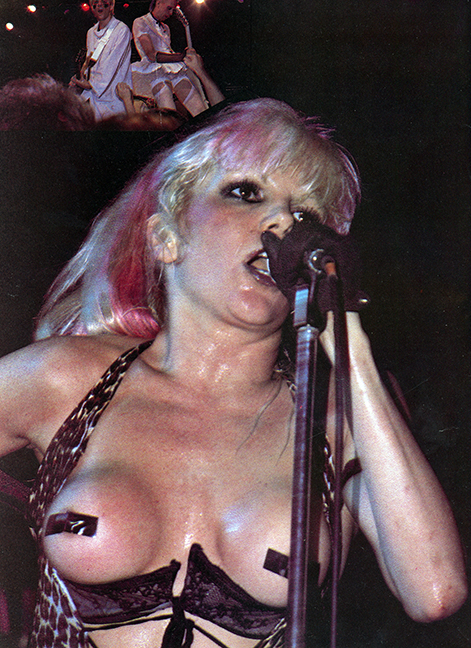 But there was also the usual unwanted side-effect of taking risks: the anti-social nature of the shows incurred the wrath of the mainstream establishment. And Wendy refused to back down – even if it scared concert promoters into cancelling their shows. As Rod said: "It is difficult to imagine how threatening the establishment found Wendy at this time."
American culture had never seen such an outraged, outrageous woman fronting a band, and one that broke feminist taboos too; wearing only underwear, or maybe topless but for whipped cream (an idea taken from Monica's stripping routine). Back at a time when there was less nudity available, she emerged on stage with her pneumatic chest, leather chaps and matching thong, and 80's heavy metal staple white high top trainers.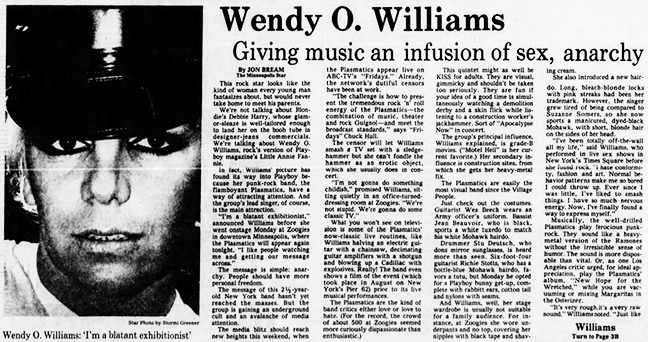 Then in January 1981, the trouble escalated.
It started with a newspaper article in the Milwaukee Sentinel on January 16th where the local police read that, "Miss Williams had exposed portions of her body during her act." Presumably fearing the collapse of western civilization, undercover police were dispatched to Wendy's next show – at the Palms nightclub in Milwaukee, two days later, to see her act for themselves. What happened after her arrest filled headlines and courtrooms for the next three years.
After a show that included, according to a Milwaukee Journal reviewer, Wendy making "sexual gestures" and wearing "what appeared to be whipped cream or soap lather on her upper torso", she was arrested and charged with conduct prohibited in a licensed premise.
Or to be more precise: she was busted on obscenity charges for simulating masturbating with a microphone and a sledgehammer.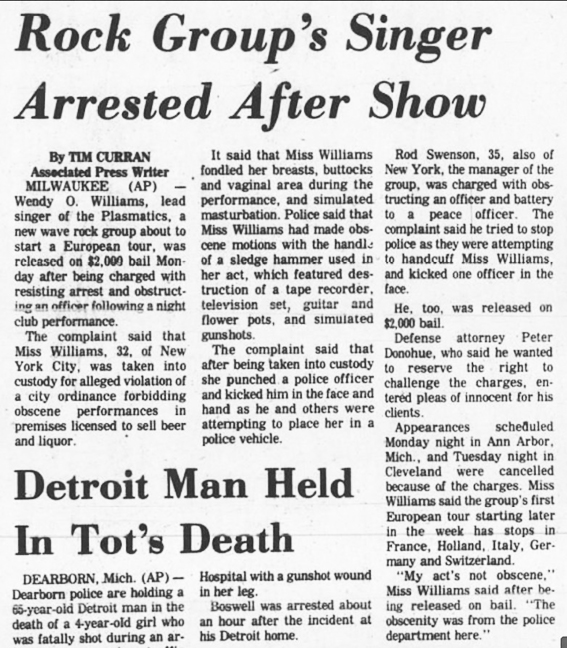 Wendy was also charged with battery to an officer and resisting arrest. Police said Wendy kicked one officer, injuring his hand, while Rod, trying to stop police struggling with the singer, was said to have kicked another officer in the face. So Rod was also arrested for obstruction and battery to police officers.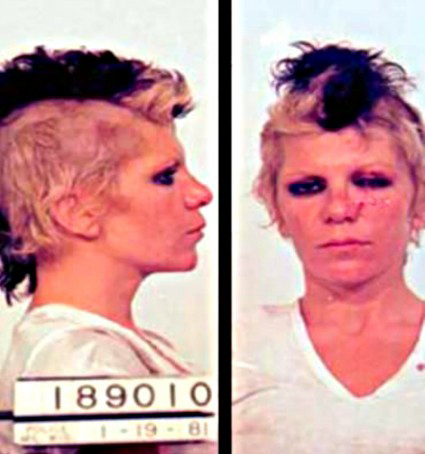 The reality of what happened was actually very different: it started when Wendy was touched indecently by a police officer while she was being put into a police van. She slapped him and a fight broke out. Wendy maintained that she was thrown to the ground by five police officers, and bloodied and beaten up by several of the offending cop's buddies, before being held outside in the snow for a long period of time, and forced to walk from the police van into the police station with no shoes on. Wendy also said that an officer told her, "We don't like your kind here in Milwaukee… I'll bet you've got a weird sex life." Wendy later admitted she feared for her life: "I was afraid I was dead in Milwaukee. I was afraid they were just going to open fire, just start shooting."
As for Rod, he was beaten unconscious when he tried to intervene: "I saw her on the ground getting her face kicked – it was hideous. It was about the most shocking and awful thing I had ever seen in my life at that point. I just raced to her defense. I don't know what would have happened, but they grabbed me and dragged me behind a car and beat me unconscious with a nightstick. We both ended up in the hospital, and then they put us in jail and charged us with attacking them."
Wendy and Rod were released on $2,000 bail the following day.
The following week, it emerged that a local photographer had taken pictures of Wendy's arrest at the Palms — and they showed that Wendy and Rod were telling the truth. According to one newspaper, one of the photos showed an officer "with his hand on Williams' neck, shoving her head into the snow, while she appeared to be crying out in pain."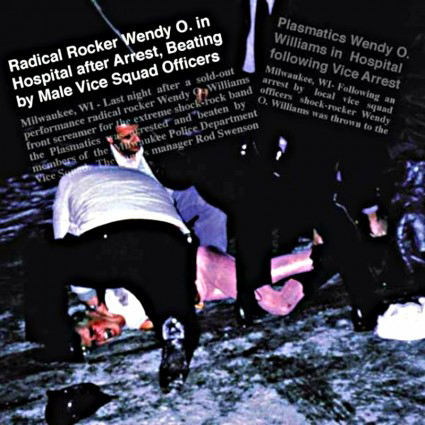 In Rod's opinion, the reason for the trouble was simple: "This was a sexist thing. The vice squad decided they were going to put a stop to this very threatening woman and the radicals coming into their town. They'd heard about our show the week before, and they just said this isn't going to happen in our town. We're going to put a stop to it.
Over the next months, all of the charges against Wendy and Rod – from felony battery to simulating a sex act onstage – were reduced, dropped, dismissed, or the pair were found not guilty. In short, they were cleared of all charges.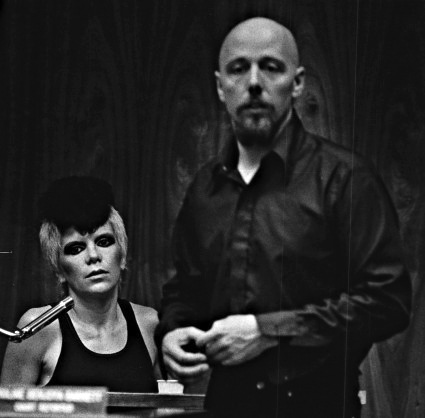 Wendy and Rod in court
On January 19, 1982 — a year to the day after her clash with the police — Wendy filed a $5.95 million lawsuit against the police officers involved in her arrest. After a trial that lasted three weeks during the fall of 1984, a jury ruled that the six officers didn't use excessive force or unlawfully arrest Wendy.
Despite being cleared of any wrongdoing, the incident had a lasting effect on the Plasmatics – both financially and in terms of future bookings.
Rod remembers: "We were facing fairly serious charges and actually could have gone to jail. It ended up going to trial, and one thing it also did was to bleed us financially. The cost of the legal fees and everything was insane. And we had big problems recovering from that for the next year or more.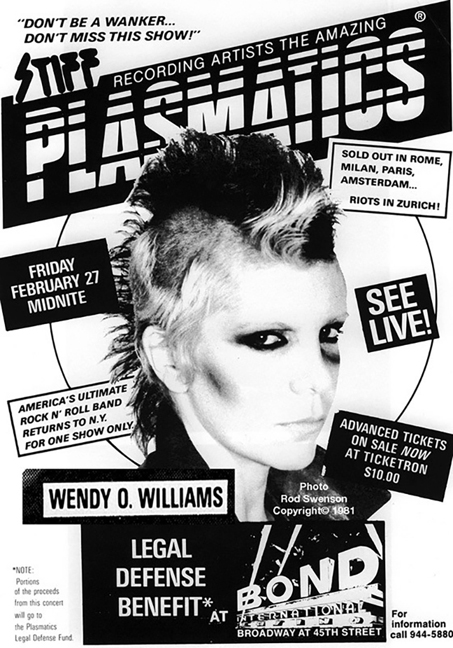 Legal fundraiser show
"The other thing it did: it was part of a cracking down on us by the establishment, because many promoters after that wouldn't book us because of the publicity. Even though we won, there was pressure on them from communities, and they were afraid of what might happen. So we had other arrests, and we had other places where clubs were shut down by the towns."
Later that year in Cleveland, Ohio, Wendy was acquitted of an obscenity charge for simulating sex on stage wearing only shaving cream.
Creem, the influential music magazine, attacked the sexism of those who "can't handle… even resent the very idea of a woman singing rock and roll with ferocity – which is to say the same qualities they would applaud if they were coming from a man, providing there was a man around today with the balls to do that".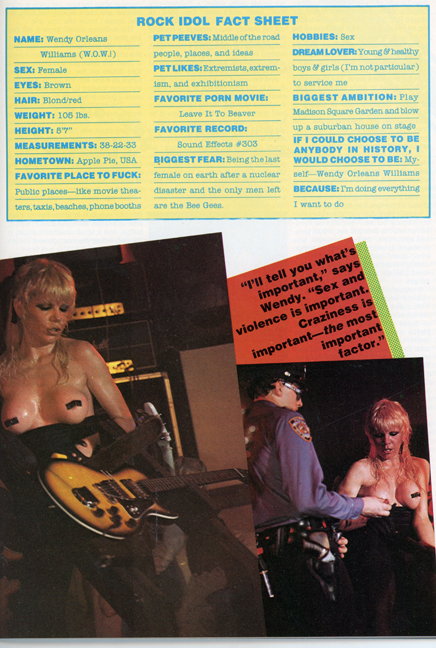 If there was a silver lining it was that the publicity regarding their legal problems had the unexpected consequence of raising Wendy's public profile, and the band's notoriety ended up leading to all kinds of nationwide TV appearances, including stints on the ABC series 'Fridays,' a Saturday Night Live-style knock off, and the sketch comedy show 'SCTV' (often appearing with John Candy.)
Studio execs on SCTV had decided they would not air Williams' performance unless she changed out of her costume that revealed her exposed nipples, but Williams refused, and so the show's make-up artists found a quick compromise by painting her breasts black.
The Plasmatics also appeared on Tom Snyder's late-night talk show, 'Tomorrow,' where the host introduced them as possibly "the greatest punk rock band in the entire world". They performed two songs, and the band blew up another car. Snyder said later that he "didn't get it." Poor lamb.
By now, the Plasmatics was a revolving troupe of musicians. The only real consistents were Wendy and Rod, the latter's name appeared on albums under the heading: "Concept and Management: Rod Swenson." But as Rod points out: "Whatever I did was so that the well-deserved attention would go to Wendy. I did all these things, but she was the star, it was built with and around her.
"She was astoundingly fearless. That is when it came to taking on the establishment and the stereotypes about the way women could sing or look. We came into a situation where women were expected or were told to sing pretty or be cute or smile, but certainly don't be angry, don't sing tough, don't sing hard. They were expected to do what Wendy used to call "apple pie," which she always said made her gag.
"But she was truly fearful, on the other hand. What made her depressed was the kind of blind conformity – what we used to call "consensus programming" – that we attacked in our songs. It was that which drove her on.
"What I found from almost the first time that I met her, in almost a true heroic sense, "I'm going in there to try and conquer this thing or fight it regardless."

*
Monica
In the mid-1980s, Monica Kennedy was still working the strip circuit.
She had an ampler form now, but was still traveling the country, hustling a living in small night spots, sporting the same platinum blonde wig, and flashing a toothy grin. She was onto her third husband, a businessman who lived in Las Vegas and didn't travel with her, and she still harbored vague ambitions of being a singer.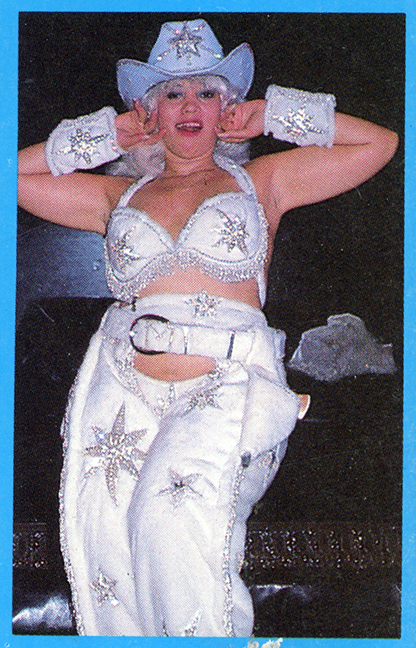 Monica in 1985
Porn-performer-turned-writer Veronica Vera met Monica in early 1985 when the star made an appearance at Show World. The bloom was off her rose, but Monica was still a returning champion of sorts – and that counted for something. She had her own dressing room, separate from the regular strippers and sex show performers.
She also had an assistant, Lee, who watched her every move, and stood by admiringly as she put on her gold-sequined bra, and prepared for the show. Monica sat in the corner carefully outlining her heart-shaped pubic hair with an eyebrow pencil. It had been her trademark for two decades.
Veronica remembers Monica's star having faded but that she was still surprisingly buoyant, and her initial assessment was: "Monica seems to be a little bit crazy, but in a way that makes a lot of sense."
Monica still dressed up in a white cowgirl outfit – this one a recent $1,200 purchase from former stripper Dixie Dew, a gal once renowned for taking a bath on stage in a large champagne glass. The new costume hadn't been fully paid for though, and Dixie Dew turned up backstage before the show to demand the final $100 installment. Monica hadn't been paid in cash for her gig, so couldn't pay up. Their beef escalated, and soon the two women were yelling and fighting over whose life had turned out to be tougher.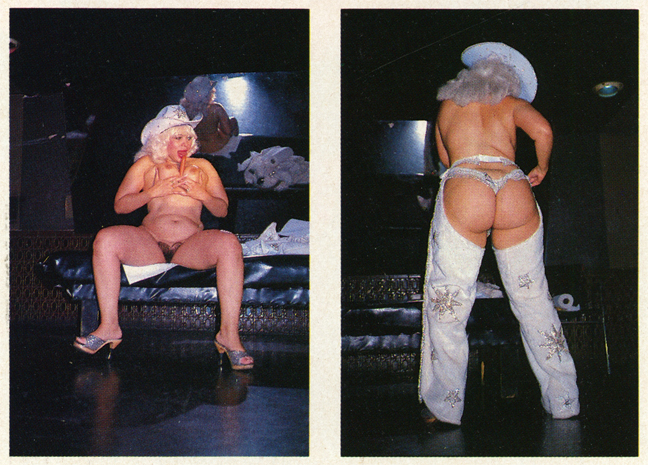 When the tiff subsided, Monica told Veronica about how her act had changed since her heyday: she didn't engage in sex with audience members as much as she used to, though she did find a use for a rubber hot dog that particular night: "Nowadays I don't usually fuck the guys in the audience, and if I do, I pick the ones that I know, the ones who've been following my act for years. Otherwise I save fucking for special occasions." She was, she said, giving her body a break.
Her on-stage chastity extended to oral sex too: "When your body is getting all that action, it can take weeks to heal. Sometimes, I have to put ice cubes in my throat."
Her conversation with Veronica was interrupted when she welcomed a fan backstage, and cleared out her dressing room so that she could tend to him. Some habits, it seem, die very hard.
Ron Jeremy and his porno squeeze turned up to pay tribute to the homecoming queen, and Monica milked the attention.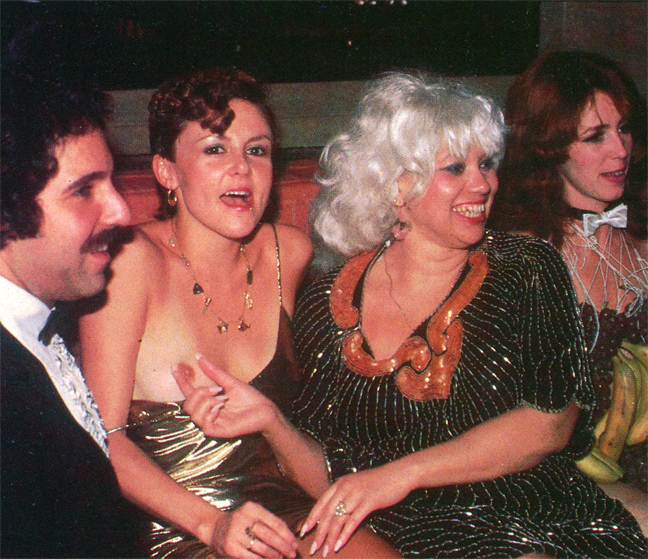 Her two daughters were teenagers now, and she carried around pictures of them that she maintained in the pages of her Bible. They'd been fighting a lot with her recently. Cat fights, squabbles, and petty jealousies. Veronica asked if it was perhaps all related to their mom being a stripper?
Monica, pioneer of the most outrageous on-stage sex shows, replied: "If they don't like what I do, I guess they've got to forget about me being their mother. It's all part of the package. I didn't get scandalous 'til I was 27. I didn't lose my cherry until I got married. Kids today are no longer virgins by the age of 16.
"If my daughters want to complain about my behavior, I can complain about theirs. It works both ways."
Monica's local residency concluded, and she moved on to the next city. She spent the next years eking out a quiet existence in the penumbra of diminishing returns. When the road no longer called for her, she retreated to Las Vegas, the sanctuary for dreamers who'd lost their way.
*
Wendy
Wendy was showing no sign of slowing down.
A second album, 'Beyond the Valley of 1984' was released in 1981, followed by a tour the same year, 'The 1984 World Tour,' which bore the slogan, 'Down On Your Knees and Pledge Allegiance!'
And then a breakthrough: in the spring of 1982, a major record deal was signed, a worldwide contract with Capitol Records, that would bring Wendy's shrill political shriek to a large audience. The resulting album, Coup d'Etat, was a breakthrough, blending punk and metal genres for the first time, and Wendy's vocals were a powerful tour de force. Her delivery was so intense that it was rumored she needed daily medical intervention to avoid permanent damage to her vocal cords.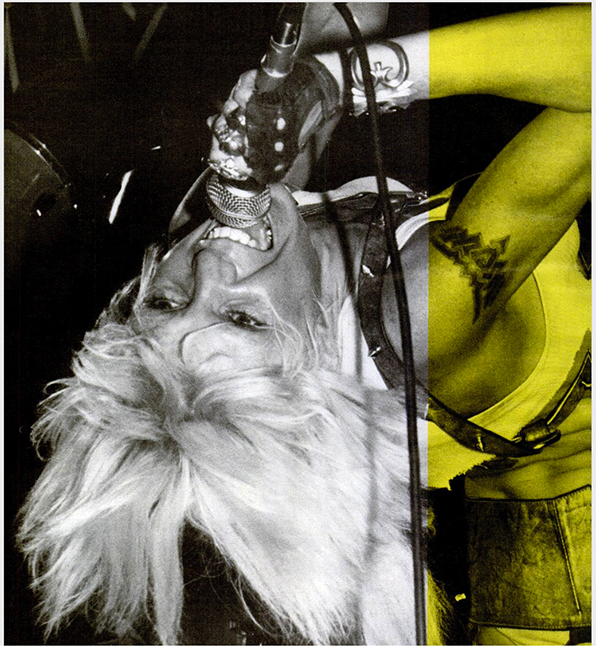 Rod directed a video for one of the album's songs, 'The Damned,' which featured Wendy driving a school bus through a wall of TVs, climbing onto the roof of the bus which had been loaded with explosives to sing, and jumping off a few moments before the bus goes through a second wall of TVs – which is then blown sky high. It was crude symbolism, but it was spectacular, effective, and more viscerally informed than anything that Boy George and Culture Club were doing.
But shortly after the Plasmatics record was released, Capitol had second thoughts: pretty boy new wave groups were appearing and their names gave away their intent: did anyone think that A Flock of Seagulls were ruthlessly trying to change the world? These newcomers could be relied on to sell records with none of the political liability and fallout.
Within weeks, Capitol Records dropped the Plasmatics.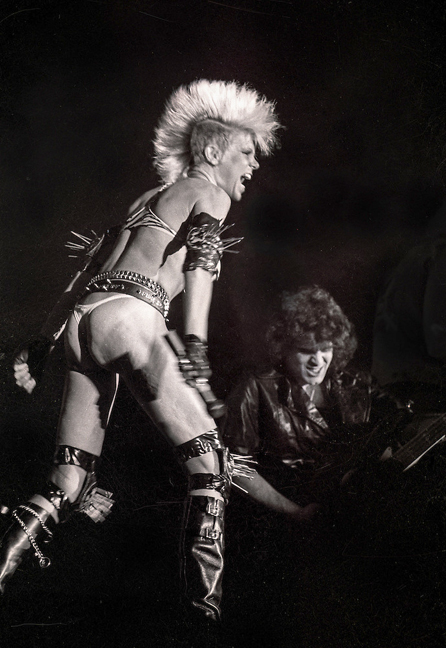 But there was no shortage of true believers to the Plasmatics cause: in 1982, Lemmy of Motörhead proposed a Wendy and Lemmy duet of the country classic 'Stand by Your Man.' The same year, Kiss got Wendy and the Plasmatics to appear as a special guest on their tour, and Gene Simmons asked to produce the next Plasmatics album.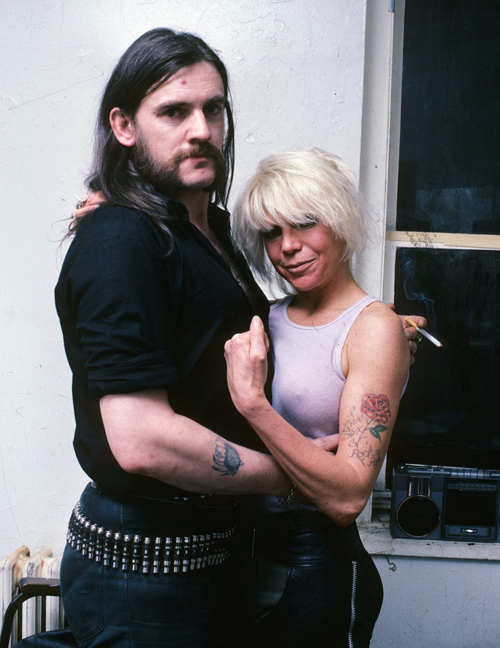 Lemmy and Wendy
The resulting record, WOW, was released in 1984, and Kiss members, including Paul Stanley, Ace Frehley, Eric Carr, and Gene himself (credited as Reginald Van Helsing) appeared on the LP. It was a critical success: Kerrang! magazine picked it as their album of the year, and splashed Wendy on the cover – the first woman to have that honor. She also received recognition with a Grammy nomination for 'Best Female Rock Vocal' in 1985. The record was a commercial disappointment though, selling just 70,000 copies and failing to break into the mainstream. Wendy's 1986 follow-up album, Kommander of Kaos, fared little better.
Ever the stage entertainer, Wendy tried her hand at acting, and in 1985 starred in 'The Rocky Horror Show' at the Westport Playhouse in St. Louis. In 1986, she appeared in Tom DeSimone's indie-film Reform School Girls. (Neither she nor Rod liked the film, but the soundtrack included three tracks from Kommander of Kaos so at least it was a showcase for the music.) She also made guest appearances on the TV series The New Adventures of Beans Baxter, and in an episode of McGyver.
Wendy's two last records were oddities: in 1987, she made an environmentally-conscious sci-fi concept album called Maggots: The Record, described as "a thrash-rock opera about the development of trash-eating insects that escalate an ecological nightmare." Kerrrang! gave the record its highest rating, and called it "quite simply a masterpiece… a work of genius… a mixture of hedonistic operatic melodies… gut-forged to some of the heaviest armadillo beats you're ever like to hear committed to vinyl."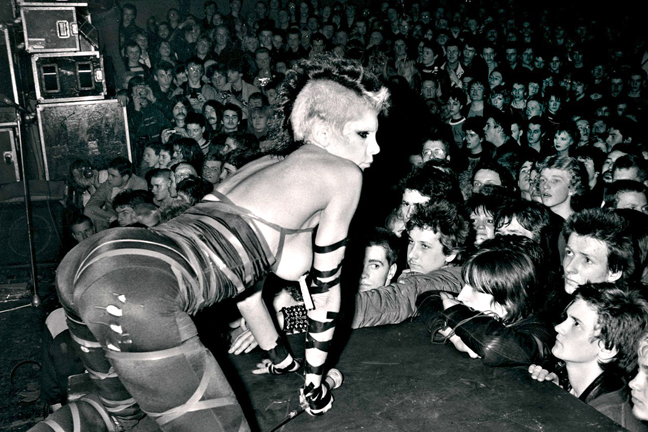 In 1988, Wendy put out another album, this time a "thrash rap" record called Deffest! and Baddest! under the name "Ultrafly and the Hometown Girls."
Neither sold well, and Rod remembers that harassment from the law and the establishment was finally taking its toll: "On the "Maggots" tour, we had police burst into our hotel room at three in the morning to arrest Wendy for some odd thing that somebody claimed. Usually we beat these things, but the legal costs became huge and it became harder and harder to keep the thing afloat. At the same time, promoters had pressure on them not to promote the shows. They would say, "We love Wendy, but we can't do it, we can't risk it, we can't afford to do it," although the music was getting better, the recognition and the achievement levels were increasing.
"We kept getting into a point of diminishing returns because we had whole areas of the country we couldn't play. And so this got to be a point of where we would have had to make a lot of compromises, and she refused to do it. That wasn't her, that wasn't what she wanted to do. We didn't want to make money and fund ourselves in that way.
"We made a pact when we started that everything has a life, and there's a place where you realize that you've hit your peak in some sense, and rather than go downhill, we just agreed that we weren't going to do that. If it ever came to a point like that we'd stop.
"And so we stopped. We didn't say we were stopping at that time. We said we were going on hiatus, but the two of us knew we were pretty much done.
"It was really not wanting to compromise in a sense, that's what it boiled down to."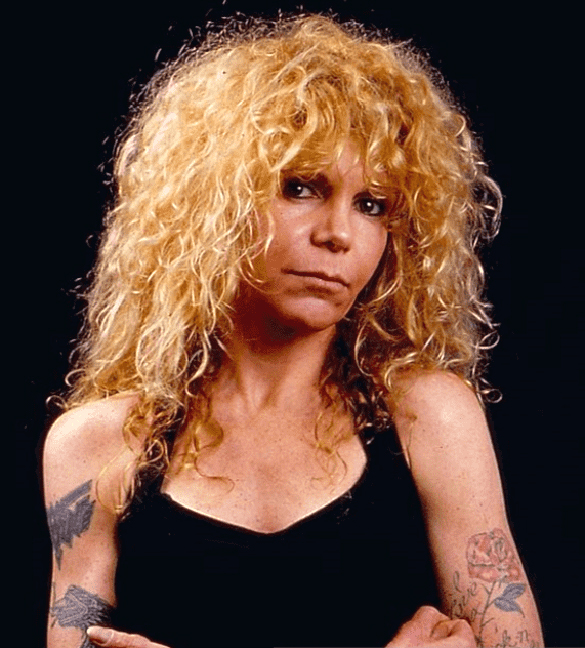 The irony was that Wendy's offstage life was completely different from the persona who delivered manic on-stage displays of rock aggression and punk attitude: she spent much of her free time devoted to personal causes, relating to animal-protection, health, and environmental issues. She was a vegetarian, who refused to wear makeup manufactured by companies that use animals for laboratory experimentation. She gave up drinking alcohol, and quit smoking – her dressing room was off-limits to anyone who smoked – and she swore off all drugs, even aspirin. She turned to exercising, and she jogged, swam regularly, and lifted weights.
The Plasmatics' last tour was in late 1988, and Wendy's last known performance of a Plasmatics song occurred at the prompting of Joey Ramone. She sang 'Masterplan' with Plasmatics' guitarist Richie Stotts, when Richie's band opened for the Ramones on New Year's Eve, 1988.
Her career had lasted just over a decade: a long time in rock terms. Her supernova had burned more defiantly and fiercely than anyone else, but now it was her turn to step out of the spotlight.
*
Wendy and Rod
Wendy and Rod moved to Storrs, Connecticut, a quiet state university town, where he built them a geodesic dome to live in.
Looking back, Rod has mixed feelings about how successful they were. On the one hand they had built Wendy into an international newsmaker who infiltrated suburban living rooms, challenged mindsets, changed music and fashion, and established paths for women that would come after her.
But did the lasting legacy match up to their hopes? Rod isn't sure: "Both of us were really hopeful revolutionaries. We really thought we could change, in a deep structural way, the course of culture; get things off of what we thought was the disastrous course they were on. In this larger sense, it can't be said that we succeeded. The world today, instead of being turned around, is headed at increasing speed toward many of the things – if not all the things – we warned about. So much that we warned about has come true."
Rod lectured as a research fellow at University of Connecticut's Center for the Ecological Study of Perception and Action, and wrote scientific papers.
Wendy got herself a couple of jobs in nearby Willimantic including working as a veterinary assistant and animal rehabber at the Quiet Corner Wildlife Center, as well as a job working at a health food co-op, promoting vegetarianism and helping customers make healthy food choices.
Rod felt that the root of her love of animals and her advocacy for them lay in her great sympathy for the underdog: "She felt like that herself when she grew up, and she saw animals as innocent. And as far as the mess humans have placed the planet in, they were the victims. Whether it was factory farming or pointless testing of vanity products on animals, or animals in need of rehabilitation after some injury or mishap with a human, she just felt compelled to help. She was a person with deep empathy.
"The same month that she was on the cover of Kerrang! she was also on the cover of Vegetarian Times. I always thought that was kind of cool. Those were just two dimensions of her and actually fit very well with who she was."
For a time, Wendy was happy amid the wildlife of eastern Connecticut, even as she struggled to find a new role for herself. But after everything she'd been through, she ultimately found it difficult to lead what she thought was a normal life. She didn't want to be an elder statesperson forever trapped in the iconoclastic persona she had created. In the videos, she always emerged from the flames a survivor, defiant and unbeatable. In Storrs, where she was struck by the tedium of day-to-day life, she did not.
Williams first attempted suicide in 1993 by hammering a knife into her chest where it lodged in her sternum. She changed her mind and called Rod to take her to the hospital.
She attempted suicide again in 1997 with an overdose of ephedrine.
She'd made up her mind, she insisted it was for the best, and all Rod could do was try to delay the inevitable.
On Monday, April 6, 1998, she walked out of the back of her home in Storrs, into the woods, and shot herself in the head with a handgun. She was 48 years old.
She'd put a bag over her head so that when Rod found her – there among the animals that she fed and loved – he wouldn't have to see the full horror of her suicide. On a nearby rock, he found broken nutshells: she'd evidently been feeding the squirrels before turning the gun on herself.
Later Rod found a package she left for him that contained some noodles he liked, a packet of seeds for growing garden greens, some Oriental massage balm, and sealed letters she'd written. She'd left a series of suicide notes in their home that confirmed she'd been contemplating taking her life for many years. The notes detailed her state of mind for those who wanted to know why she would take such a fatal step:
"The act of taking my own life is not something I am doing without a lot of thought. I don't believe that people should take their own lives without deep and thoughtful reflection over a considerable period of time. I do believe strongly, however, that the right to do so is one of the most fundamental rights that anyone in a free society should have. For me much of the world makes no sense, but my feelings about what I am doing ring loud and clear to an inner ear and a place where there is no self, only calm."
Another note Swenson found read, simply: "I die with a clean warm feeling like the sun and water we shared together as when birds fly or fish swim."
She signed the note, "Love always, Wendy."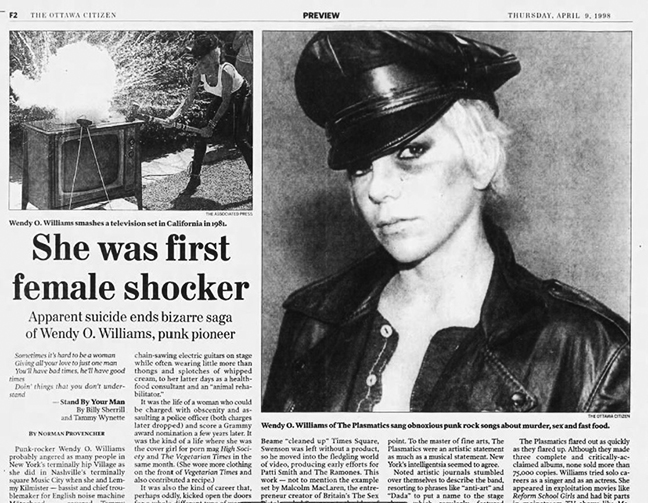 *
Rod
"Wendy's act was not an irrational in-the-moment act," Rod said.
The contrast to the excitement of fronting the Plasmatics was too much, he said. "There was a part of her that just came alive," in her Mohawk-sporting role in the Plasmatics. Despite her work in health foods and wildlife rehabilitation, "this ordinary life that a lot of us are required to occupy" was not enough to fill the void left by the rock days.
"I spent the better part of four years trying to dissuade her, or at least postpone it. Anger, in any case for someone who takes this ultimate step, is not something I would readily understand. Utterly deep and inexpressible grief and loss. But anger no."
Throughout the Plasmatics' ten-year life, Rod seldom gave interviews or discussed his ideas with journalists. He still doesn't. Back in the day, he left that to Wendy, who provided some of the most memorable interviews, music videos, and talk-show moments of the 80s, such as her appearances on The Sally Jesse Raphael Show and The Joan Rivers Show.
"I will tell you that while she was here she lived with an authenticity that few can rival, and this, I think was a goal in life she set with a determination at a young age. Despite remarkable hurdles, I believe she achieved this goal. Her work and her legacy speak for itself."
Debbie Harry, lead singer of Blondie, agreed Wendy was a trailblazer: "She was such a big deal back then. She showed her tits and she blew up cars on stage and broke TVs – and now it would just be normal."
Today, Rod is a fellow at the University of Connecticut. He has been published in several scientific journals for his research on the laws of evolution, thermodynamics, and entropy.
He remains true to the vision that ignited his path: "Think for yourself, always question, and remember: the hope for the world is in outliers."
*
Monica
2018.
Far from the maddening crowd, the lusty hordes of yesteryear, and itinerant traveling lifestyle, Monica sits in a small apartment in Las Vegas. Not the glitzy, neon-infested Vegas that tourists see. This is a gated senior living community.
Her name has long changed. Her two daughters have grown up and are leading their own itinerant lives. Wild, crazy lives too, just like their mom decades previously; apples clearly don't fall far from the tree.
Monica has hustled all her life, but the days of her dreams, of her scandalous acts, of her name in lights are now in the rear-view mirror. She followed Wendy's loud and abrasive punk career from afar until Wendy faded from view in the 1990s.
Monica occasionally thinks back to the old days, but doesn't dwell. There's no point in being sentimental at this stage. She can't share the memories with anyone either – who'd believe her? It all seems to have happened yesterday, yet it all seems to have happened a thousand years ago.
Her fridge magnet bears the message: 'Time moves slowly, but passes quickly.'
Monica Kennedy passed away in December 2018.
*