Ever since we featured photos from Uncle Lou's scrapbook, a selection of personal Polaroids taken at New York's Melody Burlesk in the 1970s and 80s, we wanted to find an equivalent collection from the West Coast.
Recently we came across Donnie Reamer, a regular at San Francisco's strip-clubs during the 1980s, who went to hundreds of shows and befriended many of the adult film stars who appeared in them. Over the years, he collected flyers, photographs, signed merchandise, and memories from the various clubs. These items tell the story of an already-lost age: Feature dancers, long-closed clubs, video tape, and Polaroids.

Here is a selection from Donnie's collection, together with some of his memories.

_______________________________________________________________________________________________
Always the melting pot, San Francisco was ideally positioned for what we refer to as The Golden Age of Pornography. Strip clubs in abundance, Reuben Sturman's bookstores, the good folks from Call Off Your Old Tired Ethics (COYOTE), the annual Exotic Erotic Ball, The Spectator sex tabloid, The Power Exchange (for swappers), North Beach in all it's splendor, hookers, call girls, Asian massage parlors by the score, adult cinemas… even an X-rated drive-in close by in Marin. San Francisco offered a smorgasbord of carnal pastimes.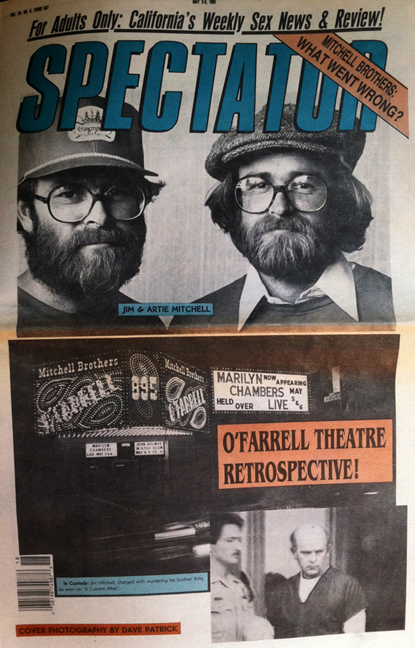 The Mitchell Brothers O'Farrell Theatre had already put themselves onto the map. Throughout the 1970s and well on into the 80s, buckets of money flew into Jim and Artie's cash registers, and from there into a libidinous legion of sexy Mitchell Brother's stripper's panties. Seven days a week, 52 weeks a year.
But other clubs were never far away. Just down the street from the O'Farrell was the less-expensive New Century Strip Club.
Not so far away, in the Tenderloin area, stood Alex de Renzy's own adult playground. On the street level, porn features were shown, including oftentimes Alex's own work such as 'The Pleasure Masters' (1974), 'Femmes De Sade' (1976), and 'Babyface' (1977). The upstairs 'Arena' saw the likes of Nina Hartley, Desiree West and Linda Wong gyrating to a world class sound system blaring The Rolling Stones, The Grateful Dead and Jefferson Airplane. The small intimate showroom offered a fur-lined stage, trapeze and ceiling mirrors so as to offer the best of the best in viewing pleasure.
A short walk from there stood the rowdy Market Street Cinema, a one-of-a kind theater that offered 'burlesque in hell'. True to it's rough and tumble location, it offered something for everyone. When the girls were not dancing, they were turning tricks in the private rooms backstage. Police were often seeing hanging in the lobby. It was great fun… while it lasted.
*
If I had to blame my admiration of all-things-porn on just one person, that dubious honor would have to go to Linda Wong.
Pre-legal age, I discovered Linda by way of the 25 cent peep booth. 8mm loops were the way for young teen males to discover sex. The Swedish Erotica reel that did it for me was titled 'Coed In A Van'. Poor Linda's bicycle had broken down and she was rescued by a black man in an RV not far from Sausilito, CA.
The poster below is from around 1977, back when Linda Wong was Jasmine, director was Charles De Santos was Chuck Angel. China Lust, indeed.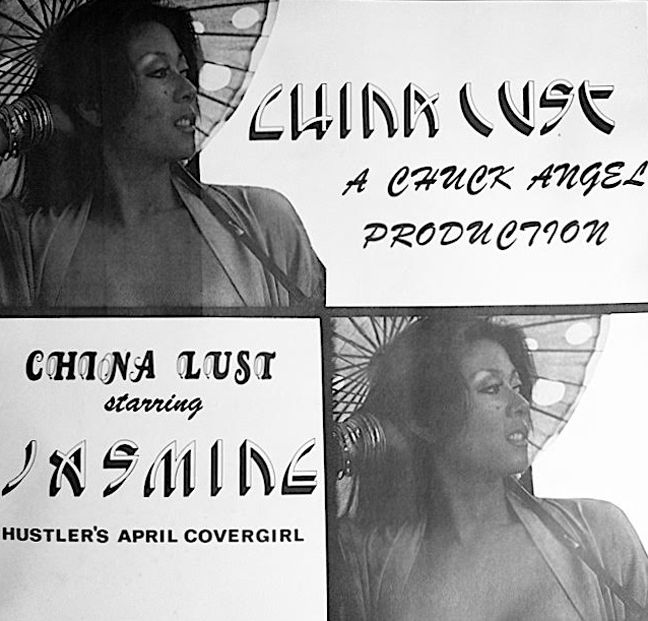 *
Over the years, Linda Wong and many other Golden Age actresses were featured at the O'Farrell Theatre. Annette Haven was a Mitchell Brothers stalwart. Nina Hartley, from close-by Berkeley, was featured every year on her birthday. Throughout the week, busload after busload of visiting Japanese tourist gents feasted on the ribald pleasures that were commonplace at the O'Farrell Theatre. Five different showrooms offered anything your wallet could permit. The New York Live Room, The Green Door Show Room (designed and built for 'Behind The Green Door: The Sequel' (1986)), The Cine Room and Stage, The Kopenhagen Live Room, and the ever popular Ultra Room, the lusty Japanese would move from one room to another. The management told me that individual pubic hairs were sold to the ravenous Asian world travelers.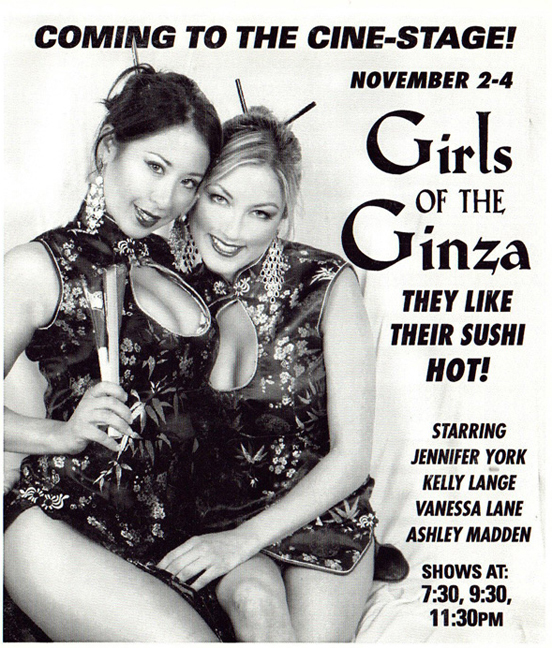 The O'Farrell Theatre was built by the resourceful brothers after the enormous success of 'Behind the Green Door', which made an instant star out of Marilyn Chambers. During her early career as a model, her most prominent job had been the 'Ivory Soap girl' on the Ivory Snow soap flake box, posing as a mother holding a baby under the tag line '99 & 44/100% pure'. Shortly afterwards it was discovered that Proctor & Gamble's girl was in fact the high-flyin' fellatrix appearing in adult movie theaters across the country.
Marilyn and the brothers stayed close, and she often appeared at the O'Farrell Theatre – both as a featured dancer and to help them publicize their latest venture, such as the opening of their new video store.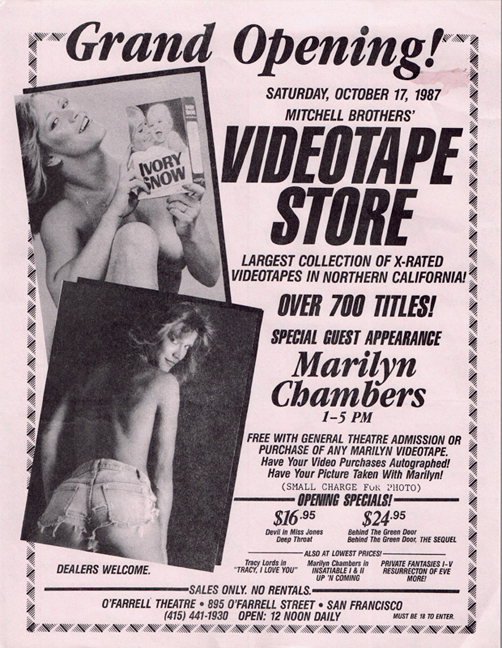 On February 1, 1985, while performing her nude act on the Cine-Stage at the O'Farrell Theatre, Marilyn was arrested by a vice squad and charged with committing a lewd act in a public place and soliciting prostitution. It was alleged by plainclothes policemen who were in the audience that Chambers allowed audience members to touch her with their hands and mouths during her show called 'Feel the Magic'.
She was released on $2,000 bail and the charges were later dropped. "I've never been arrested in my life for anything, ever, so this is kind of a big shock for me, not only as a performer but as a human being", Chambers said at the time. "It's a heartbreaker. This is supposed to be a hip city. I really love, make that LOVED, this city. These people have been my fans for years, and it's a thrill for them to touch me up close. There's nothing illegal if I'm not taking money." Marilyn's attorney claimed that she was being used "as a pawn in a struggle over control and adult businesses."
"I'm in jail with my fur coat and nothing else on, and [the police officers] want to take pictures," Chambers said later. "I took a mug shot with every cop in the place, and they're going, "I'm really sorry we had to do this." And the next night they were all back enjoying the show. The O'Farrell was packed the day after we were arrested."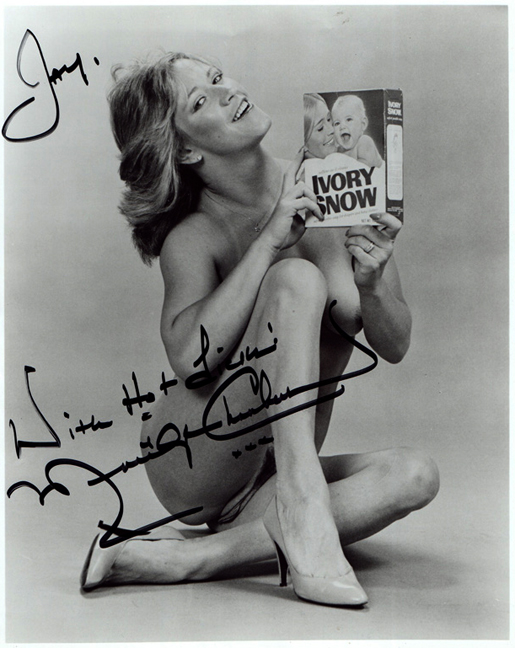 Marilyn Chambers
Something had to be done about those Bay Area brothers and Mayor Dianne Feinstein was just the gal to do it. Arrest after arrest, law suit after law suit, the Bay Area bad boys were always delighted to meet the offended politicians and their attorneys in court. And Jim and Artie won case after case, day after day. It was reported that Ms. Feinstein said, "If I cannot close you down, I will pursue you in perpetuity."
And that's what she did. The O'Farrell Theatre marquee read "For show times: call 888-xxxx." The number shown was Lady Di's office at City Hall. Robert Crumb, just one of a bunch of famous and infamous cartoonists that hung out at The Mitchell Brother's, depicted the chaotic ridiculousness of the entire event with his recognizable aplomb.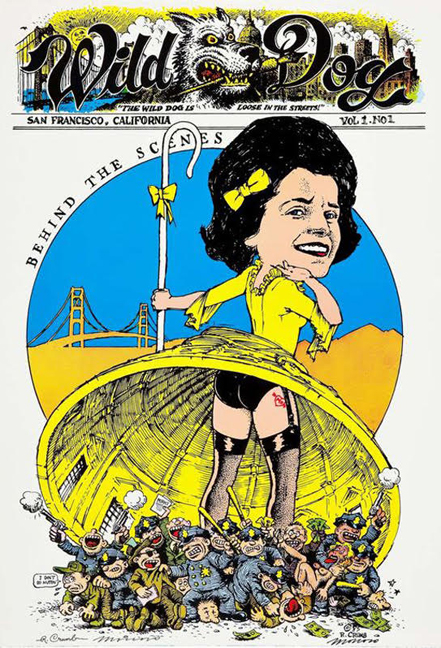 Years later, the two pornographers tried to duplicate their initial success with a new film, 'Behind The Green Door: The Sequel' (1986). They hired Sharon McNight, a cabaret singer and frequent movie collaborator, to direct the picture and, conscious of their bottom line, they decided not to hire recognized adult film actresses, but rather coerce their dancers into being in the movie.  The Mitchell brothers advertised in Variety and Bay Area sex tabloids, and, according to legend, auditioned virtually every newcomer who responded to their advertisements. In the end, Artie's then-girlfriend, who called herself Missy Manners, cast herself as Gloria, the character made famous by Marilyn. Filming of the sequel occurred mainly in the O'Farrell Theatre, and took only one day.
The Green Door sequel was also the world's first safe-sex film, in which all the men wore condoms, and self-protection advice was given to the audience by one of the characters. Supposedly budgeted at $250,000, 'Behind the Green Door: the Sequel' was an abysmal failure. Those who caught the sequel at a Pussycat Theater, or on VHS, are likely to agree. Scenes from the original film were edited into the sequel in an attempt to salvage the train wreck. For two men that had worked with virtually every porn actress, leaving them out proved to be a costly oversight.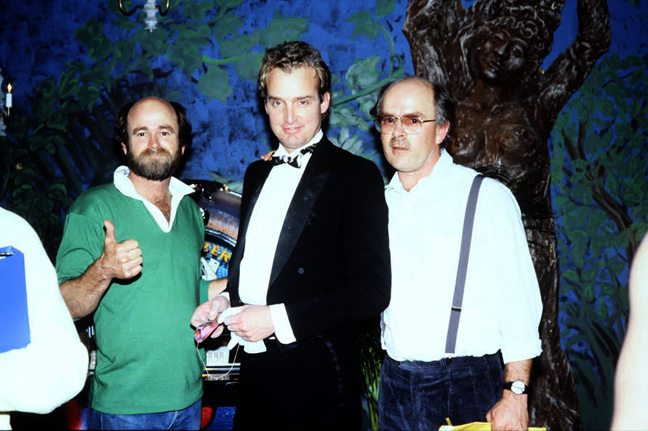 Donnie Reamer, with Artie (left) and Jim Mitchell (right), on the set of 'Behind The Green Door: The Sequel' (1986)
Nevertheless the O'Farrell Theatre prospered and remains open for business to this day. When visiting Babylon By The Bay, one should not miss it. In fact, it is run today by the late Jim Mitchell's daughter.
*
A more successful Mitchell Brothers film was 'The Grafenberg Spot' (1985) – which featured the new sensation-of-the-moment, Traci Lords, together with an all-star cast including John Holmes, Harry Reems, Rick Savage, Annette Haven, Ginger Lynn, Amber Lynn, Nina Hartley, and Lili Marlene. The brothers deemed that Traci's orgasmic audio was so enticing that they would use the sound on subsequent movie soundtracks.
The visionary brothers also saw the attraction of featuring Ms. Lords at the O'Farrell Theater to promote the film, and so booked her in for a week-long series of shows – and several after-show meet-and-greets with fans.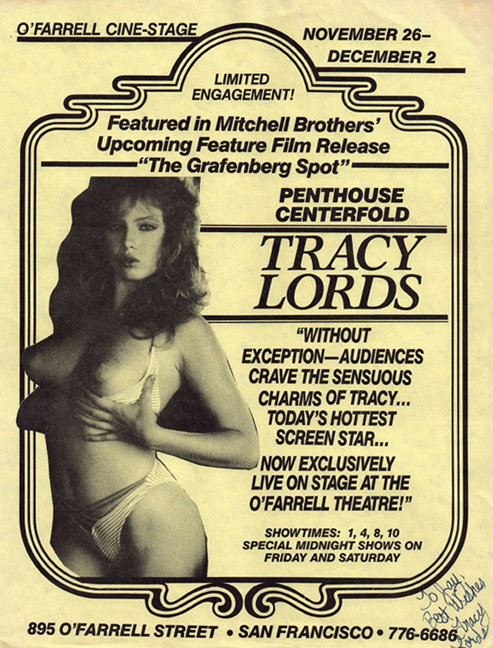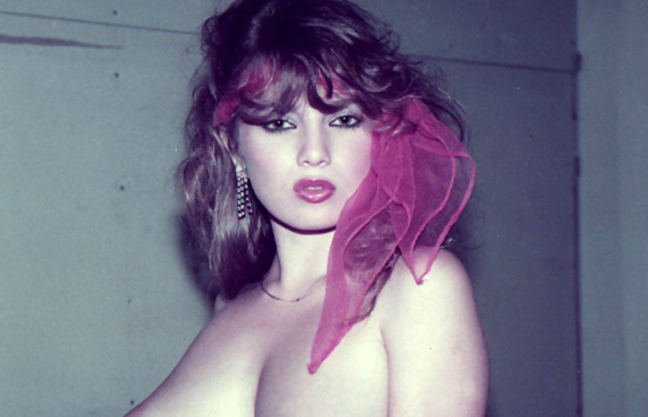 Traci Lords, backstage at the O'Farrell Theater to promote 'The Grafenberg Spot' (1985)
Around the same time, the weekly Spectator newspaper advertised a 45rpm record, called 'I Love Traci Lords' by rockabilly singer, Ronnie Mack. This seemed like something I had to have. I sent off my money and was delighted with my investment. Ronnie seemed to love Traci's ooo's and ahhh's and you hear them here too, in glorious stereo. I often wondered if it eventually found its way onto the jukebox in Jim and Artie's office.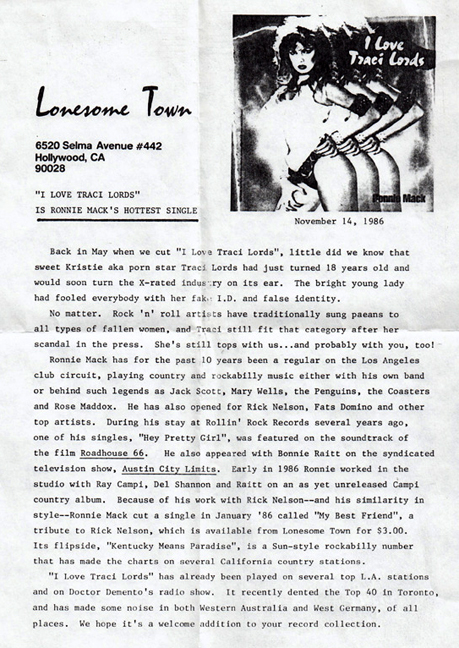 Ronnie Mack: 'I Love Traci Lords':
Speaking of Traci Lords and films and music, 1985 was a big year with the release of Greg and Walter Dark's 'New Wave Hookers'.  Suffice it to say that Traci herself commented, "The Dark Brothers are the nastiest, kinkiest, sleaziest filmmakers that have ever existed… and 'New Wave Hookers' is the filthiest thing I have ever done."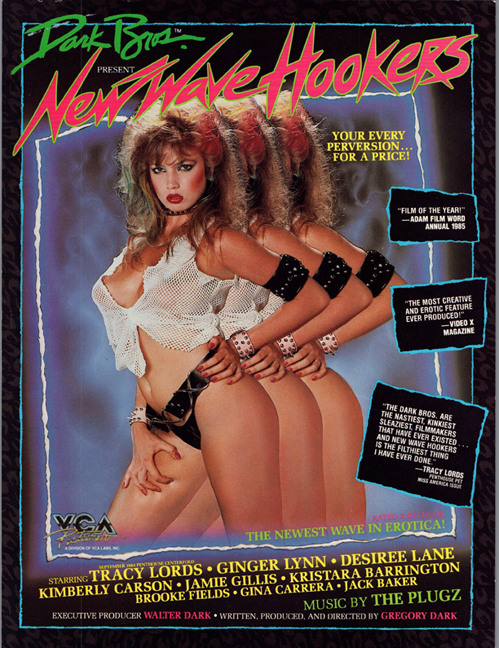 It had a great soundtrack by The Plugz – and here is 'Electrify Me' from the soundtrack: perhaps the best tune used by dirty movie makers?
*
Two other golden age performers who appeared at the O'Farrell Theatre – who also had recordings out – were Ginger Lynn and Erica Boyer. Ginger Lynn took a shot at music stardom when she released 'Fantasy World', a 1986 LP that offered a selection of pop diva dance mixes. Two years later, Erica Boyer released 'Passion Unlimited'.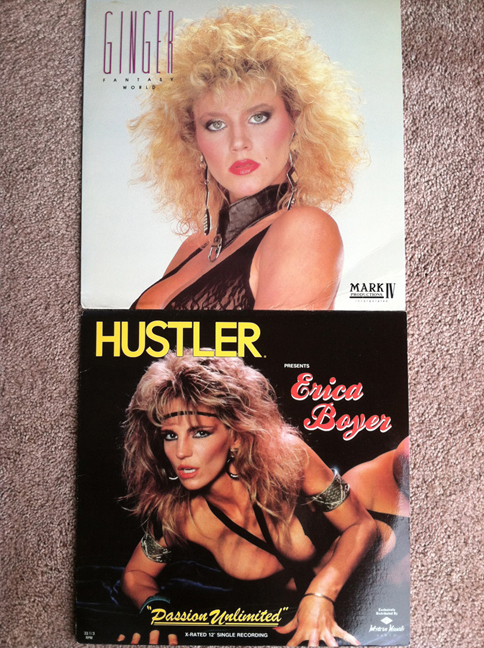 Erica Boyer was a personal favorite who I ran into on several occasions.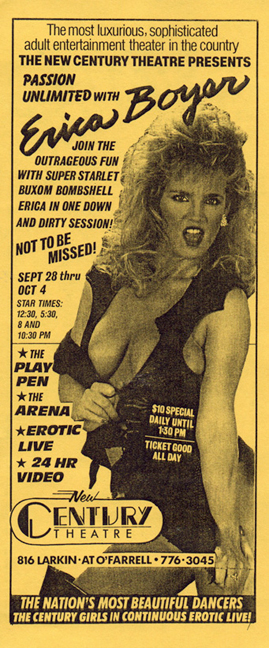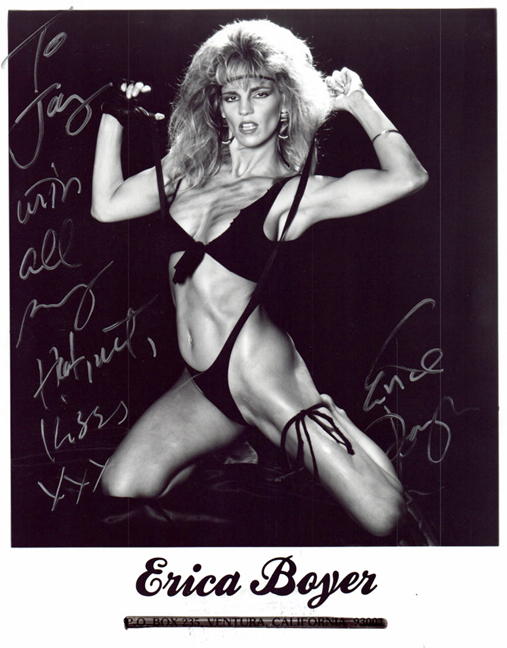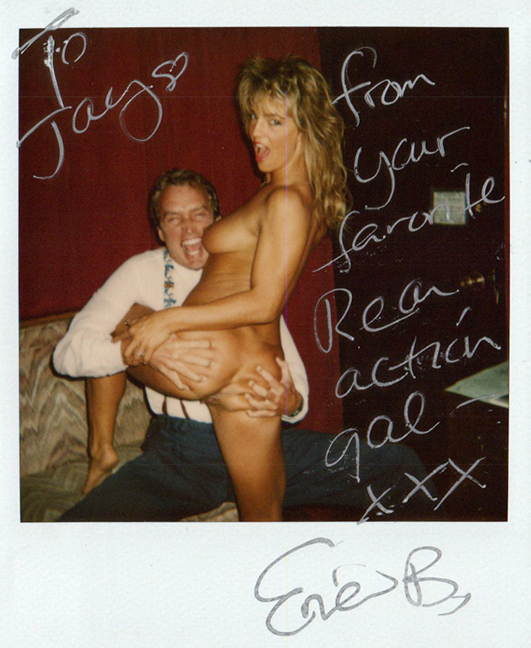 Donnie Reamer, with Erica Boyer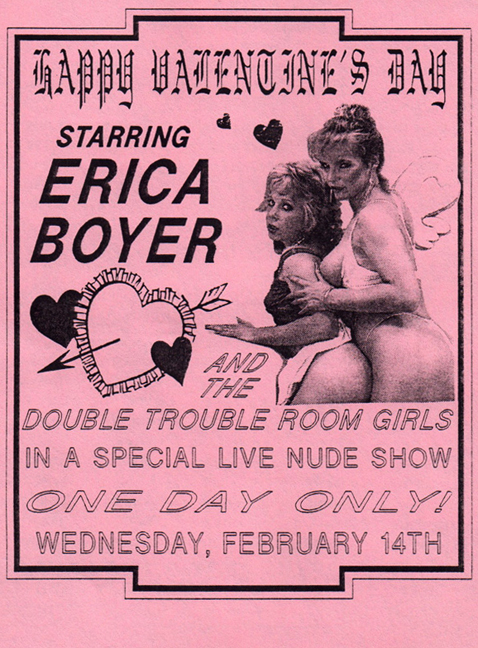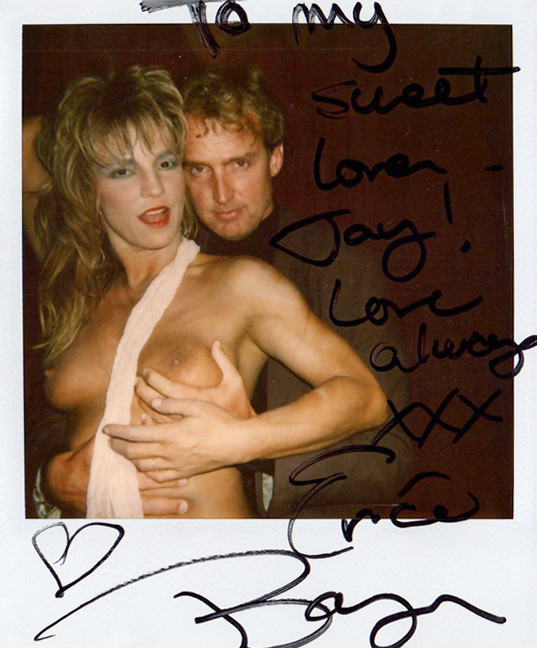 Donnie Reamer, with Erica Boyer
*
The Market Street Theater, gone but not forgotten, featured "headliners" week after week. The place was a treasure: Where else could a pornophile meet the likes of Lisa De Leeuw, Veronica Hart, Angel Kelly, Jeannie Pepper… on a weekly basis?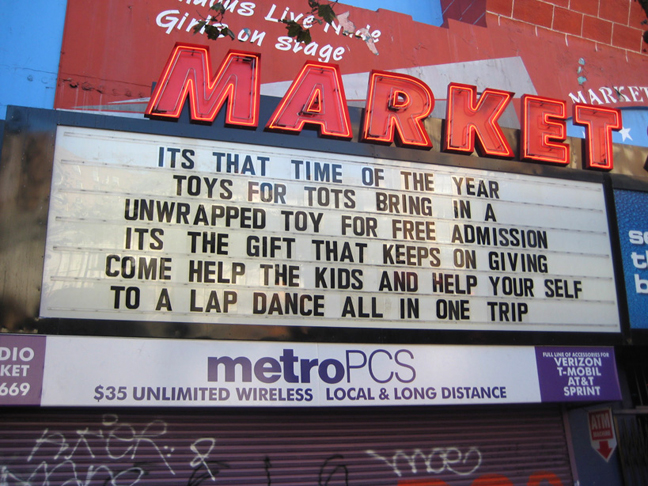 Lili Marlene was a regular at the Market Street Theater, and her movies were often shown at the North Beach Cinema and Video on Kearny Street just off Broadway. Many of her fetish-oriented films could be found inside generic white video boxes with a single Polaroid glued to the front.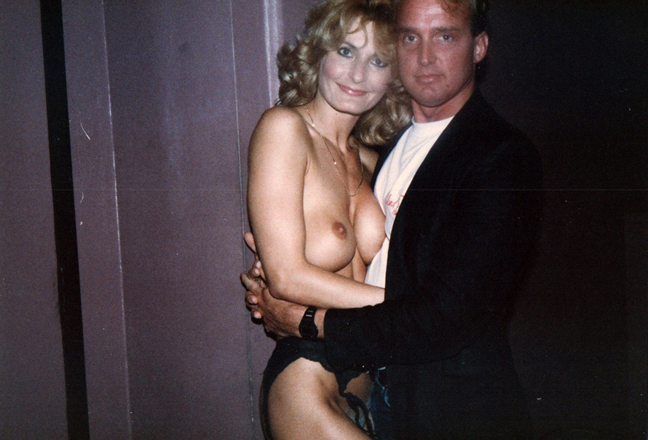 Lili Marlene, with Donnie Reamer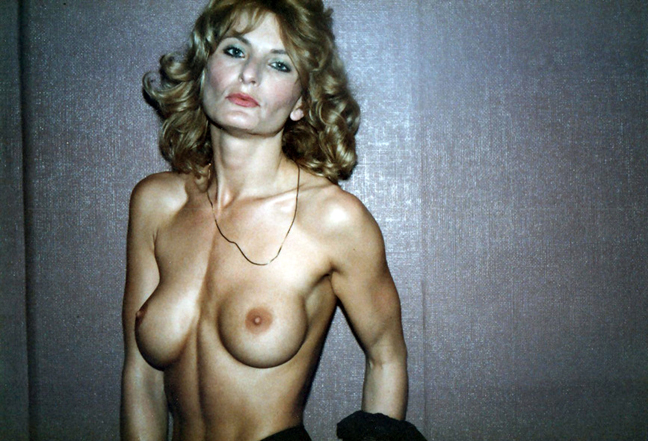 Lili Marlene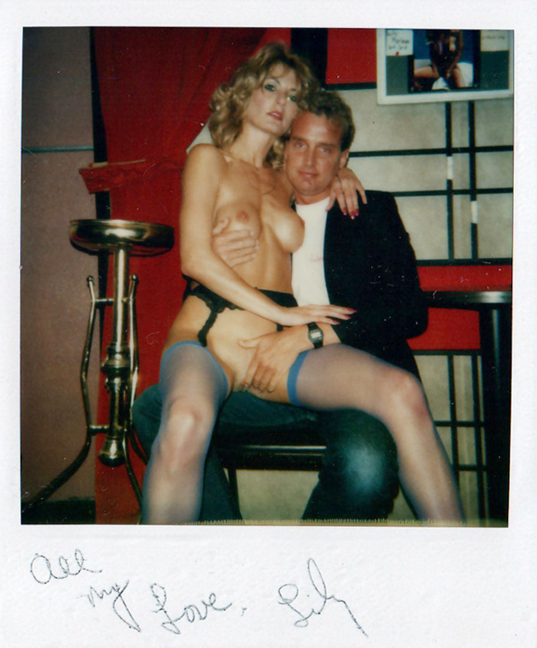 Lili Marlene, with Donnie Reamer
*
Back at the O'Farrell Theatre, the Mitchell brothers hired Hyapatia Lee on a regular basis.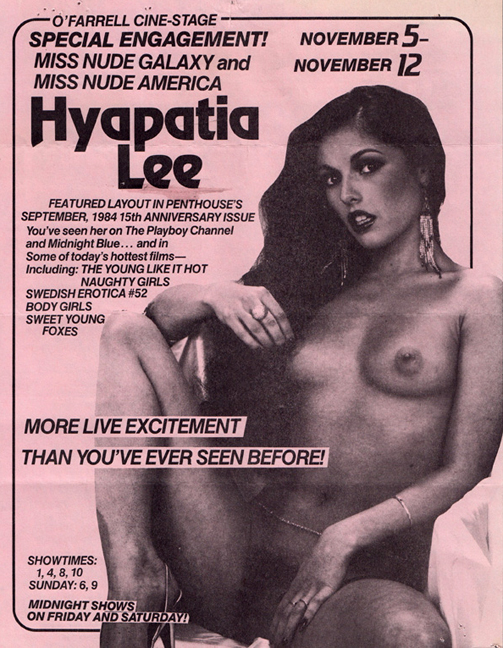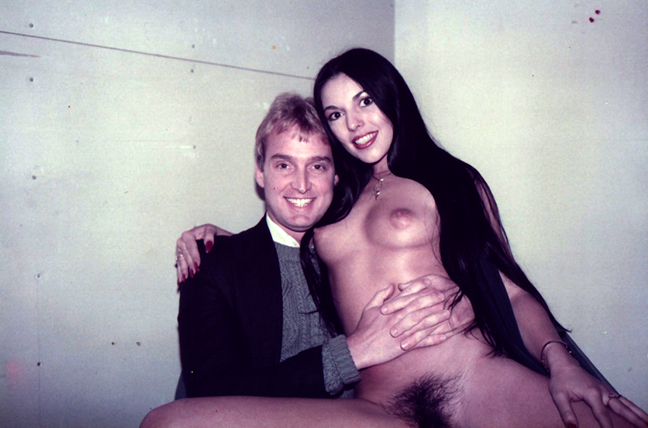 Hyapatia Lee with Donnie Reamer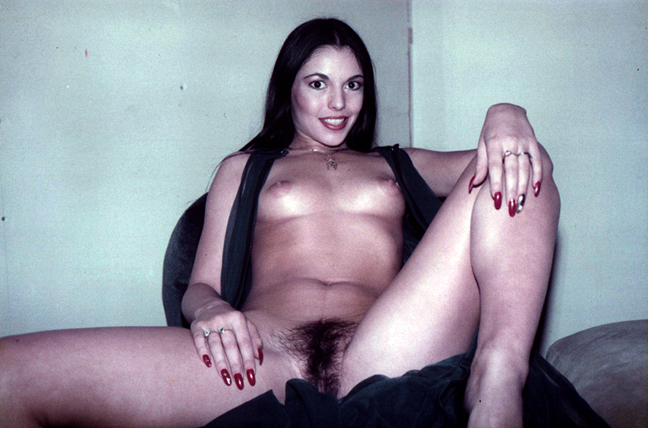 Hyapatia Lee, backstage at the O'Farrell Theatre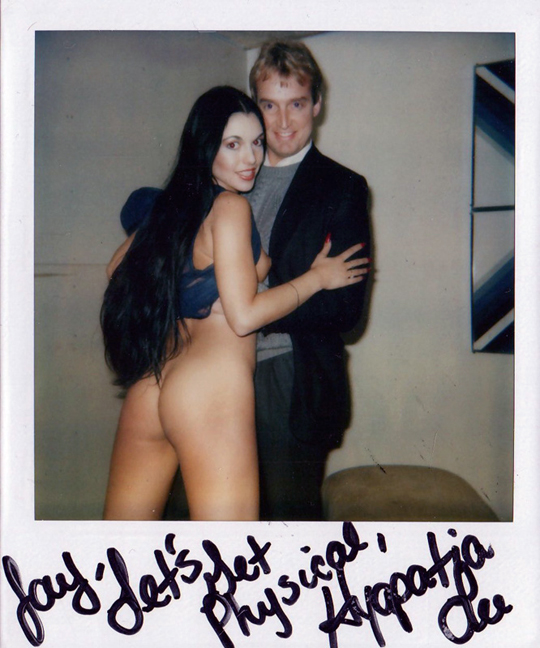 Hyapatia Lee with Donnie Reamer
*
Other favorites from the golden age of adult film appeared regularly.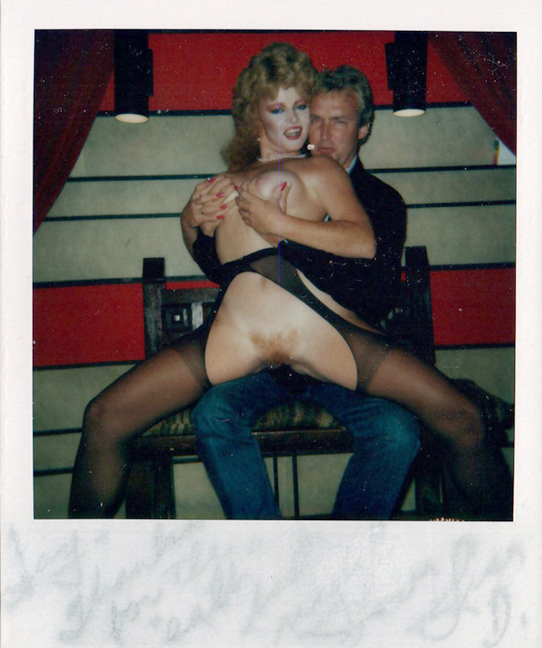 Lisa de Leeuw with Donnie Reamer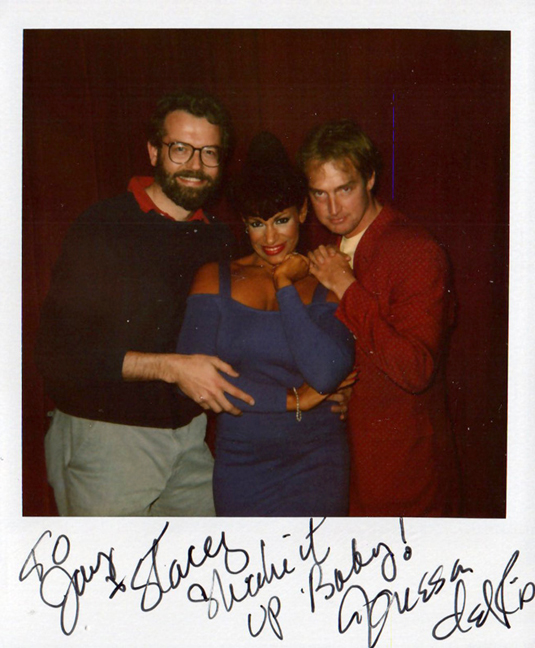 Vanessa del Rio, with Donnie Reamer and friend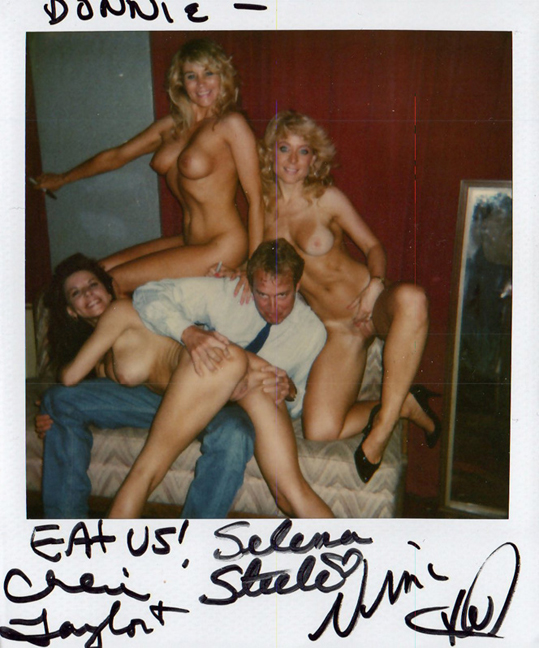 (from leaft to right) Selena Steele, Cheri Taylor, and Nina Hartley, with Donnie Reamer
*
Who didn't love Sharon Kane? At The New Century Theater, we were all excited to meet our favorite girl-next-door.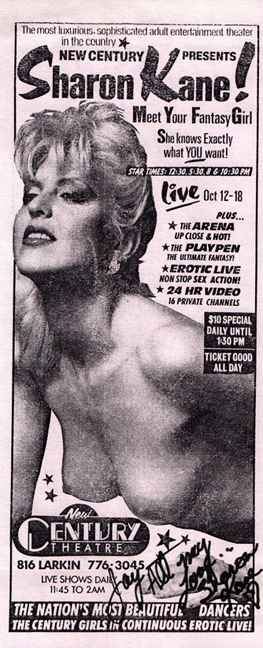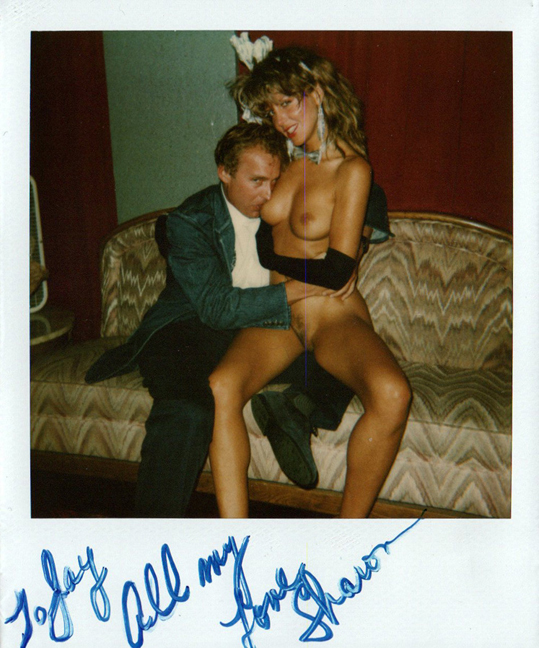 Sharon Kane, with Donnie Reamer
And then – just when we were least expecting it – Sharon showed up yet again, this time alongside a girlfriend, Saki.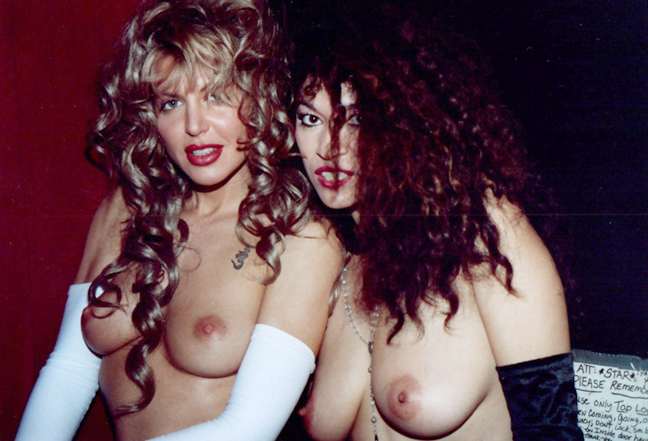 Sharon Kane, with Saki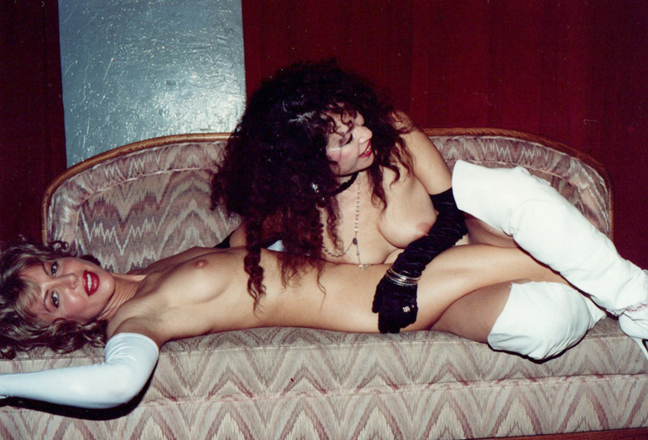 Sharon Kane, with Saki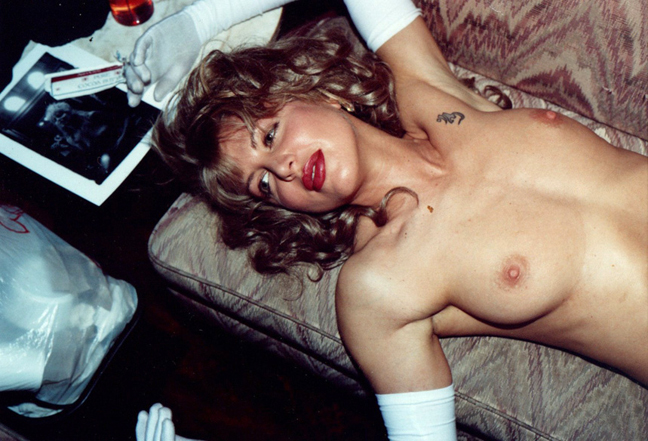 Sharon Kane
*
Jeanna Fine rocked my world. Few actresses demonstrated the spirit, the zeal that Jeanna put into each and every one of her performances.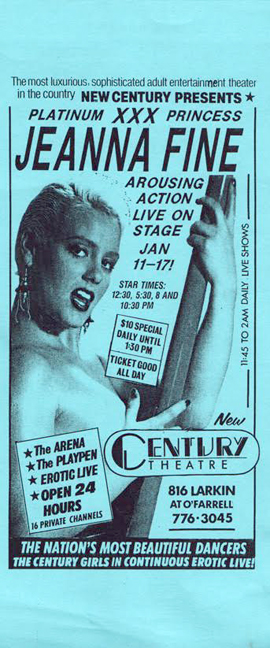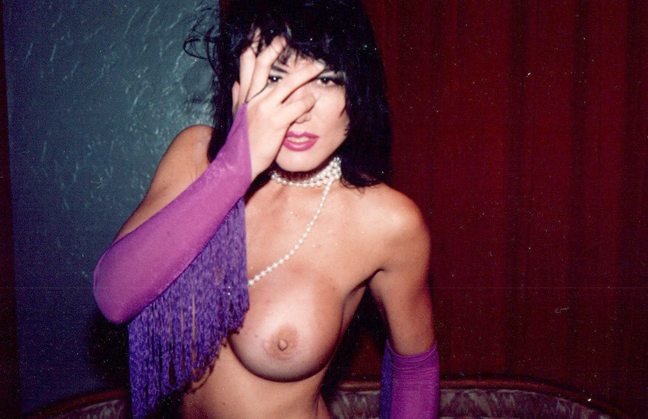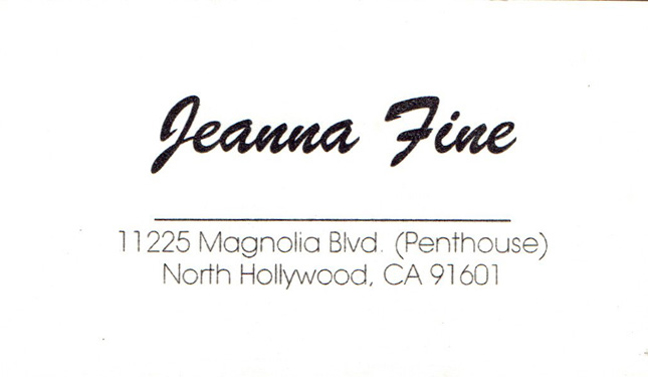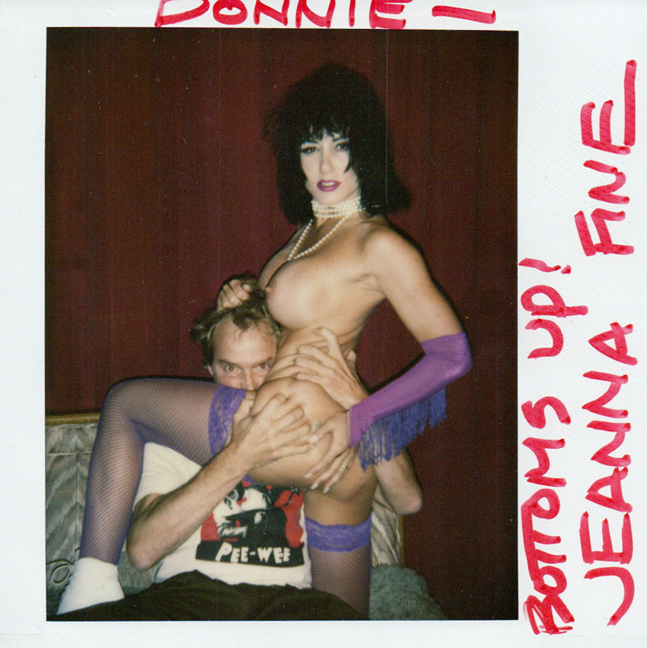 Jeanna Fine, with Donnie Reamer
Jeanna Fine, with Donnie Reamer
*
Did I mention The Lusty Lady Theater? I often wish that I could close my eyes, re-open them, and there in front of me would be all the quarters I put into the peep booths at this place.
Tracey Adams was a regular at the theater, and always beautiful, sweet, and kind.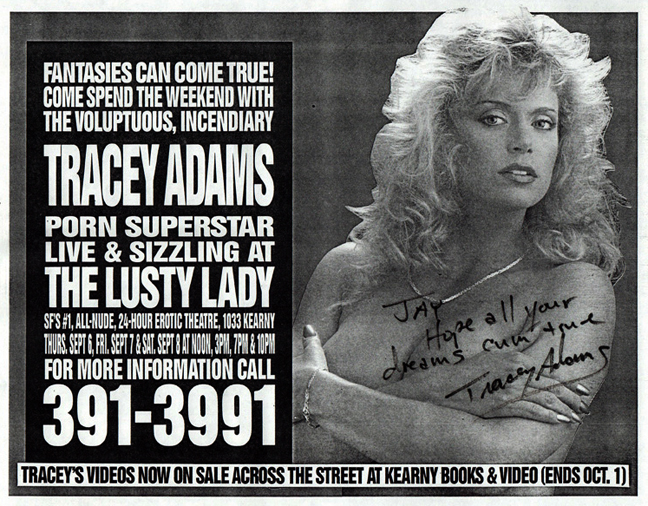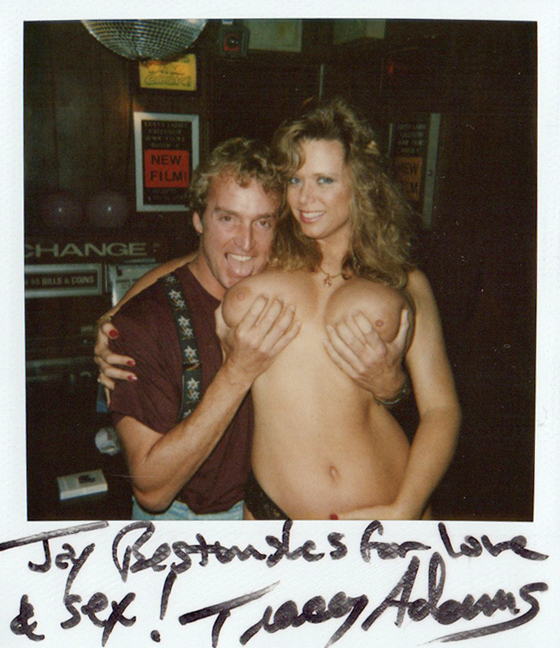 Tracey Adams, with Donnie Reamer
Tanya Foxx was a naughty, severe diva, who also appeared at The Lusty Lady Theater.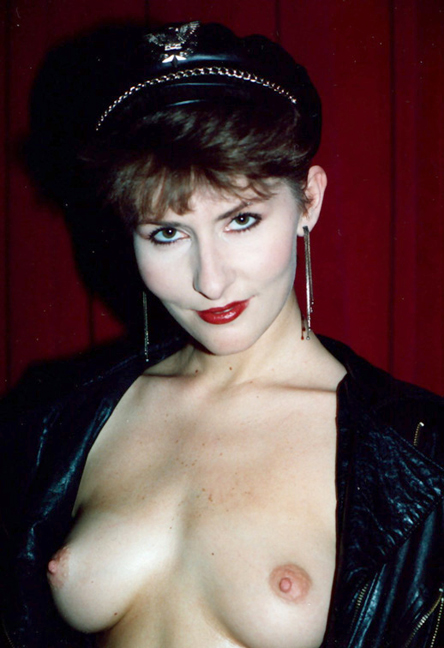 Tanya Foxx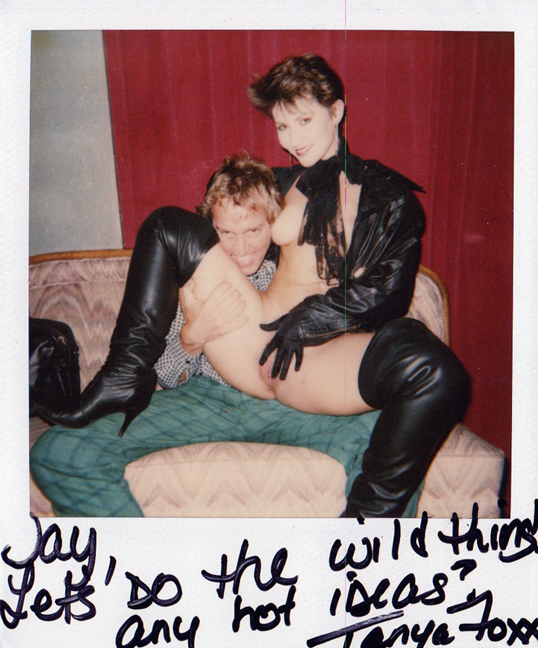 Tanya Foxx, with Donnie Reamer
*
Was any performer sweeter than
Barbara Dare
?  I could have taken Barbara home to meet mother.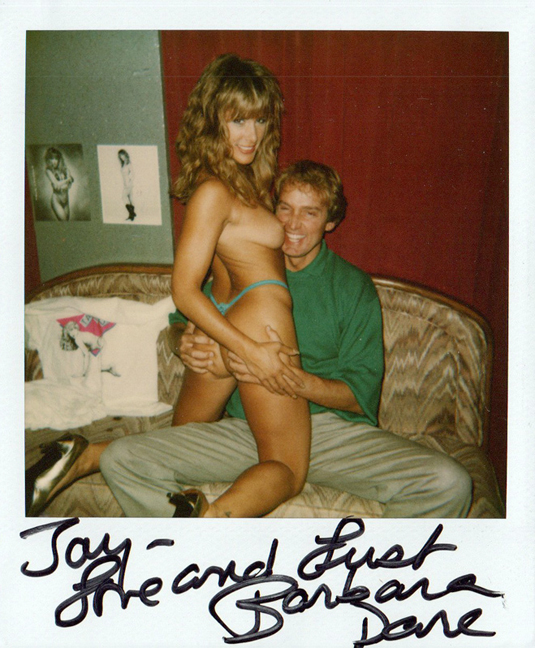 Barbara Dare, with Donnie Reamer
*
On occasion, I had the good fortune to visit a porn set – at Alex de Renzy's home in Novato, no less, north of San Francisco. Performers like
Jamie Gillis
,
Tom Byron
,
Rachel Ryan
and
Samantha Strong
were there – and I took pictures of course.
Jamie and Samantha in de Renzy's backyard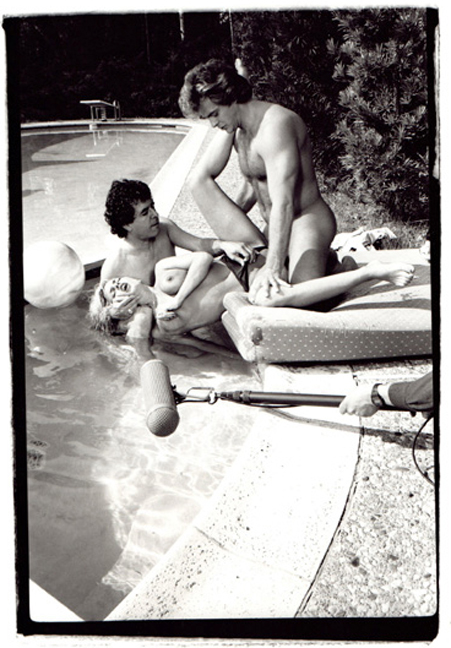 Jamie Gillis, Samantha Strong and Jerry Butler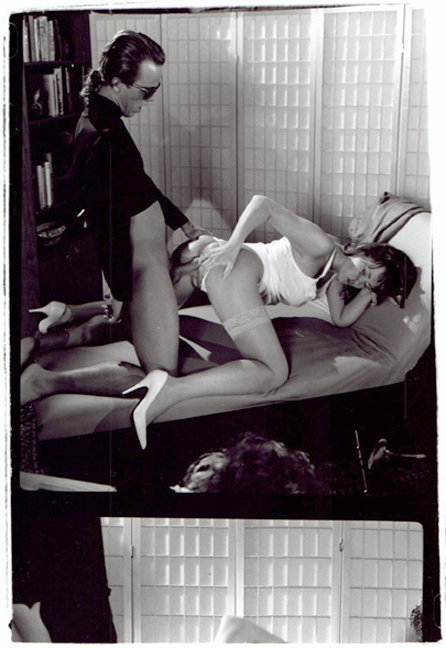 Tom Byron and Rachel Ryan
Aside from the movie being shot,
Samantha Strong
posed for me in de Renzy's living room.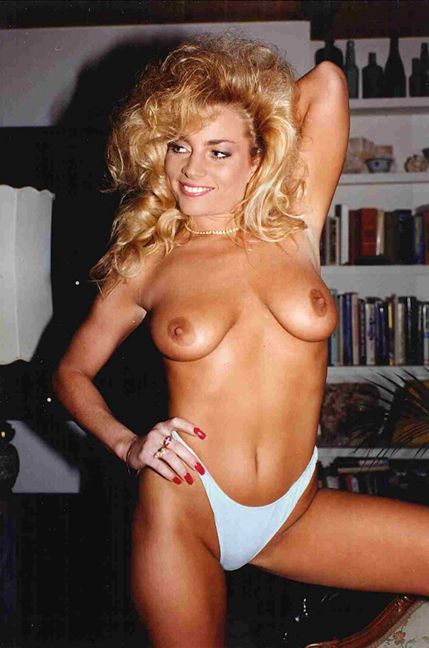 Samantha Strong, in Alex de Renzy's living room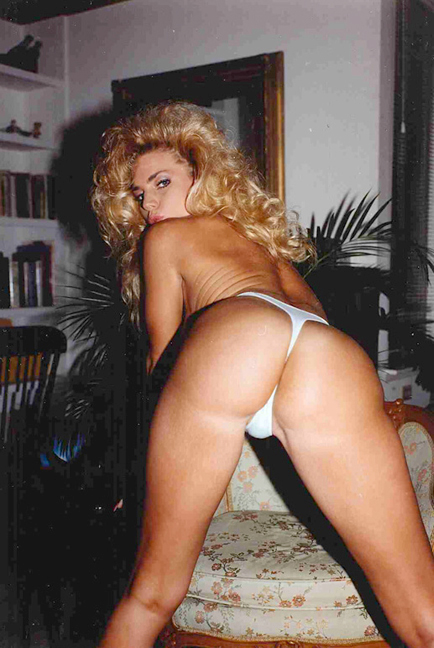 Samantha Strong, in Alex de Renzy's living room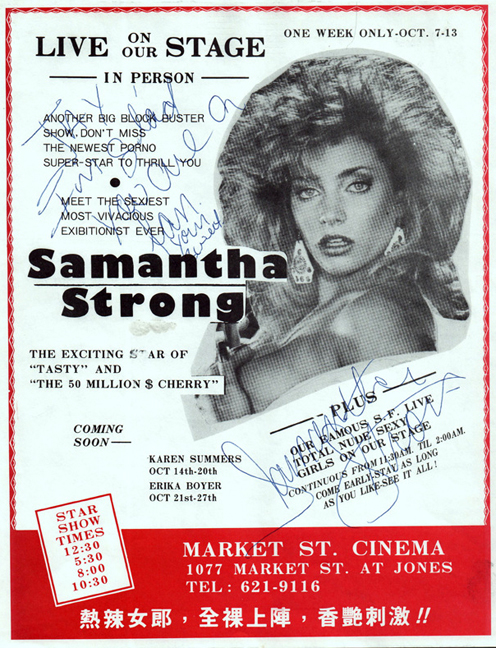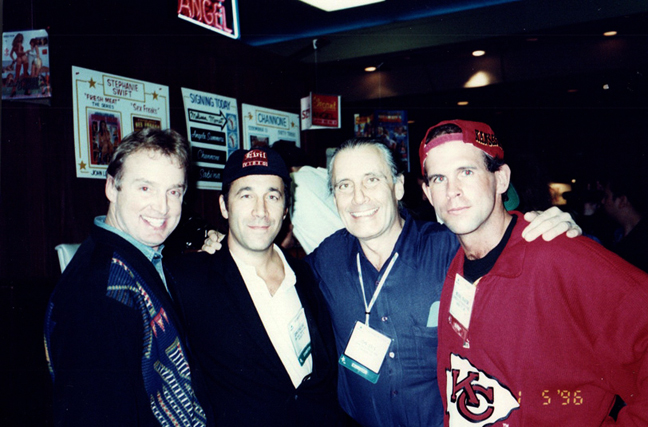 (from left to right) Donnie Reamer, with John Stagliano, John Leslie
*