When George McDonald starred in the legendary golden age adult film Behind the Green Door (1972), he was already a veteran of the San Francisco skin flick scene. In fact, his film career was almost over; he estimates that he'd already made almost 50 film appearances by then, and he retired from acting soon after.
But Behind the Green Door remains his most famous film. It features Marilyn Chambers, who became a mainstream celebrity as a result, and was one of the first hardcore films widely released in the United States. It was adapted from an anonymous short story of the same title, which had been circulated illicitly for decades by means of carbon copies.
The film tells the story of wealthy San Francisco socialite, Gloria Saunders (Chambers), who is taken against her will to an elite North Beach sex club and loved "as she's never been loved before" in front of a large group of people. She is saved by Barry Clark (McDonald) who runs from the audience onto the stage and carries Gloria off through the green door.
So what went on behind the scenes of the film?
The Rialto Report recently found that in 1975 George wrote an autobiography, 'A Pound of Flesh', in which he describes his film-making career in detail. The book was never published, which is a shame because it's a wonderful time capsule of his memories written in a groovy-hippy style.
A few years back, Robert De Niro heard about George and his story and they spent the afternoon together discussing George's film career – with a view to a possible biopic though nothing came if it.
Earlier this summer, we visited George McDonald in California. He lives only a few blocks away from where the opening scenes of Behind the Green Door were shot.
He shared his manuscript with us, and we're greatly indebted to him to be able to share the chapter concerning the making of Behind the Green Door.

Notes: No changes have been made to the text, though a few explanatory notes have been added.
_______________________________________________________________________________________________
'Behind The Green Door'
Chapter excerpt from ' A Pound of Flesh' – the unpublished memoir of George McDonald
Pre-production planning on Behind The Green Door had been going on for several months before I got a call from Jack telling me that the Mitchell Brothers and Cine-7 productions were preparing to cast for the film.
For months I had been told that I would get one of the leading roles. I was given special attention in the casting as a final payoff for the other eighteen films that I had labored through for the Mitchell Brothers. In fact Behind The Green Door was my 48th film, 46 I had done in one year.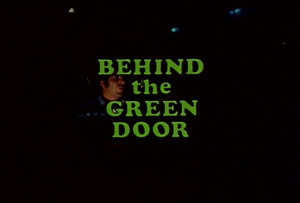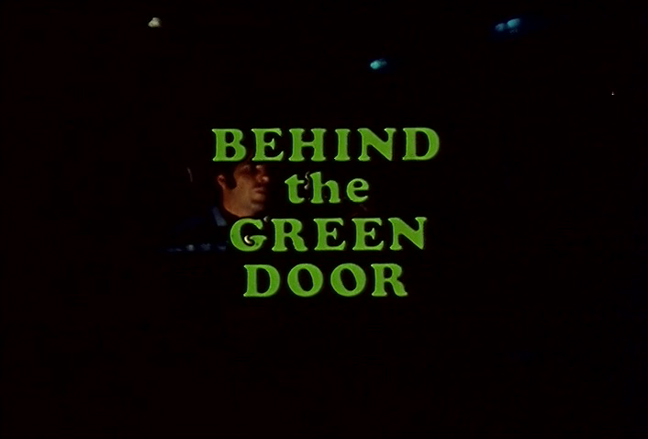 Jack had told me that there had been a really great response to the ad in the Chronicle. But when I showed up at a little get together at Stage A for all of the people who were to be in the film to meet one another, I was a bit disappointed. There were a lot of new faces milling about, but none of them looked any different than the other people who had been in the previous Mitchell Brothers' films. No one had any special looks, bearing or character that made me think they were any more professional than anyone else I had worked with before. The entire crowd, in a word, looked mediocre. In fact, once I started talking to some of them, I realized that hardly anyone there had any acting experience whatsoever. I even recognized a few old pros, including one girl who had been in Powder Burns some time before.
There were quite a few long-hairs, but a strange variety at that. One was a lawyer, one was a railroad engineer, another was a musician and another was a junior advertising executive, but no actors.
One fellow who was playing one of the leads was a guy named Yank. Yank was in his middle forties and was a junk man by profession. He had learned acting during the depression as part of a federally sponsored work program. He had been involved in the theatre in New York. But now, about all he did was standup comedy for hospital benefits. He had a lot of great one liners in his act about his wife, his mother-in-law, and all the other standard recipients of a stand up comic's barbs.
I'd met a few people in the group who had some acting experience, but nothing you could put down on a resume'. There was one cat whose most noticeable achievement was that he had been the stand-in for Al Pacino when Francis Ford Coppola had re-shot a scene for the The Godfather up in Ross. The rest had done lightweight stage work, or had been extras in crowd scenes for some major motion pictures that had been shot in San Francisco.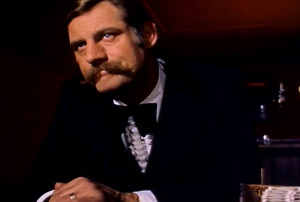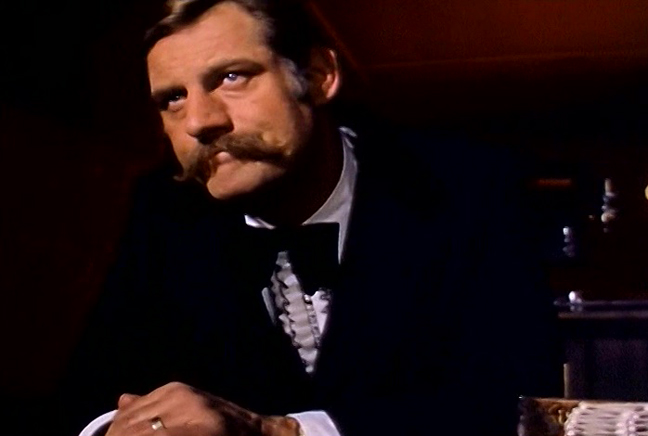 Probably the biggest name in the film was Ben Davidson. Ben was not an actor either, but an all pro defensive end for the Oakland Raiders. He had agreed to do a cameo appearance, but keep all his clothes on.
Jack had contacted Ben about a year before when he, Jack, was working for Alex de Renzy. At that time Alex had an idea for a straight film and had gotten together with Ben to talk about playing the lead. That film never got off the ground but Jack talked to Ben about being in a porno. Ben thought it might be a laugh and agreed to be in the film.
Behind The Green Door marked the first time in the industry that we were given contracts, something we had been talking about for a long time. I guess the real reason for the get-together that day was to have us all there at one time to sign our contracts. If everyone was there at one time, they could be hustled through faster, everyone could be talked to at one time, and there would be a lot less questions to answer.
When it came time for us to talk about contracts, they told us about another new idea they had worked out. They were going to pay everyone more money than they had ever been payed before for working in a porno, but the major portion of the money would be deferred for six months. Even the extras would be paid a minimum of a hundred dollars a day but 75% of the money would be deferred. It was a nice idea but in the end it proved to be a monster headache. Most of the people were in the film for the bread. Few of the people had any other source of income and waiting six months for their money was a long time. About two weeks after the finish of Green Door, the phones started ringing and people were asking if there was any way they could have their money.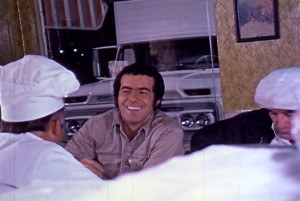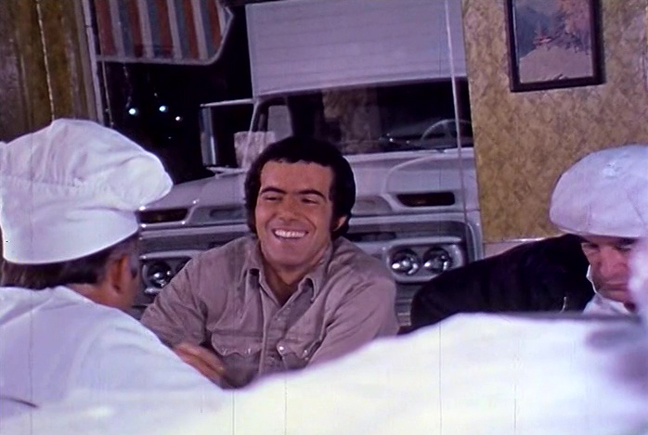 Another reason for having everyone sign a contract was that it committed them for the length of the film. Before you were never sure that if someone said they would be there that a week later they would be there. At least by signing a contract they had a legal and moral obligation to be there for the start and the finish of the film. A problem in the porno industry is that if you give people a chance to think about it, they'll often have second thoughts and back out. Before, if you got someone to agree to be in a fuck film, they were on such a short production schedule that the producers would probably use the person that day or on the next. Even when they got into features the shooting schedules were usually limited to about a week. Shooting on Behind The Green Door was scheduled to last for four weeks.
The only question that I had about the contracts was, how can you say that it's legally binding and that you have to show up – when the act you're showing up to perform is illegal. I really don't think the contract would have held up in court. If anything, it might have meant trouble for the producers of the film because it was evidence that they had conspired to commit an act of oral copulation. Conspiracy to commit an act or oral copulation is also a felony. A friend of mine, Lloyd Downton, had already done a year for conspiracy to commit oral copulation on circumstantial evidence.
I was standing around the office while Jack was explaining the contracts to the rest of the performers and, as yet, hadn't been told what I'd be getting for my part in the Behind The Green Door. Over the last couple of months, Jim and Art had been telling me that money from Green Door would be more than I'd ever gotten before. Finally Jim walked over to me and said, "Let's go in the other room and talk about your contract." (Special preference for the star.)
As we walked into the room I was thinking that Jim would probably offer me five hundred since the most I'd ever gotten from Cine-7 was three hundred and fifty, but I was all set to ask for a thousand.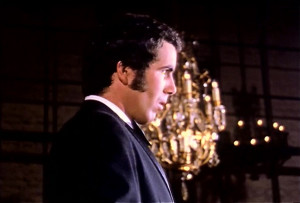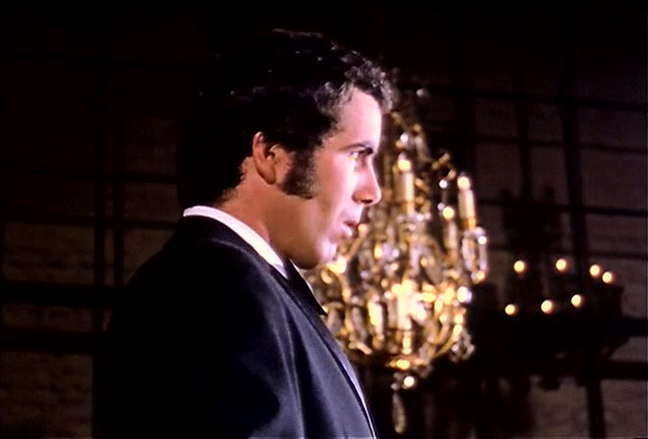 I sat down on one of the desks and looked at Jim who was leaning against the window. He said, "Two things. I'm going to have you sign two contracts. Ahhh, we're going to give you a flat rate for the film, we're paying everyone else by the day, but for you and Marilyn we're going to pay a flat rate. Marilyn, whom you haven't met yet, is going to be your co-star, and we're going to pay you both the same thing. How's two thousand dollars, five hundred up front and the rest deferred for six months? And two per cent of the film?"
He waited about two seconds for me to think about it then started in again, "You'll like the part…" Didn't even give me time to react to the money offer. A minute later though, he came back to the money and asked me if it sounded okay. All I could say was, "Waaaaah, two thousand dollars… two grand, Alright!" I was bouncing around, skipping, shaking his hand, and I said, "yeah, it sounds great!" I thought finally I had crested the hill. I didn't realize that when Behind The Green Door played that it would be grossing two thousand dollars a day.
Now, I had been wearing a pair of shoes that I'd bought at the Salvation Army four months before. Every morning that I got up and put them on, I had to think about when I walked into the Salvation Army and picked those shoes out. Dull hush puppies. So I said, "I need some money right now." Jim said, "We'll give you two hundred and fifty right now, and two hundred and fifty when you finish the film." Far out.
I took the two hundred and fifty dollars and went out and bought a brand new pair of cowboy boots, some new Levis and a new Levi jacket. I felt like a new man.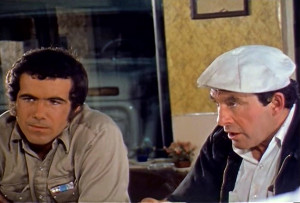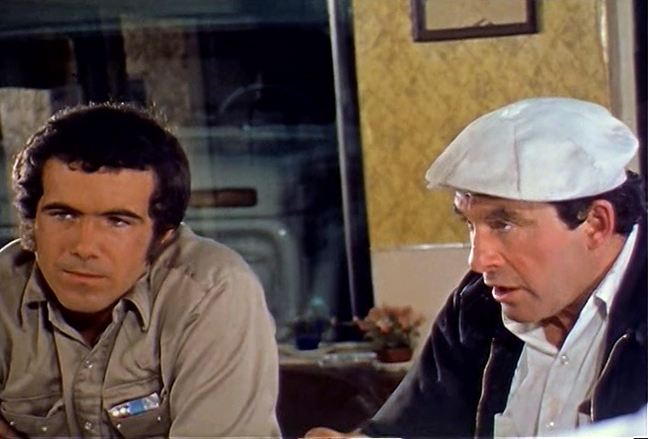 Before we started production I went through a little bit of trauma… Jim wanted me to cut my hair. I suffer from a Sampson complex. The part I was going to play was that of a young junior advertising executive. So the Saturday before we started shooting, I showed up at Stage A to meet the hairdresser, John. Before he could cut it off though I had to take him back to his apartment to get his scissors. John had a Marine-boot haircut, black satin pants with diamond sequins, a see-through Indian shirt, about forty silver bracelets on his arm and two earrings in one ear. We were driving along and he suddenly turned to me and said, "Well, are you bi or gay?" John, that's the worst approach man… I mean at least give me an option.
I said, "Neither, I'm straight." That term, straight, always bugged me a little. I mean to be hip is cool, but where is straight at? Rhetoric always twists my head. Hippies laugh at the straights. But a heterosexual hippie says he's straight… so then am I laughing at myself? So I cop-out and say, "…but it doesn't bother me."
John cut my hair the way that I wanted it, which was long but neat. Jim walked over and took a look at it and I said, "Well, what do you think?" He said that it was alright but I could tell that it wasn't what he wanted. For two grand I figured I could make the sacrifice so I turned to John and said, "Just cut it all off, man," which is exactly what he did. One look in the mirror though and I went into instant depression.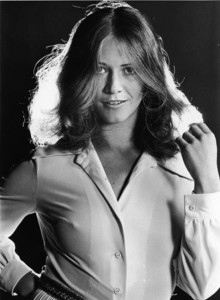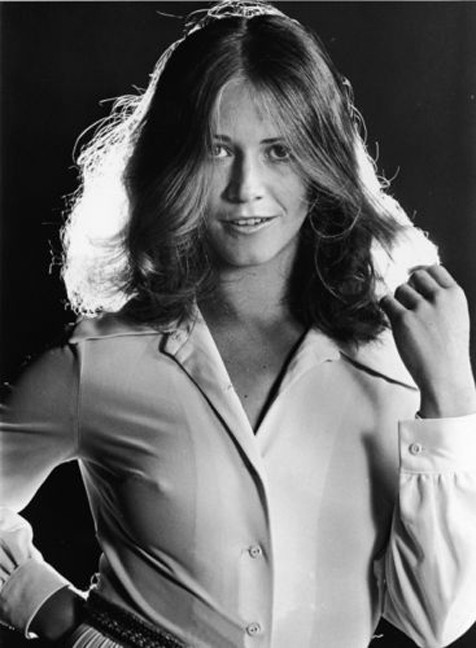 The same day I got my hair cut I met my leading lady and the star of Behind The Green Door, Marilyn Chambers. First impression of Marilyn was that she was pretty and wholesome looking. I could tell after talking with her for a few minutes that she was totally into the film. She also loved to drink beer and smoke marijuana. Even first thing in the morning when everyone else was struggling over coffee she would have a can of beer in her hand. Since we all smoked dope on the set, it wasn't unusual that she was into marijuana. There also seemed to be more cocaine around than ever before, but there was more money available and Jack, who was casting director, had great coke connections.
Marilyn seemed more professional than any other girl that I had worked with in any prior films. She had been in a film that was shot on the East Coast called Together, an X-rated quasi-documentary about sensual encounter groups. She had also done some straight modeling (she's the girl on the cover of the Ivory Snow box). Marilyn also had walk on parts in a few Hollywood films, The Owl and the Pussy Cat for one.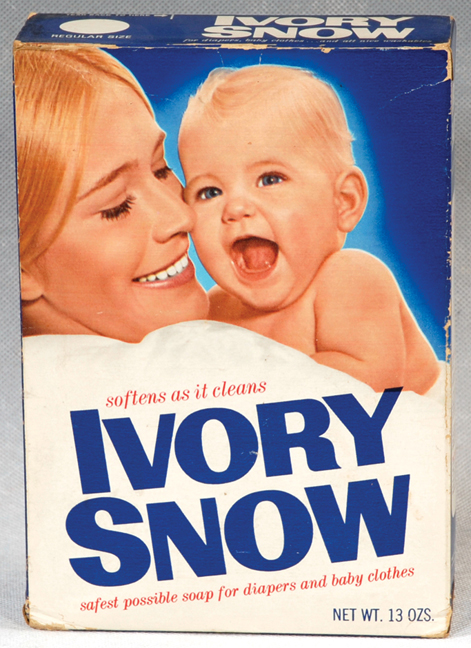 On the first day's shooting we had a 6:30 A.M. make-up call. For the first time we had a hair stylist and a makeup girl on the set every morning. Both of these individuals were being paid one hundred dollars a day for doing hair and makeup. More than I made for most of the films that I had been in in the early days.
The Mitchell Brothers were even starting to think about wardrobe. For my part, Jim and his wife bought me a two hundred and fifty dollar outfit so that I would at least look like the part I was supposed to be playing, the junior ad man. The only bummer was that the clothes they bought me were so straight that I knew I'd never get a chance to use them after the filming… blue double-breasted blazer, gray slacks, cardigan shirt, red, white and blue tie.
For the first day of shooting we were scheduled to shoot on location at the Alta Mira Hotel, a plush resort hotel in the hills above Sausalito. For the first time we were going to shoot an exterior scene without having to leave the engine running. In the old days few people would let you use their place of business if they knew you were shooting a porno. So, we would drive up to the spot we wanted to use, leave the engine running, and get into position. The cameraman would jump out and shoot the scene, then we would all pile back into the car and roar off. It was almost like an armed robbery rather than movie location shooting.
The actors and actresses were ushered into a suite that had been rented for the day, and the crew, which numbered about ten people for this production, went over to the lobby to set up. For once, we didn't have to hang around the set getting burned out and nervous by all the confusion, another good change.
When it was time for us on the set, we walked into a scene that looked like it was straight out of Hollywood. Technicians running around, make-up people, script girls, still cameramen, and production assistants. For a moment I really felt like I was a star, at least an actor.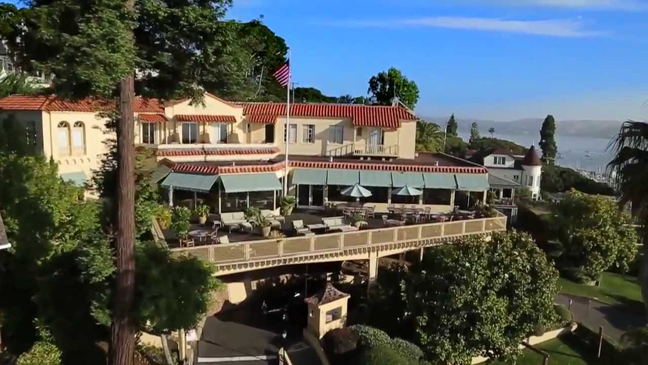 The old Alta Mira restaurant and hotel (2015) – now a drug rehab center
We shot a scene of Marilyn checking into the hotel and also a scene where I see Marilyn for the first time as I'm walking through the lobby. They were relatively simple scenes and in the old days would have taken only a few minutes to shoot, but they wanted this one to be right and so it took several hours before Art said we had finally gotten what we needed. Art was the director of this one, and Jim was acting as producer. Benton was still doing sound and Fontana was still chief cameraman. They had hired a professional lighting man.
During one of the breaks in the shooting an old lady who was staying at the hotel came up to me and asked what the name of the movie was. When I told her it was called Behind The Green Door, she said, "What kind of movie is it?" I told her it was a mystery. She smiled and said, "Oh, thank you. I'm going to tell all my friends I saw them shooting the Behind The Green Door." I hope she didn't tell too many of them, or she's going to have a bit of explaining to do.
Other people would walk by and see the makeup girl straightening up my make-up and they would whisper to one another, trying to figure out who I was. I was in my glory!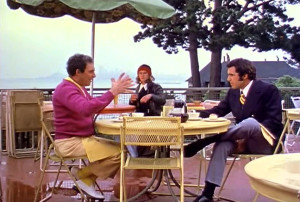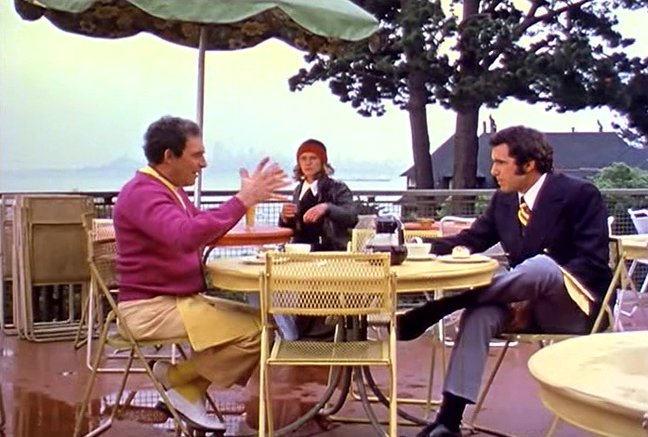 We were scheduled to shoot at the Alta Mira for two days, but the next morning I got a call to hold off, that we wouldn't be shooting out there that day. I asked why we wouldn't be shooting, Jack said that they wanted to wait and look at the rushes before they went any further. I decided that I'd like to see the rushes too, so I went on over to Stage A.
When I got there it was like walking into a morgue. All the technicians were standing around pointing at each other and shaking their heads. I assumed that they had already seen the rushes. I stood back out of the way and Jim came up and said that they were going to take another look at the rushes if I wanted to watch. I wish that I hadn't. If I'd had any doubts that Behind The Green Door was going to make it, I had even more after I saw the rushes. The film was as bad as ever. In fact it was worse because this time they were using a new type of film and they hadn't lighted properly for the scenes. None of the film was useable.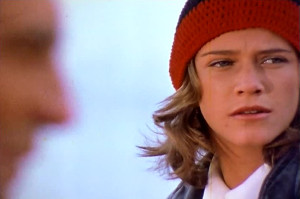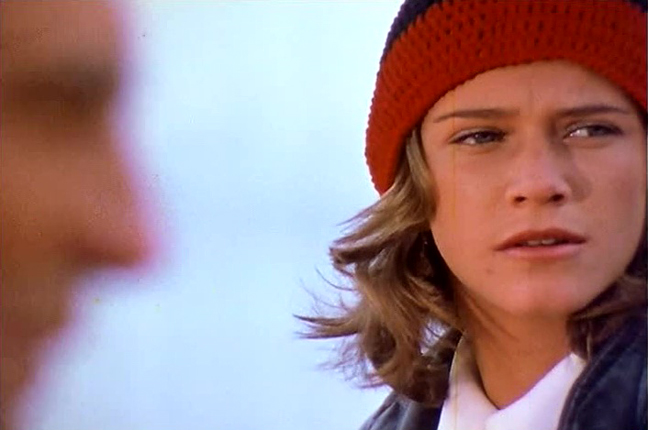 After a short conference, they decided to shut down production for a few days and see if they couldn't straighten out a few of their problems. They finally solved the problem by changing the film and using the old type that both Jon (Fontana) the cameraman and Bucky the lighting man, were used to. They also fired one of their production assistants rand Jim took over the directing from Art.
The sex in Behind The Green Door was limited to a Busby Berkley orgy and a single one-on-one with Marilyn and myself.
The plot of the Behind The Green Door was basically that Marilyn was ripped off from her hotel room and taken to a private club where she was taken on stage and made to perform a sexual act with six girls, then six guys, then a solo with a black cat, then with everyone at one time, including three guys who are on trapezes. I've taken Yank to the club because I'm supposed to be entertaining him for my firm as an out of town client. As the action increases, the audience, numbering about fifteen, gets so turned on that they start getting it on. The whole thing turns into a giant free for for all with everyone fucking and sucking everyone else. As soon as Marilyn walks out onto the stage I realize that I recognize her from the hotel. Knowing that this club kidnaps its victims, I wait for a chance to rescue her. When all bedlam breaks loose I run up on the stage, scoop her up and run through the green door with her. Then there is a scene of Marilyn and I getting it on.
After several weeks of shooting the preliminaries, we had to break for a week while Jim and Art were in court over Reckless Claudia. When there was finally a break in the trial, they assembled everyone in the cast and got ready for the big scene.
On the morning of the big scene, we all had to show up at 7:00 A.M. for costume and make-up. Even though there were more than thirty people in the scene they somehow managed to get everyone made up and in costume in only a couple of hours.
Stage A had been turned into a fancy club with huge hanging drapes, Persian carpets and large overstuffed couches facing a stage. Above the stage were three trapezes and at the back was the ominous Green Door.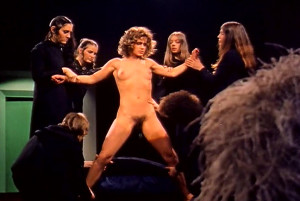 Since this particular scene was the meat of the Behind The Green Door and certainly the most complicated in terms of numbers of people and action involved, they shot most of the hard-core stage action with Marilyn the week before. Today they were going to run through the scenes where Marilyn is first brought out on stage. Then the scene where she is made love to by the six women and the scene where she is made love to by everyone at one time (the audience excluded). As they ran through these scenes, they would shoot some quick audience reaction shots then get on to the real action, the one-on-one with the 'stud', and the free for all orgy.
Since it was such a freak scene, there probably should have been a closed set. But there were almost as many spectators as there were participants. It was such a mob scene, thirty performers, about twelve technicians, and assistants, that another twenty gawkers didn't really matter.
We all got into our positions and Jim gave us a brief run down on what he wanted. The scene with Marilyn and the six girls went quickly. This was the warm-up act for the headliner, Johnny Keyes. The solo 'stud' performance.
They'd dressed the male stage performers in white tights with crotch cut out. In this scene, the six girls were holding Marilyn down on a big pillow in the middle of the stage with a big spotlight centered on her. The house lights went down and the spotlight moved back to the green door. It opened and out stepped Johnny Keyes. Johnny is a black cat. He's an ex-amateur lightweight Champion of the World and a professional actor. He had been in Hair and a few other stage plays, but this was his first porno.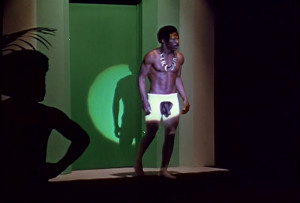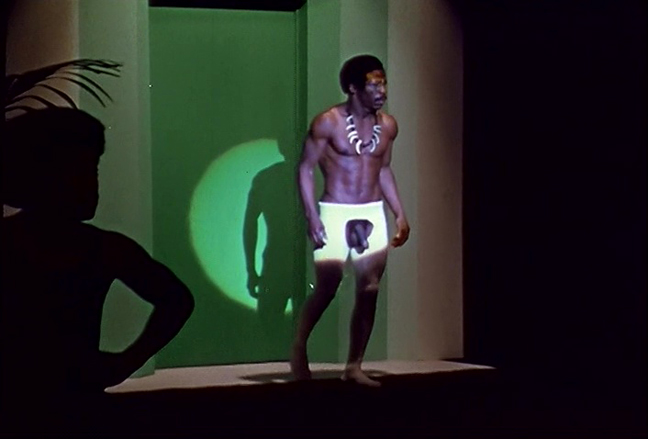 Johnny came out from behind the green door the first time in his slow deliberate dancer's step, claw necklace and heavy eye makeup on, but something about the scene didn't look right… soft dick. Jim called for "CUT," and said, "Would one of you chicks give him a hand, we've got to get him up before he walks out." So Kandi (Johnson), one of the six girls onstage, jumped up and escorted him behind the door. We all waited for a few minutes then Kandi came running out and got back into her position. Jim yelled, "Action" and this time Johnny walked out with a hard-on shooting straight out. It certainly looked more impressive than before.
Johnny walked slowly around and faced Marilyn, then went right down and started giving her head. After a few minutes of this, they cut while one of the chicks got him hard again for the insertion. Pretty heavy. I mean to have to stand there while the spotlight is on you and fifty people watch while you try to get it up. But Johnny didn't have any trouble and got it right up. From there he put on an all-time great performance in
the missionary position… so good in fact that when it was over I stood up and gave him a standing ovation.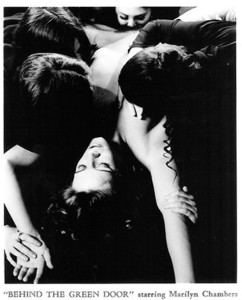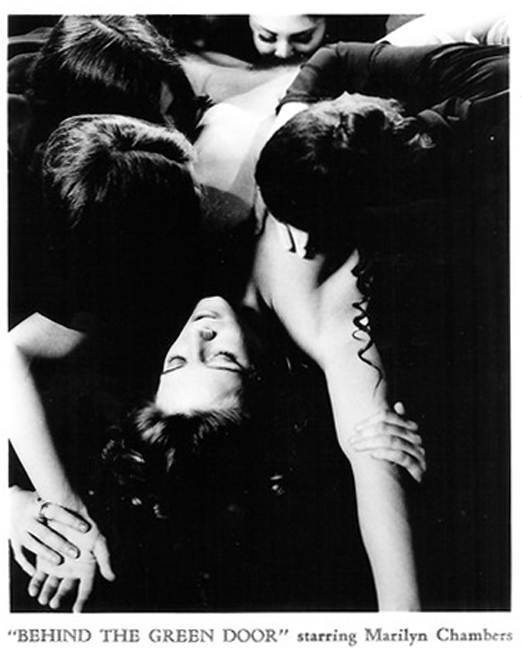 We took another break they got ready for the next scene which was the mondo bizarro of all sex scenes, From the ceiling they dropped down three trapezes. They brought out five more guys, put three on the trapeze which forms sort of square around Marilyn, put one more underneath her, and put another in there just copping feels. Along with that they put the six girls around her. Marilyn was sitting upright on top of one guy with his dick in her, one cat and six other chicks caressing and licking her, jacking off the two guys on the trapezes on either side of her, and sucking off the guy in the middle. It's a monster for everyone concerned, but they didn't have to worry about getting everyone up for the scene because they had already shot the hard core insertion shots earlier. Just keeping one guy up can be a problem in this case it would have been a nightmare.
While all of this action was taking place on stage, Jim walked through the audience and told everyone to start masturbating. Now, I'm not going to do that man. You can't pay me enough money man to sit there and jack off in front of you. I copped out by pulling my shirttail out and covering my lap, sticking my hand underneath, and paying no attention to anyone else.
They started off the orgy by having the girls attack the guys, which isn't a bad idea for a change. Since I was supposedly one of the stars, I got two girls, I was laying down on the floor with one girl going down on me and another sitting on my face. I just kicked back and tried not to be too noticeable, because with everything else going on around me I figured they'd get plenty of action and I didn't really dig the position I was in.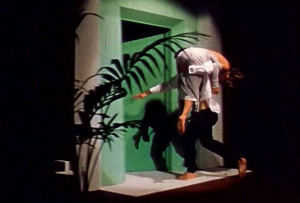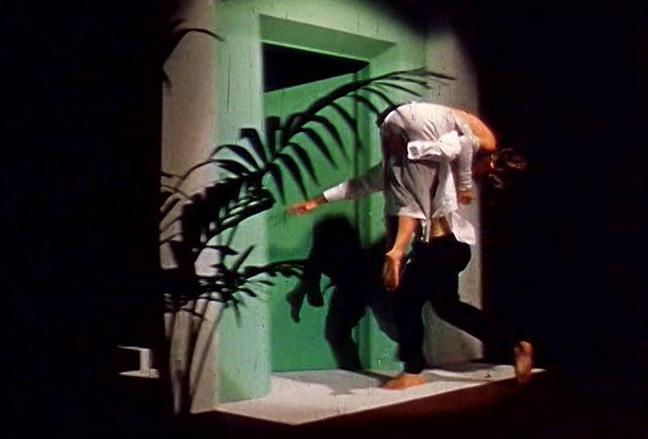 Before I had a chance to get too far into it, Jim stopped the action and said, "Alright George. I want you to push these two chicks off, pull on your pants, run up and grab Marilyn and take her out the door." I figured, well that's groovy. I can kick back and watch everyone else this time.
On action, I pushed the two girls off, grabbed my pants and managed to get one leg in them, hopped across the stage, picked up Marilyn in a hero's sweep, and as I ran through the, door, I was in such a hurry that I banged her head into it… "CUT". Let's try it again but this time take it a little easier with the star."
After we ran through the scene again, Marilyn and I walked back into the shadows and watched everyone else watch everyone getting it on. I had seen group orgies before, but I'd never gotten to watch other people watch an orgy, and they certainly were more interesting. The most notable performance of the day was put in by Johnny Keyes, who, before the day was over, had gotten it on with five different chicks. At one point, I saw
him up on stage fucking one chick from behind dog style while she was going down on another chick. That cat certainly had a lot of endurance. They could have used the out-takes and done another feature on just Johnny's performance that day.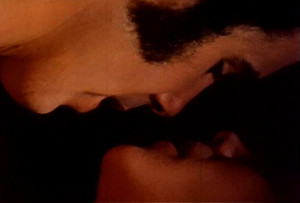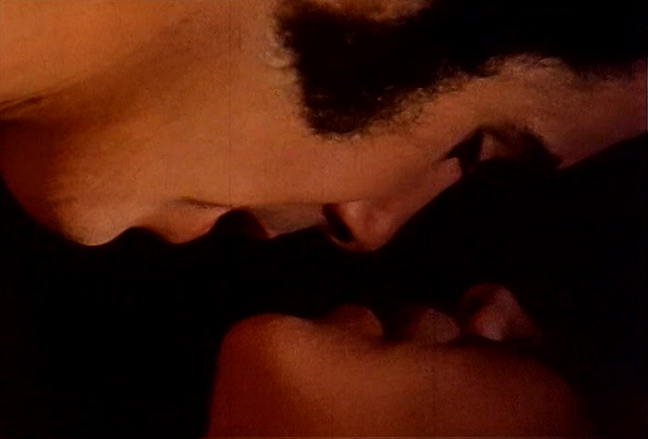 The morning that Marilyn and I were finally going to do our solo scene, I knew that she had already been through a lot and so I tried my best to remain mellow and at the same time to mellow her out. I was still going into each sexual scene with a lot of hangups, but I felt that since this one might be the last that I would try to be in control. I figured if I could control my own neurosis then perhaps Marilyn and I would be able to just get into it and enjoy it.
They wanted to shoot our scene and then put special effects behind it, which meant that we both had to be made up from head to foot. Every square inch of our bodies is going to be covered with makeup. They were also going to shoot us against a black back drop. With all that makeup, I knew it was going to be a bummer. Under the lights, you sweat a lot, plus with a hard surface, with any movement at all, you're going to rub off makeup. So you have to constantly have your makeup touched up.
When it came time to start the action, Marilyn and I were really into each other so it started off really well. The mood of everyone involved was very professional. We just did the scenes and there was no bullshit. The crew and I threw one liners at each other, but this time we laughed because they were just good natured jabs, whereas before I used to get uptight. The only problem was that Marilyn kept complaining that she was getting sore… I guess after what she had been through prior to this. So we took a Vaseline break.
After the break Jim said, "Alright, we're going to go in for the closeup. Now I've got a hard on and I'm inserted with Marilyn on top, when all of a sudden I felt this cold wet sponge on my balls, and the makeup girl is saying, "Oh, I'm so sorry darling, but I've just got to touch this one spot up." "Great… just let me know when you're done." I don't know if you've ever had a cold wet sponge slapped against your balls unexpectedly, but, it certainly has the opposite effect of an aphrodisiac. About all you can do is laugh and hug your partner a little tighter.
We got through the fucking, but I couldn't get off for the climax. I guess I had become to hung up over it by that time. So, we just faked it and then it was over. Almost.
We had been fucking for over an hour and to not get off will make you a little edgy, so I turned to Marilyn and said, "Come on, let's go take a shower."
We went upstairs to the shower, locked the door, turned on the water and proceeded to finish what we had started downstairs… It was really far out because I had worked with girls that soon as the director said cut they were already in their pants with their hand out for the check. I was really high and I wanted to get off, but I didn't want to get off in front of the crew, Marilyn made sure that I didn't leave Stage A discontented.
The Behind The Green Door premiered several months later at the O'Farrell Theatre. For the premiere, the Mitchell Brothers threw a large party at the theatre. There were about four hundred people jammed into the lobby of the theatre including the cast, their friends, the press, and radio and television people. I went with my roommate Smokey, who ate a bunch of clear-lite acid before we left, Fat Larry the lawyer, and my girlfriend at the time, Gunilla, a blond nursing student from Sweden.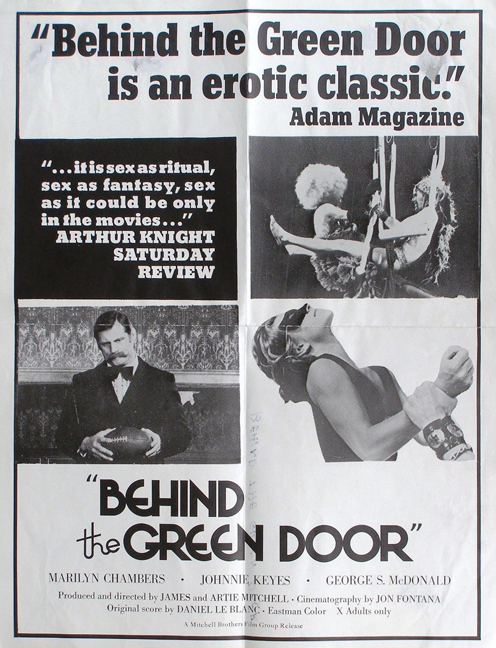 The film was late arriving from the lab where they had been putting the last minute touches on the sound track. By the time the film finally arrived everyone was thoroughly wasted on champagne and joints of marijuana wrapped in green papers that were passed out to the crowd.
Smokey and Larry were down on their hands and knees asking people to move so they could find something they had dropped on the floor. I asked them what they were looking for and Smokey said he thought he had dropped a joint on the floor. I said, "Get up man, you just smoked it." As he got up off the floor he said, "Oh yeah. I guess I'm pretty spaced." He certainly wasn't alone in that crowd.
When the film finally arrived everyone piled into the theatre to watch it but for some reason I couldn't go inside. Even when a pretty San Francisco socialite came over to me and asked if I would sit with her. I had to turn her down.
I sat alone in the bobby while the movie played. I wanted to leave but at the same time I wanted to hear what my friends thought of the film. From the noise and reaction inside the theatre I could tell that the people were digging the film.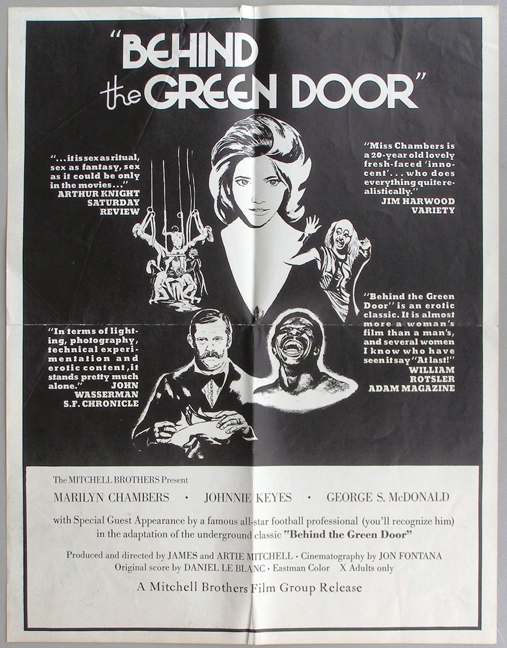 When the Green Door premiere was over my friends said they liked it even though they didn't understand it. The reason that the press and the audience had a little trouble understanding the plot was that Vince, the projectionist, was in such a hurry to get the film on the screen that he spliced the last reel into the middle and the middle reel onto the end.
If that mistake wasn't enough to confuse everyone, the plot itself was. When Jim took over the directing from his brother Art, he demanded a re-write of the script, changing several people's characters. I was changed from a junior ad-man to a truck driver. Since they didn't have enough money to completely re-shoot the beginning of the film they had to use film that had been shot from both scripts. The result was the best of two beginnings, none of which was explained to the audience. I guess it didn't really matter though since hardly anyone said anything in the film by the time it was finished. I had about two lines, Johnny had no lines, and Marilyn, the star of the film, had no lines. Well at least the photography was pretty.
The next day I went back to the theatre to see the film when there were less people around that I knew, or knew me. I was sitting in the theatre with Marilyn and Ray Taliaferro, a TV interviewer from Channel 4. The film had only played for a few minutes when I felt myself getting sick. I excused myself, went outside to the fresh air, got in my car and split. I guess I was disappointed. I don't know what I had expected. I knew that Green Door would be my last film and I guess I wanted it to be perfect.
Eighty thousand people saw Behind The Green Door in San Francisco alone. At its peak I was being recognized two and three times a day on the street. I guess I changed my attitude about the film when I realized that it had accomplished what they had set out to do… that is, to make a film that would attract people who had never been to a porny before.
The two percent residual that I had laughed at in the beginning was almost my sole means of support during the year that I worked on this book.
When I was in Singapore recently I was talking to the only American tourist that I met while I was there and in the middle of the conversation he stopped, stared at me for a moment, and said, "Hey, you're the guy that was in Green Door. Say, do you remember that little red-headed chick that was in the scene where…"
I guess that means something.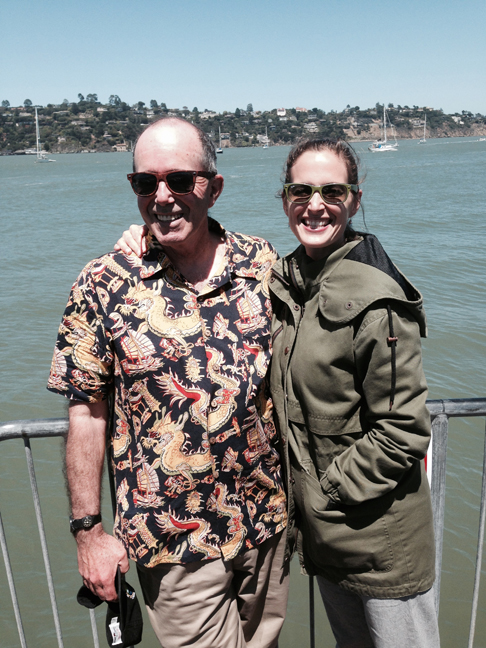 George McDonald, back at the scene of the crime (2015), with April Hall