The Rialto Report recently featured a selection of photographs taken backstage at the Melody Burlesk by photographer James Hamilton.
Hamilton is best known for documenting the New York City film, art and music scene of the 1970s and 1980s capturing the likes of Nico, Patti Smith, Tom Verlaine, Beastie Boys, and James Brown on film.

During this time he served as staff photographer for numerous publications, including Crawdaddy! ('69-'71), The Herald ('71), Harper's Bazaar ('71-'75), the Village Voice ('74-'93), and the New York Observer ('93-'09). He also contributed to many iconic magazines including Rolling Stone, Vanity Fair and New York.
In 1980, Hamilton began also shooting stills for films. After meeting George A. Romero, Hamilton was enlisted to capture stills for his next two movies, 'Knightriders' (1981) and 'Creepshow' (1982), followed by work for Francis Ford Coppola on the set of 'The Outsiders' (1983). He went on to shoot extensively with Wes Anderson, photographing the sets of 'The Royal Tenenbaums' (2001), 'The Life Aquatic with Steve Zissou' (2004), and 'The Darjeeling Limited' (2007), as well as on the set of Noah Baumbach's 'The Squid and the Whale' (2005).
In this selection of previously unpublished photographs, Hamilton shows various sides of Times Square in the 1970s.
For other pictures of Times Square theaters, yesterday and today, see our recent feature here.
Sincere thanks to James Hamilton for allowing us to share this selection of photos.
_______________________________________________________________________________________________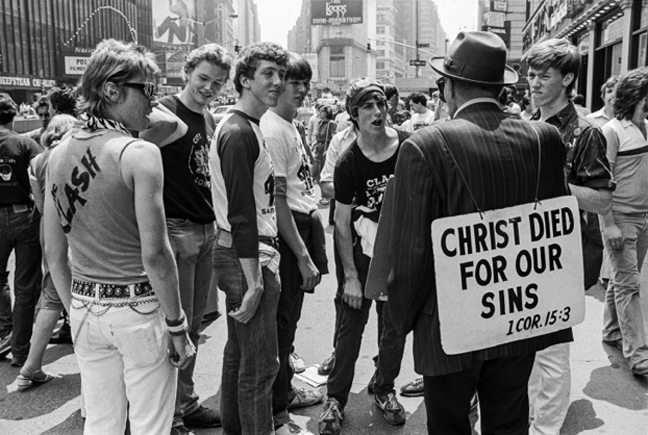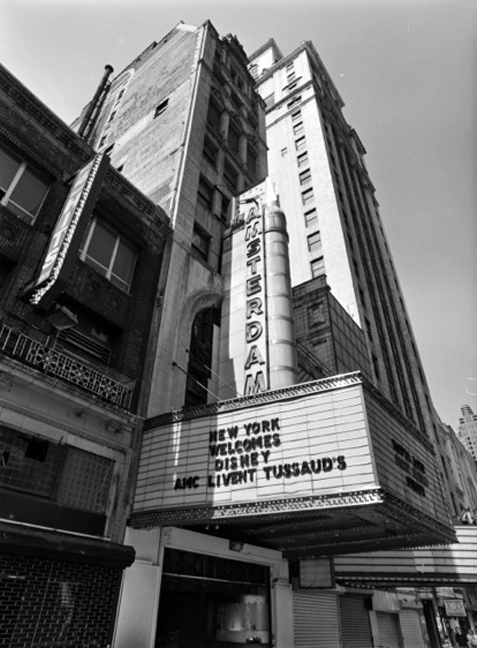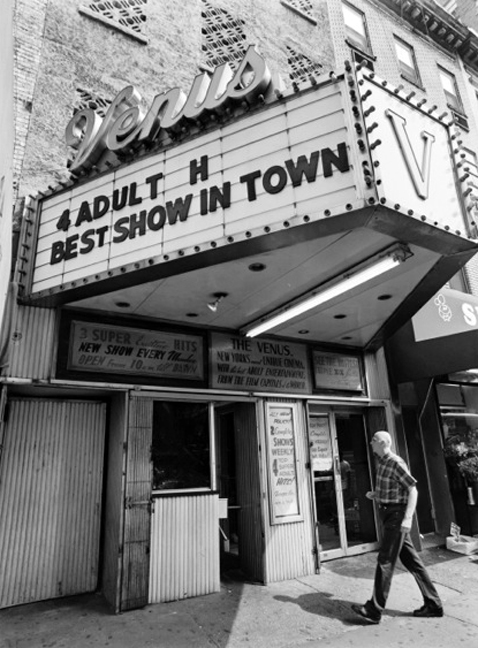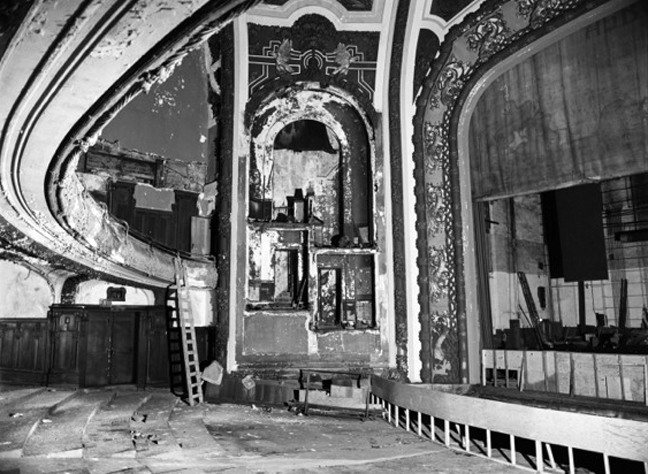 The inside of the New Amsterdam (which was the original Zeigfeld Follies theatre). James shot it during its demolition / reconstruction
*
'After Midnight: A Scrapbook of Late Night New York', New York magazine, March 2015 – by Colin Quinn
"There used to be sex clubs all over New York, right before AIDS. I went to a place called the Zoo in 1981. They had locker rooms. You put your stuff in a locker, just a little towel on, like you've done a million times in the gym, and you walk out and it's like, some of the people were sort of hot. And they had buffets, which was kind of disgusting. C'mon. You can't wait to eat? We're at a sex club. This was people eating like they were on a goddamn cruise ship. And they had all these giant matted rooms, for like 30 people. I started talking to this cute girl who was there, and the next thing you know, we had sex. And it was great! Because if I didn't have sex at the sex club, I would've felt kind of bad."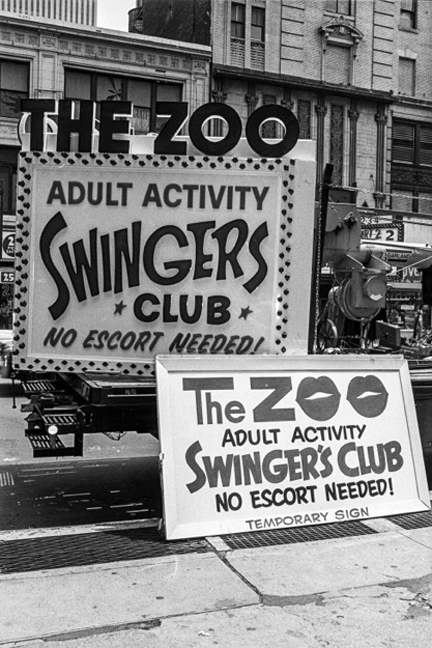 *
Skee ball, invented in 1909, was introduced to New York in 1915 by two former Princeton football stars, Beef and Bert Wheeler who brought it to Times Square.
Playland became one of the meccas for Skee ball and later pinball, and had multiple locations, including at 1565 Broadway and 1580 Broadway in the 1950s.
From the early 1950s Playland was also at 246 West 42nd Street. In 1953, John J. Bennett, the chairman of the City Planning Commission, announced his desire to rid Times Square of all the flea circuses, penny arcades, freak shows, wax museums and shooting galleries.
Playland stayed at this location through the 1970s and 80s. In 1977 the New York Times reported that business was good, and that Playland was paying $170,000 a year in rent.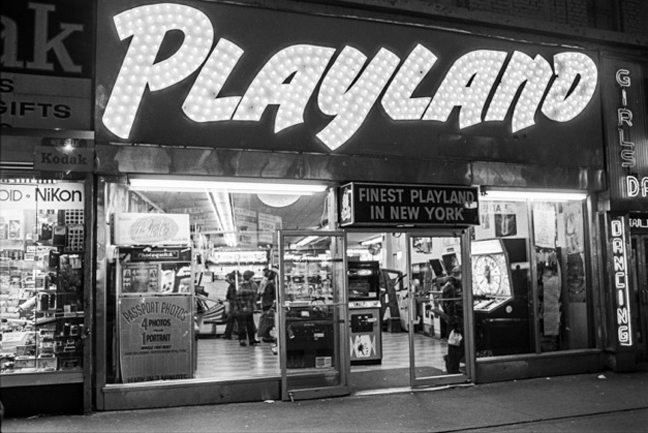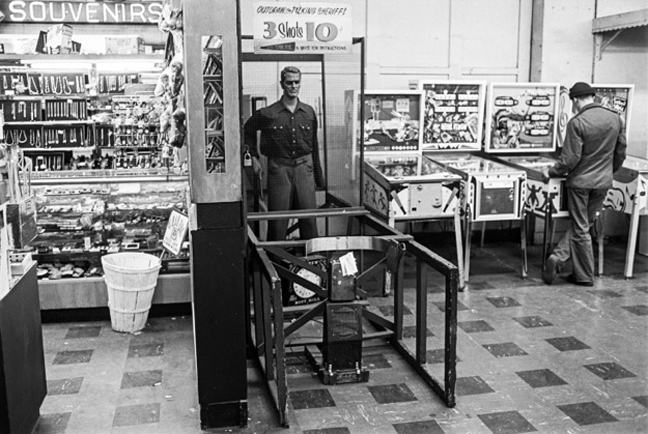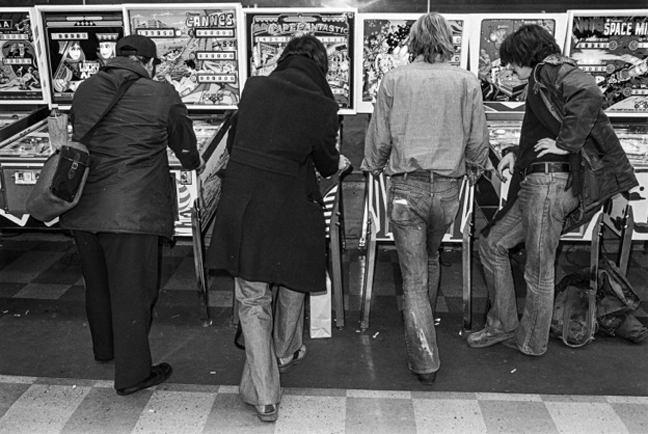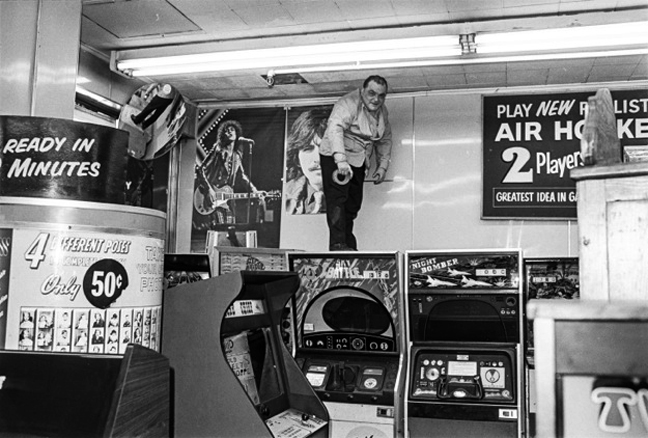 *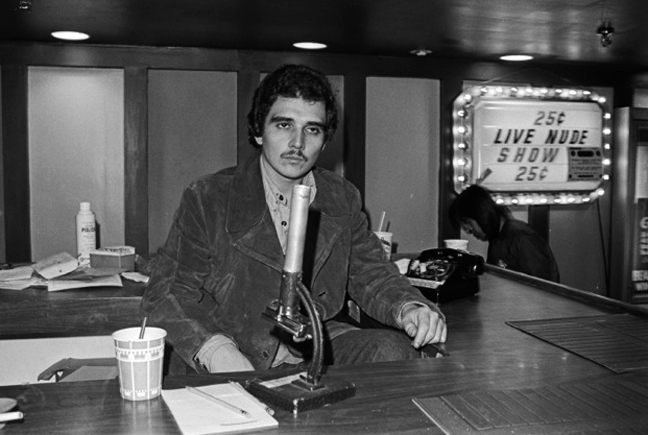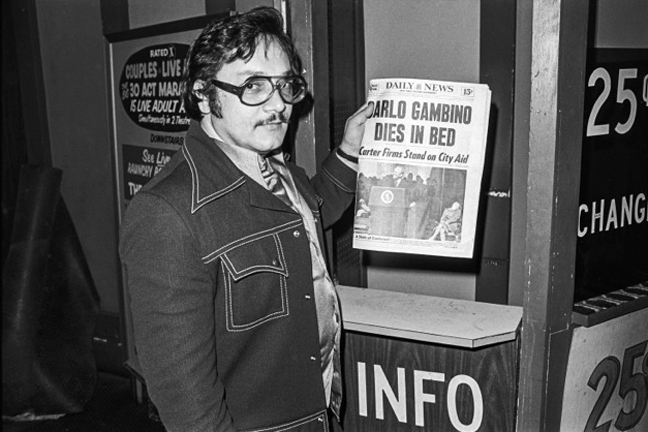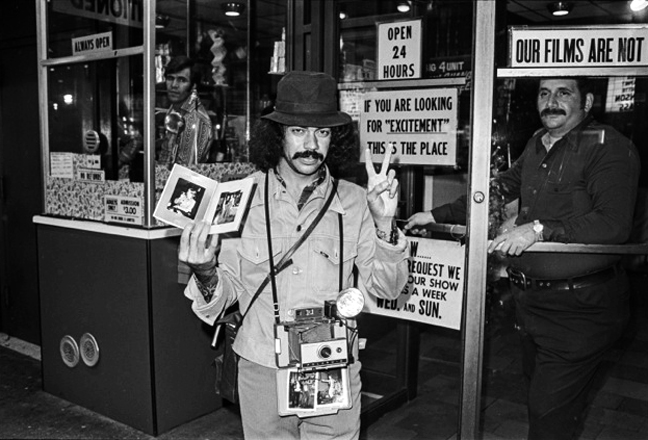 *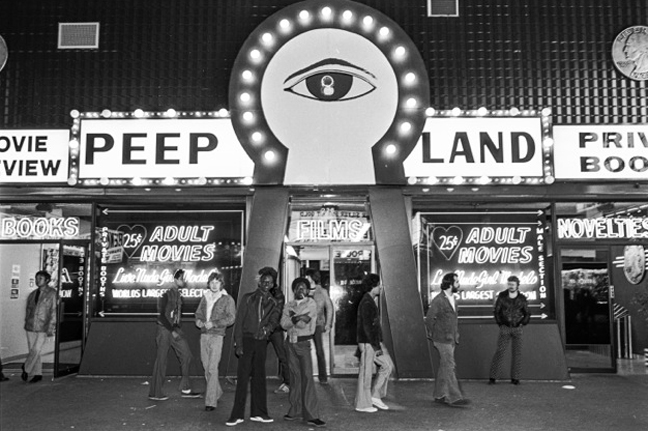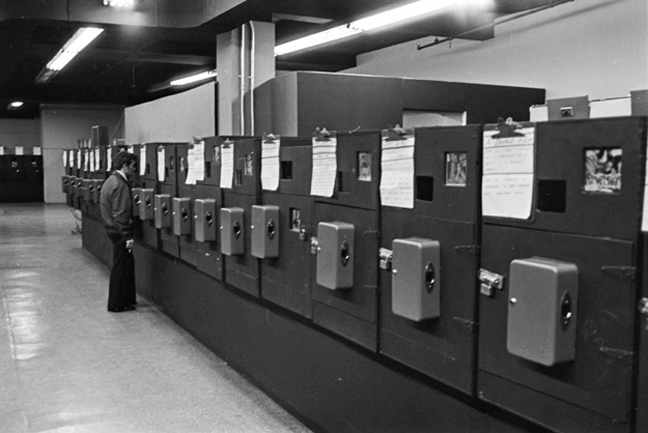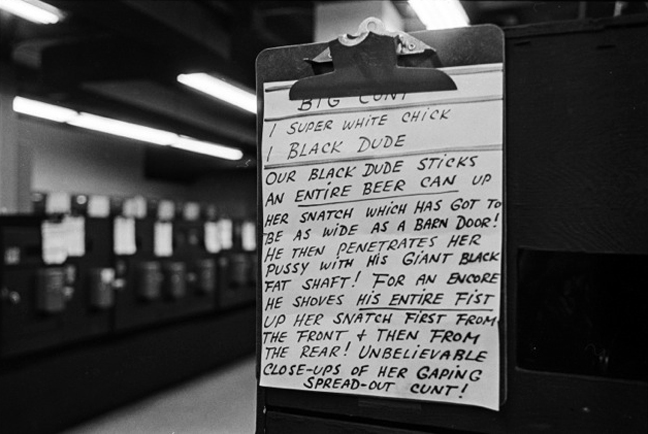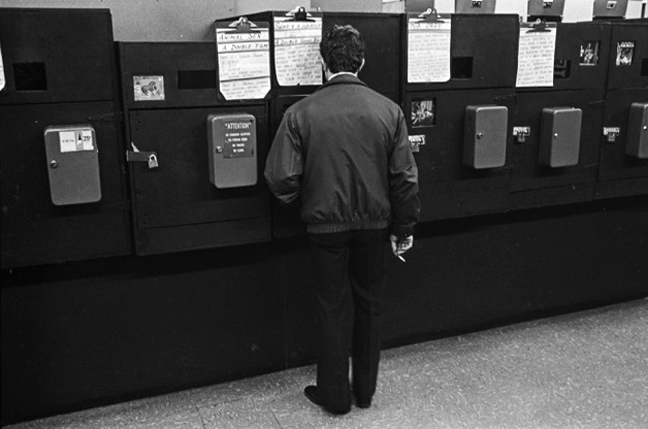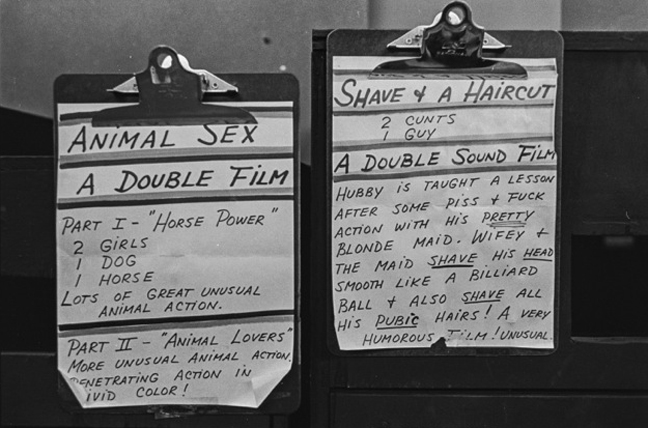 *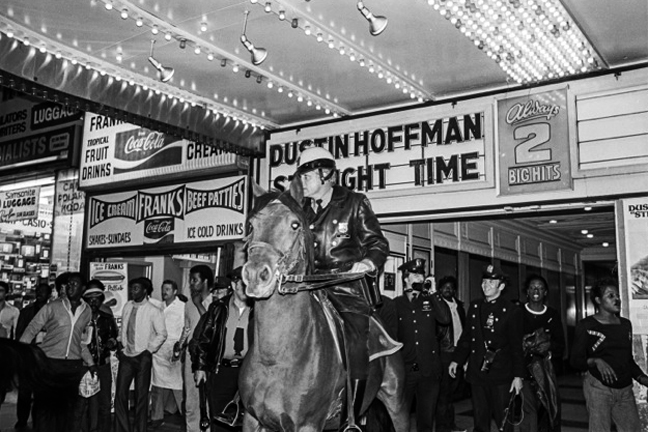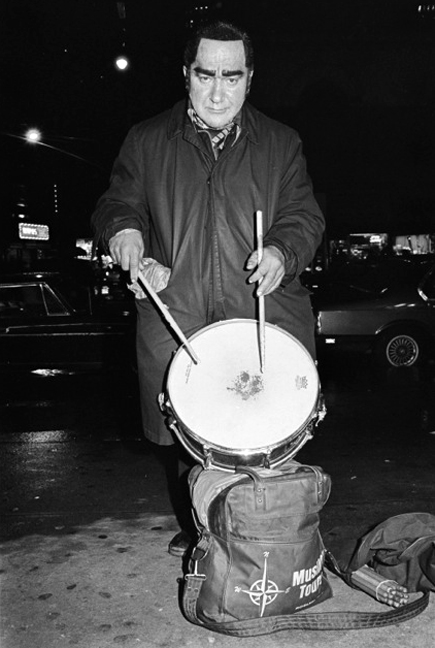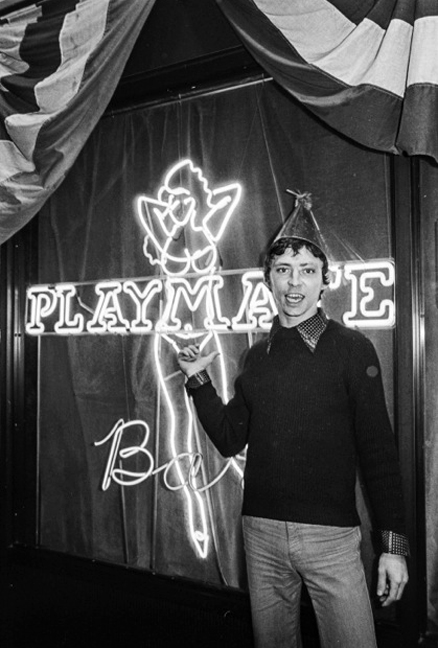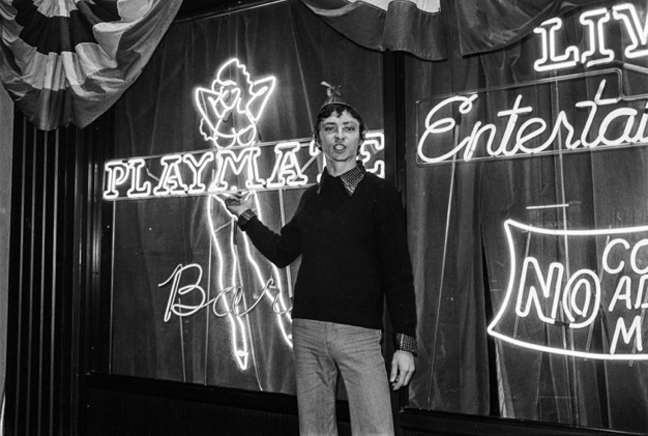 *
In 1976, Wendy O. Williams arrived in New York City where she saw an ad in the Show Business magazine that lay open on the Port Authority Bus Terminal station floor. It was a casting call for radical artist and Yale University graduate Rod Swenson's experimental 'Captain Kink's Theatre'. She replied to the ad and began performing in live sex shows.
By 1977, Swenson became Williams' manager and recruited her to join his newly formed punk rock band, Plasmatics. They made their debut in July 1978 at the Manhattan music club CBGB.
She later appeared in the adult film, 'Candy Goes to Hollywood' (1979), credited as Wendy Williams. She was featured as a performer on a parody of The Gong Show shooting ping pong balls across the set from her vagina.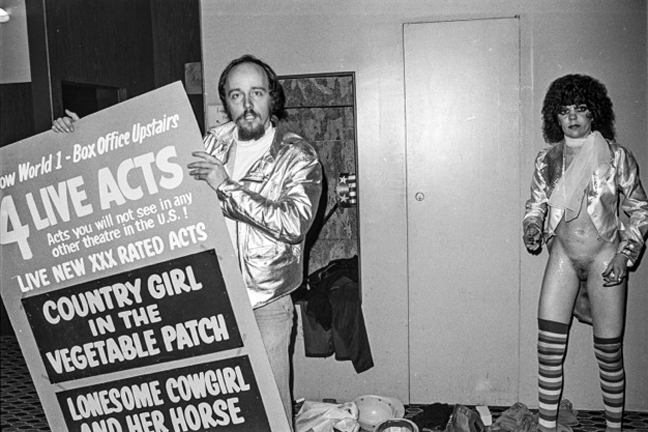 Rod Swenson and Wendy O. Williams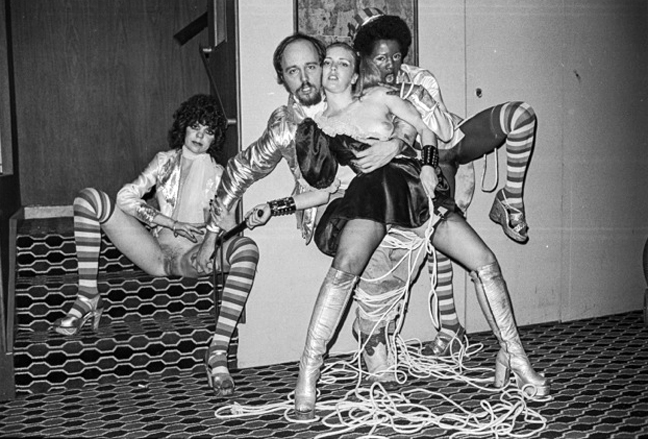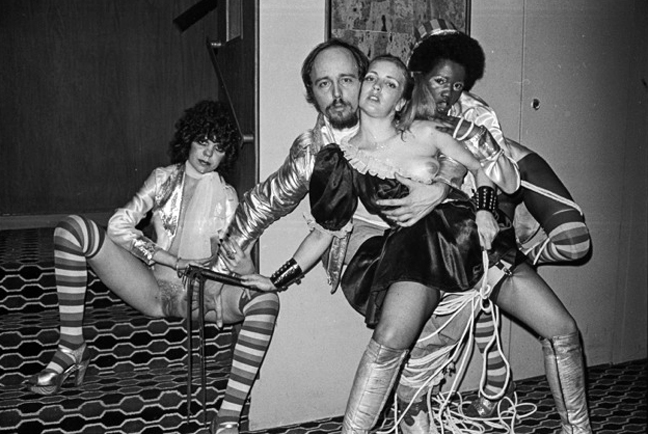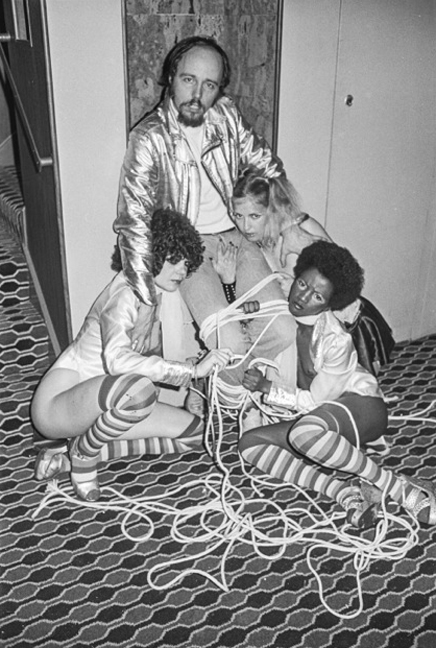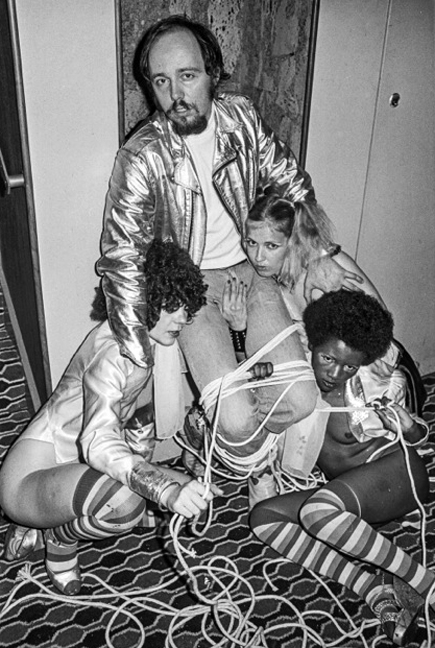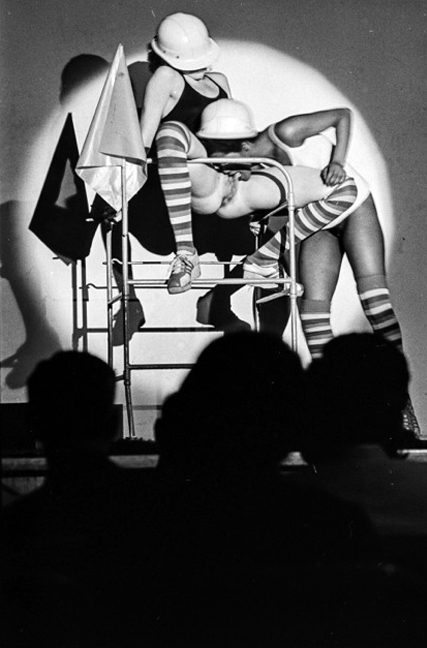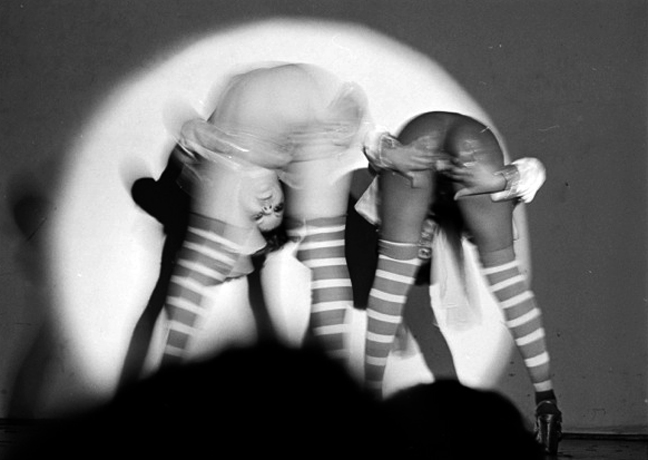 *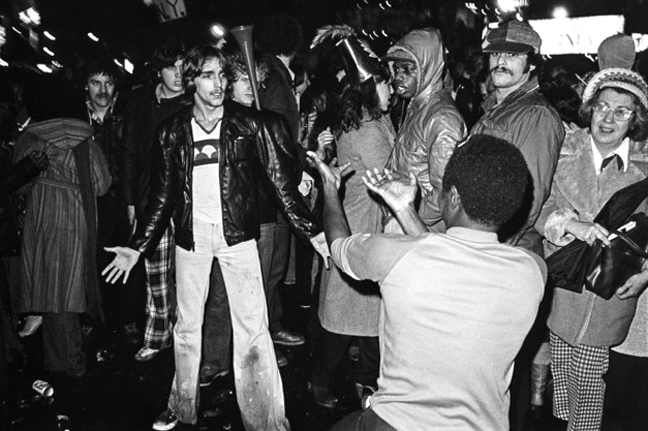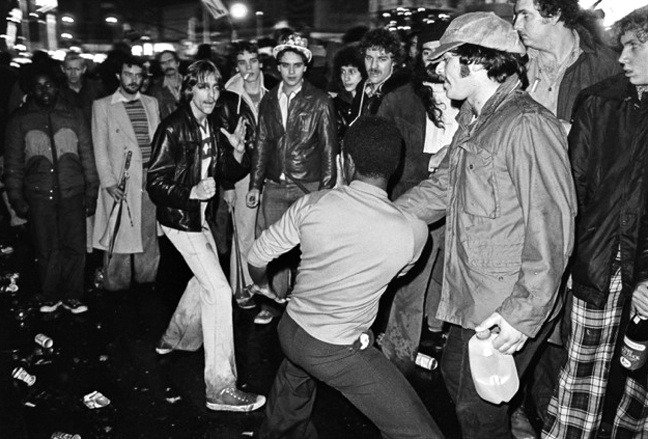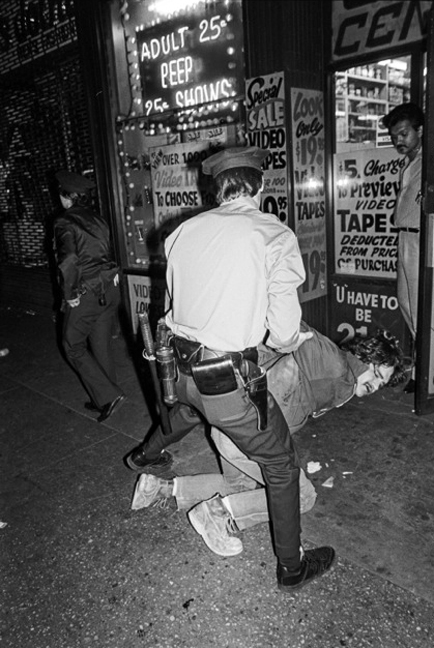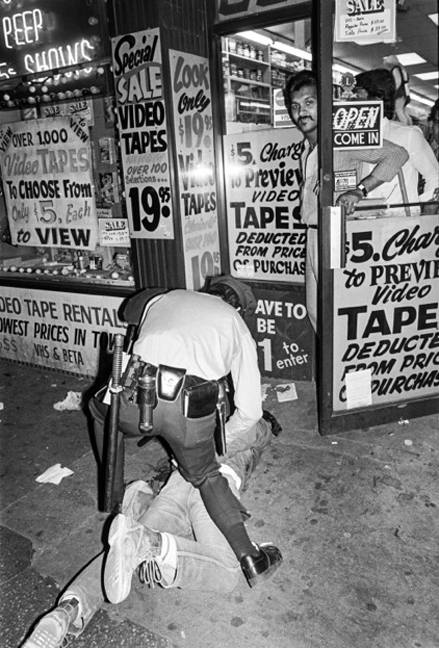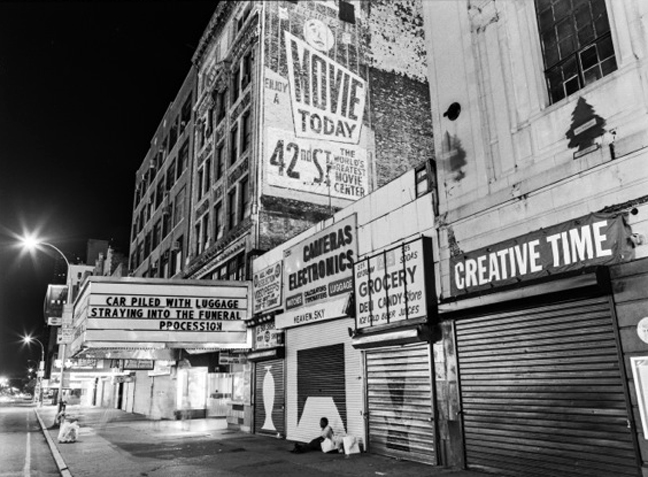 *
G. G. Barnum's Room was formerly The Peppermint Lounge, a popular discotheque located at 128 West 45th Street in New York City that was open from 1958 to 1965. It was the launchpad for the global Twist craze in the early 1960s and celebrities swarmed there – Audrey Hepburn, Truman Capote, Marilyn Monroe, Judy Garland, Liberace, Noël Coward, Frank Sinatra, Norman Mailer, Annette Funicello, even the elusive Greta Garbo – to dance to the house band. The Beatles were filmed visiting the club during their first U.S. visit in 1964.
It was run by Genovese crime family associate Matty 'The Horse' Ianniello, who managed many gay bars and strip clubs in Manhattan. It closed when it lost its liquor license on December 28, 1965, and reopened as a gay bar called 'Hollywood'.
The 45th Street space reopened as G. G. Barnum's Room on July 20, 1978, and continued until November 1980. It quickly became a popular meeting place for transsexuals, drag queens and homosexuals, and featured shows where male go-go dancers performed on trapezes over a net above the dance floor.
The 'G.G.' was a reference to the Ianniello-owned Gilded Grape, located at 719 8th Avenue, a notorious gay bar which operated from the early 1970s until 1977.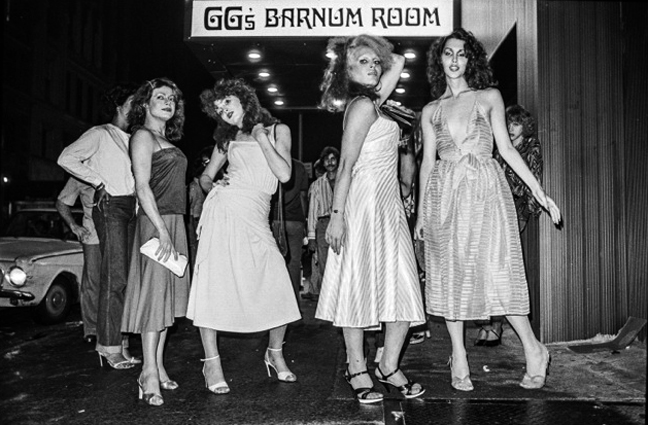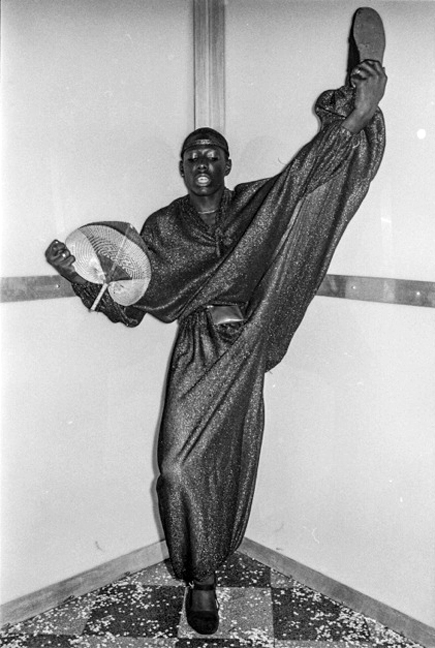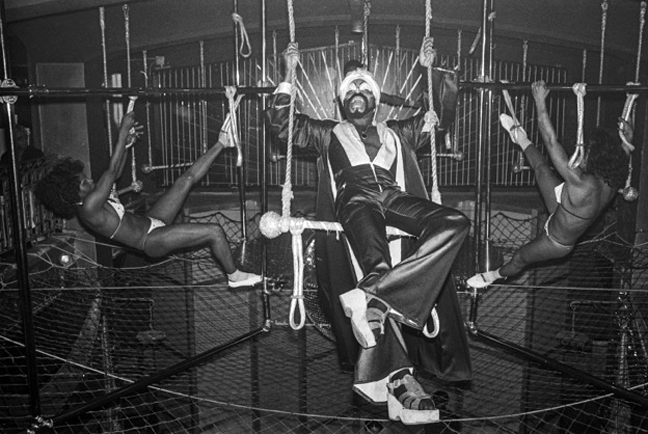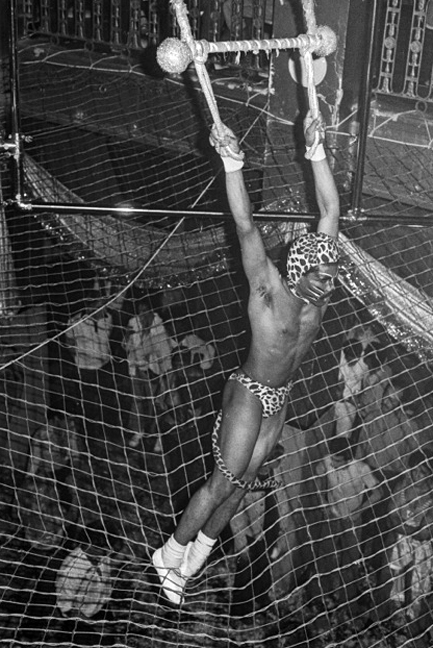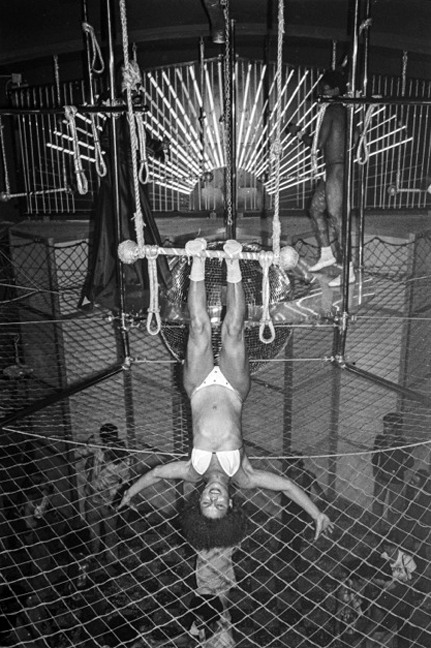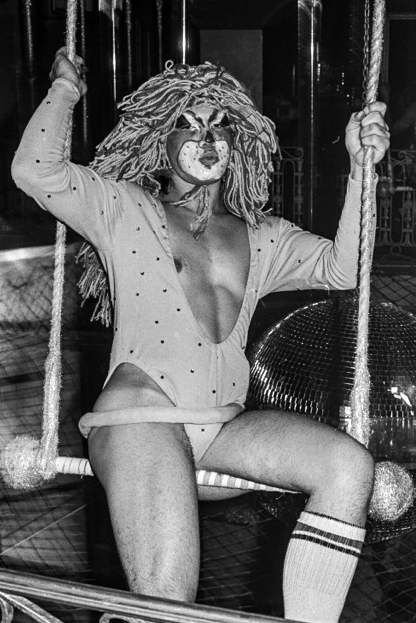 *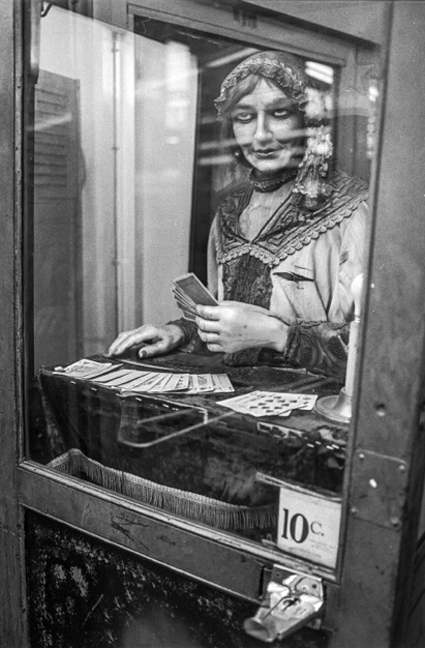 *