Back in the early days of The Rialto Report, we interviewed early New York adult film actor Jeffrey Hurst (aka Jeff Eagle) for one of our first podcasts.
He spoke with great humor and insight about starting out in the fledgling porn film industry in 1972, and the perils of balancing a budding career as a stage actor with a sideline job as a porn stud.
But Jeff is also a talented writer and has penned an as-yet unpublished autobiographical account of his years in New York called 'Fade To Blue' – an entertaining, sexy, and touching memoir that reveals what it was like to be one of the pioneers of the sex film business.
In it he writes about the early one day wonders through to the larger budget features, remembering people like John Holmes, C.J. Laing, Harry Reems, Andrea True, Chuck Vincent, Tina Russell, Vanessa Del Rio, John Leslie and many more. (Some names have been changed to protect the guilty).
The Rialto Report is proud to present a selection of extracts from 'Fade To Blue'.
Many thanks to Jeff for allowing us to share 'Fade To Blue'.
The Rialto Report has also presented exclusive and unpublished memoirs by Jamie Gillis and George McDonald.
_______________________________________________________________________________________________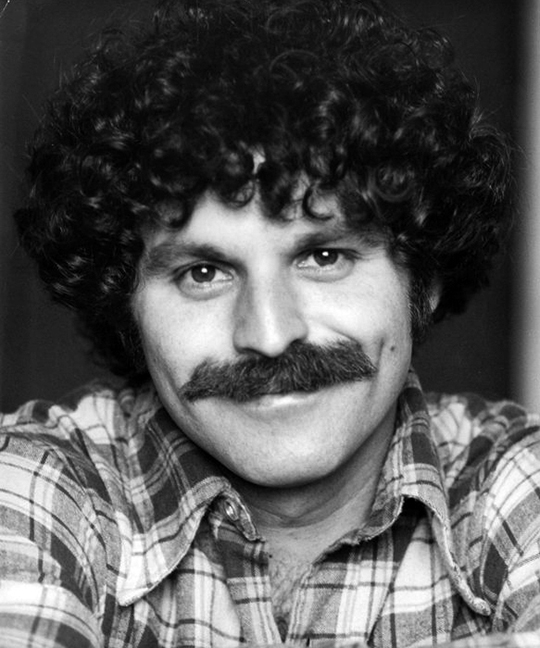 The building was imposing, two stories with a giant bay window.  From the outside it looked like a museum.  A mansion in Manhattan – and they were expecting me.
The main room reeked of elegance – large draped windows, crystal chandeliers and a stately balcony overhanging the palatial ballroom.  Expensive looking oil paintings and avant-garde sculptures were everywhere.  The crowd was regal, men in tuxedos, women in evening gowns.  They were blue-bloods – society people.
A four piece combo jammed next to a wagon train of three enormous buffet tables.  Each table, more impressive than the other, was garnished with plentiful trays of canapés, spiced baked hams, stuffed pigs and dark roasted turkeys.
I circulated amongst the cosmopolitan crowd with a tray of hors d'oeuvres; the black tie around my upturned collar gave me a stylish look.  My curly hair was neat and my mus­tache trim.  Whenever I caught the eye of a good looking so­ciety babe, I smiled my top-of-the-line designer smile, the one I saved for special occasions.  My butler's uniform was standard, just a little too tight for my comfort.  A black cummerbund fastened snugly around my waist complemented the pressed white shirt held together with pearl studs.  From the waist down I was naked – except for my black shoes and socks of course.
This was no dream.  It was my forty-fifth hardcore porn film, 'Sweet Punkin'.'  I played Dixon, the butler, a role I also narrated in the movie starring John Holmes, C.J. Laing and myself, Jeffrey Hurst.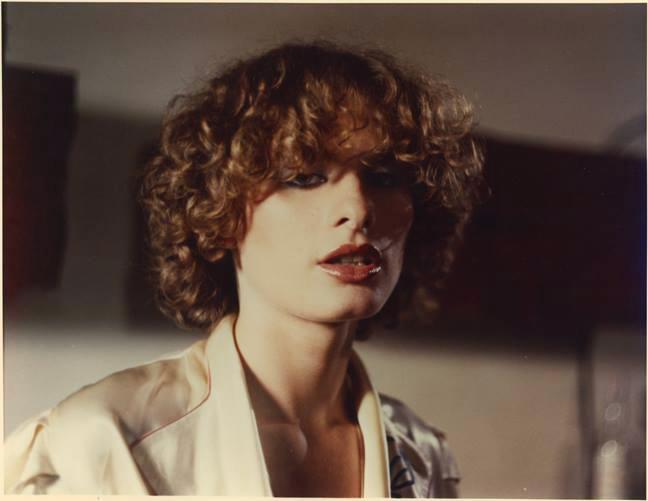 C.J. Laing
The quartet was cookin' and the party was just beginning.  The director, using a bullhorn from the balcony, yelled out di­rections for the complex orgy sequence.  At first delivered with good humor, his oral instructions eroded into futile, unheard commands.  Even Cecil B. DeMille would have his hands full with sixty horny extras in various stages of undress and sexual activity.  On the one hand you want a variety of activities, positions, groupings and rhythms.  On the other hand… well, let's not talk about the other hand.
There are only so many variations sixty sex-crazed people can do – for instance me.  There I was, cruising by a caucus of copulators with a tray of appetizers, my Johnson swinging in the breeze, and I had no takers.  These were extras, ordinary people just there for the sex, with no interest in taking direction.  It was the sexual seventies and this event was a novelty, a John Holmes film.  Everyone was there to see his legendary dick… but not at this moment.
The orgy sequence was shot MOS which is film language for picture without sound.  My voice-over would be dubbed in later at a sound studio.  As I cruised the room offering snacks, the director, orchestrating the scene from the balcony, made it clear that he wanted me as the appetizer for any woman who was within reach.
He kept the action moving with a continuous tracking shot, shouting directions through the bullhorn.  The deep, hollow texture of his voice reverberated, giving the orders from above a Godlike quality.  "When the butler comes by I want the woman who's closest to him to slide her hand up his leg, grab his package, and give him head."
People were too involved to notice me.  Again, from the balcony, the divine voice blared.  "Ladies, please, when the butler is near, lean in and give him head."  But, just like before in the room full of naked people, his words went in one rear and out the other.
As I approached the quartet, two gals and a guy were into a great threesome by the piano.  Again, the voice bel­lowed, "Will the woman near the Steinway getting it from be­hind, please grab the butler's dick and put it in your mouth."
I inched toward the piano, leaning in, trying not to be overt.  "Just act natural," the director suggested, "and suck his dick."  I laughed at the absurd­ity, but no one else did.  Was I the only one who thought that was a pisser of a line?  The woman getting it from behind had Van Gogh's ear for music appreciation – not even a clue she was near the piano.  Besides… she already had a dick in her mouth.
"Please," the voice from the balcony implored, "when the butler is near, move in and give him head."  A naked man with penetrating eyes advanced.  I scooted to the other side of the room.  "Please blow the butler," the voice whined.  Nothing.  My pace slowed whenever I spied a sensual orifice.  "Please blow the but­ler," the voice pleaded.  The orgy was hot and heavy, even the quartet was being serviced.  Still, I had no takers.  Exasperated, and at his wits end, the director put the bullhorn volume on high and screamed: "WILL SOMEBODY PLEASE BLOW THE BUTLER!"  That phrase would resonate in my head like a recurring echo for years to come.  Blowing the butler, I was almost positive, was something that was observed on Rosh Hashanah.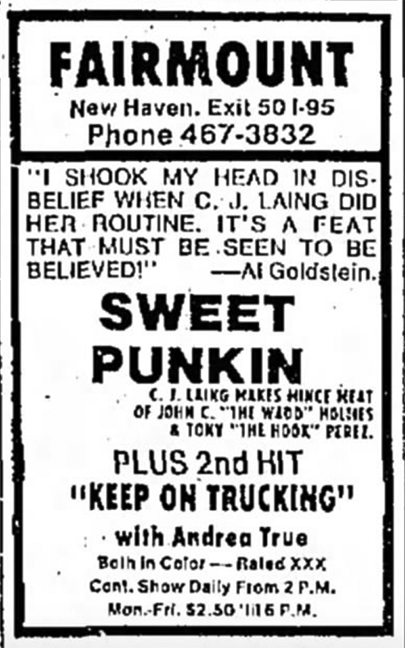 Later that week I shot a legit union film.  'Pick-up', a twenty-two minute short, was about a serial killer who meets a spoiled, rich girl and takes her back to his apartment.  I went through a lengthy audi­tion process, had three callbacks, and came out with the lead role.  The character, Mark Spector, was a strug­gling actor (like me), who does softcore porn movies (like me), of which his mother approves (also, just like me).
Selma, my fifty-two year old Jewish mother, was suppor­tive of my adult film career, she even bragged about it to her friends.  Her once beautiful jet-black hair was now almost gray and shorter than mine.  Her back and other age related maladies were begin­ning to take its toll.  Osteo­porosis was pushing her frail body forward into a Quasimodo dowagers hump.  I was the only positive thing in her life and she worshipped me–almost to the point of obses­sion.  She couldn't understand why I wouldn't tell her the titles of my movies, but Selma would've plotzed since she considered 'Valley of the Dolls' an X-rated film.
Call me paranoid, but I just didn't want her Mah Jong group showing up at a sleazy porno theater to see me perform Dr. Feelgood in 'Teenage Nurses.'  "Pick-Up," however, was another story.  This was a legitimate SAG film.  It was great experience to be in front of a movie camera, which was the reason I made adult films.
Everyone was going crazy over the actress playing oppo­site me, which pissed me off, 'cause I thought I was a damn good actor myself and nobody was making a fuss over me.  She was attractive, just not the glam­orous model type they were looking for.  She had short blonde hair, intense blue eyes and a cool exterior that gave her features a bit of an edge.  For somebody new in the business she had good credits–a strong theatrical background with solid regional theater.  We had a great chemistry together, and I had to admit she was as good an actress as everyone said.  Her name was Glenn Close and this was her first film; a leading role with me.
Glenn was a little nervous about the nude scene we had.  I eased her mind, made her smile, and won her over by convincing her that I was a professional, and a nice guy.  How would she have reacted, I wondered, if she knew that my day job was making hardcore sex films?  It could have scared her off; then again, it might have turned her on.  I gave her the ol' X-ray eyes and a curious sense of cockiness took over, which was so unlike me.  Maybe it was just my imagination, but I was almost certain that some electricity passed from her synapse to mine.  Once Glenn got into character I hoped that the love mak­ing techniques I racked up in adult films would be more than adequate to seduce her.  It never happened the way I planned.
Although I had done forty-five porn films, I had managed to keep a low profile in the adult film industry, considering myself a bona fide, professional actor.  Adult films gave me the time and money to pursue a legitimate acting career without having to work nights or at a time consuming day job.  I led a dual life that only my mother, my closest friends, and several hundred perverts in New York City knew about.  It gave me a tremendous amount of pride that I was considered one of the better actors in adult films.  I wasn't just getting laid… I was acting.
*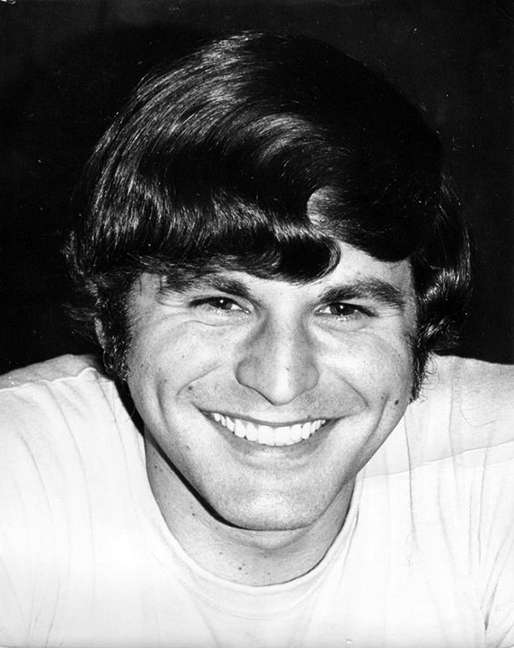 My first big credit was with Joseph Papp's, New York Shakespeare Festival at the Delacorte Theater in Central Park.  'Timon of Athens,' starred Shepard Strudwick, a leading man of the 1940s, and Michael Dunn, the dwarf who played Dr. Loveless on 'Wild Wild West.'
A short time after I got a speaking part in an Off-Broadway theater.  My line was, "May I see your tickets please?"  It was an ushering job at a theater complex on Mercer Street in The Village.
The Mercer Arts Center consisted of four modern Off-Broadway theaters built into the first two floors of the old Broadway Central Hotel.  The Broadway Central was constructed in the early 1800s when everything north of 42nd street was farmland.  Now it was an eighteen story, rundown welfare hotel except for the modern theater complex on the first two floors of the Mercer Street entrance.  Lionel Barrymore played there, so did Sarah Bernhardt.  Edwin Booth, John Wilkes brother, did 'Julius Caesar,' and now I was ushering there.  'One Flew Over the Cuckoos Nest' played eight per­formances a week in the Hansberry Theater downstairs.  The actors were superb: William DeVane, Danny DeVito, James Sloyan, Janet Ward … I was in love with theater and acting and New York.  It didn't matter if I had to live in the streets and eat dog food.  I would never give this up.
After the crowd had gone and I was alone, I would lock the front doors, go into one of the theaters and turn on the houselights.  And there I was–center stage, spotlight on me.  I took a bow to my imaginary audience and did a monologue.  Often, I would imagine Sarah Bernhardt and John Barrymore standing in the same space as me, acting, or Ed­win Booth orating, just like me.  Sometimes I would speak to them.  If I concentrated long enough, I could feel their presence.
*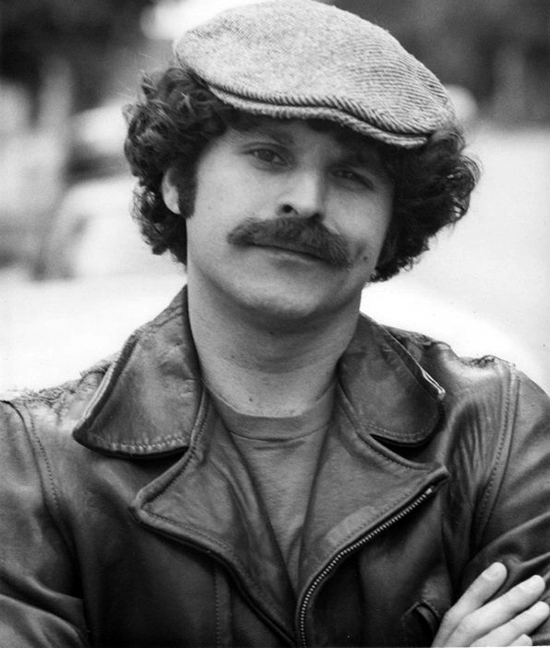 The adult film business beckoned me in 1972.  My friend Connie was working as an assistant for Don Milano, the big New York casting director.  Connie was all bubbly when she called me with the good news:  "Don Milano is casting an action movie and you would be perfect for one of the gangsters."  Then she said the magic words, "I can get you an audition."
I never thought of myself as a gangster type, but I did have a bushy mustache.  I was ethnic looking, and some might say I had a goofy, quirky, and at times evil looking face.  When I got stoned, I would look in the mirror and pull my hair back until the 'V' in my widow's peak was hard and pointy.  Then I'd crinkle my nose and snarl, making a weird hissing noise that sounded as if it came from the dark side of Hades, but I only did it when I got high.  Okay, I ration­alized; I could be a bad guy.  This was the opportunity I was waiting for.  Only two weeks earlier, I had received my coveted SAG (Screen Actors Guild) card and was eager to break into films.  It didn't matter if I played gang­sters.  Careers were made on these types of parts.  Cagney, Bogart, Edward G. Robinson and Rod Steiger were known for their bad guy roles.  All I had to do was make a name for me and I could write my ticket.  But there I was, getting ahead of myself.  I hadn't had the audition yet.
Arriving an hour before my audition gave me lots of time to be nervous.  My concern was looking bad enough.  Should I smile or snarl?  Should I mention that I played Danforth in 'The Crucible' at Victor Valley College?  He was a judge, but he was a mean judge–a bad man.  Earthquake McGoon, the character I played in the musical, 'Little Abner,' was a bad dude.  I even sang badly.  My anemic resume consisted of plays that I did in college, Off-Off Broadway, and summer stock.  Some bad performances, but not many bad guys.
Sitting in the reception area thinking bad guy thoughts and making bad guy faces didn't help because I couldn't see what I was doing.  Then I got up and caught a glimpse of myself in the glass reflection of a framed picture.  Posing in a three-quarter's profile, I could almost make out my roguish, squinting eyes.  I looked like a near-sighted derelict in need of an optometrist.  Finally, Connie came out and gave me a 'side,' a few pages from the script.  So by the time I got in to see Don, the big time casting director, I had an attitude … a bad attitude.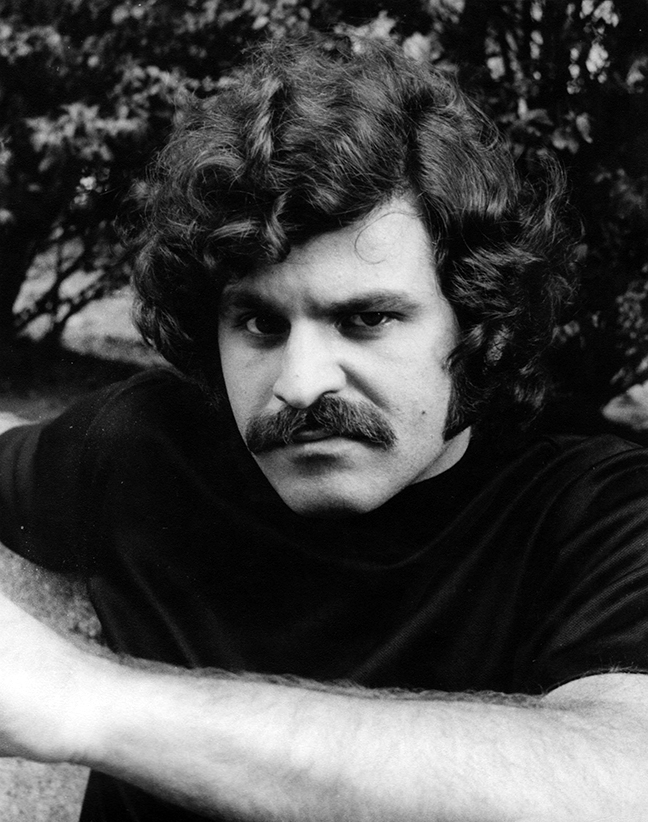 Don Milano was one of the more influential casting directors in New York, and to validate that influence, the walls were covered with autographed pictures of celebrities and politicians posing with him.  Don was short and stocky, built like a Penn State linebacker.  He was immaculately dressed in a gray, pinstriped suit with a black silk shirt, black handkerchief and a pinkie ring the size of a bon-bon.  His deep-set brown eyes were in a word–intimidating.  When he smiled, his thin lip curled up slightly in one corner of his mouth making him look more like a hit man for the mob than a casting director.
He stared at my body for a long time and I just assumed he was being thorough.  He must have been impressed, because after I read from the script a few times, he asked me to sit down and closed the door behind him.  He eyed me with a curious tilt of his brow and leaned in.  "Are you a member of The Screen Actors Guild?" he asked in a low, raspy whisper.
"Oh sure," I said, as if I'd been a member since Truman left office.  He studied me without speaking, delicately scratching the rim of his nostril with a pinkie nail.  The wheels were turning and I could see he was mulling over some heavy-duty brain cheese.  I was shitting a brick.  Some bad guy.
"You're a good actor," he finally said.  "I'm thinking of you for the role of Steve."
Steve, I thought to myself, not remembering that character… "Which one is Steve?"
"Steve is… in a different script, but he's the lead, the hero."
"The lead?" I repeated, trying to remain cool.  Inside I was doing cartwheels.  My first SAG audition and I'm up for the lead?  If I got it, maybe a three-picture deal wouldn't be far behind, maybe a TV series.  I could get a Porsche.  I could get an apartment on the Upper East Side.  I could even afford a girlfriend.
Don looked back at the closed door, and then turned to me with a serious look on his face – a look that said he was going to change his mind.  "This is not a SAG film," he said regrettably.  "But you're a good actor and you're perfect for this role.  You interested?"
Not a SAG film rolled around in my head.  What the hell does that mean, and how could one of the biggest casting directors in New York cast a non-union film? "Yes, of course I'm interested,"  I said, even though I wasn't.  I wondered if I could do hard prison time if SAG found out.
"The pay is seventy-five dollars a day."
The sound I heard rattling around in my head was money talking.  It would take me almost a week of cleaning theaters to make seventy-five dollars.  If I took this part I would be on a movie set and I'd be acting.  On the other hand, if I was caught in a non-union film, there could be some serious consequences.
"There's also nudity involved," Don interjected, feeling me out.  "Still interested?"
Conduits of blood rushed to the head of my penis singing the Hallelujah Chorus and waving flags.  Naked girls were tap dancing in my cerebellum.  It sounded so loud from the inside of my head.  "Yes, I'm interested, I'm very interested."  And just like that, prison time seemed like a small inconvenience.  I was going do a movie with naked women!
"It's a soft-X," Don said apologetically, "an art film.  I'm doing a favor for a friend of mine."  Like I gave a rat's ass about Don's friend.  I didn't even know what a soft-X meant.  All I knew was I was doing an art film with naked women and I couldn't wait to tell my friends.
My script for 'The Love Lords' arrived a week before we started a five day shoot on location in Newark, New Jersey.  There was only one week to learn my lines and get in tiptop physical condition.  At twenty-four, I was already in the best shape of my life.  Other than an allergic reaction to aspirin, I was in perfect health.  But since I was going to be doing love scenes with naked women I wanted to look and feel as good as possible.  My latest health food obsession was crunchy granola.  It was so incredible; I had it every day for breakfast.  Breakfast begot snacks and snacks begot lunch.  I just couldn't get enough of it and wound up eating crunchy granola, every meal, for the rest of the week.  I was hooked.  Soon I would be rolling drunks for loose change to support my two boxes a day habit.
Our first day of shooting was Saturday morning at an office building.  There were two actresses on the set and I was going to be naked with both of them.
The story line of this gem of a movie had me as the man­ager of a high scale jewelry boutique.  My beautiful assis­tant is helping a gorgeous blonde buy rare jewels when robbers break in and hold us all at gun point.  They tie me up, rape the women, and steal the jewels.  When they make their escape, I break free from my bonds.  The thugs take off with jewels and hostages while I pursue on foot, running through the streets of Newark, confident, determined, and with astonishing grace.  By the time I catch up to them, they make their getaway in a car that was stowed five blocks away.  (I would have parked closer to the building, but that's just me.)  The girls are then initiated into a harem of sex slaves until I eventually track them down.  I capture the bad guys, retrieve the stolen jewels and have my way with the beautiful, horny and grateful women.  What a fantastic script!
It was either nerves or a week of crunchy gra­nola, but my stomach was a mess with nausea and diarrhea.  We started the morning with all the exterior shots.  That meant no available bathroom.  Even though I planned on being loose for my first film, I didn't mean it literally.  And so the chase scene began.  Master shots of me running, tracking shots of me running, close ups of my determination–the whole time running, running through the park, running through the streets, running after bad guys.  Inside of me everything was running.
By the time we broke for lunch I wasn't even remotely hungry.  My stomach was worse and I couldn't imagine eating anything, but I still managed to wolf down a turkey sub from Blimpies with extra meat and a side of potato salad.  A sympathetic production assistant trying to help slipped me an Alka-Seltzer.
Fifteen minutes later I was feeling worse, only now I was having trouble breathing.  I walked outside for some fresh air.  It didn't help, I was feeling weak and feverish, and it was getting more difficult to breathe.  I wondered if there could have been something in the food.  This was simi­lar to… an aspirin reaction: Fever, hives, constric­tion of my windpipe.  My eyes began to swell, another symp­tom.  But I didn't take aspirin, aspirin could kill me.  My curi­osity took me to the newsstand in the lobby.  I picked up a box of Alka-Seltzer and read the first ingredient: Aspirin.
Now I had to tell the director that within the hour my eyes would look as if I went ten rounds with Muhammad Ali.  Hives the size of Mallomars would be sprouting more red spots than a Chinese fertility clinic.  It was the first day of shooting, and I was going to ruin the film.  Don Milano would never cast me in anything again.  Not only would I not be able to continue, but my windpipe was closing and I had to get to a hospital soon before I stopped breathing.  I could die, and that would put a serious crimp in my acting career.
Fortunately, the director was a pro.  He took one look at my condition and his face turned pale.  "We have to act fast," he said with grave concern.  "I don't want to lose the shot."  Since I looked like I'd been hit by a bus, he had to alter the script.  Now, when the bad guys arrived, they would find a reason to rough me up and justify my swollen face.  I gasped for air as the make-up girl administered fake blood around my puffy eyes.
"Can I please get to a hospital?"
"Soon as we get the shot," the director said, preoccupied with the cameraman.  "We'll just lose the close-ups from the chase scene and use long shots and masters."
People scurried around me, stepping over my body, as if I were a skid-row bum.  We got the scene in one take and a production assistant rushed me to the hospital before I expired.  They rewrote the script around me and I returned four days later, fully recovered, to shoot my scene, the sex scene.
The first sex slave victim to show her gratitude was Lana, the beautiful blonde with azure eyes and long chorus girl legs.  Her breasts were visible through a sheer white blouse, poking her nipples out like a pair of tire valves.  There were a dozen people on the set watching and I had a boner that was working at time and a half.  My first screen kiss was disappointing, a weird, no tongue lip-lock with a two point degree of difficulty.  It was a sham.  My tongue probed the cleavage area of her open blouse and traced a nip­ple into wider and wider circles until I inadvertently dropped a trail of drool.  Soon we were both naked and I was on top of her, my boner rubbing amok outside her soft trimmed mound.  It didn't take long before I found out what simulated sex was.  It meant you couldn't show an erect penis or penetra­tion into any orifice, which explains the tag, "softcore."  It was all faked.  While I pumped away, the camera shot my naked butt from behind.  It only looked like I was in her, but I wasn't.  I would have done anything to get in, even if it meant eating aspirin.  Squirming ineptly, I tried to angle myself into her without using my hands–like "it" had a mind of its own.
"No balls, no balls," the director yelled out.  Was he talking about my resolve?  No, he was talking about my balls.  It was a softcore film, no balls in the shot.
When the scene ended, my woody was just beginning.  Feeling incomplete and a need for some kind of closure, I approached Lana who had covered up by wearing a g-string she could have stored in the Speedo pocket of a vertically challenged gnat.  "Hi," I said, offering my hand, "I'm Jeff."  She mumbled something unintelligible and walked away.  Her ass was unbelievable!  Tight little mounds shaped like Peruvian plums, begging to be squeezed.
One hour later I was still hard and beginning to feel the strain of an unfulfilled erection.  Lana was shooting another sex scene with Jamie Gillis who played one of the kidnappers.  Jamie had dark curly hair and slack eyelids that made him look like he was half-asleep.  He was a big star in hardcore films.
Jamie was a master.  I stood back and admired his tech­nique.  The kissing looked real.  He was convincing as he slid his tongue down her body zeroing in on the sweet-spot between her legs.  His face moved in small circles over her mound as the camera shot him from behind.  It sure looked like he was really eating her out.  Lana was a good actress too.  She was moaning as if she was actually enjoying it.  Her tanned legs turned out slowly, right and left, into a perfect "V" giving Jamie access.  When Jamie heaped his body onto hers, she hugged his torso with her legs and pulled him in.  Jamie was on top pumping her just like I was.  It looked so real.
I bobbed and weaved, trying to get a better angle without getting in the way of the camera.  I felt more like a geek tourist than I did an actor in the film, but I wanted to see where Jamie put his dick when he did softcore.  Appar­ently I was the only person on the set who didn't know that Jamie was doing her for real, fucking her in front of the whole crew.  The director worked around it, shooting a hardcore scene with softcore coverage.  My dick was detonating through my pants and I was afraid it would detach from my body and go into orbit.
Gina, the brunette who played my secretary was laughing.  She saw what was going on and asked if I needed any help.  I was too embarrassed to ask, but I didn't have to.  Gina slid her hand up my leg and squeezed my rocket.  She told me that she worked for some producers and asked if I was interested in doing hardcore films.  "Yes!" I whispered because I was still hyperventilating.  "I would love to do hardcore – NOW would be good."  I came right there on the launching pad.  We exchanged numbers and I went home with a massive chubby, fantasizing about making my first triple-X, hardcore movie.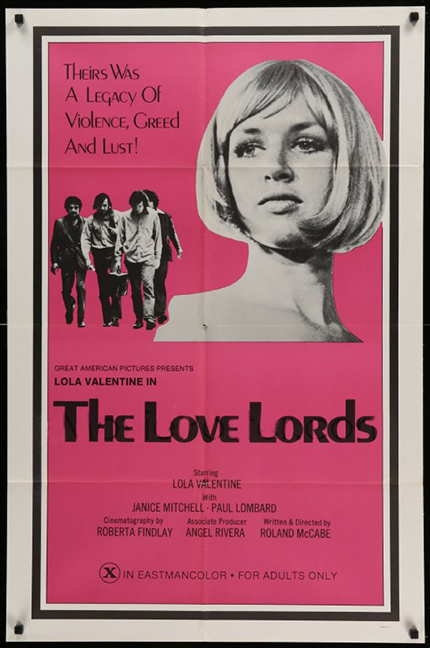 *
'Contact!' was an adult film that brought several diverse couples together to raise their sexual con­sciousness.  I played Henry, the prudish spouse, who is embarrassed about his sexual limitations.  He reluctantly attends this 'therapeutic orgy' of enlightenment only to appease his curious, young wife Angie.
Three fun-loving couples greet Henry and Angie, get naked, and get down to business.  But poor Henry keeps his clothes on – until two nubile gals undo his belt, along with his last inhibitions.  The ensuing three-way puts him in touch with group therapy, and warms him up for the weekend's main event – a full blown, all-out yuppie orgy.  The action comes to a head Sunday morning, spilling over into the kitchen, the stairs, and anywhere two bodies can cram into – or three bodies, or four… or more.
The promo proclaimed: "After a wild weekend with this sex-crazed crowd, you'll be left begging for more–because you've made CONTACT with your deepest erotic passions." 'Contact!' had intelligence, wit and of course fornication, which was why I was there.
The cast met at the producer's apartment in Manhattan to read through the script.  It was a typical table read with plenty of snacks and cookies.  In addition to the food, I had a terminal boner looking at the girls I was going to boink, this time for real because it said so in the script.
There I was, all caught up in the excitement of doing my first hardcore film and it never occurred to me that I might not be able to get an erection, or cum on cue.  Although I was ex­cited at the moment, what would happen on the set when all the attention was on me to perform in a sex scene with bright lights, cameras and others in the room?  What if I couldn't get it up?  What if I couldn't cum?  What if I came too quickly?  How many times would I have to cum?  How much recovery time would I have in-between?
Helen Madigan was a newcomer to the porn industry.  She was nineteen years old, with long dark, curly hair, firm breasts and a body that could cut glass.  Helen was bubbly, giddy and fun to be around.  I watched her at rehearsal – the way she moved in her little pleated mini-skirt; the way she sat, her sassy laugh, and the way she positioned her legs, unaware that her dress was riding up her thigh expos­ing her panties.  It was impossible to take my eyes off her, knowing that she was going to be my first sex partner in hardcore films.  That night I went home with a woody that wouldn't go down, and did a 'five on one,' fantasizing about Helen Madigan.  Maybe I should have saved it for the film, but I didn't think I was going to have a problem on the set as long as I stayed away from aspirin and granola.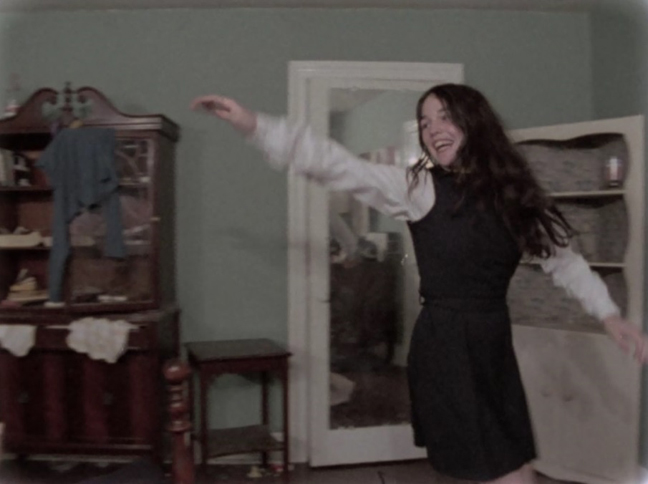 Helen Madigan
Doing this film was a risky proposition.  I was gambling my future career in show business to act in a smut film and have sex with beautiful women.  Granted, it included a hundred bucks a day plus lunch, but what would happen if I were found out?  I hadn't gotten any real acting work yet, but I was freelancing with theatrical agencies that were submit­ting my pic­ture for com­mercials, theater, and television.  I was a good actor with a career in front of me.  What if an agent or a casting director saw me in this film?  What the hell was I thinking?  I would be finished and put away at twenty-four.  Common sense (aka my dick) prevailed and I realized that all I had to do was change my name, do the film, and no one would be the wiser.
Since this was going to be my one and only X-rated film, I didn't want to use my real name, Jeff Eagle, or cheapen it by using some dorky porno name like Dick Hurtz or B.J. Pecker.  What I needed was a name that was memorable yet easy to forget, something strong and masculine yet non-threatening.  Ideally, something sophisti­cated, but also a name that the common man could relate to, nothing that would bring attention to me.  J. Michael Farnsworth came to mind.  I said it out loud just to hear how it sounded.  "Contact!" I announced like Marv Albert.  "J. Michael Farnsworth eyes his target and makes 'Contact!'"  Time is running out.  Farnsworth hard-ens.  Only fifty feet left in the reel.  He is erect… he dribbles.  J. Michael makes the insertion.  He pumps once… she moans.  He pumps again, and again… she screams with pleasure.  Farnsworth shoots… YES!  He scores!  J. Michael Farnsworth, I repeated.  Nah … too pretentious.  I needed a name with depth, something visual, something like… William Truth.
Imagine if you will, I said like Rod Serling, a milieu of sex.  Two wanton women hungry for intimacy, and in the distance an android Casanova, half Don Juan, half Black and Decker power tool.  William Truth as the irreproachable Henry, forms a sexual liaison with the sex starved women and through some dark, ironic quirk, cannot stop cumming. William Truth, I said to myself.  Too contrived.
That man – right there, I articulated as only Howard Cosell could.  The Hamptons, New York – November 14, 1971, Randy Montone, porn star and ladies' man personified.  That man – personal friend of mine, a solid eight and a half, takes on a beach house of sex crazed coeds and single-handily brings each wild woman to an amenable, acquiescent climax, again and again and again.  What an actor!  What a man!  What a stud!  Look at him go, one woman after another.  He's insatiable, he's unquenchable, he's… dead.  Randy Montone?  Sounds like a Vegas lounge act.
Again I was between a rock and a hard place, but a hard place was what I was going for.  Benson Hurst sounded like a possibility.  I was from the Bensonhurst section of Brook­lyn–the cesarean section.  But Benson Hurst sounded like a gay English butler.  So with a little imagination – very little imagination, I created Jeffrey Hurst.  Jeffrey Hurst was virile.  It had depth, it had width, and it was easy to dance to.  The name rolled off the tongue like hot pastrami.  Jeffrey Hurst – adult film actor.  It fit.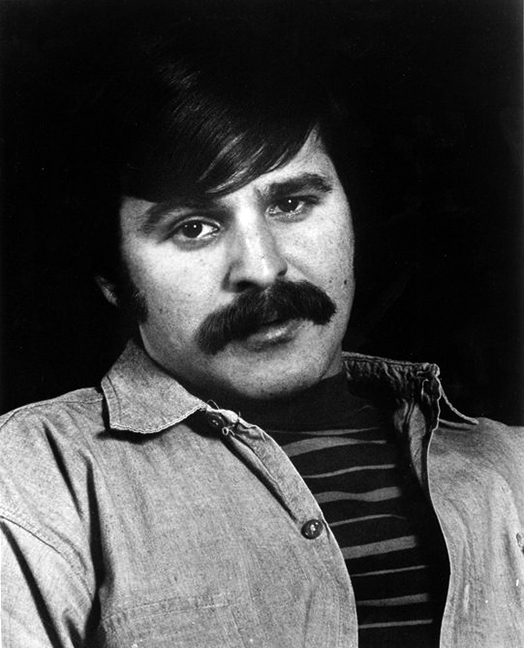 My first day on the set was a menage a trois with Helen and Jill.  Jill had long sandy colored hair, a great body and perfectly shaped tits.  Her face had an odd oval shape with heavy makeup that looked like it was painted on by LeRoy Nieman.  I had never been with two women at the same time and was excited about the upcoming scene.
As Henry, I acted jealous and enraged when confronting my wife Angie engaging in oral sex with the man of the house.  But as Jeff, I chuckled inwardly as she held the guy's dick to the side like Groucho held a cigar.
"Henry for God's sake, go find a beautiful girl and have sex," she encouraged me, still bogarding his joint between her pointer finger and thumb.  Then, I'm suddenly pulled away – manhandled by Jill and Helen as they lead me away from my dick-smoking wife to a more private area, and throw me down on a mattress.
Jill straddles my face while Helen positions herself between my legs and gives me head.  Although visually explicit, it wasn't as erotic as it appeared.  Helen was not skillful in the art of oral sex.  She had a slight overbite, which only irritated the sensitive glans she was bobbing her head over. I cringed as she scraped her teeth over my erect shaft.  Meanwhile Jill's volatile thrusting threatened to break my nose.  My "yows" and "ouches," muffled by Jill's vaginal lips, were mistakenly in­terpreted as ecstasy, and went unnoticed.  She was smoth­er­ing me, making it difficult for me to breathe; not so different from an aspirin reaction, and yet strangely enough, I stayed hard.  The scene ended and Jill moved on.
Now it was just me and Helen in a fuck scene that would culminate in 'the money shot,' sometimes called a 'wet shot.'  That's porn talk for visible ejaculation.  VE day had come at last.  While the cameraman changed film magazines, the direc­tor detailed the sex scene like he was giving me direc­tions for the Long Island Expressway.  "Start off in missionary so we can get some good footage.  Stay in­side of her, and then roll into a doggie position.  Give me plenty of action.  When I give you a hand signal finish on her back–and let the camera see it.  You have about thirty seconds but if it takes you a little longer don't worry about it."
The threesome was nothing – all I had to do was lay there.  But now, I was going into action and everybody gath­ered on the set to see me, the rookie, the new kid on the block – the flavor of the month – the newcomer.
Veteran porn star Marc Stevens was one of the leads in "Contact!"  He was considered the 'Johnny Wadd' of the East Coast.  Marc's claim to fame was his ten and a half inches of manhood.  It looked even larger on his thin, wiry, chicken-skinned frame.  Marc had already acted in hundreds of hardcore films.  Like Jamie Gillis, Marc was a pro.  He always got it up, kept it up, and came on cue.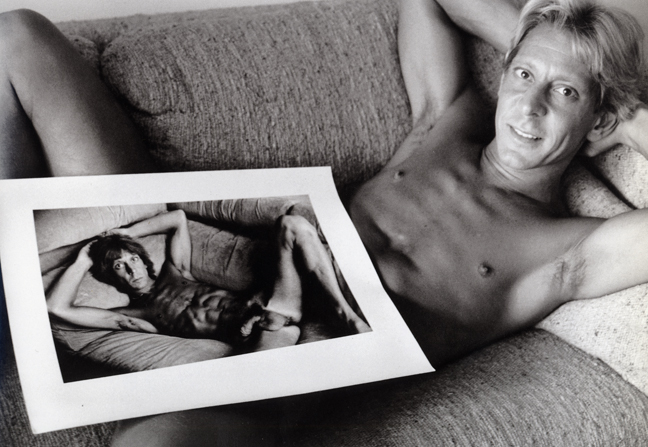 Marc Stevens
The great John Barrymore was such a controlled actor, he could produce a single tear from the right eye, or if more desirable, the left eye, and he could do it in three speeds.  Marc Stevens had the same reputation in porn.  Be­sides being able to cum on cue, he had three varieties of money shots: the dribbler, the spurter and the shooter.  All delivered with flawless precision and accuracy, and all de­livered… on the money.
Marc took me under his wing and offered some helpful guidance.  "If you cum too quick they don't have enough coverage.  If it takes you too long you're wasting footage.  And if you can't get it up you're wasting time and money, causing anxiety to every motherfucker on the set.  Now get out there and knock 'em dead."  He gave me a good luck pat on the ass and sent me on my way.
I was like a rookie pitcher coming out of the bullpen with the bases loaded.  When I got on the set, the director gave me a final word of caution.  "Leave enough space for the light to get in during penetration or we won't be able to see it, and don't block the action with your arm."
"This is my first sex scene too," Helen confided in me.  "I wish I wasn't having my period."
Oh jeez, I wish she wouldn't have told me that.  Not when I was going in with men on base.
The scene began, and Helen kissed much better than she sucked.  No fake lip locks either.  This was real French dressing.  Helen grabbed my shaft and guided it between her legs.  I slid into her like Maury Wills into second base.  Warm sensations rushed all through my body.  It felt great.  Lots of people were watching and I loved it; it turned me on.  Not only was I a voyeur, I was a voyee.  All my parts were work­ing – at least all the parts that counted.  In fact, they were working too well.  The sensations of pleas­ure pinballing be­tween my legs were unbelievable and I was ready to give my visual ejacula­tion sooner than I ex­pected.  Sooner than any­one expected.  The camera, however, was still rolling, and the director had not yet signaled that he was ready for the wet shot.  I was now in the final stages of orgasm: muscle spasms, loss of voluntary control of facial muscles, respira­tory rate exceed­ing 40 breaths per minute, massive body flush surging from my groin.  I had to think of something fast, something to dis­tract me.  Some­thing so terrible, and so dis­gusting that I would lose my desire to cum, yet at the same time keep my erection.  The images came slowly, then the words, garbled at first but fi­nally audible.
"One Bam."
"Three crack."
"East …"
It was my mothers Mah Jong group that kept me from plum­meting out of control that day – an image I'd never for­get: Middle-aged, Jewish women playing a Chinese game of tiles.  I would draw from that well many times.  And there you have my first secret: Mah Jong has made me the man I am today.
*
A week later, the phone rang.  "Hi, this is Harry Reems," the voice on the other end said.  "Marc Stevens gave me your number.  Are you available for a shoot on Saturday?"
At first I thought that someone was yankin' my chain.  Harry Reems from 'Deep Throat' was calling me?  Yeah right.  But how else would he have gotten my name?  I was intrigued.
"Saturday?" I repeated.  "Gee, I don't know."
"The pay's a hundred bucks for the day," Harry added as an incentive.
Was this really happening?  I mean, I enjoyed the acting challenge of having sex in character, and this would be a whole new cast of women… but did I want to do this?
"Sure," I nodded into the phone as if he could really see me make up my mind.  "I think I could be avail­able… Harry."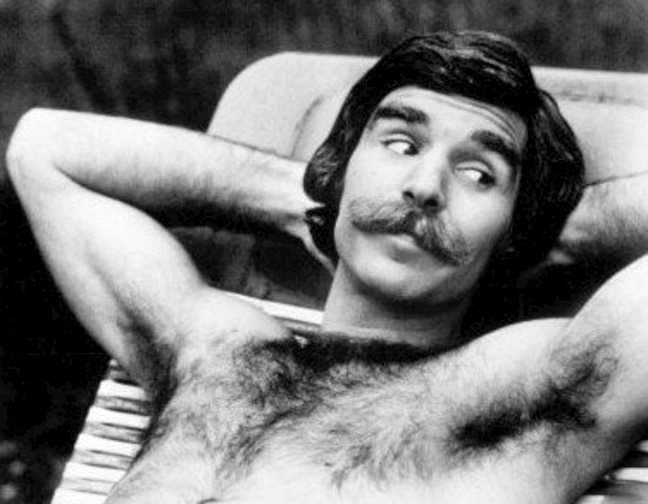 Harry Reems
Early Saturday morning I took the Inter Rapid Transit line, more commonly called the IRT, to 79th.  As the train clanked and chugged up to the Upper West Side, I held on to a hand rail making eye contact with an attractive redhead in a maroon beret.  I gave her a curt smile, men­tally removing her beret.  If only she knew where I was going and what I was about to do.  It had been one week since I fin­ished 'Contact!' and now Harry Reems, the hottest porn star in the world, was recruiting me for a hardcore film.  One week and I already had a reputation.
Something wasn't right.  Too much information was miss­ing.  Not only did I not receive a script for this film, but I knew nothing about the story – about the char­acter.  No one mentioned the location or how many days I'd be needed.  I didn't even know the title.  Granted it was a sex film, but I still needed to approach my role through the character's psyche.
I arrived early at the stylish, white ash building at 79th and Broadway an hour before my call time.  It was a prewar high rise with an art deco lobby and an attended elevator.  Being unprepared was one of my pet peeves.  I was still pissed that I didn't get my script; I would need the extra time to memorize my lines.  I brought along two suits, a sports jacket and a sweater just to give my character, whoever he was, some kind of range.  "Fred Hammond's apartment?" the doorman asked with a wink.  And with that he whisked me to the 14th floor.
Looking at Harry Reems was like looking at me in the mirror.  It was unbelievable how similar we were.  His body, face, mustache, and… well, I didn't know about down there, he still had his pants on.  Harry was warm and had a great sense of humor.  I felt comfortable right off the bat.
The rest of the cast trickled in an hour or so after our call.  Andrea True was a shapely blonde who had been doing hardcore films for a while.  She had been prettier once, that was obvious, but the years in adult films had taken its toll.  Her sweet face looked haggard.  Her body was another story.  She wore a tight yellow skirt that came up to mid-thigh, showing off gams that made a showgirl's legs look like drumsticks from Kentucky Fried Chicken.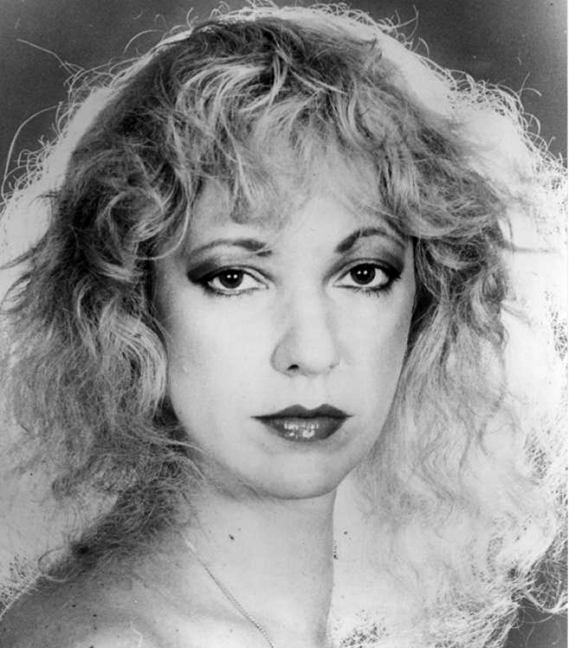 Andrea True
The second girl to arrive had short brown hair and moon-shaped eyes.  She was older and more mature than Andrea, but not as pretty.  She wore a derby, dungarees and a satin-backed, sequined vest.  Her hips were broad and her buttocks full and sturdy, protruding like a pair of twin bumpers.  Chele Graham was pleasant, well mannered and had a great personality.  Someone said she was a good actress and had just finished making the biggest budget porn film ever, for Gerry Damiano.  It was called, 'The Devil in Miss Jones,' and it starred Harry Reems and Chele, who goes by the name of Georgina Spelvin.  Georgina had a long career on Broadway as a Gypsy when 'The Devil in Miss Jones' became an overnight success.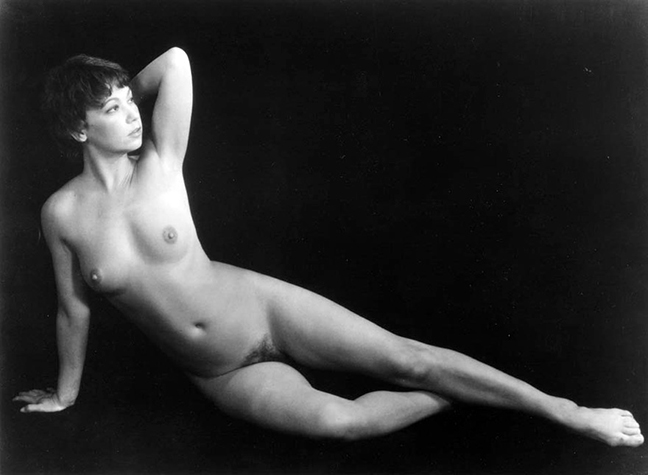 Georgina Spelvin
The third girl … I don't remember.  I came on her face, but I don't remember her name.  When I asked Harry where we were going to shoot, he eyed me as if I were a bull goose loony.  "Here.  Where'd you think?"
"Okay," I said, pounding the palm of my hand into my head.  "Now I get it.  We're shooting the first scene here."
Harry chuckled.  "We're shooting the whole film here.  Today."
This didn't make sense.  "We're shooting the entire film in this apartment in one day?"
"That's correct," Harry said, noticing my concern.  "Is anything wrong?"
"Yeah," I said.  "Nobody sent me a script."
"It's a fuck film sugar," Andrea said, squeezing my ass.  "There is no script."
"I don't know who my character is," I protested.  "How can we make a movie without characters or a story?"
"He's cute Harry," Georgina cooed.  "Can we keep him?"
"Oh I get it," Harry said with a new understanding.  "You're coming from an actor's perspective.  You need character, motive and a sense of purpose."
"Right," I said, nodding my head.  Finally, somebody understood me.
"Well then, this is going to be right up your alley," he said facetiously.
"Or hopefully mine," Georgina intervened with a sly grin.
"See Jeff," Fred continued, "this is going to be an improvisational film.  We make it up as we go along."
"And what is the premise?" I said, trying to understand this new concept.
Fred and Harry exchanged uh-oh eyes.  Harry gestured with his hands for everyone to gather round.  "We have three guys and three girls.  Jeff, I want you to be an Ambassador to the U.N.  The other guys are horny Russian diplomats.  You bring in these call-girls to service the Russians.  Not only do you keep them happy, but you make the world a safer place."
Fred broke in enthusiastically.  "We're gonna call it… 'The Russians Are Coming.'
All I knew was, I was the ambassador, and I was having sex with whichever woman I was with.  It didn't take long for the improvisational sex to begin.  Georgina was turned on; she pulled me down to the couch and we started making out.  She wasted no time unzipping my pants and sticking her face between my legs.  She was breathing hard, sucking me off, and talking dirty all at the same time.  It felt good, but after a while I got frustrated.  If she was going to garble like that with her mouth full, we wouldn't have an opportunity to improvise any dialogue.
The cost of making these one-day wonders ran between twenty-five hundred and five thousand dollars.  The formula was simple: three guys, three girls, six cumshots and one obligatory lesbian scene.  It was usually filmed in someone's apartment using a sixteen-millimeter camera and a feeble story line to segue into the sex scenes.  Each guy was required to cum on cue, at least twice in the ten hours or so it took to complete a feature film.  Sometimes when a guy could only go to the well one time, it was up to one of the others to provide a third wet shot, usually garnering an additional twenty-five dollars.
In this film when one of our guys couldn't get it up, Harry handed the camera to Fred, jumped into the scene as a stand-in cock, and finished the shot in an extreme close-up.  It was Harry's dick, and Harry's cum, and no one could tell the difference.  Frankly, no one cared.
As the Ambassador, I had sex with Georgina and the girl whose name I can't remember.  The challenge to me was improvising dialogue and staying in character.  So, when I had my two sex scenes, I came as an Ambassador to the U.N.  One was an oral cumshot, the other was in the line of duty.  It was… most diplomatic.
*
Peter and Iris was a married couple who shot loops for the eight-millimeter film market.  Peter was a big Nordic man with premature gray hair.  Iris was slightly chubby, dark-haired, and wore rhinestone glasses.  You would not, in your wildest dreams, imagine that they filmed X-rated loops.  Loops are the short sex scenes shown in peep show projection booths.  They are shot without sound and run anywhere from seven to twenty minutes.  The films never need re-threading, because they start over when they finish, hence the name loops.
They shot thousands of them in their spacious Upper West Side apartment using every room and crawl space, over and over again.  No matter how creative they got dress­ing the sets, you could always recognize a Peter and Iris loop.  The guys cranking their wads didn't care.  A mastur­bator would never complain about the lack of good art direction.
When Peter and Iris first approached me to do loops, I didn't want to appear ungrateful, and politely declined.  I wasn't in this business for the sex; I was in it for the acting.  The training I got working in front of a camera and improvising re­alistic dialogue was in­valuable, the only drawback was, no one could ever know.
*
In all this time I had never abandoned my job as janitor at The Mercer Arts Center.  Lee Sankowich, the director of 'One Flew over the Cuckoo's Nest,' was directing a new Off-Broadway play slated for the O'Casey Theater upstairs and asked me to audition.  'Dylan,' the story about Welsh poet Dylan Thomas, starred Will Hare as Dylan, and Rue McClanahan as his wife Caitlan.
I was cast in four small roles includ­ing The Deck Offi­cer, who recites Dylan's classic poem, 'Do Not Go Gently,' with Caitlan Thomas.  In addition, I was assistant to the assistant stage manager and helped wherever I was needed.  Based on nothing besides my talent, I was beginning to make my mark.  At least I assumed it was my talent.  My ego would have been shattered if I thought that I got my first Off-Broadway show through my janitorial connection.
*
Without ever knowing where Harry Reems lived, I rented an apartment in the building next to his on Twenty-Fourth Street.  Not only did we become neighbors, Harry and I got to be pretty good friends.
People mixed us up all the time.  We had a lot in common besides just looking alike and doing porn films.  We both loved sports.  Harry got me involved in The Broadway Show League, a serious competition in slow pitch softball.  Of course 'ringers' were allowed, and Harry and I played every Thursday in Central Park for – of all teams – the Broadway revival of "My Fair Lady."  With Harry at shortstop and me in the outfield, we had a pretty good team.  Harry was also an expert juggler and taught me the art of three balls in the air.
His real name was Herbert Streicher, a Jewish kid from the Bronx.  He started out just like me, juggling legit and porn.  But when 'Deep Throat' hit and got all the notoriety, Harry Reems the porn star, became a household name, never again to be Herb Streicher the legitimate actor.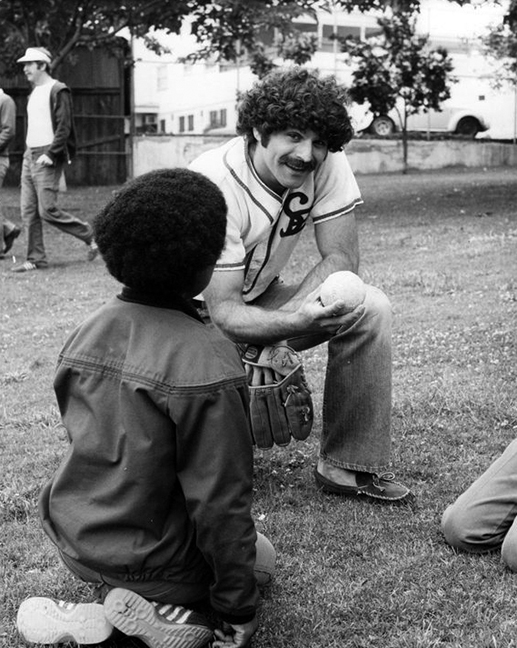 *
It wasn't long before I saw an ad for 'The Russians Are Coming' in the smut section of the New York Post.  It might have been a porn film, but it was my porn film and I was eager to see myself on the screen.
I slinked into the lobby of a skuzzy porn theater on 42nd Street.  There were no movie posters, just the title and a sleazy still photo of the girls.
Entering the squalid theater I immediately detected the musty scent of dried semen.  I was surprised at the absence of a popcorn machine or refreshment counter and was glad I brought my own chips.
The theater was dark so I had to give my eyes a few minutes to adjust.  On screen, an erect penis the size of a forklift was thrusting in and out of a blonde woman's pleasure source.  A cadence of monotonous rock music riffed endlessly as I floundered into a row, almost tripping over a man masturbating, and spilled some chips.  There must have been twenty or thirty guys sitting randomly throughout the theater isolated from each other by seats and rows.
'The Russians Are Coming' opened without fanfare or credits.  The film was grainy and the quality was cheap and crude.  That's what you get for a five thousand-dollar feature.  Mine was the first character introduced.  My head filled the screen as I explained the sequence of events to my Russian comrades.  It was great to see me up there, but I wasn't thrilled with how I sounded.  What upset me the most was my acting.  It stunk!  But hey, I could always improve.  This wasn't the time to be critical.
The first sex scene with Andrea True was two minutes into the film.  Unfortunately, I wasn't in it.  As the Ambassador, I ushered the two Russians into separate rooms to have sex with their respective hookers.  That left me alone with Georgina in the living room, and she wasted no time in seducing me.
I was curious to watch my character perform sexually; apparently others were too.  Loose change and metal belt buckles hit the floor with a clamor of jangles and clanks.  This was the first time I had ever seen my penis on screen.  It was an extreme close-up in the way a Lillipu­tian housewife might have viewed it.  If I saw it on the street, I wouldn't recognize it.  But now, due to my erect con­tribu­tion, guys were jerking off.  It was an unreal sense of recogni­tion.  Even though it was technically my dick, it really belonged to the Ambassa­dor.  I wondered if anyone in the theater would recognize me.  Not that I expected someone to say, "Hey, there's the guy from 'Dylan.'"  If they did I would be gracious, I just wouldn't shake any hands.
'Dylan' ran for three months and no one from the audience recognized me as Jeffrey Hurst from adult films.  If they did, no one was talking.  During the run of the show, the cast made an appearance on the CBS morning show at the studio on 57th Street.  Rue McClanahan and I performed 'Do Not Go Gently.'  All I could think about was the switchboard lighting up with people who recognized me from porn.  But the reality was, not a soul noticed.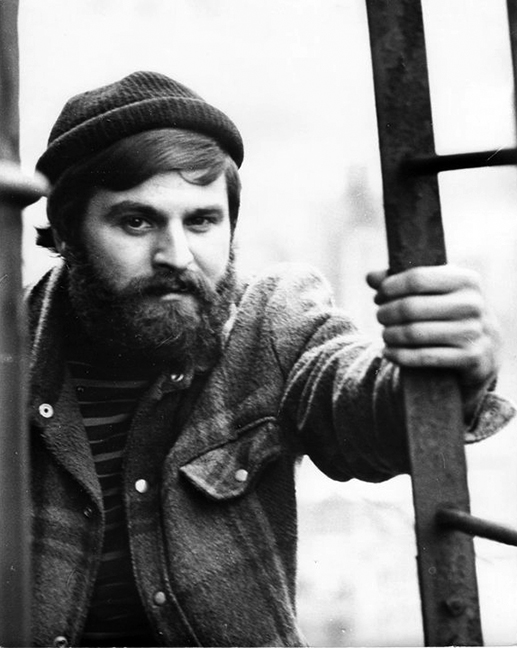 *
The next morning I train'd it back to the casting office to pick up my script for 'Ryan's Hope', and then walked around the city getting familiar with the character.  It was still early so I went into a doughnut shop for coffee and cigarettes.
It was a tiny joint with a Formica counter and a glass-walled view of Fifth Avenue.  I scarfed down two glazed doughnuts and a cup of regular as I watched the commuters trek to work.  Mouthing the dialogue, I mumbled under my breath trying to get into the character and subconsciously chain-smoked one cigarette after another.  The lines were starting to blur together and I was losing focus.  It was still early, so I made a quick visit to The Pussycat Peep Show on Broadway.
As soon as I walked in I was greeted with an aroma of Pine Sol and cum.  Without making eye contact with anyone, I made my way through a magazine section to a long, well-lit corridor lined with what looked like portable toilet stalls.  About twenty guys cruised up and down the lane, examining the color photos of the women in the films framed on the side of each movie booth.
On the second floor, I slithered into a booth that featured 'live girls,' hoping no one would notice me.  I locked the door and stood in the darkness listening to a woman moan into a microphone in a whorish garble.  My eyes strained to find the coin slot and I dropped in a quar­ter.  After a slight delay I heard a tinny motorized whir.  A screen about twelve inches wide slid open revealing a glass window.  Inside was a circular room.  A girl with a hard-looking face lay stark naked on a large revolving ped­estal that was covered with a cheesy shag carpet.  She fin­gered herself with one hand and moaned unconvincingly into the mike with the other.  She checked her watch every thirty seconds or so, rotating like a chicken on a rotisserie to the window of each booth, giving every guy the view he needed to jack-off.  Her eyes were open, but unfocused and glazed.  The look on her face said it all – she would rather be in Philadelphia.
Every booth was filled with guys beating off, including mine.  The window hummed again and the screen started down.  I slammed in another quarter and the screen shot back up, giving me time to finish my business.
When I came out of the booth, a strange man locked eyes with mine.  He smiled and nodded his head in recognition.  "How's it going?"  He couldn't have been talking to me I thought, looking around and seeing no one else.  I didn't know the guy.
"Hey," another stranger greeted me.  "How ya doin'?"  Other men were staring at me – winking, nodding, and acting as if they knew me.  Then, when a smiling man made movie-camera, hand turning signals, it hit me… They recognized me.  These were fans.  This was my audience.  They probably recognized me from my films.  Three films and I was already famous.  Did they recognize me as Henry, I wondered, or the Ambassador, or both?  Maybe 'Love Lords' opened someplace.  Where else could they know me from?  Certainly not Off-Broadway at the Mercer Arts Center.  A world of perverts knew and it didn't freak me out.  How could it, my secret life was still secret.
*
Georgina turned me on to Joey Lambert, an X-rated filmmaker who would eventually work himself into mainstream films.  "You'd be surprised how many legit di­rectors started out making porn," she said.  "Joey's a seri­ous student of the medium.  He's made some one day won­ders that are by far the best adult films I've ever seen."
That struck a cord.  Joey and I were both serious about the business and this was our training ground.  Where else could I have played lead roles with my limited track record?  Adult films were a risk, but it was a risk worth taking.
'Bedroom Bedlam,' was a crude Marx Brother-esque, bedroom farce starring Tina Russell and Georgina Spelvin.  Tina was the prettiest, and one of the hottest stars in porn.  She was reputed to give the best head in the business.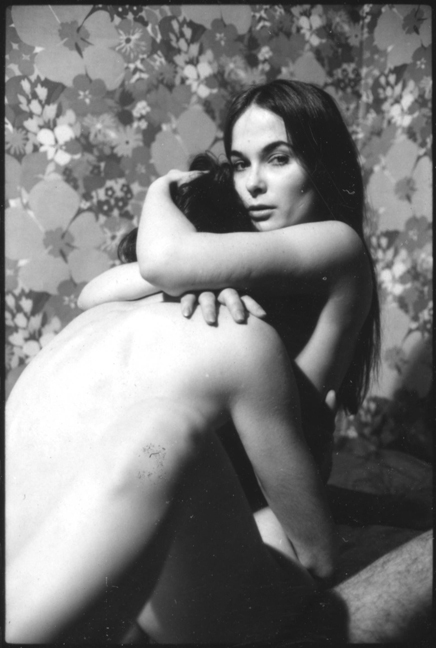 Tina Russell
My first scene opened in the bedroom with Tina blowing me.  "Oh Bernie," she moaned, bobbing her head up and down, swirling her tongue, slurping back her saliva with a sensual suck. "Bernie baby, you taste so good."
I had never had anyone go down on me like Tina.  Not only was I intimidated by her reputation – she was an expert in giving blow jobs – but I was uptight by her husband, John, who stood in the background watching.  The warmth and mois­ture of Tina's mouth, combined with the tongue pressure she incorporated with her sucking felt so pleasurable that even the Mah Jong tiles I con­jured in my head didn't diffuse the sensation.  Fortunately, we changed into a missionary po­sition before I almost erupted in her mouth.
"Cheat, cheat," Joey directed me.  He wanted me to open up so the camera could see my dick sliding in and out of her vaginal canal.  It was unnatural, but it looked good for camera.  "C'mon Jeff, cheat … cheat."
As the gaffer flooded the area with more light, I looked over at John Russell who was standing behind Joey, smiling, watching me pummel his wife.  It was weird; I heard the words "cheat," and I got turned on.  When I couldn't hold it any longer, I pulled out and shot a wad ten feet across the room, hitting one of the fill lights.  It was a tape measure shot that even Mantle would have envied.
When the scene was over John embraced his wife.  "How was it baby?  Did you get off?"
"Yeah, it was good," Tina said, as John kissed her on the lips, the lips that just sucked my dick.
"I'm John," he said, shaking my hand.  "Nice work."
This was so bizarre.  I just fucked his wife and he was complimenting me.  "Thank you," I said with a modest cringe.
I turned to Tina, formally offering my hand and smiling meekly.  "And I'm Jeff."
"Hi," she said in an upbeat, bubbly voice, taking my hand as if she were plucking an M&M.  "Nice to know you."
Ani Le Doux played our French maid.  She made sex films in Paris and was just here visiting when she somehow connected up with Joey.  Her accent was sexy.  She was ex­actly what you thought about when you conjured up a French maid: horny, seductive, and… French.
After my scene with Tina, I went into the bedroom to recoup.  Ani came in and laid down next to me.  She had a look in her eyes that said I want to play.  Ani slid her hand between my legs and I offered no resistance.  After a sensual caress she tugged at my zipper.  "I have a scene with Georgina.  I've got to save myself," I pouted regretfully.
"You weel have plenty of time," she said with her sexy accent.  "And if not, I weel get you ready, I promise you."
Ani and I got into in a torrid session of schtupping.  People kept coming in and out of the room as if we weren't there.  "Excuse me," someone asked casually, "have either of you seen a green jacket?"  We were fucking our brains out and no one was fazed, including us.  Even in the heat of coitus someone asked, "do you mind if I use the phone?"
Later, there was a scene where the plumber does the maid, (did I mention that there was a plumber?)  Soon after, Georgina does the maid.  Even the maid does herself before moving on to a girly-girl shot with Tina.  Then, like a scene from a Max Sennet movie, couples switch from room to room and partner to partner, until Georgina, the plumber and I are together in one room.
If you didn't follow that don't worry.  The best is yet to come.  Georgina, now insatiable, longs for the plumber and me … jointly.  It is at this point that I am involved in my first career double insertion – two stiff dicks, together, in two different places at the same time.
The plumber plops down on the bed and Georgina mounts him.  His rod penetrates her vaginal canal and she leans forward giving me access to her rear.  We enter her as one and she screams with what I hopefully think is pleas­ure.  I can feel the pressure from the other guy through the thin mem­brane that separates her two orifices.  As you can imagine, the inde­pendent rhythms of three bodies moving to­gether were the hardest part to coordinate.  It was inter­esting.  It certainly wasn't Shakespeare, but it was interesting.
*
Over the next couple of years I made about twenty or so 'one day wonders,' always careful they were not high visible films that would expose me (no pun intended).  My mainstream agent, Conrad, was none the wiser.
As Jeffrey Hurst I had become a low-keyed member of the hardcore film community – celebrated by perverts and purvey­ors of porn – unheard-of by the legiti­mate world.  As Jeff Eagle, I blended in innocuously with the thousands of spirited hopefuls who flocked to New York to pursue a career on stage, screen and television.
Once in a while I would get a line or two, or extra work on a legitimate film or television show.  I acted in a few showcases for no pay, just to be seen.  I got offers from producers – but they were all 'X.'  I had become extremely se­lective, turning down many big budget hardcore films that would have brought me notoriety.
Andrea True recorded 'More, More, More,' an upbeat disco song about the porn industry.  It moved to the top ten and became a mainstream hit.  She was not only beautiful, and talented as a singer, she was intelligent.  In addition to being a porn star, Andrea was a college graduate.  She organized the actors who made hardcore films, into a 'union,' and raised our daily rate to a hundred and twenty-five dollars including time and a half for overtime.  I can just imagine if adult film actors went on strike and porn producers had to bring in scabs.  There would be some pretty interesting picket lines.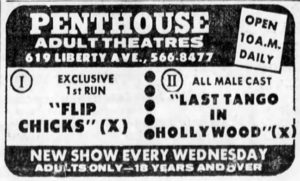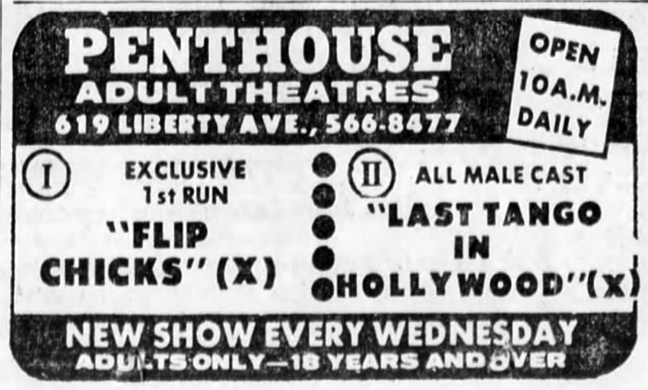 In a strange way we took pride in making X-rated films.  In 'Coming through the Window' I worked with a registered nurse who was moonlighting for extra cash.  With few excep­tions the girls who did these films were not actresses nor did they want to be.  They weren't all sluts either.  There was always the occasional hooker or topless dancer.  Mostly they were college students, housewives, single mothers, and sometimes married mothers, even professional women whom either needed the extra money or just wanted to live out the fantasy of performing in an adult film.  'Flip Chicks' was based on the premise of just such a woman.  It reunited me with Marc Stevens, Georgina Spelvin and Jamie Gillis.
Getting jaded is a problem for most men.  The titillation of making porn films wears thin fast, and you have to rely on your imagination instead of the reality before you.  Georgina always requested to work with me; we made some half-dozen films to­gether.  But after making 'Different Strokes,' (aka 'Sikey's Magic Wand') another film with Georgina Spelvin, I needed the inspiration of new faces to keep me from burning out.
It had been almost two years since I started making hardcore films and I began to need more and more stimulation to get aroused.  It wasn't unusual on some sets to find a ready supply of drugs: marijuana, cocaine and Quaaludes.  I loved the acting part, and God knows I loved the sex, but sometimes I needed half a Quaalude to find my balance–just to get me through the sex scenes.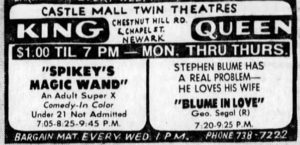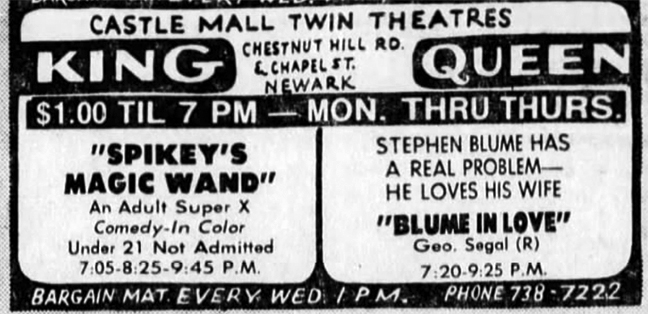 Quaaludes were the best.  Commonly known on the street as "ludes," "Rorers," "Q's," "714's," or "Lemmons," they were sleeping pills, but it hardly made you want to sleep.  Its sideshow was the real deal: No inhibitions, increased sex drive, and a gluttonous appetite for poon-tang pie.
My fixated personality made obsession inevitable.  On the day I took Quaaludes, I would go on a "lude diet," fast­ing for several hours, sometimes longer, to ensure maximum effect on an empty stomach.  Sometimes I used alcohol, which was not such a great idea, since both are metabolized by the liver and can present some serious health problems.
There was a euphoric fascination about taking a lude and knowing that in fifteen minutes it was going to alter how I felt.  The anticipation of that change, of that metamorpho­sis, is what made it so exhilarating.  Feeling it come on, feeling the tingles, and stirring under my skin – in my fingers, in my facial muscles, feeling that with each minute I got more and more under the influence of the drug.
*
Peter and Iris kept hocking me to do loops and I kept turning them down.  But between my low self-esteem and lack of cash, I finally agreed to shoot some loops in their SoHo loft.  The pay was forty bucks a cumshot, with a two-cum-shot minimum, one per loop.  The only people who would see me in these loops, I rationalized, would be perverts in projection booths, hardly a threat to my career.
Adding loops to my roster presented a tech­nical problem–the strength of my cumshot.  Much like a baseball pitcher, who throws on three or four days rest, I preferred two days between cumshots, only if a great arc­ing, gusher was needed.  Also, I had to be careful in my personal life and tried not to shoot my load the night before filming.  Too little recovery time meant less spurt.  Too much recovery time made me too sensi­tive and affected my control.  This had nothing to do with getting hard.  If spurt wasn't the issue, I could go back to back to back, or come out of the bullpen as a stunt cock.
Before SoHo became a trendy hot spot, it was an inexpen­sive industrial area.  Most of the buildings were old and could only be accessed by antiquated eleva­tors that broke down more often than not.  The oversized lofts were perfect for artists and creative people with a need for lots of square footage.  The secluded lofts, with limited access, were perfect for shooting hardcore films.
It was six o'clock in the evening when I arrived at Peter and Iris's loft.  Donna Summer's 'Trilogy' album was pulsing through quadraphonic speakers.  The ambiance was dripping with sensuality as the crew set up lights and cameras.  The second I heard her orgasmic moan, my meck came to life.  "It's been so long/I've waited so long/And now that I have you/I want you to come … Come … COME! /Oh baby …" I was ready to cum just listening to the lyrics.
Vanessa Del Rio was giving me head and my lude was just kicking in.  She was a lady plumber who had come to fix my pipes, and she had a delicious way of doing it.
Vanessa was a voluptuous Latina, with dark olive skin and long black hair.  Her beautiful smile and sensual lips, partnered with the hot music and Quaalude, made it chal­lenging to maintain my composure.  It was the first time doing these films that I felt dishonest.  It wasn't acting.  There was no lesson, no new technique, no principal that I was learning to apply to my craft.  It was purely carnal, but that didn't make me want to stop.  Not now, especially not now.  Donna Summer's erotic moaning said it all – "Oh baby, I want you so bad/Come… Come… Come…" When I shot my load, Vanessa Del Rio must have thought she was hit by a tsunami.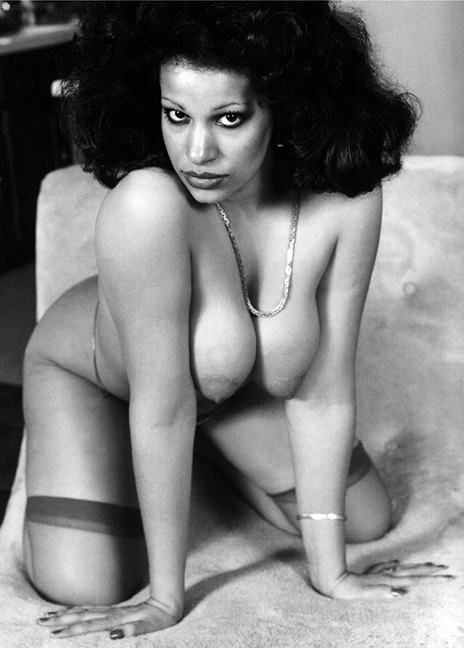 Vanessa Del Rio
*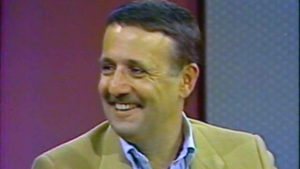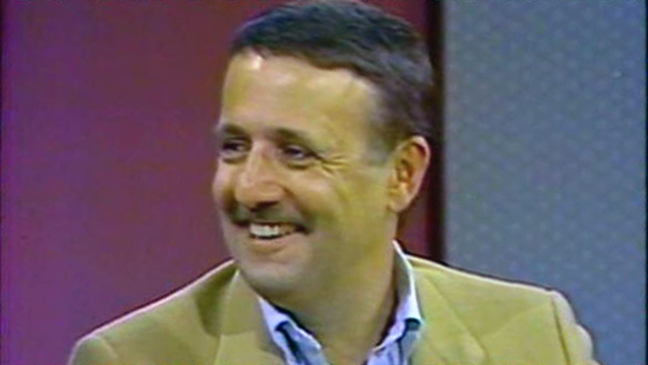 Harry Reems turned me on to Chuck Vincent, a porn director who was casting for the lead role in his next film.  Chuck was one of the great writer/directors in the adult film indus­try.  He was short and impish with a little natty mustache and a great sense of humor.
Chuck had a distinct guttural chortle when he laughed, making him sound like he gargled with gazpacho.  He often cracked up at his own lines.  They were so funny; they seemed out of place in an erotic film.  Chuck was the Benny Hill of porn.  Most of his films were comedies, and if he had any kind of budget and took out the sex, his films could have gone mainstream.
Although I tried to keep a low profile, word of mouth had earned me a reputation as one of the better actors in the adult film industry.  Chuck handed me 'Grace's Place,' a softcore script that he wrote.  When I read his funny lines he cackled like a teenage moron and hired me.
'Grace's Place' was set in a topless bar using real strippers and a grateful me in the lead role.  It was my first soft-X since the case of blue balls I contracted in 'The Love Lords.'  Only this time I was the star.  I was going to do the sex scene hardcore and let them film around me – like Jamie Gillis did.  It never happened.
Jamie Gillis had something that I lacked… cojones.  If only I had a Quaalude, it would have helped me to be daring, more aggressive, more like… Jeffrey Hurst.  Hardcore pulled no punches.  What you saw was what you got.  In softcore I didn't know whether I was coming or going, then wound up doing neither.  It was a mediocre job in a mediocre film and I discovered that although blue balls are painful, it's not fatal.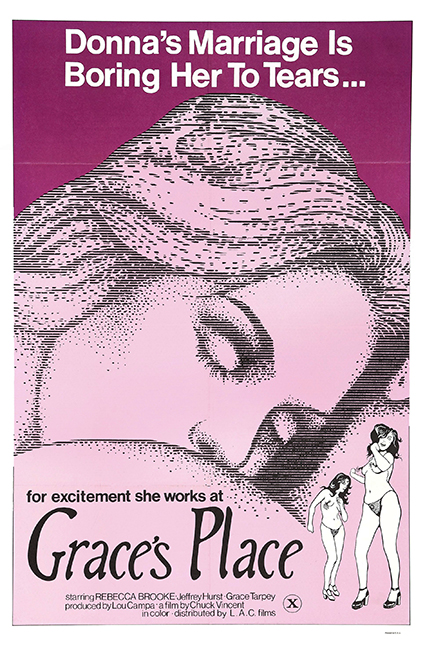 *
Most of the women who did hardcore were not trying to be legitimate actresses.  They were content to get the work and the money, but some did estab­lish careers in adult films.  Linda Lovelace, Georgina Spelvin and Marilyn Chambers were amongst the super­stars.  Tina Russell, Andrea True, Darby Lloyd Rains and An­nie Sprinkle had also proven themselves as box office draws.  It was the women who filled the seats and got the notoriety.  It was the men who filled the women and got the high soci­ety.  John Holmes, Harry Reems, Marc Stevens and Jamie Gil­lis were some of the biggest male porn stars around.  But, un­like me, they could never entertain the notion of working legit.
The same was not true of film crews.  They were gener­ally the people who worked on union movies.  Occasionally, I'd hear a story about some famous actor or inci­dent on a big budgeted film that would jack me up and send my adrena­line sky high.  Phil, the cameraman who worked regularly on Joey Lambert's shoots was also a member of IATSE, the trade union for camera technicians.  Phil had just gotten a gig on a new movie for Universal Studios.  It was a hockey film starring Paul Newman, called 'Slapshot.'  But right now he was working as Joey's cameraman in his new film, 'Chamber Maids,' starring Andrea True.  We had a sex scene that Joey was shooting MOS, but I wanted to hear more about 'Slapshot.'
Someone once told me that the expression "MOS," stood for "mit out sound," and was derived from Otto Preminger's heavy German accent.  Many sex scenes are shot MOS, be­cause there is no need to audio people making love for long periods of time.  Some directors choreograph their sex scenes during the course of their MOS shooting.
The action of this scene took place on a couch.  Couches are tricky because they usually provide cramped conditions for the actors.  So there I was, entwined with Andrea on the couch, still talking to Phil about 'Slapshot,' and Joey is behind the camera giving us direc­tions for the wet shot.
"Can you play hockey?" Phil asked in a whisper-like voice.  Joey and Phil were both talking at the same time and their voices overlapped.
"–Just do it on top and cum on her stomach," Joey said as he was trying to conceptualize the scene.
"What do you mean?" I said, annoyed that I had to break away from Phil.  "Do what on top?"
Joey moved closer talking to me like I was a six-year old.
"Andrea on top, exactly the same way you were before."
"Gotcha Joey," I nodded, not really hearing him.  "Where did you say you wanted me to cum?"  Then I turned back to Phil.  "I can play hockey, are they still casting?"
Joey had the patience of a saint.  He grimaced, took in a deep breath, and then, speaking slowly, and articulating each word, Joey repeated, "Cum-on-her-stomach."
"Joey," I said, shaking my head, "how am I going to cum on her stomach when she's on top of me?"
Andrea chimed in, offering her two cents.  "I'll pull my body off… if you can just – "
"Wait a minute," I said, suddenly taking over the choreography department.  "What you can do is get up like this…" I played the part of Andrea, moving her body off of mine. "Then you can jerk me off."  I said it casually, like we were deciding which side of the room to put the piano on.  "I think it's better if I have some gravity," I said, approaching the scene from a scientific angle.
"Phil," Andrea cooed, "are there any roles in 'Slapshot' for me?"
"Yeah, they need somebody to blow Paul Newman."
"I'll do it," Andrea said enthusiastically.
"In that case," Phil said laughing, "the movie's gonna be called 'Cumshot.'"
"You know Phil," I interrupted, "I'll do anything to get into this film.  So if it doesn't work out with Andrea…"  Silence.  Everyone looked at me like I meant it.  "I'm kidding.  That was a joke.  A little porno humor."
"More like a little homo humor," Phil quipped.
"Excuse me," Joey said breaking in, "I hate to interrupt your little hockey fantasy, but we're doing a film here.  If anybody's getting a blow job, it's gonna be Jeff, and it's gonna be in my movie."
"That works for me," I said, popping a 714.  My toler­ance had gotten higher and now I needed a whole Lemmon to do a sex scene.  Andrea asked me if I wanted to be on the bottom.  "Wait a minute," I said, trying to clarify the scene with an academic explanation.  "You're not screwing me; you're just going to do a transition from the blow job."
My stomach was on empty so it didn't take long for the lude to assimilate.  Andrea was sucking me off while the cameraman with the hand-held moved in waiting for the cum­shot.  The gaffer, equipped with a small light, inched closer.  Joey loved it.  "Just a little more and we'll go in for the money shot."
The drug was starting to kick in as I watched Andrea bob her head in a slow sensual rhythm.  "Give me about two min­utes," I said, trying to concentrate.
"You want me to turn the lights off," Joey asked matter-of-factly.
"No, just stand by."  After another minute I felt the rush from my loins starting to build.  "Stand by," I garbled, barely managing to get the words out.
"Stand by," Joey repeated for the crew as they scrambled into position.  I pulled out and came all over Andrea's chest.  She wrapped my still spurting penis between her tits and rubbed it up and down her chest until I collapsed.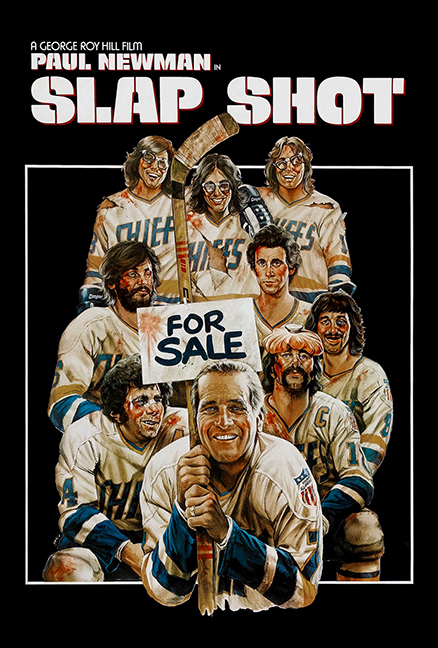 *
Porn producers were constantly offering starring roles to me, but I continued to turn down any film that would give me exposure – figuratively speaking.  I had already committed to star in 'The Honeymooners,' a porno version of the old TV series with Jackie Gleason and Art Carney.  Although this wasn't a big budget, I felt a little uneasy because of the title.  The role I played was Norton.  John Leslie played Ralph.  It was almost sacrilegious to cheapen this classic television series, but in my own way I was paying homage.  I loved the role of Norton and felt it was a real opportunity for me to do some acting–to try to capture the essence of the brilliant character that Art Carney had created.
Since this was to be my last porn film I had to balance my ice skating and puck shooting skills with insertions and cumshots.  John Leslie was new in the business, but he had already proven himself as an up and coming sex star, and one of the better actors in adult films.  We were able to play off of each other's characters with an impromptu fluidity.  Once again, if it wasn't for the sex scenes, this could have been a pretty funny movie.  Some of the film crew who worked on 'Chamber Maids' was also working on this film and was excited about my skating audition for 'Slapshot.'  It took two and a half days and three Quaaludes to complete 'The Honeymooners,' and then it was back to the ice.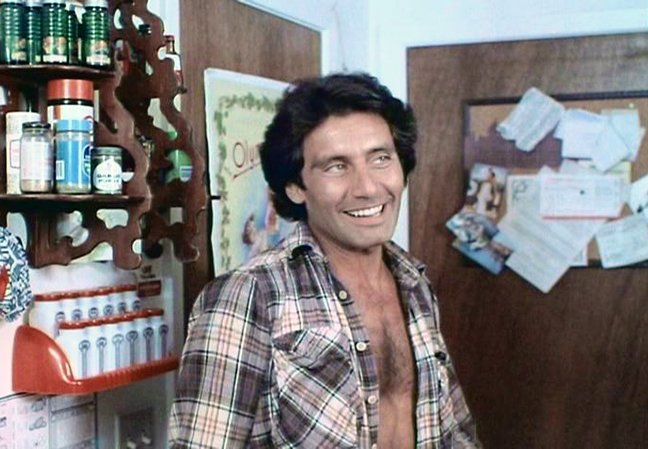 John Leslie
*
The producer of 'The Honeymooners' called to let me know that a mistake had been made.  Instead of using Jeffrey Hurst in the credits like he had agreed, he used my real name.  It was too late to make any changes and he said he was sorry.  He was sorry?  He was fucking sorry!  My career was on the line and he was sorry.  My name wouldn't be on the marquee, but it would be on the movie poster.  The best I could hope for was that during the week the movie ran, anyone who knew me would walk by the theater and not notice.
When Chuck Vincent called and said he had a starring role in a great script, I got excited, forgetting that he was talking about a hardcore sex film.  The film was 'Heavy Load,' and the role was Gus, a horny, but lovable trucker who delivers the goods to all his female customers.
"I've got Andrea True, Darby Lloyd Rains, Kim Pope, Helen Madigan, Samantha McLaren and Jamie Gillis," Chuck gushed.  "The only thing missing is the lead–you."
Legitimately, I was having a tough time.  Even extra work was hard to come by and I had to clean theaters to sup­port myself.  I wasn't crying hardship, I just wanted the opportunity to act and I couldn't get arrested.  I couldn't even get an audition to get arrested.
Yet, in the world of adult films, I was respected as one of the best actors in the industry.  Chuck's film would be a real break–a starring role in a four-day shoot with a credi­ble script.  Still apprehensive from the 'The Honeymooners' inci­dent, I agreed to take the role as long as Chuck would meet my terms – no billing and no stills for ad­vertising, publicity, or posters.
"You're the star of the film.  The story is about Gus and you're in practically every scene," Chuck argued.  "I need to do something with you to promote the film."  He proposed a compromise, offering to put me at the end of the credits – also starring Jeffrey Hurst.
I wanted to do this part, and it didn't hurt to have my ego stroked.  Someone finally recognized my talent and was doing everything possible to land me in this star­ring role.  How could I not say yes?  To get around the still-photo matter, Chuck committed to use an artist's il­lustration of my likeness for the posters.  "Kind of like a police sketch of your face in a hard hat.  Your own mother wouldn't recognize you."  A subdued laugh escaped my lips in a wry puff of air.  Chuck didn't know 'The Selm.'  He was underestimating the illogical savvy of my mother who could sniff me out at twenty paces submerged in a vat of kreplach.  Still, I had to take that chance.  After agreeing to all his terms, we started production.  'Heavy Load' was to be my first starring role where I carried the film.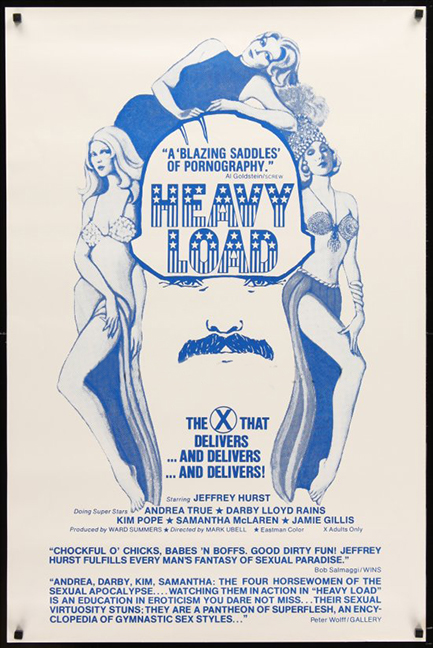 *
My agent Conrad called me into his office and he was pissed.  I was sure word got back to him about my so-called hockey audition.  He glared at me for a while, sizing me up. "How many X-rated films have you done?"
Busted!  First I was going to try to tap dance around the obvious, but instead of getting deeper into more shit, I just conceded that the jig was up.  I couldn't bullshit my way out of this one.  "How did you know?" I asked, relieved that he wasn't pissed about 'Slapshot.'
Conrad removed his glasses, paused, and held them for effect.  "I just got off the phone with Nancy at Best Artists.  'The Honeymooners' is playing at the Capri Theater on Eighth Avenue."
Nancy is a fox.  I tried to suppress a smirk because I couldn't picture her in a porno theater watching me have sex.  "Nancy saw a porno?" I said.  A chubby came to life and I forgot that Conrad was still grilling me.
"She saw a poster outside the theater that says, starring Jeff Eagle.  It's your face."
"So she didn't actually see the movie?" I said sounding a little disappointed.
"How many have you done?" Conrad demanded again.
"I don't know… a couple.  Three or four… about a half dozen… maybe ten."  My whole career was on the line, and I was acting like a cocky son-of-a-bitch.  Maybe it was the relief of finally getting caught.  The deception was over.  It was hard to believe, but I actually felt free.  "Most of them were softcore.  I only did a few hardcore films," I lied.
Conrad eased his butt down on the edge of his desk and burned me with some serious eye cheese.  "We think you're a talented actor and we're still willing to represent you, but we're going to have to cool it for a while."
"How long is a while?" I said, suddenly realizing the seriousness of the situation.
"Just until the films you've already made disappear, and things quiet down."  Conrad suppressed a grimace.  "We'll still send you out – little things, but we have to be selec­tive.  You can never ever do another porn film again.  Do you understand?"
"Absolutely," I said, relieved that Conrad was still willing to work with me.  "You will never again see the name Jeff Eagle on a porno film," I promised.  Jeffrey Hurst maybe, I thought to myself, but never Jeff Eagle.
"One more thing," Conrad said, putting his glasses back on.  He took a long hard look, eyeing me hopefully. "You ever do gay films..?"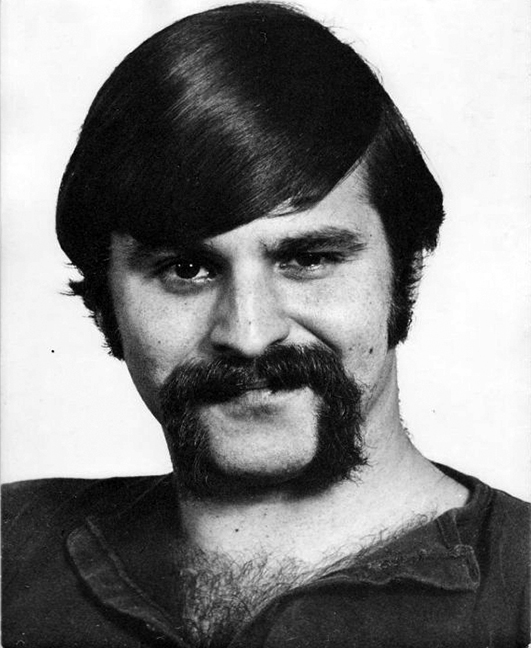 *
My girlfriend Bobbi and I were at the Capri Theater on Eighth Avenue buying tickets for The Honeymooners' when I recognized Mr. and Mrs. Mandlebaum, an elderly Jewish couple who played bingo with my mother.  They were all decked out for a night on the town.
"Hi," I said, surprised to run into them at such an unlikely place.  I would have been less shocked seeing them at Sunday Mass, devouring communion wafers.  "Bobbi, I would like you to meet Rhea and Sam Mandlebaum."  Bobbi smiled and shook their hands.  A hooker walked by and gave us a double take.  "What are you doing here?" I asked the Mandlebaums, bringing my voice level down a notch.
"We came to see you, darling," Mrs. Mandlebaum said with a Machiavellian smile and a thick Yiddish accent.
"Me?" I said, fearing the obvious.  "How did you know?"  And then it happened – the doors opened and a gaggle of old Jews exited the theater mobbing Bobbi and me, shaking my hand and slapping me on the back.
"You were wonderful darling."
"Such a good actor."
"You could fix my elevator anytime," Mrs. Leventhal said wrapping her wrinkled hands around my biceps.
These were my mother's friends, people she socialized with.  Selma had somehow unearthed my secret and outed me at bingo.  But instead of being embarrassed and mortified, these old people milled around the Capri porno theater like it was opening night at The Winter Gar­den.
"You were the best one," Selma yelled out after recognizing me from the lobby.  "You were better than Art Carney," she said beaming with pride.
Oh jeez, Art Carney would have turned over in his grave if he were dead.  This movie alone could have killed him.  They just saw my hard, circumcised penis make penetration and ejaculate semen, and they made it into an event–I was surprised they didn't pack sandwiches.  All these people had just seen me fuck and I got more slaps on the back and congratulations than I did at my Bar Mitzvah.
"That's quite a schmeckel you got there," Mr. Leventhal said, holding out his cigar as if to make a comparison.  Little old ladies were pinching my cheeks–all my cheeks.  They had incomprehensibly, transformed into groupies.  Groping, gray-haired, sex crazed groupies.  We had to get out of there.  People on the street were stopping to see what all the commotion was about.  Quickly, I grabbed Bobbi by the hand and we went into the theater.  One thing was certain – I could never show my face at bingo again.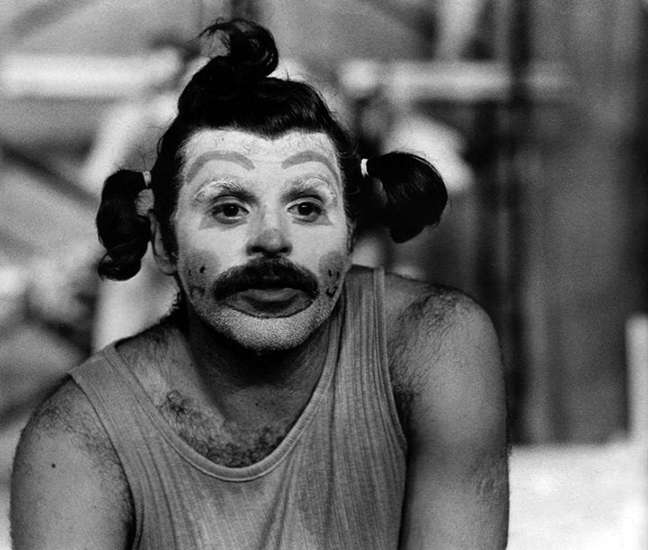 *
Inspired by 'Fade To Blue', Jeff Eagle has also adapted his memoir into a screenplay.  It's a quirky comedy titled 'Blue Jobs' set in present day Hollywood that will appeal to a broad Reitman / Apatow demographic.
'Blue Jobs' was a Finalist in the Extreme Screenwriting Competition and a Semi-Finalist in the Story Pros Writing Contest.
Barb Doyen at Extreme Screenwriting said, "'Blue Jobs' is an outrageously-hilarious comedy with laugh out-loud dialogue."
"…Clever concept & execution… Funny, sharp witted dialogue… A solid comedy with lots of laughs… The writing style is quick and snappy like Mel Brooks" – Page Awards
"I am impressed with your ability to expand your solid premise into a viable and entertaining story. In the case of BLUE JOBS, the story is not only entertaining – it is complete. We get it all – precision timing, strong characters and an intelligent story based on underlying values" – Larry Myles – Director of Red Inkworks
'Slapshot', the chapter in 'Fade to Blue' (Jeff's skating audition for George Roy Hill) won First Place at the Palm Springs Writers Guild Awards.
*