The Rialto Report set out this summer to look for one of the more mythical locations in adult film history: the house and countryside that were used for the filming of The Devil in Miss Jones (1973) and Memories Within Miss Aggie (1974).
The trouble was we didn't have many leads. Over the last decade we've interviewed just about everybody related to the two films – from the director Gerard Damiano, to cast members Harry Reems, Georgina Spelvin, Levi Richards, Patrick L. Farrelly, Darby Lloyd Raines, Eric Edwards, Kim Pope, and many crew members too – but no one could pinpoint the exact location of the property.
We were told by some that the house was an hour's drive from New York – though others thought it was half a day away. Some said it was in upstate New York, but others insisted it was in rural Pennsylvania.
We set out to see what we could find.
________________________________________________________________________________________
The Apple-Packing Plant
Back in late 1971, Harry Reems had every reason to be happy. He was finding regular acting work in off-Broadway theater productions, and though they didn't pay much, he was far from being a starving actor. He'd been working steadily in adult films during the previous year and the work showed no signs of slowing down.
From 'Here Comes Harry Reems!', Harry Reems (1975):
Late 1971 was the high noon of the business. Everybody was getting into the act. You could stand on a street corner in Times Square waiting for the traffic lights to change and ask a stranger, "How's the new film going?"
Almost never would anyone say, "What film?"
Anyone who wanted work could find it. You had the luxury of turning down three, four or five jobs a day.
What a summer, autumn, and early winter it was!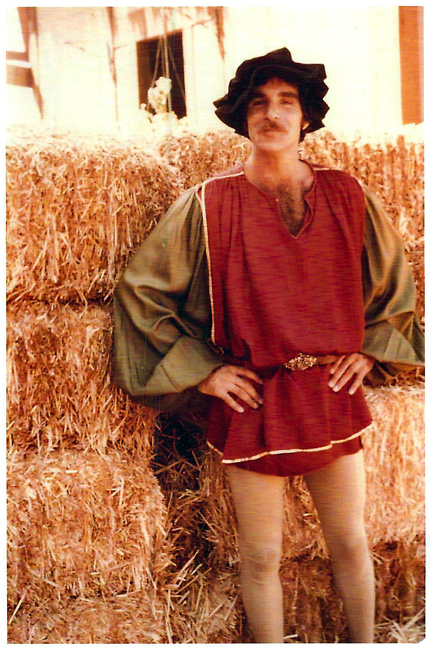 Harry Reems – thespian
Away from the film sets, Harry mixed with a crowd of actors, artists, and writers. In September 1971, he met a friend who was to play an important role in his life.
From 'Here Comes Harry Reems!', Harry Reems (1975):
In the street in front of my home I met a guy selling antiques off a truck.
Bruce is a sensitive, talented artist, sculptor, and designer. We soon became tight friends. Bruce had a house in Pennsylvania that used to be an apple-packing plant. In time it became like a second home to me.
This property was the location for the shooting of both The Devil in Miss Jones and Memories Within Miss Aggie.
When we met Harry in the years before his passing, he still spoke with great happiness about the weekends spent out at the house in Pennsylvania. Harry, Bruce and a motley assortment of artists, actors, and girlfriends would bundle into vans and head there most weekends.
He remembered the property as being near the brow of a hill in Milanville – a village 120 miles from Manhattan, located along the Delaware River and the New York state border, but he had no recollection of the house's exact address, and over the years he'd lost contact with Bruce too.
Harry remembered the house as being sizable – though completely lacking in luxuries. Guests would bring blankets and crash in any of the rooms for the duration of their stay. They would all cook together, before heading for the local tavern, The Black Horse, for raucous drinks into the night.
He recalled that the New York visitors were popular with locals, and in the summer their days were often spent cavorting down the Delaware River using inflated inner tubes as makeshift rafts. Harry described those days as among the happiest of his life.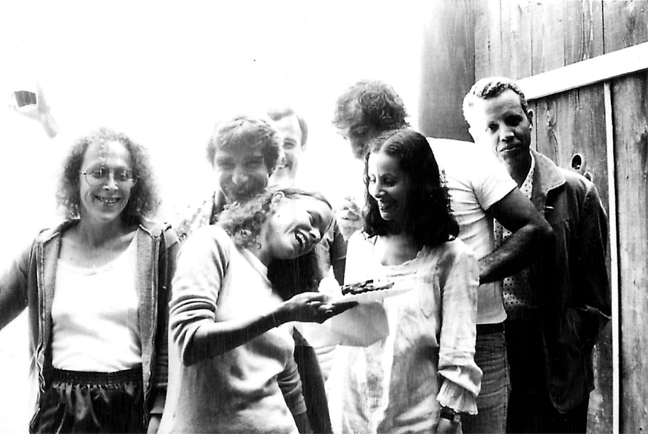 Harry (second from left) and friends
*
The Devil in Miss Jones (1973)
In late 1972, Gerard Damiano asked Harry if he knew of a location where they could film the director's follow-up to Deep Throat – to be called The Devil in Miss Jones. Harry had been hired as the production manager for the film, and immediately suggested the apple-packing plant in Pennsylvania. Damiano liked the idea. There was only one problem. The location was in the middle of nowhere – which presented logistical problems. For a start they'd needed a cook, and it fell to Harry to find one. He decided to approach a recent acquaintance, Georgina Spelvin.
From 'Here Comes Harry Reems!', Harry Reems (1975):
One late October day I was carving pumpkins in my New York apartment. I invited over a woman whom I had met a couple of days earlier at one of the casting sessions for The Devil in Miss Jones. She had made it plain she didn't much like this end of the acting business. She had been on Broadway and off-Broadway plays and thought of herself as legitimate.
"Listen," I said, "we're cast and set to go. We haven't got a thing to offer you. But we're going to be up there in the boondocks. Miles away from restaurants or hotels or any kind of catering services. How'd you like to come and cook for us?"
"I'd love it," she said.
She dug carving pumpkins. I dug her.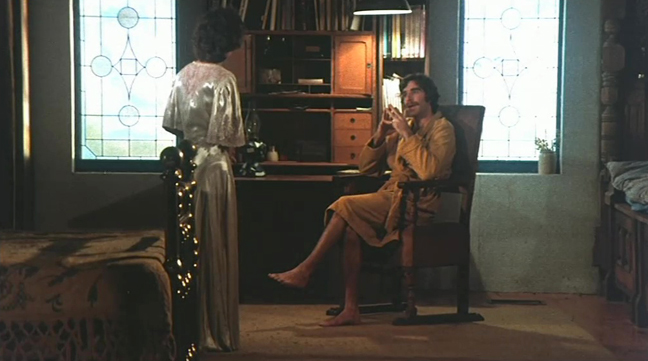 Georgina Spelvin (Miss Jones) and Harry Reems (The Teacher)
In our 2007 interview with Harry, he remembered The Devil in Miss Jones shoot as being a difficult one. The lead actress that Damiano had hired had second thoughts about making a porn film, and so Georgina was given the role of Miss Jones – in addition to her responsibilities as cook.
The Rialto Report tracked down the original lead actress, Ronne, and she confirmed that she'd originally been given the role but claimed she turned it down due to dental problems in the run up to the shoot.
As for Georgina, she remembered the trip to the country location in her memoir:
From 'The Devil Made Me Do It', Georgina Spelvin (2006):
Late in the afternoon we pull up before a looming nineteenth-century barn-like structure. It stands in majestic isolation on a slight knoll. The last quarter of the trip had been through towering trees sporting vivid fall colors. The only sign of civilization seen for a half-hour or more, a small roadhouse tucked in amongst the abundant foliage.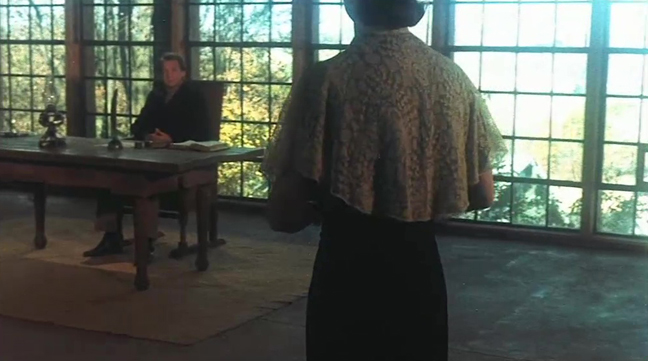 John Clemens (Abaca) and Georgina Spelvin (Miss Jones)
Another actor who found the location striking was Marc Stevens.
From '10 1/2'', Marc Stevens (1975):
Harry lined up an old converted apple factory in the Pocono Mountains as a set. It was exquisitely lovely in the Poconos… late fall with a delicate fog in the orchard and gorgeous sunsets. The countryside was right out of an old English painting, with adorable cows and sheep.
The shoot was longer than normal for an adult film at the time, and this created it's own set of problems. It was the almost winter in late 1972, and the apple-packing plant was difficult to heat at that time of the year. Bruce had plans to re-model it, but that was difficult on a sculptor's wages.
From 'The Devil Made Me Do It', Georgina Spelvin (2006):
The huge barn of a building was in the early stages of a remodel meant to turn it into a residence. The owners had run low on funds, and the work had halted a bit short of habitability. A single line of electricity powered a huge refrigerator in a partitioned-off corner. An extension cord ran from the lone outlet to a bulb dangling above a long table near a modern range. The only other resident light was a fixture over the basin in the small bathroom on the other side of the huge room. In it was also a tub and toilet. (Whew!) That was about it for modern conveniences.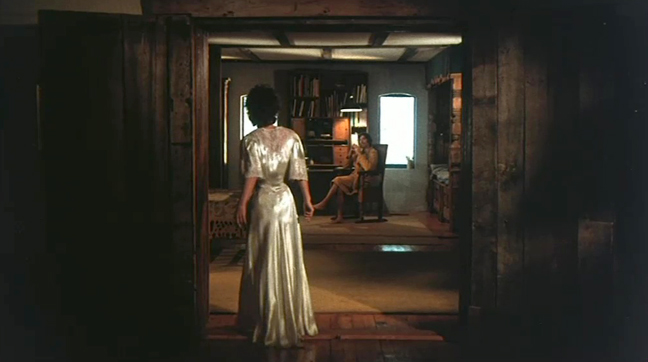 Georgina Spelvin (Miss Jones) and Harry Reems (The Teacher)
The house may have lacked comfort, but spirits remained high. As soon as the shooting was finished each day, Harry remembered taking the entire crew to his regular drinking hole, The Black Horse, each night. By now he was well known to the locals and counted many of them as personal friends.
From '10 1/2'', Marc Stevens (1975):
The townspeople we met at the local bar regarded us as a mixture of mugger and Martian due to our non-farm credentials. At least they allowed us to drink on their premises. No – I can never be facetious about the tranquil beauty of the area, and the niceness of its inhabitants.
*
Memories Within Miss Aggie (1974)
A year after the filming of The Devil in Miss Jones, Gerry Damiano called Harry again. He wanted Harry to be the production manager of his next film Memories Within Miss Aggie – and he was keen to return to the same location.
From 'Here Comes Harry Reems!', Harry Reems (1975):
The village of Milanville, Pennsylvania may yet become the Rural Porno Film Capital of the United States.
Memories Within Miss Aggie, like The Devil in Miss Jones, was shot there at my friend Bruce's farmhouse, the ex-apple packing plant.
As if we didn't have enough things already dividing us in America, the presence of pornmaking in Milanville has split the community down the middle.
Unsophisticated as the area may be, it has some real porn fans who take pride in Milanville's new "industry." They'd love to be up in that 'sin factory' on the hill while the cameras are rolling.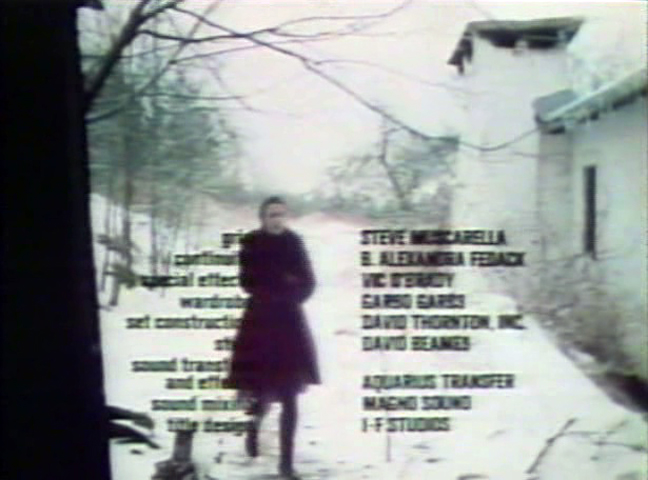 Deborah Ashira (Miss Aggie)
Many of the same crew descended upon the house again to start filing the next opus from the Deep Throat director.
The film's plot concerns an aging Miss Aggie (Deborah Ashira) describing a series of youthful sensual experiences to a companion Richard (Patrick L. Farrelly) in a wintry farmhouse. Aggie changes in each memory, where she is played by a different actress, including Kim Pope, Darby Lloyd Raines, and Mary Stuart. The film's dark tone and surprise ending were unusual for the genre and era.
Interviewed in 2007, Harry remembered that the crew for Aggie was considerably bigger than it had been for Miss Jones. He also recalled one of the locals he was close to, Rolf Beck, who he hired as an additional production manager.  Rolf even had a small part in the film.
From 'Here Comes Harry Reems!', Harry Reems (1975):
Rolf is a man of many talents. But I think he'd chuck them all if he thought he had a future as a porn actor. He really eats up the whole scene.
Rolf is also gifted with a sense of the macabre. That's what gave us the notion to cast him as the gravedigger in Aggie.
Memories within Miss Aggie used more external locations than The Devil in Miss Jones, including scenes on a snow-covered bridge, and a surprising scene in a picturesque church.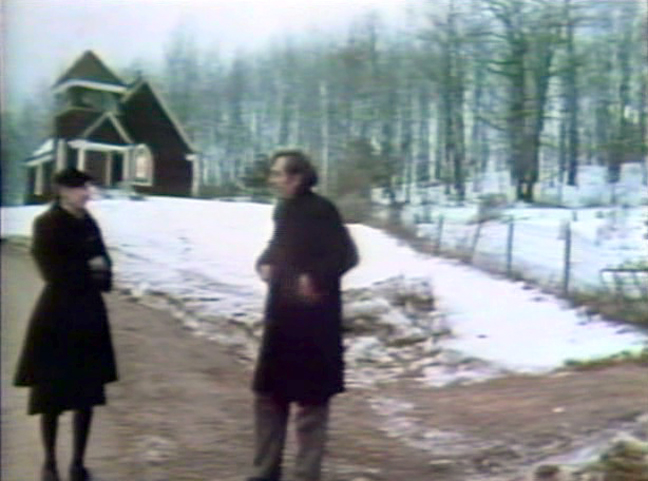 Deborah Ashira (Miss Aggie) and Patrick L. Farrelly (Richard)
From 'Here Comes Harry Reems!', Harry Reems (1975):
In Aggie, there is a scene that was shot in a tiny church, few miles from Milanville.
The Conklin Hill Church hadn't been 'in service' for years. But there were still those who remembered it well and still loved it, as we soon learned. One of them was a seventy five year old woman who had been baptized, confirmed, and married there, as had all her children. A widow for many years, she still lived in the neighborhood and still mourned the closing of the church.
This gentle lady couldn't have been more thrilled to learn that her church figured in a scene in "a major motion picture." When Aggie opened in nearby Monticello, she hired one of the boys from the neighboring farms to drive her there so she could see the movie.
She saw her beloved church, all right. But she saw a lot else she didn't like one bit.
*
Summer 2015
We were running out of leads to find the location of the apple-packing plant.
We searched for Harry's old friend Bruce, the owner of the house, but found that he'd passed away a number of years earlier after immigrating to Australia.
As a last resort we looked up Harry's old friend Rolf, the gravedigger in Miss Aggie. To our surprise we found he still lives in Milanville, and was happy to remember the heady days of the early 1970s when he would clown around with Harry and his friends at weekends, and help out the visiting group of New York pornographers.
Even better he offered to take us on a tour of the area, and show us all the locations of the two films that were shot there.
Sadly he told us that most of the apple-packing complex of buildings had been destroyed in a fire shortly after the filming of Memories Within Miss Aggie. The fire had been started by a faulty heating furnace and had quickly spread across the property. Many of the buildings had cork structures and they didn't stand a chance. No one was hurt but locals remembered the fire burning for days on end.
The original house has been rebuilt, though the original outhouses are still there. Rolf still remembers the parties that Harry and Bruce held at the house. It hadn't been used for packing apples for many years when it was used in The Devil in Miss Jones but the smell of apples still lingered strongly.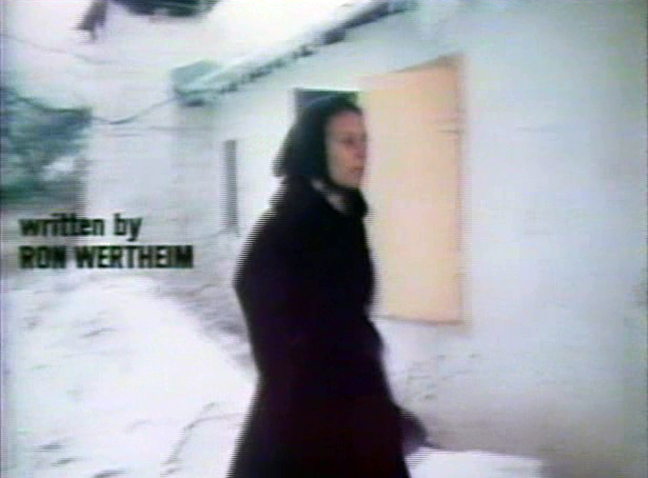 Deborah Ashira (Miss Aggie) at the side of the property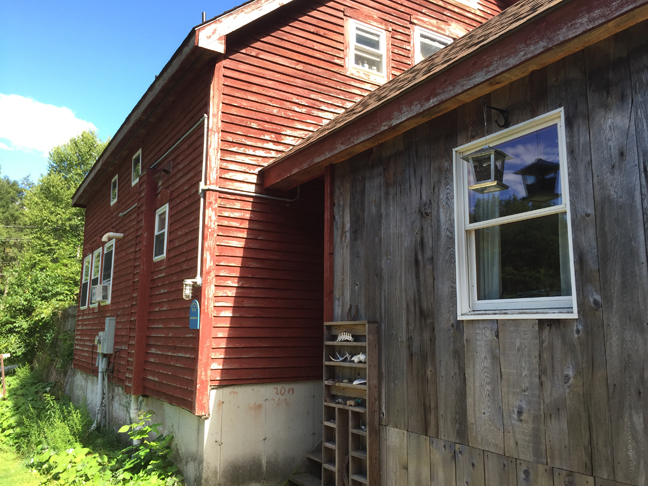 The rebuilt side of the property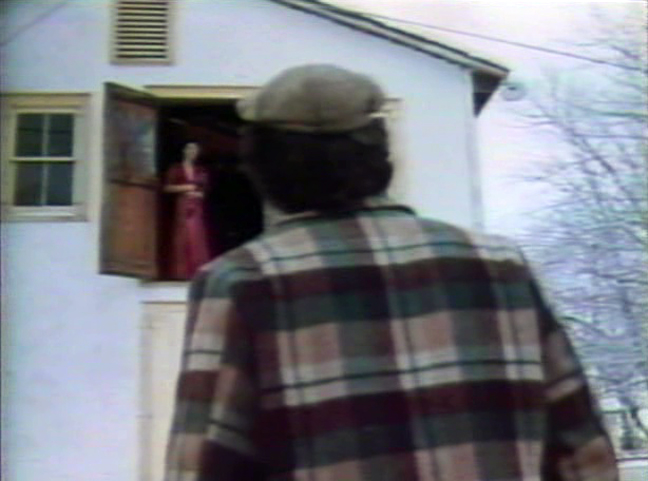 Mary Stuart (Aggie II) and Harry Reems (Richard II)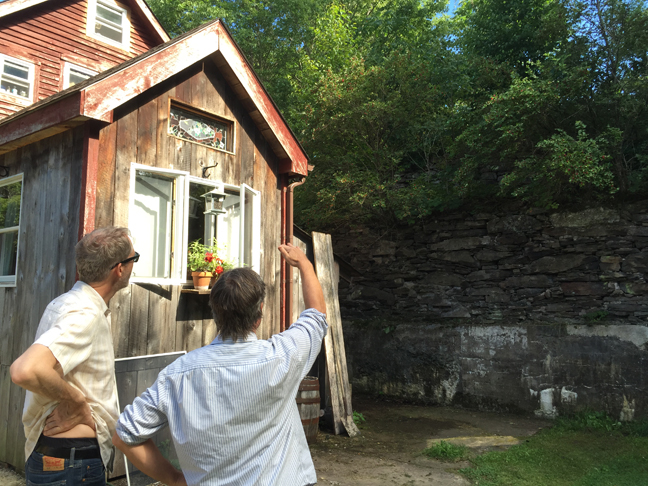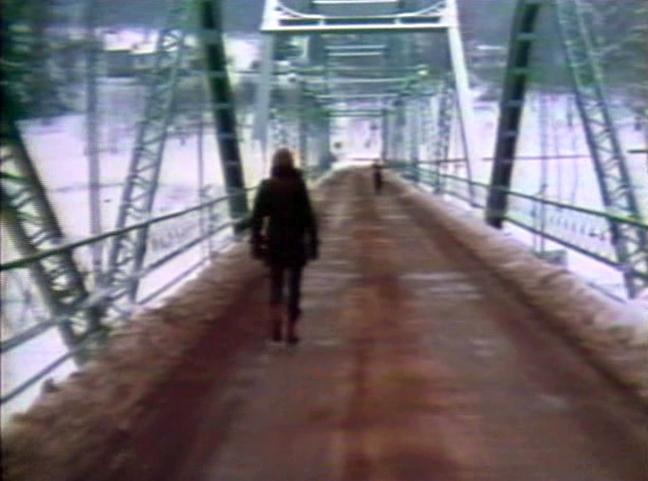 Eric Edwards (Richard I) in Memories Within Miss Aggie (1974)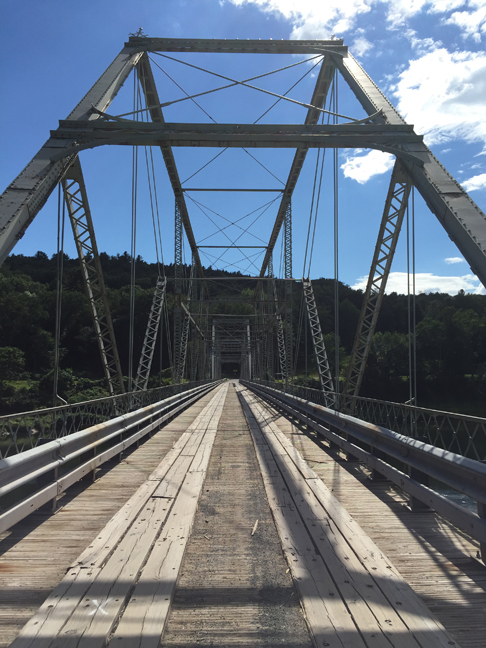 Skinners Falls – Milanville Bridge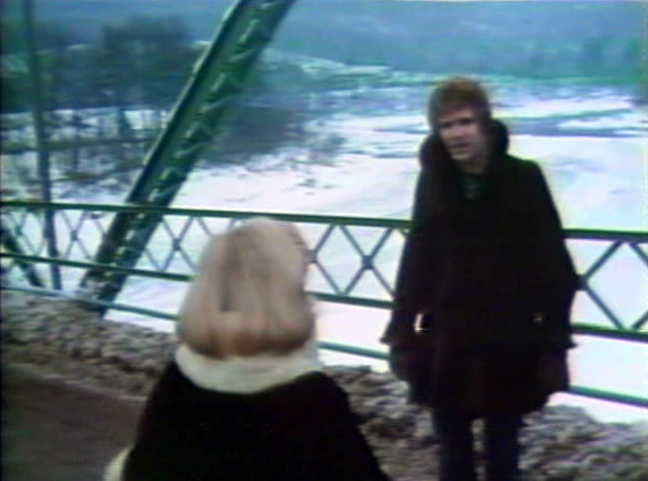 Kim Pope (Aggie I) and Eric Edwards (Richard I)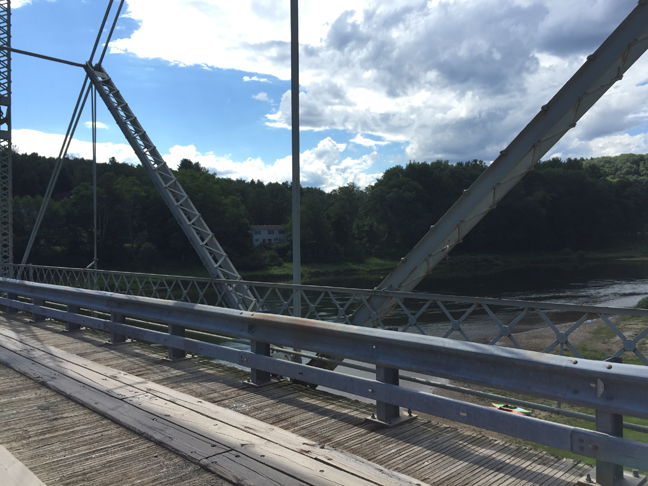 Skinners Falls – Milanville Bridge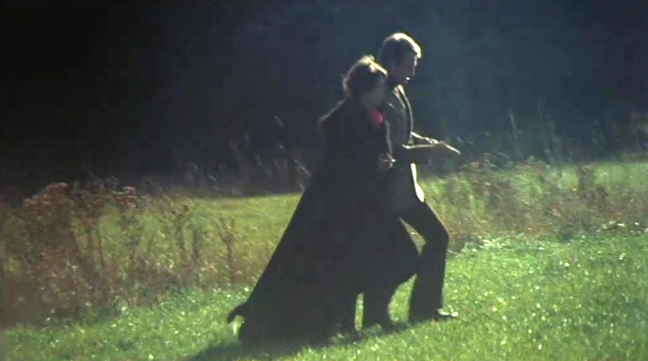 John Clemens (Abaca) and Georgina Spelvin (Miss Jones)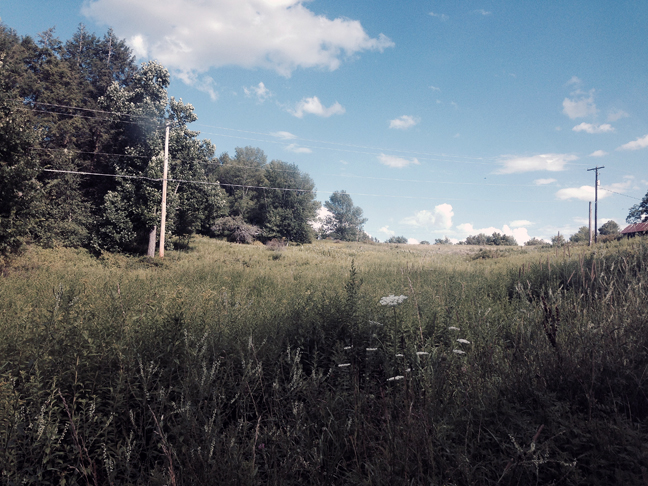 The field next to the property used for The Devil and Miss Jones externals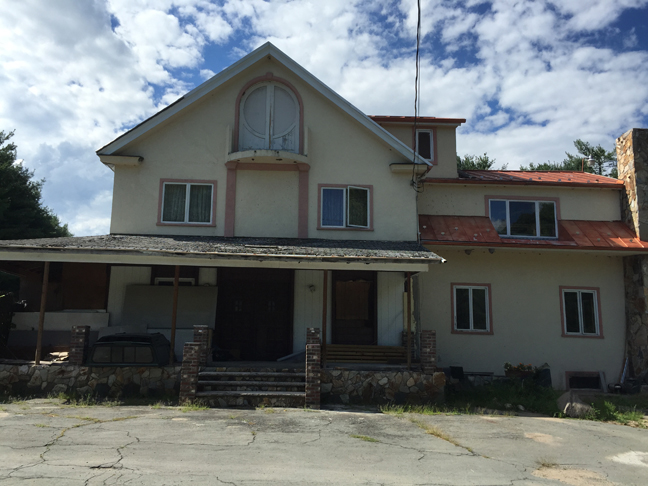 The Black Horse bar, where cast and crew socialized at night – now abandoned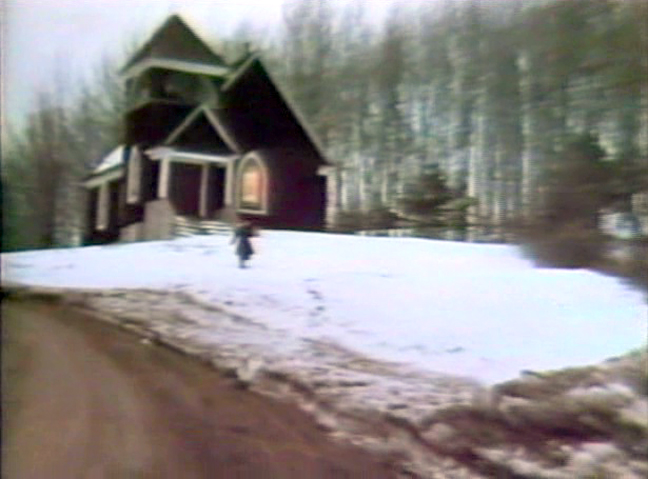 Deborah Ashira (Miss Aggie) at the Conklin Hill church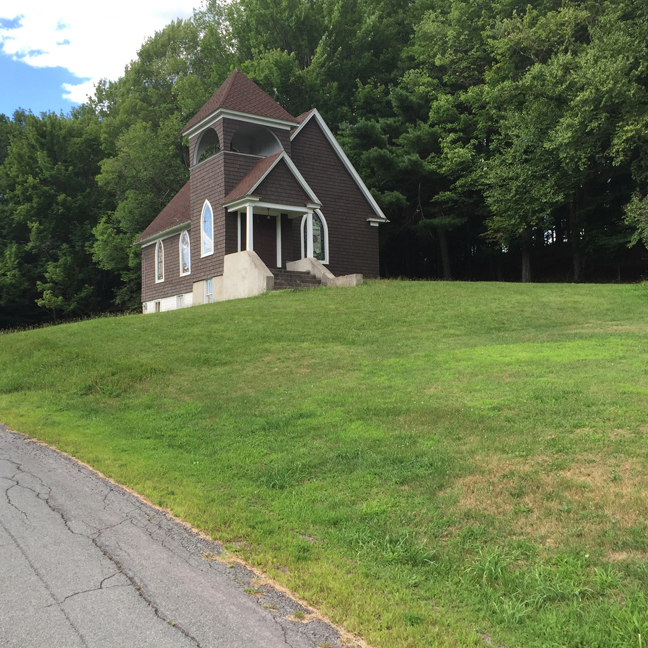 Conklin Hill church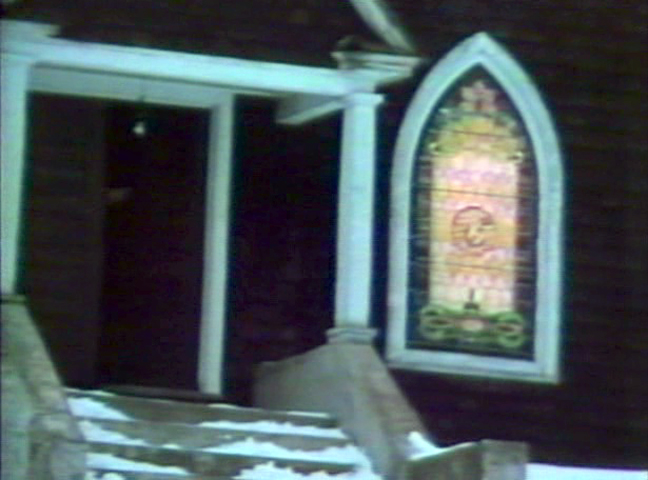 Conklin Hill church in Memories within Miss Aggie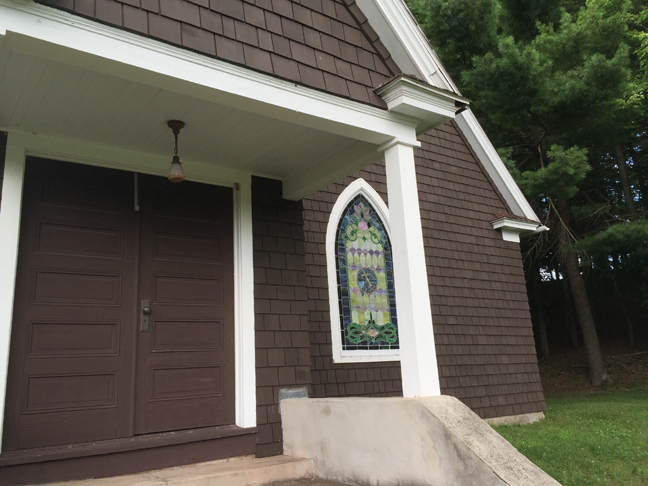 Conklin Hill church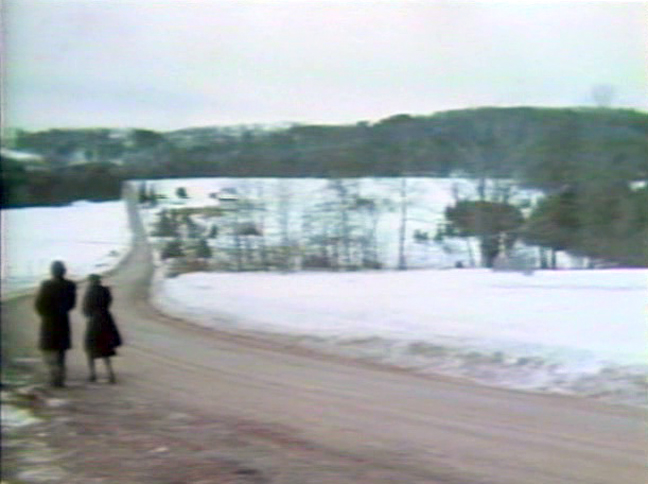 Patrick L. Farrelly (Richard) and Deborah Ashira (Miss Aggie)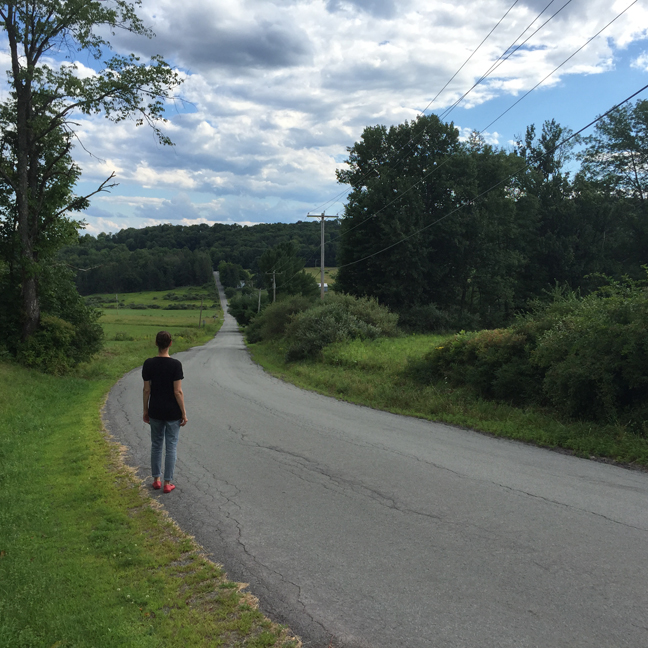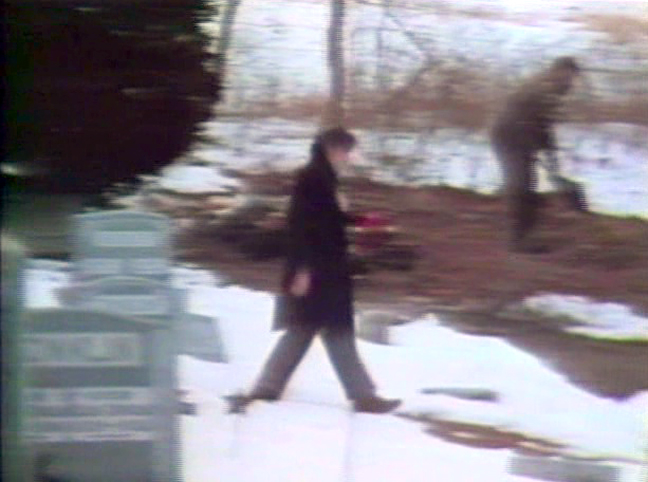 Rolf Beck (Gravedigger) makes a fleeting appearance in Memories Within Miss Aggie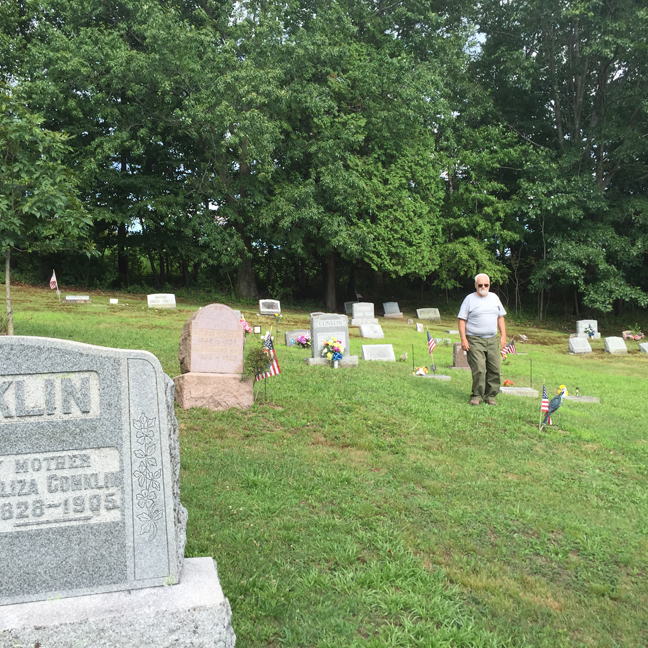 Rolf Beck (Gravedigger) reprises his role in Memories Within Miss Aggie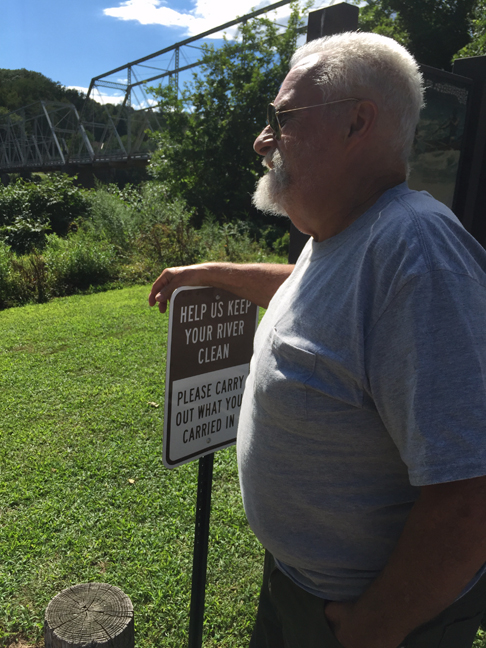 A gravedigger looks back
*
Epilogue – One more location
The Devil and Miss Jones opens with a view from her window. Does anyone recognize the Manhattan Avenue and cross street?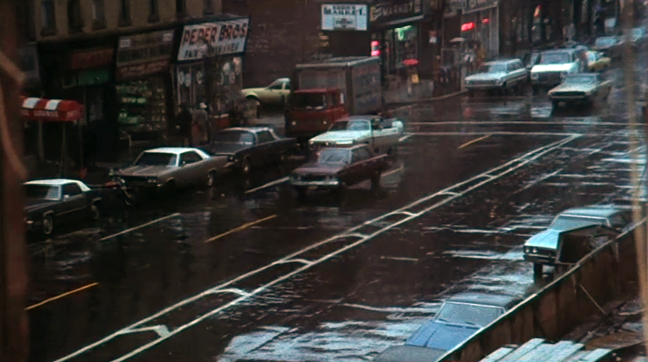 *
To read Harry Reems autobiography, please visit here.