Navred Reef has long been a mystery in the world of adult film.
He's credited with directing five pornographic pictures in the late 1970s, was believed to have been Dutch, and was rumored to have been murdered in the early 1980s. But apart from these fragments, little concrete detail about the man has surfaced over the years.
In 2014, Robin Bougie, author of the excellent Graphic Thrills, contacted us to say that a Dutch friend had a theory: What if 'Navred Reef' was actually the Dutch name 'Van der Feer' spelled backwards?
Starting out with little more than this clue, The Rialto Report's April Hall set out on a year-long investigation – tracking down family members, business associates, friends, organized crime figures, adult film colleagues, detectives, postal inspectors, prosecutors, and many more – to find the real Navred Reef.
What she found was a surprising story of crime, 8mm sex loops, the New York mafia, fraud, pornographic feature films, psychopaths, the Westies, the Dutch mob, Gerry Damiano, murder, Linda Lovelace, and much more.
The story of Navred Reef can now be told.
Special thanks to the Anderson and Thompson families, Bill Luxe, John Dulaney, Daniel Morgan, Roger Caine, and countless former detectives, cops, filmmakers, and others, many of whom have asked to remain nameless.
________________________________________________________________________________________
The Life and Death of Navred Reef
1.     Beginnings:
It's true. 'Navred Reef' started life as Van der Feer. Tom Jan Van der Feer to be exact. (His name was spelled both 'Van der Feer' and 'Vanderfeer' on official documents, so the correct version is an open question).
Tom was born on November 19th, 1932 in Rotterdam in the Netherlands to Tobias, an apartment building superintendent, and Mary, a housewife. He had a brother Adriaan, who was seven years his senior.
Little is known about Tom's childhood as he remained secretive about his past, but one aspect of it affected him for many years afterwards. He was seven at the time of the Rotterdam Blitz, the aerial bombardment of the city by the Luftwaffe on May 14th, 1940 during the German invasion of the Netherlands in World War II. The bombing destroyed the entire historic city center, killing nearly 900 people and leaving 85,000 others homeless. The effects of the bombing and the ensuing Nazi occupation of the city affected Tom physically (the poor air quality gave him lifelong emphysema) and inflicted deep emotional scars on him. The Gestapo had an office in the same building as the family, and Tom grew up with the daily threat of violence hanging over him.
In the summer of 1952 when Tom was 19, the entire Van der Feer family boarded a ship in Amsterdam bound for Western Australia. They arrived in the port of Freemantle on September 11th, 1952, and from there the family stayed on the ship until it docked in Sydney. They disembarked and traveled on to Brisbane where they settled.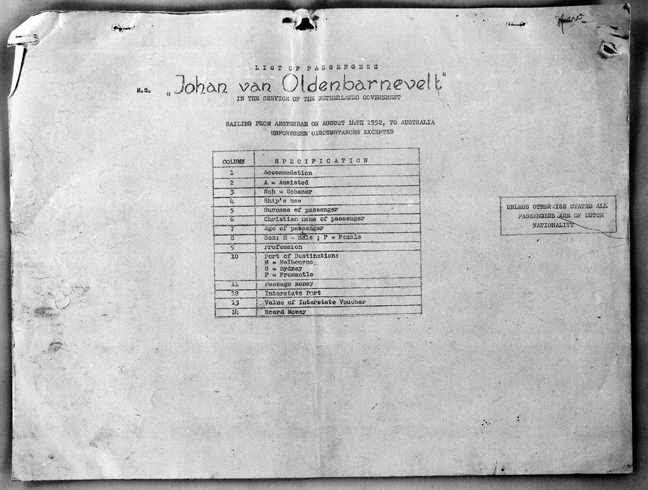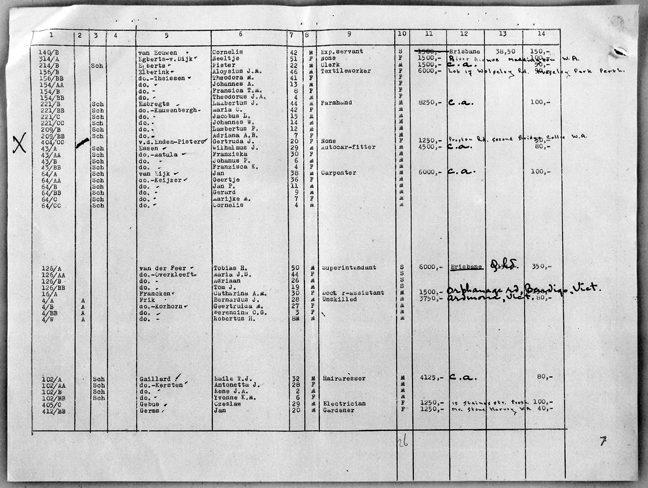 Shipping documents, showing the names of Tom's family emigrating to Australia in 1952
In Brisbane, Tom's brother, Adriaan, married a local girl, Lonnie, who worked as a masseuse. She was well-respected and had an impressive list of clients, including the wife of the then Premier of Queensland, Vince Gair. Lonnie would fill all the family in on the gossip shared during the massages.
Tom found work as a photographer in Brisbane, developing a fascination with photographing showgirls and ballet dancers. He'd go and meet these young women at the local train station whenever they arrived in town for shows and offer his services to them.
In 1955, Tom met his future wife, Margaret Ann Lace Carruthers. She was in a movie theater with a girlfriend who had dated Tom. He spotted them and waved before going over to chat with them. The next day Tom turned up at Margaret's house and their relationship progressed quickly. They were married on June 6th, 1955.
Margaret remembers Tom as being quick and smart – but that he also had the "instincts of a pimp". He was keen to make as much money as possible – and often this meant sending Margaret out to find any additional work that she could.
Tom was headstrong – in particular in relation to his new parents-in-law. When Margaret's parents came to stay, Tom clashed badly with his mother-in-law. It was so bad that on one occasion Tom insisted that they leave immediately – when no alternative accommodation could be found, a tent was bought and Margaret's parents were dispatched to a nearby camping ground.
By this stage in life Tom had his own shop front photo studio, taking portraits and developing the pictures in a darkroom on site. Margaret was his receptionist and helped him hand-color some of the photographs. Tom was a hustler too – taking pictures of people on the beach and streets and then trying to sell them back to those appearing in them.
The lingering impression of Margaret's family was that Tom didn't settle well into married life. Margaret suspected he was womanizing, and on one occasion she found him in bed with another woman. Tom loved the night life, spending many of his evenings gaining free access to nightclubs in exchange for taking pictures of the customers. Eventually management in one club noticed there was no film in his camera and kicked him out.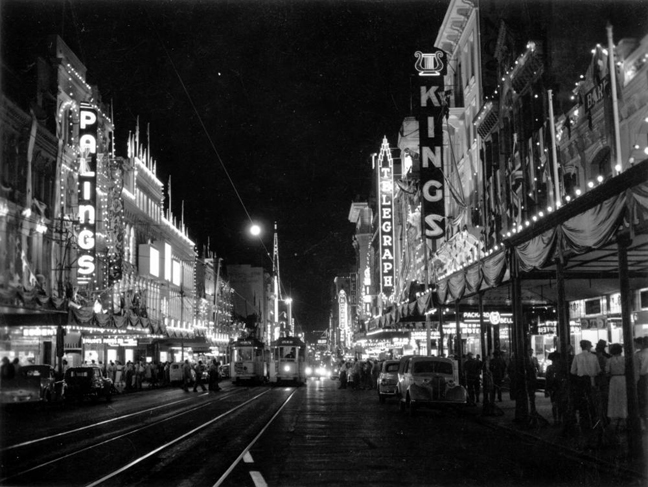 Brisbane, Australia (1950s)
Despite the modest success of his studio, Tom never had difficulty affording anything – something even Margaret found puzzling. She discovered the reason when she found stacks of topless photos of women stored in the studio; he'd been taking them behind her back and trading them for goods, services, even restaurant meals. Margaret was shocked and told Tom to stop. Shortly afterwards the police arrested him for taking more nude pictures; he was released soon after but he begged them not to tell his wife.
In November 1957, Tom and Margaret had their first son, Robert, and within months Margaret was pregnant with their second boy, William. Before William was born however, events took an unexpected turn. Tom's parents and brother had already left Australia to return to Holland, and in 1958, Tom abruptly disappeared leaving Margaret pregnant.
Margaret was destitute. Desperate, she went to the local social security office to see if she could find out any information about where Tom had gone, and to see if she was eligible to get any financial assistance or pension. The government official said he wasn't allowed to give out any information, but when he was called out of the room, Margaret seized the opportunity to look through Tom's file. She learned that he'd left Australia and traveled to Canada by boat.
By the time second son William was born in October 1958, Tom was long gone. He never returned or seemingly made any effort to contact his family again. Margaret divorced him the following year on the grounds of abandonment.
No pictures of him exist from his time in Australia. Margaret's mother cut Tom out of every photo they had.
*
2.     Coming to America
After arriving in Canada, Tom made his way to the United States, traveling down to New Jersey where his parents and brother Adriaan had moved and settled. Tom's father had gotten a job as the superintendent of a garden apartment complex there. Tom opened a small photo business in Newark, New Jersey, this time using his middle name as the company name, Jan Photo Products Inc.
Those who remember Tom from this time recall a fidgety, restless character, who was invariably cooking up schemes to make more money. Despite his interest in photography, friends remember him as being less concerned with the creative side and more focused on both the commercial and technical aspects of the craft.
In late 1961 Tom met Judy Thompson, an aspiring Broadway singer who'd moved east from Carmel, California to follow her dream of becoming a stage performer. She was eight years his junior, and was living in a 4th floor apartment in East Orange, New Jersey from where she would commute each morning to her day job in Manhattan as a filing clerk.
Tom and Judy met at a singles group at Marble Collegiate Church, her social base, on Fifth Avenue and 29th Street, just five blocks south of the Empire State Building. Tom loved showgirls and expressed an immediate interest in Judy's aspirations of being a performer. He offered to help her by taking some professional head-shots.
Judy remembers her own insecurity at that time, and after dating Tom for a year she started pushing him to get married. Tom agreed, and the ceremony took place in May 1963 at the church where they'd met, with Dr. Norman Vincent Peale, author of the bestselling 'The Power of Positive Thinking', serving as minister for the wedding.
Tom and his father rented a loft at 82 Broadway in Newark, New Jersey for the couple to live in. They built partitions so that the loft could also serve as Tom's photo studio. It was a strange space for the newlyweds, and one that Judy admits was "pretty bleak."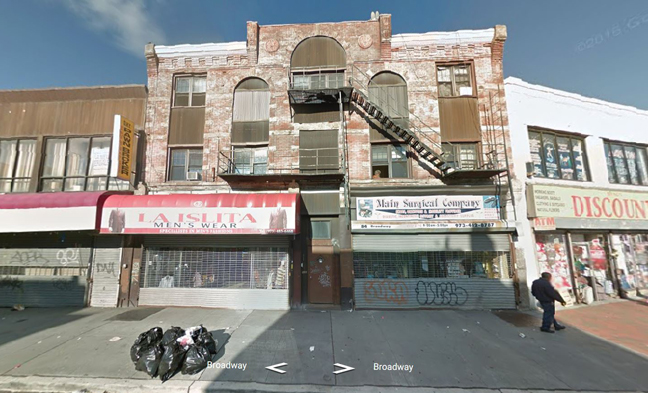 The former location of Tom's photo studio at 82 Broadway in Newark, NJ (pictured in 2016)
Tom also built a sound studio there to record Judy singing, figuring it was an opportunity to make some money off of her talents. Judy called a local Newark newspaper and arranged for an article about the business. As part of the feature, the newspaper sent a photographer to take a picture of the couple in the recording studio. It is the only known photo of Tom in existence.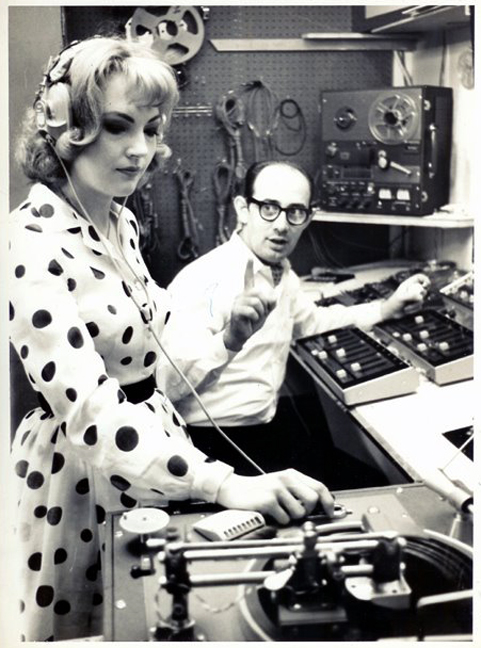 Tom (right), with his second wife Judy
Even before they moved in together, Tom had been prone to volatile mood swings, alternating between declarations of love and volleys of verbal criticism. On occasion the abuse was physical too; he once broke Judy's finger in a fight. Judy describes him as being a damaged person who suffered from some form of Post Traumatic Stress Disorder as a result of his childhood wartime experiences. On the rare occasions he opened up to her, Tom spoke about his memories of the bombing. He recalled being picked on by his classmates because he looked Jewish. Teachers bullied him too, and he remembered spending many of his school classes standing alone in the corner. He did tell Judy he had been married before, but omitted to mention that it was in Australia, or that he had two young sons.
After Tom and Judy married, the relationship didn't get any better. He refused to continue going to church, and devastated Judy by telling her he wouldn't have children. Tom installed a twin bed in a cubby hole in their loft apartment, but would only let Judy into the bed to have sex before forcing her to sleep on the sofa each night. A possessive and jealous streak emerged too, as Tom attempted to intimidate any men he suspected of showing Judy too much attention.
Tom's photo studio was struggling to make much money, and being short of cash made Tom nervous. He suggested Judy find additional work, such as selling pre-packaged foods to restaurants. As for Tom, he'd try anything to get paid work, honest or otherwise, displaying a chameleon-like ability to assume another identity if it suited him. Judy remembered Tom once professing to be Jewish to get a job photographing a local temple.
He enjoyed working on the processing side of photography, and in November 1963, Tom filed a patent for a new way of washing photographic film rolls clean of chemicals.
Extract from patent application: Roll film washer – US 3169539 A
"This invention relates generally to film washers and more particularly to new and useful improvements in a roll film washer for 120, 127 and 35mm roll film, wound on Nikor type reels.
Heretofore, washers of this type with which applicant is aware drained from the top leaving considerable hypo on the film negative. The present invention is based on the principle that hypo and chemicals are heavier than water and the draining is made from the bottom.
A principal object of the present invention is to provide a film washer that is effective in removing the hypo solution or used chemical or residue clinging to the film after developing and fixing, in quick time."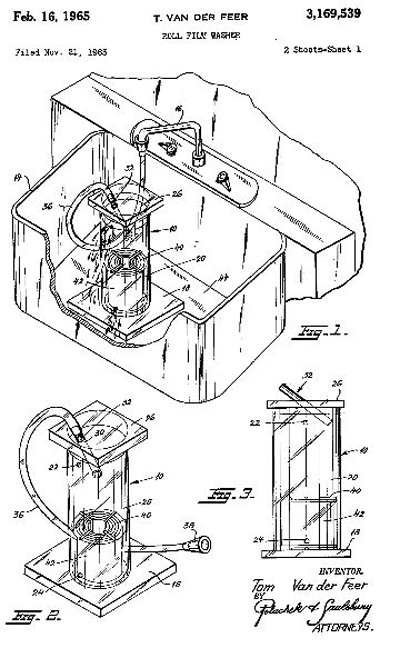 Extract from Tom's patent (1965)
*
3.     Nude Photos and 8mm Loops
In 1965, Tom revealed to Judy that he'd been taking nude pictures of local women and selling them to adult bookstores in New York. Judy got the impression that he'd been doing this for several years, probably since well before they met. Tom said that now he needed to take nude photos of her; apparently a telephone company executive had promised to award Tom an advertising contract in exchange for nude pictures. Judy agreed, and Tom's business saw an upturn in its fortunes with the additional work from the telephone company.
Shortly after this however, a competitor informed local vice cops that Tom was peddling obscene pictures. The cops came and ransacked the Newark loft, but somehow Tom had been tipped off in advance and he and a friend had already taken the offending material out on the Hoboken ferry and dumped it into the sea the night before.
The last straw for Judy's marriage to Tom was when she took a role in a touring version of 'Hello Dolly' in 1966. She returned home to find condoms in the bedroom and realized that Tom was seeing other women. Once she was back out on the road, she decided she did not want to return to him. While in Las Vegas performing she learned she could get a divorce in Nevada, and so filed papers claiming emotional and physical abuse. Tom was upset and angry but agreed to dissolve the marriage – as long as he could keep all their common possessions.
After the divorce Judy kept in touch with Tom infrequently; she remarried and when pregnant with her second child in 1973, Tom sent her $600 and a gift for the baby. It was the last time she ever heard from him.
As the 1960s drew to a close, Tom became interested in making films. Specifically 8mm sex films. Through his contacts with adult bookstores, he met Sal Sodano. Sodano was an aspiring filmmaker in Manhattan and one of the pioneers in the cottage industry that churned out explicit sex loops for an insatiable audience of adult bookstores on 42nd Street. Despite the high demand and good money to be made, the group of loop-makers at the time was relatively small – Sodano, Sam Menning, Bob Wolfe, Ted Snyder, and a married Dutch couple, Peter and Iris were the main players. Tom wanted into that group.
If the underground nature and danger of the films intrigued Tom, the opportunity to make money excited him even more. He moved out of Newark and rented an apartment on West 48th Street in Manhattan – just down the block from the heart of New York's sex trade. He started shooting loops straight away in his apartment, using his own camera and girls he met from ads he placed.
When The Rialto Report interviewed Sal Sodano he remembered Tom well: "He was a strange guy. A loner, and could be a little secretive. He was nervous too, as if he feared someone was coming after him. He was interested in shooting loops like the rest of us. But he didn't just want to shoot, he wanted to get know the people who we'd sell them too. He knew that was where the real money was – and he wanted the money."
Sal remembered that Tom was one of the first to shoot an 8mm loop with Linda Lovelace when she arrived in New York in late 1971, just before she became a household name following the success of Deep Throat (1972).
Extract from 'Ordeal – An Autobiography' by Linda Lovelace with Mike McGrady (1981):
Those first eight-millimeter films were shot in a loft near 48th Street and Broadway by a man named Tom. The bathroom sink was filthy. The rooms were filled with odd pieces of furniture covered by sheets. The floors had never been mopped and your feet turned black just walking on them. The people who made filthy movies always seemed to live in filth.
Tom introduced us to our co-star for the day, a nice-looking young man named Rob. I would up making a half-dozen of the eight-millimeter movies with Rob, including some with his wife, Cathy.
The director, Tom, told Brandy and me to take off our clothes and lie on the bed. He told us to lie there naked and be laughing and talking together and then to start kissing each other.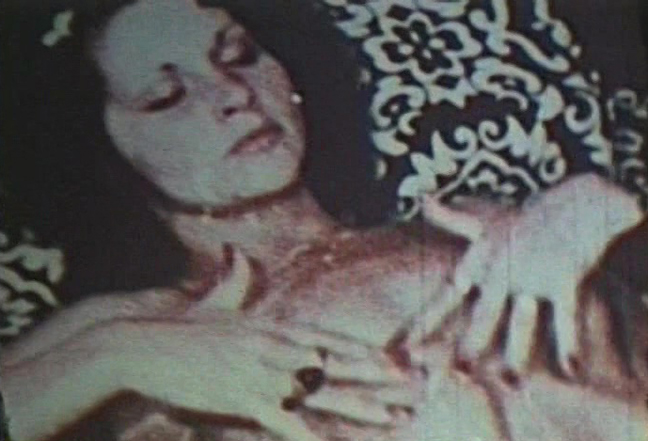 Linda Lovelace 8mm loop (1971)
When The Rialto Report showed Eric Edwards (Rob in the extract from Linda's book) the photo of Tom from the 1960s, his reaction was immediate: "Yes! I absolutely recognized Tom. I can't remember which loops he shot with Linda and me, but I recognize him from that time."
Tom shot more and more loops, most of them in his space on West 48th Street, and sold to various buyers such as 42nd St bookstore owners like Marty Hodas, and experienced distributors like Luis 'The Spik' Marti. (Luis Marti was already a notorious dealer in pornography, and by the end of the 1960s had a string of arrests for distribution of obscene material – including bestiality loops. In a 1965 court case, he was asked by an incredulous prosecutor how he managed to get a dog to perform in a sexual situation. Luis replied, "I have no idea: I work in the sales department, not in production.")
Much of the distribution of loops was handled by the Italian mob, so some of the shooters had protection from mafia figures. Tom soon found himself an ally, aligning himself to the notorious Roy DeMeo.
*
4.     Roy DeMeo and the Mob
Roy Albert DeMeo was a member of the powerful Gambino crime family in New York. In the 1960s, he made a minor name for himself by heading a ruthless gang active on two fronts, loan-sharking and car theft. It was this collective of criminals that would become known both in the underworld and in law enforcement circles as the DeMeo crew.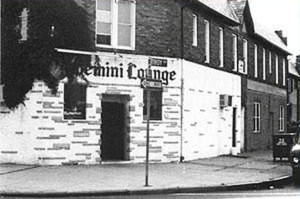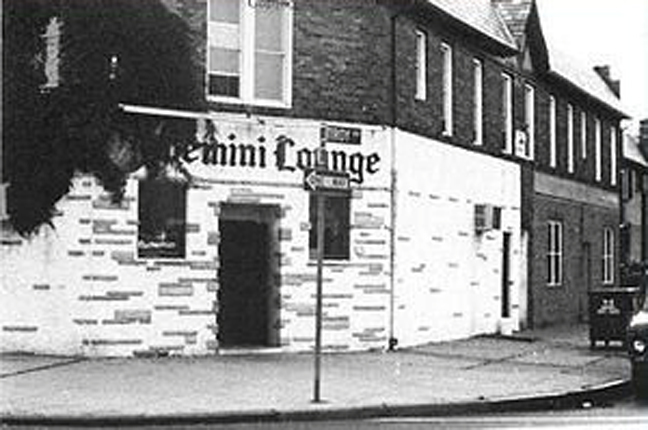 The DeMeo crew even developed their own gruesome style of execution, dubbed the "Gemini Method" after the Gemini Lounge in Brooklyn, the primary hangout of the gang – as well as the site where most of their victims were killed. The Gemini Method, revealed by multiple crew members who became government witnesses, did not come to light until a decade later in the early 1980s.
Typically the victim would be lured through the side door of the lounge and into an apartment in the back portion of the building. At this point, a crew member, almost always DeMeo, would approach with a silenced pistol in one hand and a towel in the other, shooting the victim in the head then wrapping the towel around the victim's head like a turban to staunch the blood flow. The body would then be dismembered, put into bags, and sent to the nearby Fountain Avenue Dump, where so many tons of garbage were dropped each day that it was near impossible for the bodies to be discovered.
DeMeo started distributing pornography and relied upon filmmakers like Tom to keep him supplied with fresh product, so Tom kept a steady flow of loops into DeMeo and DeMeo's associate, Richard 'Big Richie' Kuklinksi.
Tom did well out of the relationship and took on a second space in the Times Square area at 160 West 46th St that he used as his main film studio, both shooting and editing there. Often he'd shoot by himself, though sometimes he would have a helper – such as Bill Luxe, who also had a printing business that handled a number of pornographic magazine titles. Luxe shared office space with DeMeo's associate Big Richie and remembers Tom as "a strange, nervous guy, schizo even… especially when he hadn't taken his meds. Even though he'd been in the U.S for a while, he still spoke with a Dutch accent."
As the demand for loops increased, Tom needed more help and gave work to Lloyd 'Smitty' Smith, a tall, hard-working guy from the West Indies who worked closely with Bill Luxe. Smitty lived around the corner from Tom on 48th Street above a bar called The Golden Oaks. Smitty often shot and edited films in his own apartment.
Tom was known to be careful with his money, not to mention greedy at times, and this could cause problems for him. Smitty put together a one-day-wonder film for Tom, and was angry when Tom didn't pay him. Smitty began making a lot of noise about the debt. Tom complained to Roy DeMeo and in such a small but highly profitable business, DeMeo didn't want quarrels that would elicit unwanted attention. Any problems had to be snuffed out swiftly and efficiently.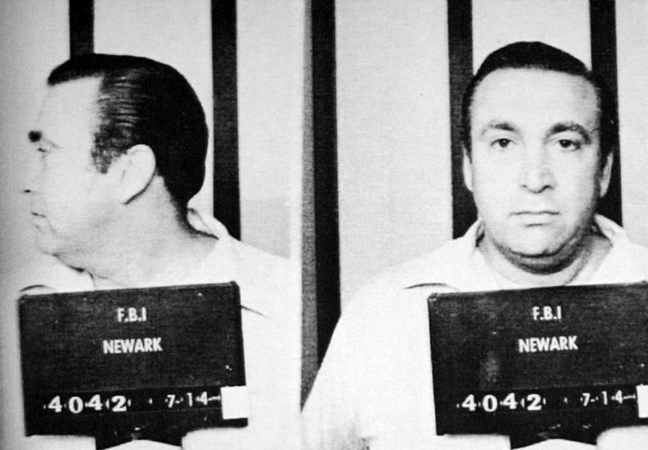 Roy DeMeo
Bill Luxe, Smitty's friend, remembers clearly what happened next: "Roy DeMeo came knocking at my door and said he knew Smitty was with me. He said Van der Feer worked for him and that I should tell Smitty not to go near Tom. I passed Roy's message on to Smitty – and told him that coming from DeMeo it meant a threat. Smitty didn't listen. He was a hot head and he went to Van der Feer's place in Times Square, wrecked his studio and took a camera for the money Tom owed him. Next thing I heard was that Roy DeMeo had called Smitty out to the Gemini Lounge for a sit-down with Van der Feer. I talked to Smitty before he went out to the Gemini. He said he'd call and let me know what happened at the sit-down. That night my wife and I were up until after midnight waiting for Smitty to call, but he never got in touch. I was at the lab the next day and Roy was there. I asked how the sit-down went and was told, "Sit-down? What sit-down?" I knew not to ask too many questions, so I let it slide. That was the last anybody ever heard from Smitty. There was no doubt in my mind that Smitty got the Gemini treatment."
There was no police investigation into Smitty's disappearance.
Tom continued to make loops under the protection of DeMeo.
*
5.     Film Making
Over the next few years, the market for 8mm loops subsided, so Tom started to look for alternative sources of income.
He became friendly with a couple of Greek Americans from Queens, Tom Gioulos and his partner Teddy Kariofilis, who co-owned the Capri Theater at 738 8th Avenue in Manhattan. Gioulos and Kariofilis had acquired the place from the doyenne of Times Square theaters, Chelly Wilson, in the late 1960s and by the early 1970s they were looking to pay for their own product to show there. They offered to finance 'one day wonder' adult films with Tom directing them and taking a flat fee.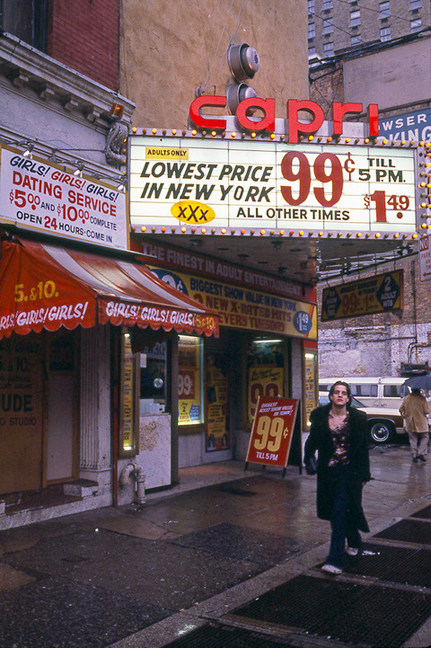 The Capri Theater, 1970s
The resulting films were low quality pornography, with Tom using a variety of anonymous pseudonyms to hide behind. But they did well at the Capri and the Greeks kept coming back for more.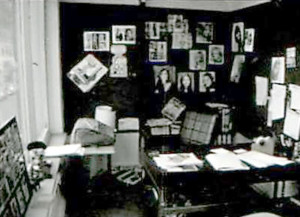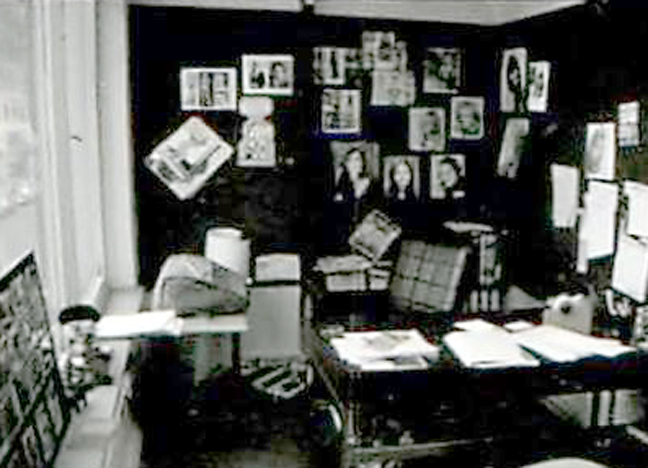 Remarkably Tom was also successful in getting mainstream film work at the time – including a contract with Texaco to work on commercials and industrial films for them. This deal would continue for several years and provide Tom with steady additional money. It also enabled him to hire a personal assistant, Connie, and an apprentice to work in his studio (see photo, from 1973).
Meanwhile Gioulos and Kariofilis expressed an interest in producing a mainstream film, and they approached Tom to put it together. He started by placing an ad for a screenwriter in the Village Voice.
John Dulaney, an aspiring filmmaker and screenwriter, answered the ad and remembers meeting Tom for the first time: "It was around 1973-74 and we hit it off great from the first meeting. Tom worked really long hours. He was a real nice guy, though a bit high-strung. He had a heavy Dutch accent but spoke good English. Basically he was a techie and just loved new gadgets.
"The ad in the paper was for a writer to work on a screenplay. The film was to be called 'Costa Del Sol' and the flimsy idea was written by a Greek guy and was exactly thus: "An artist in Spain falls in love with a girl." The Greek guy and I had just one conversation at his apartment in Queens – in which he spent most of the time telling me Greeks aren't "queer" and that it's not true that they screw each other in the "ass"! From that I wrote the entire screenplay, and yet when it was printed and bound, it gave the Greek guy credit for the story and me for just "additional dialogue". I believe I was paid $2,000.
"The screenplay was never produced, but I was also trying to produce and direct a sci-fi film of my own, so after I finished the screenplay, I asked Tom if I could use his studio to build space ships for my feature. He was kind enough to let me."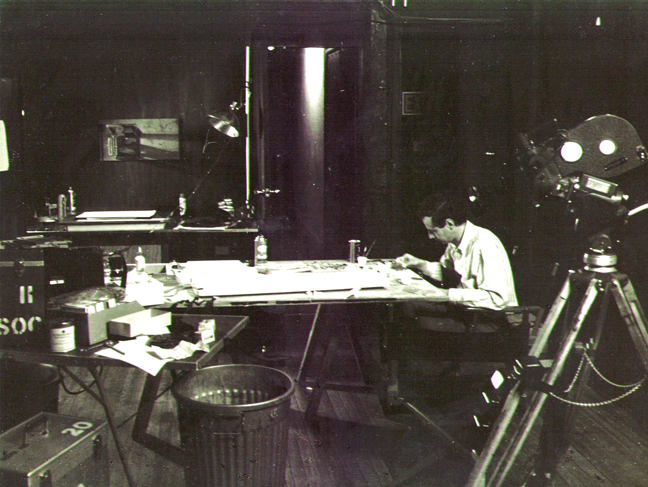 Tom's studio (circa 1973) (courtesy of John Dulaney)
Another person who worked with Tom was production manager, Daniel Morgan. Morgan worked with Tom on a Texaco commercial in the mid to late 1970s. Tom was the director and cameraman, and Morgan describes him as being polite and pleasant though also aloof and detached. He remembers Tom as being less interested in the creative side of enterprise but more concerned with trying to please the client who was on set that day.
Morgan remembers one detail in particular about the commercial. The storyline of the short film had a Texaco gas station attendant give a small boy a balloon. Then the balloon pops. The way Tom made the balloon pop was to hire a man with a BB rifle to stand at the other end of the gas station and shoot out the balloon… which was bobbing around the boy's head, not to mention the gas pump. The boy finally got wise to the danger and became hysterical. End of the shoot.
In the mid 1970s, Tom worked on a number of other commercials for businesses, and also started a small scale film school, offering classes to aspiring cinematographers and crew members. Connie arranged the classes and Tom taught them himself out of his studio at 160 West 46th Street. He also took on additional shooting space at 74 West 47th Street, where he started shooting more of his loops.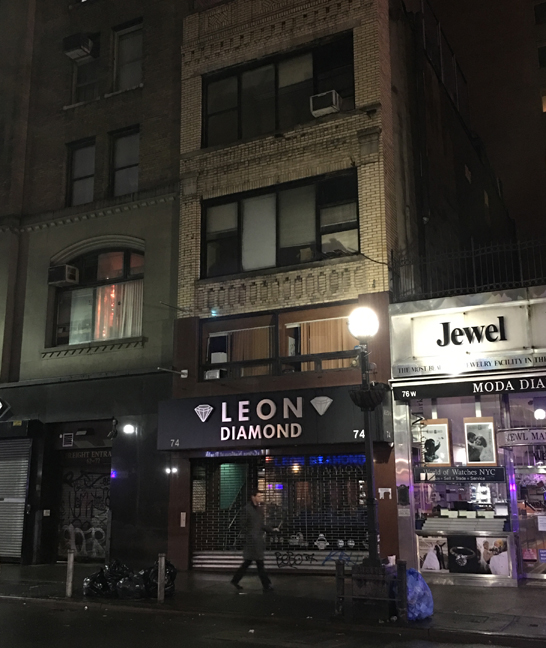 Tom's studio at 74 West 47th Street (pictured in 2016)
*
6.     The Rise and Fall of 'Navred Reef'
Despite his increasingly mainstream jobs, Tom continued to dip into the growing pornographic film industry on a regular basis. In 1976, he formed a short-lived company, ASOM Distributing, which handled the distribution of Gerard Damiano's Let My Puppets Come (1976) – a bizarre porn film that included Muppet-style marionettes, and the following year he distributed Damiano's next film Odyssey: The Ultimate Trip (1977).
Tom continued to shoot loops and one day wonders out of his studio and was well known to the New York cadre of performers, such as Tina Russell, Gloria Leonard, Dave Ruby – and Jamie Gillis, who starred in one of his more notorious loops featuring Crystal Sync and a transsexual named Sandi Suarez.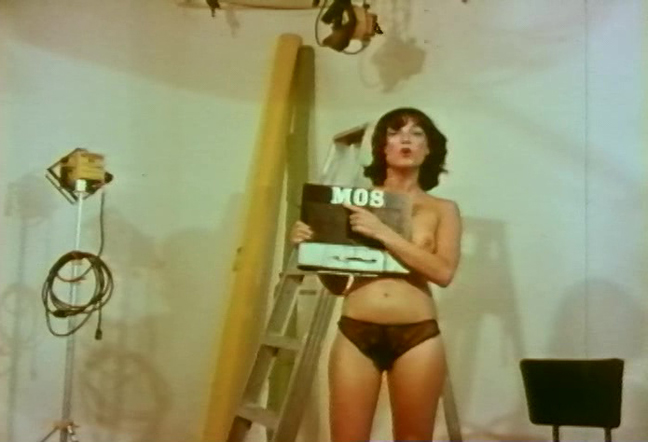 Tom's studio at 74 West 47th Street
Another actor who worked for Tom was Roger Caine – although at first it was not in an acting capacity. Caine began cutting loops for Tom when he was temporarily unable to act in films as a result of breaking his leg in a skydiving accident. He'd go into Tom's studio at night to edit the short films, and remembers Tom hard at work cutting commercials for his corporate accounts.
Caine formed a particularly close friendship with Tom, describing him as a brilliant and intelligent man with refined tastes, a lover of opera and a connoisseur of fine Scotch whiskey. He loved women too though Caine remembers Tom having no consistent relationships. And though Tom's increased income had markedly improved his lifestyle, it had also increased his desire to enjoy more of the high life. Caine remembers Tom telling him that he needed at least $1,000 each week to continue to live the way he wanted.
One easy income source was pornographic films, and in 1976, Tom adopted the name 'Navred Reef' by reversing the letters in his surname, and over the next two years made a series of five hardcore feature films. The idea came from his friendship with actor / director Zebedy Colt.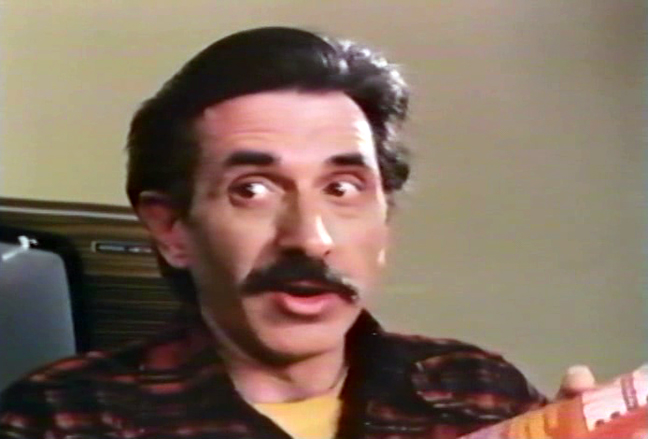 Zebedy Colt, in a scene from Playgirls of Munich (1977)
Zebedy Colt was born Edward Earle Marsh in California in 1929. After a career as a child actor in Hollywood, he became an innovator of 'queer cabaret' when, as 'Zebedy Colt', he recorded an album of gay torch songs, 'I'll Sing for You', with the London Philharmonic Orchestra in the late 1960s. He started making pornographic films in the mid 1970s when short of money and revived the 'Zebedy Colt' name to conceal his true identity as he was still active in theater productions at the time.
Tom had met Zebedy when Colt was working on the film Unwilling Lovers (1975). They hit it off from the outset. They were close in age, and shared similar interests and a bawdy sense of humor. They would sit around for hours thinking up more outrageous plots and scenarios for porn films.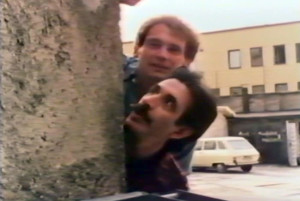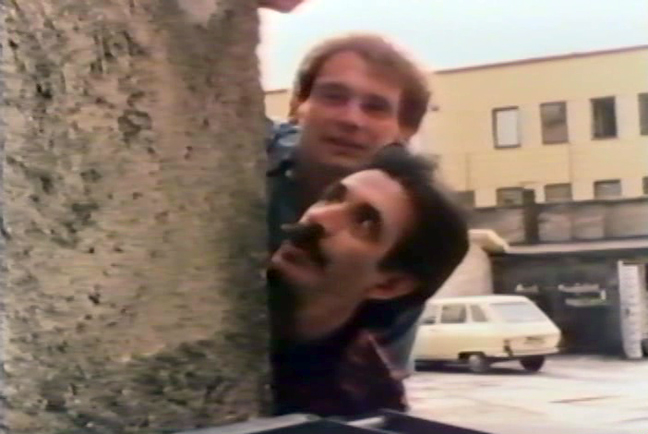 Deciding that they would have fun working together, they came up with the idea of shooting a series of XXX-rated comedy 'road' pictures in the tradition of the 1940s films starring Bing Crosby and Bob Hope. What's more they decided to go to film them in Europe: Tom would use his contacts there to produce and direct the movies, and Zebedy would take a lead acting role.
To keep costs down, the crew for the foreign shoot would need to be minimal, so Zebedy introduced Tom to a young and energetic jack-of-all-trades filmmaker, Bill Bukowski. When it came to film, Bill was a fast learner. At the age of 16 he'd become one of the youngest members of the film union, I.A. Editors Union. He'd then attended NYU film school, and after graduating he went to work for Leonard Kirtman's porn production company, International Film Industries (I.F.I.I.), where he did a bit of everything – such as cameraman, editor, and gaffer – on countless films, using a variety of pseudonyms such as 'Billy Hawk'. Still in his early 20s, porn films were his way of funding his first love – 3-D film techniques.
As a warm-up film for their European trip, Tom developed a storyline about the incestuous adventures of a teenage girl. In truth it was just a succession of routine sex scenes, livened up by Zebedy's role as the lecherous father. The resulting film, Sharon (1977), distributed by Tom's ASOM company and falsely billed as "Filmed on location in Atlanta, Georgia!" did well so Tom wrote two outlines for their European road movies.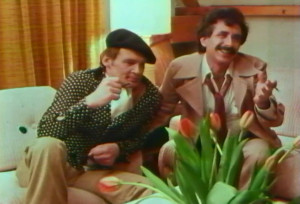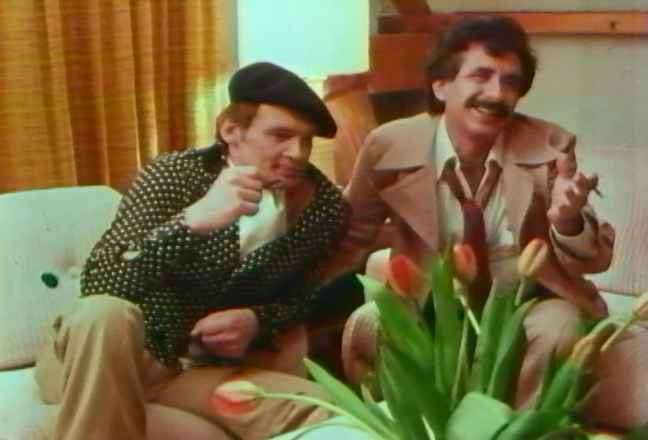 In early 1977, Tom and Zebedy set off on a two week filmmaking trip to Amsterdam and Munich. Bill Bukowski went with them, as did the second lead actor, Tom's close friend Roger Caine. Zebedy and Caine played the parts of two bumbling friends – Zebedy the loser, Caine the charming, successful ladies man – who encounter women in bierkellers, on the streets, and at parties.
The two week shoot proved to be a riot – with real life events often proving to be more entertaining than the plots of the actual films. A more detailed account of the trip will be told in a future Rialto Report.
Tom had been traveling to Europe on and off in the 1970s, sometimes carrying out instructions on behalf of Roy DeMeo. As a result he'd made contacts with organized crime bosses in places like Amsterdam. In particular Tom had become friends with Maurits 'Zwarte Jopie' (Black Joe) de Vries, an infamous Dutch criminal considered the godfather of the local underworld, particularly involved in prostitution and gambling. De Vries operated out of the Amsterdam Red Light District and his headquarters were at Amsterdam's largest live sex club, Casa Rosso, which he owned. It was de Vries who set up filming locations and a selection of porn actors and actresses in advance of Tom's arrival. Many of the performers were well-known and established on the European sex film scene, but there were still many roles still to fill so the filmmakers had to hold improvised casting sessions with local prostitutes and strippers.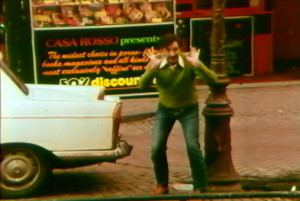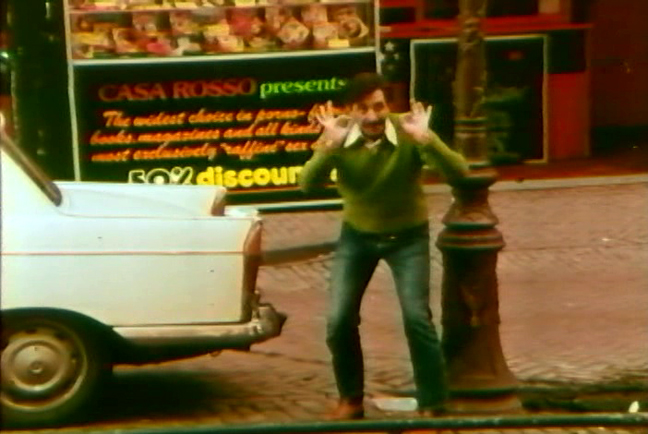 Much of their footage was taken on the streets of the two European cities, incorporating landmarks such as the Munich Olympics complex and the Amsterdam Red Light District (De Vries' Casa Rosso is clearly visible in some scenes) and they also filmed in the town of Garmisch-Partenkirchen, a German ski resort in Bavaria, 90 kilometers south of Munich.
The European footage was released in two films: Dutch Treat (1977) and Playgirls of Munich (aka Munich Madness) (1977). Once again Tom's ASOM company distributed them and box office receipts show the films did well all over the country, cashing in on American's prurient interest in European permissiveness. The films boosted Tom and Zebedy's bank balances, and they were keen to continue their working relationship.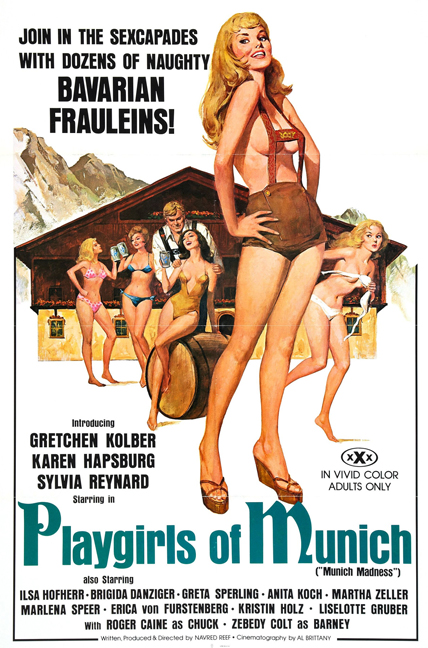 They threw together Hollywood Goes Hard (aka French Kittens) (1978), a quick and cheap film consisting of a flimsy framing device featuring Zebedy (as movie mogul Renaldo Rutolicci) and Caine, and a selection of interspersed loops, many of which Tom had shot over the preceding years, one of which was Jamie Gillis' transsexual loop.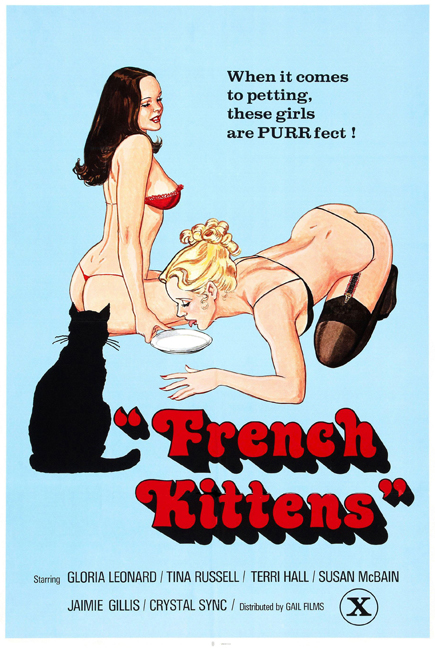 During this period, Tom had a regular Village Voice ad for actors, inviting applicants to contact his faithful assistant, Connie, at his film studio. Roger Caine would interview people and recommend them to Tom.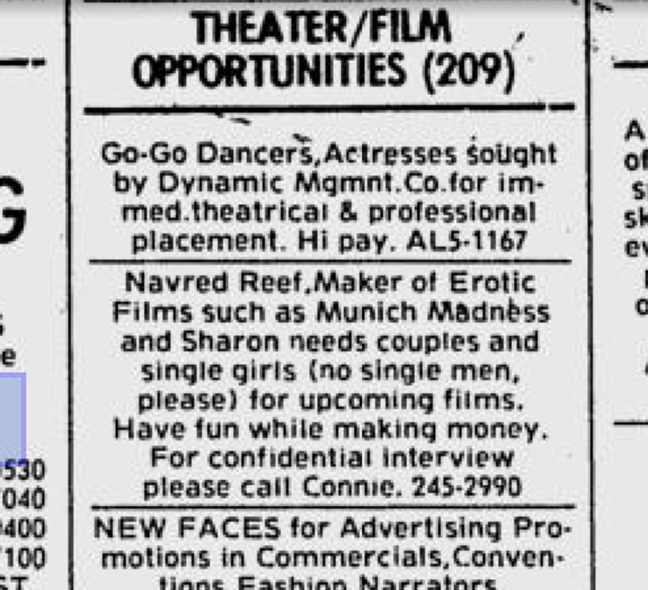 Financially Tom was doing well enough to buy a beachfront property on the north shore of Long Island at 74 Highland Down in Shoreham. He had regular parties at the beach house, and visitors remember being impressed with the size of the home which included an outdoor swimming pool, Jacuzzi and large garden. Tom also bought a house boat which Caine helped him paint.
It was at this home that Tom shot most of his final 'Navred Reef' film, Angie Police Women (aka Angie Undercover Cop) (1979), in the summers of 1977 and 1978. The film featured a stellar cast including Vanessa Del Rio, Rikki O'Neal, Samantha Fox, and (who else?) appearing for the last time together, Tom's close friends Zebedy Colt and Roger Caine.
The film was another cheap effort, shot and edited by Bill Bukowski, but with Tom's marketing and networking skills it made another healthy profit.
*
7.     Credit Card Fraud
Despite his various film ventures – the commercial film work, the film school, the pornographic features – that enabled him to live comfortably, Tom was restless in pursuing other money-making activities. Bill Luxe, Tom's friend from the loop days whose printing business now provided posters, magazines, and illustrated boxes for the sex industry, remembers Tom getting involved in a number of scams as the decade drew to a close. Principal among these schemes was credit card fraud, and once again mobster Roy DeMeo was Tom's mentor and facilitator.
Tom started off in a primitive way, using stolen credit card receipt slips to claim money back from the underwriting financial companies. Then Tom and Roy moved on to counterfeiting actual credit cards. DeMeo would pass stolen credit cards to Tom who ironed off the numbers and replaced them with new details. Ever the technical nut, Tom prided himself in developing a method to do this that was virtually invisible to the human eye. The altered credit cards were then given back to Roy who had teams of people use them to buy goods that could be re-sold on the black market before the real owner got the bill. Tom worked out of his studio on West 46th Street and received a flat payment each time for his efforts.
Credit card fraud was still in its infancy, and the risk to perpetrators was reasonably low. Stores were issued with lists of 'hot' credit cards but they were neither exhaustive nor supplied on a timely basis, and store employees often weren't diligent in checking them. Detectives active at the time remember that criminals would typically run up charges of around $10,000 on a card before dumping it.
It was a cottage industry that wasn't destined to last. To stay ahead of the law, fraudsters needed to come up with new and improved ways of developing counterfeit credit cards. Roger Caine was fully aware of what Tom was doing, and remembers the lengths Tom would go to in order to perfect his work. He recalled Tom going to Canada, posing as different people to get access to credit card manufacturers so he could learn more about the process.
Tom worked hard in his studio looking for innovative methods to print the credit cards in more accurate ways. He contacted his old friend Bill Luxe and asked for help in silk screen printing, but Luxe was inexperienced in that field and turned him down. Eventually Tom made a breakthrough and developed a new 'foil transfer' technique – a way to effectively transfer the art work to the credit cards. When some of the cards fell into the hands of the police and credit companies, they were amazed at the quality.
Before long DeMeo introduced Tom to someone who was interested in using his new found methods.
George King was 48 years old, a couple of years older than Tom. A life-long criminal, he was well known to New York police as an associate of the Westies, the notorious Irish American gang who operated out of Hell's Kitchen on Manhattan's West Side. DeMeo had developed an alliance with the Westies and knew George King personally.
King had a reputation as a thug, violent and extremely dangerous, and was suspected of being involved in a string of crimes in the city since the early 1970s. He lived at 51 West 68th Street with his wife, Nora – a partner in her husband's criminal activities. Their side-kick and enforcer was Frank Elsis. King and Elsis were crazy – certifiably so; they were reported to have been psychiatric patients at Pilgrim Psychiatric Center in Brentwood, NY. Roger Caine met George King through Tom, and King openly talked about being a hit man listing the various guns he used.
King smelled an opportunity and was intent on developing a more advanced counterfeit credit card operation – more sophisticated than anything that Tom had been doing, and on a much larger, more profitable scale too. Tom was a good fit for King's plan but King also needed another person; a skillful artist capable of copying credit card designs perfectly.
Step forward, Donald Sanders.
If George King and Donald Sanders were identically hard-wired for deceit and a life of crime, in other respects they couldn't have been more different. Whereas King was an intimidating, brash and brutish physical force, Sanders was a slight and anonymous, long-haired artistic wizard. Appearances could be deceiving however. The police considered Sanders just as dangerous as King.
When it came to counterfeiting, Sanders had been a child prodigy. He'd got his start as a teen by forging $100 bills on his high school mimeograph machine in California. Accounts from the time state that the quality of the bills was good enough for them to be passable… so he used them to make purchases. Eventually his youthful naivety led to his arrest, but he got off easily due to his status as a minor. Shortly afterwards his mother moved them to Peoria, Illinois.
In Peoria, Sanders and his mother got involved in a scheme to purchase airplane seats with counterfeit cards and re-sell them. They were both arrested, and found their case being aggressively pursued by a determined local district attorney who refused to let it drop.
Cops who remember Sanders from the time describe him as a fascinating sociopath with no moral compass, and a cold-blooded violent streak. Their accounts suggest that it was Sanders' mother that connected Donald with George King in New York, and Sanders flew there while on bail to join the inner circle of King's counterfeiting gang.
It was an unlikely but complementary group: George King was the belligerent, bullying boss with the organized crime connections, Donald Sanders was the talented young artist capable of generating picture-perfect artwork, and Tom handled the equipment capable of transferring designs to cards in a seamlessly accurate manner.
Tom also handled the logistics of the operation. His studio on West 46th Street was the hub of the activity. He developed and maintained computer records of all the cards that came into and left the gang's possession. And when they ran out of storage space he took over part of a warehouse at 47 Hall Street in Brooklyn. Tom also opened up a P.O. Box address in the Bronx where deliveries of counterfeiting equipment could be made in a more anonymous way.
The gang was ready for action.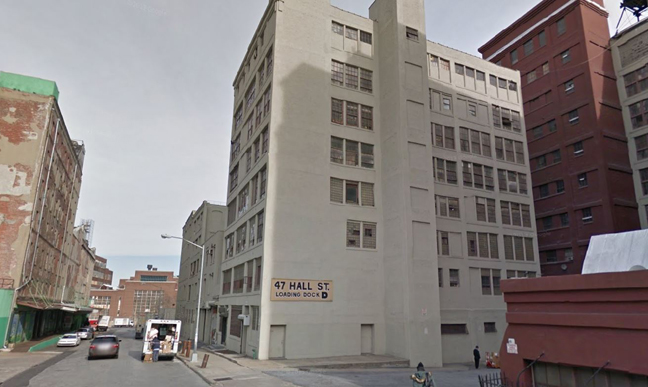 The gang's primary storage location for the counterfeit credit cards in Brooklyn
*
8.     Moving into the Big Time
At first the operation was successful. The gang generated thousands of counterfeit cards and developed high value markets in which to use them. Gone were the days of buying lower cost items like TVs and sofas to fence on the black market. Now they targeted car rental companies, leasing out high end vehicles which they drove straight to the ports and shipped out of the country for resale overseas. At one point detectives estimated that the business of the eastern seaboard car rental companies was losing over 20% of profits as a result of the credit card fraud.
Seeing the cash flood in only increased the gang's desire to exploit the opportunity for as long as it lasted. They increased the number of cards in circulation, and found new markets in which to use them. The group started to open businesses with the main purpose of running up charges on credit cards before shutting down and moving on. Law enforcement was caught on the back foot, and struggled to find resources to address the fraud seriously.
The large profits didn't escape the attention of other criminal groups – in particular the Italian mob. Roy DeMeo was angry. Wasn't he the one who'd started Tom in the credit card business? In fact wasn't he the one who'd given Tom his start in New York? On a good day DeMeo felt neglected; on a bad day he felt betrayed. He called a meeting with Tom and demanded a cut of the money. But Tom's hands were tied. He was part of a bigger group now. George King called the shots, and King had little interest in cutting the Italians into the business. It put Tom in an awkward and dangerous position.
Eventually the New York cops responded to the growing size of the problem and formed a task force. One detective remembers his amazement when he came across the gang's work: "When I first saw their counterfeit cards, it was amazing. I was blown away. The cards were truly perfect in design."
In June 1980, Tom was arrested for credit card fraud. It was a wake-up call for the gang, but the case against him was mysteriously dropped shortly afterwards. Detectives involved in the arrest remember concluding that Tom was not one of the masterminds, but instead a background facilitator with good technical skills. They described him as a flashy party character, and considered using him as an informant.
The arrest incident raised the suspicions of George King; why was the case against Tom dropped? Had he been turned by the cops? These doubts affected Tom's relationship with King, and broke the trust that had existed since they came together.
Tom now felt under pressure from all sides; the Italian mob wanted a part of him, the cops were onto him, and George King suspected Tom was double-crossing him. Tom called Bill Luxe and admitted his fear: "The Italians are coming for me". Ever the technical innovator, Tom even installed surveillance listening devices in his West 46th Street office to spy on George and the others.
*
9.     Downfall
If George King was worried about Tom's trustworthiness, it was nothing compared to the storm about to break over Donald Sanders. King knew that Sanders was young and could be impetuous, but in the summer of 1982, King learned that Sanders, frustrated that he was still being pursued by the district attorney back in Peoria, had decided that he needed to teach the lawman a lesson once and for all. Feeling invincible from the success of the credit card scam, Sanders had hatched a plan to kill the D.A.
King was furious and forbade Sanders from returning to Peoria saying it would upset their lucrative business. But against King's wishes, Sanders left New York on September 4th, 1982 with an associate, Christopher Sample, to find the D.A. To add salt to King's wounds, Sanders recklessly tried to buy their air tickets with a counterfeit credit card.
In a search of Sanders' luggage at Chicago airport, officials found guns in his bags and arrested him. A more detailed search also revealed a collection of counterfeit credit cards.
Chicago Tribune (September 17th 1982):
The men arrested here, Donald Sanders, 28, of Los Angeles, and Christopher Sample, 20, of San Bernardino, CA, were seized at O'Hare International Airport Sept 4, when they claimed a suitcase containing two guns that had arrived on a flight on August 31.
Airline personnel seeking the owner of the suitcase had notified police after they opened the suitcase and found a .22-caliber pistol and a .45- caliber pistol. Police arrested both men after Sample presented a claim check to get the suitcase and then was joined by Sanders, who picked it up and began carrying it.
A search of Sample turned up a counterfeit credit card, and Sanders was carrying six counterfeit cards according to Detective Dallas Tyler of the Grand Central District here.

Even more damning was the discovery of contact details for George King and Tom back in New York.
Court papers:
A search (of Donald Sanders) produced documents reflecting the purchase of the equipment and collection of information necessary to produce counterfeit credit cards, including orders for equipment out of 160 West 46th Street, New York City, and Sanders' telephone book in which George King's name and home address appeared.
Noting the New York connection, the Chicago cops contacted their East Coast counterparts. NYPD realized this could be a breakthrough in their bid to bust the credit card gang, and their response was swift: Sanders should not be released on bail. Their instructions were partly because they wanted to speak to him, but also because, as one detective remembers, "We knew that if Sanders was set free, George King would get to him quickly and if that happened there was a high risk of him being killed by their criminal associates."
When questioned, Sanders confessed his part in the credit card scheme, and identified the other participants and the gang's locations.
On September 7th, 1982, search and arrest warrants were issued for the gang's two main locations; Tom's studio at 160 West 46th Street in Manhattan and the storage space at 47 Hall Street in Brooklyn. But when the postal inspectors and detectives turned up, they didn't find as much as Donald Sanders had promised:
–        At 160 West 46th Street, postal inspectors complained that the space had been "cleaned out" before they got there, though they still found some art work used to make counterfeit American Express cards.
–        At 47 Hall Street, a warehouse employee told the inspectors that less than an hour prior to their arrival, two men had removed equipment that was used to produce counterfeit credit cards from the premises. Inspectors just found large pieces of vinyl plastic on which the MasterCard logo was imprinted.
The truth was that George King and his sidekick Frank Elsis had hurriedly emptied most of the incriminating equipment that could be tied to the gang. The following day on September 8, 1982, King rented a 10 foot by 15 foot space in Secaucus, New Jersey at a storage facility called the 'Space Station' and moved everything there.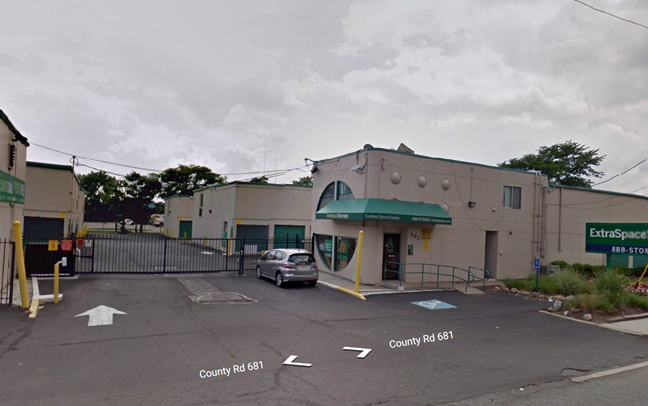 The 'Space Station', Secaucus, New Jersey (pictured in 2016)
George King was angry. His worst fears about Sanders' trip back to Peoria had been realized, and now the operation was collapsing. How did the cops in Chicago know to arrest Sanders? Had Tom tipped them off?
The net was closing around Tom. He confided in Roger Caine that the listening devices he had installed in his 160 West 46th St studio revealed that George King and his associates had discussed killing him. Not knowing who to trust, Tom hid from King, he hid from Roy DeMeo, and he hid from the cops. He didn't dare go near the West 46th Street studio that had been his for a decade, hiding out instead in an apartment on 75th Street for a few days. But he knew he had to keep moving, and found friends in short supply. Tom reached out to old contacts, such as people from the adult film business like Zebedy Colt. But Colt was typical of the people to whom Tom turned; he just didn't want to get involved. Tom was alone.
Unbeknownst to Tom, the cops were trying to reach him to offer protection in return for information about George King's gang.
But it was too late. On September 30th, 1982, Tom's body was found in a car parked in downtown Manhattan. He'd been shot eleven times.
WWM, November 3, 1982, by Tony De Stefano:
New York: Law enforcement sources have linked Thomas Van der Feer, a Dutch-born film director murdered a month ago, to a suggested counterfeit credit card operation here.
Van der Feer is believed to have been involved in a number of credit card schemes as far back as 1980.
Additionally, investigators said, organized crime figures have been trafficking in the bogus cards.
Police found Van der Feer's body, with 11 bullet wounds, in Lower Manhattan on Sept 30th. The body was in the back of a light blue Buick Regal stolen from Long Island earlier that day.
*
10.  Aftermath of a Murder
Tom Van der Feer died an anonymous death. There were few to mourn him. But who killed him?
The person or people responsible were never found. No one was ever charged with his murder. In fact the investigation never got off the ground. It was viewed as a gangland hit, and the cops were much more interested in cracking the credit card operation so Tom's murder was soon forgotten.
Everyone had a theory though.
Bill Luxe thought it was the DeMeo gang. Since the early 1970s when Tom had first met Roy DeMeo, the gang had become a ruthless and prolific killing machine, suspected by the FBI of murdering as many as 100 people since 1973. Detectives still shudder when they remember the extent of the cold-blooded murders committed by the group. Luxe reasoned that Tom's murder was intended to warn others of the consequences of not doing business with DeMeo.
Detectives and postal inspectors who worked on the credit card case are still convinced the killer was George King. They describe Tom as a 'buffer' – a loose end that has information that can put his associates in jail and so needs to be eliminated.
But if it was King who murdered Tom, it didn't have the desired effect. A week after Tom's body was found, on October 5, 1982, postal inspectors discovered the Space Station storage facility that George King had taken. They rightly suspected that it was the new home of the counterfeit cards and equipment that they could tie back to King. They staked out the location. They didn't have to wait long.
On the morning of October 6, 1982 George King, his wife Nora, and their associate Frank Elsis turned up at the facility and were arrested and charged with conspiracy to use and manufacture counterfeit credit cards. An extensive arsenal of weaponry was also found at the storage space.
The press reported that King was a suspect in Tom's murder. King's bail was set at $500,000 – a huge sum for the time.
'3 Suspects Accused in Jersey Of Bogus Credit-Card Scheme', New York Times, October 6, 1982:
Secaucus, NJ: George King, 51 years old, and his wife, Nora Mary, 36, both of 51 West 68th Street in New York City, and Frank Elsis, 34, of 4 North Umberland Road, Jericho, L.I.
Mr. King was charged with conspiracy to manufacture or use counterfeit credit cards, while his wife and Mr. Elsis were to be charged with aiding and abetting, Mr. Bonney said
King also is a suspect in the shooting death of a man identified only as Thomas Van der Feer whose bullet-riddled body was found Friday in a car parked on Wall Street.
*
Epilogue
The Rialto Report tried to locate George King, but was dissuaded by everyone who had come across him. "He's a bad, bad man, very dangerous, and not worth getting involved with," we were told by one detective. We eventually learned that George passed away in June 2007 at the age of 75.
At Donald Sanders' trial, prosecutors said that his skills as a credit card forger were "artistic, but the stuff he was producing wasn't art. Because of his ability, his group was the first ever to successfully duplicate the intricately designed American Express card." The judge gave Sanders a seven-year sentence. However rumors circulated that rather than serve time, Sanders entered the witness protection program. The last time one of the detectives remembers seeing him was, bizarrely, when he attended a police party held to celebrate the conviction of George King. Sanders' current whereabouts are unknown.
Roy DeMeo met a similar end to Tom Van der Feer only a few months later. On January 20, 1983, DeMeo was found murdered in the trunk of his abandoned car. He'd been shot multiple times in the head and had a bullet wound in his hand, assumed by law enforcement as being from throwing his hand up to his face in a self-defense reflex when the shots were fired at him.
Both of Tom's former wives are still alive and have been extremely gracious and helpful in talking about their time with Tom. Neither knew anything about the rest of his story. Neither expressed great surprise at how his life or death had turned out. "We reap what we sow" was his second wife's comment.
Tom's parents moved to Spain shortly after his murder. His father Tobias died in Seville in February 1985, and his mother Mary died in Madrid thirteen years later in March 1998. Tom's brother Adriaan stayed in New Jersey and died there in October 2013.
Film friends Zebedy Colt and Bill Bukowski have both passed on too; Zebedy Colt retired to Las Vegas where he died in May 2004. It is claimed that he told people that Tom's murder had made him afraid of the pornographic film business, and was ultimately responsible for his decision to retire. Bukowski suffered a fall in his North Hollywood home in March 2006 and died shortly afterwards.
Roger Caine moved out of New York long ago, and still misses Tom. If only Tom had gone in other directions he says, he could have enjoyed huge success in other fields.
As for Bill Luxe, he eventually sold his printing business after 24 years and opened up a popular pizza take-away in the East Village of Manhattan. He retired two years ago.
Tom Van der Feer's final resting place is unknown.
*