Gary Lee Boas has spent most of his life photographing the famous, and amassing a huge collection of autographed books, playbills, and publicity photos. His subjects ranged from Muhammad Ali to Henry Kissinger, Charlie Chaplin to Gloria Swanson, Greta Garbo to Frank Zappa.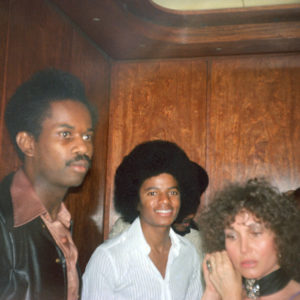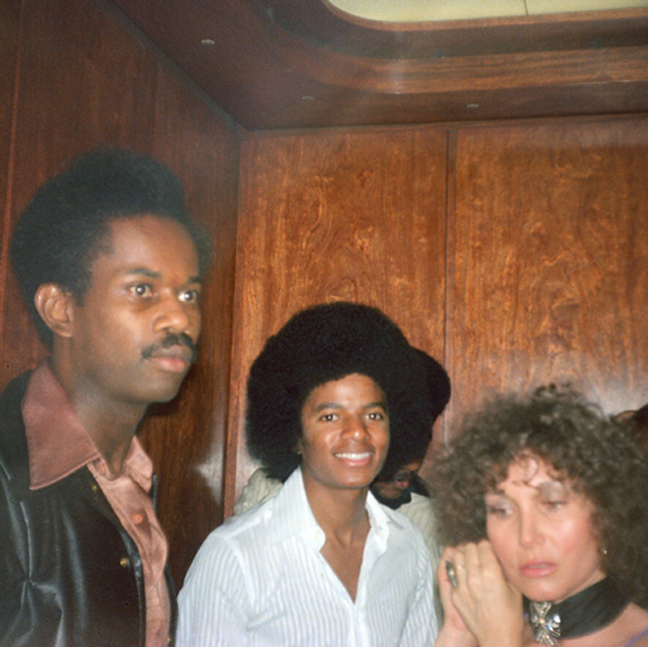 Beginning when he was 15, Boas would trek from his Lancaster, PA, home to New York City, where he would hunker down for hours and hours outside theater alleys, restaurants, and hotels hoping to snatch a photograph and get an autograph from a star. The photographs are quirky, sometimes blurry and complete with satanic red-dot eyes, and display a warmth both in the faded hues and the seemingly accessible countenances of the stars themselves. A selection of these photographs appeared in his book 'Starstruck: Photographs from a Fan' (Dilettante Press).
But in between trying to snap the stars, Boas also hung around the strip joints and porn palaces of Times Square. He got to know the sex stars, burlesque dancers, and hustlers. And he took more photographs. Hundreds of them. Some were early selfies with the stars, others offer rare glimpses of stage shows where cameras were normally forbidden.

These photos capture the immediacy, freshness, and spontaneity of the time in bright prime colors.
In this Rialto Report, we share a selection of his photos of the sex industry in the early 1980s, together with memories of his some of the people and places that Gary Lee Boas got to know.
With thanks to Gary Lee Boas for allowing us to reprint photos from his out-of-print book, New York Sex 1979-1985.

_______________________________________________________________________________________________
In the late 70s to the mid 80s, I was in New York pretty much any time I could get the hell out of Lancaster, Pennsylvania. Obviously, New York had Broadway, movie premieres, award shows, parties… all the stars came there. I had people I could stay with, so I could live off of five dollars a day. I didn't care if I slept on the floor or on a couch… I was in New York.
I spent most of my time waiting to catch people at stage doors before and after plays. While I was waiting, I would just hang around in the Broadway area. Sometimes this was half the day, and at night, there was always two or three hours to kill. When I was going from one theater to another, I would pass these two gay strip clubs, Show Palace and The Follies.
Show Palace was on Eight Avenue at 42nd St, and The Follies was on 47th St for the longest time, and then it was on Seventh Avenue at 48th, right next to Popeye's Chicken. The outside of The Follies was just sort of bland. If you didn't know it was there, you might even just pass it. But Show Palace had a little marquee saying who was appearing, and they would always have a major porn star as their featured draw to get people in. Each star had a one-week run, so there would be a new name dancing each week. Because I was working at a porn store in Lancaster at the time, I of course knew who these people were, so it became like waiting at another stage door.
Right across the street from Show Palace was Show World, which was the bigger, straight version of Show Palace. Show World had movie booths downstairs, and girls in cages upstairs. They also had a stage where female porn stars would perform, like Annie Sprinkle, Edy Williams and Vanessa Del Rio. Soon I was outside their stage door as well, and I got to know everyone there.
Pretty soon, I made friends with both the managers of the Show Palace. I like them and they liked me. I wasn't jaded, and I wasn't one of the strippers that they had to deal with. Half the time with the strippers, they would look at me and flip their eyes and go, "Oh Christ, what next?" I listened to their songs of woe, about, you know, so-and-so was on a coke binge, or this one wasn't going on for whatever reason… I think I was a fresh breath of relief. A lot of times I would run and get them a sandwich or coffee, or something they wanted from the outside. I was like their unpaid Boy Friday.
The Show Palace wasn't dirty, but it was basically a tile floor – almost like a cold atmosphere, really. The stage was really tacky with horrible carpeting and track lighting. And half the time, they didn't know if there was going to be someone there to work the spotlight, so one of the other strippers had to work it – Christ, sometimes I worked it. It was so haphazardly run because they were dealing with this street mentality, where someone showed up for work, or they didn't. And with the star, the management knew not to pay them until the day their engagement was up, because if they paid them before that, half the time they wouldn't show up.
Back then I wasn't photographing for magazines or anything like that – it was solely for my own perversion.
After a while, some of the porn stars and strippers ended up coming down to Lancaster to visit me. Since they had to dance eight shows a day and twelves on the weekends, a lot of them would get burned-out, either from working so hard or over-indulging in drugs. So when they would be done dancing for the week, they would come down to my house in Amish country to recuperate.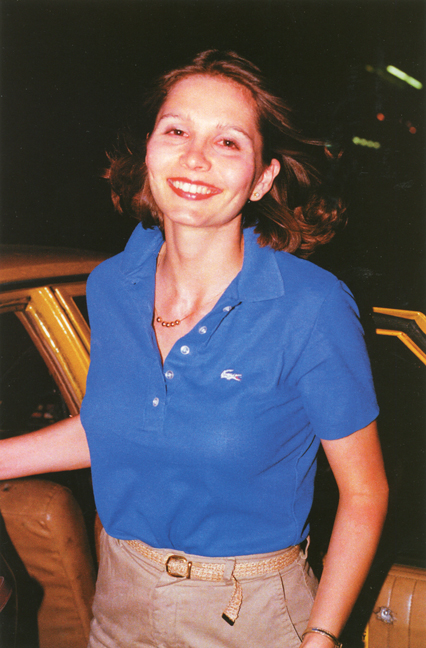 Desiree Cousteau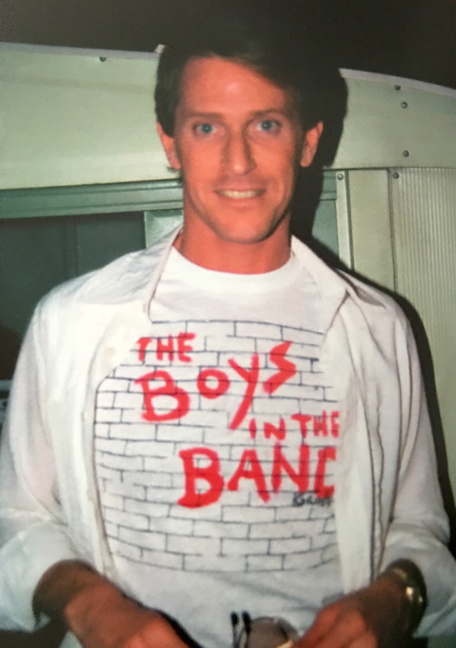 Casey Donovan / Cal Culver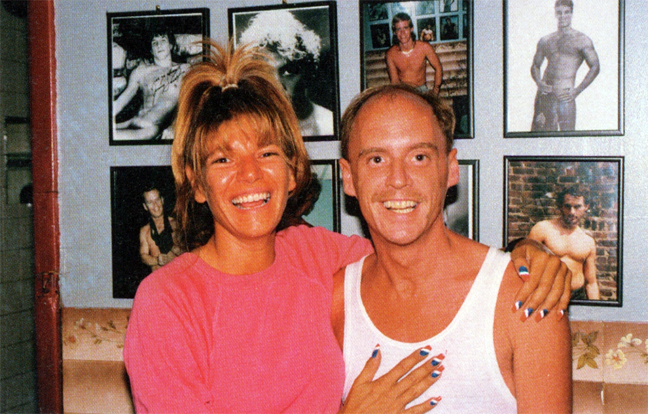 Robin Byrd, with Gary Lee Boas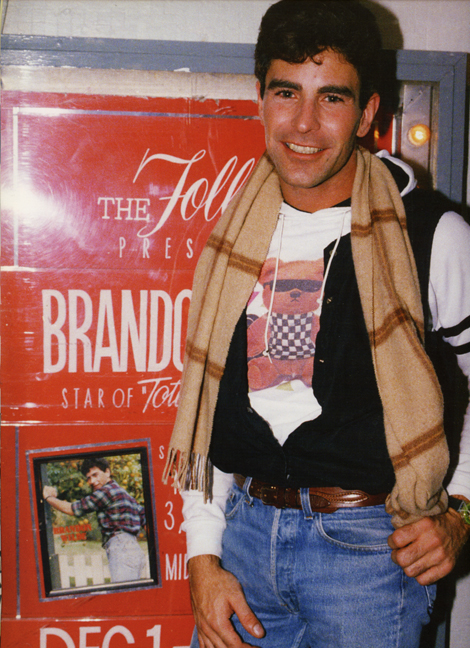 Brandon Wilde at The Follies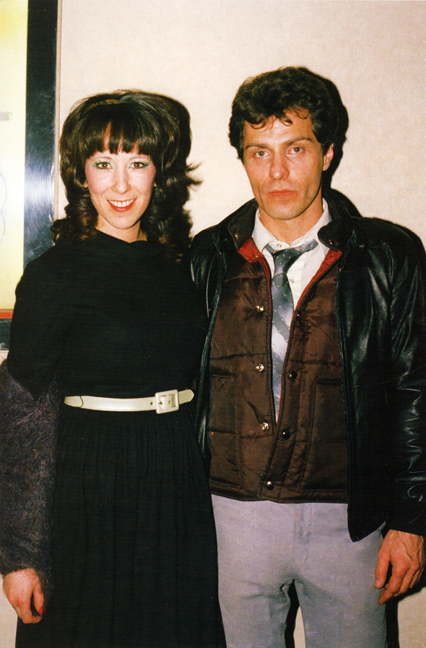 Annie Sprinkle and George Payne
Leo Ford at The Follies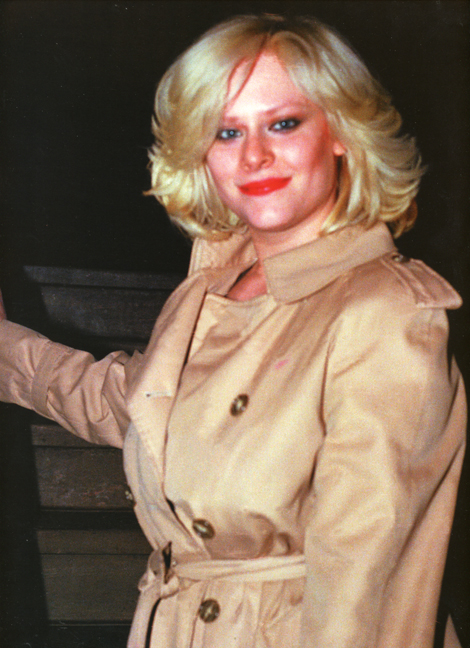 Joey Karson at Show World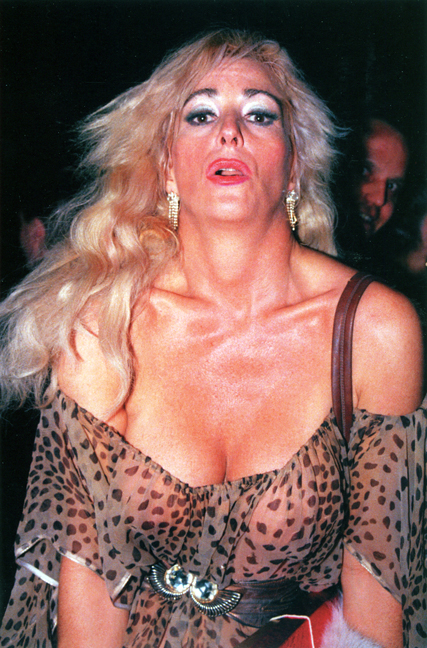 Edy Williams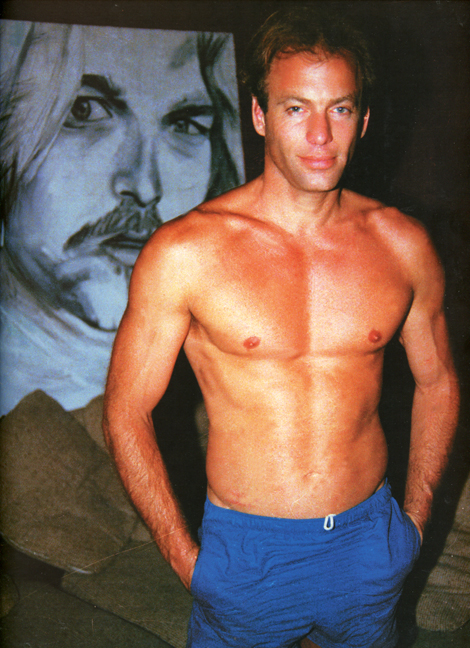 Eric Ryan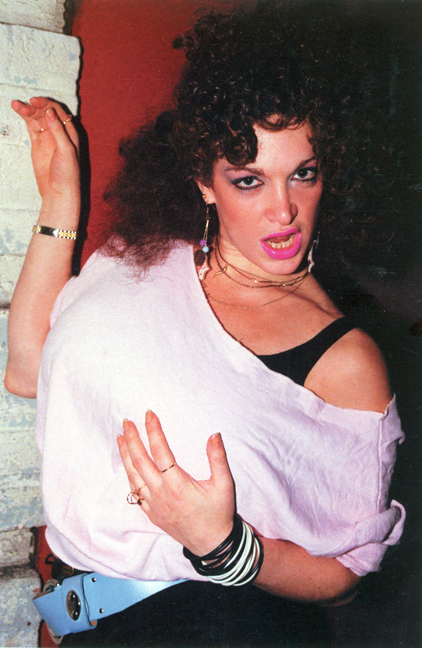 Sue Nero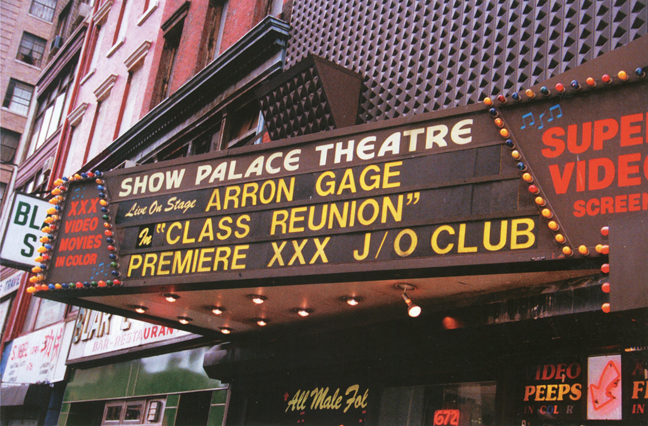 Aaron Gage at the Show Palace Theater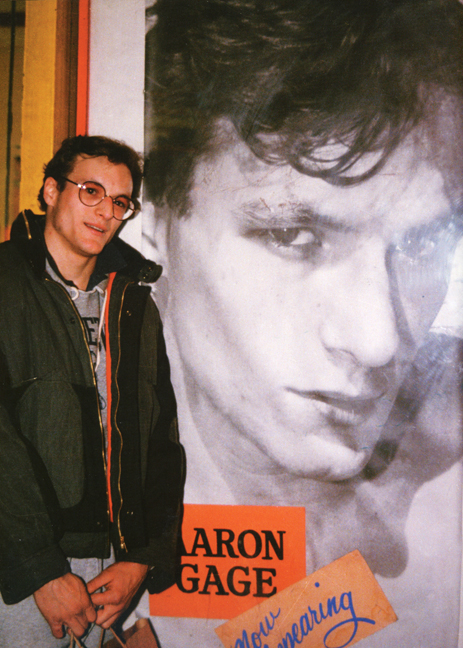 Aaron Gage at the Show Palace Theater
*
My friend who lived in the Village kept telling me about this porn star that lived across the street from them that used to lay on his roof naked and sunbathe – but they didn't know who he was. So one summer day I was down there, and they had me look. I instantly recognized it was Marc Stevens, 'Mr 10 1/2'. I was very familiar with him, because, hell, I sold his films. But I assumed Marc Stevens was straight because he was always in straight films.
I looked in the phone book, and he was listed. So I called him up, and I introduced myself as a fan, and that I worked in a porno store in Pennsylvania and through it I had a large collection of his work. I told him I had a few things I'd like him to autograph, and would he mind seeing me that next time I came to New York. And he said, "Yeah, sure."
Two weeks later I came back. I had to get up the nerve to have an encounter with this person, and to be cool about it, not to be overwhelmed. Because you know, sometimes if you are a sexual person, meeting people in real life who sexually stimulated you in movies, it's almost like living a fantasy.
He answered the door in a bathrobe. I don't remember if I called ahead, but I remember showing up and it just seemed awkward that here was a person that's normally naked, just draped in a bathrobe that wasn't even clothed. I was like 19, 20 years old, sitting in his apartment… I'm the little twink, and because he was into twinks, he started mentally seducing me, and then somehow it came up that he was gay. I mentioned that all the films of his I'd seen were straight films, and he said that he did this because it was like going to work. He went to work and he fucked women – that was work. When he came home, his pleasure was his boyfriend. He explained that sex didn't get burned out for him because his real desire was still very alive.
He took me into his bedroom, and there in front of me was the same bed that was in an 8mm film where he fucked Helen Madigan.
*
Annie Sprinkle was one of Marc Steven's best friends, and they lived in the same building, so a lot of time I would go to her apartment and hang out, and I just loved her. She was so friendly to me. She knew I was gay, so it was like, "Oh, one of my girlfriends is in the room." When I was hanging with her I wouldn't have guessed in a thousand years that she had kinks and fantasies.
She had some of the bizarrest fans. She had a corkboard where she would pin up pictures that fans would send of themselves… tattooed dicks, piercings, it was nothing normal – it was always some sort of bondage and discipline thing.
Annie performed at Show World. One thing that was funny about her was that she couldn't dance, so she always had to think of gimmicks to kill 20 minutes on stage. One of her tricks was she used to hand out squirt guns to people and then squat on the stage and see if they could hit her pussy with the squirts. Before you know it, you could kill 20 minutes real quick trying to hit her pussy with a squirt gun.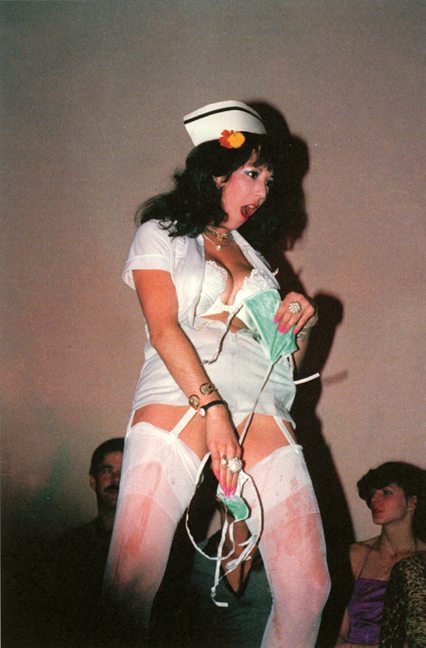 Annie Sprinkle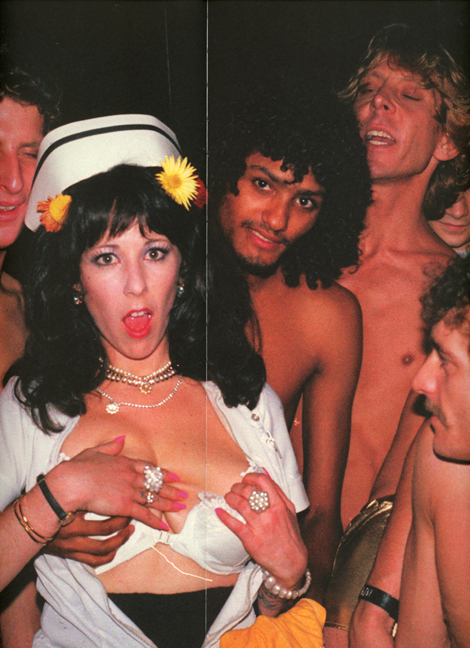 Annie Sprinkle (with Marc Stevens)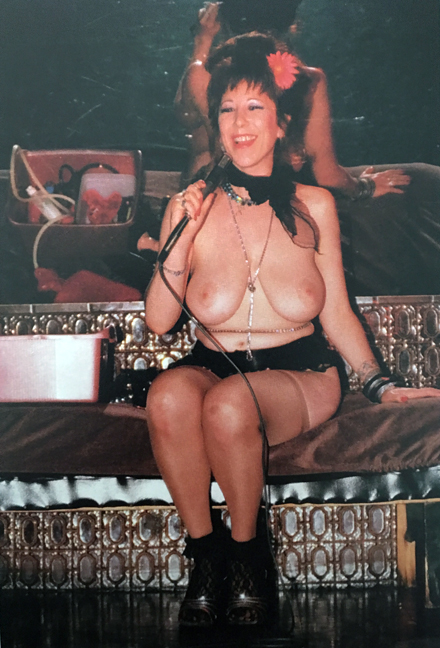 Annie Sprinkle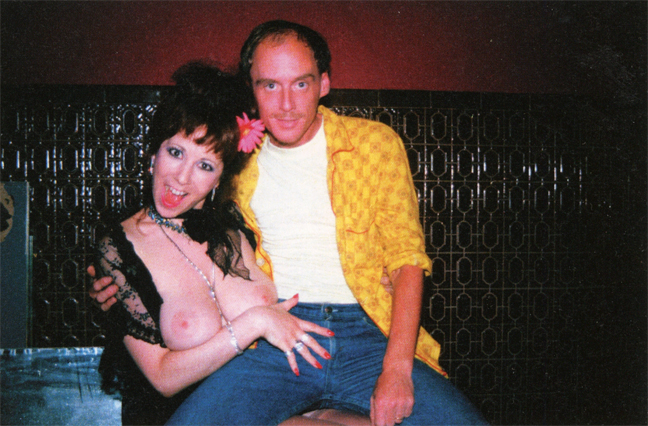 Annie Sprinkle, with Gary Lee Boas
*
My all-time favorite gay porn star fantasy was Lance. I'm attracted to blondes, surfer blondes, but I never ended up with them. Lance was always my fantasy boy. If ever I really felt the urge to watch a porn movie, Lance would be the first.
I was standing on the corner of 47th St and 7th Avenue, right where The Follies was. I was waiting to cross, and I looked beside me, and there was Lance.
I thought, "Oh, my God. Oh, my God." At that point, I'd been in the business long enough that I knew many people's real names. I knew his real name was David Reis. I had to say something. I just couldn't let this opportunity pass me by. When we got to the other side of the street, I said, "Excuse me, David?" He turned around in shock, like, you know, "Who knows me as David?" I said, "You don't know me, but blah, blah, blah" and I dropped every name in the business I could think of to make him comfortable.
I didn't want to come across as a trick trying to john him. He said, "I'm here for two weeks. I'm here for next week too." I said, "Oh my God, great, great." We went out to get something to eat and we talked, and he's laughing at everything, he had a good sense of humor. He said, "This is my first time in New York. I want to see the Statue of Liberty. I want to see the Twin Towers." So I said, "I'll be your tour guide, I know New York really well."
All week long I hung out with him. Now we're friends. It's David and Gary. I was just delirious, because I couldn't put aside knowing that I was hanging out with my sexual fantasy boy. David was straight. He said that he didn't prostitute himself, because he'd rather dance on stage and get a dollar in a g-string than have to go home with a bunch of old people that were paying for it."
I didn't want to lose him as a friend, but I wanted to tell him the way I felt about him. I got advice from a friend who'd appeared in a few films with him.  My friend said, "Gary, just tell him you called me because we've done three movies together, so we know each other. Just tell him I told you to put it on the table."
We went out to dinner that night, and I'm nervous as hell like a 15 year old virgin trying to get my cherry popped. I proceeded to start to tell him, and he says, "Whoa, can I just stop you for a second? Why don't I just tell you what I think it is. It will be a lot easier, because you're taking a lot of time getting this out. I was your fantasy, you met me, we became friends, I really like you, you really like me, and you want to fuck around, and you got the drift that I do not prostitute myself, and you're at this dilemma that you're hanging around with somebody that you got the hots for." He had it. He knew exactly.
I looked at him. I just shook my head, and I said, "You're right, and I'm sure I'm not the first one that's been in this position." He says, "Well, I'll tell you, I don't prostitute, but I really do like you, and obviously I do fuck guys. I do the movies. I'm going to tell you straight up: I've been dancing with a bunch of strippers and just trash. White trash, Puerto Rican trash, just getting a few bucks. And I've been dancing for a whole week, and I have been trying to get some coke, and I have been ripped off four times."
He says, "You get me a good gram of coke and I'm yours. That way it's just like we're doing each other a favor. We'll have a good time."
I rushed to a phone quicker than I could get there, and dialed the number and ordered a gram of coke. He had like 45 minutes between a show. We go back to his hotel room. I'm nervous as hell because I've never been in this position. I'm going home with a fantasy boy.
Right away he said, "I'm not going to do any of the coke because I don't want coke dick, just in case the speed part kicks in and then nothing happens." I turned around, and there he was standing naked in front of me with already a hard dick. It wasn't on a film. It wasn't on fast-forward. It was there. He just laid back on the bed with his legs over the side of the bed, and he said, "Do what you want, have a good time."
He turned on the TV, which was behind me and above my head. All of a sudden, he's snoring. He fell sound asleep. Fell right out. He was so tired, he fell asleep, but his dick was still hard as anything. At that point, I felt like I was almost molesting him, because he was there, but he wasn't there, you know? It's like, "Okay." Then I'm just holding his dick, looking at it, thinking, "I sort of feel like I'm blowing a dead person." You know what I mean? In a way. It would have been nice to have a pump, or a 'ooh' or a 'ah' or something.
'Dynasty' was on the television. It was a big show, especially among the gay people. I love 'Dynasty'. All of a sudden, I heard Linda Evans and Joan Collins fighting. It was the damned night that they had the famous fight in the fountain. Finally, I realized it was 15 minutes to where he had to go back on-stage, and I woke him up. The first thing he said was, "Oh my god, I am so sorry." He laughed because he thought the Dynasty thing was funny.
Unfortunately, he died in a motorcycle accident.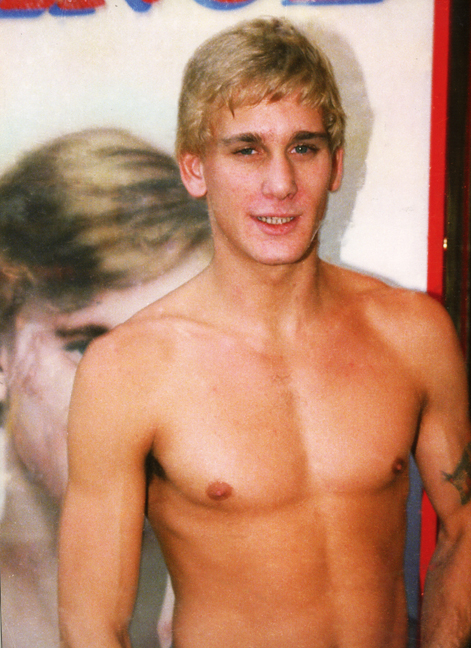 Lance at The Follies
*
I met Jack Wrangler when he came to a famous opera house near where I live in Lancaster. He came with his wife, Margaret Whiting. That's when he was directing her as 'Jack Stillman.'
I went to the theater, and of course, I took 50 naked pictures of him. I waited until after rehearsal, and then I said, "Jack. I obviously know who you are." Because a lot of people didn't know that he was a porn star. By then he was in a whole different crowd. He was there with Margaret.
I asked, "Is there a time we can slip away and you sign all of these?" He said, "Sure, but I'm here right now, and it's Margaret's moment. So give me a minute."
He went over, and he talked to her, and she looked over at me, and she said, "Sure." Jack and I went out to lunch together, and he signed everything. We talked, and I asked him how it felt to be the first guy to sort of be the jean, flannel guy in porn films.It seemed to me that he started that whole trend."
He said, "You know, that's just the way I always dressed. I didn't realize it would be a trend and that the gay crowd would pick it up as a representation of the butch cowboy type. I was just putting on clothing."
The relationship he had with Margaret Whiting relationship was interesting. I don't know if he was gay, straight, whatever. I don't know. But I think the fact that she was older, and didn't have the suitors she once had, and then there's this young, hot stud that liked her, and liked her music… There was a really deep admiration and connection there, and you could feel that. There wasn't one move made without the other one knowing it. He was very honest, and she'd just tell you like it is, honey. No bullshit on her side either.
I think that's why they got along, because there was no bullshit on his side either. I think they really complimented each other. It was nice to see. I don't know if it was love, or just great admiration. But there was a bond that you felt very strongly.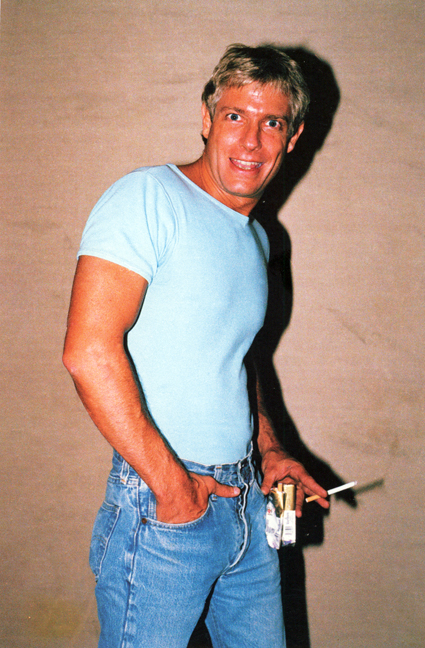 Jack Wrangler
*
I remember Cara Lott who danced at Show World a lot.
I knew her for a while. She had a boob job while I knew her. When I first took photos of her she was natural but then she had the operation that changed her chest dramatically.
She got married to a fellow dancer, Vladimir Correa, who she met on the Robin Byrd Show. Vladimir was thrust into the gay porn world, and realized he was going to make more money being in gay movies than straight movies. He caught onto that real quick. He capitalized on that. When Cara was appearing at Show World, and he was over at Show Palace, they ended up becoming very close.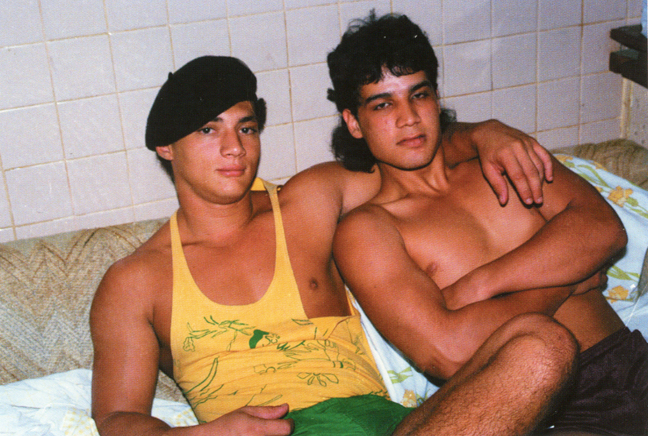 Vladimir Correa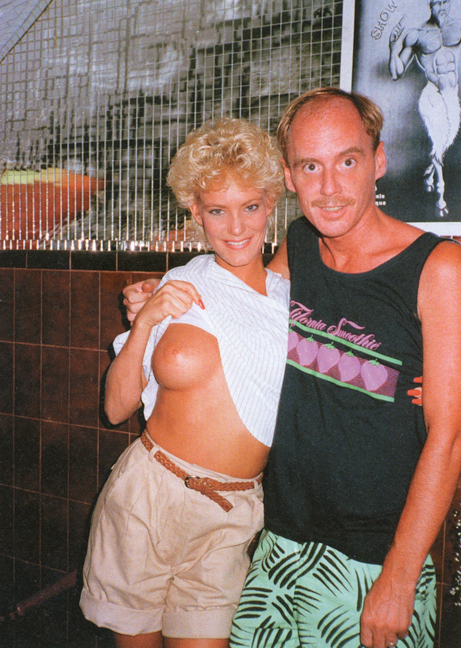 Cara Lott, with Gary Lee Boas
*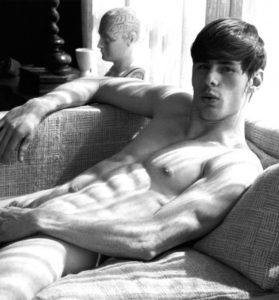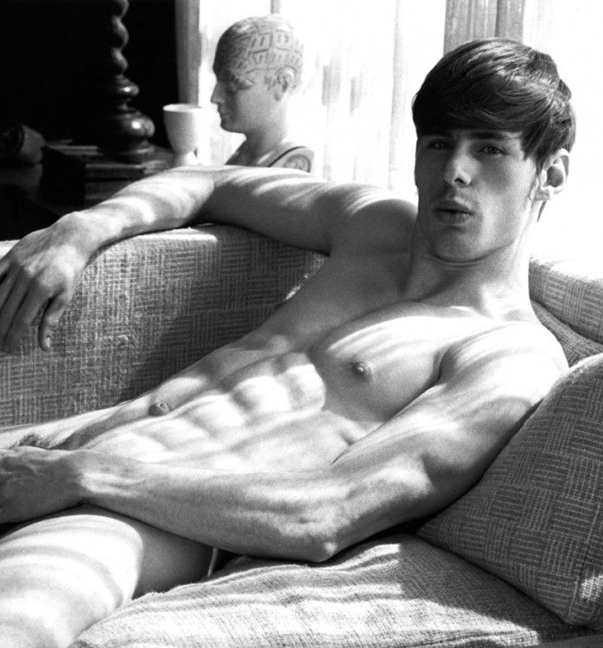 Bill Eld was always one of my favorite porn stars. In the sixties, he would pose in a fishnet G-string and jock straps for those athletic guild books. Apparently he had been a runner or gymnast, and he was performing in one of those sports in high school when a photographer approached him about doing that athletic guild shit. And of course, then it went to a proposal of, "Would you fuck some guy?" and the next thing you know he was in porn. He was straight but he got pulled into the gay world because of the audience, and I just always liked him.
About fifteen or twenty years after his peak, an autograph collector in New York named Jack claimed that he knew him, and that Bill now worked for the state of New York as a restaurant inspector. It took me nearly three years to get this collector to break down and connect me with Bill. Finally one day he said, "I'll tell you what, I'll give him the number of where you're staying, and he'll either call or not."
He called.
I told him I was a huge fan with a big collection of pictures, and it would be an honor if he'd sit and autograph them for me. We agreed to meet on the corner of 8th and 45th. When the day came, he stood there, I saw him, he saw me, but we never thought we were each other. It took a while, Finally I recognized it was him. He looked like he was practically dead. He was all wiry, and chewing his fingernails. He looked almost like a street person. He was very drawn and sickly, and life had been very cruel. He said that people were saying he had AIDS, but he kept claiming he didn't.
I told him that I had all of the pictures back at the apartment, but if he didn't feel comfortable, that we could sit on the front steps and sign them. He said no, he would go up. So we went back to my friend Roy's house where I was staying on 43rd in Hell's Kitchen. He came up to the room and kicked back.
As I was getting him to sign, it was sad. Between the drugs and the porn industry, he was very burnt out and could barely spell. He signed everything like he was in fifth grade. He went by the name of 'Big Bill Eld', and it looked like he had to think how to spell 'Big.' I remember sitting there, listening to his stories and thinking about how cruel life could be. He even told me his wife would put a poster of him from his earlier days on the ceiling so when they were fucking, she could look at it.
We stayed in touch, and about a year later he called me in Pennsylvania and asked if he could come and live with me. At the time I was very happily involved with my lover, so I didn't know where this would fit in. I decided it just wouldn't work. I didn't realize that he was on the borderline of sleeping on park benches.
Later on, I went to New York City and tracked him down. I found him living in the projection booth of a porno house on Broadway. He actually had a mattress on a floor while he ran porn movies, where he would sleep in between films. I took him out to dinner.
The last vision I have of him was when they let me in through the porn theater ticket booth, and went and tapped on the projection room door. Nobody answered, but the door was just slightly opened. I looked in. Sitting next to a mattress on the floor, I saw an orange crate with an alarm clock on it, and next to the alarm clock was a set of upper false teeth. Bill was passed out on the mattress. He was naked. It was so sad. I'm sure he's not with us any more.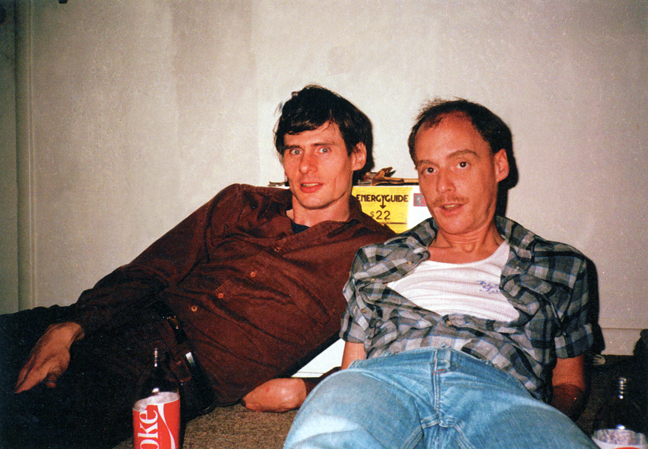 Bill Eld, with Gary Lee Boas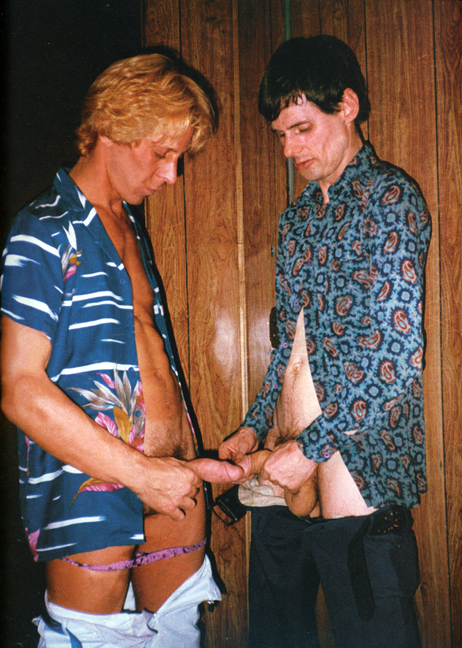 Marc Stevens and Bill Eld
*
Marc Stevens would have these parties with people connected to the porn industry. He'd always say, "Why don't you take some pictures?"
Magique was a a disco that had sex shows. For a while Club magazine would throw these monthly parties with a theme to get people to come and just get wild. They would always have contests where you could win a trip somewhere, or win a chance to do a layout for Club. This was the early 80s when straight people started getting into the whole sex club scene.
I would make it a point to go to New York just for these shows because I knew it was going to be one big sexual extravaganza.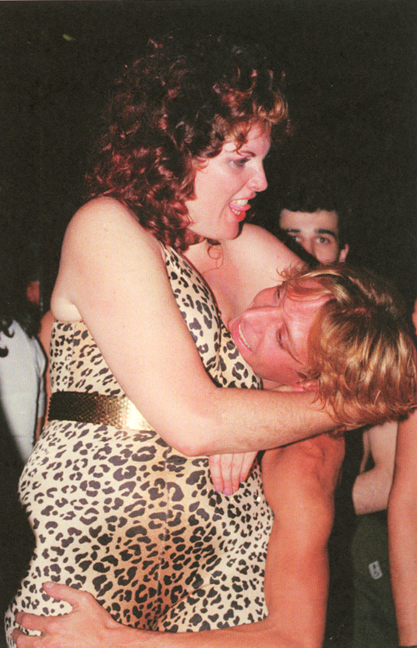 Queen Adrena, with Marc Stevens in a headlock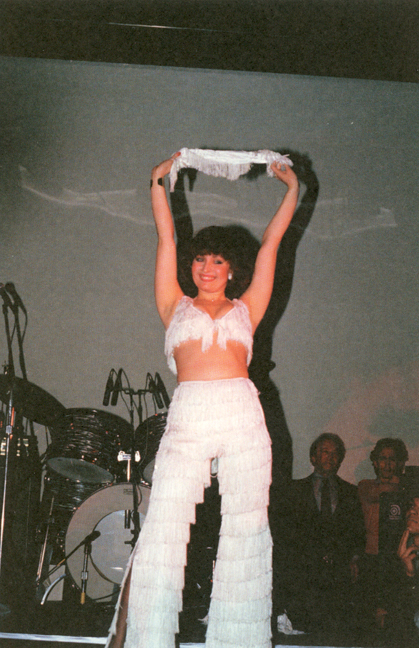 Samantha Fox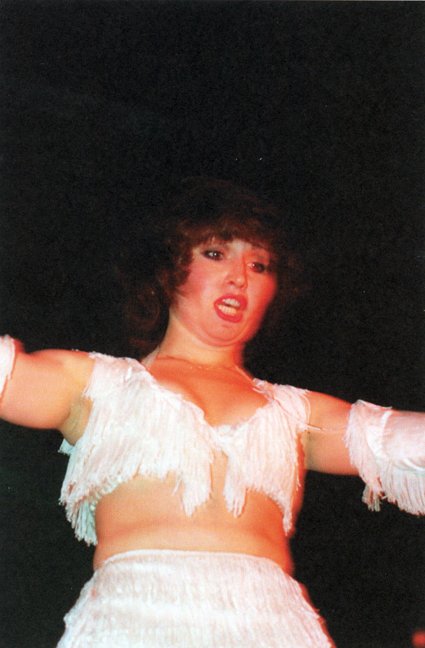 Samantha Fox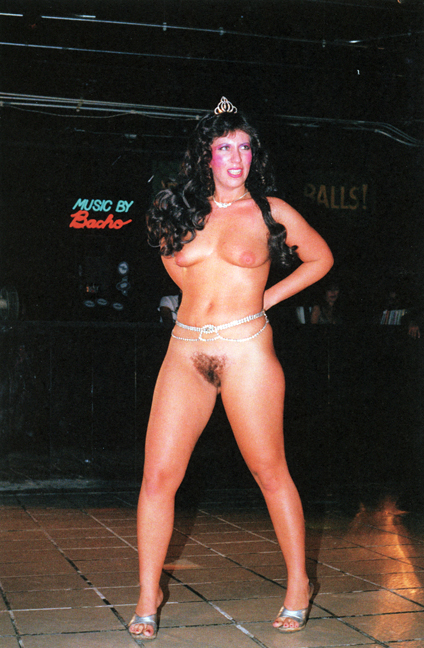 Pleasure Aims at Magique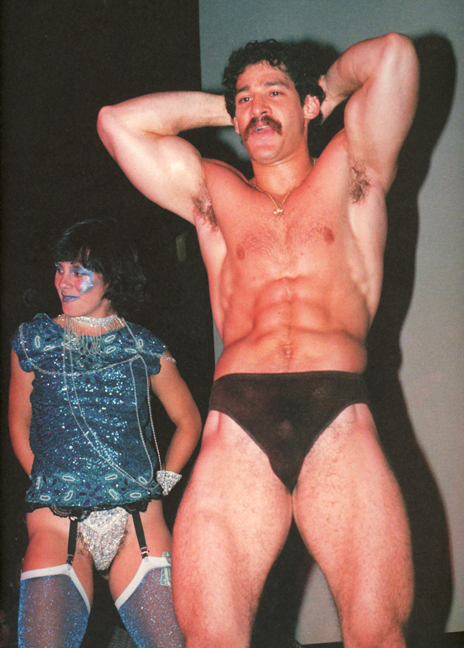 Carlos and Gigi at Magique
Carlos and Gigi at Magique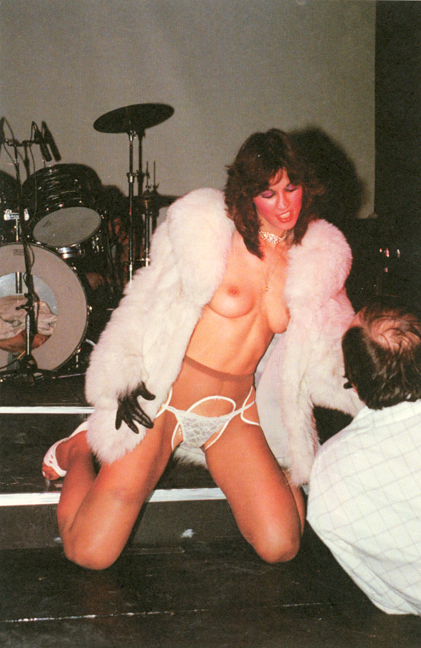 Tiffany Clark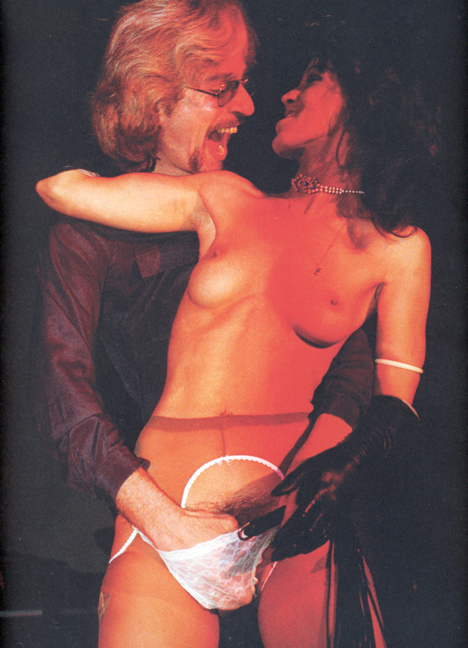 Fred Lincoln and Tiffany Clark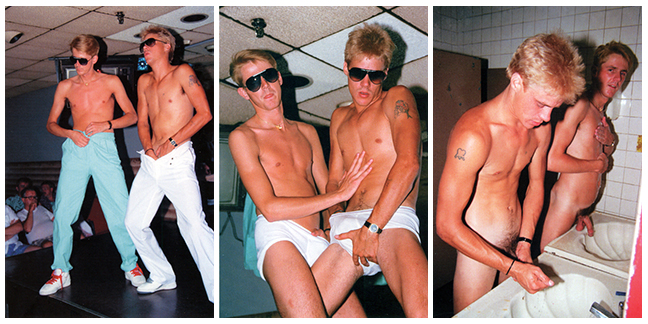 Kevin Marsh, Randy Mixer at the Show Palace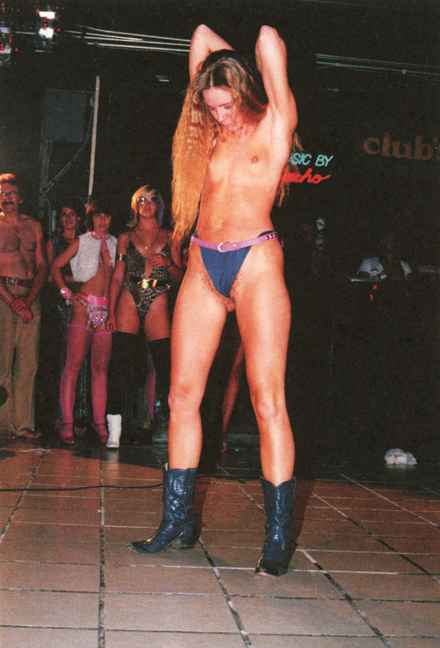 Tigr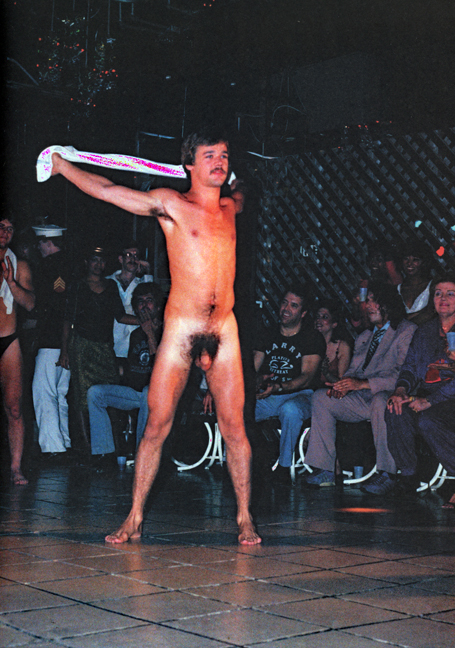 Stripper competition (with Jamie Gillis, Larry Levenson, and Tiny Tim on the judging panel in the background)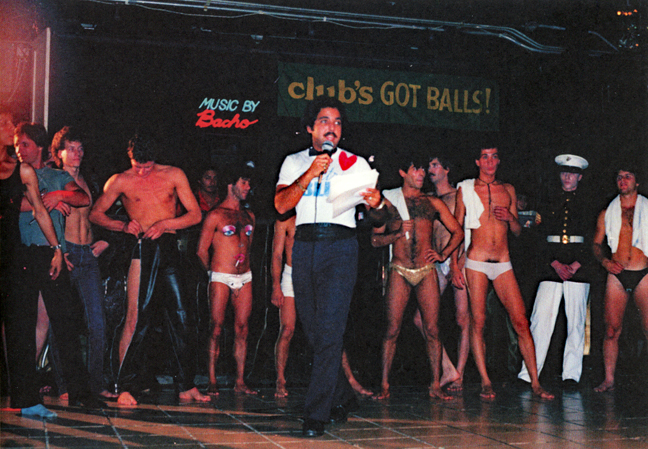 Ron Jeremy, Master of Ceremonies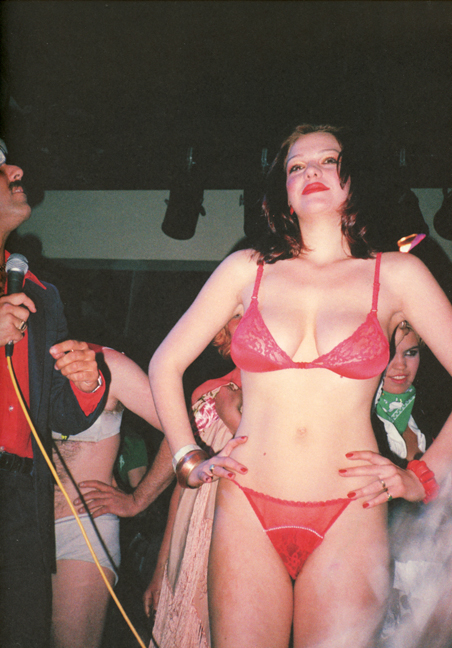 Ron Jeremy on stage at Magique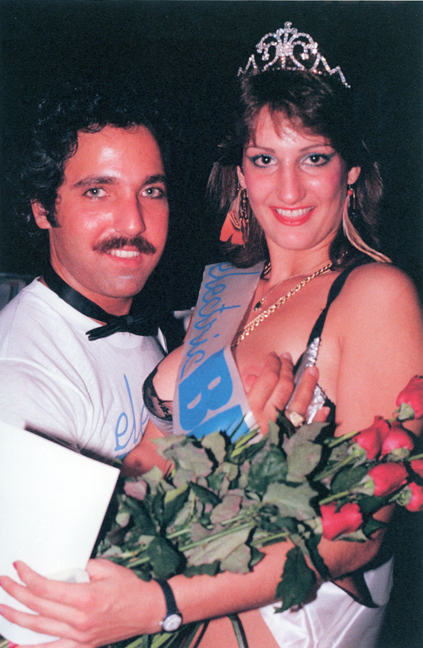 Ron Jeremy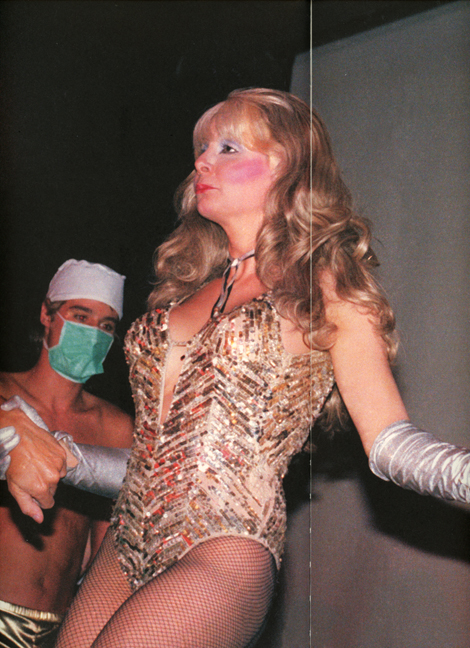 Jill Monroe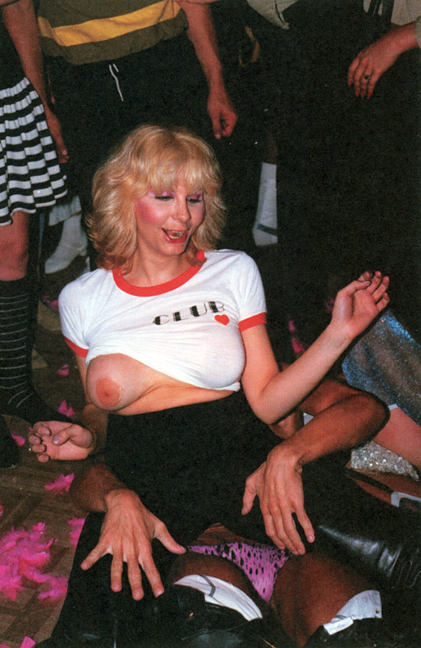 Jill Monroe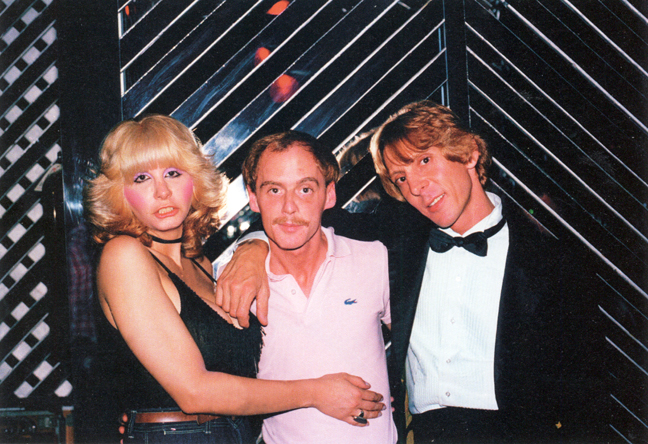 Jill Monroe, Gary Lee Boas, and Marc Stevens
*
I was down on Christopher Street one night when a friend took me to the old West Side Highway. It was like The French Connection, with a highway up above, and the cars passing underneath. It had been abandoned so long that there were actually trees growing up through the cracks in the road.
There were three piers that were basically the cock-sucking piers. There were aluminum doors that pull down, but it looked like somebody literally took a giant can opener and opened a triangle and ripped some of it back, so that they could just crawl in. That was how you entered. Not being able to see, and adjusting to the pitch fuckin' dark, you knew that any minute you could end up in the Hudson. You could just walk and all of a sudden there was no floor underneath you.
I remember you would have to step over people that were blowing people, and sometimes you'd walk into people in the pitch dark. Your best bet was, if you saw somebody you liked outside in the light, you'd just follow them and make sure you didn't lose them once you got inside. But you never knew – you were never 100% sure that you were tricking with the same person you followed in. And very rarely was it just a one-on-one. Sometimes there were anywhere from two to seven people fucking around in a group.
In the early to mid-eighties, things obviously changed. The West Side Highway got torn down, and one night the third pier burnt to the ground. They eventually tore down the other two piers completely. The city cemented the floor where the third pier had burnt down, and made it flat. Nowadays they use the space for things like Wigstock and parties after gay pride.
Things are very different now.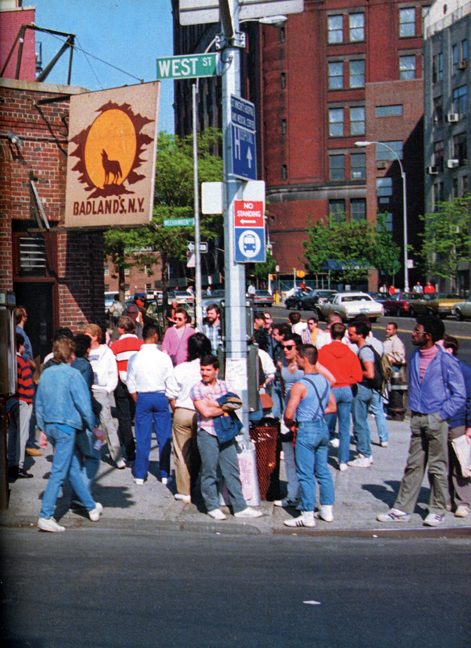 Badlands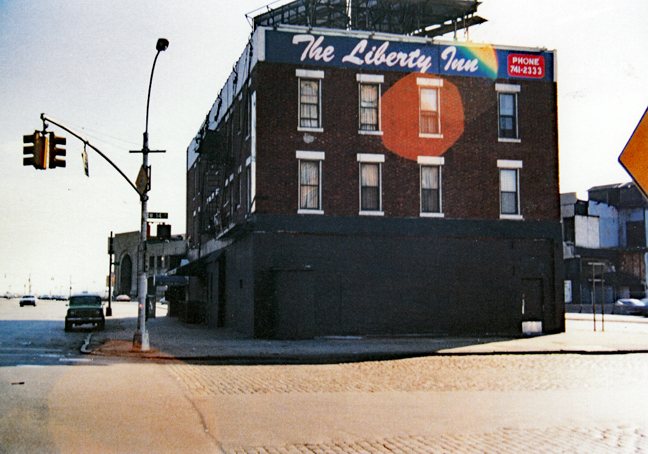 The Anvil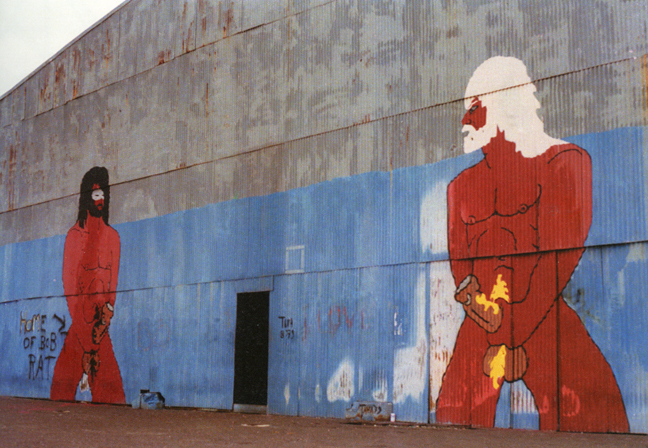 The Pier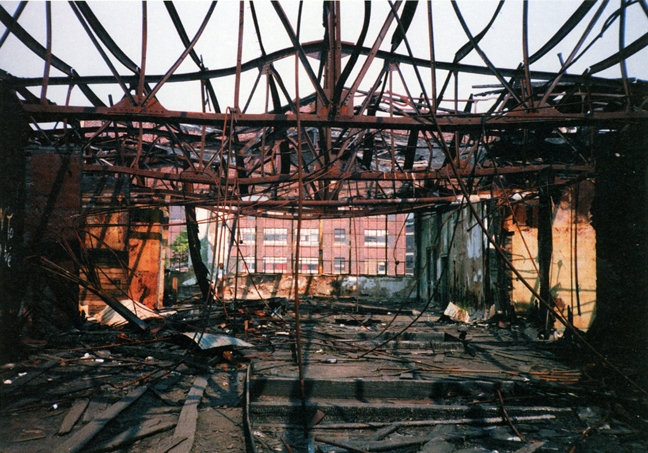 End of an Era
*
Save