Marc Stevens was one of the most recognizable, larger-than-life, and flamboyant adult film performers in New York in the 1970s and 1980s.
In this Rialto Report, we present the concluding part of his life story, by gathering the thoughts, memories, and opinions of many people who knew him well.
If you missed the first part, you can read it here.
All quotes are from interviews conducted by The Rialto Report, except where noted.
Marc changed the spelling of his name from 'Mark' to 'Marc' when he started making adult films. This article uses the former spelling when he is referred to by those who knew him as 'Mark'.
With thanks to Annette Heinz, Robin Leonardi, Efrain Gonzalez, Vivienne Maricevic, and Gary Lee Boas for many of the pictures.
_______________________________________________________________________________________________
8.     Marc Stevens: Pimping – 90 Lexington Avenue
Christopher Watson (manager):
I started losing touch with Marc in the late 1970s. He was troubled about money, and I guess he was a little over-exposed in the film business. He was getting depressed that he'd reached a plateau.
Annie Sprinkle (friend, adult film actress):
A lot of people come into porn and do one or two movies and then leave, but Marc was in it for years and years and years. There weren't many people left from the early years at that point. He was a real veteran.
Marc Stevens, from Hustler, August 1975:
One of my directors said: "Marc, if there were any justice in this world you'd be rich. Because you've got a phenomenal talent. You know Marlon Brando couldn't do this shit."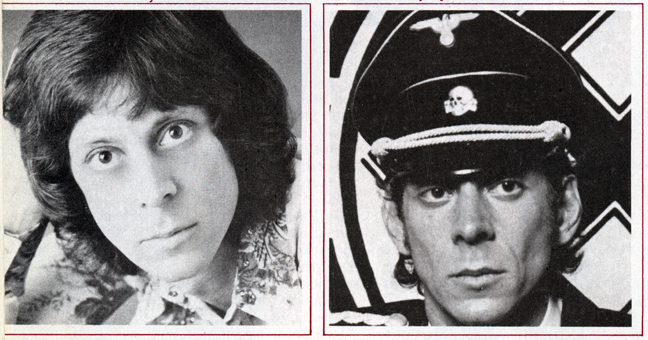 Darby Lloyd Rains (adult film actress):
Marc would get ticked off when he realized how much money the X-rated films had made… compared to what he'd made. He was the first to point out that films like 'Devil in Miss Jones' had made millions, and we'd only made a couple of hundred bucks. People were going to see the films because they liked seeing us, but we got little back in return. Quite the opposite – in fact, our other creative opportunities were now reduced because of what we'd done. He hated the injustice of it.
So he talked about retiring from acting, and he started to reduce the number of movies he made.
Marc Stevens, on Midnight Blue circa 1978:
I quit because they were only offering us $100, or $150. And we were supposed to be the stars. I was ripped off. 'Deep Throat' made millions, millions. I credit myself with that influence.
Harry Reems (adult film actor):
I remember Marc complaining that there was nothing left for him to do in the adult film industry. In the early days, he thought – we all thought – it might turn into something big and successful, but by the late 1970s the writing was on the wall. We were in a ghetto, and you needed to completely reinvent yourself if you wanted to get out.
And the truth was there was such a stigma attached to anyone who'd done porn, it was almost impossible.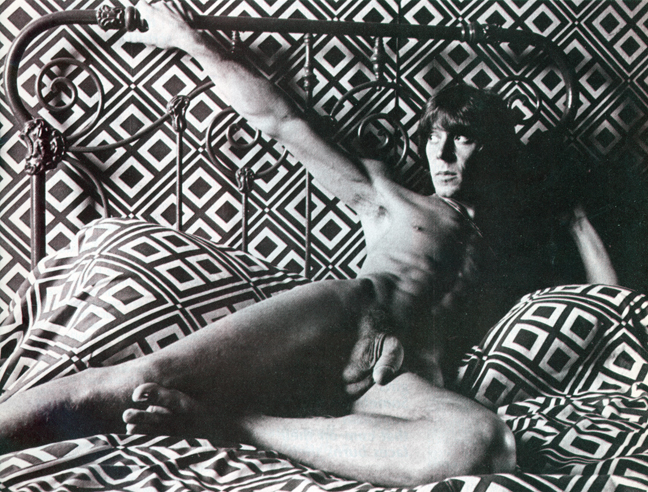 By 1979, Marc's appearances in adult films were much less frequent. He was relying on other ways of making money – like pimping out himself, and others.
Gary Montanile (friend):
Marc was an escort for a time when I knew him. Always with women, never men. The dates were set up by his attorney, Stanley Snadowsky, I think. I accompanied Marc to the woman's apartments a couple of times and sat outside waiting for him… like it was the most natural thing in the world.
Marc Stevens (from 'Making it Big' (1977)):
For wild impetuous youth that would put out, who knew better than a porn king? In my travels, I met giants – men who were worth, or in charge of, millions of dollars. And they would be completely unstrung by their sexual needs and inhibitions – some to the point where they'd simply avoid it for years. I must say, immodestly, that I became an object of fascination to these men.
Jamie Gillis (friend, adult film actor):
Marc was still well-connected. He got invited to parties all over town with rich and famous people. They liked having Marc there because he was entertaining and outrageous. And many people liked that he could provide girls to them. Porno girls, who would do anything for a price.
Helen Madigan (friend, adult film actress):
I became the actor Ben Gazarra's trick for a while – which Marc arranged for me.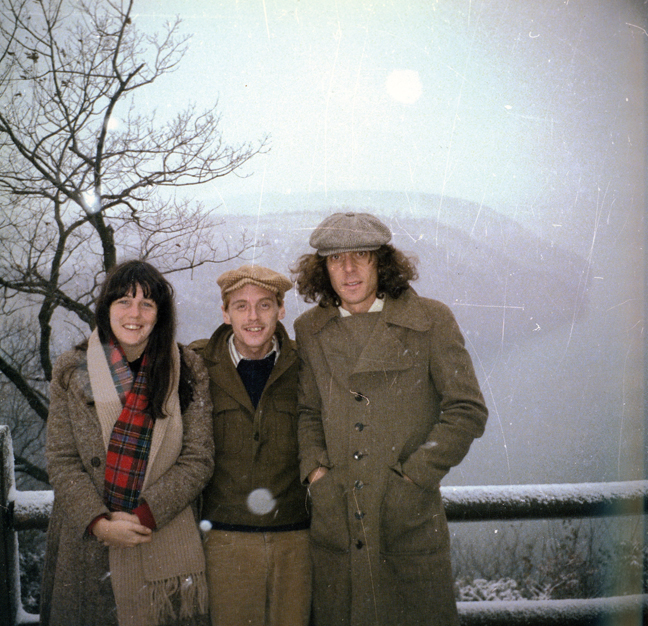 Helen Madigan, Gary Lee Boas, Marc Stevens (photo: Gary Lee Boas)
Andrea True (friend, adult film actress):
Marc was essentially a very generous person. He was always hustling and looking for an opportunity for himself, but he also wanted to help others at the same time. He wasn't selfish. He often helped me out with paid dates before I made money from my singing and my recording contract.
Marc Stevens (from 'Making it Big' (1977)):
An actress will earn from $150 to $200 a day on a porn set, but how often will she work? The industry devours new bodies and spits them out once they've been fully exposed. Guys in dark theaters don't like being served up the same meat time and again.
Dave Peller (friend):
I remember this guy called Terry Fox, who was a businessmen. Terry lived on Park Avenue, and was filthy rich and huge in size. He became friends with Marc, and Marc would set him up with girls.
Jamie Gillis:
Marc would use his own apartment on Bedford Street for guys to come and meet the girls. I remember once I was there having a meal with him and this guy turns up to see a girl. Sharon Mitchell, I think it was. So this guy heads off to the bedroom with Mitch and they emerge half an hour later. Marc hardly looked up from his meal. That would happen all the time. Girls like Helen Madigan, Darby Lloyd Rains and others were happy to make extra money that way.
Marc Stevens (from 'Making it Big' (1977)):
It was a real pain in the ass sometimes but I could never disappoint a girl who came to me desperate for bread.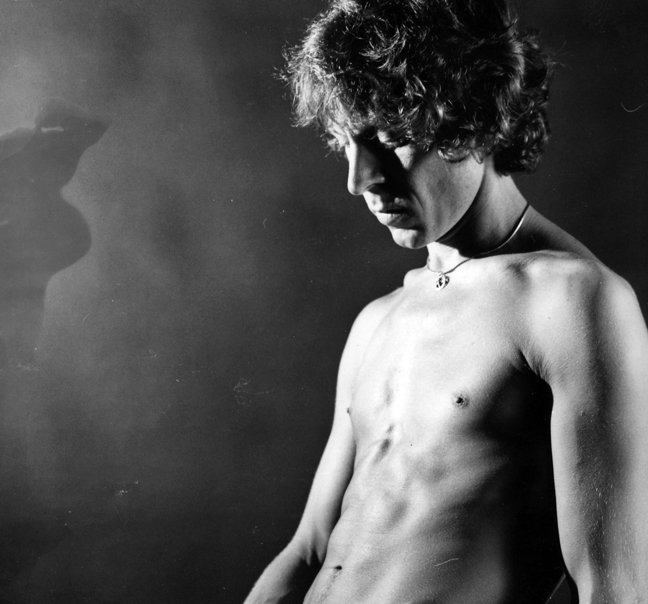 Beyond the financial arrangements that he facilitated for fellow porn actors, Marc developed strong friendships with many of them too.
Georgina Spelvin (friend, adult film actress):
Marc saved my life once. It was after I made the film Take Off (1978) and I had been sober for a while and got back into good shape. Then came the wrap party and I had a glass of champagne. That turned into a drinking binge that lasted several days. I ended up almost passed out lying outside a liquor store on Greenwich Avenue. Marc walked passed and didn't even recognize me at first.
He took me to rehab and kicked up a fuss there to make sure they admitted me straight away. As I got sober, I got the shakes. It was horrible. I was throwing up and shivering for days. Marc was there for me. He encouraged me to go to my first AA meeting.
He was already a good friend but after that he became just about the closest person to me in the industry. He was a good man. I wish I could have repaid him for his kindness somehow.
C.J. Laing (friend, adult film actress):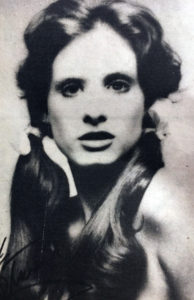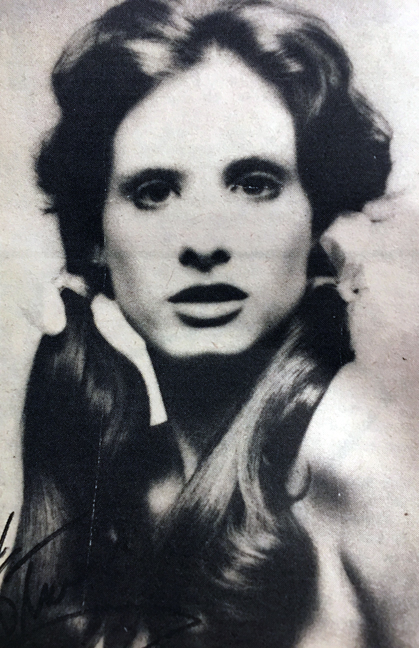 I think it was either Helen who introduced me to Marc. Helen and I were close, and I immediately had a warm feeling about Marc that extended from my relationship with her.
I gravitated towards Marc. There was something endearing about him – he was just different. He was mature and deliciously gay. And because he was gay, I wasn't looking to him for a relationship – so that cleared the path to a real friendship.
He represented stability – he wasn't bizarre or crazy – he was warm and solid and not at all fake. He was pure. He embodied qualities I thought were admirable. He was like me: I saw myself as an unconventional girl with conventional values – Marc was like that.
But he was more complex than his public image might indicate. When I visualize being with him it's not at night out on the town. It's during the day, at his apartment just spending time together. It wasn't sex, drugs and rock n' roll.
I didn't have to be 'on' with him – I could just be myself.
In the late 1970s, Marc got into a dispute with his landlord over his beloved 72 Bedford St apartment. The landlord claimed that Marc was behind on his rent, whereas Marc claimed the landlord had turned the heating off. In true Marc Stevens' fashion, he created a money-making opportunity out of the situation, and sold the story to a magazine – together with nude pictures of him and his roommates shivering in the cold, and visiting the Landlord and Tenant Office.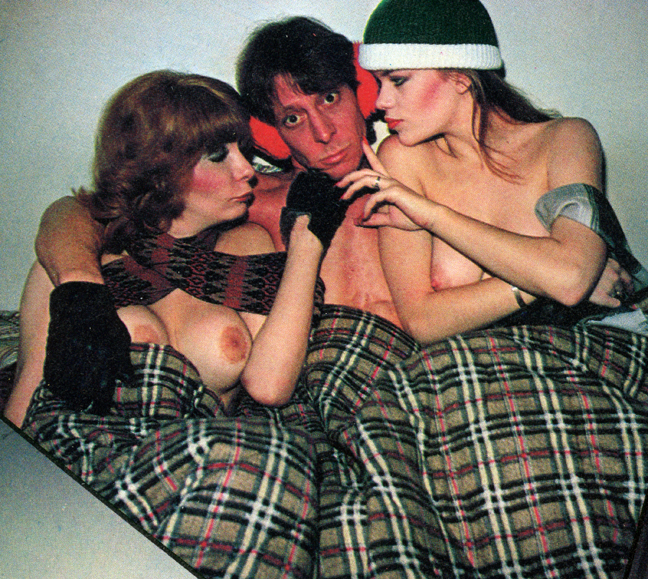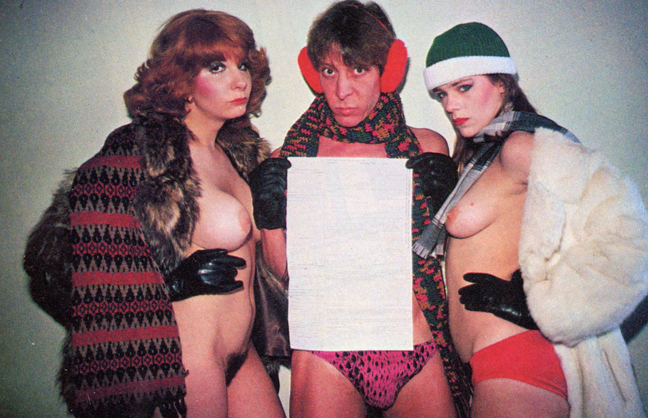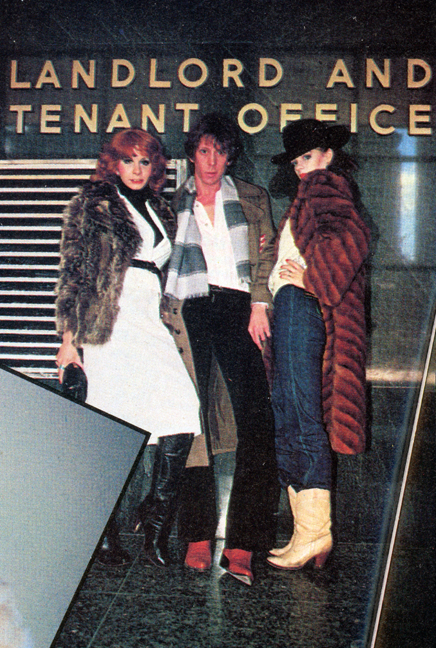 As a result of the conflict, Marc moved into a new apartment at 90 Lexington Ave. where he was a neighbor of Annie Sprinkle.
90 Lexington was the address that would later give its name to 'Club 90' – the all-women support group of porn performers that consisted of Annie, Veronica Vera, Candida Royalle, Gloria Leonard, and Veronica Hart.
Marc lived in Apt. 11B, and Annie lived on the same floor in Apt. 11F.
Annie Sprinkle:
It was fun living next to Marc. We used our apartments for film shoot locations – we shot 'Consenting Adults' (1981) in both our apartments. I shot a lot of magazine stuff in mine too.
There were always a lot of my gay men porn star friends around. I would fuck them and then send them round to Marc, and he would fuck them.
We used to knock at each other's apartment front door and joke, "Can I borrow a cup of dildo?"
For a tour of Marc's apartment at 90 Lexington, parts of the films Centerfold Fever (1981) and Fred Lincoln's That's Outrageous (1983) are shot there. Centerfold Fever in particular shows his walls adorned with signed pictures of fellow porn stars, as well as posters of himself.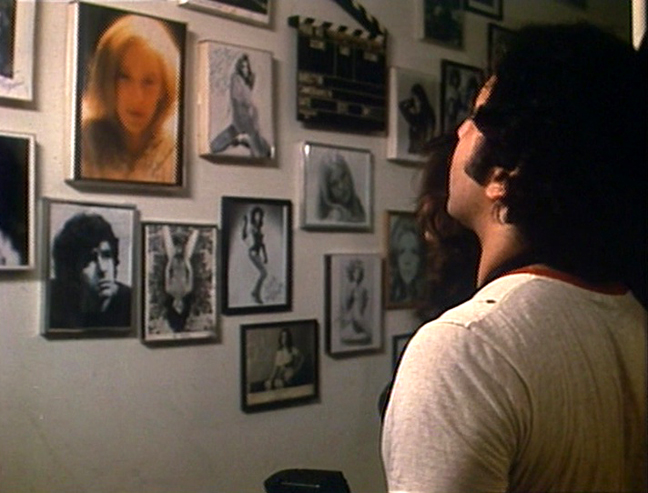 Ron Jeremy, looking at the walls in Marc's apartment at 90 Lexington, in Centerfold Fever (1981)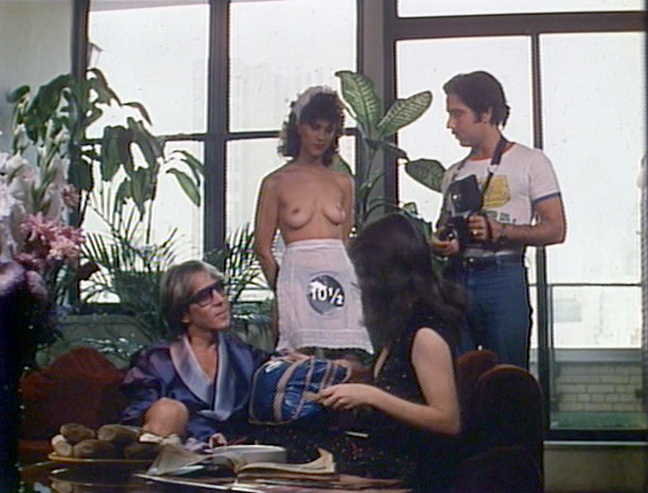 (from left to right) Marc Stevens, Tiffany Clark, Kandi Barbour, and Ron Jeremy, in Marc's apartment at 90 Lexington, in Centerfold Fever (1981)
Gary Montanile:
Marc's closest friends were two gay black guys called Billy and Michael.
Billy moved in with Marc when he moved to 90 Lex. Billy had become tight with Marc when he lived at 92 Horatio St. near Marc's previous apartment. They were never lovers, but they were very close. Billy was infatuated with Marc.
Helen Madigan (friend, adult film actress):
Billy and Marc. Marc and Billy. They were best friends and inseparable. Close, close friends.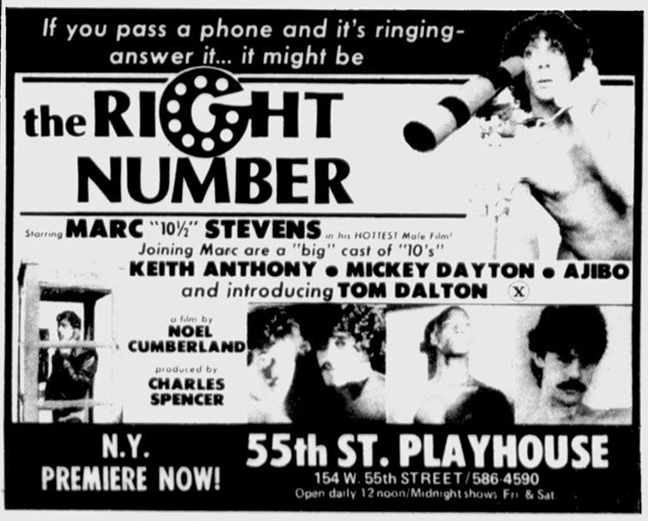 To supplement his income, Marc received more and more regular assignments from men's magazines based in New York. Magazine editors knew he was a reliable source of salacious stories from his circle of porn friends,
Among the many articles he wrote, he went on a date with 'Debbie Does Dallas' star Bambi Woods ("Bambi is an adorable, throaty-voiced 18 year old, truly good and naïve and innocent, and as I get older, I learn to value these things"), reported back from California on the Erotic Film Awards, and invited the cameras to his apartment to take pictures of his 'Homecoming Party ("It's my home and everyone's coming.")
Soon he was given his own regular columns – such as 'The Ultimate Insider, A Peek Into The Private Life of Porn' in Stag magazine, or 'Marc's Gossip – Backstage with the Porn People' in Porn Stars magazine.
Annie Sprinkle:
We saw each pretty much every day as we worked for the same magazines and film people. We traveled around the country together on assignments for magazines. Once we went to Sun City to shoot a nudist colony there.
Marc Stevens from 'The Ultimate Insider, A Peek Into The Private Life of Porn', Stag magazine, June 1981:
I especially recommend that married couples use Vaseline. It should be put on the doorknob so the kids can't get in.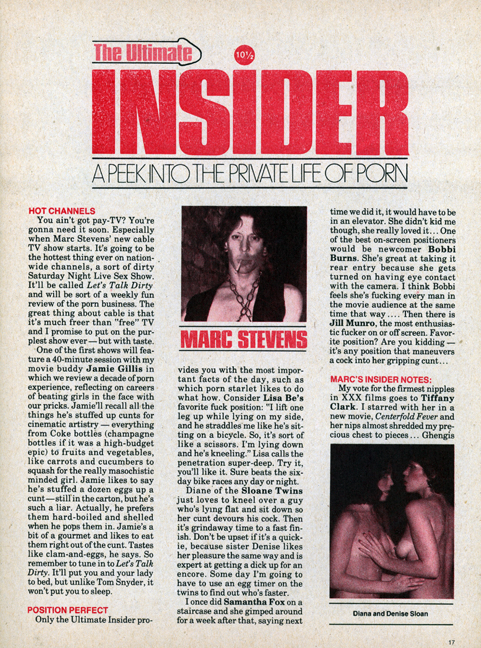 Robin Leonardi (daughter of adult film actress, Gloria Leonard):
I thought Marc was just the sweetest guy.  He was always kind and never sleazy, and, even though I was a kid, he treated me with respect.  The feeling I got from him was that he had a heart of gold and wouldn't hurt a fly. Maybe it was a result of the fact that he was always in a post-orgasmic state of bliss!?
He would come to visit my Mom and I from time to time.  Most of the time he was on his way to a party (but when weren't we going to parties in the 70s..?)
I remember him attending a party I threw for my Mom for her birthday one year at the club I used to manage called 'The Milk Bar'.  He always seemed well-behaved, had a big grin on his face, and was not like the typical male egomaniac you could meet in the porno business.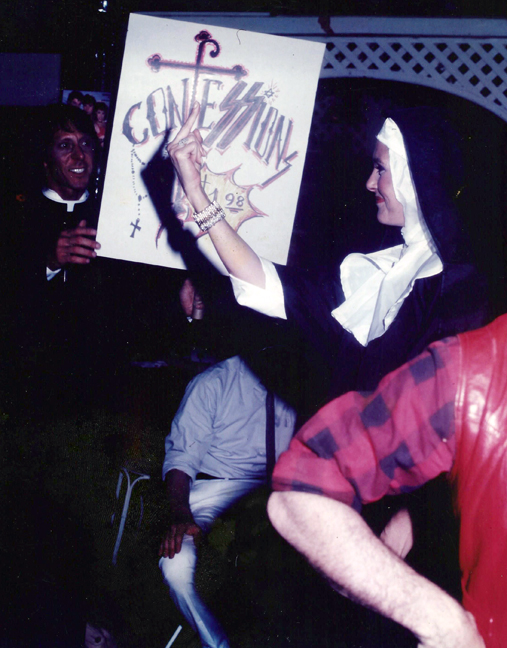 Marc (left), with Gloria Leonard (photo from Robin Leonard)
Marc Stevens from 'The Ultimate Insider, A Peek Into The Private Life of Porn', Stag magazine, June 1981:
In olden times people who committed adultery were stoned. Now it's the other way around.
*
9.     Marc Stevens: Jill Monroe & 'The Wedding of The Decade'
In 1978, Marc met Jill Monroe.
Jill was a transitioning male-to-female transsexual, a process that was being documented in the New York-based men's magazine, Cheri.
She took the name Jill Monroe from the Farrah Fawcett character, Jill Munroe, in the TV series Charlie's Angels.
(For a detailed account of the life of Jill Monroe, read our account here.)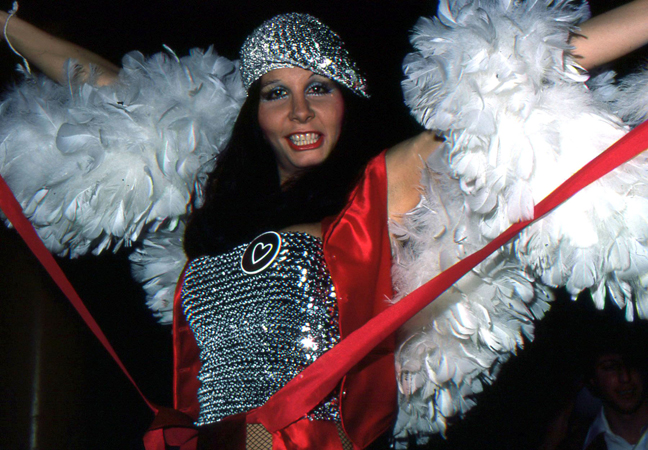 Jill Monroe
Extract from "Jill Monro's Surgeon Tells: How To Become A Woman", by Hazel Gravy, Cheri magazine, May 1978:
Between the ages of 12 and 18, Jill had had a nose job, electrolysis, hormones, silicon, and her chin reshaped. She first came to this doctor when she was 20, to have her tits re-done and a vagina constructed. This doctor also worked on her eyes and filled out her cheekbones with silicon. By the time Jill took the initiative to see this plastic surgeon, she had been living with both tits and cock for eight years. She was ready for the final step.
David Rice (Jill Monroe's boyfriend):
She'd had a lot of facial surgery done. She looked like all woman. Her hair was long and straight and one length, down to her ass. Thick, thick black hair.
Within a year after getting that boob job, I took out another loan because I wanted her to complete surgery.
I said to her, "Look, I can't be with you like this.  I'm really not interested in that."
She always said she wanted the surgery.  I said, "If you really want it, I'll go to the bank and we'll take out a loan."
Extract from "All I Want For Christmas Is My Two Front Tits: The Story of Jill Monro", by Dan Zele (David Rice), Cheri magazine, July 1978:
We drive into Manhattan to see the doctor again. Another check-up and another hormone shot. After this is done, we sit down for a consultation concerning the final step. The operation runs about $4,000. An initial deposit of about 50% is required to start the wheels turning. Later that day, we go to the bank, apply for a loan, and, one week later it is approved. The doctor gets his bucks, and Jill is scheduled for surgery on July 7th, 1977. That night, we come home and open up the champagne and celebrate Jill's future as a woman.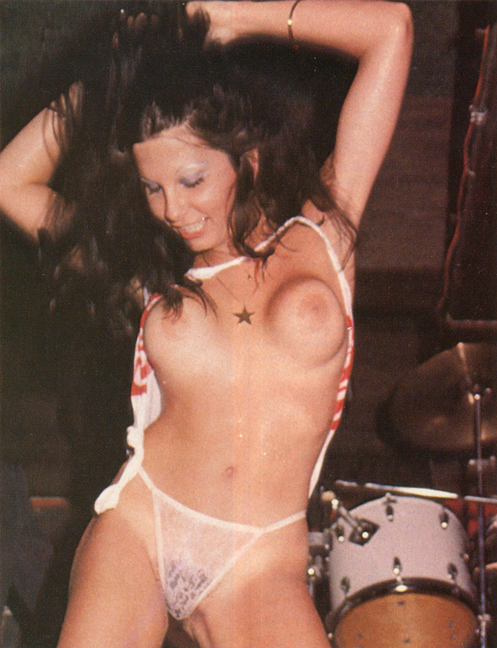 Jill Monroe
After her successful surgery, Jill appeared in a number of X-rated films, including Skin-Flicks (1978) and Tigresses and Other Man-eaters (1979).
Jill met Marc dancing for The Le Clique Fantasy Players. Le Clique was a traveling disco performance show that would set the scene at different night clubs throughout the city for themed nights where fantasy and reality were mixed up. The performances featured simulated sex, costumes, role-playing and themes to incite clubgoers to break down their inhibitions.
Marc and Jill hit it off immediately.
David Rice:
Jill was invited to be in the cast (of Le Clique), and Marc became her partner.  Basically, Marc and Jill were the actual stars. Most people were coming to see them.
Marc Stevens, from Rustler magazine, February 1981:
We have this dance act we do… a simulated sex dance. It's a very hot item for disco and nightspots. It's a very quick paced and erotic act, packed with sexual energy and pulsating libido. The audiences really get off on it. We've toured out of the country with it and performed in most of the nation's major discos.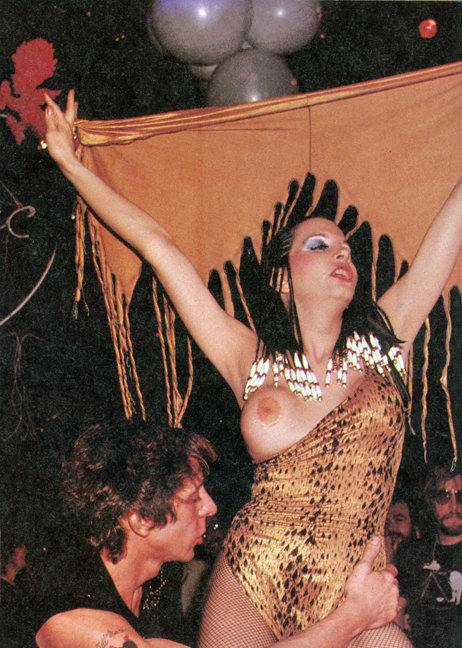 Marc, on stage with Jill Monroe
David Rice:
The guy that was running Le Clique, this guy Stuart, didn't want to pay them their worth. So Jill and Marc left and formed their own troupe. They started doing the exact same thing Stuart was doing, only it was all different people, with a different name.
In the late 1970s, Marc formed a dance troupe. It was called 'Marc and his Fantasy Disco Dancers' (though it would be renamed frequently over the next few years.) They started making appearances in theaters and discos. One of their first shows was at the White Meadow Lake Country Club in New Jersey.
Karen Kuttner (sister):
I remember Marc invited us both to a review – a live review in New Jersey. It had a few other adult film performers.
Lee Kuttner (sister):
We went that evening. It was supposed to be a burlesque-type show.
He was very handsome. I remember he wore a tuxedo, and he looked really wonderful at that particular time.
He announced that his two sisters were in the audience. We were a little bit embarrassed.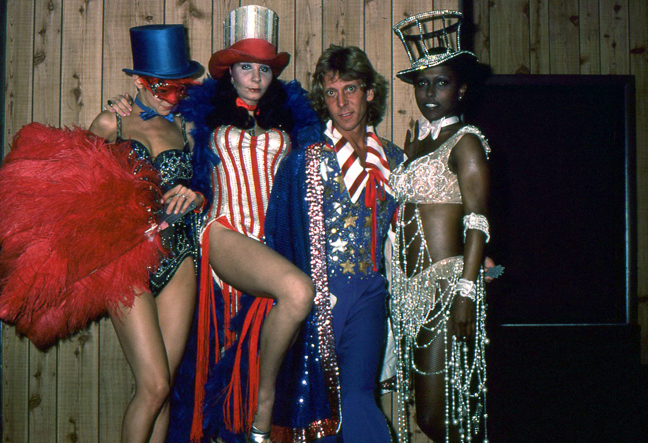 Marc, with Jill Monroe and Toni Rose (left)
In 1978, Jill got married to Marc in a ceremony at Infinity, a Greenwich Village disco. The event, and the subsequent honeymoon, was covered in an eight page layout in the April 1979 issue of Cheri magazine.
Erica Eaton (friend, adult film actress):
Marc asked me to do the publicity for his wedding. He wanted a big party, and he wanted it covered in all the newspapers and magazines. He said it should be the 'Wedding of the Decade'.
Extract from "The Wedding of the Decade", Cheri magazine, April 1979:
More than 1,000 guests and well-wishers, draped in their most dramatic disco-drags, came to witness the marriage event of the decade – the highly publicized union of Mr. Marc Stevens to Ms. Jill Monro. Amid fire dancers, mime acts, and a bridal procession of famed NYC celebs and disco-lites, Mr. and Ms. shocked their guests as they took their vows and promised to love, honor and disobey for the rest of their naturals lives.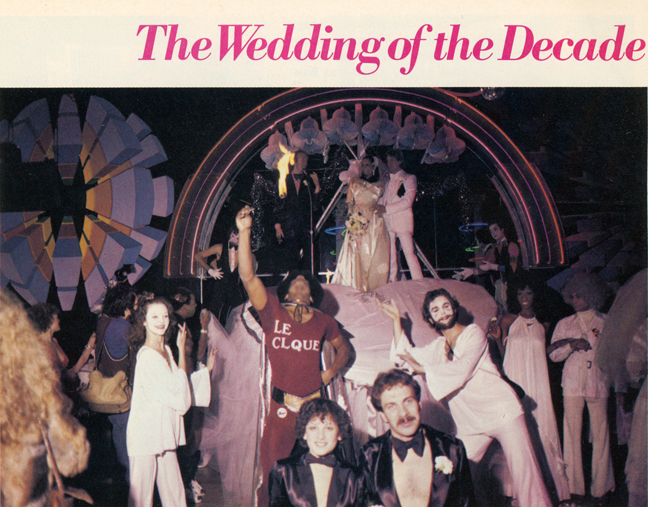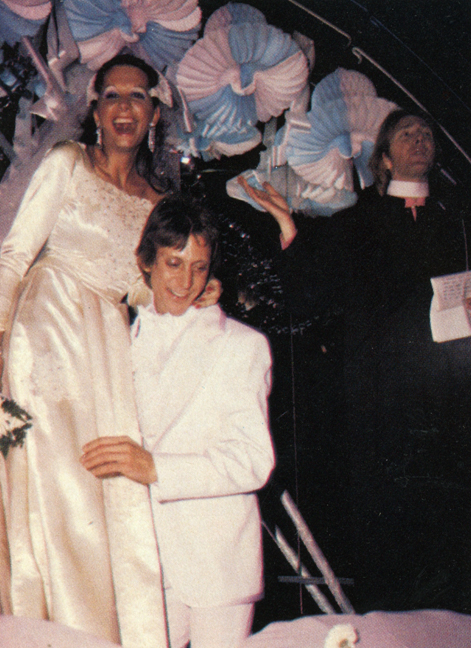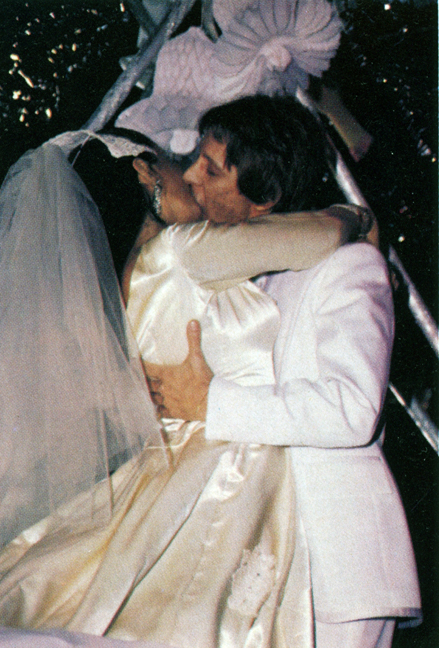 Helen Madigan:
It was a crazy affair. So many people came out for it.
Extract from "The Wedding of the Decade", Cheri magazine, April 1979:
Both Marc and Jill boast that their marriage is legit and demonstrates the great love that they share between them. And that love was openly displayed as Marc did a 'touch' more than just kiss the bride at the beckoning of the justice of the 'piece.'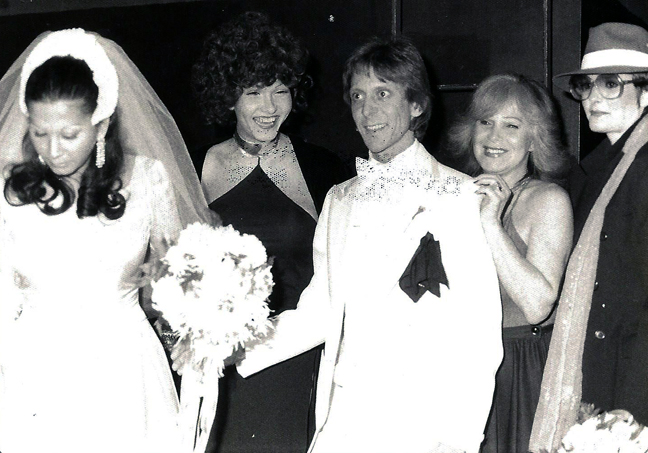 Marc (left), with Jill Monroe (left) and Gloria Leonard (right) (photo from Robin Leonard)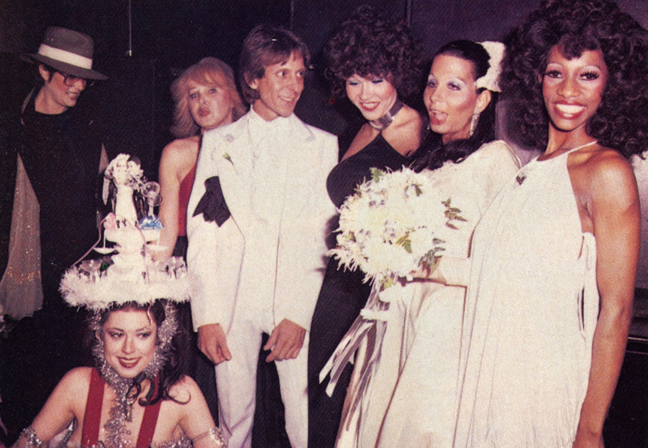 Erica Eaton (friend, adult film actress):
They had their honeymoon in Miami – and of course that was paid for by a magazine in return for exclusive pictures and stories about their sexcapades there. Most of it was fabricated of course.
Extract from "The Wedding of the Decade", Cheri magazine, April 1979:
The darlings were especially appreciated in the murky depths of Miami discos, where their sexual celebrity made them instant sensations. Offers of hot sex, afternoon yacht cruises, private gambling parties, and pounds and pounds of nose candy came their way.
"All of this," explains Marc, "explodes your head, and we did get a little rowdy."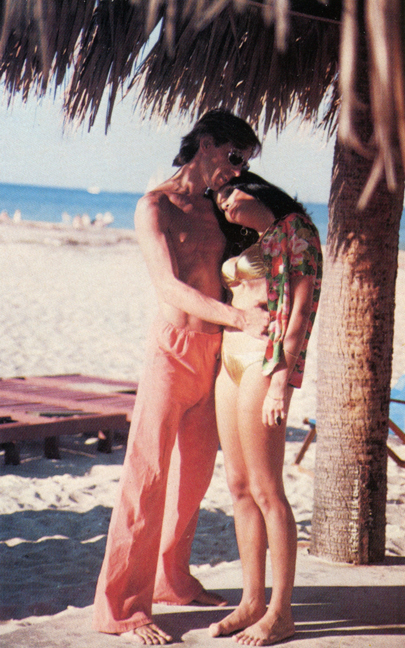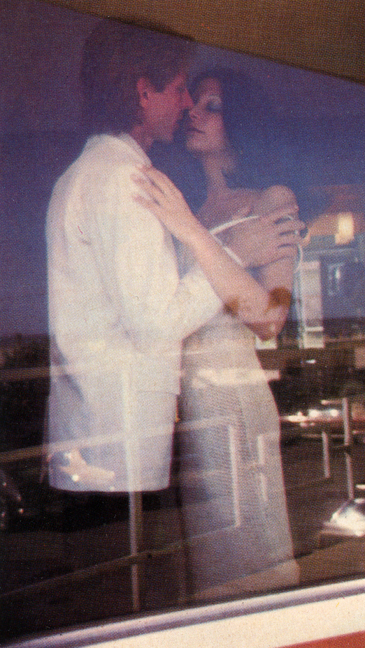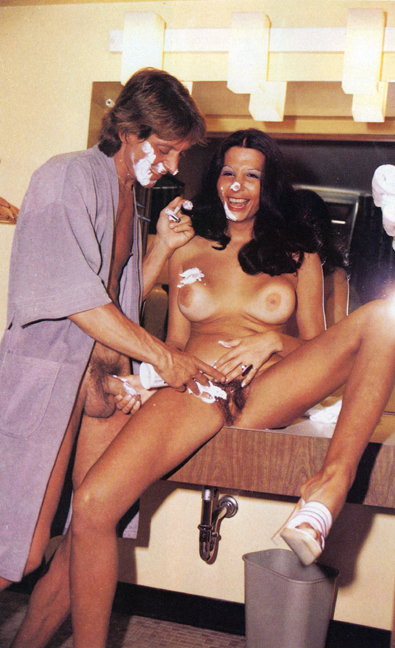 Marc commemorated their union by having a tattoo of Jill's name, but almost 40 years after their wedding, friends are still skeptical as to the extent of their romantic relationship.
Jamie Gillis:
Was it a real marriage? Was it even a real wedding? Or was it just an excuse to party? I don't know. I just know that Marc loved the publicity. And I've never seen a happier groom.
Annie Sprinkle:
They really loved each other. Jill was very lovable and smart and cool, and their marriage was huge news. I don't think they even got legally married. They did it as performance art. Marc Stevens was an original performance artist. His life was like a performance piece.
David Rice:
The ceremony was just one of the parties they had. It was called 'A Wedding' and they came on stage about halfway through the night; Marc was in a tuxedo, and Jill was in a wedding gown.
It was just a party at a club with a theme.  Most people didn't realize it was just a theme.  A lot of people thought it was real.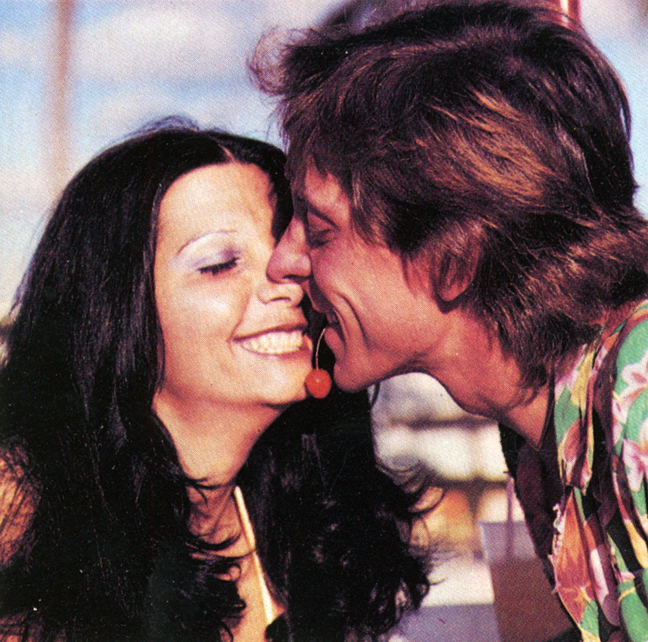 Dave Peller:
Marc's relationship with Jill Monroe was real. He liked her because they laughed together and clicked perfectly for a while. They seemed to be in love and they were inseparable for a while. He tattooed her name on his arm. It was real.
Jill was a neurotic, primadonna like Marc, but there was absolutely no pretension about her.
Jim Cross (filmmaker):
I think it was a big publicity thing. They weren't together or anything. They were close friends. She was special. She was really nice.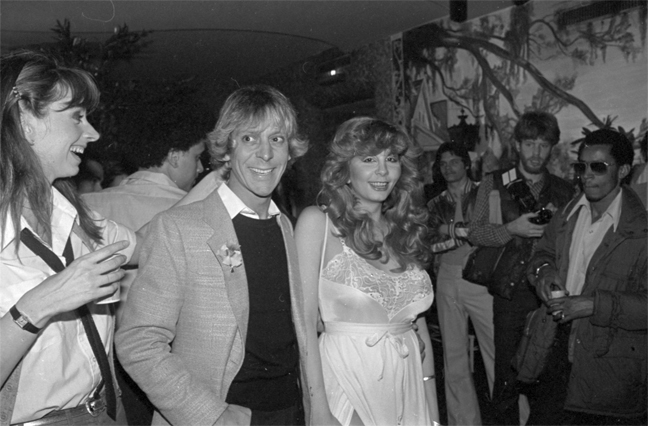 David Rice:
Marc claimed to love her and all that, but Marc was very, very good at using people for his own ends and his own needs.  He was extremely egotistical.  He had a huge, gigantic ego.  He was a nice enough guy, but he still had a huge ego.
Marc Stevens in "The Wedding of the Decade", Cheri magazine, April 1979:
No matter where her head is in bed, no matter how many roles she plays, it seems she gets better and fiercer and more original every time we make love. And I love playing with her. She's my wife, she's my brother, she's my sister, she's my cousin – she's my whole family now!"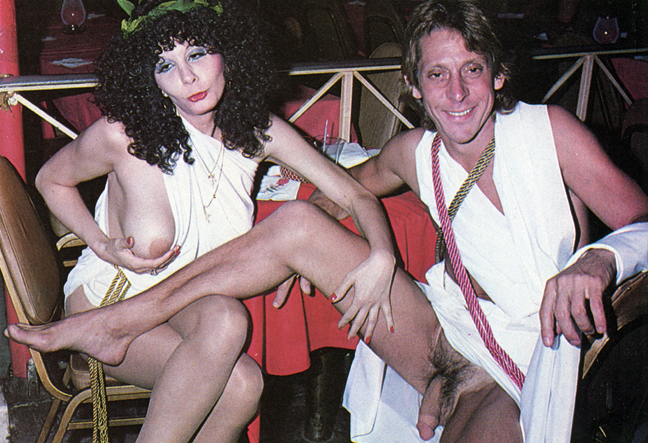 Whatever the truth about their wedding, it was quickly followed by an amicable divorce. And, true to form, Marc and Jill celebrated their separation in the only appropriate way: With a divorce party on April Fool's Day, 1979 at the Copacabana.
Extract from "On The Rocks", High Society magazine, July 1979:
A few months ago, our own la Gloria Leonard gave the blushing Jill Monro away at the latter's lavish disco wedding to Marc (10 ½) Stevens. The marriage obviously didn't go too well, because Mr. '10 ½' and Ms. '21st Century Woman' recently said it's splitsville. But true to the let's-part-as-friends spirit, the ex-couple-to-be held their divorce party in the Copacabana disco on Sunday, April 1st (Happy April Fool's Day), and the party turned out to be a gas.
More than 2,000 divorce celebrants crowded the Copa and were treated to, among other things: Tiny Tim (remember him?) doing a few tunes, a Vidal Sassoon fashion show, and the Marc Stevens players, who showed so much bare flesh even the porn industry blushed.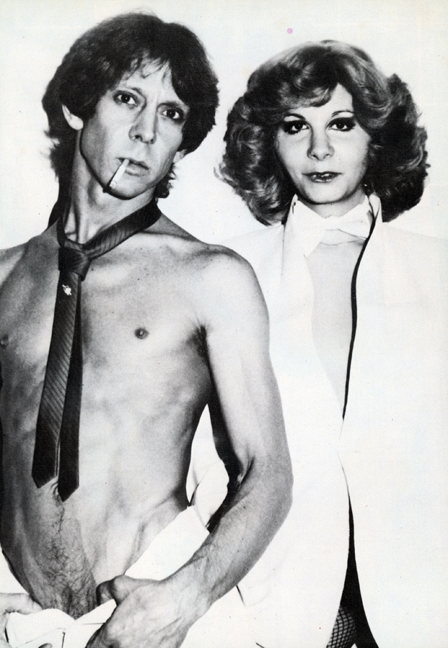 Marc, with Jill Monroe
*
10.     Marc Stevens: Mr. Party
Marc loved to party – and New York in the late 1970s was the time to party. That's why he got married, so he could have a big party and be at the center of attention! He loved it…
And that's why he became such a big party organizer.
Soon Marc was arranging regular parties and shows in Manhattan. His dance troupe would often feature prominently, as would an array of special guests – including porn stars, singers, and comedians.
Jim Cross:
Marc got the clubs interested by putting on shows on nights of the week which were normally quieter. Like Thursdays. He got a percentage of the bar takings – which meant that the more people who turned up, the more money he made.
Jamie Gillis:
Marc made some kind of commission if lots of people came along so he was always giving you a leaflet promoting his next show. But even if he had got no money, he would have been the same: Marc just loved a big audience. He wanted to be the center of attention even more than he wanted money.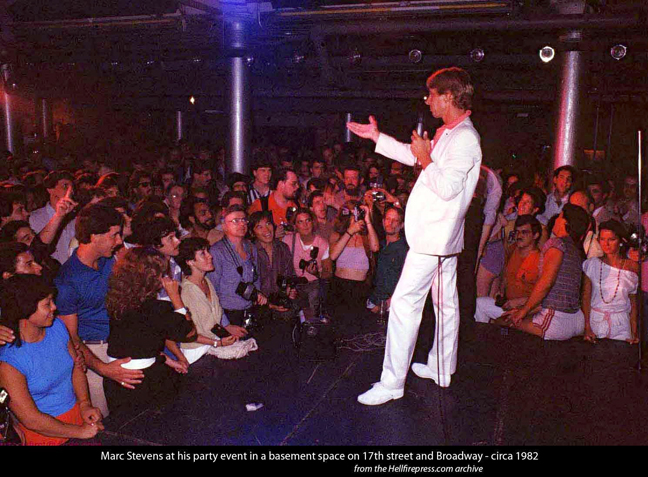 Annie Sprinkle:
Marc basically had a circus of performers and porn stars and strippers and dancers – it was like a Cirque de Soleil group. He was very good at it.
One of the first clubs Marc was associated with was Magique at 61st St at 1st Ave. Magique was a two-storey club and was also home of the original Chippendale dancers. Though considered 'small' by New York standards, it could still accommodate 1,200 people.
Jim Cross:
Marc got Ron Jeremy to be the opening act, and he'd tell jokes and introduce the acts. Ron wasn't that famous then but he was the guy. He was very funny.
Later Marc had this guy called Larry Lick take over from Ron. Larry was hilarious too. He had a great personality. He was just this little bald guy who was just really nuts. He would just tell these stupid jokes.
Erica Eaton:
Marc's parties were a gift to the magazines in New York, and not just sex press, but the mainstream newspapers too. He always informed them of the events in advance, and promised them exclusive pictures of him and his porn star buddies cavorting with few clothes on.
They loved pictures of course. It was easy copy for them. They could fill 12 pages with a 'Marc's Wild Summer Party' spread – and it would be a cheap crowd-pleasing feature.
Everyone was happy: Marc got paid, the magazines got a splash, and we all got a free party. It was a perfect symbiotic relationship.
From The Washington Post, 'Porn on the Throb', February 16th 1980:
The netherworld of pornography pressed the flesh – and peddled it – in a warehouse-size disco on the west edge of Chelsea in New York.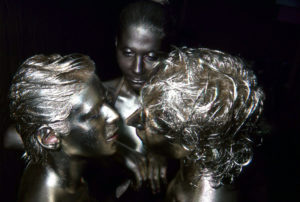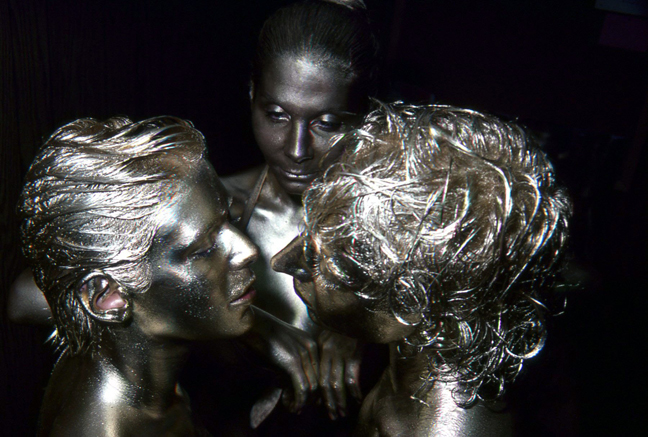 Porn stars Serena, Vanessa Del Rio, Seka, Jill Monro, Samantha Fox and Jamie Gillis and hundreds of friends and 'friends of friends of friends' gathered to celebrate Valentine's Day at the invitation of their hard-core colleague Marc Stevens.
As crews of videotape cameramen moved through the cavernous Fun House Disco, couples danced beneath strobe lights, played pinball in an adjoining game room, necked and sampled recreational drugs in a dark balcony, or watched as Stevens and a troupe of friends called 'The Fantasy Performers' cavorted in brief costumes and simulated sex on a stage.
Between acts, Tiny Tim sang "Tip-toe Through the Tulips," "America the Beautiful" and other favorite tunes.
The guests who were dressed at all favored black lingerie, leather outfits, Qiana gowns cut in such a way as to suggest a worldwide fabric shortage, and Spandex pedal pushers. Also in the crowd were more conservatively dressed representatives of men's magazines, their advertisers and ad agency employees.
"This party helped kick off the decade of sensuality," said Roy Winnick, who helped organize the bash and hopes to help Marc Stevens and His Fantasy Performers take their show on the road. "These people in the adult-oriented entertainment business – AOE, we call it – want to go legitimate. We wanted to bring this new legitimacy, this new sexual awareness, to a respectable place."
Each event had a different theme.
There were parties for Christmas, Thanksgiving, Valentine's Day and all the seasons. But there were also parties to pay tribute to the Sex Symbols of the World (spoiler alert: it featured sex symbols such as Marilyn Monroe, Cleopatra, and Eve… as well as Lassie, Zorro, and Marc himself), and book and magazine launch extravaganzas.
Celebrities headlined his parties too – from former MGM star Esther Williams, glam metal star Thor, and even Billy Joel.
Annie Sprinkle:
I was kind of a hobby graphic designer, so I used to design invitations for a lot of his parties.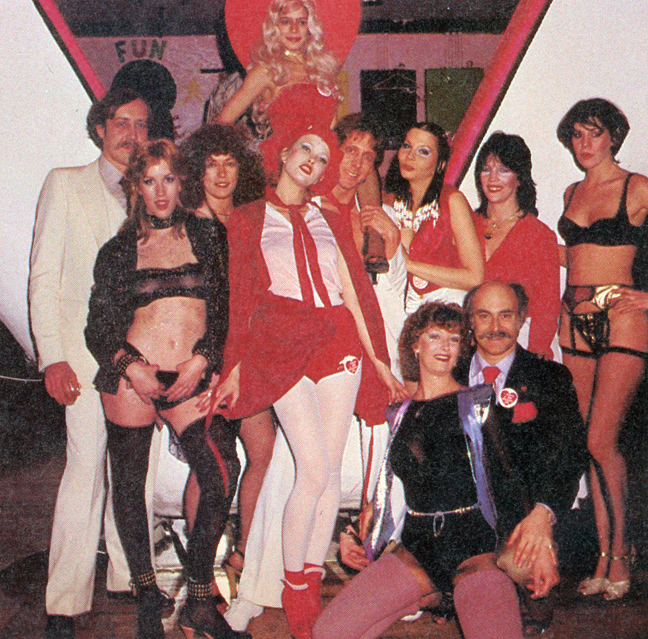 Sample listing of parties organized by Marc (1980 -1983):
Thursday February 14th 1980 – Marc Stevens' Erotic Valentine's Day Party – The Funhouse
Thursday November 27th 1980 – After Dinner Thanksgiving Ball – Magique
Thursday March 19th, 1981 – Third Annual Rites of Spring – Magique
Thursday May 28th, 1981 – Leather and Lace – Magique
Thursday July 16th, 1981 – Blue Heat – Magique
Thursday August 13th, 1981 – Hotter Than July – Magique
Thursday September 17th, 1981 – Esther Williams show – Magique
Thursday September 28th, 1981 – A Black Tie Affair – Plato's Retreat
Thursday October 22nd, 1981 – A Night of Dancing… Cheek to Cheek – Magique
Thursday November 26th, 1981 – 2nd After Dinner Thanksgiving Ball – Plato's Retreat
Monday December 21st, 1981 – A Merry Xmas Party, Naught But Nice – Magique
Thursday December 31st, 1981 – Red Hot Roxy – Magique
Thursday March 18th, 1982 – The Rites of Spring – Magique
Thursday April 29th, 1982 – April Showers – Magique
Thursday May 20th, 1982 – A Salute to the Sex Symbols of the World – Magique
Thursday June 17th, 1982 – Exiting Midnight Show – Magique
Thursday July 22nd, 1982 – In the Heat of the Night – Magique
Thursday September 9th, 1982 – Hot Rocks – Magique
Monday October 11th, 1982 – A Legend Returns – Magique
Monday November 1st, 1982 – Strange Fantasies – Magique
Monday December 13th, 1982 – Spicer Webb 'Tattooed Women' book launch – Magique
Monday January 3rd, 1983 – Free in '83 – Magique
Sunday February 13th 1983 – Erotic Valentine's Day Ball – Magique
Sunday March 13th 1983 – A Surprise Party – Magique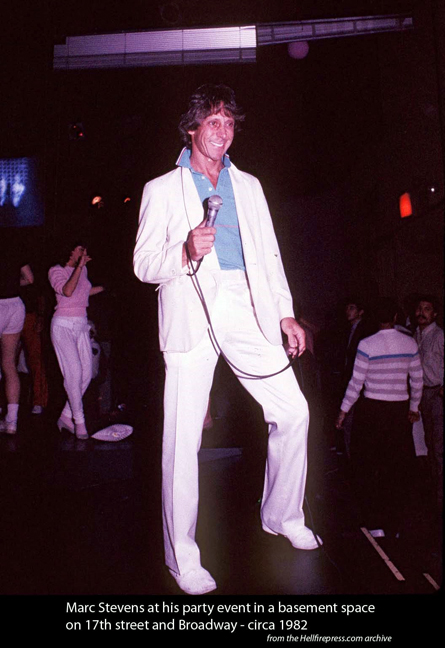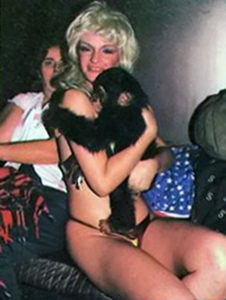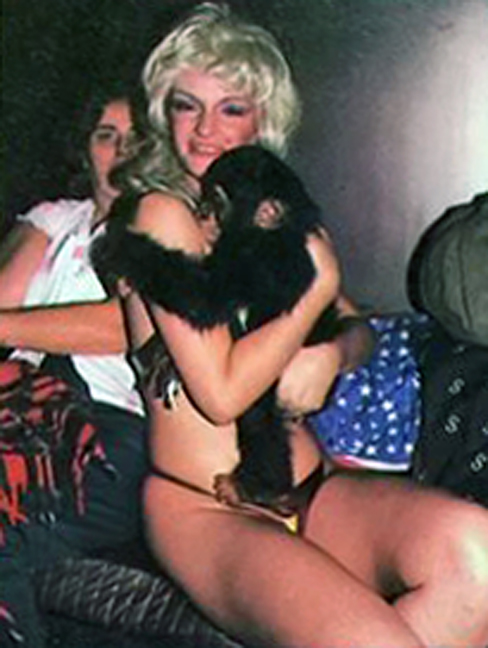 Annette Heinz (adult film actress and dancer):
Marc booked me to dance at many of his shows at Magique. One show he was Tarzan and had me as Jane. He even hired a baby chimpanzee for me!
One Magique show was a 'Red, White, and Blue' Show.  I was the main feature and Tiny Tim was my co-feature. Great billing! Tiny Tim was one of the gentlest creatures to ever grace our planet.  A constant smile.
I remember one night Billy Joel snuck into my dressing room as I was shaving my vajayjay… I just let him watch.
Dave Peller:
Marc was good at being the big party organizer. Everyone wanted his approval – he'd been there since the beginning and everyone knew it.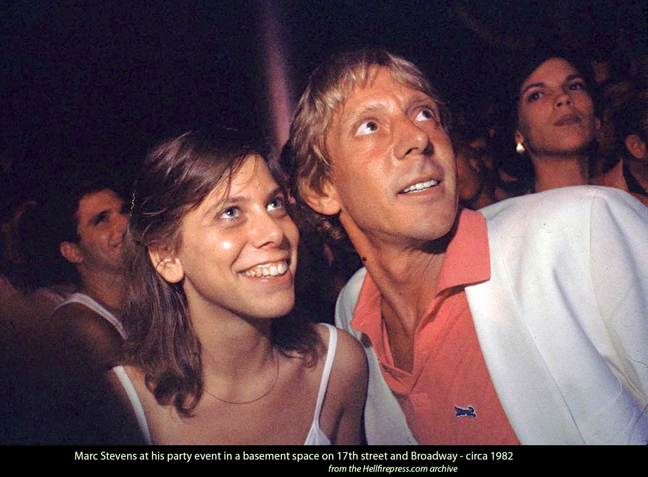 Annette Heinz (adult film actress and dancer):
Marc and Annie got me started in porn at my request. Marc brought Damiano to my show at the Melody/Harmony Theatre. Damiano then hired me for 'Consenting Adults.' And if you were discovered by Damiano, you became a star.
In 1980, Marc met a girl called Miranda at one of his events. She became part of his inner circle on the party scene.
Soon after, Miranda took Marc's name and became Miranda Stevens.
Miranda Stevens:
I met Marc when I was a 17½ or 18-year-old girl on the New York club scene. Marc was throwing parties at Magique, and he was charismatic – almost like a Svengali. He immediately drew me in, and I started going to his apartment for coffee. There was never anything romantic or physical because he was clearly gay.
He was a survivor – he self-promoted himself as a way of making it in the world. He wanted to become legit – and thought that promoting parties would be a way to transition out of porn into a more mainstream life.
Annie Sprinkle:
Miranda was a very sweet person. I got to know her well, and we did a few things, like photo shoots, together.
She was a really lovely person.
At the end of 1981, Marc got 'married' for a second time, when he and Miranda had a big wedding at Magique.
Once again a fascinated media covered the event.
Miranda was due to be given away by Jill Monroe, but in the end the task feel to Larry Levenson, proprietor of Plato's Retreat.
Miranda Stevens:
It was Marc who came up with the wedding idea – it seemed like a whim. He needed a party theme, and thought a fake wedding with me would be a fun one.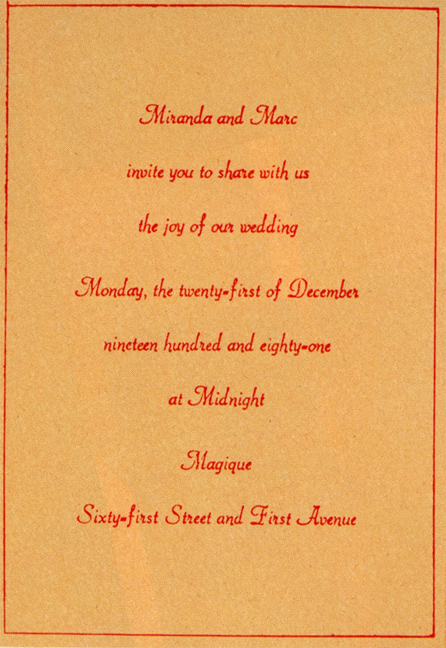 Erica Eaton:
I did the publicity for his second wedding too – we had it reported all over the place again!
From 'The Bride Wore Clothes' by Jan Hoffman, Village Voice, Dec 30 – January 5, 1982:
(The wedding) was conducted by Ron Jeremy, a former school teacher and highly regarded screen actor in his own right, who's reputed to be able to perform fellatio on himself.
Larry Levenson identified the better-known stars in the room, some of whom – Samantha Fox, Tiffany Clark, Jeremy – are appearing with Marc in his current release, Centerfold Fever. Seen pressing the flesh were Annie Sprinkle, Miss Electra Blue, Suzie Nero, Bobby Astor, Miss Nude America, and Rickie, who won the dance contest last week at Plato's.
Jamie Gillis:
Miranda came into Marc's life, and she was very sweet. This time however we took his wedding less seriously than when he got hitched to Jill, but it was another excuse for Marc to arrange a party.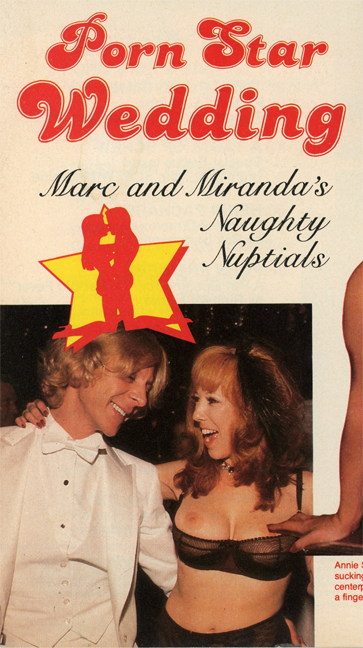 Marc, with Annie Sprinkle at his wedding to Miranda

From 'The Bride Wore Clothes' by Jan Hoffman, Village Voice, Dec 30 – January 5, 1982:
In a phone interview earlier that afternoon, Marc had discussed his wedding plans:
"Why am I getting married? Well, I'm 38, and I really want to have a baby – yeah it's time to see a little Stevens. And Miranda's a good kid and this marriage is good for her head and besides, I really love her. I mean she's pretty, she's 18, and, well, we do the same things together.
I mean I've been doing this for 15 year – I don't like the term 'porn', I prefer to call them 'sex-related' or X-rated films – and I want to stop pulling my clothes off by the time I'm 40."
Annie Sprinkle:
Marc was gay but he loved women. He had all our names tattooed on his arm – me, Miranda Stevens and Jill Monroe. I really loved that. I considered it a great honor.
From 'The Bride Wore Clothes' by Jan Hoffman, Village Voice, Dec 30 – January 5, 1982:
Downstairs by the pay phones, the wedding party was in a nervous, giggly tizzy. Ron Jeremy was fussing with his black justice-of-the-peace robes, and reciting her lines over and over to himself. Standing demurely in the background, playing with the folds of her beautifully simple white gown, and re-adjusting the long gauze veil that fell from her hat, was the bride. Samantha Fox hovered nearby, patting her on the shoulder, keeping her calm.
Veronica Vera (friend, adult film actress):
I attended the wedding and it was a great event. It gave us all an excuse to dress up and go crazy for a night.
From 'The Bride Wore Clothes' by Jan Hoffman, Village Voice, Dec 30 – January 5, 1982:
(Miranda) was surprised to hear about Marc's plans for a little Stevens. "I'm only 19 and I'm not ready to get that way yet," she said. She chattered vivaciously about her career, having just finished shooting on her sixth film. None has been released yet. She recalled two titles: Cosmopolitan Girls, and the one with Marc – Come As You Are. No, she didn't think she'd make it into Hollywood films. "I'm not really much of an actress, you know."
Miranda Stevens:
Marc was always the center of the action. There were always people at his place, and he was popular.
Unfortunately he had a split personality. When he was fun, he was charming and seductive. But when he was mean, he was awful… he was could be vile and nasty, and really abusive. Nowadays he might be diagnosed as bi-polar, but people didn't use that term back then.
Annie Sprinkle:
I think Miranda went on to be a madame at a brothel on 26th Street around the corner from our apartment.
I once took a very famous artist there so I could them what a brothel was like, and they couldn't believe it because it was so very friendly and nice. That was the last time I saw her. I haven't heard from her since.
Miranda Stevens:
It's strange but, with hindsight, the wedding was the breaking point for me. I knew that environment wasn't healthy for me. It was like belonging to a dysfunctional family, and at first I wanted to belong to it… just to belong to something.
After the wedding though, I broke away from that scene for my own self-preservation. In fact, now I can't even relate to the girl I was back then.
In 1983, Marc moved his parties to the Underground club at 860 Broadway at 17th Street. It was a bigger club, featuring five bars and featured New Wave music like Spandau Ballet.
Sample listing of parties organized by Marc (1983 -1984):
Wednesday April 6th 1983 – April Fools – Underground
Wednesday April 20th 1983 – It's A Baby Shower – Underground
Wednesday May 25th 1983 – High Times magazine 9th Anniversary – Underground
Wednesday June 19th 1983 – A Time For Fantasy – Underground
Wednesday July 6th 1983 – A Bikini Party – Underground
Wednesday August 3rd 1983 – Busts Out Party – Underground
Wednesday August 31st 1983 – Night of Romance – Underground
Wednesday September 14th 1983 – Thor Album Release Party – Underground
Wednesday September 28th 1983 – Vampire Party with Helen Wheels in concert – Underground
Wednesday October 26th 1983 – Let's Dance – Underground
Wednesday November 9th 1983 – Naughty But Nice – Underground
Wednesday November 30th 1983 – High Times magazine 100th issue party – Underground
Saturday December 24th 1983 – Toys for Tots with David Sage in concert – Underground
Wednesday January 18th 1984 – Kinda Kinky with Johnny Blast in concert – Underground
Thursday February 23rd 1984 – Reckless Dancer – Underground
Friday March 2nd 1984 – Dry Ice – Illusions
Friday March 23rd 1984 – New York City Swing Band in concert – Illusions
Wednesday May 2nd 1984 – Fran's Birthday with Trend in concert – Red Parrot
Wednesday May 4th 1984 – Tiny Tim in concert – Red Parrot
Tuesday May 22nd 1984 – An Evening of Ecstasy – Magique
Tuesday May 24th 1984 – Billy Joel in concert – Magique
Wednesday June 20th 1984 – In the Heat of the Night – Magique
Tuesday July 3rd 1984 – Celebrating Life, Liberty, and the Pursuit of Happiness – Magique
Thursday July 12th 1984 – 1st International Strip Olympics – Underground
Ron Martin (friend):
Marc also devised the idea of the 'Marc Stevens Party Card.' It was a black card, like a credit card, that entitled the holder to get into any of his parties. I had a few of these cards – including number '69' and '007'.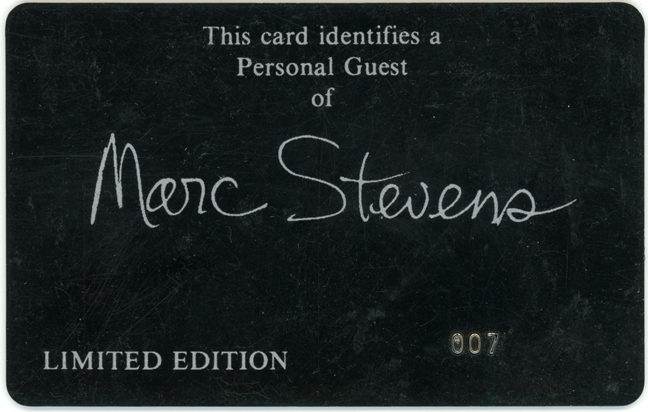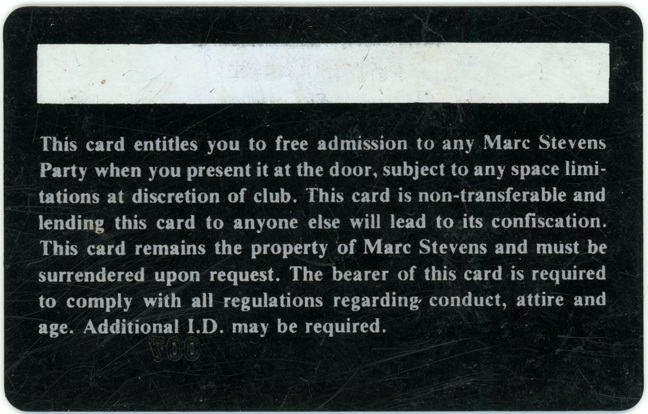 Annette Heinz (friend, adult film actress, and dancer):
It was always entertaining being with Marc. We had cocktails with Liberace, while Lee and I giggled about his love of my solid sequined evening gown.
We would have many drinks on his veranda. And oh how we shopped!
He was also generous. He got me a generous sugar daddy when the Harmony was closed down. I would have been homeless without Marc's intervention.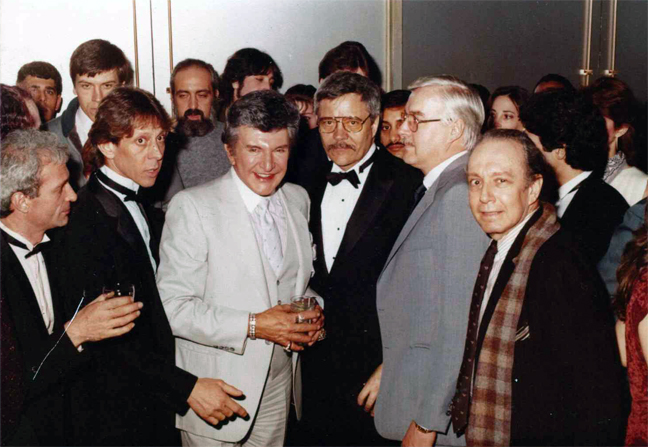 Marc, with Liberace (and porn actor Jose Duval on left)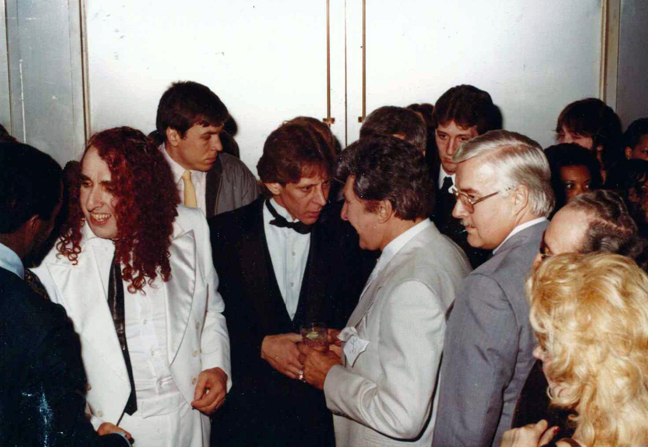 Marc, with Liberace and Tiny Tim
In 1981, Marc was interviewed for a Canadian documentary about pornography, 'Not A Love Story: A Film About Pornography'.
The film was a crusading attack on pornography by a concerned parent Bonnie Sherr Klein (mother of current day author and social activist Naomi Klein) positing the theory that porn is not culturally determined, but born of an 'inherently male' drive to hurt and defile. It featured interviews with sex workers, some of whom express doubts about their profession.
In the film, Marc spoke out against the pornographic film industry, and claimed he'd retired from performing in adult films due to his disgust at the degradation of women in the movies.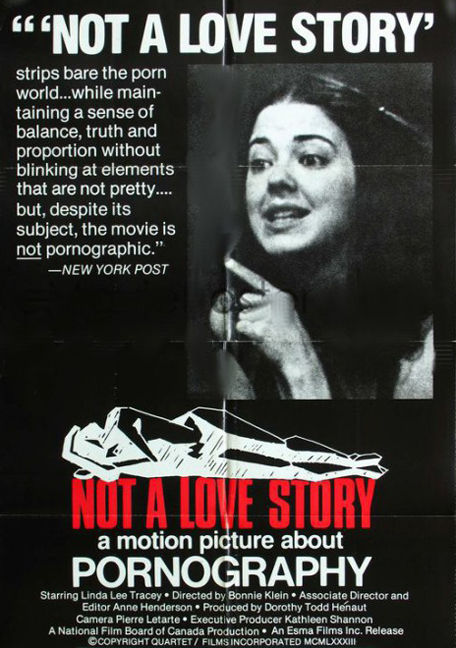 Marc Stevens, from the film 'Not A Love Story' (1981):
I did a lot of things that I found detrimental to women and that's why I got out of it two years ago. I didn't like degrading women any more, and I find it very degrading.
I didn't like smacking a girl around. It's funny but before I started working with her in a heavy scene I would say, "Listen darling I have to smack you around… but I'm only fooling around."
It's still a man's world, filmed by men, for men.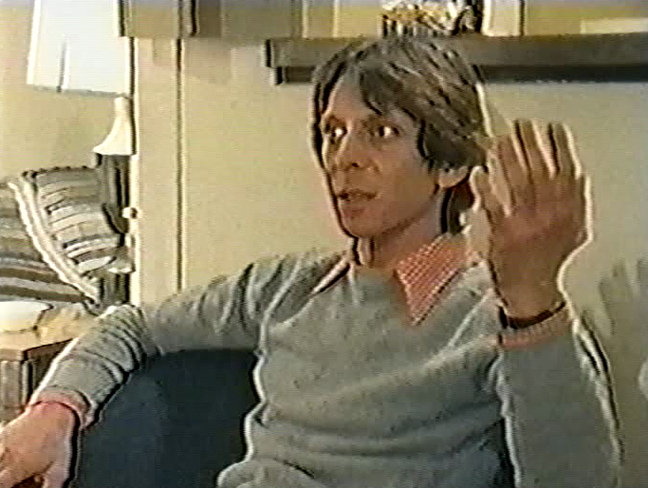 Marc Stevens in 'Not A Love Story' (1981)
Marc received plaudits from academics and film reviewers for having the courage to speak out against the adult film industry.
Bonnie Sherr Klein's 'Not A Love Story', by Rebecca Sullivan (1978) (Canadian Press):
The most conscious guy in the film is ex-porn star Marc Stevens.
Stevens is charming and heartfelt about both the sense of power that came when "everything was focused around the tip of my dick" and also the onus to appear constantly virile and the toll it was taking on his personal relationships.
But the truth behind Marc's testimony in the documentary was somewhat different.
Jamie Gillis:
Firstly Marc couldn't resist a microphone. And secondly he was desperate to be taken seriously by serious people. The combination of these two desires could get him into difficulties.
We were all disappointed with him after the film 'Not A Love Story'. Many people thought he'd betrayed us, that he'd bitten the hand that fed him. All because he craved mainstream acceptance. He soon realized he'd made a mistake appearing in it, and he regretted what he said.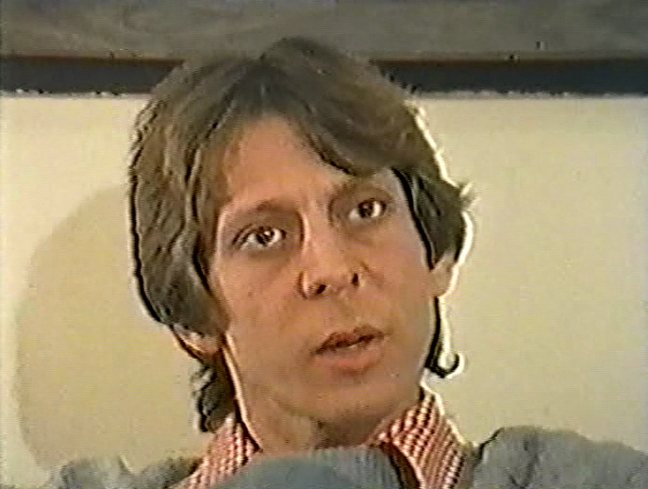 Marc Stevens in 'Not A Love Story' (1981)
Georgina Spelvin:
It was a difficult time for the industry. There was the emergence of a strong feminist academic movement that hated what we were doing. For a time they had the upper hand, and they blocked out all other voices and opinions. They made us feel like traitors to the sisterhood for appearing in pornographic movies. It wasn't easy at all.
Jamie Gillis:
Despite what Marc said in the documentary, it didn't stop him making adult films after that. We were pissed with him, but we still loved him. Marc was Marc. You couldn't stay mad at him for long.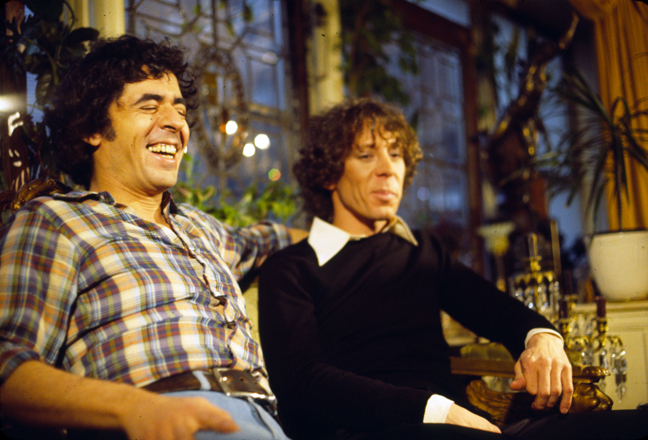 Marc, with Jamie Gillis
Helen Madigan:
By now Marc was a heavy duty partier. He was always partying. I couldn't keep up with him. It was almost every night of the week…
Andrea True:
Marc met this one guy, David Poitier, at Studio 54 or Danceteria. David introduced himself as Sidney Poitier's son. He was a good looking boy, really charming and sweet, and for a time he was close to Marc.
Marc gave him a place to stay and paid his expenses for a while.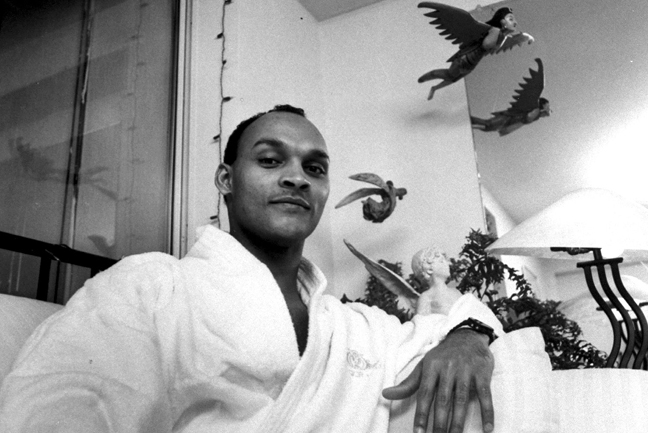 David Poitier
Jamie Gillis:
Yeah, I remember David. Marc liked his glamor. David had this star appeal, and they were a good couple for a short time.
Erica Eaton:
David Poitier. Wow! What a sweetie. He and Marc were inseparable. Apart from being beautiful and funny, David was treated like royalty. I mean his father was Sidney Poitier, so they had no problem getting into the best nightclubs, bars and restaurants.
Andrea Tru:
David Poitier was a con artist. He was completely unrelated to Sidney Poitier.
Marc was completely deceived by David, and he was devastated by the discovery. He couldn't believe that he'd been tricked, and it really damaged his ego.
'David Poitier' was actually David Hampton, an imposter who became infamous in the 1980s after he managed to convince a group of wealthy Manhattanites that he was the son of Sidney Poitier. He persuaded several people into letting him stay with them and give him money, allegedly including Melanie Griffith, Gary Sinise, and Calvin Klein.
Hampton was eventually arrested in October 1983, and subsequently served time in prison. His story became the inspiration for the 1993 film 'Six Degrees of Separation' in which Will Smith played him. He died of AIDS-related complications in 2003.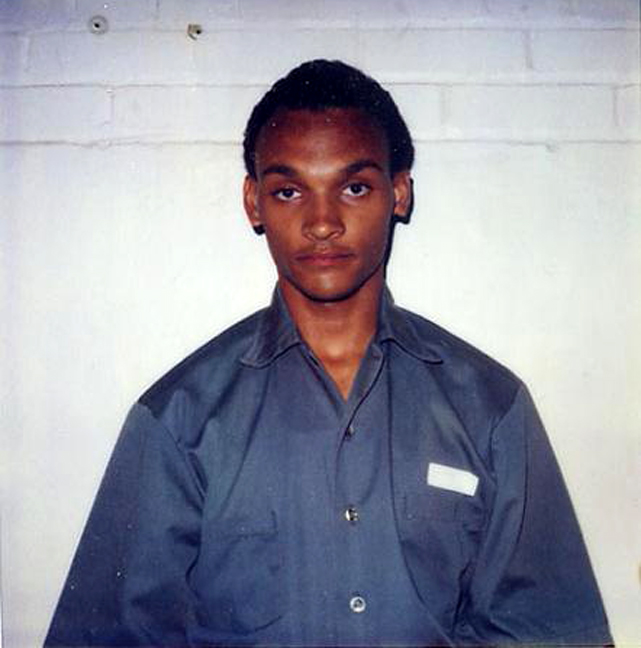 David Hampton (aka David Poitier)
*
11.     Marc Stevens: The Talk Show Host
Dave Peller:
Marc was an entrepreneur. He was always thinking up ways to make money. At first he was a sex entrepreneur, but he moved beyond that and started to think more broadly.
For a time his next big scheme was going into the business of selling luxury fish tanks, but that didn't get off the ground.
Marc didn't just sell articles and pictures of the nightclub shows to magazines; he started selling pictures of sex parties featuring friends from the adult film community. In truth, the sex parties were staged solely for the benefit of the cameras and the participants were paid in free food and drink, but the photo features proved successful, and provided Marc with another source of income.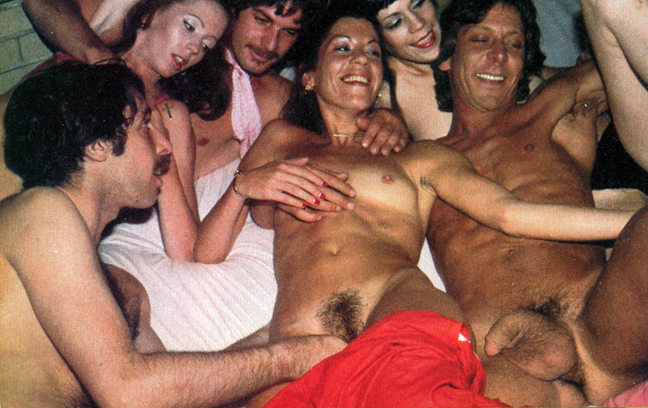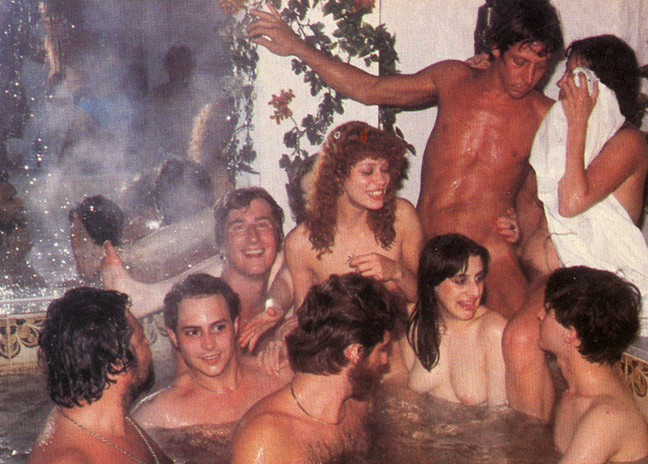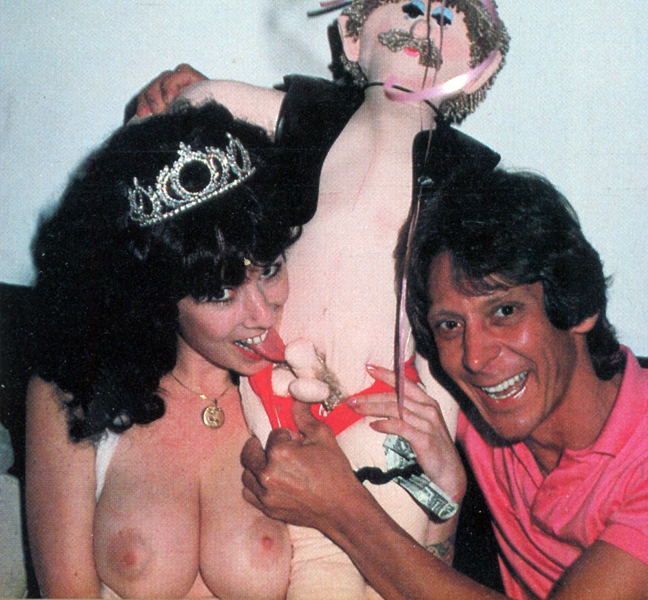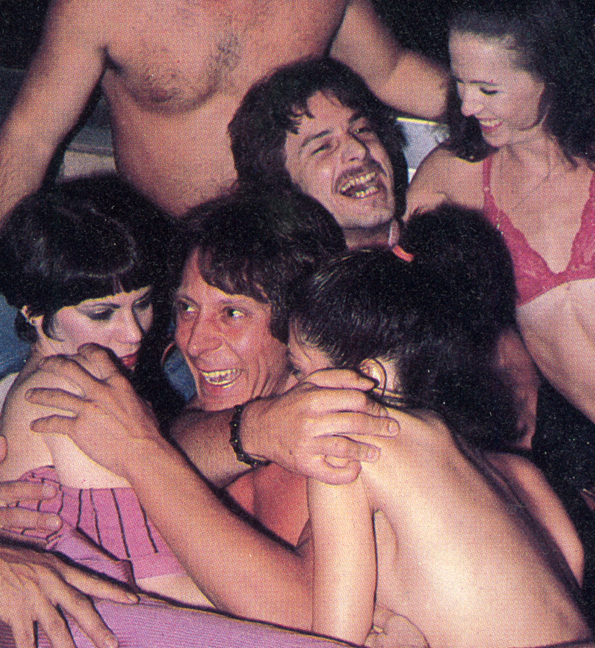 Christopher Watson:
Marc was desperately trying to get a radio show or a TV talk show. He contacted me and I was trying to help with some of my contacts. He was garrulous, and with some practice I thought he could've been very good. He was entertaining and had a way with people getting them into conversation.
We got a good amount of interest from some of the big names, but nothing came of it.
Jim Cross (filmmaker):
I was friendly with Annie Sprinkle and Veronica Vera. We'd just started to make a cable TV show called 'The Sprinkle Salon' which we shot in Annie's apartment.
After we taped it, we wanted to see what the footage looked like but Annie didn't have a TV. She lived down the hall from Marc so she suggested that we go to his place and plug our equipment in there.
Marc was gracious and always happy to help. While we were, there he mentioned that he wanted to start a TV show as well. In fact he already had a theme song for the show.
In the end, Annie's 'Sprinkle Salon' didn't last very long, just a few episodes, but Marc was gung ho and so we started a show with him.
Marc Stevens from 'The Ultimate Insider, A Peek Into The Private Life of Porn', Stag magazine, June 1981:
You ain't got pay-TV? You're gonna need it soon. Especially when Marc Stevens' new cable TV show starts. It's going to be the hottest thing ever on nationwide channels, a sort of dirty Saturday Night Live sex show. It'll be called 'Let's Talk Dirty' and will be a sort of weekly fun review of the porn business.
It'll put you and your lady to bed, but unlike Tom Snyder, it won't put you to sleep.
Dave Peller:
'Let's Talk Dirty' was a chat show, a variety show, and Annie and Veronica Vera appeared in it. I was the producer and I formed a production company 'DP Productions'. Jim Cross was the cameraman.
The show went out on the Manhattan Cable network every week.
Jim Cross:
We just started by shooting funny stuff in his apartment, and then we invited guests. 'Professor' Irwin Corey was one of the first guests. He was an old time comedian who'd been around for years. He'd been on old shows like 'The Phil Silvers Show.' He billed himself as 'The World's Foremost Authority', but he didn't say on what. He was just the world's foremost authority. Corey came out and just lectured everyone and told stupid jokes and stuff like that. That was his gig. He went over well.
Every week we had somebody new on.
Dave Peller:
Marc had some interesting guests. People like Liz Eden and her husband, John Wojtowicz, whose lives had been depicted in 'Dog Day Afternoon'. They were frequent guests. Tiny Tim, the singer with the ukulele, was another who often guested.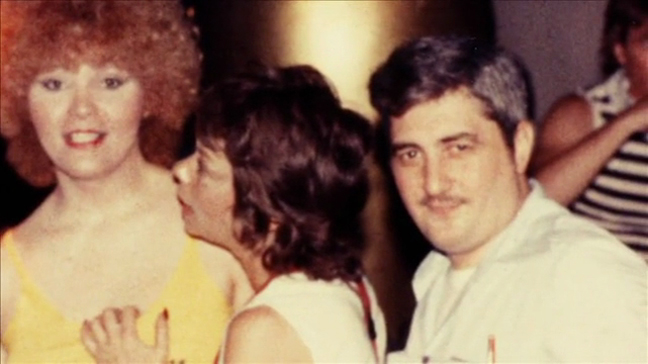 Liz Eden (left) and John Wojtowicz (right)
Jim Cross:
Marc was a good friend of Tiny Tim and so we filmed one show on the Circle Line boat around Manhattan. Tiny Tim was singing 'Tiptoe Through the Tulips' while he was steering the boat!
Then Marc invited all of his friends that he knew from the porn business like Vanessa Del Rio.
Jamie Gillis:
I remember appearing on the show. It was a riot. Marc was talented that way. He held it all together and made it entertaining whatever was happening.
Jim Cross:
We did a lot of the shows directly out of his apartment and on his deck. He had a little wrap-around deck right off his apartment.
Each show was 28 minutes long and we shot it on VHS Beta tape. We had to fill up half hour show every week otherwise we'd lose our spot. I can't remember how many we made – probably 60 to 70 at least.
Jamie Gillis:
It became a popular show. It had a unique anarchy to it.
Jim Cross:
Let's Talk Dirty soon started getting a good following. Along the way, Marc got Larry Lick to be his sidekick on the show, like Ed McMahon on the Johnny Carson show. They would bounce off each other. They were very funny together.
Annie Sprinkle:
It was a fun show – and it was taking place right on my doorstep so I was often involved in some way or another. I had people living with me, like the tattoo artist Spider Webb, so they'd end up appearing on the show as well.
Jim Cross:
After a while we started taking 'Let's Talk Dirty' outside of Marc's apartment. We filmed in Plato's Retreat and at some of the parties that Marc was organizing. I would set up the camera equipment on some crates in the middle of the dance floor facing the stage so I was higher than the audience. We recorded the audio by running a wire from the camera right onto the stage. Which was a terrible idea… because if someone tripped on it, they'd be dead!
Dave Peller:
Marc used the show to publicize his parties at Magique, so it was all tied up together. I remember the sex shop 'Come Again' at 246 East 51st St was often featured in the show as well.
In 1982, Jill Monroe died of a heroin overdose. Though 'divorced' from Marc since 1979, they'd continued to be close, and Jill was a frequent presence at Marc's parties.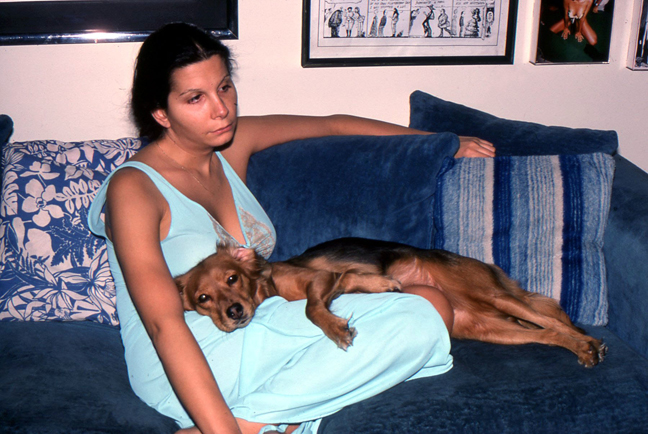 Jill Monroe
Jim Cross:
When Jill Monroe died, I thought about going to the funeral and taping it for the show. We decided against that, but we went along anyway.
It was a strange occasion. Jill's parents weren't happy with the fact that 'he' became a 'she' – and so they removed her breasts when they had her in the casket.
Dave Peller:
Jill's funeral was a trip. Her mother had her breasts removed so that Jill could be buried as a male. Then at the funeral itself, she fell and draped herself across Jill's coffin saying, "No one can have my boy now!"
Jim Cross:
But they buried her in a dress! She was made up as a woman. I don't know why they took her boobs off.
Just after they removed her breasts… and I don't know if it was Marc, but somebody crumpled up some tissue paper and put in back into her dress to make it seem she had boobs… so she looked like a female. Crazy…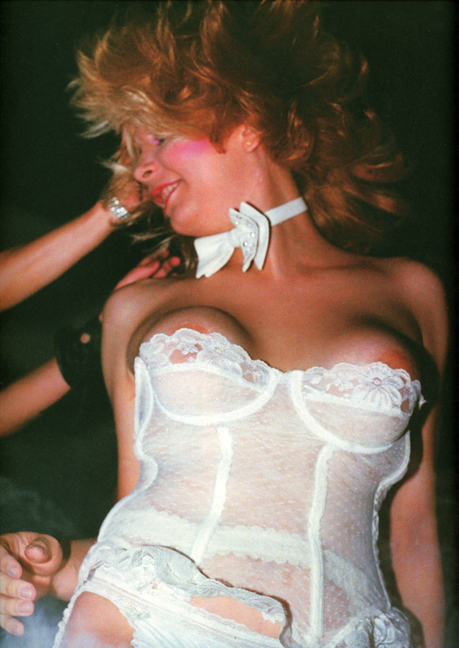 Jill Monroe (1951 – 1982) (photo: Gary Lee Boas)
Dave Peller:
A number of the episodes of Let's Talk Dirty still survive on tape. I have a few of them. Unfortunately we re-used the tape a lot, and taped over previous episodes so many are probably lost.
Footage from Let's Talk Dirty appeared recently in 'The Dog' (2013), a documentary portrait of the late John Wojtowicz.
Jim Cross:
Marc also started this thing called 'Project X'.
'Project X' was supposedly a film service to the general public where you could pay to be the star of your own porn movie. You'd also be the director, or the producer, whatever you wanted. In other words, Marc would help you make your own personal porn movie. You produced it. We shot it.
You just picked out the star you wanted to be in the movie. We went to California together to do some filming for it.
Now I realize it was actually more of a prostitution thing because nobody was really interested in producing or directing a movie. They just wanted to have sex with their favorite star!
It didn't last too long…
In some ways Marc would have been a great reality TV star today. He started to become famous for being famous. The problem was that there wasn't a market for that back then.
Dave Peller:
I think Marc essentially got bored. He said to me he'd rather die than drive a cab. He'd been the class clown but I don't think was really happy. He talked about death more and more. I remember him saying to me he wanted to be buried in fur.
Jamie Gillis:
He hated being alone and, although he had a number of close relationships, I don't know if he had any one really special.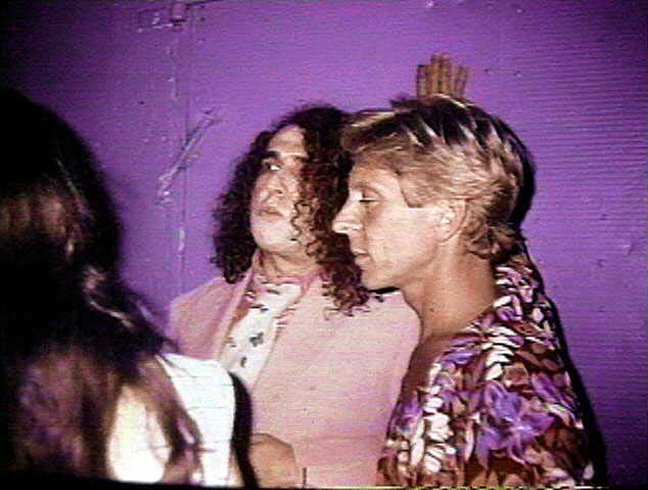 Marc, with singer Tiny Tim
*
12.     Marc Stevens: The Decline
Approaching 40 years of age, Marc was becoming all too aware of his age, and he didn't like it. Friends remember his fear that he was becoming too old for the sex and party businesses.
Barbara Nitke (photographer):
Marc was such a wistfully beautiful boy.
I remember him telling me what it was like to suddenly be forty, and he felt as if the rug had been pulled out from under him. One day he was the belle of the ball, and the next he was forty – old – and AIDS had happened. He just wasn't equipped to handle that. I burst into tears on the street coming home from a visit with him because I realized he'd be leaving us all very soon.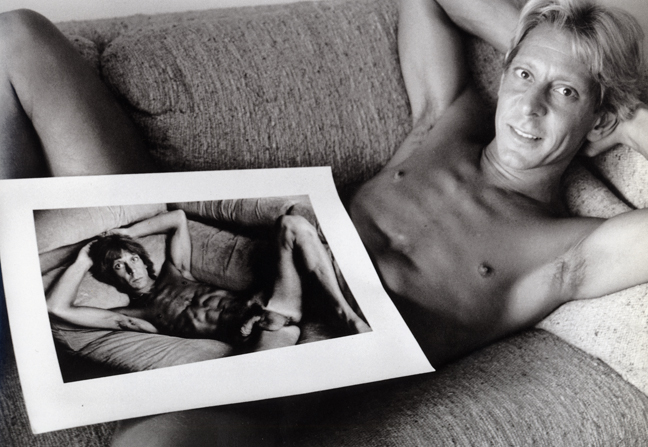 Georgina Spelvin, from 'The Devil Made Me Do It' (2008):
I last saw Marc one last time in California before he died. I was happy to see him because I was able to thank him for saving my butt when he checked me into rehab.
He didn't look well, but he said he was fine and didn't want any help. He had a young companion with him who he described as "this lovely little piece of street trash that I just picked up." Marc always told it like it was. It was good to see him.
Gary Montanile:
I stopped being Marc's boyfriend during the party years. I was much younger than him, and I attracted attention at the events. Sometimes more than Marc was getting. I wasn't doing it deliberately, but eventually he took me aside and gently said, "You're taking the tarnish off my star." We still remained very close friends after that.
Jamie Gillis:
The mid-1980s were tough on Marc. That period saw the loss of a whole generation of gay men in New York. Also he probably started having doubts that he was ever going to be able to be 'someone'. He always just wanted to be 'someone'.
The films didn't make him into a mainstream star. The party scene was on the wane. His publicity stunts generated a lot of attention but they died down pretty quickly. And his cable TV series didn't give him break-out success either. So he was probably depressed.
Annie Sprinkle:
Marc had a boyfriend called Tim who contracted AIDS. I actually photographed him. He had Kaposi lesions all over his body. I photographed him as a Jesus like figure because he was making the ultimate sacrifice, and nobody was saying the word AIDS. The President wouldn't even say it.
Marc and I went to some demonstrations to raise awareness of the illness, and we went to hospital rooms to visit friends with AIDS. We had a lot of mutual friends who suffered.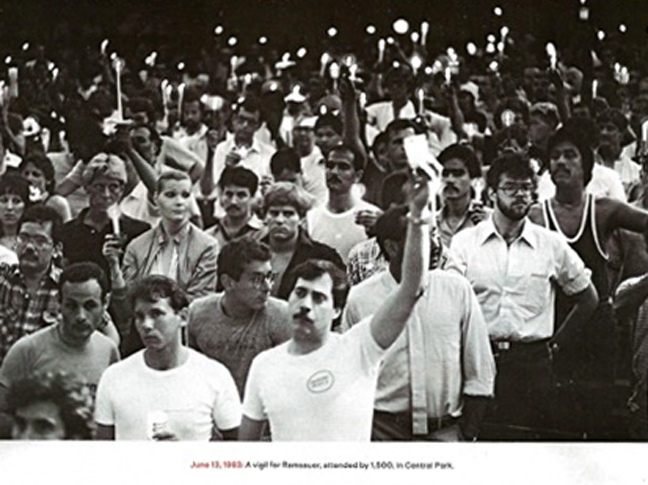 AIDS vigil in Central Park in 1983 – Annie Sprinkle and Marc are center right
Gary Montanile:
Marc's friend Billy contracted AIDS and went back to Kalamazoo, Michigan, where he was from. He died there shortly after. Marc had a memorial service for him at the church by the World Trade Center in downtown Manhattan. He was badly affected by Billy's death.
Gary Lee Boas (friend and photographer):
All I remember was that he was scared of dying. He had such a zest for life, death meant nothing but idleness, and to him, there was no afterworld, death was death. You die, you rot, and you stay in the ground. He lived in fear of death.
Marc's adult film appearances in the 1980s had been few and far between, especially when compared to how active he'd been in the 1970s. In many of his later films, he was reduced to small, sometimes non-sex, parts. He looked disinterested and absent.
Some of the films were now cheap, shot-on-video efforts, that were released and disappeared without any fanfare.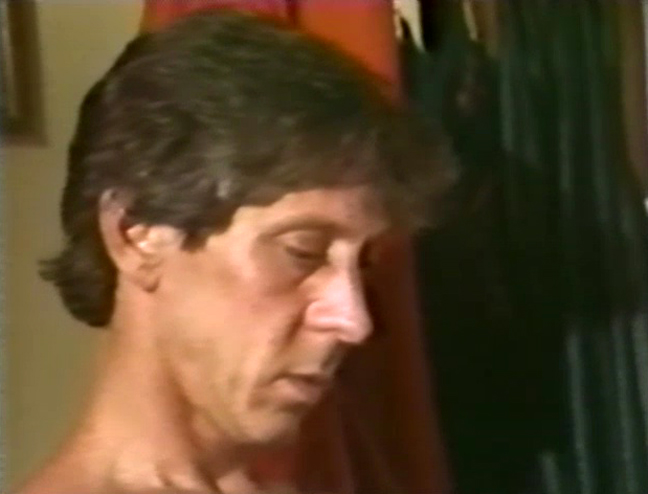 Marc, in Black Licorice (1986)
His last film was Gerard Damiano's 'Ultrasex' in 1987.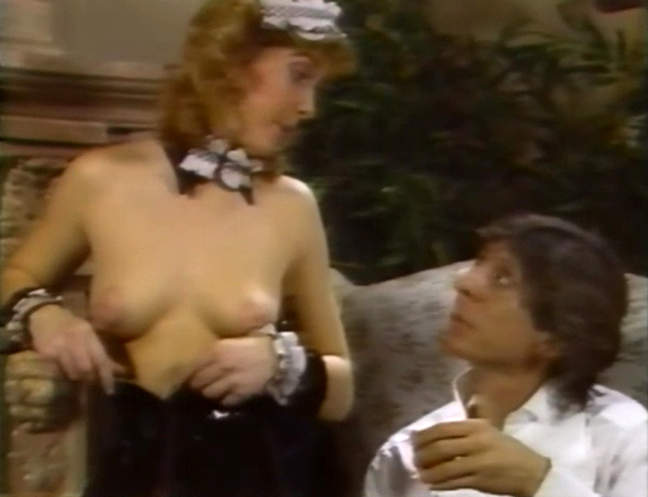 Marc, in Ultrasex (1987)
Dave Peller:
This restlessness probably led to his drug addiction in the mid-80s.  He became addicted to crack cocaine. To my knowledge, he'd never been a big drug user, and was not on drugs when they were making Let's Talk Dirty, his cable access TV show, but he became addicted soon after that. Once he started taking drugs, he went downhill fast.
Jim Cross ('Let's Talk Dirty' cameraman):
One of the last episodes of 'Let's Talk Dirty' had Sid Bernstein as the guest.
Sidney was a music producer and promoter who had revolutionized the American music scene in the 1960s when he was the first to bring The Beatles, The Rolling Stones, Herman's Hermits, The Moody Blues, and The Kinks to America. I worked for him for a summer. I asked him if he wanted to come on the show, and he did.
I guess Sidney didn't know what kind of show it was. He brought his kids with him.
By that time, Marc was getting very heavily into Quaaludes and that kind of stuff. He was acting weird and seemed out of it. He kept repeating himself and asking the same questions over and over.
Sidney had managed Judy Garland so Marc wanted to know about her being a drunk and an addict and stuff like that. Sidney was uncomfortable, and didn't want to talk about it. He didn't want to badmouth her. It was difficult. I felt really bad. I thought, "Oh my God. Sidney's going to kill him."
Marc was great fun before he was into the drug scene. After that it was more difficult to deal with him.
Helen Madigan:
I started seeing less of Marc. We weren't good for each other by this time. I had my own drug issues. We weren't healthy for each other.
Jim Cross:
I knew right after we did the Sid Bernstein show that it wasn't going to work out anymore. Marc was not all there. After we stopped doing the show he became a recluse. He just stayed in his house. He would send his boyfriends out to get food, or send them out to get drugs, but he never really went out anymore. That was really the end of our relationship. The only time I ever saw him after that was when I went to visit Annie.
Annie Sprinkle:
Marc's decline happened really quickly.
He really got into angel dust. Angel dust was the big one for him. You know, coke was always around but mostly it was angel dust with Marc. I know it was angel dust because I smoked it once with him because I wanted to try it. I thought it was part of my research as a prostitute to be aware of different kinds of highs and altered states.
Then one night I woke up in the middle of the night and there was a guy feeling my feet. A guy I didn't even know. It turned out he'd crawled around the building from Marc's balcony into my window. I mean, he was risking his life… we're talking about a one-foot ledge, eleven floors up, so it was very, very dangerous.
I'd never had anything happen to me that was so scary. This guy had his hands under the blankets and… I just said, "Could you please leave?!"
It turned out he was Marc's friend and they'd been doing angel dust. I was so upset because I felt unsafe. Marc's place had become a drug center and so I stopped going there.
I was really upset with Marc, and really scared.
Jamie Gillis:
Marc wasn't getting much money from any quarter. And now he needed money more than ever.
He started dealing drugs from his apartment to support his own habit. And where you have drug dealers, you have trouble.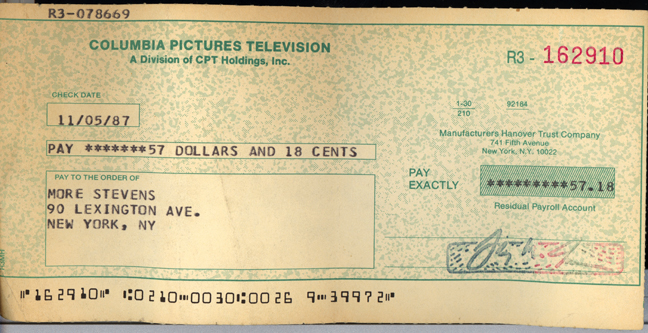 Anonymous:
I got to know Marc because I lived on the same floor as him at 90 Lexington. We hung out. I liked him.
Drugs were around – there were around everyone then – but suddenly they seemed to take a hold of him. There was a lot of gear in his apartment – cocaine, PCP, heroin, you name it.
I set him up with a guy I knew who could supply him. This was not nice guy. He was a fairly big player in New York.
Dave Peller:
When I visited Marc at 90 Lex at this time, it was a complete mess. The wallpaper was ripped off and there were holes in the walls. People were looking everywhere for money, drugs, whatever.
Anonymous:
I don't know exactly how it happened, but this guy moved in on Marc. He had a few associates, and they saw Marc was vulnerable, so they moved into his place and used it for themselves.
Gary Montanile:
I pulled back from my friendship with Marc when I heard the scary stories coming from his apartment. People were talking about his poor health, drugs, even guns. I don't know about that. This is just what I heard.
Anonymous:
Marc's place became the center of a drug ring.
Annie Sprinkle:
Suddenly Marc started blacking out his windows, and some kind of drug cartel moved into his place. It was really creepy.
Anonymous:
I didn't feel good about the situation because I had introduced them to each other. But I wasn't going to get involved at that point. I had to stay out of it… or else.
Jamie Gillis:
The story went around that he had AIDS. I never knew if that was true, but he was very sick.
I don't know if the AIDS came before the drugs, or vice versa, but he deteriorated quickly.
Lee Kuttner:
I'm not sure if Marc ever actually told me he was ill. He might have, but I deduced it by myself.
I knew it when I looked at him. Each time he came to visit he looked more raggedy each time. He was losing weight and he was looking awful. I knew that one of his partners – a man called Tim – had AIDS, and I think that's how he contracted it. I can't swear on that. I'm sure he had several partners.
What I didn't know was that he had developed a serious drug problem.
Karen Kuttner:
I did not know Marc had AIDS. I didn't see much of him in the later years.
We wouldn't have known unless we were in his presence or if he told us, and we unfortunately we didn't have that kind of closeness with him.
Annie Sprinkle:
I thought Marc probably had AIDS but he wasn't admitting it. He was lying about it. At that time if you had AIDS it was a death sentence. Marc was the most open person about everything in life, but he was not open about having AIDS.
Dian Hanson:
I last saw Marc near the end of his life. His coke consumption had desiccated him so much that we didn't realize he had AIDS. We were at some industry event and he was tearing around madly grabbing all the women and shoving his tongue down their throats, biting their lips, forcing himself on people in a way I'd never seen with him. It was really aggressive and angry and unpleasant. When he died shortly thereafter there was a conclusion he might be trying to take people with him.
Annie Sprinkle:
In the end, you know, it was really clear that he had AIDS.
I think at that point he was suicidal. In retrospect he was probably terrified, just terrified of having AIDS, and was self-medicating with the angel dust. He hid his fear and just numbed it, but it was a scary, scary time for many people. It was like being in a war zone.
Anonymous:
It was bad, man. I don't want to go into details but Marc couldn't take care of himself, and sure as heck no one else was looking after him. So he was neglected. Friends didn't check in on him either.
And the drug deals just went on around him.
Annie Sprinkle:
He was in bed and I was really worried about him. I finally went over to see him. I hadn't seen him for a while. He was frothing at the mouth. His eyes were bulging out of his head. He probably weighed 85 pounds. It was horrible. He was totally dementia'd, just a total mess, and not being cared for. He was dying, and yet there were these guys dealing drugs around him. I'm sure they had guns. It was horrible, horrible, horrible.
Jim Cross:
He was out of it at the very end. He lost a lot of weight. He was always thin, but now he was skeletal. Then we figured the inevitable was going to happen.
Annie Sprinkle:
I don't know honestly if there's anything anybody could have done different at that time. I felt that Marc made his choices and he had his issues.
Anonymous:
It was sad, you know? He'd been a popular guy, lots of friends, you know the deal. But at the end, he was… abandoned. No one stopped by. No one looked after him. I was the same. I avoided that place.
I can't say any more.
*
13.     Marc Stevens: The Passing
Dave Peller:
It was me who identified Marc's body at the morgue. They showed me a Polaroid, but I said I couldn't recognize him from the picture, so they showed me the body.
I'm was never sure what the cause of death was. I thought he had a cardiac arrest in the ambulance on the way to the hospital. It's sad to say but it could've been a due number of causes… his addictions, an overdose, suicide, or a heart attack. Marc had told me he had AIDS six months before he died, but I always wondered if this was true.
I'd been his lover on and off over the years so I was concerned for my own health. The coroner wouldn't confirm the cause of death to me, but he recommended that I get a blood test.
I remember he had a sister, Lee, who lived out in New Jersey. She turned up the day after his passing;
Lee Kuttner:
His death certificate lists the cause of death as being cachexia and bilateral broncho-pneumonia due to, or as a consequence of, acquired immune deficiency syndrome. That's the text right here on the certificate. The date of his death was 4:45pm on January 28, 1989. Approximately forty-five years of age. Too young. Too tragic.
Just like when our mother died, I came in from Jersey to make arrangements. I was the one who had the responsibility of putting him to rest.
Annie Sprinkle:
After he died everything was stolen from his apartment by the drug dealers.
Lee Kuttner:
I drove into New York with my husband to take care of business. His place was in a horrible condition. I found all of these unsavory characters just lying around his apartment. I felt completely vulnerable to… whoever they were, these lowlifes. That's how I could describe them.
I somehow summoned up the courage and told them all to get the hell out. I just said, "Please leave. I don't want to see you people ever again." That was it. They left.
Karen Kuttner:
They probably left because they'd already stolen everything.
Lee Kuttner:
Yes. Who knows what they did to Mark?
We were going through the apartment to see what was left. That was my only meeting with Annie Sprinkle. She was lovely. She came in and said, "You need to get away for a few minutes. Come to my apartment. Have a cup of tea," and I did.
Annie Sprinkle:
I was always worried that his sister might have thought that I should've done more. In retrospect, I wish I had been able to do more. I was just dealing with so much AIDS and death, and we were all underground, and I just would never have thought to call the police.
Lee Kuttner:
Annie suggested I take over Mark's apartment. I said, "I can't. How could I do that?"
She said, "Oh Lee, the drug traffic is so horrible, I can't take it anymore." She was very sweet. She was very sweet.
That was it. That was my last contact with New York, and with Annie, and the apartment.
I heard from (Marc's attorney) Stanley. He was very nice to me on the phone. He said, "If you need help of any kind, please let me know." I never heard from him again.
Dave Peller:
The family took care of the cremation. They didn't involve any of his friends in New York, so I felt left out. We all felt a little cold-shouldered.
For someone who had lived his life constantly seeking publicity, it was an uncharacteristically quiet end.
Lee Kuttner:
We had him cremated in a private ceremony. In fact it was just my husband and I. We were in a chapel in New Jersey. I think it was in Patterson, New Jersey. The Louis Suburban Chapel.
Afterwards we decided to do away with his ashes just where we were. We were near a park so I just sprinkled the ashes in the park. We said prayers for him. That was it.
It was very sad. So very sad.
*
Epilogue:

Lee Kuttner:
In the end, this was his life and his choice. We certainly would have been there had he reached out to us.
Marc Stevens, in Porncopia (1975):
I am a pioneer. It's a completely undeveloped industry. There is no one in front or in back of me. I created a big industry. In 20 years, they'll talk about me, Linda (Lovelace), Tina (Russell), as they do Chaplin, Griffith and others.
Annie Sprinkle:
I can't believe how little attention Marc has gotten after his death. He was an innovator, he was ahead of his time, and he brought a lot of people together.
He was a gay man – and I think that's partly why he's not more widely known today. I think it's really sad.
Sandi Foxx (looking at pictures of her and Marc from the early 1970s recently):
Marc looks happy in these pictures, and so do I. Those were the fun days. We were carefree and open to whatever or who ever came along.
At the same time I am so thankful those days are long gone for me. Marc never really grew up, and died a lonely and painful death. I left that time far behind.
Annette Heinz:
Bottom line, my life was enriched in many ways through the friendship of Marc Stevens. I want the loving side of Marc to be available to people now. He was much more than a celluloid 10 ½ inch penis.
If he was alive today, Marc Stevens would be 74.
It's hard to imagine the ex-porn star and party king being 74. Time withers most things, but perhaps not the soul of a person.
Lee Kuttner:
What makes me feel good is something our father used to say. Even though our father was agnostic, he said, "If there is a soul, the soul comes back to life when you raise someone in memory or you talk about them."
I'm going to just put it out there and say that when you contacted me the other day to ask me about Marc… there was a sense that my brother was in a good place, and we were reaching out and touching him on some level.
That's what I'm feeling right now.
Annie Sprinkle:
I know that, because of your article about him, Marc is so happy to be back in the limelight. Wherever he is.
Marc Stevens (from 'Mr. 10 ½' (1975)):
You've got the very best of me.
Like Janis used to sing, "Take a little piece of my heart"… well, what can I say? If there's anything else you'd like, just give me a call.
Anytime.
Love,
Marc.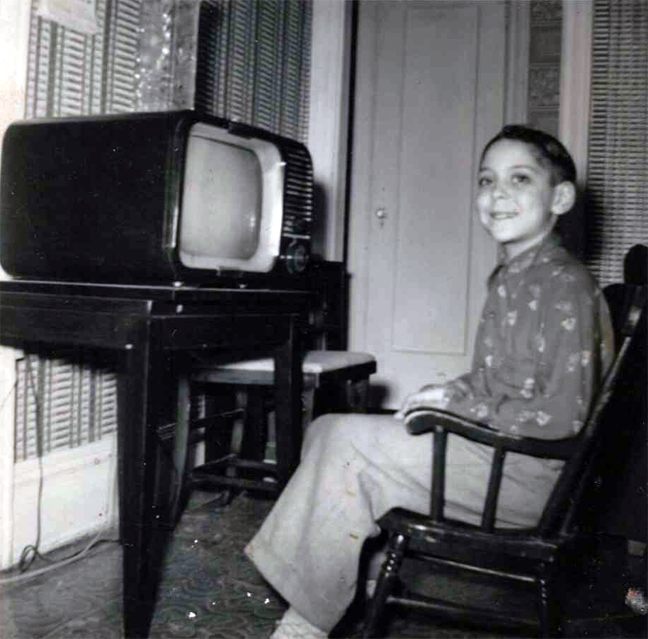 *