Peter Andrews was a stalwart of the 1970s adult film scene – appearing in around 50 films and loops in the mid 1970s.
It seemed as if there was no one that he didn't work with: from Radley Metzger (including standout scenes in The Opening of Misty Beethoven (1976) and Barbara Broadcast (1977)) , Joe Sarno (a memorable scene in All About Gloria Leonard (1978)), to Gerard Damiano (the legendary closing scene in Odyssey (1977)) and Carter Stevens (in Punk Rock (1977)).
He was a popular in-demand presence throughout his brief career – and his nickname 'The Horse' wasn't because he single-handedly won the Kentucky Derby.
But Peter was different from most people on the scene: he'd fallen into the XXX business almost by accident and never intended to stay long. While he mixed with all the major players, the films were more of a sideline for him – and this detachment enabled him to maintain a wry and pragmatic perspective on the business that he still has today.
This is Peter's story.
——————————————————————
You're a native New Yorker, right?
My family lived in Queens until I was six. Then we moved out of the city to northern Westchester County, NY.
And your parents were first generation immigrants?
Yes, both my parents were born in Europe. Three of my grandparents were Jewish, but my mother's mother was not, so technically that makes me a non-Jew.
Where did they come from?
My dad was born in Austria and came over to the U.S. as a child with his parents before the war. After elementary school here, he went over to Belgium for high school, before returning to New York where he went to Columbia University. He spoke German and French as well as English, so he was culturally European even though he had a U.S. passport.
Then war broke out and he was part of the psychological warfare department: basically, when the Allies occupied a country, they needed people to coordinate the news services to control information, so that's what he did. He was assigned first to Italy, then later to Austria.
My mother was born in what was then Germany – but is now Poland. Her family moved to Budapest when she was a teenager. Towards the end of the war, she left Budapest as a refugee. She literally fled across the border overnight on a bicycle with no papers, ending up in Salzburg where she stayed with a school friend. She got a job working as my father's secretary, and they married three months later.
How did they end up in the U.S.?
A few years after the war ended they moved to New York, where my father started a small business.
Were you brought up Jewish?
Not really. We'd occasionally go to temple with my grandparents or to their home for a Passover Seder… so I've always described myself as "Jew-ish." More of a cultural connection than a religious one.
What was it like growing up in Westchester?
It was pleasant, unremarkable… and I couldn't wait to leave.
When I was 17, I moved into the city; lived in a few different places. That was 1972.
What did you do for work?
I've always been an entrepreneur, so I was always starting a business: I had an ice-cream company, I sold and installed marquee lighting, I played in bands, did hospitality work… anything to make ends meet.
By 1974, I was sharing a place with some friends in Queens, and when we went our separate ways I looked in the Village Voice for an apartment and found a studio on Cornelia Street – which years later I bought and still own today. It's across the street from the converted carriage house that Taylor Swift rented a few years ago, which means that there are always fans in the street taking selfies in front of the building.
How did you get your first adult film work?
I was at the Bottom Line club in the Village one night. I met a girl – who was Kristine DeBell. She went on to act in several movies, including Alice in Wonderland (1976). She told me about an agent named Dorothy Palmer. I was always looking for opportunities to make extra money, and so acting in a movie – even an X-rated movie – seemed like an interesting idea. People had said I was reasonably good-looking, and at that age I figured I had nothing to lose.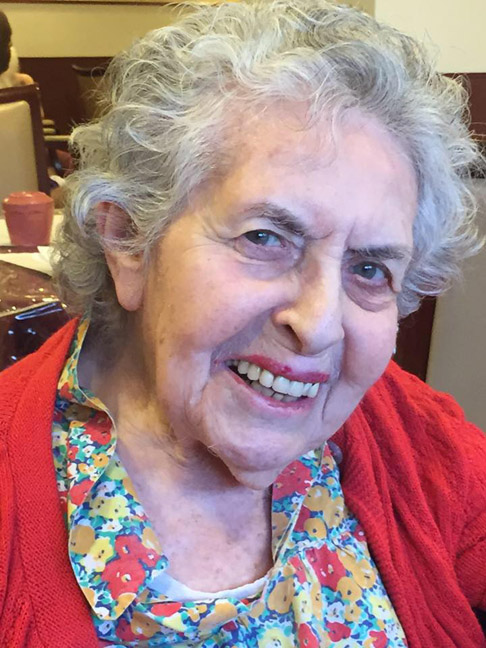 Dorothy Palmer
So I went to see Dorothy: she was a tough old broad in a small, cluttered office near the theater district – straight out of central casting. She asked if I had done something like this before, and I told her no. She said she could sort something out for me – she suggested a look-see with a director and a producer who had just approached her. It turned out that she was referring to Lenny Kirtman and Zebedy Colt.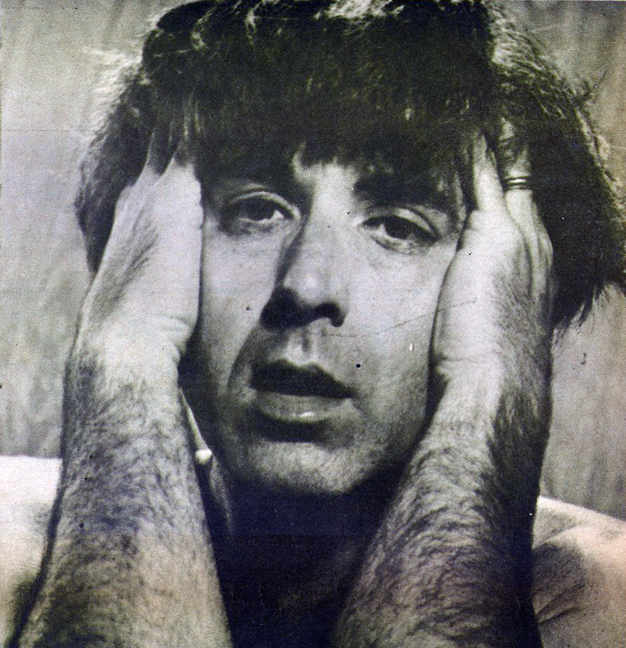 Zebedy Colt
I went over and met them both and we chatted for a while. Then Zebedy asked me to drop my drawers and get a hard-on. His instructions were all in a very matter of fact manner. Not weird or sleazy. I must've passed that audition because he turned to Lenny and said, "I think we've got somebody here for the movie."
Then he started telling me about the upcoming shoot they were planning for the following weekend. I think that was Terri's Revenge! (1976). It was a two-day wonder – all shot over a single weekend. In fact, they also shot footage for another film over that weekend: Unwilling Lovers (1977). Lenny always got value for money from his actors, so you became used to that.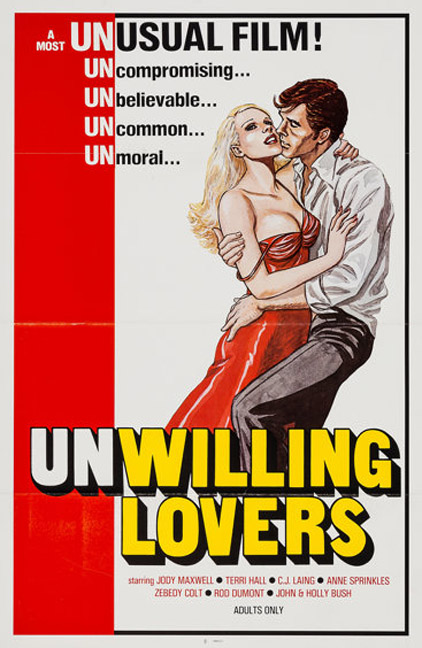 Can you remember the location?
It was a country house that Zebedy and his boyfriend owned. I think it was out in Bucks County in Pennsylvania. It was a nice place with its own grounds. We all went out there and stayed overnight.
What about the pay?
I was paid $125 per day, good money for the time. It was all new to me, so I wasn't familiar with the metric of your pay being how many times you came for the camera, or the fact that women got paid more than the men.
Who did you meet on that first set?
Terri Hall was the star. She was pleasant – a bit of a 'space cadet', but sweet. I also met Jody Maxwell. I liked her style: she was a character, but she was welcoming and had no attitude about what she was doing. She had great anecdotes about working her way through all the Kansas City Chiefs – some funny stories. I remember Nancy Dare too. She was friendly and down to earth. We shot a scene in the back of a convertible, if I remember correctly. I had the feeling that she wasn't intent on staying in the business for the long haul.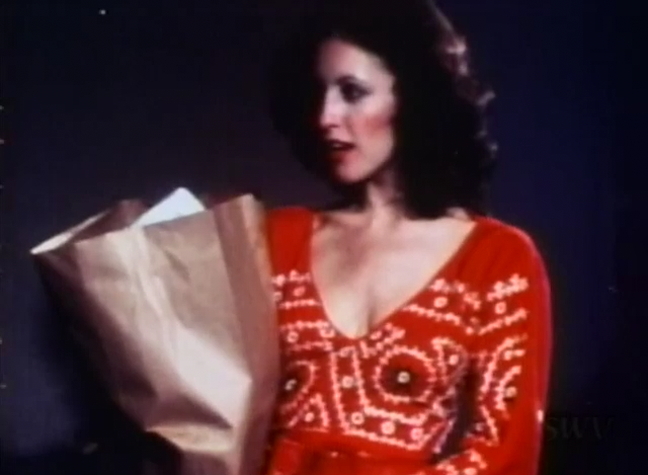 Terri Hall in 'Terri's Revenge!' (1976)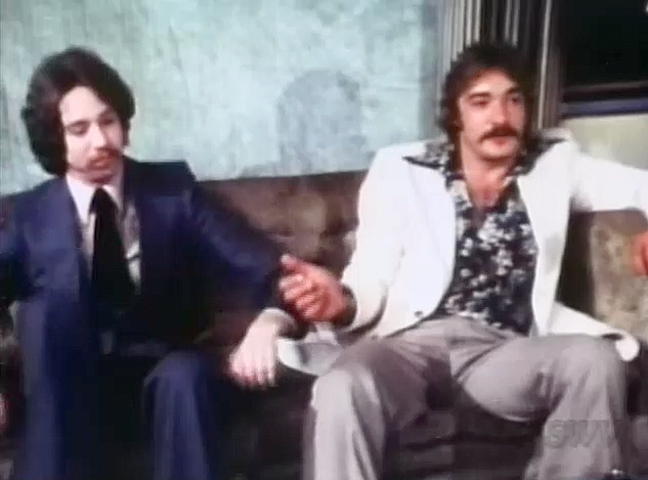 Peter Andrews (left) in his first screen appearance, Terri's Revenge! (1976)
And what was Zebedy Colt like?
I liked Zebedy a lot: I got to know him well. He was a warm, engaging character with a background in legitimate theater. Zebedy introduced me to his friend, Manfred Ehrmeier who did all the make-up and hair on his films. Manfred was a good guy. He lived on the Upper West Side and I stayed in touch with him for years, as he had a sideline cutting hair in his apartment.
Overall it wasn't a bad experience then?
No, it was fun. I didn't find it weird, and I liked the fact that there was a strong sense of camaraderie: we all knew that it wasn't 'normal' in the strictest sense but everyone was cool, so there was still a sense of normality to the whole affair. I decided I was happy to keep doing it for a while.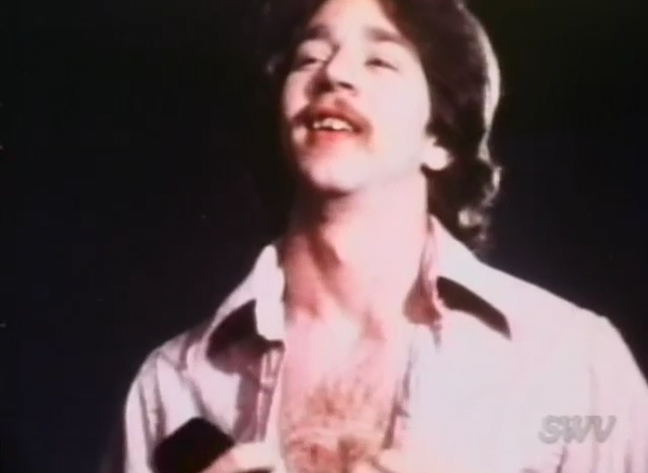 Peter Andrews in Terri's Revenge! (1976)
How did you find further work?
After that first weekend I got a few more movies through Dorothy, but more often jobs would be passed around via word of mouth. It wasn't consistent work, but it was enough. I made about 30 films in total over a three-year period from 1975.
One of the early films that you got through Dorothy was Radley Metzger's 'The Opening of Misty Beethoven' (1976) and his subsequent film, 'Barbara Broadcast' (1977).
Radley's productions stood out compared to other filmmakers. His productions would take longer than most, and so I shot for Radley over quite a few days. Radley was a cut above the others when it came to filmmaking, a real talent with a vision. A perfectionist too: I remember that he came over to me one day and asked me to shave so that my scenes would match the scenes he'd already shot of me. For a porn film that was unprecedented!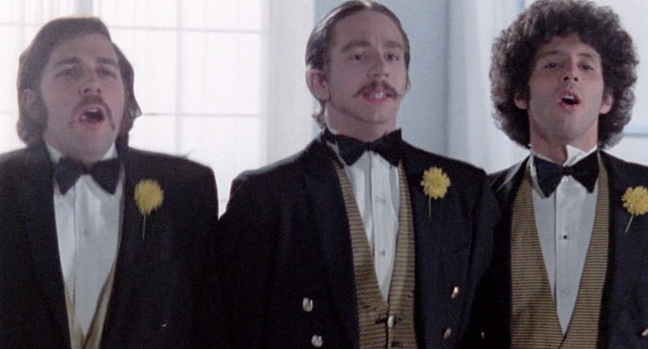 Peter Andrews (center) in 'The Opening of Misty Beethoven' (1976)
Didn't you become friends with Gloria Leonard on the set of 'Misty Beethoven'?
Yes, I was on the 'Misty' set and saw a copy of Time magazine with a subscription address label on it. The address was on Cornelia St. – right by where my place was. So I looked to see who it belonged to, and it was Gloria. Gloria was great – we became good friends. Years later when she and her daughter moved away, I adopted their cat.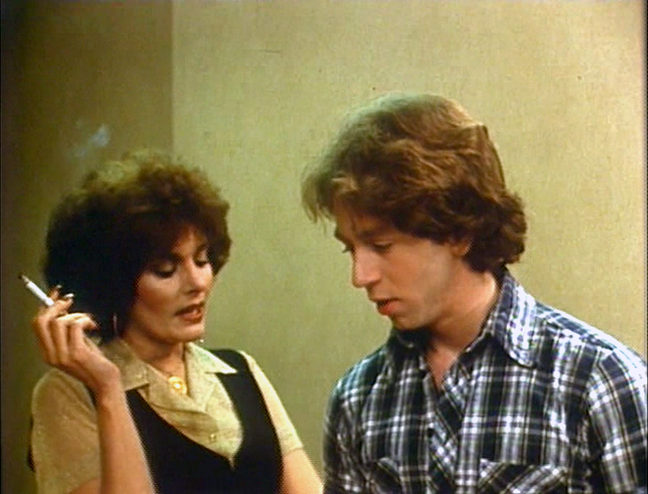 Peter Andrews, with Gloria Leonard in All About Gloria Leonard (1978)
I also became friendly with Sue McBain from our scene in 'Barbara Broadcast'. She lived on a boat with her daughter. She was a wonderful person. In 'Barbara Broadcast', Radley had given her a line to deliver while performing oral sex, which always made me laugh: "Thy rod and thy staff comfort me." I had a scene with her in 'Odyssey' too. A real sweetheart – such a sweet, kind person.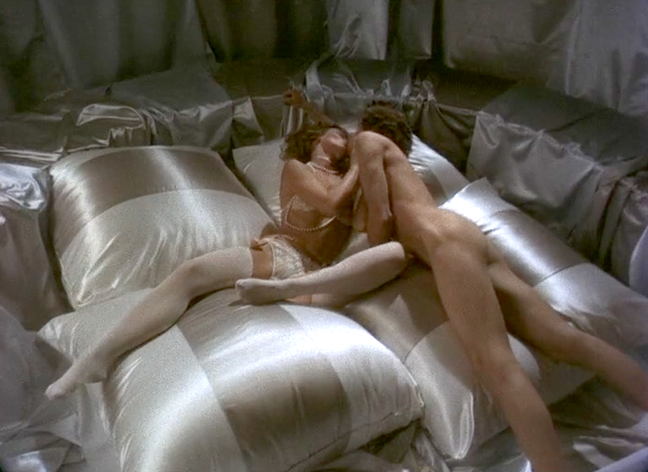 Peter Andrews, with Sue McBain in 'Odyssey' (1977)
Did you ever go and see yourself in the films when they came out in the theaters?
A few times, especially the ones with more production values. Radley's films had formal premieres so I went to those.
Who became your closest friends in the adult business?
I was close to Bobby Astyr, who I knew as Bobby Charles. He and Stasia, known as Samantha Fox, lived on the Lower East Side. She was from Yonkers. Bobby was a great guy. I hung out with him all the time: we went to the beach and ran around the neighborhood together.
He had many talents. Bobby was a funny guy who could do stand-up comedy; he was a jazz musician who had played in bands, and he was a talented artist too. He designed his own Christmas card every year for his friends: he would hand draw them himself. So, for example, on one cover he wrote, "Santa's coming", and then on the inside drew a funny picture of Santa having sex. We laughed a lot together and I miss him.
What are the productions that stood out most for you?
Aside from Radley's movies, Gerry Damiano's films were a cut above. He was distant but had an obvious care for what he was doing. I made Joint Venture (1977) and 'Odyssey' (1977) for him. I became friendly with his partner, Paula Morton too. She was friends with Bobby and me. We spent a few weekends together at my parent's house in the country when they were away. She was smart and focused, not in any way pretentious.
Joe Sarno was another guy I liked working for – a very kind man, not sleazy. He directed 'All About Gloria Leonard' and also Inside Jennifer Welles (1977).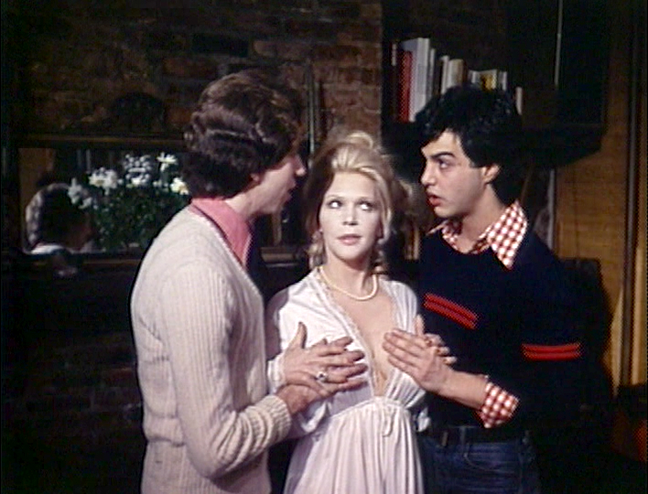 Peter Andrews, with Jennifer Welles and Pepe Valentine in 'Inside Jennifer Welles' (1977)
I also remember working for Navred Reef. He was Dutch, and a funny guy. On a shoot one day, a few of the actors and actresses were engaging in some off-camera 'activity' with each other, and – worried about losing an upcoming shot, no doubt – he came rushing over saying "no extra innings, please!"
How interested were you in the acting side of the work?
I actually signed up for acting classes at the Herbert Berghof (HB) Studio in New York because I wanted to see if I could make it as an actor. It was fun but they were very serious too: when I told them I was making adult films, they looked down on it.
Bob Kerman was a good actor. I was amazed at his acting skills as there weren't many great actors in the business. I got to know him and his girlfriend at the time, Crystal Sync. He was dedicated to the acting craft.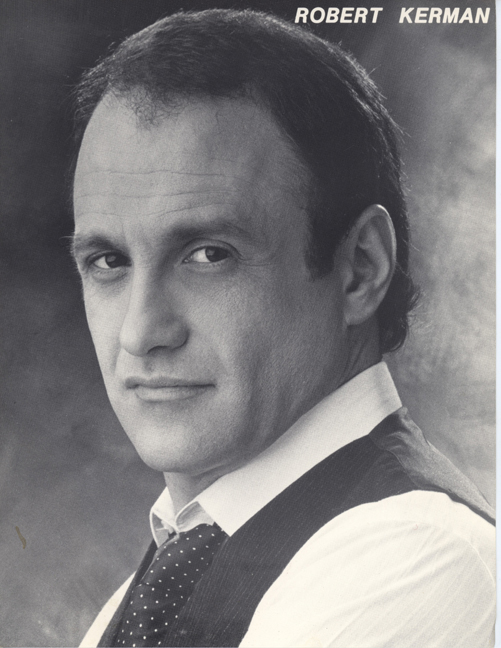 Were the adult films your sole source of income?
No… it more like a part time activity back then. I waited tables, did odd jobs, started a few small businesses. In fact, I kept a detailed record, long since lost, of all the film work I did, and how much I got paid for each movie.
I made quite a few loops too. They were quick and easy. There wasn't much art to them. One exception was a married couple named Peter and Iris. They were PBS documentary filmmakers who came into town periodically. They always tried to do something a little different. They were very respectful and attentive of the performers, so it was a good gig when you got work with them.
Were you still playing music at the time?
Yes – I was in a band called 'The Erotics' at the time, so I hung out a little at CBGBs and Max's Kansas City. I played keyboards. It was a punk thing, and we played a few covers. It only lasted six months, but during that time we got a gig opening for Peter Tork, from the Monkees, at Max's.
Sharon Mitchell was on that music scene at the same time: did you bump into her?
Mitch was a good friend. I rented a truck and helped her move from her home in New Jersey to her first apartment in New York. She lived around the corner from me on Downing Street. I knew her boyfriend Sturgess and the rest of her music crowd too, like Neon Leon. When I went off traveling to South America for a few months, she sublet my apartment while I was away.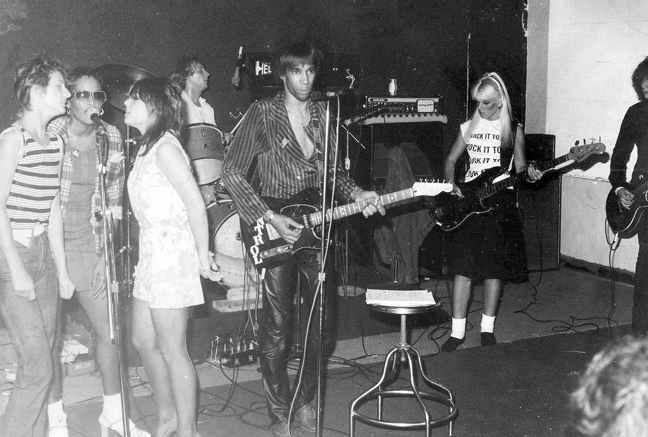 Sharon Mitchell (left) on stage with Neon Leon and Suzaye London
Mitch was uninhibited – in all ways. I liked that. But sometimes people didn't respond well to her, and when that happened, she could never understand it. She'd say, "I'm just being me. What's their problem?" She had a good heart – I heard that years later she became involved with some support groups on the West Coast and helped a lot of people in the industry stay healthy during the height of the AIDS epidemic.
For a time there was a crossover between the punk scene and adult films.
Yes. One of Mitch's good friends was a singer named Elda Stiletto who had a band with Debbie Harry, who later became famous in Blondie. I got to know Elda and her boyfriend, Cheebo, through Sharon. Elda made adult films, but it was more of an afterthought for her than it was for Sharon. Elda was always more focused on her music career.
Another adult performer who hung out on the music scene was Debbie Revenge. We went on a few dates, including a motorcycle ride out to visit Chris Covino at his place in New Jersey. He'd been directing straight adult films in New York for a few years and I had become friendly with him. We connected on some level. He wasn't gay in front of his family, but he was able to enjoy his sexual orientation in the city. That was the era: there were fewer boundaries, and you could experiment more.
Did you experiment as well?
I experimented a little, including with Zebedy Colt. He was very theatrical and charismatic, with lots of great stories about New York's music and art scene in the late 60's.
I was with Marc Stevens once too – but he wasn't the nicest person: he made sure everything was always about him. I remember he set up an agency for male escorts, and roped me into it for a while. I did a few jobs for him, but realized pretty quickly that I was straight and it wasn't for me.
Didn't you dance in gay theaters?
Yes, that was Pepe Valentine who got me into that. He was dancing at the Gaiety on West 46 St., where he used to be a regular and was popular there. I only did it for a week or two though. I also 'performed' once or twice at one of the straight peep shows around Times Square – it might have been Show World, but I'm not sure – on a rotating stage that people dropped quarters to watch. That was a surreal experience for me.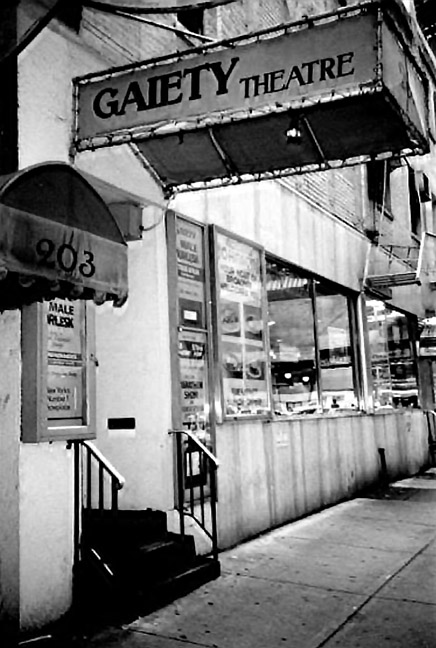 Did you have to audition for the Gaiety?
The only audition was, "Are you willing to stand up in front of a crowd of gay guys and dance around a little bit?" I figured it was good for a little extra cash – one week of work paid my rent for a month. Pepe showed me what to do, and explained that if you took any of the guys backstage you could earn a little extra. He did quite well there financially, I think. He taught me how to get the guys to bring you downstairs to the Howard Johnson, so that they'd buy you a soda or something to eat. In the end, I couldn't get into it as much as Pepe, but I appreciated the education.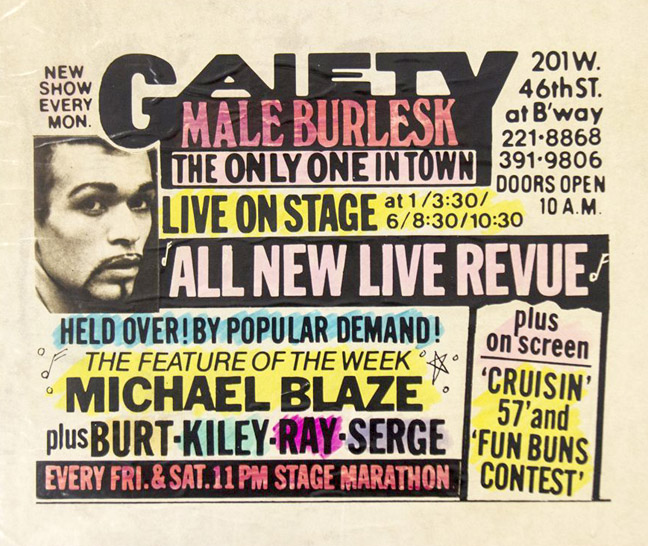 Wasn't Pepe dating the porn actress, Beth Anna, around that time?
Sure – they were seeing each other on and off. In fact, I may have gone out with Beth Anna once or twice too – it's hard to remember everybody. I do remember that she was smarter and had a lot more class than a lot of other people in the business.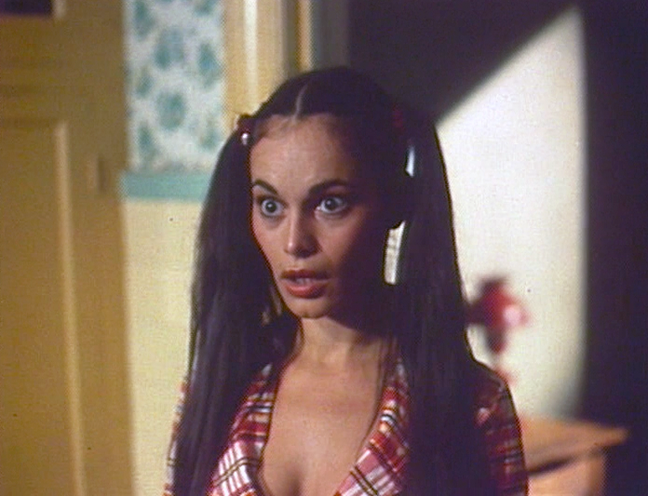 Beth Anna in Dirty Lily (1978)
Did you date many of the performers socially?
I don't know if you'd call it 'dating' but I hooked up with a few. Suzaye London – who was known on the scene as 'Suzy Cream Cheese' – comes to mind. Another one was Gloria Todd. She was a real firecracker! A friend of mine who knew I was in the adult industry was amused when I hooked up with some of the porn actresses away from the set. He'd joke that I was "fucking them socially."
Did you draw any conclusions about the type of person who was drawn to appearing in adult films?
I've heard people say that people acting in porn were rebelling against society. Maybe that's true, but probably no more than anyone else in the 1970s. I never took the scene too seriously. It was just that we were all experimenting in our own way.
What struck me was the variety of people that I met: take Vanessa del Rio, for example. I liked her, she was a really nice person, outgoing, and down-to-earth, always helpful. Or Tony Mansfield, who was a flamboyant, larger than life character… and completely nuts!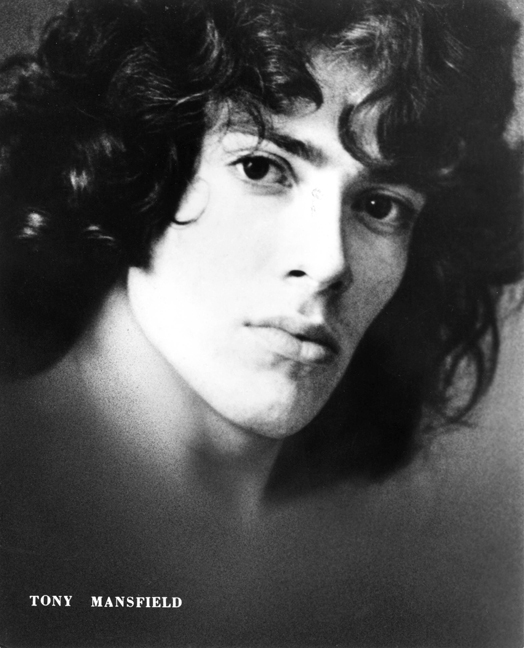 David Christopher was another interesting guy. He and I had a half-baked plan to go out west to buy a radio station. We had this vision of running a radio station out in Arizona or something. Maybe we were just high.
Sandi Foxx was another agent I got to know. She was friends with Marc Stevens – I thought they both took themselves rather seriously at times. Sandi had a rich friend from the garment district who organized annual New Year's parties which turned into orgies. Porn performers were invited to get the party going.
CJ Laing was another wild character, who was sometimes difficult and unpredictable. She was in a long-term relationship with a sound technician named Bill Bukowski who worked on adult films as well as more regular gigs.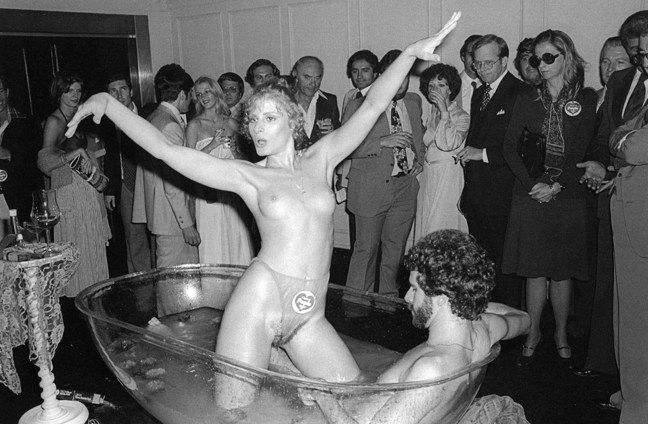 CJ Laing, with George Payne
Did you stay in touch with anyone from the adult business?
Just Bobby Astyr. I don't know if he ever actually got married to Stasia/Samantha Fox – perhaps they did when Bobby got sick with cancer, and he wanted to help her keep their apartment. Sadly he died twenty years ago. Stasia died a couple of years ago too. It's sad. It would be great to hang with them again and remember the old days.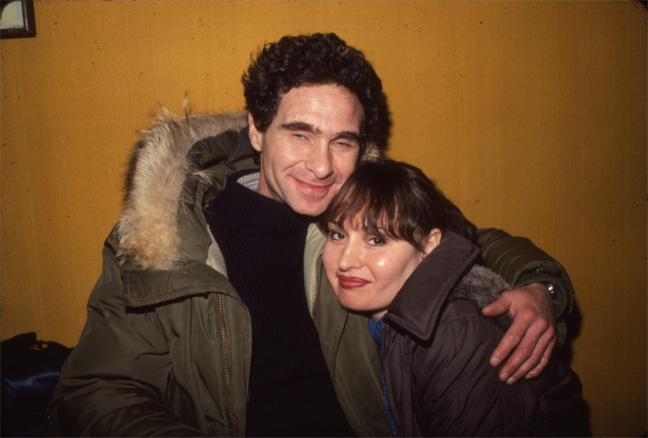 Bobby and Samantha
Did you ever tell your parents about the films?
I did eventually because I didn't want them to hear about it from someone in the supermarket. They weren't thrilled, but they didn't have a heart attack. They were pretty progressive, I guess.
When did you decide you were through with making films?
I didn't make a conscious decision to stop the movies, I just moved on to other things. It's not hard to not do it, if you know what I mean. You just start to gravitate away and stop responding to offers. If you stop responding, people will stop calling.
The movie experience was fun and I don't regret it, but I just tapered off my activity. I focused more on my entrepreneurial side and setting up businesses of my own.
What did you do next?
Over the years I had often taken courses that interested me, especially if they weren't expensive, like a Spanish course before traveling to South America. NYU had a continuing education program, so around 1981 I signed up for a COBOL computer programming course and found I had a penchant for it. I eventually got a job at a computer company in New Jersey, and I commuted across the George Washington Bridge on my motorcycle every day – including winter! I worked there for a year and a half before signing up with an agency that placed me on a contract in Manhattan.  I worked through various agencies for quite a while, developing new IT skills along the way. It was good money, and I had low rent, so it was a good life.
You got married after that. How did you tell your wife about the adult films?
I told her before we got married. She raised an eyebrow, but not having grown up in America, she probably put it down to one of those strange things that Americans – and maybe New Yorkers in particular – do from time to time!
I guess that most people who know me now would be surprised to learn of my past. I've told a few people, but never had a bad reaction from anyone. But I must admit, when The Rialto Report got in touch with me a few years ago, my first thought was that you might be trying to blackmail me!
It's been fun talking with you.
Thanks, same here. I hope we can keep in touch.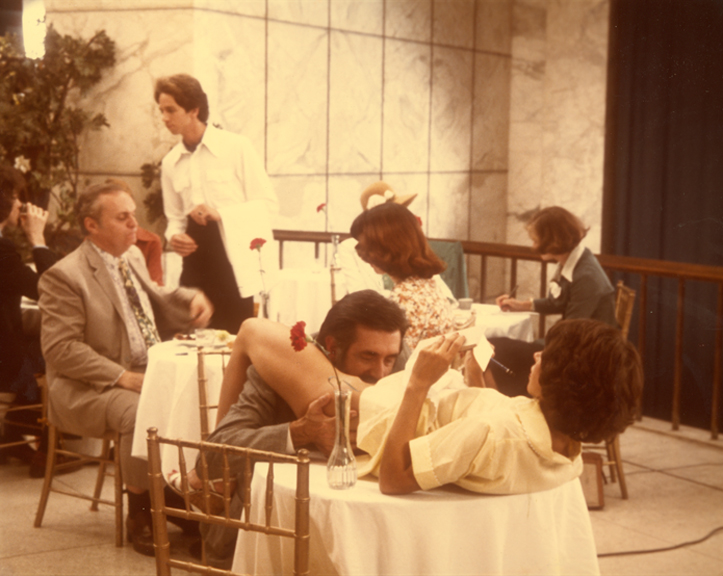 Peter Andrews (waiter), with Zebedy Colt eating in 'Barbara Broadcast' (1977)
*