The remarkable life and career of Elda Stilletto reads like a history of the 1970s New York music scene: she was a ubiquitous Zelig operating in a vibrant period when the city's artistic world was at its most creative and exciting.
Elda was a proto-feminist trailblazer, part of the Warhol, glitter rock, and punk movements. She had long relationships with legendary Andy Warhol superstar Eric Emerson, New York Dolls guitarist Sylvain Sylvain, and New York punk darling Television's Richard Hell. She appeared in influential theater pieces and on the hallowed stages of CBGB and Max's Kansas City. She made stage costumes that inspired the flamboyant look of various bands when rock was at its most visual. There's even a case to be made that without Elda, the superstar band Blondie would not have existed.
And then there is the untold story of her adult film career.
So why is Elda's life usually relegated to a footnote in someone else's story?
The Rialto Report spoke to Elda several year ago and found her to be excellent company – generous, open, and happy to share her memories. We have since contacted other people who knew and worked with her to create a fuller picture of who she was and what she did.
This is Elda's story.
Photo credits to the wonderful Meryl Meisler, Allan Tannenbaum, Bob Gruen, and Roberta Bayley.
And thanks to the excellent Magic Tramps website.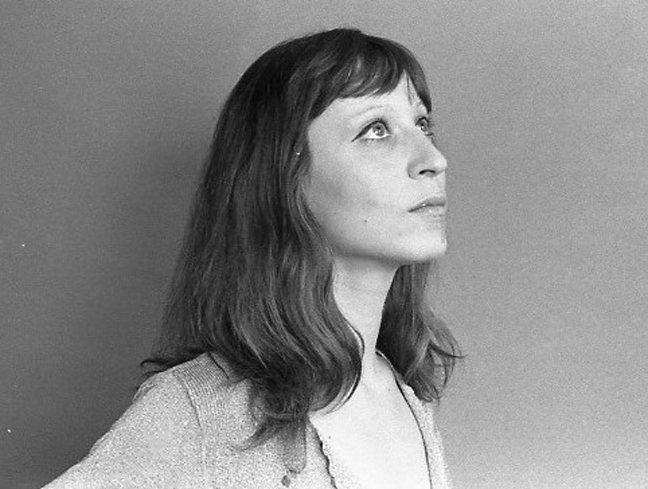 Elda Gentile
——————————————————————————————–
1949 – 1967: Prologue
Elda Stilletto:
I was born Elda Rose Gentile on November 7, 1949 – and I was one of eight siblings… there was John, Julie, Peter, Diane, Eddy, Denise and Bobby. My parents were John and Julia Gentile, and they were busy. A big crazy family. Italian. And we were raised in Astoria, Queens.
I was the performer of the group. Well, me and my brother Eddy. He was a guitarist who became known as 'Fast Eddy' on the punk scene.
I just knew I wanted to do something artistic with my life but I didn't know what. I mean what does a girl in Queens know? So I enrolled in the School of Visual Arts in Manhattan.
As part of one of our classes, our teacher took us to Andy Warhol's Factory. It was on the sixth floor of the Decker Building at 33 Union Square West. We went for a viewing of the new Warhol film, Lonesome Cowboys. And it blew my mind.
That was a turning point of my life. I fell in love with the film's star, Eric Emerson. In fact, I fell in love with Eric twice: first on screen, and then off-screen after I met him in person.
Eric was crazy, wild, and raw… yet innocent at the same time. He was the most beautiful man on the planet.
My story really starts with Eric.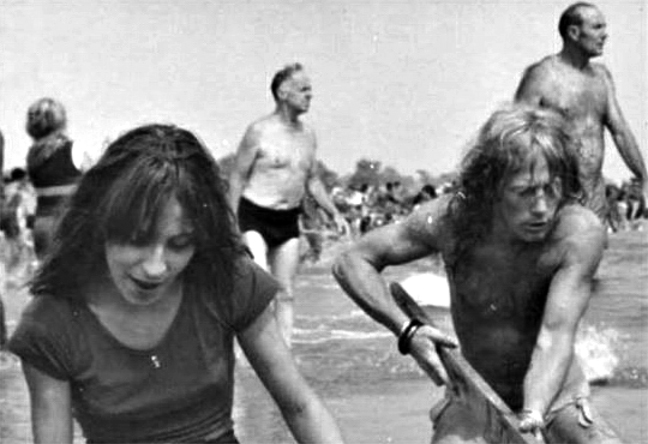 Elda and Eric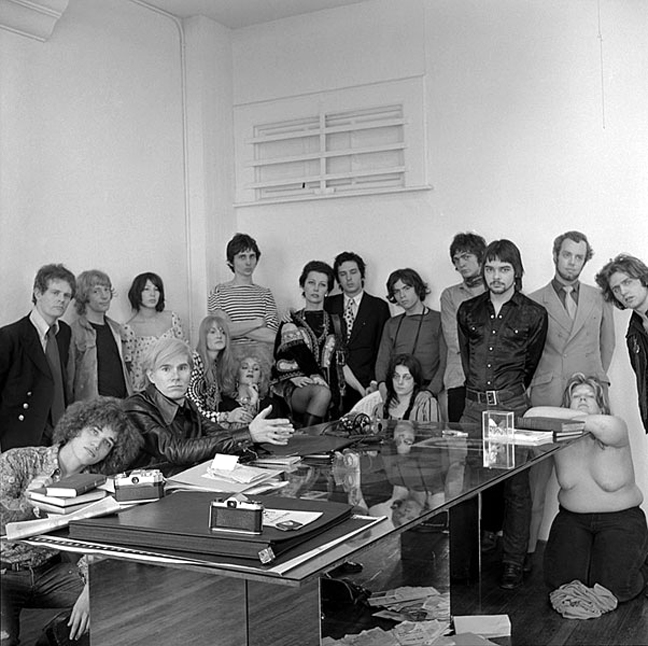 Andy Warhol with Factory entourage, including Eric Emerson (back row, second from left)
*
1. 1968 – 1970: Eric Emerson (Part 1) – The Back Room at Max's Kansas City
Eric was born in New Jersey in 1945. As a young boy, he trained as a classic ballet dancer – allegedly because his construction-worker father wanted to correct Eric's gauche pigeon-toed stance. It was his talent for dance that caught the eye of Andy Warhol: after seeing Eric dancing at an Exploding Plastic show at Warhol's bar and discotheque, The Dom, in April 1966, Warhol asked him to be in one of his underground films.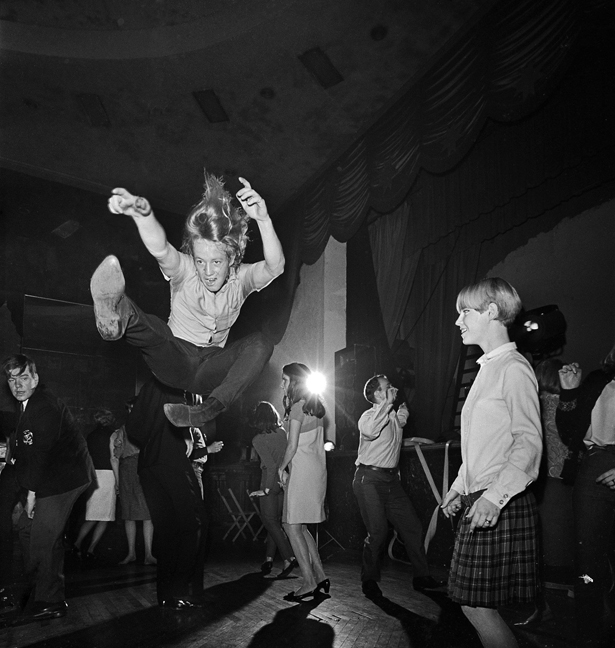 Eric Emerson, airborne
Eric agreed and made his film debut in 1967's Chelsea Girls with Nico, and quickly became a Factory regular. He went on to star in other Warhol films, most notably one of the most successful Warhol movies, 'Lonesome Cowboys' (1968), as well as San Diego Surf (1968) and Heat (1972).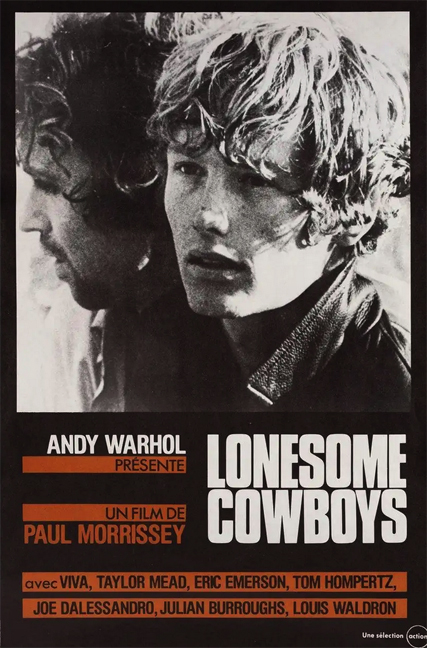 Elda:
My first date with Eric was shortly after I saw him in the movie. He took me to the notorious back room of Max's Kansas City at 213 Park Ave South.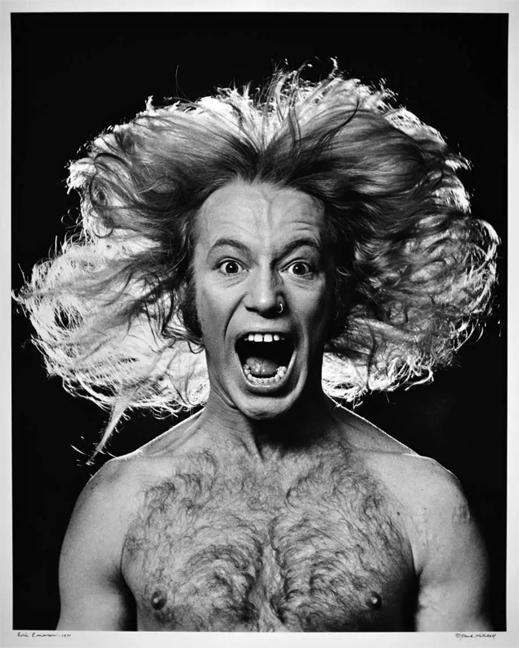 Eric Emerson
Elda:
Wow… Max's back room.
It's difficult to describe the importance of that back room. Sure, Max's had a lunch restaurant downstairs and a bar in the front… but the back room? Its contribution to history is immense.
Everything happened there.
Andy Warhol (visual artist, film director):
Max's was the exact spot where Pop Art and Pop Life came together.
Teenyboppers and sculptors, rock stars and poets from St Mark's Place, Hollywood actors checking out what the underground actors were all about, boutique owners and models, modern dancers and go-go dancers. Everybody went to Max's and everything got homogenized there.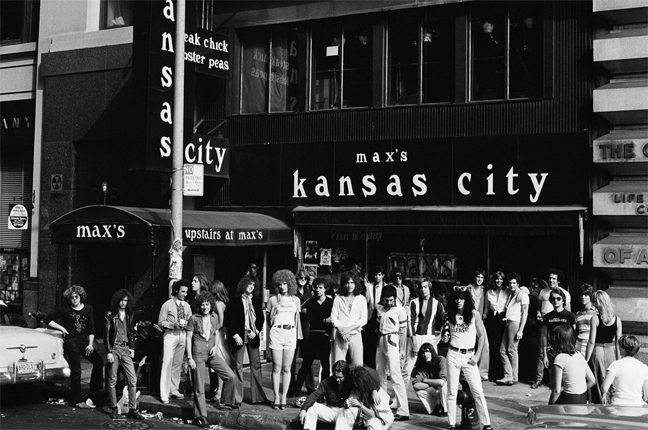 Elda:
In the mid-to-late sixties, Max's back room comprised the Factory people, actors, writers, and artists. As it gained global fame, the more famous found it as a refuge. On any night, you could be sitting across from Dali, Fellini, Jane Fonda, Mick Jagger, Janis Joplin. Hendrix sent a glass of wine over to me one night.
It was an iconic time and place to be in history for music and the arts.
Terry Southern (writer):
Max's was like one of the lower circles of Dante's inferno filled with Bosch and Breughel characters.
Sylvain Sylvain (future guitarist for the New York Dolls):
Sometimes Warhol would show up. Lou Reed would be there, Iggy Pop, John Cale, whoever. But it wasn't the 'stars' who made the back room what it was; it was the sheer freedom that it represented. The back room was everything you have ever heard, with all manner of crazy things taking place.
Crazy, but beautiful. And very, very innocent. Not crazy to be crazy.
Danny Fields (music manager, publicist, writer):
Jim Morrison and I were sitting at a table in the back room at Max's, and he pees into a bottle of wine. He gives it to the waitress and says, "By the way, this is a very good wine. I saved some for you."
Sylvain Sylvain:
There were people having sex in the phone booths; in fact, I'd got good at that myself. But the real action took place in full view of everyone, including a lot that you could probably only ever do in the back room.
Eric Emerson would be there, wearing the silver hot pants that Iggy Pop later borrowed.
Up he'd get, dancing on the table, and then down would come his pants and he'd whip it out and begin masturbating a big hard-on.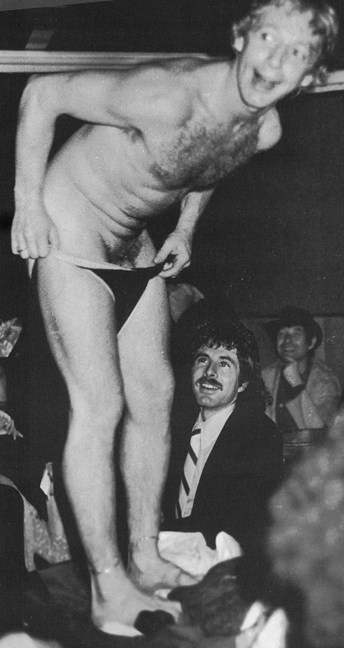 Eric at Max's, doing his thing
Elda:
Eric thought he was an icon of the sexual revolution because he'd made 'Chelsea Girls'. And he thought it was his responsibility to have sex with people who wanted to have sex with him. It got him into trouble.
Debbie Harry (waitress at Max's Kansas City, future lead singer of Blondie):
Eric was such a big flirt and he was such a big madman who was a lot of fun, but he was a complete maniac – just sort of raging all the time.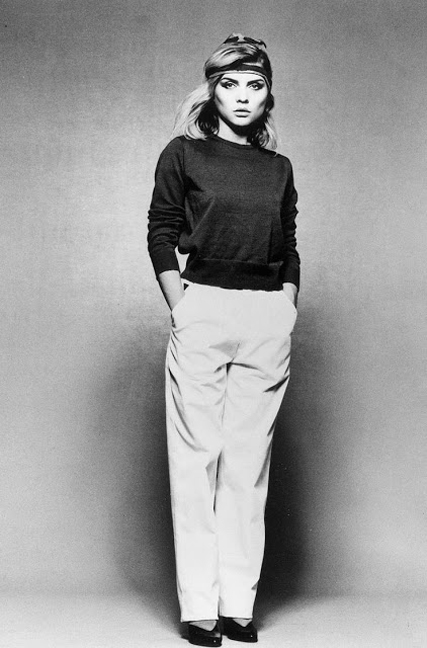 Debbie Harry, early 1970s
Elda:
Eric was a Warhol Star – one of the original – he was clever, charming, talented, and had a huge ego fueled by the hundreds of people who wanted to have sex with him. And he did accommodate them with pleasure.
I was only 18, still living at home and naïve as can be, and whenever I was in the city, he showered all his attention on me.
We were madly in love.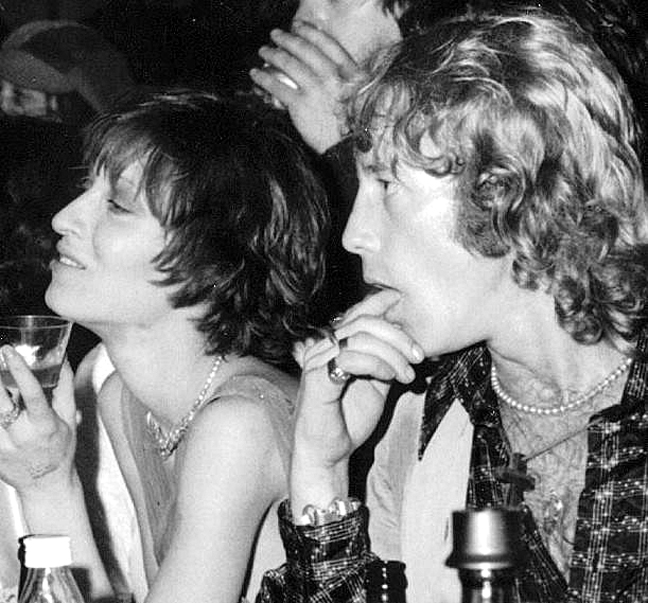 Elda and Eric
Debbie Harry:
The only person I got 'friendly' at Max's with was Eric – and he was 'friendly' with everybody, especially the girls. I made it with Eric in a phone booth upstairs. One time only. I wasn't the only one.
Sylvia Miles ('Midnight Cowboy' actress):
Eric can get an erection on a moment's notice. And it was worth every bit of it!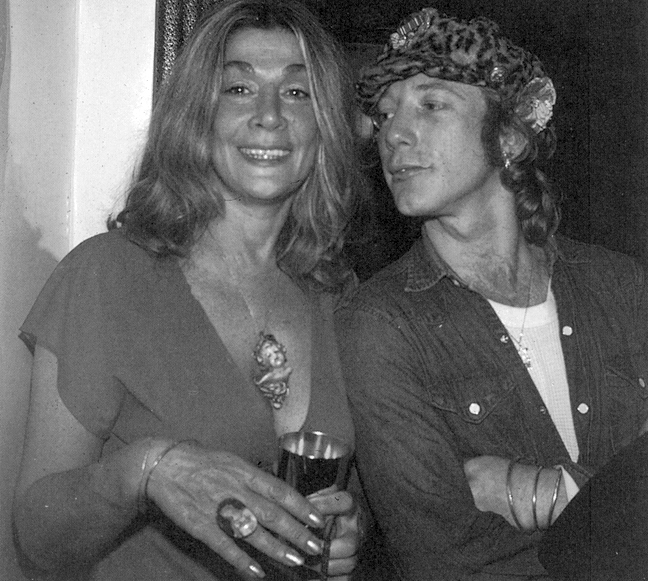 Sylvia Miles and Eric Emerson
Holly Woodlawn (transgender actress and Warhol superstar):
One night during one of my midnight escapades at Max's, I saw Eric Emerson. He was one of Andy's beautiful blond discoveries who hung around the Factory like a horse. We went upstairs and caught ourselves in a fit of passion after shooting Methedrine. We were voracious when it came to speed sex, which was quite the rage back then. It's far better than cocaine sex. Speed sex just goes on for hours.
We got together several times afterwards during those sweltering summer afternoons. Eric would stomp around naked in his cowboy boots while cracking his whip. Sort of made me want to jump and scream, "Yeeee ha!"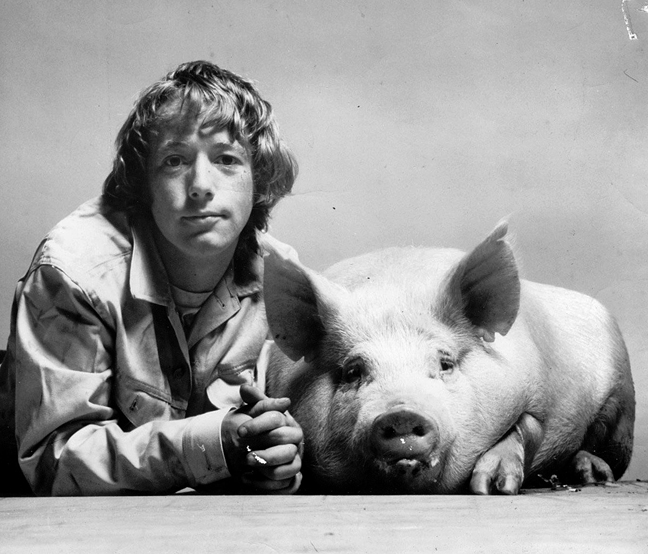 Eric and friend, pictured for the cover of Esquire magazine
Elda:
Eric was impossible to tie down.
It wasn't until after I left home that I realized that you get the whole package with him – and have to take the whole package – there is no choosing which part of him to accept or not accept. And that package was an open relationship that I didn't know I was in for: masses of free drugs, and nights of social and creative experiences and experiments.
We always had this magical, intense relationship.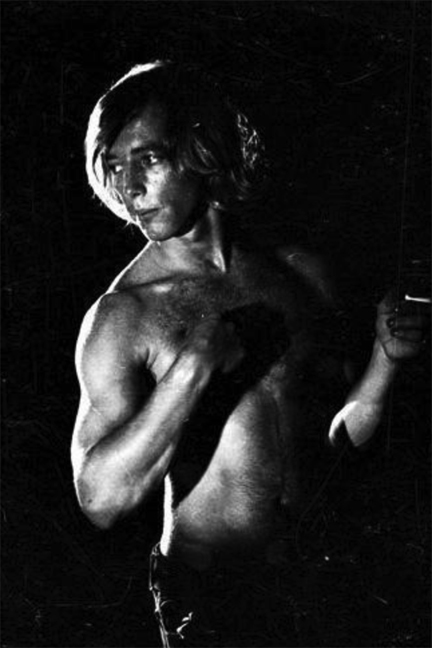 Late one afternoon, Eric and Elda slipped away from their table at Max's, snuck off to the second floor, and proceeded to whoop it up in a phone booth. Well, they managed to get in, but after this whim of passion had been exhausted, they found they couldn't get out. They had crammed themselves in so that there was no room for the door to swing open.
We were downstairs drinking, when all of a sudden, this yelling and screaming could be heard from upstairs. It was so loud we thought it was a Vietnam protest.
There was Elda, her dress over her head, and Eric against her, butt-naked with his pants around his knees. Both of them were panic-stricken and about to kill each other.
It was during this harrowing experience that a son was conceived.
Elda:
In early 1970, Eric got me pregnant.
It was difficult because I had this absentee person that I knew loved me, and I wanted to be with him… but couldn't be because he'd go off on these tangents.
Holly Woodlawn:
Elda gave birth to the son illegitimately, against her Italian parents' wishes, and raised him on her own and didn't ask for help from anyone. She was a nice woman of a strong will and a heart of gold. She'd been raised in a house of brothers, so she knew how to fight for what she wanted.
Eric would traipse in and out of her life every now and then, but his priorities were in the fast lane, not in the home. He loved Elda and the boy, but he was useless as a father because he was too busy taking drugs and fucking everything in sight.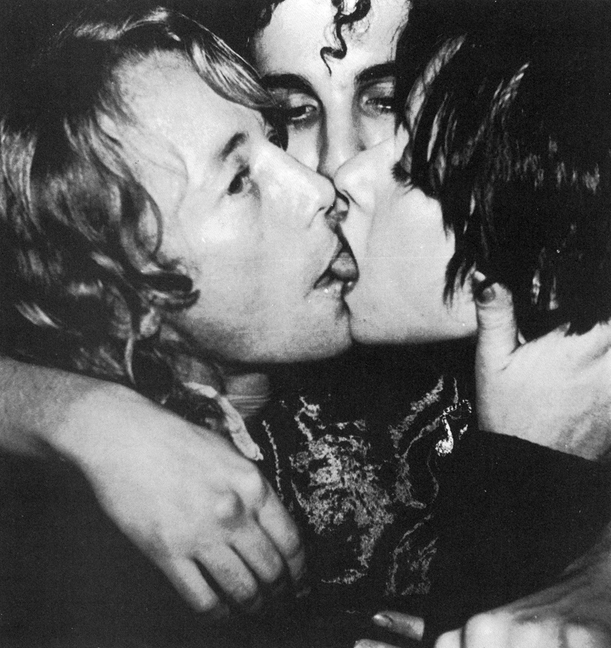 Eric (left) and friends
*
2. 1968 – 1971: The Magic Tramps, and the Birth of Glitter Rock
When Eric's public profile at Warhol's Factory failed to translate into monetary fortune, he was quick to seek out any alternative income.
His ghostly visage appeared on the back cover of the first Velvet Underground album. When he tried to get paid for his unauthorized image being used, the record company preferred to withdraw the album instead – and thus erase his face from history.
Elda:
Eric was always hustling – but in a creative way. Looking for opportunities to sing, dance, act, or perform.
In 1968, Eric answered an ad in the Village Voice looking for a lead actor to feature in a black and white sexploitation film, called The Mind Blowers. The ad was placed by the film's producer, director, cameraman, and eventual hardcore pornographer, Harold Kovner. Eric got the part and starred in the film with future X-rated actor, Kristen Steen.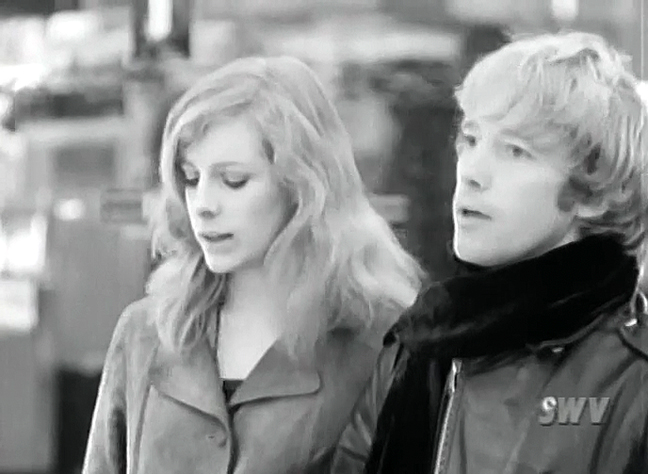 Eric Emerson, with Kristen Steen, in 'The Mind Blowers' (1968)
He also starred in the stage production of the musical 'Vain Victory' with fellow Warhol superstar Jackie Curtis (which also featured Elda and Debbie Harry in small parts) in which he was covered head to toe in glitter and wearing little more than leather chaps.
Elda:
With Eric in your show, you had instant charisma. And he brought the Warhol crowd with him as an instant, in-built audience.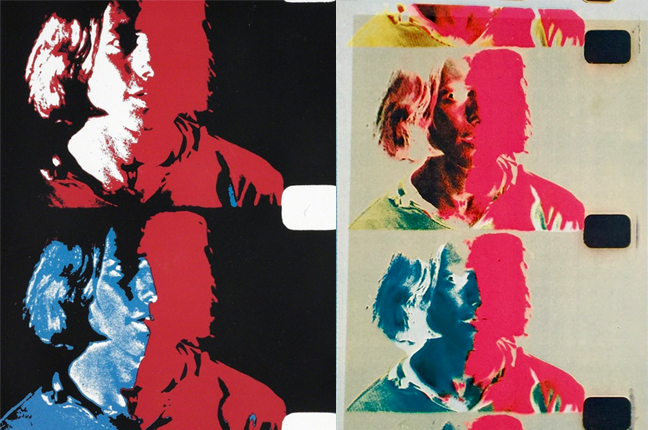 Warhol silkscreen of Eric Emerson
When Warhol tired of making movies, Eric took off for Los Angeles to seek his next adventure. There he hooked up with a rock group called Messiah. Messiah was the house band at Hollywood's Temple of Rainbow club.
He'd previously met their guitarist, Youngblood, on the west coast on the set of 'Lonesome Cowboys,' and Youngblood recommended him to the band.
Sesu Coleman (drummer for Messiah):
We all loved Eric right away. He had charisma, he had the look, he was flamboyant.
He had long blond hair, wore leather pants and tights, carried a whip, and had a colorful, songbird-like personality that demanded one's attention.
Messiah had just been offered a record deal – on one condition: they needed to find a singer. They offered the job to Eric. He accepted.
Sesu Coleman:
Eric hadn't been in a band before, but he was a perfect fit.
He suggested we relocate to New York City. He spoke of Warhol, and a club we could play at called Max's Kansas City.
He joined the band officially in early 1970s, and we moved the band to New York in March 1971.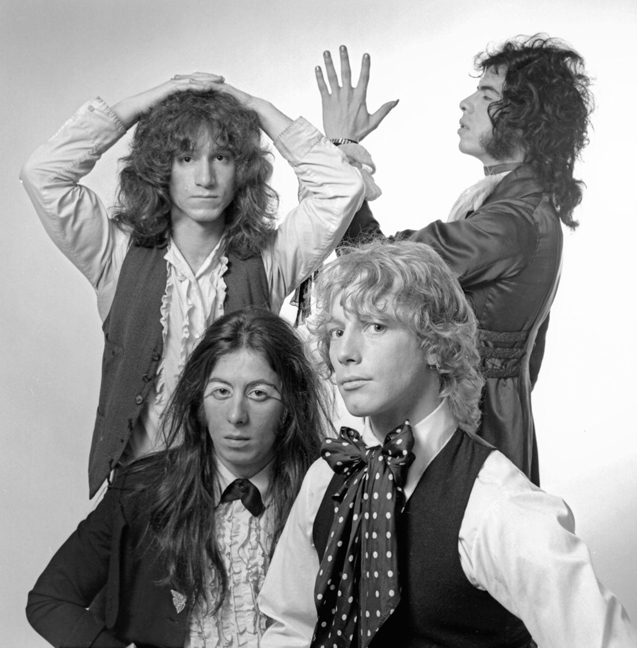 Messiah, with Eric (front right)
Elda:
Eric arrived back in New York at ten o'clock at night. I remember the bar on the ground floor of my brownstone building in New York was on fire. Flames everywhere. Firetrucks wailing. People panicking. Mayhem.
I looked out of the window, and saw a van pull up. Longhaired young men jumped out. It was Eric with his new band. He'd returned to New York from California, and they all moved into my four-room railroad apartment on West 11th St. The son I had with Eric, Branch, had just been born.
Larry lived in the kitchen, Youngblood was in the second room, Sesu in the third, and me and Eric slept with Branch in the living room… that also housed the rehearsal studio, drums, amps, P.A. system and so on.
Sesu Coleman:
It was not uncommon to be taking a bath, with Jackie Curtis or Holly Woodlawn or Candy Darling sitting around the kitchen table conversing and putting on make-up.
Back in New York City, Eric looked to use his contacts to set up gigs for Messiah.
Sesu Coleman:
Eric and I went to Warhol's Factory. Upon arrival, we met Andy and his film assistant, Paul Morrissey.
Eric told Andy he had brought his band to create a new sound and look to the multi-media scene in New York City. Andy was happy to see Eric, but Morrissey guffawed saying, "Rock n' roll will never fly in New York City after The Velvet Underground. You need to play cabaret music and theaters."
Undeterred, Eric switched his attention to getting a gig at Max's Kansas City, and persuaded Mickey Ruskin – Max's owner – to give them a midnight show. It would be a 'welcome home' showcase for Eric, the returning hero.
The event turned out to be a big success, and thereafter Messiah changed their name to the Magic Tramps.
Messiah/Magic Tramps
Sylvain Sylvain:
The first Magic Tramps show at Max's was a huge night for music in NYC. It was the birth of glitter rock.
Elda:
That was start of a new music movement in New York City. In some ways, it was the start of the 1970s. And that's what really started Max's as a live venue.
In 1971, there was this thing coming from the West Coast. They called it 'The Avocado Mafia.' It was bands like the Eagles, and songs like 'Blue Bayou', stuff like that. We were a bunch of New York people, living in the art scene and our reaction was, "Wow, that sounds really boring!"
So what happened? We started doing our own music and it didn't matter if you were schooled or not. Didn't even matter if you could play or not. Just get on stage, and figure it out.
That daring-ness, that's a very New York thing.
Sylvain Sylvain:
For a moment, the Magic Tramps were the hottest band in the downtown scene.
Elda:
The Magic Tramps were the first glitter band – in the U.S. or the U.K. They came before glam rock and they laid the path for so much of the 1970s music.
They wore glitter on their eyes and in their hair, and had long scarves. Tight, tight pants. Make-up, nail polish and feathers. Spandex was the thing.
They were like nothing you've seen before. This was pre-New York Dolls. I didn't see anybody else doing that.
And Eric was the catalyst.
Sylvain Sylvain:
Max's started to change how music was influenced: younger kids, like Patti Smith, Wayne County, and others started to be part of Max's famed back room.
Max's focus went to music… and the days of Warhol's dominance began to wane.
Elda:
You never knew what you would see when you went to see the Tramps.
It depended what mood Eric was in. The stage was always draped in black and adorned with candles and spiritual icons: everything from Buddhas to skulls. Sometimes Eric would appear in black tights and a ruffled shirt, and would be draped in a silk cape and top hat. Sometimes he was painted silver, wearing only his signature hot pants. This is when his eight-foot bull whip came out and he would snatch cigarettes from peoples' mouth with it.
Eric was the spark that ignited the built-up fuel in New York's need for a new direction when the sixties ended. He was encouraging and supportive of so many artists from the new era who later became famous.
But Max's Kansas City wasn't enough for Eric. He wanted another location where the Magic Tramps could spread their glitter gospel. He discovered another downtown venue that would play a key role in the city's music: the Mercer Arts Center located at 240 Mercer Street. It was emerging from the ashes of the decrepit Theater Cabaret, a location with six theaters (each named for a playwright), a concert hall, drama workshops, boutique, and bar.
Eric was an able carpenter and he offered to renovate the place in exchange for rehearsal space for the Magic Tramps.
The Mercer Arts Center officially opened in November 1971, and the Magic Tramps performed regular cabaret sets in the Blue Room.
Sesu Coleman:
I sincerely believe the Tramps pioneered the early 1970s New York City music scene by re-opening both Max's and finding the Mercer Art Center.
Elda:
People talk about Max's – with good reason. But the Mercer was where the new music started to flourish.
On May 5, 1972, the Tramps appeared in the basement of Mercer Street theater, at one of its rooms called The Kitchen. This time they were supported by a new band, fronted by Eric's friend David Johansen, called the New York Dolls.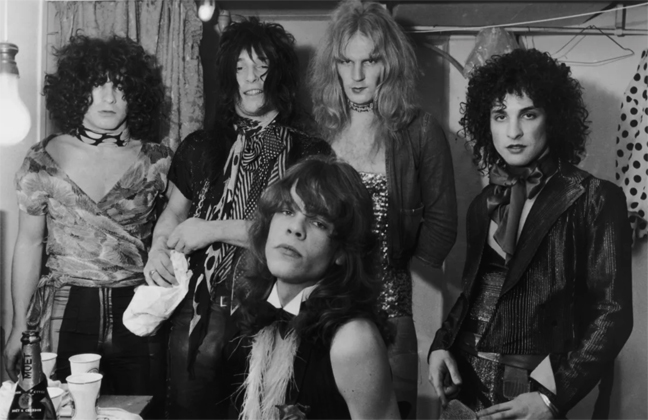 New York Dolls
Sylvain Sylvain:
Eric offered us one of our first paying gigs at the Mercer Arts Center. We made $15, which we split between us, $3 each.
Sesu Coleman:
The guys in the Dolls said they were putting a band together, and asked if they could open for us. We said, "Sure, we need bands."
The Mercer exploded from this point. The glam rock scene may have started in London, with people like David Bowie and Marc Bolan, but New York City's answer was the Magic Tramps and the New York Dolls – and the city's twin centers were Max's Kansas City and Mercer Arts Center.
The Mercer attracted fellow musicians looking for their own style. David Bowie would often be seen there, slouched in a bright red plastic chair next to a massive antique mirror.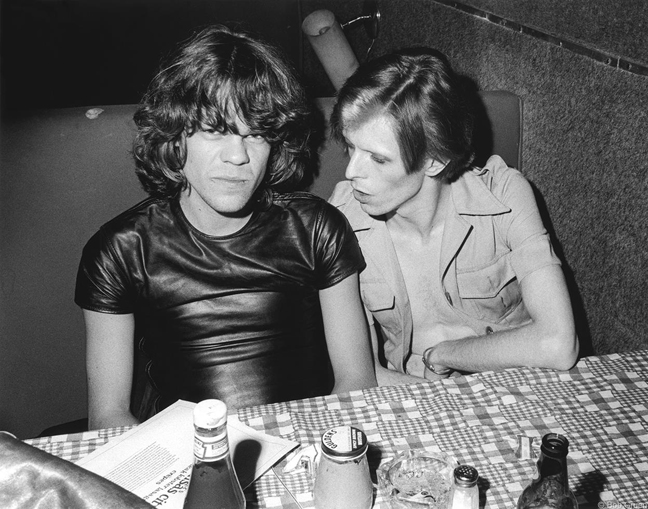 David Johansen with David Bowie
Gail Higgins Smith (band manager):
The Mercer Arts Center was upmarket, with seats and theater lighting. When the Dolls started playing there, they brought together the music and art scene. Suddenly the outrageousness of the art world, which was basically Andy Warhol's scene, and the music world started rubbing off on each other.
In the midst of the scene was Eric Emerson, the self-proclaimed "Mr. America of Glitter and Gold, a polysexual free-love-machine in brown leather pants."
Jane Forth (actress, model, Warhol superstar, Eric Emerson girlfriend):
Eric knew everybody. There was not a day you'd go out with him without meeting at least 20 people he knew.
And he looked amazing every day.
Sesu Coleman:
You had to search to get your look. I'd go to a clown store and the art store to buy crayons to color my hair. We swore white-faced makeup and glitter and blew fire onstage. The band Kiss was in the crowd.
Everyone else did stripped-down pretty-boy rock and roll, moldable to the industry. That wasn't our thing. We were different.
Elda:
The Magic Tramps were good. But it was the New York Dolls that blew up. I was totally blown away by their music. It was straight forward, don't-give-a-shit rock n' roll.
The Velvets were dead. The Dolls had taken over.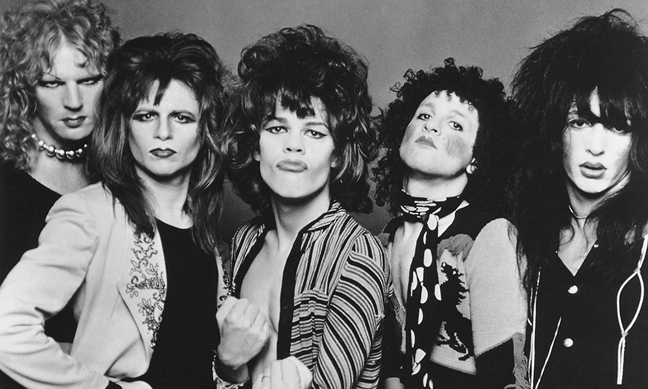 New York Dolls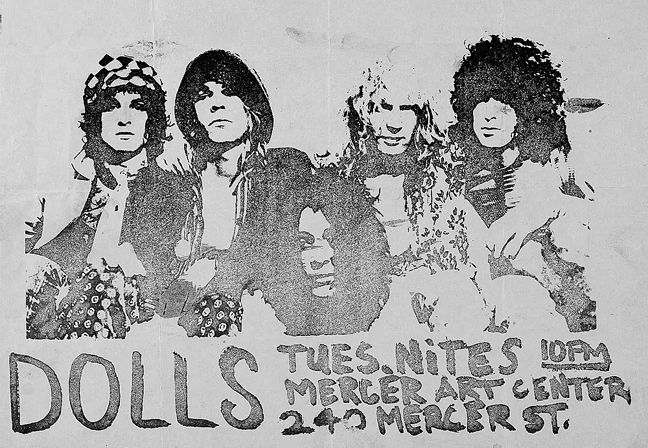 The Dolls at the Mercer Art Center
Holly Woodlawn:
Elda made all the costumes for the Dolls and was a major influence on their style.
She advised them: "Us girls are tired of this macho bullshit. You should dress up like women and wear lots of makeup. The girls will love it."
And the girls did. They screamed, they yelled, some even threw their panties on the stage.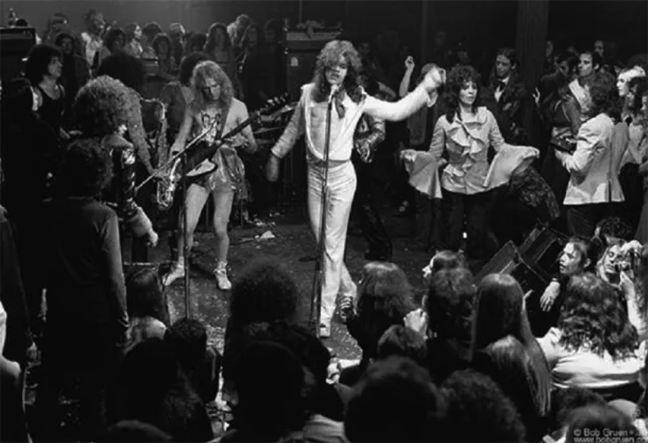 Early New York Dolls, at the Mercer
Elda:
I made the clothes for the Tramps and the Dolls.
Eric often wore harlequin pants that Brian Jones, of the Rolling Stones, had given him. Brian had worn them in the film 'Rock & Roll Circus'. Brian said that they suited Eric's flamboyance more.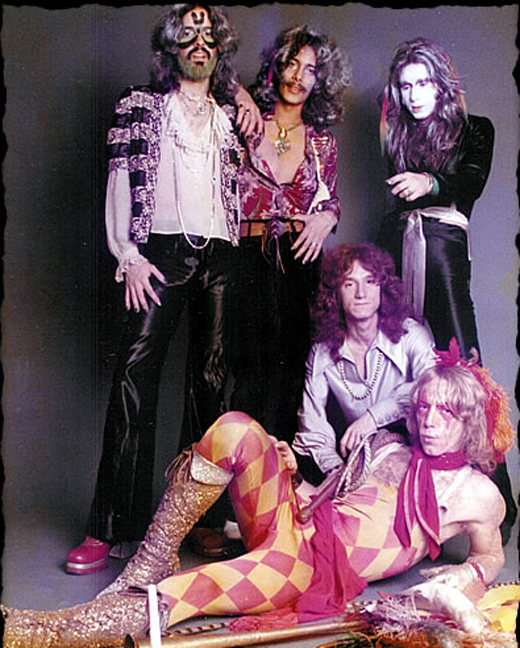 Eric, in his Brian Jones pants, with the Magic Tramps
Sylvain Sylvain:
When you think of the New York Dolls, you think of their 'look.' And a lot of that was Elda.
In the early 1970s, a budding guitarist, Chris Stein, moved from Brooklyn to Manhattan, and enrolled at the School of Visual Arts. Hearing about the burgeoning new music scene at the Mercer Arts Center, he went to check it out.
Chris Stein (future guitarist for Blondie):
I went to the Mercer Arts Center to see the Dolls for the first time. I saw Eric as the Tramps were playing with the Dolls. We became good friends very quickly, and I became the roadie for the Tramps.
Then Eric and I got a place together in a welfare apartment on First Avenue and First Street.
Elda:
Eric had moved out of my place. He still came around to see our son Branch and spend the night with me, and of course I was devoted to him, but he had many other lives.
Chris Stein:
Eric was not always an easy roommate. Eric freaked out people in the building, but I enjoyed the chaos because of the excitement it brought to the apartment. We started wearing severe make-up. Heavy black shit. Like a maniac, not feminine. I used to like to freak people out on the subway.
*
3. 1971 – 1972: Sylvain Sylvain, and the irresistible rise of New York Dolls
Elda:
Because of Eric, I became a regular at Max's Kansas City and I knew all the Warhol crowd. I was closest to Holly Woodlawn. We had a close friendship that lasted all through Holly's life.
Sylvain Sylvain (New York Dolls guitarist):
One night, I met Elda Gentile, who would become very important in my life. She was one of Eric Emerson's exes, and they always remained friends. He was also the father of her son Branch, who was the most beautiful child you've ever seen.
One of us picked the other one up, and then she took me home and she screwed my brains out. It was as simple, and beautiful, as that.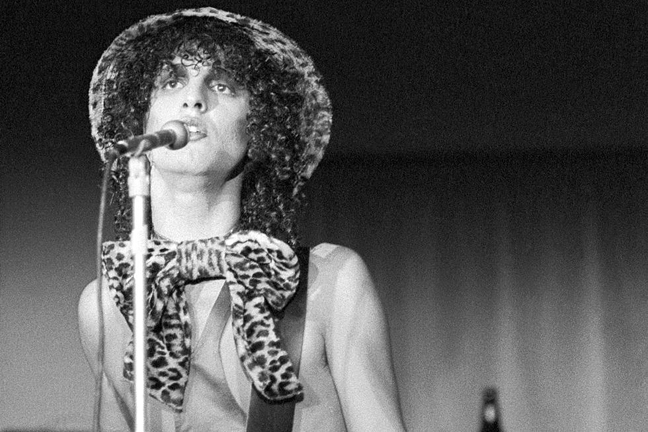 Sylvain Sylvain
Elda:
I spent my time doing plenty of music and theater work. I remember 'Femme Fatale,' a Jackie Curtis play from The Theater of the Ridiculous – which also featured Patti Smith and Holly Woodlawn. It was a colorful, flamboyant, shameless piece. The director was Tony Ingrassia.
Sylvain Sylvain:
I bumped into Elda again one night at Max's, and my only thought was to get her into one of the telephone booths and have sex. From what I'd heard, everyone else had.
Instead, with a quick hug to say hello, she said, "I hear you write songs?"
"Yeah…"
Not quite the reunion I was expecting, but no matter.
"I write as well," she continued, and proceeded to tell me that she'd just finished a new song called 'I Left My Wednesday Panties In Passaic, Passaic, New Jersey'. How could I resist?
"Well, let's have a look at it." Then we had sex in one of the telephone booths.
Back at her apartment… I think she may have sung me the song that night.
Elda:
Syl was a couple of years younger than me. He was on the verge of hitting the big time with the Dolls. He was cute and talented, and we clicked. I liked him.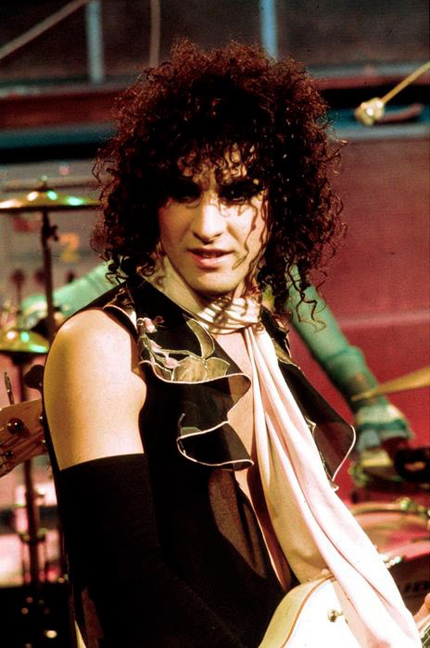 Syl
Sylvain Sylvain:
When she heard that I was basically homeless at the time, she thought nothing of inviting me to stay. She lived in what was called a railroad apartment, way up on the top floor of a brownstone at 190 1st Avenue, between 11th and 12th. Railroad apartments are so called because the rooms just follow one after the other, like a railroad carriage. In this one, the first room you came to was the kitchen, and that's where the bath tub was as well, with a metal plate on top so you could use it as counter space.
It was perfect, especially during the summer – we were just a short flight of stairs away from the flat roof, where we used to go to sunbathe. Johnny called it Tar Beach, and that was appropriate. On a hot day, everything you put on the ground would wind up with little black spots of tar all over it.
Elda:
Even when I lived with other men like Syl, Eric loved me and I loved him.
Syl said to me one time, "I'm not number one, I'm number two: I'm not your guy."
He knew, everybody knew.
That was Eric.
Sylvain Sylvain:
I cannot begin to tell you everything Elda taught me. She was working at Warhol's Factory at the time, over on Union Square Park. It was an interesting job because Warhol never paid anybody a wage. Instead, if they complained, he'd give them one of his art works. I think his attitude was, "I'm making you a star, that's enough."
Elda:
I wasn't getting enough money from Andy to survive, so I told him that one day. Andy turned around and gave me a picture, 'Cow,' which was signed, "To Elda from Andy."
Sylvain Sylvain:
Elda completely reshaped my brain, and the way I looked at the world: everything about life and art and New York.
It was Elda who taught me to get up early on Wednesdays, because that was garbage day, and you needed to check out what people were dumping. You could find all manner of things – clothes, furniture, good shit that people were throwing out. So we'd be out at 7.30am, just gathering stuff, and there'd be people from the antiques store, and vintage places, and they'd be out as well. Later on, this would become eBay!
Elda:
It was a happy time. I raised Branch as a single mother in the day, I was living with Sylvain, and I saw Eric a fair amount, and at night, Syl and I headed to Max's.
Sylvain Sylvain:
It was Elda who really immersed me in Max's. Elda was a part of the scene, and now I became a part of it as well. We'd go straight into the back room where all the action was.
Elda knew everybody. She had the most amazing circle of friends; the entire Warhol circus was forever in and out of the apartment – Jackie Curtis, Candy Darling, Joe Dallesandro.
Elda:
After hours, my apartment on 1st Avenue became a hangout for the crowd who didn't want to go home.
David Johansen (lead singer for the New York Dolls):
Elda's apartment was a salon where Holly (Woodlawn), Jackie (Curtis), and the other most wonderful repertoire in the universe would drop by. She was generous, and shared everything she had, down to the last piece of bread.
Sylvain Sylvain:
The other thing about Elda was that she had a heart of absolute gold. She was always willing to do favors for other people.
Most of the Max's crew would wind up crashing at Elda's for a night or two; several times, I'd get home from somewhere and Patti Smith would be sitting there, reading poetry to whoever was around.
One night Elda and I were awakened by voices and laughter coming from the kitchen. We walked down there to discover that Holly had dragged Nureyev, the ballet dancer, home with her.
*
4. 1972 – 1973: Pure Garbage… and Debbie Harry
Holly Woodlawn:
Elda needed a babysitter and I needed a place to live, so I moved in with her and took care of the kid in exchange for room, board, and wine. I educated this little child on the fabulosities of life.
Elda:
I was working in an office during the day, and as a seamstress on the side. I had all these incredible bands around me – like the Magic Tramps and the Dolls – but I really wanted to have my own group.
Holly Woodlawn:
One day, Elda (bored with sewing for everyone else) decided that she could sing. She wanted to wear her own costumes for a change, decided to form her own rock band, and asked if I'd be interested in singing along.
I was hesitant at first, but she said: "Oh, come on. If the boys can do it, so can we. Who needs talent? All you have to do is scream and yell."
Elda:
So I got together with Holly, Jamaica Kincaid – who would go on to become a famous writer, Alter Ego – who played bass, and a bunch of East Village maniacs who loved what we were doing.
Holly Woodlawn:
Elda billed the group 'Pure Garbage' and it was true: we were pure.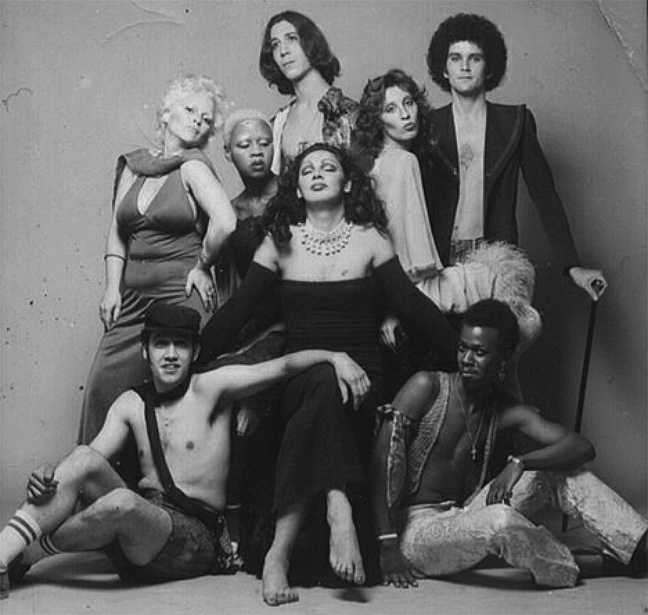 Pure Garbage, with Holly Woodlawn (center) and Elda (on the right)
Sylvain Sylvain:
Elda's brother Fast Eddie Gentile played guitar and (New York Dolls' lead singer) David Johansen's girlfriend, Diane, was in the band too. Tony Ingrassia, who directed (Andy Warhol's) 'Pork,' acted as musical director.
Holly was incredible: if I thought we, the Dolls, were flamboyant, Holly taught me that we'd not even got started. She was the most uninhibited person I have ever met.
And believe me, you need an example like that in your life, somebody who is forever screaming, "You gotta do what you want" when you're standing at the deli counter buying some soup, and the guy behind you says… "The things you see when you ain't got a rifle."
Holly Woodlawn:
Our repertoire was a mélange of Broadway show tunes, familiar classics, and a few original songs Elda had written. We sang rock versions of 'Hit the Road, Jack' and 'All of Me', not to mention 'Boston Beguine' and vocal selections from 'Brigadoon.'
Elda:
Money is always a problem when you start a group. So in 1973, when I had Holly Woodlawn's Pure Garbage, I sold my Andy Warhol 'Cow' for $3,000 to get the funds to rent a loft in the flower district that we could rehearse in.
Holly Woodlawn:
Elda would rent a rehearsal studio for ten bucks and hour in the West Village, and we'd smoke some weed, drink some wine, and sing ourselves into a stupor.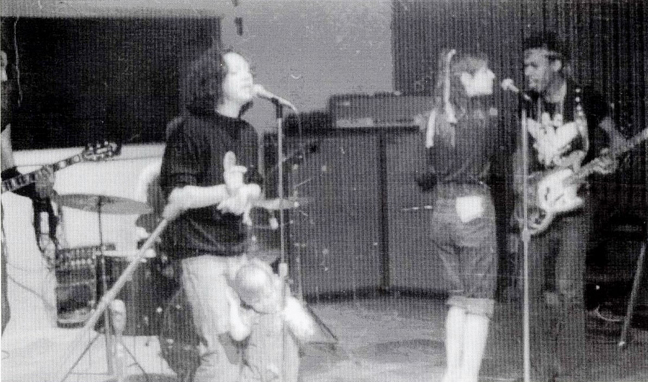 Pure Garbage: Holly Woodlawn (with Elda's son Branch at her feet), Elda, Alter Ego
Elda:
Then I signed us up for a show at Reno Sweeney's, a cabaret club in the West Village.
Holly Woodlawn:
I was scared to death, afraid we would flop. We plodded onstage, heavily drugged on substances that shall forever haunt my body and soul.
Elda beat the klaves, Jamaica banged a tambourine, and I being truly ambidextrous and double-jointed, jiggled my jugs, wiggled my hips, shook my maracas, and played the cymbals between my knees, a rare talent that I had picked up from a battery-operated monkey at FAO Schwarz.
Elda:
The show was a talent night which was good for us: the audience expectations were low.
Holly Woodlawn:
I ran around the stage like a chicken with my head cut off, I rolled my eyes, shimmied my shoulders, knocked my knees, and carried a tune – all at the same time. The audience ate it up, and what I feared to be a humiliating experience turned out to be a good time for all.
Elda:
It was fantastic. The Sweeney's show was successful enough that Holly was offered training to develop her own cabaret show. I encouraged her to accept the offer. It was sad to see the group break up, but in hindsight, I'm happy.
Holly went on to great success as a performer. And I needed a new singer.
Debbie Harry:
For a few years I'd kicked around doing different things in New York City, but I was going nowhere fast.
In the late 1960s, I was in a band called 'Wind In The Willows,' and we made a record. It was a sort of folk-rock album. A kind of sweet, saccharine thing. I wasn't really a writer on that. In fact, the reason I stopped doing it was because I wanted to do something that was tough.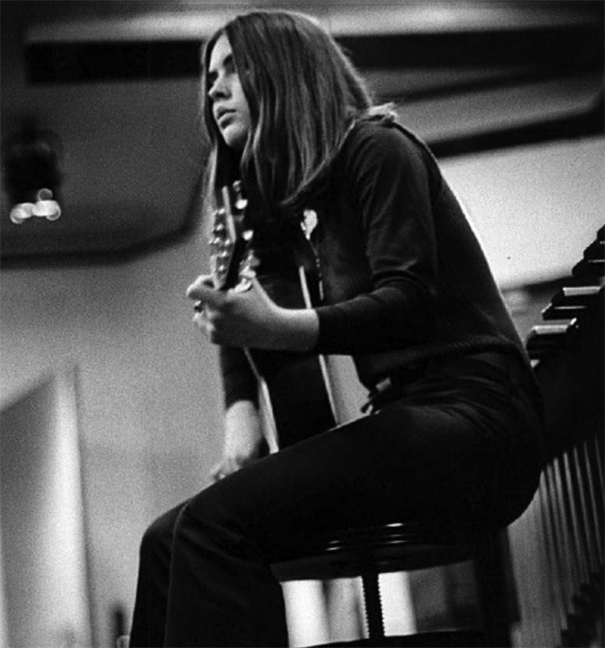 Debbie Harry, late 1960s
Debbie Harry:
I worked as a waitress at Max's Kansas City, then as a Bunny in a Playboy Club, before leaving New York, moving back in with my parent in New Jersey – and working at a beauty salon.
I began returning to the city in 1972 to visit friends.
Elda:
I'd met Debbie Harry during the wild days of the Dolls. I hadn't seen her for a while and then she showed up at Max's one night.
She used to come by in her little blue car from New Jersey, and party with the boys.
Debbie Harry:
One day I went to see the Dolls play upstairs at Max's, and there was a girl slouched at one of the tables. Her name was Elda Gentile. She had a son with Eric Emerson, and lived with Sylvain Sylvain.
It was an incestuous little scene.
Elda:
I liked Debbie. Some of the groupies were backbiting, and pretty vicious, and I didn't like the way they would talk about her – because she was prettier than them. She was beautiful.
Debbie Harry:
Elda said she had a group – it wasn't a 'band', she insisted it was a 'group' – called 'Pure Garbage' that she put together with Holly Woodlawn. Well, I was really curious to see this group of Elda's, so I got her number.
A week or so later, I called to ask when they were playing next.
She said, "Oh, the group broke up."
I saw my opportunity, saying, "Oh, well let's form another group," and Elda said, "Okay, I'll call you."
I waited a bit and called her again, and this time she said, "Well I know another girl, Roseanne Ross, she might be available and the three of us can make a trio."
"Great," I said.
That's how I got back into the music business. I had nothing to lose and everything to gain.
In fact, I had nothing at all.
*
5. 1973: The Stillettos (Mark 1) – The Formation of an Underground Legend
Elda:
It was the Fall of 1973, and I was looking for two girls, thinking it would be really nice to have a new vampy thing, like The Ronettes or The Shangri-Las.
Debbie Harry:
Elda, Rosie Ross and me were the original Stillettos. In the beginning, we were going to be more of a dance combo with a musical director choreographing our stage act… but we quickly focused on the music.
Elda:
I was nuts about Rosie and her big great big blues voice and told her about my plan to create a three-girl act that, with original material, would define itself with a modern attitude.
Debbie Harry:
I was still living with parents in New Jersey, and so I started going back and forth to rehearsals – but eventually I moved into New York, and reverse commuted back to the beauty salon.
The Stillettos began to take shape: three lead singers, all girls, and an all-male backup band. Musically it was a bit girl-group, a little bit R&B, and a little bit glitter rock: all of us were enamored with the Dolls.
Basically, I wanted the group to be a combination of the aggressive Shangri-Las rock and the round, sold vocals of an R&B girl group, and the overall result to be both entertaining and danceable.
Sylvain Sylvain:
Elda was the real player in the scene at the time. Much bigger and more well-known than Debbie or Roseanne. She was the star.
Elda:
I'd written songs about having sex in public places, and even one about the real Dracula – Vlad Tepes. It was great.
All my lyrics were tongue-in-cheek humor. Rosie drew her material from existing songs but I felt with time we could write for her. Debbie was the same: she covered songs but didn't write.
Debbie Harry:
The group grew from three different directions because we were very different characters.
Elda, who was into cabaret, was this Italian girl from Queens, an extreme, intense, loud, wildly exploding personality.
Roseanne, who was into blues and R&B, was, a lesbian and a feminist, very angry at the way women were treated.
I was into more straight rock songs – and I was God-knows-what at this point, but I was determined to figure it out.
So we just all took turns singing our favorite kind of music, and eventually, we actually got musicians to play with us.
Elda:
Musicians were hard to come by as they all wanted to be in boy bands and wear make-up and platform shows like the Dolls. But Tommy and Jimmy Wynbrandt said they would help, plus I got Timothy Jackson on drums and Alter Ego, who started Pure Garbage, to play bass with us.
We also got ourselves a musical and performance director – Tony Ingrassia who I knew from Warhol's 'Pork.'
Tony Ingrassia was a legendary actor/director active in experimental theater in New York City during the 1960s. Apart from Warhol, he had had worked with the likes of Patti Smith and Jayne County, and had already collaborated with Elda several times, including when she formed Pure Garbage.
Debbie Harry:
Bands don't usually have a theatrical director, but we did.
Tony got curious about what we were doing and invited himself along to a Stillettos rehearsal. Next thing we knew, we had a musical director, image coordinator, choreographer, and much more.
He worked on the songs with us, projecting a mood through a song, and suggesting song tricks to give us a cohesive look. He and Elda used to fight about the image. She wanted tacky.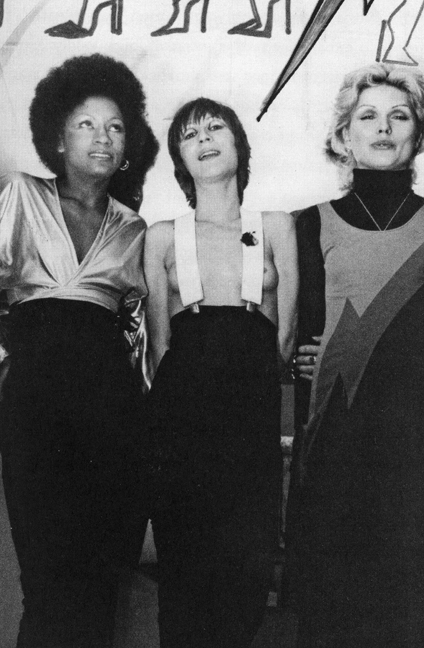 Amanda, Elda, Debbie: the Stillettos
Elda:
It was an era in music when the image, the attitude, and the performance mattered as much as the music itself. I wanted us to project sleazy, bad girls. Debbie and Roseanne didn't have the onstage theater presence that I did – so I hired Tony to develop them as performers.
And Tony promised that if I let him stage The Stillettos, he would get us on the Mick Ronson (guitarist for David Bowie) tour.
He was a good acting teacher: it was a Method acting approach, and Tony made Debbie and Rosie cry a lot. All this before we had even done any shows!
Debbie Harry:
Tony insisted on full dedication and attention from us. He worked us like we were little girls from a Catholic high school. A real slave driver.
Tony believed in Method acting – even for singers. He was making us work very hard and not to sing technically, but to sing emotionally. And that was a great lesson, to make sure you really had a connection with what you were saying or singing about, rather than just singing a nice melody with good technique.
We would work our butts off and sing for hours until our throats were raw. It was incredible: it was like going to school. He was real intense about it. I still have to respect him for that. I would get mad at him, but it was stimulating to get that mad.
I'm convinced that being trained as a Method singer was the best thing that could have happened to me – and worth all the sore throat muscles I endured.
Elda:
It was definitely my group from the start. And that meant that I paid for most things while we were setting up the group. I didn't mind making the necessary investments to make it happen. But for Debbie and Rosie it was just a turn-key operation – they just had to show up, be happy, and perform.
But… easier said than done.
Debbie Harry:
Elda lived with her son Branch and with Holly Woodlawn in one of those raw-space lofts. We rehearsed and rehearsed there. And sometimes we would just fight: it's not easy being in an ensemble situation.
In the end, Tony left as musical director. And Roseanne left too. She was replaced by Amanda Jones.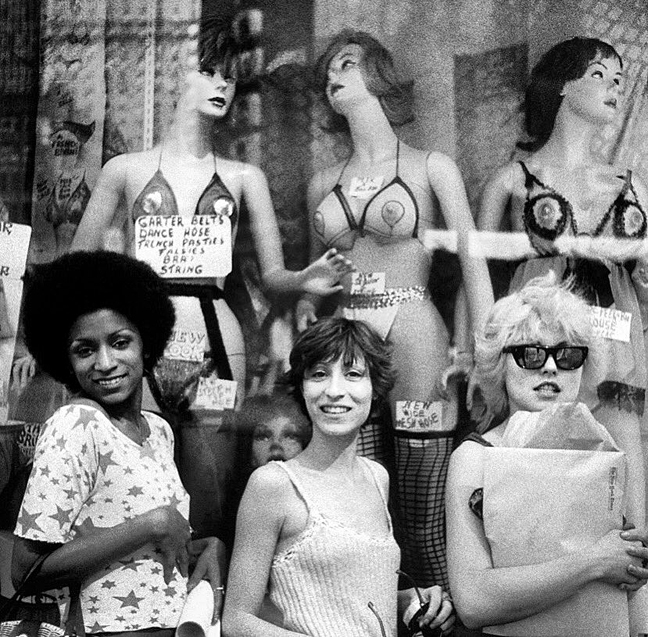 Amanda, Elda, Debbie: the Stillettos
Elda:
Tony had been good for us, but when he left, it gave me a chance to be more dominant in putting down my ideas for the band.
We started to find our identity, our look, and our sound.
Debbie Harry:
Elda wanted to make us a campy, kitsch materialization of 'True Confessions' heart-throb garbage girl who's fucked and abandoned, widowed or unmarried. It was really predicated on entertainment and being in your face, it wasn't really about the music.
I have a tape of our early music somewhere. It was very, very funky and very camp.
Elda named us. She came up with that.
And then we were ready to gig for the first time.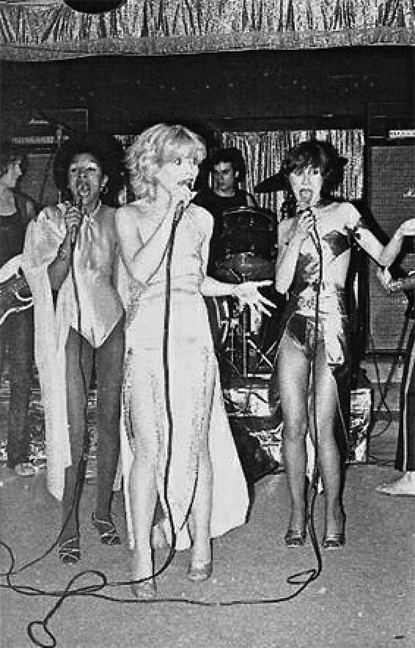 The Stillettos
*
6. 1973: The Stillettos (Mk 1) – The First Gigs
Elda:
Whenever I dreamed of having my own group, I dreamed of playing the Mercer. That was where the Dolls and the Tramps came alive – and I wanted to part of that tradition.
Sadly that couldn't happen – because of the tragedy.
The Mercer Arts Center was adjacent to the University Hotel: back in the 19th century, the grandest hotel in the city and a gathering place for the famous and wealthy. By the 1970s, the University Hotel had become a welfare hotel for some 300 residents, "a cesspool of squalor and crime" according to The New York Times.
In 1973, the Mercer theater staff noticed the walls on the Broadway side of the building were beginning to sag. The Hotel's management had been plastering over the structural damage over and over again, but the walls on the Mercer side had started to crack. At 5pm on Friday August 3rd, 1973, bricks were beginning to fall. The Magic Tramps were practicing there when the walls fell down. The band left their equipment and ran for their lives.
The Mercer was evacuated.
A few minutes later, just hours before the theaters were due to be filled, the structure gave up: the hotel collapsed, killing four people trapped inside, and taking with it one of the most important artistic venues of the period, the Mercer Arts Center.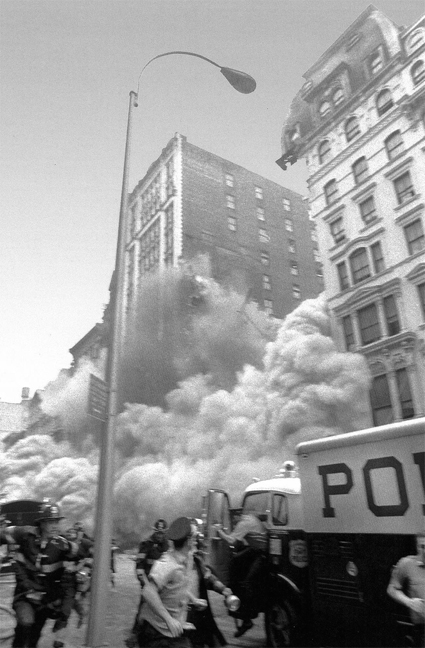 Mercer Art Center collapse
Elda:
The Mercer fell apart – literally and metaphorically.
The demise of the Mercer created a vacuum in the downtown scene, making it more difficult for underground rock groups to get gigs. The Stillettos needed to find a location for their first gig, and Elda chose a small location, the Bobern Bar and Grill at 42 West 28th St,
Bobern, named after its owners Bob and Ernie, was such a low-rent venue that Debbie Harry recalls they had to take the legs off a pool table to make a stage.
The Stillettos live debut was in October 1973.
Debbie Harry:
Eventually we got our shit together enough to play at the Bobern.
It was really more of a party with a very small ticket price at the door because everyone knew each other. I don't know how many people fit inside that place, between thirty and fifty maybe, but I was stiff with stage fright.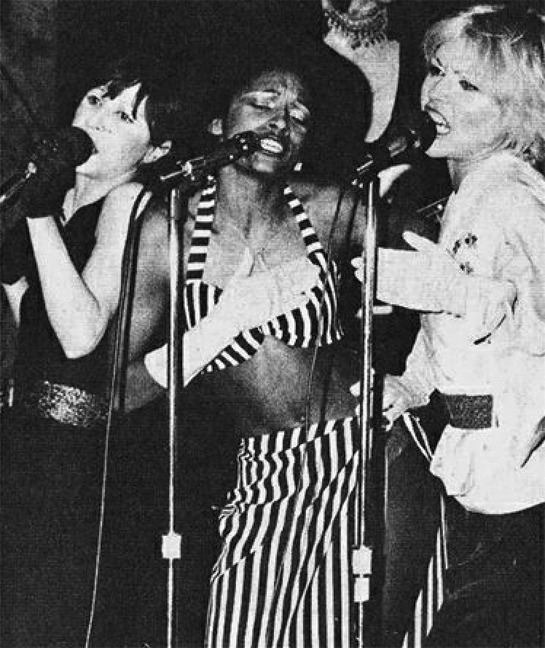 Elda:
I wasn't sure if anyone would come, but the place was packed. We had a great turnout. Being related to Eric Emerson meant that everyone in downtown New York knew about the gig.
Debbie Harry:
We didn't think we'd get much of a crowd, but the place was jammed.
Elda:
Holly Woodlawn did the lighting for the show, Basically, she held a spotlight with a red gel while standing on the bar.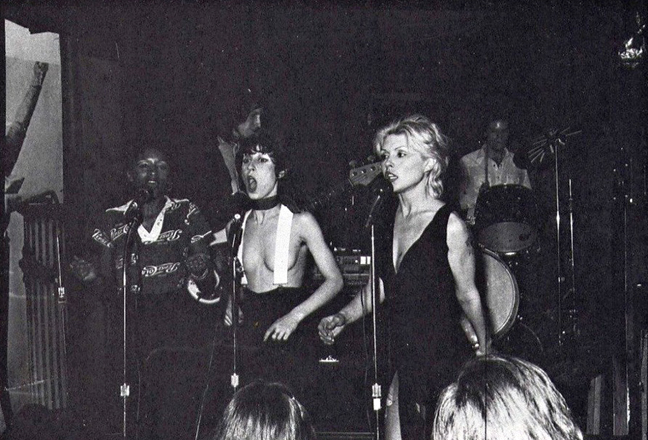 The Stillettos
Debbie Harry:
We didn't really know what we were doing when we started. We did some Tina Turner songs and a few by the Rolling Stones. We weren't that good. We were just learning. All we wanted to do was songs that had a hook in them, that were danceable, because up to that point everybody was watching these long guitar solos and good old boys singing about 'the road'… and it didn't relate to our urban experience at all. It was just middle America music and we were sick of it.
Elda:
The show was a hit, and the Stillettos were off to a great start.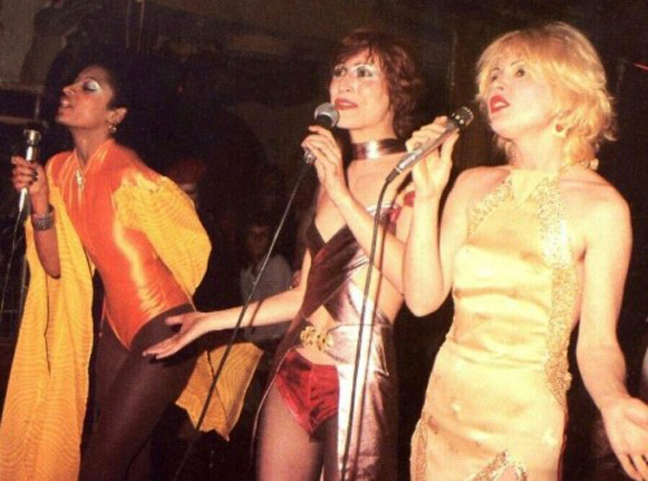 Amanda, Elda, Debbie: the Stillettos onstage
The second Stillettos gig, also at the Bobern, took place a couple of weeks later.
Debbie Harry:
By the next gig, David and Angie Bowie turned up, pulling up in their limousine. We had New York by the balls!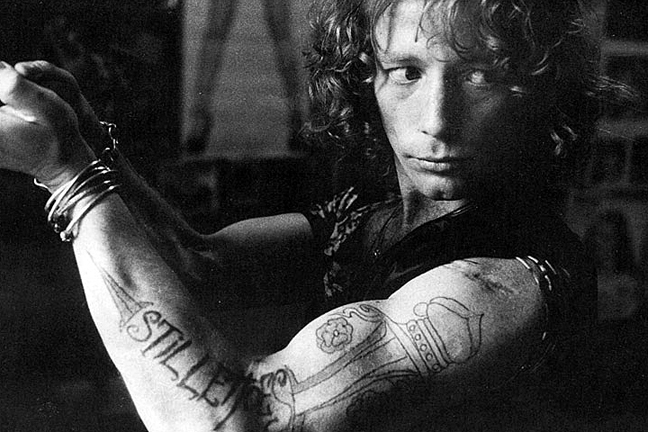 Eric Emerson, with his Stillettos tattoo proudly displayed
Elda invited Chris Stein, sometimes Magic Tramps roadie/session musician and Eric Emerson's roommate, to the second Stillettos gig.
Chris Stein:
Elda would invite people to see the Stillettos when she was out socializing, and that's actually how I heard about it. At the time I was dating this girl named Elvira, who used to date Billy Murcia, the drummer from the Dolls. We went out for about nine months, and Elvira invited her to the second Stillettos show.
I only went to the gig because Elvira was going.
Debbie Harry:
Chris came to the show with Elda, Eric Emerson, and Chris' girlfriend, Elvira.
Chris just sat in the shadows, yet I could feel his piercing gaze upon me throughout the whole show. I couldn't see his face clearly because his head was facing backwards. All I could see was this glow.
I don't know if it was fate that we were supposed to connect… but I delivered the whole show to Chris. I couldn't look anywhere else.
I was drawn to him as if by magnet: a real psychic connection.
Chris Stein:
I was flabbergasted by Debbie. I was impressed and knocked out by her. The Bobern was an anonymous little bar but in those days, people were always inventing places to play.
Debbie was just incredible, a magnetic presence.
Debbie Harry:
After the show, the three of us girls went to the 'dressing room' in the stairwell, to hang out for a minute, and that's where I met Chris.
Elda:
When Chris first saw Debbie, he had the hots for her. Like, unbelievably.
The minute he saw her, he knew that was it: it was the end of the world.
Debbie Harry:
Pretty soon after that – Chris says it was the next day – we had to replace one of the Stillettos backup band, and so Chris came in to play bass. He didn't leave. That was the beginning of our musical relationship, and of our friendship.
We fitted from the start.
Elda:
I think Chris joined the Stillettos largely because of his interest in Debbie.
Chris Stein:
I was never very career-motivated until I met Debbie. Until then, I was just fooling around.
*
7. 1973 – 1974: The Stillettos (Mk 2) – The Band Takes Off
Chris Stein joined The Stillettos in 1973 as their guitarist and became the group's musical director. In addition, Elda recruited Fred Smith as bassist and a friend from the Bobern Tavern, Billy O'Connor, as the band's latest drummer.
The Stillettos continued to appear at Bobern between October and December 1973, attracting a sizeable crowd.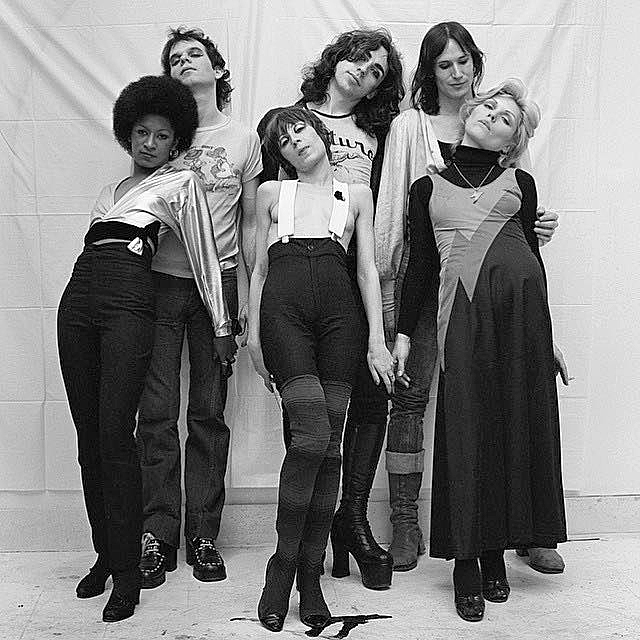 Elda and the Stillettos (Mk2), with Debbie Harry (right) and Chris Stein (center in back)
Elda:
The second version of the Stillettos was when we hit our stride. It was fun seeing it come together.
Debbie Harry:
No one was really playing that throwback kind of pop style music back then. Because it was seen as so retrograde, it was shocking – kind of punk rock – especially because we put our own downtown spin on it.
Leee Black Childers (photographer, writer and rock music manager):
I loved the Stillettos. They were very influenced by those underground plays and musicals that we did. The words were outrageously dirty -– 'Thalidomide Baby' and stuff like that. They played a mixture of old tunes and show tunes, but with an outrageous twist. They would go from dirty songs to pop songs.
Elda:
The best song was 'Dracula, What Did You Do To My Mother.' We wore green crosses and skull eyeglasses that we bought on 42nd Street.
We played originals like 'Platinum Blonde', 'Rip Her To Shreds', and 'In The Flesh' – all of which made their way into Blondie's repertoire later. But we played lots of covers, such as Labelle's 'Lady Marmalade', Jean Knight's 'Mr. Big Stuff', Frankie Valli and the Four Seasons' 'Bye Bye Baby', and the Shangri-Las' Out in the Streets.
Our songs were homages to 1960s pop and girl group songs.
Debbie Harry:
We were campy. We played a lot of different covers, and we had some of our own songs that Elda wrote kitschy lyrics for – 'Dracula, What Did You Do To My Mother,' and 'Wednesday Panties.'
We used to have a song called 'Narcissima'. We did 'Goldfinger' too. And then we had a song called 'Rouge' which was written by Alice Ghostley who was a very old comedienne – she was on Bewitched – and she was always the fucked-up, crazy witch aunt.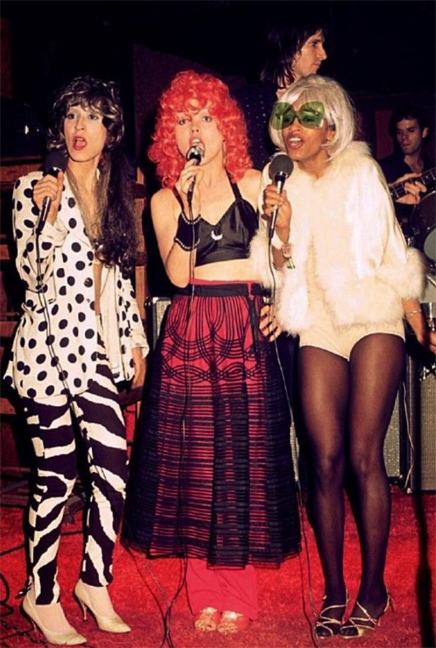 Stillettos in outfits!
The band was a good training ground for Debbie. She was very nervous about being able to sing. She also didn't think she was pretty.
Debbie Harry:
We were real sleazy and would dance around the stage in really trashy clothes. In fact, sometimes our clothes actually came from the trash – boots, jackets, lots of stuff could be found in decent condition. The zebra print dress I wore was made from a pillow case found in the garbage.
Jayne County (singer/actress):
Debbie wore second-hand outfits, little old lady's slingback shoes that she might have found for 50 cents, and she had ratty blonde hair.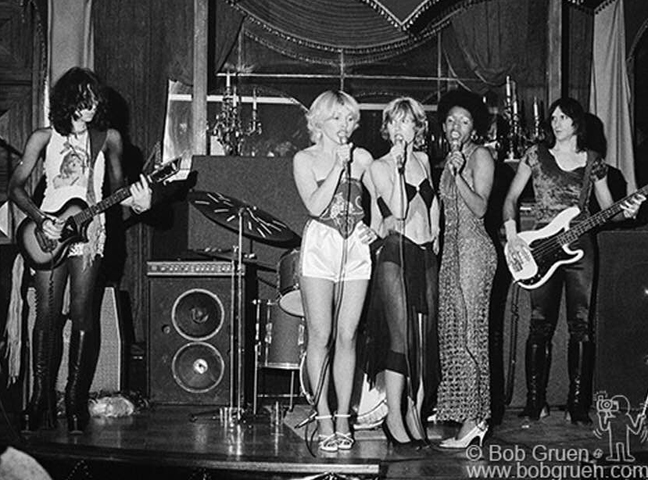 Ritty Dodge:
Debbie wore a brassiere and a half slip to dance in and garish makeup like a whore. She was ahead of her time.
Fred Smith (Stillettos bassist):
At that time, it was all glitter bands. That was what was happening. It was a lot of fun. It was exciting. It was more fun that just music. The Stillettos, like most of these other groups, were more into presentation that the music, but the girls also wrote a few good songs.
Debbie Harry:
And we made no money – I was still working in a beauty shop in Jersey. We were just disreputable and funky and sleazy and smelly in every way. We were jerks. We were the underdogs.
But God, those were fun days in the beginning, before we got famous and all that shit. The whole early 1970s was fun.
Sometimes I miss those times. It was great.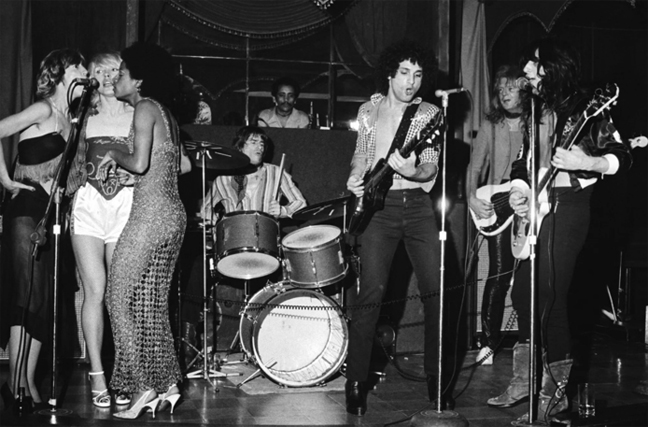 The Stillettos, onstage with the New York Dolls at Club 82, 1974
Elda:
Money was always an issue. I was a single mother, and Eric didn't have any cash to support us.
I still sewed and created all of our own on-stage outfits.
The gigs didn't pay much – but the hope was that we'd get a record deal.
Debbie Harry:
The record companies at that time were not interested.
Plus we had absolutely no equipment when we started out. Chris had a tiny little amp thing that was terribly noisy. The police radio never stopped coming through it. Everyone was responsible for their own mix so it was a question of: "Your amp is 10, so I'm going to put mine on 10 too, dammit!
"Well in that case, I'm putting my amp on 11, and let's watch the singer bleed through the nose!"
We may have had the most decrepit equipment, but we had the coolest, most fucked-up crowds. We were only ever watched by drunks and low-lifes in sleazy bars.
After the first gigs, the Stillettos moved beyond the Bobern and played other makeshift venues and downtown bars.
One location was Club 82, a drag club that had seen better days. In the 1950s and 1960s, Club 82 at 82 East 4th Street had been one of the premiere venues for female impersonators such as Kim Christy, who were shielded from homophobia behind closed doors. Judy Garland used to frequent this basement venue, along with Liberace, Burt Lancaster, Judy Garland, Frank Sinatra, Elizabeth Taylor, Tennessee Williams and other celebrities behaving badly. Errol Flynn once unzipped his pants and played Club 82's piano with his penis. In its latter years, David Bowie and Lou Reed would be seen there.
Club 82 was an ideal space for The Stillettos who were becoming known more for their theatrical flamboyance than their music.
Sylvain Sylvain:
Club 82 was run by this gorgeous lesbian named Tommy, who ran it like a brick shithouse. It looked all tropical, the Copacabana goes gay, if you will.
The prostitutes on 10th Street would come and drink there after their work hours. They would do their performances and take part in the drag shows.
Charles Charlesworth (Melody Maker writer):
For a while, Club 82 was a sort of sister club to CBGB: never as well know but fun all the same, brighter with more of a party atmosphere.
I went down there to see the Stillettos because I heard there was a blonde singer who looked just like Marilyn Monroe. They were a trio of girls – a black girl, a redhead, and a blonde – who took their lead from the girl groups of the pre-Beatles sixties.
Chris Stein:
The Stillettos were the last of the glitter groups.
*
8. 1974: Richard Hell and CBGB
Elda:
I'd split from Syl, and had seen a bunch of people before I met Richard Hell. Richard Hell was supremely attractive. He was the first punk in terms of image and attitude. He was gorgeous, he was raw, and he wasn't like anything you had seen before.
He was in Television, and for a time, he was the most important person on the punk scene in New York.
Yeah, we were a thing for moment back then.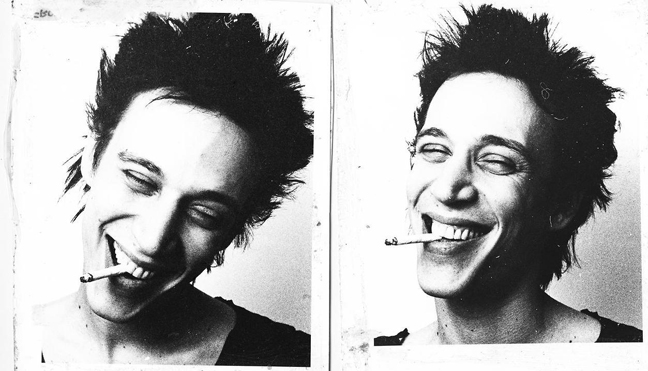 Richard Hell
Richard Hell:
I saw Elda steadily for a while. I didn't believe in love. I believed in chemistry. She was a slut (like me) and that was great. Elda came out of the hard-ass but sweet, adventurous, fringe-Warhol Max's scene. She had a baby kid, Branch, whose father was Eric Emerson, the classically pretty blond Factory-regular who'd been in a few Warhol movies, and had started a glam band called the Magic Tramps.
Elda was funny. She used to give me advice, recognizing me as the next wave.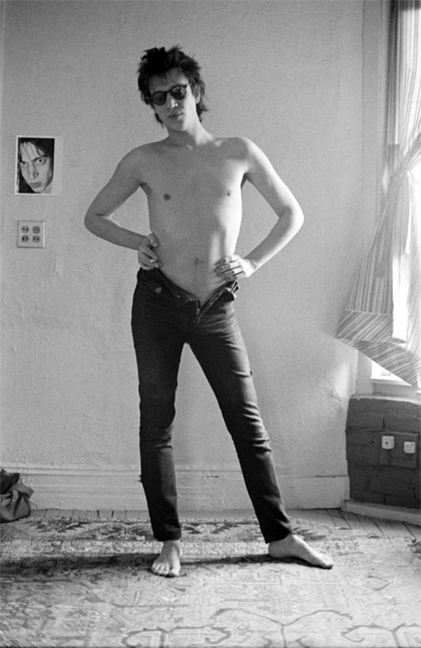 Richard Hell
Chris Stein:
Richard Hell was going out with Elda, and she said, "I heard this bunch of guys and they dress like old men and they're very funny and they play in this weird bar downtown."
We asked them where they were playing, and they said CBGB.
Richard Hell:
I performed with Television at CBGB for a year from the spring of 1974 through the spring of 1975.
Elda:
Because of Richard, I became friendly with Hilly Kristal, the CBGB owner. I asked him to let the Stillettos share Sunday bills with Television – and he agreed.
The Stillettos made their CBGB debut on May 5th, 1974. Though they were more accessible and less ground-breaking than Television, they proved popular and supported Television at two subsequent May CBGB gigs, which are now viewed as legendary. The Stillettos soon became one of top CBGB bands with Television, Ramones, and Patti Smith.
Elda:
CBGB was the kind of place where you felt you could do anything you wanted – because it was so trashed to begin with. There was a sense of freedom in that venue.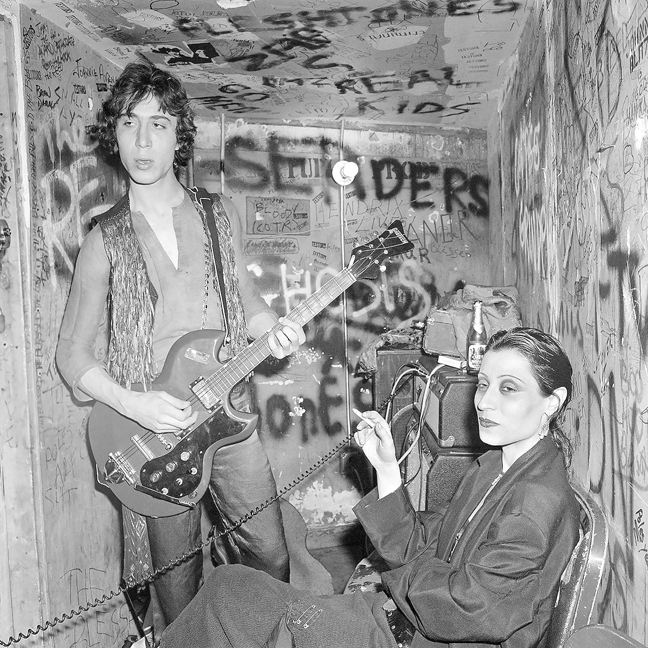 Elda, with brother Fast Eddy at CBGB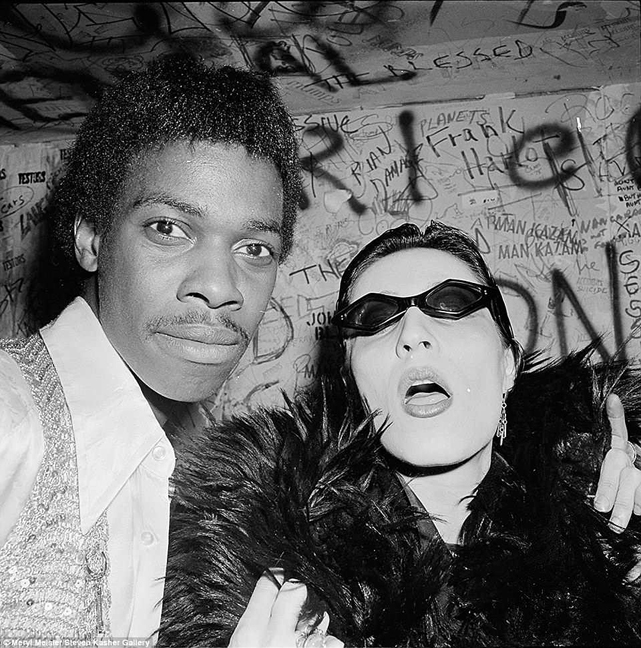 Elda at CBGB
Debbie Harry:
Our whole act became even more gaudy and tacky. I had a black Morticia dress, a gold Day-Glo cross, gold lame' dresses, stupid wigs, a goldfish bowl with a goldfish in it named Mr. Jaws. I was developing the Blondie character. She wasn't quite there yet, but she was on her way.
Then the press started coming around.
The Stillettos Mk 2 started branching out, playing in other hot notable NYC venues like Max's Kansas City, The Peppermint Lounge, and the Performance Studio, a small rehearsal studio that was home to the Ramones.
Neon Leon (punk singer):
Elda was a big influence on the music scene because of her openness, liberalism, artistic imagination, sheer balls and absolute erotic openness. She was an 'idea machine' who got things done.
She was a force of nature.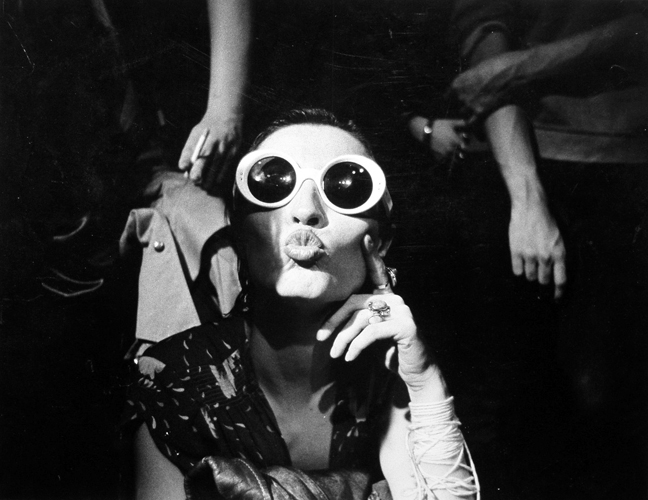 As the Stillettos became more successful, Debbie Harry and Chris Stein started writing their own songs, initially reflecting the Stillettos trash stance.
Elda:
I knew that Debbie and Chris were becoming close, and they wanted to develop the band in more of a disco/pop direction.
But I felt that finally the Stillettos were really on the edge of being able to push through to become big.
Debbie Harry:
I wanted to bring back dancing to rock 'n' roll, which is what I loved about music in the first place. The whole disco scene was just getting started.
In June 1974, a Stillettos show was attended by a representative from Bearsville Records, which was owned by Bob Dylan's manager, Albert Grossman. A recording deal was put on the table. The one problem: it was for the girls, not the boys. The offer was rejected.
Charles Charlesworth:
I wrote an article about the scene. Debbie was still working in a New Jersey beauty parlor. She told me she wanted to be a singer full-time.
A week later, I called her: she told me the Stillettos were breaking up. She was forming a new band with her boyfriend, Chris Stein, the guitarist.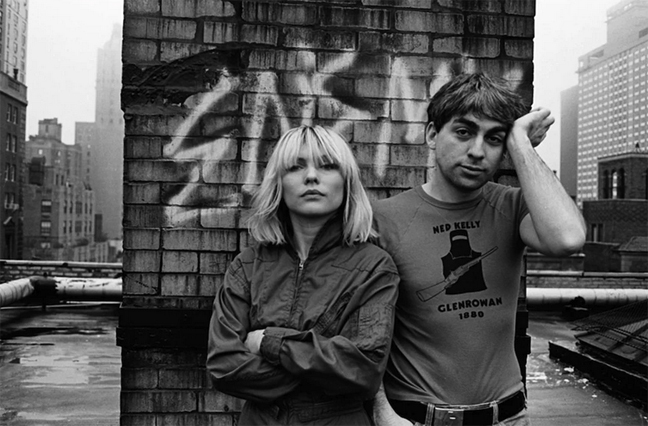 Debbie Harry and Chris Stein
*
9. 1974 – 1975: Break-Up, and the birth of Blondie
The Stillettos split after a June 12th, 1974 show at Club 82. The cause was the typical reason behind almost every band break-up: creative differences and the future direction of the band.
Jimmy Wynbrandt (Stillettos guitarist):
There were pretty much irreconcilable differences between Elda and Debbie: Chris and Debbie were thinking about what they wanted to do musically, and Elda was very into theatrics.
They broke up because of rivalries: everybody had a different idea about what they wanted to do musically.
Debbie Harry:
We got to a point in The Stillettos where we were getting some notoriety, and some following, and some press. But then we started not getting along on business and artistic points.
We had a lot of fun, but we weren't too musical. Three girls trying to get along is pretty hard… without worrying about whose ego is going to be on top.
Elda wanted a certain person to manage us, and I didn't like the idea of someone saying, "This is your manager: sign this." I said I wanted to do my own thing again, and so I left.
Chris Stein:
There was too much catfighting going on. It didn't seem the right kind of thing.
Debbie Harry:
As with most bands, there comes that critical flashpoint of disagreement where it just can't be resolved. So Chris and I quit the band. Fred Smith and Billy O'Connor came with us.
Elda:
I wanted to do more original material, but we were turning into a disco band. So we had a meeting. Not one of them supported my point of view. Debbie and Chris just sat there in silence.
So I quit my own band.
Debbie Harry:
When I split from The Stillettos, and decided that I wanted to do less schtick and more music, I dropped a lot of the more obvious theatrical things. We really didn't have any exact ideas about what we were going to do.
Debbie and Chris' new band – in reality, the same band as the Stillettos but with Elda and Amanda replaced by two new backing singers – called themselves 'Angel and the Snake.'
Debbie Harry
A few weeks later, we played our first gig as Angel and the Snake. The name came from a picture Chris saw in a magazine of a girl with a snake that he thought looked vaguely like me. We opened for the Ramones at CBGB.
Anya Phillips (fashion designer and the co-founder of New York nightclub the Mudd Club):
There were maybe five people in the place when they played their first gig. I don't even think they had a cover or admission at the door. It was the tail end of glitter. Debbie wore turquoise blue stretch leotard tops and red stockings.
Elda:
Debbie and Chris said they created a new band because they wanted a more 'artistic' approach to music, but at first, they just continued the Stillettos aesthetic.
In the next months, they were joined by drummer Clem Burke, keyboard player Jimmy Destri, and bass player Gary Valentine, and in late 1975, they renamed themselves Blondie. The name derived from comments made by truck drivers who catcalled "Hey, Blondie" to Debbie Harry as they drove by.
Later, band members were amused to learn that the name was shared by Adolf Hitler's dog Blondie.
Chris Stein:
We changed our name to Blondie. We did a hodge-podge of stuff, a lot of things left over from the Stillettos. It took us a lot longer to find our own identity then the other bands.
Elda had had such a strong vision, a definite identity. We were finding our way more slowly.
Roberta Bayley (photographer):
At that point, Blondie was the worst band in the city – they were just a joke. Everybody liked them personally but they didn't have it together on a musical level.
Hilly Kristal (CBGB owner):
Blondie didn't define the scene then. They were not known: they were more popular when they were the Stillettos.
Blondie became regulars at Max's Kansas City and CBGB. They got their first record deal with Private Stock Records in early 1976 and released their debut single 'X-Offender' on June 17, 1976. Their debut album Blondie was issued in December 1976.
Richard Hell:
Hardly anyone took Blondie seriously. They had a bland, occasionally quirky, urban girl-group style, but were primarily an excuse to look at their stunningly pretty singer. She had a flair for campy, stylish, thrift store clothes, and a street-smart, real-life, low-key, deep likability, but there wasn't anything new about the group. Of course, out of all of us, it was Blondie who ended up being the biggest popular success.
Elda:
A couple of years later, I went to see Debbie at CBGB. She'd developed her Blondie identity by then, and it was working for her.
I realized what she was trying to do.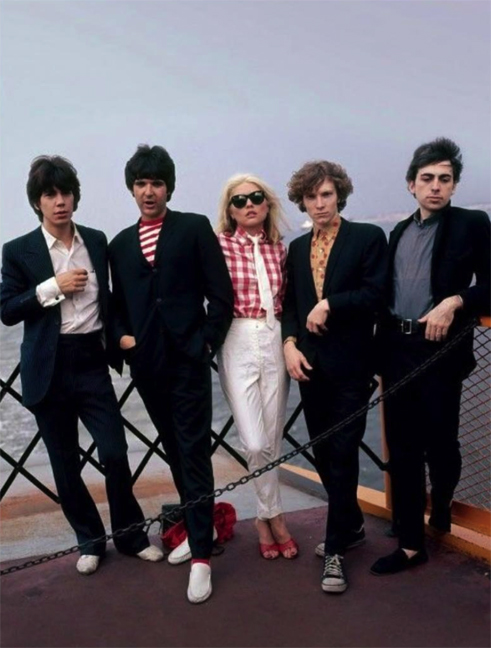 Blondie, 1976
*
10. 1975: Eric Emerson (Part 2) – Death on Hudson Street
Eric Emerson died on May 28, 1975.
Elda:
The news hit me like a bullet to the head.
Andy Warhol (from 'POPism: The Warhol Sixties'):
They found Eric early one morning in the middle of Hudson Street.
He was labeled a hit-and-run, but we heard rumors that he'd overdosed and had been dumped there. In any case, the bicycle he'd been riding was intact.
Eric's drug use had been escalating. He had become more uncontrollable and bitter.
Debbie Harry:
We were sitting around the house just after we woke up when Barbara (Winters) called with the bad news.
Eric had been a good friend and inspiration. We went to a party/wake held for him and saw a lot of people from the early glitter days.
Eric's death definitely marked an end to the glitter period. We still miss him.
Jane Forth (Eric Emerson girlfriend):
The Magic Tramps was the original glitter rock group, but Eric never got credit for originating glitter rock. The original ones never got the credit. He was so over-creative, he couldn't be accepted in his time.
Elda:
It was strange: as Max's Kansas City started to wind down in 1974, Eric began to feel the same about his long-standing spotlight for the first time. You could see he was feeling less relevant, less critical to the world.
He was such a positive force: when he got up every morning, it was like watching a child awake to a new day. He never woke up ragged or worn out by his extreme life. Every day was new and full of possibility to him. He loved life and was very much ahead of his time artistically.
We had the strangest love affair – it lasted for eight years, and even if we didn't live together, there was so much strong affection.
Eric was the love of my life. I still miss him every day. He can't be replaced.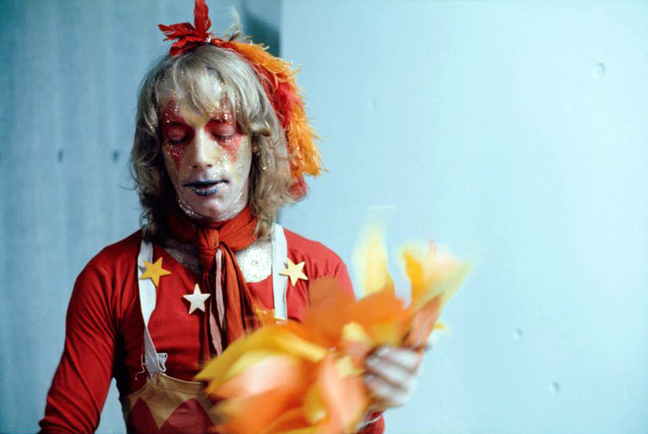 Eric
*
11. 1975 – 1976: Pola Black, and her Adult Films
Elda:
After the Stillettos broke up, I was sewing clothes on Saint Mark's Place just to survive and raise my son.
I saw Debbie and Chris at CBGB a month after Eric passed. They were still in shock about Eric. They knew it was all tough on me, and that offered their help if I needed anything.
I was contacted by the Rolling Stones management: they said they liked the Stillettos, our look, and our attitude. They asked me to go to their record company offices to audition for an S&M shoot for the album cover for their new record, 'Black and Blue.' They ended up going with another girl – but then scrapped the whole campaign as it was too controversial.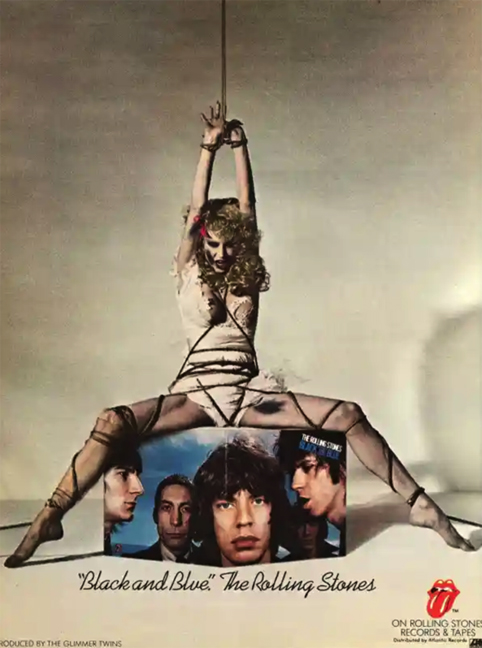 Elda:
Life became a struggle: Eric's death and the collapse of the Stillettos wore heavy on me, and I wasn't getting any richer. I tried reforming the Stillettos without Debbie, but my heart wasn't in it.
Alexandria (dancer, adult film actress):
I met Elda at Club 82. Debbie Harry had just quit the Stilettos. Elda asked me if I wanted to take Debbie's place.
And I said to her, "Elda, I can't sing!"
And she said, "It doesn't matter. You have the right look."
I ended up working for her later when she had this little clothing business. I sold her stuff for a couple of weeks until she realized that I was faking it. I was terrible at it.
Then I did a few photo shots with her. Elda was lovely.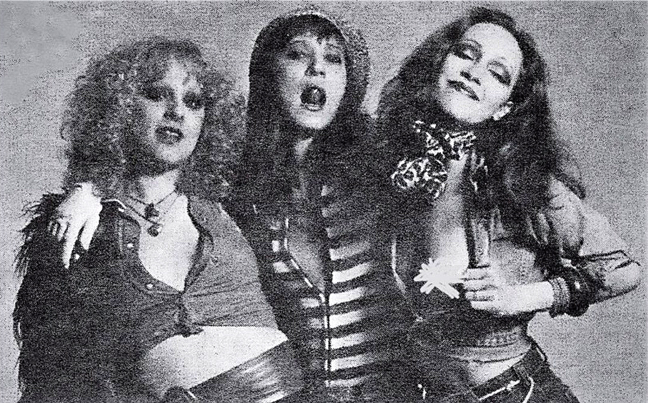 (left to right) Nancy Spungen, Elda, Alexandria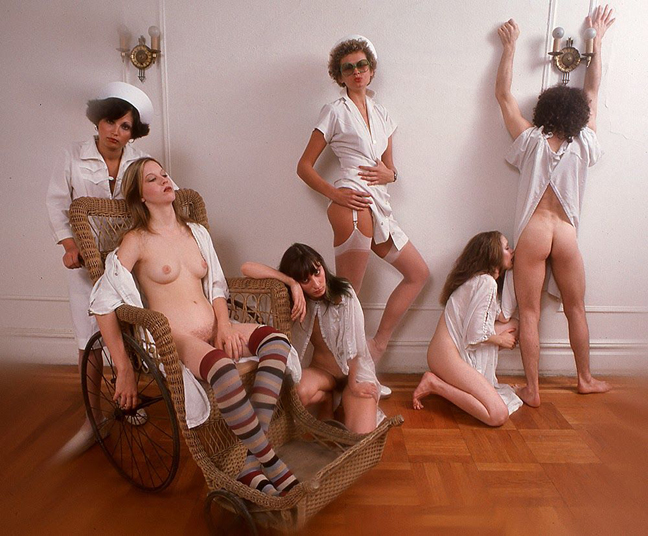 Photo shoot with Elda, Jean Silver, Alexandria
Elda:
It was in the summer of 1975 that I started appearing in adult films.
Sharon Mitchell (adult film star):
In the mid 1970s, there was a crossover between punk rock and porno movies. Maybe it was because we were all fighting the system, or because we were looking for an anarchic and creative outlet for our energy. Or maybe it was just because we were kids with no money and we were acting out… I don't know, but the reality was that a lot of us would hang out together.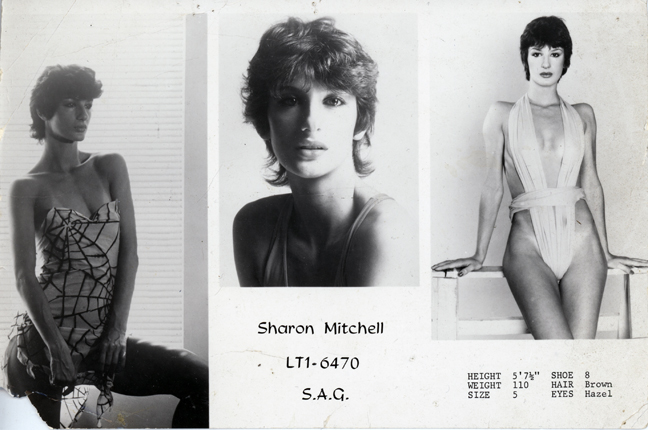 Timothy Beckley (writer, adult film director):
The first generation of adult film people were, strangely enough, kind of like your parents. People like Gerry Damiano, Harry Reems, Linda Lovelace. Yes, they were making porn flicks which sounds counter-cultural, but the truth was somewhat different. They were leftovers from the 1960s: square and old-fashioned. They were in it for the money. Sure, they wanted to make sex films, but they mainly wanted an income.
In the mid-70s, the XXX scene changed: a younger, angrier, hornier crowd came into the business. A lot of them were damaged, and making skin flicks for them was a more like an act of defiance.
And the same phenomena was happening in the downtown music scene in New York.
Neon Leon:
One evening while out at Max's, I was walking down to the corner by 19th and Park and there were a group of people walking towards me.
The men were Bleu Ocean (former session drummer for live shows with The Monkees on Hendrix's first American tour and drum organizer for Pink Floyd's 'Bring the Boys Back Home' from The Wall album), Tim Beckley (Mr. UFO, extra-terrestrial researcher, film producer, and rock concert promoter), and Carter Stevens (porn film producer).
The women. Wow!
Sharon Mitchell, Vanessa del Rio, Long Jeannie Silver (a beautiful one-legged amputee), Susaye London, and Elda Stilletto.
They stopped me and asked me if I wanted to come with them and party. Typical me, I did not decline. Seemed like a good idea and it was! We went back to Max's to the back room, talked and had some champagne, beers, and food.
Elda:
Mitch (Sharon Mitchell) was a good friend, and so were people like Ming Toy and Jeannie Silver. Jeannie lived with me for a short while. I like Vanessa del Rio too.
I knew them all from the music clubs.
I also knew they did porno films and, as someone who had always owned a strong sense of sexuality, that intrigued me.
Mitch was a good performer. She sang backing vocals on stage for different groups, and she could have had more of a music career. She had a problem with drugs and so perhaps sex films were easier for her than rehearsing in a music group. You have to be disciplined and driven to be a musician, and Sharon was wild and crazy. I liked her.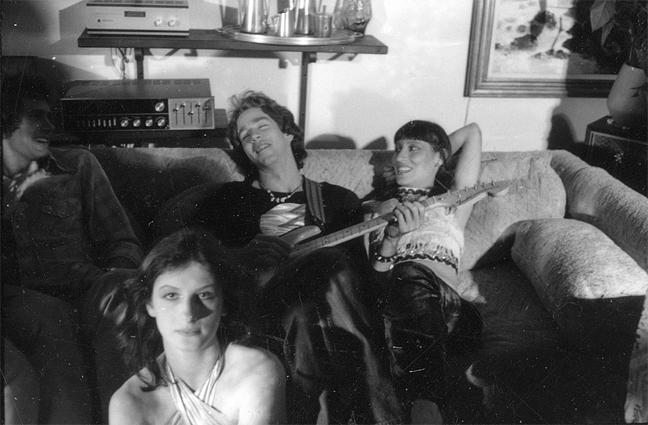 Elda, with (from left to right) Eric Edwards, Sharon Mitchell, Peter Andrews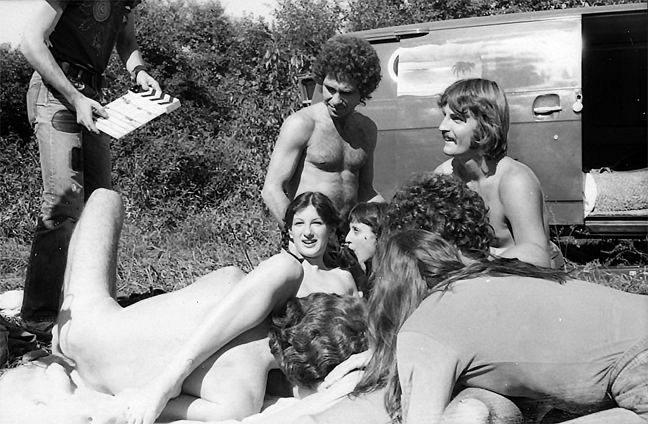 Elda (center behind Sharon Mitchell) with Bobby Astyr, on set
Neon Leon:
Sharon told me she would be having a party in a few days and I had to be there. I was really looking forward to being with her again.
On the day of the party, I called her and she told me not to ask questions, just follow her instructions. She asked me to make sure to wear my leather pants and a leather jacket, black leather gloves and a stocking, and to stop at a shop called the Pleasure Chest, ask for Mike, pick up a package there for her, and when I got to her corner to call her from the phone booth there for further instructions.
I began thinking to myself, what is this about?
I did as she said. I picked up her package and proceeded to the phone booth and called her. She answered the phone in a really sexy, silky soft voice and told me:
Open the package, take out what was in it, and put it in my pocket.
Then I had to take the stocking, put it over my head, go up the fire escape, and climb through her bedroom window.
The she told me to take out what was in my pocket from the package (which turned out to be silver handcuffs), rob her, and then rape her!
Then we would take a bath together and cuddle.
I did as I was told.
Elda:
I can't remember who it was who suggested doing the sex on film. It may have been (adult film actor) Marc Stevens. I was struggling to make ends meet, so I thought, why not? I saw the similarities with what Andy (Warhol) had been doing years previously. I saw these XXX films in the same tradition. So I agreed.
At first, I just made loops. They were quick and easy. And anonymous too.
Once my name got out there, I'd get a call from a guy with a camera. I remember Jason Russell was one loop maker. I'd go to an address, have sex with some combination of males and females, and walk out with $100. That was much more money than I was getting elsewhere.
I worked with people I knew which made it easier – people like Marc Stevens, Jeannie Dalton, Jamie Gillis, and Mitch.
I chose the name 'Pola Black' to separate myself from the character making sex films, but I had no control over it. Some of the loops were sold with a picture of me slapped on the box, and the name 'Elda' or 'Edna'… which didn't make me happy.
I made 10 to 15 loops in total.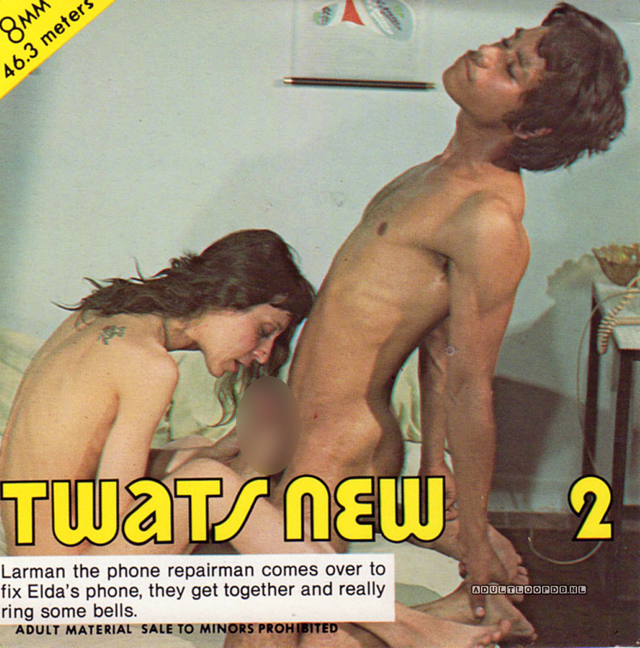 Carter Stevens (adult film actor/director):
I had sex in a loop or two with Elda, and I shot a few loops with her too.
I wasn't into the punk scene – I was more into country rock like Jimmy Buffett, which the punks hated! – but I clicked with Elda. I'd seen her on stage with Debbie Harry in the Stillettos, because I had a girlfriend who dragged me to all the punk shows against my will, and I hung out at Max's all the time – so I was surprised when she decided to make sex films. But that was the era, and there were a lot of unusual bedfellows. The low rent aesthetic of sex and punk music seemed to go hand in hand for a while.
Elda was a smart woman, entertaining, and sexy as hell.
Elda:
After making the loops, I felt more confident. Or maybe more brazen. I didn't have a lot of inhibitions back then.
I was often being asked to make feature length pornos. I resisted at first, but made a few as the money was slightly better.
One or two (such as Fury in Alice (1976)) were shot at the apartment I was sharing with my boyfriend at the time, Scheebo. He was a drummer, and his drum kit got in the way of the sex.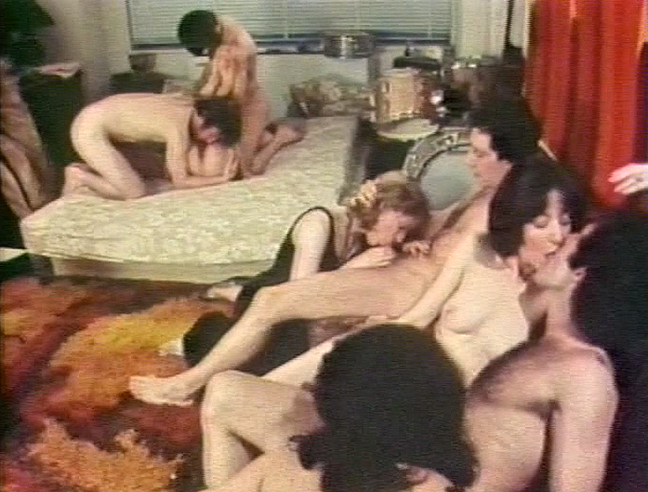 Scene from 'Fury Within Alice' (1976) – with drum kit, top right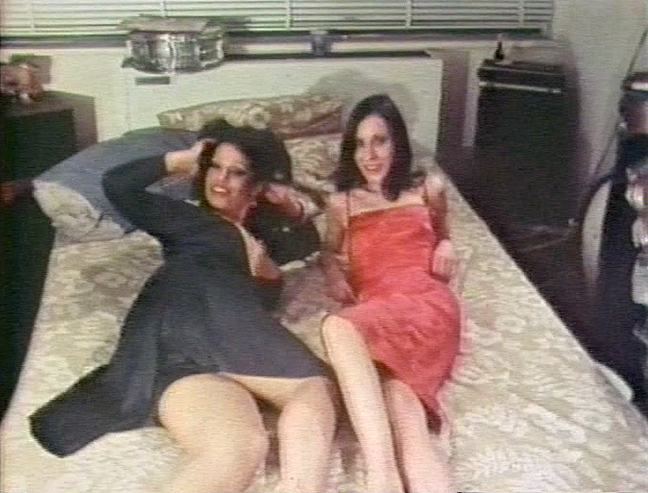 Elda, with Vanessa del Rio
Neon Leon:
Sharon and I began to hang out a lot. She recommended I ring up Elda Stilletto, and I was invited to Mercer Street in Little Italy to the Stillettos' communal loft.
My first night there, my girlfriend Jennifer came with me and we met Sharon and Long Jeannie Silver. We played music, smoked pot, drank booze and got naked. Sharon and Jeannie were together on that night, Elda was with her new man Scheebo, a great drummer, and there was Alter Ego and me with Jennifer.
At one point, as I was kissing Sharon, she exclaimed "Oh Jeannie!" I thought, "I'm not Jeannie," and I looked down at Sharon's crotch and it looked as if half of Long Jeannie Silver's leg was inside of Sharon's vagina! What? How could this be?
Elda:
I'd always been a very sexual person, and there was something about the performance that attracted me. But there was also a self-destructive element in me too at that time – and after losing Eric and the Stillettos, I was looking to numb the pain.
Sharon Mitchell:
Elda made a few films with us, but I know she wanted to get back to the music. That's where her heart was.
Elda:
I became disillusioned with many of the people (in adult films). It wasn't an art scene like the sex films that came out of the (Warhol) Factory. It was a business… and it was often a sleazy one. I didn't like the directors, the producers, the money men. And I didn't want to become like them.
I entered the sex industry with a pure sexual attitude, but pretty quickly it became a transaction like any other.
With hindsight, I regret it. Within the space of a year, Debbie and Chris had started Blondie, which would become one of the most successful bands in the world… and I was being filmed having anonymous sex in an anonymous room for a hundred bucks.
So I quit the business.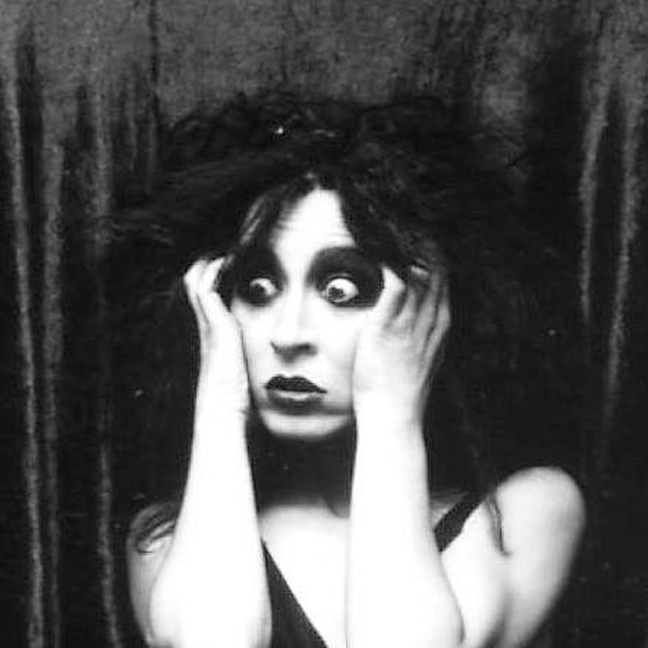 *
12. 1977: The Stillettos (Mk 3), and 'Punk Rock'
Seeing the success of Blondie, Elda started a brief solo career before reforming the Stillettos with an all-new line-up in late 1976.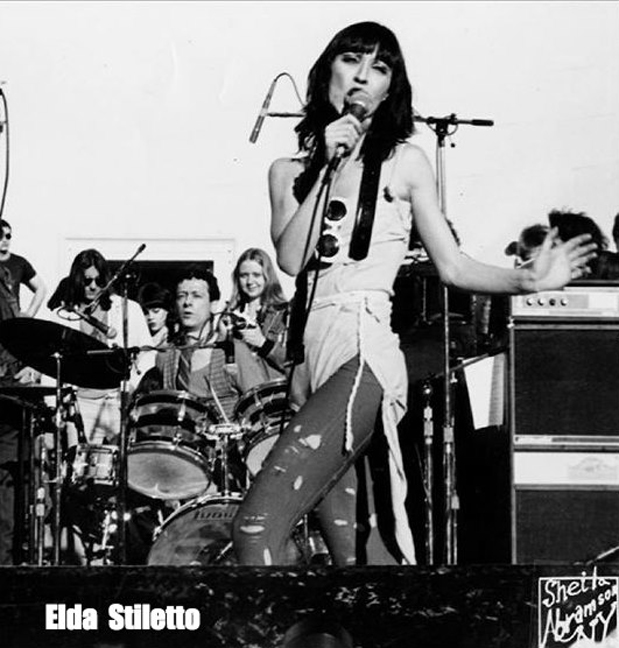 Elda:
The new Stillettos had a rotating cast of characters, but mainstays included Cheetah Chrome (Dead Boys), Walter Lure and Billy Rath (both from Johnny Thunder's Heartbreakers) and Alter Ego on bass came back again, as did the Wynbradt brothers from the Miamis. Neon Leon played with us when he could as well.
And there was Scheebo Pampillonia – who I was seeing for years.
Scheebo Pampillonia:
I first met Elda when she was working in a clothing store on St Marks Place.
She took a liking to me and we became a team. She was my lover, my confidante, my partner, and my mentor. She was way, way ahead of her time.
She loved big, and was there for her friends: on the second date we hooked up, she went to save her crying girlfriend from her bar owner boss who was being abusive. She went into the bar, took a drink from a table and poured it on the floor while cursing the manager out. She then grabbed her girlfriend and walked out.
I knew this one had balls.
We lived a Stilletto life while living together for a dozen years.
Elda:
It was fun, we played all the New York clubs again, and we had little pockets of success: we played in Central Park for Rock Against Racism, and were featured on the compilation LP 'Max's Kansas City: 1976 and Beyond.'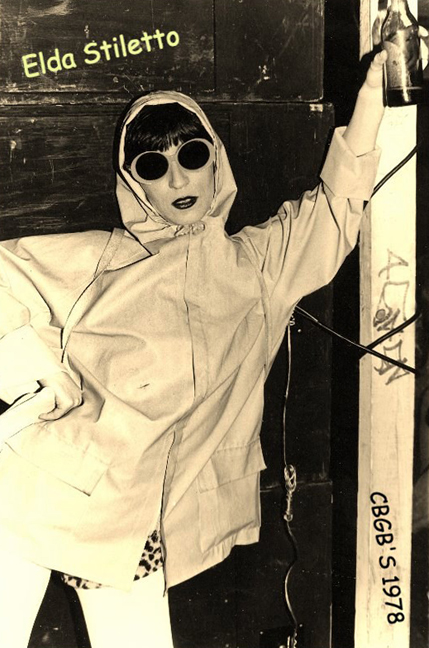 Stillettos gig flyer, 1978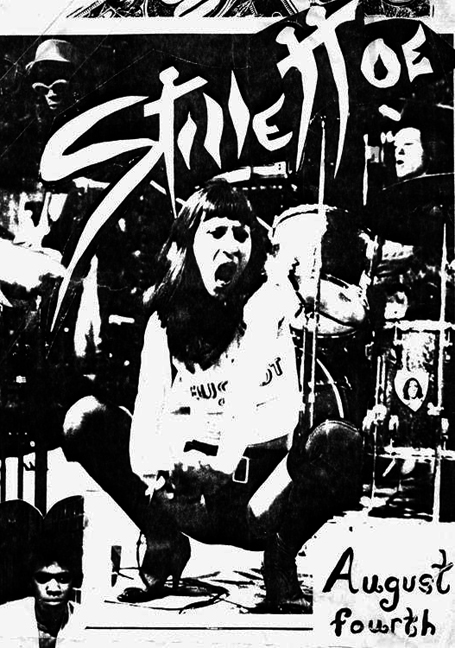 Stillettos gig flyer, 1978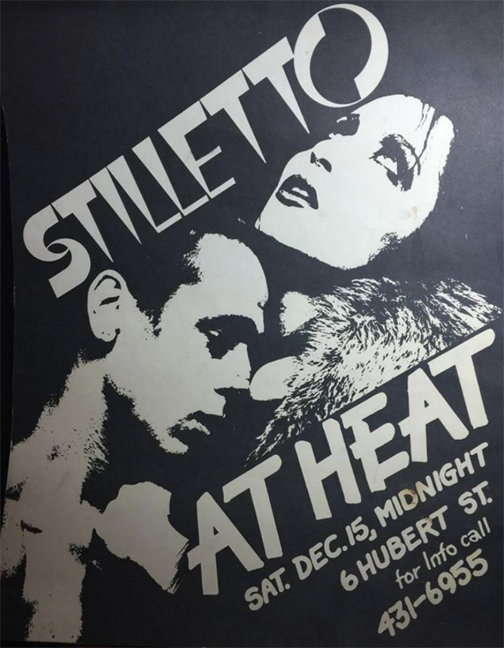 Stillettos gig flyer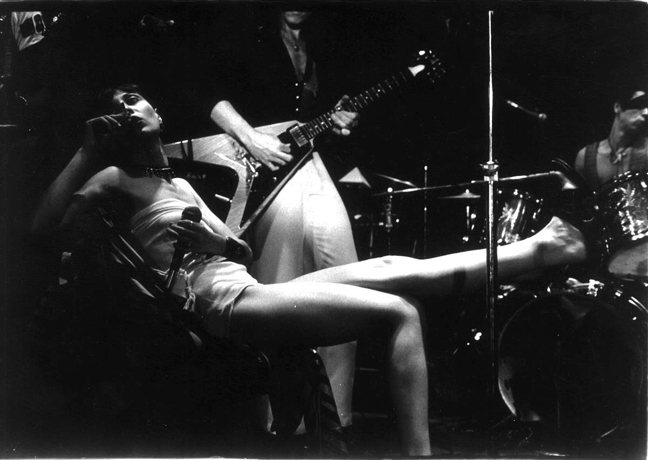 Elda, CBGB, 1978
Cheetah Chrome:
The most enjoyable gigs I did were with the Stillettos, who were a lot of fun to play with. Elda and Scheebo were dating, and I loved them both dearly.
Neon Leon:
Being in the Stillettos was not boring in any way. Gigs at the 82 Club, Copperfields on 8th Street, Greenwich Village, Max's, CBGB, Warhol's Factory (not far from Max's), being in an off-Broadway musical with Elda, 'Beauty Kills.'
Thanks to Elda, the Stillettos, Sharon, Jennifer and Long Jeannie Silver, I had new inspiration, new things to write songs about that I had never imagined. I began to paint, act, model and write songs again.
I felt really alive again.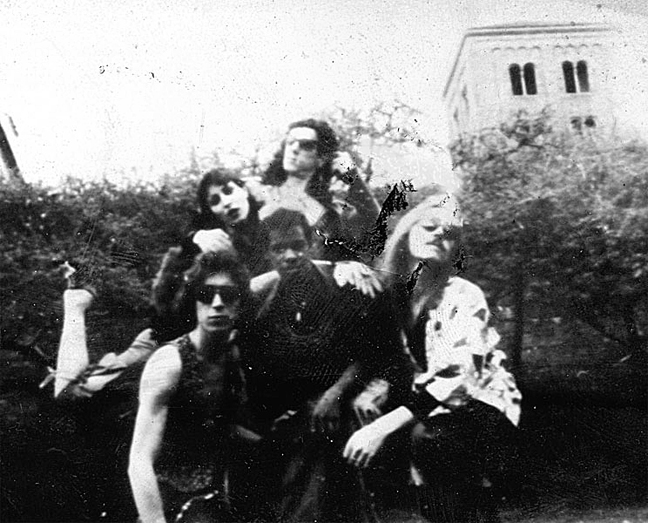 Elda and the Stillettos, 1977
Elda:
I was always sexual, so I used my contacts in the sex field to get some publicity in men's magazines for the group.
I got an interview for Cheri magazine. The photographer paired me with Jeannie Silver, and when it appeared it was a big photo spread. Bigger than I expected, or wanted.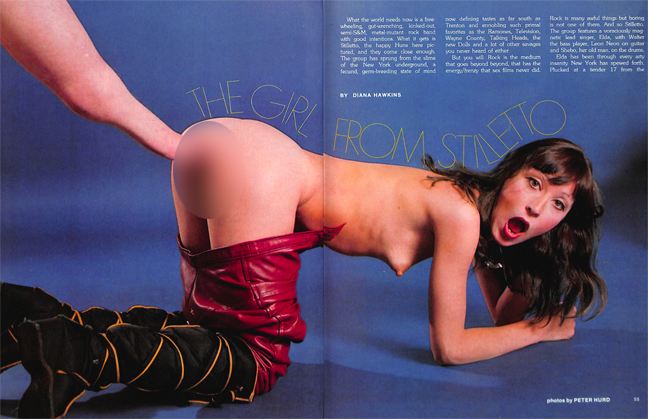 Elda (and Jean Silver), Cheri magazine, February 1977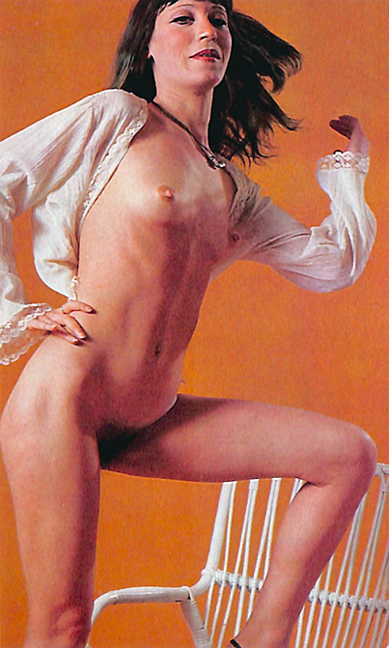 Elda interviewed in Cheri magazine
Elda:
Then Carter Stevens called me, and asked if I'd be interested in having an acting part – not a sex part! – in one of his XXX movies set in the New York music business.
Carter Stevens:
I thought the idea of a detective story set against the backdrop of the New York punk scene would work well, so we wrote a script.
The first person I interviewed was Debbie Harry because I'd seen her back in the Stilletto days. We offered her the part, but she was onto a new music project which turned out to be Blondie, and we couldn't make it work.
Neon Leon:
Carter Stevens approached Elda about a film he wanted to make about runaway young people and this new thing going on in music called 'Punk Rock.' He knew her because she had worked before with him in various film projects in the past. He wanted her to star in the film and the band to supply some of the music and be in the film.
She asked if we, the Stillettos, wanted to take part. Of course we did. Wow, a movie! I had always dreamed and wished to be in a movie. Be careful what you wish for, you just might get it! We all were very excited about our next project besides just gigging.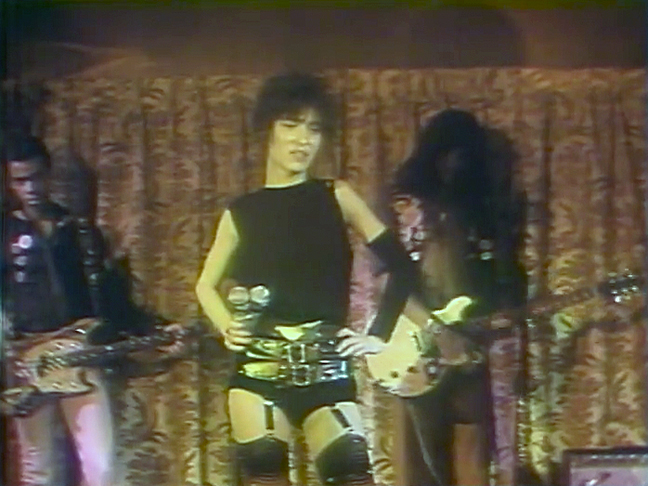 Elda (and the Stillettos) in 'Punk Rock'
Carter Stevens:
I shot 'Punk Rock' with Elda in three days. The music scenes with Elda and the Stillettos were shot at an after-hours gambling joint.
It was a straight up porn film, but a year later, the distributor suggested we cash in on the punk rock craze and re-release the film as an R-rated film. So I went back and shot five more days on dialogue scenes… including music performances that we shot at Max's. I also shot at Revenge – a punk clothing store, and at Bleecker Bob's – a punk record store.
So the following year, we released a completely different version of 'Punk Rock' without any sex.
Neon Leon:
The funny part was that when 'Punk Rock' came out, they had edited in a scene with the actors and actresses (when I wasn't there) who were playing the audience members who got so hot from the show they all got naked and began to have sex in the club.
I wish I could have been there to see that.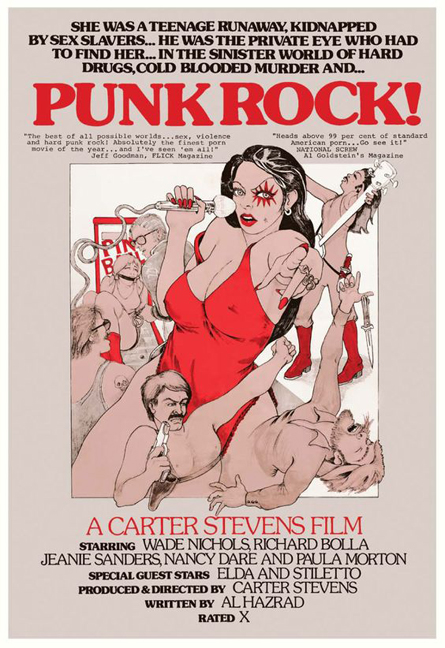 *
13. 1978 – 2018: Aftermath
The Stillettos eventually broke up for a final time in the late 1970s.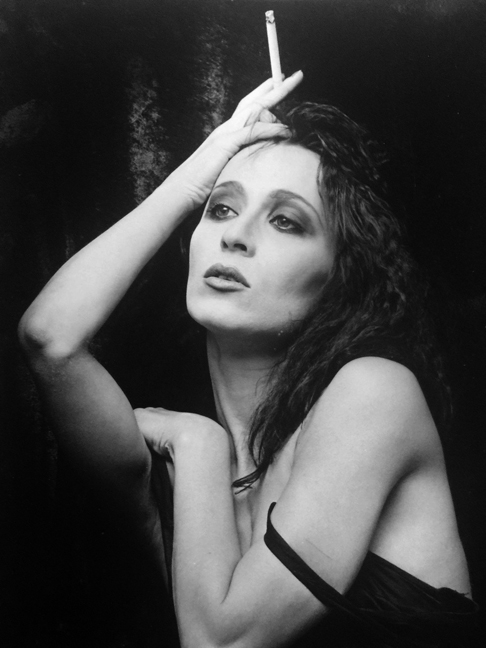 Elda:
I was restless musically after the Stillettos, so I formed The Bratles, the first all-kids punk rock band.
My son Branch was on drums, and the other four were all kids of New York music guys I knew. I got old friends from bands like the Dolls, the Ramones, and the Dead Boys to teach them. And of course, I made their stage clothes. They played in small bars and clubs, and it felt a little like when the Stillettos started out a decade earlier.
Chris Stein came in and produced a song, 'Self-Education', which we released as a 7″ single. They opened for the Clash twice at the legendary shows at Bonds International Casino in May/June 1981. It was great! CBS offered them a record deal.
What happened? The parents started arguing and the band fell apart. Same old story.
Besides being a single mother, Elda went on to release a solo album 'Diamonds in the Rough.'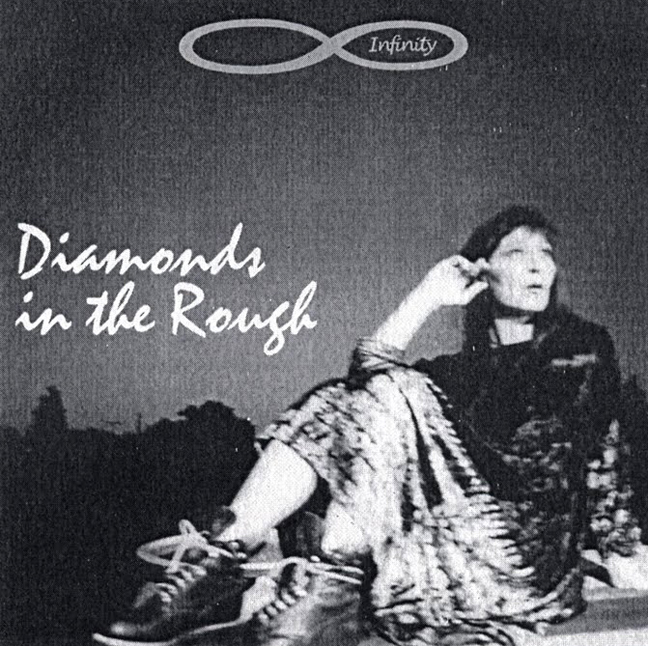 The next decades included an eclectic list of jobs: she designed the flags that hung over the Cloisters during the Medieval festivals, taught art classes for kids, was an avid pop art quilter and painter, produced concerts – including artists such as Paul Simon, Billie Joel, Willie Nelson for the Montauk Nature Conservancy series, booked singers like James Brown and Tina Turner for the Bay Streets Nightclub in Sag Harbor, wrote, produced, and directed fashion theater shows, implemented Radio Woodstock TV – and even had a local baking business called Branch's Breads where she baked at 4am and delivered homemade breads to the local bakeries on the Lower East Side.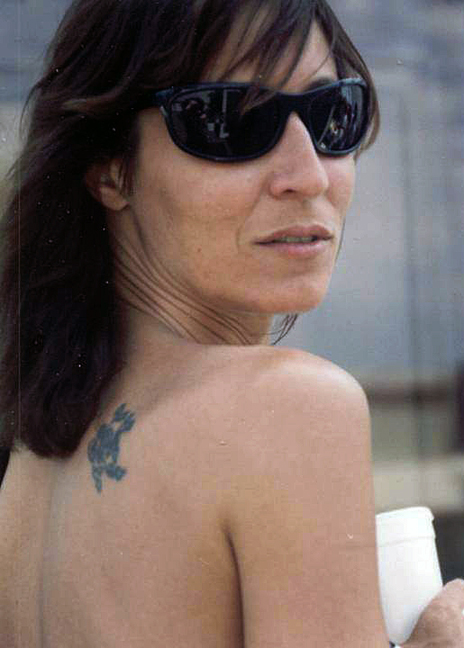 In 2014, she signed a book publishing deal for her life story and was preparing an archive of her performance clips and photos for her book tour.
In 2015, Elda reformed a version of the Stillettos at the Bowery Electric for the first time in 37 years to celebrate the 50th anniversary of Max's Kansas City.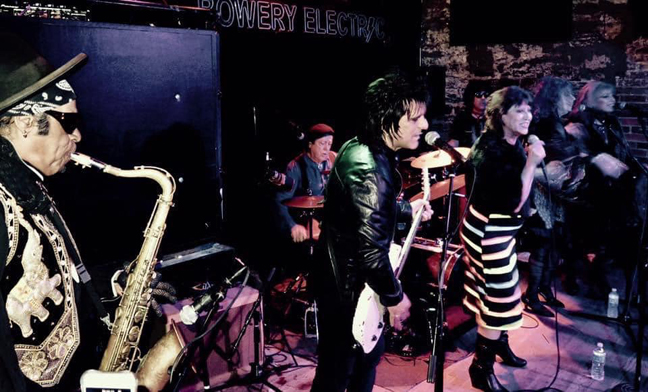 Elda at the Stilletto reunion show, 2015
Elda Gentile, aka Elda Stiletto, passed away on August 6th, 2018, at the age of 68.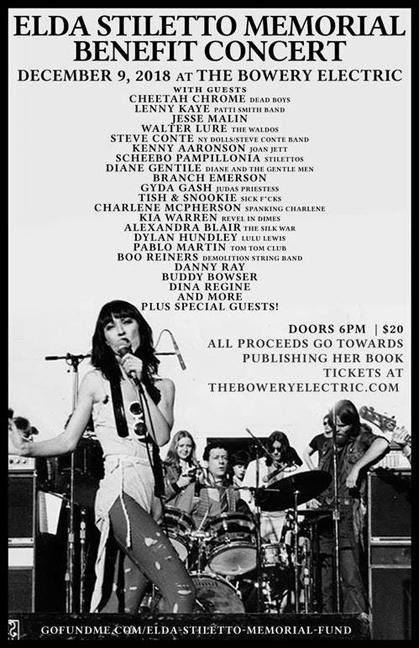 *
Epilogue: What Ever Happened To?
Eric Emerson died on May 28, 1975, and was buried in Wharton, New Jersey.
Andy Warhol died on February 22, 1987, in New York Presbyterian Hospital. He is buried in St. John the Baptist Byzantine Catholic Cemetery in Bethel Park, a south suburb of Pittsburgh.
Holly Woodlawn died of brain and liver cancer in Los Angeles on December 6, 2015. She was included during the In-Memoriam segment at the 88th Academy Awards.
Fast Eddy, Elda's brother, died in May 2017.
Mickey Ruskin, owner of Max's Kansas City, died on May 16, 1983.
Sylvain Sylvain announced that he had cancer in 2019. He set up a GoFundMe page to raise money to help pay for treatment. He died from cancer at his home on January 13, 2021, at age 69.
Hilly Krystal, owner of CBGB, died on August 28, 2007, from complications of lung cancer, aged 75.
Timothy Beckley, after a career writing for Hustler magazine and directing adult films, became known as Mr. UFO due to his work in his field of UFOlogy, the paranormal, and all things bizarre. He passed away on Monday, May 31, 2021.
Carter Stevens died on December 30, 2020.
Debbie Harry and Chris Stein are currently touring with Blondie. In 2006, they were inducted into the Rock and Roll Hall of Fame after selling over 40 million records worldwide.
*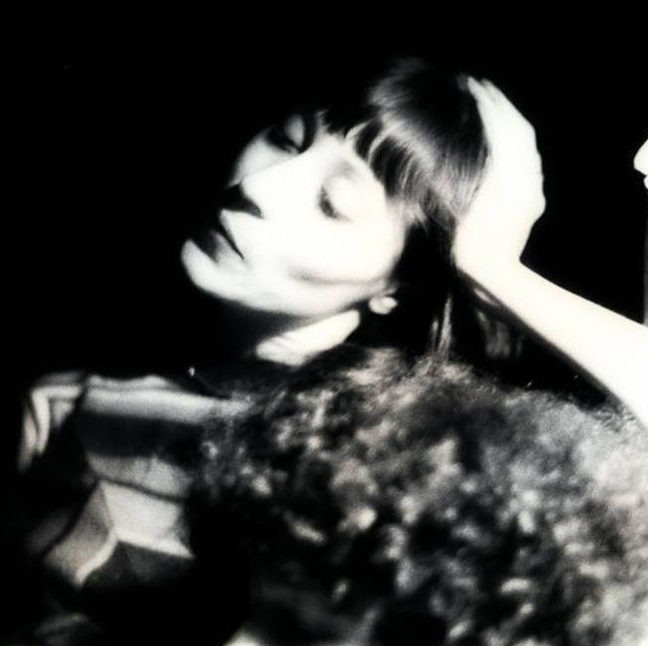 *