Take Andy Warhol's sex-as-artistic statement, Blue Movie (1969), Marlon Brando and his butter in Last Tango in Paris (1972), or Donald Sutherland and Julie Christie and their are-they-really-doing-it scene in Don't Look Now (1973). Each pushed the boundaries of how sex was portrayed on the screen in the wake of the sexual revolution.
But seriously, was Hollywood ever going to really make a pornographic movie in the 1970s?
Then, in 1978, Aldo Ray, a Hollywood star who had appeared with the likes of Katharine Hepburn, Humphrey Bogart, and Rita Hayworth, made a porn film. Or rather, he starred in Sweet Savage, a film made by Ann Perry, a rare female director woman working in the X-rated business.
How did it happen? Why did it happen? We tracked down the people involved to tell the story.
All interviews were conducted by The Rialto Report unless noted.
With special thanks to Greg Yedding.
_________________________________________________________________________________
1.     Ann Perry
Ann Perry (adult film director):
When I was elected to be the first woman president of the Adult Film Association of America (AFAA) in 1977, that was the first time many people had heard of me. Which was ironic because I'd started in the business way back in the early 1960s – before anyone else! Except Dave Friedman.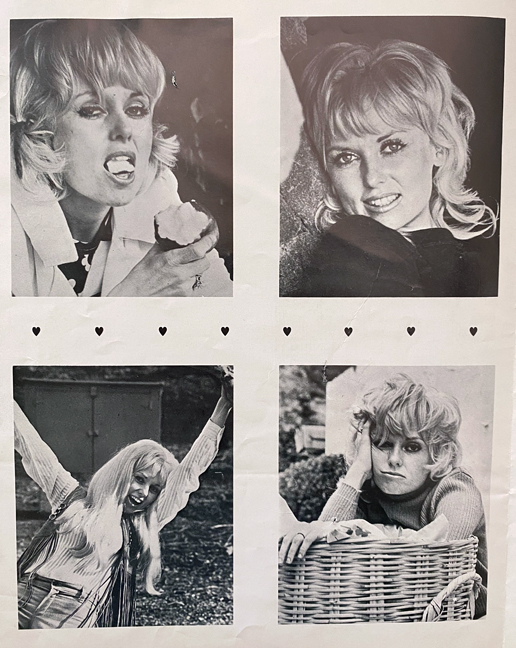 Ann Perry, modeling portfolio
David Friedman (AFAA board chairman – speaking in 1977):
Ann is as competent and tough-minded as any adult film producer in the business.
Not bad for an ex-nun.
Ann Perry:
Well, I wasn't actually a nun. But I did go to a convent, and I was heading in that direction when I met my first husband. He was training to be a minister, but we got together and both gave up that path!
Greg Yedding (son of Ann Perry):
My mother started making her own films in the mid 1970s.
She was a tough, determined, sometimes difficult character. She kept a lot of feelings to herself because she thought displaying emotions was a weakness. She wanted to prove to men that a woman could do a man's job, and that's what she did, which was near impossible to do at that time.
In fact, one of her company names was called Superbitch Productions.
Ann Perry:
I'd done everything in the business by that point: I did commercial modeling, pin-up shots, appeared in nudie films, been a go-go dancer, appeared in hardcore sex films (although I didn't have sex in them)… and I'd gone through two husbands too. No wait… make that, three husbands!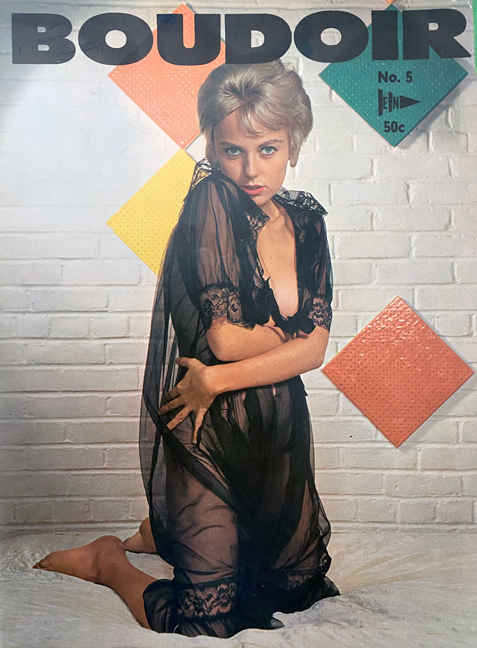 Ann Perry
Tyler Reynolds (adult film actor):
I had been acting in sex films since the early 1970s, and I don't remember seeing many women behind the camera. In fact, there were none. So I was intrigued when Ann started making her own films.
Ann Perry:
My first big film was Count The Ways (1975). It featured people who I knew from the scene – Joey Silvera, Tyler Reynolds, Desiree West and her boyfriend Dashile – so it wasn't intimidating.
I did almost everything myself: I produced it, wrote it, directed it, and then I went on tour and appeared on stage taking questions from the audiences to promote it.
I treated it just like it was a regular Hollywood movie. Which I felt it was.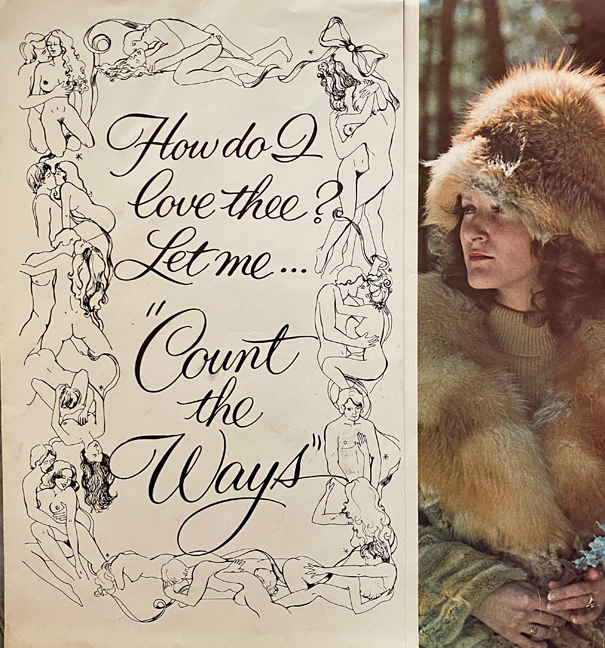 Jack Genero (adult film director and AFAA board member):
Ann was forceful in not accepting that adult movies should be marginalized.
There were some people who were resigned to the fact that our films would always be in a ghetto. Not Ann. She saw a future in which there would be no distinction between X-rated films and the rest.
She took a stand on that.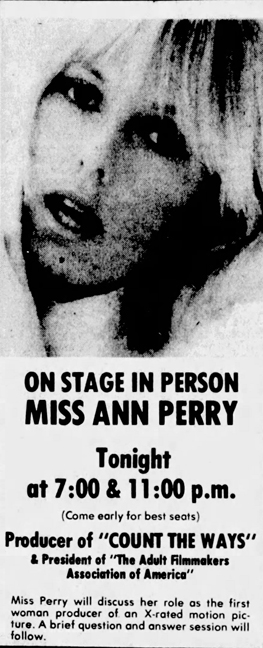 Ann Perry:
In 1977, we sued the Los Angeles Times because they stopped taking our ads. They persuaded all the other local newspapers to do the same – and without ads… we had no business.
'Newspaper hit with suit by adult film unit', Valley News, October 20th 1977:
The Adult Film Association of America Wednesday filed a $44.3 million suit against the Los Angeles Times over the newspaper's decision to ban X-rated movie advertisements.
Attorney Joseph Rhine said the adult film producers' livelihood relies on the exhibition of their movies. Advertising is an important means by which customers learn which movies are playing and where, he said.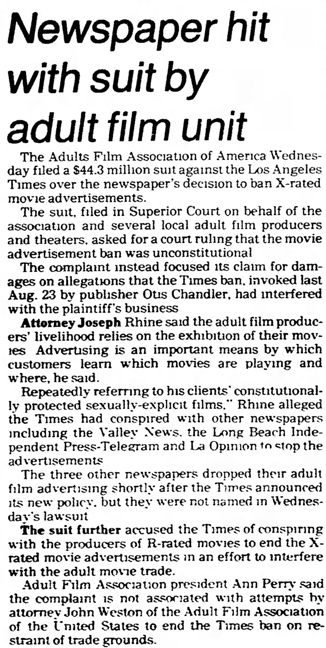 Jack Genero:
That lawsuit was essential to our future.
And it was also where Ann became involved with Joe Rhine.
Ann Perry:
I met Joe around that time. He was the attorney for the AFAA. As well as eventually becoming as my fourth husband.
Jack Genero:
Ann was stubborn: she would fight for us to be treated equally with regular movies, and in Joe she had a great ally. He was the attorney for the Mitchell Brothers, Timothy Leary, Black Panthers, and every porno store and strip club in San Francisco. It was Joe who got the court injunction to stop the cops from seizing copies of Behind the Green Door from the theaters back in 1973.
So they were a good couple.
Ann Perry:
Around 1977/78, I became interested in making a western movie. With sex. It hadn't been done properly before, and so I knew it would be hit, especially internationally. Other countries love westerns.
That was the beginning of 'Sweet Savage.'
*
2.     Carol Connors
Carol Connors (adult film actress – speaking in 1978):
I was romping on the beach one day (in Miami in 1972) and a photographer came up to me and gave me his card. He took some pictures of me and the next week he called to tell me a friend was coming down from New York to make a movie (Deep Throat) and that he might have a role for me.
The photographer didn't tell me it was for an X-rated movie, but if he had, I wouldn't have known what he meant. I was incredibly naïve then.
'The Life of a Porn Queen in Mt Clemens,' Detroit Free Press, November 5th 1978:
(Carol Connors) read for the director, Gerard Damiano, and he called her the next day and told her to come down and watch some filming. When she showed up, it happened to be one of the most graphic scenes in the movie.
Carol Connors (adult film actress – speaking in 1978):
I almost ran out the door when I saw that, but I sat and watched. Later we went out checking on future locations and camera positions and things like that and I was impressed. They were making movies.
'The Life of a Porn Queen in Mt Clemens,' Detroit Free Press, November 5th 1978:
People told her a lot of famous actresses got started this way, she said, "and here was my chance. I had been a cashier in a movie theater and this was like a dream come true."
So, she made the movie and a porn star was born.
In 1972, shortly after making 'Deep Throat', Carol Connors posed for South Florida pin-up photographer, Bunny Yeager.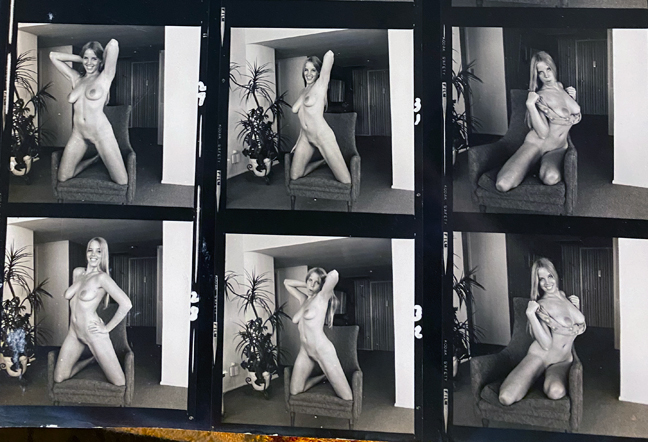 Carol Connors, photographed by Bunny Yeager
Ann Perry:
Of course, I was aware of Carol Connors. She hadn't made that many films – but she'd been in 'Deep Throat' and The Erotic Adventures of Candy (1978) which were both huge hits – so she was a big name. And besides that, she'd been on primetime TV on The Gong Show.
'The Life of a Porn Queen in Mt Clemens,' Detroit Free Press, November 5th 1978:
(In 1976), Carol moved to California, where at a Hollywood party she met 'Gong Show' producer Chuck Barris.
"He said, 'Carol, you've got to come down and announce for me,'" she said.
Could Barris have put her on the show as an inside joke, since he never identifies her to the television audiences as an X-rated actress?
"Yes, probably," she says. "But it doesn't matter. The exposure has been very good for me."
She also put together a song and dance act that she took on the road, mostly appearing in movie theaters showing 'Deep Throat.' In April (1978) she became the California women's AAU champion power lifter in the 123-pound division. She said she holds state records for two types of lifts.
Ann Perry:
She was very focused on her career when I knew her. She had plans to leave the sex film business, and was always saying that she'd make "one more film" before she retired.
'The Life of a Porn Queen in Mt Clemens,' Detroit Free Press, November 5th 1978:
Miss Connors considers herself the top star in X-rated movies right now (she's expecting a best-actress nomination for her role in 'Candy' at next year's dirty film get-together) and she considers herself on the threshold of a successful show business career away from pornography.
The exposure on the 'Gong Show' has led to other possibilities she says, including a starring role in a pilot for a television situation-comedy show.
She may do one more X-rated movie, she says, to complete a trilogy on 'Candy,' this one called 'Candy Goes To Washington,' but she doubts that there will be more beyond that.
"I don't think I'll need to."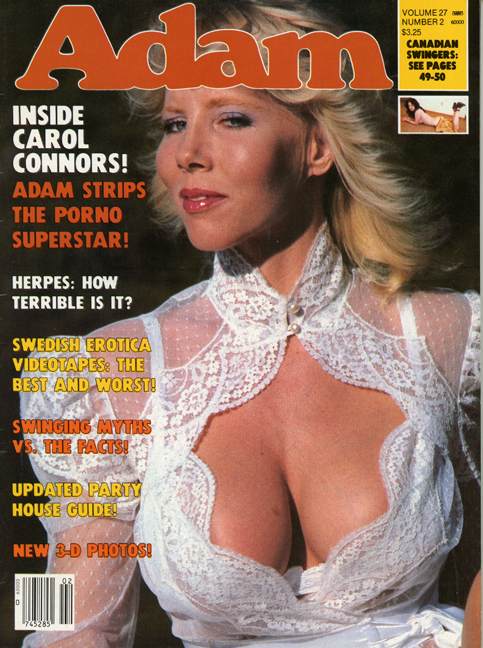 Ann Perry:
I approached her about being in 'Sweet Savage' but she was on the fence. Her husband, Jack, who was also her manager, played hardball, demanding more money, more this, and more that.
Greg Yedding:
Carol Connors was in my mom's office discussing the film. I was a teenager at the time. Carol's husband, Jack, was there. A good looking, square-jawed guy.
He suggested that he take me to Griffin Park to do a photo shoot. I'd done some modeling as a small kid in the 1960s. So we headed out for a few hours, and he took pictures.
Ann Perry:
I told her that I'd got Aldo Ray in the lead male role, and she signed up straight away.
*
3.     Aldo Ray
Jack Genero:
Ann always had one eye on breaking sex films into the mainstream. She would sometimes say, "All it would take is a Hollywood actor to appear in an X-rated film and everything would change."
And then she befriended Aldo Ray.
Aldo Ray (born Aldo Da Re) began his acting career as a contract player for Columbia Studios before achieving stardom through his roles in 'The Marrying Kind', 'Pat and Mike' (which earned him a Golden Globe nomination), 'Let's Do It Again', and 'Battle Cry'. His athletic build and gruff, raspy voice saw him frequently typecast in 'tough guy' roles.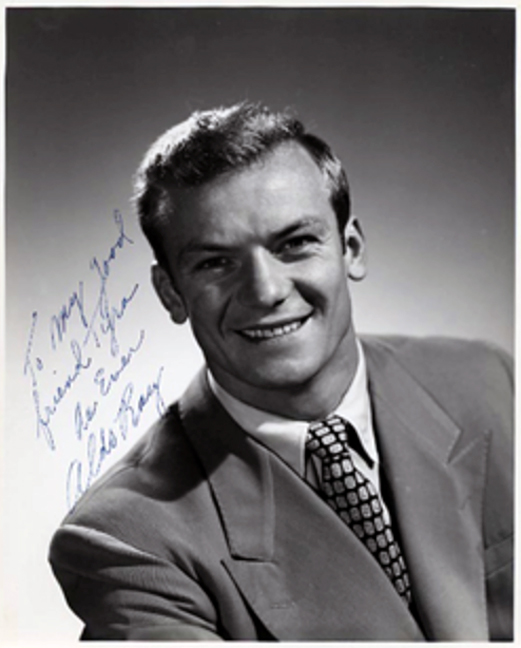 Despite his success, money had been a frequent problem in his professional life.
Aldo Ray (interviewed in the Wisconsin State Journal, July 1982):
I became famous overnight, and the publicity I got! The studio spent a fortune making me an important name. The only problem was they weren't paying hardly anything to me.
Aldo Ray (interviewed in the Philadelphia Enquirer, August 1979):
The first year (with Columbia), I was making only $200 a week, the eighth year only $700. Meanwhile the studios were making millions off guys like me.
In those days the studios loaned actors to one another and, if I was making, say, $500 a week, Columbia was charging the studio I was loaned to $5,000. So Columbia was making $4,500 a week on the deal.
Johanna Ray (casting agent, ex-wife of Aldo Ray):
Aldo never made much money from Hollywood, but he made more when he went to Europe and starred in films there.
Aldo Ray (interviewed in the Philadelphia Enquirer, August 1979):
(In Europe) I was on the verge of becoming a millionaire, but my third divorce took care of that. I was broke again. (And) I was drinking very heavily, and people in Hollywood don't like that.
When you don't show up, it screws up a whole day and gets very expensive.
Johanna Ray:
He got a reputation for being unreliable because of the drink, which led to offers drying up.
It was a difficult time for Aldo.
We were divorced by that time, and he was in bad shape. He wasn't working as much, and the work that he was being offered wasn't very challenging, so he hit the bottle more and more.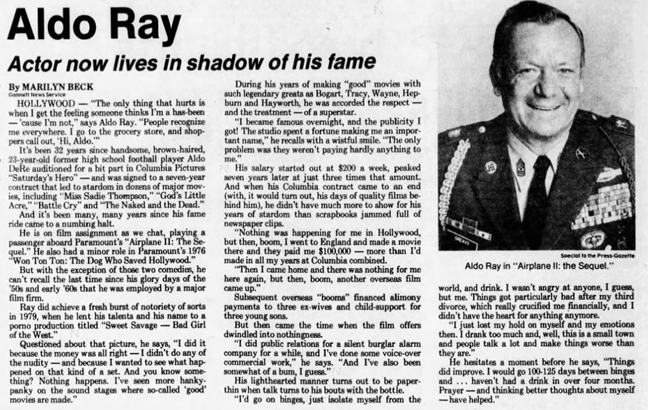 Aldo Ray (interviewed in the Wisconsin State Journal, July 1982):
I'd go on binges – just isolate myself from the world, and drink. I wasn't angry at anyone, I guess, but me. Things got particularly bad after my third divorce, which really crucified me financially, and I didn't have the heart for anything anymore.
I just lost my hold on myself and my emotions then. I drank too much and, well, this is a small town and people talk a lot and make things worse than they are.
John Seeman (adult film actor):
I heard that Ann found Aldo in a motel one night. He was down on his luck, and drinking…
Aldo Ray (interviewed in the Philadelphia Enquirer, August 1979):
I needed the cash, but I did it out of curiosity and for fun too. I'd known the writer and director of the film (Ann Perry) for some time and she just said, 'Write your own ticket. We could make a bundle on the value of your name alone."
Ann Perry:
(Aldo) didn't seem to care that it was a sex film. It wasn't difficult to persuade him. I don't even remember going through an agent. I think I just paid him – in cash at the end of his two or three days on set.
Johanna Ray:
It was a vicious circle for Aldo: he wasn't earning money, so he had to accept roles that weren't worthy of him just to stay afloat… and those roles were bad – so they didn't generate much interest in him from major productions.
He got to the stage where he would take on almost any work.




'Aldo Ray in the Flesh: A Hero Gone Sour,' Philadelphia Enquirer, August 1979:
At the age of 52, Aldo Ray, after virtually dropping out of sight for the last 10 years, has resurfaced in an X-rated porno flick entitled 'Sweet Savage – Bad Girl of the West.' Pummeled financially by three divorces, and in numerous bouts with the bottle, Aldo Ray is now aligned with pornography.
'Aldo Ray is Making Climb Back Up Again,' Wisconsin State Journal:
The only thing that hurts is when I get the feeling someone thinks I'm a has-been – because I'm not.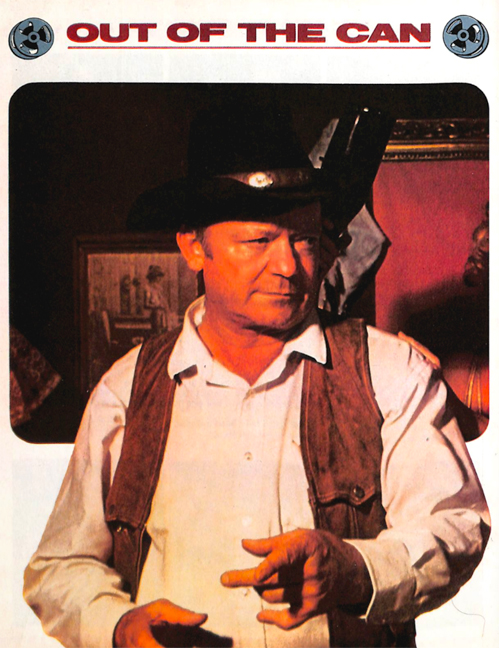 Aldo Ray, in 'Sweet Savage'
*
4.     Sweet Savage
'Sweet Savage' pressbook:
'Sweet Savage' is the story of a female Indian, Shy Dove, a beautiful young Indian girl, who after being educated in the east, returns to her village to teach the young. She falls deeply in love with a young cowboy, Damon. Fearful of the wrath of her strong-willed brother, and fearful of the attitude of the townspeople, they meet and love in secret. Our three heavy villains, seeking revenge upon Shy Dove's unrequited love, plot, spy, and involve our romantic pair in the most bizarre and outrageous gold robbery ever seen on screen.
Greg Yedding:
My mom's third husband, Don Perry, had something to do with the funding of the 'Sweet Savage.'
He had made good money from publishing – in particular, his magazine 'Money Making Opportunities' – and from real estate on Ventura Boulevard.
My mom was his trophy wife, even though she was successful in her own right. He helped her finance a number of her activities.
Ann Perry:
We shot 'Sweet Savage' at Apacheland Movie Ranch in the Superstition Mountains in Arizona. It had been used by many moviemakers over the years.
Apacheland Movie Ranch was about 40 miles east of Phoenix. It was built in 1959 by Nat Winecoff, who had worked for Walt Disney in designing Disneyland. It was an 1,800-acre movie set and operated as such for many years.
As a studio, Apacheland specialized in B Western movies and TV shows. Actors who filmed there include Jack Nicholson, Steve McQueen, Richard Boone, Jason Robards, Stella Stevens and Elvis Presley.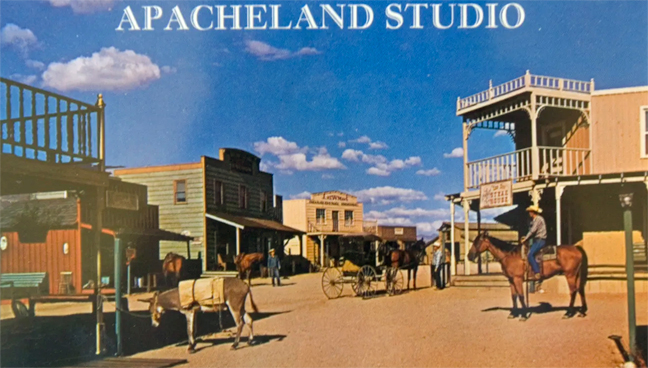 John Seeman:
I remember negotiating a production manager role (on 'Sweet Savage') with Ann Perry, but I don't remember there being much to the job.
Fortunately, there was a wrangler, a guy in his 40s, who helped with all the horses, because I had no idea how to manage them. He had an attractive daughter I had a crush on.
Ann Perry:
I can't remember how long the shoot lasted – but it was several weeks. Maybe even a month. Much longer than a regular film shoot.
We definitely stayed longer on the movie ranch than we intended, and finances were getting low by the time we finished filming.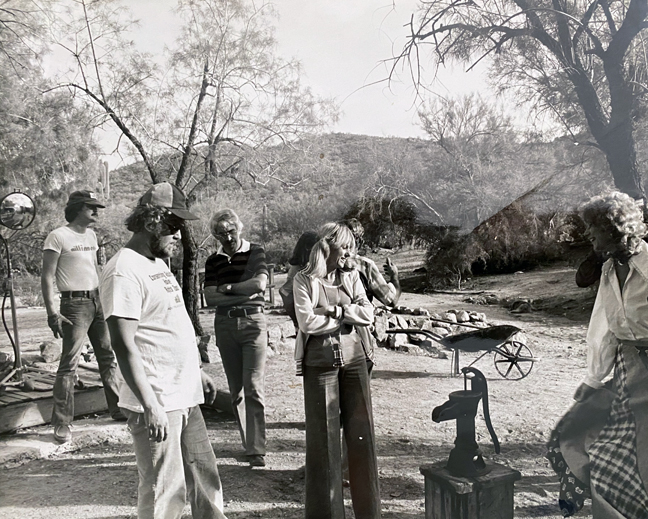 Ann Perry on the set of 'Sweet Savage'
Greg Yedding:
It was on the set of 'Sweet Savage' that I first met the man who would become my mom's fourth husband, Joseph Rhine.
Ann Perry:
I hired many of the people I knew and liked from previous films – like Desiree West and Tyler Reynolds. And we found this gal, Shadowlynn Neva, who'd been the Miss Nude America, which was good for the movie poster.
Greg Yedding:
It was hot and dusty conditions to work in, and sometimes it was very challenging to actually film. The dust got everywhere. But guys like Tyler Reynolds and John Seeman always kept the mood light, they were funny and were always clowning around.
One day the stagecoach stopped working and they had to film a sex scene in it, so instead of driving it, they shot in the interior while I bounced on it outside to make it look as if was moving.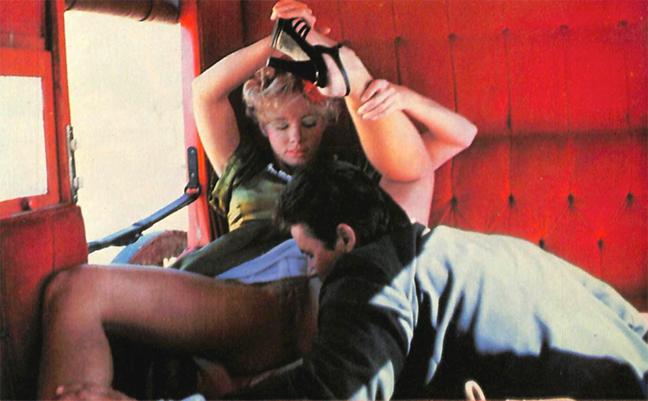 Carol Connors in the stagecoach
Ann Perry:
There was never any question about involving Aldo in any of the sex scenes. He was in his 50s!
Instead, Carol Connors ran around with her clothes off in front of him. I think he found it quite amusing.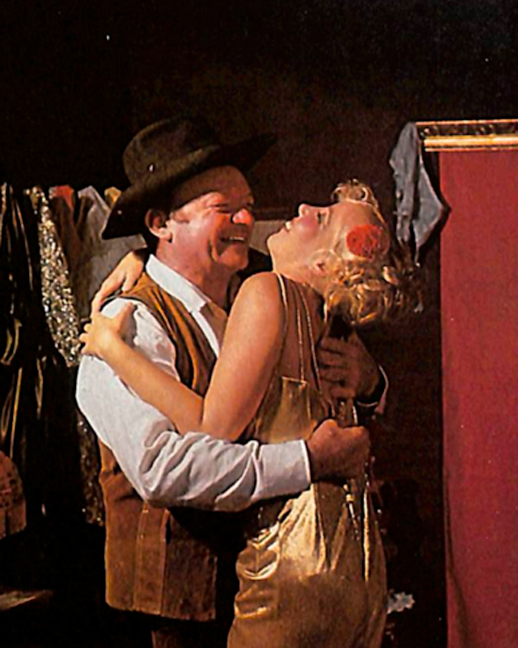 Aldo Ray and Carol Connors
Greg Yedding:
I wasn't around when the sex scenes were shot. That was a closed set to keep the people who worked for the western location away.
I was used to having naked people around the house, as my mom would often have some kind of shoot going on. So I never invited friends around.
Aldo Ray (interviewed in the Philadelphia Enquirer, August 1979):
I learned a lot of things. One was that the dames who do scenes like this are totally sexless. It doesn't mean a damn thing to 'em, they couldn't care less. If they were sensitive about their sexual activity, if they liked it, they wouldn't be doing it. Somebody said they get $500 to make a film like this. But hell, a good call girl in New York can make two or three times as much in a day.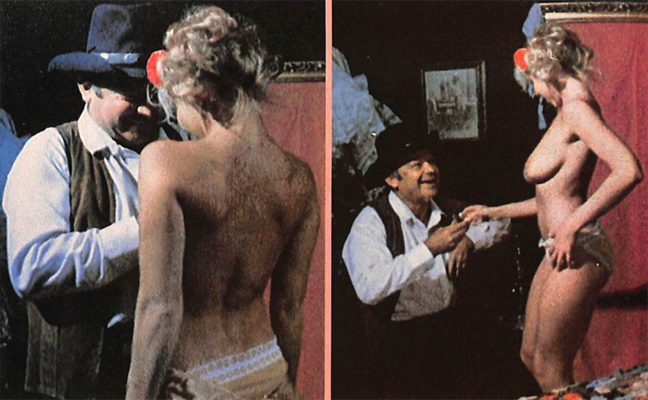 Aldo Ray and Carol Connors
John Seeman:
I had a dialogue scene opposite Aldo Ray. He had a strong presence: I really felt I was working with someone clear and physical. He was very pleasant and cordial. He was pretty professional too, and didn't seem intoxicated to me.
We had a meal or two together and he reminisced about filming at the same location back in the distant past.
Greg Yedding:
Aldo wasn't always completely punctual – it may have been his drinking – but my mom was tough, and she had zero tolerance for that.
She would send Joe (Rhine) to get Aldo and bring him to the set.
'Aldo Ray: Hard Times Lead to Hard Core', Daily News, August 1979):
(Aldo) Ray stands around a lot in the movie, recites a few lines (some of which aren't even picked up by microphones), and generally tarnishes whatever was left of his image as an actor of significance.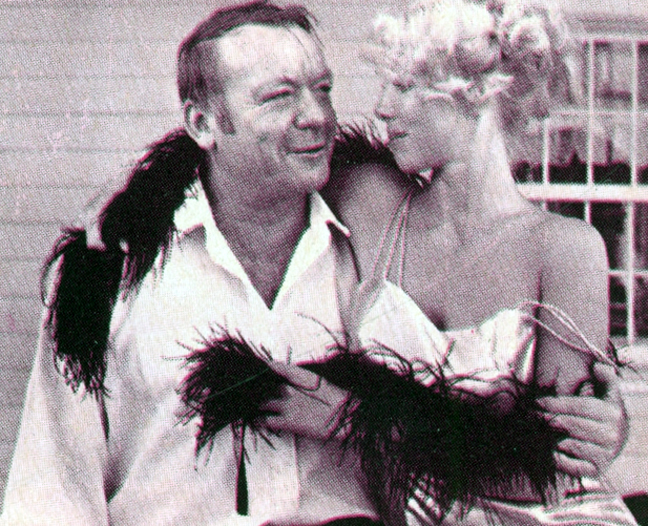 Aldo Ray, with Carol Connors
John Seeman:
She knew what she wanted as a director though I don't recall her giving me much guidance. For example, we didn't go over lines or block a scene in advance.
I remember I asked Ann what my motivation was during one scene. She laughed as if to say, "Come on, this is a porn film!"
Ann Perry:
It was a big budget production. We had several cameras going at the same time.
We shot softcore and hardcore versions – which meant that we filmed the sex scenes twice.
John Seeman:
Ann was beautiful. She made sure she got her beauty sleep too… we did start shooting until later in the day, and we did a lot of shooting.
Greg Yedding:
Actually, what a lot of people didn't realize was that my mother would constantly be re-writing the script each morning. She'd often take herself off to get some peace and quiet in a nearby field, and work on the next scene.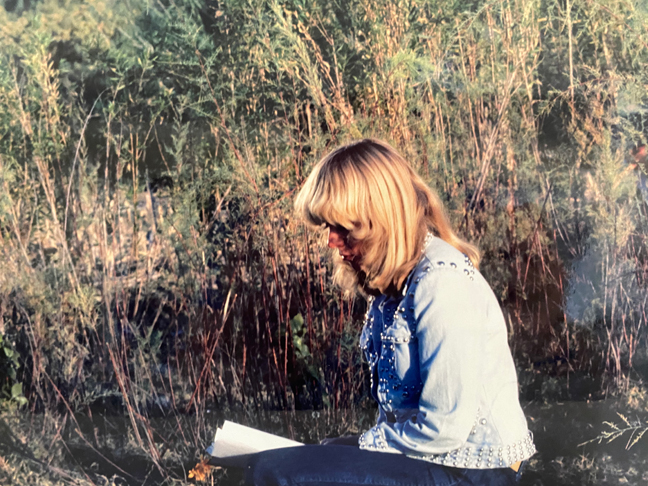 Ann Perry, during the 'Sweet Savage' shoot
John Seeman:
It was a good experience, and I remember it happily. Carol Connors was sweet. She wasn't on set very long, but she was professional and good to work with.
The only problem was that I was uncomfortable about the rape scenes. I thought they were out of place in an adult film. It is hard for me to think about them now.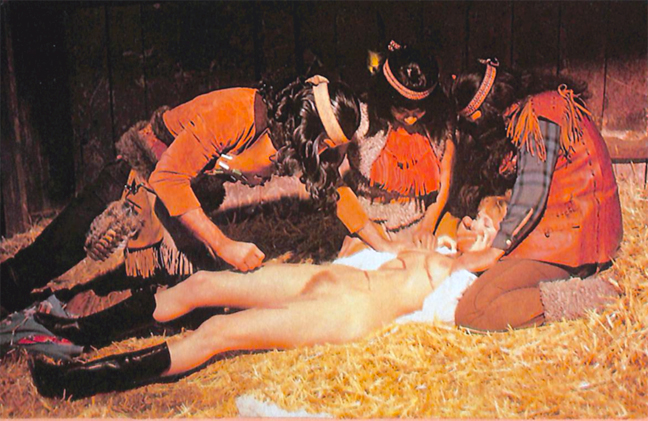 Greg Yedding:
Some of the interiors were shot back in my mom's office in Hollywood – such as the scene in the wash tub or the scene with the wrought iron bed. We took apart the conference room in the office, and made it look like an old western house.
'Sweet Savage' pressbook:
You'll see the first Indian rite ever filmed. You'll see the deflowering of a virgin maiden. You'll see the making of a young warrior. All this and more.
Greg Yedding:
At the end of the shot, my mom told me to do the photo shoot for the publicity materials. I did the make-up and hair in that shoot – and that started my career in that business. I went on to work on shows like 'Soap' and 'The Carol Burnett Show,' music videos like Michael Jackson's 'Thriller, and movies like 'Rocky 4'.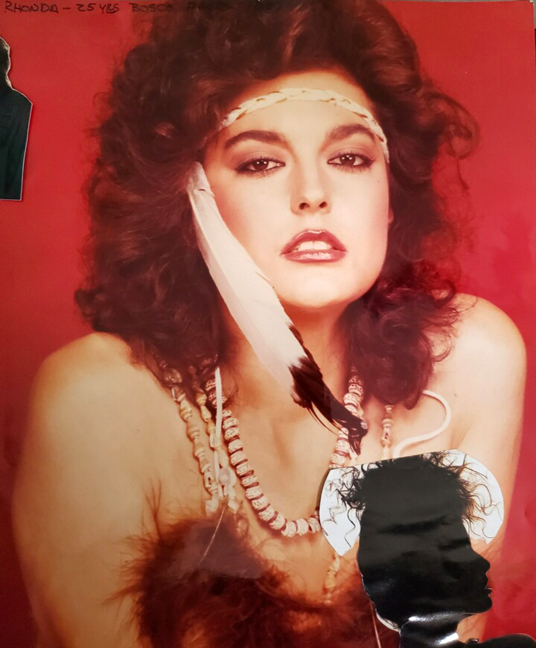 Promotional picture for 'Sweet Savage', taken by Bosco
'Sweet Savage' pressbook:
'Sweet Savage' is a motion picture for all types of mature viewers – the Aldo Ray fans, the Carol Connors fans, the Miss Nude America fans, and most important of all, the sophisticated adult movie fan that really wants to see everything, done every way possible. With good taste, but nevertheless more erotically, more seductively, and more explicit than ever seen before.
'Sweet Savage' is Big!
'Sweet Savage' will be remembered as one of the biggest, if not the all-time greatest adult film ever made.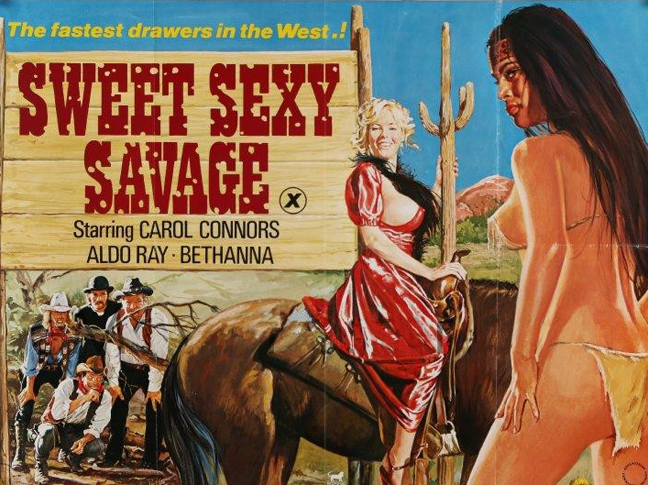 *
5.     The Aftermath
'Sweet Savage' held its world premiere in theaters in San Francisco in April 1979.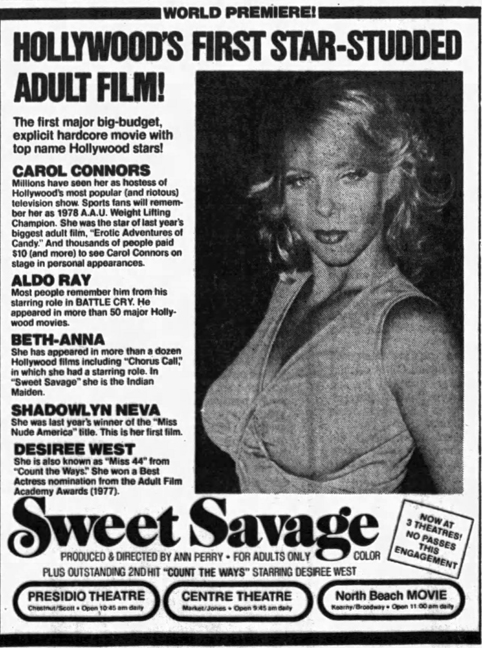 Just as Ann Perry expected, the film received a large amount of publicity – though nearly all coverage focused on the presence of a Hollywood star in a sex film.
'Aldo Ray Tries Comeback in Sex Film,' August 2nd 1979:
Aldo Ray is back – and nobody wants him. Or so it seems. The husky, gravel voiced actor who achieved success during the '50s in films like 'Battle Cry,' 'The Marrying Kind,' and 'The Naked and the Dead' is making a comeback – of sorts.
'Aldo Ray in the Flesh: A Hero Gone Sour,' Philadelphia Enquirer, August 1979:
Up there on the same marquee with 'Aldo Ray' at the Forum Theater on Market Street is a co-feature called 'Hot Assets.' A name that once commanded considerable respect regarding the screen now will be associated with the seedy scenes, perspiring participants, gloomy theaters, and the audience of pornography.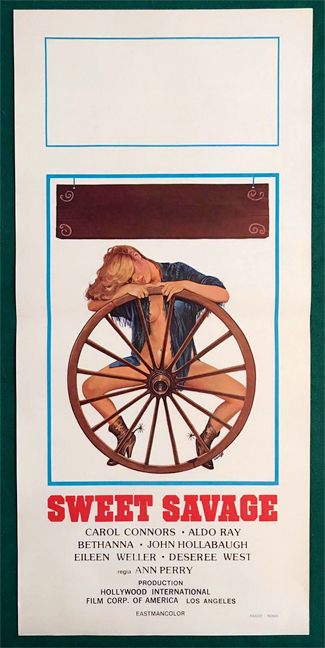 Aldo Ray (interviewed in the Philadelphia Enquirer, August 1979):
I do these things, and all they want me for is my name. Hell, I've gotten a grand for a day's work. Once I was paid $1,500 for working a half day.
Ann Perry:
When the film came out, it seemed that all everyone wanted to know was if Aldo performed sex in the film. And why he would choose to make a sex film.
Aldo Ray (interviewed in the Wisconsin State Journal, July 1982):
I wanted to see what happened on that kind of a set.
And you know something? Nothing happens. I've seen more hanky-panky on the sound stages where so-called 'good' movies are made.
'Aldo Ray Tries Comeback in Sex Film,' August 2nd 1979:
While other 'players' undress, mount one another and perform various sex acts, Aldo Ray simply stands around, reacts somewhat and recites a line or two of stupid dialog. He's matched in his inability by Carol Connors, the sexpot who debuted in 'Deep Throat'.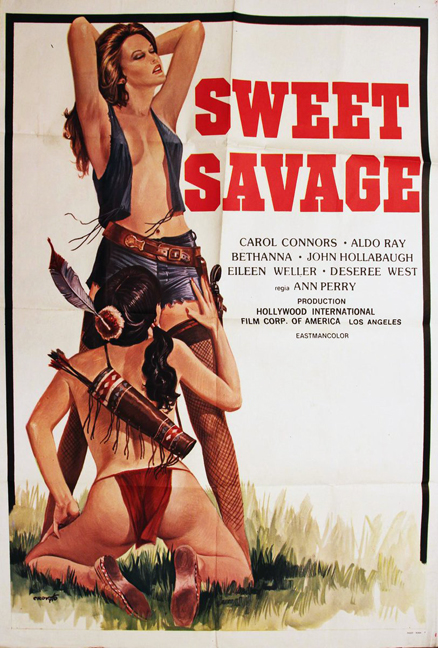 When the press attention focused on the movie itself, the reviews weren't stellar.
Ann Perry:
On the plus side, 'Sweet Savage' was reviewed in places where we would never normally get reviewed – just because the film starred Aldo Ray. On the other hand, the reviews weren't great – mainly because it was reviewed by regular film reviewers who thought it was beneath them.
'Aldo Ray Tries Comeback in Sex Film,' August 2nd 1979:
'Sweet Savage' is porno's answer to 'West Side Story' or 'Romeo and Juliet' – a half baked commentary on race relations in which the relations are strictly sexual.
This is the first hardcore film I've seen in a long time, and I attended mostly out of curiosity out of Aldo Ray. The genre hasn't improved very much.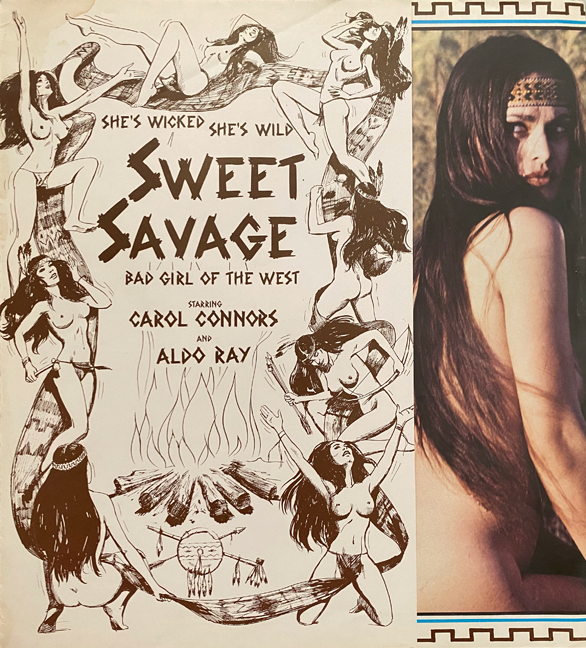 Cinema X magazine, 1980:
It's strange to see an Indian with a brown face and black wig, and once out of costume, to reveal a lily-white body.
Aldo Ray's performance and heavy, beefy voice seem stilted at certain times and sometimes treats the role as if he's lost or dazed by the explicit nature of his fellow actors.
High Society magazine, October 1979:
Aldo Ray's Hollywood career has had its moments of fervor. His porno debut has none.
Not since Nixon has there been such a quantity of drivel. Bethanna recites her lines as laboriously as Helen Keller, but whereas Ms. Keller overcame her verbal difficulties, Bethanna is getting worse. As for Aldo Ray, he doesn't take off his clothes, which is just as well.
But that is the least of the problems with 'Sweet Savage,' a western to end all westerns, peace treaties, and insomnia.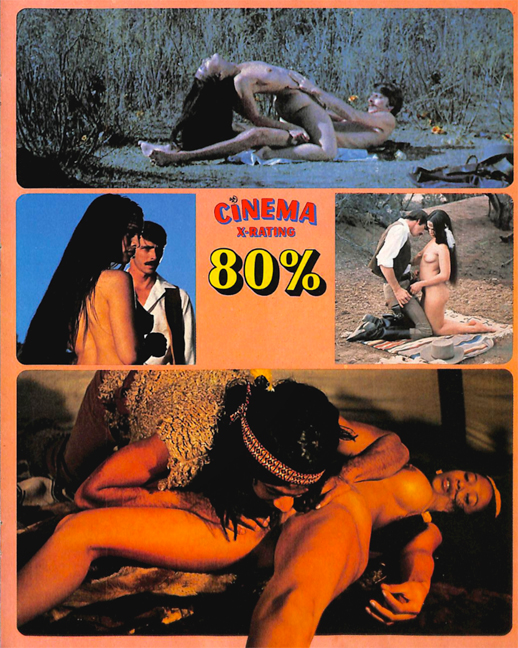 To make matters worse, the film was busted in several communities.
Ann Perry:
'Sweet Savage' was busted a few times. I remember it was confiscated in Redding, CA. They said it was the first time a sex film had ever been shown there…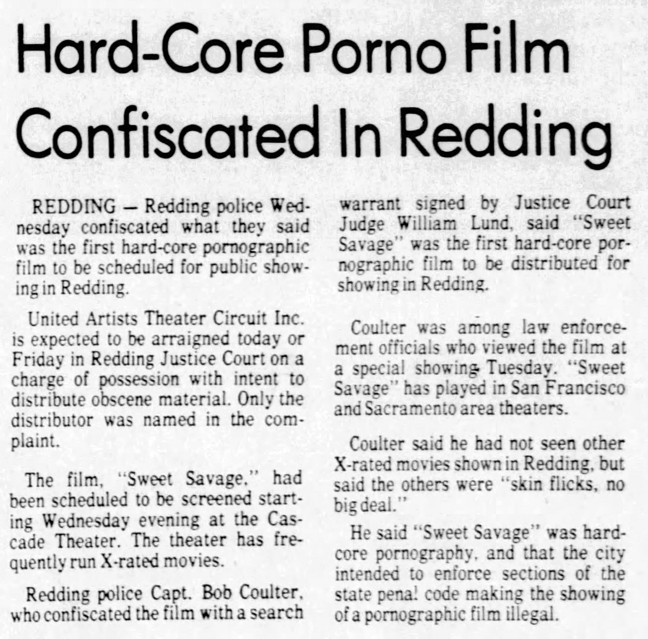 In 1979, Aldo Ray was awarded Best Actor from the Adult Film Association's third Erotica Awards. He won the award over porn veterans John Leslie, Richard Bolla and Wade Nichols, but was not present to accept his award.
Aldo Ray (interviewed in the Philadelphia Enquirer, August 1979):
Jack Carter was the M.C. and the NBC Symphony Orchestra was there. Two thousand people paid $50 a plate and another 1,000 paid $10 just to get in. When they gave me my Oscar, they said, 'Aldo won it without showing an inch of skin… in a skin flick.'

Bill Margold (adult film director and adult film historian):
Some said Aldo Ray's award had something to do with the fact that members of 'Erotica Awards Committee' included Ann Perry (still president of the AFAA), Joe Rhine (by now, Ann's fourth husband – the Mitchell Brother were both the 'best man' at the wedding), and Howard Hughes (the film's accountant).
I'm not saying anything, but there was a lot of controversy that year!
Ann Perry (interviewed in 1979):
It was not surprising that Aldo won considering that one of the announced functions of the AFAA and its annual awards is to upgrade the image of the adult film industry in the public eye.
Cheri magazine:
The Erotica Awards are supposed to be presented to sex-film performers who both 'act' well and 'perform' well. In 'Sweet Savage', not only did Aldo Ray not 'act' particularly well — his part was simply gratuitous…he never even performed at all. The fact is he never even took his clothes off.
Carol Connors won no Erotica awards, although she copped two nominations, but stole the show with a hot impromptu striptease that had flashbulbs and eyeballs popping. AFAA officials had promised the Palladium that their awards ceremony would be sedate and respectable so they were none-too-thrilled about Carol Connors flashing bare beaver from the stage. But outrageousness and offensiveness come with the territory and Carol was determined that the newfound respectability of the porn impresarios wouldn't spoil her chance to have some fun. The AFAA later issued a bulletin describing her performance as "unnecessary, unrehearsed and unauthorized".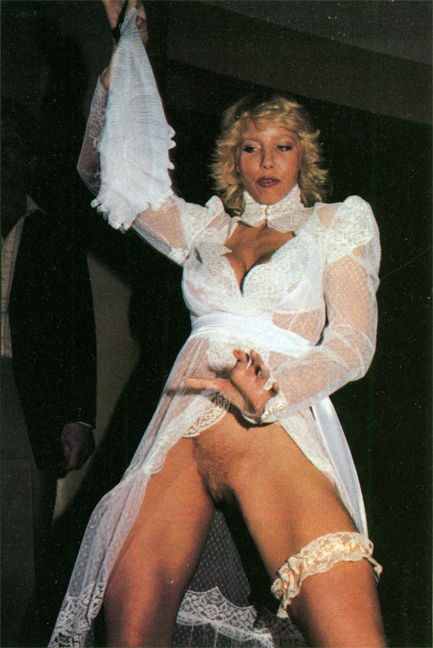 Carol Connors bares all at the AFAA awards
Aldo Ray seemed to have no regrets about 'Sweet Savage.'
Aldo Ray (interviewed in the Philadelphia Enquirer, August 1979):
I'm 52 now, and I figure I'll make it to 80. Before that, I'll be a millionaire and be able to relax.
In subsequent years, Ray continued to find good roles hard to come by, but slowly began to turn his life and career around. Some of his films from the 1980s include Bog (1983; with Marshall Thompson), Vultures (1983; with Yvonne De Carlo), Evils of the Night (1985; with Tina Louise and Julie Newmar), and Terror Night (1987; with John Ireland and Cameron Mitchell).
Aldo Ray (interviewed in the Philadelphia Enquirer, August 1979):
The 'superstars' of (mainstream films) today? Hell, they're just products of the whole phony scene. There aren't any individuals anymore: every actor and actress looks the same. Today, nobody looks or behaves any different from anybody else.
Everything's hype and PR. People are making fortunes on giant pieces of shit.
In the late 1980s, Ann decided to make a sequel to 'Sweet Savage.'
Ann Perry:
'Sweet Savage' was still making a lot of money in Europe – especially Holland where it came out on VHS. This was ten years later!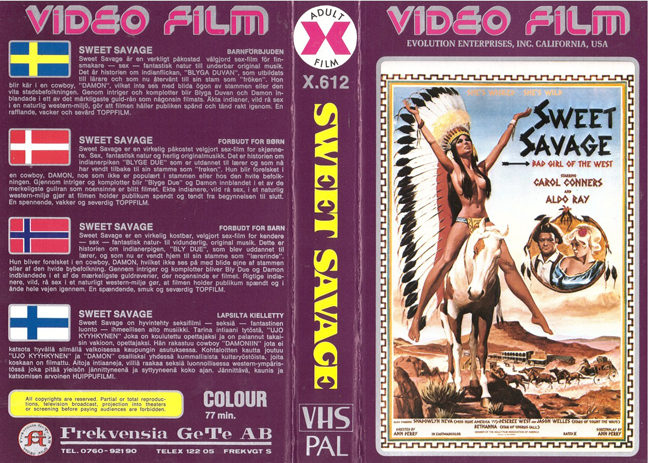 So I rented the Paramount Ranch at Paramount Studios, and I hired a cast from the adult film industry and a crew from mainstream movies. I wrote the script, which involved the same characters from the first movie.
We shot it all, and I gave it to my assistant editor who I'd worked with for years. The problem was that I'd moved to Spokane, WA, by that time, and it was just too difficult to oversee the process when I wasn't around on a day-to-day basis.
Greg Yedding:
Another problem involved the investors for the sequel, who came looking for their money.
I think it was more convenient for my mom just to keep the footage hidden – and un-assembled.
Ann Perry:
I still have the 35mm footage that I shot, and the shooting script. It was just never put together.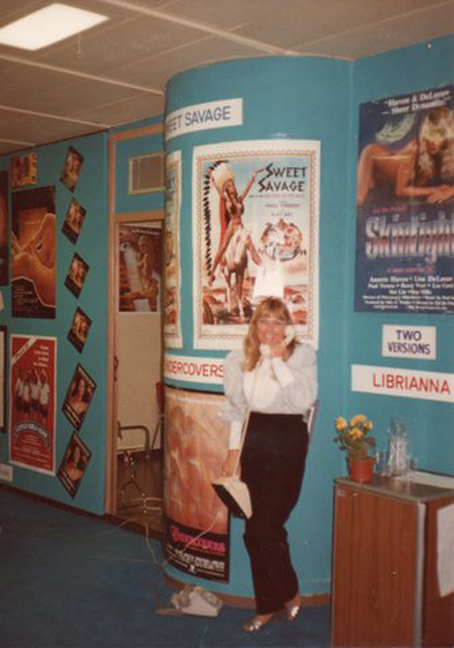 Ann Perry, on the sales trail with 'Sweet Savage'
In late 1989, Aldo Ray was diagnosed with throat cancer. A series of radiation and drug treatments followed.
"A lot of doctors said I should have been dead 25 years ago," he said. "My lifestyle. I was living too fast in my Hollywood days."
His final film, Shock 'Em Dead (1991) featured former porn star, Traci Lords.
On March 27, 1991, Also Ray passed away. He was 64 years old.
*
Joseph Rhine died of a heart attack on May 14, 2003 in Southern California. He was 67.
*
Ann Perry Rhine died from Alzheimer's Disease on September 11, 2015 in Los Angeles, California.
*
On February 14, 2004, a fire consumed the Apacheland Movie Ranch, ending its movie-set days. Today, the studio's sets and other Western paraphernalia are part of the Superstition Mountain Museum.
*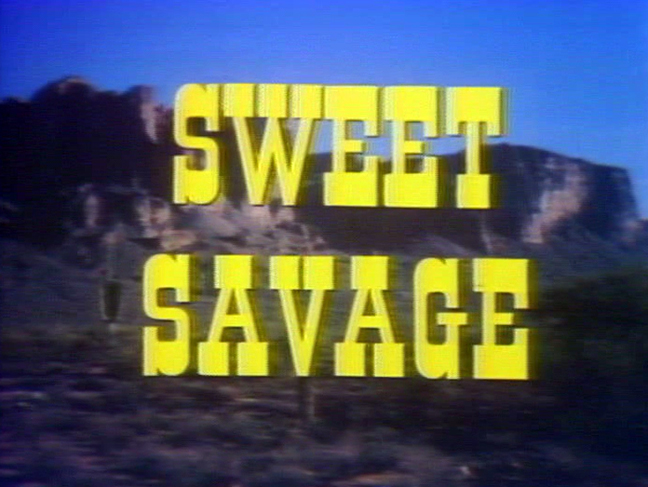 *