In the early 1970s, a pioneering adult film with a gimmick made headlines and profits, and was the subject of a high profile prosecution.
No, not Deep Throat. We're referring to a film that was released a full six months before 'Deep Throat' – called Hot Circuit.
Hot Circuit was an interesting and imaginative effort that avoided many of the tired conventions that would plague later sex films. It wasn't sleazy and didn't feature any recognizable porn stars. It had a spirit and spontaneity that suggested it was made by a group of hippies fresh from a weekend at Woodstock.

Despite its seeming innocence however, within months of its release, it was being prosecuted in Washington D.C. and its filmmakers faced jail sentences and fines.
But was 'Hot Circuit' being used as an attempted diversion to the Watergate hearings that were taking place at the time?
The Rialto Report tracked down the 'Hot Circuit' filmmakers, one of the stars, and the prosecutor to hear their story for the first time.
_______________________________________________________________________________________________
Prologue – 'Hot Circuit':
John Green (Justice Department, 1969-1976):
Did we suddenly prosecute films of a pornographic nature during the Watergate hearings in order to replace Nixon's problems in the nation's agenda with a different news story? I don't think anyone would claim that.
But were any people motivated by a desire to deflect the media attention to something different? To something salacious that would capture the public imagination?
You could make a credible case for that theory.
1. 'Snow Job' (1971)

I grew up in New York where I had a mixed background in the performing arts.
When I was in college, I got involved in theatre as a set designer, before I started directing plays. I graduated in 1962 and did some summer theatre, and then I decided to look for work in television and documentary making. It was a natural move for me because there was so much going on in the world, and I was keen to document it.
For the next seven years, I worked in non-fiction filmmaking, firstly for CBS news and then ABC. After I got some experience with them, I started getting commissions to do my own documentaries, which is what I was doing by the early 1970s.
I met Richard Lerner through mutual friends.
My father had a 16mm camera, and I played with it all the time. I started by making experimental, avant-garde, sort of non-narrative films.
I did four shorts – the first was a horror film, and the title was, 'I Can't Wake Up'. It had no dialogue, just a score of classical music by Bartok and Stravinsky. I shot it on 16mm in my mother's apartment. It was fun.
I made a five minute short about a lawyer taking a bubble bath, called 'Fat Tub', and an abstract ice-skating film in Central Park using Django Reinhardt as the soundtrack.
I even made a 70 minute feature called 'Stop Motion' that starred Norman Thomas Marshall, the guy who went on to play the principal in Revenge of the Cheerleaders.
Paul Glickler:
In 1971, this guy called Paul Wyatt was introduced to me. He was a friend of a friend. He'd come in from the West Coast to New York, and he had some money. He asked me if I was interested in making a porno. I guess he liked them and thought that they were an easy way to make lots of money.
My philosophy is that when someone offers you money… you take it, so I said, "Of course" – without knowing the first thing about sex films. Not only had I never been involved in making one, but I hadn't even seen one before. There was only thing to do: I needed to see some for myself.
I got Richard involved and we took ourselves off to the porn theaters and watched a few. To be honest, it wasn't a great experience – they were horrible to watch, and no one could've taken them seriously as real 'films'.
I already liked Russ Meyer very much and his sense of the absurd, and I also admired the soft core films of Radley Metzger, which were well-made and interesting… but neither of them were making hard-core films – certainly not like the ones that were playing in Times Square at the time.
We concluded we could do a lot better, so I started to put our film together. Bear in mind, I still knew nothing – I didn't know where I was going to get the actors.
At the time, I was living in upstate New York, so I decided that the plot would revolve around a weekend at a ski lodge – I think we called it 'Snow Job'. We shot it in under two days in what was my farm near Woodstock.
Richard Lerner:
The fact that both of us had made very low budget films certainly helped us. We didn't have any resources, but we tried to be as creative as possible to make up for the shortfalls.
Paul Glickler:
Unfortunately I can't remember much about 'Snow Job', and I haven't seen the film since I made it. I recall that the action centered on two couples – there may have been some other characters, but it was mainly these two couples.
I'm not sure where we got the actors from, but one of the couples said they had some experience doing porn before. I had to take their word for it, because I'd never seen anything they'd done. I recall that one of them was a pre-med student.
The crew was just me, Richard, and my then-wife, who did the sound.
It was a full-length feature film – it came out at about 80 or 90 minutes long – and we shot it on 35mm.
Richard Lerner:
It certainly wasn't a masterpiece, but it felt like an achievement to get it made. I would describe it more as a learning experience…
Paul Glickler:
Even though we'd done some research, the truth was that we didn't know what made a porn film saleable in the sex film market. We did our best to make it erotic, artistic and creative, but we were complete novices when it came to this genre. When we finished it and showed it to people, their first reaction was that we had completely ignored the conventions of porn.
"Where are the money shots?" was a frequent reaction. That and, "You're complete amateurs."
Needless to say, 'Snow Job' didn't find distribution for what seemed like ages. After getting turned down by lots of people, I went to the area around 42nd St and Eighth Avenue where porno distributors had their little offices. I came across Alan Shackleton, who later found fame or infamy by distributing the film Snuff.
Alan was a strange type. Like most film distributors, he was a real hustler. He said, "I'll buy it, if you can make me a really great trailer." So we set about making one with all sorts of flashy effects. Shackleton liked it so he bought the film, and renamed it 'Parlor Games.'
To this day, I don't know how or even if Alan distributed it, or how successful it was. Our names didn't even appear on it. I think the only credit was for our company 'Acorn Films.'
The good news was that we got the money back for Paul Wyatt, the investor, but overall it was an exercise in how not to make an adult film.
Sadly, I didn't keep anything from it. No print, no photos, no contracts, nothing. The film seems to have completely disappeared.
*
2. 'Hot Circuit' (1972)

Paul Glickler:
Paul Wyatt was undeterred by the delay in selling 'Snow Job', and even before we found a distributor, he started talking about making another film. He was eager for us to make a more ambitious adult film straight away, and this time he wanted to make it on his turf – which was Silicon Valley in California. Once again, he agreed to finance it with his own money, and this time the budget was around $15,000. We didn't know where the money came from, and we didn't ask.
Richard and I wanted to make sure that we put into action the lessons we'd learned from 'Snow Job.' For a start, we had much more time; we had a week to shoot it as opposed to a day and a half.
I also had a scenario for the film that was called Hot Circuit, which was loosely based on the structure of Schnitzler's nineteenth century play, La Ronde. I'd directed a production of 'La Ronde' at university so I knew the play very well.
It had already been turned into a wonderful 1950 French film directed by Max Ophüls, which was set Vienna in 1900, and showed ten amorous encounters from across the social spectrum. It featured a nobleman, a street prostitute, a poet, a shopkeeper, and so on. The key was that each scene involved one character from the previous episode.
We converted those characters into people from 1970s San Francisco, but we followed the same form. So in 'Hot Circuit', A fucks B, then B fucks C, all the way back to A again at the end.
The actors were all just kids. None of them were porn actors, or professional performers in any way. We found them by placing an ad in the Berkeley Barb or another local newspaper like that.
The porno films at the time used the same people over and over again, but as far as I know, none of the people who auditioned for Hot Circuit had any experience.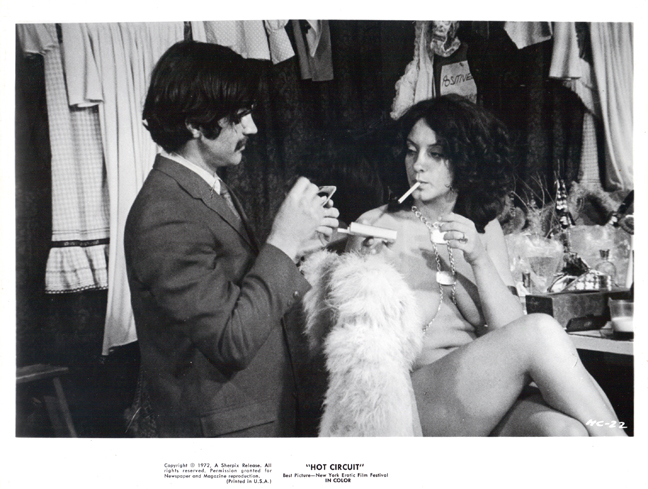 'Kit Fox', 'The Babysitter' in Hot Circuit:
A boyfriend of mine told me he'd seen an ad looking for actors for a film. I seem to remember it was clear that it was a low budget production and that nudity was required.
My boyfriend was excited to go along and see what it was all about. It was a time of experimentation, and the prevailing ethos was that it was important to show you were open to all kinds of new experiences. It wasn't cool to think of the consequences. It wasn't cool to be negative or have doubts. So I went along with him.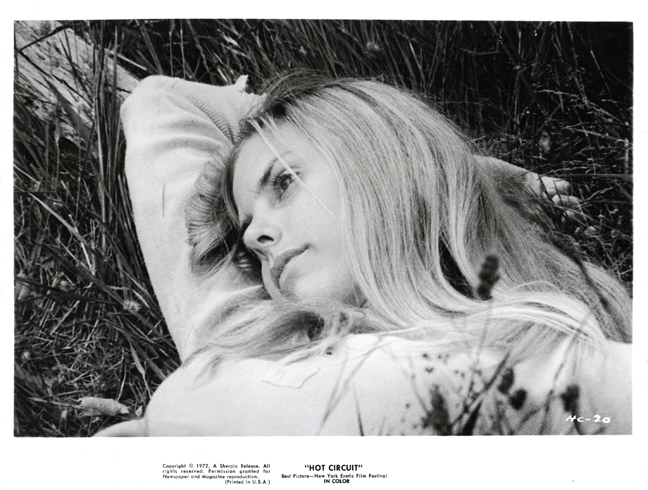 Paul Glickler:
This was San Francisco in 1971. This was the immediate aftermath of the sexual revolution and sexual freedom. These kids probably thought, "This sounds exciting. We get to make a porno film, take off our clothes, and screw. And we get paid for it!"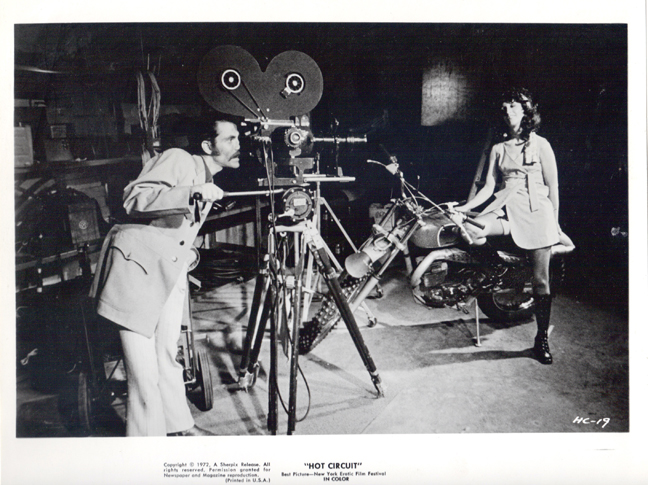 'Kit Fox':
If I recall correctly, there was an 'audition' at a downtown hotel. There were two or three producers there, who were in their 30s or 40s, and they talked to us about what would be expected of us.
Paul Glickler:
We asked to come to the Jack Tar hotel in San Francisco. It wasn't a sleazy hotel, but a place where salesman would stay if they're in San Francisco. We got a suite there, and held auditions.
'Kit Fox':
I was surprised to learn that it was an explicit sex film. I think I thought that porn films were like unicorns: I wasn't even sure they really existed. I definitely didn't know how legal they were at that point. It all seemed to be above board and professional, but I had never seen a feature length film of this kind, so it was a completely new concept.
The filmmakers liked both my boyfriend and I, and offered us both roles – though we were in separate scenes, which was something we hadn't planned.
I wasn't a prude sexually, and had experimented with a number of different partners, so this didn't feel too strange. But I never gave much thought to the fact this was film… and it would last forever.
Or that one day I'd be a grandmother and be answering questions about it…!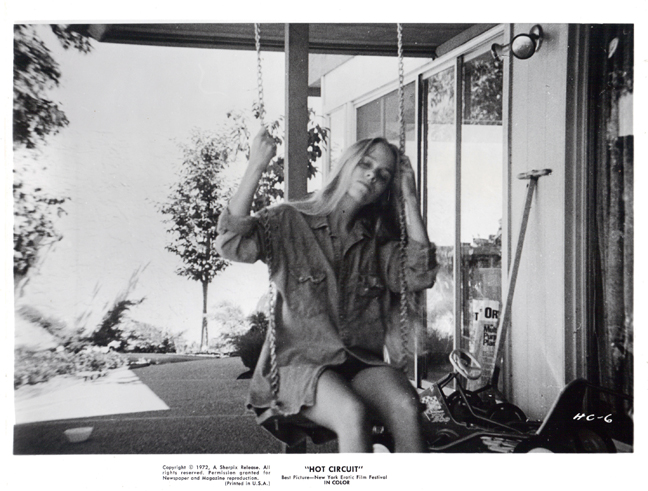 Paul Glickler:
I wrote a script outline, but the actors mostly improvised their lines. We told them the set-up or an idea of what we wanted them to say and then we'd film the scene. It was good to have that flexibility because then we could change plans along the way if we lost someone (which we did…) or if we had to change locations (which we did…)
We had more time to shoot it this time, which we needed because we had more characters and more locations.
Paul Wyatt lived in the Sunnyvale area, so he provided the locations, which were mostly his house and his friend's places, like a beautiful house with the woodcutter in Atherton near Palo Alto, which was a rich and fancy neighborhood south of San Francisco.
We didn't have any permits to shoot – so the street shots, such as the theater in the opening scene which was on the Tenderloin in San Francisco, were just grabbed wherever we could. The barker you see in that seen was the actual guy who really worked for the theater in that capacity.
Opening sequence in 'Hot Circuit':
'Kit Fox':
Once I got used to the idea of having sex in front of cameras, I decided to treat it like an adventure, and enjoy it.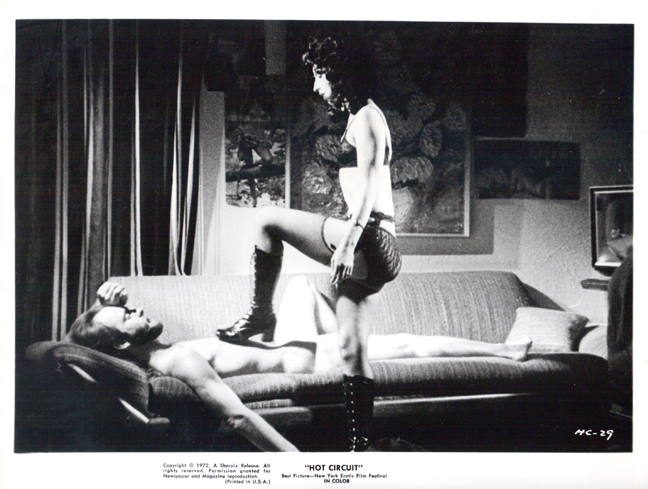 Paul Glickler:
The spirit of the actors we hired was typical of the production, and it was a fun film to make.
However their inexperienced nature did create the occasional problem. In the last episode, where people meet on the street and they go to the girls house, the actor we used had a problem getting an erection, and had no idea what to do to get himself fluffed up. That took up more time than we expected. We hadn't planned for that, so I guess by some standards we were still kind of amateurish.
'Kit Fox':
The filmmakers seemed experienced at what they were doing. They knew what they wanted and gave us clear instructions. Mostly though, it was just general instructions and then they let us do our thing, while they shouted occasional directions from behind the camera.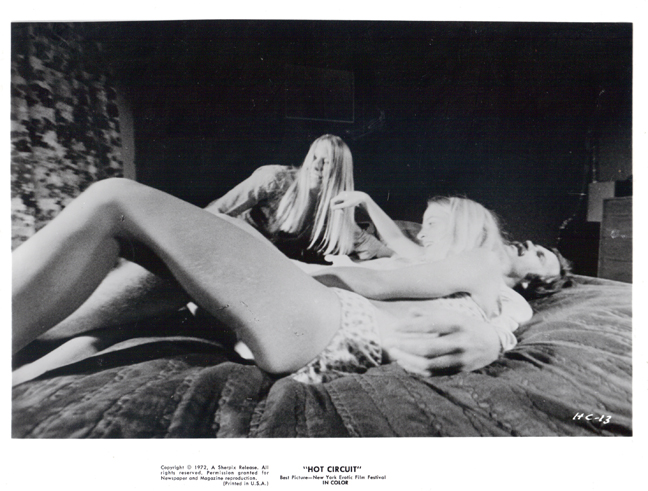 Paul Glickler:
'Hot Circuit' was a bigger film than 'Snow Job', but the crew wasn't much different. It was still Richard, myself and my ex-wife again, and then there was a guy who had a grip truck and he did a little gaffing. He transported and carried the equipment everywhere.
Even though we'd learned the conventions of a porn movie, 'Hot Circuit' still feels like an experimental film. It's doesn't seem sleazy like many other films at the time, and it has a carefree attitude to it.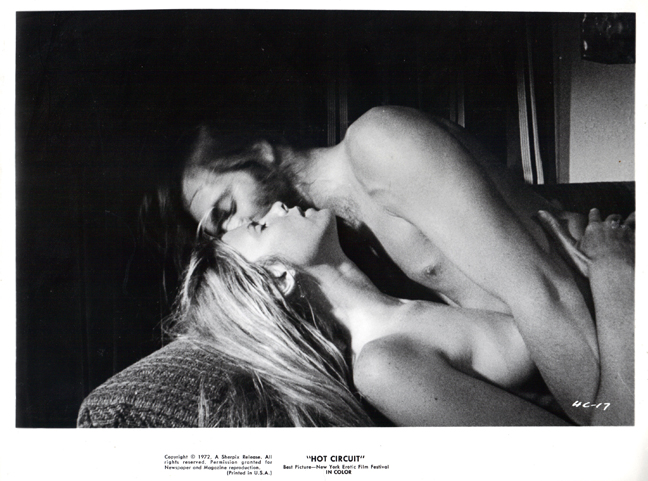 'Kit Fox':
My scene was with another girl and an older guy. Us girls were teenagers hanging out in the yard, and the guy was a door-to-door salesman. It was a corny set-up that has probably been in hundreds of sex films.
As for the sex, we giggled a lot. It seemed a such strange and ridiculous situation, that I couldn't stop laughing.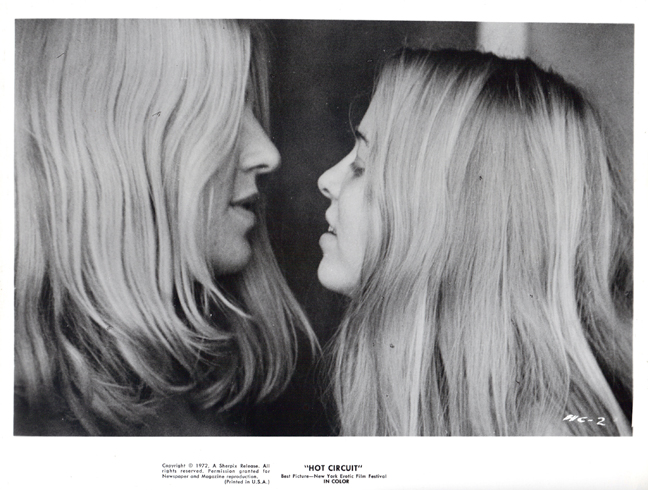 Paul Glickler:
One incident was when we were busted. Well, almost busted.
We were in Sunnyvale, California filming the vignette with the babysitters and the salesman.
What happened was that this: The house belonged to the producer, and was surrounded by a six-foot high garden wall. Richard and I wanted to do a shot where we would see the salesmen coming down the street and knock on the door, and then we'd pan over to the two girls who are talking in the garden. To do this we needed a high camera position so we could shoot over the wall.
Obviously some of the neighbors saw the scaffold that we built and they called the cops.
Babysitter sequence in 'Hot Circuit':
Paul Glickler:
A little while later, we were shooting in the garden when suddenly several policemen start climb over the garden walls into the property. They didn't knock on the door, they just scaled the wall and jumped down. Suddenly there's half a dozen cops surrounding us. Fortunately, we weren't shooting a sex scene so there was nothing indicating this was a porno film.
They asked for everybody's IDs. Unfortunately, one of the two babysitters, the younger girl, who was called Karen, had a doctored driver's license. She was actually over 18, but still had some fake ID left over so she could drink when she was 17.
The cops picked up on this and got excited thinking that they had nabbed some underage girls… but when they called in to their station, they determined that Karen was actually a few months over 18, so the cops left us alone…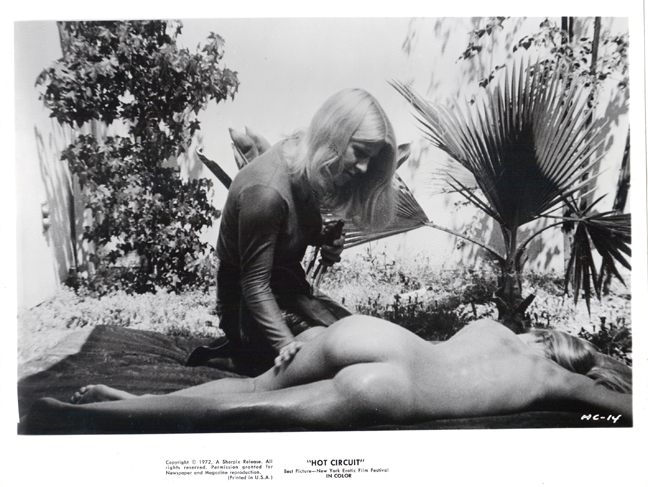 'Kit Fox':
My scene wrapped up, and I didn't think much more about it. My boyfriend did his scene and seemed to like the experience. I split from him shortly afterwards.
Paul Glickler:
The film had a great soundtrack written by Michael Sahl, who worked with the folk singer Judy Collins. We were introduced to him in New York, and he did a song especially for the film called 'Waiting For You' which was particularly strong.
When the film was finished, we entered it into the first New York Erotic Film Festival, where the jury consisted of Milos Foreman, Andy Warhol, Sylvia Miles and others.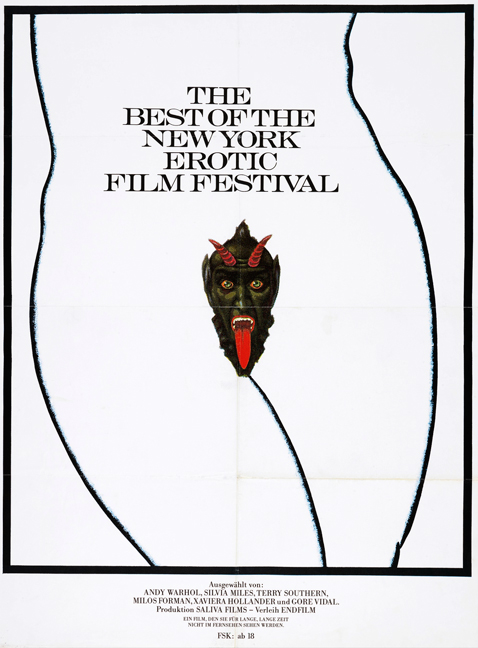 Paul Glickler:
'Hot Circuit' premiered there in November 1971 – and won the first prize, so we benefited from some good publicity.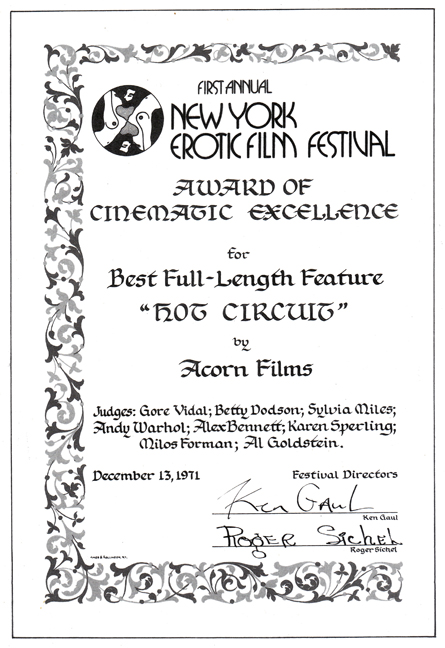 Paul Glickler:
Shortly after that, we sold the film to Sherpix – the distribution arm of Louis Sher's Art Theater Guild (ATG) circuit.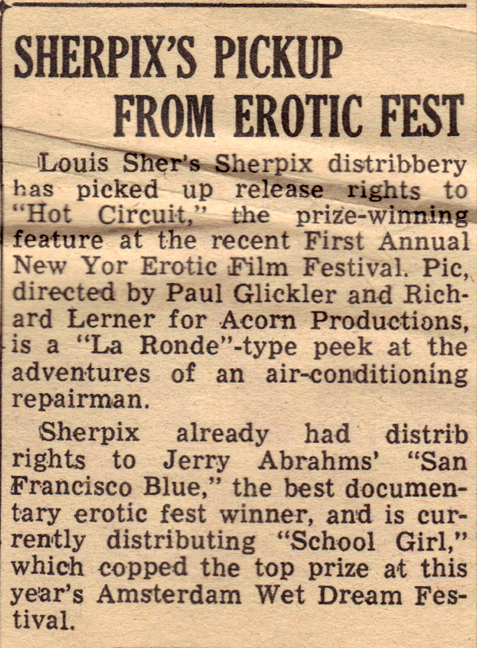 Paul Glickler:
Lou Sher was a very buttoned-down gentleman, polite and decent to us. He was dapper, always well-dressed and well-spoken. Lou had standards. He was like royalty in the porn circles.
He was however surrounded by guys who were more gruff though. Guys who looked like people you'd associate with the world of porno films and peep shows.
Lou released 'Hot Circuit' in New York in March 1972. It was surprising to see the way that porno films were marketed at this time. They were advertised in the newspapers, with ads next to films like 'The Godfather' – and ours were bigger!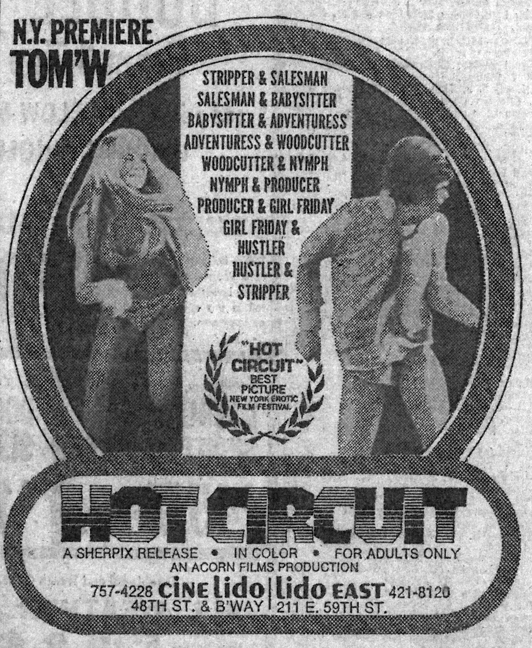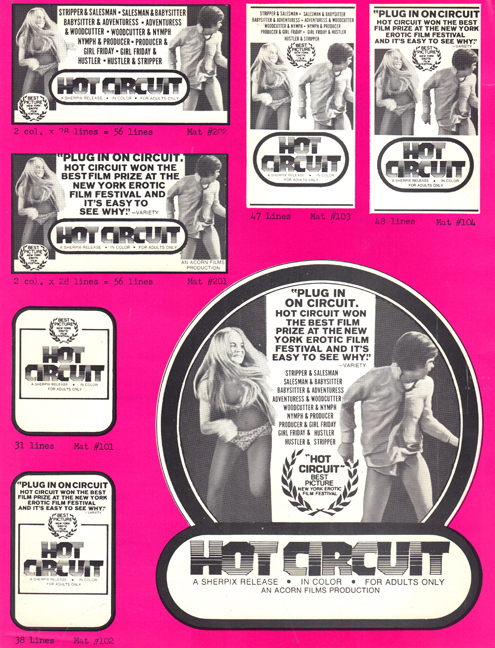 'Kit Fox':
I went to see 'Hot Circuit' once. I snuck into a theater with a girlfriend. We were high on something or other, which made the experience of seeing myself having sex on an enormous screen even more surreal.
What a trip… I remember leaving the theater after my scene and laughing hysterically for hours.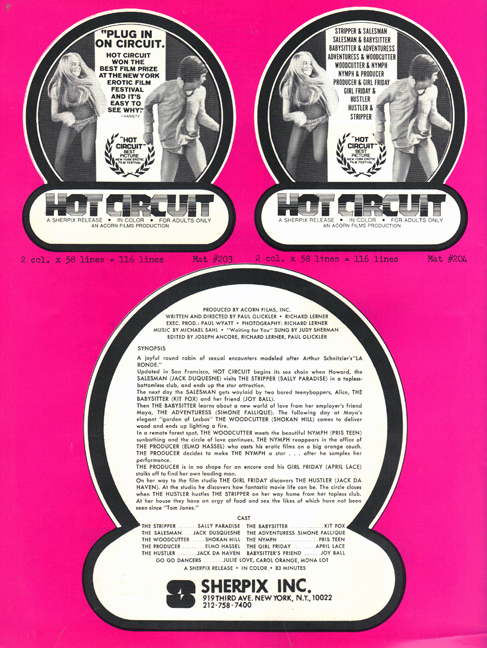 *
3. Busted! The 'Hot Circuit' court case
Extract from – United States of America v. Sherpix, Inc.:
On November 1, 1972, an FBI Special Agent viewed a showing of the film, 'Hot Circuit', at the Trans-Lux Theater in Washington, D.C.
The agent drafted a detailed affidavit describing the film, and a warrant was obtained from a United States Magistrate. It was executed the same day, and four reels of film were seized.
The Government then petitioned for an adversary hearing before the Magistrate on the question of obscenity.
At that hearing, held on November 3, Sherpix was represented by counsel. After viewing the film and hearing argument, the Magistrate determined that the film was obscene under the existing standards of obscenity.
Paul Glickler:
'Hot Circuit' was playing in Washington, D.C. and it was busted on federal charges.
There was a conspiracy charge against myself and my partner Richard Lerner, the theatre, and the projectionist, as well as Lou Sher and Sherpix. This was one of maybe half a dozen pictures that were busted at the same time.

From United States vs. Acorn Films, Paul Glickler, Richard Lerner, Sherpix Inc, Louis Sher, Harry Brandt Booking Office, Louis Wolfe, Trans-Lux Theatre Corporation, Bernard L. Levy (February 5th, 1973):
The Grand Jury charges the defendants to commit offenses against the United States by transporting… an obscene, lewd, lascivious, and filthy motion picture called 'Hot Circuit.'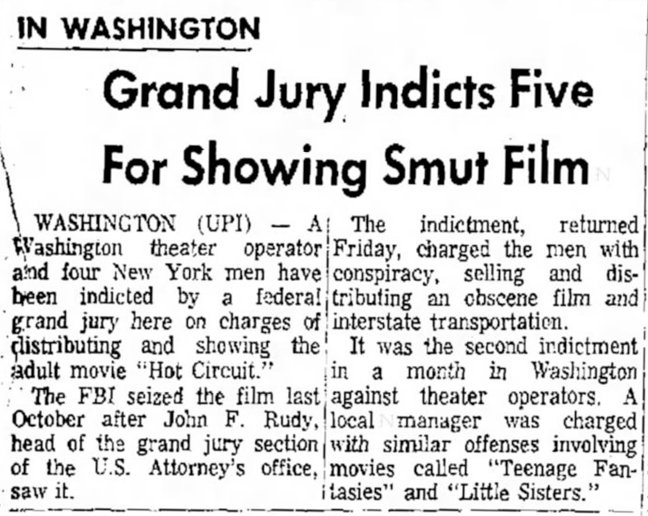 Click on the following document to read the court documents: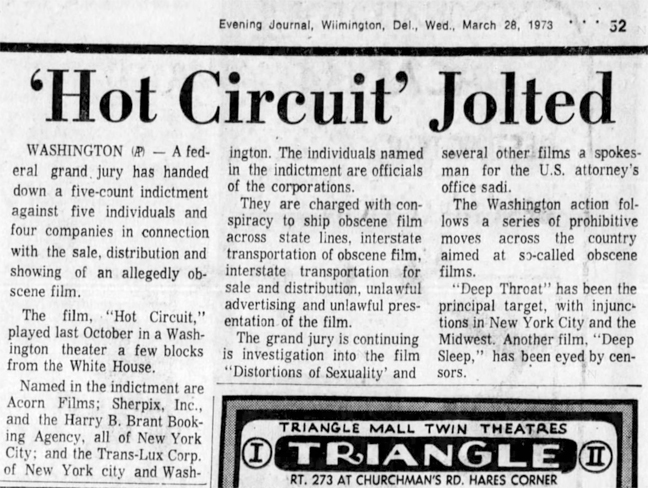 Paul Glickler:
Around that time, the Supreme Court issued a ruling on pornography.  This was the first ruling on obscenity they'd made in a number of years.
From News Service, Washington Bureau, July 1973:
The new definition of obscenity moves from that material that is 'without redeeming social value' to any work that, 'taken as a whole does not have any serious literary, artistic, political or scientific, value' but only prurient interests.
Community standards, rather than national standards, will define obscenity and guide law enforcement officials in moving against alleged pornography.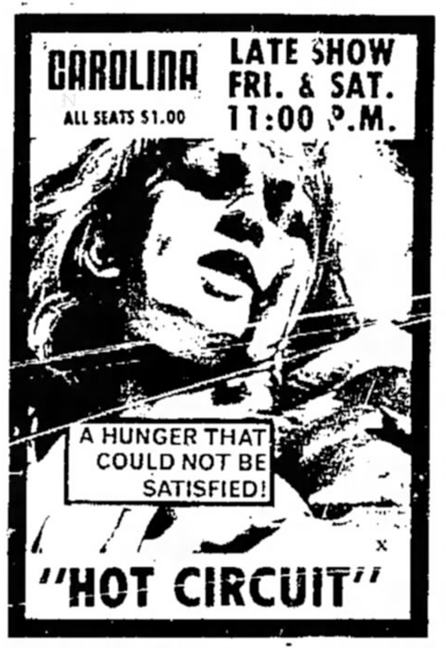 Paul Glickler:
The major change that happened under the new ruling was that the definition of what would be considered socially redeeming or obscene would be solely a question of local community opinion.
Richard and I found an ACLU lawyer to defend us. He told us that this was going to come down to is what a jury in the District of Columbia considered obscene. This meant we would not be able to bring in any expert witnesses because their opinion would not make any difference.
I'd contacted people like Gore Vidal to comment on the artistic merits of the film, but the judge didn't allow this because that wasn't relevant to a 'local community standards' view of whether the film was obscene or not.
This was strange to us because the film was made when the older definition of obscenity was in effect, but the judge wanted the trial to be conducted under the new definition.
The prosecutor was a guy called John Rudy.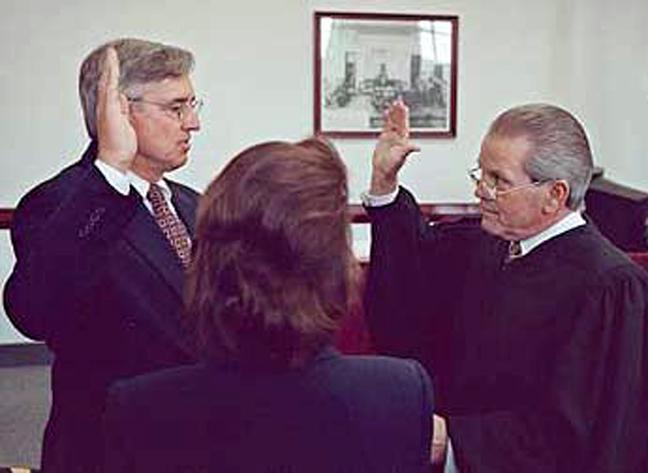 John Rudy (left)
John F. Rudy (Assistant U.S. District Attorney):
After the Supreme Court ruling on obscenity, there was a desire to test to the waters, so to speak, in the nation's capital. The FBI raided a few theaters – I remember in one week in November 1972, they raided the Plaza, the Trans-Lux and the Janus 1, and confiscated prints of Distortions of Sexuality, Hot Circuit, and Little Sisters.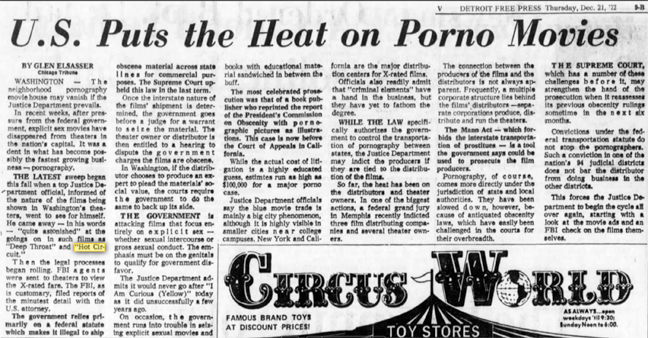 Paul Glickler:
There were at least four films that were busted in Washington over a short period.
We were told that the reason these cases were brought up in Washington was that the Watergate affair was becoming serious. Nixon's administration was under fire. We were told that these indictments were pushed on the local US district attorney by the Justice Department as a diversion, so that the Nixon administration would seem like they were solidly on the side of law and order, and whiter than white.
John Green (Justice Department, 1969-1976):
Watergate was ongoing, and sucking up a lot of our resources. We were looking for something different focus on.
The new definition of obscenity gave us the chance to change gears.
Paul Glickler:
I don't think the US attorney, John Rudy, was happy about that. These just weren't cases that he was interested in.
John F. Rudy:
It was a strange time. I must admit I hadn't envisaged prosecuting sex films when I trained to be an attorney.
You could make an argument that there were more important issues that needed investigating, but I followed the directions I was given, and prosecuted them to the best of my ability.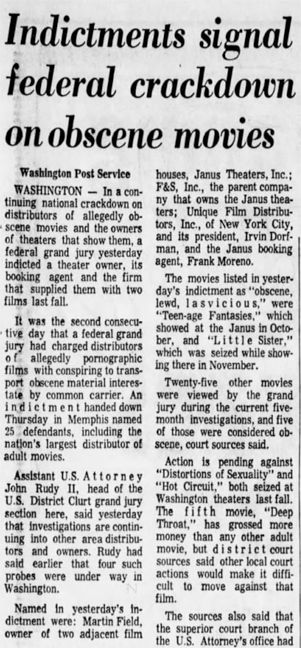 From Jack Anderson column, March 1973 – 'The Porno Hunters':
A Justice Department memo to all U.S. attorneys reports that the FBI has been requested to make a survey of all X-rated films being commercially distributed and exhibited.
Last year the Justice Department launched more than 90 investigations against major distributors of pornographic materials. This compares to only 5 investigations that were underway when President Nixon took office on 1969.
John F. Rudy:
They weren't cases that easy to prosecute. For a start, this was Washington D.C. not the Bible Belt in the Deep South. Local community standards in D.C. didn't seem to be offended by most of these films.
The first film we tried was called Distortions of Sexuality. We charged the distributor (Arthur Morowitz of Distribpix) with transporting a film across state lines in violation of federal obscenity laws. That was the standard charge in cases such as this.
We weren't successful – the jury came back saying they did not find it obscene. That was a blow to us.
It was the first innocent verdict in a Justice Department obscenity case under the new Supreme Court ruling.
The Indianapolis Star, 23 September 1973 – 'Jurors Rule Sex Movie is Not Obscene':
Twelve Federal jurors, including 10 women who range in age from 21 to 70, have decided that a sexually explicit film entitled Distortions of Sexuality is not obscene.
Its distributor, (Arthur) Morowitz, was visibly shaken when the verdict was returned. When asked how he felt, he replied with a question: "What does it look like?"
(Juror) Sarah Garfield, 39, said she thought the movie "was educational", one of the arguments used by the defense in claiming that the film was not obscene.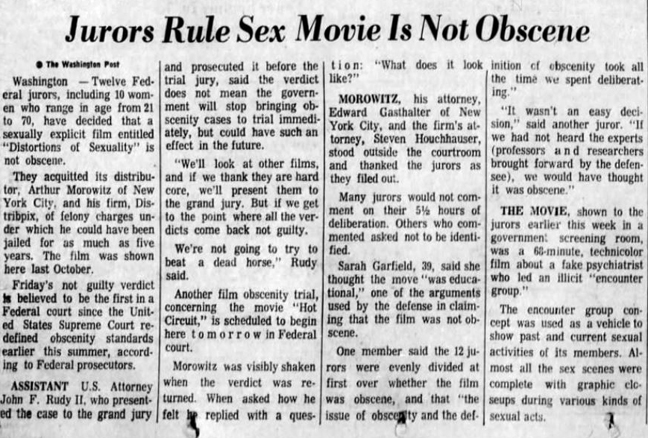 John F. Rudy:
The failure of the 'Distortions of Sexuality' case made the next case – the 'Hot Circuit' trial – even more important. If we couldn't get a guilty verdict for 'Hot Circuit' then the other obscenity cases would probably have to be withdrawn.
This was a critical case for us.
Paul Glickler:
Rudy was actually a very nice guy. I heard he was pretty liberal, and was just doing what he was told. That was his job and so he just had to get on with it.
I remember meeting with him once. He was in the middle of trying all of these porno films, but he said, "Oh, I remember your film above all the others. Your film has that incredible song, 'Waiting For You'".
Then he started to sing the song from our movie… in the middle of his office in the US District Court in Washington!
He said, "That song has stayed with me. It haunts me. I wake up at night with it!"
'Waiting For You' theme song:

John F. Rudy (Assistant U.S. District Attorney):
It was an important case for us, but it was a serious case for the defendants as well.
If we'd convicted Louis Sher, he would've got a five-year prison sentence. I know that this got to him.
Paul Glickler:
We filed a motion to the court to have our trial conducted under the old definition of obscenity, arguing that we were victims of a retroactive application of a new interpretation,
We also filed a motion that would enable us to be tried separately from Louis Sher and the other defendants. The fear was that we'd be tarnished by association with these veterans of the sex film business.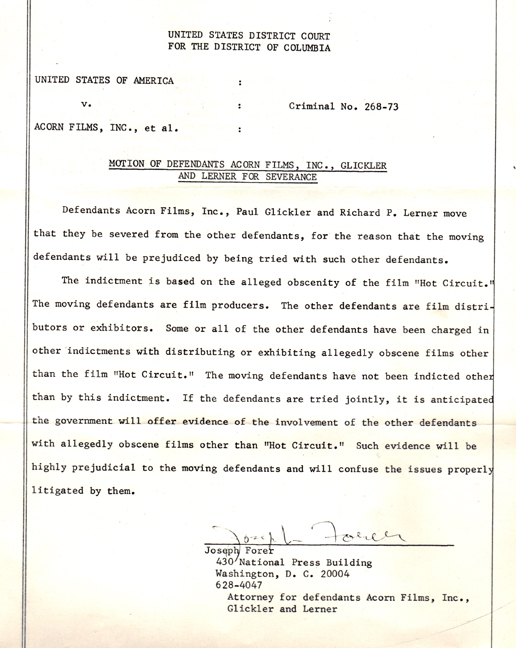 Paul Glickler:
The judge denied both motions. Our lawyer advised us that we were probably going to be found guilty, and that our only chance was on appeal.
'Kit Fox':
Somehow I came across an article in the newspaper that reported on the 'Hot Circuit' trial. I remember wondering if they'd come after the actors at some point. I'd use an assumed name in the film, but I was worried.
Extract from United States of America v. Sherpix, Inc.:
The trial commenced September 24, 1973.
In a five-count indictment filed March 23, 1973, appellants, Sherpix, Inc., and its president Louis K. Sher, and seven codefendants, were charged with violating federal and District of Columbia obscenity laws in connection with the distribution and exhibition of the film 'Hot Circuit.'
Paul Glickler:
What the prosecution thought they would get from our testimony was putting the head of Sherpix, Louis Sher, on the hot seat.  We were a piece in the chain of evidence they were trying to put together.
What they wanted us to say was that he saw the film and knew it was obscene when he decided to distribute it. Unfortunately we really couldn't say that because we weren't in the screening room when he made his decision. We put on the film, made sure it was in focus, and left.  So all I could say was, "Well, I know he went into the screening room, and I know at the end he came out."
The fact that the prosecution put me on the witness stand meant that the defense could ask me questions about the film. So I was able to talk about the film, 'La Ronde' and its antecedents, and how the first film version made by Max Ophüls had been censored when it was imported to America. Whether that helped the defense or not I don't know.
Extract from – United States of America v. Sherpix, Inc.:
The fact that a film deals with sex does not mean that it cannot have value to society.
Such material can have social importance if it portrays sex in a manner that advocates ideas or that has serious literary, scientific, or artistic value.
Paul Glickler:
Despite the occasional humor of the situation, it was a stressful situation. We were one of the first films to be prosecuted in this way, and no one knew how it was going to turn out. This was before the famous Deep Throat trial, so there were few precedents.
The trial ended in a mistrial due to a hung jury.
From Washington Post, October 3rd, 1973 – 'Jury Is Split On Decision In Sex Film':
A federal jury was dismissed yesterday after it was unable to decide whether a sexually explicit movie entitled 'Hot Circuit' is obscene.
The jury was deadlocked 11 to 1 in favor of convicting the film's distributor in contrast to the action of another jury a week ago that acquitted the distributor of another sex film, 'Distortions of Sexuality', by finding that movie not obscene.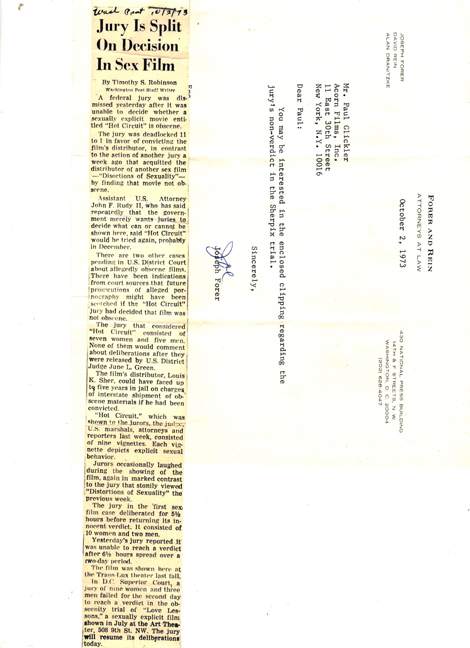 John F. Rudy:
We came close to getting a conviction, but there was one hold-out… one single juror who refused to agree that 'Hot Circuit' was obscene', so we went for a retrial later that year.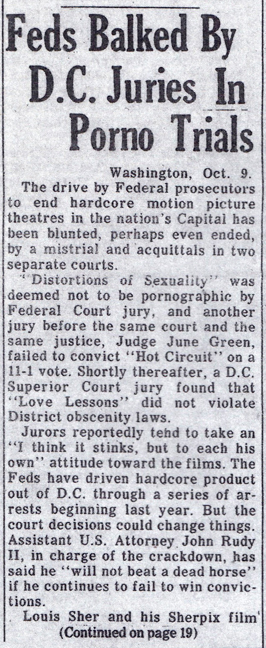 Paul Glickler:
The prosecution offered us a deal to drop all the charges except for a misdemeanor in exchange for us testifying. The misdemeanor they wanted us to agree with was advertising a pornographic film, which of course we had nothing to do with. However if we did that, the maximum sentence was only a six-month probation and that was it, so we agreed to the plea deal.
Extract from – United States of America v. Sherpix, Inc.:
At retrial in December 1973, the Government dismissed one count of the indictment, which charged unlawful advertising of an obscene film.
The court also granted a defense motion for dismissal of a count charging interstate shipment of an obscene film by common carrier.
The remaining three counts submitted to the jury charged:
(1) conspiracy during the period from December 1, 1971, to November 16, 1972, to violate federal and D.C. obscenity laws;
(2) interstate shipment of an obscene film from New Jersey to the District of Columbia on October 2, 1972, for purposes of sale or distribution; and
(3) knowingly presenting that film in the District of Columbia from October 4 to November 2, 1972.
Paul Glickler:
The second trial did come to a conviction, and we were found guilty.
Extract from – United States of America v. Sherpix, Inc.:
Each appellant was found guilty of all counts. Sher was given a suspended sentence and three years probation, and Sherpix was fined a total of $6,000.
Paul Glickler:
Louis Sher pleaded guilty on a misdemeanor and part of the plea agreement was that he cease to be in the obscenity distribution business. I think perhaps that was the beginning of the end for Sherpix.
From The Courier Journal, March 17, 1974 – 'Will Court Modify Its Obscenity Decision?':
Louis Sher whose Sherpix Films distributed 'Hot Circuit' is heading to Florida.
"Two more hours and you would've got a disconnected number,' he said when reached by phone this week. "Sherpix is out of the distribution business."
Sher said he would appeal the conviction, even though the sentence is mild. "I'm under a cloud with this thing. I've got a wife and family."
Extract from – United States of America v. Sherpix, Inc.:
Because we find that the District Court used an improper test in instructing the jury on the question of the obscenity of the film, we reverse.
Paul Glickler:
Fortunately the conviction was subsequently overturned shortly afterwards on the very grounds that we'd objected to in the beginning. In other words, the trial was conducted under the new interpretation of obscenity, which was done retroactively.
From The Courier Journal, March 17, 1974 – 'Will Court Modify Its Obscenity Decision?':
Asst. U.S. Attorney John F. Rudy lost his battle to prove 'Distortions of Sexuality' obscene. After a retrial, he finally got his conviction of 'Hot Circuit'. Now he has resigned and left the city to take up private practice in Tampa, FL.
John F. Rudy:
It was time to get out of the obscenity business! I'd served my time. I figured I'd let someone else do it.
Paul Glickler:
One of the great solaces I had during this period of time was listening to Lenny Bruce's last performances which were all about his obscenity prosecutions, because so much he said seemed to be relevant to the absurdity of what was going on with us.
Just after the end of our trial, President Nixon resigned. The Watergate hearings had been going on the whole time. Somehow the real obscenity in Washington didn't seem to be 'Hot Circuit.'
'Hot Circuit' did make money but we had to fight our legal case before any of that money came back to our film company. So Sherpix kept it all for their legal expenses. They didn't give us anything. They didn't pay for any of our legal costs, because they said it would look like we were in collusion if we did that. So we ended up not seeing a single cent from the film's release.
*
Epilogue – Onto 'The Cheerleaders' (1973)
Paul Glickler:
While the court case was going on, I was working on my next film, The Cheerleaders.
Originally, we asked Sherpix to finance 'The Cheerleaders.' This was even before 'Hot Circuit' was released, but Lou Sher objected to high school girls in a movie having sex. He said that the public would be outraged, and advised us to change the script to college girls or pro-ball cheerleaders. Of course, the whole point of the story is that they are high school girls. We were not changing the script.
We showed 'Hot Circuit' to another distributor, Cinemation Industries, who were impressed we'd made such a good film on a nothing budget.  Though not a porn distributor, Cinemation was releasing the very successful animated X-rated film, Fritz the Cat.
They agreed that 'Cheerleaders' would not be hardcore, though it was still released as X-rated, because Cinemation thought it would be good for promotion and for double-billing with 'Fritz'. Later we got it rated an R with only 1-2 minutes of cuts. It became a big hit, winding up on Variety's list of best grossing films.
When we started doing 'The Cheerleaders', Paul Wyatt was going to be our partner and he was supposed to get the money together. Then he got busted for drugs and didn't do anything he'd promised, so I had to devote my time to raising money and making deals. His involvement on 'The Cheerleaders' was minimal, so there ended up being some bad blood between us.
He wasn't credited on the film, so he sued us to get a piece of it. The way we settled it was to give him all the rights to 'Hot Circuit' in return for dropping any claims on 'The Cheerleaders' – so 'Hot Circuit' ended up belonging to him.
'The Cheerleaders' was very successful, and 'Hot Circuit' was a useful way to learn about making a film. These adult films cost very little to make so they were a good way for a lot of young filmmakers to make their first feature, and learn about the business. Over the years, I often meet people who whisper, "I got my start in the film business by making adult films."
My sense is that nowadays there's not a lot of crossover between adult and mainstream films.
'Kit Fox':
'Hot Circuit' seemed to be shown in theaters on and off for many years. It never seemed to go away! I lived in semi-fear that someone would recognize me, but no-one ever did. Or at least no one ever admitted to it!
I didn't know the film was released on DVD, until you sent me a copy. I still haven't had the courage to watch it yet… Maybe you'll come and watch it with me one day.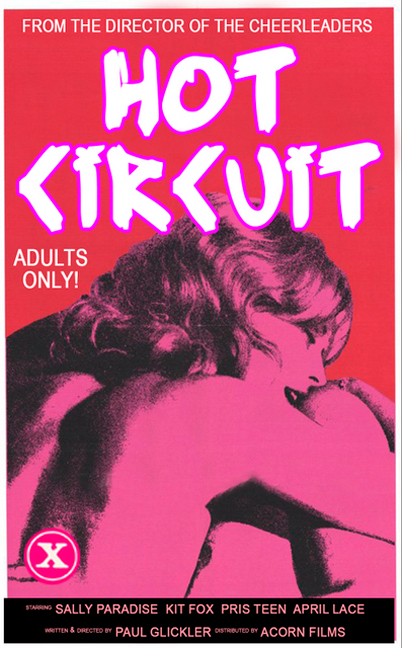 *