'Alice in Wonderland: An X-Rated Musical Fantasy' is one of the best-known adult films of the golden age in New York.
It was released in 1976, enjoyed international distribution, and was listed in Variety's top grossing films for the year.
It's a unique, colorful, inventive, entertaining and sexy feature – featuring a Playboy model in the leading role, well known character actors, and a familiar list of New York porn regulars.
But it also remains one of the strangest, and perhaps least understood, of the 1970s films too.
    – What is the truth behind the various R-rated, X-rated and XXX-rated versions that have appeared over the years?
    – What was Bill Osco's involvement, and where did all the huge profits disappear to?
    – Why was a West Cost production filmed on the East Coast?
    – How was a children's story made into a musical, porn film?
    – And is that really the founder of the 'Juicy Couture' brand of clothing who appears in a prominent role?
The Rialto Report looks for answers, and speaks to four people: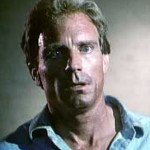 Jason Williams was the co-producer and production manager of 'Alice in Wonderland'. He also played the part of the White Knight.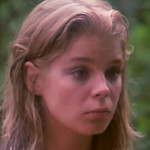 Kristine DeBell was the film's star.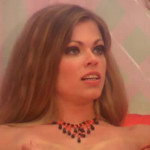 Juliet Graham played the Queen of Hearts.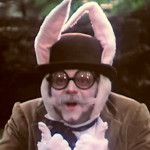 Larry Gelman played the White Rabbit.
_______________________________________________________________________________________________
'Alice in Wonderland' – Cast and crew:
| | |
| --- | --- |
| Kristine DeBell | Alice |
| Bucky Searles | Humpty Dumpty / Queen of Hearts' Brother |
| Juliet Graham | Queen of Hearts |
| Larry Gelman | White Rabbit |
| Alan Novak | Mad Hatter |
| Gila Havana | Black Knight's Girl |
| Terri Hall | Nurse |
| Nancy Dare | Nurse |
| Kristen Steen | Oogaloo |
| Jason Williams | White Knight |
| Bree Anthony (as Sue Tsengoles) | Tweedledum |
| Tony Richards (as Tony Tsengoles) | Tweedledee |
Director
Bud Townsend
Writer
Bucky Searles
Producer
Bill Osco
Jason Williams
Director of Photography
Joseph Bardo
Film Editing
Shaun Walsh
Music
Bucky Searles
Music Arrangements
Peter Matz
_______________________________________________________________________________________________
1.     Beginnings

How did you get involved in 'Alice in Wonderland'?
Jason Williams: In reality, 'Alice in Wonderland' was my movie, not Bill Osco's.
I'd known Bill Osco for a few years, and I'd starred in the movie 'Flesh Gordon' (1974) that he'd made with Howard Ziehm.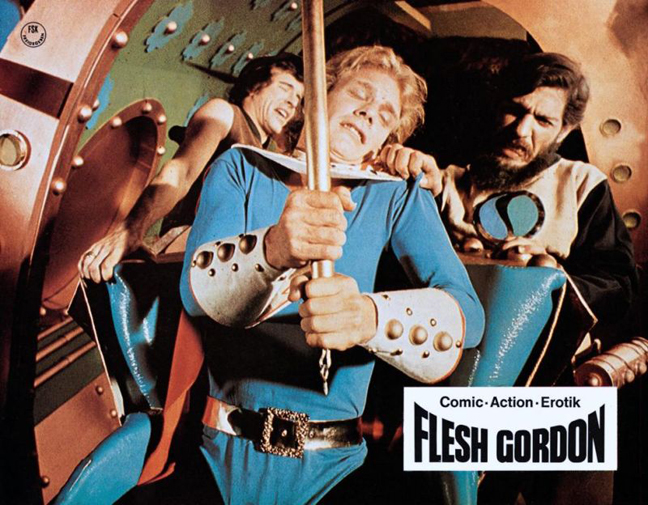 Jason Williams (center) as 'Flesh Gordon' (1974)
What was your understanding of the relationship between Osco and Ziehm?
Jason Williams: Ziehm and Osco had worked in an adult bookstore in Los Angeles and they'd made two of the very first hardcore films, 'The Virgin Runaway' (1970) and 'Mona' (1970).
Ziehm was the director, cameraman… he did everything. He went to MIT so he was kind of smart. Howard would make the movies, and then Osco would fly to New York, Chicago, Miami, Dallas, Philadelphia, all the major cities with theaters that were showing pornography, and he would sell a print to a theater owner for a flat amount and that was it.
The theater owner would then run that movie and make as much money as he possibly could with it. There was no percentage or anything. They could run it until those sprocket holes wouldn't run in a projector anymore.
So you got to know them when you worked with them on 'Flesh Gordon'?
Jason Williams: Yes, they sold 'Mona' to Sherpix and that's the money they used to make Flesh Gordon.
After that Howard continued to make movies, but he went up to Frisco because there was less heat from the authorities up there. It was a more liberal place than Los Angeles at the time.
They had some acting parts that were not porno that I did in those films. You know, like a pimp, a preacher, and so on, so I played those straight parts. While I was doing that, I was around enough to see what Howard was doing, see his technique, and see how to make these movies.
Then Howard had a falling out with Bill and they split up.
What happened when Howard and Bill split?
Jason Williams: Bill had all these great connections, he knew all these theater chains that were buying adult films – and there weren't a lot of people making movies at that time. So I said to Bill, "I can take over and start making these movies, and you can sell them." So I made several movies, a couple in Hawaii and then three or four more in Los Angeles.
Do you remember any of the names of these films?
Jason Williams: Yeah. One was originally called 'Blue Hawaii'. They changed the name to 'Hawaii Shuffle' or 'Hawaii Hustle' or something like that.
Do you mean 'Honolulu Hustle' (1974)?
Jason Williams: 'Honolulu Hustle'! That was it.
The credited director was 'Lee Betts' so that was you?
Jason Williams: That was me.
Who financed the films?
Jason Williams: Those two pictures in Hawaii were financed by a theater owner in Cleveland who Bill had met. He was a black guy, and he put up fifteen grand or something like that, and we made both of them for that amount.
Were they successful?
Jason Williams: When we came back to Los Angeles, I took one of the movies to the lab, and a few days later I saw an ad for a newly released movie called 'Our Ms. Brooke' or 'Ms. Brookes' or something like that. I thought, "Jesus, that's weird" because the girl's name in my movie was Ms. Brooke. So I went and saw it and it was my movie! I couldn't believe it. One of the movies I'd made had been released in a theater here in town before I could even get the print… there was somebody in the lab that stole the print and duped it. They got it into a theater here in town before I even saw the final answer print!
My title for that movie was 'Final Test'. It was about a girl in Hawaii who was doing something at the University of Hawaii.
So I went to that theater and said, "Jesus! Where did you get this movie?"
The guy said, "Why?"
I said, "Well because it's my movie!"
He lifts his shirt up and he's got a gun in his holster, and he said, "It's not your movie."
I said, "Okay." I went back to Osco, I said, "I am done. I'm not making any more of these cheap movies. We gotta do something else. Why don't we make an X-rated musical? It could be like Flesh Gordon."
On the face of it, 'Alice in Wonderland' is a strange choice for an adult film; it's a children's fairy tale, it's a musical, and it's a porn film. What made you think that this would be a good idea?
Jason Williams: I thought it would be a good idea to have the polarity, the contrast. Contrast is interesting and gets your attention. Our job is to entertain, and any time we have a person's attention we're entertaining.
Bill liked the idea so we got this guy, Bucky Searles, to write it.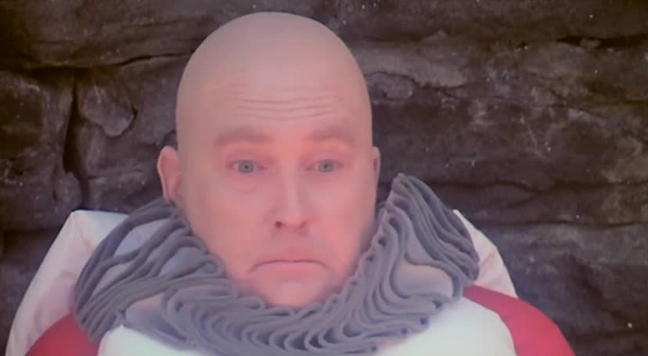 Bucky Searles, as Humpty Dumpty in 'Alice in Wonderland'
What did you know about Bucky Searles?
Jason Williams: He was a comic writer and comedian. Bill was dating Mitzi Shore, who owned The Comedy Store in Los Angeles. We were hanging out and we saw Bucky there.
Bill had known Bucky for a few years because Bucky also wrote the script for 'Mona' (1970).
Jason Williams: Yes, that's right, and we also gave Bucky the part of Humpty Dumpty in 'Alice in Wonderland'.
Bucky wrote 'Alice in Wonderland'; he did the script and also this great, fun musical score which was really the heart of the film. It had a lot of cute songs in it. He was talented.
Where did the money for the shoot come from?
Jason Williams: Bill had this connection in Phoenix, a lawyer by the name of Hirsch. Hirsch had seen 'Flesh Gordon' and was keen to work on a film with us.
Bill said, "How much is it going to cost?" I drew up a budget and said it would cost about a hundred grand.
Hirsch said, "Okay. I'll put up a hundred grand."
*
2.     Making 'Alice in Wonderland'
So you set up a production company for the film?
Jason Williams: Hirsch set up a production company called 'Cruiser Productions', named after the nickname of the guy who acted as a liaison between himself in Phoenix and Bill and myself. We called this guy 'The Cruiser' and so 'T. Cruiser' was also listed as the executive producer.
Why did you decide to leave Los Angeles and go to New York to make the film?
Jason Williams: I said, "There's no way we can make this in Los Angeles, there's too much heat. There's a lot of talent in New York, and a lot less risk. I'll go to New York and get this going." That was in early summer 1975.
I went up to New York, and rented a little loft near 42nd St. I ran an ad in the Village Voice that said: "X-rated musical, 'Alice in Wonderland': You must be able to sing and dance", and people started showing up straight away.
I held casting sessions, and picked three or four people for each character to come back for a second audition with the film's director.
I also came across Dorothy Palmer's agency and she sent some people over too. I think that's how we found Kristine DeBell for the part of 'Alice'.
Kristine DeBell: Dorothy Palmer's name rings a bell. It sounds funny but I have very little memory. I have friends now who have to fill in my memory for me. I'm honestly the worst person to interview. I found out much later in life that I have what's called 'selective memory'. When I grew up, my father was a rage-aholic. He'd get angry. So whenever I'm in a situation where I get excited or stressed, I realize I remember very little.
Born in Chatham, NY, twenty year old Kristine DeBell had begun her career as a fashion model with Macy's.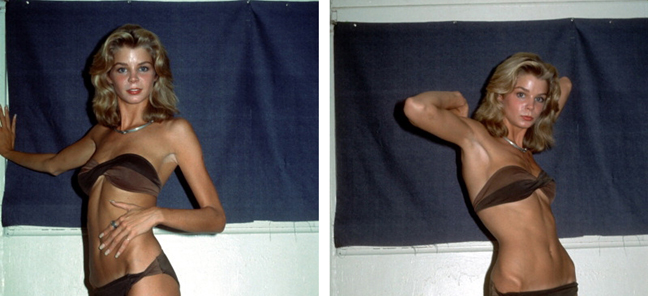 Kristine DeBell, early modeling pictures
Kristine DeBell: When I graduated from high school, I spent a year at Berkeley, studying fashion merchandising and then ended up in New York. That would be around 1974.
I started modeling at Macy's. I was really just a tall, skinny kid. I wasn't popular at all. All the girls that were very shapely back then were much more popular than me. I finally remember seeing a picture of Twiggy and saying, "That's what I'm supposed to be doing." When you're size 8 and very thin and have no breasts, it wasn't easy.
Macy's had a modeling program, and I joined it. They'd have young girls model the clothing at Macy's. It was a whole program. I did that as a young teen. I also did runway modeling.
One day I walked into Eileen Ford's office in New York. The receptionist looked at me and said, "Do you work here?" I said, "No." She said, "Would you like to?" I said, "Yes!" And I went into Eileen Ford's office right then and met her!
I started work there immediately.
Who was going to direct 'Alice in Wonderland'?
Jason Williams: I guess I was going to be the director originally. I'd directed these other films for Bill and I. However as the workload increased, I told Bill, "Look, I can't direct this. I'm too busy. I've got all this production stuff going on. I still have to go find the locations."
How did you come up with the choice of Bud Townsend for the director?
Jason Williams: Bud was a high-quality commercial director. I'd been going with an actress by the name of Tiffany Bolling who'd done a commercial with him. She became friends with Bud and his wife Patty, so I met Bud through her and we used to go over to their house. Then, I read for the lead in a movie that he did called 'Terror House' (1972) (aka 'Terror at the Red Wolf Inn').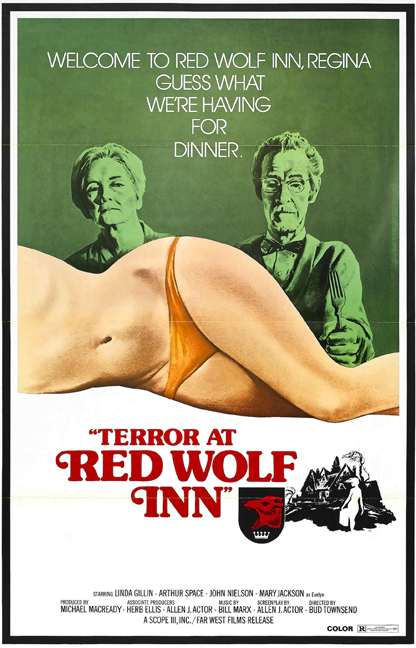 Bud Townsend's 'Terror at Red Wolf Inn' (1972)
What made you think he'd be suitable to direct 'Alice in Wonderland'?
Jason Williams: I thought he was a really good director and had talent so I knew we were going to get something that looked good. He'd never directed a sex film before – in fact he'd one really directed that one feature film – but I knew he was kind of into erotica so that suited the material.
Plus Bud and his wife Patty were like a directing team. She was always his script girl, so they were tight and worked well together. Everyone knew Patty as 'Booby' because she had no boobs.
They were quite a bit older than the rest of us as they were in their late 50s when we made the film.
How was Bud involved in the casting process?
Jason Williams: Bud and Booby came to New York with Bill, and I arranged a call back for the top three choices that I had made for each of the characters. I just gave them my list and I said, "Here are the choices for Alice, here are the choices for the Mad Hatter" and so on.
Juliet Graham: I remember auditioning for the lead role of Alice at first because they liked my long blond hair. I don't think I was interested enough to push for the lead though. I think they made the right choice with Kristine.
I don't remember auditioning for the role of the Queen of Hearts at all (below). They just offered me that part instead, so I accepted it.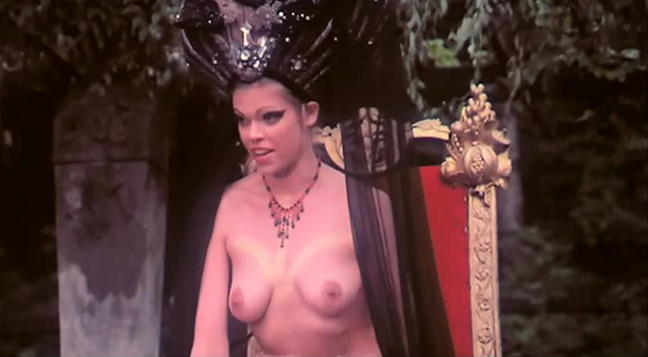 Did you know much about the New York actors you hired?
Jason Williams: No, I didn't know any of them. I knew that many were regulars on the porn scene, but I didn't know them. They just showed up at my loft to audition.
We also hired a few character actors. For example Larry Gelman was a fairly well known actor in L.A. He was a friend of Bucky Searles so we got him for the part of the White Rabbit.
Larry Gelman: Bucky Searles took me to a diner on Fairfax and told me about the film. He offered me the part of the White Rabbit. It sounded fun so I agreed with two conditions. Firstly I asked for round trip tickets to New York for my wife, our two children and me. And secondly, I asked that I would keep my clothes on for the entire production. Bucky agree to both requests. Especially the second!
Did you audition their dancing ability?
Jason Williams: Yeah. Several of the porn actors had a dance background – such as Nancy Dare and Terri Hall. They had to sing and dance a little bit. I forget how that worked. There was a piano in the audition room. I don't know if we had a piano player or some kind of scratch track for them to perform to.
They had to be able to dance, but singing wasn't so important as we were going to record the music afterwards with proper singers.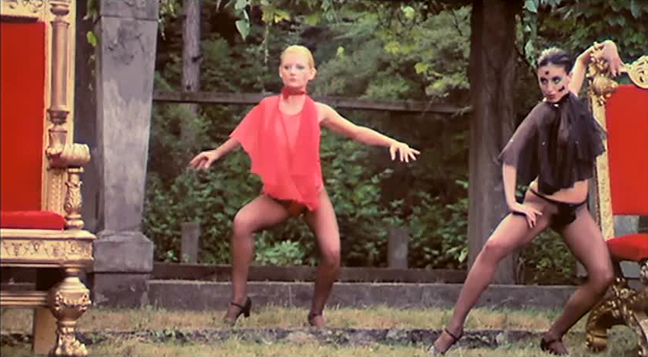 Nancy Dare, Terri Hall
Kristine DeBell: When I auditioned for the film, obviously they didn't think that they were going to find a 'porno star' who could sing. The funny thing was I started out in musical theater, and I'd sang for years.
I studied voice and ended up auditioning for 'The Sound of Music' in my high school production when I was 14, and got the role. Then I did Summer stock with this theater company for four seasons every summer throughout high school. So I had a lot of experience singing and dancing.
You were putting all the production together yourself. Did you have any one helping you?
Jason Williams: I was seeing a girl called Gela Nash at the time. She was kind of my girlfriend. We dated a little while in L.A. She was a dancer. She was a jack of all trades and kind of an assistant to me. She did everything. She helped out with the wardrobe too.
In fact she ended up playing a part in the movie as one of the dancers. She's actually the girl who plays on the Knight. She kind of sings a bit where she's on the black guy and she lifts up her dress: "What's a Girl like you doing on a Knight like this?"
She didn't want to do any nudity but she was good spirited about getting involved. She was just real cute and fun. She used the name 'Gila Havana' (below).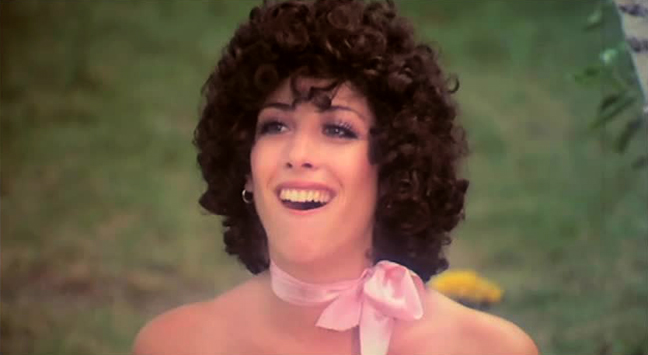 Did she do other adult films?
Jason Williams: No – and actually she ended up starting the 'Juicy Couture' clothing line years later! She made a fortune as the owner of that empire. And she married Duran Duran's John Taylor. I wish I had her money…
The big house and garden location was very striking – where did you shoot the film?
Jason Williams: 'The Cruiser' (the guy who was looking out for how we spent Hirsch's money) was tight with a real estate guy in Tannersville in upstate New York called Jeff Prince who got us all the locations.
Jeff Prince took me around to various places up there. We used four or five different sets, but mostly we shot on this country estate; it was a place that had some great architecture and some land that we could work on.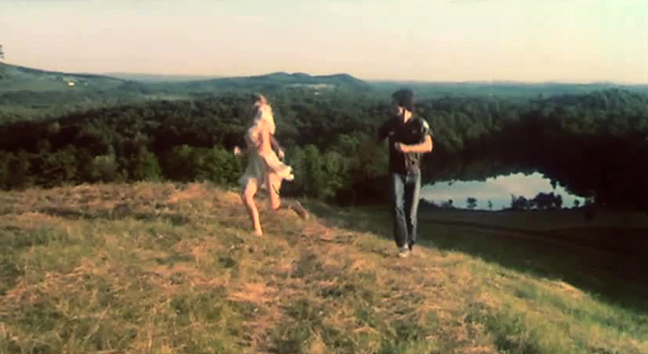 'Alice in Wonderland' was filmed mainly in Palenville, NY, on an old family estate that is locally known as 'White's Castle'. The property is currently the home of Jed Root, founder of Jed Root, Inc., one of the leading artist management agencies in the world.
Externals were also shot 'guerrilla style' at Olana State Historic Site, a National Historic Landmark that had been the home of Frederic Edwin Church (1826–1900), one of the major figures in the Hudson River School of landscape painting.
Where did everyone involved in the shoot stay?
Jason Williams: Jeff, the real estate guy, got us a place nearby to stay so I rented it out for the duration of the shoot. All the cast and crew lived in that one big place. It was a real old place and had about 20 rooms. I hired a chef that cooked all the meals for them so it was like a boarding house situation.
Everybody stayed in there except for me and Bill, and Kristine and Gela. We all stayed at the actual house where we were filming. It was a lot of fun.
Kristine DeBell: One of the things I remember most clearly was this disgusting old house that they rented for us to stay in. There were crabs in the couch or something. We all got crabs!
What do you remember about the film's star, Kristine DeBell?
Juliet Graham: Kristine was very sweet. And young. She might have only been two or three years younger than me, but she seemed a very young 20 or 21 to me. She had that innocence that they were looking for.
She didn't really have to act or project too much, just be incredulous and open. But she was great at that.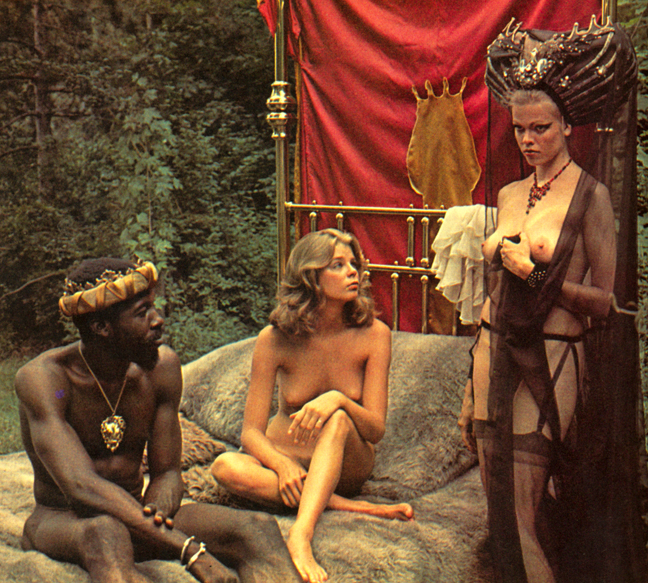 (from left to right) John Lawrence, Kristine DeBell, Juliet Graham
Larry Gelman: Kristine was a sweet, innocent, and serious girl. She was like me and just wanted to make a proper film. She was very earnest did a really great job.
Kristine DeBell: Was I rebellious? Was I headstrong? Absolutely. Why else would I have done that type of film? You know what I mean?! I was very rebellious at that time.
I was drinking quite a bit. I joke now that if you were a friend of mine, I'd thrown up on you at some point.
I didn't even start drinking until I was 16 to 17 I think, and it didn't get to be a problem until I started doing drugs when I was in California – and cocaine was introduced. Then, by 26 I was done… I had a very short drinking and drug career. My wild years were short, and I actually have 33 years of sobriety now.
Were you at all uncomfortable with the nudity?
Kristine DeBell: No. It's funny but for some reason I was always very OK with being exactly what I was. It must've been the rebellious side of me because it didn't bother me a bit. It's like, "They're paying me to stand there naked. I'm getting paid."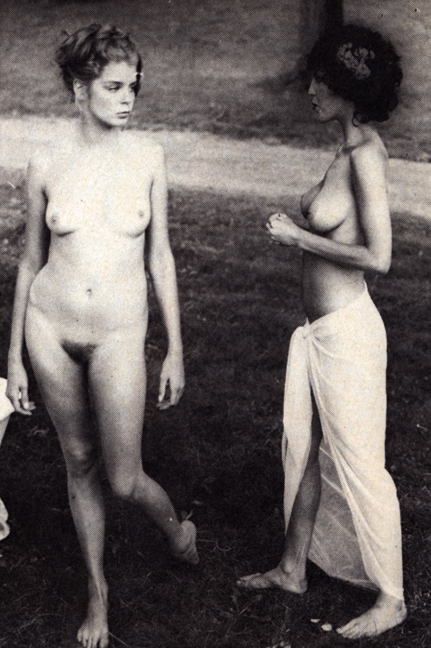 Production still, with  Kristine DeBell, Terri Hall
What do you remember about the other actors?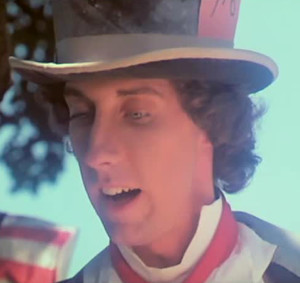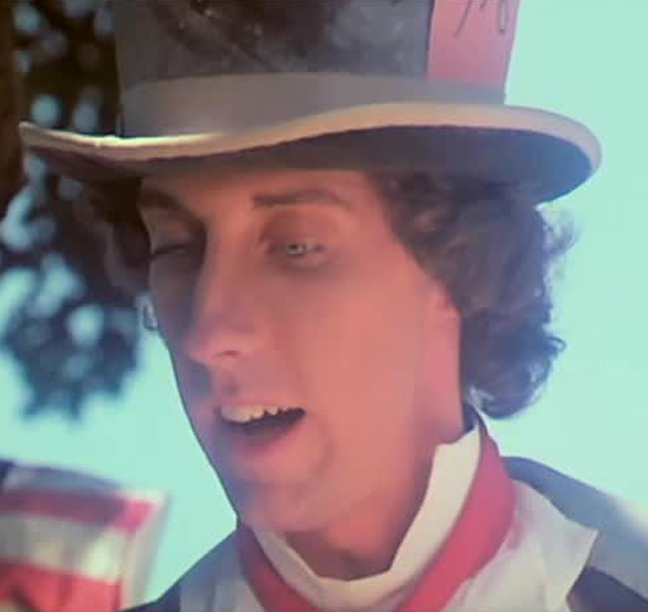 Juliet Graham: Alan Novak (right) played the Mad Hatter. His real name was Alan Coolidge. I knew him. He worked in some acting agent's office in midtown in New York. I used to go in there and leave my pictures and hope that they would call me for something. He died of AIDS not too long after AIDS began.
He was trying to be a mainstream actor, and was a great character type. He could have had a lot of work being some kind of weird character like he was in this movie but it didn't work out for him.
Tony and Sue Richards played Tweedledum and Tweedledee. They were everybody's favorite couple. They were on the porno scene for a short while, and were both really nice. They really loved each other. They didn't really like to do scenes with anybody else.
Jason Williams: The cast seemed to bond well. Most of them knew each other from the New York porn scene so it was like a trip away for them all.
Kristine DeBell: I didn't know a soul. They seemed part of a different world.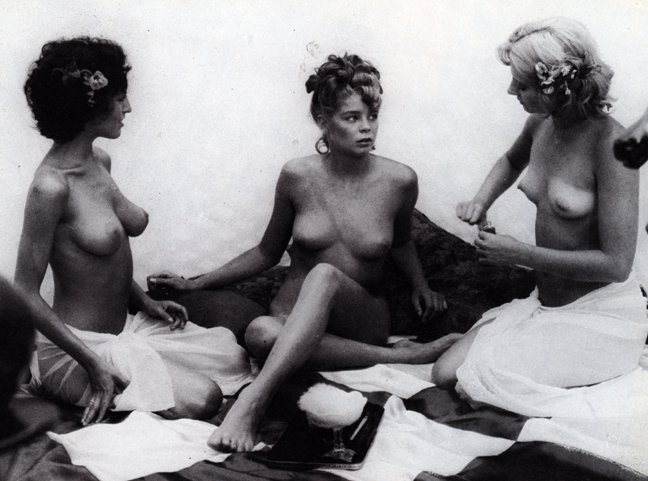 Production still, with (from left to right) Terri Hall, Kristine DeBell, Nancy Dare
How did you hire the crew – people like the cinematographer, Joseph Bardo?
Jason Williams: Joe Bardo was a local guy in Los Angeles that we knew.
Joseph Bardo was a cinematic jack of all trades, acting in films since the 1950s (he was one of the characters declaring "I'm Spartacus!" in the Kirk Douglas film 'Spartacus' (1960)), as well as directing, producing, and shooting a large number of films with a variety of aliases. A successful college football player in his youth, Joe had started out as one of Mae West's 'muscle men' in her lounge act.
Jason Williams: Joe was friends with Bill. He was a big guy, an ex-football player. He drove to New York from the West Coast for the shoot in his van and he took all his equipment with him. He was going to put up the equipment and be the cameraman and provide some of the additional crew members – which ended up being members of his family. That was the deal he had with Osco, and he was supposed to get a percentage of the movie as payment.
So for example the lighting director was Joe's son-in-law, and there were other family members that he picked up in his van along the way. Joe brought in William Wang too.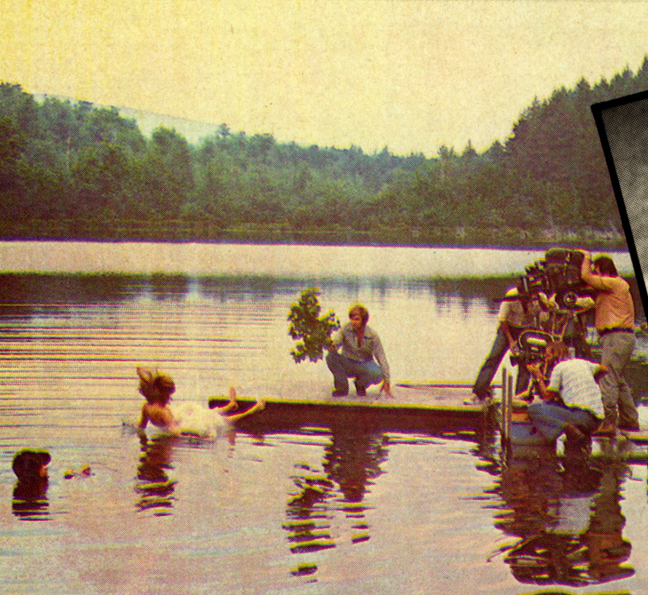 Joseph Bardo films Kristine DeBell in 'Alice in Wonderland'
William Wang did the sound?
Jason Williams: Yes, William was the sound recordist who was friends with Joe Bardo, and he was from Los Angeles. I knew him from some pictures that I'd done and Joe had worked with him as well.
He owned the 'William Sound Service' on Highland for the longest time. He had a 16mm room where you could go in and do stuff. I had used it a few times over the years.
William was real nervous about doing an X-rated movie because of his wife. During the shoot, he stayed with the rest of the cast and crew and somehow he got crabs. I don't know if it was from the wardrobe and costumes… but somehow the crabs got into his clothes and he was so fucking scared that his wife was going to freak out. He had no idea what they were, and he just kept shouting, "I got a crab! I've got a crab!"
Were you happy with the directing job that Bud did on the set?
Jason Williams: Yeah. He was great. I mean he was slow and I was the one trying to make everything happened as fast as possible. That's the only problem I had with Bud.
I was trying to get to the damn show done, and he was trying to do a good job.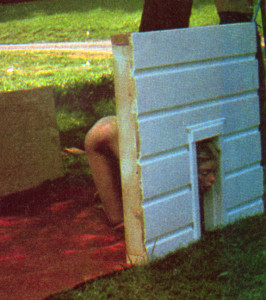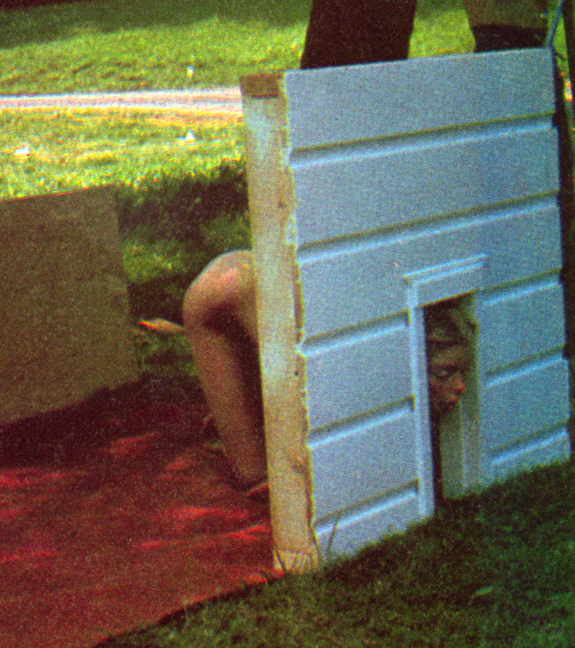 Kristine DeBell: Bud was very sweet. They were very kind to me. It seems to me that everyone was.
I remember falling in love with the script supervisor, who was the director's wife. I also was fascinated with her job. It was during 'Alice in Wonderland' that I realized because of my OCD that's a job that I would love, matching the scenes up.
Coming from the theater world that was also something I knew nothing about that. I loved that. I kept thinking, "Wow, that's something I'd be really good at."
Juliet Graham: I have absolutely no memory of the director. I remember the two producers more than I remember him. The director didn't seem to be the most dominant person on set.
Larry Gelman: Bud Townsend was a quiet, sweet older gentleman. He style was to whisper to people rather than shout instructions.
Juliet Graham: They started with some of the porn scenes, so I figured that it was just another porn movie with a bigger set and a little larger cast. But then when I saw the musical numbers and how they got everybody up to speed to do them I was incredibly impressed. This was one of the best productions I'd been on.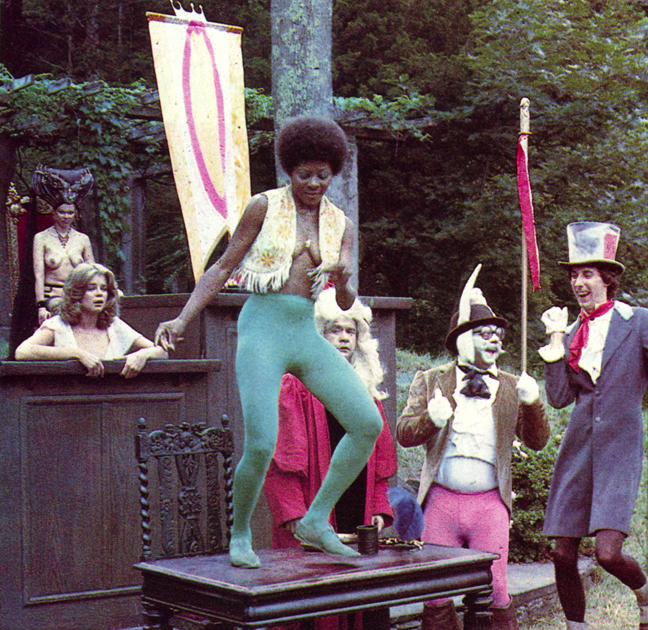 (from left to right) Juliet Graham, Kristine DeBell, Melvina Peeples, J.P.Paradine, Larry Gelman, Alan Novak
Do you remember how long the shoot was?
Jason Williams: It was shot over 10 continuous days in June / July of 1975. And everybody was up there for the full 10 days in that one location that they lived in. It became like a dorm of porn people.
Juliet Graham: It seemed like we were up there for weeks. It was never ending.
How were the musical numbers filmed?
Jason Williams: Bucky had done a rough version of the soundtrack, not a fully scored treatment or anything like that but a rough, simple version of the soundtrack. So we had a scratch track of the music to work with, and the actors mimed to that.
Juliet Graham: My main memory of the film was that I had to sing. On a porn film! And … well, I more or less talked instead of singing, and I really didn't have any arias, thank heaven. It's hard to say whether you could even call it singing.
I remember this exchange where Alice goes, "If I'm found guilty, will I be dead? Not until I get some head," and it goes on like that. It was cute.
Kristine DeBell: They had already had the music done, so we just had to lip sync. It was really strange and funny. They blasted the music through some speakers and we just jumped around.
I knew the songs by heart, as I'd listened to them a lot. So when they played them during a scene, I would just sing.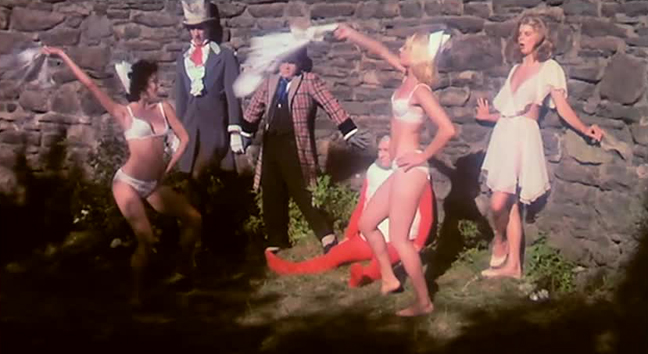 How about the dance numbers?
Jason Williams: Bud and Booby recommended a friend of theirs, Buddy Schwab, who was a successful choreographer. He had some decent credits and had worked on Broadway.
Kristine DeBell: I'd taken ballet classes over the years so the dancing wasn't difficult.
Juliet Graham: I couldn't really dance and was basically very klutzy. I tripped up a few times in the heels they had me wear, and in one instance I fell down badly on my ass. They didn't seem to mind as they said it was part of my character so they left it in the final cut.
Nancy Dare and Terri Hall had both danced professionally for a while so they were able do whatever the choreographer wanted.
Terri was very sweet; she seemed a little off in her own world at times but at other times she was very, very savvy and totally aware of what she was doing and what persona she wanted to project. She was funny too; she was just about to start a sex scene with one of the skinny actors, and she leaned across to me and said "Boy, the guys in this industry don't have much in the way of muscles, do they?"
Was making the film an enjoyable experience?
Juliet Graham: Yes – we laughed lot. Bucky Searles in particular was hilarious. He was so funny. He cracked everybody up in between takes and during takes. I remember him very well.
Larry Gelman: Bucky was so talented. One of the best. He was a lovely man – gentle, good, and sweet.
Juliet Graham: I remember John Lawrence who played the King of Hearts. He was this big black guy. He wasn't much of an actor but I guess he was trying to be. He always cracked me up because his way of acting was with his finger. Every line, every word, he's gesturing with his finger.
I liked him though. I remember asking the writer to write a love scene between John and I so I'd have an excuse to sleep with him in the movie. It didn't happen though…
Was it easy to keep the film under the $100,000 budget you had?
Jason Williams: When I made the budget I didn't realize that it was going to become this elaborate, and everything went got bigger as we went along, right? For example, we were going to shoot it in 16mm, then Bud somehow talked us into shooting it in 35mm which then jumped the cost up.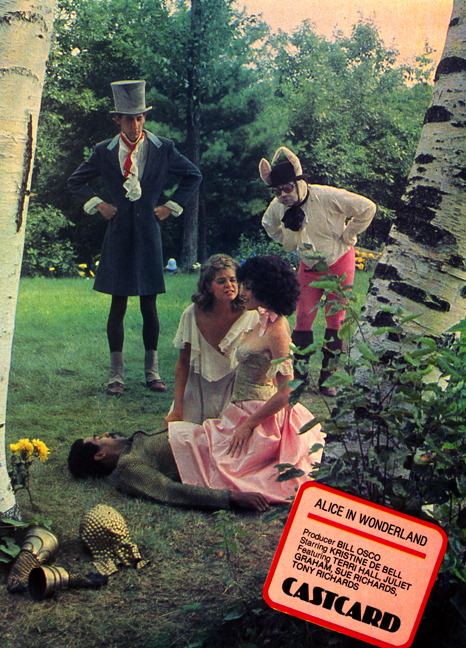 Was the film always intended to be hard core?
Jason Williams: It was initially going to be hardcore – and the idea was to have the contrast of a film that was hardcore one moment and then funny, light and musical the next.
But when we got up to the location and started filming, the vision for the film rapidly started expanding. We had these big sets, elaborate design, and we had this big opportunity. So we had this relatively short shooting schedule and we didn't have much time to go in and do a lot of close-up stuff that you need for hardcore. There was too much work just to film the scenes, so we mostly got wide shots which don't really work in a hardcore film as you can't really see what's going on.
We had to figure out what we were trying to do and ask ourselves, "Is this an apple or an orange here?" So some parts are more explicit than others.
The main thing was for it to be a fun film that was not too prurient because it would have taken a lot more time to do it to make that happen, and we didn't have the time.
Larry Gelman: I approached it like a serious film. As far as I was concerned I was making a regular version of the film. You wouldn't have known it was a hardcore film for most of the scenes.
Who handled the communication with the actors in terms of telling them that they would be required to perform hardcore sex scenes?
Jason Williams: I did originally, so I think everybody was geared up that there was going to be sex in this movie, real sex. I didn't go into any explicit details on what that the real sex was going to be. I left that to Bud. He and Booby dealt with all of that, and I think they handled it tastefully. They were sophisticated people.
Kristine DeBell: No one really knew what they were getting involved with before we got up there. No one knew what kind of film it was. They kept it very hush hush. I was thinking that I was auditioning for this adorable 'Alice' film, and once we got on set I was told, "We'd like you to do this and this."
I was like, "Excuse me? You want me to do what? Maybe I could do this and this, but I'm definitely not doing that. No. No."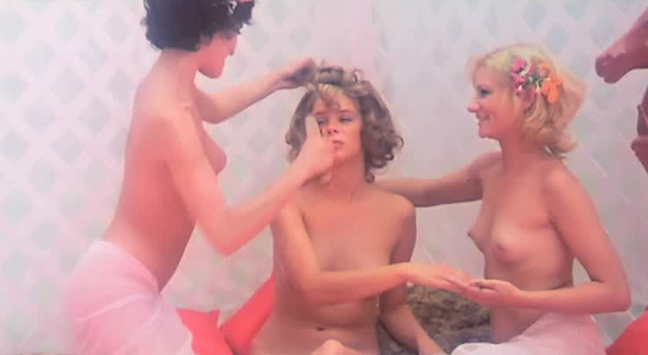 Larry Gelman: I wasn't allowed to watch any of the sex scenes! They would keep me away from the action. It was a very strict set. My family was there so that was another problem. I tried a little bit but I didn't see anything!
Most of the actors were veterans of the New York sex film scene, but Kristine DeBell was not. Was her involvement in the sex scenes made clear to her?
Jason Williams: I'm not sure how all that worked out, and what was thought was supposed to happen, and what actually happened, and what everybody thought was going to happen, and what was…
Kristine DeBell: I did my scenes and then left, and didn't really know what they were shooting after that.
I used to joke that I don't remember every portion of my life because I was drinking and using, but then I realize that there are portions when I wasn't drinking and using that I still didn't remember. Then I realized what it was. I was reading something, and I said, "'Selective memory', that's it. That's what I have."
What do you remember about your sex scene with Kristine?
Juliet Graham: She had one scene with me, and another with the prince I think. She was fine, not difficult or temperamental at all. She was the only one who wasn't part of the adult industry but she didn't seem to be prim or objecting to anything. It wasn't simulated, and it worked out fine.
Kristine DeBell: I guess it's OK that I don't remember. Being on that type of production maybe I shouldn't remember stuff anyway. I was a little bit wild, though.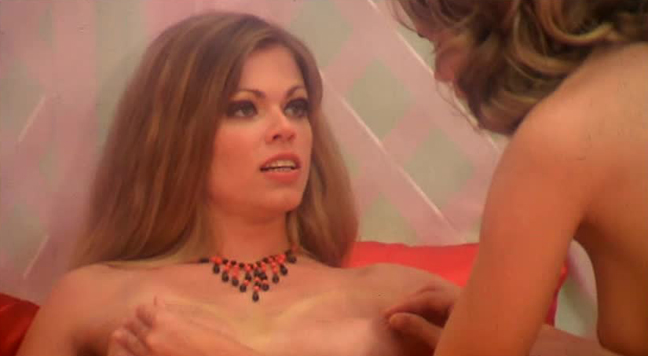 Juliet Graham, Kristine DeBell
When Howard Ziehm split from Bill Osco, Howard accused Bill of ripping him off. What was your relationship like with Bill making 'Alice in Wonderland'?
Jason Williams: Here's the gig with Osco: Very few people were putting their names on these movies at the time. But Bill was unique as he wasn't afraid of having his name associated with them. That meant that the theater owners knew Bill, and they knew his films. And they were good films; Howard Ziehm was making good movies, better than everybody else. So it got to a point where the theater owners just wanted another 'Bill Osco' movie. They made the checks out to him personally. They didn't know that it was someone else making them!
Then he started to get attention in the mainstream press. Joyce Haber gave him a huge front page in an L.A. Calendar section, about the 'Boy King of Porno' and how he was changing society and he was breaking barriers with his artwork. He would say, "Yeah, yeah, I'm like Fellini. I'm a real artist."
The problem was that he had nothing to do with any of the movies! Bill was only ever the business guy who put the deals together. He was never making any of the movies himself. It was all just such fucking bullshit. It was so thick it was incredible.
When I started making pictures with Osco, I was the director, editor, writer, of all of them. I did everything myself. And that continued with 'Alice in Wonderland'. Bud directed it, I produced it, and Bill did very little.
Larry Gelman: Bill was a businessman. He wasn't involved in the film-making process; he acted like a big shot producer, a mogul. I didn't have much to do with him. People seemed intimidated by him.
Knowing that Howard accused Osco of dishonesty, were you wary of working with him?
Jason Williams: In terms of me, no. I heard that Howard had problems with Osco and his honesty but you can't look into the future if you're only in the present.
I just stepped in when Bill and Howard split up, and me and Osco became friends. I started making the movies like Howard had done, and then Bill would go and sell them and get cash. I'd get some of that cash  and that was that.
Juliet Graham: One of the producers, Bill Osco, the obnoxious one, made a pass at me on set one day. I told him I was Jamie Gillis' girlfriend and I had no interest in him. Then he threatened not to pay me if I didn't go to his room with him. I didn't sleep with him, but I did end up spending one night in his room.
I just said, "This is ridiculous. If you want, we'll stay up. We can talk all night if you want, but I'm not going to have sex with you."
The money was good on this film so I didn't want to lose it. I seem to remember I got paid $1,000.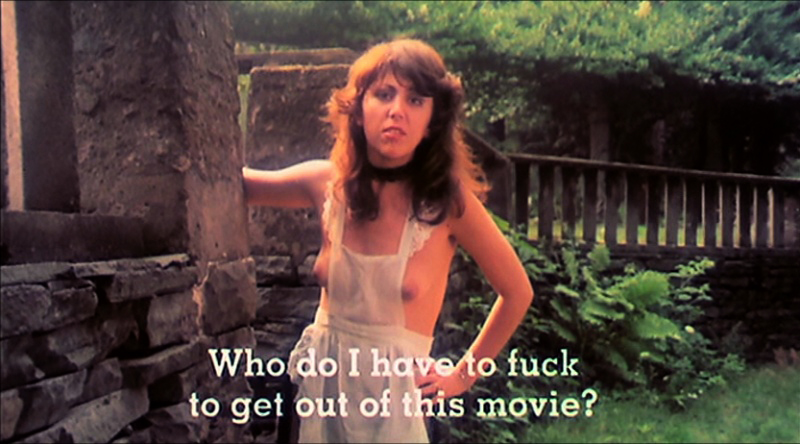 *
3.     Selling 'Alice In Wonderland'
Once you finished shooting in upstate New York, what did you do?
Jason Williams: We came back to L.A. and we needed some finishing funds so we met with a bunch of people who'd been fans of 'Flesh Gordon'. Then we met were these two guys who ran Kaleidoscope Films.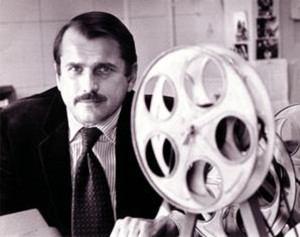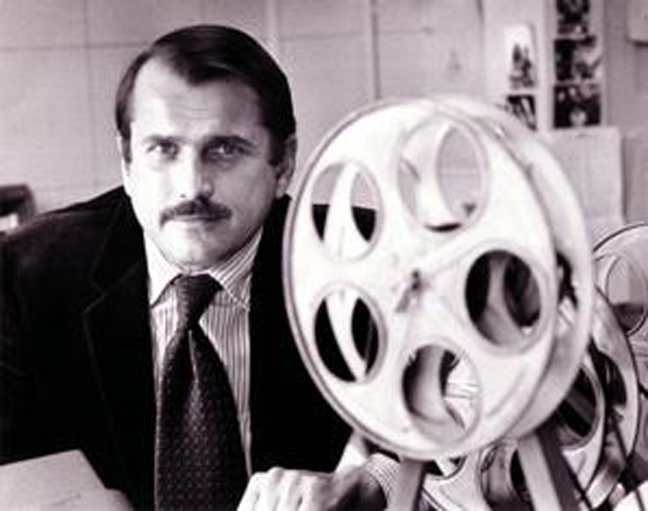 Kaleidoscope Films was the most successful movie advertising firm of the 1970s.
It was started in 1968 by Andy Kuehn (right), who is considered the father of the modern trailer.
Kaleidoscope Films produced the trailers for the biggest films and film makers of the time, including 'Jaws', the Indiana Jones trilogy, 'Top Gun', and 'Back to the Future'.
Jason Williams: Kaleidoscope Films was the premiere advertising company for all of the major studios. They had contacts with every studio, every person, and at that time, they were the shit. There wasn't anybody else as well-connected as them. Up until 1985 or so, they'd made the advertising campaigns for something like 70 of the top 100 grossing movies of all time. That's how powerful they were.
One of their guys was into adult movies and knew all about Flesh Gordon and Osco, and so he started saying, "Oh, Osco, he's a great filmmaker, blah, blah, blah."
Anyway we went to meet with them and told them that we'd just done this X-rated musical." They watched it and said, "We think there's something here – and we'd like to do all of the post production for it. In return you give us 25% of the picture."
What was your reaction to their offer?
Jason Williams: I said to Bill, "Listen, we got to take this. We've spent the initial $100,000, we don't have any money to finish it, and this is going to be way past what I'm able to edit and cut together. And we need a lot more than that. We need proper music and everything else."
So you accepted their offer?
Jason Williams: Yes, the guys at Kaleidoscope got involved from that point onwards.
And they did an amazing job. They were involved in cinema research so they were able to add new kinds of techniques that were just coming into the cinematic field. Like the way of dissolving pictures from one scene to the next, creative editing techniques, a lot of visuals, all kind of things.
The editor of our film, Shaun Walsh, was one of Kaleidoscope's top editors. They used the top guys, the top editors, the top everybody, and put $250,000 to $300,000 into the finishing of the movie.
They put way more into the post-production budget than we'd put into the production budget! That's really what gives the film its quality and upscale feel. A lot of that was done in the post production by Kaleidoscope.
How was the musical soundtrack recorded?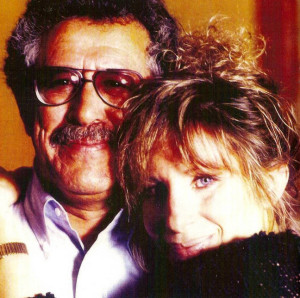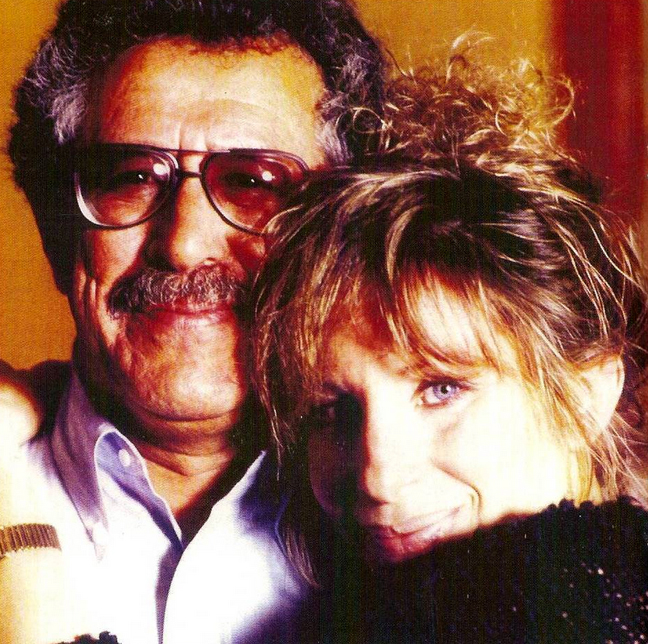 Jason Williams: Peter Matz handled that. I think he came to the project through Kaleidoscope and they paid for him. We never could have afforded him with our $100,000 budget.
Peter Matz (right) was a musician, composer, arranger and conductor, who won three Emmys and a Grammy award. His musical career spanned fifty years, including working with people such as Marlene Dietrich, Noël Coward and Barbra Streisand.
The year that 'Alice in Wonderland' was released, Matz was also nominated for an Academy Award for Best Music for the Streisand musical 'Funny Lady' (1975).
Jason Williams: Peter saw the movie, and went back and recorded full versions of songs with a full orchestra and beefed it up considerably. He did a great job.
Was the soundtrack record ever released?
Jason Williams: No. There was never a soundtrack.
Did you dissolve your production company at this stage?
Jason Williams: Yes. In fact 'The Cruiser', who was the go-between between us and the finance guy, Hirsch, ended up killing himself. I don't know why exactly but…something, I don't know.
He was just a young kid, our age at that time. I don't exactly know what happened. I never really… I was never friends with him except for that week or so that he was around the shoot.
Once Kaleidoscope finished their post-production work, what happened next?
Jason Williams: Kaleidoscope spent several months finishing it. We'd shot it in the summer of 1975 and it was ready by the end of the year. They'd put all this money into the finishing of the film and they'd turned it into a really good film.
The first thing we did was to hold a couple of screenings.
Where did the screenings take place, and what was the reaction?
Jason Williams: We got one at MGM and we had one at Fox. Mae West came to one of them with Joe Bardo who she'd known from years before.
It played great, people loved it. No one had seen anything like it before. They left the theater with a really good feeling.
Did you have a proper premiere for it?
Jason Williams: Yeah. We had a premiere at the Plaza Theater in Beverly Hills. I showed up in my Ferrari in my Flesh Gordon costume.
Was there a New York premiere?
Juliet Graham: Yes, I remember Andy Warhol was there. It was in one of the main theaters in Times Square that no longer exists.
I invited my aunt and uncle, which was a sort of cheeky thing to do, and they were shocked. Afterwards they had nothing to say to me. Except to say that the whole thing was 'perverted.'
Jason Williams: The picture played really well but… it had the same problem as 'Flesh Gordon' encountered. Nobody wanted to distribute it. Everybody loved it but we couldn't find a distributor. Nobody wanted it because it was X-rated.
In the end I went to Ted Mann.
Ted Mann was a long time owner of theaters across the United States, including the famed Grauman's Chinese Theater. In 1973 he had purchased the 276-screen National General Theatre chain which he soon expanded to a total of 360 screens.
Jason Williams: I said, "Hey, we did 'Flesh Gordon' and the numbers are good. We've done another one called 'Alice in Wonderland'." We screened it for their booker and they liked it. They said, "We'll give you one theater in Tucson, AZ and we'll open it there and see how it does."
We had one just big billboard outside of Tucson that had a nice piece of artwork on it.
We opened the picture and it broke the house record. More money that had ever been made in that theater.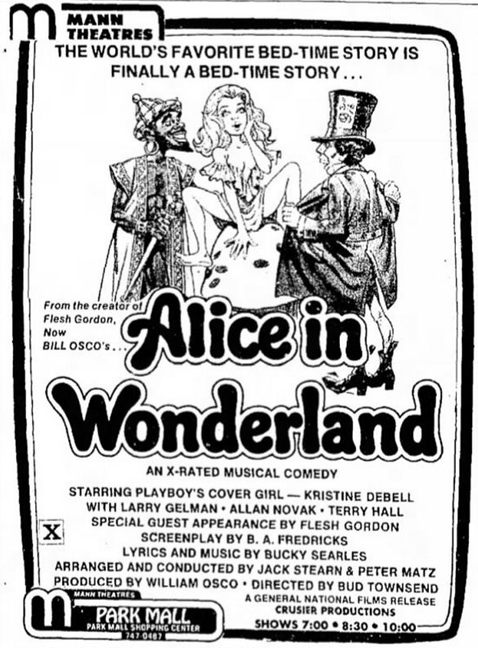 'Alice in Wonderland' plays Park Mall – one of the Mann Theaters, Tucson, AZ (April 29th 1976)
So how do you capitalize on that?
Jason Williams: I thought, "Here we are working with Kaleidoscope who make the best trailers in the whole world", so we got them to make a trailer for us, and they made a fantastic one. It was cute, sexy, and fun.
It said something like "This is an X-rated musical – but it's not for kids. It's a bedtime story – but it's not for kids." It was real cute. It was right on the nose. Ted Mann ran the trailer in all of his theaters.
Did Kaleidoscope also come up with the artwork for the one-sheet?
Jason Williams: Yeah. It was put together by Kaleidoscope. They were really good. They really made the movie come to life. They really did. They made it special I think.
What happened after the successful run in Tucson?
Jason Williams: Then Mann gave us another theater, the State Theater in San Diego. We broke the house record there as well. So now the phone starts ringing off the hook. Everybody wants our movie – but we're not distributors. So I said, "Well, shit, we're not going to give it away to a distribution company now. Why would we do that? Let's just get somebody in and distribute it ourselves."
So we approached this guy, Harold Marenstein.
Harold Marenstein had been Vice President of Sales of Cinemation Industries, a New York City-based film studio and distributor owned and run by exploitation producer Jerry Gross. The company distributed exploitation films as well as hit independent films like Melvin Van Peebles' 'Sweet Sweetback's Baad Asssss Song' (1971). The company went bankrupt in 1975.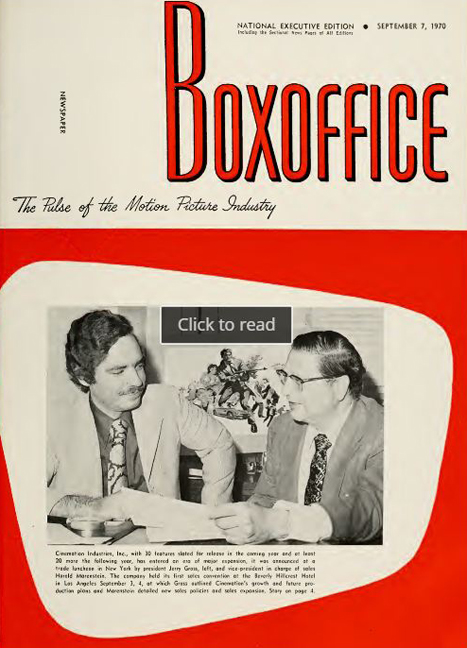 Jerry Gross and Harold Marenstein (right), 1970
Jason Williams: Harold was a veteran guy, maybe about 70 years old, and had been around forever. We brought him in to run our distribution company.
What was your company called?
Jason Williams: At that time, there was a company called 'National General' which was a huge distribution company / theater company. They'd just gone bankrupt or had been acquired by somebody else and they were no longer a business.
I said, "Bill, why don't we call ourselves 'General National'? Everybody that we deal with will just think we're 'National General.' All the theaters are used to dealing with 'National General', so if we just call ourselves 'General National' everybody will think it's the same damn big company, and we'll get treated in the same way".
So Bill and I set up a company with Harold and called it 'General National Enterprises', or 'GNE Productions' for short.
The general release print of 'Alice in Wonderland' was trimmed by three minutes so that it would be granted an R-rating, and thus play in more mainstream theaters.
How well did the film do once you started distributing it across the country?
Jason Williams: The movie went off the chart and ended up making… God, I don't know how much. Millions. I could never get a real answer. Bill who was in charge of all of the money side, but nobody could ever get a real answer from him. Not Hirsch, the lawyer from Phoenix, not Kaleidoscope, and not me.
Did you get good publicity?
Jason Williams: We had a publicist. The Kaleidoscope guys told us what to do and how to do it. But once we started setting house records, it was easy to get the picture into theaters and it ran forever. It ran for almost a solid year in one theater Westwood.
And Kaleidoscope were doing everything they could to promote the film as well. They had the wherewithal to promote Kristine and put her out there because they knew that she'd be good publicity for the movie.
At the time 'Alice in Wonderland' came out in theaters, Kristine DeBell appeared on the April 1976 cover of Playboy, photographed by Suze Randall.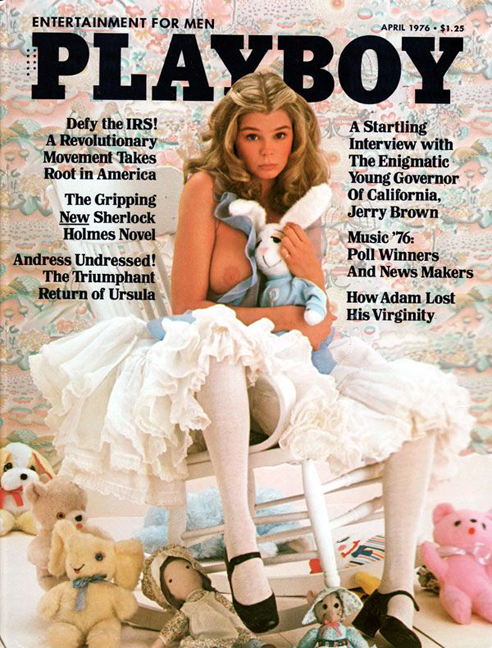 Kristine DeBell: Suze Randall photographed that, and we became friends. She was so sweet. No one had ever been on the cover before who had not been a Playmate first. She knew that I'm a tomboy. All these other girls are posing in very provocative ways with a bat, and I'm yelling the f-word, I have a beer can, I'm popping my cleats, and I was just like that.
How was foreign distribution handled?
Jason Williams: Harold handled the American distribution side, but Bill and I took the foreign distribution. But what Bill would do was to sell each damn territory off to multiple different people.
How would he do that?
Jason Williams: He would sell exclusive rights to Spain or Italy to someone and they'd give him a check for, say, $25,000 for the Italian rights. And then a fucking hour later some other guy would come in and Bill would say, "Give me $15,000 and I'll give you the exclusive Italian rights. Yeah, completely exclusive. Don't worry about it. You got them all."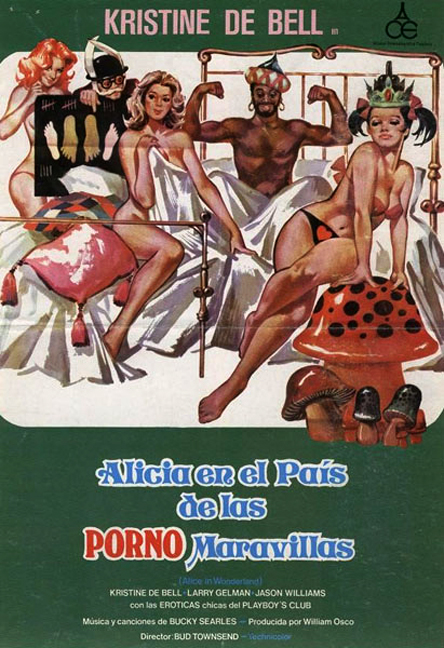 Kristine DeBell: I recently found some old interviews that I did around that time, and somebody asked me, "Were you upset that you did that kind of movie?"
I said, "Why would I be upset? I have 1% of the film". I'd completely forgotten that I had that deal!
The film made over $100 million, and I didn't see any of it. But I was a kid. I didn't keep any contracts. I never saw any profits.
From The Kingston Daily Newspaper (October 21st, 1976):
"The producer of an x-rated film has been threatened with a lawsuit for using a state historical site, the Olana mansion, as a backdrop for his movie.
Lawyers for the Taconic Park Commission have said that despite a prohibition against filming on the grounds of state parks or historical sites without special prior consent, producer Bill Osco used the stately Moorish castle as a background for his film, 'Alice in Wonderland.'
According to Linda McLean, curator of the former home of Hudson Valley artist Frederick Church, only educational companies are given permission to film the historical site, adding, "certainly not a film like 'Alice in Wonderland.'"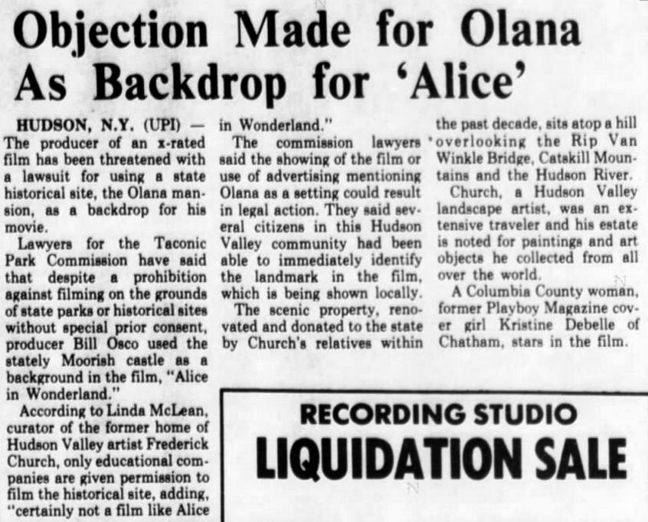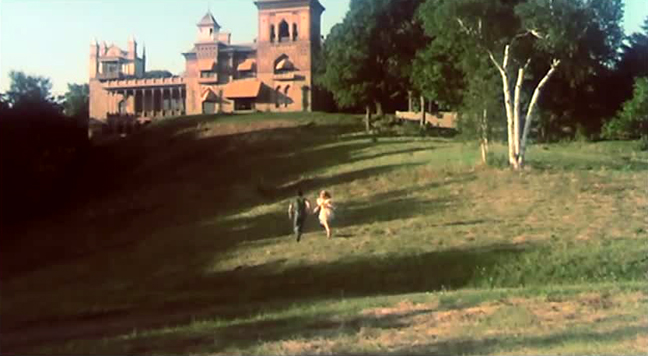 Olana State Historic Site in 'Alice in Wonderland' (1976)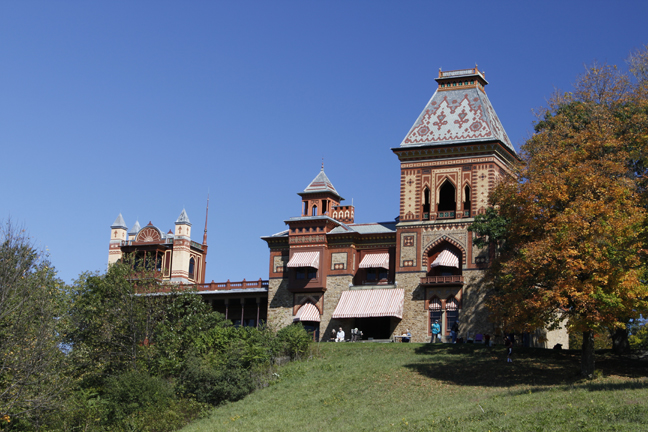 Olana State Historic Site (2015)
Didn't you make another film with Bill shortly afterwards?
Jason Williams: First we were going to make an adult 'Wizard of Oz' film. That's when I met Suze Randall and her husband Humphrey. Humphrey was a writer and he wrote a first draft at of the 'Wizard of Oz' script for us.
Then we made 'The Great American Girl Robbery' (aka 'Cheerleaders' Wild Weekend' (1979)) with Kaleidoscope. I wrote and produced it, and starred in it.
We had also an 'American Graffiti' type film we were going to do, and I had a script that was a knock off of 'Bad News Bears' (1976) called 'Pee Wee Pigskin' that was about little football kids, but by then my relationship with Bill was deteriorating.
Kristine DeBell: Once I made Alice, I ended up going with the producers right to California, and that's when I started getting acting parts there. I acted in 'The Great American Girl Robbery' which Bill and Jason made. I made some good connections and my acting career took off.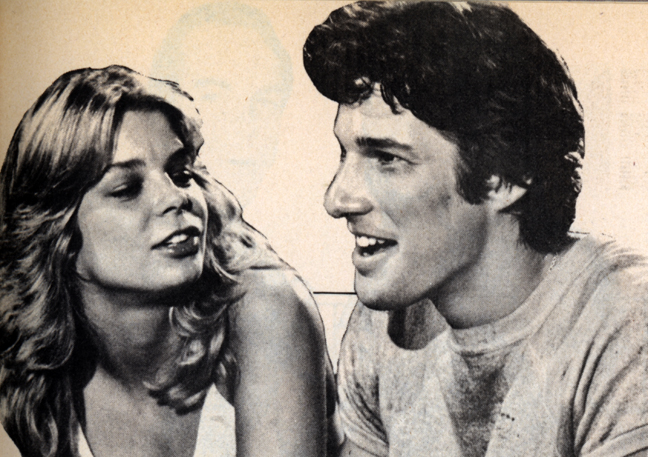 Kristine DeBell and Richard Gere (1978)
In August 1976, Kristine made her second appearance in Playboy, this time photographed by Helmut Newton in a pictorial entitled "200 Motels, or How I Spent My Summer Vacation".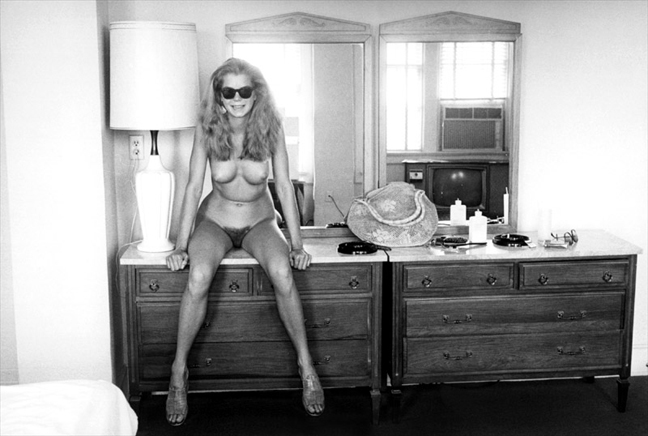 Kristine DeBell in a picture from her Helmut Newton pictorial "200 Motels, or How I Spent My Summer Vacation"
Kristine DeBell: Those photographs are so indicative of what I was then, this rebellious … My agent would say to me, "You need to dress in this way" and I'm like, "Why? I just want to go in jeans and a t-shirt." I was absolutely rebellious at that time… I was a total tomboy.
*
4.     Controversy
When did you suspect that Bill was concealing the big profits from 'Alice in Wonderland'?
Jason Williams: Bill ended up hiding everything. He'd tell everybody that the profits were tied up, they were here or there, he had to get it, it was this or that… but no one could ever get any details. Then, Osco just stopped paying anybody anything.
Meanwhile he bought a house on Sunset Boulevard that was on four or five acres of land. It was a huge estate right next to where Cher lived, and it dwarfed her place. It had a big enough front-yard to play football on the damn thing. It must be worth $25 or $30 million now.
He was deeply delusional… he actually thought that he'd done everything. This is what's so incredibly strange. He thought that it was him that made it all happen, though in reality he was just along for the ride. His skill was that somehow he did have his finger, his little tiny finger, on the steering wheel, but he wasn't really doing anything. Except his little tiny finger on the steering wheel somehow meant that he was in charge of everything, I guess.
In terms of producing anything to do with the films, he delivered nothing. Zero. But he got credit for everything which was actually pretty incredible.
Was there any truth that he was part of the Osco drug chain?
Jason Williams: No. Zero. Yet he told everybody that. His father was actually a barber in Ohio.
Eventually the box office value of 'Alice in Wonderland' as a softcore film played itself out. It was then re-released it as a XXX film by inserting additional minutes of hardcore footage.
There has been controversy about the hard core footage that was re-instated for the XXX version, some of it involving Kristine DeBell. What do you know about what happened there?
Jason Williams: Bill had started dating Kristine right when the movie started. As soon as he met her, he got right on Kristine.
When we first started making 'Alice in Wonderland', we weren't completely sure it was going to be hardcore. Bill got Kristine to give him a blowjob as though he was the Mad Hatter on camera, and it was never included in the film. It was some footage that was never ever in the X-rated version of the film. He told her something like, "We're up here and we need this, the picture needs it, blah, blah, blah. Hopefully we'll never have to use it, blah, blah, blah. I love you, blah, blah, blah."
A few years later, to try to make some fucking money, Bill inserted this little clip and some other footage that were obviously not even from the film that showed hardcore penetration. He got it from someplace else. He put these extra minutes of hardcore in the film thinking he's going to make a new adult movie out of it and it's going to become now become a big hit because he's got this additional shitty ass hardcore porno in it. He did that to Kristine which I thought was just such a low fucking life thing to do. That's really a dirt bag thing to put that little clip of her in there.
Horrible. I mean it really… What a character, a real bad guy.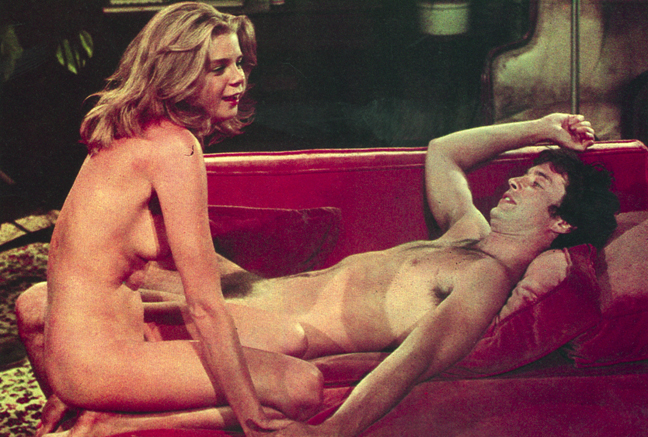 Was this ever discussed with Kristine?
Jason Williams: I didn't ever bring it up. I didn't want to tell her. Let it lay that way. It ain't going to do anything one way or the other at this point in time.
It was just such a low life thing to do, really. Unbelievably low life.
Kristine DeBell: They filmed all that X footage, and at first they basically made a soft core HBO-esque film. Then a while later, they add all this XXX stuff, and said, "We forgot to add this in".
What?!
"Oh we filmed this during the filming, but we forgot about it…"
I actually read on Wikipedia what happened. I didn't remember.
I just was this young kid. People will say, "How did that happen?" But I just went in and did my job. I was just this young… I didn't think about those kinds of things like I would now.
Did you make any money at all for 'Alice in Wonderland'?
Jason Williams: Nothing. I made nothing. I must have got cheated out of… I don't even want to know.
How about money from 'The Great American Girl Robbery'?
Jason Williams: Bill had brought his high school buddy out to Los Angles from Ohio. Bill had a limousine and this high school buddy was his chauffeur. It turned out the driver was one of the only guys who was actually getting paid every week.
I owned about half of 'The Great American Girl Robbery' that we made for Kaleidoscope. I ended up selling my percentage of it to the chauffeur! I don't know why I sold it to him but I just took that money and left.
That was the only money I ever got… I had to sell my share of it to the chauffeur just to get any money out of it.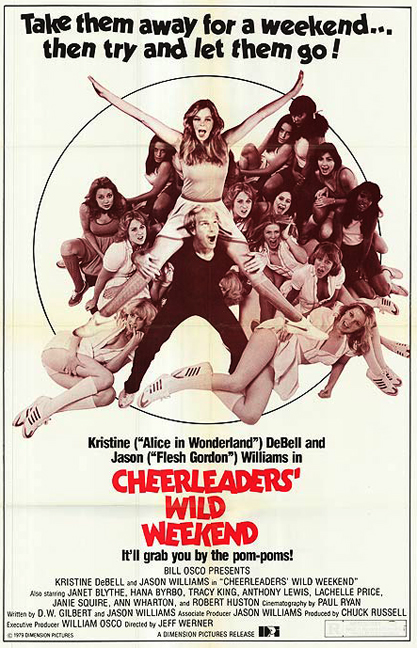 Jason Williams and Kristine DeBell (both center) in 'Cheerleaders' Wild Weekend (1979) (aka 'The Great American Girl Robbery')
How does that make you feel?
Jason Williams: It doesn't feel any good. Somehow, I look at it like it was for the best. But in reality we should have been at the top of the world. We were two guys in our twenties who had two number one hit movies in America. We were connected to a company that opened doors to every studio in Hollywood, and that door was wide open to really do something in this business. But Bill was bad. He stole from everybody, never paid anyone, and it just became intolerable for everybody.
In the end everybody had to sue him. Kaleidoscope sued him. Hirsch, the lawyer from Phoenix, sued him. I knew it wasn't going to do any good for me to sue him, so I just left and went on my own way.
Who ended up owning 'Alice in Wonderland'?
Jason Williams: Kaleidoscope's owner, Andy Kuehn, took Osco to court and finally won the suit against Osco and he got all of the rights to 'Alice in Wonderland', and all of the rights to 'The Great American Girl Robbery'. He had them in a vault.
Somehow Osco paid somebody at Kaleidoscope to go into that vault, steal all the negatives, and then Osco started releasing the movie all over again.
 *
5.     Aftermath
What happened to Bill after that?
Jason Williams: He ended up getting involved with this girl, Jackie Kong. She was his girlfriend, and she convinced him that she could make movies. She'd never been involved with any kind of film production, but Bill thought that she could do what me and Howard had just done with him. So he let her direct a few movies and he produced them – things like 'The Being' (1983) and 'Night Patrol' (1984) – and she lost all of the money.
And Bill actually starred in 'The Being'?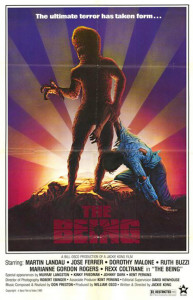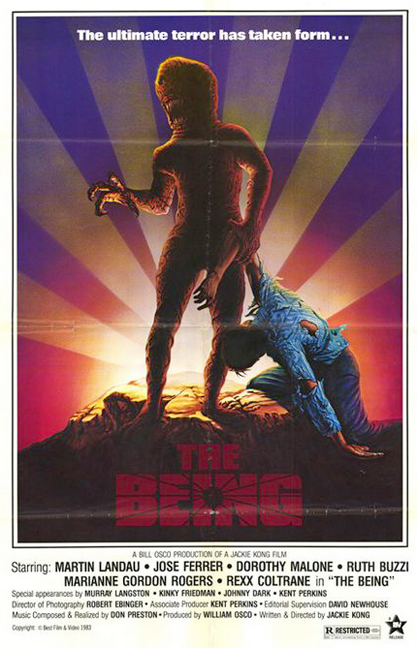 Jason Williams: Yes – together with some great actors like Martin Landau, Ruth Buzzi, and Marianne Gordon.
The funny thing was that Jackie thought that Bill's acting was so bad she wouldn't let him use his voice in the movie. She brought another actor in to completely overdub his dialogue. The movie was so unbelievably horrible.
It's really a fascinating story how someone could be acclaimed as a filmmaker when really he never did anything. The only movie he really made himself was a film called 'Gross Out' (1990) which has to be the most disgusting movie ever. It was terrible.
When was the last time you were in touch with Bill?
Jason Williams: He called me about 10 years ago and he says, "JL?"
I said, "Yeah? Who's calling?"
He said, "Bill." I said, "I said Bill who?" He said, "Who else calls you JL? This is Bill Osco."
I said, "Well, what do you want?"
He said, "Well, I just wanted to get together and talk about old times."
I'm like, "Talk about old times?" I knew the only reason he was calling me because somehow he wanted something.
I said, "There's nothing to talk about now… The truth is we were in such a good place and you just cared about nobody except yourself and that's why this whole thing didn't work."
Really it was true. He really is a pretty good description of the word sociopath. He fits in there where he'll tell anybody anything. He'll lie to you and it doesn't make any difference who you are.
Did Alice ever come back to harm or haunt you in any way?
Kristine DeBell: Absolutely. In the 1980s, along comes the Internet with no filter, and I donated a 'Meatballs' poster for a fundraiser for my boy's school, and a kid Google'd me, and there you have it. There's all of 'Alice', right there, for these middle schoolers to see. My own boys were tormented. I ended up moving to Williamstown, Massachusetts, and not ever telling anyone. I used my married name to protect my kids. No one knew who I was.
I joke now that my oldest probably needs therapy. My boys have just made their peace with it. I said, "Look, we all do crazy things. I was an alcoholic." I use that as an excuse, but I was wild, whatever. They're over it, and my little one couldn't care less. He just goes, "Whatever."
The reality is we all do things we can't take back. I have A.D.D. and I will often say something that I can't take back. It's the same thing with this film. It's out there, and I can't take it back.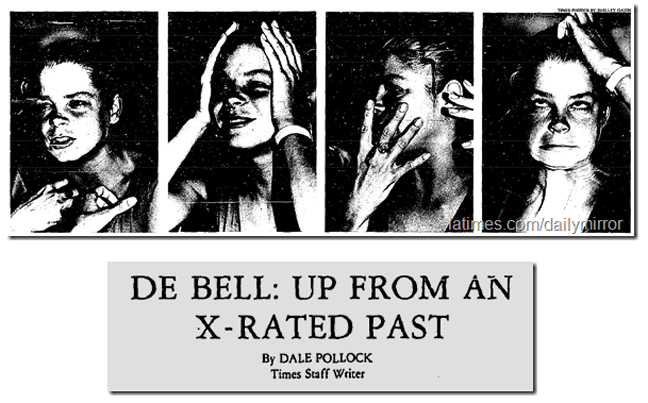 How about you? Are you more comfortable with it now?
Kristine DeBell: In my 40s I made these really close girlfriends that I'm still very close with. It felt so odd that there was this whole portion of my life that they didn't know about. One day, I took them aside and I said, "Girls, I have to tell you something horrible about myself."
Maybe I didn't use the world horrible, but I said, "I can't be friends with you any longer and not share this stuff about me that you don't know."
I said, "I made an X-rated film when I was in my 20s" and I told them the whole story. I was worried they wouldn't like me. And they just said, "We like you even better now." It was pretty perfect.
Was I wild because I was drinking and using, or was I just wild?
It's hard to pinpoint. Stuff happens. People do things. I have totally made peace with it. I've accepted it. It's part of my checkered past. It's made me who I am.
'Alice in Wonderland' was circulated as an R-rated version in VHS format by Media Home Entertainment.
The hardcore version was also available on VHS. Both have long been out of print.
In December 2007, Subversive Cinema released a DVD containing the original X-rated and the XXX hardcore version.
'Alice in Wonderland' continues to be known as 'Bill Osco's Alice in Wonderland: An X-Rated Musical Fantasy'.
 *
6.     Whatever happened to…?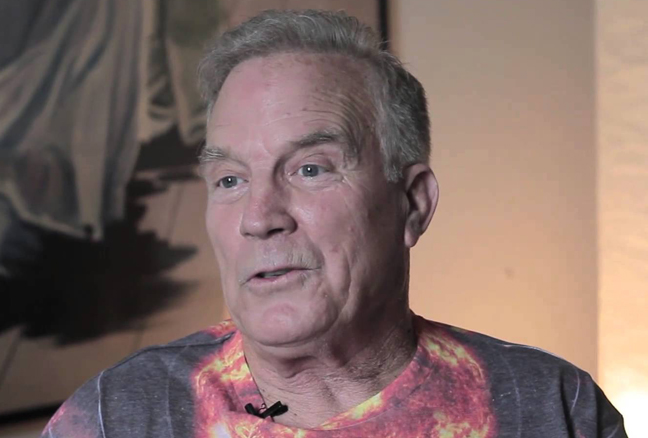 Jason Williams continued to act, direct, and produce into the 1990s, as well as work on an autobiography. In 2014 he made his first Comic-Con appearance to commemorate the 40th anniversary of 'Flesh Gordon'. He joked that he would probably make more money at the convention than he made starring in 'Flesh Gordon' or producing 'Alice In Wonderland'. Added together.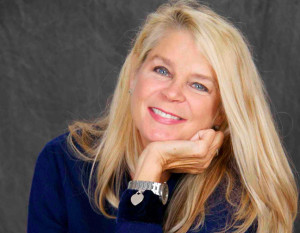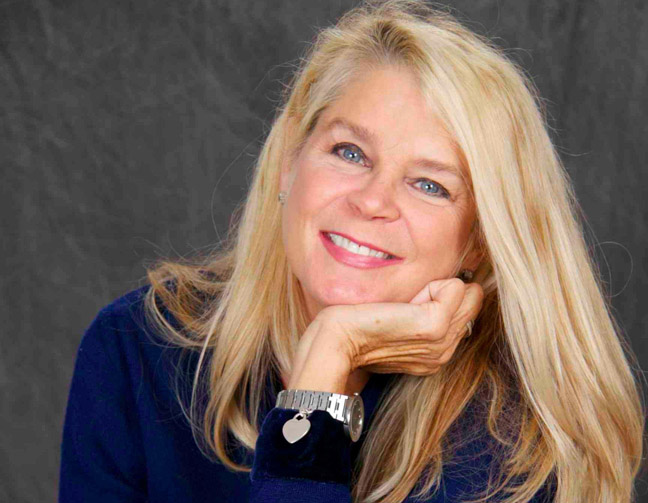 Kristine DeBell went on to star in 'Meatballs' (1979), 'The Young and the Restless' (1982), and many other films and television shows.
After taking a two decade break from the film industry to raise a family, she returned to acting with a vengeance in 2012. She is working on a website that will contain much personal information about her career and future activities.
Bill Osco continued to produce films. In 2007, he was credited with writing the book for an Off-Broadway musical based on 'Alice in Wonderland' that was staged at the Kirk Theatre in New York City. The show was entitled 'Alice in Wonderland: An Adult Musical Comedy' and flyers advertising it were designated 'For Mature Audiences Only'. The show was set in a trailer park in Weehawken, New Jersey.
Bud Townsend directed three mainstream films before his passing in 1997. Patty 'Booby' Townsend died five years earlier.
Bucky Searles continued to write and perform comedy until his death in the 1990s.
Joseph Bardo formed his owned production company and made films with his daughter until his passing in the early 2000s.
Juliet Graham continues to live in New York, and has just completed an autobiography.
Larry Gelman lives in Los Angeles. Now aged 84, he still acts in films on a regular basis.
Terri Hall passed away from cancer in upstate New York in June 2007.
Peter Matz died of lung cancer in 2002.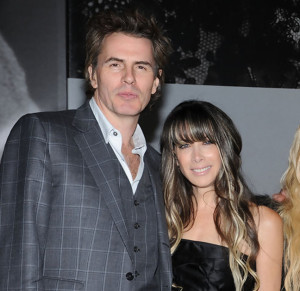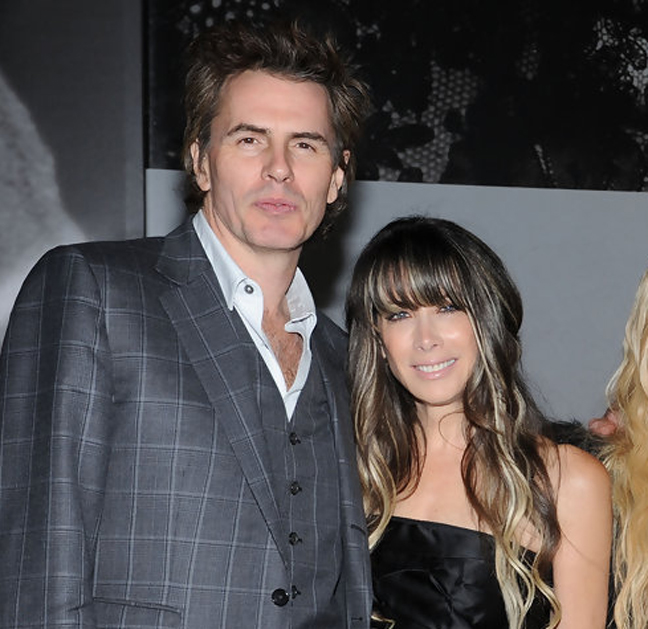 'Gila Havana', or Gela Nash-Taylor (left, with husband, Duran Duran's John Taylor), presided over the huge success of Juicy Couture, turning the velour tracksuit into a popular trend with celebrities such as Madonna, Britney Spears, and Paris Hilton.
The company was acquired by Fifth & Pacific Companies in 2003. Sales at the time were estimated to be in the region of $200 million.
*