Samantha Fox, iconic actress from the golden age of adult film, passed away on April 22, 2020 at the age of 69. The Rialto Report spoke to her sister who indicated the suspected cause of her death was related to cardio-vascular illness, with possible Covid-19 complications.
To remember her life and career, we are re-publishing three pieces:
Actor Richard Pacheco remembers his personal connection with Samantha Fox
Sex journalist Veronica Vera spoke with Samantha Fox just as she was leaving the adult industry
Samantha Fox shared her inspiring and moving philosophy on life and the adult industry with photographer Vivienne Maricevic
She will be greatly missed by fans of the golden age of adult film.
With thanks to Richard Pacheco (and his autobiography Hindsight: True Love & Mischief in the Golden Age of Porn). Veronica Vera (and her blog Veronica Vera – Now & Then) and Vivienne Maricevic (and her golden age photos).
_______________________________________________________________________________________________
Samantha Fox: A Life
Samantha Fox was born Stasia Micula on December 3, 1950 – not in 1951 as widely documented – to Stanley Micula, a foreign diplomat, and Elizabeth Johnston Jones, a Scottish immigrant who worked as a bookkeeper. Stasia, the oldest of five children, was a twin sister, and her family traveled extensively overseas on United Nations missions.
She studied art at Sarah Lawrence College, then wound up marrying a dentist named John Block. The couple began using drugs regularly, and when John began to abuse Stasia, she looked for a way out. An acquaintance suggested nude modeling to get some quick money, and it quickly progressed into adult films:
"It was in 1976 and I had done some still photography layouts for people. An agent sent me to go see a producer and I didn't really know what it was for. When I walked in the man said, 'You're the star,' and I said, 'Are you kidding, what are you talking about?'
"'Well,' he said, 'I'm doing an X-rated film and I just know I have to have you for the star, I think you're beautiful.' This was a totally wonderful thing to hear. He hired me right on the spot, and I did my first film."
"If there could be such a thing, in this day and age, outside of the Hollywood syndrome: I was discovered. In the beginning, I didn't take it seriously, it was pocket money, it was exciting, it was being an exhibitionist, it was being sexual."
Samantha Fox went on to act in over 100 films, both porn and B-movies, including comedy, drama and horror genres. She is best known for her work in golden age classics such as Babylon Pink (1979), Her Name Was Lisa (1979), Jack + Jill (1979), Tramp (1980) and Babe (1981), Amanda by Night (1981), and Roommates (1982).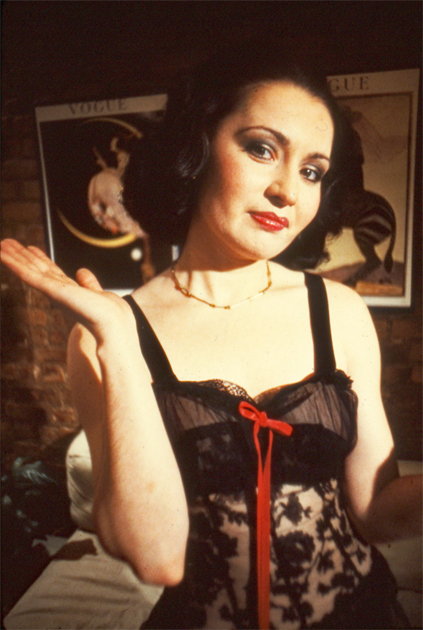 She was especially known for her work with director Chuck Vincent.
"I did my first film for Chuck, which was Bad Penny (1978). We bonded instantly. I just loved him."
But Chuck didn't immediately recognize Samantha's appeal, as he later recalled:
"When Samantha first worked for me four years ago, she was terrible. She couldn't act, her makeup and hair looked awful. But, she's worked hard and today she's a complete professional who could appear in any kind of film."
In 1978, Samantha met her life partner, adult film actor Bobby Astyr, while filming Double Your Pleasure (1978). She initially found him to be "something of a jerk."
"This guy with curly hair, a little shorter than me, comes springing over, and he goes, 'Hey tits, how are you doing? I hear you're the hot new chick on the block.' and I thought, 'Oh, spare me!'"
But then she invited Bobby and another actor that she was particularly attracted to, to a party. "So here we were at this party," she recalled, "and I got really drunk, and this guy I had the crush on started going off with other people, and Bobby was the only one paying attention to me."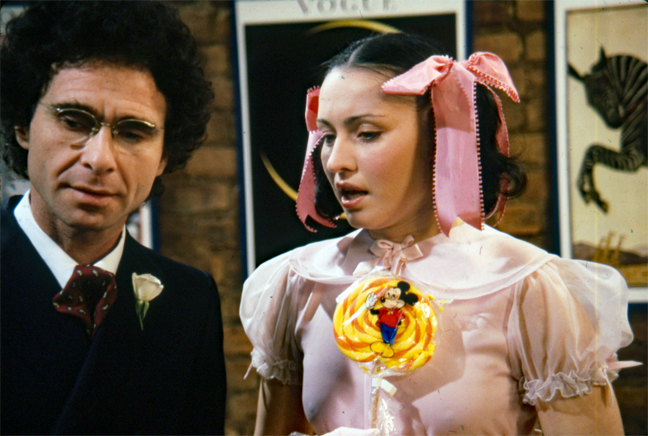 Bobby Astyr and Samantha Fox
The couple courted for two years, and finally wound up sharing neighboring apartments for nearly 24 years.
Samantha was one of the most decorated performers in adult film. She was nominated for awards almost annually and won some of the most coveted honors including AFAA Eroticas for Best Actress in 1980 for her performance in 'Jack+Jill', and in 1981 for 'Tramp'.
By the mid 1980s her drug use had escalated and become a problem in her life. It reached a breaking point after she appeared in Jack n' Jill 2 (1984), the last movie she said she was proud of.
"I was detoxing at the time from alcohol and drugs when I went to finish that movie. I had walking pneumonia and didn't know it. I had a 102 degree fever, and I was really ill for a long time after that. That movie was sort of a blur. I realized I had to close the door on porn and see if I could start from scratch."
Samantha continued acting in the occasional mainstream film, such as Chuck Vincent's Warrior Queen (1987) alongside Sybil Danning.
After leaving the film industry, Fox attended Hunter College for physical therapy and worked as a fitness instructor. She nursed Bobby Astyr for months before he died of lung cancer in April 2002.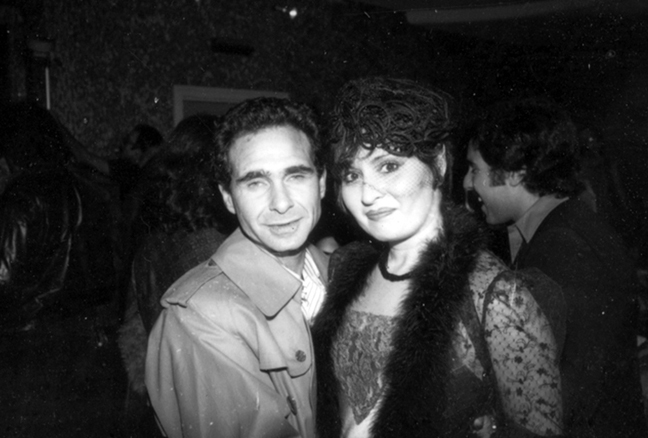 In her final years, Samantha was an active member of her East Village community, involved in advocacy groups such as the East 2nd Street Tenants Association Coalition.
*
Richard Pacheco remembers Samantha Fox
Extract from Hindsight: True Love & Mischief in the Golden Age of Porn
1982.  Samantha Fox had won Best Actress at the L.A. Erotic Awards two years in a row. That made her the reigning Queen of the industry. She was coming in from New York to San Francisco to play my wife in Irresistible. I wanted to greet her in style.
I rented a limo and picked her up at the airport with a big bouquet of roses. Summer Brown, the producer, thought it was such a good idea that she even split the costs with me. That was nice of her. Samantha was properly tickled by the whole circus of it. Samantha and I were put up at a hotel in San Francisco where we shared adjoining rooms. We had a week to wait before our one and only sex scene in the movie.
Early on, we spent a lot of time together rehearsing our dialogue and doing some getting-to-know-you. I was full of pregnancy stories of me and my wife. She was telling me all about Bobby Astyr, the boyfriend back in New York. He was a big X-rated star in his own right, often referred to as "the clown prince of porn." I had met Bobby once. I remembered his comment that "God was in-between Samantha Fox's legs." I was looking forward to gaining insight into Bobby's views of theology.
Samantha and I wondered if we were supposed to be having offstage sex. Should we practice? Rehearse? Find the lust? See if the plumbing worked? What?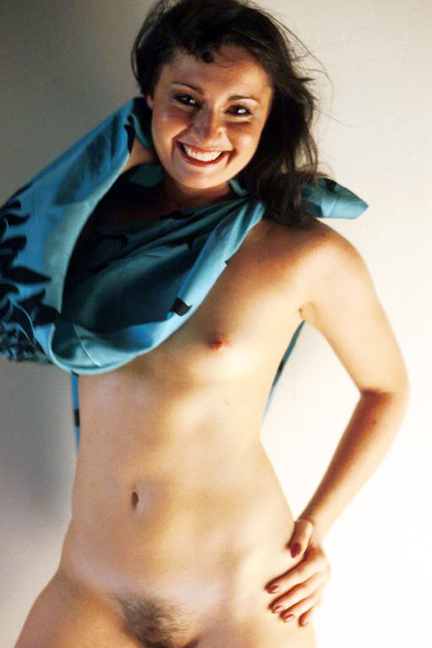 Somehow, it didn't seem like the right thing to do. We decided on just being buddies and saving it all for the cameras.
I was grateful. I had to do six sex scenes in five days. I would need a lot of sleep, but I would still be very much looking forward to meeting Samantha Fox at the end of the rainbow. She was a talented, delicious woman.
Every day on the set with her became foreplay. I enjoyed watching her work. She was clearly a top-of-the-line professional. It was called The Golden Age because a lot more juice went into the performance aspect of the movie. And among the best of us, there was always great pride taken in the acting. A lot of us enjoyed that as much as the sex. And a lot of the others thought it was a complete waste of time. Well, fuck them.
Backstage, Samantha and I spoke a lot about relationships. She was trying to figure out how to get Bobby to propose marriage. I enjoyed the scheming with her. Hell, I was happy just to know her.
When our sex scene finally did come around, it was spectacular. I couldn't have written a better script for it than the way it unfolded.
Late in the afternoon, we were doing some dialogue in bed. There had been no sex yet, just a lot of talk. During a break, Samantha had to leave the set to take a phone call from her Bobby. He was at the New York Adult Film Critic's Awards Show. When she got back in bed with me, she told me that I had just been given their Best Actor and their Best Supporting Actor Awards for that year.
Wow, that was a stunning bit of foreplay! The reigning Queen had just crawled into my bed and told me I'd been chosen King. Her eyes revealed a happiness and a respect. My spirits soared. I felt that I had earned my place to be next to her.
We finished shooting the dialogue and then dressed for the climactic love scene of the movie. Costumed in 1964 wedding finery, we were going to shoot the love scene of our wedding night. We'd been building up to it all week.
When the sex was about to commence, director Eddie Brown made a gesture of genius. He put on some mood music. It was Air Supply's 'Every Woman In the World,' a popular love song of the day.
It was ten pounds of uncut schmaltz. I adored it. They would later edit it out of the film so that they wouldn't have to pay anybody residuals, but Eddie wanted to use it during shooting for the effect it would have on us. It was brilliant! It was a majestic home run right out of the ballpark!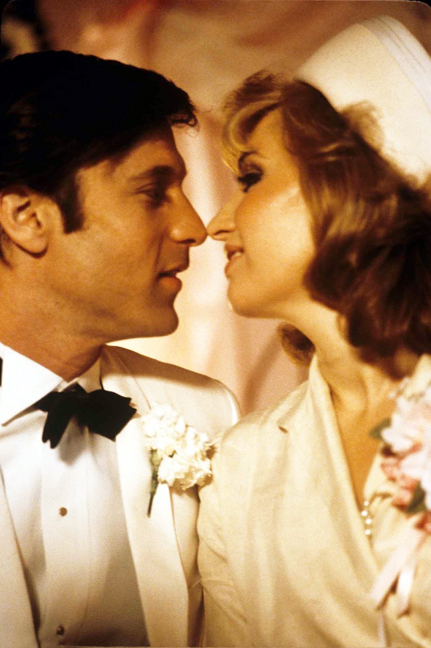 Richard Pacheco and Samantha Fox
The music elevated the beast. A sex scene became a love scene. Our spirits entwined. We were a husband and wife in the movie who had just rediscovered each other after surviving an intense marital crisis. This was the healing. This was the consummation. This was a romantic joining of love and lust. What a joy it was to be feeling all of those feelings while the cameras were actually rolling. The specialness of this scene came from the intimacy and trust we had earned with each other.
Samantha Fox was strong, and proud, and beautiful. She was creamy and free. I marveled at Eddie's touch and then I marveled at hers. I ate it up. She was every woman in the world to me. She was my Carly. I was her Bobby. For one brief moment, it was all the same stuff. It was transcendent. In that scene, we were two actors at the height of our powers on a free trip to paradise.
The music was one of the finest triggers any director had ever pulled for me.
It was the best sex scene of my entire career, again. This scene with Samantha Fox completed the trilogy of the three I've called "the best sex scenes of my career."
When my parents wanted to see one of my movies, Irresistible was the one I chose. I showed them the R-rated version, 'Simply Irresistible.'
It played on Showtime for a while. What a kick it was to see my name in the TV listings. My dad confessed that he was surprised I actually spoke lines in the movie! "You were good," he said. "My son, the actor!"
And my mother wanted to see me on the Johnny Carson Show. Couldn't give her that one. It never happened.
*
Samantha Fox Shoots for the Top
Article by Veronica Vera in Adam magazine, March 1986
Samantha Fox is a woman with a past. She is an X-rated super-star who's won almost every award this industry has to offer, some of them twice: CAFAs, the AFAA's Eroticas… you name 'em, she's got 'em. She has played the role of the sex goddess both onscreen and off. She's been adored by the public; lived for the moment; floated in a sea of over-indulgence, lots of sex, drugs, and alcohol. She's been arrested, protested, screen-tested. Samantha Fox has a provocative past, and she plans to have an even more exciting future.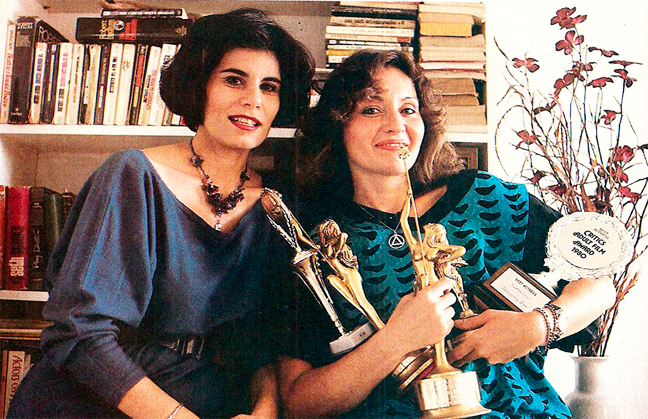 Veronica Vera and Samantha Fox
Word spreads quickly in the adult movie biz. When Samantha Fox landed a role opposite Donald Pleasance in Pompeii, a mainstream film, it was big news. This was a straight acting role and she'd worked hard for it. When she made Jack & Jill 2, Samantha Fox announced that she would no longer perform sex. She wanted to be hired as an actress.
It was not easy to stick to her panties, but she did it, and she looked great on the screen. Her comedy timing was perfect. Her talent shone. It was not that she was down on sex roles. They just weren't for her anymore. It was time to do a lot of things differently.
Performers make X-rated movies for a variety of reasons, but the simplest one is to be a movie star. It's not easy to go from X into straight films. For most performers, it is only a fantasy. I wanted to talk to Samantha to find out what life is like when your dreams start to come true.
She answers the door in a turquoise silk dress. The fabric floats over her body. Two round points protrude where her nipples rub against the silk. Ms. Sprinkle and I follow her up the steps to her apartment. I notice the curve of her ankles wrapped so delicately in black stockings and pumps. Samantha knows how to dress. She uses her clothes to enhance her womanhood, to reflect her moods, to seduce her audience.
I remember Samantha dressed in a pin-stripped suit, playing reporter at the CAFA awards. Pen and pencil in hand, with a skillful mixture of charm and persistence, she coaxed her fellow performers to feed her some info for her gossip column. She got what she wanted.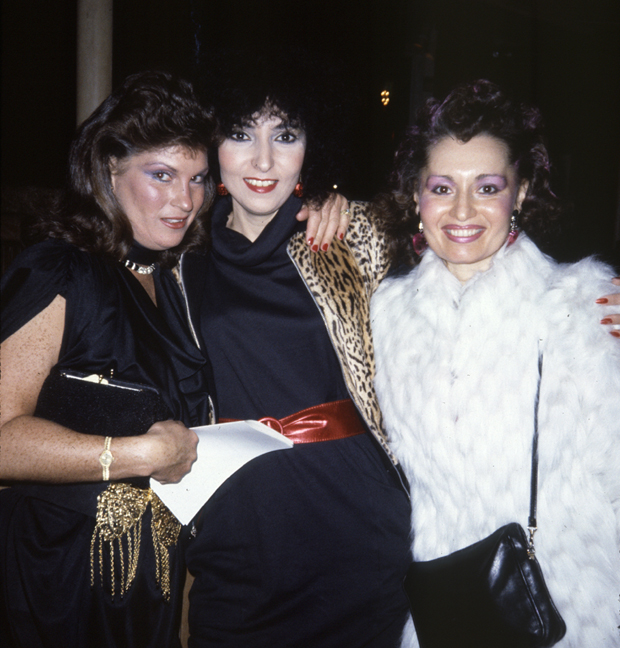 Lesllie Bovee, Marlene Willoughby and Samantha Fox
I remember her in a skin-tight black leather dress, dancing to a packed house at Show World's Triple Threat Theater. She had rehearsed her dance well. She knew what to do with her hands, moving them to the beat like a New Wave robot. She knew how to shimmy, so the slits in her dress lined up just right to tease the audience with just a little pubic hair, just a hint of ass. And then she was naked and down on all fours, doing the best floor work I've ever seen. She was no longer Samantha. She was a growling lioness in heat. She spread her legs to let the spotlight find the soft fur between her thighs. She got what she wanted then too. She held me and the entire audience in her talented hands.
Samantha's apartment is very bright and cheery. There are fresh-cut flowers and green grapes on the table. She makes us feel very welcome. In fact she gushes over us. Samantha Fox likes to make other people feel good. She finds it's a pleasant way to go through life.
There was a rumor that a producer of 'Pompeii' had tried to use his position to take advantage of the actress, the old casting couch story. I ask Samantha if she had to deal with that. She answered that she simply treated the producer like a human being. "I even gave him a neck rub on the set. He gave me no problems."
"Were you nervous about the role?" I ask. "No," says Samantha. She did not feel nervous, she felt ready.
For the past two years, Samantha Fox has been preparing herself to be ready. She has slowly but surely regained control of her life. She rode to the top of her profession, but did not escape a self-destructive romance with drugs. She credits her best friend and lover Bobby Astyr with helping her see the light. "Bobby told me simply that if I did not straighten out, he would not be with me anymore. The truth hit me. He was telling me, the great Samantha Fox, that I was a drag to be around."
Samantha turned her life full circle. She had lived fast and loose, now she lived in a world of tight regimentation. Every minute of her time was filled with a meeting, an exercise class, a medication workshop…
She completely transformed her body at the gym. She went from chubby little girl to pumping-iron dynamo. Her tits and ass appear to be chiseled from marble. That's how she looked at the 1984 Screw anniversary party when she received The Goldstein Award. She has relaxed her routine a bit. Now there is more of a softness about her, mentally as well as physically. It's a powerful combination. She radiates energy.
Bobby Astyr walked across the hall to say, "Hello." At first, I think he must be painting his apartment because his clothes are spattered with paint. Then I learn that Bobby Astyr is an artist and a very good one. It's funny, the intimate details we don't know about each other in this business of intimate acts.
Samantha tells me that in Pompeii she uses her real name, Stasia Micula. I ask her how that feels – to get back to her real name again. She tells me: good, more self-accepting. I know exactly how she feels because I have been writing about myself as Mary, my name as a little girl. Now the little girls and women are coming together.
An interesting fact about 'Pompeii', a costume drama directed by Chuck Vincent, is that Samantha Fox puts in a cameo appearance. "When the actress hired to do a belly dance could not make it, I volunteered to do the role as Samantha."
"Then you're obviously not afraid to let the whole world in on the deep dark secret of your porno past," I say, admiring the neat way she's put her cards on the table.
Samantha is learning about sex all over again. She recalls one of her most memorable experiences. It was with a young man who spoke no English. "We had a lovely one-night affair. It was very beautiful. We tumbled all over the bed, unable to say a word to each other. Our mouths were used only to bring each other pleasure."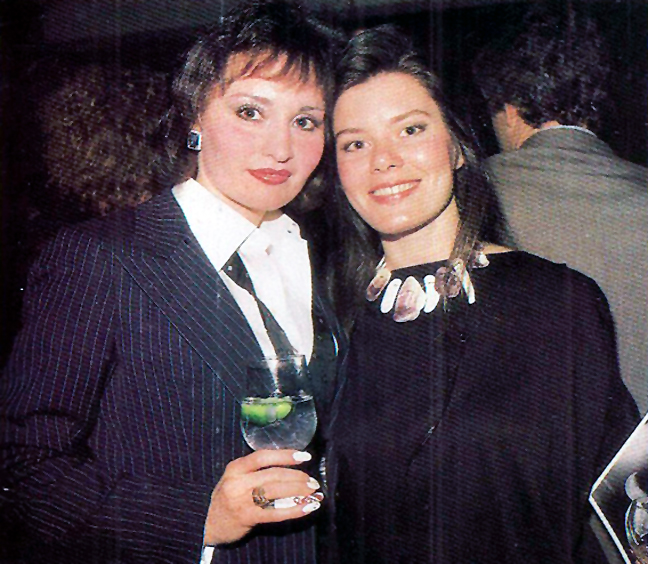 Samantha Fox and Candida Royale
"Yes," I agree, "sometimes words get in the way."
A week later, I meet Samantha at an industry cocktail party. There is a young man there who has won a date with her through a contest sponsored by a magazine. He is a handsome truck driver nicknamed 'Axel.' Axel is not exactly thrilled that his date with Samantha is watched over by about 50 people, but he still has a good time.
At one point, the happy couple take some publicity photos on a canopy bed. "Axel really taught me something," says Samantha. "When it came time for the photos, I started to suggest all these wild poses. Axel said simply, 'Why don't we pretend that we're just about to kiss?' He made me see how porn has colored my thinking. He made me understand how powerful the idea of a kiss can be. I was his dream date and he just wanted to kiss me."
"These days," she tells me, "I find myself stumbling about when dealing with love and sex. I am no longer the wild porn star who knows all the answers."
That same night, I meet a very handsome producer, a man who seems to have everything. But, he tells me, he believes he is doing too much coke. He claims to want to stop, but tells me that his lifestyle makes it impossible. "That's just a cop-out," I tell him. "Look at Samantha Fox," I say challengingly. "She did it."
Maybe Samantha Fox can do anything. Maybe we all can. She still has a hard road ahead. One or two straight acting roles do not guarantee and Oscar nomination – or even another role. But Samantha's in fighting shape, and between her and Stasia, they're gonna work their way to the top.
*
Samantha Fox's Philosophy on Life and the Adult Industry
As told to photographer Vivienne Maricevic
It was in 1976 and I had done some still photography layouts for people. An agent sent me to go see a producer and I didn't really know what it was for. When I walked in the man said, "You're the star," and I said, "Are you kidding, what are you talking about".
"Well," he said, "I'm doing an X-rated film and I just know I have to have you for the star, I think you're beautiful. " This was a totally wonderful thing to hear. He hired me right on the spot, and I did my first film.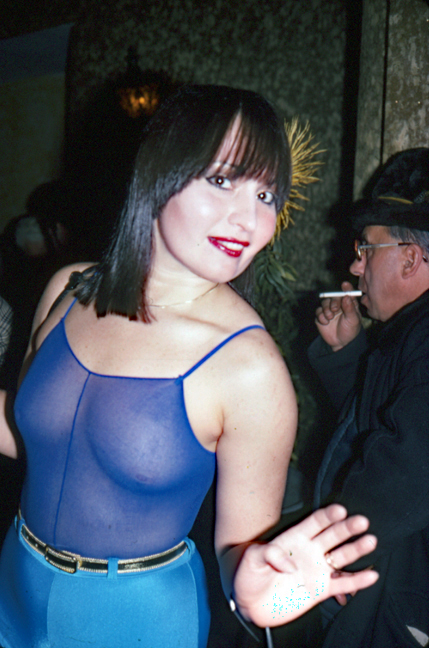 If there could be such a thing, in this day and age, outside of the Hollywood syndrome: I was discovered. In the beginning, I didn't take it seriously, it was pocket money, it was exciting, it was being an exhibitionist, it was being sexual. I didn't realize that it could also be manipulative, it could be abusive, if I'd let people take advantage of me.
But actually through this business I got myself together. I stopped taking drugs, I started to learn how to negotiate business dealings, how to book myself all over the country, and how to promote myself.
Society places stigmas on women who are sex symbols, and that can be threatening at times. It is the world against you. They tell you that you cannot be a sex symbol for more than certain amount of years. But people who I have learned to respect, probably because of their longevity, have proven otherwise. As I see that women can be stronger, even though the male-oriented society is saying, "Listen, you can't last in an industry beyond a certain amount of time, your beauty goes at the age of 30, you develop cellulite." They forget to tell you as long as you exercise and keep your mind alive and interesting, life doesn't get stale, nothing is going to happen. So being an optimist, whether it's living in a very real world, or my own Disney world, is the safest thing for me. Deciding that people are good, until they screw me, is another safe thing because it takes away those hard lines. When you feel like you're endangered, when you're frightened, you get fright lines.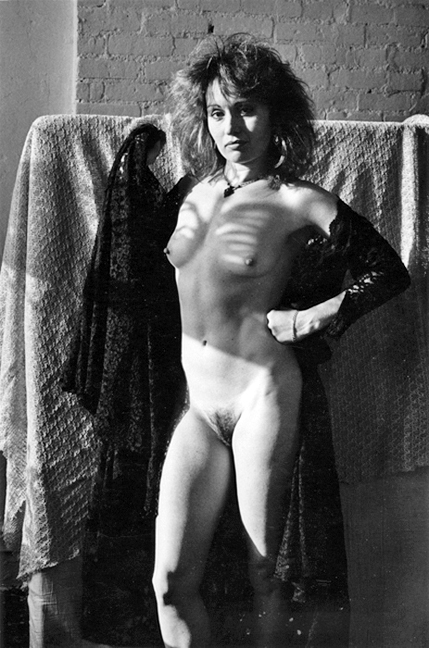 My philosophy is that good wins out. I happen to be on the side of good, and you can't lose if you're good. I'm probably not a superstar in looks or anything, but my nature has been consistent enough to seep into the industry and leave my mark. I'm not going anywhere. They're going to have to move me out, blot out the stain, have me dry-cleaned, try anything they want to do, if they want to get rid of Samantha, but she is there. She's not leaving.
I'm trying to get away from it all. If this career doesn't work out – it's been wonderful, thanks for the party. I hope it continues, but I'm not taking it as seriously. I think everyone in life should learn acceptance. I think the word acceptance carries through your life. Just accept everything that happens. If you don't like it, you can change it. There is so much a person can do to create their destiny. There is fate, which is comprised of the God power and the people around you, who you can't instruct to do everything according to your bidding, you have to deal with mankind. So, if you can accept that reality, which I think is the very basic truth, I don't think that there is any problem. That's how I live my life. It's my philosophy and it extends into my career as a 'movie star.' I haven't really tried to become a 100% legitimate star yet, although Samantha Fox is growing out of her cage. I tell the producers, you've created a monster, she's feeding me, give me more to do. As a result, I'm spreading into the lifeline of all facets of the X-rated industry. I'm now bordering on the R-industry and going into legitimate. I hope to do something like a Walt Disney film one day. I'm very pro-children, pro-light comedy, pro-being a fool, a clown, it's all part of being an actress and the bottom line is, I feel I'm an actress.
I love sexuality. I just hope to see prettier films. I hope men will learn how to be sensitive enough so they can make it the male point of view where men and women mesh. I don't want to see it this radical, 'Yes, it's the woman's point of view, dear, come be my slave.'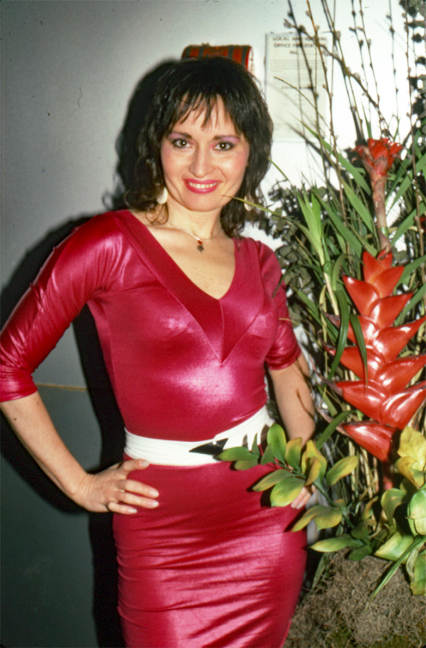 I don't want it to go radical. I think through not being a threatening woman, just being a human being, you can show your sexuality and perhaps it will rub off on the industry. If nothing else, I would like to make this industry a forum for people to express their sexuality.
*