Harry Reems (born Herbert John Streicher (August 27, 1947 – March 19, 2013)), was the best known of the early New York adult film actors. His most famous roles were as Dr Young in the 1972 movie Deep Throat and The Devil in Miss Jones (1973). Throughout the 1970s and into the mid-1980s he was one of the most prolific performers in the adult film industry. He became the first American actor to be prosecuted solely for appearing in a film. 
The journalist Tony Crawley, who The Rialto Report interviewed recently, spoke to Harry Reems at the height of his career, and published the article in Game magazine in 1975.
You can read our interview with Tony here, and his other interviews are also featured on our website.
___________________________________________________________________________________
'Dirty Harry Reems' by Tony Crawley
Game magazine – August 1975
The ins and outs of superpornostardom with the undisputed king of the scene. A one-man Marx Brothers act and film-unit: actor, director, production manager, technical adviser, stand-in, stand-out, stunt-cock, star-finder, star-fucker, best-selling author. The greatest (i.e. most reliable) porno peformer of all. Veteran of 410 films – a one-man blue movie histoire.
Reel One: The Man
If the International Olympic Committee authorizes copulation as an athletic activity in the 1976 Montreal meeting, Harry Reems has to be the winter-book favourite."
-Andrew Sarris, The Village Voice.
His name, misspelt in more variations than appears anagrammatically possible, is a must addition for even the tiniest of small ads in the New York blue movie columns. The films are all over the city, scattered through the more liberal (if any) states across the vast, imponderable divide known as mid-America and shining brightly again amid the freedom of the West Coast.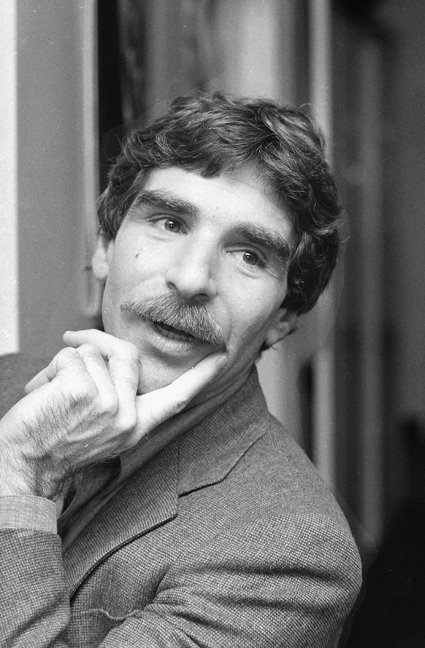 Harry Reems
They manage to spell the name correctly in Europe, where such mistakes would be more readily forgiven. (He's had two movies alone released in Britain, truncated soft-core sexploitation fodder both.) But he's big news and revered as The Doctor throughout Scandinavia and Germany due to the import of his countless porno items as a crazy, mittel European medico, sometimes called Scrotumi, heading the Cosmic Orgasmic Central Klinic (C.O.C.K. d'you see—heigh-bloody-ho!), dealing with emergencies in the Cockoly Dept., forever losing his glasses and mistaking the Cadavery for the canteen. 'Hmm, roast rump today,' he says, feeling a lushly upturned female derriere in a coffin built (soon enough) for two.
His most famous medic, of course, was the quack locating Linda Lovelace's amazing ailment in Deep Throat (1972), the Godfather – and mommy – of all the porno chic films. Chic it was not; cheeky, yes. Fortunately, indeed radically, the American porno film has improved out of all foreseeable proportions since that now three-year-old classic. Today's movies have immense chic, elan. Even scripts. The most casual viewer can easily attest which blue hits are dated BDT or ADT – porno-lingo for Before (or After) Deep Throat.
Then again he was, if not strictly a medical man, most definitely a specialist when training Georgina Spelvin in all her missed sexual arts during The Devil ln Miss Jones – the first of the better blue productions, ADT. Lately, he's more serious still as a psychiatrist in Sometime Sweet Susan (1975), another important legitimacy-breakthrough for porn – this doc does most of his trick-cycling, for want of a better euphemism, at home in the shower with his lusty bird, Sarah Nicholson.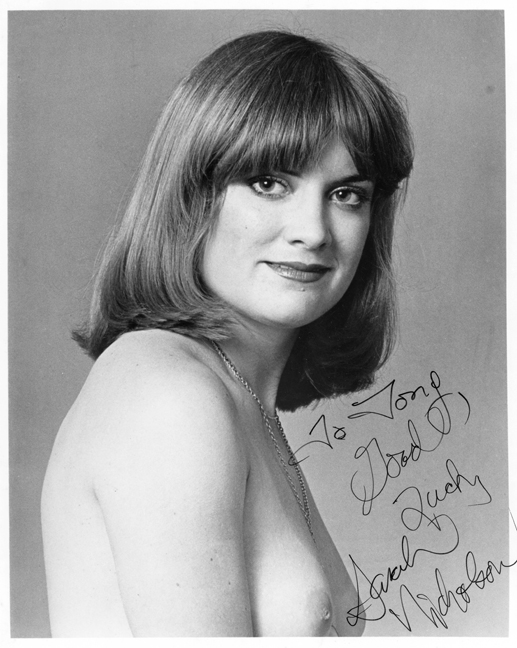 Sarah Nicholson
Harry Reems is often medicinal, then; an aphrodisiac for the young couples in his audience. Never clinical, however. Like his finest co-star, Georgina Spelvin, Reems is an actor first, a sex performer second. An average stud at that, or so he insists: a wide-based seven-and-a-half inches erect, to be precise. He prefers comedy numbers and is a funster all day, most every day, on and off the set. There is scant reason for misery, his life is a continual and literal ball.
The second of his major trademarks is a maniacal moustache much fairer than the rest of his body hair. The 'tash underlines his roue, rakehelly charm, and adds to his Marxian sense of humour. He's into one-liners like Groucho. What's Linda Lovelace doing these days? 'Recovering!' How come the girls get more publicity than you? 'My tits are too small!' In his crazy doctor stings, he sounds more like Chico, with lapses into the kind of human honesty of Harpo. He is, at times, all three Marxes rolled into one handsome example of enormous physical health. All four in fact; one gathers from him that before porno, he was as shy and awkward as poor Zeppo. Not any more.
'I'm a professional pornographer,' he says. With pleasure. That's been his therapy, his own form of self-discovery and analysis. As actor and man. He's been in the game from the 1969 seedier days of mixing with acid heads and obvious Mob connections, to the current climes of porno respectability. His life, in or out of films, is a perpetual wet-dream. Only for real. Apart from drawing the line at sadomasochism and gay work, he's done everything that could possibly be done, sexually.
'God knows, I've tried it all. I've been licked from head to toe by six girls at once. Had honey poured all over me. Foods, too. Poured foods on other people. Gone through every kind of fetish you can imagine… Think of it: two girls are the aggressors, they take your clothes off and they go down and they blow you until you come,right? Wow, great! You know, outrageous! I love it.
And off screen? 'I don't have to play the games, you know. "Do you want to go home and fuck?" they say. "Hey, you want to fuck me?" They say it to me.'
While he never claims to be a Brando, a Nicholson or a Hoffman, his acting, hardly tested to the full in cafe theatre troupes before entering porn for the money, has grown and – well, yes – been greatly fleshed out by his work enabling him to fully encompass today a deft porno-drama to the order of the excellent three-into-two-will-go marital study, Wet Rainbow (1974), and the unhappily, more turgid if well-meant Sometime Sweet Susan – and make him No. 1 choice for the upcoming European hardcore production of Guy de Maupassant's Bel Ami (1976).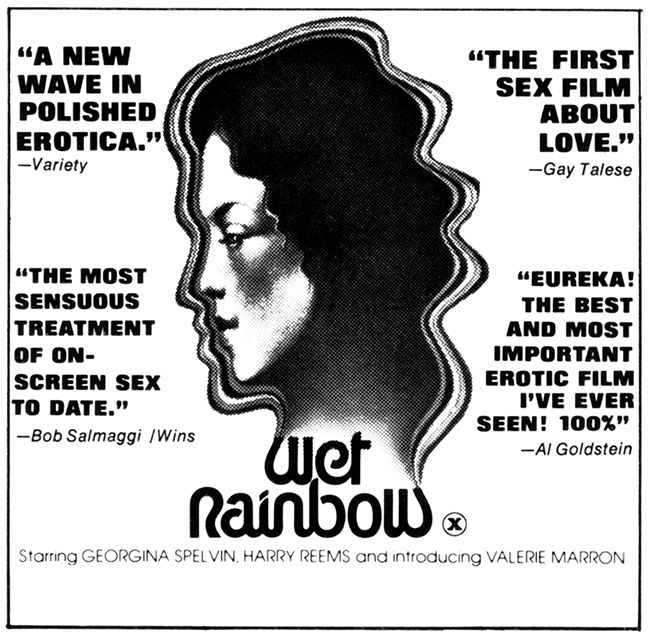 The screen's real Dirty Harry is, quite simply, the very best in his extraordinary line of business; there are few arguments about that in pornoville. Best meaning reliability. In delivering both acting and fucking, via an ability to gain an erection on cue, maintain it, use it – and agile enough to show it in use – and somehow manage to concentrate on the double job of fucking and directing his own screwing sequences. Or merely to give the camera crew a full twenty-second warning before the all important 'wet shot', a visible ejaculation. 'I usually can put my head into getting off or not getting off, you know. Start concentrating on basketball. "What'd the Knicks do this week?" and hold back.'
On top of which, Reems holds the extra ace of being a reasonably good, and continually improving, actor. And entertainer. And that is what he says good porno films have to be. Entertainment. 'Not something to send you to sleep after ten minutes.' He is, then, not merely a sex-machine. In New York, I've heard his work – his screwing – described as 'the best piston shots in the business'. He thinks he holds the record for the longest cum-shot – seven to eight feet.
But even the most callous of the hard-nose grindo smut-peddlers, the '80% skin' men, who want a succession of gaping genitalia close-ups, rigorous fucking, and non-stop wet-shots spraying the girls and the audience, will agree that 'Reems gets it on good, in the acting and the fucks.' In pornoland, that's a rare kind of tribute – an equally unique kind of talent. Which is why Reems is about the only male in his line to make the grade, to his name and – as he can do so apparently effortlessly on set, no matter how or how many he's grinding – hold it.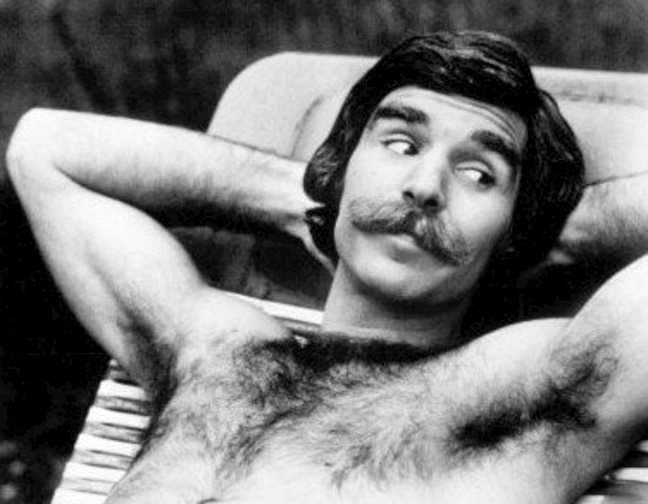 *
Reel Two: The Myth
'He could ball at high noon in Macy's window or centre-stage on The Johnny Carson Show… I dig him the most.'
-Linda Lovelace
Time was when it was very difficult for a New Yorker, even a porno producer, and well nigh impossible for a visiting out of towner, to merely get in touch with Harry Reems. That is not his real name for starters. As a member of the Screen Actors' Guild, he needed an alias to avoid the union's top $5,000 fine for any of their members (hah!) caught letting it all hang up in porno freatures. Or so it was, until Reems almost single-handedly (hand?) helped make the genre so respectable, ar at least acceptable, that he helped set up the first pornographic production to win the full sanction of S.A.G. ('Sometimes Sweet Susan'). A task that can only be likened to obtaining Vatican approval for the Pill.
The people who wanted to contact Harry – or Herb as he was born to German-Russian-Romanian parents – whether about a new movie, a business deal (there was once tee-shirts put out with the legend: Harry Reems Sucks My Soul), maybe an autograph, or advice on how to get into fuck-films and 'get laid properly, man, ya know, like you get it on, man' – they all had to make do with hopeful overtures passed to friends of friends of friends who said they knew his mother in Westchester County, on aunt or two, or most probably, only his dog, Banjo.
Then again maybe someone knew the location site he was performing in that week. Not easy. The days when he fucked behind guarded and locked doors have long gone, but the set-ups are still kept secret.
Reems has shot his illustrious bolt in more varied settings than Bogie and Cagney used to die in. He recalls a hand-job on a motorbike going over Goethals Bridge, being blown in the dark-room of the Fashion Institute of Technology in New York, fucking inside 1929 Norge icebox on a New Jersey dump, in the rough off the 13th hole at the Winged Foot Golf Club in Westchester, offshore at Jamaic's Round Hill Club, inside three different coffins in both Jersey and Connecticult, in the Junior Miss department of a J.C. Penney Store, in a Boeing 707 at La Guardia Airport's Hangar B, in a Brooklyn courtroom (justice indeed), on horseback, in a canoe, in a Munich poppy field, at one of New York's MGM executive suites (hardly for the first time), on the front pew of a Baptist church ('unheated') in New Hampshire, on a famous senator's croquet pad, atop a delicatessen counter, inside a gorilla costume, sitting on a kitchen sink in Princeton, standing on the same sink, in a bed where Chaplin once slept in Connecticut and under the bed where Chaplin once slept in Connecticut… and in a stairwell betwixt the 97th and 98th floors of the Empire State building.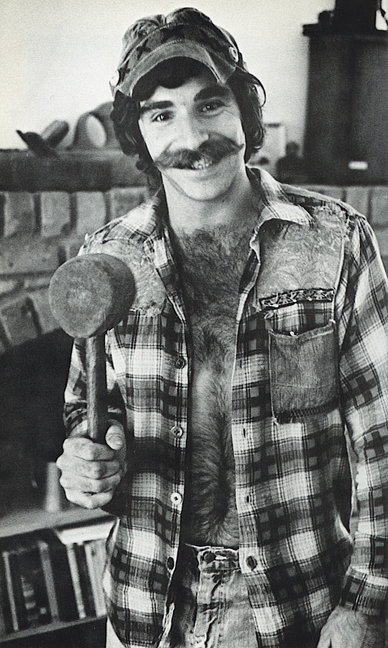 No wonder most people eventually found him by chance – usually months late – along the streets of Manhattan as he took the air between fucks. Or out on his farm in Pennsylvania, where he buys and knocks down old barns and sells the sidings and beams to restaurants or interior decorators. Or playing tennis, squash, or softball in the city.
He is, though, such a phenomenon today, he has had to straighten out his affairs and come available. Contactable, at least. And by something better than the eternal answering services to which most trendy Americans cling like some sanctified umbilical cord. He still works, highly remuneratively too, minus agent or manager. He has lately taken on the impeccable services of an astute public relations girl, one Janice S. Morgan, who uses the Morgan car insignia on her letterheads and looks as svelte and sunny as she sounds on her busy phone. (So does her ballet-minded teenage daughter, but that's quite another fantasy).
Those people who don't really know him, call him Harry, and those who do hail him as Herb; Jan Morgan neatly mixes the two, with a definite oral oblique stroke, and readily fixes up a meet with Harry/Herb for when the boychick wonderstar returns from a vacation in the islands.
Meantime, time aplenty in New York for research into the Reems movie genre. Porno. Of which there are innumerable examples – the good, the bad, and the positively degrading – with which to blow the mind in and around Broadway, Times Square, 42nd Street and where have you. The old classics are still on tap: Deep Throat, to be strictly avoided in New York where it's an optically censored print with as much sex as a Walter Cronkite newscast; and Behind The Green Door (1972), which rightly made Marilyn Chambers a star before she closed the blue door on her career and became the new Doris Day.
New hits include China Girl (1974), in from San Francisco, with lots of polish, a great poster based on Chinatown, and a couple of TV names (more familiar as faces than names) among the supporting, dressed roles; and The Private Afternoons of Pamela Mann (1974), the most sensually sumptuous porno yet made, directed by the very best, if pretentious, of America's sex-movie-makers, hiding his fairly legendary name under a false Henry Paris pseudonym for fear of legal busts around the States. Probably a wise move; but porno will never grow up and win the real big names, if they're all too scared to sign their work.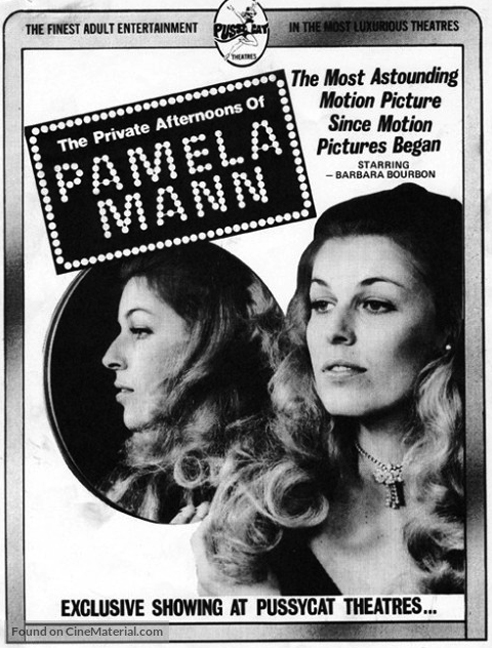 In the three days awaiting Reems' return to city life, one saw so many giant cocks, gaping cunts, fucking, sucking, gingering, penetrations by organ, vibratory – and in one film, and entire kiddie's doll – plus absurd (for the camera) gyratory positioning and ejaculatory trajectories by the score, that I simply OD'ed. To the quite reeling effect of glimpsing out of the corner of an eye what appeared to be old Harry/Herb himself – of the West Coast's thirteen-inch John Holmes at his most extended – appearing on the box. Keerist, I thought! Porno hits TV. Read all about it! Blink – no… It was a wild-life documentary, folks. It was – are you ready for a drunken confession like this – an elephant's trunk snaking upwards into a thicket of bushy tree. Oh boy! It was a shock, I can tell you. It was time to revert to Disney.
'It was the pink elephant syndrome,' chuckled Harry/Herb falling out of his chair, when I found the balls to relate my hallucination later. He had turned up, on time (Establishment stars please note), at Jan Morgan's neat little office, ready for a quickie film or two in the city before schlepping off, from Boston to LA, tub-thumping the publication of his funny, feisty autobiography, Here Comes Harry Reems (Pinnacle Books, New York: $1.95).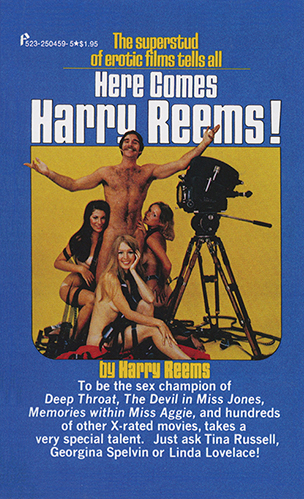 *
Real Three: The Magic
'I'm just an average guy with a little exhibitionism to me…a little kid playing with life.'
-Harry Reems
He is, in a word, the most fucked star in the history of film. And it's all there on film. Not snidely written about in great lover items in gossip columns. Don't know his star label, either. A star, porno genre or not, he is. The only male box-office draw in a business which uses up new girl sensations quicker than last week's Kleenex. Linda Lovelace, Marilyn Chambers and Georgina Spelvin are the few exceptions, big names still, although Georgina alone remains in porn. Each new month there is a hot new star, queen for a day. Tina Russell, for instance, with whom Reems started his career with the porno equivalent of blowing his lines – ejaculating inside her instead of all over here – has long split.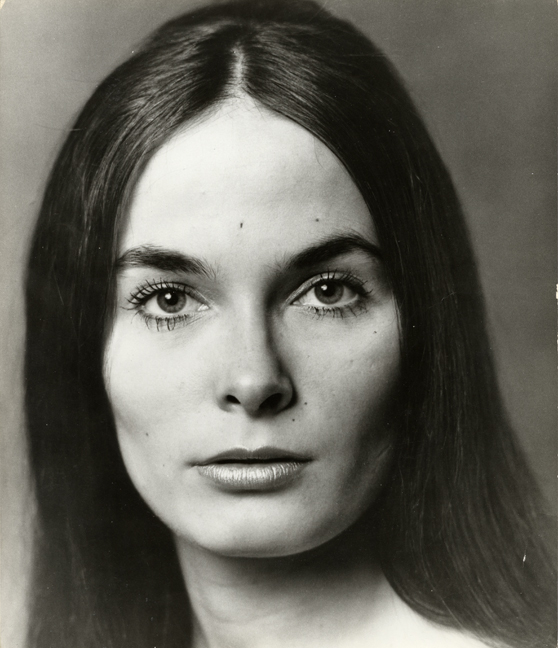 Tina Russell
'In' favourites as I sussed the scene, coast to coast, were Barbara Bourbon, alias Pamela Mann, a super-stunner mixture of sexual and dramatic talent', Annette Haven, found in San Francisco by the young woman producer of 'China Girl'; and New York's pride, Darby Lloyd Raines, about to start producing her own fuck-films from hereon. Vote for the sexiest broad in New York though, has to go to a perennial Reems co-star, Mary Stuart, billed as Merrie Holliday in her latest release, a blue treatment of Dickens' Christmas Carol yet. (There's a lot of life in Marley's ghost.) But Mary, like Kim Pope, another hot contender, just never checks with her answering service. Shame!
No 'new Reems' in sight, however. Harry/Herb stands out, and not just dimensionally, from all the guys these girls ride to stardom. Marc Stevens may be the biggest lad in the city, a suggested nine-and-a-half inches to twelve erect, and John C. Holmes, aka Long Johnny Wadd, might hold the porno world record with a thickly engorged thirteen inches when up (though in both films I saw, he never actually reached up…hardly surprising with all that penile weight). But Reems, alone, is the household name.
In all, he claims to have made a total of 409 porno movies of one sire or another. Bel Ami will be 410. He started at the very bottom, in loops – stag shorts for arcade or home consumption – and graduated into the big time when the porno chic rebellion began after the import and impact of Sweden's I'm Curious (Yellow) in – of course! – '69.
Think of it: 409 films in about six years. That's a good 350 more than even John Wayne has made since 1928, and the Duke's early extra and singing cowboy films are well on a par, for length if not appeal, with Reems' loops. Hell, that's more movies than Newman, McQueen, Nicholson, Beatty, Redford, Eastwood and Reynolds have made all told. In truth, it's more films (to say nothing of girls, 60 to 100 at least) than any combination of Hollywood studios you care to muster in a group have managed to churn out in the same time-slot!
In his amusing, informative book, Harry/Herb guestimates that up to Memories Within Miss Aggie (1974), last year's classiest porno triumph (and he's made oh! another five or so since), he had come 1,109 times for wet-shot close-ups on-screen. He had screwed through 483 scenes in the missionary's seat; 207 rear-entry; 93 sandwich or double-fuck situations; 121 anal entries, complete to ejaculation; come 87 times with the woman on top, 64 standing up, 103 into girls' faces, and has had his major trademark blown 192 times. 'Give or take a cum-shot or two, I've erupted one gallon, two quarts, one pint and fifteen ounces of jism for the cameras.'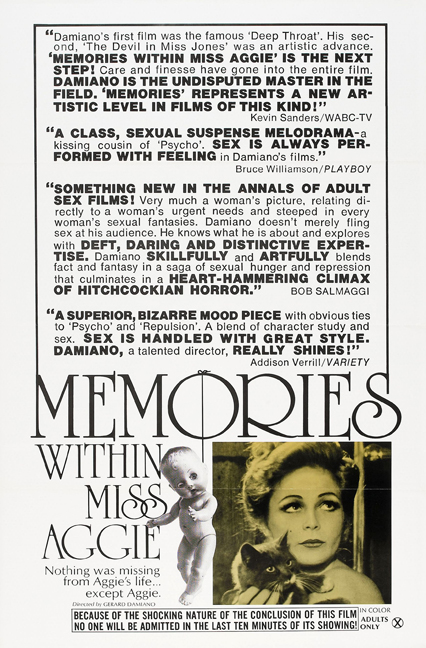 He looks exceedingly well on it, lounging in Jan Morgan's office in time-faded jeans, check-shirt and a leather jerkin which had seen better days fifteen years ago but is obviously too comfortable to throw out. He's 27 going on 28 and not 78 as might be imagined. Well, he used to make commercials for Wheaties—'the breakfast of champions'. He's had his excessive cigarette problem. Dope, too. But worked through and out of them, returning to the soil and country-bred health and vigour on his farm.
And his statistics have to be believed too. Apparently he kept notes as he came to stardom. One diary item for April 1971, notes 16 cum-shots in five days in Lady Zazu's Daughter. Most likely in, or on, Lady Zazu herself, as well. Little wonder then that the veins in his prick and the muscles in his bobbing ass are as familiar to some audiences as Charlie Bronson's son's rippling biceps to the rest of the globe.
The incredible Reems career began when the ever-generous fella was short of bread for Christmas gifts in '69. He was into acting, heavy stuff, lonesco, Sartre, the National Shakespeare Company and cafe troupes. Woody Allen turned him down for a bit part in Bananas (1971) when Reems was visiting San Juan and he played basketball with Al Pacino in New York. Big deal! He was broke. Someone crawled out of the woodwork and suggested doing porno loops at $75 a day.
Reems recalled the number. 'You got a good hanging thing?' asked the creepy voice on the phone. 'Ya know, it looks good? I mean – you gotta good body?' Oh that…! He was hired over the phone, blew his wad first time in the girl, discovered the rule about shooting over her, corrected himself within 30 minutes and a king was porn. First with Tina Russell, a heavenly body to begin anything with, in various loops with such forgettable handles as 'The Photographer Grinds Away', 'The Milkman Gets Milked', 'The Plumber Tools Up', 'The Gambler Drops A Wad'. He's forgotten the other titles. Understandable.
There were also inserts to do, hard-core penetrations and wet-shots edited into Euro-imports, to hot 'em up for the punters. Following 'Curious', 'foreign' cocks and cunts were considered permissible. Then the start of the American sex-educational films, excellent excuses for more native genitalia in close-up grindow action. By December, 1970, he was the busiest cock in town and made his first film for Gerard Damiano, who later revolutionised the loop-oriented industry with his features, 'Throat', 'Miss Jones', 'Miss Aggie' and his current winner, Portrait (1974). The film was Sex USA (1971), an action-packed guide to American mores. With short hair and sans moustache, Harry looked more of an Herb, very much the nice-middle-class Jewish boy. The girls included today's hot Darby Lloyd Raines in one of what she calls her 'wig films', hiding her blonde tresses, and hopefully identity, under an obvious black wig.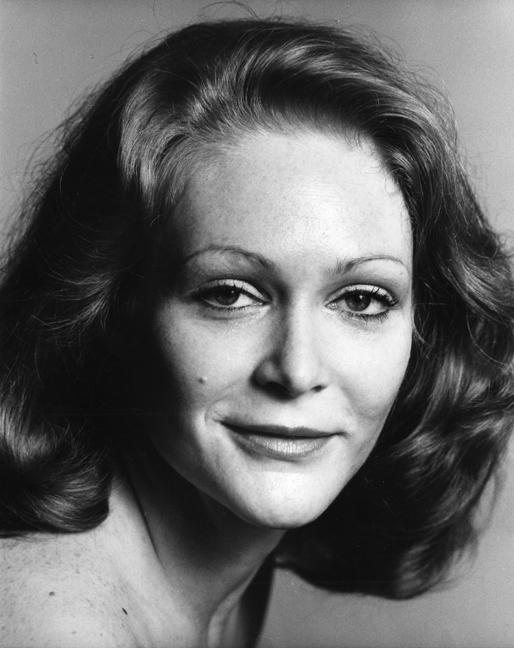 Darby Lloyd Rains
Reems won his first speaking role in Dark Dreams (1971), shot in the home of Chaplin's sister in Connecticut, and featuring just about the lot from occult and sado masochism to orgies, food fetishism, lesbian and inter-racial sex. Plus Tina Russell, with whom he continued to co-star galore: The Making of the Blue Movie (1971), 'The Deviates' (1971), The Filthiest Show In Town (1973), A Time To Love (1971) – which took, off and on, three whole months to shoot. 'A terrible movie. Some of the things I've done on film really embarrass me and I'm not talking about the sex.'
Throughout it all, he got it up, he got it off, and learned the essential rudiments of the porny art, 'how to play to the camera, how to lift my leg so the camera could catch my apparatus going into a coose.' He never lost the knack. It was all his masturbatory dreams coming true and his reliability, and surprise! (for the genre), acting prowess got him more work than he could manage: All About Sex Of All Nations, The Fornica File (1971). More loops: 'The Vacuum Salesman's Suction', 'Sneaky Pete's Abortion Clinic', and one for Damiano with a new girl, a former top and bottomless go-go dancer from Vegas who shaved her vagina to avoid a fuzz-bust for displaying fuzz. Damiano christened her: Linda Lovelace. Her technique, though ugly to watch, blew everyone's mind. 'I couldn't believe she ate the whole thing,' writes Reems. Damiano wrote 'Deep Throat' for her and inserted their loop in it.
But this was still 1971: Goin' Down The Other Side, a civil war saga cut and released as an R-rated movie; Forced Entry, his one and only sexually violent movie; Eroticon (1971), 'Love Shrink', 'The Art of Marriage', Changes (1970), The Teachers, Marriage Manual, Cherry Blossoms (1972), Bacchanale (1970), The Abductors (1972), and the birth of the most celebrated moustache since Chaplin's and Gable's, in Forbidden Under the Censorship of Kings (1972), forbidden from advertising in papers because the initial letters spelled FUCK and re-titled 'The Flasher'.
When it all got too much for the Reems' tool – 'I'm not superman, you know' – he quit and worked behind the camera for a rest and to gain more knowledge of his new craft. He even made a legit filme, 'Without Last Rites', with, of all people, Troy Donahue – and ruefully adds that he never got paid for it. So much for legitimacy.
By January, 1972, Deep Throat began shooting in Miami, with an $18,000 budget, rising to $25,000. The financiers, according to Reems' book, were 'a highly connected Mafia father and son team'. Harry/Herb was on staff as unit manager only, $25 a day, with the possibility of lending his cock where necessary to any flagging proceedings. He did so, doubling for nine wet-shots. With no one slated to play the doctor, he went out with Damiano, bought a couple of white coats from a barber suppliers, rehearsed some lines with Linda in a car, and they winged it to fame.
The doctor stuff was shot in a day: $100. In all, Reems earned $250 from the film that broke the US Establishment's back in relation to porn, obscenity, the whole schmeer, and grossed upwards of $40,000,000. This was the film, says Reems, which opened more than Linda's throat.
He later made what he still calls the best pornography film made, High Rise (1973), for Danny Stone, backed by his father, the producer of Steiger's Pawnbroker (1964) (another breakthrough feature in its day, the first American film to have nude breasts, black at that, allowed by the censorship authorities). Reems played the Toy Boy, a mother-fixated child in an adult's body, taken in hand and elsewhere by the engaging heroine, Tammy Trevor, fucking her way through the occupants of a high rise building. As Reems and Tammy get it on, his mother pounds at the locked door. 'I'm coming. Mother. I'm coming!'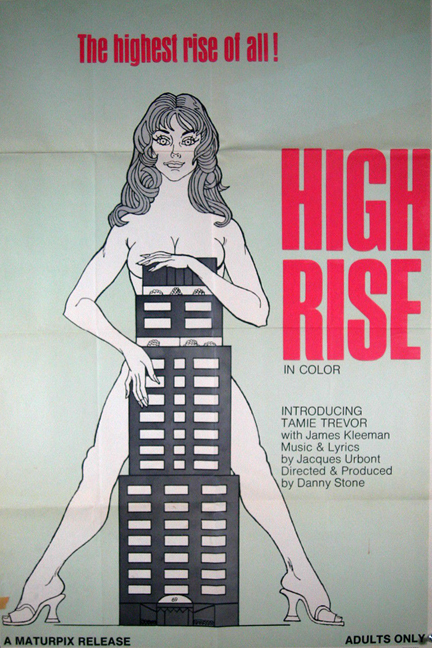 Despite big billing – he was already box-office, following Throat – all that's visible of Harry/Herb in Deep Sleep (1972) is the familiar cock and a cum-shot. As he waited for the possible improvements to settle into the blue genre, he shot one-day wonders like Intensive Care (1974), 60 minutes long but shot in a day, resurrecting his crazy Dr. B. J. Scrotumi, with the delectable Mary Stuart as his Nurse Nooky and Darby Lloyd Rains working with similar gusto. The doc made it again in Head Nurse (1973), the first movie he won $250 a day on – opposite Andrea True. They worked in tandem again, plus Tina Russell, for Damiano's Meatball (1972), where the medic was suddenly 140 years old and German although the accent was Irish. 'I couldn't handle the German dialect!'
Porn took him out of the States for the first time for a month on St. Croix for Paradise Island, from where he jumped into Screw magazine's film debut. 'It Happened In Hollywood', about a girl who wanted more than anything to fuck and suck on the screen. She did. Damiano next shot 'The Devil In Miss Jones' on Reems' Pennsylvania farm, with a budget of $37,000. It made $30,000,000 at least and created a new star of the woman Reems found for the lead, Georgina Spelvin — the Glenda Jackson of porn.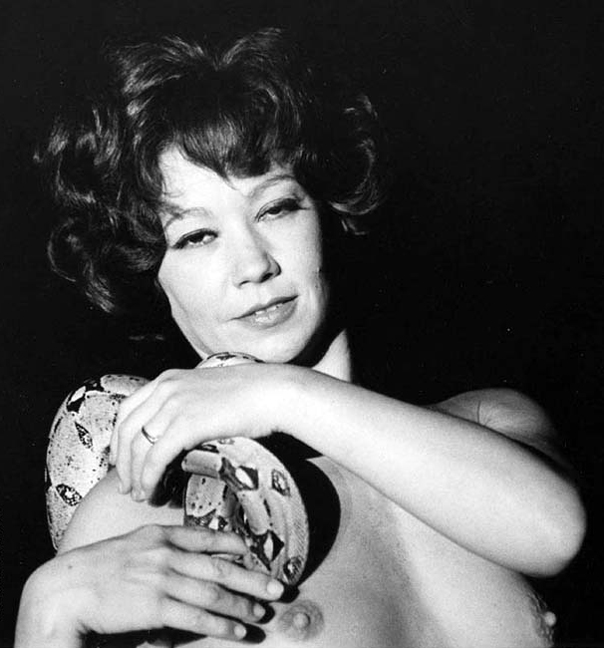 Georgina Spelvin
Soon enough, of the dozen or so New York ventures which made a million dollars, Harry Reems starred in nine. He was a star. Better yet, his name pulled in people to the box-office. He was invited on all the talk shows, the porno-pedlars were chasing him with open cheques. Deep Throat II (1974) (for Thugs Inc., says Reems) nearly killed all that. The film was shot hard-core and released soft, supposedly to win a wider audience. It bombed. 'Like making 'The Day of the Dolphin' without the dolphins,' says Harry.
As the films began, slowly, to improve, following Damiano's continual lead, so Reems attempted to improve the lot of himself and his fellow pornoists – the New York skin rep. company. He called them for a meeting, offering to be their agent, promising them $125 a day on films, plus proper shower facilities, and extra money for girls agreeing to anal intercourse and fellating two pricks at once. Surprise, surprise – no takers! The star system had arrived and everyone was out for themselves. Reems, however, still introduces more new people to the game than anyone else and guides and guards them – and, of course, himself. On the next film after the abortive meeting, Spikey's Magic Wand (1973), he negotiated his first flat payment of $2,500 for the film (five days' work) and a percentage of the profits. The salary is higher today, the percentage is a must.
The crazy doc turned up yet again in 'Different Strokes' ('Oh doctor, I just feel like I'm going up in flames/Is it fever, Mrs. Burnside?/No, it's the candle. I lit it, doctor, before I put it in'). The Case of the Full Moon Murders (seen, cut, in Britain as 'The Case of the Smiling Stiffs') and Dr. Feelgood were his last porno numbers before the U.S. Supreme Court appeared to kill the genre for good with its local community standards ruling on June 23, 1973. While the pornographers studied the small print, Reems went R-rated for Deadly Weapons with Chesty Morgan (I think he preferred Troy Donahue) and returned to his farm with Damiano to shoot the porn classic. 'Memories Within Miss Aggie', with the continually mentioned Mary Stuart, Darby Lloyd Rains, Kim Pope and Eric Edwards – possibly Reems' sole rival in New York as per acting, performing and looks. But no 'tash.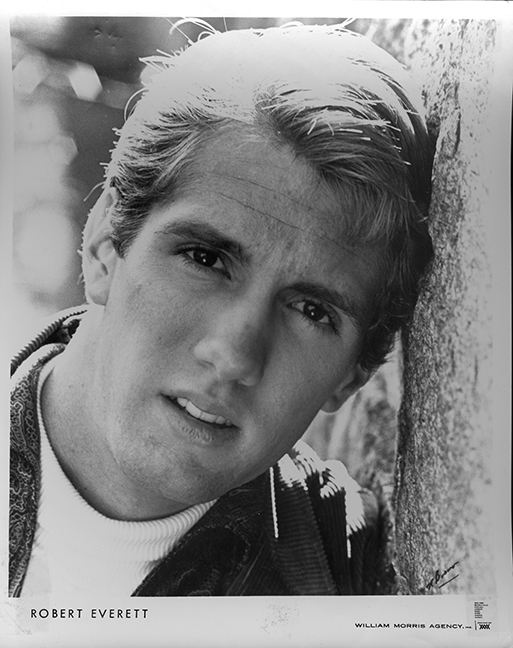 Eric Edwards
Since then Harry/Herb has deliberately cut down on his forthcomings, choosing, he hopes, the better scripts only, and insisting upon scripts which makes for a great change in the medium. He has made his personal best feature with 'Wet Rainbow', with Georgina once more, and won the S.A.G. battle about actors in porn with 'Sometime Sweet Susan', and taken to working in Europe – for Butterflies (1975) in Germany and Justine and Juliette (1975) in Sweden, both with the lively Swedish wench, Maria Forse. Now he's headed to Europe for two more. After the book tour, this interview and just one more quickie in New York – 'five thousand bucks for a week's work – it can't hurt me, at this point, I've got so many films under my belt, so to speak, that bad films can't hurt me. Nothing can. This side of castration…'
*
Reel Four: Dialogue
First off, congratulations on your fun-book. Did you write it yourself or hire a ghost?
I did it all. With the help of Eugene Boe, a friend who has professional writing experience. Took me four and a half, five months. And that was a strain.
So instead of Redford, now they can call you porno's David Niven.
Right. The idea was suggested to me: 'Hey, write a book, give us an outline.' I said I didn't have the time. 'But it's money, money!' So all right, I put an outline together and sure enough every publishing company in the city wanted to buy it. Had tremendous offers. This was just before the Supreme Court ruling on porn in '73. Then everybody got very uptight. So I put it on the shelf.
Suddenly, a few people started calling about it. So that's what happened. I never go out and promote myself, and look for publicity and exploit the whole thing. I suppose I should. Because it's something that may end.
Sooner than you think, perhaps. Gerry Damiano, the top porn director, says that porno is already eclipsed. 'Unnecessary and unimportant, without a future…a trivial moment in history sustained by the attempt to suppress it. I give it less than a year, six months, less than a full pregnancy.'
Hey – will you repeat that? I've been away, never read it…
Okay… Now if he's right, and he's been right on many porn matters, what are you planning to do once the labour pains set in?
Labour pains – oh that's terrific! (Laugh.) Follow my true destiny and become a used car salesman. (Laugh.) If it ends, what will I do…?
More, do you feel it's going to end as soon as Damiano says?
Not as soon as that. I think it has eclipsed, reached its peak at the plateau. It's no longer the curiosity, the phenomenon that it was two years ago with 'Deep Throat'. But it has also created an audience, as small as it is, that will continue to go and see these films. So there will always be a market for them. Whether they will graduate to a more sophisticated sort of artistic achievement level has yet to be seen. I don't know… he could be right, it could be all over.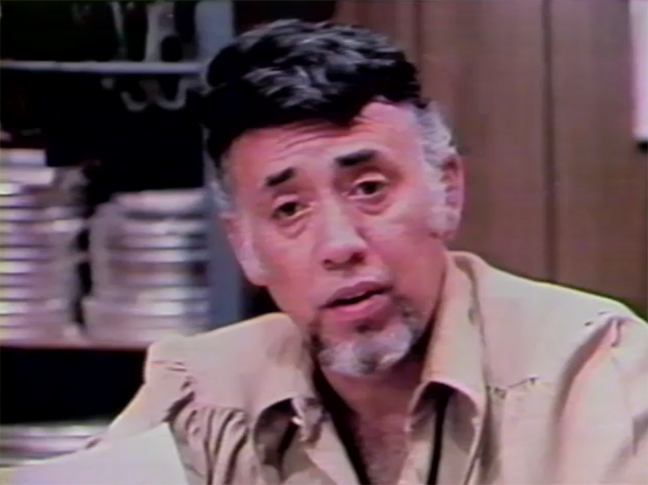 Gerard Damiano
Until the next gimmick?
True. Call it gimmick, call it merge, call it one more rung on the ladder.
And that, mainly, is attracting Hollywood names into hard-core. How far off is that possibility?
Well, there's been a film made now, based on the Patty Hearst episode – with Dorothy Malone and Lief Erickson playing the parents. Sanctioned by S.A.G.
Hardly the calibre of names I was musing over. How long before a name participates in the fucking?
I don't know if it's going to happen.
Well, should it happen?
Of course it should! I don't think there should be any limitations or boundaries on expression. We're talking about human responses towards everyday activity. Sex is one of them, so is eating, sleeping and everything.
Okay, so Hollywood hires you, as they did Russ Meyer a few years back, to direct and star in the first Hollywood porn movie. What names would you select for hardcore?
Hah! Oh! turn me loose in Hollywood…
Get this straight; I don't mean who you want to fuck. Which stars you feel might have the particular kind of thespian and sexual talents to go your route?
I'd have to pick on many levels, to think as an actor, a director, producer. With box-office in mind, I certainly wouldn't want anyone who has lent themselves in that direction up to now… anyone who has been sold completely as a sex symbol. I'd want somebody contrary to that.
Does Hollywood have sex symbols anymore?
Well, we got our Ursula Andresses, our Raquel Welches. I'd probably go with a Brenda Vaccaro (from 'Midnight Cowboy'). A good actress, a solid actress. She can make sex work on film, where it's not exploited, not something divorced from the story, but has direction and furthers, advances, the characterization along.
Many people in your line stump up for Jane Fonda.
I'd agree but up to now Jane Fonda has been a sex symbol.
Oh really?
Sure, we've had 'Barbarella'. She's 'Cat Ballou'. She's always been sold as sex, hot slinky dresses, a sex-symbol. Now it's between a sex-symbol and a political revolutionary. So I wouldn't want her because, as you say, she's the first one people would think about 'Get Jane Fonda, she's a reactionary, she's a revolutionary; she'll be the first one to say "Yeah, let me at it".'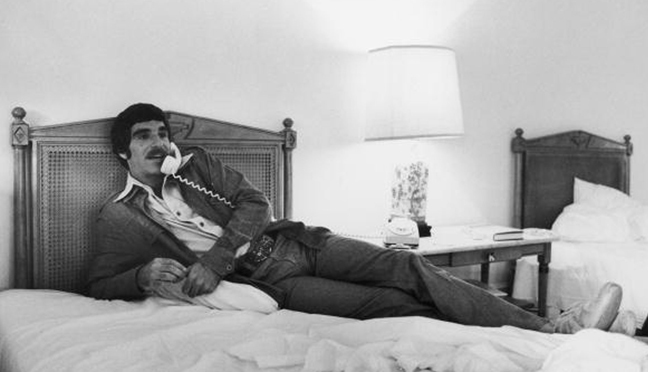 I figure there's a race on between the producers to ink this first name for porn.
Oh certainly! We're in a market, in a business. We gotta make some money. Anybody who comes in with a box-office name is going to create lines around the theatre. This film with Malone and Erickson is going to create tremendous curiosity in the public's eye. They're going to wanna know: are they doing hard-core?
Besides which, they'd make a change from the same, almost rep. company of porno actors here in New York.
It's the same on the West Coast. There's a very small number, a clique of people involved in the business since its inception in 1969 when 'I'm Curious' came in. (Boring film, terrible film.) They've stayed with it. There's always the transients, people come into town, do a couple, leave, or try one or two, don't like it and get out.
How bored are you with each other? Most of the regulars even pair off in the same combinations, for reasons of ease, no doubt.
Well, it's funny, I should think three years ago, BDT – right? – there was a nice feeling of camaraderie in the business. No star system had developed. Nobody had a box-office name. Everybody made the same money and worked under the same conditions. There was no such thing as a contract. Nothing existed on the level it exists today. People got to know each other.
When you're involved with a group for twelve, thirteen hours a day in this sexual situation, nudity all over the place, people showering and bathing together, making love, all the facades are dropped, all the masks are eroded away. Suddenly, you get down to basic communication – good therapy. The people who grow from it are those who stay in. There are a number who are so lost in ego, in search for love, in search for their spouse in life – it's amazing how many come into this business thinking they're gonna find the one they love! Then there's the others who come in…
…to get away from the ones they love?
Yeah, that too. No, I mean the ones coming in because sexually they're repressed. They're scared of sex. They need a third party, a director, to put them through their sexual fantasies. They don't know how to say 'Let me go down on you' or how to respond to somebody saying that to them – until there's a third party around and they're hired to do it, and then they feel justified in their mind.
So you're not bored?
I wouldn't say so. Nowadays, though, they are trying to get away from using the same people over and over again.
You are, anyway – surely the public must be bored with this group. Given the scant amount of impressive scripts, how many times do they want to see you fucking Georgina Spelvin, for example?
Right, right! I think there is now a little box-office draw on certain names. Certainly myself. Georgina, I think, is wearing thin. She hasn't been doing much lately. Our last one, Wet Rainbow, is certainly a good film – very good. For me, the best thing I've done.
So there's this constant search for new meat – or flesh – and you help with that. Do you get volunteers from the college coeds you lecture to?
Oh yeah. And when I walk into a bar and get recognised… or walking down the street. Guys especially come up and say how do I get into these films? Three years ago I would have taken their names and numbers. Nowadays it has proved itself to be a legitimate vehicle for actors to gain some box-office attention in, to get a piece of film on themselves to show to other producers.
Or their wives.
That too. So it's on a very competitive level now. Put an ad in the back pages of Variety for a pornographic film, and you're gonna get a turn out of actors and actresses who have credits, trained people, who realise that it's not the dirty, filthy underground market it was five years ago. It's gotten a little respectability and proved itself a means to an end.
Very much so, both you and Damiano are so Establishment-alised these days, you do lecture tours, right?
I've done a few. I'm not with any lecture bureau. I haven't signed with any because of my schedule. I just couldn't take four months out and go on university tours. If somebody wants me and I'm free and it's close by, I'll pop over. Usually they have no way of contacting me – very few people have. Usually, it's one of these sociology courses, or a film professor who calls me – because I do have extensive knowledge on low-budget film-making. So I'll either lecture on that or the phenomenon of pornography in American society.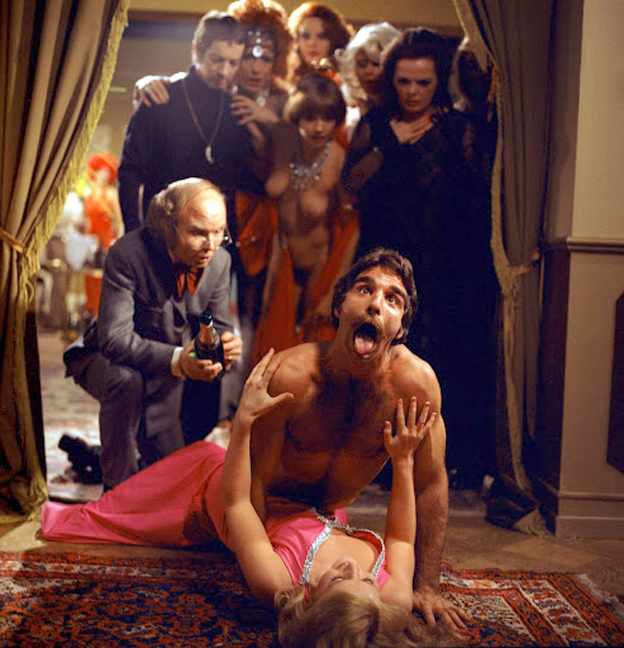 Are the requests that serious, or a good excuse to run a few loops?
Well, a lot of the time it's just a goof. Just to have a little fun – which I do give them. It's also a pretty knowledgeable discussion. Certainly people are not hearing the ins of this sorta business every day, so it's kinda intriguing to hear what really goes on, what it's all about, how it's made, who makes them.
Are you able to see your films in these campus towns anyway?
Depends on the certain community standards of the locale. Some don't allow the films in, others do. But I think oh! nearly every university around the country has got a print of 'Deep Throat' and shown it. In their film courses.
Is the college kid a fair example of a Harry Reems audience?
I'd think my audience comprises probably 50% middle-class white collar workers. Put in another percentage of young couples my age, going in for a goof, to get turned on for whatever reason, and a small percentage of what we call the degenerate – the raincoat crowd, the pervert. Very small percentage of those.
After your own university days in Pittsburg – what you call 'the arm-pit of the world' – you were drafted in '66, into Company F, First Battalion, First Infantry Training Regiment, U.S. Marines, at Camp Lejeune, North Carolina, it says here. Then you were a Marine Corps drop-out – what's that?
No, I was a college drop-out.
I wondered how anyone as healthy as you could be a Marine drop-out.
Actually, you're right. I did do it. I did get myself out of the Marine Corps.
You mean you're really Cpl. Klinger of M*A*S*H and wore dresses?
No, no, no. My father was ill and passed away when I was in the service. I had orders for Vietnam and I wasn't looking forward to that and applied for a discharge on the basis of hardship, sole support for my mother. They reviewed my family situation and found that funds were lacking, so they allowed me a discharge and I took over the family printing business – stationery, letterheads, business-cards.
Ever run into any heat from the Viet-vets about missing 'Nam?
No…The American climate towards draft evasion or non-matriculated military duty has drastically changed. The American tradition of love 'em or leave 'em doesn't hold up as in World War II and Korea…My original outfit got really slaughtered: 87% casualties.
And to further support your mother, you became an actor?
No, no, no. I never thought of the stage before that. I was in the business for about six months, we had our disagreements, business-wise, she was able to run it daily well on her own, and I sotra bummed around the country a bit. I was young, 20, 21, and then found my way into some acting classes and some off off-Broadway theatre acting cafes…playing four parts in Coriolanus.
That's what: carrying four spears?
Hah! For spears we had broomsticks. For shields we had garbage-can covers. I thought I was the greatest actor who ever walked on the stage!
Why acting though – unless it's the old Steiger, etc. reason, that acting class was where the girls were?
I had a room-mate who was an actor. He'd been studying with a number of the more prestigious theatre organizations here in the city. At night, he'd be doing his soliloquies. I'd listen and think 'My god, he stinks! I can do better than that.' What happened is that he went for an audition at this particular cafe show, I also went having never acted. I got the part and he didn't.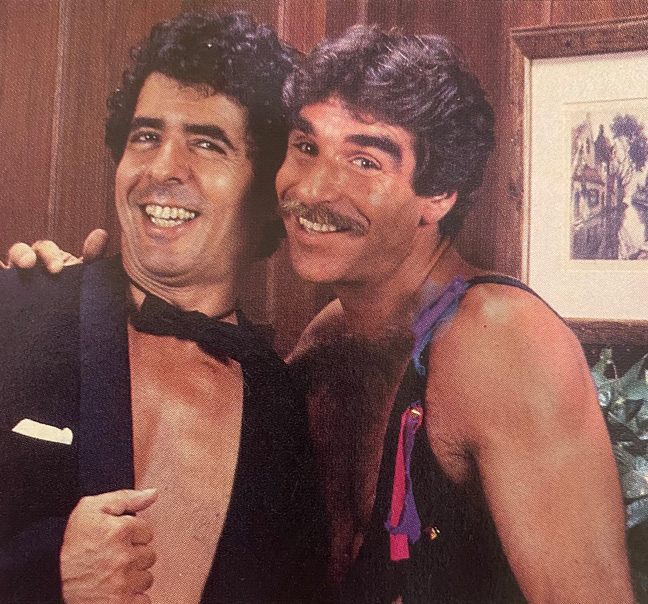 He soon gave up sharing rooms after that.
He gave up the theatre. (Laughter). He's now living on a farm in Vermont. But that's what did it. Certainly, I imagine I had a big ego. And I got cast in a part that other actors had studied. I won out over them and it gave me this belief that I could continue. I put in two, three years in the off off-Broadway circuit. Very little money involved, if any. Pass the hat.
About enough to survive on?
Not even that. I was on welfare at the time. After a couple of months playing theatre groups, I began going to workshops and schools to get some training. I'd be rehearsing all night, going to school all day. I had no source of income and went on welfare. That supported me – and my veteran's benefits.
The lack of money led you into the porno loops… Now this I do not believe: you've said you never saw a blue movie until you began making them, and then not for six months.
That's right. Absolutely.
You'd been in the Marines and never seen a stag-movie?
No, no, no. Never seen one.
Where were you the night some guy got hold of a projector and ran one at the camp?
(Giggles.) Who had an 8mm projector in war-time?
Whaddyer mean war-time?
It's really a truism: war-time, peace-time. Right now here in the military, there's nothing to do. Absolutely nothing. These people are stationed around the country sitting on their cans, doing nothing. But then it was war-time.
Hell, wherever there's a big military camp – or is this only the sailor, dockside routine? – there's usually a set of sexploitation bars, girls, stag-movies cellars.
Jan Morgan: You've seen too many movies
Harry/Herb: Right!
I rest my case. You must be the only Marine who never saw a blue. Still, you're probably the only one to make up for it, in spades – what 409 movies…?
You know, excuse me…in the entire period I was in the service, well over eighteen months, I never once got laid.
No wonder they discharged you!
Not even when I was on leave back in my own home town.
You must have the biggest good conduct medal in Pentagon history!
Phew! What a case I was.
How come you managed to perform in sex-loops if you weren't such a hot number with the ladies at 21?
I didn't have much experience is all. I found sex exciting and I certainly had a tremendous sexual fantasy life. I probably had as active a masturbation life as anybody going, classic Portnoy! Getting into these films suddenly I didn't have to masturbate as much. I was having sex five, six times a week. With strange girls! Always two, three at a time. Things that just baffled the imagination. It was a babe turned loose in a candy factory!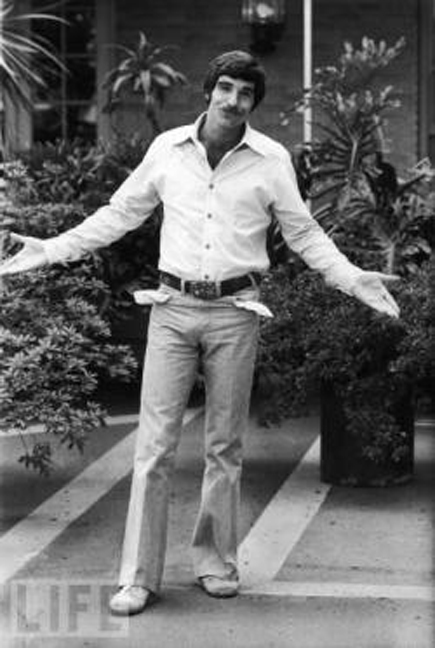 Like the rest of the candy men – Marc Stevens, Johnny Wadd, Jamie Gillis, Eric Edwards, Alan Marlow – you seem to have a magic cock, erecting, pistoning, ejaculating on cue. Right?
That's the magic of film. Many times cameramen have waited for me as much as a half-hour to get hard because it's my third scene of the day or, you know, we had a long shoot the night before. There's a certain amount of relating with your partner but there's also an amount of isolating yourself away from that, staying aware of the technical aspects going on around you. Your concentration isn't totally there in the sex. It's a double concentration, one for me and the girl(s), the other for the technicalities. Like an actor on stage… Stanislavsky had the fourth wall, invisible, which actors conjure up to separate themselves from the audience out-front. Trick is to maintain an awareness of the audience and your characterisation; 90% of your involvement is with your fellow actors, but 10% must always be aware, listening for timing, audience response, laughter, prop situations, blocking, lightening. You have to have a split diversion of concentration there.
You're beginning to sound like Olivier…After the almost indeterminable number of stag loops the porno feature boom exploded. Since you became a name ADT, have you been able – been offered – straight acting jobs?
No…well, yeah. I did a couple last year. But as Harry Reems. They wanted Harry Reems to play Harry Reems. Little cameos. Very small part in a bad movie called Arizona Slim (1974), about a pool hustler living off this very wealthy countess, played by Yvonne de Carlo. But no, I haven't had that many offers. Until Jan came along and put in a couple of publications that I could be reached through her, there was no way of contacting me. I have no agent, no manager. How does somebody sell somebody like me? How do you jump that barrier?
You want to?
Sure. I'd love straight offers to come in.
What I'm getting at is, is there a stigma attached to being even the No. 1 porno star?
Definitely! People are afraid of my name. I've been offered things. I have an 'agent' now with one of the major talent agencies. I'm not signed with them, but she constantly submits me for major parts, or rather parts in major films. Producers say, 'yes, we've seen his work, he's a good actor, interesting…but we're a little afraid of the name, the stigma, the connotation of pornography and Harry Reems. And it might not lend itself towards being a saleable commodity.' So they back off. Although she hasn't submitted me for enough yet to really feel it out.
How do you fight that?
I'll just have to wait until a part comes along. And prove myself as an actor. I've got a script now for a Broadway show. There's no sexual content, strictly a dramatic role. So we'll see.
It would take a new set of balls. I mean what's the audience reaction going to be? You walk out there, maybe alone for a ten minute scene, say the slowest paced of the play. Aren't they going to shout 'Drop 'em, Harry!'?
No, no, no. That doesn't happen on the Broadway stage. They don't throw lettuce and tomatoes here. (Laugh).
What's your mother say about the movies?
She's never seen any. She knows what i'm doing, that it's hard-core, explicit, visual, performing sexually in front of the cameras for an audience. Occasionally he's got a little ribbing from neighbours, but she's never attacked by right-wingers. She doesn't tell everybody that I'm her son! She certainly as no ill-feelings towards what I'm doing. She raised me with a certain amount of integrity, respectability and morality and I live by that. She respects me for being the kind of person I am. I don't go out and rape babies.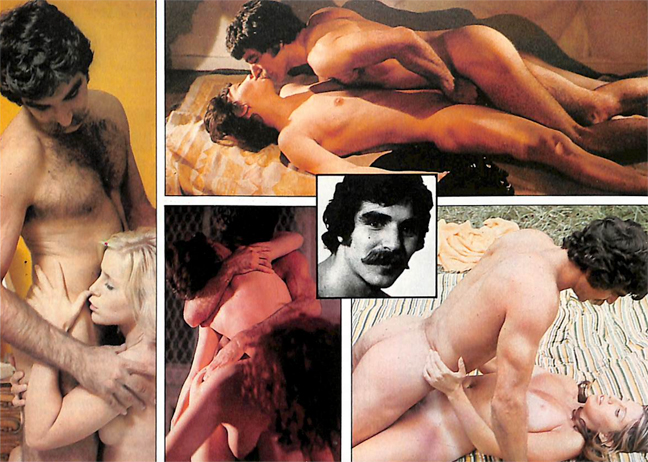 You must have been surprised to get an offer from Europe?
Sure. But Joe Sarno was the Butterflies director, and he did Deep Throat II. He was shooting the film in Munich soft-core, but the producer said 'Have them performing, sexually involved, and shoot around them. We won't show hard-core but we'll get real responses, real emotion out of them.' Well, Joe had this one actor playing the lead and he just couldn't perform sexually and his fear was reading on-film. They hadda fire him, cancel three days of shooting and I had a phone call 2am, and 3am next day I was on the plane to Germany. Justine and Juliette was different – they were actually looking for Harry Reems. That's Swedish – in Sweden they play hard-core.
Besides, in Europe we have the better erotic literature to unearth for the movies. Good scripts are your greatest troubles in porn over here. You even advertised for some in Variety the other month.
You're right, in this market you don't find too many people with finished scripts of any quality. Unfortunately the budgets are so low – obvious reason: lack of playdate for these things to show in. So you won't find good talent writing for us. You end up with things on toilet paper, reams of nonsense outlines and treatments, never a finished script. After that ad., I must have read 200 synopses. Maybe three or four could be worked.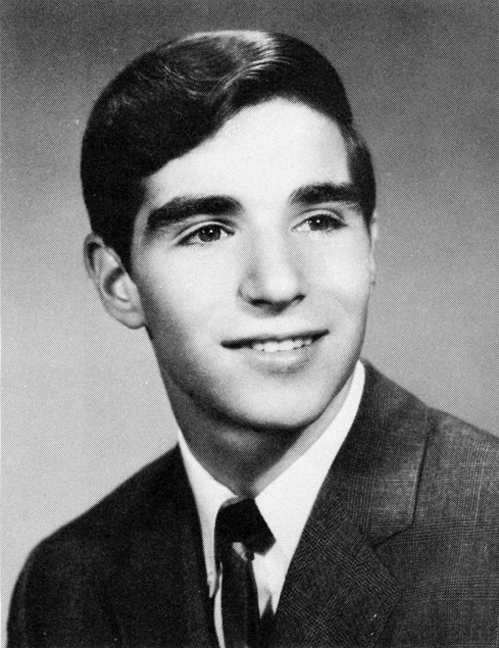 You going into production on your own then?
Hmm, hmm, yeah. I don't have a company. Each film would be a separate venture. Have you gotta script?
Not yet, but after a week of exposure to these movies…well I'll get back to you. Anything I tried would match the direction you're currently taking, steering hard-core to limits of respectability, legitimacy, striving for that first Hollywood feature with hard-core – such as Shampoo should have contained if Beatty had been gutsy enough. Your major effort on these lines was making Sometime Sweet Susan with the Screen Actors' Guild sanction. Do you think it worked?
You saw it, whadder you think?
Too slow, lethargic. Sex scenes were finely worked within the framework of the story-line; sexual love, not freaky gymnastic exhibitions. But the linking scenes – the story, dammit – was dreadfully slow.
The director put me to sleep, I'll tell you that. "Slow it down, not so fast." Unfortunately, I hate
to say this because I have a (financial) interest in the film, but I have to be honest, the film was not a good film. Susan was a breakthrough. We had a decent script, decent actors, we had union sanctioning. If it was a good film it would certainly break that barrier, merge the legitimate with the underground…
Whenever I work in Europe on a sex-film, I find that major talents are involved. They may or may not be doing nudity or hard-core, but there's no distinction over there between, say, a crime film and a sex-film for the actors. These are actors out of the major theatre companies in Europe. I'd like to see that happen in the States, too, where we can start seeing box-office names playing in these films. They don't have to do hard-core. As soon as we start getting some names of stature involved, we're going to open up new paths – open up more theatres to play them in. Then our budgets can rise.
Censorship is still there – I wonder where when filmgoing in New York. Can you give me a quick guideline to the local community standards thing?
Censorship is a direct violation of our basic bill of rights, the first ten amendments of our Constitution. To get around this, the Supreme Court very vaguely stated; 'Well, we don't wanna say it's illegal, we're gonna leave it up to all you little mayors, magistrates and communities to decide whether you want this in your town or not. If you don't, you can throw It out; if you want it, so be it.' That's the premise. So it's the little towns, mayors and magistrates who say 'Stay out of town.' I don't think it's so much a campaign to clean up a town as it is to establish a politician's morality issue – as a Mr. Clean sorta person.
Where do the cops come in? Because you've been busted more than once and usually, clever sods, when you're in the sack at home with a bird.
The orders come on down from the politicians. From a local magistrate who says 'Bust that film and the people connected with it.' Let's say I was arrested in Memphis, Tennessee – which I was. The Memphis, Tennessee, DA would put out a warrant for my arrest and it would come in via the New York City machinery, and as a favour to Memphis, Tennessee, the NYPD come on down and arrest me.
On what charge?
Usually conspiracy to promote obscenity, conspiracy to transport obscene materials across state lines – a Federal rap.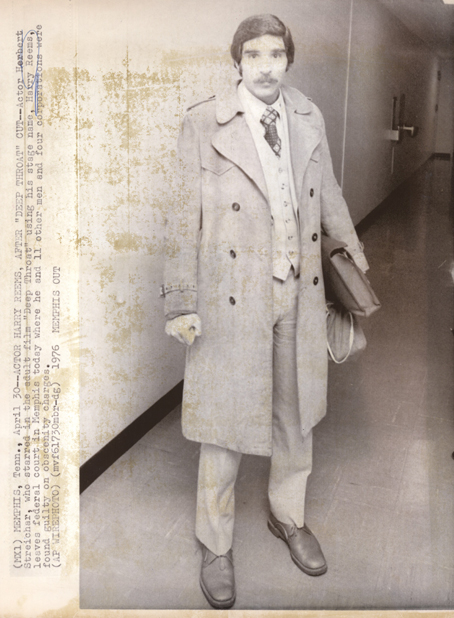 And which, as it happens, you have little to do with. Transportation is the distributor's bag.
Well, the conspiracy is that we – Georgia was busted on the same thing – we performed in the film. So we are, therefore, conspirators towards shipping it. 
You've a lot bigger conspirators in this land of the free! Let's examine another of the dangers in your work. How many limes in 409 movies – 60/100 women – have you caught the clap?
Hah! I've gotten venereal disease – okay, the clap – only once in my career.
In the earlier, soldier days?
No, that was recently via a fairly big name on some one-day wonders. You're dealing with people who are involved sexually with each other every day. There's a certain amount of physical hygiene we all go through to protect ourselves; we all bathe before and after working.
And during – in Sweet Susan. 
Yeah. So we obey our hygiene rules. Anybody who does not, certainly does not last long.  Nobody's going to work with a person who does not take care of him/herself.
And the chicks, any of them get pregnant?
I've never known a woman to get pregnant from performing in porn. Though a man doesn't come inside her, he does secrete as he fucks and this can be enough… Most of the girls are on the Pill.
Why is Wet Rainbow your best?
Good script. For the first time I had an opportunity to play a character that wasn't just a super sexual stud – or a crazy doctor. I musta played that doctor a hundred times. Burlesque comedy and I enjoy it; very broad, vaudeville humour. I think I have a natural ability towards that. So this character was not one-dimensional. He had failed in certain things, showed responses to his failure in his defence mechanisms. I was able to work a little bit.
You also continually praise High Rise, one of the earlier hits hardly ever mentioned these days.
Best film in the market – technically. Old now, but damn if it doesn't hold up. A series of vignettes, sexual comedy; the story is insignificant but cinematically it works on every level…the tightest, most entertaining film of them all. But Danny Stone, the maker, isn't in hard-core anymore. He's on the coast with the American Film Theatre movies.
You're hardly recognisable in it – no moustache. Why did you grow that fungus?
I had it just BDT. For The Flasher. (My turn to laugh.) They said 'Would you grow a moustache – you're a film student and they all wear moustaches'. This was back in 1970. So I grew it. Did the film. Next day, left for Florida to Throat. Didn't have time to shave. So there I was in DT with this silly moustache. As it got longer and longer it took on this barbershop-quartet look. ADT, everyone started to do comedies, and it's a naturally funny moustache, right, so it stuck. A year later, somebody wanted me to reshoot scenes for a film I'd done BDT-BM (before moustache) in fact. So I shaved it off and there was a three-month period in there, It Happened in Hollywood (1973), 'High Rise' and a few others – no moustache! People weren't recognising me and said 'Listen you'd better grow it back if you want this part.' So I did.
In your book you generously praise your fellow studs for certain scenes. Have you a pet sequence of your own that worked, perhaps, better than the film?
Not mine. I can't look at a scene I'm in and respond to it emotionally. I'm too close to it. I look at it from the technical aspect. Remembering the camera set-up and oh Jesus! That's where the bugs were crawling under me. That's where the fucking lamp fell down on my leg, or whatever. But there are scenes that work on me. The three girls in 'High Rise' is still the best Lesbian scene ever shot, and there were some bits in a very small film, Bad Barbara(1973),  made years ago, which I felt really erotic.
Ever turned on in a normal release feature?
The lesbian scene in The Killing of Sister George (1964) just knocked me out. Susannah York and Coral Browne, right? Had just tremendous tension and conflict between the two women, one not knowing whether to go through with the act, the other seducing. Tremendous turn-on, one of the all time goodies for me… I have seen Emmanuelle (1974), but I understand it's just a softcore film, slickly done. I've been away just now, of course. Last thing I saw was 'The Private Afternoons of Pamella Mann'. A good film. Glossy but a good film.
You were supposed to be directing your first feature this year, Ava 1800 for the Susan producer Craig Baumgarten. What went wrong?
Conflict in scheduling. He was supposed to have his funds by January and we were slated to do the film right now. He didn't raise the funds in time, and it had to be cancelled. I had my vacation, now the book tour and after that Europe, so just a conflict. I didn't say I would direct it, just that I'd take first option on doing so.
Meanwhile, you directed your own scenes, and all the hard-core footage in Susan. How the hell do you direct a fucking scene when you're fucking? MOS (mitt out sound) for a start, I guess.
Some with, some without sound. What we did was shoot the couple of sex scenes that I wasn't in first. That way we broke the cameraman in. I'd set him up, give him his angles, his lenses, tell him it's documentary style shooting. Usually two hand-held cameras at once. Certainly not stop and go as in a dialogue scene with reversals of camera and lighting for close-ups. So I broke the cameraman in on those few scenes, sorta giving him head…
Whatever turns you on, Harry/Herb!
Giving him his head.. .(Laugh.) I'd watch him work, correct his faults, and by the time it got to my action, he had a pretty good knowledge of what he had to do. While shooting my scenes, I'd have my involvement going with whoever I was working with – being just turned on by the person, Shawn Harris or Sarah Nicholson – and I'd have to keep going, yet break away from that, calling every lens, every angle. 'Turn your ace around, spot it out. C'mon over here, move right. Left.' Concentration! I have maybe an 85% level of concentration – and that's more important than being a freak- show sexual athlete. So, it's just a craft. A technical craft, which few people have. To perform and direct at the same time.
There'll be an honorary Oscar for it yet.
I've done it an awful lot now. Many times the director has never made this kind of film before. Suddenly you're into the first hour of shooting and you realize he's got no footage. Because I know what lenses are up. I know where the camera is. And I know what I'm doing, right? So I say, 'Wait – do this and this and this.' In another hour we have the whole scene in the can instead of shooting eight hours and not having good sex.
Porn seems to be maturing. Shows like Susan have a definite storyline, the sex is still explicit, but dramatically right, and not so stupidly exhibitionistic as even three years ago.
I would like to have seen it less so. We covered ourselves, I'd say 'Shoot that hard-core, shoot that close-up,' just in case we needed it later. And they cut it all into the film! We didn't need it all.
As scripts attempt more honest dramatics, the old vagina! close- ups, wet-shots, etc. bear little relation to the kind of reality they're trying to put across today. Like who practises coitus interruptus these days…
Most of the sex itself bears no relation to what's going on!
There's a problem here, though. If the newer films follow the Susan or better still, the Wet Rainbow approach, of truer sexual reality; do you lose your loop-orientated audience?
I don't know that either. Nowadays, you have to stick to the formula, giving them good hot sex and entraining them. But if you're gonna try to make that jump over the barrier into a more subtle, artistic, creative being, well, you've gotta try.
As in the Susan scene between the lead girl and her nurse. A lesbian sucking bit, yet you didn't have Shawn Harris with one leg behind her neck, the other out of the window, and the nurse wasn't cricking her head so we could see Shawn's box. It was real—yet it could have been simulation.
That was the first sex scene we shot. Nuts and bolts, right? 'Get into it,' I said. 'Forget about your oohs and ahs, forget about licking the clit and letting everybody see it, forget about the crazy positions, just get into it. Get involved! See if you two can't turn each other on' – which they did not. I tried to set up a tension.
Killing of Sister George continued.
Right. I said, 'Go in there and see if you can't turn on to each by the time you hit that bed.' Because both of them are bisexual. Susan (Shawn Harris) more so than the nurse (Kristen Steen). She was really giving her head, but it didn't intellectually stimulate Shawn at all.
Most of the New York skin rep. is bisexual. As prerequisite ?
Not really. But it seems that about 75 % are, male and female. The females for some reason – for some obvious reason – are required to do scenes with girls, within the structure of the formula porno movies, where they need an orgy scene, a tender virgin love sex-scene, a rape scene, and laways a lesbian scene. Usually the leading lady will be required to do a scene with a girl. But I've yet to make a film that required two boys to make it together. Not that I'd do it. I'm not gay, nor bi.
Summer Brown, the very cute producer of China Girl, says she'd like to shoot that: a threesome, in which the two boys get it on with each other as well as the girl. But she felt it would alienate her audience.
I think so, also. Though oddly enough most of my fans are men. Gays. I'd say about 75% of my fans are gays. I wonder what the audiences are doing now, are they going to see the women or the men? I really don't know.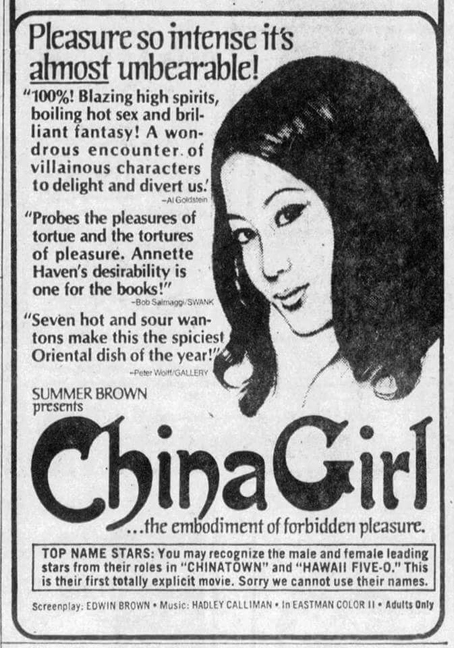 Before reaching New York, I'd heard of Stevens, Wadd, if not Jamie Gillis and Eric Edwards, but how come you're the one guy to make it as a porno star name? Ever worked it out?
Just lucky, I guess. Really! Back BDT – BM! – everyone was working in the market on the same pay scale, the same situation. If I was offered a film that took place in five days and another lasting three, I'd naturally take the five day job. A little more money. I guess I was lucky to have been in the films that became hits. Deep Throat. The Devil In Miss Jones. High Rise. It Happened In Hollywood. So I was connected with the ones that gained some notoriety in the eyes of the public. So the name kept reappearing, reappearing.
Whichever way they spelt it.
God knows they've done that a million ways. I was lucky to have been in those films. Nowadays I'm picking and choosing what I think are going to be the better films. Obviously, I immediately ask what the budget is, and try and steer away from the smaller productions, even though they offer good money. But I don't want to get connected anymore with 40 films a year. Last year I did five, two in Europe and I made as much money as I did before. I know the business.
Is it fair to call Damiano your mentor, as you've worked with him on all sides of the camera?
I'd been involved that way before meeting him. Gerry has been in the business longer than I. He's certainly the best. Simply because he knows how to create sexual excitement as well as entertaining the audience on screen. On-set, he just lets people go. They get it on. He always casts me in his films because he knows I always get it on and give him a good scene. And you know, there's a certain art in sitting behind a desk and casting people and knowing how they're gonna respond on-set. Somebody walks in and says, 'Hey – I'm the best fuck in the world. I can lay every girl in the world. I can get it on.' Out the door…! Somebody else walks in and says, 'Well, gee, I've never done this before, I'm willing to give it a try. Sexually, it sounds very exciting to me … with a strange woman.' I'd try him before the braggart, because I know I'm gonna get something real, real emotion. 
Gerry has that ability to pick people, too. It's a question of who you put in front of the camera, how you get that scene. Because you can't direct two people making love. You do to a certain degree when you go in for your close-up, you say 'Could you shift over a bit… try and let that light gel in between your lips… on her breast… slow your hand down as you pan along the body.' You direct in that sense. You certainly don't give them the emotional quality.
Nobody says 'in, out, in, out'?
Some actually do! 'Can you have longer strokes?' These kinda people you say, 'Get away from me …' Even this guy I work for once in a while on quickies, he goes by the old porno formula: 80% skin, forget the story, give 'em lotta sex. Jesus, a guy can only come two or three times in a day, especially given the working situation of a film, the tension and all that. And he works with one of these silly cum-machines that squirts out egg-white and that's as embarrassing as hell.
Never heard of them.
There's this long tube, which you put under your leg. First the girl gets you hard, right? Then you're good and hard and you slide this tube under the leg. You hold yourself, you shake it like you're coming, right, and this thing is squirting fake cum – somebody back there is squeezing the other end. Ah man, that's downright embarrassing and degrading and really the exploitation of pornography!
Shawn Harris was completely new to porn and the story goes you broke her in the night before your scenes. Is that the usual procedure?
Oh you read that… Advisable? It all depends on the girl. Shawn was very nervous and uptight. I said 'Look, let's go out, have some dinner, we'll talk and you'll get to know me a little bit and we'll both feel a little more comfortable.' It was really a relaxant. I was working as a sedative.
Take one Reems three times a day in water… Georgina Spelvin has to be your favourite co-star, you've made so many films with her?
Not that many. Five. With Tina Russell I must have made about 50 going back BDT, BM, before long hair even. We were the all-American couple, I was straight off the farm, or High School athlete look, very clean-cut, and she was a beautiful girl and we're cast side by side in 50 pictures or more. She doesn't work anymore, broke off with her husband, Jason Russell, and last I heard she was studying make-up wanting to work behind the cameras. Socially, I'm not too involved with the people I work with… Georgina is a pro film lady, cinematically. There's two kind of actors: the creative, artistic actor who just really knows how to perform, and the professional, technically competent actor who knows film, how to create an image before a camera. I think I fall into that category; a kinda balance between the two. I'm certainly not the greatest actor in the world but I do have that cinematic technology, film knowledge, to help me create a character on film.
Somebody told me that Mary Stuart – the hottest hot little number in town – is a landscape architect. Is that legit?
Yeah, yeah. Or she was – with the New York City authorities. She's just very sexually tuned in, sexually extroverted; has this tremendous loft downtown, she swings and parties, a very bisexual scene which has filtered away into these movies.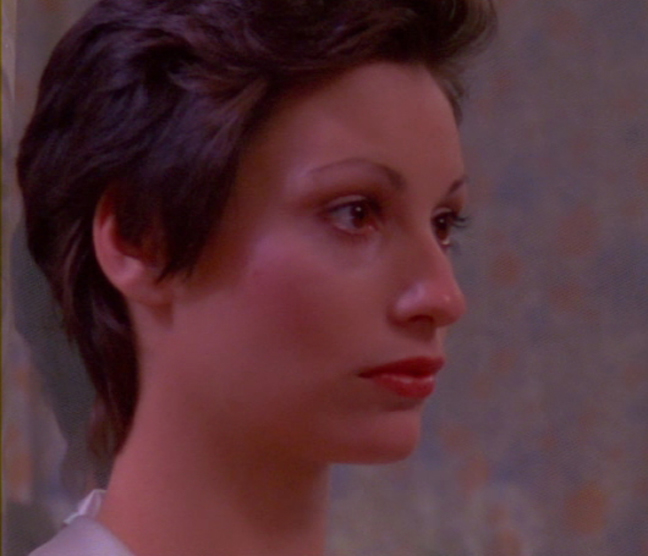 Mary Stuart
You never got to work with Marilyn Chambers?
Only on stage. In a burlesque comedy review. I did strictly comedy, nothing sexual. She came on and did her little song and dance that she was putting together for Vegas. Some producers had come along and said 'Let's put some of these people in a show, it should make money.' It didn't.
She's a talented girl. She's now denouncing pornography as something she did in the past, which is certainly not worthy of her talents today. Which I find just ridiculous. Whatever she's become is because of pornography. She became a box-office name, not because of the Ivory Snow soap box and not because of singing and dancing… 
It's like myself. Anything that happens to me is going to happen because of pornography. I tried the theatre and bombed, well I didn't bomb but I wasn't making a living. That's why I got into pornography. And I'll stick with it until somebody comes along and offers me a part in a legitimate production. Even then I'll probably continue to do pornography – the better pornography, or at least what I think is going to be the better stuff. Because why? Because I'm a professional pornographer!
Which profession has brought you… what, exactly? Fame, great chicks, wealth?
And notoriety. 
You enjoy that?
Yeah, I do. I do! I don't get too much adverse response, 'You're disgusting', that sorta thing. When I do, I don't respond to it emotionally anymore. I've gotten over that. I'm into so much of it, what can I say?
Sometimes I go out and get stopped on every corner, sometimes not. Jeeze, I shot a film a few weeks ago on 42nd Street – right in the heart of it all! Who hangs out on 42nd Street but the people who have nothing to do all day, right? Walk around in a pink pimp outfit with cameras following you, with a girl half naked on your arm and you're Harry Reems—it stopped traffic, man! Incredible! Never want to do that one again. I mean I certainly don't walk around the street saying 'Hey, I'm Harry Reems, come shake my hand'. Or anything else! Cab drivers recognise me. I get a lot of notice from police officers—seems the middle-class income wage earner is the one that goes to these films the most often. And I get a lot of mail from . . . merchant marines!
And wealth? Used to be $5 a day on loops. Current feature rate Is $150 a day. You must be on more – as a name. Let me break that box-office draw thing down for you. My name will maybe sell three or four more ($5) tickets a day. Multiply that times seven days, two weeks. Then multiply that times 800 playdates and they're making a few extra thousand dollars simply because of my name. So I asked to share in that. So I don't really work on a day-basis anymore. I get a flat fee for a film – and a piece of the film. I'm doing all right now.
Porno has also – you used the word – been therapeutic for you.
Sure. Before I got into the business, I was not a novice, but I had all the hang-ups of anyone else of 21. I didn't have a whole lot of experience. So it's proved itself to be a therapy in a way.
For the audiences too?
Oh yeah. Has to be. Has to be when an uptight couple says 'Let's go see one of these films… two, five of these.' By that time they're sitting back and she's saying, 'She doesn't give such good head, Ralph'. After five films they've gotta be more relaxed sexually, right?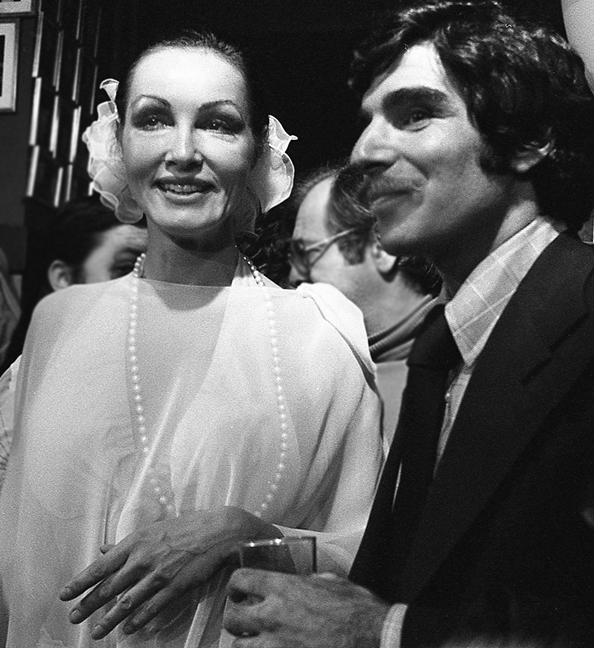 I'm intrigued to know what happens when you take a chick home. Ever find yourself looking for the best camera position…?
That's not true at all. I don't need cameras to perform sexually. 
Who said so? But do you still find, even momentarily, you're responding with the normal film-set double-header concentration, with the technicalities in mind, taking the hair off her face as she goes down on you, little porno touches like that?
That happens. Sure that happens. You're thinking what you look like on film, thinking of your audience, because on-set you've really got to play them. Yet still maintain the concentration of the physical involvement with an actress who is turning you on.
Have you any fantasies left that you want to put on film?
I don't know… I can't tell if it's just coming of age, or growing up … or whether I've become just jaded from all these films. But certainly sex doesn't have the intrigue that it had when I was 21, 22. I guess it's a combination of both my age and the work.
And the over-indulged stamina. Interesting: Darby Lloyd Rains told me the self-same thing yesterday. Okay, durability apart, what is the secret of your success – with the public?
That I always have fun. I always look as if I'm enjoying myself. And I am, I am! I certainly won't do any S/M, any violent or gay acts. I don't go through any sexual gymnastics that make me a super-stud. So the audience can relate to me. I'm not super-endowed, I'm just average. The audience says 'Hey – there's just a normal, average guy'. Average looking, the whole bit.
And if your celebrated joint fell off tomorrow, would you settle for directing pornography only? Isn't that what you want to do now even more than making straight features for Hollywood?
Pornography to me is like a toy. Get behind the camera on one film, get in front of them on another. I like to do it all. I don't want to say I'm a Renaissance man, I'm certainly not, but I have that knowledge that can gain me employment in front or behind the cameras. What happened at one point in my career when I was doing loops and features, working six, seven days a week, I just couldn't take it any longer any more. I just got behind cameras for a couple of months. I like to divide my time up that way. Certainly I'd like to direct. I have no ambitions as being a trail-blazer, to be any kind of martyr in the business. I have no great messages to state.
I'm an actor and I use other people's words – because I can't speak my own. I have no command of the language. I'd be happy just doing both – that's about it. I have no message. I don't know what the ultimate porn movie is. I don't know what it's going to be with the market. I don't know what the end is, I just keep on going the way I'm going. 
And if it ends, I'll find something else to do.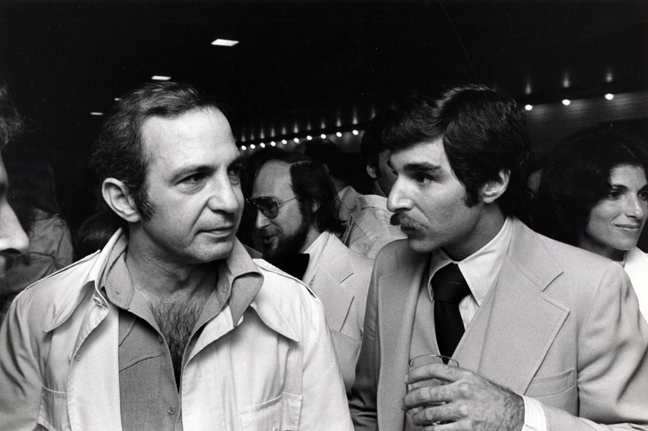 *