Last Friday, filmmaker Radley Metzger passed away. This week The Rialto Report is paying tribute to him each day with a different article.
*
In 1974, filmmaker Radley Metzger found himself at a crossroads. He'd been working in the artistic, softcore field for over a decade, during which time he'd created his own category of movie, sophisticated softcore riffs on classical source material by Shaw, Bizet, and Dumas, that had elevated the genre to an art form.
His films had maintained a consistently high standard, but recently had been suffering diminishing box office returns. The reason? Explicit hard-core films were suddenly attracting a new sexually-liberated audience. And Radley's films were suddenly quaint, anachronistic, and un-commercial.
Paradoxically Radley himself was partly to blame. His films in the 1960s, both as a director and producer, had pushed back the boundaries of what was acceptable to the censor. He had learned to walk the undefined, thin line when it came to the obscenity laws. "I always stayed five miles ahead of the speed limit," he would say.
So he did what he had to do. Adopting an "if you can't beat them, join them" attitude, Radley, a cultured, refined, and intelligent gentleman, became 'Henry Paris' – the pornographer.
Why 'Henry Paris'? "I'd always say that the reason for changing my name was too esoteric for anyone to understand," he'd say. "The truth is that I was terrified of going to jail."
This is the story the first 'Henry Paris' film, The Private Afternoons of Pamela Mann.
_______________________________________________________________________________________________
Sometimes people are not who they seem to be.
Take Pamela Mann for example. The real life Pamela Mann that is, not her fictional incarnation.
At 62, she remains a striking, attractive woman, though there's a melancholy quality about her after a bruised life of half fulfilled dreams. Sitting in a Kansas diner on a cold afternoon in winter, she sounds weary with resignation when I ask about her unwitting role in the naming of the pioneering adult film 'The Private Afternoons of Pamela Mann'.
Like her silver screen namesake, she played sexual games in New York in the early 1970s. She'd started out as a nightclub singer and small time sexploitation film actress appearing in films by the likes of Joe Sarno. Along the way she got married to Alex Mann – actor, pimp, hustler, drug dealer, sex show performer, all around bad boy. In between knocking her around, he suggested that they set up a sexploitation talent agency. They could call it 'Mann's People', he said. Their neighbors and fellow actors, Patrick Wright and Tallie Cochrane, had already made some easy money by pimping curious kids into the burgeoning adult film scene, so why shouldn't they?
They ran the new venture from their apartment in the Camelot building on 45th St, and before long it was even profiled in a national magazine. Pamela had been afraid of the publicity that the magazine might bring – after all she was from a good Jewish family in Brooklyn and few knew about her new life. But Alex persuaded her in the same way he always did. Call it his unique blend of charm and intimidation. Hell, he told her it might even help resurrect her fading singing career.
And then one day a friend told her there was a film bearing her name that was playing at the grindhouses in Times Square. It was getting great publicity and, unusually for a porn film, much of it was in the mainstream press. People were even talking about it as if it signaled the convergence of Hollywood and hard-core, a merger of the cinematic and the priapic.
Pamela later found out that Tallie, her friend and fellow talent agent, had mentioned Pamela to Radley. Radley was interested in the story of a woman who had a double life, and Tallie told her about Pamela. Radley liked the name Pamela Mann, she said.
Then the film came out, and Pamela remembers her family and friends asking about it. Was it based on her? Was she involved in sex films? Pamela played it down but by then it too late. Her cover was blown.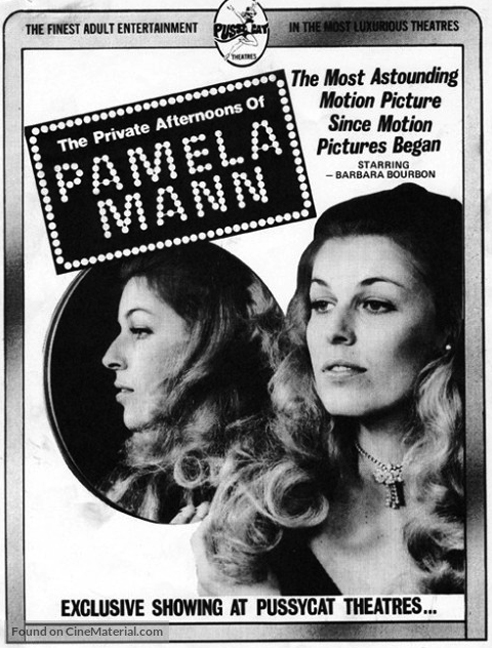 *
Take Barbara Bourbon.
Who was the person behind the beautiful, blonde happy-go-lucky and sexually curious character in the film? Far from being another Linda Lovelace – the damaged victim of naivety and circumstance who was often paraded as the figurehead for the early adult film industry – Barbara was an accomplished stage actress. She'd been a student at Lee Strasberg's Acting Studio in New York before moving to Boston for three years to be a member of the Boston Repertory Company. There she gained stage experience including taking the lead in dramatic offerings such as 'Of Mice And Men' and musicals like 'Man Of La Mancha'.
A friendship with Francis Ford Coppola led to a walk-on part in 'The Godfather: Part 2', and she was back in her native California rearing two pet Siberian tigers when Radley met her and offered her the lead role in his first 'Henry Paris' film, 'The Private Afternoons of Pamela Mann'.
If tracking Barbara Bourbon down today isn't easy, winning her confidence is even more difficult. She's a changed woman from the days of being Pamela Mann. After a series of business ventures, she's now a successful interior designer and property developer. She's a deep thinker and sharply intelligent, and lives quietly in a rural community – a choice borne out of a mistrust of big cities, her concern for the planet's future, and an expectation that seismic world order changes are afoot. A conspiracy theorist and keen proponent of survivalist thinking as well as a church-going Christian, she can be convinced to talk about her memories of being Pamela Mann but is keen to point out that her words should not be interpreted as an endorsement of pornography.
When I ask about her memories of making the film, it's clear that she's surprised and perplexed to be asked about one short week in her life many years ago. Radley Metzger hadn't been the first to offer her a role in an X-rated film, she remembers, but she'd never been interested due to their lack of artistry and intelligence. However when she was introduced to Radley by Tallie Cochrane at her friend Georgina Spelvin's pad, Barbara felt that perhaps he was different. For a start, Georgina had already crossed paths with him back in early 1960s – when Georgina was known as Chele, and she'd filmed racy inserts for a black and white French film that he was spicing up.
So Barbara agreed to think about it. She spoke to film industry friends about Radley and the idea of acting in his first hard-core film; opinions were almost unanimously favorable. So in the spirit of the times she signed up for a new experience. And as Georgina would also be hired to play Pamela's friend, Linda, why not?
She flew into New York for the six-day shoot in the summer of 1974 and remembers a happy experience from the start. She was treated well and the atmosphere on set was unfailingly serious, professional and business like. Somehow making an adult film didn't seem like a big deal in those days, she remembers; it was an experimental time and perhaps the only sin was not trying out new experiences. The only shock came when she saw the film – and her body – on the big screen, and was surprised by just how much sex was in it. And damn, it was explicit too.
Barbara softens visibly when asked about Radley. He was a pleasure to work with, humorous, respectful and intelligent.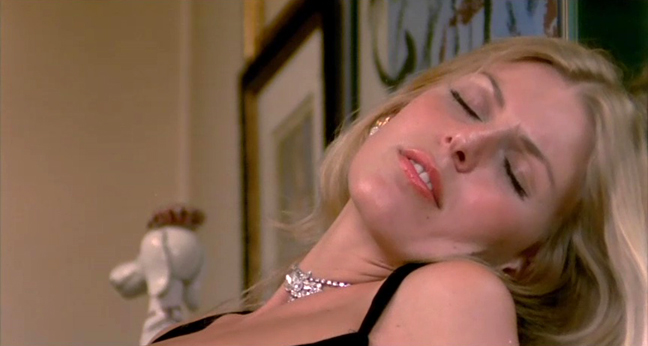 *
And speaking of people not being who they seem, take Radley Metzger himself.
Or 'Henry Paris' as he chose to be called for the first time in 1974.
For many years he lived a few blocks behind Tiffany's – the renowned jewelry store – in mid-town Manhattan, a suitable metaphor for someone who kept his identity hidden behind the creation of opulence and luxury. Whereas other sexploitation pioneers like Russ Meyer or Dave Friedman were larger than life characters and inveterate self-publicists, Radley seemed to prefer to remain in the shadows and let his films do the talking.
Meeting him in a mid-town Manhattan diner to discuss 'The Private Afternoons of Pamela Mann' is an unlikely experience; sitting amongst the all-day breakfast menus, he cuts an incongruously elegant figure. Within minutes the conversation has already turned to film – for which Radley balances an encyclopedic knowledge with a humble and genuine interest in other people's opinions. Before our order has been taken, the conversation has encompassed the films of Michael Powell, recent Oscar nominations, the acting ability of Ryan Gosling, and the strange lack of eroticism in most erotic films. He is, as he always has been, steeped in the art of film.
After starting his career working as a film editor cutting trailers for European art films, Radley founded Audubon Films in the early 1960s with his partner Ava Leighton. It was a smart business idea; Audubon would import and distribute European features to exploit the growing sexploitation film market, and Radley would use his editing skills to insert more suggestive sequences where necessary.
Audubon soon moved into making its own films with Radley directing a string of soft-core erotic masterpieces such as 'Carmen, Baby' (1967), 'Therese and Isabelle' (1968), 'Camille 2000' (1969) and 'The Lickerish Quartet' (1970), often adapting the stories from well-regarded novels or other literary sources.
He was always acutely aware of both the commercial and the aesthetic. Take for example, his signature cinematic style – a Euro-centric combination of stylish decadence, wealth and the aristocratic. From a commercial point of view, this was often driven by the fact that it was less expensive to shoot in Europe so low budgets could be extended further by basing a production in Italy, France or Germany. From an aesthetic standpoint, Radley felt it was easier to involve and seduce an audience if the filmmaker presented them with rich people living in a world far removed from their own, so the audience didn't have to wonder how the characters actually made a living.
For a time, the formula was remarkably successful; the films were suggestive and the audiences were titillated. But then in the early 1970s, everything changed.
On June 28th 1972, 'Variety', the film industry newspaper, reviewed a recently released adult film, 'Deep Throat', with the headline: "Hardcore Hetero Sex Feature with Humor Tops In Current Market". Strictly speaking, explicit hard-core films were not new to the grindhouses of New York and California. What had changed was that it was now suddenly acceptable – fashionable even – to watch and discuss them.
Overnight the landscape for soft-core films changed; gone was the market for stylish fantasy trips made with intelligence and high production values. In its place, cheaper, lurid hard-core fare took over. The revolution was immediately apparent to Radley when he released 'Score' in 1974.
'Score' had been a reasonably successful off-Broadway play at the Martinique Theatre in November 1971 where it had featured a pre-'Rocky' Sylvester Stallone. Radley bought the film rights for it, re-located the plot and locations from Queens, NY to the former Yugoslavia, and assembled a talented crew to film it. It was an artistic success and today is recognised as one of his best films, but despite all the investment it sunk. Radley remembers seeing it play to sparsely filled rooms whilst the new breed of porn films played to large audiences down the block.
Ever the astute film producer with an eye firmly on the bottom line, he had already skirted around the question of non-simulated sex in 'Score' but had always resisted the financial pressures to make hard-core films. In the end he sat with his partner Ava and, as he remembers, they decided, "maybe we just have to do it, just to put the company financially back on keel". Why continue to try to beat the competition when he could join them?
As if to justify the decision, Radley remembered Cocteau's comment about making 'Beauty and the Beast': "Every limitation is a freedom".
And so he made 'The Private Afternoons of Pamela Mann'.
Which is about people not being who they seem to be.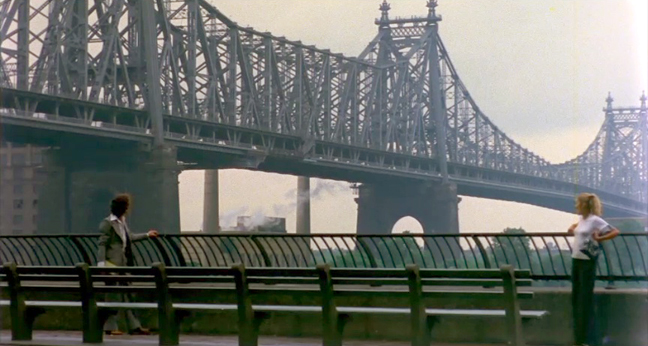 *
Radley was characteristically modest about his first hard-core film.
He gave the impression of being slightly reluctant to over-analyze it or talk about it in depth. When asked about it, his reply focused more on the business decision than making the film. It was funded by a single investor, through a specifically-formed production company, Hudson Valley Films, which was named after an old social club formed by Radley's brother.
The film is a romantic comedy whose plot revolves around the sexual escapades of Pamela Mann, and the efforts of her husband to keep tabs on her by employing a private detective. In reality the Manns are playing games with everyone they meet – but so is everyone else.
The smart script was written by Radley himself – though he remained carefully hidden from view behind the credit 'Jake Barnes', the name borrowed from the impotent protagonist of Ernest Hemingway's 'The Sun Also Rises'. Despite all of its cleverness, it never takes itself too seriously and its many one-liners would become a staple of the Henry Paris catalogue and an element of their enduring success.
I asked him if he remembers enjoying the experience of making 'Pamela Mann', and he insisted it wasn't remotely pleasurable – before qualifying that he never really enjoyed the shooting of any of his films. It was typically too stressful, there was too much to think about, and too much that could go wrong. When I pushed him though, he admited to a small sense of nostalgia saying, "Like your first born, you never forget your first porn".
The film was shot in six days in the summer of 1974; interiors were mainly filmed in a couple of apartments, whilst externals were nearly all shot in the Grand Army Plaza on the south east edge of Central Park. The striking General Motors building which dominates the east side of the square is used as Mr. Mann's office, and the Plaza Hotel which faces it is used as the location for the politician's speech where Pamela Mann appears at the window and sees the private investigator hired to follow her.
It was shot on Super 16mm – a less common format which produced the appearance of a 35mm film but used less film stock. Furthermore the film magazine lasted for 20 minutes – almost twice as long as for regular 35mm. On the downside, the format required the color to be rebalanced for each shot – and Duart Labs was the only place in Manhattan that could handle the technical problems that this presented. Overall it was cheaper and yet still looked great.
The person responsible for shooting the film, "Marcel Hall", was Paul Glickman – an aspiring Brooklyn cinematographer who went on to shoot many children's films, commercials, animation and documentaries, as well as feature films. In 1976, a short he worked on – 'Angel and Big Joe' – won the Oscar for best short live action film. Despite the low budget for 'The Private Afternoons of Pamela Mann', Paul remembers Radley's keen ambition to make a good-looking film, and allowing him the freedom to be creative. To this day he remains grateful to Radley for kick-starting his film career; for many years afterwards Paul's show reel contained sequences from Henry Paris films as examples of his work.
Supporting actors were recruited from agent Dorothy Palmer's pool of acting talent and included many of New York's most famous of the era, including the timeless Eric Edwards, the perverse Jamie Gillis, the egocentric Marc Stevens, and the ubiquitous Darby Lloyd Raines who would go on to star in Metzger's next opus, "Naked Came The Stranger". Legendary crazy man – and future Hollywood action star – Sonny Landham was also featured in a brief sex cameo as a hypocritical politician.
Levi Richards who went on to play the lead role in Radley's follow-up to this film, 'Naked Came The Stranger', makes a brief but memorable appearance, tricking a prostitute (played by Georgina Spelvin) into believing that he is sexually confused just to see if he could play a gay character on Broadway. But in reality she recognizes him anyway – though pretends she wasn't aware of his deceit just to ensure that she has sex with him. So who is fooling whom then?
Radley figured the audience would want to see a fresh new face in the lead role, so chose Barbara Bourbon; it proved to be smart casting as she perfectly embodies the happy and carefree character. On set Radley remembers her professionalism and good-humored approach, despite the fact she needed a healthy shot of Gran Marnier before the sex scene with Marc Stevens.
Their particular scene included a protracted slow motion ejaculation sequence. It was shot with a special camera used by NASA that shot at 400 frames per second – and generated a huge noise as a result of its fast speed. No matter, the actors looked undeterred.
The same scene was also stopped for a moment to allow Barbara Bourbon to regain her composure after she gagged on a pubic hair; quick to the punch, Radley got Barbara to turn to the camera and say – "That was the best gag in the film" – before deciding against using it.
In a satirical touch, the film pokes fun at the legal climate in which adult films were being released; in a frequent and surreal touch, an opinion poll taker appears frequently asking Pamela Mann for her views on contemporary and social issues. At the end of the film, the pollster mentions that she is merely a device to provide the film with socially redeeming values.
The opinion pollster was played by 'Lola LaGarce'; in reality this was Doris Toumarkine, a member of Radley's production team, who was also the film's editor and had edited Radley's previous film 'Score'. After her apprenticeship with Henry Paris, Toumarkine went on to be a film critic.
Running against the levity of the rest of the film, is an eight-minute rape scene where Pamela is kidnapped by characters played by Jamie Gillis and Darby Lloyd Raines and then violated by them both in a lock-up garage. Though the scene is later revealed to be nothing more than another role-playing episode in the fantasy world created by the Manns, it is nonetheless a shocking sequence and one that was removed by censor boards and distributors shortly after the film's initial release.
Radley satirizes many porn film conventions; he is the first to admit he was not a natural hard-core film director, or as he says "my hard-core films were just like my earlier films – but with extended sex scenes. I only know how to do one thing; it's what I know how to do. But I'm not sure I could have done just sexually explicit porn films. One of my worst nightmares is that I would have to make a porn 'loop'. If I had to make a living on strictly porn, I would have starved to death. I'm not being snobbish; it's been my failing in a way".
In response, I asked him for a film that he finds erotic, and his reply was instant.
"Definitely 'Gilda'" he replied. "The lead characters never even kiss. The eroticism is just within the fabric of the film itself. That always impressed me".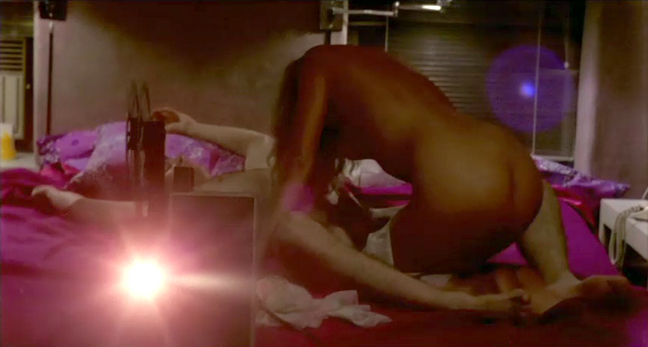 *
'The Private Afternoons of Pamela Mann' premiered in New York at the World Theater on December 26th 1974.
It was instantly recognized as being a breakthrough in adult films. Here for the first time was a work that almost felt like a mainstream Hollywood production; it had glossy production values, a smart script, excellent camera work and art direction, and a plot with a final reel twist that actually justified the sexual shenanigans that preceded it.
The sex media was enthralled; Playboy described it as "premium quality porn… with visual and verbal sophistication", and Screw proclaimed it the best film of the year. Even mainstream Variety said "Hard-core features of the caliber of this film are rare". This was reflected in the box office takings, which ensured it was a big success.
The release also benefitted from serendipitous timing; the New York Times had written about 'porno chic' the previous year in reference to the wider popularity of the emerging breed of hard-core features.
Paradoxically it was also a time in which the legality of such films was being tested in a series of court battles. Radley admits that this was part of the reason for changing his name. "It was a worrying time and we were scared. I learned that (film critic) Addison Verrill intended revealing that I was the director of 'The Private Afternoons of Pamela Mann', and so I spoke to him and had to beg him not to". Radley convinced Verrill that he would be taking away the livelihood of many employees and so the secret was preserved. It wasn't just Radley who was nervous; all crew members also hid behind anonymous pseudonyms too.
Concerns were fully justified; films such as 'Deep Throat' were being prosecuted in socially conservative areas such as Memphis, Tennessee where star Harry Reems together with eleven other defendants were convicted for obscenity after the judge told the jury that the First Amendment did not apply. More worrying were the Federal regulations about what would happen if a film print crossed state lines.
To safeguard his investment, Radley even came up with an unconventional idea to release a non-hardcore version of the film; Barbara Bourbon was brought back to New York to film a comic monologue which would then be superimposed on the genitalia. This optical effect was added at considerable expense to the production but by the time it was ready, much of the controversy regarding obscenity had passed and plans for the release and distribution of this new version were shelved.
But there was a more personal reason for becoming 'Henry Paris'. Radley felt that his real name had become identified with a certain kind of picture: "It was a kind of brand name that we weren't creating anymore. I didn't want people to get confused".
So he took his middle name and the name of an important person in his life called 'Paris' (which was also his favorite city), and he became 'Henry Paris'.
Radley paused, gazing back into the past, before adding "It's strange but at the time, 'Henry Paris' became much more famous and successful that I did".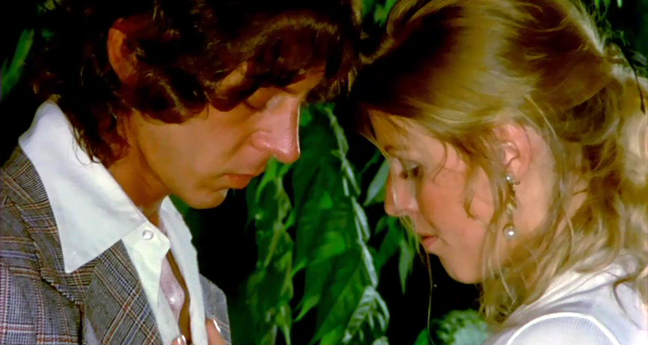 *
As night falls outside the Kansas diner, Pamela Mann looks tired.
Long divorced from Alex, she left New York in the mid-1970s seeking a new life. In 2010, Alex finally tracked her down and tried to make contact with her – but she refused reconciliation. He passed away shortly afterwards.
She asks if I can help in re-starting her singing career. She says she longs to return to New York and start again. Maybe next year, she thinks aloud.
Barbara Bourbon insists that she has no regrets about 'The Private Afternoons of Pamela Mann' though she admits that the occasional internet search annoys her; 'I made 2 or 3 films over 40 years ago and yet I see my name still being thrown around like a major porn star', she complains. Barbara made a couple of other adult films before concentrating on business ventures. She still found time to appear on stage from time to time and says she still misses acting.
Then she becomes pensive. She asks shyly about Radley; where he is, what he's doing today, what he now looks like. As I start to leave, she casually suggests that I ask Radley to call her.
"It'd be good to hear from him after all these years", she says with a glint in her eye that Pamela Mann would be proud of.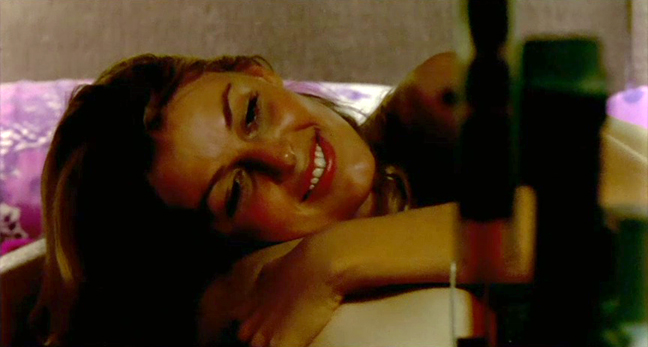 *