Summer Brown was one of the XXX industry's first West Coast director/producers, and, together with her husband Edwin, made a number of successful adult films, including A Thousand and One Erotic Nights (1982), Naughty Girls Need Love Too (1983), and Every Woman Has a Fantasy (1984).
The journalist Tony Crawley, who The Rialto Report interviewed recently, spoke to Summer Brown at the beginning of her career, and published the article in Game magazine in 1976.
You can read our interview with Tony here, and his other interviews are also featured on our website.
___________________________________________________________________________________
Summer Brown: San Francisco's top lady pornographer on the art and the joy of letting go…
Game magazine – December 1976
Perfect, flawless bodies are vital to the success of a sex-scene. There isn't anyone who fantasizes anything less than perfection in bed… right?
The cab drops me at a huge, multi-storey, pre-war and post-'quake house in San Francisco.
'No names, no addresses, right?'
Well, okay… I'm shown all over the big, rambling joint. From the ground-floor kitchen where the film crew are discussing everything except the sex they're filming, to the rooms being utilised today for wardrobe, make-up and such like. I see everything except the hard-core action being lustily performed upstairs.
Also up these stairs, producer Summer Brown, the kinky pornographer who slithered about in skin 'n' beaver loops when working her way through college. She is rapping — as rapidly as the last time we met up in New York. Fine, but I'm still not seeing any… well, you knowhatimean — action! I'm hearing a lot of it, though. Just next door, a sublime French fashion model-turned-porno movie star, is screaming fit to bust. The Joy of Letting Go is come-come-coming!
Summer Brown looks delighted at the row. So does her husband, partner and scriptwriter, Edwin Scott Brown, joining us from time to time from the orgasmic set, with a tell-tale smirk on his face. 'She's doing fine,' run his dispatches. 'She's looking beautiful…!'
Back in'75, China Girl proved the blue-graduation of these two ex-school-teachers, melding recognisable faces from American TV (barely hidden behind aliases on the credits) with the most sumptuous of new hard-core performers. Their new flick reinforces the couple's matchless elan for sex 'n' glamour. To say naught of their finesse in discovering new sexual talent. For last time's Annette Haven, read Dominique St. Pierre… For last time's TV 'stars', read The Marlboro Man himself, Leslie Hughes, proving that smoking is not necessarily hazardous to his sex-life. On top of which (as often as is feasible), there's two other cracking pieces of feminine crackling in Constance Money, rapidly picked up by Radley Metzger in New York for The Opening of Misty Beethoven, and the delicious black stunner, Susie Sung Lee (aka Desiree West).
Chauvinistically or otherwise, the major surprise is not that 'China Girl' and 'The Joy of Letting Go' are such excellent slices of porno arousal — porn is improving immensely, and daily so — but that the producer is a girl. A slip of a svelte little thing. But all woman. With enough sexual fantasies to keep her company in work for eons to come.
She'll admit to often feeling turned on enough by the sex to want to jump into the action herself. Hopefully, the day is not too far distant when the urges actually become too strong for her…
Not that Eddie and Greg would then find it easy to replace her behind the cameras. She is that rare kind of producer — a worker. In particular, she takes charge of all the legal, accounting business. She makes sure everyone and everything (including superb lunches) arrives exactly where they should, bang on time so to speak. She selects the cast in some highly uninhibited auditions with hubby in their living room. She chases businessmen to invest in their projects. She has the necessary cheques for everyone; on time.
She also personally makes up every member — hah! — of the cast. And not just to get her own jollies. But ours, as well. So there's no spots, bra-marks, or scars in a Summer Brown production. No flab either. One 'China Girl' sex-scene was trimmed to nothingness because the leading man was not all they'd hoped would be for a C.I.A. agent, when stripped.
Which is exactly why 'China Girl' looked and worked so wondrously well, for all its over-blown, over-talky spymanship. It was easily among the top three American pornos of 1975 because it had been made with the utmost care. In all departments. And looked as if Hollywood could have made it.
The Browns, as mentioned, are former schoolteachers. In Summer's case, oh boy! how they've changed since I was last in class. In fact, it's directly due to their previous occupation, and a dirty-book search-and-confiscation tour of the kids' lockers, that the Browns are turned into blues at all. They found a well-thumbed tome — and improved it.
Summer hails from the charming academic town of Princeton, New Jersey, movie star, and talks like a well-oiled machine-gun. Quiet, though. Not a rasp to be heard. Plenty of what she delivers makes sense. So far, the couple have made three movies — 'The Joy of Letting Go' far out-stripping 'China Girl', which in turn made their debut. 'Devious Girls' (ex-'The Venus Trap') look like a home movie.
Next stop, she says with a perfectly straight face, is to go legit. With family-oriented fare. Then… who knows? They can, though, only go up. They care too much to lower their sights.
They do, though. Caring, visibly, for their product. For their stars — 'we never put them through all the sex in one day, we want them to get off!'
Summer Brown, you've become a big celebrity, since we last met…
The Al Goldstein interview, you mean. A few pages before the sixty-year-old lady in Hustler… wasn't that funny?
How's fame affecting you?
The company is still maintaining a fairly low profile. The only difference I've really noticed is that as we get bigger we have a crew of nineteen people instead of nine, and fabulous Panavision cameras and a huge equipment truck. People start looking at us like they stare at 'The Streets of San Francisco' or when Warner Brothers is in the city. They see us and, like, dollar-signs start popping up in their eyes. So we've had screws put on us a coupla times. We can't scrounge anymore. We must pay!
So what new grounds are you now 'Joyfully' putting down?
A new tack. Extreme elegance. A very unusual looking leading lady. Totally new. I'm curious to see how the American public reacts to Dominique (St. Pierre). She's not the standard. But she's the epitome of our untouched, unapproachable woman, Michelle. Exactly it! First page of the script reads: 'This is the story of a very wealthy socialite who looks like a Vogue model — a cool million dollars. An untouchable woman. And we see her being graphically touched'.
Eddie Brown: A Grace Kelly or Jacqueline Kennedy type. Unattainable! It's the fantasy of the totally untouchable lady—you're sitting in a movie theatre, suddenly she comes over, sits next to you and unzips your fly.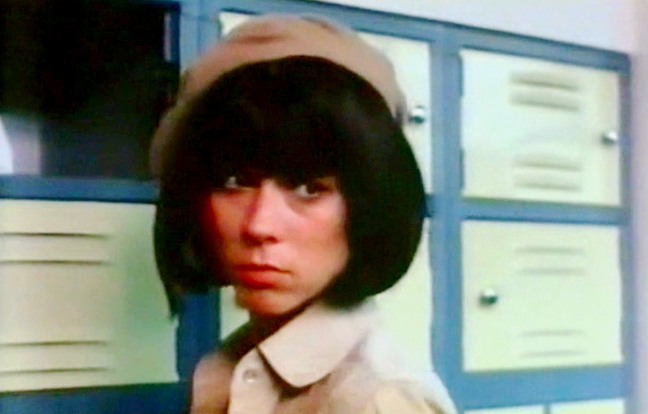 Dominique St. Pierre, in 'The Joy of Letting Go' (1976)
I get the picture.
Summer: Michelle is wealthy, married to a handsome businessman, also wealthy played by the Marlboro Man… I'm not sure if that's supposed to be printed.
He'll surely be recognized…
Probably… He loves Michelle very much, but he's married to his business first. Travels a lot. She's bored. She's a woman but rather naive, pouty. always alone. They have one good scene on the patio, then he's off. Again. She gets dressed and goes to a health-club where she meets Annette (Pamela Strasser), who's not much behind Michelle in class and sophistication — but is a prostitute. Annette has kinda had her eye on Michelle for awhile. To bring her to her pimp, Dancer, and turn her out. And Michelle is ready for the adventure. She wants some kinda family . . . love . . . attention! So, she's brought to Dancer— I'm not sure if we can use the actor's stage-name, either. … He sends her out to various clients. Each one more bizarre. And through all five of them, you see her change.
For better or worse?
For better, sure. She has a little girlishness in the beginning and she's a much more sensual woman at the end. A full woman. Another part of the flash of this movie is I think — I'm sure — it will appeal to women. I'd hesitate to say there's an Emmanuelle (1974) feel to it. Of course, we're delivering the sex — which they didn't. Which pissed me off in 'Emmanuelle'. I felt really ripped-off by that film. Not by ours. We deliver.
How exactly?
I think you'll have to wait and see it.
We'll see… Cliche'-time: what's a smart-looking chick like you doing in porno anyway? How did it all start?
I made a couple of loops when I was 19, working my way through college in New York City. Three of 'em. Like ten minutes each. Not graphic because hard core had not progressed then. Basically writhing, moaning, looking as sexy and pouty and sloe-eyed as possible. All by myself. Solo! I certainly didn't make enough money to get me to Paris.
A friend of the family saw one, told my parents and there was, now I think back, this huge, wonderful scene. They'd finance me to the Sorbonne, if I would not make any more films.
On your return, you became a teacher.
Right. At one point we were both teaching. Eddie — we've been married nine years now — was teaching molecular biology and bio-chemistry; I was teaching French. Our lives stretched out in front and we realised we could be doing this forever. So we packed it in, sold everything, got a Volkswagen bus and started travelling two years around the States and Mexico — our ultimate plan was Rio. Neither of us had ever done anything like that—shedding absolutely everything. We started to miss this country, the electricity that is inherently American. So we stayed in San Francisco.
A long time before, when we were teachers, there had been a locker-search — and a dirty book fell out. We confiscated it—part of the rules. We both read it and thought, 'God! it could be so good, it's just so poorly written'.
And we said, 'Okay, we're gonna write it together — a good, dirty hook!' Eddie wrote the first chapter and it was so hot that we just backed off! It was about an 8th grade schoolteacher—very far out! He packed it up when we left for Mexico and when we got to Laguna Beach and needed more money, he just pulled it out again, sat down at his camp table all during the summer and finished it. 'Ding Dong Dell, Pussy's At The Well.'
When we returned to the United States, we needed money again, so he wrote a second one, 'Root of Evil', based on a kinda Manson commune. We got about $1,500—now you get $5 if you're lucky! Somebody heard about Eddie's book and hired him to survey hard-core films. We got free passes — I accompanied him, obviously — to every hard-core movie in town. We went every night for two weeks. Saw them all.
What did you think?
I must say the first one was totally exciting—because I'd never seen one before. The second one was interesting, less exciting. And after that it became 'Oh boy, not another of those…'
And like the book, you felt you could do better?
Exactly! Eddie wrote his report and got a phone call from director Alex de Renzy who made Pornography In Denmark (1971), etc. He's a pretty good cameraman, has nice production value, but he can't write. Eddie started writing for him: Little Sisters (1972).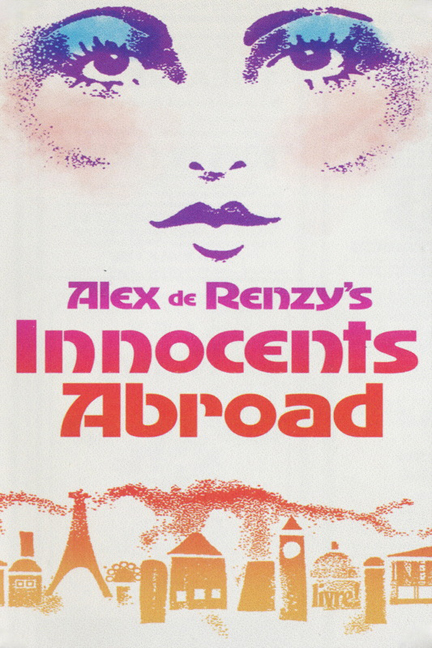 Alex de Renzy's Innocents Abroad (1971), Edwin Brown's first experience on a film set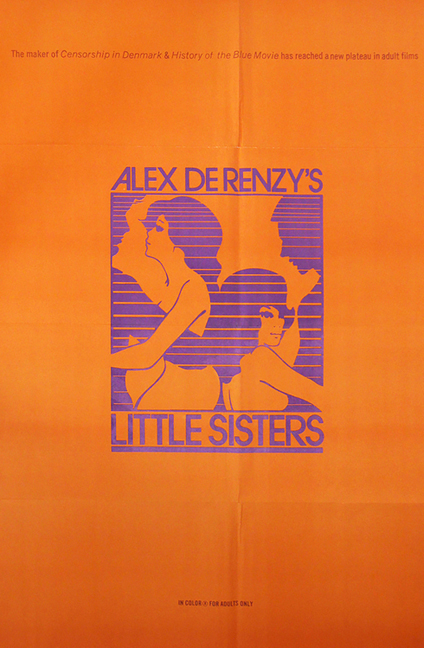 Eddie Brown's first film writing gig, credited as 'Eddy'
Eddie soon began to realise somebody was making a lot of money and he sure wasn't. He didn't get one half of one per cent (which is a smart way to do business). That started to kinda tear it. Eddie wrote a really nice film. The Venus Trap (1974), asked for more money, was refused, came home pissed off, kinda rejected.
I said, 'Gee, that's a really good script, gotta lotta stuff that's never been done before. It should be made. Why don't we…?'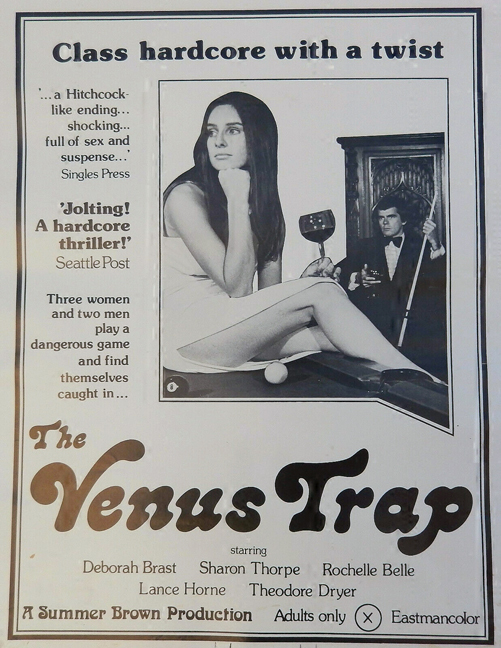 Well, I'd been in a few, Eddie had watched Alex shooting, so we pooled efforts, resources, talents and all the money we had left in the world and invested it in this movie. Never enough money. Just a dream thinking we could make a nice lookin' 70-minutes for $7,000. It ended up costing $20,000 — which is still a miracle!
A useful beginning, then.
A lot of mistakes, and we learned a tremendous amount. When it opened, we didn't have time or energy to give it any more care and attention. We were into the creative side of movie making — it's fun! — and begun working on 'China Girl.'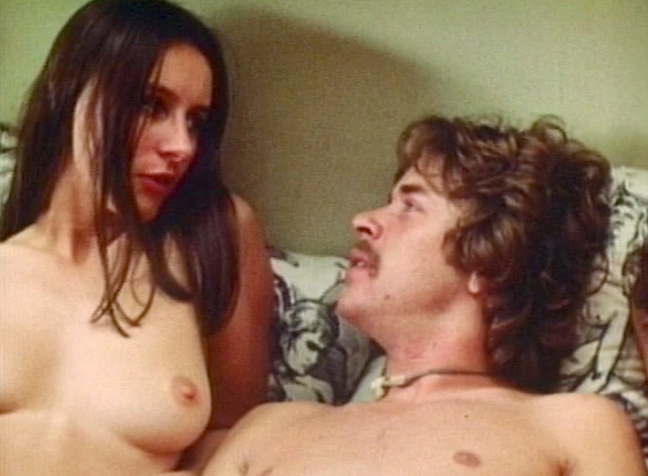 Sharon Thorpe, in The Venus Trap (1974)
So it was made before 'Chinatown' (1974); the lookalike publicity was a later gimmick?
Yeah, it wasn't even called 'China Girl' then. Had eight different working titles. One was 'Kung Fu King'! Anyway, we knew 'China Girl' would be a far superior film to our first.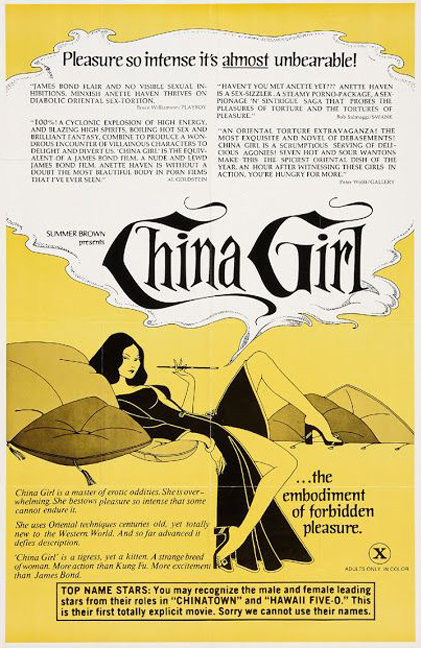 Due, in no small measure, to a young turn-on, name of Annette Haven.
She found us! I don't know her real name, she has been very guarded about it. An interesting woman, originally from Washington (West)… We had originally cast an extremely unusual looking woman; very young, fabulous lookin' body. She turned out a total bust! She does do a little bit part in as an extra — because I'd advanced her some money and felt we had to get something for it. I'm such a businesswoman!
Astute enough to sign Annette?
Well, the porno industry is a small crowd. She'd worked for Alex and we're friendly with him. We knew she'd perform but could she act! 'China Girl' had some heavy acting sequences. She's quite good; obviously not professional, and probably one of the weaker members of the cast. But nothing rotten! A lucky situation. I remember saying, 'Oh, fuck, let's not make this movie, man. It's just hassles. We've fired the leading lady. The film stock price has gone up again. The labs, can't handle the stock… I mean, we were talking about thousands and thousands of dollars. Then, Annette called…
And she had no restrictions?
Well, she generally did. She didn't like to do men sequences. Or anything with men.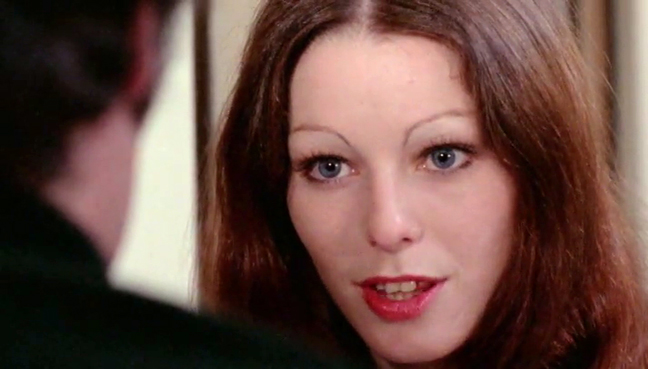 Annette Haven, in China Girl (1974)
You've certainly changed her head. She's into features with John Holmes of late. At thirteen-inches, he's all male. He's all cock! Anyway, her standout scene in 'China Girl' was fucking, sucking and wanking three guys at once…
A really nice scene! Annette directed that sequence. Remember, every time the scene pans back to the video monitor where she's being watched by the villains, you'd hear Annette telling the guys to go here or there, move up, down sideways, c'mon here and so on. Annette was actually doing that on set, we shot it because the cameras were running — and it was perfect for the scene. It showed she was insatiable…
Yeah, worked fine, but how did you persuade her to shoot one of her no-no scenes.
She was never particularly excited about it, until I said, 'I would really love to see three young boys and you!' Then she says, 'That doesn't sound too bad, you know.' I promised they'd be blonde and so handsome she wouldn't believe it… we had quite a time picking them! So she says 'Okay, I trust you.'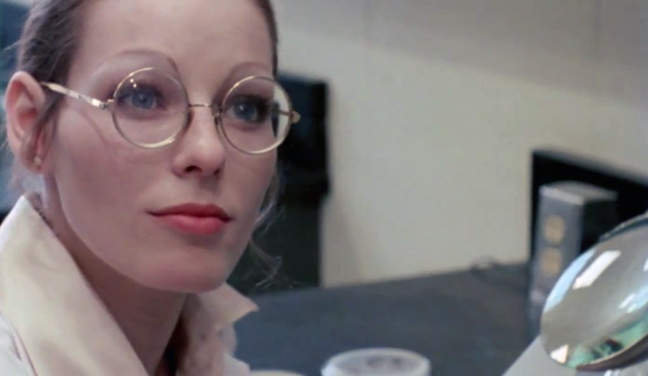 Annette Haven, in China Girl (1974)
Trust and care; name of your game, right?
Well, we're a nice company to work for! We care about the people. Whenever I write letters to the investors, I'd send her one, too. To let her know where the film's been playing, how it's doing, things like that. She co-operated with us, and we with her. She also had a piece of the film, which is always reassuring for an actress. So she agreed to the three-boy scene…
One of the things we'd talked to Annette about was the idea behind these pleasure-torture scenes, using the fantasy of the victims against them, the idea that the victim could appreciate the pleasures given to him or her, but because of the drug administered by the villains, could never find relief from them… or however delicately we worded it in the film.
Fuck for hours and never come, I think it was.
Probably. So we talked to her about her own fantasies. 'We will do anything you want to do,' we said. And she gave us the all-girl sequence — which we were gonna do anyway, because that turns me on.
On-set or on-screen is that?
Filming them is a lot less sexy than watching it on-screen. The girls took us five hours… But yeah, sure, I'd have a moment or two when I thought, 'God! That would be real nice to get into.'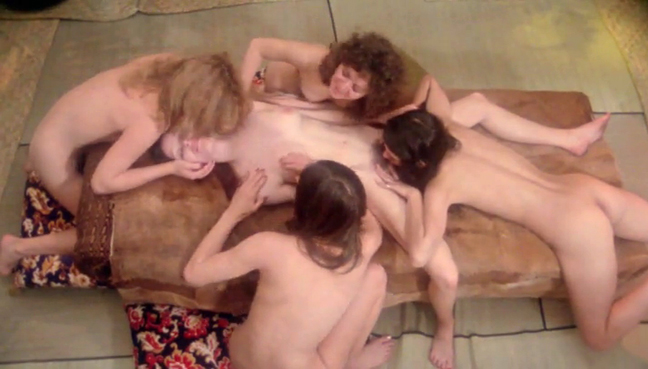 Scene from 'China Girl' (1974)
Yet Annette didn't seem to enjoy it as much as the all-boy number?
Oh, but she did, she did! That was real. She camel A hot scene!
Interesting, hearing her proclivities, because her scene with the hero didn't get anywhere.
As intended. We did not try to put in every bit of hard-core. We don't want to bore people with things they've seen before. So the short love scene in front of the fire, after the backgammon game, was our original idea.
A touch of 'The Thomas Crown Affair'?
That's very astute! We wanted to build up a romance, so we had the scene which we affectionately refer to as the San Francisco date, touring all the scenic areas, building up the relationship, watching two people fall in love — so that in their final balling sequence, you can relate to, 'Oh boy, that's me.' It was somewhat hard-core and could have been harder, but the actor's body was not what we had thought it would be.
He was supposed to be a CIA agent, tough and muscular, and he turned out a little heavy.
How do you persuade your famous' actors to join the party?
Money.
That's all?
Pretty much. They're paid quite well, have elegant parts and we agree not to use their professional names. I can't even tell them to you.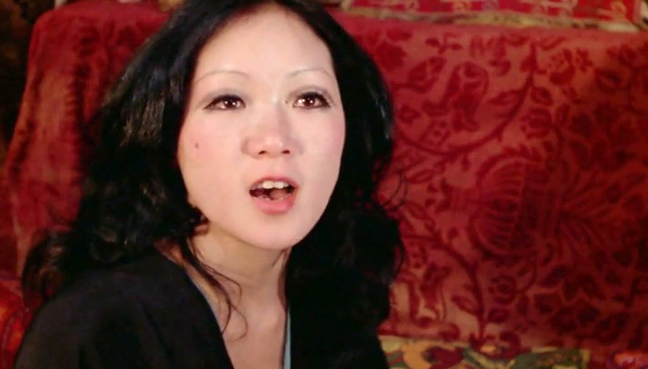 Pamela Yen, in 'China Girl' (1974)
So… China Girl is wrapped, and making a mint. What was the plan for your follow-up, 'The Joy Of Letting Go'?
Very subtle things. Like two people meeting, never saying a word and doing something terribly explicit and graphic — then leaving, without saying a word. Let me see if I can give you a delicate phrase for it — hand-job sounds so tacky. Well, like Erica Jong's zipless fuck (you know her book, 'Fear of Flying'…?). That appeals to me greatly.
Lady, you're upsetting my gonads… and I'm losing track here… Continue your fantasies—but regarding movies. Which big names would you like to get for a porno?
Catherine Deneuve! She was my first choice for 'Letting Go'. But there's no reason, no benefit for her to do it. Unless she owned the film. And then she'd probably not perform explicit scenes. Or Faye Dunaway and Paul Newman. Wouldn't you want them? Their names would make the movie an instantaneous multi-million-dollar success! Warren Beatty is nice, too. There's a couple others, but it's unrealistic. They'll never, never, do it. The money we can pay — they spend in a day. Why aren't there any black porno stars? There was a movie called Lialeh (1974). But the lead kinda laughed at it, said she liked white men better — very alienating for the black male audience it was made for. 'White and Jewish,' is what she said, 'pink all over'.
We've talked about a black porno and there's a black stud here in San Francisco, Johnnie Keyes. who works for the Mitchell Brothers. As far as a black lady is concerned, we have a great new girl in 'Letting Go': Susie Sung Lee (aka Desiree West). She is unbelievably exotic. Half Oriental and half black. She had a bit part in somebody else's movie, and she walked into our office and we couldn't believe our luck. She's the second major role. I tried to talk Eddie and Greg into using her as the leading lady, but the theme of the film, is about an extremely wealthy socialite.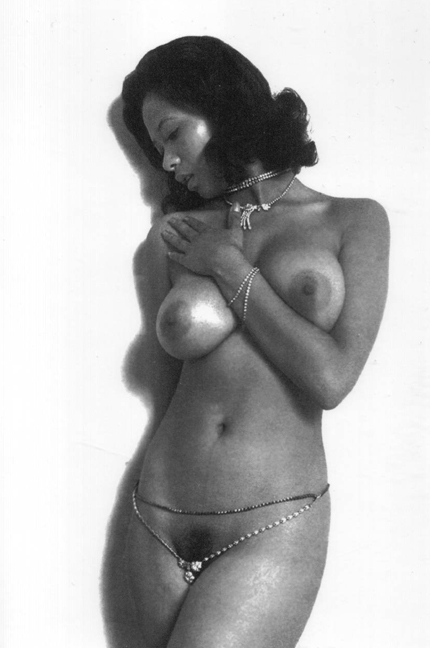 Susie Sung Lee (aka Desiree West)
Enter: Dominique St. Pierre. How'd you find her? Such a classy looking lady.
Eddie: We had another girl all set to play it: Kendal Martin. Playboy photographed her and everything. A blonde. Found her very early on. Too early… After some dinners, reading the script, talking about it, she finally decided: Yeah, she was donna do it.
When you catch someone a little iffy about doing it, the trick is to make your movie quickly. But Letting Go is a complex, sophisticated production. Two months' time lag between the time she said 'Yeah' and when we wanted to start. And in that time… she discovered Scientology!
Oh boy?
And we wonder why we deserved such good luck! I mean, I would have given up all my parking places for the next three years for this piece of luck… Because the very next day, Dominique walks in and says, 'Hi! I'm from Paree. I understand you might be lookin' for someone for your movie.' And she was by far and away better than any women we could have ever hoped to get for the film. Including the blonde Scientologist.
Summer: Dominique was just here on vacation. A friend of ours knew her and sent her over. Fantastic! Now through our advertising and publicity lady in New York — Lorraine Borden — we had to manufacture a background for Kendal Martin. You know, create this biography that she was this high fashion Vogue type. But Dominique is exactly that! A model. And a Vogue model. She is Halsten's star model. She has been on the cover of Women's Wear Daily. She has worked for Dior and so on.
Eddie: And she is by far the best actress that we have ever worked with. She's had four years training with Lee Strasberg in New York. She's been in many French films — two with Belmondo — and had a tiny part in 'The Taking of Pelham 1,2,3'. She is exactly the type of woman that you would never believe in a million years would do a hard-core film.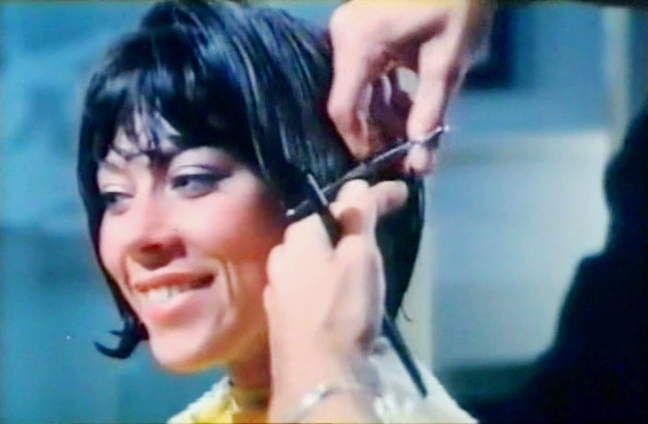 Dominique St. Pierre, in The Joy of Letting Go (1976)
So, how does Dominique get it on?
Summer: As we all know, there's only so many things that two people can do and be seen doing. But I think… gosh! I hate to use the word 'far-out'… But I've not seen any movie with sex scenes the way we've done them. We spent a lot of time working on the scenes, thinking of something unusual.
Fine, great. But what does she do?
Summer: Okay, we'll stop stalling! Without you knowing. Eddie ran one down for you… She goes into a dirty movie theatre showing 'Lusty Hooker' (laugh.) Sees a man by himself, sits next to him and… er… helps him out.
Summer, you're so poetic!
Eddie: One scene which is really outstanding—we spent a long time on this— we have a man who can actually ejaculate without ever being touched.
How can you make that look genuine though?
A cinema first. A think-off?
Eddie: Well, it's there on film. It's not done with mirrors.
Usually is.
Eddie: He has absolute control. He's really unreal. (Laugh) One of the best tricks I've ever seen. See, Michelle spends three days as a call-girl. On one call, it's a man and wife hiring her. The man is tied up and can only watch, as the women make love. As they climax, he climaxes. Just from watching.
You sure find 'em?
Eddie: Well, he came by the office, you know. 'What's your trick?' we said. And he said, 'Wanna see? Look, Ma, no hands!'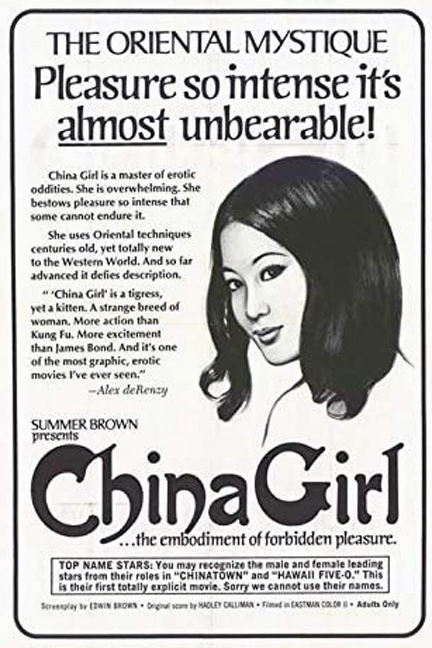 How do you audition your girls?
Summer: If she has been in hard-core before, we don't feel it's necessary to test them. We see them more than once, of course, and ask them if there's anything they won't do. We get that out of the way, right up front. Our black girl was very groovy. She said, 'No water sports, no fruit!' She's a riot!
Hold it! You listed that before — this time I need a translation. I'm having my own fantasies here of a girl screwing a gay guy on water-skis…
Hah! We have a communication breakdown here, right? I think the expression is just, darling. We Americans are so funny. It means no urinating. And no zucchinis, bananas, cucumbers, etc… Now, if they haven't been in a movie before and express an interest, we put the girls to the test. We develop a sexual situation — it varies from girl to girl. Basically, it's to see if she'll panic.
What do you do, call rent-a-stud?
Well, er . . . there's Eddie and me.
I see.
So if she will not sit across the room and masturbate for us, which is the simplest test, then she's not going to do it for a cameraman, a lighting man, a sound man, and a gaffer. We meet them at home. Without cameras. Within the intimacy of our own and very warm and loving living room.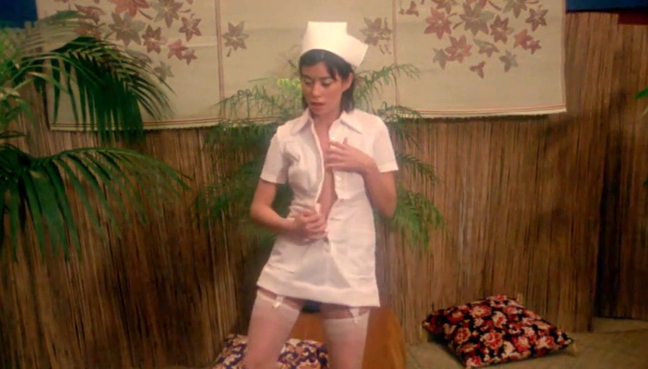 Susie Song Li, in 'China Girl' (1974)
If I read your face correctly, after the 'test', you and Eddie join in with them. Is that it?
Depends on how, what, the situation is. Sometimes my husband's interested and so he takes up from wherever, you know, and I will just watch. Sometimes I get involved. Sometimes both of us get into it… or one of us watches or maybe leaves the room and washes the dishes.
Great attitude! Porno is good for marriage.
Wonderful! While we're actually shooting, we're too busy and almost too exhausted to get into eight-hour long sex things at home. But while we're getting ready to make one — I mean talking dirty for three weeks can do nothing but make your sex life good. We gotta try it all out!
What constitutes a great porno flick?
That I get off when I watch it.
Which means what?
It's got to be something that I haven't seen before. And I'm not talking about really bizarre stuff, like S&M. I don't particularly get off on that. And certainly not Snuff! It's got to be sex done so carefully that with each scene I get that twinge.
Come in your seat, you mean?
I don't come in movie theatres… But I get a twinge. A feeling that it's gotten to me. It's also got to flow and I've got to watch real pretty people doing things that either have never occurred to me, or have, but I've never seen consummated. Like the three guys with Annette. I'd never seen that. It was my fantasy and I think it was just marvelous. I've seen women together, but never as well as in Annette's scene — or Dominique's with Justina Lynne.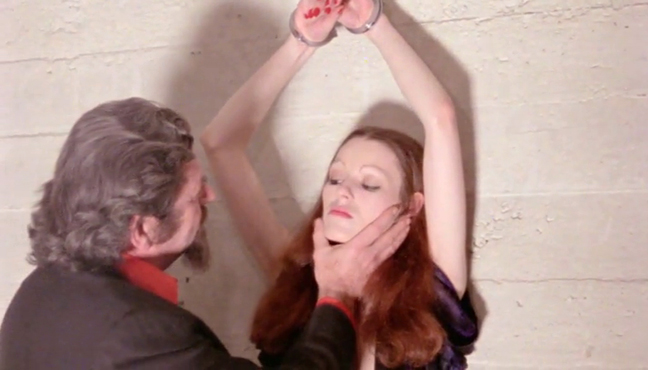 Scene from 'China Girl' (1974)
Now what's the secret about directing a fucking good fuck scene?
It's a delicate balance. Because you don't wanna direct it so that people don't get off. Because I believe that when people get off, it comes across on the screen.
So to speak…
I mean you can really feel it… So we do a lot of work beforehand, sitting casually around, talking to them, having coffee, and we kinda choreograph it — where the actual physical bodies are going to be. What we definitely don't want is stress. So if it's a question of, well, when somebody is giving head and the girl has long hair — 'Would you move her hair,' I say. But softly. 'Watch it, you're covering her breasts…' 'Can you move your hand lower…' Soft, just softly. Eddie, Greg — we all felt it was always more comfortable if I was there on set, handling this side of the direction. Because, well, I don't threaten anybody.
Any more fantasies waiting to be used up once you return — I trust — to pornoville after your family-ticket movie?
Oh yes! One in particular. I won't shoot a gay sequence only because. I don't think… I mean, what I would love to shoot, but I doubt I ever will, is two men and a woman. Another big fantasy of mine. But above all, I'm a businesswoman and I don't wish to alienate my audience. See, I'm talking about a sex-scene where the two men interact together, as well as with the woman. That would be pleasurable for me. To participate in and to film.
Well, don't look at me, honey!
That's it, you see… I don't think anyone, except, some other woman, would like it and I don't think that women comprise enough of the audience yet. My audience are white men and they are afraid, a little uptight, about latent homosexuality.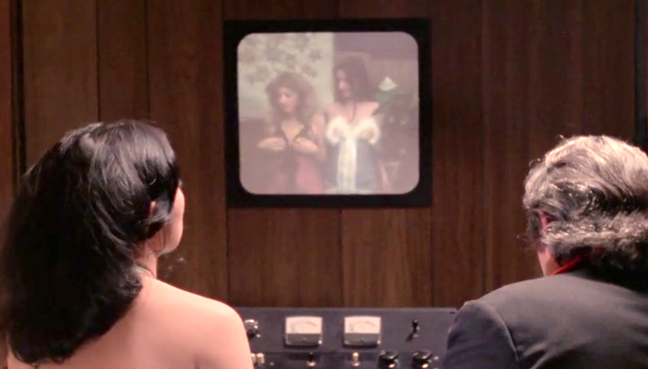 How come, in fact, you've never been busted? The Mitchell Brothers work in San Francisco as well, and they're always in trouble. Jail hanging over their heads week by week.
I get police permission to shoot on the streets.
I'm talking about shooting on the sheets.
Eddie: It's a legal business, porno, in San Francisco. Certainly, Jim and Artie Mitchell and Alex de Renzy and a couple of other people have had troubles. What you have to do is don't take any shit. What we're doing is as valid as anything else. You've got to make that stand, look them straight in the eye. If it costs you everything you made on your last movie, you have to do that. That's what Jim and Artie keep doing. And de Renzy. As a result of their efforts, porno is really a kinda legal business now.
So what's the future?
I'm not sure about the life of hard-core. There'll always be an audience—but how big? And I can see that we could all get a little tired of it. So we'd like to get into legitimate movies as well. That's why we linked our family movie project to 'Letting Go'. We're almost bankable now — we make money. People like to invest in us. So we told them, if they wanted to invest in 'Letting Go', they had to at least feed some money into the next one. Anyone giving us money for 'Letting Go' will make money, so there's got to be some risk to it. We guarantee a product that will probably make money. After that, I don't know. We take our projects one at a time. It all depends on how much notoriety we get…
And if you luck out?
If we bomb, if we fail… I'm gonna sing with a band!
*