'Wet Rainbow' is one of the most accomplished works from the golden age of adult film in New York. It received rave reviews by the likes of Andrew Sarris and Gay Talese.
And yet it's also one of the most mysterious films from that period too.
It starred Harry Reems and Georgina Spelvin, two of the biggest names of the era – but the identities of those who made it were concealed for a long time behind a series of assumed names.
To tell the story behind 'Wet Rainbow', The Rialto Report has interviewed two key people: the director, Duddy Kane, and the star – 'Rainbow' herself, Valerie Marron.
Two contrasting lives – that came together for ten days on an adult film set in 1974.
Their lives included porn, mobsters, murder, rock stars, Barbra Streisand, famed dietician Dr Atkins, New York Philharmonic, 42nd St theater owner Chelly Wilson, underage adult films, the Peraino family, robbery, a mysterious lost film, the 'Deep Throat' film crew, threats and blackmail, and much more.
Two lives. One mystery solved. Another Rialto Report.
_______________________________________________________________________________________________
'Wet Rainbow' – Cast and crew:
| | |
| --- | --- |
| Georgina Spelvin | Valerie |
| Harry Reems | Jonathan |
| Valerie Marron | Rainbow |
| Mary Stuart | Jean |
| Alan Marlo | David |
| Ron Wertheim | Cab Driver (uncredited) |
| | |
| --- | --- |
| Directed by | Duddy Kane |
| Written by | Roger Wald, Duddy Kane |
| Executive Producer | Rob Trenton |
| Producer | Roger Wald |
| Director of Photography | Pierre Schwartz II |
| Film Editing | Natasha Gottlieb |
*
'Wet Rainbow' – Synopsis:
From University of Chicago Film Program:
Georgina Spelvin plays an art professor's wife on the verge of mid-life crisis who experiences a reawakening upon meeting free-spirited student Rainbow (played by Valerie Marron). Spelvin's burgeoning attraction sets off a wave of self-inquiry – about her marriage, artistic career, and general station in life – before the sex actually occurs.
Director Duddy Kane shoots most of the dramatic scenes in mobile long-takes that emphasize the casualness of married life, not to mention the charisma between Spelvin and her old friend Harry Reems, atypically understated here as her husband. In form and content, the film often resembles the great Krzysztof Zanussi's 'Quarterly Balance Sheet', which was made around the same time.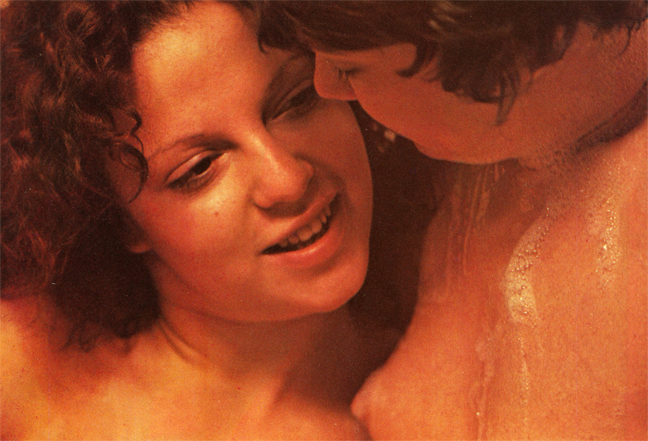 Valerie Marron, Georgina Spelvin in 'Wet Rainbow'
*
Duddy Kane's story – Part 1:
The Rialto Report interviewed Duddy Kane in December 2014.
Who is Duddy Kane?
Duddy Kane is me.
I made up the name from the Richard Dreyfuss film 'The Apprenticeship of Duddy Kravitz' (1974) that came out in theaters the same year as 'Wet Rainbow'. And of course, 'Citizen Kane' (1941).
Where were you brought up?
I was born in the former Yugoslavia, and I came to the U.S. in 1965 to study architecture. I lived in the town of East Hampton, NY.
I started working at all kinds of stuff. I was a fisherman for a while. Then, because the East Hampton area was an artsy community, one day someone put a camera in my hand. I took some pictures and gave them to the local photographer to develop. He called me up and said, "We're organizing a show and would like to include your pictures."
I said, "I only have this one roll of film I shot."
He said, "Well I think that they are great pictures, so we'll show those."
What were your pictures of?
I had three pictures in the show. One of them was a fire hydrant. One of them was a graphic photograph of the parking lot behind the store – a photograph from a very high angle to look like a painting. It's almost like a beginning of minimal art. And another one was just a shot in a house that I was living in, just a chiaroscuro thing.
The dean of the arts school in NYU saw the show and looked me up, and I received a letter asking me to come to New York to teach and I did. That's how I became a photographer – because I'd never ever taken pictures before I did that.
That led to teaching and then opening my own studio. Then I left for Montreal for a few years during the Vietnam War. Whilst I was in Canada, I set up a pretty big studio, a successful studio.
You went to Montreal to escape the draft?
Correct, yeah, with my wife. We went to Montreal. We thought of going to Brazil – but we only had $750 so it wouldn't get us there! That's basically how we chose Montreal.
So you were a U.S. citizen by then?
Oh no, I never became a U.S. citizen. I had a green card but they could still draft you… which was news to me. From there the photography led to films because I always loved movies.
When you were growing up, what were the films that you really admired?
At home in Belgrade, I always said that the Cinematheque there was my real education because we went every day and it has a great library of films. There were pictures like Erich von Stroheim's 'Greed' (1924) – which still is my number one film of all time.
When did you first want to make a film?
I started to make a film when I was in Montreal – a political film. It was all about corruption and the influence of American capitalism in the developing countries around America. I wanted Gian Maria Volonté for the lead role; he was a communist. I went to Italy and I met with him. He wanted to do the film, but we couldn't pull it off because we couldn't get him a visa, so the film never happened.
I moved back to New York, and started teaching photography again.
So what was the genesis of 'Wet Rainbow'?
My wife's cousin, Ron Wertheim, had worked on 'Deep Throat' (1972).
How did you raise the subject of making an adult film with him?
I asked him, "How difficult is it to put a film like 'Deep Throat' together?"
He said, "It's not difficult at all –it was all new to me when I started out."
I said, "Let's do it, because it's the only way I'm going to get a film made."
Ron Wertheim had been on the New York sexploitation scene as an actor and crew member from the mid 1960s,including directing soft core films such as 'Invitation to Lust' (1968) and 'The Spy Who Came' (1969). In the early 1970s, he worked with Gerard Damiano in a number of different capacities, including being the production manager on the landmark 'Deep Throat' (1972).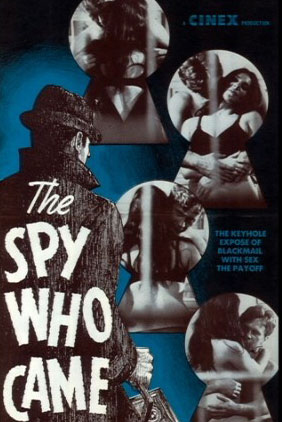 So you were making 'Wet Rainbow' as a serious project?
Yes, absolutely. My main reason was that I wanted the experience of making a whole film – from start to finish. It's an irreplaceable experience to make a film, so I treated it as such.
We used state-of-the-art equipment and shot on 35mm. I wanted to do it just as if I was doing a regular film – and to me, it was a regular film.
Except that it had explicit sex.
I didn't really get into the sex or exploitation part of it. Actually when someone saw it after we finished it, they kept saying, "What the fuck? This is not dirty enough. What are you going to do with it?!"
Do you remember films becoming more explicit at the time?
I remember 'I Am Curious (Yellow)' (1967). That's what brought down the barriers. That's what started it all. It played on 57th St forever. It opened the door for people, the 'regular audience' as we called them, to have an excuse to go and see sex in films.
How did you decide on the subject for 'Wet Rainbow'?
I wanted to write a soap opera, a romantic soap opera, relating to normal married people.
How much was Ron Wertheim involved in the production?
Ron helped me bring in people like Harry Reems and Georgina. And he put together a crew for me that included many of those that had worked with him on 'Deep Throat' (1972) and 'The Devil in Miss Jones' (1973).
It took them a day or two to realize that this wasn't going to be shot like regular porn, but they soon got the idea.
Ron Wertheim, interviewed for 'Inside Deep Throat' (2005)
What was Ron like?
He was just another guy who always dreamt about making movies and was in that whole group of filmmakers, beatniks, who made up that scene. He had to be at least ten years older than me or even more. In fact I was closer to his younger brother.
He was a very interesting guy, extremely knowledgeable, but clearly mentally unstable. He was always pursuing some project, some screenplay or other.
Talking to him convinced me that I'd be able to make 'Wet Rainbow'. I didn't know anyone else to ask. He was very helpful.
Who shot the film?
The cinematographer was Joao Fernandes – but it didn't start off that way.
We had to fire the guy that I originally hired. We screened the first dailies that we got back from the lab and they were out of focus.
This caused us to panic – what the hell was going on? We checked the cameras. Everything was working fine. Then the guy admitted that he was having a problem with his vision.
I had to fire him. That's when Joao came in.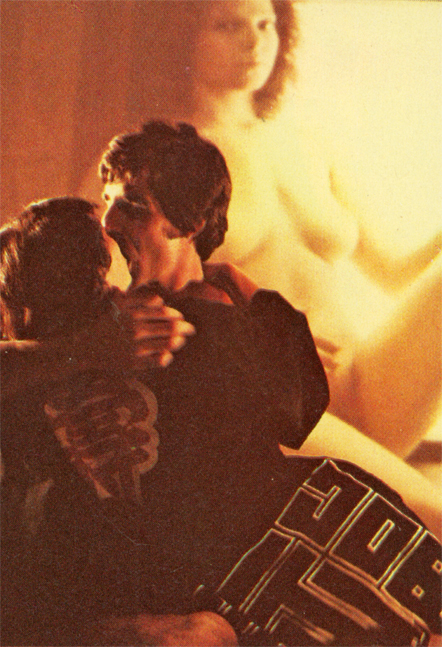 Georgina Spelvin, Harry Reems in 'Wet Rainbow'
Did your wife have a part on the production team?
She was an editor at that time. She was assistant editor with a commercial company. So she edited 'Wet Rainbow'. That was the beginning of her editing career.
The editing credit was for 'Natasha Gottlieb'. Obviously everyone's name was changed?
Yes – we were very careful not to use anyone's real name. None of us wanted to be known for making a sex film.
Did you write the script?
Yes, it was written by me and my friend, Paul, who took the name 'Roger Wald'. We'd written the script for the political film in Montreal together.
When we decided to make this movie, it was funny because neither of us was part of that milieu at all. It was all new to us. We were complete virgins in the industry.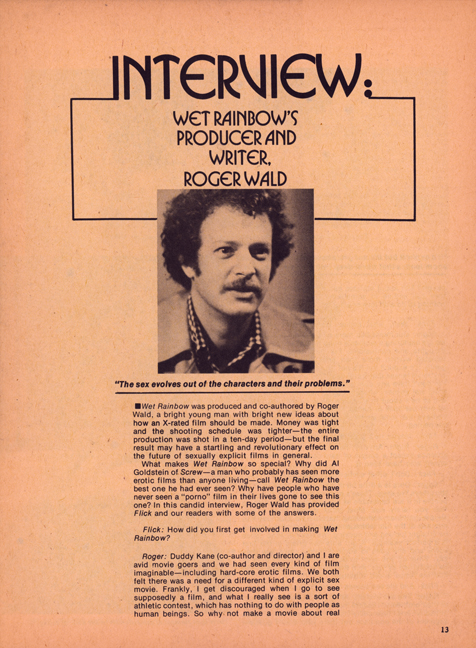 'Wet Rainbow' was shot in Westbeth, a nonprofit housing and commercial complex dedicated to providing affordable living and working space in Greenwich Village for artists and arts organizations in New York City.
How did you come to select Westbeth as a location to shoot?
I lived there. We'd only raised $50,000 so that meant we had to be as efficient as possible, and I wanted to shoot as close to home as possible to save costs.
The open space there allowed me to do tracking shots and so on. I didn't want to shoot in locations that locked me up with the camera not being able to move.
We didn't use the actual space that we lived in, but we shot in a bigger loft that belonged to a friend of ours in the same building.
Valerie Marron, Harry Reems, Georgina Spelvin in the Westbeth loft location

What was Westbeth like in those days? I imagine it was a great community for artists.
It was fabulous. It was full of creative, talented people – but it was also like a mental institution.
There was always some great drama happening, like people jumping to their death, or Diane Arbus committing suicide; she was on the same floor as me and had killed herself a couple of years previously.
Did you have a producer or someone who raised the money?
My two friends raised the money; Paul – who I wrote the script with, and a guy named Peter (who we called 'Rob Trenton' in the credits). They were the ones that put together the finances.
The investors were very straight people. In fact one of the main investors was Dr. Robert Atkins, the man behind the 'Atkins Diet'.
Chelly Wilson, who owned many of the theaters on 9th Ave, was another investor.
What were your memories of Chelly Wilson?
Oh my God! She was a total trip. I always wanted to make a movie about her. She was a very interesting person running that whole goddamned theater business down 9th Ave. I don't know even how many theaters she had.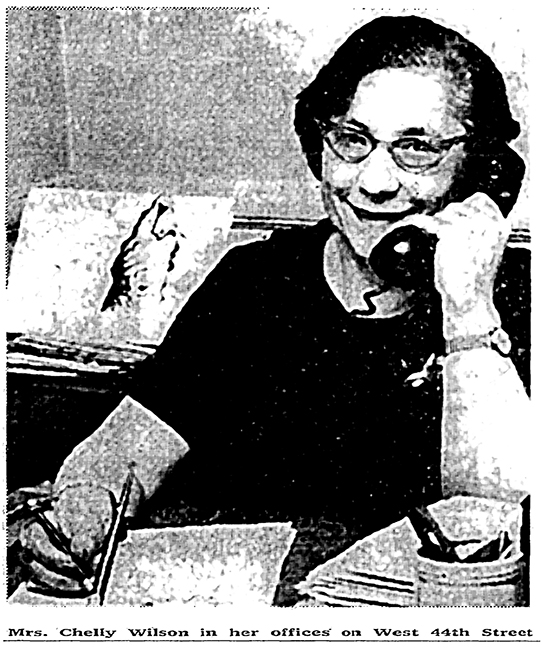 How did you get to know her?
My friend Peter, the guy who was the second producer, he did a play on Broadway that she produced. Something called 'Harry Harry' or something like that, I forget the title.
When we decided to make this film, he said, "I have a person we can call".
We knew nothing about anything in that business and didn't even know who to speak to, so he called her and she said, "Sure."
Do you remember meeting her?
We went to see her in her office. It was above one of the theaters. She was not a very attractive woman, and she was propped up on this day bed, like a couch, or whatever. She had this woman, a very dyke-y woman serving her.
Three of us walked in. Three uptight regular guys. When she saw us, she couldn't believe it.
"What do you want make?" She spoke with a very heavy accent. "Why do you want to make those kinds of films…? Why do you want to make those kinds of films…?" She always repeated herself.
Then she said, "Okay, okay. Read me the script."
We looked at her. I just couldn't make myself read the script, so we made Peter, who knew her, read it to her.
We said, "Okay, we'll just go out and let him read to you."
She said "No, no, no. You sit here. You sit here." So we had to sit and wait while the whole thing was read to her!
Fortunately she agreed to provide some of the funding.
The cast is very small; do you remember how you cast the film?
I held a casting session. We had an office on 57th St, and we did the casting there. But it wasn't an open call like most of the porn films at that time. And I never asked anyone to take their clothes off.
The funny part of it was when Harry Reems came in.
He said he loved the script, so I said, "I'll use you, but you have to shave your mustache."
He almost fainted. He said, "Are you kidding me? That's my trademark! Everyone knows me because of this!"
I said, "What the fuck are you talking about? What have they ever seen you in?"
He said, "You're crazy. You don't even know who you're hiring with me!"
I said, "Okay, okay, keep the fucking mustache." He just had a fit.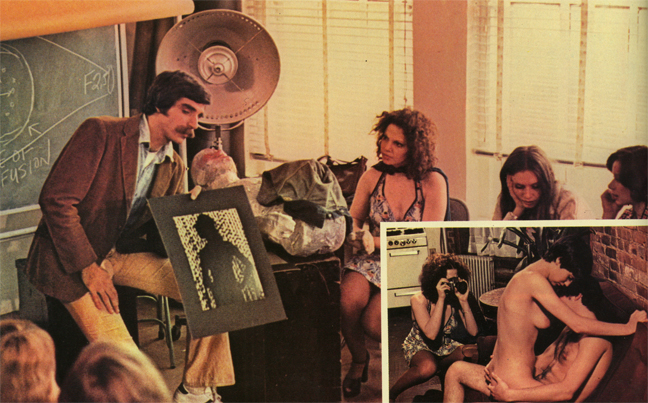 Harry Reems, Valerie Marron in Wet Rainbow
What do you remember about Georgina Spelvin?
Georgina was extremely professional as she always was. She was also older than me so she was good at giving advice. Everyone was giving me advice!
Ron Wertheim plays the cab driver in the movie as well.
Correct. He was originally an actor. He was one of those people that went to Hollywood on a contract and was in some movies. It's an interesting story; his journey is one that a lot of people make, trying to make films, and then somehow they eventually get sidetracked or whatever.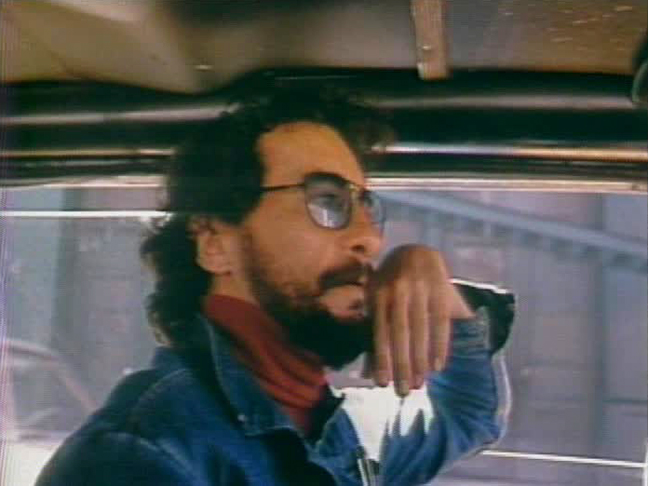 Ron Wertheim as a taxi driver in 'Wet Rainbow'
What do you remember about Valerie Marron who played the lead role, Rainbow?
I can't remember who brought her to us. She was a very lively girl. I thought that she was good for the role.
I asked her, "Why do you want to do this movie?"
She said that it was none of my business what she wanted to do it for.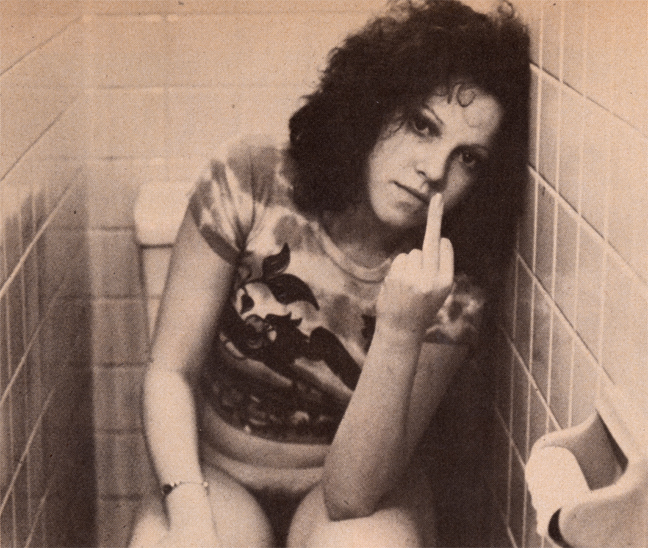 Valerie Marron, production still from 'Wet Rainbow'
*
Valerie Marron's story – Part 1:
The Rialto Report interviewed Valerie Marron in July 2008.
Who is 'Valerie Marron'?
I was born Valerie Merians on 22nd October, 1955.
What was your upbringing like?
My father was Ron Merians – he was pretty well-known in the 1970s because he owned a music bar in Woodstock, NY called the 'Joyous Lake'. He ran it from 1970 to 1979, and it was really successful.
At first it had shows by many of the famous singers and bands who flocked to Woodstock to record their music, but then it became a venue that bands would on insist on playing as part of their touring schedule.
It only had about 200 seats but everyone played there… the Police, Muddy Waters, Joe Cocker, Todd Rundgren, Johnny Winter, Patti Smith, Charles Mingus, The Band, old blues musicians like Brownie McGhee and Sonny Terry… so much great music. My father knew them all; he was a great guy.
Joyous Lake, Woodstock
What effect did his interest in music have on you?
It caused me to love music. And musicians! I always loved hanging around in music clubs with bad boys…
Was it a happy upbringing then?
Er, no. Not at all. My parents divorced when I was three, and they both remarried. And that's when my problems began. My stepfather was a nasty, unpleasant man. He abused me from the age of six.
Were you able to communicate this to your mother?
Yes, but that only made it worse. When she found out, she became jealous and blamed me for it.
From then on, she just wanted to get rid of me. Eventually I was shipped off to a boarding school when I was 14.
Was it good to get out of the unhealthy home environment?
Not really – I hated boarding school. I couldn't stay. Eventually I ran away when I was 16.
Did you go and live with your father in Woodstock?
No – I headed to Manhattan. I didn't know anyone there so I was homeless for a while.
That was a particularly dangerous time to live on the streets in Manhattan. How did you survive?
Tell me about it! It was scary. I was the target of all sorts of low lifes – pimps, criminals, you name it. They saw that I was underage, and I seemed to be a target for them. I was picked up by people for food and money all the time. It was the only way to survive.
How did you get involved in the adult film industry?
I can't remember exactly. Someone told me that there was easy money to be made for writhing around in an orgy scene. An artist was filming it for something he was putting together. That turned out to be Ed Seeman. I was only 16 when I did that.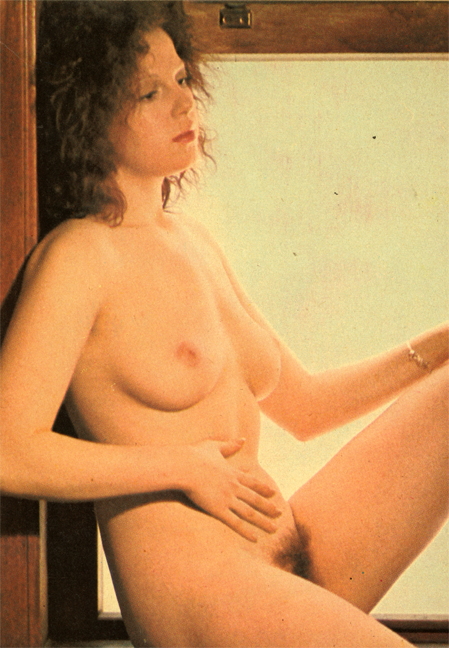 Valerie Marron in 'Wet Rainbow'
You appeared in a number of films over the next few films. How did they come about?
I met people like Jamie Gillis and Marc Stevens on that first set, and they would call me up and tell me about film productions that were looking for actors. It was a strange little community, everyone was friends, and it was a close knit bunch of people.
I got on well with them all, even though they were mostly quite a bit older than me. People like Georgina Spelvin were in their late 30s, I think. I was underage when I made most of the films.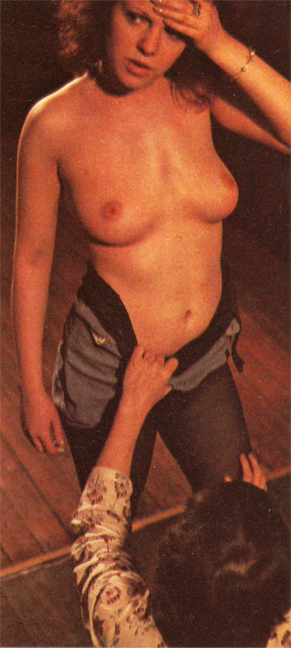 Valerie Marron in 'Wet Rainbow'
Were you close to anyone in the industry?
I dated Jamie occasionally, but he was more like a brother to me. That was the good thing about the group; everyone was pretty protective towards each other, so in some ways that gave me some stability, some sense of family that I didn't have.
Andrea True was good to me as well. We became close friends. And Helen Madigan too. She was great.
Did you like appearing in films?
I liked it best when I had some acting to do. I enjoyed feeling that I had a proper part to play. The sex wasn't difficult for me, but that was probably because I'd been abused. I was numb sexually.
What was your life like in New York at that time?
Once I started getting a bit of money and meeting people in the film business, things got better. I started hanging out at the music clubs, places like CBGB and Max's Kansas City.
I started dating Mickey Ruskin, who was the guy who opened and ran Max's Kansas City and the Ninth Circle Steak House. He was cool and he knew everybody. Max's was a great place. I'd be there all the time.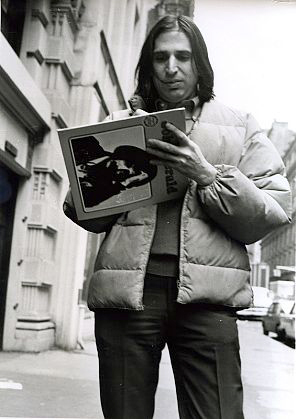 Mickey Ruskin
What do remember about 'Wet Rainbow'?
'Wet Rainbow' was the first film I made after I turned 18. It was more 'serious' than most of the other films that I'd done. The people who made it were like 'real' filmmakers! There was a script with lots of dialogue – so I was happy to do it.
It was the first time I had the starring role – because I was 'Rainbow' – so I asked the filmmakers to use a different name on the credits. I change my name to 'Marron' because I didn't want to embarrass my father. 'Marron' means chestnut in French.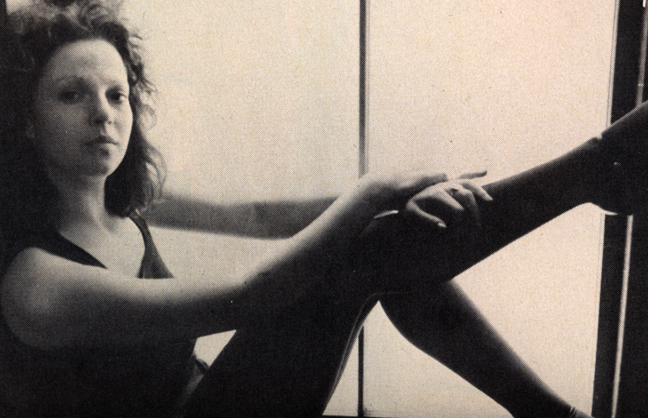 Valerie Marron, production still from 'Wet Rainbow'
Was it a smooth production?
Mostly yes – though I had a serious accident during one scene.
I had to have sex with a life-sized statue, which was difficult because I had to balance myself on top of it so that it could penetrate me. It took a long time to film and I got pretty tired.
All of a sudden the dummy broke off inside me and caused me a really unpleasant injury. You can even see that moment in the film – they left it in the film…
I suffered for years because of that. It caused a number of repercussions on my health.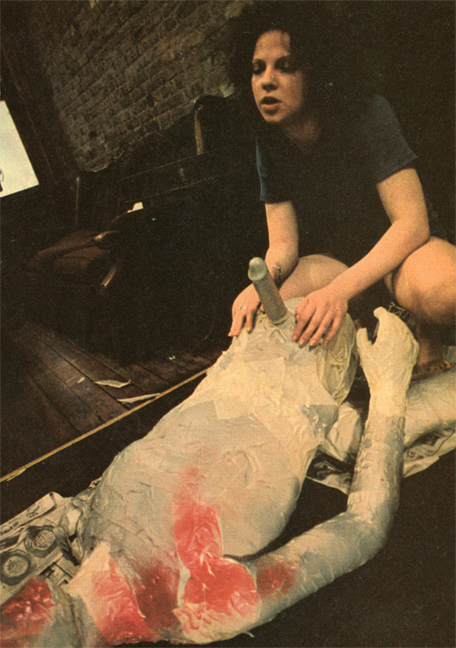 Valerie Marron, in Wet Rainbow
*
Duddy Kane's story – Part 2:
Were there any problems in the pre-production of 'Wet Rainbow'?
When we started casting, the first call we got was a guy who said, "Who gave you permission to make this movie?"
They said, "You have no permission. Who the fuck do you think you are? Do you think this is 'Lawrence of Fucking Arabia'?"
It was really funny, but it wasn't pleasant.
The caller said they were offering their services: "The business is very tough. You're so young. You don't know what the fuck you're doing. You don't know whom you're dealing with. You have no way to protect yourself." All those kinds of things.
How did this resolve itself?
The calls stopped – and we thought it had passed. We didn't hear back from them until after we had finished the film…
Do you remember how long the shoot was?
It was 10 days. We had the usual problems with the unions; you know the way Teamsters are. I had a truckload of equipment, and they showed up. We were shooting a scene down on 6th Ave. They showed up and confronted us, not threatening – but not being very nice either.
They realized it was a little movie but needless to say, they scratched the negative at the lab to get back at us. So the insurance had to pay, and we had to re-shoot it.
They wouldn't bother you if you used their cameras and people. But we pulled out equipment that was legitimate, and that made them think it was a bigger production.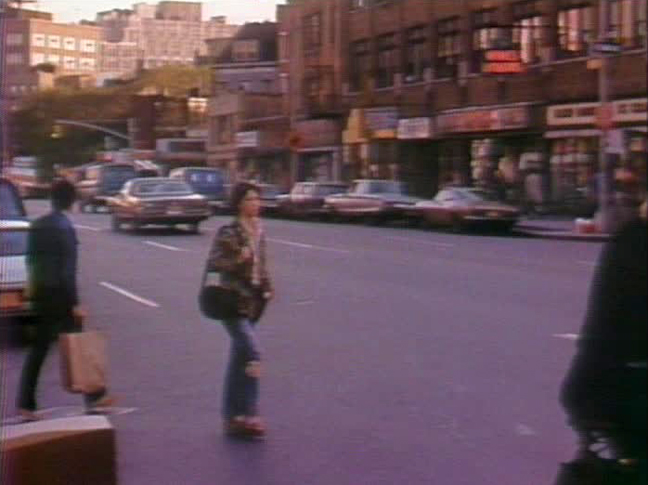 Georgina Spelvin in 'Wet Rainbow'
There are several artistic touches in the film – such as the superimposed images – that work very well.
I think it came out from my ambition to do a regular film and being a photographer. I tried to do creative things as long as they wouldn't cost any more money – like the projected images of Rainbow on the walls which I always liked. That's really where it all came from.
The soundtrack is memorable – who did you hire for this?
The guy who did it was Rupert Holmes who became very famous later on. After he did my films he went on to work with Barbara Streisand.
Rupert Holmes is a British-born American composer, singer-songwriter, musician, and author. He is widely known for his number one pop hit 'Escape (The Piña Colada Song)' (1979). Barbra Streisand used his songs in the movie 'A Star Is Born' (1976), and Holmes also arranged, conducted, and wrote songs on six other Streisand albums. In 1975, Rolling Stone magazine compared him to Bob Dylan.
How did you meet him?
The people I knew from the art scene were always flirting with the idea of doing films but it was very hard to do. When I decided to make a film, people that I knew from that world came forward and recommended people from theater, music, whatever. These people just thought it was a cool thing to do.
Somebody said, "You should speak to this guy Rupert. He'd be great to do something."
So I spoke to him and he said, "Absolutely". He would do the real thing – write a real score, record it in a real studio and everything.
Through his connections, we got booked into a recording studio on 57th St. I think it was called Studio One. It was a huge studio.
Can you remember much about the recording sessions?
It was recorded with the players from the New York Philharmonic.  I don't know if you remember but there is a very lush sound of strings. That's them.
It was interesting. As we were recording, the lead violinist looked at Rupert and he said, "Rupert, what kind of movie are we doing?"
Rupert said, "Why?"
The violinist said, "Well… just asking, just asking."
I don't think that they ever knew what film they were recording the music for.
And then Rupert went on to work for Barbra Streisand?
Someone heard that song from Rainbow, and the Barbra Streisand people called him.
When he got the phone call from Barbara Streisand's office, he hung up, thinking that someone was playing a joke. They had to call him three times before he picked up the phone – and then they asked him to come to L.A. to discuss her next album with her.
Was Chelly Wilson interested in distributing the film?
Yes. When we finished the first cut, she came to my studio on 5th Ave. She first couldn't believe the space – I had a 10,000 square feet loft. My wife was cutting 'Wet Rainbow' on a moviola at that time.
These two old ladies came by: Chelly Wilson and Mrs. Goldberg. They sat on each side of my wife to look at her work. Paul and I just ran out; we didn't want to sit there watching sex with these two old women.
My wife said it was the hardest thing she's ever done; these two women sitting behind her exclaiming, "Oh! Oh! This is good. This is good! Oh! Oh! This is very good." She just died. She couldn't believe it.
Then Chelly made an offer to buy the movie. She said, "Okay, it is beautiful. I want it".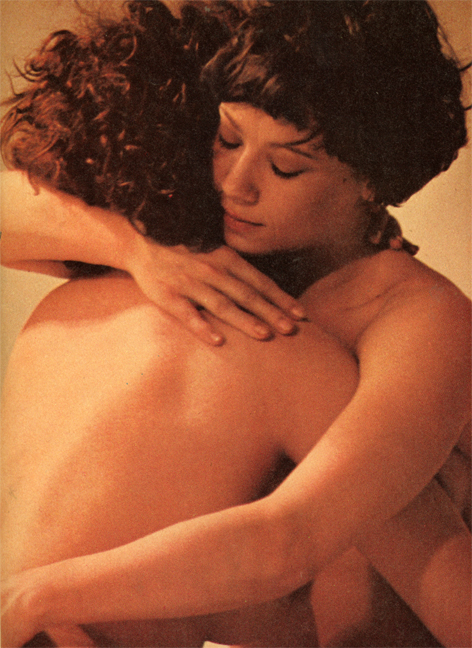 Valerie Marron, Georgina Spelvin in 'Wet Rainbow'
How much did she offer?
She made an offer of $250,000 which was mind-boggling to us. I immediately started computing how many movies I could make with that money.
We decided to celebrate, so we went to the Jersey Shore as Paul had a house there.
When we returned on Sunday night, I saw that my elevator was stuck up on my floor – so I realized that something was going on. I ran up to the 11th floor, and found the place had been robbed. Every single frame of the film including the trimmings had been stolen. It was all gone. It was absolutely gone.
What did you do?
First we called Chelly because she was supposed to be the distributor of it.
She said "Oh my God. Let me check it out. I have connections."
Then she came back to us and said "I can't buy that film. It's damaged goods."
We always wondered if she had something to do with it.
So without the physical film, did you lose control of the film's distribution?
It pretty much went into other people's hands.
We tracked the distribution end, and we had a lot of unpleasant meetings with distributors.
So who ended up being the distributors?
It was Bryanston. The same company that had distributed 'Deep Throat'.
One Sunday I get a call from my friend Peter, the producer.
He said, "Did you read the New York Times yet?"
I said, "No."
He said, "It's on the cover page. 'The Devil in Miss Jones', 'Deep Throat', and 'Wet Rainbow' are controlled by the Colombo family.
I said, "Are you kidding me?"
He said, "Yes! Investors are calling me asking me, 'Did you know you're in business with them?'"
They basically took it over from then on.
In the article in the New York Times they said 'Joe Lane' aka Joe Gentile was the one who was controlling it.
Did you meet the Perainos – who were behind Bryanston?
I met them all. I guess that's who actually distributed the movie. It was well-distributed and marketed and everything – but they basically took it away from Chelly Wilson.
But they never tell you, "We're taking it."
How did you come to meet them?
One of the investors we knew was Italian. He wasn't from that world – but he was Italian. We told him what happened, and he said, "Let me check out who that could be"
He set up the meetings. We had what they called a 'sit-down'.
I just found it to be a priceless experience. First of all, you had to get dressed properly when you went to meet them – and I never wore suits. I had to wear a fucking suit and tie and the whole thing. We went to this very chichi restaurant where everyone was bowing to them.
Can you remember who you met with?
The older Peraino, Tony I think was his name. He was in Italy most of the time. He was a proper elder.
His younger brother, Joe, the guy who ran the business, the father of the guy who came to Hollywood, he was a pig. He was a fat pig who was straight of central casting.
Most of the others were very proper though, nothing like 'Goodfellas'. This was a real business for these gentlemen.
Were you afraid of these guys?
I was not, but I must say my friend Peter was very nervous. I actually enjoyed meeting them.
I've always wanted to write about a story about these three schmucks from New York making their porn film, and getting involved with the mob.
I presume you didn't see much profit after that either?
No. They did pay the investors properly – but I forgot how much we made. Maybe five grand each or something like that.
As you know, those movies made millions of dollars for certain people; we didn't make those millions of dollars.
But it was a great, great experience to meet these gentlemen. They were extremely interesting. I wished they didn't take the movie, or had better accounting or at least been more generous with us but still it was worthwhile. They were real characters.
'Wet Rainbow' opened on 30 October 1974 in New York.
Were you happy with how the movie turned out?
I was happy with the movie for what it was. The fact that we did the movie from beginning to the end, it came out as something that I could stand by.
However I must say I have never taken the picture and shown it around, but a lot of people saw it.
What about the poster art? It's unique.
We had a great illustrator – Gilbert Stone.
Gilbert Stone was an artist whose work is still exhibited around the world, and was purchased for many public and private collections, including the Joseph H. Hirshhorn Collection at the Smithsonian Institution, and the Brooklyn Museum. His illustrations appeared in publications such as Esquire, Sports Illustrated, New York Magazine, Playboy, National Geographic, and on many album covers before his death from AIDS in 1984.
How was the film marketed?
I insisted that the movie had to be advertised as a regular film. I didn't want it advertised as a 9th Ave porn film. We put ads in the New York Times for example.
That's how 'Wet Rainbow' got to the next level. It did show in some of the 9th Avenue theaters, because Chelly Wilson owned most of those theaters and she was one of the investors. But we also got it into art houses too.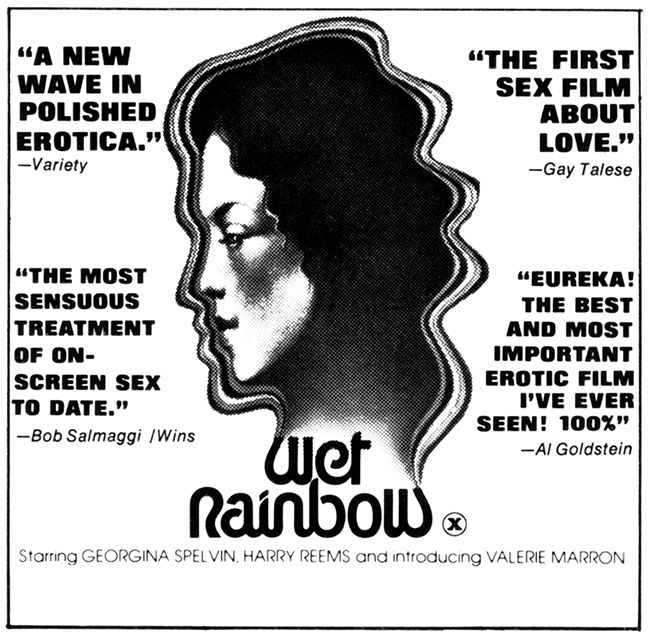 Did you have any sort of premiere opening for it?
We didn't have anything special. There was no red carpet or public event like that.
I was naturally shy so I wasn't pushing for any kind of a public premiere. There was a little opening at a theater… it was an art theater off 3rd Ave. I forget the name of it. I think it was around 3rd and 2nd.
What was the critical reception like?
I thought it was pretty good. Andrew Sarris wrote about it, and it was well-received for what it was. Because it played in the legitimate houses as well, it brought an audience that would not go to the 9th Ave or 42nd Street theaters. It got an interesting response.
Then it won a 'Golden Tonguey' – which they claimed was the Academy Award of Pornography! I didn't go to that ceremony. My friend, Paul, who was the producer, did.
I actually have the Golden Tonguey itself. We still joke about it.
"The most important erotic film I've ever seen" – Al Goldstein
"The first sex film about love" – Gay Talese
"The most significant X-rated film of all time. Stylish intelligent, exceedingly well-scripted, superbly acted, genuinely erotic. Wet Rainbow single-handedly breaks every rule that porn has suffocatingly established for itself and through the process of self-liberation, it liberates the audience as well" – Sir magazine
"It is a breakthrough in the history of porno-movies, and there is a pot of gold at the end of this 'Wet Rainbow" – Swank magazine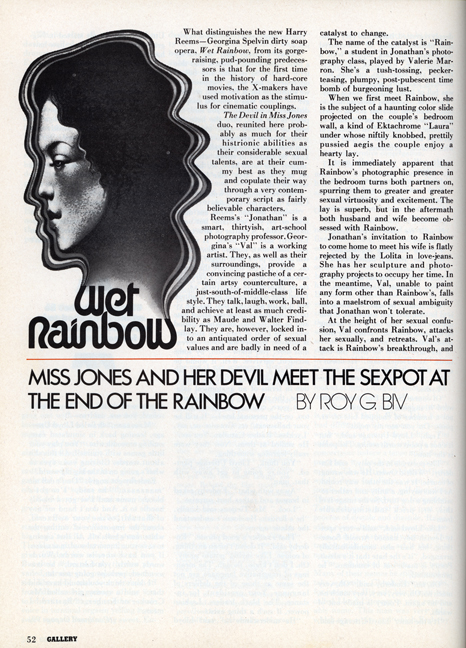 Ron Wertheim told me he thought that ABC Nightly News played a clip of 'Wet Rainbow'. Do you remember that?
Yeah. Actually my mother-in-law called and said, "Your movie is on ABC Nightly News." I said, "Get the fuck out!"
She said, "It is, put it on. Put it on."
I did, and the guy gave it a review; he gave it a great review actually.
It was crazy because I just looked at 'Wet Rainbow' as a fun thing to do – and then forget about.
Did you have any adverse reaction from family or friends when they found out you'd made a pornographic film?
The funny reaction was when my wife's family came to see the movie.
They came into a theater in the Village down between West Broadway and 5th Ave. They all came… her mother, aunt, uncles. My wife's mother was basically not even looking at the screen… It was all new to them.
And the uncles just wanted to know: "How does Harry Reems keep it that hard for so long?"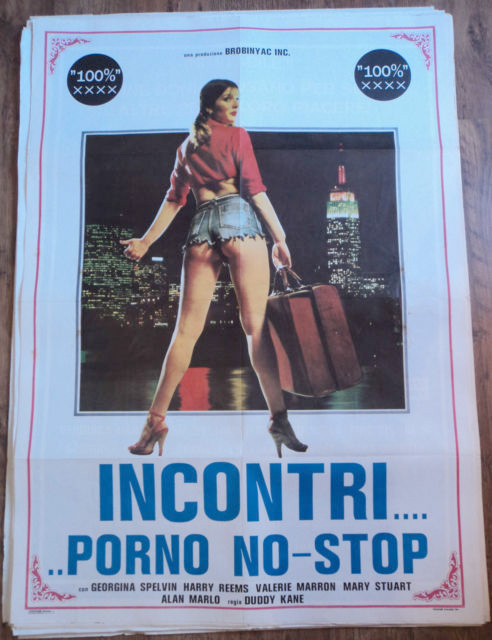 Italian one-sheet for 'Wet Rainbow'
So the 'Wet Rainbow' experience encouraged you to make another porn film?
I came up with this idea to do a political satire as a porn film. It was about Vladimir Ilyich Lenin returning to earth to join the sexual revolution and he can't get laid.
I met this guy who had written a vampire script – I think his child went to the same daycare as my son. I read it – and I said this is something that I can build on and make  into a movie.
We rewrote it and called it 'Vampire Lust' – it was totally off the wall!
The main character Vladimir is always in leather. The only thing that you see of him is his tongue and his dick. He comes out of the marshes of New Jersey looking at Manhattan and saying, "Oh my God …"
Who did you get to appear in it?
I didn't want to cast porn people; I wanted to cast regular people. John Leslie was the only porn actor in it.
It was an interesting casting call because actors from Broadway shows showed up. I remember meeting one woman who was starring in a musical. I looked at her resume' and I couldn't believe it. I said, "I think you're in a wrong place."
She said, "No. No. I want to be in this movie because my friend told me about it."
I hired people that were good actors and had good faces.
But it was still going to be an explicit film?
It was explicit, not as explicit as what my partners wanted, but it was still explicit.
We shot it in my loft and locations like Grand Central Station, and The Plaza Hotel. We made it for a less than 'Wet Rainbow'; it cost about $35,000.
It was great fun to make because I shot it myself.
Was it released?
Yes – it was funny because when I was finishing the movie, Paul, my partner and producer, and I decided to move to Los Angeles.
We were so excited – we were going to find a distributor that was completely unconnected with the guys in New York. We couldn't wait.
We got in touch with the Mitchell Brothers to distribute it. All of a sudden one of the Mitchell Brothers said to me, "I don't know if we can distribute this because it already has a distributor."
Then a phone rang at Paul's house. It was our friend 'Joe Lane' from New York who said, "Pauly Pauly! Congratulations! We have your picture. Did you ever think that we're not in the whole country? We have business that is everywhere."
They intended to distribute it but when we showed it to them, they were turned off because the film was more of a satire than a 'normal' porn film.
One of them even said, "Where are the come shots?"
I said, "Do you pull it out of your wife when you're doing it?"
He jumped up at me… it was an interesting scene at the screening room.
Was it ever properly distributed?
We never really heard. But once we were screening it for some friends, and the projectionist said, "I already saw this movie."
I said, "You couldn't have seen it because it hasn't played anywhere."
He said, "It's played in San Francisco for six months already."
That's how we found out that they must have put it out…
Did you contact the Italians?
We called them up. We had another sit-down with them as and told them I'd found out that the movie had played in San Francisco, earning this money, and that we never got anything.
It was all this big talk, talk, talk, and then they sent us a little check.
I don't even know who has it now. We've lost track of it completely. That's the end of the story.
Do you have a copy of it?
I have a 35-million reprint of it. I always wanted to remake it as a legitimate film and political satire because I always loved the idea of Vladimir Ilyich Lenin not getting laid.
I personally liked that movie much better than 'Wet Rainbow' because it was a more interesting story.
Did you ever think about striking a print from your 35-millimeter and actually putting 'Vampire Lust' out yourself?
No. To tell you the truth, I didn't want to be in porn business. Second, I didn't know who would surface with the rights. My negatives were at Movielab in New York. I have no idea who pulled them out. It's one of those things that I chose not to pursue because I didn't see any upside from it.
Did you ever come into contact with anyone from 'Wet Rainbow' later in your life?
I saw Joao Fernandes out in Hollywood once when I was preparing this film 'Reckless' that I shot there. I thought of using him but I forgot… and we lost contact again.
Then Valerie Marron got in touch with my partner Peter. He'd written an article for a magazine like GQ or Esquire that was about the making of 'Wet Rainbow'.
She wrote him saying that she got sick or injured or something on the set of 'Wet Rainbow'. She got some tumors. She blamed it on the 'Wet Rainbow' production.
Valerie blamed us for it I guess.
So what effect did the experiences of making the two adult films have on your career?
I can't say that making those two pictures opened the door for me, but they did give me confidence that I could make a film. And they also convinced me that that's what I want to do.
Unfortunately I got involved with writing, which I hate, in Los Angeles.
*
Valerie Marron's story – Part 2:
Do you remember seeing 'Wet Rainbow' in the theater?
Yes, sure. Jamie took me to see it at a cinema in the Village. He liked it.
What did you think of it?
It was pretty good – definitely the best film I made. It would have been good even without the sex scenes.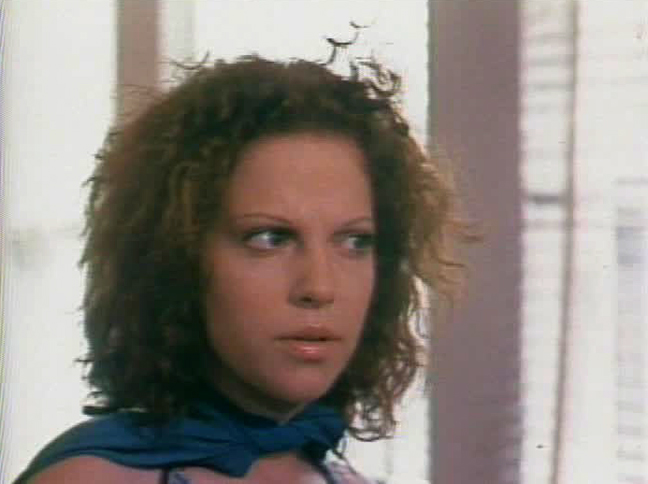 Valerie Marron in 'Wet Rainbow'
'Wet Rainbow' was one of the last films you made; did you make a conscious decision to leave the business?
Yes – I was getting more involved with Mickey (Ruskin), and he wasn't happy for me to continue. So I just stopped.
In an interview with The Rialto Report, Jamie Gillis was asked about Valerie Marron, and he had the following to say:
"Valerie was a sweet but damaged girl. I had a fling with her and she told me she'd been abused by her stepfather. That was probably true.
But she also developed obsessions with people – especially musicians, rock stars, and artists – that bordered on stalking. For example I remember she became friends with the artist, Peter Max, and told people that they were dating. She really wanted to be accepted by the music and arts crowd – maybe to impress her father, who knows?"
How do you remember the time making films?
It's weird but even though I made a bunch of sex films, the most controversial part of my life happened a few years later…
What did you do after you stopped making films?
I started making music. I wrote and sung my own songs, and I had encouragement from musicians I knew, so I started doing that.
I experimented with drugs as well – psychedelics, mushrooms, mainly. Then cocaine in the 1980s. It was a rock n' roll lifestyle I guess.
Then I started dating Felix Pappalardi.
Felix Pappalardi was a renowned American music producer, songwriter, vocalist, and bass guitarist.
Pappalardi was credited with fashioning the 'heavy' rock and roll sound, emphasizing loud guitars and a thumping bass.
As a producer, Pappalardi is best known for his work with British psychedelic blues-rock power trio Cream, beginning with their second album, 'Disraeli Gears' followed by 'Wheels of Fire' and 'Goodbye Cream'. Pappalardi has been referred to as 'the fourth member of the band'.
Felix was married to Gail Collins Pappalardi, a songwriter and artist, who co-wrote Cream's 'Strange Brew' with Pappalardi and Eric Clapton. Her artwork appears on many album covers of the time.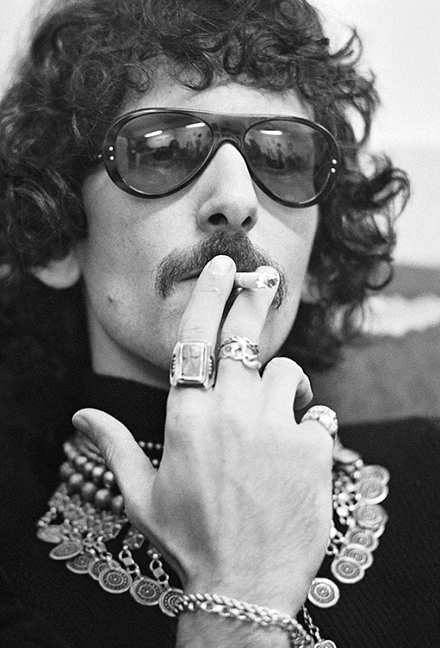 Felix Pappalardi
How did you meet Felix?
He was a friend of my father. He played at the Joyous Lake a bunch of times.
What was your relationship like?
By the time we met, he was heavily into drugs so we did a lot of that together. He gave me advice on my music and we spent a lot of time together.
But you knew he was married?
I knew he was married to Gail, but he said he was estranged from her. They had an open relationship anyway and they'd got tired of each other.
What was Felix like?
He was a strange guy in some ways, not super friendly. He developed deafness because of all the loud music, so he was doing less of that when I was with him. He just liked taking drugs, having sex, and hanging out.
And he loved guns…
Transcript of a 911 call. April 17th, 1983
Gail Collins Pappalardi: I killed my husband… I didn't mean to.
Operator: How did you do it?
Gail Collins Pappalardi: Anger… but, ah, not intentional, never, never, never.
'Rock Star Shot Dead', New York Daily News, April 18th, 1983
Felix Pappalardi, the producer of the rock supergroup Cream in the '60s, was shot dead yesterday in his elegant apartment above the East River. Police charged his wife in the slaying.
Detectives from the East 21st St stationhouse said 911 emergency operators received a call from Pappalardi's wife, Gail, 43, about 6 a.m. When police arrived at the apartment, they said, they found the musician lying on the bed in his underwear, a single bullet in his neck.
Pappalardi, 41, was pronounced dead at the scene. A .38-caliber two-shot derringer was lying nearby, police said.
Mrs. Pappalardi apparently called her attorney after notifying police of the shooting. Authorities said she refused to answer questions at the couple's fifth floor apartment at 30 Waterside Plaza, a fashionable residence overlooking the river at 28th St, until her attorney arrived a short while later.
Mrs. Pappalardi was charged with second-degree murder and criminal possession of a weapon, police said. She later was admitted to Belleview Hospital after complaining of severe head pains.
Neighbors said the couple had quarreled just before the shooting. They reportedly had a history of arguing.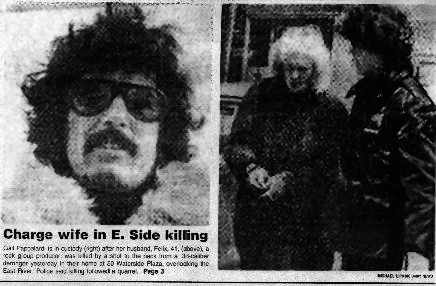 What was your reaction to Felix' death?
It was horrible. It was terrible that Gail could do that. I knew she was a crazy person and had a really bad temper, but to shoot Felix with one of his own guns…? It nearly killed me.
The murder of Felix Pappalardi caught the imagination of the press in New York, and it was splashed all over the newspapers and nightly news. Was it a crime of passion committed by a jealous wife? Or was it just a tragic accident?
The prosecution insisted it was murder.
'Slain rock star mystery', New York Post, April 1983
The framed wedding certificate that had hung over the bed of Gail Pappalardi and her slain rock star husband, Felix, was found ripped to pieces. Mrs. Pappalardi swore that the destruction of the wedding certificate was another accident. She said Pappalardi tore it when he was clearing a desk of old papers.
Gail maintained Felix' death was an accident.
Trial testimony from Gail Collins Pappalardi
"Felix was trying to get me to be familiar with (the gun). Something happened that I have no recollection of – a noise, something… and I moved or something, and the gun went off. Time froze for a second when I realized Felix had been hit. I could not remember my own name at that point."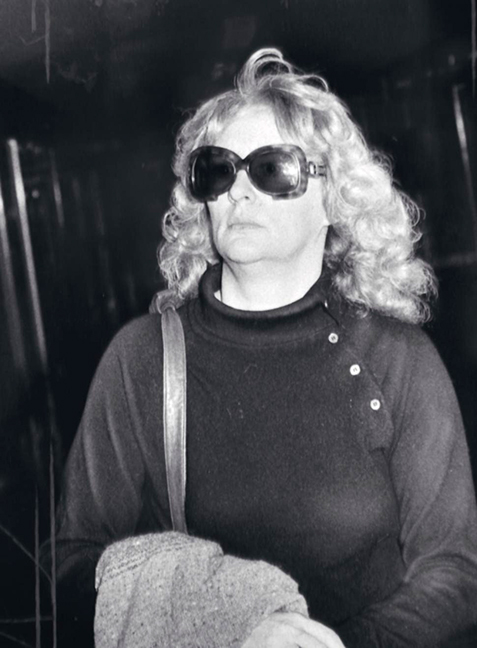 Gail Collins, during the murder trial
To implicate Gail, the prosecutors needed a motive – and fortunately for them, Valerie was available to play into their hands.
Did the police contact you about the case?
Yes. I told them that Felix must have told Gail he was going to leave her because he was in love with me. She killed him in a jealous rage because we had plans to get married.
I was also contacted by the newspapers. They interviewed me.
"Valerie: Felix put our love in a song", New York Post, September 22nd, 1983
One of the last songs written by slain rock star Felix Pappalardi was dedicated to his attractive 27-year-old blonde lover Valerie Merians – the woman prosecutors claimed drove Gail Pappalardi to kill.
It is one of the last enduring relics of a hectic 11-month love affair, she told The Post last night.
In an exclusive interview, the singer-songwriter spoke of Pappalardi and as she did so she fingered two other love tokens – a wedding band engraved "Je t'aime – Felix" and a gold watch engraved "I love you – Felix". The song, recorded in France by popular French-Algerian singer Enrico Marcias, is also called "Je t'aime – I love you."
"Felix wrote the song for me one night in my apartment, playing my piano," Valerie said. "The words were, "Je t'aime, Valerie. He had been worried about a trip to Paris to produce Enrico's album and nervous about whether he would like the material."
"We were very much in love and we had talked of marrying. We talked of getting an apartment together – even of going to Australia together."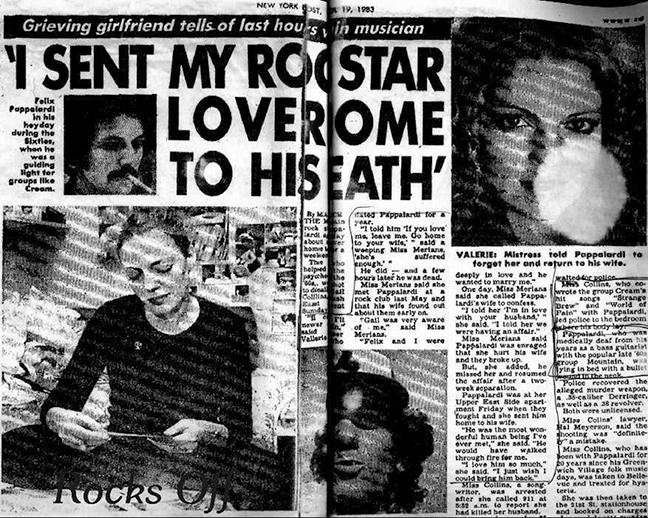 Valerie speaks out, New York Post, 1983
What was the effect of your testimony?
I really wanted to be heard. I was the only one who knew the whole story. I was the only one that Felix confided in so I should have been the star witness. I showed them the gifts he'd given me, the letters and everything.
Instead I was dismissed and ignored.
"Valerie: Felix put our love in a song", New York Post, September 22nd, 1983
Miss Merians, who was slated to appear as a prosecution witness but was never called, was branded a pest, hanger-on, groupie sicko and flake in trial testimony.
What was the outcome of the trial?
Gail basically got off. They'd charged her with second-degree murder, but in the end she was just convicted of 'criminally negligent homicide'. It was disgusting.
'Rock Star's Wife Beats Murder Rap', New York Post, September 22nd 1983
Gail Pappalardi collapsed in her lawyer's arms as she was told she'd been acquitted of murdering her husband. A six-man, six-woman jury bought her story that she shot her husband dead during a bizarre bedside firearms lesson with a loaded derringer. Mrs. Pappalardi came close to being totally exonerated – until a few minutes before the verdicts were handed down, there were four jurors holding out for acquittal on all counts.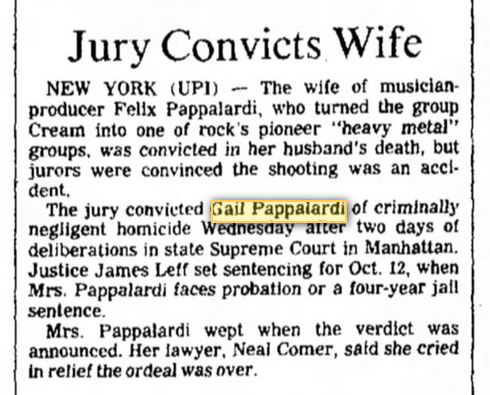 Grace Walters (juror, speaking to the New York Post)
We were very impressed with her. We did believe her story. We felt there was no intent; she did not want him to die.
Do you know what happened to Gail after that?
She was released in 1985, and I heard that she had a boat business that took tourists around Manhattan Island for a while. I was disgusted that she was just carrying on as if nothing happened. Then after a couple of years, she suddenly disappeared and no one knew what happened to her. No one knows where she is. To this day! It's a complete mystery.
'Gail Collins found dead in Mexican village', New York Daily News, February 22nd, 2014
Gail Collins, a lyricist for the bands Cream and Mountain who gained infamy in New York in 1983 when she shot and killed her rock star husband, Felix Pappalardi, has died in the Mexican village where she lived as a recluse, the Daily News has learned.
Friends said Collins, 72, had been undergoing experimental cancer treatments in Ajijic, an expat resort town south of Guadalajara.
"She left instructions for her cats to be euthanized so their ashes could be mixed with hers," said neighbor, Joan Montgomery. "Who does that?"
What was the lasting effect of the trial on you?
I was devastated. He was the love of my life. I had problems with drugs and depression after that.
But I moved back to live in Woodstock, and I finally got myself clean. I've been off narcotics for 22 years since 1986.
How have you been since then?
It's been tough. In 1989, my father suffered a massive brain aneurysm and died. He was only 55.
I've had a number of serious illnesses – including liver failure, and I broke my back last year.
In fact due to health problems, I currently have no teeth – it's a long story – and very little money. But I've found a dentist who will replace them so I'm looking forward to that.
What do you do nowadays?
I'm still living in Woodstock – and guess who my roommate is?! Andrea True. We live together in a two bedroom apartment.
I've found God, and I believe that everything has a purpose so I don't have a problem talking about the old days. I'm also into medical marijuana in a big way.
In fact I'm writing a book about my life. I'm using a speech recognition package because I have difficulty typing.
And I have a daughter who's in her 20s that I'm proud of. She lives nearby.
Has 'Wet Rainbow' ever come back into your life since it first came out?
I don't regret doing it. It was a good film. But the injury I got from it caused me some big health issues that I still suffer from.
I tried contacting the producer years later but I never received a reply.
*
'Duddy Kane' went on to be an active and successful screenwriter writing for every major studio in Hollywood; his credits include Rialto Report favorite (non adult film), 'Escape To Victory' (1981) that was directed by John Huston and starred Sylvester Stallone, Michael Caine… and Pelé.
If anyone has any information about the 'Wet Rainbow' 'follow-up', 'Vampire Lust', you can get in touch with the director through The Rialto Report.
'Valerie Marron' died on October 13th, 2008 at the age of 52 in Woodstock, NY.
'Wet Rainbow' is currently only available on DVD in a poor quality release by Arrow.
*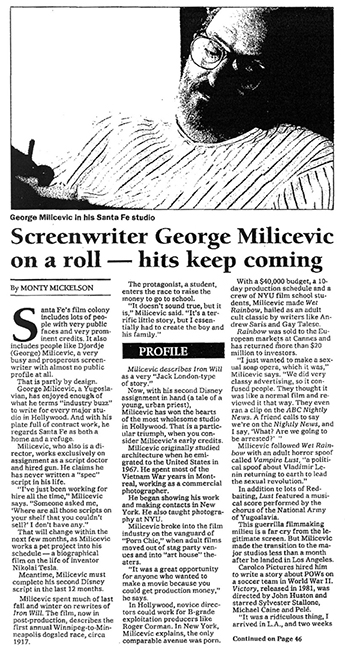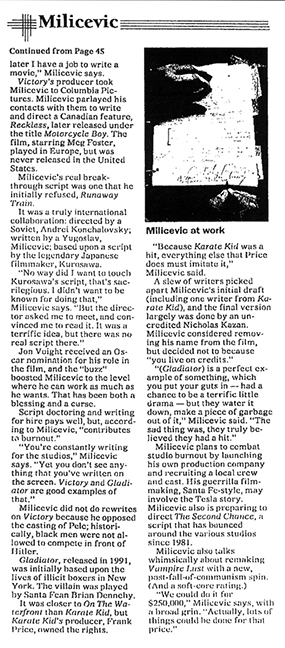 *