Deep Throat (1972) may not have been the best adult film ever made, but it was certainly one of the most important.
After its premiere at the World Theater in New York on June 12, 1972, the film's popularity helped launch a brief period of upper-middle class interest in explicit pornography, referred to by Ralph Blumenthal of The New York Times as 'porno chic' – a phenomenon that was embraced by celebrities including Truman Capote, Jack Nicholson, Johnny Carson, Spiro Agnew, and Frank Sinatra.
The film's title also became a pop culture reference, most notably when Howard Simons, the then-managing editor of The Washington Post, chose 'Deep Throat' as the code name for a well guarded secret Watergate inside informant about the 1972-1974 political scandals that plagued the administration of President Richard M. Nixon, many years later revealed to be assistant FBI director W. Mark Felt.
To assess the impact of Deep Throat, we are re-publishing digitized versions of four books that were published within a couple of years of the film's release:
'Getting Into Deep Throat' – a collection of profiles and court transcriptions from the first Deep Throat trial
'The Deep Throat Papers' – a collection of essays written by notable figures from the time, as well as further court transcripts
'Inside Linda Lovelace' – the first of four books published by the star, this one relating to her life before, during, and after the making of Deep Throat
'Deep Throat – The Novel' – the D.M. Perkins novelization of the movie
However we start with an extract from the unpublished biography of the film's director, Gerard Damiano.
As a final bonus, we've also added a 1974 profile of Gerard Damiano – written by future Fox News anchor, Bill O'Reilly.
Click on the covers below to access the full books. Due to the fact that the books are scanned in high definition, allow time for each book to load. If you are viewing on a phone, view in landscape orientation.
The books are fully searchable; use the icon displayed in each magazine to search by keyword.
Publications are being shared here purely for the purpose of research. They should not to be used or reproduced for any commercial gain.
_______________________________________________________________________________________________
An Extract of the Unpublished Biography of Gerard Damiano
By Gerard Damiano (as told to Peter Bankers)
Introduction (2019):
In 2009, a few months after Gerard Damiano passed away, I contacted Peter Bankers, a New York-based ex-Paramount Pictures executive. He'd enjoyed a long career as a publicist in the mainstream film industry – but I was interested in talking to him because, in 1974, he'd been hired to ghost-write Damiano's autobiography.
By then in his late sixties, Peter invited me to his apartment on East 28th Street in Manhattan, and told me how the book deal had transpired.
Peter was born in Riga, Latvia, in 1944, in the eye of the storm: his family were caught up in the fighting between Germany and Russia in the closing stages of World War 2. They fled their home with baby Peter in their arms, and survived in refugee camps in Czechoslovakia and Austria. After the war, a Latvian living on Long Island, John Bankers, picked out Peter's family at random from a list of displaced persons in Germany, and sponsored their entry into the United States. John Bankers later became Peter's step-father.
Peter didn't speak a word of English when he arrived in New York, and so, as a kid, headed straight for the Brooklyn movie theaters where he could hear the sound of people speaking English. In fifth grade, when he was 10, he fell in love with the actress Mitzi Gaynor, star of 'There's No Business Like Show Business,' and he sent her a fan letter offering to run a fan club for her. Surprisingly she agreed.
And so his life of as a publicist began, and soon he was running multiple fan clubs and information services for stars – including Marlene Dietrich, Joan Crawford, and Barbara Stanwyck, many of whom became personal friends.
After winning a scholarship to Rutgers School of Journalism in the late 1960s, Peter moved to Paramount where he worked as a publicist, and continued to run run a large number of fan clubs. It was while working at Paramount that he was approached to work with Gerard Damiano on a book about the director's life.
Peter met with Damiano on several occasions, and interviewed him at length about Damiano's life – from his upbringing in the Bronx and his time in the United States Navy, followed by stints as a shoeshine boy in Times Square, a cashier in an automat, and his job as an x-ray technician at Jamaica Hospital in Queens. They spoke about how Damiano had opened a hairdressing salon, while dabbling in film by taking odd jobs on sexploitation film sets.
Peter estimated that he had written two thirds of the book, before he abandoned it . In his words, "I couldn't see a major publisher moving in to buy it, and I couldn't afford to keep working on something that I wasn't being paid for. It was disappointing, because it was a spicy story."
I pushed Peter on what records he had kept from that period, and he promised to dig out what he had, but sadly he passed away shortly afterwards in February 2010.
The following extract is an account of the making of 'Deep Throat' from the unpublished work.
*
There were no rules. You only had to keep ahead of the game.
A lot of the bookstores were making their own stag films, so they'd send people around to guys who'd film them. It didn't take much. You'd get these people in front of the camera, and they'd do their thing, and when it was over you'd pay them their money and they'd be gone. You wouldn't even remember them. It got that impersonal: "First you suck him, and then he'll fuck you in the mouth. Here's your $50 . . . and thanks. See you around."
It was late in the afternoon. The snow had kept falling all day. I'd told a few people I was looking to do inserts and if they heard of anybody to send them up to me.
This girl and her guy appeared in my office. Chuck Traynor introduced himself and wife, Linda. They'd just come from Florida or someplace, and they'd heard I was looking for some actors for a loop I was doing.
Chuck Traynor kept talking, but I wasn't listening to him. Next to him stood this beautiful girl, with this incredibly innocent lace, covered with snow.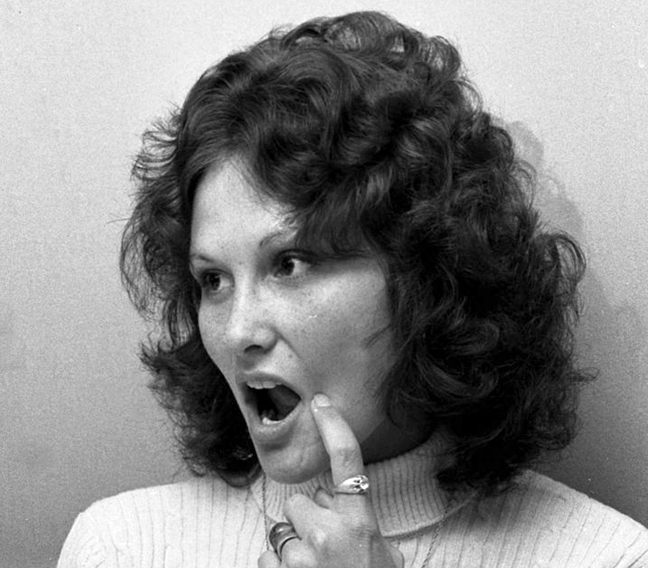 Linda Lovelace
Linda had on this old army Jacket, army boots, dungarees and a wool hat pulled down over her face. She looked like a mess, but when she lifted the wool hat, she had these bright, innocent eyes. I liked her. She was nervous, but so was I. They were nervous about coming up to audition for a fuck film. I was nervous because I was making the fuck film, and trying to be very open and free and matter-of-fact about the whole thing. I guess they were waiting for me to say, "I want you to blow him and lick your tongue up his cock," but I was as uptight about it as they seemed to be. It didn't seem significant as it was happening. It was just another girl walking in with her old man. But she had this quality of innocence, as if she were asking you to like her because that would make her old man happy. I think she needed that hold Chuck Traynor had on her.
I spoke with them. Chuck did all the talking: they'd never been in a film before, they'd just arrived In New York, they would do anything, and they dug everything. It was obvious Chuck was in control. Linda needed him to dominate her.
I figured I would get to know Linda better with Chuck out of the room, since she hadn't said anything with him around. I asked Chuck to leave the room. He did, and Linda immediately began to climb up a wall. She couldn't think of anything to say. She became totally paranoid. I don't know what she expected, but I suppose with Chuck out of the room, she expected me to ask her to take her clothes off and go down on me. She didn't know I was as uptight as she was. So, I asked Chuck to come back into room. When he did, Linda relaxed. I don't think the idea of making an X-rated film was her idea—it was his – but he was in control of her.
I'd already learned that you never get a straight answer from auditioners by asking, "What do you like to do sexually?" They always tell you, "I like to do everything," which is never true. Nobody likes to do everything.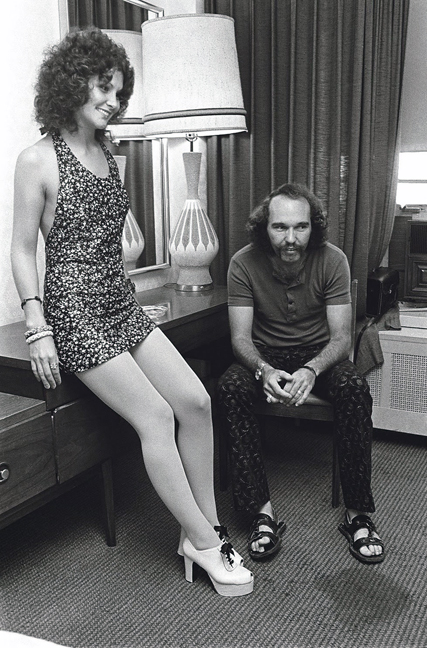 Linda, and Chuck Traynor
We all have our particular hang-ups. It's not important for me to get someone to do something that they don't want to do. Why try to get an actor or an actress into a sexual bag that turns them off? If there's a scene that's about anal balling, it's almost impossible to get them into that if they're turned off by it, but in an interview, they'll tell you. "Sure, I dig anal balling. I dig everything."
I learned I'd get a better film if I asked applicants what they didn't like to do. Most of them were agreeable to telling me what turned them off. They got to understand that I would never put them into a situation that would make them uncomfortable. That's how I approached Linda and Chuck, but it didn't work.
"She'll do anything," Chuck kept assuring me.
No one likes to do everything, I kept saying to myself. "Is there anything you don't like to do?" I asked Linda.
"She likes to do everything." Chuck assured me again. She nodded in agreement. She always nodded in agreement to everything Chuck said.
I liked them. Linda had this innocent face, as If she were a virgin. Chuck's ability to control her fascinated me. It was every man's dream—mine too, I guess—to have a girl who would do whatever you wanted her to do.
"She can take an entire cock," Chuck said in passing. "No matter how big it is."
I'd heard that before: "She can swallow a broomstick. She can take an eel all the way up her cunt. She can take his fist and clamp down on it so hard he can't get it out. She's so tight she can take your finger and make it feel like it's in a vise."
"O.K.," I finally said to Chuck and Linda.
"Come around tomorrow morning at 11:00 and I can use you in the loop."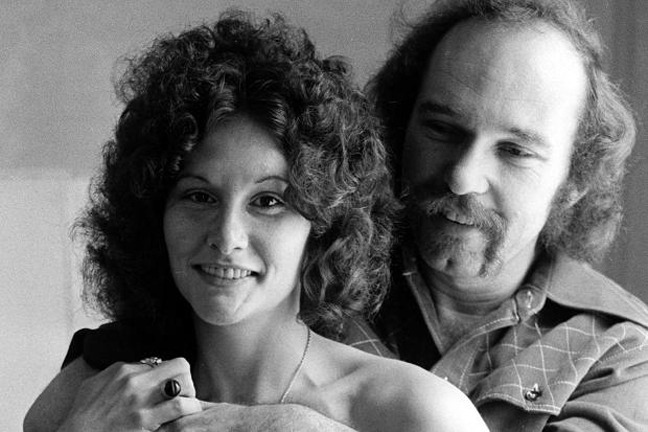 The next day, Thursday, Chuck and Linda arrived on time, I was a little late getting in because it was snowing. We had coffee together and talked about the loop they were going to do with another couple, Rob Everett and his old lady, who were also late because of the snow.
We'd rented somebody' s apartment for the afternoon, and we all went there: my cameraman and me, Chuck, Linda, Rob, and his old lady. Rob and his old lady had worked for me before, so I knew they could get it on. After the camera was set up, I asked them to take their clothes off. Nobody was uptight except Linda. She hesitated so much, Chuck finally had to take her clothes off for her.
With Linda finally undressed, I almost fell to the floor. She had this abdominal scar that ran about 20 inches across the front of her body. She was uptight about it, but I didn't want her to be uptight about it. She's a beautiful girl, and I wanted her to know that.
I didn't want to show her scar on film. She didn't want to show it. I suggested a shot where she sucks Chuck's cock, so you'd see her face, this wonderful open face. Chuck turns out to be Mr. Rubberband. He can't get it up for the camera, no matter how hard Linda tries to get him a hard-on. He's nervous, but a lot of guys who aren't exhibitionists can't keep it hard when you're filming it.
That's why you hire professional actors who've done it before. You can gamble on a girl who hasn't done it before on film because she can fake it, but a guy has to have that hard-on.
I made them switch partners. Rob with Linda, and Chuck with Rob's old lady. Rob was really hung, and he had no trouble getting it right up to 11 inches when Linda started sucking him. In two seconds, she had swallowed the whole thing.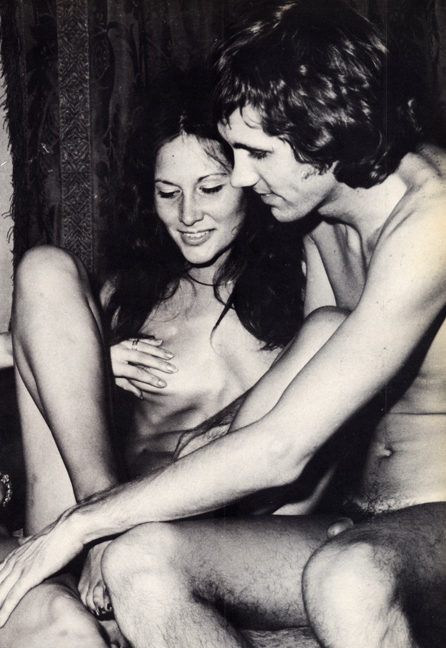 Linda, and Rob (aka Eric Edwards)
I dropped my script, my cameraman's eyes bugged, and we stared at each other.
"What was that?" I asked. It was the most fantastic thing I'd ever seen. Right down her throat.
"Do that again," I said to Linda, and she slurps it right down her throat again.
I filmed for a few minutes, then made the actors stop, I pulled Linda aside. "Hey," I said to her. "Let's forget this. I want to do a film with you, not this shit."
Chuck walked over to us. I handed him the money I'd promised – $50 for the guys, and S75 for the girls.
"We've got something here." I said. I told them to come to my office the next day, Friday, and we'd discuss a full-length film. I'd have a film for them. A real film. This was going to be a whole new adventure, not a fucking sucking loop, but a film that was honest and was funny, and made you feel free about sex.
"Can you act?" was the first thing I asked Linda that Friday.
She shook her head.
"Were you ever in a high school play or something?" I asked her.
She shook her head, "I just like to fuck and suck."
Chuck smiled.
"Do you think you could say some lines?" I pressed.
"I don't know, " Linda said blushing. "I don't think so."
I knew she could. She just had to get over her shyness. "Would you like to try?" I questioned.
Linda nodded. Chuck smiled. "She can do anything, " he said, putting his arm around her. Linda smiled, but she didn't say anything. "I don't know if I can say words," she would tell me later.
But before that conversation, Linda called me. "Yes," she said, as if Chuck had written it down for her to say, "I want to learn how to walk and talk and act." I reconfirmed the appointment to discuss the film. "I'll have a script for you," I assured her.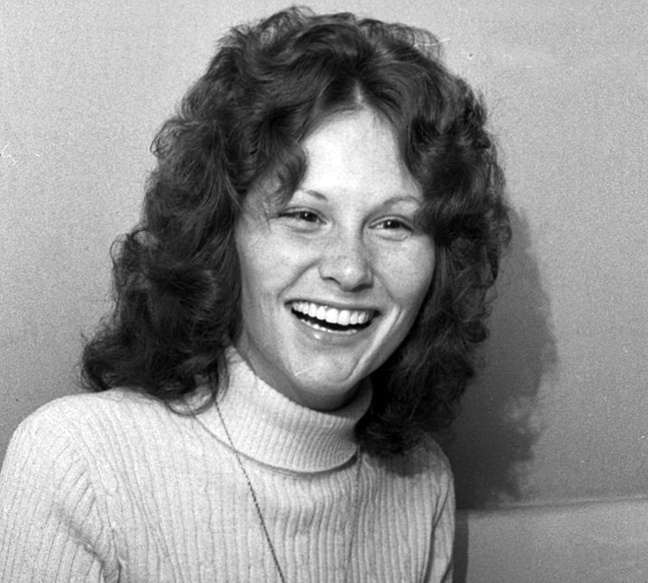 I worked all that week-end on a script.
This girl had floored me. She wasn't just giving head. She wasn't just taking that cum like raw goat's milk down her throat. She was giving deep throat. As I was driving home on the 59th Street Bridge, it all began to shape itself in my mind. This girl who's not getting off getting fucked goes to this doctor who finally figures out that somehow her clitoris has ended up in her throat. That's why she's able to take it all the way down. I wrote the gag lines and dialogue, and I knew it was funny because I busted out laughing as I was writing it. I sensed that something important was happening.
It all seemed to fall into place when some guys I knew came back from Florida after making a film there. It was freezing in New York, and they kept talking about palm trees and wide stretches of beach and sunlight.
They said Florida was a perfect place to film, and if I wanted to go down there they'd put me in touch with people who could help me.
I hadn't taken a vacation in four years. I was freezing my balls off in New York, so I decided to film Deep Throat in Florida.
I needed three weeks to coordinate everything. Linda came to my office every day, and I coached her for the film. I'd get her to recite lines. We talked about acting; we went over her dialogue. She could take a cock, any cock, and swallow it. But when I gave her a line of dialogue, she'd freeze up.
Sucking cock, taking cum, that was natural to her. To talk, to walk from one point to another made her uptight. I had to teach her how to project herself, how to get over her personal hang-ups so that she'd seem relaxed in front of a camera. I had to teach Linda that she was a beautiful person, as I don't think she believed that. She was incredibly shy. I thought she was basically an unhappy girl. I think she was never accepted as a human being, and that was important to her. She didn't talk much about her early life. One day she'd tell me she was from Texas, the next that she was from upstate New York. She was strongly dominated by Chuck Traynor. He had an incredible hold over her, manipulating her as a puppeteer would. But Linda needed that. She needed someone strong to dictate to her.
I had to create psychological games for Linda to play, to get her to open up the beautiful person that was crouching inside of her, struggling to get out. I started by having her read the dialogue from Deep Throat out loud. She kept freezing up. "I'm not an actress." she kept telling me.
"Just be you." I told her.
For a week, nothing seemed to work, I was close to getting my production crew ready for Florida, but I knew Deep Throat could only work if I could get Linda over this mental hurdle. She was like a frightened child when she had to talk to people, and I couldn't have her like that on film. Sure, she could give the deepest throat I'd ever seen, but the sex became incidental. There was humor in the film. The sex was joyous. I couldn't have Linda looking uptight when she was reading dialogue—it would ruin the exuberant spirit of the film.
It was time for a different strategy. "Do you know any poems?" I asked her one day. "Any verses?"
She shook her head.
"Oh, come on, everybody knows a Mother Goose rhyme," I prodded her. "You must know something like that."
Well, it turned out, Linda knew "Mary Had A Little Lamb," so I had her recite it to me, over and over again. I had her recite it for five hours, and this incredible change began to come over her. She started saying it in different ways, like an actress would practice a line in different ways to get it right.
I finally had her walk out into the next room, where a whole crowd of people were working, and recite "Mary Had A Little Lamb." She froze first, but then she got the words out. When a girl walks into a room and starts reciting "Mary Had A Little Lamb," people do a double-take or two. Linda was embarrassed, but the people in the room thought this beautiful girl was goofing on them, putting them on to make them laugh.
A few minutes later I had her go back in the room, and this time I told her to yell out "Mary Had A Little Lamb" as loudly as she could. This time she wasn't as embarrassed, and when the people in the office laughed, she began laughing with them. She was beginning to realize that she could do anything, that people would dig her, that she didn't have to be afraid to open herself up.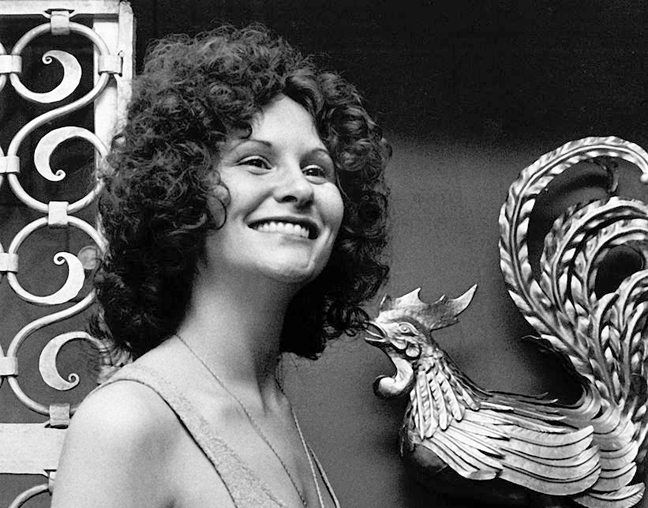 I didn't know Linda's background, but it was pretty easy to see that somewhere along the line people had scared her, so she started shutting herself tighter and tighter inside herself. With sex, she could do anything, but if somebody convinces you all you can really do is give a helluva blow job, where does that leave you as a whole person?
I've had the same problem with performers before and after Linda, "I don't mind fucking," they would tell me, "but I can't do the dialogue." One time I had this actress pretend she was a pussycat. She started purring. Then I told her to rub against the chair while she was purring. I had her get down on her hands and knees, and start meowing as she crawled around. She must have thought I was into something kinky, but she did it.
Later, at a restaurant, I had her go through this whole pussycat routine again.
After a few drinks, I told her to go down on her hands and knees and walk around this crowded restaurant meowing and purring against somebody's foot. "You can do it," I urged her.
She did, and everybody in the restaurant loved it. They must have thought she was on Candid Camera. At that moment all her inhibitions were totally destroyed. What in life could be as embarrassing as crawling through a crowded restaurant going "meow, meow, meow"?
Linda was never promiscuous. People expect that if you've done things on screen, you do them in your private life, too. They think Linda goes around to men's bathrooms, and waits by the urinal to suck them off one after the other. They think the X-rated actress goes to kennels and gets it on with every Great Dane in the place. They don't think of asking for autographs. They want her to give them a blow job.
Linda wanted to be totally free, and yet if Chuck Traynor told her to take a man's balls in her mouth, massage them with her tongue, then slide her tongue up and down his tool, she'd do it. She wasn't supposed to enjoy it; she'd just do it because Chuck said so. If Chuck told her to lick someone's asshole, she'd do it. She'd do anything he told her to do. He had a Svengali hold on her.
No one could really satisfy Linda just sexually. There had to be a mental relationship.
She had to feel controlled, dominated, maybe even degraded.
By the end of three weeks' rehearsal, a new, more confident Linda had emerged.
She was doing the dialogue perfectly. She was still scared, though, about the scar that ran across the front of her body, so I assured her I'd shoot her at such angles that nobody would see it. She felt reassured. This frightened girl was no longer hiding behind this impenetrable wall of silence. She started telling me about this horrible automobile accident where she'd gotten this scar, which marred her face and ran across her lip, too.
It scared her to come that close to death, but to come out of it with these scars was impossible for her to face.
She was this incredibly lonely girl who'd always felt she couldn't communicate with anyone. She'd met and married Chuck Traynor. She needed him because he could manipulate the chains she'd tied around herself. They needed money, so they'd headed to New York, where Chuck figured they could get some by making fuck films. I don't think Linda ever had the strength to object. Chuck was her old man; she belonged to him.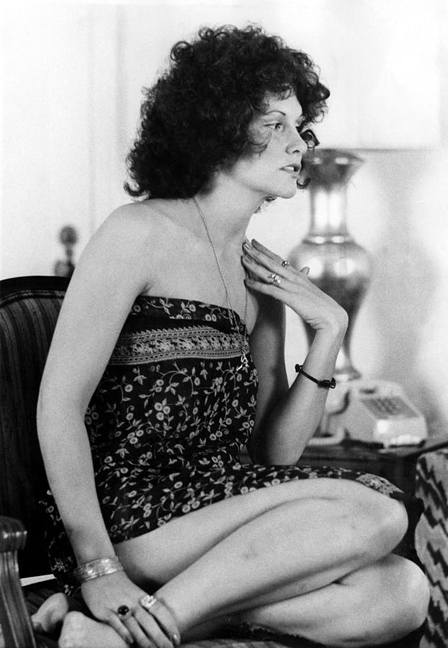 *
I flew down to Florida to look things over.
The palm trees freaked me out. They were fucking everywhere. There was a blizzard in New York and this incredible sunshine was beating down. I sat by the pool at my motel and felt relaxed for the first time in years. My friends had assured me everything would be perfect in Florida. There was a lot of fresh talent, they had a great apartment for me to shoot in, everything was all set up.
I had a budget of $23,000, which was the most I ever had to make a film with. My production crew drove down in a van. Chuck and Linda flew down. I flew in Dolly Sharp, but she'd only come If she could bring her old man. I wrote in the Wilbur Wang part for him. He has this incredible schwantz with a left hook.
I'd been given the keys to an apartment my friend said he owned. We all went on location there the first day. The apartment had everything—a swimming pool, this huge living room, steps leading out to a balcony.
There was an enormous golf course adjoining the building.
We unloaded the cameras and the other equipment and set up by the pool. While I was doing that, I had some production people working on converting one of the rooms into a doctor's office.
We had all the equipment set up when a hyper little man, who kept running a few steps ahead of his cane, ran out screaming into the pool area. "Whatta you doing?" he screamed.
I told him we were shooting a commercial, and that my friend who owned the apartment told us we could use all the facilities.
"Whatta you crazy?" the man screamed, clicking his cane against the side of the pool.
"They haven't paid their rent in months. I'm the owner of this place. Get out!"
I tried to talk to him, but he kept swinging his cane back and forth. He said he was going to call the cops. He said he was going to take our cameras for the back rent. He was going to have us all thrown in jail for trespassing on his property.
I didn't know what the fuck to do. All the pre-production, all the planning, everything was wasted. I had fifteen people down in Florida, I was footing all the bills, and now we didn't have any place to shoot the movie.
I watched all the equipment we'd rented being put back on the truck—the sound equipment, the dollies, the cameras. There was no way to scout new locations this far into the planning of the film. I had the whole crew psyched up with visions of palm trees, I was paying everybody by the day plus per diem, and we had no place to shoot. This little old man completely destroyed me.
But I have a gift for jumping out of disaster.
The first thought that came to my mind, after I'd calmed down a bit, was that I had a scene in Deep Throat using the exterior of a pool. I called the manager of the Cozy Rest Motel, where I had the whole cast and crew staying. The Cozy Rest was a motel so off the beaten track it made you think of Janet Leigh in Psycho. If the owner had six people a year staying there, it was a good year for him. And here I am with fifteen people in my party, so it was like a convention to him. I explained my problem to him, and in two seconds fiat he told me to come back to the hotel and use his pool. We were going to make our film after all!
Linda, and Dolly Sharp, in Deep Throat (1972)
We began the pool sequence with Linda and Dolly Sharp, where Linda Lovelace (I'd made up the name for her a day or two before) confesses she's never felt firecrackers exploding when she made love.
It was terrific.
Then it started to rain. It never rains in Florida, but it's raining now. I had another scene where I have Linda driving into Florida. The wipers are going in the car. It turned out to be a great opening sequence, even when the sun came out and I had to keep the wipers going to maintain continuity in the film.
From there on, we worked with incredible energy. While I'd be shooting at one location, I'd have an assistant off somewhere scouting another location. It was non-stop.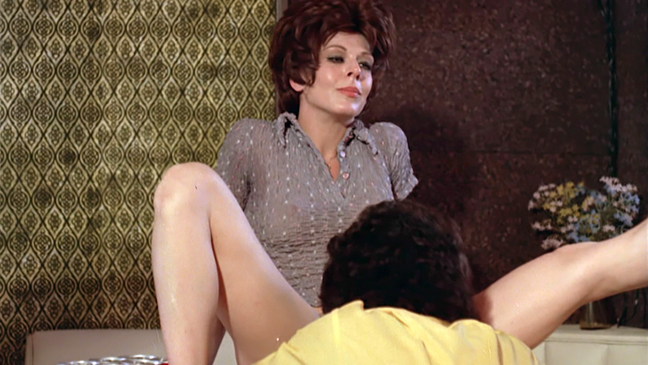 Dolly Sharp, in Deep Throat (1972)
*
One day we happened to meet a real-life Prince who was excited about the film we were making, so he suggested that we could use his house for some interior shots we needed. "I've got this great place," he told us, "and some good dope, so we'll party and we'll smoke and we'll all have a great time."
His house was incredible, it was filled with larger-than-life statues of all these naked women. They were everywhere—in the foyer, by the pool, in the kitchen, in the bathroom – it wasn't hard to know where his head was at.
We spent two days filming at his house, and the whole time he was still waiting to party and smoke some good dope, but all we're doing is working, working, working on the film. After two days he realized no one was looking to get laid, no one was looking to party, and his face was down to the floor after we loaded up all the equipment and left him. All these crazy X-rated people had been running around his house, and he was never even laid.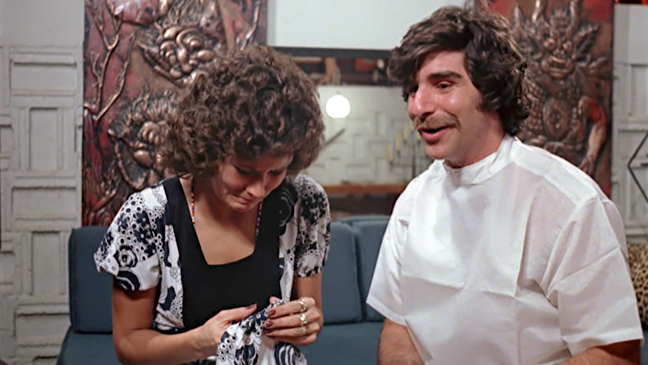 Linda, and Harry Reems, in Deep Throat (1972)
*
I had brought Harry Reems down with me to Florida as a production assistant.
I thought Harry had already been overexposed in X-rated films. He'd been in everything, and he was looking to break out of performing and learn the technical end of the business. I really dug Harry. He's a professional, he's a romantic and he's an exhibitionist. You have to be one if you're going to look good in an X-rated film. Harry knew where his own particular head was, and he could get it up any time you wanted. I hadn't written a part for him in Deep Throat, but I couldn't find anybody in Florida to play the doctor in Deep Throat, and so I finally asked Harry. He loved it. He was completely turned on to Linda. He couldn't wait to ball her.
I wrote the part pretty close to his own personality—he's zany, he's crazy, he gets excited and lumps up and down. Harry's always turned on, and he's got talent.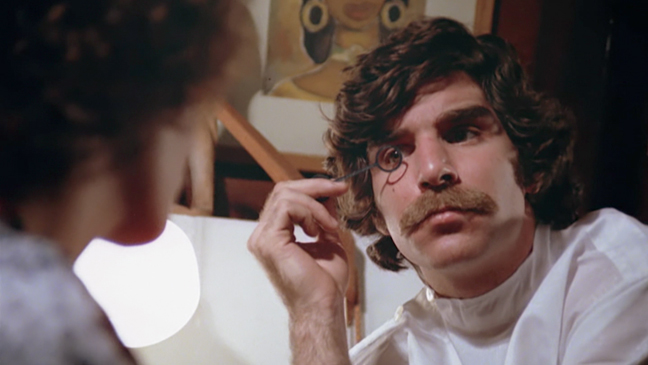 *
The only problem I had was the hold Chuck Traynor had over Linda. She became very uptight when he was around and she had to do a scene. You could sense she got nervous. She had to do whatever he wanted her to do, but she wasn't supposed to get off on it. To get Linda to enjoy it, I had to keep sending Chuck on errands. He was my gaffer on the film, so whenever Linda had a number to do, I'd send Chuck off for a Coke, for a ham sandwich, for a toothpick, whatever I could think of so she could relax and do her number – and enjoy it.
I've read since then that the way Linda learned to suck cock like that was by practicing for years. I've also read where she's supposed to walk around cleaning the house with a non-turned-on vibrator stuck up her vagina so that she learns to control her muscles. That's bullshit. Any woman can do what Linda did. It's not a gift only certain women are born with. It's something that anyone can learn to do if they want to learn.
First, you have to want to do it, because basically taking a cock that deep is uncomfortable. You have to be turned on to it, then it's just a matter of positioning because the curvature of the cock goes up, and you've got to get your mouth where it conforms to that curvature. The 69 position is best because then the bend of the cock conforms to the bend of the throat and then it goes way, way down.
You've got to overcome the tendency to gag when it gets that deep in your throat. The only way to do it is to relax by wanting to do it. If you don't dig it, you'll never be able to do it. It's the same with anal balling. You've got to dig it. It helps if you stimulate the clitoris because that relaxes the anal muscle. From there on, you're on your own.
But there's another problem, which is that Linda can make a man feel inadequate. Al Goldstein did an interview with Linda for Screw where she sucked his cock while he ate her pussy. He was turned off to it completely. He felt he was inadequate because Linda's got this incredible mouth where she absorbs your entire cock. You can get lost in there; it's like a man being attacked by a woman.
A man loses that feeling of dominance, it happened to Al.
*
We filmed for a week, and it was beautiful. It had been funny, it was exciting, and it was bright. I even wrote in a part for myself as the gay who says, "What's a nice joint like you doing in a girl like that?" It was my cameo.
But it was more than a cameo, it was me saying to the world. "Hey, look at me. I'm a person. I want to stand in front of you, because I am a person. Look at me. Accept me."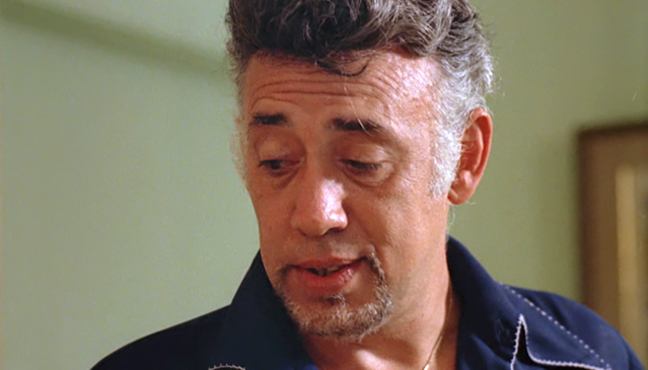 Gerard Damiano in Deep Throat (1972)
That's exactly what Linda was doing, too, and I think she sensed it during the filming. I wanted her to sense what she was doing, because it was what she wanted to do, and it was beautiful. She was saying, "Look at me. I'm a person, accept me, too."
Children are the same way. They are always looking to please. They please their parents by doing things that are creative and different—they sing, they dance, they play the piano for you even when all the chords are wrong, they draw pictures of Mommy and Daddy that make you look like giants.
That was that innocent childish quality in Linda. Whatever I have to do to please you, she was saying. I want you to notice me, and accept me, and see me, and be pleased with me. Linda could suck cock better than anybody in the world, but that was the beauty of it. She held on to her innocence.
Throughout Deep Throat I wanted to make her emerge sexually free, not sexually perverse. She's still the girl-next-door in the film.
And why shouldn't the girl-next-door know how to suck cock?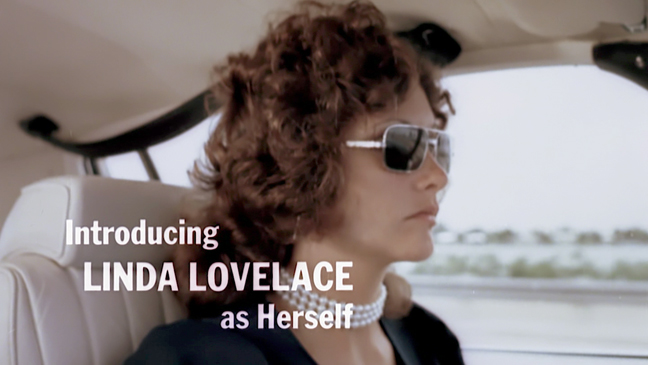 *
'Deep Throat – A Novel' (1975)
by D. M. Perkins
(Click on cover to view full book)
D.M. Perkins was hired to write the novelization of 'Deep Throat' – and he followed this book up with novelizations of other adult films, including 'Deep Throat 2' and 'Defiance'.
*
'The Deep Throat Papers' (1973)
(Click on cover to view full book)
Billed as 'Presenting the Major Sociological Event of the 70s' and featuring 'articles, photos, exclusive interviews with the 'stars' (Linda Lovelace and Carol Connors), courtroom scene expert testimony, and the courtroom decision' 'The Deep Throat Papers' is a collection of artifacts providing
These include:
'Hix Nix Skin Flix' – Pete Hamill
'The Movie That Swallowed Manhattan' – Peter Wolff
'In the Wake of 'Deep Throat – (French) Culture Shock' – Greg Jackson
'Meet Linda Lovelace – Mouthpiece for a Generation' – Diana Helfrecht
'Meet Carol Kyzer – the Necophiliac's Delight' – Bob Chauvin
Transcripts from the trial: The People of New York vs. Mature Enterprises
Judge Tyler's Verdict from The People of New York vs. Mature Enterprises
'The Pro-Linda, Pro-Porn Position – Women's Lib vs. 'Throat' – Sally Tamweber
*
'Getting Into Deep Throat' (1973)
by Richard Smith
(Click on cover to view full book)
'Getting Into Deep Throat' was a book published by Playboy magazine, and featured interviews with 'Deep Throat's' protagonists, as well as 'Sexpert Testimony' transcriptions from the World Theater trial.
These include:
'Linda Lovelace: The Blue-ing of America'
'Al Goldstein: Porn to Raise Hell'
'Gerard Damiano: Through a Glass Dildo'
'Harry Reems: The Actor and The Act'
'The Law: 'Deep Throat' Meets the Long Arm'
'Trial and Eros'
'Sexpert Testimony: Arthur Knight'
'Sexpert Testimony: Ernest Van Den Haag PhD'
'Sexpert Testimony: Max Levin MD'
'Sexpert Testimony: Edward J. Hornick MD'
'Sexpert Testimony: John Money PhD'
'The Decision: One Angry Man'
*
'Inside Linda Lovelace' (1973)
by Linda Lovelace
(Click on cover to view full book)
Linda Lovelace published four books in her name – two when she was embracing her status as a sex star ('Inside Linda Lovelace' (1973) and 'The Intimate Diary of Linda Lovelace' (1974)) and two after her post-porn conversion ('Ordeal' (1980) and 'Out of Bondage' (1986)).
This is the first of that quartet, and a case can be made that it is the most honest and reliable tome – though the bar is admittedly low.
*
'The Devil Behind 'The Devil in Miss Jones" (1974)
by Bill O'Reilly
Future Fox News (w)anchor Bill O'Reilly published his first article for the Boston Phoenix in the April 30, 1974 issue – and the subject was a profile of Gerard Damiano.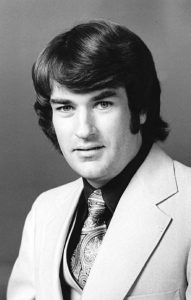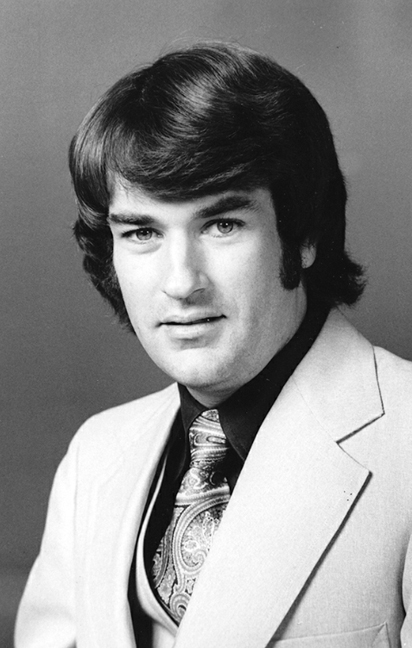 The predominately student crowd which packed every square foot of a Boston University auditorium was growing restless. A grumous haze, caused by the blending of cigarettes and marijuana smoke, hung over the room which was becoming increasingly more claustrophobic with every passing second. Gerard Damiano and the second of his porno-flic films, The Devil In Miss Jones, were already twenty minutes late when a roar went up from the throng. The Samuel Goldwyn of hard-core pornography had arrived. Dressed in a fire-engine red sports coat, checked slacks and platform shoes, Damiano is exactly what you would expect a pornographer to look like. His hair is a neatly coiffed graying pompadour and his lecherous smile seems to be saying: "Candy, little girl?" Accompanying him was his wife, a platinum blond in sunglasses. The image was perfect.
Damiano seized the microphone and, as the house quieted uttered his first words: "I'm very gratified by your friendly reaction and I promise I won't say a single thing about baked beans."
"Is he for real?" a girl up front asked.
Sensing the growing uneasiness of his audience, Damiano brought his heavy artillery. "Well let's show the film now and afterward I'll answer any questions."
The spectators roared their approval and licked their lips in anticipation of the forbidden pleasures to come. Before anyone could say "prurient interests," the lights went out and The Devil in Miss Jones appeared on the screen. The mood of the viewers quickly sobered when the all too realistic suicide scene began. Screams of horror filled the room as Miss Jones methodically ended her life by slashing her wrists in a bathtub. More than one person elected to forego the rest of the proceedings and left by the nearest exit. After 60 minutes the film ended and Gerald Damiano once again stepped to the podium. "Did I leave anything out?" he asked.
If there was ever any question concerning the star of the evening, whether it was the film or the producer, it was answered right then as half the audience ignored Damiano's query and filed noisily out the doors.
Those who remained were treated to the usual banalities and well rehearsed answers concerning censorship, the Supreme Court and so on, that a man in Damiano's position must constantly spew forth. To his credit, however, he did field all the questions and gave some candid answers.
No, he did not think the film was degrading to women. "If anything, I think it degrades men because they are portrayed as just objects used to educate Miss Jones in lustful matters."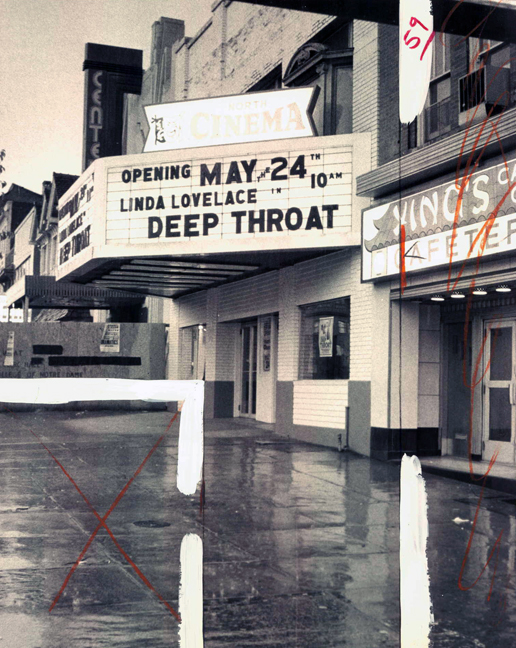 Why did he want to degrade men? "I did it because of what sex films have done to women throughout the years."
What is the atmosphere on the sets of his films? "I'm glad you asked that. The morals behind the scenes of a sex film are much higher than most of the straight pictures. There's a good chance you might have to screw somebody to get in a soap commercial for instance. People don't have to screw to get a part in a screwing film."
What film makers have influenced you? "Well I guess you could say I've been most influenced by Alfred Hitchcock. If Hitchcock made sex films I think he would have handled certain scenes the way I did."
After this answer many people started shifting restlessly in their seats and, shortly afterward, the presentation came to a close. Later, at the Aegean Fare Restaurant in Kenmore Square, Damiano told me more about himself.
A native New Yorker, Damiano started making movies seven years ago at age 38. Before that time he had been an X-ray technician for 12 years and then a hairdresser for eight more. His only film background was a six month course he took in directing and editing at the New York School of Visual Arts."I got into films late in life. I met some people and for three years I learned film working on the nudie cuties. But back in those days the sex wasn't explicit. Most of the pictures I worked on played the porno houses and died in a matter of days, weeks. It was only the attempts at censorship that brought these films their notoriety."
Damiano denies making sex films solely for the money. He claims to have "only" made $200,000 in seven years of film-making. His ninety minute appearance at Boston University netted him a thousand dollars.
"The money has never been upper most in my mind. But I was anxious to make films, to learn, so I went where the market is. Right now the market is in sex films. That's the only kind of films you can make."
Damiano's two famous films Deep Throat and The Devil In Miss Jones were both made for under $25,000 (stars Linda Lovelace and Georgina Spelvin were both paid around $500 for their participation) and have each grossed close to 10 million. Damiano is reluctant to talk about the financial aspect of his business but he does admit to being forced to sell his share of Deep Throat for $15,000. Rumor has it that Damiano and his family were threatened with violence if he did not sell out his share of Throat. Damiano will not directly comment on this saying: "I really don't want to comment on that because nothing can be served by it. The money is gone. Any of the news that came out about it did not come out through me. I really don't want to go into it. It can only be uncomfortable."
"It's a part of the past," his wife adds, "we'd like to leave it there."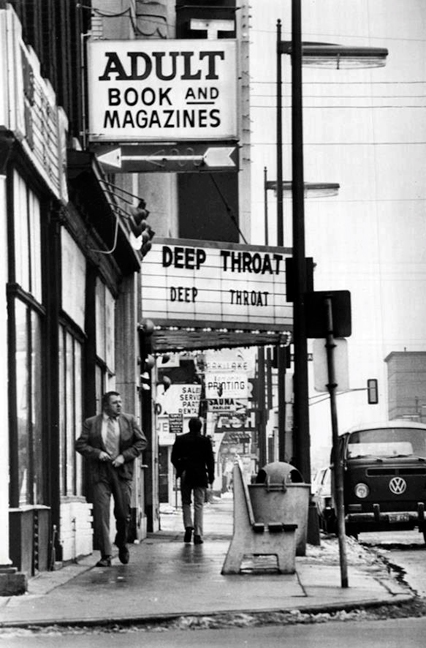 The 5'4″ producer will, however, enthusiastically discuss the actual making of Deep Throat. In an interview with Linda Lovelace last November the performer told me that she was an afterthought for the lead in Deep Throat. Damiano denies this: "I was looking for someone to play a sex role in a picture I made called Changed. Linda was originally supposed to make that film with me but when she came to my office with her boyfriend-husband-trainer, whatever he was, and I saw what she could do on film, I decided not to use her in Changes but to write a film around her. I knew she was completely unique.
"I wrote Throat in a weekend, the script was 14 pages long. Right away the film was a hit at the World Theater in New York. It was grossing about $15,000 a week which is great for of picture of this genre. After three or four months the film started to peter out and then it got busted. This gave the picture notoriety and it became the in thing to see, it became a fad. Busloads of people used to come from all over."
Damiano does not want to have anything more to do with Deep Throat and did not participate in its unsuccessful sequel Deep Throat II. He is also not anxious to work with Linda Lovelace again.
"Linda changed, she became affected by what she was. She demands a very high salary and she can't perform. She never had any talent as an actress. She just had one unique quality of being the most sensually turned on person I have ever met. She had this innocence. No matter what she did she came across as not being dirty. She doesn't have this quality anymore.
"In Deep Throat II she was awful – god awful. Whatever she had the new people who are handling her have no way of bringing it out. I taught her how to walk, how to stand, how to project herself and lose her shyness.
"I thought she might progress when she got rid of her husband, Chuck Traynor, who then went over to manage Marilyn Chambers. That man was a nothing. He had no personality, no charm, no brains. He was just a user of people and he used Linda. He gave her nothing and abused her. He was very brutal with her. She was supposed to do what she did but she wasn't supposed to enjoy it, and if she enjoyed it he beat her up. Many times she'd come on the set and be completely black and blue."
Damiano paused to take a bite out of his sandwich and then related that The Devil In Miss Jones, his most successful picture, was conceived and made a few months after the release of Deep Throat. This time it took him a month to write the screenplay and he is proud that the film received some minor critical acclaim. He also enjoys achieving recognition from show business people: "I heard through the grapevine that many personalities are personal fans of mine and have all my films. Frank Sinatra, Sammy Davis Jr., Hugh Hefner, these people have all my films!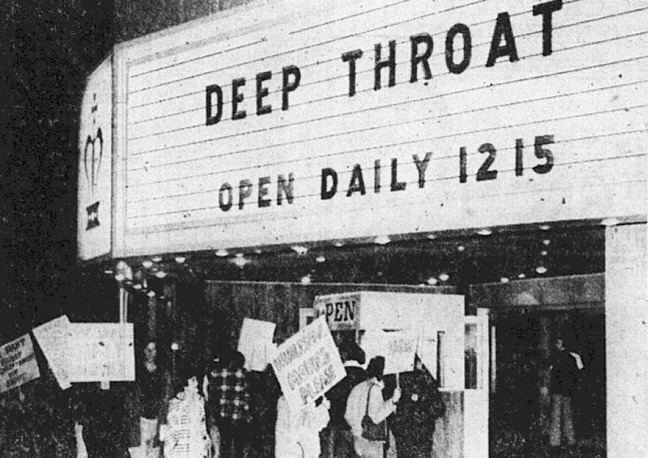 "I was in a restaurant in California recently and a waiter came over and said that if I didn't mind Mr. Cassavettes, John Cassavettes, would love to meet me. And here's a man who I have, throughout the years, admired for his talent; and here he was wanting to meet me.
"The only source that has expressed displeasure with my work has been Jack Valenti of the MPAA. But you have to understand people's motivations. Valenti is completely motivated by his pocket. He cannot condone independent films because he belongs to the system. I laugh at him, I defy him. Hollywood makes a film called Man Of La Mancha for 10 million dollars; it grosses twenty five thousand. I put out Deep Throat for $25,000; it grosses 10 million. I destroy his whole system. I destroy everything he stands for."
After his bad financial experience with Deep Throat Damiano has now developed a system of his own. His company, Pierre Productions, currently has an agreement with distributor Herbert Micklin (who owns 50 porno theaters throughout the country including two in Boston) which allows for rapid distribution of all Damiano's projects. Damiano's new film Memories will open May 1 in New York and then be distributed all over the country.
"Memories is a different kind of film for me. In a ratio it's 20% sex, 80% story. The sex when it's sex, though, is explicit. Judith Crist saw the film and she really liked it."
In the future Gerard Damiano says he plans to stay with the "independent" (sexual) format. He continues in this area despite expressing contempt for the porno industry in general: "The porno business is rampant with dirty little people using and abusing talent. These dirty little people make all the money and the people who express themselves, pour out their life, get very little money.
"In the beginning I used to think that all my performers were the really together people. People that could understand themselves and their own sexuality and people who were open and free to new ideas. But the more I became involved the more I realized that this was all a façade and basically, and I'm not speaking for everyone, but most of them – they're really fucked up. Really fucked up."
The waitress brought the check.
"So you're really the only one who has it all under control?"
To which Gerard Damiano, the high priest of porno-chic, replied: "Right."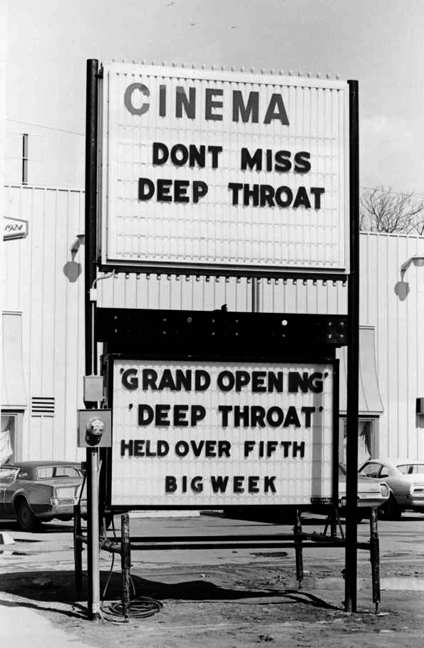 *