In the pre-internet years, Jim Holliday published two books – 'The Top 100 X Rated Films Of All Time' (1982) and 'Only The Best' (1986) – that were among the first to place the golden age of adult film in a historical context.
The Rialto Report looks back at who Jim Holliday was, how the books came to be published, and what they had to say about the industry. We've also included fully digitized versions of both publications.
Click on the covers below to access the full books. Due to the fact that the books are scanned in high definition, allow time for each book to load. If you are viewing on a phone, view in landscape orientation.
The books are fully searchable; use the icon displayed in each magazine to search by keyword.
Publications are being shared here purely for the purpose of research. They should not to be used or reproduced for any commercial gain.
_______________________________________________________________________________________________
In 1982, Jim Holliday published a short, 60-page book titled 'The Top 100 X Rated Films Of All Time'.
It had the subtitle, 'The First Handbook of its Kind', and Jim wasn't far wrong. Let's give this some context: the book came out in the early days of adult films being released on video – and no one had tried an undertaking like it before. There were few archives or exhaustive documentary sources for research, so Jim relied on a trio of collectors and aficionados: there was Bill Margold (then still primarily an actor/agent and occasional writer), Kalton Lahue (a veteran fan of XXX, and talented polymath who had published his own books on architectural photography, the history of Hollywood's silent serials, and electronic transmission systems), and Tim Brown (an assiduous research associate).
Perhaps the most valuable contributor was Sam Stetson (or Dr. S. Eugene Stetson of Arlington, VA as he was known professionally) – who was obsessed with building up filmographies for every performer who'd ever appeared in an adult film. Over the previous decade, Sam built up a manual database of performers, directors, and crew members, using multiple rolodexes of cue cards: it was Iafd.com – over a decade before the invention of the internet.
Sam and Jim had met when Jim was a telephone salesman for Harry Mohney's Wonderful World of Video. Sam called up regularly seeking information about one film or another for his indexing system, and invariably they got to talking and sharing stories about the industry.
Sam Stetson: "My interest was in identifying people. Jim knew the people, but he didn't know what films they were in. There were so many pseudonyms, and identifying women was difficult because a woman could change her hair or make-up, and it would make a radical difference in her appearance.
"I was fascinated with tracking down the actresses I liked. If I was interested in a particular girl, I wanted to get more movies of her. I started sending Jim the cast list of the films I viewed.
"My task to record everyone's appearance was difficult because all my films were on BETA, and the big old BETA machines had no slow motion or still frame. It was a great deal of work to log all the participants, and took thousands of hours of research."
Jim estimated that about 8,000 adult films had been made by the time he started to write his book, and only 2,000 were available on home video. He considered 95% of them to be "predictable dreck."
Jim felt there was a need to highlight the good from the bad: "There was a need for accurate documentation and information about the people and projects that turn so many Americans on."
Holliday was a self-aware, smart maverick. After all, how many books about adult film were dedicated to the American Civil War journalist and veteran, Ambrose Bierce?
Jim had a BSC and MFA in Radio-Television and Communications from Ohio University, and had been a history teacher, football and basketball coach, disc jockey, songwriter and band manager, freelance writer and film reviewer. He claimed to have once spent an entire year hitchhiking: "All my life I had heard people ask me: 'When are you going to live up to your potential' And so I hit upon the idea of being an adult film historian. At least I could try to become the best in the world at something, without having to suck up to or suck off anybody."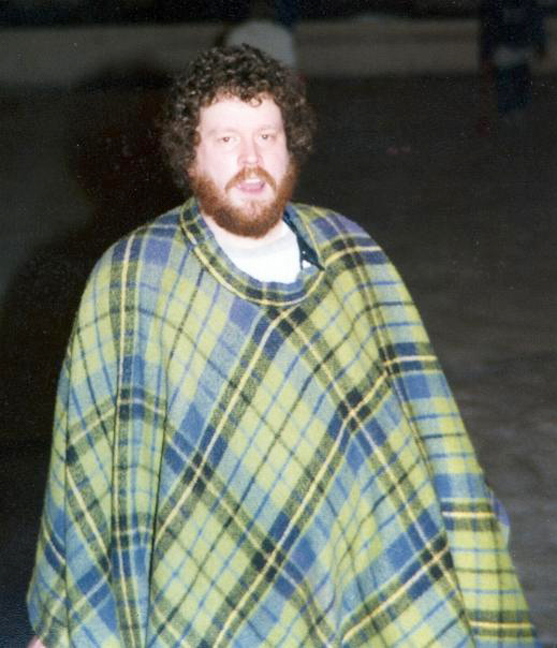 Jim Holliday
Jim felt he was separate from, and superior to, the masturbation industry. He claimed his interest was never motivated by sexual arousal. In fact, he insisted he was never turned on by the films – despite the way he described pornography: "Pornography is defined as written or pictorial matter intended to arouse sexual feelings. The word obscenity is not part of the definition, and the two words are linked only by those who seek to impose their narrow beliefs on the rest of society. The adult film industry has been referred to as the last bastion for free thinking entrepreneurs."
Jim also had a natural skepticism, which he said was the result of having worked as a con man in a carnival – a perfect background from which to judge the adult film infrastructure: "I mistrust most video companies. Inevitably they try to pour shit down your throat… It's all one big game for them to see how much wool they can pull over people's eyes." His mistrust extended to the porn media, which breathlessly recommended every film as being hotter than the hinges of the doors on hell in summertime.
Jim was keen to stress his criteria when selecting films for his book: "The book is called THE TOP 100. It is NOT the hottest, raunchiest or most erotic 100, NOT my personal 100 favorites, NOT the 100 best sellers of all time. NOT even the 100 best films. It is an historical and representative sampling of key films from each of those areas."
(Click on cover to view full book)
Jim's book included entertaining reviews for films arranged in the following order:
1. The All Time Top Ten – which listed the top film, The Opening of Misty Beethoven (1976), and nine in alphabetical order:
Anna Obsessed (1978)
Baby Face (1977)
Candy Stripers (1978)
Devil in Miss Jones (1973)
Ecstasy Girls (1979)
Erotic Adventures of Candy (1978)
Exposed (1980)
Insatiable (1980)
Take Off (1978)
2. A Special Merit Award for the pioneering film that kicked off porno chic, Deep Throat (1972)
3. A Special Merit Category for additional films with particular outstanding achievement:
Alice in Wonderland (1976)
Behind The Green Door (1972)
Charli (1981)
Easy (1978)
Honeypie (1976)
Nightdreams (1981)
The Private Afternoons of Pamela Mann (1974)
Talk Dirty To Me (1980)
4. The best films from the Early Days of Adult Films (up to 1976)
5. The best films from the Golden Age (1977-1979)
6. The best films from The Eighties, an age where every film was released with superior hype, but many failed to live up to their self-imposed billing.
7. Annotated Additions — which included lists of Best Sellers, Sleepers, Foreign Films, and All-Male Films
The book had a limited run, but was lapped up by the industry and its fans. It even appeared in the OJ Simpson TV movie, Cocaine and Blue Eyes (1983) in a scene where Simpson ends up in an adult bookstore.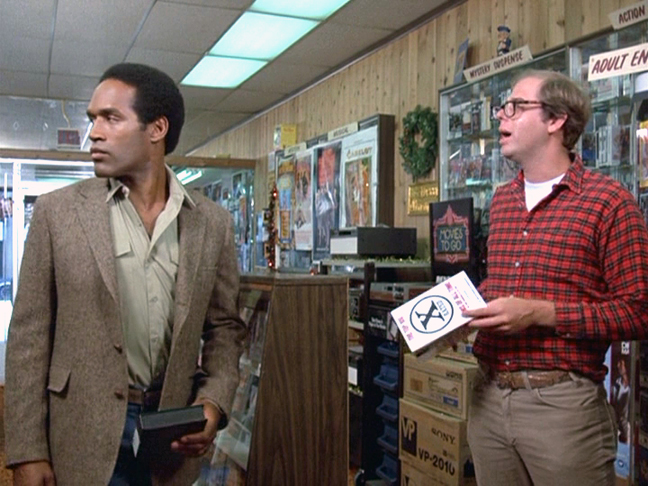 *
Four years after the publication of 'The Top 100 X Rated Films Of All Time', Jim Holliday wanted to expand on the original book. He was inspired by the huge success of 'The Book of Lists' which had been a bestseller in the 1970s, with its random lists featuring obscure topics, such as famous people who died during sexual intercourse, the world's worst places to hitchhike, and people who had been misquoted by Ronald Reagan.
Jim suggested a follow-up to Sidney Niekerk, the head of the adult film production house, Cal-Vista. Sidney had loved the previous book, and agreed to publish whatever Jim came up with – sight unseen.
Once again Jim leaned heavily on Sam Stetson. Sam recalled: "I did most of the background research on the films. I compiled all the lists because I had access to my collection of video cassettes – which was bigger than Jim's. Jim did the writing and the final selection of the best movies. We did it all by telephone because we were on different coasts."
'Only The Best' was published in 1986, featuring a forward by Jim's brother-in-porn, Bill Margold.
(Click on cover to view full book)
The book started with a year-by-year review of the modern-day adult film industry, starting in 1970. Each year had a selection of notable films that were listed in the following descending order of importance: 'Superlative', 'Superior', 'Sleepers', 'Significant', and 'Footnotes'.
(To illustrate his rating system, Jim inadvertently betrayed that his critical faculties did not extend to music: "Consider male Rock singers whose last names begin with the letter S. The Significant category would include Rod Stewart, and Del Shannon would be regarded as a Sleeper. Bob Seger would be rated Superlative by most astute rock observers and Bruce would be Superior. Ouch.)
Jim defined the golden age as strictly being the films made in the late 1970s, and he was dismissive of the primitive efforts before then, or the superficial product after. In his words: "Prior to 1974, only 17 films hold up enough to merit inclusion. A dozen films come from 1974 and the number jumps to 19 in 1975, the beginning of the golden age. 1976 (25) and 1977 (17) build to 1978 (28 films and the best year overall for erotic sex films.) 1979 dipped to 18, but 1980 and 1981 have 21 and 26 respectively. The number of great films dropped after 1981, and many of the inclusions of the later years are placed in 1985-86, so do not think it was a typography oversight. Making devastating judgements is not part of my normal game plan, but the best sex films were made between 1975 and 1981 (with a few select exceptions) and anyone who think differently is a know-nothing fool."
Above all, Jim never stopped repeating what he defined his cardinal rule: "A sex film should never lose sight of the fact that it is a sex film. The primary purpose is arousal, not entertainment. Plot, production, acting and entertainment values are wonderful additions, but not as important as constantly erotic sex."
In the middle of the book Jim insisted on having several pages of photographs of performers – as usual divided up into his idiosyncratic groupings. He had:
–       Class Acts (Marilyn Chambers, Annette Haven, Kay Parker, Veronica Hart, Colleen Brennan, Cris Cassidy, Sharon Kane, Jesie St. James, Kimberly Carson, and Georgina Spelvin (though the picture of the latter is of someone else)
–       Fan Favorites (Seka, Candy Samples, Shauna Grant, Loni Sanders, and Desiree Cousteau)
–       Legends and Lullabies (?) (John Leslie and Jackie O'Neil, Serena and Joey Silvera, Eric Edwards and Joanna Storm, John Holmes, Bill Margold and Taija Rae, and Terri Hall)
–       Prime Time Princesses (Constance Money, Gayle Sterling, Desiree West, Dorothy LeMay, and Janey Robbins)
–       Unsung Sirens (Suzannah French, Diana Holt, Clair Dia, Lynx Canon, Angela Haze, and Rose Linda Kimball)
–       Guaranteed Heat (Laurie Smith, Arcadia Lake and Lysa Thatcher, Danielle and Joanna Storm, Jeannie Dalton, Nina Hartley, and Valerie Darlyn)
–       Video Vixens (Ginger Lynn, Amber Lynn, Bunny Bleu, Shanna McCullough, Bionca and Stacey Donovan, and Cara Lott, Karen Summer and Angel)
As for the lists that Sam Stetson produced, they included:
–       A comprehensive listing of the awards given out by the different awards organizations over the years
–       Individual critics Top 25 lists – together with a consolidated 'composite consensus' of the overall Top 25 films
–       Best shot-on-video listing
–       A sexploitation film timeline
–       The best stags and loops
–       The top All Male films
–       Best songs featured in adult films
–       Best soundtracks in adult films
–       The 111 Most Memorable Sex Scenes of All Time
–       The Hottest Shot on Video Sex Scenes
–       The Most Memorable Missing Moments (scenes that were frequently cut from films)
–       Pseudonyms used, and how to spell and pronounce your favorite adult films star names
–       The Longest Adult Films
–       The Longest Serving Stars
'Only The Best' sold well, and became accepted as a bible of pre-internet information about the golden age of adult films. Cal Vista capitalized on its success by releasing a series of videos, hosted by Jim, containing clips of the great films with added commentary by Jim himself.
*
After the publication of 'Only The Best', Jim began directing his own adult films in the late 1980s, when he worked with a group of female performers known as the Pink Ladies – Jeanna Fine, Porsche Lynn, Angel Kelly, Sharon Kane, Nina Hartley – who wanted to produce a movie and ultimately form a performer's union. When the budget left no room to hire a director, Jim stepped in.
Over the next 15 years, Jim directed over 70 videos.
Jim passed away in December 2004, due to complications brought on by Type II Diabetes complications.
Bill Margold organized a memorial for his old friend at the Empire Room in the Sportsmen's Lodge Hotel in Studio City in January 2005, saying "Jim Holliday has forgotten more about porn film history than any pretender will ever know."
Perhaps author Susie Bright put it best when she said, "Jim Holliday wrote about porn the way Pauline Kael wrote about Hollywood and Lester Bangs wrote about rock and roll. He opened up the criticism to a different dimension… He had the extraordinary notion, when hardly anyone else did, that porn was cinematic history and legendary moments in the making.
"I can't begin to tell you how opposite Holliday and I were in almost every aspect of politics. But we shared a bond because of mutual respect for cinematic sexual charisma, and how that magic happens or doesn't happen, on any given occasion. He could write with such style and character, like our world was the only one that mattered.
"I miss his spirit nowadays, and the whole era that nurtured it."
*