We continue our review of the history of east coast publication Cheri, looking at the magazine's second year in business: 1977. (You can read about the first year of Cheri here.)

These issues include articles and photo spreads with Jody Maxwell, Jamie Gillis and Terri Hall, Jenny Baxter, Phil Prince, Elda Stiletto, Sharon Mitchell, C.J. Laing, Gerard Damiano, Cherry Bomb, Alexandria, Veri Knotty, Liz Renay, and many more.
Fully digitized copies of each magazine can be found in the article below. You can find The Rialto Report's growing collection of digitized resources by choosing Library in our site menu. 
Click on the covers below to access the full magazines. Due to the fact that the magazines are scanned in high definition, allow time for each page to load. If you are viewing on a phone, view in landscape orientation.
Magazines are fully searchable; use the icon displayed in each magazine to search by keyword.
Publications are being shared here purely for the purpose of research. They should not to be used or reproduced for any commercial gain.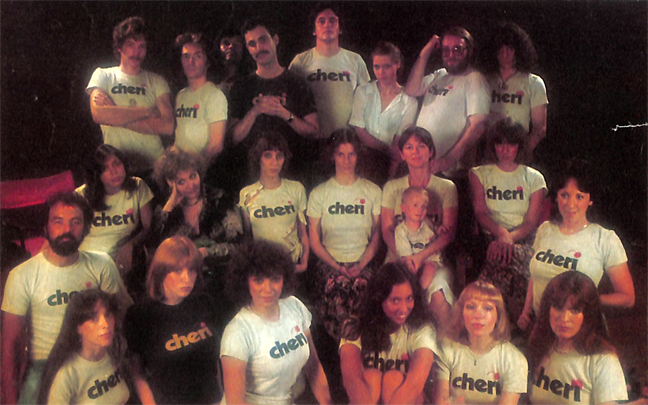 The 1977 Cheri team, including Peter Wolff, Annie Sprinkle, Jody Maxwell, Kim Pope, Fanne Foxe, Andrea Ambers, Cherry Bomb, C.B. Lucci and others

_______________________________________________________________________________________________
Cheri: The Complete 1977 Issues
January 1977 (Vol 1, No. 6)
(click on cover to view full magazine)

Contents:
– Phil Prince and his wife Terri: The King and Queen of Love Sex
– $1,000 'Blow Job Contest' launch
– Columns by Kim Pope, Jody Maxwell, and others
– Annie Sprinkle's Guide to Body Rubbers
– A Complete Guide to Fist Fucking
– Adult film reviews, pictorials, and much more…
Cheri's first issue of 1977 continued the magazine's unique vision created by chief editor Peter Wolff. Wolff differed from porn publisher magnates like Hugh Hefner and Bob Guccione in that he had little time for the fantasy world of beautiful people. He was fascinated by the sexual interests of common men – and their wives. He wanted to democratize content and involve his readers directly in the magazines he produced.
But the year also started a bizarre trend in the magazine – one that was to re-surface frequently over ensuing months – namely a jokey, light-hearted treatment of racism. Even allowing for our more enlightened thinking nowadays, it is jarring to see how Cheri traded in racist tropes. Peter Wolff frequently added a disclaimer to these pieces, and expressed solidarity with those who suffered from prejudice, but to a modern palate it leaves an uncomfortable taste.
Take Peter Wolff's editorial in this first issue for example, in which he defended Earl Butz, a Republican politician and Secretary of Agriculture from 1971 to 1976. Butz had been asked by singer Pat Boone why the party of Lincoln was not able to attract more black voters. Butz responded: "I'll tell you what the coloreds want. It's three things: first, a tight pussy; second, loose shoes; and third, a warm place to shit." As a result, Butz resigned his cabinet post on October 4, 1976.
Wolff's editorial in Cheri admitted that Butz was a "scumbag of the first order," but countered that, "Shit, that's the way Americans talk. He was shit-canned because he said in public what many Americans say and feel in private. We would do ourselves a much better service to topple the sophisticated tricksters whose careful language, regal bearing, and manipulation of information masks the real obscenity."
Moving on…
Perhaps the most intriguing feature of the issue is an interview/pictorial with future adult director Phil Prince and his then-wife, Terri. At the time of the interview, the couple were live sex performers, and they give insight into the lives of a 'Love Team' ("we make $850 to $900 a week and we're booked for the next six months straight.") Terri was murdered shortly after the interview – and Phil's story was told in full by The Rialto Report.
Two reader guides are offered in the issue: first, Annie Sprinkle provides a consumer guide to choosing the best massage parlor ("I will give you pointers so you'll feel like a million dollars, not like you lost a million dollars…"). Then there's Bob Amsel, a sometime writer for Screw and, at the time, president of The New York Mattachine Society, one of the first gay lib groups, who pens an article about fisting ("one needn't wait for a decree from the Surgeon General to deduce that fist-fucking may be hazardous to one's health. The Top must never lose control. There's nothing wrong with being high, but people who liked to be fucked-up-beyond-recognition should make funeral arrangements first.")
Among run-of-the-mill pictorials is a more interesting portfolio by photographer Robin Schwartz, described as "probably the most active portraitist of pussy in America." Years later, Robin abandoned nude pictures in favor of animals portraits – a field she became a 2016 Guggenheim Fellow in. Her pictures are in the collections of the Metropolitan Museum of Art, the Museum of Modern Art, the Smithsonian American Art Museum, among others. She is currently a Professor of Photography at William Paterson University of New Jersey.
The issue also features a report from the Miss '76 All-Bare America contest (which featured adult film star and High Society 'publisher' Bree Anthony/Sue Richards as a judge), and the adult film reviews include The Affairs of Janice, The Trouble with Young Stuff, Baby Rosemary, and Little Orphan Sammy.
The regular column slots are filled by articles written by adult film actors Jody Maxwell and Kim Pope, stripper Honeysuckle Divine, 'southwestern representative' Elizabeth Dean, 'swinging scene researchers' – couple Scott and Suzanne Murray and Audrey Andrews, and S&M aficionados Terry Kolb and Mistress Roseanne.
This issue also introduced a new Managing Editor – someone who would play a significant role in Cheri over the next few years. Andrea Ambers was a 21 year old aspiring journalist who perfectly fit Peter Wolff's magazine vision. She was an attractive, curious, and fearless reporter who threw herself into the daily life of the magazine, covering any topic, anywhere in the country. She was destined to go far with Cheri.
____________________________________________________________
February 1977 (Vol 1, No. 7)
(click on cover to view full magazine)

Contents:
– Pictorial of Mary Mendum
– Interview and pictures with Jeanne Silver
– Interview and pictures with punk rock pioneer Elda Stiletto
– Results of the first annual blow job contest
– Interview with a punk groupie
– Adult film reviews, pictorials, and much more…
Adult film fans will admire the cover photo and extended pictorial of actor Mary Mendum, referred to as Rebecca Brooke. By the time the magazine was published, Mendum's film career, which had included starring appearances in Radley Metzger's The Image and Joe Sarno's Abigail Lesley Is Back in Town (1975) and Laura's Toys (1976) was over, though she still modeled sporadically for a year after this.
As if Mary Mendum isn't enough, the inside cover displays Jeanne Silver who is also interviewed and featured in a pictorial and centerfold. She describes running away from her native Arizona, and hooking on the streets of New York. She is also in a Cheri subscription advertisement.
Jeanne is joined in her photospread by "porn actress turned erotic rocker", Elda Stiletto – who also appears in an article of her own. Elda's pop art band, the Stilettos, were considered 'punk' before the word became the genre's official moniker. The band featured Debbie Harry and Chris Stein, who went on to form Blondie. Elda speaks about her relationship with Warhol star Eric Emerson, who had fathered her child and had just passed away at the time. (Elda herself passed away in August 2018.)
In accordance with Peter Wolff's mission to create an audience participation magazine, the issue contains a write-your-own-movie contest and a competition whose prize was to spend a night with adult performer Kim Pope. The annual blow job competition (judged by Gloria Leonard, Jody Maxwell and Kim Pope – with a $1,000 prize) is also announced. This first time was won by Julie Benson, "a pudgy, vivacious, sword-swallowing mother of four" from Norfolk, Virginia.
Other features include a report from Rod Swenson's live sex / burlesque show in Times Square featuring stripper Monica Kennedy, an account of 'Greenwich Village Follies' which starred Marlene Willoughby's sister, and adult film reviews including The Double Exposure of Holly, Call Me Angel, Sex Wish, and Captain Lust.
Adult film actor Steve Tucker/Ashley Moore appears as an added bonus in an advert for Pillow Talk magazine (page 89).
____________________________________________________________
March 1977 (Vol 1, No. 8)
(click on cover to view full magazine)

Contents:
– Fanne Foxe roving sex reporter
– Harry Reems defense fund report
– A Date with Kim Pope competition result
– Times Sqaure peepshows
– Rod Swenson's Show World sex show
– Adult film reviews, pictorials, and much more…
March saw the first appearance of Fanne Foxe as a roving sex reporter (her then-recent role in the scandal that brought down a senior politician was detailed by The Rialto Report). Fanne's job at Cheri was to travel around the country and send back sex reports from different cities – replete with photos of herself in various states of undress.
In the world of adult films, the hot news at the time was the prosecution of Harry Reems for "national conspiracy to transport obscene materials interstate." His case attracted a good deal of attention from mainstream actors – including Warren Beatty, Eli Wallach and Dick Cavett – who arranged events to raise money for his defense fund. Cheri reported back from one of the events, and added a tear-out donation slip for readers who wanted to give to the worthy cause.
The main pictorial features the winners of the write-to-Kim-Pope-and-tell-her-why-you-should-have-sex-with-her competition – shown in action with the subject of their obsession, the one-and-only Kim Pope.
Various journalistic reports raise the tone of the issue, including a detailed account of the various perversities on offer at Times Square peepshows ("Porn's Farthest-Out Frontier – Whatever movies, magazines, or stage shows are doing, the peep parlors are always a year ahead. This year it is animals, kids, blood, and bisexuality.") It is strange and sobering to think of these topics being considered (im)moral equivalents today.
Another article is by guest-writer Rod Swenson who describes his Show World sex show extravaganza featuring Monica Kennedy ("the most incredible burlesque act in America.")
After Jeanne Silver's appearance the previous month, Peter Wolff gave her a job as a regular columnist and her first piece appears here – though today, Jeanne remembers that it was Peter himself who penned most of the columns for her. Adult film reviews including Sweet Cakes, Odyssey, and 'Sex Crazed'.
Finally the issue includes a short article about a downtown New York sex club that catered to Wall Street bankers. This article would supposedly be sourced by vice cops two months later to bust the establishment. The police action is reported in the August issue of the magazine.
____________________________________________________________
April 1977 (Vol 1, No. 9)
(click on cover to view full magazine)

Contents:
– C.J. Laing interview and photo feature
– Sharon Mitchell on the set of Joy
– Fanne Foxe interview
– Cherry Bomb pictorial and centerspread
– Adult film reviews, pictorials, and much more…
The April issue is perhaps most notable for the photo feature on cult adult film star C.J. Laing – entitled 'CJ the BJ at Home.' The photographer was Cheri regular Carl Kravats, and the feature is peppered with quotes from the 'alabaster acrobat' herself, including details of a new deal she had just signed with the Mitchell Brothers to appear in their Ultra Room in San Francisco.
Also of relevance to the adult film scene is an article about the new Sharon Mitchell film Joy, referred to here as 'Sex Crazy.'
Fanne Foxe, unveiled the previous month as a roving sex reporter, submitted to an interview in which she talks about the political scandal which made her famous, her sexual appetites, and her vision for her new job at Cheri: "I am going to be opening closet doors all over the country, and pulling the covers off who, what, where, why, and how the American Sexual Revolution has brought us to shedding our guilt and clothes in the newly found expression of our sexuality."
This issue saw the debut of Cherry Bomb (or 'The Incredible Cherry Baum' as she is billed) – a prodigiously endowed stunner who would be a regular model/journalist in the pages of Cheri over ensuing years. She was unveiled as the magazine's 'rock journalist' – a task that she took to heart. She later married Jon Mikl Thor, better known as Thor, a bodybuilding champion and front man for the heavy metal band Thor, where he billed himself as 'The Legendary Rock Warrior'. Cherry features in an extensive pictorial, donning a black wig, which she would soon discard to reveal her fire red locks.
Unlike High Society, which had a constantly revolving door for its staff members, Cheri thrived on consistency. Andrea Ambers was promoted to the role of Associate Editor, and henceforth became an even more visible presence than Peter Wolff. She penned the introduction to each issue from this point forward.
Adult film reviews in the issue include Blonde Velvet, The Porn Brokers, and Mary! Mary!
____________________________________________________________
May 1977 (Vol 1, No. 10)
(click on cover to view full magazine)

Contents:
– Alexandria photo spread and interview
– The Clammy adult film awards
– Auditioning for a Gerard Damiano film
– Cherry Bomb makes her first adult film loops
– Fanne Foxe visits Miami
– Adult film reviews, pictorials, and much more…
The May 1977 cover dons Rialto Report favorite, Alexandria, the notably flexible star of many New York adult films. The accompanying interview describes her life on the edge of the New York music scene with her musician boyfriend.
For the first time, Cheri awards a series of adult film accolades ('The Clammys') that focused on a unique set of criteria: apart from Best Actress (the British performer Heather Deeley) and Best Actor (Jamie Gillis), there was a gong for Best Golden Shower Actress (Annie Sprinkle), and even Best Rape Victim (Sarah Nicholson).
Suzanne Feele wrote a humorous piece about auditioning for a Gerard Damiano film, destined to be his follow-up to Let My Puppets Come.
Cherry Bomb's first 'Rock World' column featured Helen Wheels, the 5'1″ 100 pound doyenne of the NYC punk subculture. Wheels fronted her own Helen Wheels Band, and later went on to write a handful of Blue Oyster Cult songs, such as 'Tattoo Vampire' and 'Sinful Love'. She cut a striking figure: "She wears crotch-tight black leather pants, which set off her rainbow wrist tattoo, which in turn is set off by the elegant coils of her magnificent five foot red-tailed boa constrictor." And for the reader who couldn't get enough Cherry Bomb, she is also featured in a photo spread shot when she filmed her first two 8mm loops. (Ads for both loops are found in the issue too.)
Fanne Foxe's first dispatch came from Miami where she visited local swinger's clubs, health spas, sex shops, adult film theaters, and nudist camps.
A bizarre boxing themed nude photo spread depicts the daughter of Rocky getting beaten in the ring… she was called 'Cocky.' Sigh.
____________________________________________________________
June 1977 (Vol 1, No. 11)
(click on cover to view full magazine)

Contents:
– 'The Sexual Outlaw' – new book extract by John Rechy
– Consumer review of lubes
– Adult film reviews, pictorials, and much more…
The centerpiece of the June issue is a sneak preview of John Rechy's new non-fiction book 'The Sexual Outlaw' (Grove Press, 1977). Rechy is an American novelist who wrote extensively about gay culture in Los Angeles, and is among the pioneers of modern LGBTQ literature.
At the other end of the spectrum, a highly detailed consumer review of lubes is provided – thoughtfully differentiated by substance use (take your pick between 'hand job', 'blow job,' 'cunt fucking,' 'ass fucking,' and 'fist fucking'.)
Pictorials feature some of Cheri's own correspondents, including Renee Rousseau, Michelle Craven, and Michelle Lake.
Adult film reviews include Odyssey, A Portrait of Seduction, Diversions, and Autobiography of a Flea.
____________________________________________________________
July 1977 (Vol 1, No. 12)
(click on cover to view full magazine)

Contents:
– Annie Sprinkle's field guide to orgasms
– Cherry Bomb interviews Neon Leon
– Fannie Foxe visits Chicago
– Columns by Jody Maxwell, Kim Pope and others
– Adult film reviews, pictorials, and much more…
This month's contribution to race relations (see the January 1977 issue description for more on this topic) was 'Froots' – a pictorial satire on the journey of African Americans from slavery to modern day pimpdom. Viewed through today's eyes it's an offensive head-scratcher (read about the 'Bongo with the Longo Schongo' who lived 'across the ocean near the Ghana Ria'). Editor-in-Chief Peter Wolff dedicated his entire editorial to ensuring the readers that it was just harmless fun ("we hope that you enjoy it in the spirit that it is intended – I wouldn't feel right about doing this spoof if we didn't indicate our solidarity with the disenfranchised, the abused, and the culturally-enfettered") but it is nevertheless a difficult read today.
Shere Hite's 'The Hite Report: A Nationwide Study on Female Sexuality' had only just been published, so Annie Sprinkle jumped into the fray and contributed an anthropological field report in which she canvassed readers about their favorite orgasm. In among regular New Yorkers, she also captured the opinions of Marc 'Mr 10 1/2' Stevens, Gerard Damiano, and Helen Madigan. (No prize for guessing Helen's favorite tryst was in a construction site toilet with Jamie Gillis.)
Cherry Bomb's rock music column features an interview with black glam/punk legend (and close friend of adult film star Sharon Mitchell) Neon Leon. Fanne Foxe's tour of the country moved onto Chicago, where she took Cherry Bomb and assistant editor Andrea Ambers with her to visit various sex-related parlors and emporiums. Michelle Lake contributes a guide to fluffing on the set of an adult film.
Adult film reviews include The Porn Brokers, Heat Wave, Captain Lust, and Babyface.
____________________________________________________________
August 1977 (Vol 2, No. 1)
(click on cover to view full magazine)

Contents:
– One Year Anniversary special
– Jamie Gillis and Terri Hall
– Veri Knotty pictorial
– Second Annual $1,000 Blow Job Contest
– Annie Sprinkle and the joys of fisting
– Honeysuckle Divine's bust
Remarkably, given the number of controversies and articles generated, the August issue of Cheri marked only the first year anniversary of the magazine. A good portion of the issue is dedicated to reliving highlights from the previous year, such as Jamie Gillis and Terri Hall's photo spread from Terri's S&M dungeon, and a pictorial with the genitally-malleable Veri Knotty.
The issue is also notable for the fact that it listed a new publisher – Andrea Ambers, the 21 year old who had been introduced as Managing Editor in January. (The erstwhile head honcho, Peter Wolff, was now merely listed on the masthead as 'Editor.' Also promoted was a new figure on the scene, Carmine Bellucci – a.k.a. C.B. Lucci – a 30 year old well-dressed charmer who was still learning the ropes, but who would play an out-sized role in the magazine's future.)
The main feature was about the 'Second Annual $1,000 Blow Job Contest' (or the 'World Series of Cocksucking') – and showed the finalists demonstrating their prowess. (Relax, they used chocolate dildos.)
Regular reporter Annie Sprinkle weighs in with an interview and photos about the joys of fisting. Fanne Foxe was given a month off from her travels and allowed to recreate scenes from U.S. cities in the comfort of a New York photo studio.
Other articles include a guide to breast bondage (ouch…), and a first hand account of Honeysuckle Divine's bust for "open lewdness and criminal conspiracy." Pictures are available for those who wonder what a stripper can do with a bottle of Jergens.
____________________________________________________________
September 1977 (Vol 2, No. 2)
(click on cover to view full magazine)

Contents:
– Cheri's Amateur Stag Movie Contest
– Anita Bryant, and the Battle of Miami
– Punk band The Dictators
– America's only nudist apartment complex
– Adult film reviews, pictorials, and much more…
Earlier in the year, Cheri magazine published an article about a downtown New York sex club that catered to Wall Street bankers. The September issue reported that vice cops had used that earlier article to bust the establishment. Cheri claimed it was an innocent party in the whole affair, arguing that it had never disclosed the address of the brothel – but the NYPD confirmed that Cheri had been instrumental in alerting them to the sex club.
The winner of Cheri's Amateur Stag Movie Contest is announced. The task set for readers was to write a script for a 12 minute 8mm sex film – to feature Annie Sprinkle and to be shot by Cheri publisher, Andrea Ambers. The lucky winner? A plant manager from Janesville, Wisconsin, appropriately named Brian Loveland. Photos of the ensuing loop are also included in the issue.
On a perhaps more substantive topic, there's a feature on the two people who stood against each other in 'The Battle of Miami', Anita Bryant and Bob Kunst. Bryant, a Christian pop singer, had became an outspoken opponent of gay rights in the US. In 1977, she ran a 'Save Our Children' campaign in Florida to repeal a local Dade County ordinance that prohibited discrimination on the basis of sexual orientation. Her involvement with the campaign was condemned by Kunst and other gay rights activists who, assisted by many other prominent figures in music, film and television, retaliated by boycotting the orange juice brand she promoted. It's a story showcasing the culture wars that featured in the 1970s, with Bob Kunst emerging as the liberal voice of reason. (Postscript: Bob Kunst supported Donald Trump in the 2016 presidential election.)
Cherry Bomb's 'Rock World' column features an interview with proto-punk New York band, The Dictators. There's also a feature on America's only nudist apartment complex, located in Austin, Texas.
Adult film reviews included Eruption, Bel Ami, Desires Within Young Girls, and Cherry Hustlers.
____________________________________________________________
October 1977 (Vol 2, No. 3)
(click on cover to view full magazine)

Contents:
– Alexandria in action
– Cherry Bomb meets Led Zeppelin
– A guide to breastfeeding
– Adult film reviews, pictorials, and much more…
Adult film star Alexandria makes a welcome return to the pages of Cheri with an S&M pictorial, this time with her musician boyfriend.
Other articles include Cherry Bomb writing about meeting Led Zeppelin after their Madison Square garden gig, a report on breastfeeding, and an interview with a Fort Lauderdale dominatrix.
Regular column slots were filled by articles supposedly written by adult film actors Jody Maxwell and Kim Pope, stripper Honeysuckle Divine, 'southwestern representative' Elizabeth Dean, 'swinging scene researchers' – couple Scott and Suzanne Murray and Audrey Andrews, and S&M aficionados Terry Kolb and Mistress Roseanne.
Adult film reviews include Inside Jennifer Welles, A Coming of Angels, Visions, and The Violation of Claudia.
____________________________________________________________
November 1977 (Vol 2, No. 4)
(click on cover to view full magazine)

Contents:
– Box Ball (1977) in action
– Miss Nude World report
– Liz Renay interviewed on set of John Waters' film Desperate Living
– Nicola, a 77 year old cheesecake model from the 1930s
– Adult film reviews, pictorials, and much more…
In 1977, Distribpix made a short film entitled Box Ball, an unusual effort made to showcase the 'talents' of a Connecticut couple into… er, male genital twisting. Just in case you missed it, Richard Milner was on hand to describe the making of the film with head honchos Arthur Morowitz and Howie Farber, and provide a selection of toe-curling photos of the couple doing their thing. Not for the squeamish.
There is a report from 'Naked City', a nudist colony in Roselawn, Indiana. The location was owned by Dick Drost, the paraplegic promoter of Mr. and Miss Nude Teeny Bopper Universe Pageants," and proprietor of other nudist colonies. The occasion was Miss Nude World and Mr Nude Trucker. Andrea Ambers, Peter Wolff, and C.B. Lucci flew out to take part in the weekend festivities, and were joined by celebrities like Rip Torn. The winner of the Miss Nude World crown is interviewed and photographed.
The pictures show crowds of happy revelers – at odds with the fate of Drost who was later charged with procuring a minor by false inducement for lewd acts, exhibiting pornography to a minor, false imprisonment, contributing to the delinquency of a minor, immoral conduct in the presence of a minor, procurement by fraudulent inducement for prostitution, pandering and two counts of child endangerment.
Moving on…
There's an interview with Nicola, a 77 year old cheesecake model from the 1930s. The piece is accompanied by a new – and explicit – photo spread of the former model.
Cheri interviewed Liz Renay on the set of John Waters' film 'Desperate Living' (1977) ("I'm not a lesbian," she murmured reflectively, "but then, I'm not a murderess either.")
They don't come more original than musician Sweet Pie, and this issue features a report from a performance of the world's only nudist boogie-woogie pianist. Sweet Pie was raising awareness (and funds) for his defense against the state of Vermont, whose Liquor Authority had been taking away licenses from any venues where he appeared.
Also included is a report from one of the social highlights of the year, the Midwest Sexual Lifestyles Convention.
____________________________________________________________
December 1977 (Vol 2, No. 5)
(click on cover to view full magazine)

Contents:
– The adult film made by the NYPD
– Iris De La Cruz reports on street prostitution in New York
– Chinese aphrodisiacs
– Fanne Foxe in New Orleans
– Adult film reviews, pictorials, and much more…
1977's final issue of Cheri gave Andrea Ambers the chance to take stock of the year for the magazine – a year that had seen its popularity increase in the world of top-shelf publications. She wrote: "1977 was a helluva year. Cheri blossomed from a snot-nosed punk to a real powerhouse in the men's magazine field. Hundreds of thousands of you left the bullshit pretty-girl mags and came to live with us."
This issue reports on the case of the NYPD cops who had been making their own pornographic film – unbeknown to their superiors – in a vain attempt to infiltrate the mob operating in Times Square. You can read more about the story in on The Rialto Report.
Iris De La Cruz is announced as a new columnist, writing about street prostitution in New York – a topic she knew well as she'd been a hooker for the previous decade. Iris went on to become a leading AIDS activist in the 1980s. She died of AIDS in 1991 but her name lives on with 'Iris House' an organization that saves lives through comprehensive support for women, families, and under served populations affected by HIV/AIDS.
Jody Maxwell reported from the set of her first loop – together with requisite photos (you could buy the loop exclusively from Cheri – together with a couple of volumes of Maxwell singing Yuletide favorites "while sucking on cock!").
Cherry Bomb hangs out with Starz, a New Jersey heavy metal and power pop band who were supporting Bob Seger.
Fanne Foxe's monthly trip was to New Orleans, and as usual she headed there with Andrea Ambers, C.B. Lucci, and photographer Peter Hurd to report from the various sex clubs and brothels on Bourbon Street.
One of the more interesting photo spreads came courtesy of Ed Seeman (also known as adult filmmaker Eduardo Cemano). The model was actress Jenny Baxter.
This issue's borderline racist article was about the aphrodisiac qualities of Chinese food: 'How to keep an Election… and other Oriental Lemedies').
Adult film reviews included Barbara Broadcast, Big Thumbs, Virgin Dreams, and Sylvia.
*