The Rialto Report was sad to hear of the recent closure of Le Beverley, the last surviving porn cinema in Paris. The theater had been entertaining customers with erotic films since 1960.
The owner, Maurice Laroche, took the decision as a result of declining ticket sales ("we're lucky if we sell 600 tickets a week now, a far cry from thirty years ago when had almost 2,000 visitors in a good week.")
Le Beverley was one of over 20 adult cinemas in Paris in the late 1970s (there were over 110 in the rest of France), but has struggled in recent years with the proliferation of movies available on streaming platforms.
A friend of ours, Jane de Deus, was one of the last visitors to the theater before its closure was announced, and she recorded her thoughts of the dying days of a Parisian institution.
_______________________________________________________________________________________________
Off a main drag in the second arrondissement of Paris, tucked away from the clean, above-board hustle and bustle of the Grands Boulevards glows the pink sign of Le Beverley porn theater. For how much longer, only Maurice Laroche, the director of the cinema, knows.
Rumors of the cinema's closing have been around for a while, as taxes increase and ticket sales decline. So it was with a feeling of great fortune that I followed my friend Kollberg down the quiet alley and up a couple of steps to the cinema while it was operating.
Perched behind plexiglass with a twinkle in his eye sat Maurice, the decades-long owner of Le Beverley, diligently selling tickets, Kleenex, and small plastic cups of coffee. As we chatted in the light of a sunny November afternoon about the history of the place, its struggles and heyday and the people who, though fewer in number, continue to attend screenings, I felt a longing for the quickly fading world of X theaters, which I'd heard so much about, yet found so few of left by the time I was old enough to frequent them.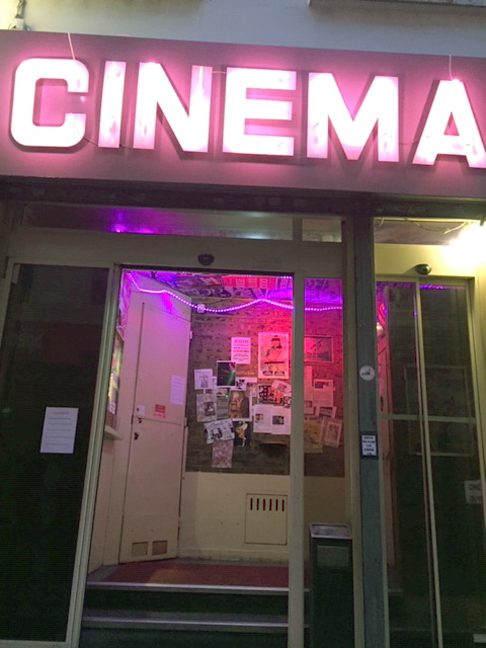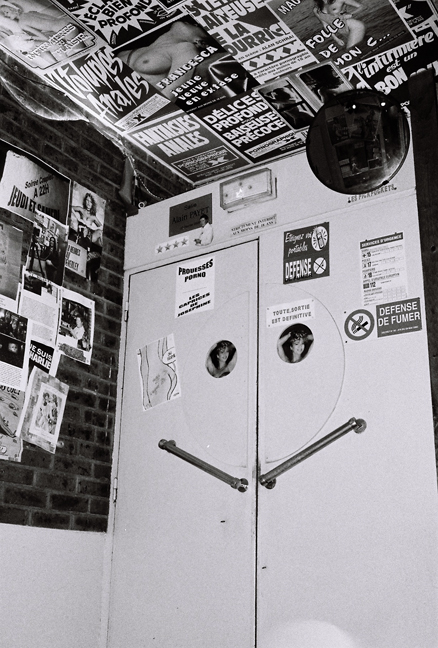 Patrons shuffled up the steps every few minutes or so to greet Maurice before passing through the red doors of the screening room. Observing their reverence, I got the sense that this was as much a church of projected light as the many non-porn cinemas I've sought sanctuary in over the years. The rituals were the same: getting dressed, making one's way out into the world to a specific place, and exchanging kind words or nods with the regulars. Even the offering of €12 alms to support the congregation was devotional in a way.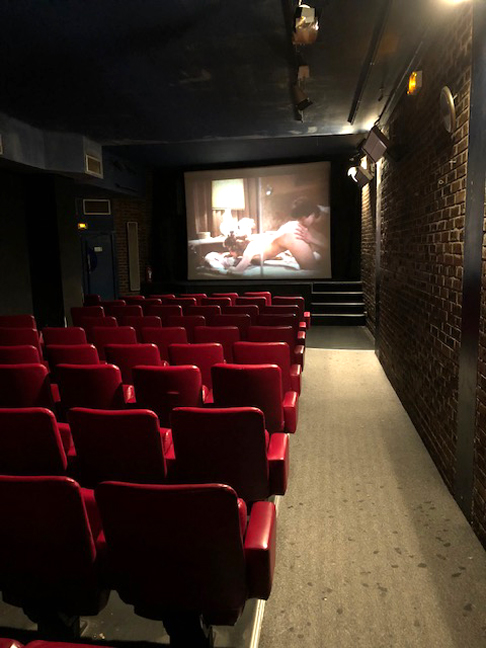 The complementary feelings of electricity and comfort that come from sitting silently (mostly…) in a darkened space with people who are drawn to the same things are as delicious as they are reassuring. For a few minutes or hours (the films screen continuously at Le Beverley) one is transported to another realm, higher or lower depending on your interpretation, dirty minds emerging purified by holy water. Solitary viewings at home, on phones, without other warm, breathing bodies nearby and without ceremony, seem so lackluster in comparison.
I wanted to record a few details about Maurice's experience, the cinema's past, its lingering last days, and those that will be left out in the cold once the doors shut for good. Maurice was kindly obliging.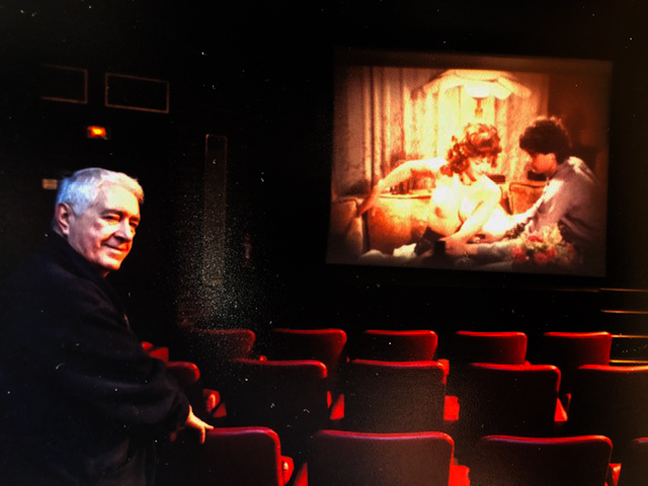 The small cinema entrance between the ticket counter and screening salon is plastered wall to ceiling with film posters featuring Beverley favorites, newspaper articles, and snapshots of various performances taken over the years on the small stage in front of the screen. The understated cinema has been compared to a Gentlemen's Club for its naughty but nonetheless unspoken standards of decorum. There are twice-weekly couples' nights where people read erotic poetry they have written, and playful performances in yellow vests, and not much else – the same vests that went on to become the uniform of choice for mass protests that erupted across France in the weeks following my visit.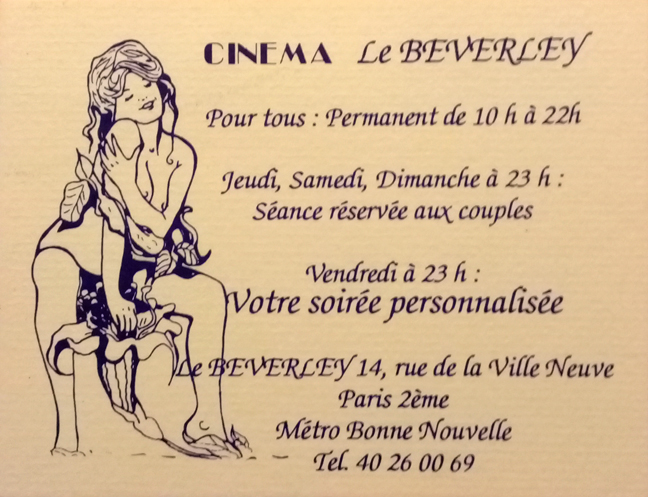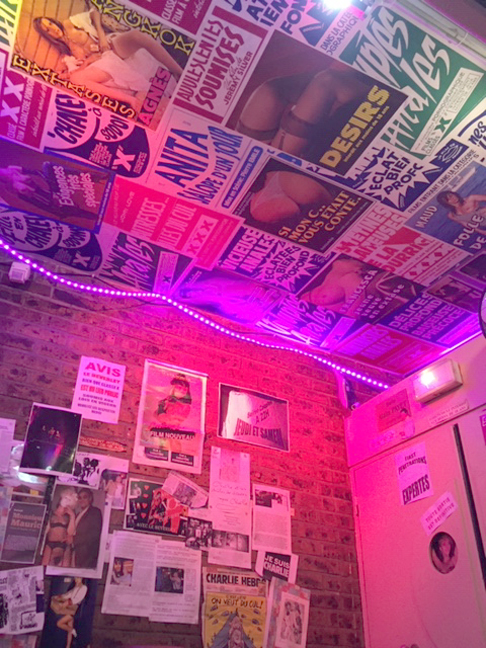 In the middle of our conversation, Maurice excused himself, then returned a couple of minutes later to offer us two strips of celluloid from the cinema's archive. When we held them up to the light, Kollberg and I could see multiple frames of an elegantly dressed couple talking to another man, with the mysterious subtitle "Después de la gimnasia?" ("After the gym?"). I couldn't imagine a better relic to remember the cinema by.
Connected to the ticket counter is the projection booth – we're talking operational 35-mm projection as well as video. The cinema owns around 200 35-mm feature films, mostly from the 1970s through the 1990s, and every other week it alternates screening them with more recent films on DVD.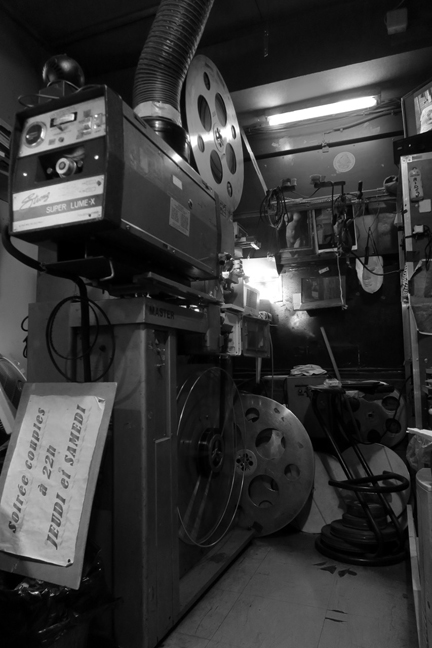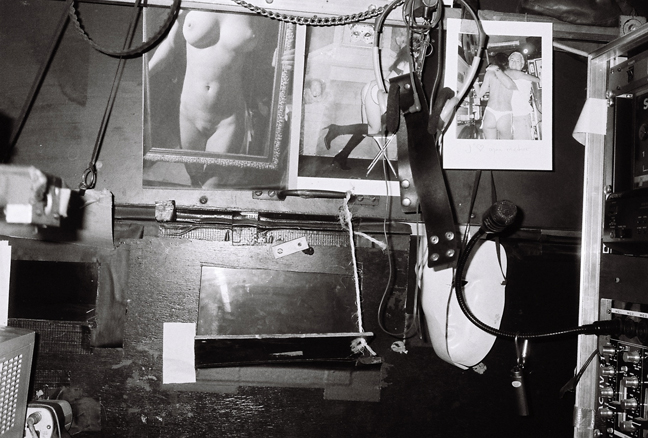 The room was covered with more newspaper clippings, close-ups of body parts, feather boas, and people having a ball, as well as two TV monitors – one showing what's on the screen and the other for the projectionist (Maurice) to catch up on news and other shows while keeping an eye on the reel. On the floor was a pair of black men's slip-on shoes, and on the ledge sat a basic espresso machine. We hung out back there for a while talking — moans and occasional dialogue from the film filling the small space — with Maurice popping out from time to time to greet the men who came to purchase a ticket.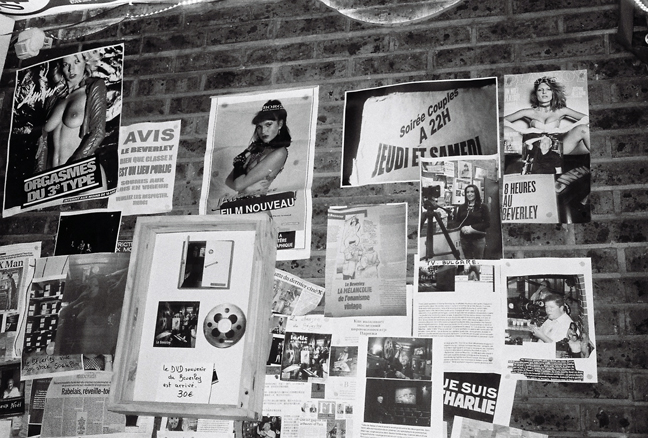 Occasionally, someone would request a coffee along with a ticket and stand in the sun with a cigarette before heading in to catch the film. There was something so casual and appealing about that combo – coffee, cigarette, sun, dirty film – I wished I could have waved a wand to preserve the moment.
Attached to the center wall of the entrance was a lovingly crafted Le Beverley memorial – a miniature model of the cinema, complete with a 2-inch wooden Maurice selling tickets. A longtime regular had made it in honor of the soon-to-be closed refuge. The screening room itself is fairly small, with 90 red vinyl seats, and it is cleaned by Maurice, with dust, trash, and the occasional piece of lingerie swept up on a daily basis.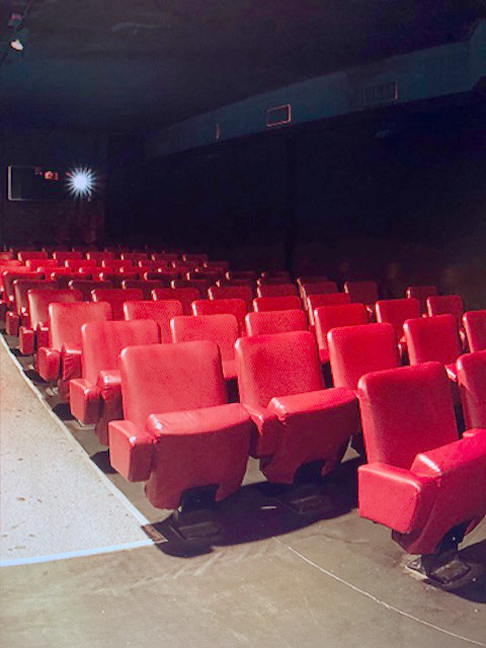 So how did Maurice Laroche get involved in Le Beverley? He answered a job posting in a newspaper in 1983 and ended up buying the cinema 10 years later. He is a man who loves musical comedies, and the first time he saw a pornographic film was on his first day of work at Le Beverely, at age 40. The name of the cinema used to be the Bikini which started showing adult films in 1975. Le Beverley is very much an X cinema that privileges a certain era of adult films. Almost without exception, the films screened are French productions made before the late 1990s. His personal favorites are the films of Brigitte Lahaie, who has gone on to write books and now hosts a popular call-in show on Radio Sud, where she shares advice on love and sex. Other favorites are Élodie Chérie and Katsuni.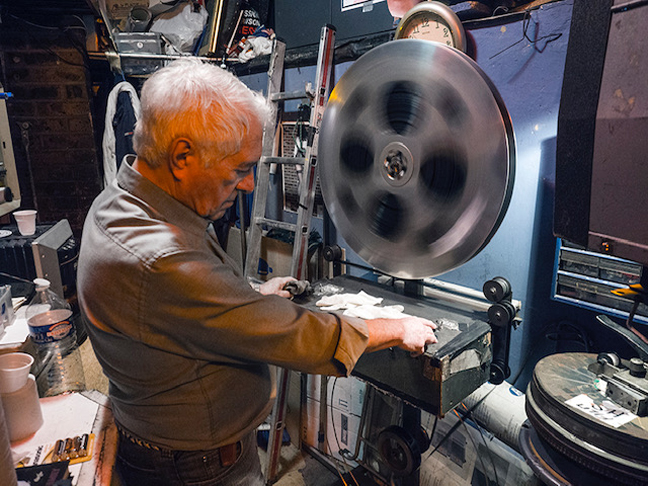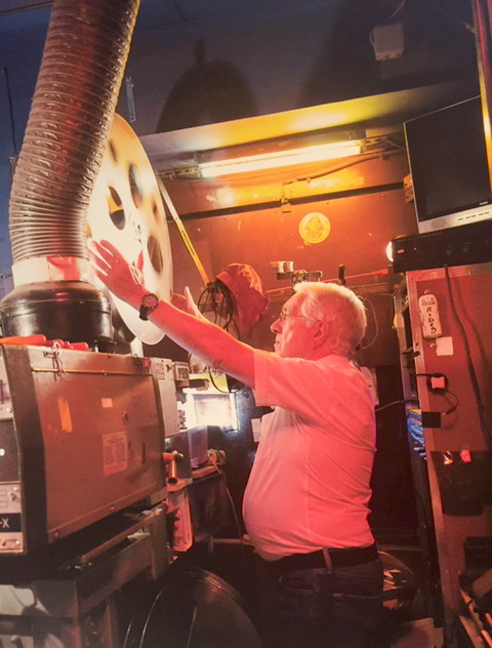 When I asked Maurice about the films and porn actresses of today, he responded with a phrase that translates roughly as, "They don't have an odor" ("Elles n'ont pas d'odeur"). We discussed how natural bodies that aren't over-waxed, that jiggle and sweat, allow one to get closer to the character and their experience than the odorless plastic dolls of today. He quietly lamented the demise of mise-en-scène, music, and storyline in contemporary porn, with the exception of films by AVN award-winner Marc Dorcel.
Le Beverley's film program is far from straight-laced, but it does have lines that it won't cross, including sadomasochism and anything involving the very young. When I asked what Maurice thought about people who criticize pornography, he said he sensed frustration, hypocrisy, and jealousy in those who assume things about it.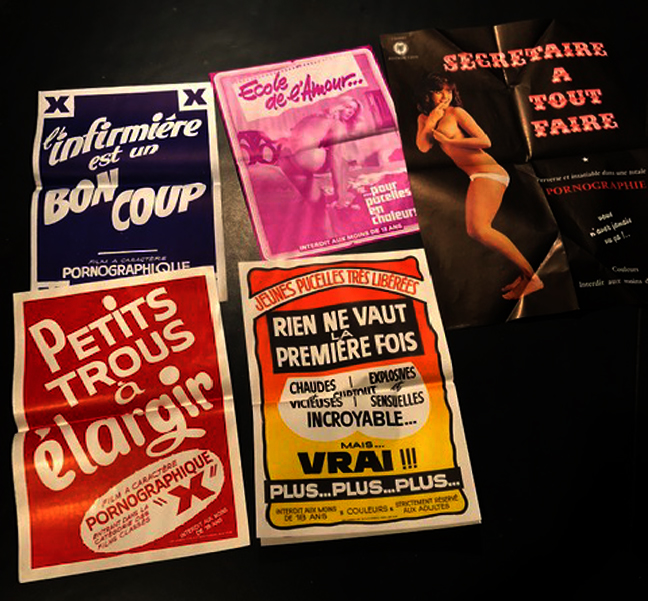 What's clear from observing him interact with customers is how much he enjoys the social aspect of his work. There is a trust and a camaraderie that he's cultivated over the years with many of the people who stop by daily or weekly for their fix. He said the best part of his job is knowing that the patrons are happy when they leave the cinema.
While it's true that most of his regulars are older men, there is still variety in the people who seek out the pleasures of Le Beverley. Among those I saw approach were two soft-spoken 19- or 20-year-old young men inquiring about what films were showing and what the hours were. They were both stylishly dressed in vintage clothing and clearly following the scent of something more enchanting than today's sterile online fare. It was a tender coming-of-age moment.
My friend and I departed the cinema with uncertainty about how long Maurice would keep the projectors running, and what would happen to the displaced congregation when the doors were shuttered for good. And about what was going to happen after the gym…? A little mystery lingering like the trail of a comet that has passed us for the last time in our lives.
*
Postscript: On Saturday February 23rd, 2019, Le Beverley closed its doors for good.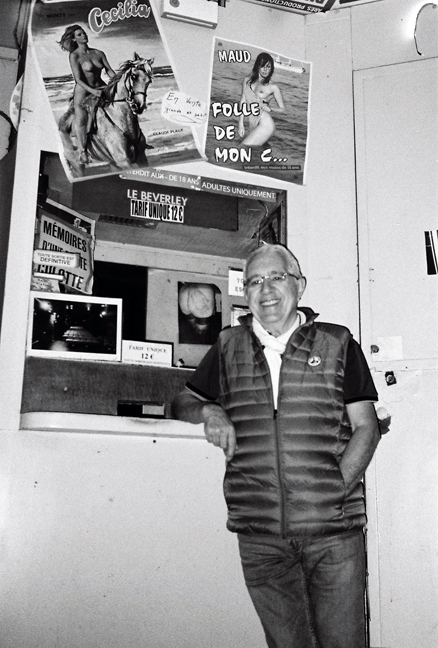 *
The writer of this article, Jane de Deus, spends her days programming film festivals and teaching English to Brazilians. She loves shooting photographs with expired film and the smell of secondhand smoke.
*