Podcast: Play in new window | Download
Subscribe: RSS
Stop me if you've heard this one before.
There's this powerful American politician who's at the top of his game. Then you've got a notorious sex worker with a love of performing. They have a scandalous affair that rocks Washington. And a media storm sweeps the nation. It's on the nightly news, and all over the newspapers. People just can't get enough of it.
That's right – I'm talking about Wilbur Mills and Fanne Foxe. Who did you think I was talking about?
He grew up in the U.S. House of Representatives and had stood for president – and was considered for a seat on the Supreme Court. She came from a small town in Argentina, and was already the mother of three by the time she started dancing on the burlesque circuit in America.
They met in 1973, and even though he was married and almost thirty years older than her, they seemingly fell in love. Then on a fateful night in October 1974, they were involved in a strange incident and their secret relationship risked being exposed to the scandal-hungry public.
Details slowly emerged and it soon became a sensation as the public started asking questions: Like how did a woman from a small town in south America become involved with one of the most powerful men in the U.S.? How could such an influential politician come to be exposed in such a public way? How did adult film actors, Harry Reems and Jamie Gillis, get involved in trying to persuade Fanne Foxe to make an adult film at the height of her fame? And what happened to Fanne, the Argentine Firecracker behind one of the most public political scandals of the 20th century?
Isn't it strange how in the world of politics, often everything that was old is somehow new again?
This podcast episode is 55 minutes long.
The musical playlist for this episode can be found on Spotify.
_______________________________________________________________________________________________
Fanne Foxe – A Chronological Media History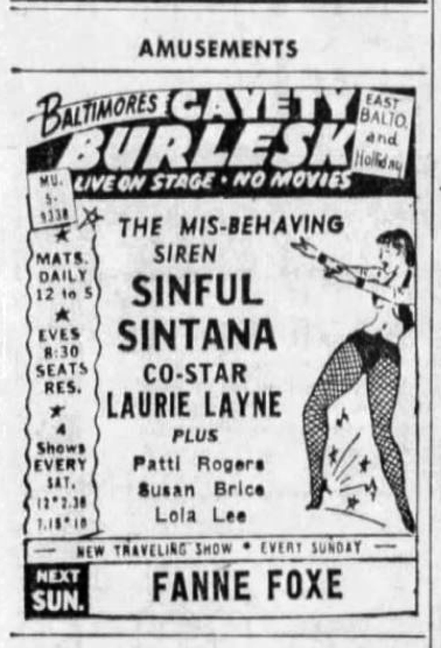 August 1965: Early mention of Fanne Foxe in Baltimore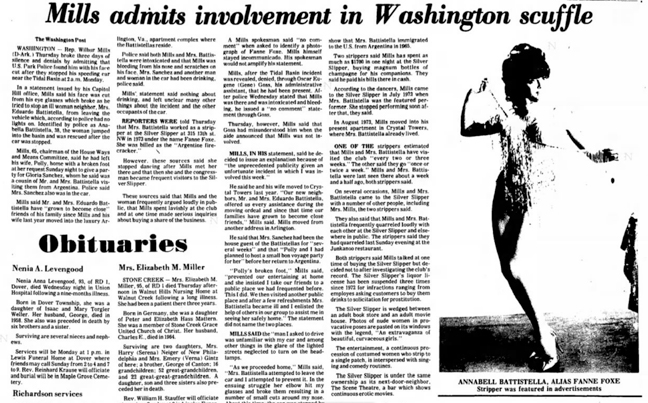 October 11, 1974: First mention of the Tidal Basin incident

October 11, 1974: First mention of the Tidal Basin incident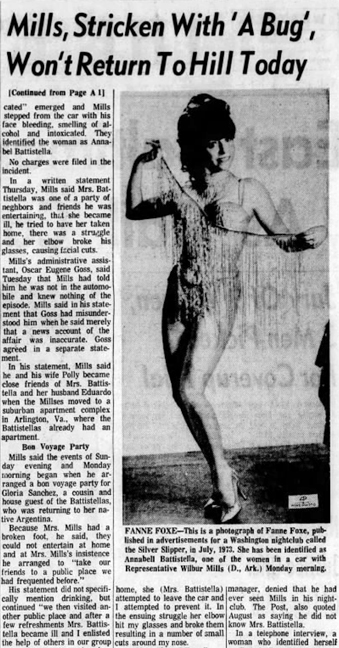 October 11, 1974: First mention of the Tidal Basin incident
October 11, 1974: The media investigate Fanne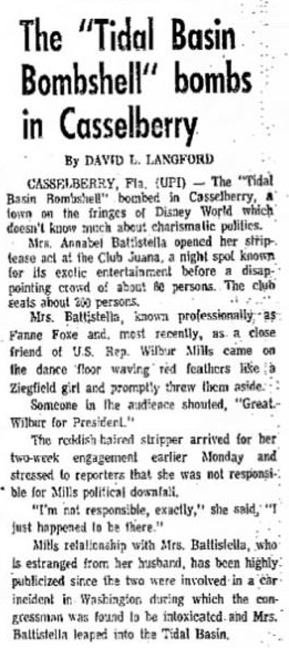 October 12, 1974: The media investigate Fanne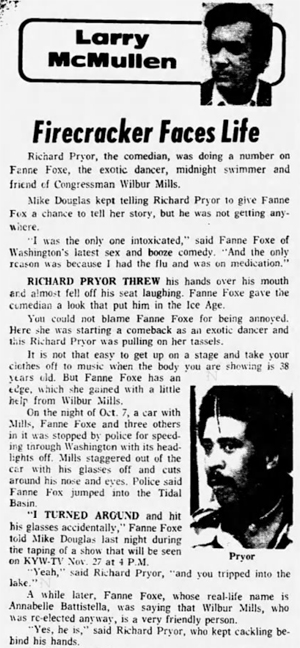 November 8th 1974: A month after the Tidal Basin incident, Fanne appears on a chat show – with Richard Pryor

November 19 1974: In the wake of the Tidal Basin scandal, Fanne returns to the stage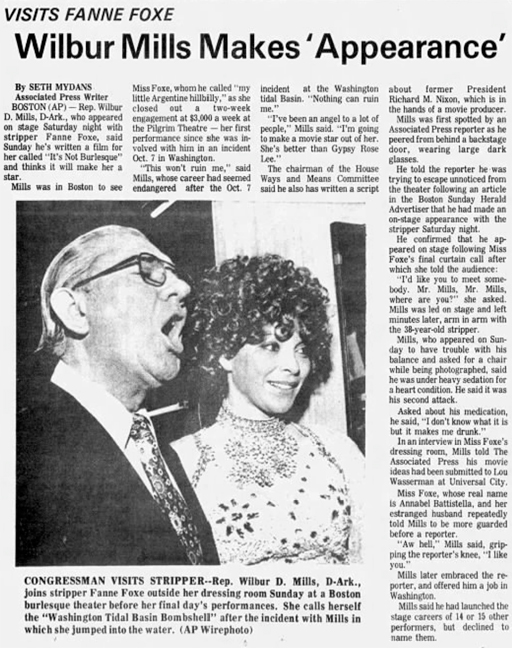 December 2 1974: Much to everyone's amazement, Wilbur appears on stage with Fanne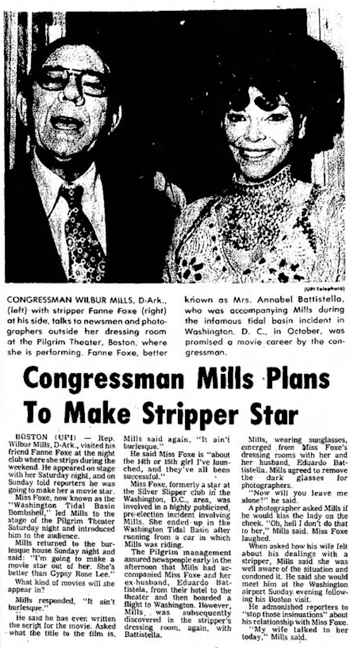 December 2 1974: Wilbur Mills announces his surprising plans for Fanne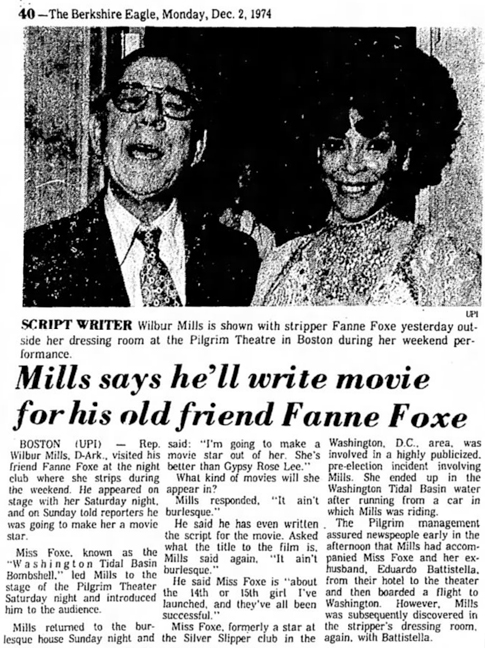 December 2 1974: Wilbur Mills announces his surprising plans for Fanne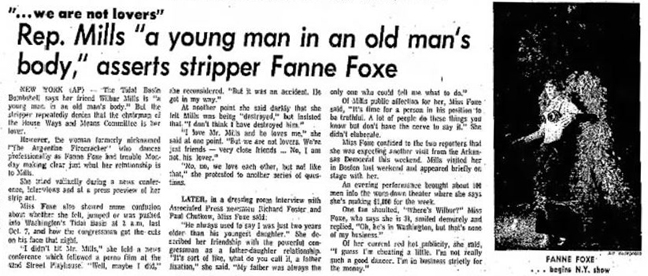 December 3 1974: Fanne stands by Wilbur but denies they are lovers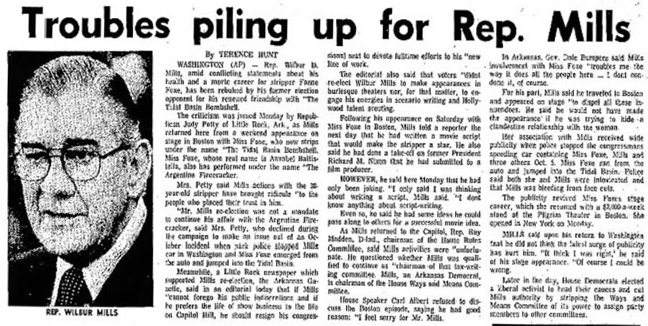 December 3 1974: The political fall-out following Wilbur's on stage appearance with Fanne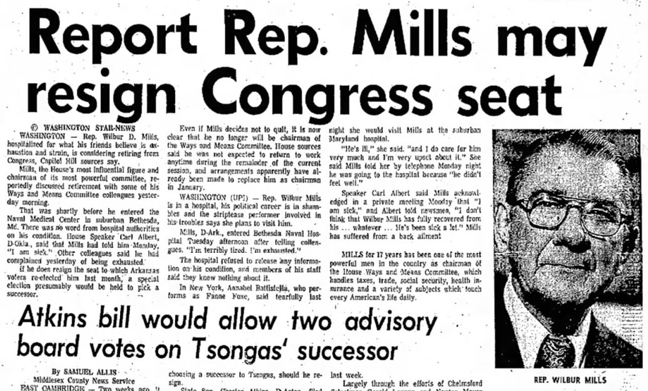 December 4 1974: Political problems continue for Wilbur

December 4 1974: Wilbur's political power is weakened by the scandal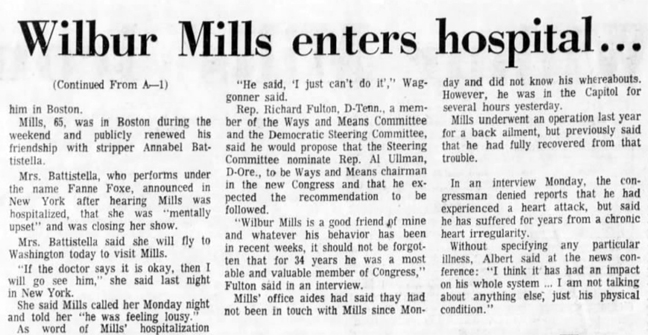 December 4 1974: The effect of the scandal takes it toll on Wilbur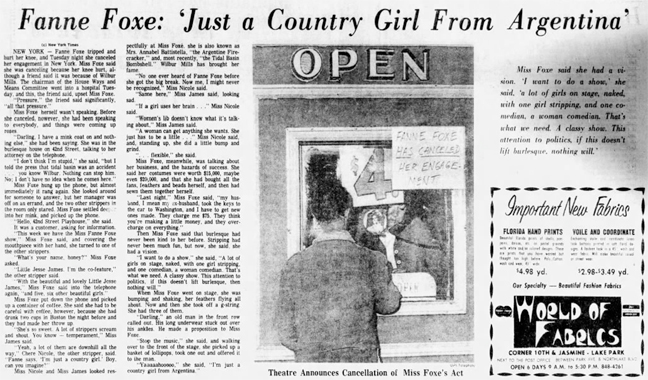 December 5 1974: The media focus their attention on Fanne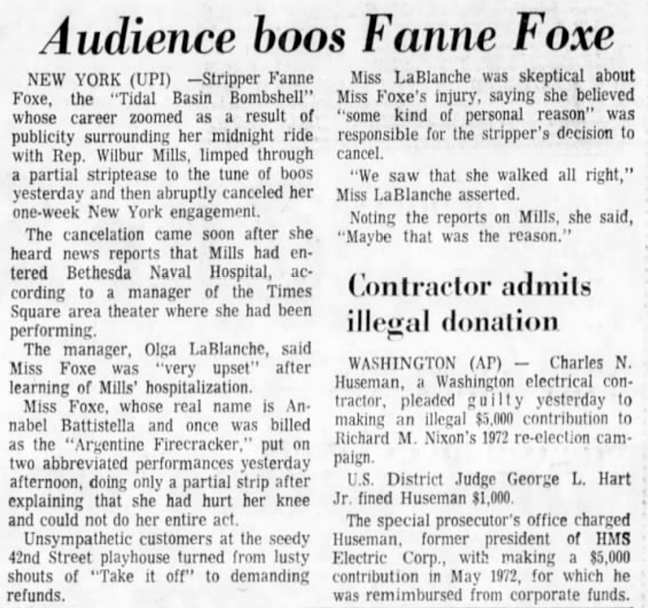 December 5 1974: The media reports a backlash against Fanne

December 5 1974: In the midst of media uproar, Fanne cancels a show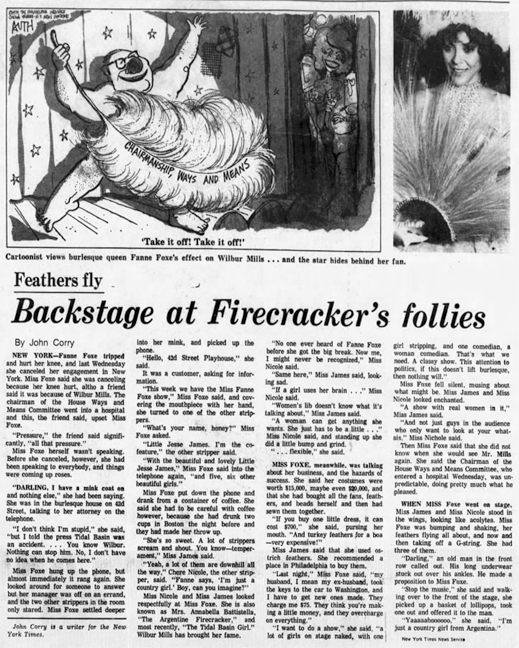 December 7 1974: The fascination with Fanne Foxe grows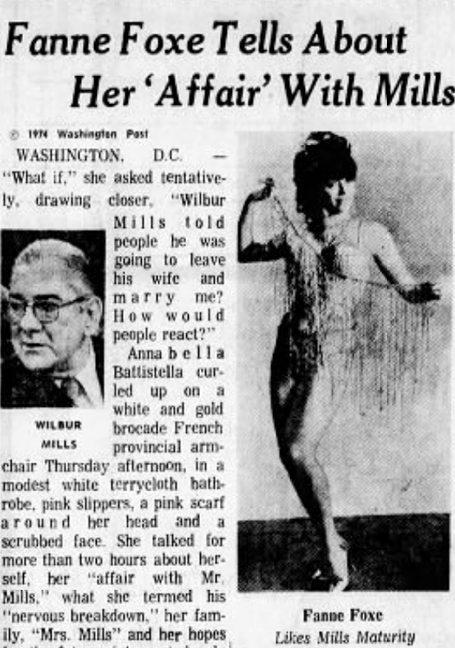 December 7 1974: Fanne reveals her affair with Wilbur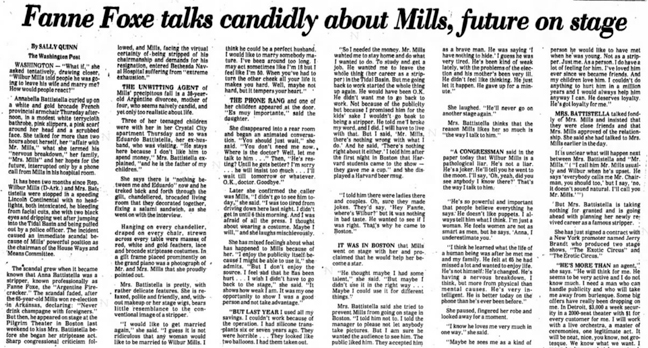 December 7 1974: Fanne becomes ubiquitous in the newspapers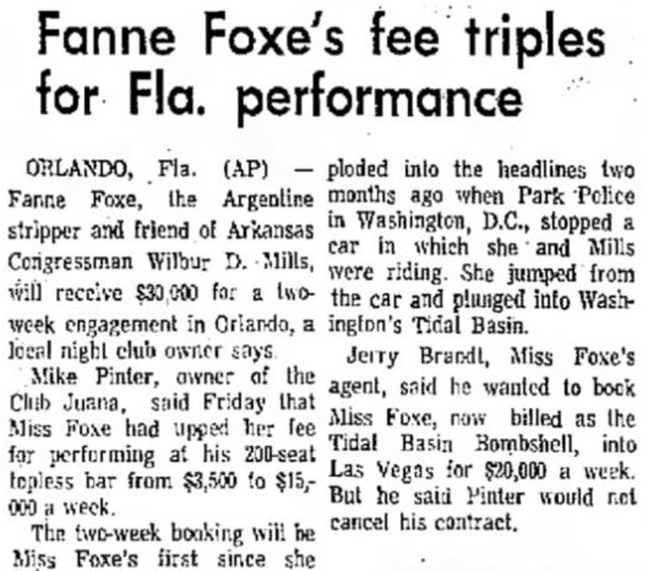 December 7 1974: Fanne's notoriety results in higher appearance fees (Hello, Stormy Daniels…)

December 7 1974: Fanne's notoriety results in higher appearance fees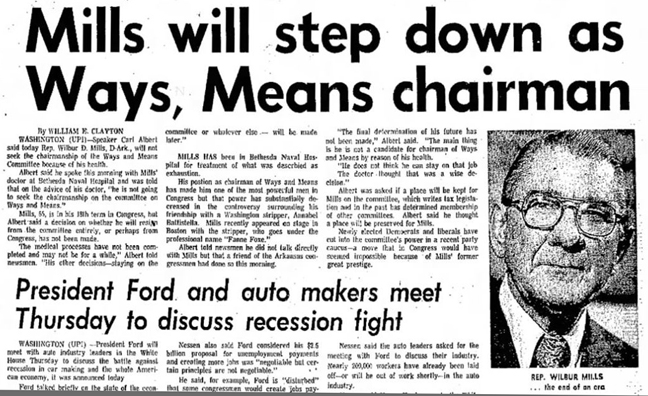 December 10 1974: Wilbur loses the chairmanship of the Ways and Means Committee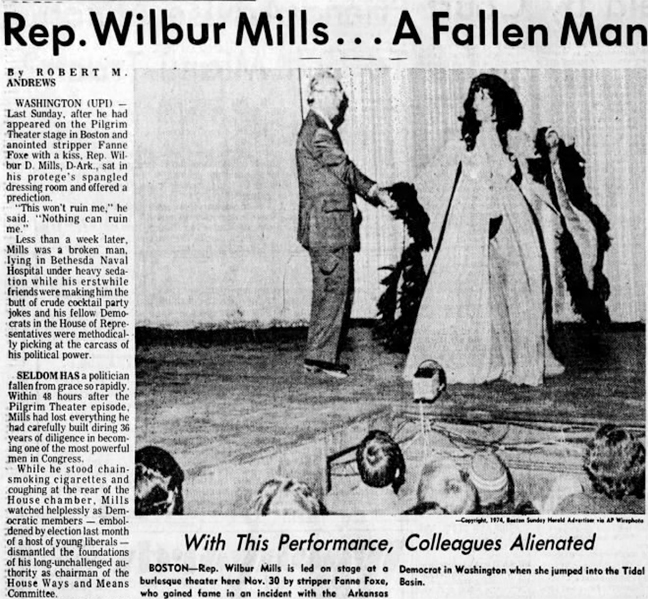 December 10 1974: Wlibur continues to lose support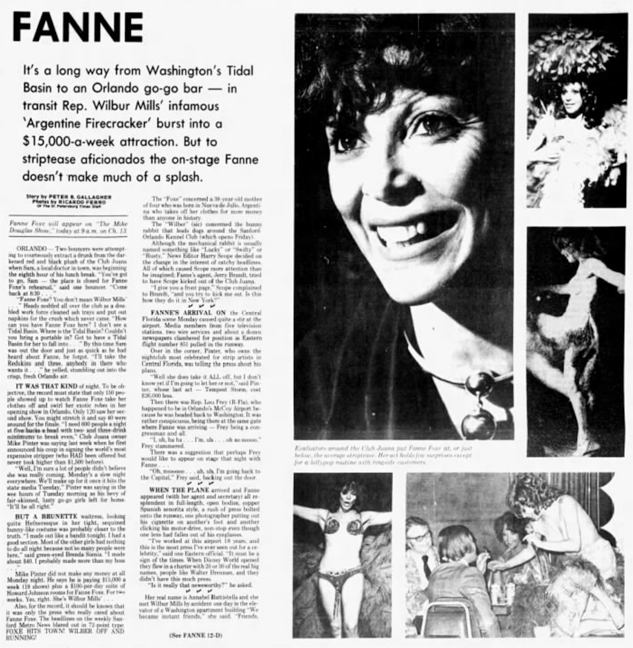 December 11 1974: Fanne's press coverage is mixed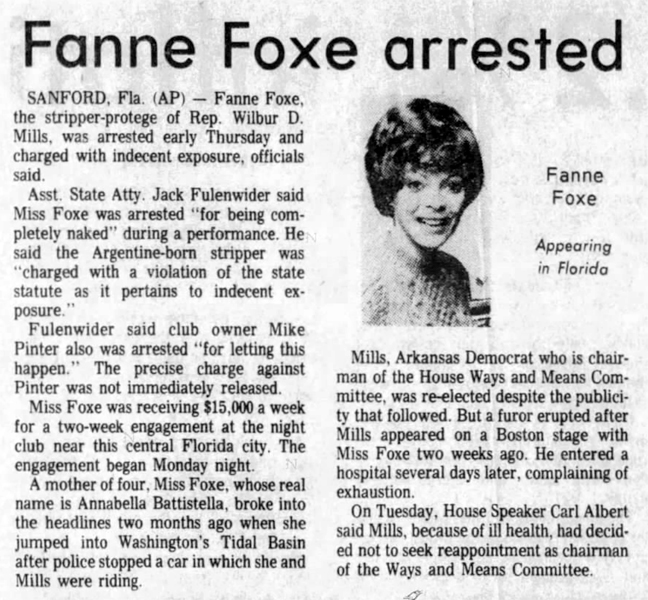 December 12 1974: When Fanne resumes her stripping, she is arrested for indecent exposure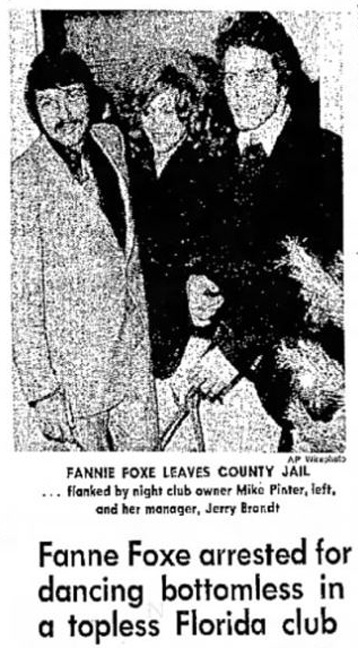 December 12 1974: The reason for the arrest is an alleged 'bottomless' dance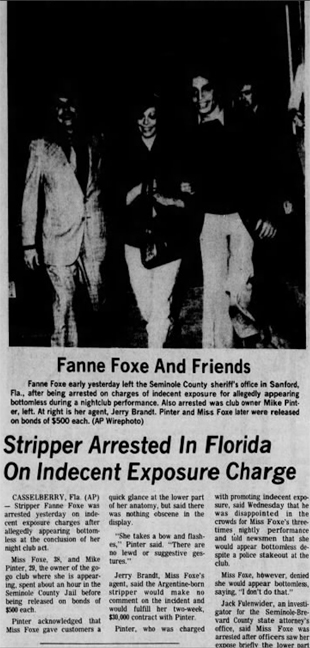 December 13 1974: Coverage of Fanne's arrest re-ignites the scandal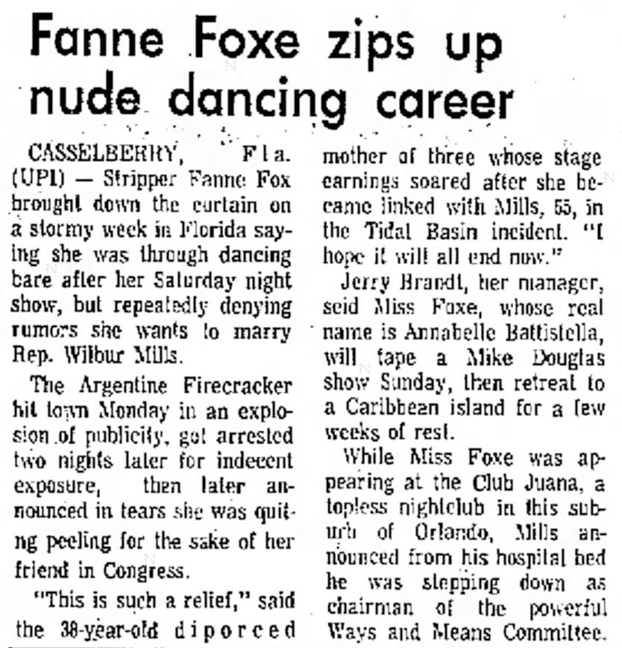 December 14 1974: Fanne announces that she will no longer dance nude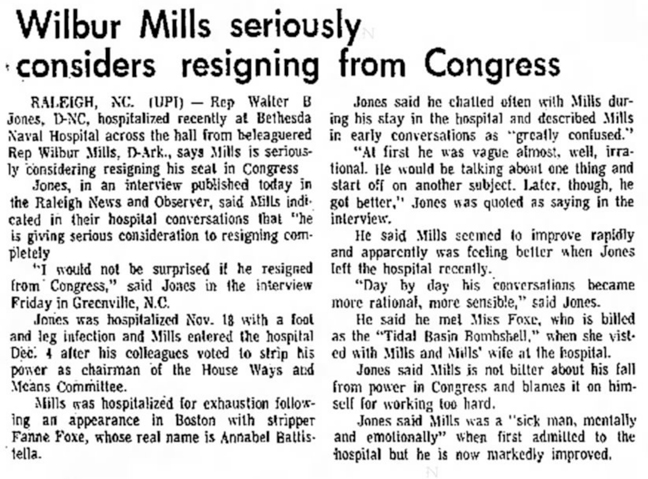 December 14 1974: Wilbur considers his political options while hospitalized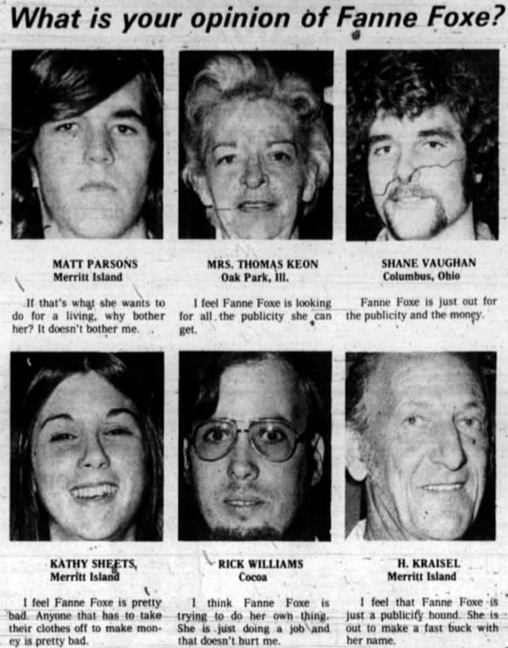 December 16 1974: Everyone has an opinion on Fanne Foxe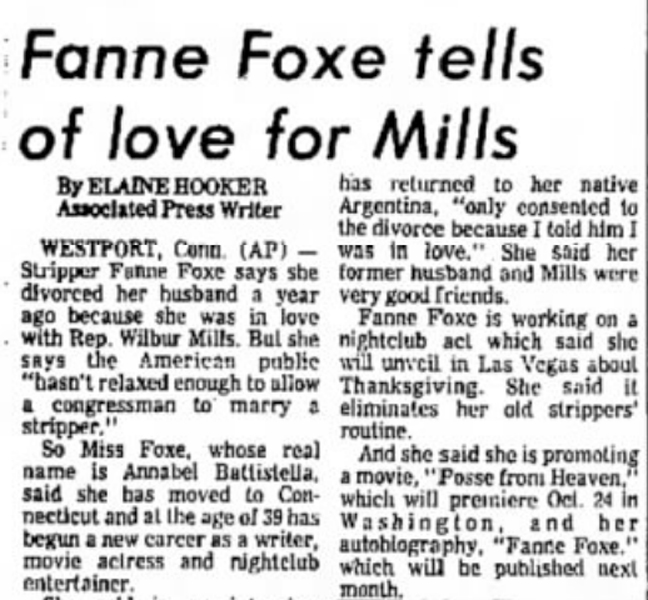 August 15 1975: Nine months after the scandal broke, Fanne reveals her affair with Wilbur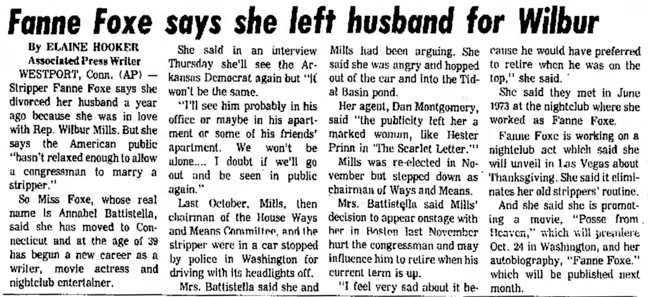 August 15 1975: Fanne says her marriage broke down because of her affair with Wilbur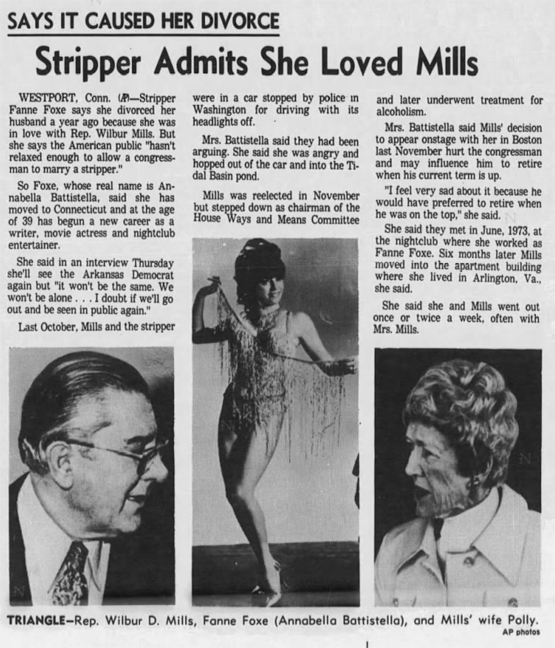 August 15 1975: Fanne's revelations mean the scandal remains center stage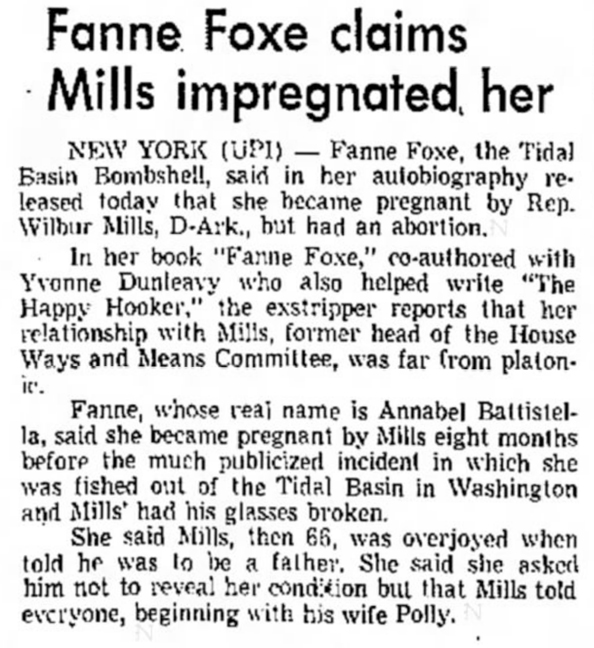 September 3 1975: A few weeks later, in her tell-all autobiography, Fanne claims she had become pregnant with Wilbur's child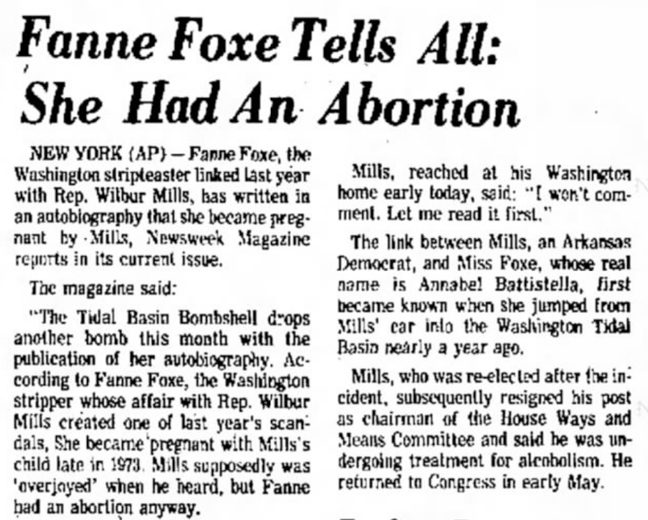 September 3 1975: Her autobiography recounts how Fanne aborted Wilbur's child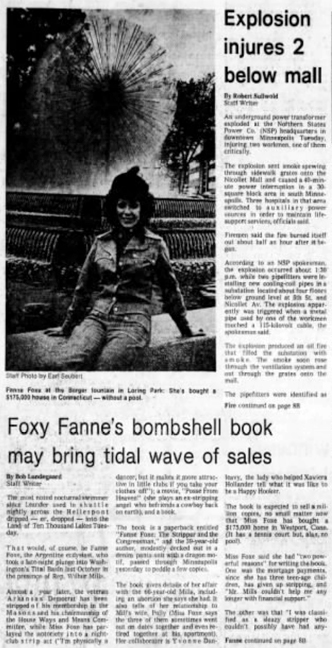 September 24 1975: The revelations enure that Fanne's autobiography sells well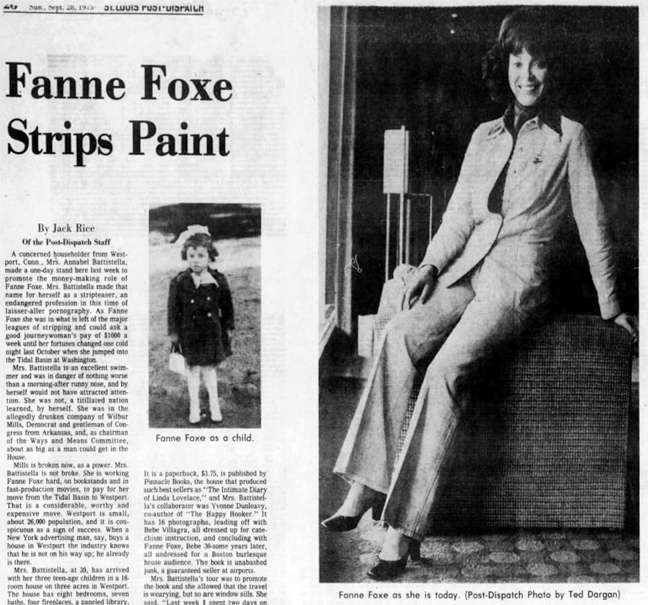 October 5 1975: Fanne embarks on a publicity campaign to promote her biography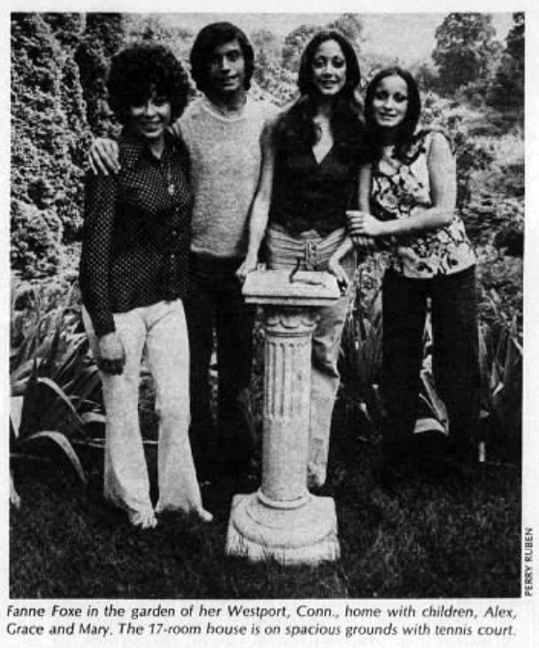 October 5 1975: Fanne opens her family to the media for the first time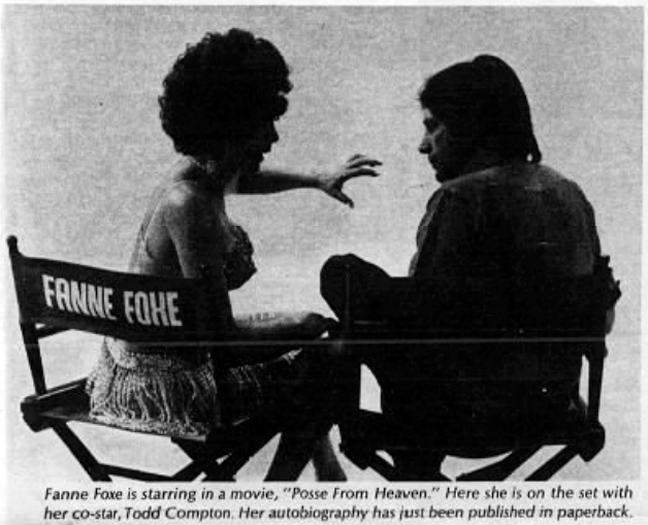 October 5 1975: In the midst of the publicity surrounding her book, Fanne appears in a film, 'Posse From Heaven'

November 10 1975: A year after the scandal, Fanne declares her continued love for Wilbur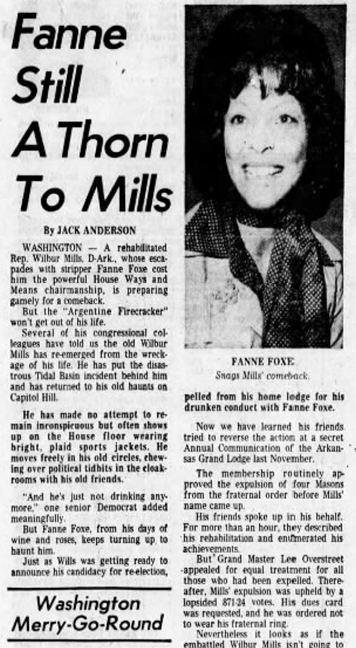 February 9 1976: Fanne's feelings for Wilbur get in the way of his proposed comeback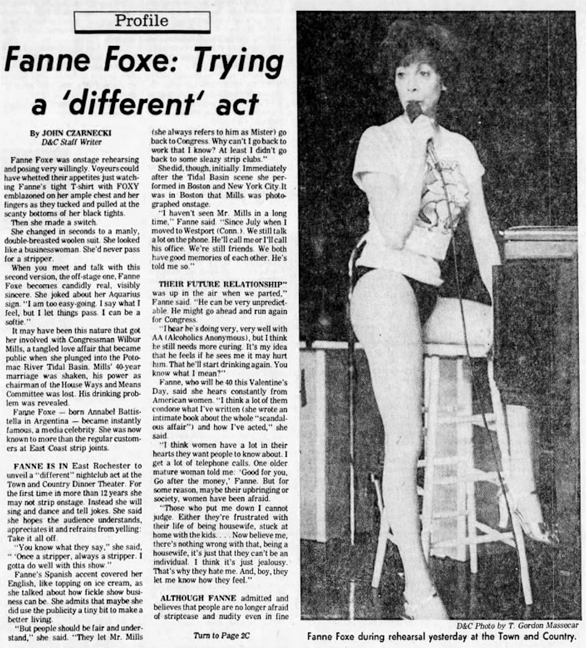 January 6 1976: Fanne re-launches her career with a new night club act

February 12 1976: Despite her new act, Fanne runs into trouble when she turns up in Wilbur's home state of Arkansas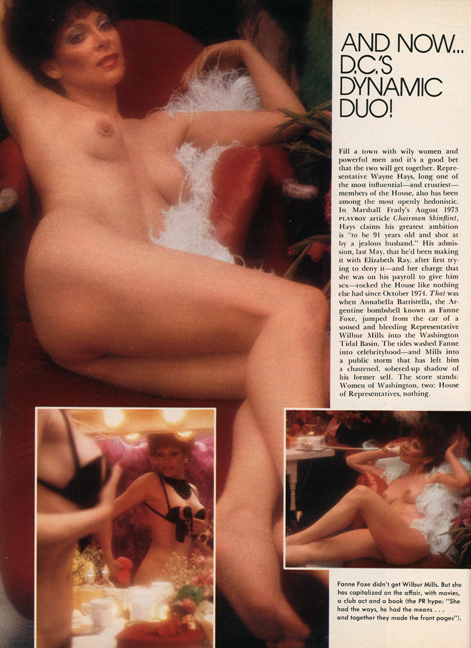 1976: Fanne Foxe in Playboy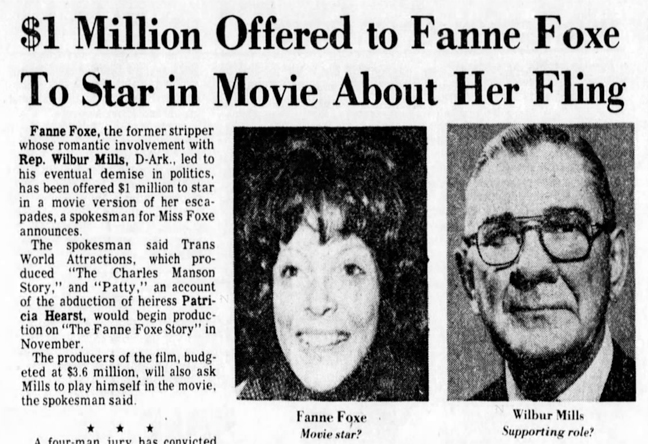 July 9 1976: An adult film, starring Fanne Foxe, is announced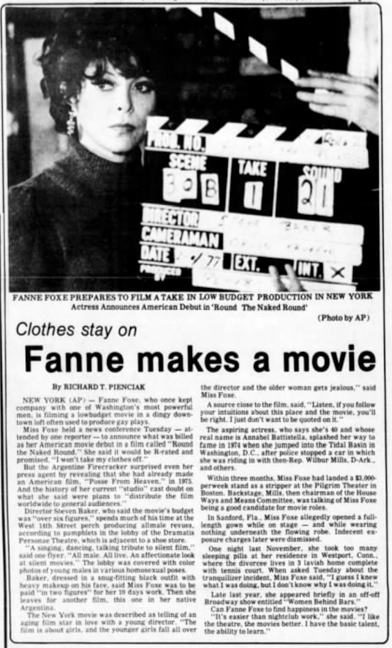 February 3 1977: When the previously announced adult film comes to nothing, Fanne appears in a soft-core film called 'Round The Naked Round'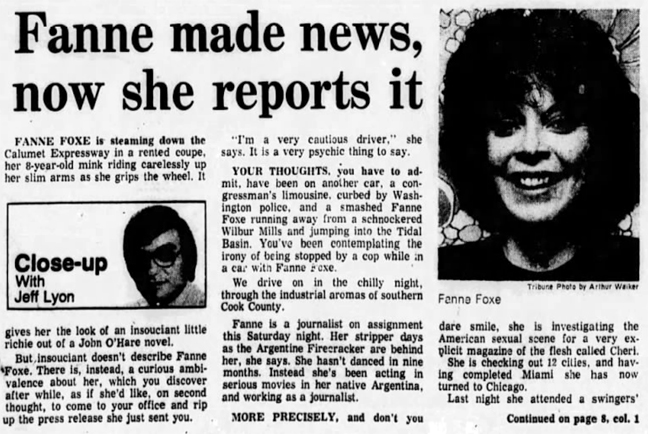 March 8 1977: Fanne signs on as a columnist with Cheri magazine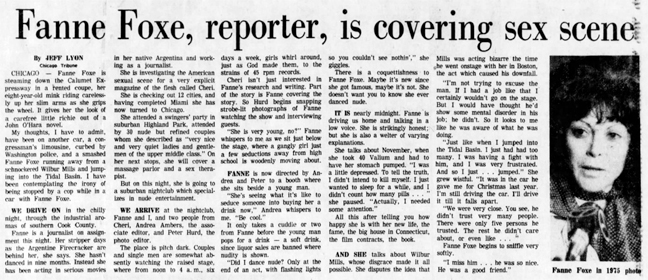 March 10 1977: Fanne's job with Cheri magazine involves reporting from the sex scene across the country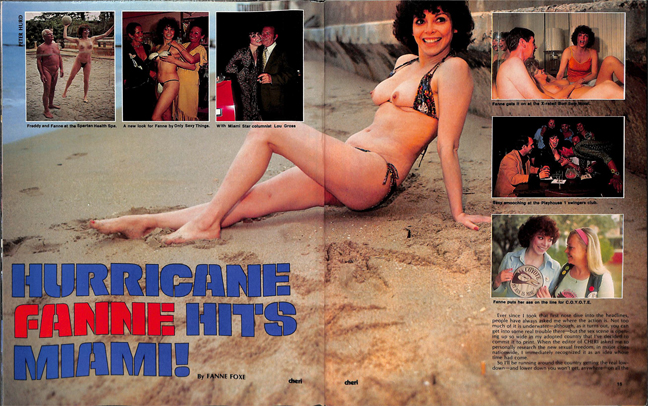 1977: Fanne Fox in Cheri magazine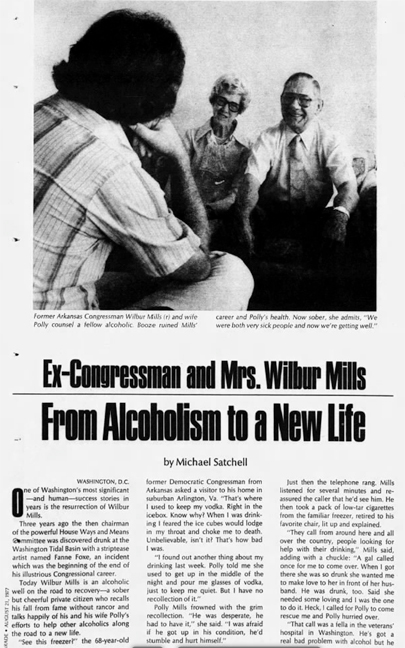 August 21 1977: Wilbur continues to be rehabilitated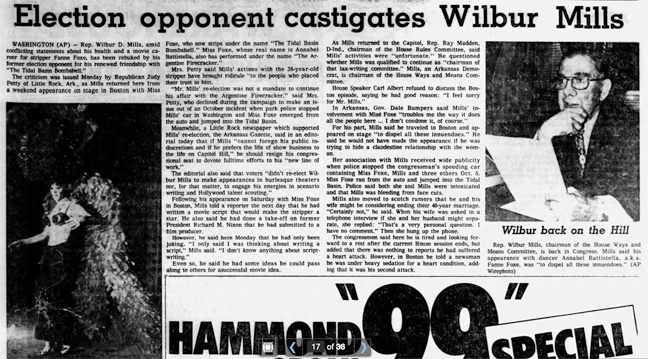 December 3 1977: The scandal continues to dog Wilbur

May 16 1978: Wilbur becomes involved in treatment for alcoholics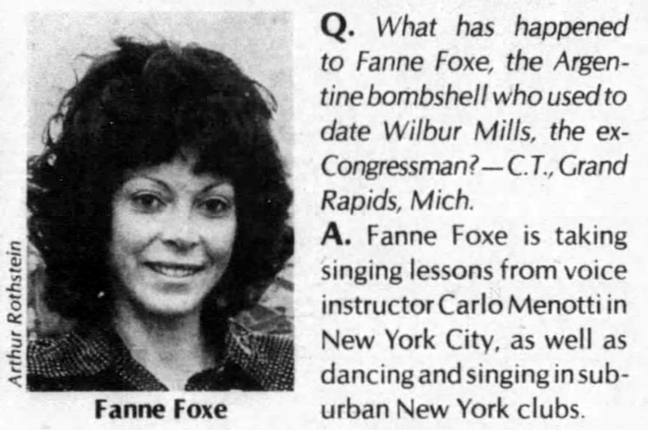 May 27 1979: By 1979, Fanne was in the "Whatever Happened To?" file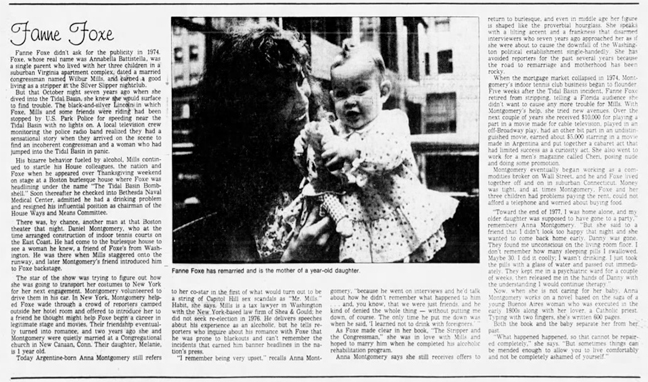 January 11 1982: One of Fanne's last public appearances followed the birth of her daughter
*