If you were an adult film actor in the golden age, personal relationships could be problematic. For a start, there was the social stigma of being a performer in a world that was struggling with the idea of explicit films showing in theaters. Then there were issues to contend with such as jealousy, family reactions, drugs, having children, and more.
Eric Edwards had one of the longest careers in adult film, and faced all these challenges.
Eric had three long-term relationships with fellow performers in the business – Chris Jordan, Arcadia Lake, and Renee Summers. Coincidentally, each relationship represented a different era of adult film: Chris Jordan started in the days of soft-core movies and black and white 8mm loops; Arcadia Lake was active in an era when porn films had larger budgets and aspired to mainstream movies; and Renee Summers was a product of the video age.
The Rialto Report has a podcast interview with Eric about his adult film career, but we wanted to hear about the women in his life.
On this The Rialto Report, Eric Edwards shares his memories about the women he loved.
_______________________________________________________________________________________________
1.     Introduction
In 1965, I was at Baylor University in Waco, Texas studying theater. Some fellow students and I noticed a newspaper ad  to audition people across the country for scholarships to the American Academy of Dramatic Arts. The auditions were in Dallas, and my friends coaxed me into making the trip so that I could try out.
Each audition consisted of two scenes, one contemporary and one classical. I picked a soliloquy from O'Neill's 'Long Day's Journey into Night' and Petruchio's speech to Kate in Shakespeare's 'The Taming of the Shrew'. I was as nervous as hell because I'd never done anything like this before.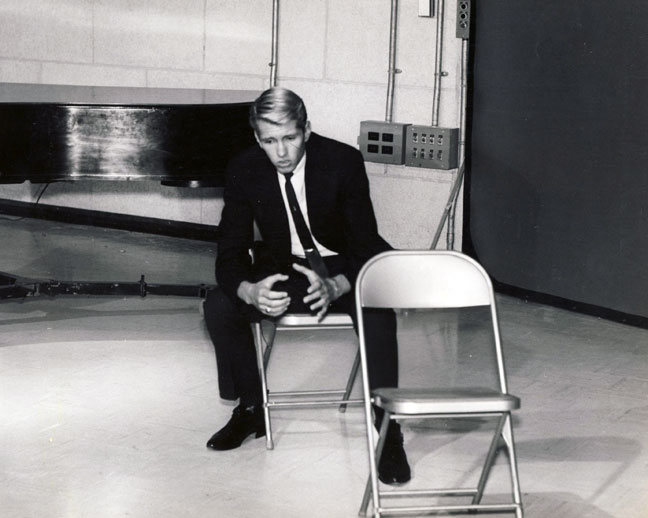 Eric Edwards
After the audition, I returned home not expecting much as apparently 24,000 people applied for only 16 scholarship places. But a couple of weeks later I got a telegram saying the Academy wanted me to return to Dallas to audition again. I wound up doing two more callbacks before I got a final telegram informing me that I'd won one of the scholarships. I still have that telegram from the president of the academy congratulating me. It changed my life.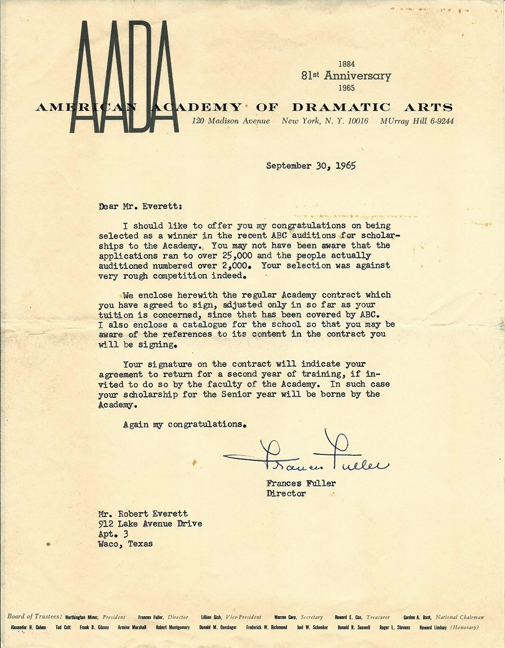 Despite the honor, I still had a big decision for me to make: I was two and a half years into college, and I didn't want to give all that up. I talked it over with my professors, my parents, and my friends, and spent hours agonizing over the decision. In the end, I figured that the Academy scholarship was just too good to turn down, so I accepted and started planning my move to New York.
It was a big move for me culturally. My family lived on the outskirts of Waco, which was a world away from New York. Our train station had a wooden platform, just like the ones in old Wild West films. You could see trains coming in the distance well before they actually arrived. When the day came for me to leave, my parents and I were the only ones waiting for the train. I had my five suitcases and the hope of a bright future. As the train pulled away, I pressed my face against the window, watching my parents wave at me and disappear into the distance. I think I shed a tear or two.
*
2.     Chris Jordan (aka Kathie Christopher) (real name: Kathie Fitch) – Part 1
When I got to New York, I'll be honest, I was scared. I'd never seen such a crazy, busy, imposing city before. I found a place to live called the Stratton Hotel – it seemed safe and was cheap.
New York may have been impersonal, but the Academy welcomed me and the other scholarship winners with open arms. It was fantastic. All 16 of us were treated like royalty. The classes were exceptional, they would take us to Broadway shows for free, and they made connections for us with acting agencies. I soon left the Stratton Hotel and found a little brownstone basement apartment on the Upper West Side around 70th St. between Broadway and Central Park. It was below street level and had little barred windows from which you could look up the skirts of women walking by which was a little distracting from my studies.
I met Kathie my first year in New York. She wasn't a scholarship winner, but was attending first year Academy classes as a regular student. We met in what was called 'movement class' – which really meant dance – so we were both in black leotards and tights which was mandatory. Kathie and I became good friends. Our characters clicked straight away – maybe it had something to do with the fact that neither of us grew up with any siblings.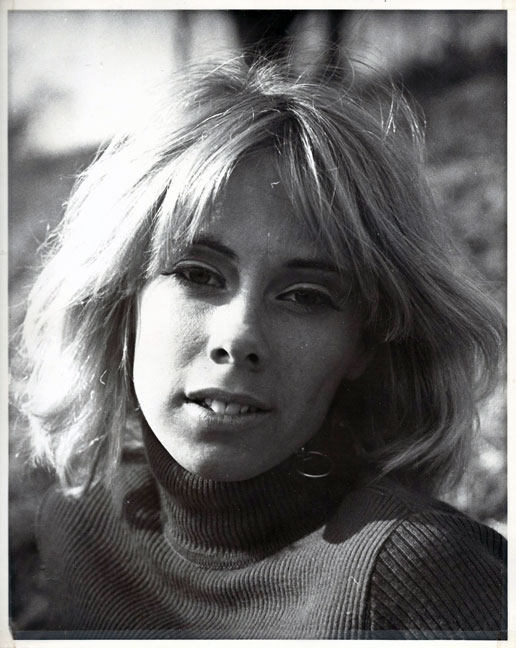 Kathie
Kathie came from a middle-class family in a fairly wealthy neighborhood of Wilton, Connecticut. Her parents had a large house there, with a sizeable backyard with ducks and geese by a pond. She was still living at home and commuted into the city for classes at the Academy. She was a very bubbly, energetic person, and we had a lot of fun together. We'd go out to have lunch and see plays, and she'd often stop by my apartment and visit me. We dated throughout my first year in New York, and started falling in love.
When it came to second year classes at the Academy, students had to be invited back. Admission wasn't automatic, meaning you couldn't just pay tuition fees, turn up, and attend classes. Fortunately, I was invited back but sadly Kathie missed out, which made seeing each other tougher. Luckily, her parents' place in Connecticut was only an hour away so we got together regularly.
When we did see each other we'd often take LSD, a popular thing to do at the time. Everybody wanted to expand their minds and see what happened. To this day, I don't remember where we obtained the drug, probably through a friend or someone we knew. But I remember getting these little sheets of tabs and breaking one off. Sometimes it came as a drop on a sugar cube.
The memory of my first trip is still vivid to this day. I was sitting in her parent's living room when they weren't home. The stereo system was in front of me, and the Judy Collins album 'Wildflowers' was playing. As the song 'Both Sides Now' started, actual physical musical notes, black notes, came floating out of the stereo and into the air and drifting around my head. It was incredible. The walls started to tremble, and the carpet grew like grass. I was just sitting there, totally blown away, amazed at the visuals. Kathie was off in her own world at the same time. It was fascinating.
A trip would last about 12 hours total. It kind of peaked at around the six-hour mark, but even after a couple of hours I was on my way. It was mind blowing and enlightening. Once we took acid in Disneyland. We were in the area with Treasure Island which had little bridges, pathways and tunnels where you could wander. The combination of Disney and LSD was mind-blowing. At some point Kathie and I got separated, and it got scary. But we finally found each other out in the sunlight.
And sex, my God… LSD was a very sexual drug. The greatest sex I ever had with Kathy was when we were tripping. We'd spend the day in my Manhattan apartment on acid trips – and we'd spend much of that time in bed. We'd stop to get something to drink, and then get back in the sack.
Kathie may have dropped out of the Academy, but she was still keen to act, and eventually she came down to New York and moved in with me. It was against her parents' wishes, but we promised them that we'd get married. They were nice people. Frank, her father, was supportive of our intention to be wed, and Bunny, her mother, was a very jovial and friendly person. We'd go home on weekends and visit them because Kathie was close to her family.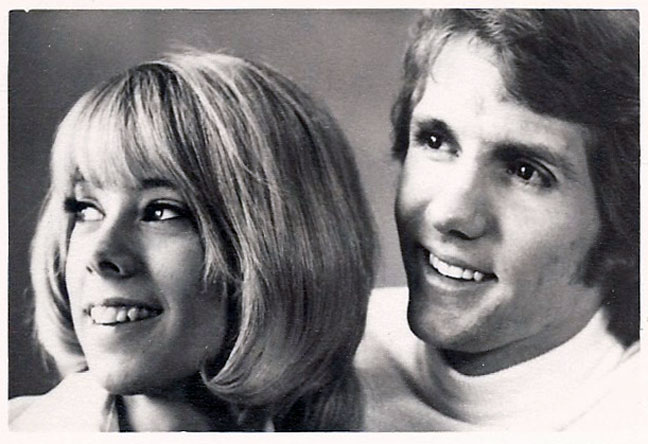 Kathie and Eric
In 1967, we honored our promise to Kathie's parents, and shortly after I graduated from the Academy, we had a beautiful old-fashioned church wedding in Norwalk, Connecticut. We were lucky because Kathie's parents paid for the whole affair. We'd never have been able to afford such a lovely ceremony. My parents came up for the wedding, and one of my cousins flew in from Waco to be my best man. We were planning on going to Mexico for our honeymoon because my parents didn't live too far away from the border and they offered us their car, but in the end we changed plans and went down to Padre Island on the Texas coast where we did some surfing.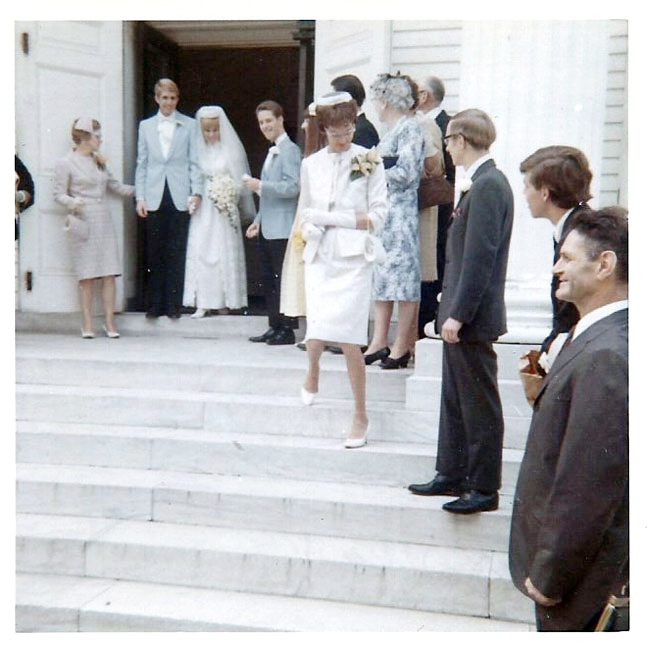 Kathie and Eric's wedding, 1967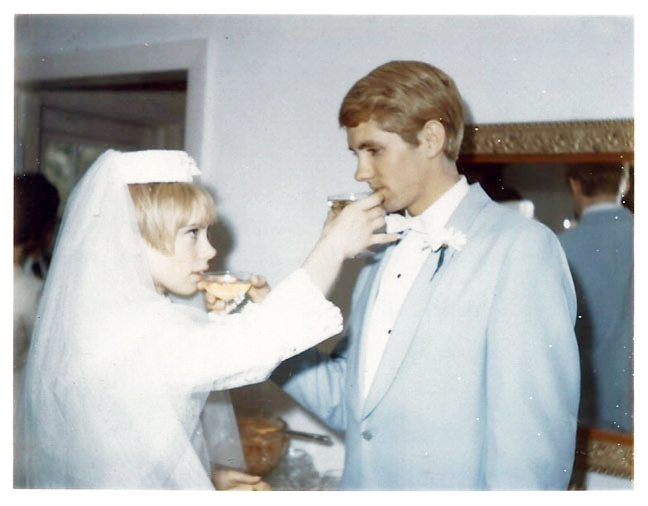 Kathie and Eric's wedding, 1967
After we got married, we got our first acting jobs together. We went to Lancaster, Pennsylvania where we did a show call 'By Hex'. It was a musical about the Amish people, and we performed it in a giant circus tent. It was typical of the plays that Kathie and I would appear in together over the next few years. They were usually low-budget, and everyone in the production had multiple roles. We'd all act, do the costumes, drive the bus, and sometimes sell the tickets too. With so much going on, there was always the possibility something would go wrong, which it often did.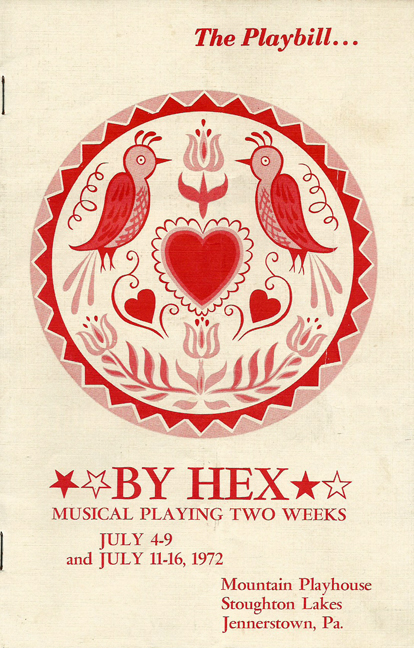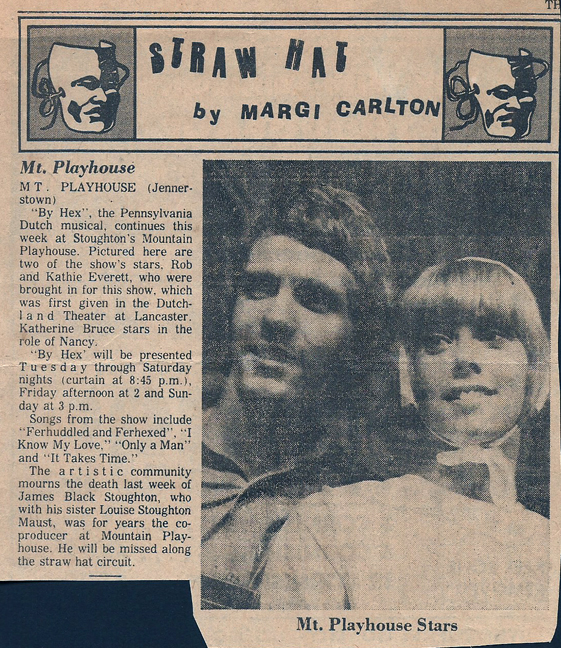 In the production of 'By Hex', I had to drive a real tractor onstage in character as Jonas, an Amish man who breaks the rules by buying a brand new vehicle. This was an expensive addition to our production. One night it was raining so heavily on the circus tent that you could hardly hear the actors screaming their lines. Off-stage I couldn't get the tractor started in the rain, and I was getting soaked. Eventually I jammed it into first gear, and it lurched forward onto the stage, but the vehicle caught on the canvas tent on the way in. The tent ripped and draped itself over me, meaning that there was a large hole and I was driving blind onto the stage. I had to crawl out from underneath the canvas as the audience roared.
On weekends and days off, Kathie and I would continue to take acid. We couldn't do it if we were due on stage as we'd be totally out of it. I never have any bad trips, but Kathie had a terrible one and that made her stop. I didn't blame her, and I stopped too. It wasn't as fun by myself, and besides, that period of our life seemed to have passed.
After the show, I bought a motorcycle and Kathie and I decided to drive it across country to California. It was a Bridgestone 175cc, and Kathie rode on the back with her guitar strapped to her back, typical hippie style. I was a daredevil in those days – or maybe foolish is a better way of describing me. At night, we'd camp out anywhere we found, stringing up our hammock between a couple of trees.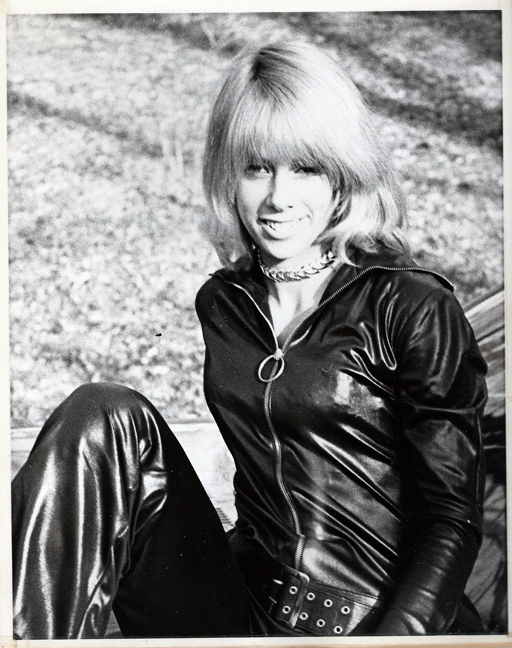 Kathie
We stopped off in Dallas where my parents were living. Kathie had lined up a touring job with the National Children's Theater there, and I drove the cycle on to California. I had signed by William Morris after graduation from the Academy and I signed a 3-year contract with them to get acting work. It was the first time we'd been separated. Unfortunately, my motorbike's engine burned out by the time I hit California. The poor thing just couldn't handle traveling 70 miles an hour for days on end, so I took a bus the rest of the way.
When I got to Los Angeles, I did a few auditions, met a few big-time producers, and soon realized that if I was going to stand a chance of being successful there, I'd have to stay and make it my life. But I was too restless and impatient, so before long I went back to Kathie in Dallas and got a job as an actor in her touring show.
It was back to the world of low-budget productions. We'd get booked by a company in Dallas, and we'd drive to every podunk town east of the Rockies and west of the Mississippi. We performed productions of King Midas, Hansel and Gretel, and many more. The audiences were sizeable and enthusiastic, usually 200 to 300 kids packed into school auditoriums. There were five actors in total in those shows. Even the director and the driver were performers. We had a large station wagon, which carried the actors, our luggage, and all the props and costumes. This went on for months on end.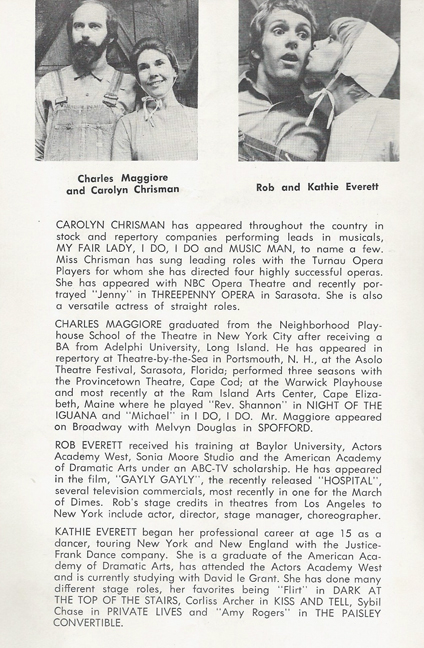 Kathie and I got hired as a couple in most of the shows we did. We played the Barn Dinner Theater Circuit from 1967 through 1972, in Nashville, Birmingham, Jacksonville and others. It was fun to be performing different plays, but I had a harder time with musicals. Oh my God, I hated musicals because I'm such a horrible singer. Kathie was much better at singing, but I was much happier focusing on straight acting. It was fun for a while, and then it got to be a hard slog. We didn't get paid much money, but we were learning the craft.
Around 1971, we decided to move back to the northeast. We chose to live in Norwalk, Connecticut, close to Kathie's family and a whole lot cheaper than living in New York. We got an apartment that was the upper floor of a house, and from there we could go into New York city for auditions, just a 40-minute train journey away.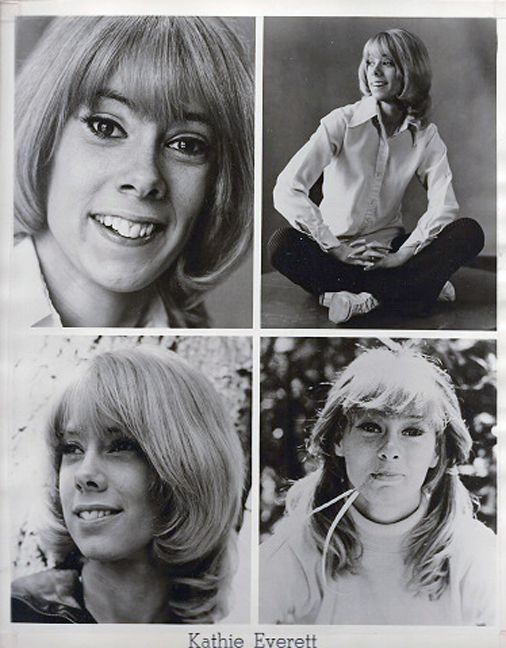 Our relationship was going well, and Kathie and I had a happy marriage for the most part. But there was one inescapable issue and that was that we weren't very sexually compatible when we stopped taking LSD. It just didn't work for us, and to this day, I don't know why that was. Perhaps it was because Kathie and I were practically virgins at the beginning of our relationship. She had had only one sexual experience before me, and I'd had only three, so it was awkward for us to be thrown into a marriage. The whole country was uptight about sex in the mid-sixties. I remember the TV show, "I Dream of Genie" where the audience wasn't even allowed to see Genie's navel.
Perhaps due to our desire to be more comfortable with our sexuality, Kathie and I got into swinging. Very slowly at first, but we experimented with one couple, and then it expanded from there. And in some ways, it worked. It opened up our relationship and we became more sexually adventurous.
I can't remember exactly how it happened but when I was in New York on an acting audition, I got an offer to make an 8mm sex loop. It was probably with Bob Wolfe or Sam Menning because they were the main two guys in the sex film business at that stage. It was just a few afternoon's work and we'd make some extra cash, and so I suggested it to Kathie. I'm not sure that she was keen on the idea, but we accepted and went on to shoot a couple of loops, and appeared in a few sex photo layouts. On one of these shoots we met Linda Lovelace and her boyfriend, Chuck Traynor. This was before Linda became a national star in Deep Throat (1972), and she and Chuck had just arrived in New York from Florida. Linda, Kathie and I actually did a loop as a three way. I went on to many more with other performers.
Back in the mainstream, Kathie and I got parts in a comedy called Is There Sex After Death? (1971) where we were credited as 'Robb Everett' and 'Kathy Everett'. Several famous people like Buck Henry, Holly Woodlawn, and Robert Downey Sr. were in the film. Our parts were small, just a couple of bodies on a table in a clinic, but it was one of the first times we'd been on a movie set so it was exciting.
Kathie and I continued to find work together in theater productions, such as 'Boeing, Boeing' – which I seemed to be selected for in playhouses all across the northeast.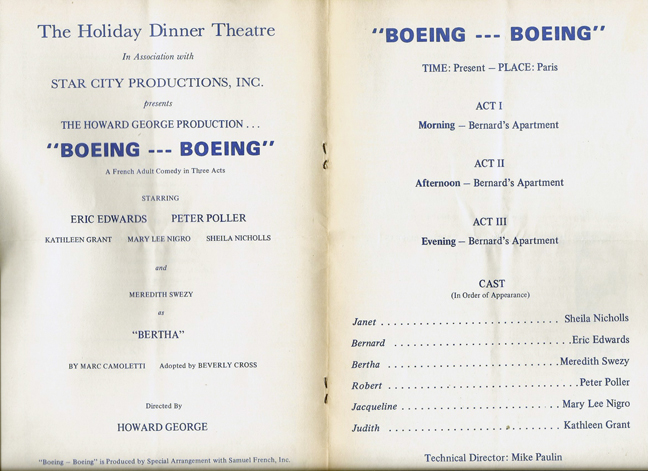 In 1972, we were both hired by the James Joyce Memorial Liquid Theater at the Guggenheim to take part in an interactive show with the public. The audience would slowly filter in through the main entrance of the Guggenheim, and we were part of a small group of actors, dressed in see-through togas, who'd instruct the audience what to do. It was intended to open the minds of the inhibited suit-and-tie crowd. It was a theatrical expression of the times, and from an actor's standpoint, it was a great gig. And we fell in love with the Guggenheim because we had free rein to walk around its circular incline and view all the great works of art.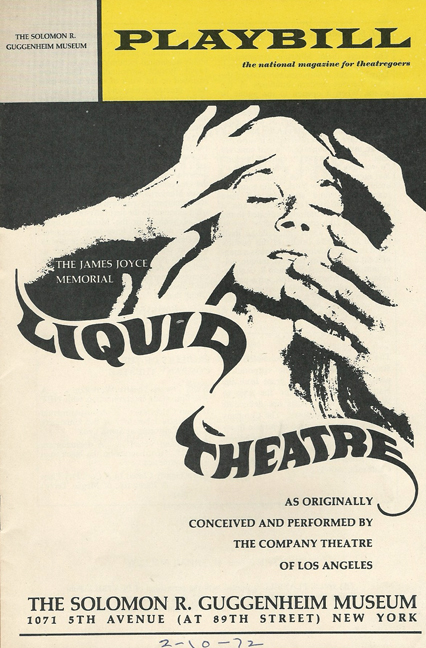 Our acting schedule continued to be busy through the rest of 1972, and we often worked out of the Mountain Playhouse in Jennerstown, PA.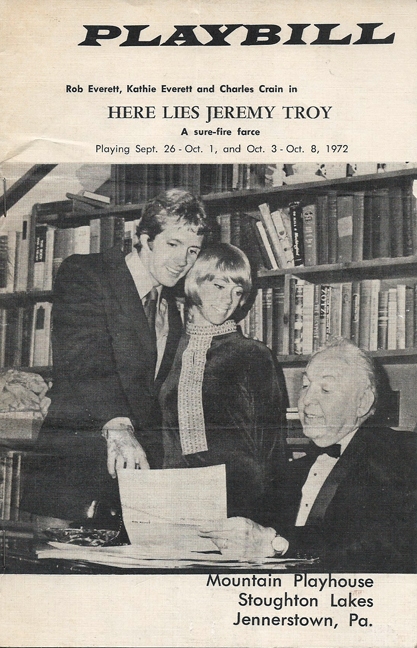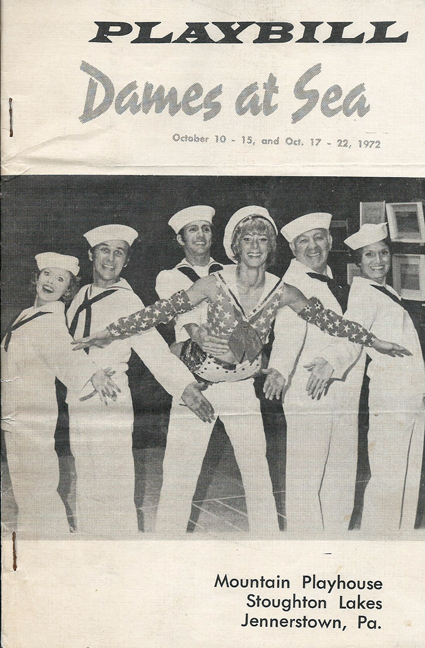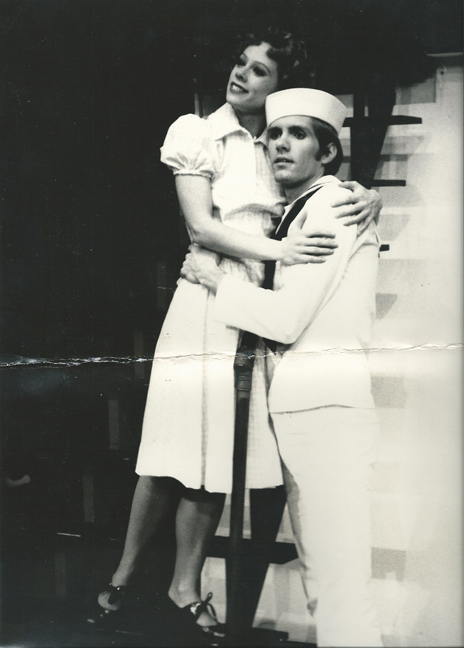 Kathie and Eric Edwards
In 1972, 'Deep Throat' came out, and it changed the landscape of explicit sex films forever. Suddenly they were ubiquitous, and there was a lot of work on offer – if you wanted it. Kathie and I were in the right place at the right time because of our acting careers in theater and our experience making sex loops. I saw the chance to make some money to supplement the small amount of income we were making from the theater engagements, but Kathie wasn't so enthusiastic. If the role called for plenty of acting and some softcore sex, she was ok, but she had a tougher time with the fully explicit sex roles. This meant that I ended up making a number of one-day wonder sex films, like Organ Juice® (1973), Maxines' Dating Service (1973), Revolving Teens (1973) and Lady on the Couch (1974). Kathie, on the other hand, restricted herself to working with directors like Joe Sarno and Chuck Vincent who were still making their own brand of softer sex films, like Confessions of a Young American Housewife (1974), Teenage Hitchhikers (1974), A Touch of Genie (1974), and Mrs. Barrington (1974).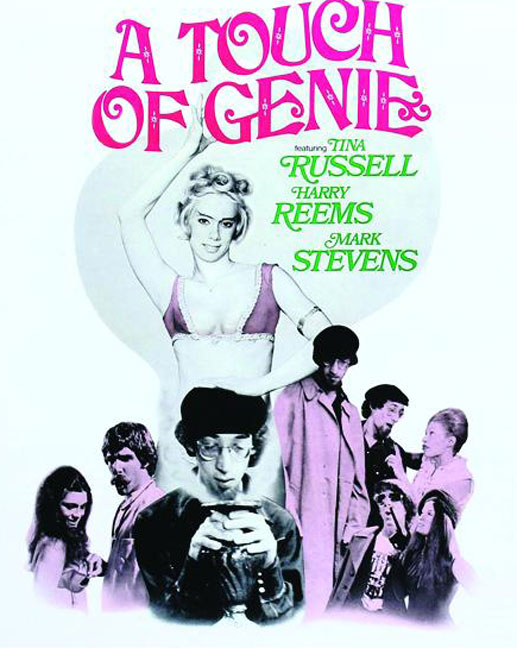 Kathie on the one-sheet for 'A Touch Of Genie' (1974)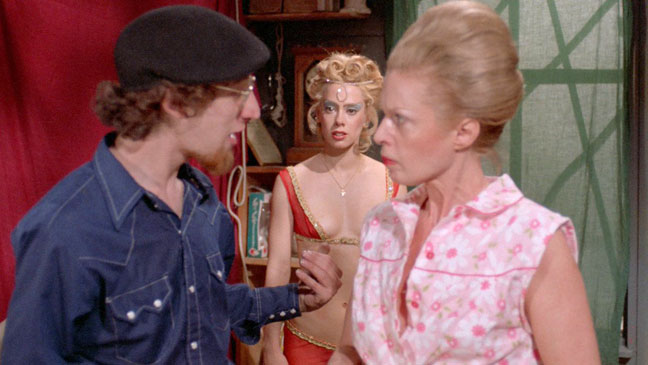 Kathie (center), in 'A Touch Of Genie' (1974)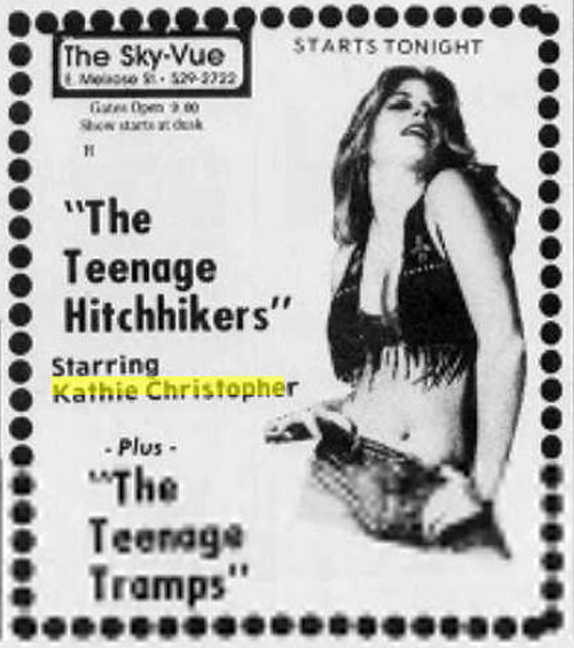 My relationship with Kathie was still pretty good. The extra money we earned through sex films meant we'd been able to move into a studio apartment back in New York, uptown by the George Washington Bridge. Even though our sex life wasn't working, we had worked out an outlet for that which was swinging. The problem with swinging however is that there's a fine line between having a beautiful relationship with your partner while enjoying others sexually, versus seeking out other people because you don't have a sexual connection with your partner. We had a mutual agreement that we could have physical relationships when we were working apart. That  worked out fine – until I met someone else I cared about. That someone else was coincidentally also named Kathy, albeit with a different spelling, so I called her Kathy 2.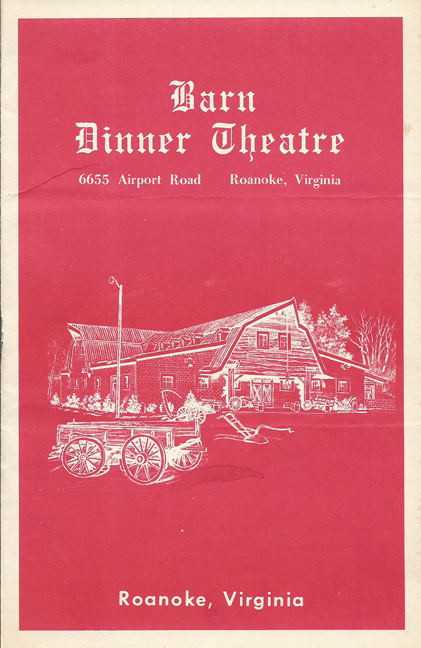 I met Kathy 2 in a dinner theater production in Roanoke, Virginia where we were both actors. Similar to Kathie 1, Kathy 2 was a nice girl from a wealthy family in Connecticut. I'd had a few little flings, but this particular affair with Kathy 2 became more involved, and mixing love and sex is a totally different ball game. I started to feel for her, and soon I fell in love. When the show in Virginia finished, I went back to New York and told Kathie 1 about my relationship. She looked at me and asked, "Do you love her?"
I answered, "Yes."
She thought for a moment, and said, "Well, why don't you invite her to move in with us?"
That offer blew me away. And I took Kathie 1 up on it.
At first, the Kathies got on fine under the same roof, but that didn't last for long. Sexually neither of them was into women, so I had to come up with a solution for our bedroom arrangements. Our apartment was a large studio, so I built a wall dividing the space into a living room and a tiny bedroom. I would alternate nights between them, spend one night with Kathie 1, and one night with Kathy 2. It was a solution of sorts.
I introduced Kathy 2 into the adult film business and she appeared in a couple of movies, but only with me as her sexual partner. The only one I can remember is Fringe Benefits (1974) where she was billed as 'Susie Mathews'. I did a scene with her and watching it back, it's clear how shy and awkward she was. She didn't like doing it at all, so her adult career stopped there.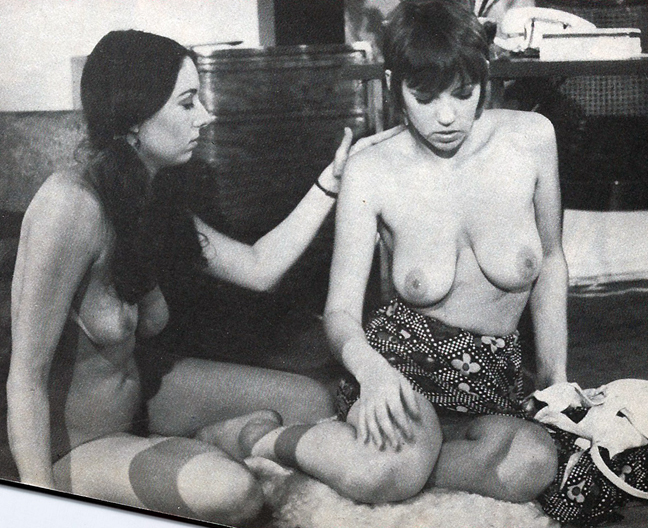 Kathy 2 (right), aka Susie Mathews in 'Fringe Benefits' (1974)
At home, the situation between the three of us remained strained. Joe Sarno came to the rescue when he hired me for a couple of films, Butterfly (1975) and Laura's Toys (1975), which were being shot in Europe. Boy, was I glad to get out of that domestic situation for a while. I headed off to Sweden and left the two girls alone.
Europe was fun, and while I was there I had a nice fling with the film's leading lady, Marie Forså. We shot 'Laura's Toys' (1975) on an island near Stockholm, and I liked the location so much that I went back and forth four times in a short period. In Stockholm, I met two sisters who were dancers. They took such good care of me that I stayed with them for months. By the time I got back to New York, the situation had changed: Kathie 1 had moved out and got her own place, whereas Kathy 2 had stayed in our apartment. I had no choice but to move back in with Kathy 2.
Kathy 2 had always wanted to be a theater actress. We all pursued the same dream back in those days, but in her case it wasn't working out for her. Eventually she gave up acting and went into the garment industry. She wanted to try something new. Sadly that marked the end of our friendship, and she moved into a different part of her life. Her new world was not my world, so we separated and left the apartment. I didn't keep in touch with Kathy 2, and she disappeared. It was probably for the best, because my career in the XXX industry was snowballing, and she'd made it clear she didn't want to be part of it.
Kathie 1 and I got divorced around the same time. She'd met an actor that we called JP, and they wanted to get married. It was sad that we'd split up, but we'd been together for ten years and had enjoyed a good relationship. She and I remained close friends and continued to appear in the same plays. The first play we did after she got married to JP was 'Arsenic and Old Lace' in 1976 at Islands Playhouse in Raleigh, North Carolina.
Soon after that Kathie and JP moved to Los Angeles. They both wanted to act, and they figured that would be the best place for them. I stayed in New York, and so for the next few years I didn't see as much of her.
*
3.     Arcadia Lake (real name: Michelle Carpenter)
By this time, roles in adult films were coming thick and fast, and I was appearing in them almost every week. After my relationships with Kathie 1 and Kathy 2 ended, I moved into an apartment at 888 8th Avenue. At the time, I was dating a girl called Lois. She lived in Baltimore but I used to see her at weekends.
Then I met an Asian nurse called Joyce but I called her Kinky. Kinky worked at Roosevelt Hospital which was right down the street from my apartment. She had a place on 57th Street between 8th and 9th, and pretty soon I moved in with her. At the beginning, it was strictly as roommates, but we quickly became bed-mates.
I'd got myself into another awkward situation because I didn't want a romantic involvement with Kinky. It was just a sexual affair to me, but she wanted more. She was a strange character. She'd take me doll house shopping, where we picked out tiny pieces of furniture, and little lamps with lamp shades. I even helped her build a doll house, for which I designed a staircase. As her nickname suggests, she was kinky too. Once she brought home a large plastic shroud for dead bodies from the hospital. She said, "Here's what I want you to do. I'm going to lay down here on this shroud, and I want you to pee on it."
I said, "Huh?"
I may have been an actor in porn films but this was too much for me.
Kinky started getting jealous every weekend when I visited my girlfriend, Lois. Kinky became clingy, saying she wanted to be my only girl. She also got possessive when I would go off filming. I decided I had to move out. I stayed in the building but found my own apartment on the 23rd floor – about 10 floors above her. Occasionally we'd see each other in the elevator, but never spoke after that.
The new apartment had a beautiful view, and it felt above the world and all the troubles down below. I needed a holiday and I found an advertisement for a campground on the north shores of Jamaica called Strawberry Fields. I wasn't shooting for a few days, so I booked a week and flew there alone. I fell in love with it. It was raw nature. It was paradise. There were army style tents and bamboo huts with thatched roofs over them. Everyone seemed to be smoking giant spliffs until they were completely wiped out. Oh God, those days were great. Strawberry Fields became my main vacation spot for the next few years. I went down there 12 times within a few years. After the first time, I realized I needed a companion. The first girl I took there was fellow porn actress, Lynn Stevens. Hey, I couldn't go for a week without sex. Over the years I took different girls, such as Lois, and always had an amazing time there.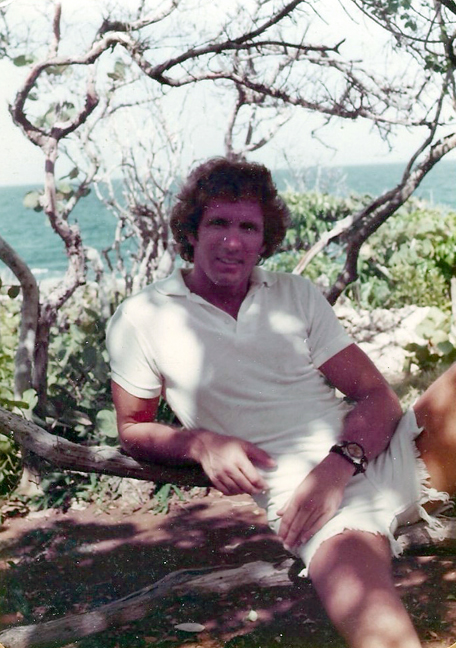 Eric in Jamaica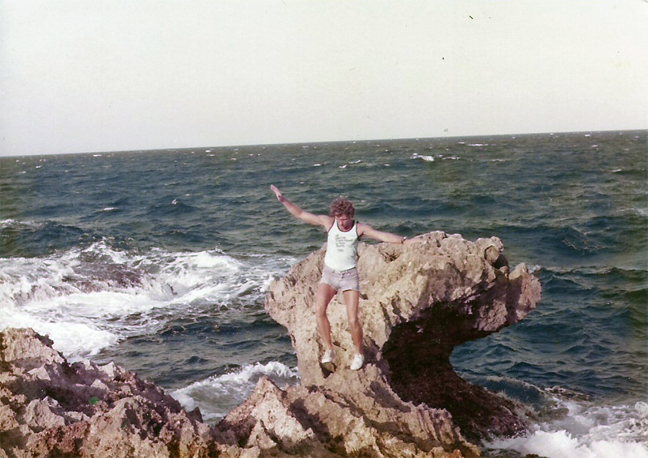 Eric in Jamaica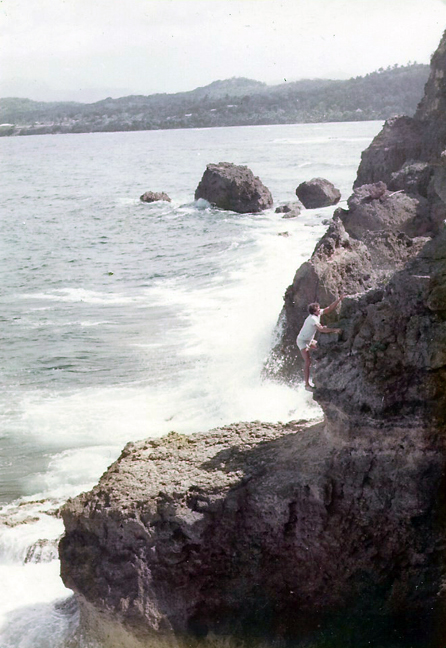 Eric in Jamaica
It was in 1977, while I was living in my apartment on 57th Street in New York, that I first met Michelle. Or 'Arcadia Lake' as she became known. We were briefly introduced when we made some loops together. She was a stunningly beautiful girl, though considerably younger than I was. We exchanged phone numbers, and a few days later I got a call from the manager of Show World. Show World was known as the 'supermarket of sex' with different activities on each floor – from live sex shows to peep booths.
He said, "Could you do a live show for us, as a stand in for Marc Stevens? He can't make it today."
I said, "I suppose I could… though I've never done one before. Who is it with, and how did you get my number?"
He said it was Michelle who'd suggested me, and that I'd be working with her.
I said, "Okay, I'll give it a shot." It wasn't much pay, but I figured what the heck? I really liked Michelle, and had enjoyed spending time with her.
Show World was within walking distance of my place, so I went down there and was told our show was upstairs on a small stage. It was very dark, and the audience, about 25 guys, were just silhouettes that you could hear breathing. We did five shows during the course of the day and Michelle and I had fun with it. In between shows, we'd walk back to my apartment and hang out, before going back for the next show.
Michelle and I got on really well. She'd only recently got into the industry at the suggestion of her unemployed musician boyfriend, but had only done a handful of loops before we met. She was bright, much more intelligent than most people realized, and would pick things up quickly. She also had a great sense of humor, and cracked me up with her funny comments.
We started hanging out in my apartment more and more, and became close. I told her about my vacation spot in Jamaica. I hit on the idea of taking her there and doing a photo shoot of us together. I figured I could sell the pictures to a magazine, which would pay for the trip. She liked the idea so we headed off there and had a great time. As for the photo shoot, I did it all myself. I put the camera on a tripod, pushing the time-delay button, and then ran out in front, and posed with Michelle. It was silly, and sometimes she would just burst out laughing, but we had a blast. The shots turned out great. I ended up selling them to High Society who published them in a feature called 'Arcadia and Eric in Eden.'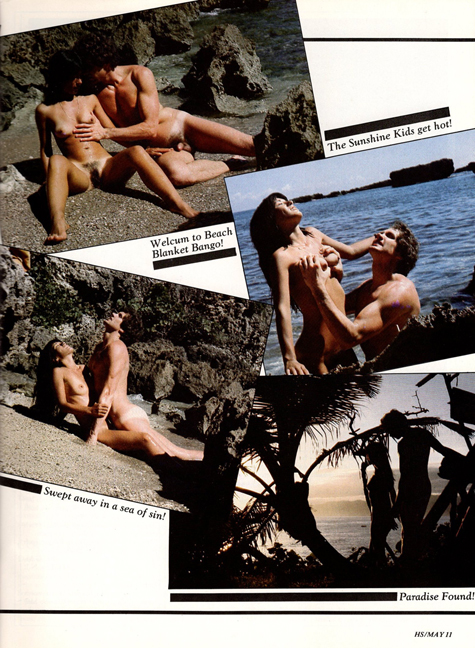 We both looked good in the pictures. We were tan freaks and loved going to places just to lay out in the sun. She had a beautiful smile. I noticed she had a chip in her tooth, which she told me was from a past boyfriend. I had a good dentist, so I sent her there and she had it fixed. We had great chemistry, and were much more sexually compatible than I'd been with Kathie. I loved everything about her, physically, mentally, and emotionally.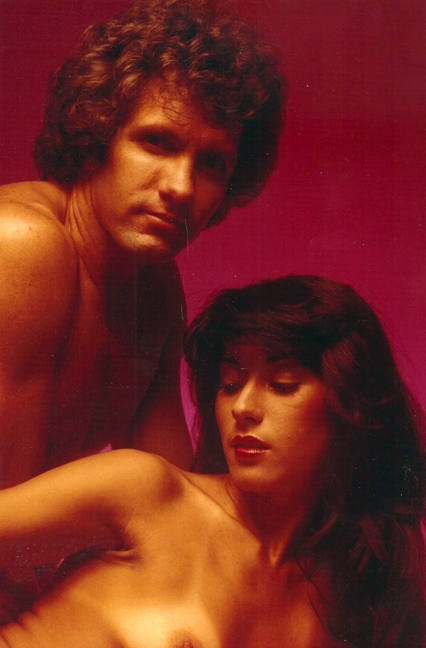 Eric, and Arcadia Lake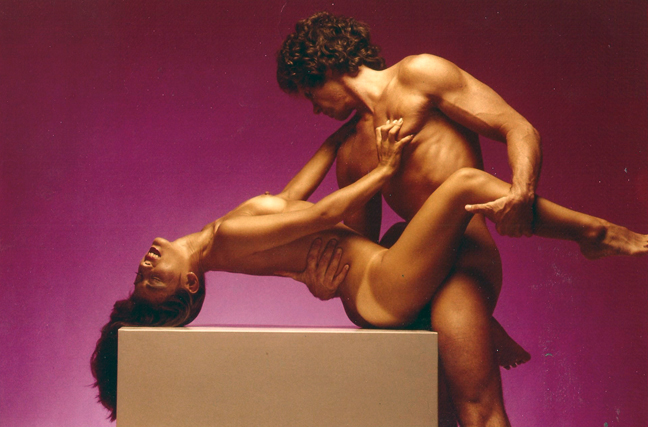 Eric, and Arcadia Lake
Michelle had dark hair and an exotic look, and I found out that she was ethnically half-Japanese. She'd been raised by her single mom, Tamiya, who'd had an affair with a wealthy, older, married white man in New York state. Michelle was born out of wedlock. Her birth father wanted to keep her a secret and neglected her, as he didn't want his wife to know anything about Tamiya and their daughter. I met her father once, and there was an awkwardness between the two of them. Nevertheless, she took her father's second name which was Carpenter.
Michelle's relationship with her birth mother was close, and for a time she wanted to change her name to Tamiya to honor her mom. I went along with it and got used to it because that's what she wanted. Her father had family in Seattle, and Michelle was keen to connect with them, so we drove up there to see her aunts, uncles and a cousin. They were kind to her, and they gave me a hand-knitted quilt-like blanket that I have on my bed today.
Back in New York, Michelle moved into my apartment on West 57th Street. I was getting a lot of film work, so I was able to introduce her to adult feature film makers. When I was cast in The Pussycat Ranch (1978), I talked the director, John Christopher, into using Michelle for a cute little part in it. She played it to the hilt and was great. That was one of her first real roles, and from that point on, she was known as a proper actress who could handle lines and bring a part to life.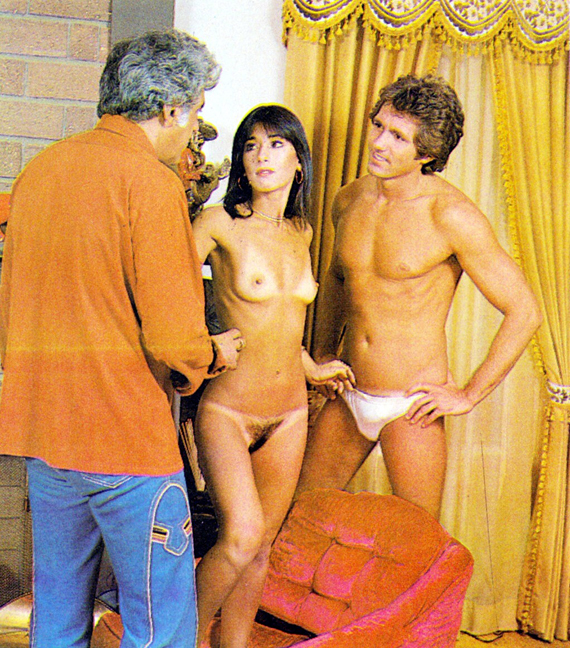 Eric and Arcadia Lake, with Bobby Hollander
She soon got offers from many of the New York directors like Henri Pachard, Cecil Howard, and Chuck Vincent – and we both appeared in Debbie Does Dallas (1978) which was a rare breakout success for an adult film. For some reason she chose the name 'Arcadia Lake' for her porn name. God, I hated that name. Apparently, there's a reservoir in Oklahoma called Arcadia Lake but I don't know if that was the inspiration or not.
In the early days, we didn't experience jealousy like other relationships I'd had. We were always a couple, and no matter what, we were secure in that knowledge. We didn't swing like Kathie and I had done. On occasion, Michelle had a girlfriend that she wanted to sleep with so we'd make it a threesome. But basically we had each other, and we never needed anything else. A lot of people thought Michelle and I got married and that she was my second wife, but that wasn't the case. We never even discussed getting married. It just didn't come up. We were having too much fun to rock the boat. Though we were close, Michelle was still independent and valued time spent by herself each day. We had enough money to be comfortable, and in between acting in films, we traveled and continued to vacation in Jamaica and other places – and sometimes did photo sets when we were hiking to fund the trips.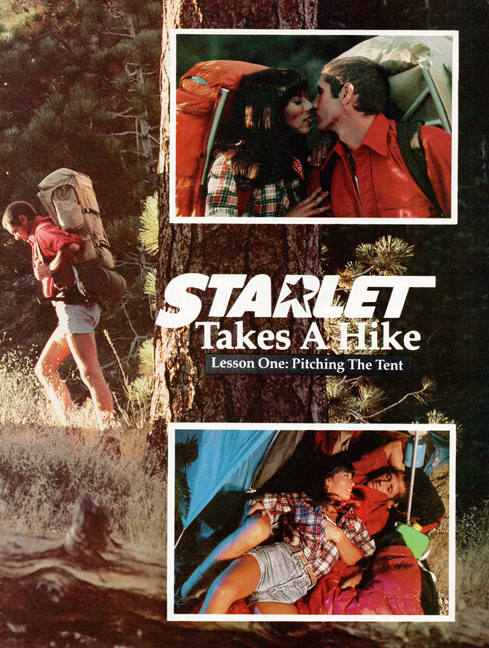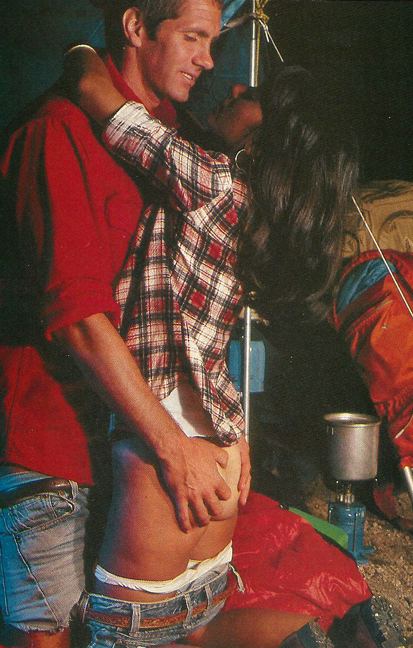 Eric  with Arcadia Lake
Michelle was the first woman I dated who was much younger than me. Perhaps as a result, she looked up to me, and at times our relationship was almost like a daddy-daughter one. I liked that she was my gal. One day, we were strolling in the Village and we stopped in a head shop where she bought a slave bracelet. Basically, it was a bull ring that went through a bull's nose. It was hinged on one side and it closed shut so that you could wear it as a bracelet.
Michelle had always worn jade bracelets, but insisted on wearing the bull ring as a bracelet because she said she enjoyed being my slave. I liked it because it was like a wedding ring. She wore it all the time that we were together after that. It can be seen in several of the movies that she's in, revealing that she was with me at the time the movie was made. (You can also see me wear items of jewelry in films that show who I was dating at that point in my life. I later dated a Thai girl and wore her little Buddha around my neck, and after that I wore an Egyptian cartouche with an inscription that I'd bought while filming in Cairo when I was married to Renee.)
By the early 1980s, I was getting more and more offers to appear in adult films on the west coast. For a time I traveled backwards and forwards as I appeared in films on both sides of the country.
In the first years of my love affair with Michelle, I wasn't aware that she had drug issues. But I remember finding out for the first time. We were in my apartment, and I was looking at the view from the window. Michelle came over to me and started to tell me about the reason that she spent time away from me each day. She confessed that she'd go down to the methadone clinic to get her dose.
I asked, "What's methadone?"
She told me that she used to shoot heroin, and that methadone was a substitute to help her kick the habit. She was scared. She knew that admitting this to me could end our relationship, but she was struggling and wanted to get off methadone. In short, she wanted help. This was a big moment for her. I told her I wasn't concerned with her past. I just saw what I saw, and I loved what I saw. She was a good person, and I loved her.
I said, "I'll do anything. How can I help?"
She told me what she wanted to slowly dose herself down, detox off the methadone, and then stay clean. Loving her as much as I did, I wanted to help, even though I knew nothing about the drug. I decided it would be easier for her to go through this process in Jamaica. She bought some extra methadone from friends on the streets who sold her their doses. It was a lot of methadone to deal with, and Michelle entrusted me to play doctor for her. Somehow we obtained a chemistry set that enabled us to measure doses. It was a series of test-tubes, and I worked out how to pour the liquid to prepare just the right amount of treatment. We stashed these glass beakers and equipment in our suitcases and managed to get everything through customs and into Jamaica.
While we were there, I watched her very carefully. It wasn't much of a vacation, but we knew we had to do what we had to do. It was a tough process and it was going to take a long time as she was getting close to the bottom. It took several months in total, during which we returned to New York a couple of times, and the last trip to Jamaica was about a month long. This time I checked us into the Negril Yacht Club. I figured that a nice suite would be better than a tent at that stage. Around the third week or so, our friend Leslie Bovee came down to visit and offer moral support. She was with us in our room all the time. She was a very supportive person, and a big help.
The final week was the toughest. When Michelle finally reduced her dosage to zero, it was a beautiful day. I took a photo of her sitting on a bar stool at the Thatched Roof Bar, holding up her hand with the forefinger touching the thumb to show 'zero'. I loved that photo because she looked happy.
I knew that returning to our old lives in New York would be difficult for Michelle. I told her, "I don't think it's wise for you to be with your old crowd around you. It would be too tempting to see them again." I decided that it would be best to leave the city permanently and move to California. I knew that it'd be easy for us to find acting work there, so it seemed a simple solution.
In 1982, I bought a black Dodge van and we packed everything we owned and started our drive across country. To help fund our trip, I'd arranged a gig in Denver at the Capri Theater. It was a porn theater, and we made personal appearances, signing autographs and having our photos taken with fans. After a couple of days there, we drove on to Los Angeles.
We moved into a place in West Hollywood on Kings Road between Santa Monica and Fountain Avenue. It was a nice apartment in a friendly gay neighborhood. We were on the third floor, which was the top floor of the building. It was a typical Hollywood one-bedroom apartment, with a balcony overlooking the pool. The change of scenery felt good.
As expected, it was easy to find work. I got to know the two main agents, Jim South and Reb Sawitz, but ironically never signed up with either of them. Mainly I found work through word-of-mouth. One of the first films I made was Carter Stevens' Tinseltown (1980) – which sounded appropriate for someone who had just come into town looking to be in the movies. The film work soon became so plentiful that for the first time I had some savings. We'd get paid in cash, so I had to get a safe deposit box because I had so many dollar bills. Money was never a problem in those days.
We had a new lease on life in Los Angeles, and it felt like we'd started our relationship all over again. I bought a little blue Spitfire sportscar, and we'd go on regular vacations to top up our tans. Jamaica had stopped being fun for Michelle after the detox experience, so instead we spent weekends in Palm Springs. Life was fun. It was a responsibility-fee existence. We were doing so well that I decided to take Michelle to Florida to meet my parents. By now, this had become a running joke with my parents, and they almost expected me to bring home a new girlfriend every few years. We drove all the way to Florida, stopping at all kinds of places along the way. My parents loved to fish in The Keys, so we met up with them at Islamorada, where they fished and we camped. It was a happy time. My parents loved Michelle.
Back in California, I continued to appear in films, like Sweet Little Foxes (1983), The Young Like It Hot (1983), and Bodies in Heat (1983). Michelle was less prolific. The simple reason was that I was less comfortable with her being in the business. I realized that when I cared for somebody, and that person was potentially fragile like Michelle, I really didn't like them to make films, because I knew how destructive it can be. On occasion, we worked together, like in Edwin and Summer Brown's horror movie The Prey (1984), but in general, the more adult films that she did without me, the more it tugged down our relationship.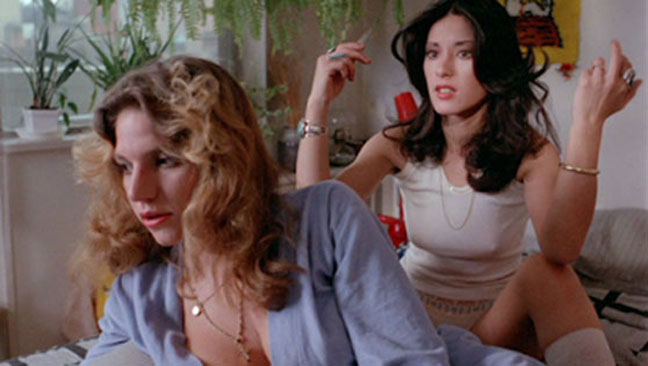 Arcadia Lake (right)
When we moved to an apartment on Kings Road, I noticed there was a Sports Connection gym down the street from us. I helped get her a job as an aerobics instructor there – and she excelled at it. I was proud of her having gone through such a tough time with the drugs and coming out the other side. She was healthy and happy, and that was the Michelle with whom I fell in love. I also felt proud about my own involvement in her recovery.
One night there was a party in our apartment building, and we went along. There were people doing PCP there so for some reason, we decided to try it. It was powerful, and we were knocked sideways by the effect. We were both off in la-la-land, and when I wanted to go back downstairs to our apartment, I couldn't even find it. It was a horrible experience, and I vowed not to do it again. But from that point on, things started going downhill.
At the Sports Connection gym, Michelle taught aerobics to a girl who was a heroin addict, as was her boyfriend. They became friendly, and Michelle soon slipped back to her old drug habits. At first I didn't realize it, but then I started to recognize the signs. She'd go away for hours at a time, and when she got back I could tell that she'd been high. She finally admitted to me that this girl and her boyfriend had got her hooked on heroin again. By this time, I already knew. I could see the tracks. Then her friend's boyfriend died of an overdose, but even that didn't shake Michelle enough to stop. It was a serious addiction again.
I had to fly back to New York for a film and Michelle stayed on the west coast. I should have known it wasn't a good idea to leave her alone. When I got back, she was in a bad way. She told me she'd misplaced my sports car. She couldn't remember where it was. Several days later, I got a call from a guy who owned a bar in West Hollywood, and he said, "I think your car is in our parking lot."
I went over to the bar, and sure enough, there was my little blue sports car. I was about to drive it away when, all of a sudden, I was surrounded by a dozen cops with their guns pointed at me, shouting, "Freeze! Don't move! Keep your hands in the air!" I'd reported the car stolen, but they thought I was the thief. This was all part of the craziness of drugs in our life again.
It was tragic to realize that I might lose Michelle to drugs. I could feel it happening, but I was at a loss as to what to do. We had an offer to make a film up in San Francisco. When we got there, Michelle and one of the female cast members started to shoot up eight-balls, a mixture of heroin and cocaine. I knew I had to get Michelle back home. I had two tickets in my hand to go back to L.A. and I begged her to leave with me. She just said, "No. I wanna stay here."
I felt that she was slipping away from me in front of my eyes. I loved her so much that I made a bad decision. I wanted to put myself in her shoes, to be where she was. I said, "Okay, let me try it." The girls injected me, and I got high. That was my first time. I had never had my skin punctured for drugs before. I felt euphoric. It was monumental. I had never experienced anything like it.
Back in our apartment in West Hollywood, we both became addicts. Michelle helped me inject as I could never do it to myself. For a time, we'd do it together. One night, I was looking out at the pool from our balcony, and she said, "I'm going to leave you."
I answered, "Yeah, I know."
I had felt that it was inevitable for a while. I gave her my favorite black leather jacket. I didn't know where she was going, but I wanted her to stay warm. That's when she disappeared. She left her clothes and everything she owned with me, and just disappeared. She never came back to pick them up. I kept them under my bed for years in case I saw her again.
After Michelle left, my mental state wasn't good. I was depressed because I was alone, and now I had a drug problem. How bad did the addiction get? Pretty bad. Over the years, I've tried to forget about it all. I haven't mentioned it in interviews because it was such a dark period in my life. I hid it from the adult business too as I feared that I wouldn't be hired if people found out. But there were times when I just couldn't work because I was too strung out. To make matters worse, I had tell-tale track marks on my arm and I didn't want anybody to see them so I didn't work until they healed up.
I wasn't the only old-timer suffering. Harry Reems, my old friend from the early days of the industry in New York, was an addict as well, and for a time I was his supplier. I'd visit him in his Malibu home and we'd do drugs together. Harry had it bad. He'd see people in the trees that he thought were trying to get him.
I almost died twice alone in my apartment. I woke up unconscious on the floor both times, and thanked God I was still alive. But that wasn't enough to fix the problem. I went back to the drugs time and again. I was close to the bottom. I moved out of the West Hollywood apartment because it just reminded me of Michelle, and I found a new place in Hollywood at the top of La Brea and Hillside Avenue.
One of the things that saved me was meeting a girl named Onusa. I was still acting in movies when I had things under control, and most of the films were being shot in San Francisco because of obscenity laws in Los Angeles. Between shoots, when I was back in town, I hung out with a guy named Joe Colgan who was a line producer on adult films. He lived in Hollywood, not far from me, and we'd eat at the same Thai restaurant on La Cienega Blvd. Over time we started to flirt with two Thai waitresses there called Onusa and Gai. One day, Joe and I flipped a coin to see which of us would ask out which girl, and it turned out that I asked out Onusa and Joe asked out Gai.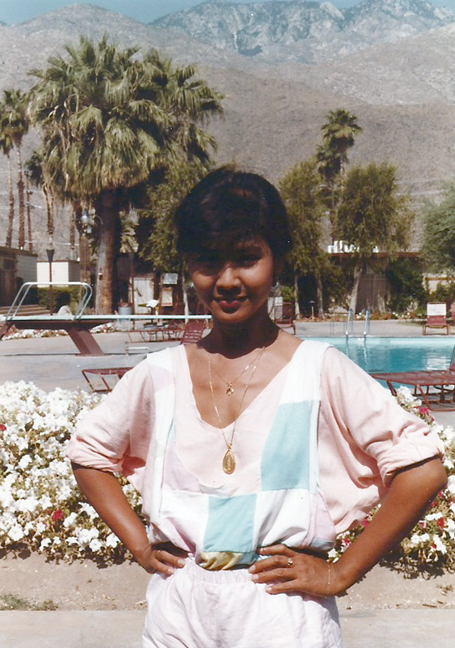 Onusa
I started dating Onusa, and she was a beautiful fresh start. She wasn't in the adult business, and wasn't into drugs. She was supposedly a princess from Thailand, getting a degree from UCLA. She was a beautiful, well-dressed woman who was perfect for me at that time in my life. She didn't judge anything that I was doing, and she was helpful in getting my life back on track. I went to her temple in the San Fernando Valley, and got to know about Buddhism. It was refreshing to me and I found strength in it. I asked her if I could borrow a Buddha from her. She gave me a pendant to wear around my neck. It was an oblong jade carving of an old Buddha that was encased in gold. She said, "I'm giving this to you on loan. You must return it to me when we part."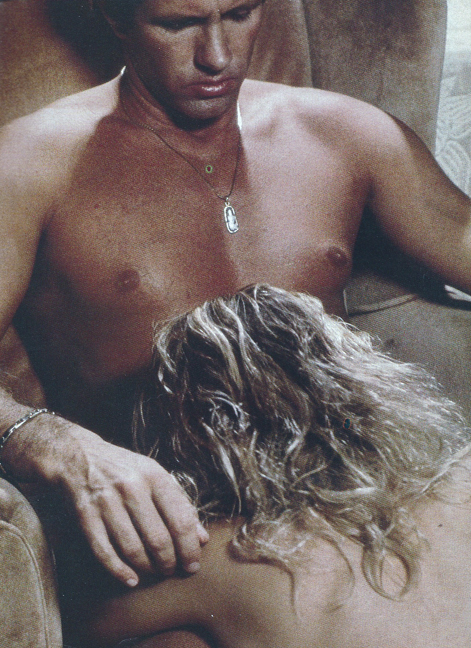 Eric with his Buddha pendant
The timing of Onusa in my life couldn't have been better. Just knowing her gave me the courage to go cold turkey and quit my drug habit. And it actually worked. For the first time in months, I became clean and kicked my addiction. She kept her own apartment, but we spent a lot of time together. We'd go to Palm Springs, where we'd stay at Two Bunch Palms or The Hot Springs Spa. We'd go to the top of the mountain, take a hike, make love in the woods, and then go back for a nice dinner overlooking the town. That was our escape.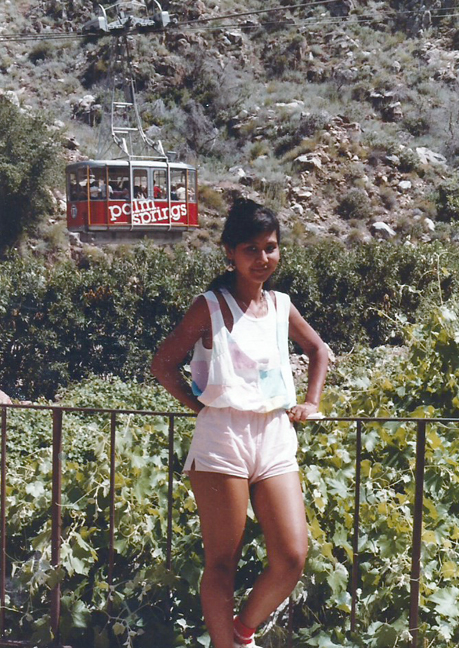 Onusa
Meanwhile, my friend Joe was dating Gai, and they eventually got married. We considered having a double wedding, but deep down, Onusa and I both knew she had to go back to Thailand after she graduated. Eventually she got her Master's degree and returned to Thailand, and sadly that put an end to our relationship. I returned her pendant, and she was gone. She would have been perfect for me, a sweet non-judgmental woman who wasn't in the business and who didn't mind me being in it, but it wasn't to be.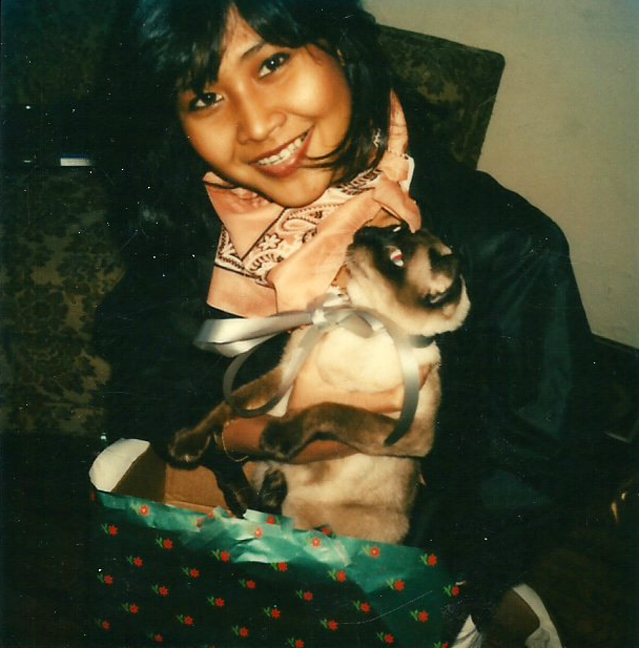 Onusa
I was back in control of my life, but I still had no news of Michelle. We had a few friends in common, but they didn't know what became of her either. She'd once told me of an abandoned building near our apartment where drug addicts lived. I could see it from one of my windows. All the windows were boarded up and it looked forbidding. I would sometimes drive past it and wonder if she was in there.
Someone told me she got into dancing, either in Los Angeles or the Northwest. In the early 1990s, I was receiving a lifetime achievement award, and a guy came up to me at the awards show and said, "Did you know that Michelle died of an overdose?"
By that stage, I'd almost been expecting to hear that news, but it was a strange occasion to be told. On the one hand, I'd just gotten a wonderful award and I was so proud. On the other hand, my worst fears for Michelle had been realized.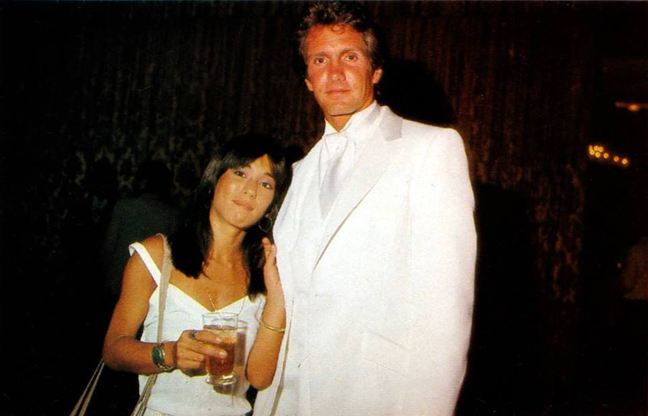 Eric with Arcadia Lake
*
4.     Renee Summers (real name: Cheri Roberdes) – Part 1
After Onusa, I had a brief but sexually intense fling with Ginger Lynn. Ginger was fairly new to the adult film business at the time. This wasn't a romantic interlude, we were just horny for each other. We'd try to see each other as much as we could, but we lived in different parts of the city – she lived at the top of Topanga Canyon, and I lived an hour's drive away in Hollywood. The industry quickly gobbled her up, and we just didn't have the time for each other. It was a short-lived affair only lasting a few months.
I was still back and forth to New York for film work, and in 1984 I starred in Henri Pachard's Great Sexpectations. On that set I met Cheri, who went by the name Renee Summers. She reminded me a lot of Kathie. She was pretty, bubbly, fun – and youthful too, which in turn made me feel young.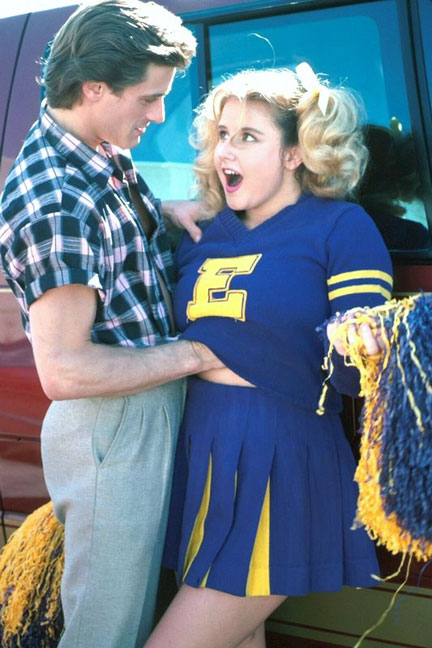 Renee Summers, with Marc Wallice
We went out to dinner in New York and got to know each other, and I invited her to spend the night in my hotel with me. When the film wrapped, we flew back to California together, and she told me about her life.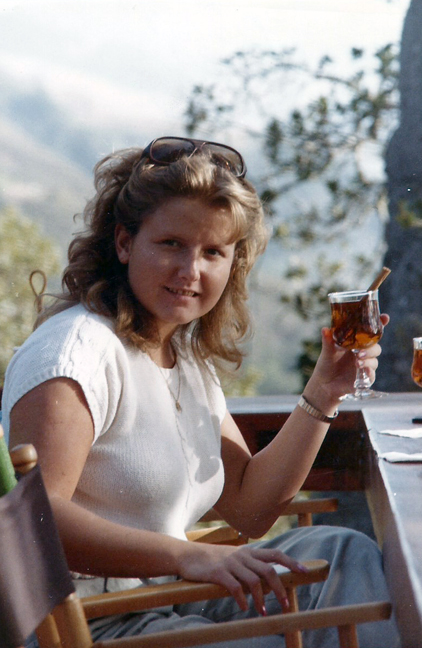 Renee Summers
She said that her father and mother were dead, and that she'd been raised by her grandparents an hour and a half outside of Los Angeles. She was close to her family but had a troubled upbringing. She'd got mixed up with the wrong crowd and had run away from home in her teens. Somehow she'd started a career in the adult film business, and had picked up an abusive boyfriend along the way. He beat her for appearing in the films. She also had a cocaine habit, which wasn't surprising. Snorting cocaine was commonplace at the time. It was so prevalent that there'd be a line for the bathroom at every party.
I felt bad about her situation, and so I said, "Why don't you come stay with me for a couple of days, until things cool off between you and your boyfriend? Then you can go on your way." She thanked me, and took me up on the offer.
When we flew into LAX, she was impressed that I had my personal chauffeur waiting for me. In reality, the driver was a friend named Kevin who owned a small limo business with his dad. We had an agreement that I would give them VHS copies of my movies in exchange for being picked up at the airport.
Cheri stayed with me for a few days, and then the days turned into weeks. We liked each other, and our relationship developed. She got rid of her boyfriend, and moved in with me permanently. When I returned to New York for the premiere of Cecil Howard's film, Firestorm (1984), she was with me.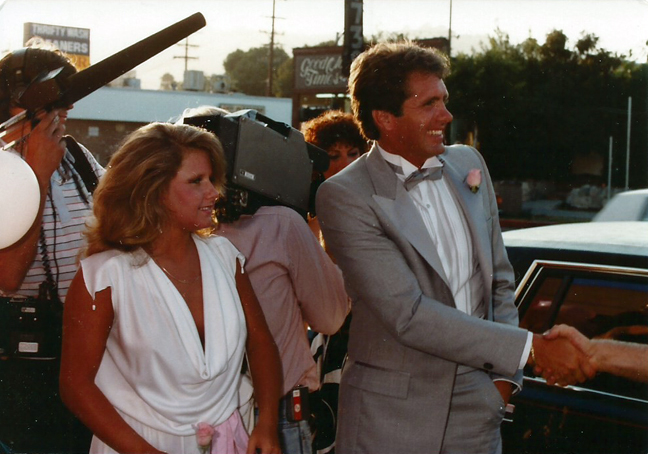 Eric Edwards and Rene Summers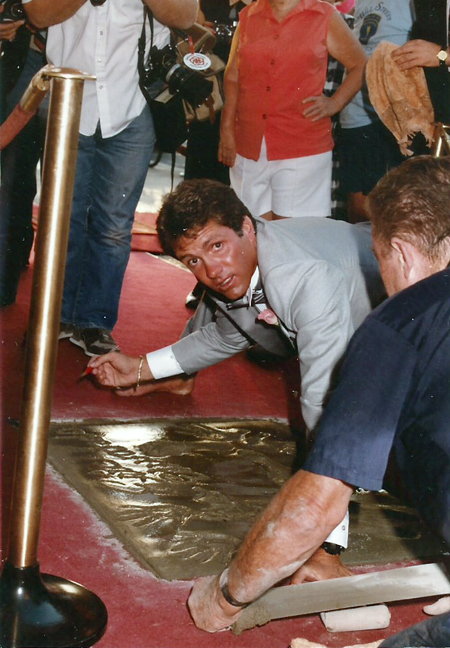 Eric Edwards and Kay Parker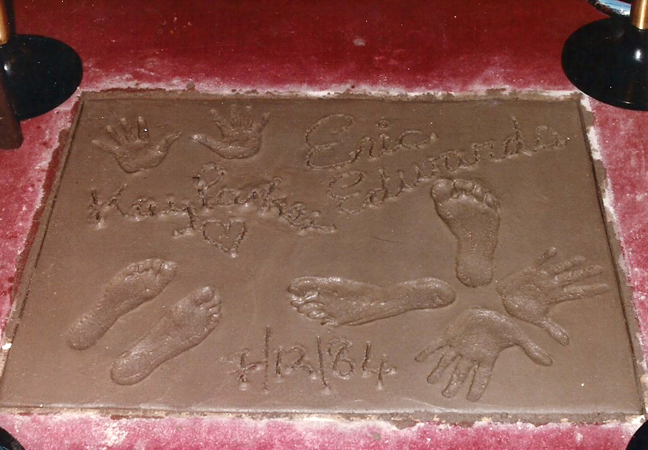 Cheri and I loved camping. We once went to a sporting goods place in Hollywood to buyl new backpacks, and the young sales clerk, who was probably around 18 years of age, approached me and said, "Excuse me, sir. Would you mind if I asked your daughter out on a date?" I said, "She's not my daughter, she's my lady."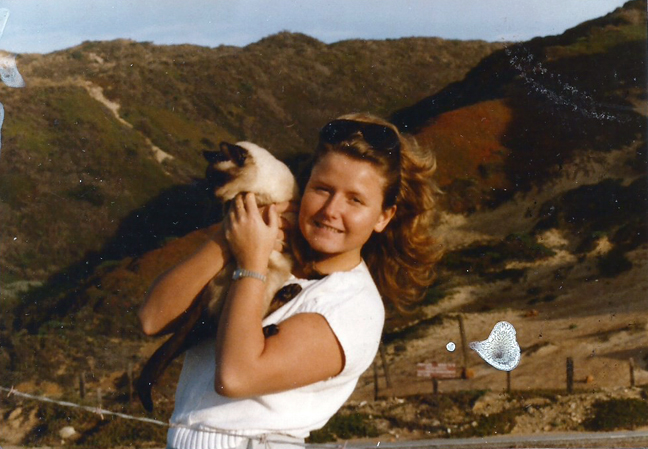 Renee Summers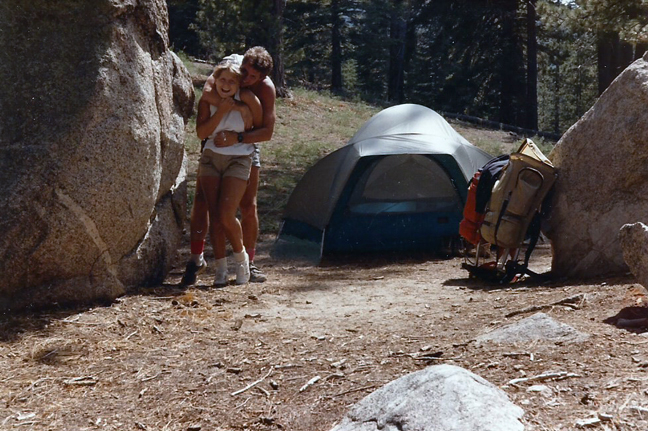 Eric and Renee Summers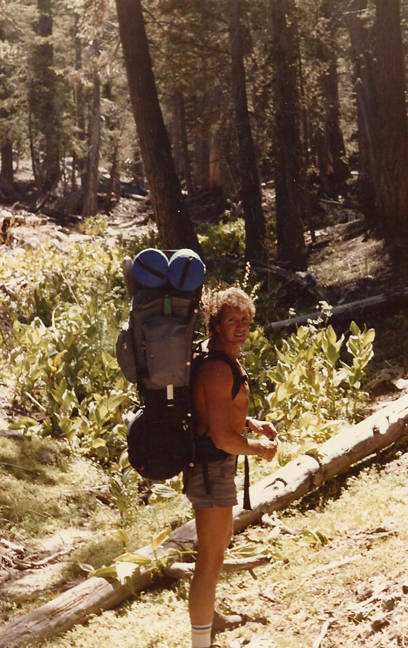 Cheri was 23 at the time, and in that respect our relationship was similar to the relationship I'd had with Michelle. She looked up to me, and I helped mentor her. Shortly after we met, I turned 40, and Cheri threw a surprise party for me. She took me to the Summit restaurant and everybody was waiting there. There were friends, directors and fellow actors, and even Kathie was invited which surprised the hell out of me. It was the sweetest thing Cheri ever did for me.
As usual, we made the drive to Florida to visit my folks, and I'm sure they were thinking, "Here we go again…" They were entitled to be wondering how many girlfriends they would have to meet before I settled down. But they liked Cheri, despite the age difference. We made the trip to Florida in my brand new six cylinder, fuel injection, Nissan 280ZX. Cheri helped me pick it out, and I was so proud of it. We went everywhere in it. One of the first places was the Poppy Reserve in Antelope Valley to see the California Poppies. The fields of poppies went on as far as the eye could see. I took many photos of her with the flowers. Looking at her through the camera lens, I realized I'd fallen in love again.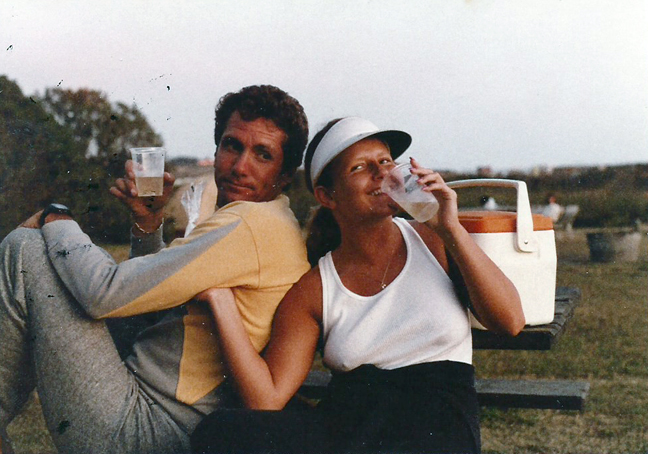 Eric and Renee Summers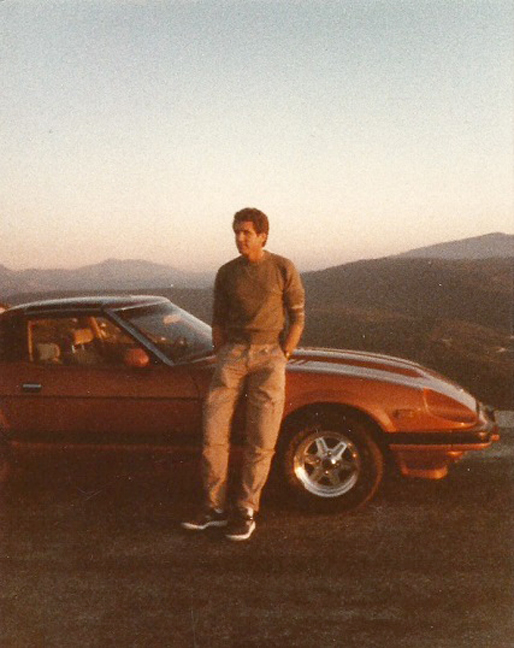 Eric with his Nissan 280ZX
On our way back from Florida after seeing my parents, Cheri and I stayed in a motel in Cocoa Beach because we were planning on visiting the Space Center at Cape Canaveral. That night, we were on the pier looking out at the ocean, when all of a sudden the whole sky lit up and there was a deafening roar that you could feel deep In your bones. We turned around and saw a Delta 3 Rocket blasting off. The experience was so powerful that it seemed to affect my sanity – on the way back to the motel, I got down on my knee and proposed to Cheri.
She accepted, and we got married in 1986.
We had a beautiful wedding at the Fern Valley Inn in Idyllwild, California. I'd been there a few times and would stay in the same A-frame cabin each time. It had a beautiful white gazebo out on the lawn overlooking San Jacinto. I planned the wedding meticulously, and it was my biggest production of all. We invited 20 of our closest friends, and put them up in the Fern Valley Inn and the cabins around the property. The only people missing were my parents, as my father was in poor health. Kevin, my limo driver, drove us all the way up to the mountain, and he videotaped the entire ceremony. My best friend, Dave Muniz, a musician in San Francisco who later did the music for my features, was my best man.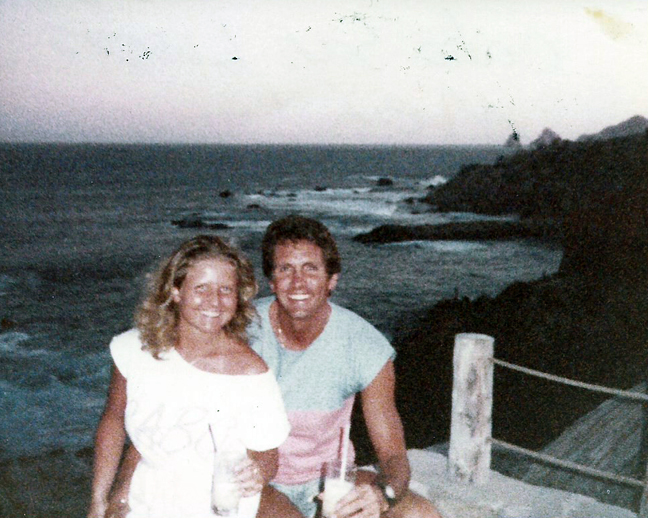 Eric and Renee Summers
The following morning, there was knock on the door of our cabin. It was the owner telling me I had to call my mom right away. A few minutes later, I learned that my father had passed away during our wedding ceremony. He'd been hospitalized for a time, and had died of cancer. With hindsight, maybe Dad was trying to tell me something about Cheri by dying on our wedding day.
Married life started happily. It was still the time of milk and honey, and I was blinded by love. Cheri talked me into becoming a film director. She encouraged me, saying she thought it would be good for me. She was right. I loved it. Cheri suggested I focus on making romantic videos for couples, so I turned my attention to writing lengthy scripts that were like mainstream films – just with explicit sex sprinkled in. I paid a lot of attention to production design too, especially the lighting to bring the romance to life. For the next few years I made films like Sailing Into Ecstasy (1986), Memoires of a Chamber Maid (1987), In a Crystal Fantasy (1988), and Soft Warm Rain (1989). They were a different type of film from most of the shot-on-videos that were being made.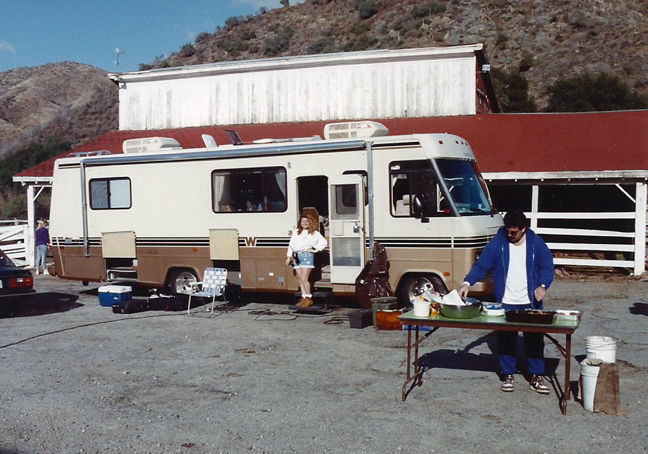 Cheri continued to appear in adult films, but I started to hire her for various roles behind the scenes as well. She was my assistant director, casting director, production assistant and coordinator. She never helped write the scripts, but sometimes I gave her a writing credit. That was for two reasons: Firstly, I wanted to attract a couples market and it was more attractive if the viewer thought that a couple had written the script. And secondly, I wanted to help her get work from other directors, so it was useful in building up her resume.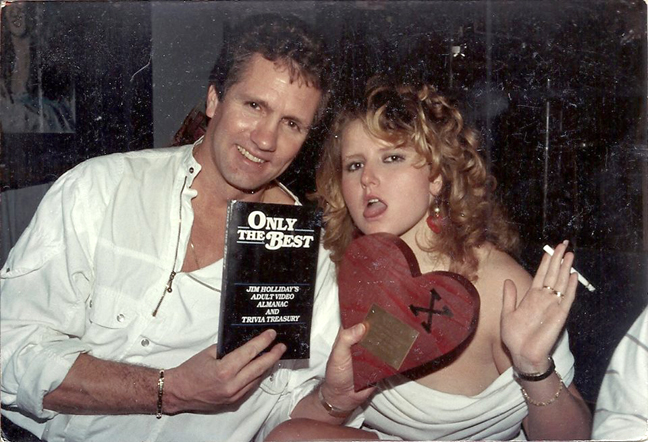 Eric and Renee Summers
In our spare time, we drove around southern California. I bought a Jeep (which I also used in a few films) and we'd go up the coast camping and trying out different foods. I developed a love for escargot so we'd drive up to places like Carmel just to try their escargot. We also camped in locations like Big Sur, and once camped in the middle of the Monarch butterfly migration. There were butterflies everywhere. It was a total surprise. It was entrancing and magical, like living in a fairy tale.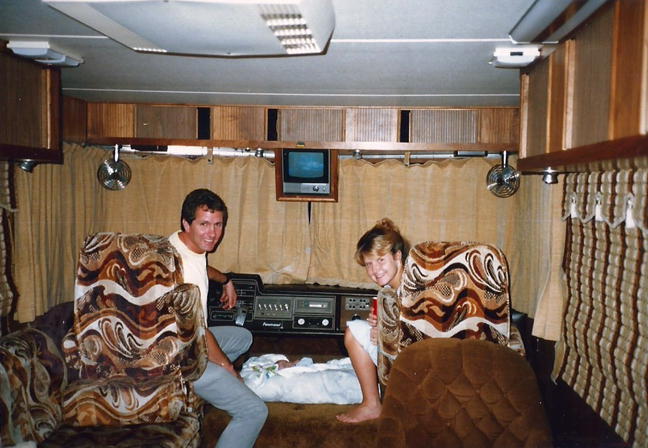 Eric and Renee Summers
We left Hollywood and moved to a house in Tujunga, which was more like a mountain cabin. It had a little pot belly stove fireplace. Tujunga isn't far from the city, but it is mountainous and feels like it's on the outskirts of civilization. I commuted into the San Fernando Valley where most of the film work was taking place.
In 1986, our first son, Tyler, was born. We were living in Hollywood, and just like our wedding, I start to plan his arrival in great detail. I was being the nest builder, and I liked it. Cheri was younger and less mature, and besides she just preferred to leave the planning to me. I had no qualms about money. I wanted to buy the best that money could buy – whether it was Fisher Price games or strollers. I'd check and see how they were made, ensuring that they worked okay and were completely safe. Cheri and I went to birthing classes together, and when Tyler was born, I was there to cut the cord. It was the most wonderful experience of my life.
Now that we had a family, we needed a larger place and a larger car. I got rid of the sports car and got a van to accommodate all the stuff that new parents have. There was one problem: when Tyler was born we didn't have any medical insurance, so I had to shell out $10,000 dollars for the birth, which completely set us back. My directing career was underway and I was doing fairly well, but it wasn't enough to pay off a debt that size. To get more money, I worked as much as possible. I wrote, shot and acted in many of the films as well as directing them, but we still struggled financially.
After paying the hospital bill, I suggested to Cheri that she start a dancing gig, like many other girls in the industry. The stripping circuit had become a good way for porn actresses to increase their income. Cheri was reluctant at first, but finally agreed. I stayed home taking care of Tyler while she went to different cities for her dancing dates. On one occasion, Tyler and I drove all the way to Des Moines, Iowa to visit her at a club. When we got there, we discovered that we weren't welcome because we were interrupting what she was doing, and cramping her style… Another time, we made a trip to see her in San Francisco when she was dancing there. This time I realized that she was fooling around on the side so we made a hasty retreat.
When she came back home, the proverbial shit hit the fan. Looking back, I think Cheri just wanted to be independent. She wanted to be free of motherhood. She wanted to be free to do more films. She wanted to enjoy her youth. We split up when Tyler was only two years old. I was crushed. I moved out and got my own apartment.
It was clear that Cheri had no strong desire to be a mother, but we still agreed to mutual custody of Tyler. In theory, she agreed to take care of him while I worked, and I would look after him when she worked. In reality my son was with me 80% of the time. Cheri was still young, so I could understand her feelings but it hurt me to be alone again.
*
5.     Chris Jordan (aka Kathie Christopher) (real name: Kathie Fitch) – Part 2
In the early 1980s, after I moved to California with Michelle, I'd seen more of Kathie again. We'd stayed friends all along but now I got to see more of her. Her marriage to JP had only lasted two years, and she didn't re-marry. She and JP had lived in an apartment building across the street from me in L.A., so we were in the same neighborhood. Our friendship wasn't romantic, but we became best friends all over again.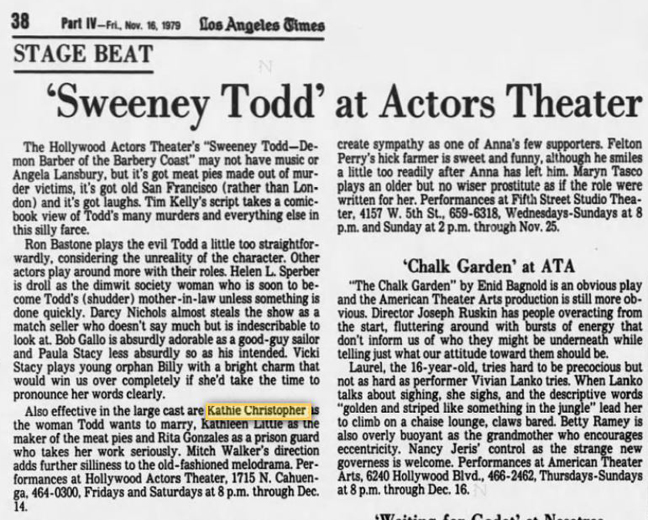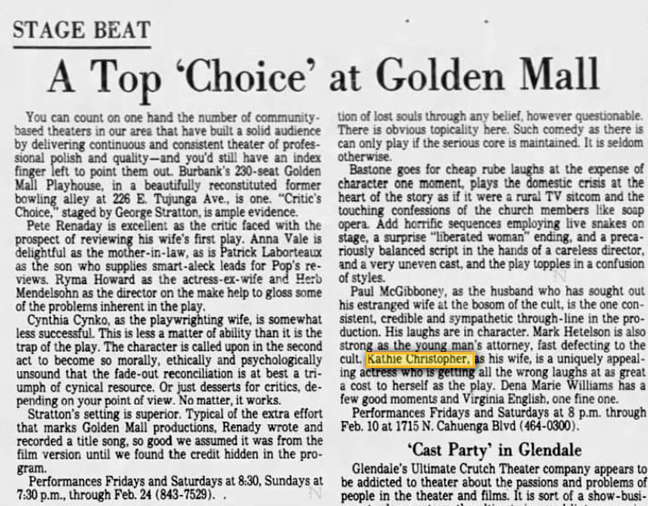 When she first got to Los Angeles, Kathie had become heavily involved in the Hollywood Actors Theater (HAT) and she directed and acted in many plays in their performance space on North Cahuenga Blvd. By the mid 1980s, she decided that she needed a more regular job. I went over to see her, and was freaked out to see her dressed as a police officer and carrying a gun. She'd got a job with the LAPD in Hollywood! She worked there for a number of years.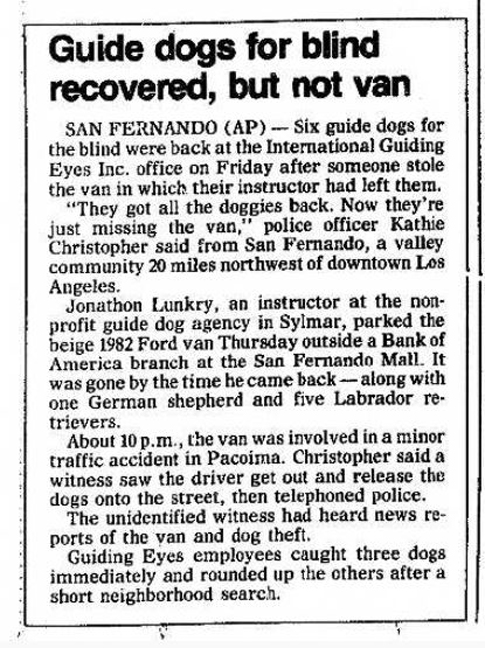 In the late 1980s, Kathie developed breast cancer. By this time, JD wasn't on the scene anymore. I don't think he even knew she had cancer. I'd visit her often as she went through treatment which included a double mastectomy. She was stoic in the face of adversity, and one day when we met up she had a big smile on her face.
"I've had a boob job," she announced proudly.
She'd always had a small chest but wanted big breasts, so she just opened up her blouse, flashed me, and showed me these humongous boobs. Her chest still had the scars, but she was excited. She was so proud of them.
It was a brief happy moment in what was a sad end to her life. She was close to her mom, but when her mother came out to California to visit her in the hospital, her mother died. It was enormously difficult for Kathie given her own fragile health. Her father didn't come to visit her saying he didn't like to fly. I couldn't understand that. His only daughter was dying, and he couldn't visit? There was obviously a conflict there, but I never found out what it related to.
In the end, Kathie flew back to Connecticut to be with her father. I think she wanted to make amends, or at least straighten things out. She died there shortly after she arrived, and was buried in Connecticut. It was a sad end to a beautiful life.
*
6.     Renee Summers (real name: Cheri Roberdes) – Part 2
After Cheri and I split up, I moved into an apartment down the street from the house in Tujunga. She stayed in our house. We needed to stay close because we took care of Tyler jointly. Ultimately though she found she couldn't afford the cost of the house so she moved into a smaller apartment.
It wasn't a stormy relationship, and we didn't fight so we stayed on reasonably good terms. I continued to hire Cheri as my Assistant Director when I directed a film. Our breakup lasted a couple of years, and by 1991, we'd drifted back together. We started to have feelings for each other again, and frankly it was more convenient to take care of Tyler if we were living under the same roof. So for the sake of my son and being a family again, I moved into her small apartment and we made up. I continued to make films, and Cheri continued to perform in them.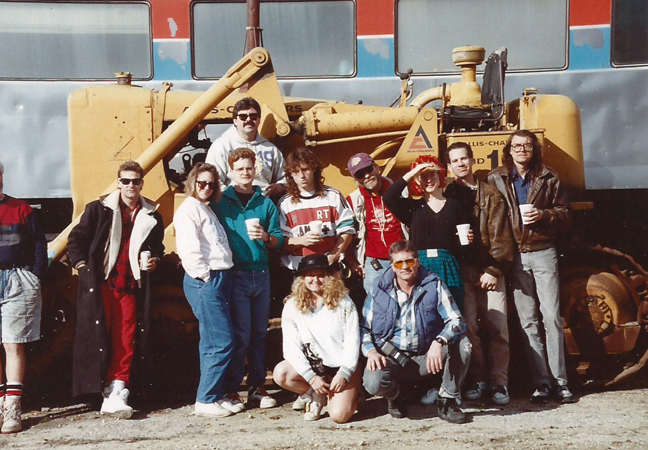 The crew of 'Mirage 2', with Renee Summers and Eric Edwards kneeling at the front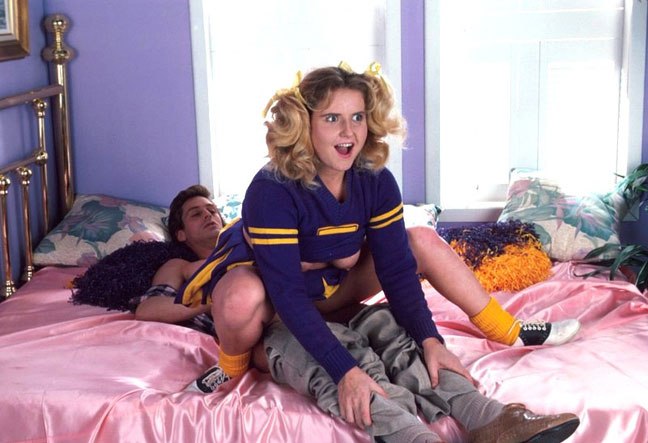 Renee Summers
We found a new place, a larger house further out in the country between Sunland and Pacoima by the dam. It's an area dominated by stables and horses. It was quiet and beautiful, and in 1992, our second son, Tanner, was born.
Being a director meant that I had cut back on acting, which wasn't a problem because I preferred the creative process of putting a film together. I was always looking for crew members to work on my sets, and in 1994, I hired a guy named Mondo as a PA. He was a friendly guy, so I overlooked the fact that he had a prison record. Cheri liked him too, and I saw that they seemed to be getting close while we were working.
Mondo introduced us to crystal meth. I did some, but its addictive nature scared me. I realized that it would be destructive to my work schedule. It was a nice recreational thing, but after I took it I stayed awake for three days until my body finally gave up and crashed. I couldn't get into that because I had my work to do. But Cheri and Mondo got heavily involved in it. Time and again, I'd come home and find them crashed out on the living room floor.
It came to a head when I was shooting a film out in Malibu. I got a message to call Cheri, and she told me that Mondo was intent on setting our house on fire. I was two hours away, so I told her to call the fire department. It turned out Cheri was right, but the fire department never got there in time. Our house burned to the ground, destroying almost everything I owned. The fire marshal told me that the blaze was intentional. He said that the fire had been started in my bed and in the baby swing. Fortunately the boys were not there at the time. It seemed that the arson was the result of a fit of jealousy.
After the fire, both Cheri and Mondo disappeared. They just flew the coop. I could have pressed charges for arson but I was so devastated that I didn't do anything. Being a homeless single father, I had to act quickly. I drew up a three-phase plan to get us out of this mess. Firstly we needed a place to stay. Fortunately friends were helpful and they let us sleep on their sofas and floors. Then we needed to find a temporary place of our own to stay, which we did in Lakeview Terrace. Finally we need to find a permanent place where we wanted to live – and we chose Valencia.
After that I had sporadic updates of Cheri's whereabouts because the courts chased her for child support. On one occasion, I learned that Mondo had been sent to prison for spousal abuse, so it seemed that Cheri had her own hell to deal with after she left. She disappeared from our lives, except for one strange occasion when she came to Tyler's sixth grade culmination. She turned up with a girlfriend and another baby, but after that, nothing. She had no involvement in Tyler and Tanner's upbringing. Raising two boys by myself was challenging to say the least. They were eight and two years old, and I had to make money at the same time as I took care of them. The next years were the most difficult time in my life. I worked my ass off. I was writing scripts like crazy and getting them produced and directed. In 1994, I directed six features, and in 1995, I directed 12. I was still performing too, though now I was competing against much younger guys in the industry, like Tom Byron and Marc Wallice – most of them 20 or 30 years my junior.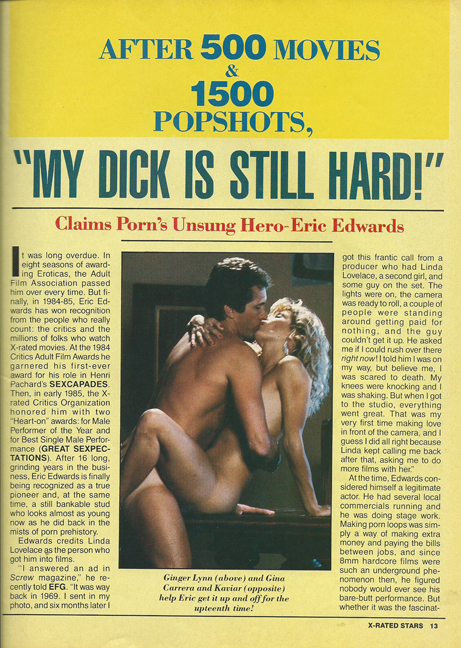 The problem was that I was spending money quicker than I was earning it. For a start, I paid the babysitters more than I got. I'd drop my sons off at a sitter and return home at three in the morning after a long day's shoot. I picked the boys up and drove them home to put them in the bed. Despite the hardship though, we still have a lot of fond memories. It was extremely tough though. Starting again and doing it alone at 50 wasn't easy.
After 1996, the directing work started to dry up. The industry had seemingly changed overnight. The movies that were being made were a lot more aggressive in nature, and many of them weren't narrative features – they were just a string of individual scenes. People like Rob Black, Patrick Collins and John Stagliano were making movies that were very different from my romantic vision. In some ways, the industry had gone full circle and was making loops again.
I found work for Totally Tasteless Video as their in-house director, editor, writer, and sometime cameraman. They had a good sound stage and an editing bay, and I wrote a few movies for them. The products weren't my scene but it was good to have a regular job. I punched in a time clock and was paid on time. That suited me with a young family. My sons came over to the editing bay with me at the weekends, and I'd see them outside happily bouncing a ball up against the wall. Meanwhile, on my small screen I'd be watching somebody getting whipped. It was a strange juxtaposition. I never sat down with the boys and had the conversation about my adult film career. It was just part of their lives from the beginning. They've always known. I once told them that I was editing some nudity and so they should stay outside and play. They accepted it readily. I was Dad. And everything that Dad did was okay with them.
Occasionally I had to go to court to assert my custody rights as a single father. On one occasion, the attorney asked me if I wanted to adopt Cheri's next child.
I said, "What? You want me to take on a third child? A child that isn't even mine? Are you crazy?"
It made a strange situation even stranger.
Over the years, I got used to being a single father. We've had ups and downs but we've always been close. Nowadays the boys are grown and have lives of their own, but they still live with me. I look at their early lives as a tragic set of circumstances, caused by Cheri's youth, the adult business, her infidelity, my stupidity, and the most evil thing of all, crystal meth. These things combined to change our lives. All of our lives. In the end, I won and she lost. Even though I've struggled, I had the love and dedication from my sons and she missed out on that. I had a job to do – raise my sons – and I did it.  For better or worse, I did it.  I had to be a single dad trying to keep our heads above water. And, when the job was finally done, I discovered that I was too old to begin the dating game again.  I had to retire Eric Edwards and kick back for a while.  That's where I am now at 72 years old. (I'm still available, by the way!)
Cheri has recently came back into our lives. My sons connected with her through Facebook. I didn't really know all this had happened until not long ago, and then Tanner told me. He wanted me to get in touch with her. He said, "Mom's wanting to talk with you." In the end, I gave in and said, "Ah, well, okay. All right."
So I friended her on social media, and she accepted. So far, the only communication we've had has been restricted to, "Hi. How you doing? How are the boys?" We exchanged Christmas greetings to each other's families, but haven't spoken on the phone. I understand that she has a husband and three other children. There's been a 23-year gap of time where there was no communication between me or her, so it's a start.
*
7.     Epilogue
As I grow older, I sometimes wonder what could have been. Where would I be now if things had turned out differently? If just one of my relationships had lasted the test of time.
I wonder if my biggest fault was choosing women who were too young for me. However, my choices were few, because that was the nature of our business – we were constantly finding younger women for box office appeal. Given that I was filming most of the time, I didn't have many chances of dating outside of the business. I know the women I dated were young, but they made me feel young again and I liked that. I'm really just a kid at heart.
Writing this article has given me the opportunity to bring my relationships back to life, if only for a brief period. To delve into my lost memories, dust them off, and find tattered and torn photos tucked away for decades, and revisit some of those fond, and sometimes tragic, memories.
I look back at my career in this business kind of like a child playing in a field, chasing butterflies. If I stop for a moment, perhaps one will come to me. And if I'm really lucky, she might even land on my finger. If I stay real still, she's mine for that seemingly endless, frozen moment in time. And I can enjoy her exquisite beauty as she slowly stretches by opening and closing her wings, almost like a flirtation, as if to say, "I trust you. I'm yours."
And I relish that moment, and I burn it into my memory. But then without warning, and perhaps on a whim, she flies off into the dancing winds never to be seen again. And it makes me wonder why I always tried to catch what I cannot hold. Why was I so foolish to think that she would stay? Perhaps it was just meant to be this way for me, I don't know. Perhaps I was just playing in the wrong field. But I will always treasure the good times, and not the bad. Those brief moments of joy and happiness, those butterflies; the loves of my life.
*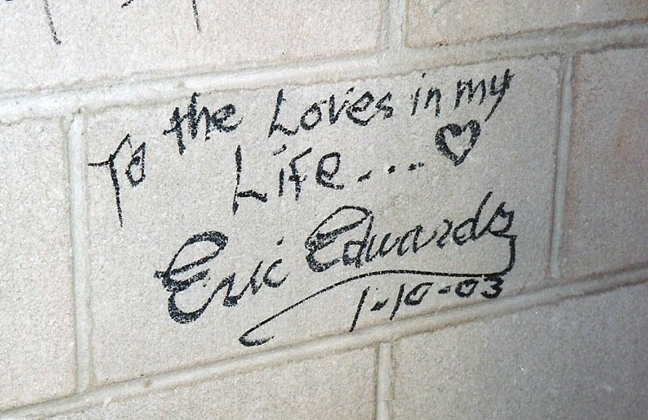 *