A few years ago, The Rialto Report became fascinated with a female model who featured in an early 1970s photo with adult film actor, Jamie Gillis.
She was striking: strong, beautiful, and expressive, and not someone we'd seen in any adult films from the period.
We were intrigued with who she was, so we set out to find her – and along the way came across a story that included Rene Bond, Linda Lovelace, Ute Erickson, Bill Margold, Jamie Gillis, Jennifer Welles, House of Milan (HOM), Eric Edwards, Tina Russell, Linda Boyce, the Manhattan Project (yes, the nuclear bomb program), Tana Louise, Bettie Page, Harrison Marks, Leonard Burtman, Reuben Sturman, and many more.
But did we find the mysterious model?
Sincere thanks to the various sources who were invaluable for this article. These include: Fetish Nostalgia, Dr Bienvenu's American Fetish Dissertation, Time Square Smut, the book Sin Sex and Subversion, and The Kamera Club.

_______________________________________________________________________________________________
1. Jamie's story
The faded photograph clearly meant something to Jamie Gillis.
He turned over the creased magazine page in his fingers as if it was a priceless document from a distant, long-forgotten age. Which in some ways, it was.
It depicts a young Jamie on all fours next to a red couch on a wooden floor in a sparsely decorated apartment. He is naked except for a pair of white briefs.
The real focus of the photograph however is the second figure. She stands astride Jamie. She is wearing shiny studded black leather thigh-length boots with fuck-me heels that are attached to an equally shiny black leather corset. She has a blonde, back-combed hairdo, sky-blue eye make-up, and an elabroate choker around her neck.
The model has Jamie on a dog leash. She pouts above him, and threatens him with a cat o' nine tails whip held in her elbow-length black leather-gloved hand.
The picture looks to be clearly from the 1970s, though there's something about it that makes it look older. It has the appearance of a fetish picture from the 1950s, except for the fact that it is in vivid, primary colors.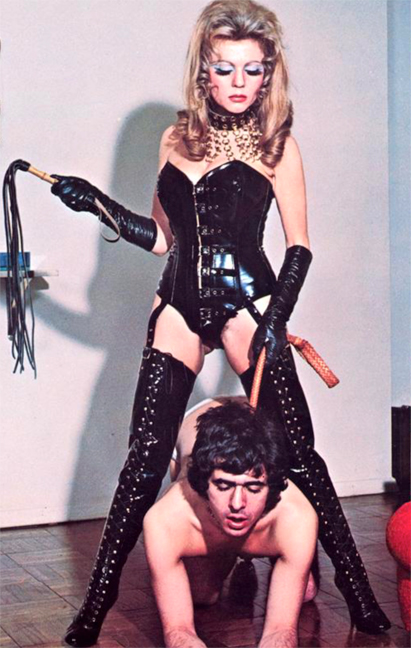 Jamie had recently found it at bottom of one of his few boxes of ephemera relating to his adult film career. I asked him why this particular item had survived, while thousands of other images had been lost over the years.
"Two reasons," he said wistfully. "For a start, this was one of the first pictures ever taken of me for a magazine."
"It was a fetish feature in early 1972. I'd just answered an ad in the Village Voice for nude modeling or something, and this was probably my very first job."
He paused, transported back in time for a brief instant.
"And secondly… it's pretty hot, don't you think?"
I was intrigued with the model in the picture. I didn't recognize her from adult films of the era, but she had the aura of a star. Small, cold and cruel. Like a pocket-sized anti-superhero.
I asked Jamie if he had any ideas who she was.
His memories were vague. He remembered doing several photo sets with her over the first two years that he was in the business in New York. She had a foreign accent, Eastern European perhaps, and always assumed the dominatrix role with ease. She even brought her own B&D outfits and array of whips to the shoots, and took the lead in staging the photographs, which she did adroitly and efficiently. She was friendly and they liked each other, but he had no idea who she was – or what happened to her.
"What if we try and find her?" I said. "Find out what her deal was. I mean look at her. There's got to be a story there, right? And what if she's still alive today?"
Jamie shrugged. "I guess you could try Sam Menning," he said. "He was the one who took the picture."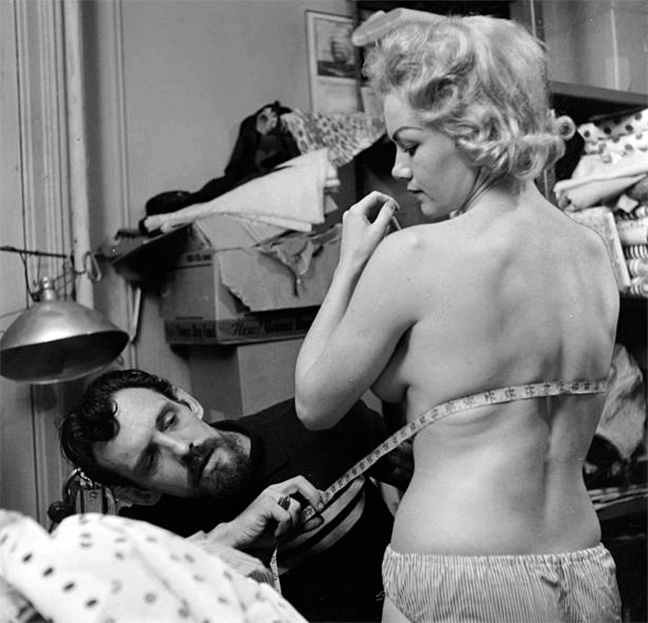 Sam Menning
*
2. Sam's story
Sam Menning wasn't difficult to track down. He'd used his real name throughout his career as a nude and fetish photographer in New York starting back in the early 1950s. By the time I caught up with him on the phone, he'd moved to Los Angeles many years before and was long retired from photography. He now found work as an extra in film and television shows.
"I was in 'My Name Is Earl' recently", he said helpfully.
"Can we talk about your old sex photographs instead?" I replied.
It turned out he was more than happy to talk about his life, every salacious chapter of it. He invited me over to his house with one warning: he started drinking apple brandy at 4pm each day, and thereafter his memory suffered diminishing returns. He'd leave my arrival time up to me.
Sam's house was in a Hispanic area of East Los Angeles, and if ever a house resembled its owner's essence, this was the place. To say it had seen better days would be an understatement, but whichever way you turned, something unexpected lay in wait. Sam greeted me at his gate. He looked like an ancient gold rush prospector, his thinning tobacco-stained hair lingering around his head like summer clouds. A benign Fagan with an army of cats in place of street urchins.

Sam Menning, c. 1966
Everyone who described Sam told me he looked old – even those who knew him in the 1960s. It turns out he was born in 1926 way out west out in Oregon, and only started taking photographs in the late 1940s when he left the Merchant Marines. He settled in New York, and worked briefly as an assistant to Weegee, the notorious press photographer who tailed the city's emergency services at night documenting their activity in unflinching and gory detail. If Weegee specialized in urban life, crime, and death, Sam's proclivity was photographing women, preferably wearing as little as possible. In the early 1950s he turned his attention to pin-up and cheesecake work, with a particular predilection for fetish pictures. At first, Sam assisted other like-minded photographers, coming into contact with cottage-industry artisans of the bizarre like Lenny Burtman, Charles Guyette, and Irving Klaw.
Weegee introduced Sam to his friend and midtown neighbor Bettie Page, and Sam was one of the first to photograph her (and, he says, the last before her retirement in 1958.) Sam took hundreds of pictures of Bettie, and formed a friendship with her that lasted until her passing several decades later.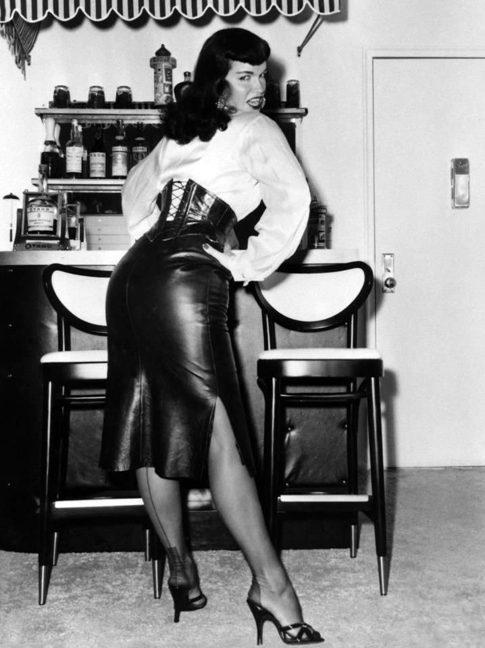 Bettie Page, taken by Sam Menning, in Leonard Burtman's apartment
Unlike many of his peers, Sam had little interest in business and even less desire to produce his own underground publication. He just wanted to take photographs, and over the course of the next three decades he took thousands. Hundreds of thousands in fact. Soon he had far too many pictures to hold onto, so instead he just sold the reels of film as fast as they came out of his 4×5 Speed Graphic camera.
Over half a century later, Sam was still a walking encyclopedia of the mobsters who bought his pictures and of the models he shot. Each came with their own anecdote. There was Eddie 'The Mish' Mishkin and Louis 'The Fink' Finkelstein (clearly not a huge amount of time was invested into nomenclature), 'The Walrus', 'Subway Pete', and 'Glass Eyed Benny' – "who didn't have a glass eye, he just couldn't focus right."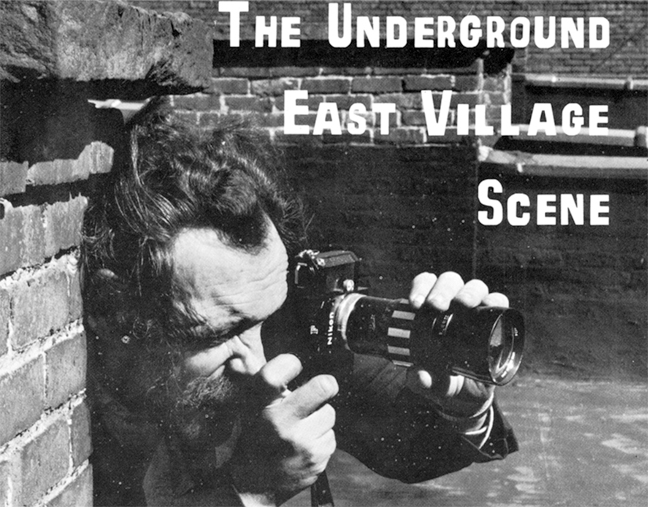 Sam Menning
As for the models, Sam, it seemed, had done more than just taken their pictures. Five decades later, he was happy to kiss and tell. ("I was giving them work, so they didn't mind putting out. And for me, it was always better than a five knuckle shuffle.") So much for #MeToo in the 1960s world of fetish.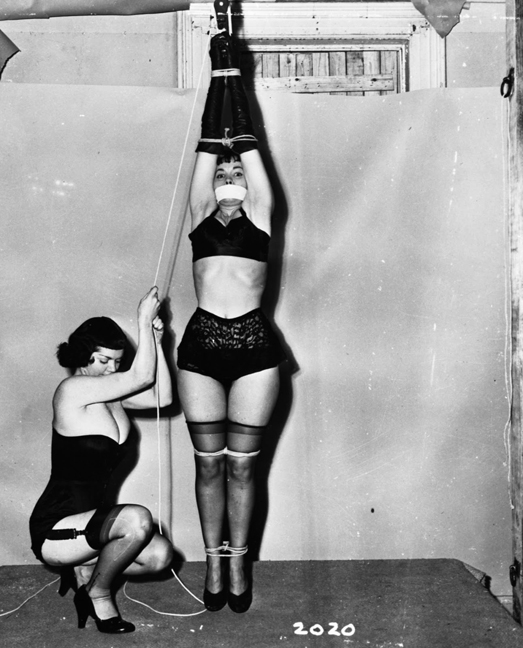 By this stage of my visit, Sam had been swigging prodigally for several hours, and his apple brandy clearly had a kick like a mule.
I pulled out the picture of Jamie and the dominatrix that Sam had photographed. I asked him if he remembered the model in the picture.
He stabbed the photograph with his finger.
"Of course I remember her. That's Jutka.
"How could I forget her? She was the wife of my boss, Lenny Burtman: The top dog in the photo-magazine business."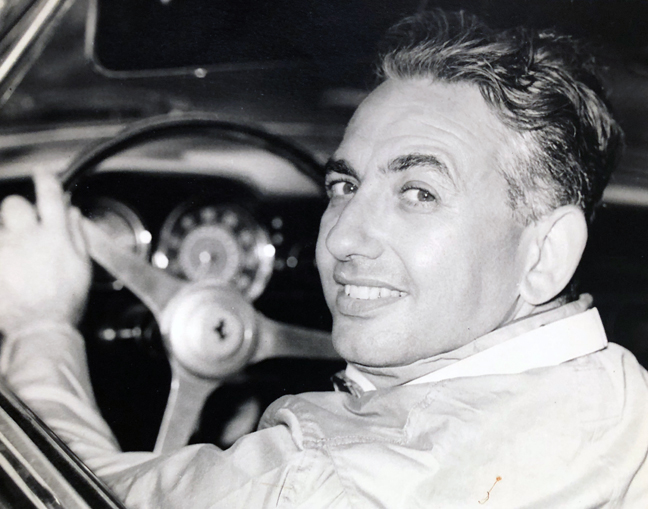 Leonard Burtman
*
3. Lenny's story
Today Lenny Burtman is long gone. He died suddenly almost thirty years ago in August 1989, but his influence lives on.
The eldest of three sons in a Nebraskan Jewish family, he was born in August 1920 – despite various sources claiming different birth dates.
After high school, he moved to California to pursue an education in electronics, training at the Philco School and the California School of Technology. After graduating, he had the world at his feet. He was considered a prodigy – intelligent, curious and creative, and was snapped up by a company involved in covert government work. In his spare time, he was a playboy and a renaissance man – he loved flying (he had a pilot's license from a young age), racing cars, traveling to undiscovered places, and gambling on the stock market.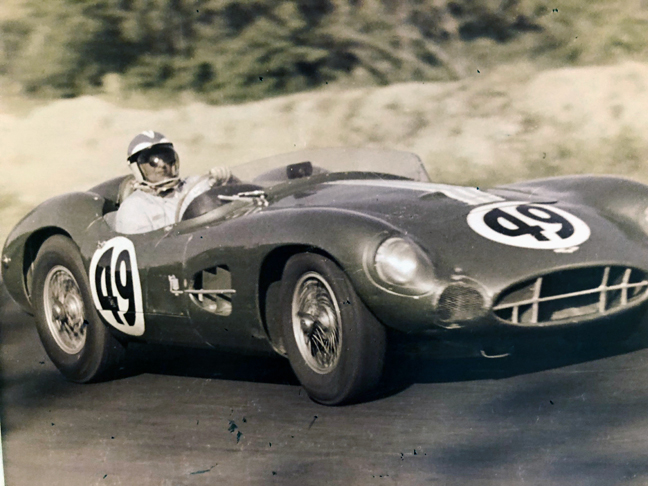 Leonard Burtman
A glittering career in science awaited, but in 1949 he overstretched, and was arrested for the transportation of false securities in interstate commerce. He was given a suspended prison sentence.
Wanting a fresh start, he moved to New York in 1950, where he reinvented himself as a freelance photographer. He made the acquaintance of fetish photographers like Irving Klaw and Robert Harrison – and it's believed he worked for both as a photographer and perhaps as an editor for their cheesecake publications.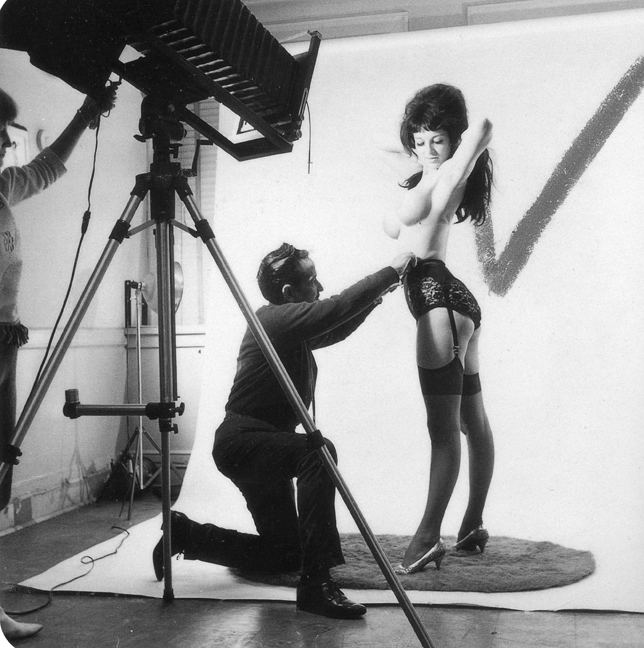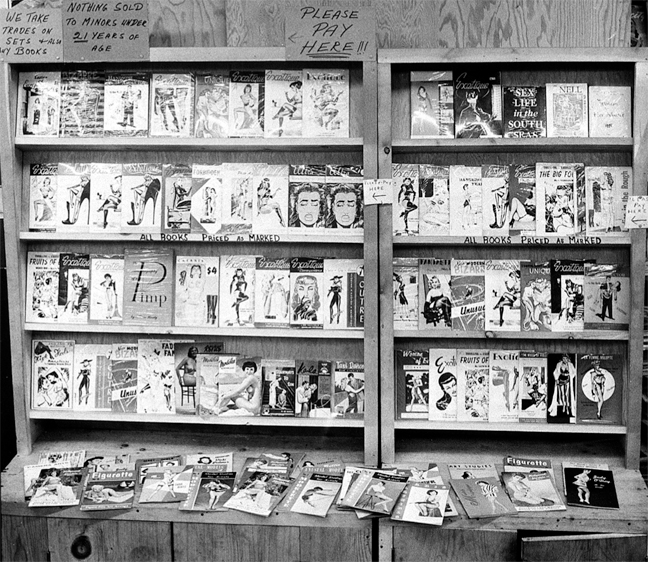 Lenny's interest in the bizarre was not purely professional. He became involved in the underground world of fetish life in New York, developing an appreciation for the aesthetic of dominance. He translated this into a unique monochromatic visual style, building up a prolific portfolio of his own photographs, including hundreds of Bettie Page.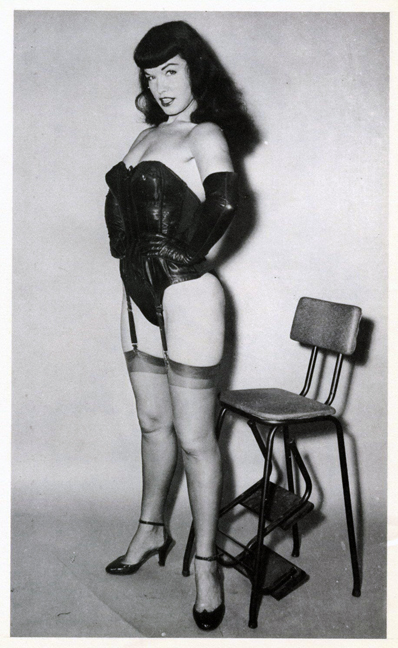 Bettie Page, taken by Lenny Burtman
By 1954, Lenny branched out and formed his own fetish photography and publishing business. But whereas other fetish publishers operated on a shoestring, in a hand-to-mouth manner, Lenny had a bigger vision. And bigger plans required a bigger investment. The problem was that funding for a bondage and domination empire wasn't going to come from high street banks.
Fortunately he came across Benedict Himmel, a native New Yorker from Bensonhurst, Brooklyn, who'd been a union organizer and was involved in a number of bar businesses. Ben Himmel could tap into different sources of money – sources that were private, and preferred to stay that way. Sources that were variously suspected to be mob-related, or from the proceeds of gambling, drugs, or white slavery. Wherever the funds were from, Ben Himmel was there to protect the investment.
Ben was the mirror opposite of Lenny. Whereas Lenny was sophisticated and cultured, Ben was as rough as sandpaper. One person associated with Lenny remembers him more bluntly: "Ben was an asshole. He was a bully, and he worked by intimidation."
Whatever the nature of their relationship, it worked well for the next 20 years. The two of them entered into a partnership that formed the basis of different companies that produced a variety of magazine titles. Lenny took charge of all creative aspects, while Ben handled the financing and distribution.
After publishing a trial issue of a magazine called 'Exotica' in 1954, Lenny and Ben started putting out 'Exotique' under their own imprint, 'Burmel Publishing Company', an enterprise named by using part of each of their last names. 'Exotique' ('dedicated to Fashions, Fads, and Fancies') ran for 36 issues from 1955 to 1959, and set a new standard in the genre.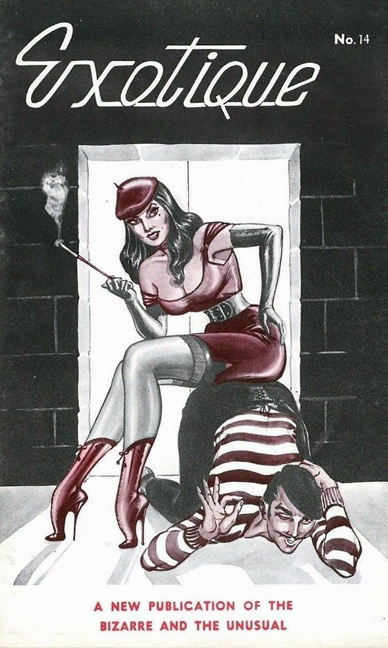 'Exotique' featured photos and illustrations of dominatrix-inspired vamps wearing exotic leather and rubber ensembles, corsets, stockings, garters, boots, and sky-high heels (nothing less than 5 inches would do). The pictures were accompanied by articles, nearly all written by Burtman using an alias, covering various aspects of sadomasochism and transvestism, with men depicted as slaves subservient to imperious, all-powerful women.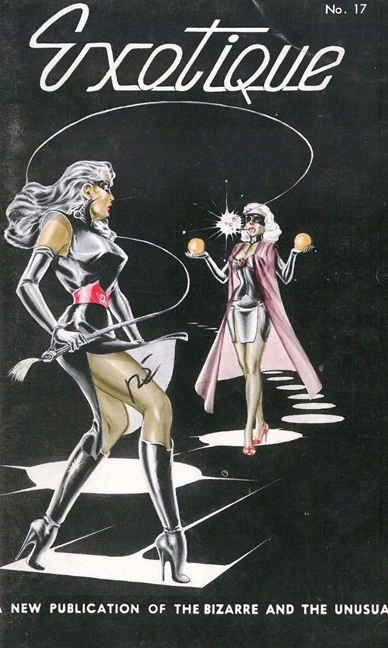 Then there were the models. 'Exotique' featured shots of Bettie Page, decked out in S&M attire, in some of her most iconic poses. But arguably even more striking and seductive than Page were the pictures of Lenny's new wife, Tana Louise. Lenny's private life had been no less wild and adventurous than his new publishing venture. By his 35th birthday, he'd already been married three times, and wife number four was a firecracker.
Tana Louise was exotic (she allegedly had Native American heritage), and a contemptuous stare that would wither a male ego from twenty paces. If Bettie Page was America's Sweetheart of Fetish, Tana Louise was her delinquent, runaway sister.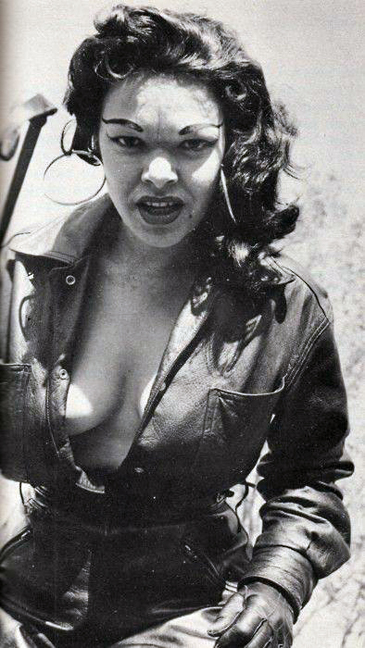 Tana Louise
Tana Louise had history. She'd previously been a burlesque striptease artist nicknamed the 'Cincinnati Sinner', known as much for her feisty fisticuffs with fellow strippers as for her dance moves. (When accused of hitting fellow stripper, Emerald Forrest, over the head with a club in 1950, she replied tersely, "T'ain't so".)
Her sex appeal was aggressive, brazen, and assertive, and she appealed to the darker side of men's fantasies. Lenny soon realized the power of having Tana Louise feature prominently in 'Exotique', not only as the main model but also as a columnist for the magazine. Her column 'From Me To You' (written by Lenny as usual) described her life, and was accompanied by provocative photo sequences.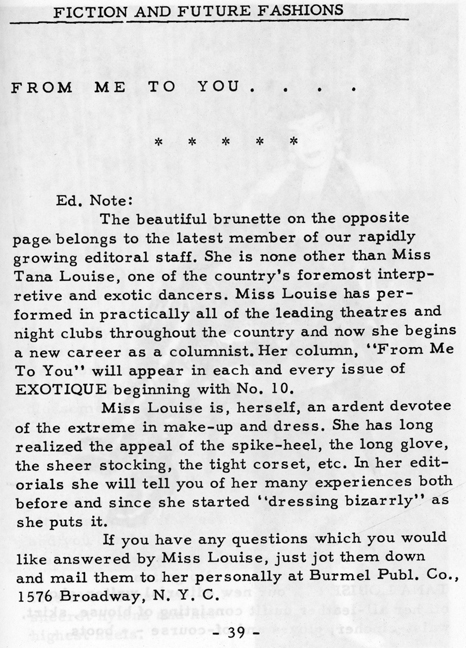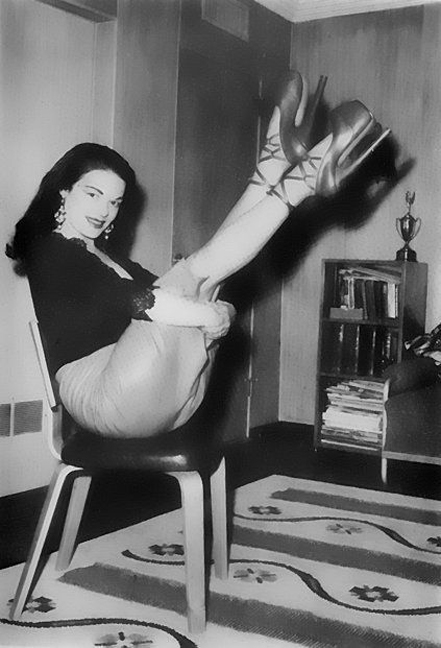 Tana Louise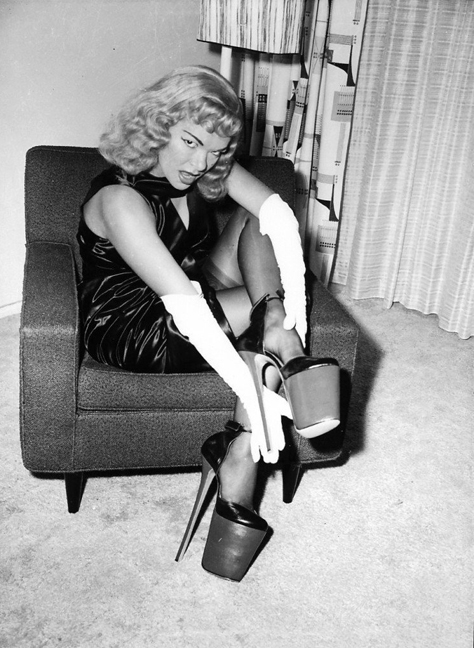 Tana Louise
But Lenny wasn't satisfied with just publishing a magazine that pushed the boundaries of fetish erotica. With Ben Himmel's assistance, he built up an empire that was more ambitious, sophisticated, and far-reaching than its predecessors. Whereas fellow pioneers such as Charles Guyette and Irving Klaw had distributed their own materials, Lenny employed a professional, nationwide distribution network. In addition to selling his magazines by post (with a mailing list of tens of thousands of names), he also established a network of professional distributors selling to adult retail shops nationally.
Lenny played hard and worked hard. He was single-minded and driven, devoted to his magazines, working constantly, and taking personal responsibility for all aspects of creating the magazine. He took the photographs, often using his own midtown Manhattan apartment as the studio. He designed and edited the publications, and performed all the administration, even down to handling the correspondence. He kept a notepad for ideas with him at all times, and rarely took time away from the office – something that exasperated the wild and untamable Tana Louise.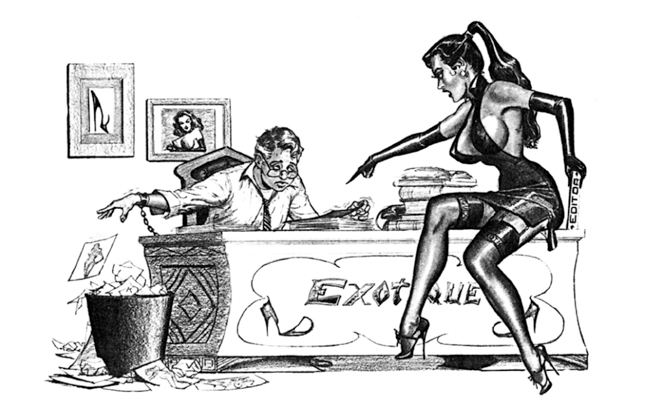 Illustration of Leonard Burtman and Tana Louise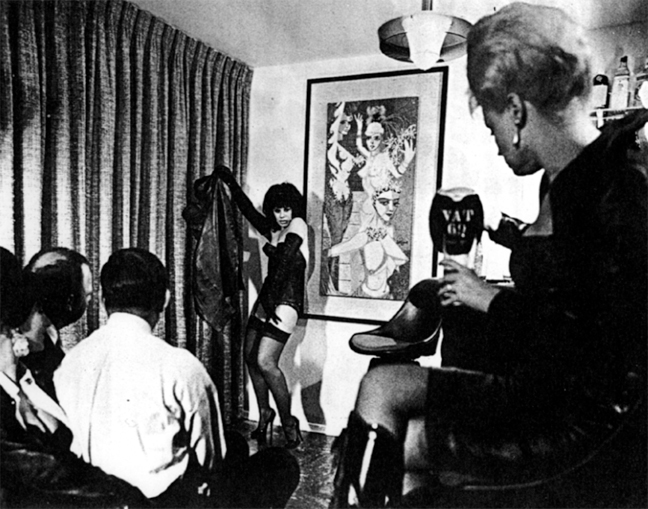 Inside Lenny Burtman's apartment in New York
The fact that this was a one-man operation betrayed the large scale of his business. An itemized inventory in the late 1950s listed "167,000 pictures of nude and semi-nude models, 58,900 books and booklets, 27,000 stuffed mailing envelopes, a mailing list filed on 17,000 3×5 cards, 230 model release forms, as well as over 1,600 reels of film."
An operation of this size was sure to attract the attention of the guardians of the country's morals, so his operation maintained a vigilant and professional attitude towards the prevailing legal environment. Lenny hired highly skilled legal counsel, who directly monitored products for compliance with obscenity standards of the time, and successfully navigated the business through a variety of legal attacks and charges.
'Exotique' may have had no nudity, but sure enough Lenny was soon targeted as a pornographer. Lenny and Ben were relentlessly pursued by the U.S. Postal Inspection Service (who acted as a censorship agency at the time) and local law enforcement (who functioned in coordination with Postal Inspectors and the Catholic Church).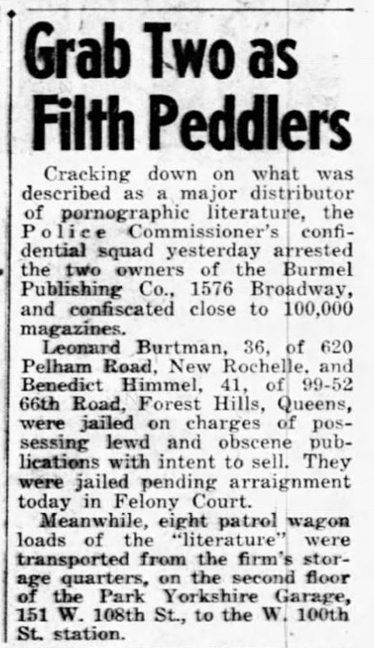 Coverage of Lenny's arrest, November 1957
Though mainstream girlie magazines were barely tolerated by society, publishing fetish magazines was much trickier. Although high heels and stockings were common props in pin-up photography, more extreme versions were marginalized. Other publications, like 'Bizarre', played games to avoid being attacked. They would say their magazine was there to promote the learning of martial arts in case readers were attacked and tied up by burglars like the women pictured in their photo features.
But unlike many contemporaries, Lenny tackled the legal challenges head-on, addressing the reader directly in the pages of 'Exotique' and talking about the constraints he faced. In one 'Exotique' editorial from 1957, he concluded:
"As citizens of a democracy, they are obligated to protect the expression of ideas, no matter how contrary they may be to their own personal views. And if they wish to continue to enjoy the works of 'free people', they must safeguard the freedom of the press."
(The editorial was next to a shot of Tana Louise, in full leather S&M attire and with her hips thrust in an explicitly provocative pose.)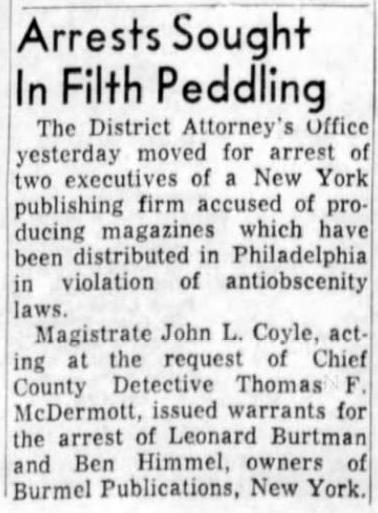 Coverage of Lenny's arrest, April 1958
After a sequence of arrests in the late 1950s in which Lenny fought the law, the law won. The ground-breaking 'Exotique' came to an end in 1959, when Lennie and Ben were arrested for obscenity. Magazines and materials were confiscated, and both men were brought to trial. The case, 'People of the State of New York v. Benedict Himmel and Leonard Burtman', held on April 6, 1959, resulted in a suspended sentence. The immediate impact was that Burmel Publishing Company closed down (though the conviction was later reversed), and ownership of 'Exotique' was ordered to be transferred to a third party (in this case, a Burtman/Himmel associate, Seymour Grasberg.)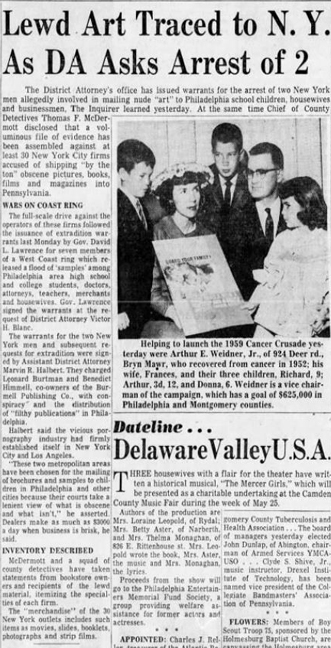 Coverage of Lenny's arrest, April 1959
Far from slowing Lenny down however, the outcome only served to increase his output. In July 1960, Lenny and Ben formed 'Selbee Associates' from their offices at 1733 Broadway, and their fetish product lines became ever more diverse. The incorporated titles such as 'New Exotique', 'Masque', 'Connoisseur', 'High Heels', 'Unique World', 'Corporal' (a pioneering spanking-fetish magazine) and others, published through companies such as Kaysey Sales, S-K Publishers, and Unique Publications.
With so many magazines and publishing companies, it's an archeological exercise to work out who was behind each of them. Certain features make it easier to spot which magazines came from the Burtman stable. Lenny himself used different names masking his involvement, but he is often recognizable by using the initials 'L.B.' such as L. Burton, L. Benson, Louis Benson, or Bertram Leonard. Also photographs were typically taken in his apartment, on the hard wood floor of the entryway, or using his bar as a background. Often the exact same clothes – Lenny had a huge collection of leather corsets, boots, gloves and whips – can be spotted on different models. And Lenny's magazines frequently have the same graphic style, proportions, paper, iconic Bilbrew artwork, and nameplate.
In 1962, Lenny branched out further and produced a 35mm feature narrative film, Satan in High Heels, starring Meg Myles in a leather suit, spurs, and riding crop – the first mass-distributed film with intentional fetishistic content. The film tells the story of a carnival burlesque dancer who robs her junkie ex-husband, goes to New York and gets a job at a high-class club where she becomes the mistress of the wealthy owner. After seducing his son, she causes a murder. Several of Lenny's publications ran photo-features promoting the film.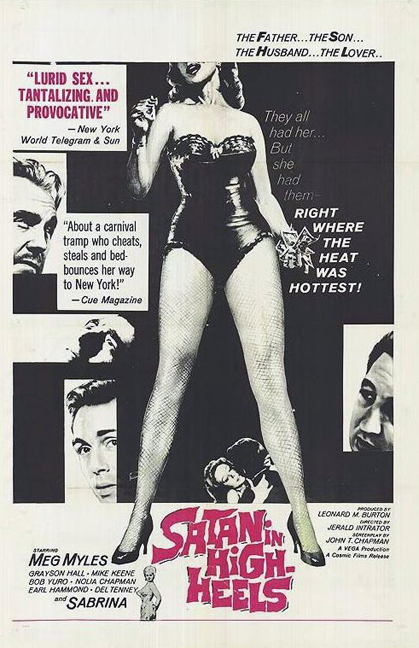 In 1964, under the corporate title S-K Publishers, Lenny released the first issue of the magazine 'Bizarre Life'. 'Bizarre Life' was the first specialty SM magazine published in 8.5.x 11 format, the more commonly accepted size for magazines.
If the format of 'Bizarre Life' was more traditional, its content retained a cutting edge, focusing on cross-dressing (voluntary and not), dominant females and domestic discipline. Rubber and leather fetish attire adorned the pictures and prose. Several pictorials show attractive models resolving household conflicts while wearing stockings and high heels. In letters and snapshots, readers describe their preferences and experiences.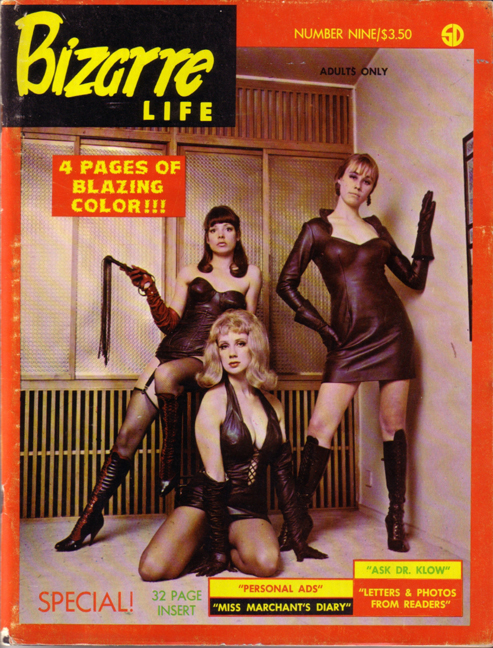 By 1966, the number of Lenny's publications was prodigious. He was still working around the clock, but now something else had caught his eye. A model no less. Tana Louise – high maintenance wife number four – had been ditched a few years before. And Lenny once again found himself distracted.
He'd come across a magazine from the U.K. with a model that interested him. She was billed as a Hungarian beauty queen, and was named Jutka Goz.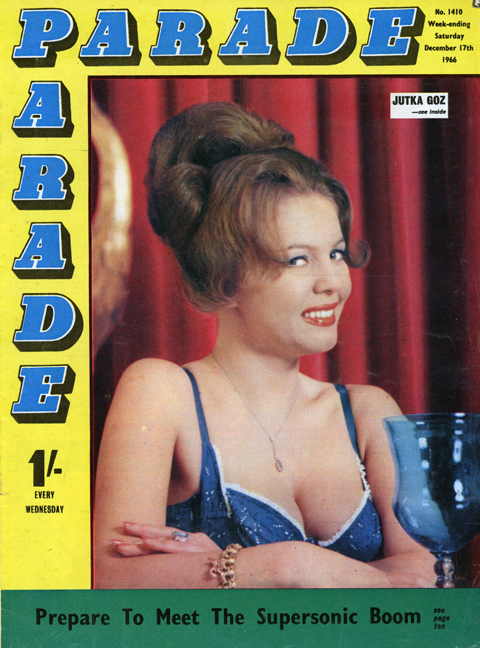 Jutka Goz, 1966
*
4. Jutka's story
I eventually tracked down Jutka Goz to an address in Los Angeles, and reached her by phone.
I explained that I was looking for a model who had featured in a picture with Jamie Gillis back in 1972.
When said aloud, it suddenly sounded a flimsy excuse to cold-call someone. Not surprisingly, she was unimpressed, if not downright suspicious.
But we engaged in conversation, and found common ground in having both lived in London, albeit 30 years apart.
Jutka, as is her habit, quickly interrupted me with an opinion. "I like you. You sound fun, and maybe smart. And you should know one thing about me: I hate boring people. I think we could have a good time together."
Not wanting to correct her largely inaccurate impression of my charms, I asked her if we could perhaps meet.
A few weeks later, I pulled up on a quiet Los Angeles street. Jutka still lives in the same place that she once shared with Lenny, a beautiful two floor, townhouse apartment, just around the corner from where Lenny had his office for almost twenty years. The apartment is adorned with photographs of Lenny, as well as with many paintings, only some of which are large nude oil portraits of herself.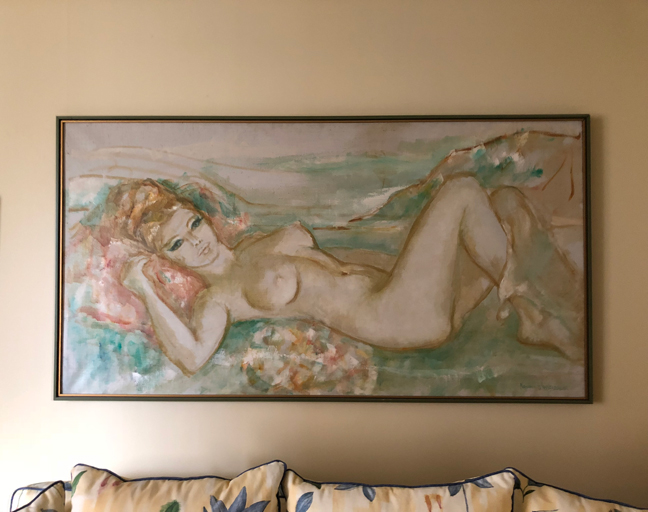 At 79, she is still impossibly glamorous, with high Magyar cheekbones and flawless skin. She dresses immaculately too. We could easily have gone to the opera instead of her favorite local Italian restaurant (where she flirts sweetly with the waiter). Her speech retains a still-strong Hungarian accent peppered with unlikely cockney phrases. Think Zsa Zsa Gabor crossed with Dudley Moore. "Cor blimey, I could eeet a hoss," she declares.
She is energetic and constantly animated, and as sharp as the whips she once cracked over supine men. She has no time for inconsequential flim flam, and dismisses questions that she finds too earnest with a derisory, "How the hell should I know?" before flashing a smile that makes it good again.
She talks about her early life as if it was a distant dream. Or as if it happened to another person. Her beginnings are a far cry from twenty first century Los Angeles.
She was born in 1938 in Hungary, the result of a rape out of wedlock. Her mother rejected her as a result, and their relationship was one-sided. Jutka sought affection and approval, but received nothing in return. She was treated badly and her mother tried to give her away. Despite the problems at home, Jutka did well at school, but any hope of further education or a career came to an end in 1956. When she was 18, the Russians moved into Hungary to quell a nationwide revolt against the Marxist-Leninist government.
Jutka fled the country with the assistance of the Red Cross, and found a temporary home in an Austrian refugee camp. She was unworldly and naïve, and it was a frightening experience for her. In Austria, she was picked out by a family who were looking for manual labor, and sent to the fields to pick grapes. Jutka rebelled and fled, learning how to survive on the road, and found her way to Holland.
After living in a refugee camp near Amsterdam, she moved to France where she stayed in Meaux, a small town north of Paris. Life was difficult, but it wasn't always about survival. In 1960, she met a man involved in organizing a Miss Universe beauty pageant. Due to the political unrest in Iron Curtain countries, he had no representation for Hungary, so he asked Jutka if she'd be interested in representing her home country for the event. She accepted, and was billed as Miss Hungary for years after that.
In the early 1960s, Jutka was on the move again ("I get bored sooo easily".) She'd heard that England was taking in refugees so she moved across the channel where a family in Wolverhampton took her in. Yearning for independence, she moved to London where she found work as a singer and hostess in bars. She had a naturally friendly character that went down well, and the bar owners liked her. Sometimes she'd stand on a table and sing a song to encourage clients to order more drinks.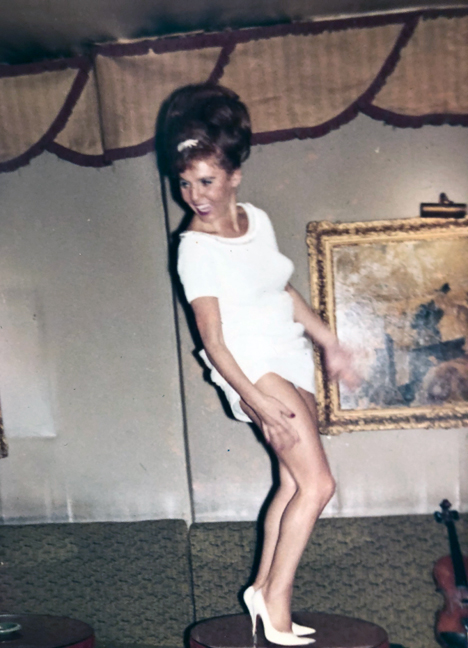 Jutka, mid 1960s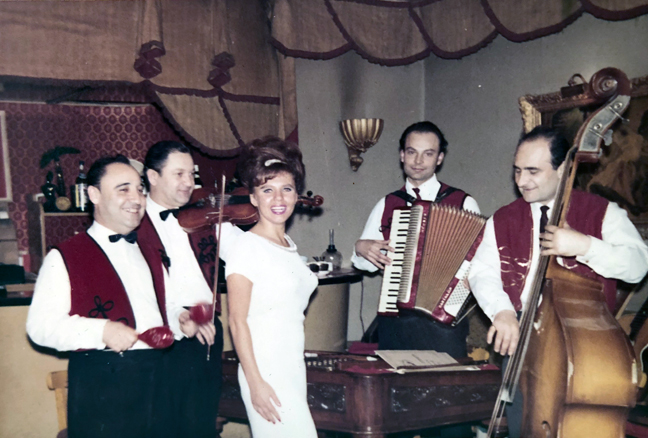 Jutka, mid 1960s
Her lifestyle was good, and she was finally making enough money to take care of herself. Then someone suggested she try modeling work, and hooked her up with Harrison Marks, a prolific glamor photographer who'd made the nudist film, Naked – As Nature Intended (1961). Marks had started with a photographic studio in Soho, providing nude photographs for magazines on a freelance basis as well as selling his own stills directly to the sex-starved English public. With the profits from his work, he launched Kamera magazine.
Jutka modeled for Marks, and became friendly with him, even sleeping with him on occasion. "Only sleeping though. No kind of hanky panky, understood?"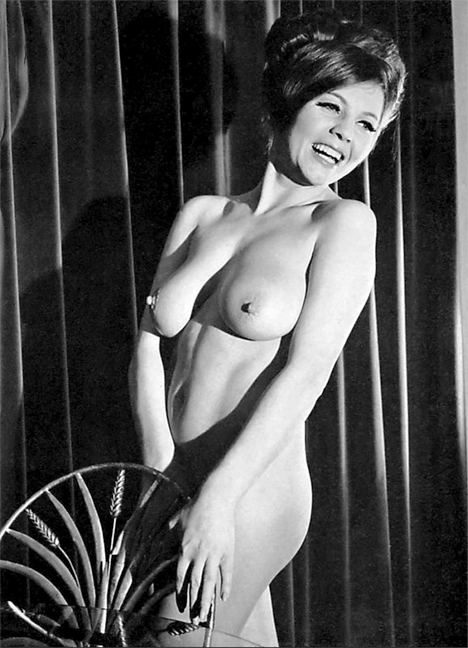 Jutka, taken by Harrison Marks (photo courtesy of The Kamera Club)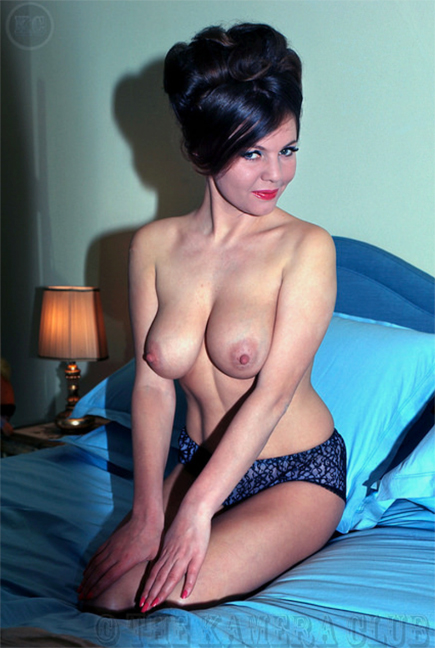 Jutka, taken by Harrison Marks (photo courtesy of The Kamera Club)
Jutka also got some acting work, appearing in the rarely-seen sexploitation film Nudes of All Nations (1962), Harrison Marks' own The Naked Dream World of Harrison Marks (1967), and a one-off part in the successful English television show, Court Martial (1966).
Jutka was developing a small name for herself, when photographs of her found their way across the Atlantic into the hands of Lenny Burtman in New York. Lenny knew a thing or two about models, and liked what he saw. He contacted the photographer to find out who the model was, and sent word that he would like to photograph her if she were to come to America.
Always on the lookout for adventure, Jutka packed her bags, left her apartment, and went straight to New York.
"What can I say?" she says now. "I'm impulsive. I like change. And excitement. And new things. Beside I've always been a gambler."
Jutka
*
5. Lenny and Jutka's story
Jutka arrived in New York in 1966, and met up with Lenny, who took his first pictures of her in Central Park. She still insists that Lenny's initial interest in her was just as a model, but how many times did a photographer invite a girl over from another continent just to pose for him? She giggles at the idea that Lenny may have pursued her from across the ocean. She liked him, but hadn't had a mother and father to teach her how relationships work. So she kept her distance, working with Lenny regularly for six months on a professional basis, before they started seeing each other romantically.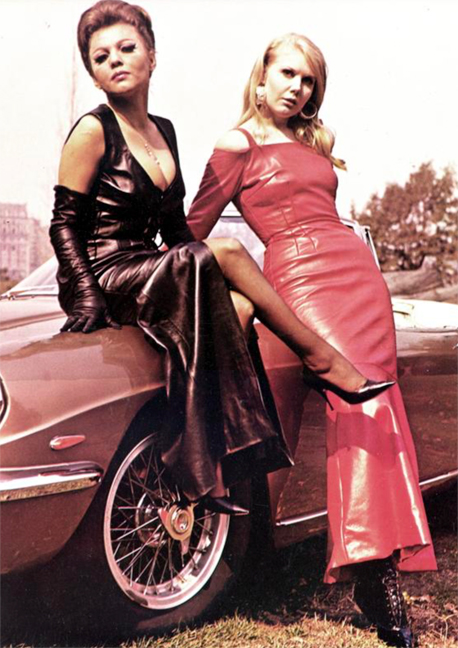 Jutka (left) in her first photo shoot in Central Park, New York in 1966, taken by Leonard Burtman
Lenny and Jutka were married in 1968. They lived at 245 East 63rd St in New York, then in a 28th floor apartment on East 56th St. Today, over 50 years after they met, her affection for him is in evidence whenever she talks of him.
"He was so brilliant and knowledgeable. He painted, flew airplanes, raced cars, and understood business inside out. He was a first-class scientist, and had such intelligence, such curiosity. He was always learning, always reading."
Lenny told Jutka that in his 20s, he'd worked on the Manhattan Project to develop the first nuclear weapons. She still has a framed letter from the U.S. War Department issued to Lenny. It is dated 25th July, 1945 and states that the "special bomb" will be used "as soon as weather will permit." Less than two weeks later on August 6, 1945, the first atomic bomb was deployed over Hiroshima.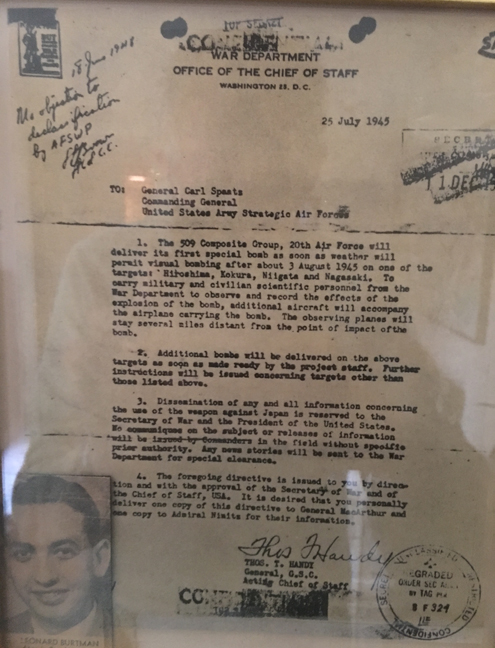 After their wedding, Jutka succeeded where Lenny's previous wives had failed, managing to prise him away from his office. They traveled the world on vacations, and lived the high life.
"It always felt good to be with him. He had such charisma. He dressed immaculately and insisted on the best of everything."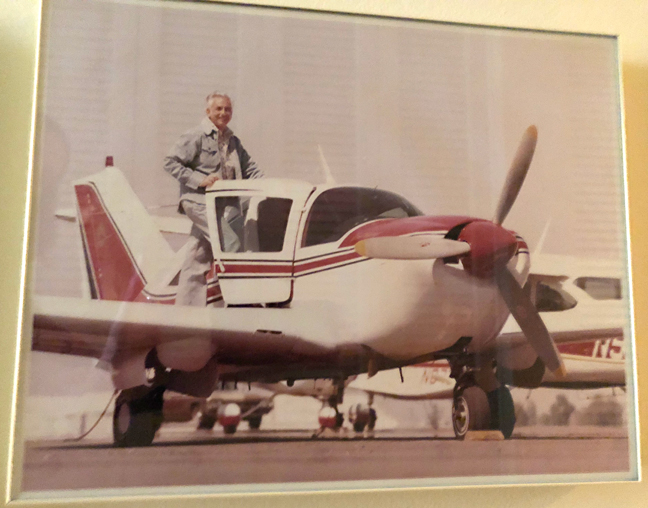 Leonard Burtman with his airplane
Not that their marriage was all plain sailing. Jutka remembers two of his ex-wives turning up at their apartment. They were there to determine who the real Mrs. Burtman was, oblivious to the fact that Jutka had now supplanted them both.
Lenny often mentioned his four ex-wives, especially Tana Louise. Such talk went down badly with Jutka, who was jealous of the parade of semi-clad models traipsing through their apartment for fetish shoots. Sometimes it was Lenny's artwork that bore the brunt of her wrath, as she recalls once destroying one of his favorite paintings.
According to Jutka, Lenny managed conflicts in his usual unflappable way: "He was always calm, and treated people respectfully. He had high moral standards, and would never take advantage of anyone. In fact, if he had a fault, it was that he always saw good in people. As a result people constantly robbed and cheated him."
Jutka continued to model for Lenny in magazines such as Bizarre Life, Three, and Corporal. He created a fetish character around her, known as 'Jennifer Jordan', 'Jeanne Burton', or 'Mistress Jeanette' in photo fiction booklets such as 'Burglar in Bondage', 'Nursed into Submission', and 'The New Adventures of Sweet Gwendoline.'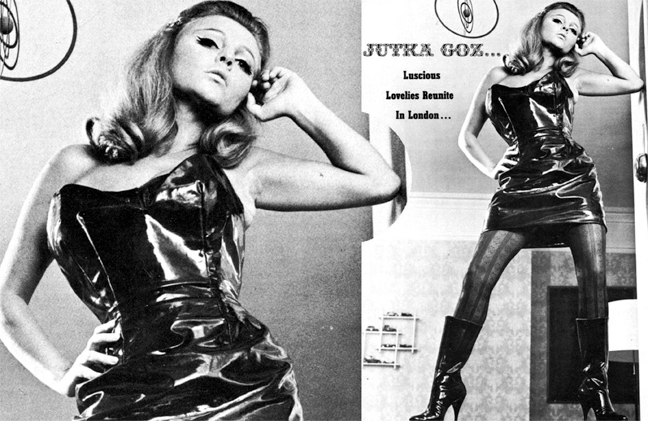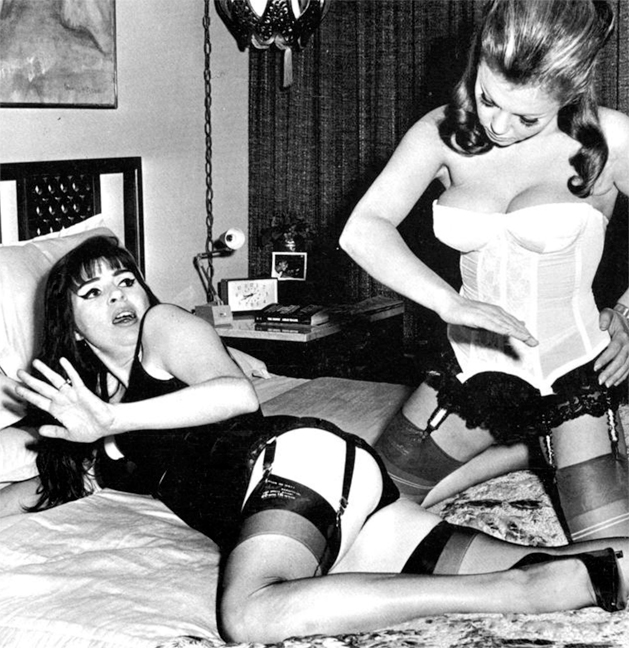 Jutka Goz (right)
The 'Jennifer Jordan' persona proved successful enough for Lenny to launch a magazine brand using her name, 'Jennifer Jordan Associates', though Jutka had little to do with it – she stresses she was just a model and didn't get involved in the business side. As usual Lenny did almost everything himself.
In the late 1960s however, cracks were beginning to appear in the Burtman businesses. Magazines that were more explicit had appeared on the market, focusing less on the striking fetish imagery that Lenny had developed. And the number of Lenny's publications was spreading him, and his finances, too thinly. His cash flow suffered, meaning he didn't have enough money to pay for the printing of magazine content he developed. He took to selling 'publication packages' to other publishers, such as Unique, Health Knowledge, Bilife Publications, and Bizincorp. For these, he received a fee and copies, which he, in turn, sold to raise cash for other publishing projects.
Though she admits to rarely discussing business with Lenny, Jutka is forthright in blaming Ben Himmel for mismanagement and dishonesty: "He was a difficult, greedy, pig-ugly person. Lenny had many flaky people around him, but Ben Himmel was one of the worst."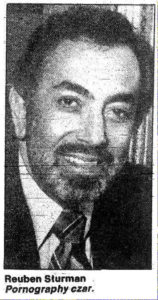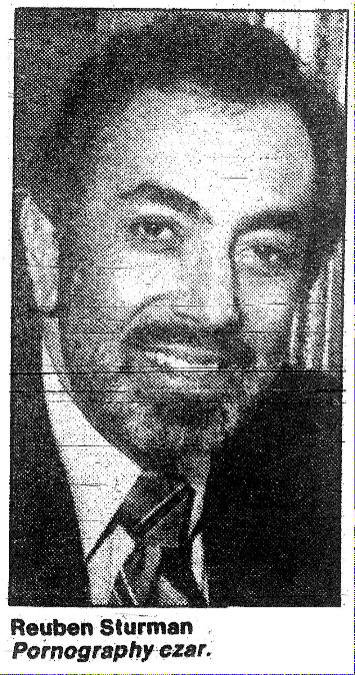 For whatever reason, Ben was unable or unwilling to replenish the funding that had once been available. Needing fresh funds to stay afloat, Lenny now turned to Reuben Sturman, then America's top porn distributor. Sturman bailed Lenny out – but at a cost. Under Sturman's influence, Burtman had less creative control, and magazines like 'Bizarre Life' became less idiosyncratic and more homogeneous, as well as more explicit, with nude men and women featured together. Some pictures were just recycled content, and lacked Burtman's innovations. The bizarre style was no longer an eccentric niche market; it had been assimilated as just another category of mainstream porn.
Jutka remembers Reuben Sturman unfavorably: "Reuben was jealous of Lenny's class. He wanted Lenny to introduce more and more sex into his work, and Lenny wasn't comfortable with that. It was a problem, but Lenny went along with it."
Getting into bed with Sturman meant getting involved with schemes that made Lenny uncomfortable. Sure enough, in 1969, Lenny and Ben Himmel were arrested, along with a Genovese family mob boss, Charlie 'The Blade' Tourine. Ironically, they weren't charged with obscenity, but bribery. Thirty seven shipping cases arriving from Sweden had been intercepted at the airport. They were marked "earthenware cups and saucers", but when customs inspectors opened them up, they found 22,000 pornographic booklets – reportedly worth $250,000 on the retail market. The authorities contended that Lenny and his collaborators had tried to pay customs officers to get the materials through customs.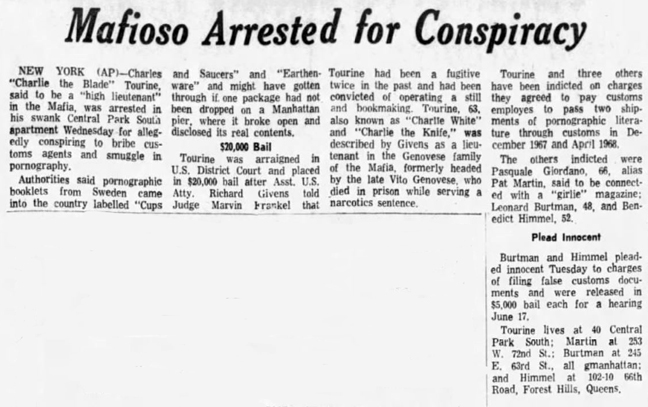 A movie that Lenny was putting together with Jutka's old friend from London, Harrison Marks, Pattern of Evil (1971) (also known as 'Fornicon'), which also starred Jutka, was delegated to others to complete.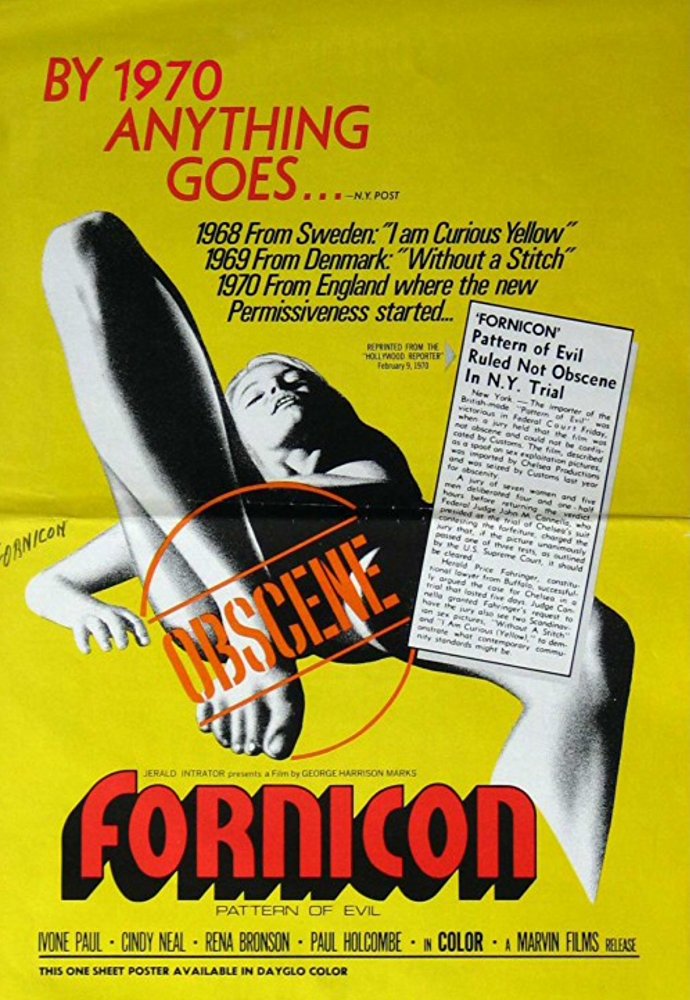 *
6. Sam and Lenny's story
While legal proceedings were ongoing, Reuben Sturman continued to provide a distribution platform for Lenny's output.
In 1970, Lenny published 'New High Heels, Number One', the first publication of 'Eros Publishing Company', a new company that he owned and managed. Over the next decade, its main imprint, 'Eros Goldstripe', would publish a bewildering variety and quantity of adult magazines and paperback books featuring mainstream sexual content as well as the gamut of more kinky and fetish-oriented topics. The books had self-explanatory titles such as 'Spankers Holiday', 'Amy's Wanderlust', and 'Pain for the Lady'. The Eros Goldstripe magazines had names that left little to the imagination, such as 'Bitches in Boots', 'Maids and Mistresses', 'Erotic Flagellation', and 'Stocking Parade.'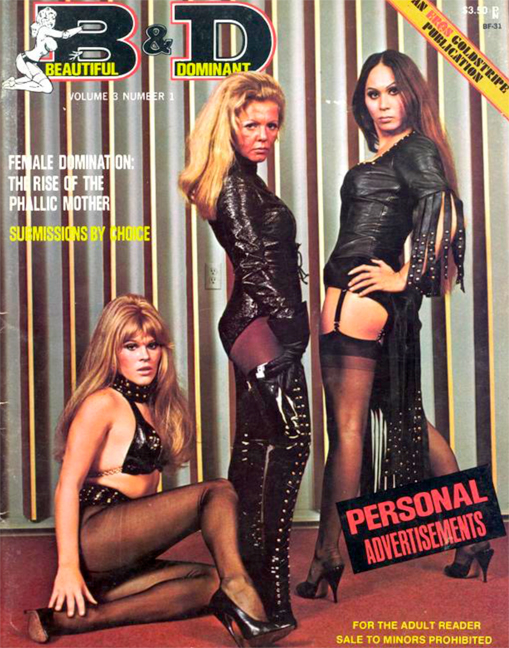 As the content became more explicit, Lenny sub-contracted more of the photographic work to Sam Menning.
In the late 1960s, Sam had started supplementing his income by shooting 8mm loops, becoming well connected to the growing sex film business. He also shot countless soft and hardcore photo sets with many of the adult film performers in his cat-infested New York apartment. He often sold them to Lenny for use in his magazines.
When I met him, Sam remembered the shoots as if they were yesterday: "Jennifer Welles was often looking for work. This was long before she was the blonde 'Jennifer Welles' who made porno films. In the 1960s, she had jet black hair. She was a burlesque dancer and part-time actress. She had a musician boyfriend, but they always needed money so I shot her several times – a few of them with Jutka."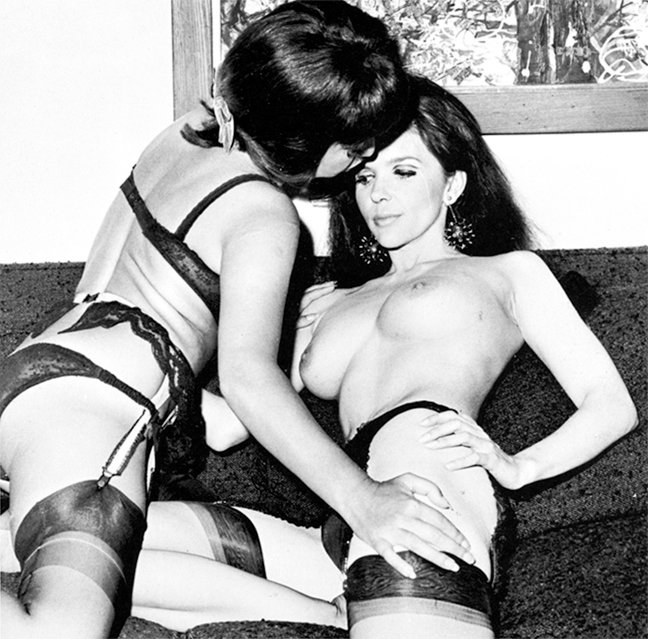 Jutka (left) with Jennifer Welles, taken by Sam Menning
"Ute Erickson and Linda Boyce usually came as a package. They were both married, but were comfortable with each other so it was easy to work with them in lesbian scenes. I knew they were making these soft sex films that were in the theaters, so I tried to get them to be more dirty each time. I never got them to do it though. They had strict boundaries. In fact they usually wore wigs to disguise themselves."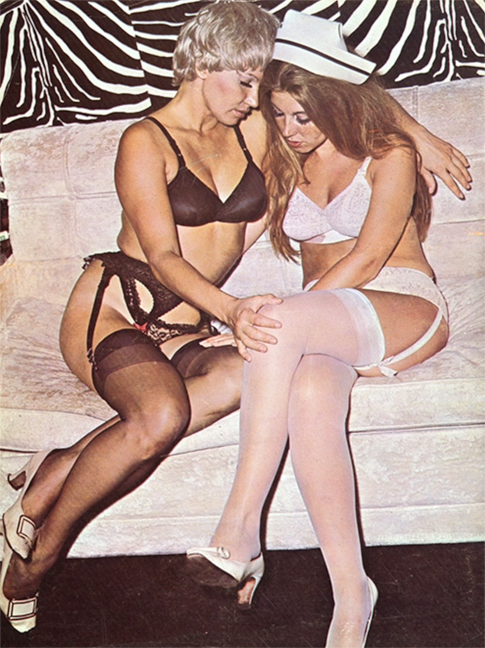 Uta Erickson (left) and Linda Boyce, taken by Sam Menning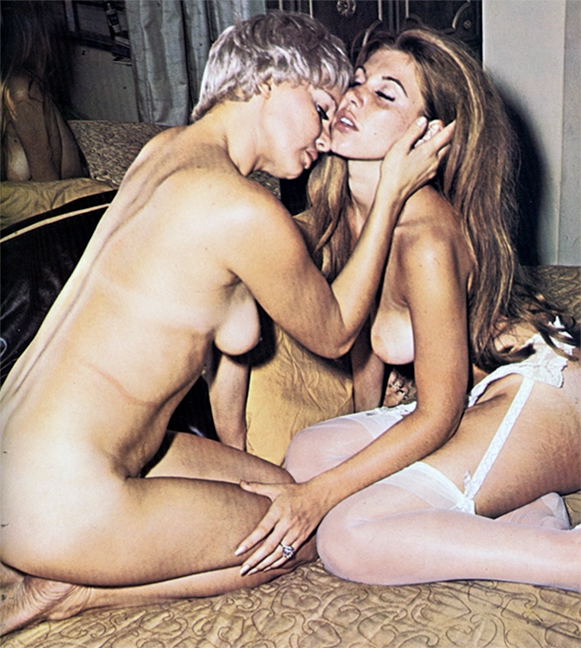 Uta Erickson (left) and Linda Boyce, taken by Sam Menning
Other models had less problems making the transitions into explicitly sexual photographs: "Tina Russell and her old man, Jason, were the first to do hard sex in a shoot with me. I'd already shot them in bondage pictures. They were great. I jumped in with them after the shoot, and we'd roll about together if you know what I mean."
"Later when Tina became a bigger name in porno films, Lenny re-published the pictures and made a lot of money."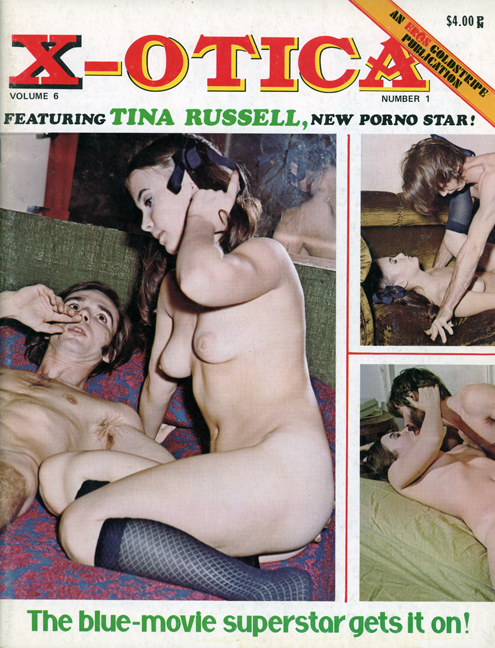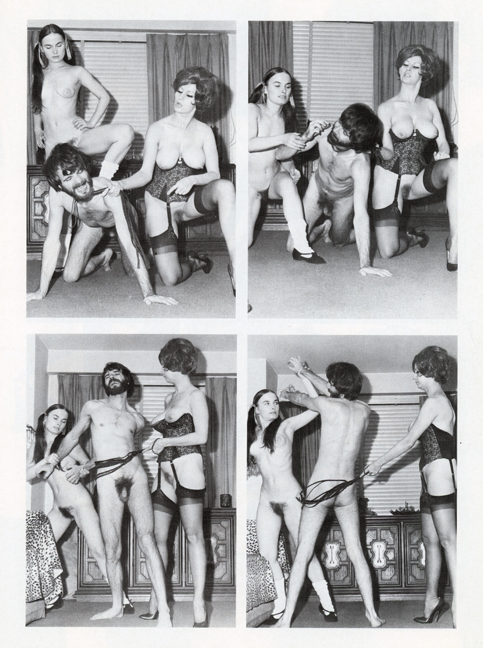 Tina and Jason Russell, taken by Sam Menning
By 1971, hardcore shoots had become more commonplace, and Sam was contacted by a swinging couple who he'd first met when shooting down in Florida that spring. Linda Lovelace and her husband Chuck Traynor rocked up in New York and were looking for work – preferably involving sex.
Sam arranged a few shoots with them, one which involved a married couple of aspiring actors, Eric Edwards and Chris Jordan, who had featured in 8mm loops he'd just shot. It was a typical job, similar to many that he'd done. Sam didn't think much of it until the success of Deep Throat (1972) which made Linda a star. The photo set was reproduced several times in a variety of Lenny Burtman magazines over the next decade.
Sam's go-to male model was Jamie Gillis: "I called him time and again to appear in the photosets. Jamie was perfect. He was reliable, cheap, and there was nothing that he wouldn't do. He'd bring his own women – like Helen Madigan. "My only problem was I shot him too much. I must have taken 100,000 pictures of him with a different woman every time."
Jamie noticed that Sam still had his Merchant Marine uniform in his closet – as well as an airline pilot hat and jacket, and he got a kick out of dressing up in both for photo shoots.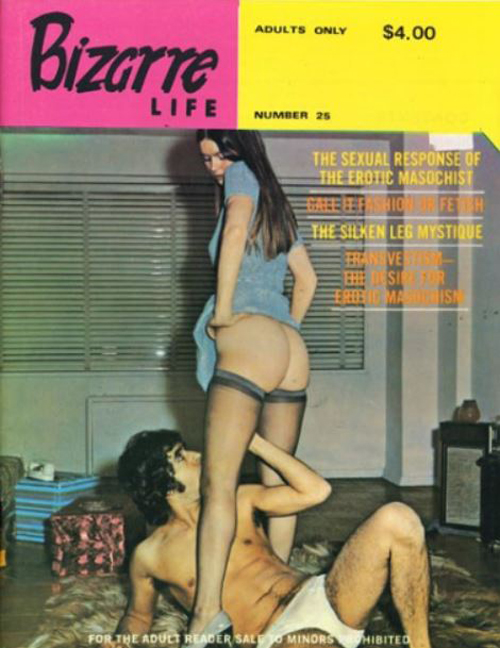 Jamie Gillis, on the cover of 'Bizarre Life'
Jutka, as her alter ego Jennifer Jordan, was also ubiquitous in Eros Goldstripe magazines as a dominatrix, though never in an explicit sexual capacity: "The boss' wife was always popular, but I was smart enough never to push her too far. She had strict boundaries," Sam remembers.
Jutka remembers the modeling work as entertaining and enjoyable: "It was fun to get dressed up and be outrageous," she says. As for whether she had a personal interest in spanking, leather, or domination, she laughs: "It was only a role. I'm a good bullshit artist."
Her make-up was sometimes done by legendary female impersonator, Kim Christy, who also appeared in many of Lenny's photo sets. Kim also helped out as a photo editor for Lenny. Years later, a selection of the photographs taken during this period by Sam Menning and others were included in a book 'The Christy Report', published by Taschen.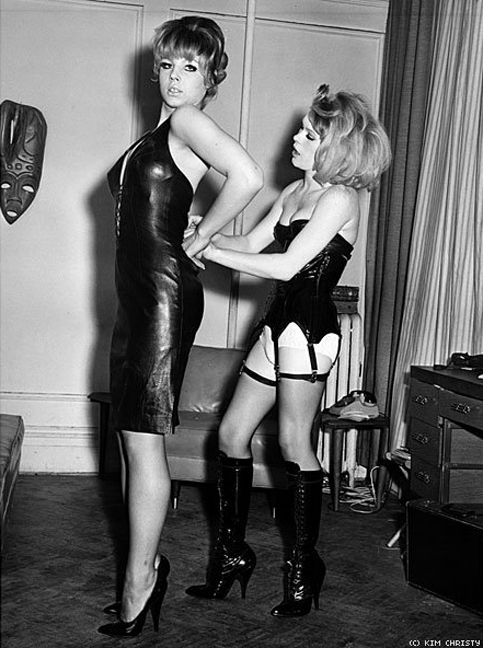 Kim Christy (right) with International Chrysis in a Sam Menning photo shoot for Leonard Burtman
Sam started to travel to the west coast to shoot models there too: "Between 1972 and 1979, I lived in both New York and California; I had a studio apartment in New York, and the same in Los Angeles. Each year, I spent six months in Los Angeles, four months in New York and the rest of the time in Europe – all of it working for Lenny. In Europe I would shoot these guides to the sin-filled sex cities there. That was easy money, and they sold well back in the U.S."
In Los Angeles, Sam took picture sets of adult film stars like Rene Bond: "Rene was a sweetheart. She found the idea of dressing up in bondage wear really funny. It was difficult to get her to wipe that goddam cute smile off her face long enough to take a picture of her. I'd holler, "Look angry and mean! Look like a bitch!" That would just make her giggle more. It was a losing battle. She was just too friendly and happy."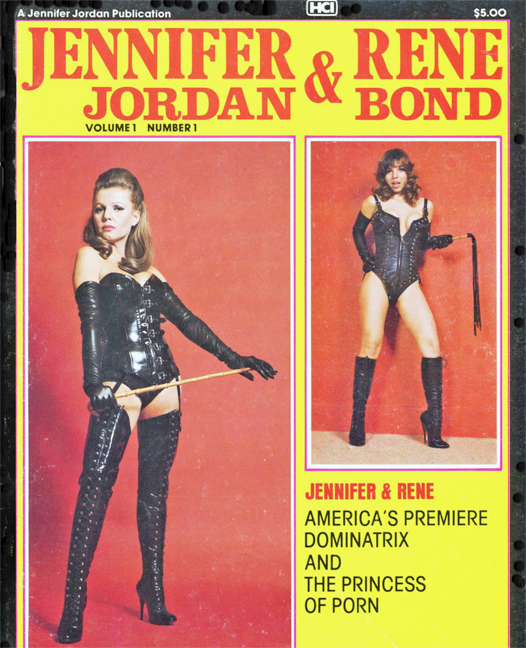 Jutka Goz, as 'Jennifer Jordan', and Rene Bond in a Leonard Burtman publication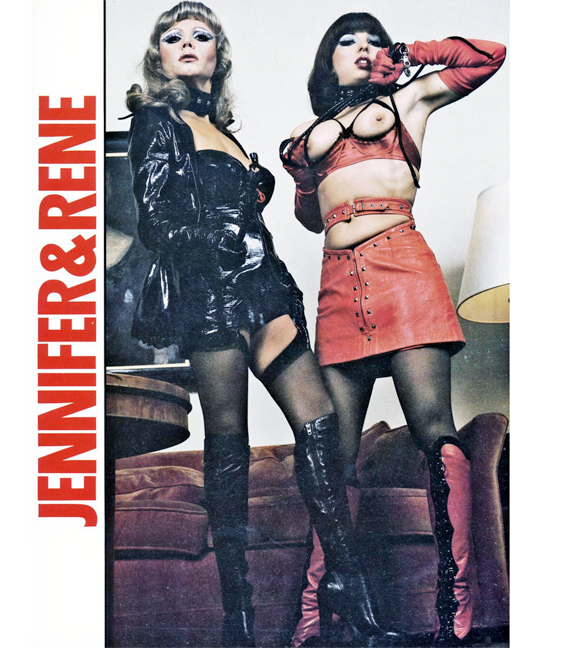 Jutka Goz, as 'Jennifer Jordan', and Rene Bond in a Leonard Burtman publication
Sam remembers getting local talent in Los Angeles from Bill Margold, who sometimes volunteered to pose in the pictures too.
(An aside: I once asked Bill Margold about Rene Bond. He was effusive about her beauty, concluding sadly that that he hadn't had the chance to work with her in person. I sent him pictures of the two of them in action taken by Sam Menning. Bill was speechless. For once.)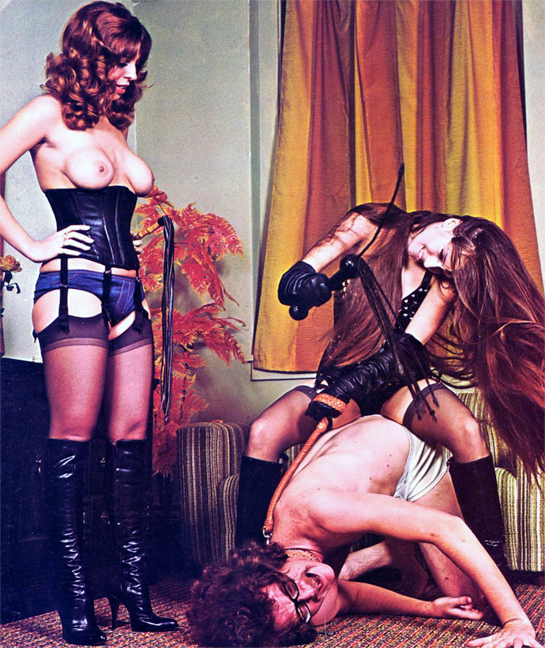 Rene Bond with Bill Margold, taken by Sam Menning
In 1973, Lenny and Jutka moved to California, where Lenny set up an office in Beverly Hills and continued churning out magazines, many with content provided by Sam Menning. As the 1970s wore on, Reuben Sturman's influence became more heavy-handed. Whereas Lenny had formerly supplied his own distributors, which gave him complete creative control of the harder-edged fetish content of his magazines, now Sturman leaned on him to be more explicit and to curb his more left-field interests.
Often the magazines just re-packaged older content, with Sturman pointing to the success of one-off specials like 'The Superstars of Porno' and 'The Girls of Deep Throat' – both consisting of old Sam Menning shoots.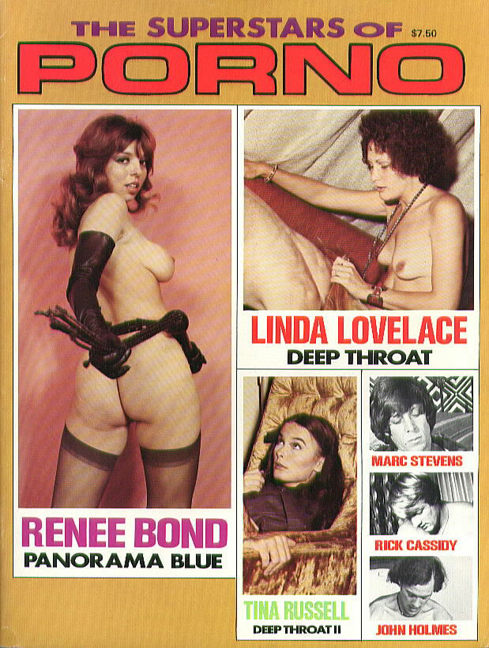 Where possible though, Lenny still liked to photograph the more unusual subjects exploring alternative lifestyles such as female domination, and cross-dressing.
Jutka Goz, as 'Jennifer Jordan' in a Leonard Burtman publication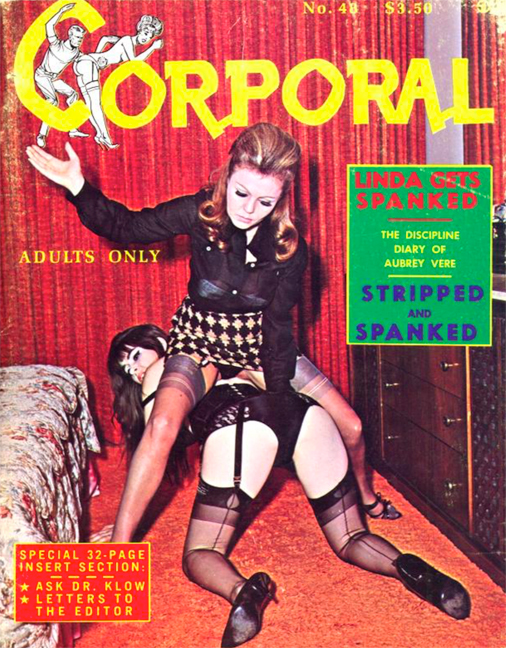 Jutka Goz, as 'Jennifer Jordan' in a Leonard Burtman publication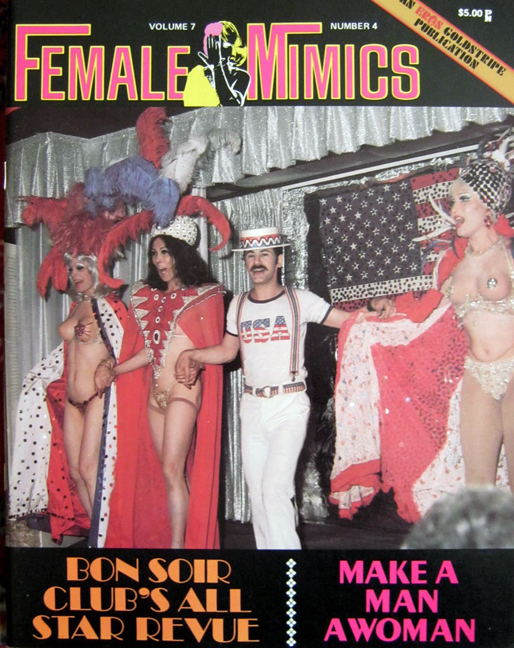 Some of the work was ground-breaking. Jutka fondly remembers Lenny working with a beautiful transsexual called Shannon. Lenny shot a 'before and after' video with Shannon, which showed the results of her sex-change operation. The couple became close to Shannon, and were deeply affected when Shannon killed herself shortly afterwards.
By this time, Kim Christy had moved to Los Angeles as well, and Lenny and Jutka became close to him, with Lenny helping set Christy up as a film producer and director, specializing in transsexual porn.
If Lenny was becoming less relevant in the fetish world, his legacy still lived on. Yogi Klein, Lenny's cousin, and a woman initially known just as 'Miss B', founded the House of Milan in Chicago in the fall of 1964, becoming the first public retail outlet for fetish clothing in the United States. In the 1970s, Miss B took over the business, moved to California, and renamed the company HOM. It became one of the largest producers of SM and fetish erotica in the United States, dealing in glossy SM and fetish magazines, adult videos, sex toys, and clothing.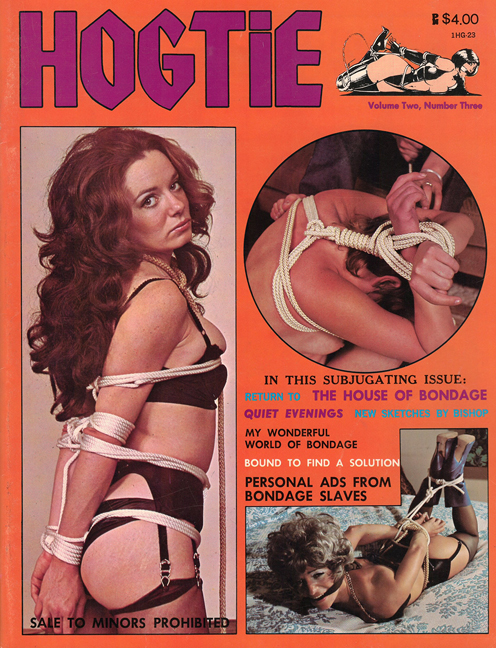 House of Milan publication
Lenny launched magazines like 'Leg Show' but by the mid 1980s, Lenny's business was in a tailspin, and today Jutka is in no doubt as to why.
"He put all his eggs in one basket. And that basket belonged to Reuben Sturman, so he was compromised."
The pressure to be a hard-core pornographer took its toll, and affected Lenny's health. He pushed back against Sturman, refusing to produce the kind of explicit content that was demanded. Sturman responded by blackballing him in the industry, and Lenny found it difficult to get anyone else who would distribute his product on the same scale.
On August 3rd, 1989, Lenny died in his office in Beverly Hills. He was 68. Jutka knew that the stress had been difficult for Lenny, but his passing was a shock to her.
"Reuben was a dirty old man. Greedy. He was very wealthy but always wanted more, and that had an effect on Lenny."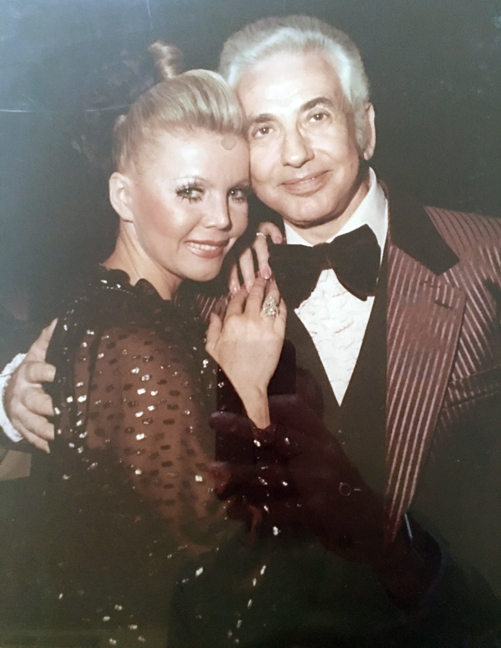 Jutka and Lenny Burtman
*
7. Jutka's story
After Lenny's passing, Jutka wanted a fresh start. She inherited Lenny's huge portfolio of photographs dating back to the early 1950s. She feared that holding onto them would prolong her grieving and prevent her from moving on, so she made a quick deal to get rid of them all.
With hindsight, she regrets her haste: "What did I know? I had no idea that they had any value, so I sold them all for a song. All of them. I didn't know what to do with them. I kept nothing but a few magazines in which I appeared."
She married again, this time to Kurt Niklas, one of the most famous restaurateurs in the history of Beverly Hills. His restaurants – the Bistro (which he opened with film director Billy Wilder) and the Bistro Garden – had been among the most renowned celebrity watering holes and eateries in the city's flamboyant past.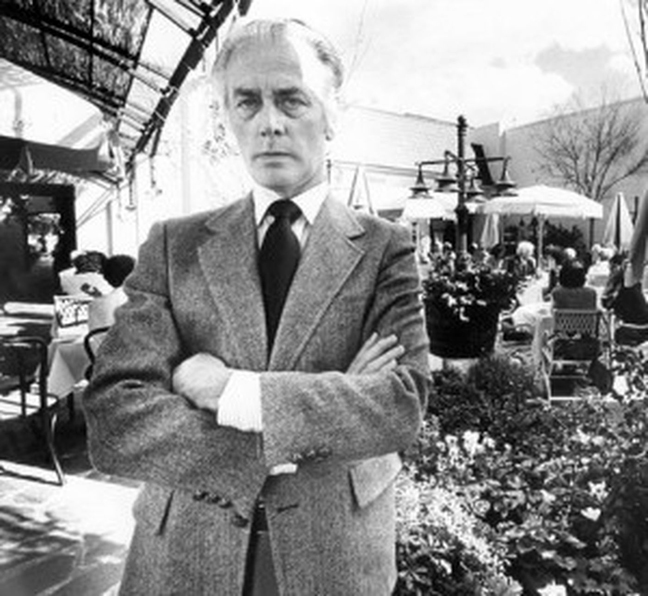 Kurt Niklas
Like Lenny, Kurt was a charismatic figure, and had a similar background to Jutka herself. He'd been raised in war-torn Europe, in his case Nazi Germany, and had survived the last months of World War II in a forced labor battalion on the western front.
A new and happy chapter of Jutka's life began with Kurt, which only ended with his passing in 2009.
Today Jutka's life is still dominated by the two loves of her life, Lenny and Kurt. But while Kurt is still well-known for his influence on the California restaurant scene, Jutka doesn't disguise her annoyance that Lenny is hardly remembered: "He was such an important man in the magazine business, and he seems to be forgotten today. For example, why is Irving Klaw given credit for discovering Bettie Page, when Lenny deserves at least as much credit?"
She's equally dismissive of recent attempts to tell the story of Lenny's golden era in New York, including the film The Notorious Bettie Page (2005), and the documentary, Bettie Page Reveals All (2012).
"I found it all so boring. How can you make films about this rich subject that are sooo uninteresting?"
At the end of our meal together, I get out a selection of pictures that I've brought with me. Pictures of Jutka in full dominatrix attire. Boots, black leather, whips, fierce glances, and men cowering in front of her. I realized the incongruity of revealing these in a public restaurant with a woman who is about to turn 80. The photos were taken a long time ago, but the imagery is striking and she hasn't seen the shots for at least 30 years. How jarring would it be to confront her with her past in this way?
"Wow! Wow! Wow!", Jutka squeals in delight, when I show her the first picture of herself. "Look at that girl! She's so wild… I looove her!"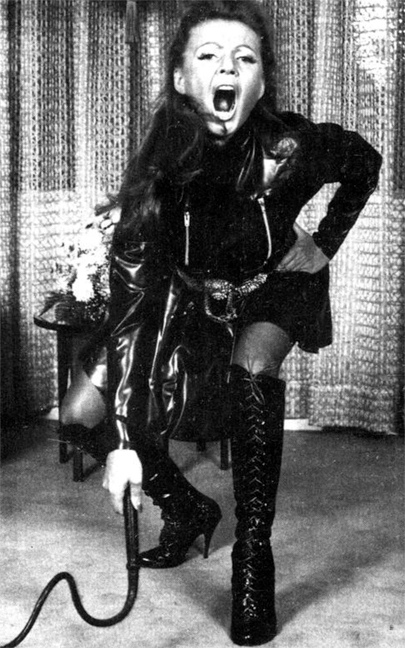 She demands to see more, and with each picture, her reaction becomes more enthusiastic.
"Blimey, I was really good, wasn't ?!"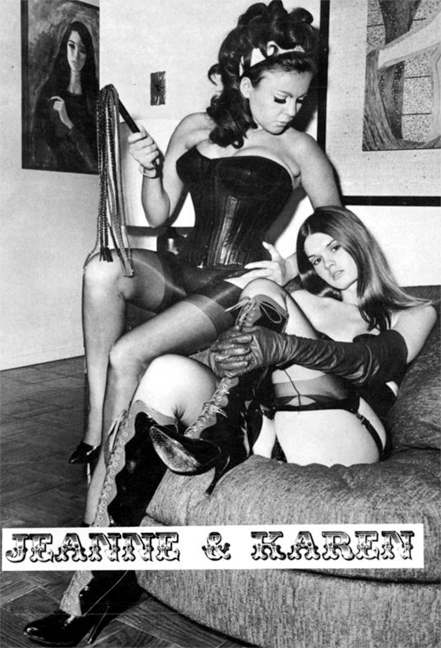 "Look how thin and beautiful I look. I was quite a catch. I was so pretty. I didn't realize that."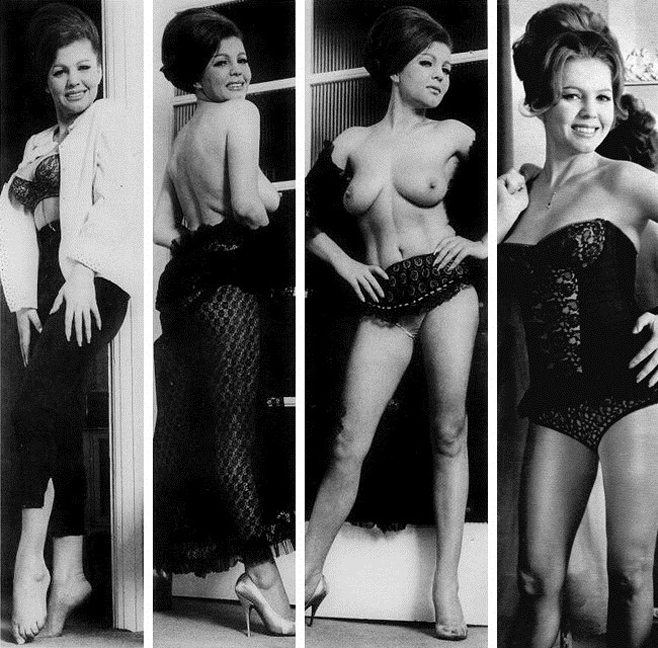 "I was a good model, wasn't I?! I love that dress…"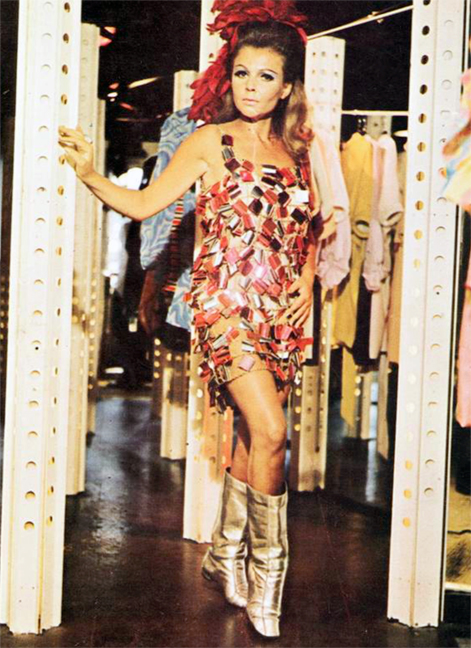 "I'm so raunchy! I look so convincing…"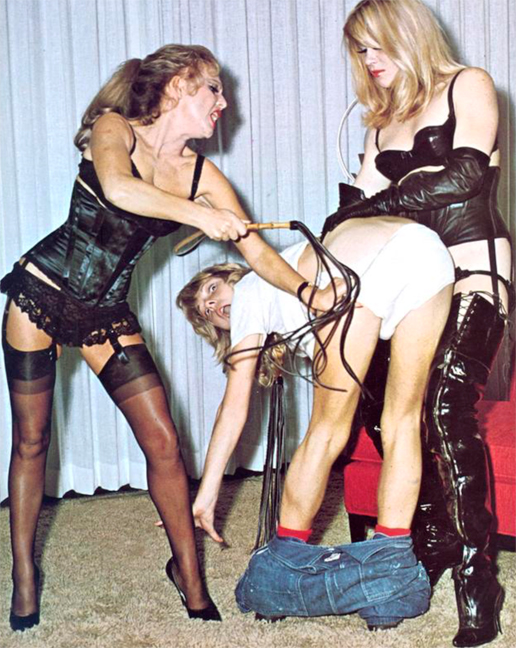 Jutka (left) with Kim Christy (right)
The last picture I showed Jutka was the picture of her and Jamie that had started this journey.
She immediately recognized him, though couldn't remember his name.
After studying the pictures, she looks up with a glint in her eyes.
"I loved this boy. He was so kinky, sweet and gentle. I remember he insisted on licking my boots. I worked with him a lot, and we took lots of photos together. He was fun to play around with."
She looks thoughtful for the first time.
"He said he was going to get into the movies. Do you know what happened to him?"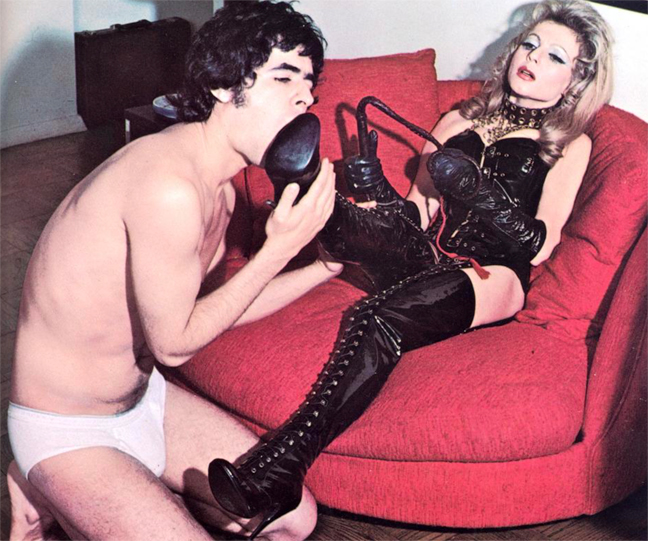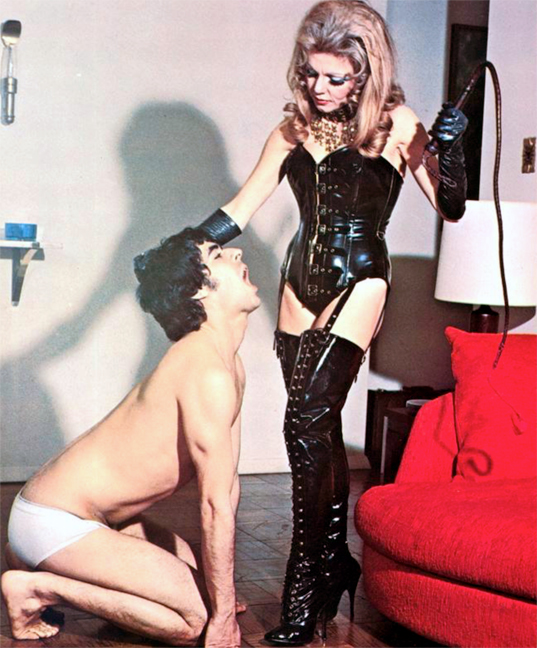 *
Epilogue
A few days after I said to Jamie that I wanted to find the model in the picture, he called me up to say that he'd found a Polaroid. It was of the same model and him. It was taken at the beginning of their first photo-shoot. Jamie had written the date on the back: Jan 25, 1972. They had just got dressed up (in her case) and undressed (in his case). They were doing a lighting test for the photographer.
The picture was not posed. In fact, they stand stiffly next to each other, holding hands, slightly uncomfortable in the newness of each other's company, and the forced unnaturalness of the situation.
Jamie looks young, inquisitive. This was a new world for him.
He was getting ready for whatever came next.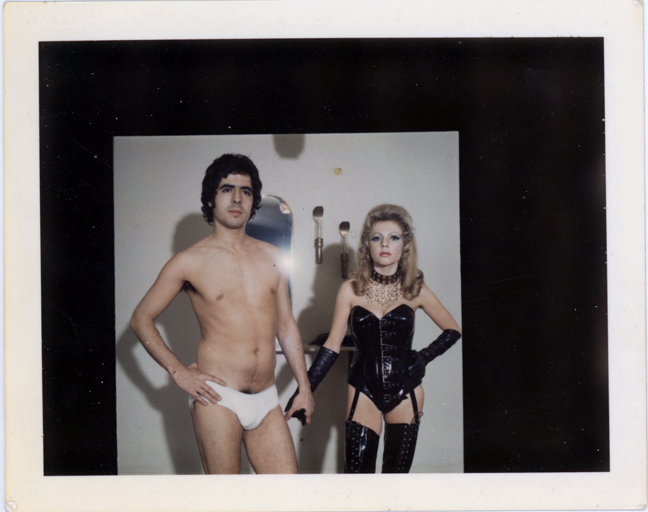 *
The model in the picture.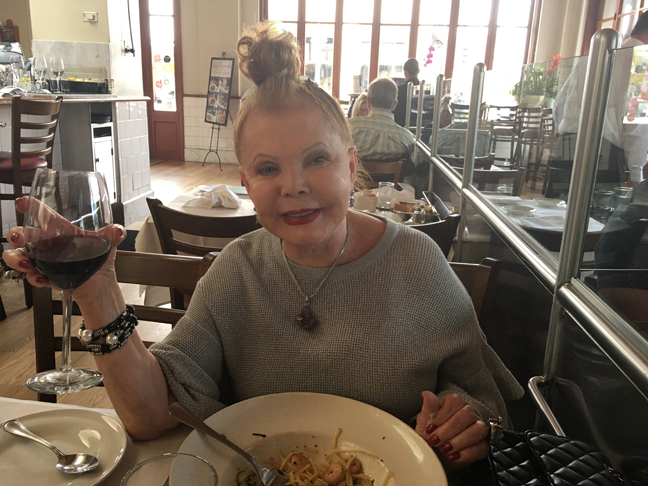 Jutka Goz, 2018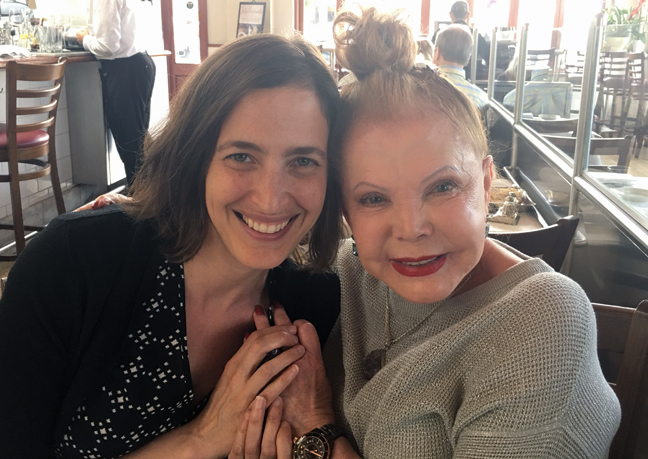 Jutka Goz, with The Rialto Report's April Hall
*