In the 1970s anyone could make a successful adult film in New York, right?
Especially if you assembled a production team that included…
          – a producer who was an award-winning documentary filmmaker, and had worked with luminaries such as Sidney Lumet and Merv Griffin
          – a director who'd designed the first album cover for the Beatles' Apple record label, and the titles for Ray Harryhausen films
          – a writer who'd been a popular British TV sitcom actor, and who'd worked with Monty Python, Ringo Starr and Peter Sellers
          – a soundtrack composer who was fresh off a huge international hit with the single 'Popcorn' which had sold two million copies globally
          – an actor who'd just appeared in Martin Scorsese's 'Taxi Driver' (1976)
          – a cast featuring some of the best known adult performers of the day…
It was surely destined to be a classic, right?
Wrong.
'The Double Exposure of Holly' epitomizes Murphy's law: sometimes anything that can go wrong will go wrong.
The Rialto Report tracked down those involved in the film to provide a Rashomon version of the making of an adult movie in 1976.
It's a tale of a lead porn actress who wouldn't have sex (and her male counterpart who couldn't have sex), malfunctioning film equipment, illness, car accidents, Ron Sullivan, Bob Guccione and… Marty Feldman?
_______________________________________________________________________________________________
Cast and Crew:
| | |
| --- | --- |
| Director | Bob Gill |
| Writer | Ronan O'Casey |
| Producers | Ronan O'Casey, Bernard Stone |
| Original Music | Stan Free |
| Camera Operator | Herman Huxley |
| | |
| --- | --- |
| Catherine Earnshaw | Holly |
| Don Peterson | Mark |
| Jamie Gillis | Archie |
| Terri Hall | Kim |
| Ronan O'Casey | Lee |
| Robert Maroff | Nicastro |
| Annie Sprinkle | Muff |
| Nancy Dare | Sandi |
| Tony Richards | Young Couple (as Tony Blue) |
| Bree Anthony | Young Couple |
| Bobby Astyr | Angel |
_______________________________________________________________________________________________
Background to 'The Double Exposure of Holly':
Extract from 'Getting It Up For A Porn Movie', by Ronan O'Casey, Playboy magazine (March 1977):
It was December 1974. Bob Gill, one of the top graphic artists and I were contemplating the prospects of 1975 with horror when he popped the porn question: "Do you know anybody who could write a dirty movie?"
"Yeah", I said, "I can."
Ronan O'Casey (producer, writer of 'The Double Exposure of Holly')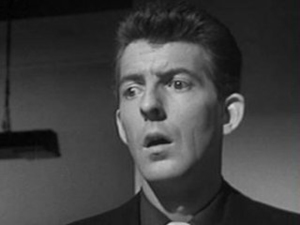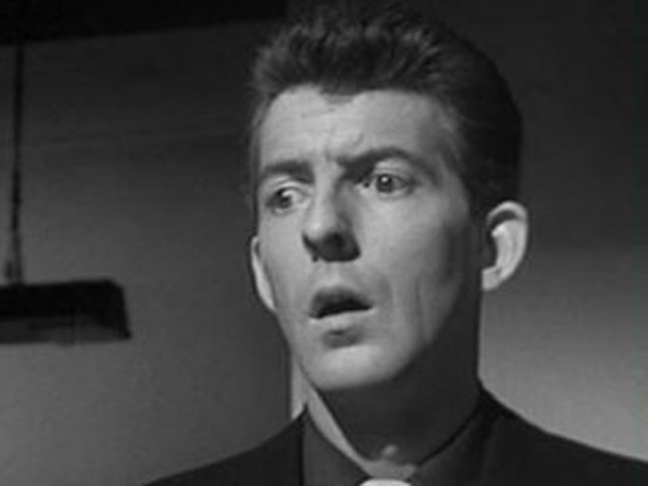 I was born in 1922 in Montreal, Canada, to Irish parents – my father was a poet, and my mother was an actor who'd co-starred with the young James Joyce in his first stage role, so it was natural that I joined the touring theatrical family troupe taking all the child roles in their productions.
My family moved to Dublin and then to London, where I worked as a character actor in West End theaters and television. I was in the popular British sitcom 'The Larkins' (1958-64), and I also hosted ITV's gameshow 'Don't Say a Word' (1963).
I appeared in several movies, such as Nick Ray's war film 'Bitter Victory' (1957) with Richard Burton and Christopher Lee. I was also Vanessa Redgrave's lover… I was the 'blow-up' of Antonioni's 'Blow-Up' (1966)!
Bob Gill (director of 'The Double Exposure of Holly')
I was born in Brooklyn in 1931 and from an early age, I just loved illustration. I played the piano at summer resorts in the Catskill Mountains, New York, to pay school tuition, and then became a graphic designer in New York City.
I was a film title designer in several films, including several films of Ray Harryhausen like 'The 7th Voyage of Sinbad' (1958).
In 1960 I moved to the UK to work for an advertising agency before forming a design studio in London.
Ronan O'Casey
By the late 1960s, I was getting less acting work and I got hired as the literary head of the production company Commonwealth United. We associate-produced Terry Southern's 'The Magic Christian' (1969) with Ringo Starr and Peter Sellers. It was partly written by members of Monty Python.
Bob Gill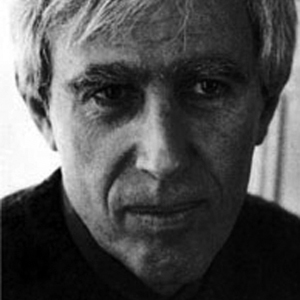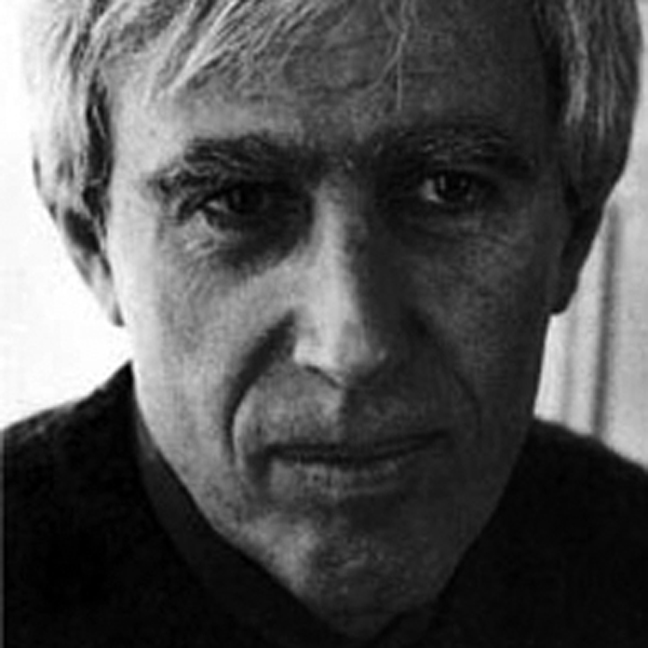 By the late 1960s, I was freelancing in London… teaching, filmmaking and writing children's books. My first job after I went solo was to design the cover of 'Wonderwall', the Beatles' first record on their label, Apple.
In 1974, a film editor friend of mine, Bernard Stone, invited me to direct an adult film. I had never directed a film, so I thought, fine, why not?
Bernard Stone (producer, editor of 'Double Exposure of Holly')
I was born in 1929 – and wanted to study film but in the late 1940s no courses existed so I majored in history. My lucky break came when I became an assistant editor on 'Twelve Angry Men' (1957), directed by Sidney Lumet. I remember having to pass a test, and one question involved knowing the difference between an establishing shot and an extreme close-up!
Around 1967, I edited and co-directed a short called '12-12-42', which dealt with the horrors of the Vietnam War. It was shown at the New York Film Festival and London Film Festival, and took the Grand Prix at the Oberhausen Film Festival in Germany. I felt pretty good about making the winning film out of 2,000 entries, not to mention the $1,500 prize!
Then I was supervising film editor on Merv Griffin's specials.
Extract from 'Getting It Up For A Porn Movie', by Ronan O'Casey, Playboy magazine (March 1977):
Bernie has a place in porno history, in fact, as the editor of one of the first soft-core movies ever made, 'Orgy at Lil's Place' (1963).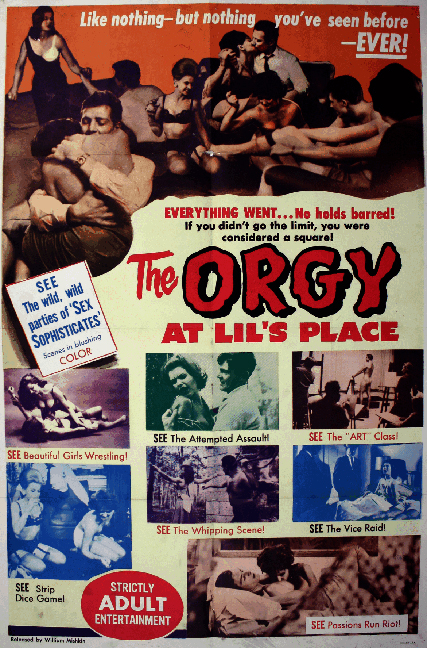 Bob Gill
I thought the idea would be interesting. I'd never directed a movie, and I'd never even seen a porno. I guess the biggest porno up to that point was 'Deep Throat' but I never saw it.
What was the experience of working on this film like? The net result of getting involved was that it almost put me off sex forever.
Ronan O'Casey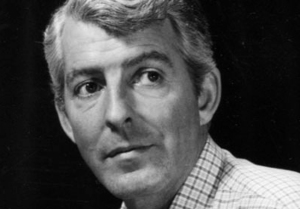 We figured it would be an excellent way to make some fast money – it would be sexy and fun.
I started by writing a 12-page treatment. I wanted to make it a satire of watching pornography. I figured that as adult films are aimed at voyeurs, the story of 'Holly' would show voyeurs watching voyeurs watching voyeurs.
Then I flew over to New York from my home in London to shop the treatment around to various interested investors that Bernie had identified.
Extract from 'Getting It Up For A Porn Movie', by Ronan O'Casey, Playboy magazine (March 1977):
We had the treatment copied and sent to all the various angels, then waited for the money to pour in. It was a long wait before we discovered the truth: Angels have no balls.
Ronan O'Casey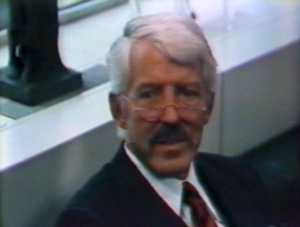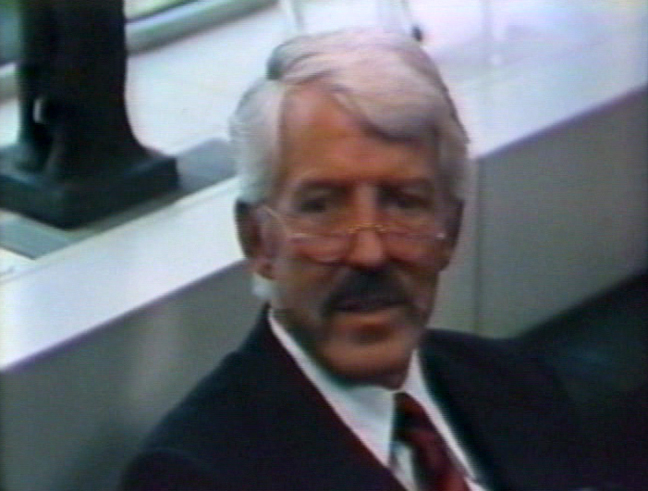 My budget was $90,000 and at first we had a lot of interest – but few who were willing to make a firm commitment.
In the end we raised $55,000, which was enough to fund a 15 day shoot.
The first $10,000 came from a tax accountant, and then we got $40,000 from a doctor (of which half came from his patients!), and a publisher who gave us $5,000.
Extract from 'Getting It Up For A Porn Movie', by Ronan O'Casey, Playboy magazine (March 1977):
We got an office, and a production secretary, Glenda, who put an ad in the trade papers:
'Casting call for 'The Double Exposure of Holly'. X-Rated film.
Male and female leading roles – involving sex.
Also straight parts, bit parts, extras.
Phone Double Exposure Company.'
Ronan O'Casey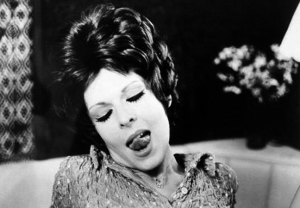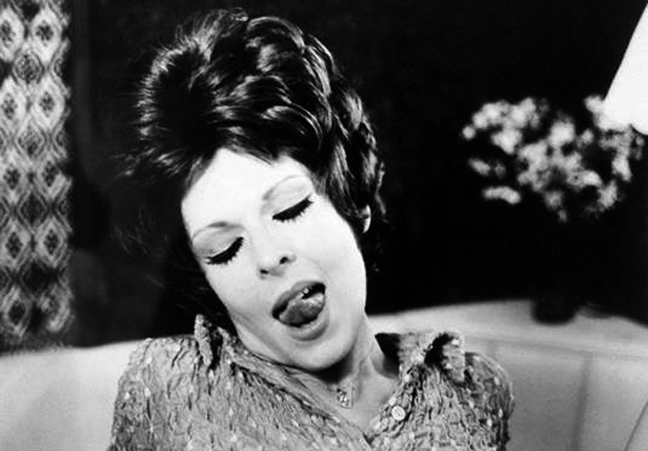 Bob, Bernie, and I really had no idea how to make a porn film, so I came up with the bright idea of hiring two ex-porn stars who would act as advisors and crew members.
First we hired Dolly Sharp (right); she'd been in 'Deep Throat' (1972) though no one remembers her because of Linda Lovelace in the starring role.
Dolly was this nervous, talkative woman in her early 40s – who looked like she had anorexia nervosa. I remember she was constantly taking notes like a secretary on speed. She'd been a 'character actress' in many porn films and seemed to know everything about everyone.
Extract from 'Getting It Up For A Porn Movie', by Ronan O'Casey, Playboy magazine (March 1977):
We ran a couple of her old movies; she had a beautiful face and lush and sensuous body, but her voice was scratchy and shrill and if pitched one decibel higher, would have caused actual pain.
Ronan O'Casey
Next we hired a guy called Chuck, who told us he was exceptionally endowed, had been in many adult films, and was an ex-pro footballer. That sounded good enough for us to employ him as a consultant. He also bragged that that had once ejaculated five times on set in a single day, so I called him 'Five-cum'.
Together Dolly and Five-cum set up our casting sessions.
Casting of 'The Double Exposure of Holly':
Ronan O'Casey
The casting was the strangest part of the whole process. You wouldn't believe the crazy people who showed up! We had two Finnish lesbians who wanted to work together, a drug addict who was worried about her track marks, and a homeless guy who told us he was related to Marlon Brando.
And also this character who called himself 'Dr. Infinity'…
Extract from 'Getting It Up For A Porn Movie', by Ronan O'Casey, Playboy magazine (March 1977):
I asked him "Why 'Infinity'?"
He snickered, "I blow my own horn."
"I don't get it."
He looked hurt. "I blow myself." He distributed large color photographs of himself with his own cock in his mouth. He was both well-hung and agile, almost double-jointed.
Beating your meat is one thing, but Eating your meat? Vegetarianism beckoned.
Ronan O'Casey
We figured we were probably casting the film in the wrong way, so we put the word out to this acting agent, Dorothy Palmer, and she started sending us more serious people. The person I liked was Annie Sprinkle.
Annie Sprinkle (actress)
I had only moved to New York the previous year so I was new to this entire scene. I was working with Leonard Kirtman and his film company, Kirt Films, first as an apprentice, then as a fluffer, before moving in front of the camera and starring in Kirt features.
Ronan O'Casey
I liked Annie – but Dolly and Chuck thought she wasn't quite 'right' so they advised us to hire her as a fluffer for the set. They explained that we'd lose a lot of money on film stock unless we had male cast members who were always ready for action.
Next we needed a couple – and were pleased when Bree Anthony and Tony Blue turned up. They told us they'd just got married and preferred to work together. They were good looking so we offered them the roles on the spot.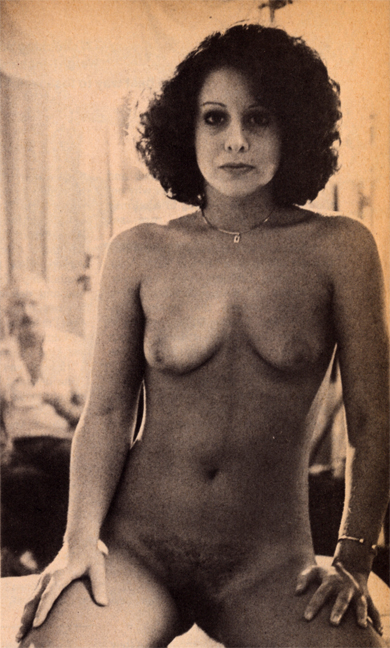 Bree Anthony, in a still from 'The Double Exposure of Holly'
Bob Gill
I don't know if the casting sessions were normal or not as we'd never done anything like this before. We just asked if they'd ever been in a porno film and found out what their bodies looked like.  You know… the usual.
Ronan O'Casey
We only had two possible candidates for the male lead role. Dolly recommended that we take them both over to Bernie's apartment and let Annie conduct a 'hands-on' audition.
Extract from 'Getting It Up For A Porn Movie', by Ronan O'Casey, Playboy magazine (March 1977):
The first of the two candidates, Don Peterson, arrived and Annie whisked him off to the bedroom. We gave them ten minutes before we filtered in. They were stripped and Annie was giving him the full deep-throat treatment, which was surprisingly loud – much lip smacking and suckling noises and her cheeks fluttered as she blew in and out. We made it as difficult as possible by moving around, smoking, chatting, cracking gags, but Don and Annie were somewhere else and his cock was straight and stiff. Dolly looked over the bed for a better look and a cool appraisal.
"Good, that's a nice hard-on".
She turned to us: "Now how about a nice come shot?"
Bob Gill
We all liked this actor Don Peterson – so he got the lead role. He was a very good-looking guy who looked like New York mayor John Lindsay, and we were delighted that he was interested.
Ronan O'Casey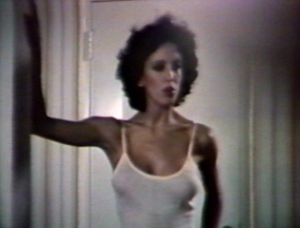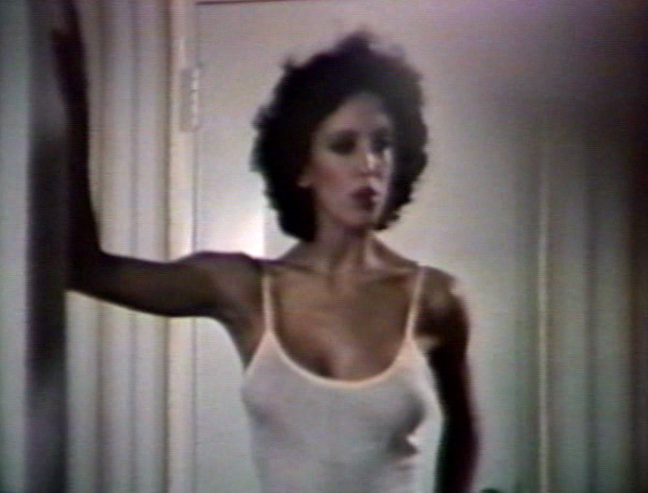 Five-cum knew this actress called Terri Hall (right) so he invited her in to meet us. She was gorgeous, experienced and professional. She also had this 'little-girl-lost' appeal and at times just seemed vulnerable, absent and spacey, but we like her so she got a role.
When we told Terri that we were looking for people who could act as well as have sex in front of the camera, she told us we should hire Jamie Gillis; she'd just been in a film with him called 'The Opening of Misty Beethoven' (1976) and she raved out him.
Extract from 'Getting It Up For A Porn Movie', by Ronan O'Casey, Playboy magazine (March 1977):
Jamie on himself: "I'm an actor who likes to fuck and where else do you get paid to do both?"
Jamie on movies: "Just because a film has fucking in it, doesn't mean it's a bad film."
Jennifer Welles (actress)
I got a call saying that these gentlemen wanted to see me for the lead role, so I went along and it was clear that none of them had ever made an adult film before.
They were embarrassed to ask me to take my clothes off and kept making jokes to hide their shyness. They were perfectly pleasant – and so I accepted when they offered me the lead role of Holly.
Ronan O'Casey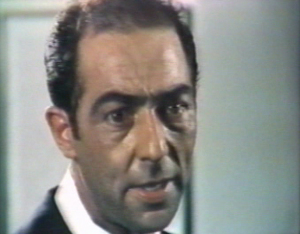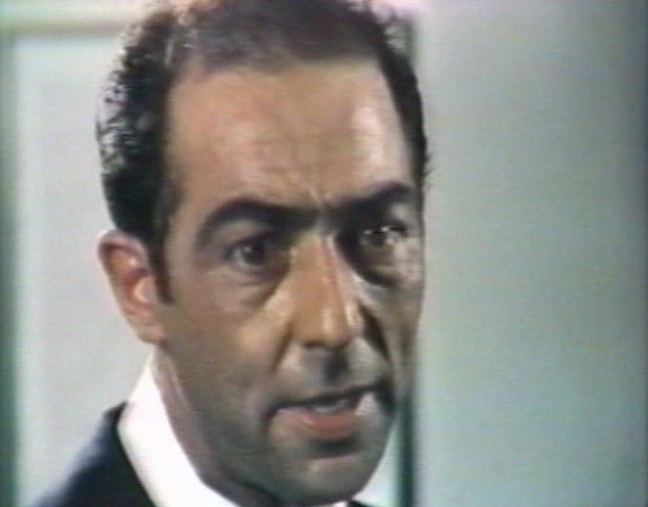 We needed a couple of character roles: a gangster and a lawyer. I'd seen Bob Maroff (right) on stage at the Public Theater in New York. He was rough and tough looking, so we looked him up and offered him the gangster part. He'd just played a mobster in 'Taxi Driver' (1976) so the Scorsese experience was perfect preparation for our film!
To speed things up, I took the role of the lawyer.
We were elated that we'd managed to cast the whole film, but then we had problems actually getting our hands on the funding that we'd been promised. Our doctor was the worst culprit; he came up with only $10,000 of the $40,000 that he'd promised, which left us with only $25,000 in total.
I managed to secure three more investors at $5,000 which took us up to $40,000.
We looked at the numbers again and worked out a way of reducing the production to a nine day shoot at $4,000 a day. We figured that if we started on a Saturday and worked nine days in a row, then we'd get two free weekends rental of the equipment – which was rented out on a five-day basis.
We also fired Dolly and Five-cum to save money. We had to let Annie go as a fluffer but gave her a part in the film as a hooker called 'Muff'.
Jennifer Welles
By the time they finally got their act together, I'd been offered a singing gig on the road with my husband and couldn't change my plans, so I called them and dropped out of the movie.
Extract from 'Getting It Up For A Porn Movie', by Ronan O'Casey, Playboy magazine (March 1977):
I called her and reminded her of her contractual obligations, and the fact that she was letting everyone down. She was ice cold. "So sue me."
Ronan O'Casey
The pressure was getting to us at this stage. We'd lost much of our funding and now our leading lady had walked out! We postponed production for a week and starting casting again.
Extract from 'Getting It Up For A Porn Movie', by Ronan O'Casey, Playboy magazine (March 1977):
Now to find another Holly. The perfect one appeared, Catherine Earnshaw. She read well, had the perfect pretty, spoiled face and a lovely body. She was reluctant to work in hard core but wanted to act and, after reading the script, agreed to join us.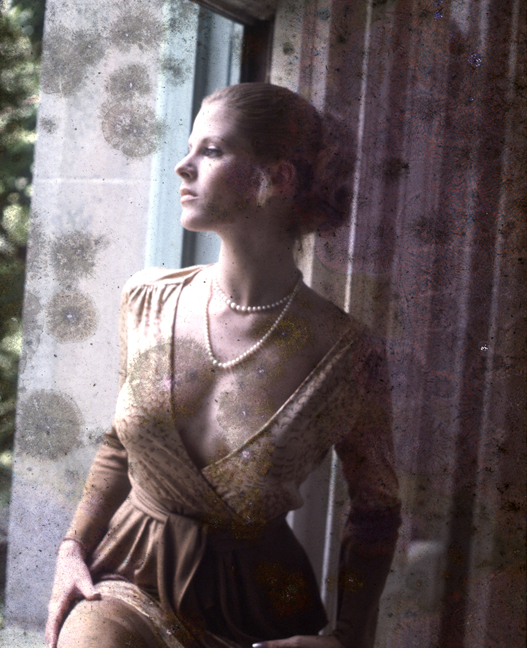 Catherine Earnshaw, in a rare still from 'Through The Looking Glass' (1976)
Bob Gill
She was very good-looking, and we were very pleased with her – but I don't think she'd ever been in a porno before, and she didn't want to actually do the deed.
She laid down all kinds of conditions about what she wouldn't do. I have no idea whether we complied with them… I just don't remember.
Ronan O'Casey
Obviously it was a problem that our lead actress refused to actually have sex. In the end we agreed to 'shoot around' the problem and let her just simulate sexual activity. It wasn't ideal but we'd lost our first choice actress so we didn't have much time.
We got hold of her because she was the girlfriend of someone we knew – a famous fashion photographer. Catherine Earnshaw was a fake name.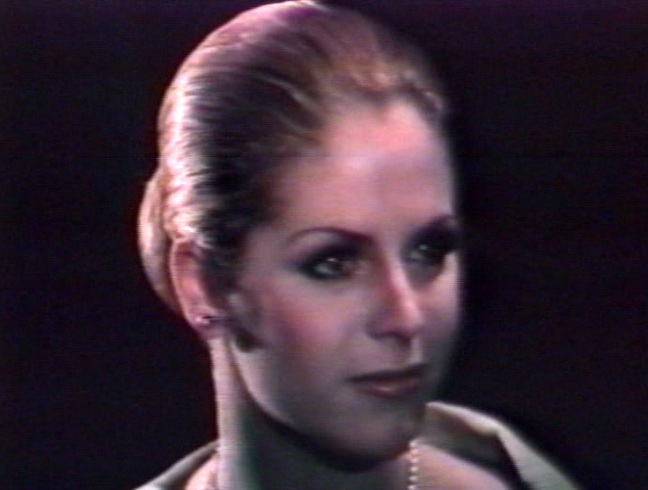 Catherine Earnshaw in 'The Double Exposure of Holly'
Bob Gill
I guess most people actually used their real names on the production which was quite unusual for a porno. It never occurred to me not to.
Ronan O'Casey
It probably wasn't normal for a porn film but we wanted got the cast in to rehearse their lines the week before the shoot. They all showed up looking a little bemused at the idea of having to run through the dialogue for a fuck film.
Bob Gill
I found a great cinematographer – the only problem was that he was wary of working on a porn set. So he wanted everyone to call him 'Orson Truffaut' after two of his influences.
Ronan O'Casey
By the time we finished production, he'd settled on 'Herman Huxley' as his nom-de-porn (two of his other favorites – Hesse and Aldous).
Herman Huxley (cinematographer)
I'd worked on one adult film before called 'M*A*S*H'd' (1976) – which also featured Annie Sprinkle. I'd done that movie with a friend. He wanted to cut his teeth and learn about filmmaking so it was basically a learning exercise for all of us. It was all done by students. We were all were basically just out of NYU graduate school.  It was a hare-brained idea, but it actually stood me in good stead because it taught me the value of having to think through a problem and solve it in the most efficient way without a lot of money.
'The Double Exposure of Holly' was bigger in scale however; for a start it was a 35mm film, whilst "M*A*S*H'd" was shot in 16mm.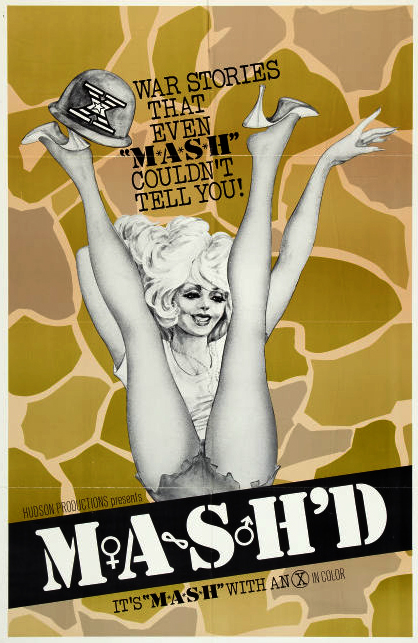 Ronan O'Casey
'Herman Huxley' was an accomplished, experienced photographer from the South. Very funny and intelligent. To be honest he was one of the only people who knew what they were doing on the set.
Herman Huxley
Ronan said to me, "Well, would you like to do it?"
I said, "Under one condition. I require certain equipment in order to make this look as good as I possibly can." I asked for a huge Panavision with multiple lenses, and a Worrall head, and a dolly, and all of that. The real reason was that I wanted to learn how to use all that equipment!
They said, "Of course, get whatever you want" so we rented it from General Camera in New York; they had no idea what kind of a film it was for. I can't imagine that any other porno film at the time was done with equipment like that.
The rest of the crew were total rookies; I was close to being a virgin, but they were definitely virgins.
'The Double Exposure of Holly' is about a New York lawyer (Ronan O'Casey) who realizes that his lover Holly (Catherine Earnshaw) has been seeing other men. He decides to get even with her. In order to blackmail her, he gets a gangster (Bob Maroff) to engage two criminals (Jamie Gillis and Terri Hall) to secretly film Holly with her new lover (Don Peterson) in their hotel room.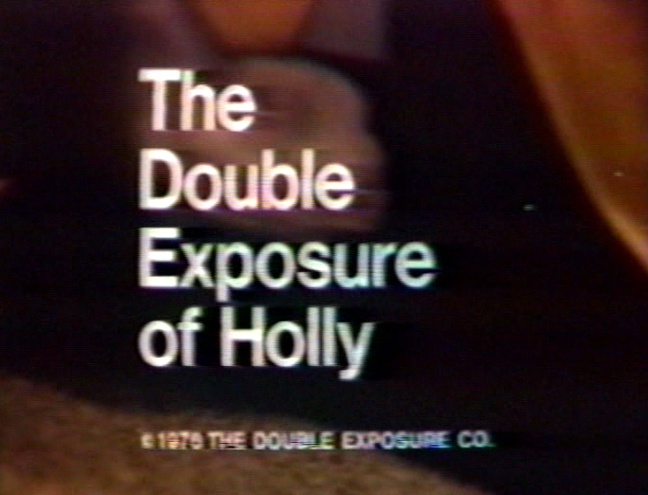 'The Double Exposure of Holly' – The Production:
Day 1 (The Production starts):
Ronan O'Casey
We shot the film in October 1975.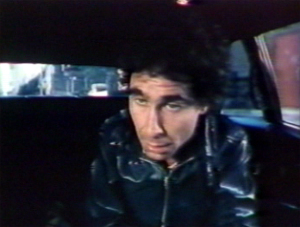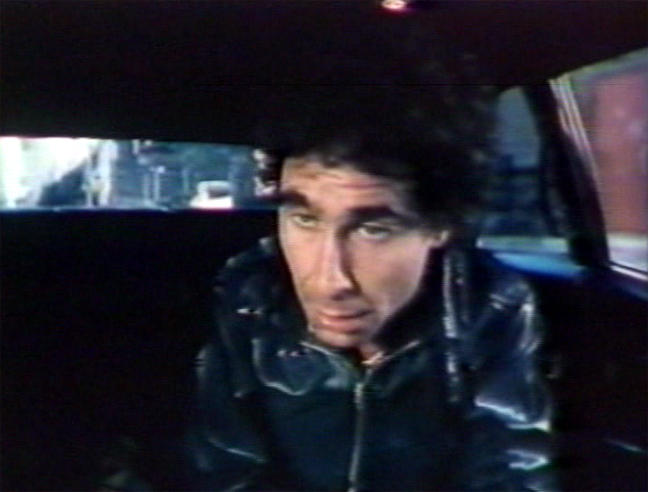 Our first day started at 7.00am on a Saturday morning. Our publisher investor loaned us his office and the scene featured a drug pusher played by Bobby Astyr (right), a black pimp played by Darryl Speer, and a hooker played by Cecilia Gardner.
It was fun to shoot – even though we ended at 2.00am. It took us much longer than we expected – and part of that was because Bobby Astyr was making us laugh so much. He was a natural performer – I think he'd done some stand-up comedy – and he did something different on every take.
Extract from 'Getting It Up For A Porn Movie', by Ronan O'Casey, Playboy magazine (March 1977):
Bobby has a rich fund of street argot – "Salty bitch, got my nose open" and "Hold your mud, baby, hold your mud". As a result, the scene has a creepy comic realism.
Day 2 (Traffic accidents):
Ronan O'Casey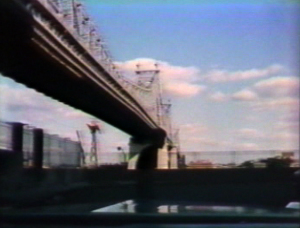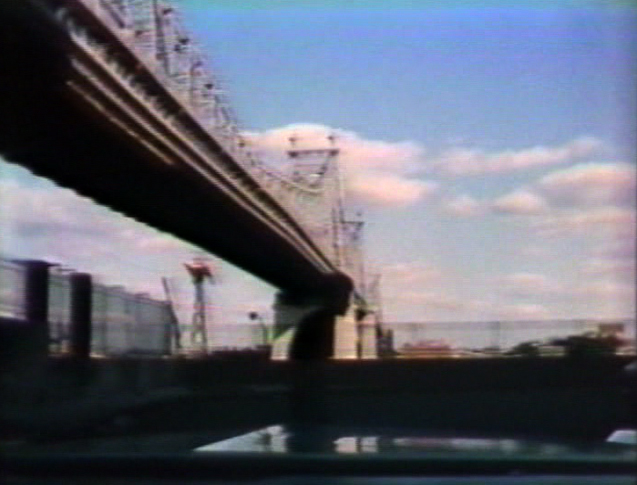 On the second day, we shot outside. We'd found a location under the 59th St Bridge. It was an action scene in which the gangster (played by Bob Maroff) kills the pusher (Bobby Astyr) and runs over him in a white Cadillac.
We'd made sure we had permits to shoot so we had a couple of cops there overseeing the action, but what we hadn't planned for was so many onlookers. And they caused all sorts of problems.
There was a serious car accident caused by vehicles slowing down to see what was going on, a cyclist came off her bike as she wasn't paying attention to the road, and one bystander had a heart attack or something and so an ambulance had to be called. It was such a circus that the cops told us to pack up and finish early.
Day 3 (First sex scenes):
Ronan O'Casey
This was the day we'd been waiting for; it was time to film our first sex scenes. We shot them at the Warwick Hotel on West 54th Street, near Sixth Avenue. We took a room there for the rest of the film's production.
Jamie Gillis (actor)
I was kind of pleased to work at the Warwick because I'd heard that Cary Grant lived there for many years. I know The Beatles stayed there when they first came to the U.S. too. So to fuck there had a certain charm for me.
Extract from 'Getting It Up For A Porn Movie', by Ronan O'Casey, Playboy magazine (March 1977):
Bernie was worried that he would be too turned on to work. (Knowing Bernie I was too worried that he would be too turned on to work). We were all curious about our own reactions, wondering about what the sight of women actually fucking would do to us.
The moment a sex scene was set up, the atmosphere changed profoundly. All attention was on the naked bodies. The camera crew wants to cover all the angles and make the couple look good while they are fucking. The sound crew wants to record all the chat and gasps and deep breathing. The make-up girl looks for pimples, blotches or too much sweat. The continuity girl makes sure that everything is in the proper place at the proper time.
The set turns into a surreal world in which the soiled bed becomes our reality.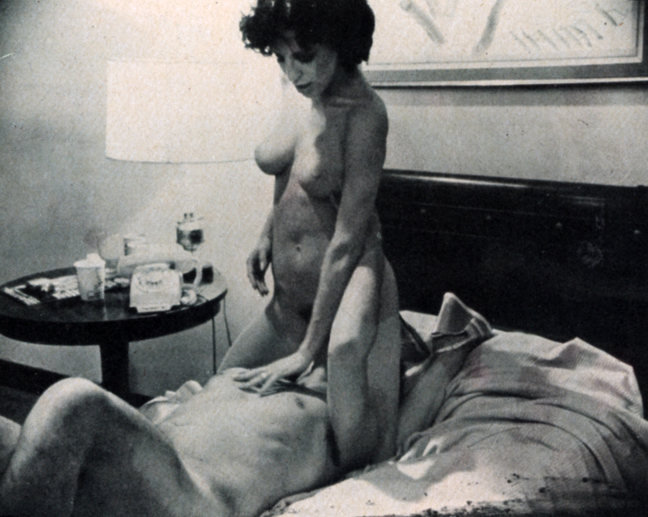 Terri Hall, Jamie Gillis in a still from 'The Double Exposure of Holly'
Bob Gill
There was no art to shooting sex; the actors wanted to be a part of it so it wasn't difficult. I just pointed the camera and let them get on with it.
Ronan O'Casey
I just couldn't get over the sounds and smells of sexual activity.
Bob Gill
The whole thing almost put me off sex; it was a very sordid activity. I just … I couldn't get into it.
Extract from 'Getting It Up For A Porn Movie', by Ronan O'Casey, Playboy magazine (March 1977):
The scene we shot that day was between Holly (Catherine Earnshaw) and Mark (Don Peterson). They are lovers who meet in a hotel room, unaware that they are under surveillance from the adjoining room. This device gave us something to cut away to, and to jump back from 35mm full color to a TV monitor is quite startling.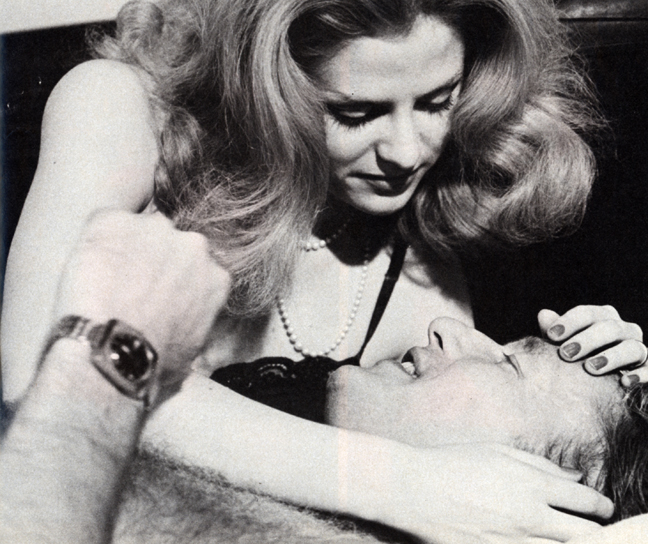 Catherine Earnshaw and Don Peterson in a still from 'The Double Exposure of Holly'
Ronan O'Casey
We soon realized that we had another problem with our lead actress, Catherine Earnshaw; not only did she not want to have sex, she didn't seem to know how to fake it either.
Herman Huxley
She seemed so frigid, and cold, and inexperienced. She was the cool blonde, so to speak, without the hot nature. How can I describe it… she was inarticulate when it came to making love. She was just bad at it.
We heard that she wanted to be an actress, but she was actually a housewife, I think, from Westchester. She wanted a little fun as she was bored by her husband.
Eventually everybody gathered around and got stoned because they were trying to loosen her up a little bit. It was impossible. Ronan got really wasted. He was reciting Shakespeare in an effort to get her feeling a little sexier – which was not the best idea. You know, 'King Richard the Second' speeches don't work well in that situation.
Ronan O'Casey
Not only did we have a lead porno actress who didn't know how to have sex, then we had a lead actor who couldn't perform.
It all started going wrong half way through a sex scene when Don lost all ability to maintain an erection.
Bob Gill
We'd heard that Jamie Gillis was very experienced at porno, but it turned out that our hero was not very good at it. This was a problem for a sex film to say the least.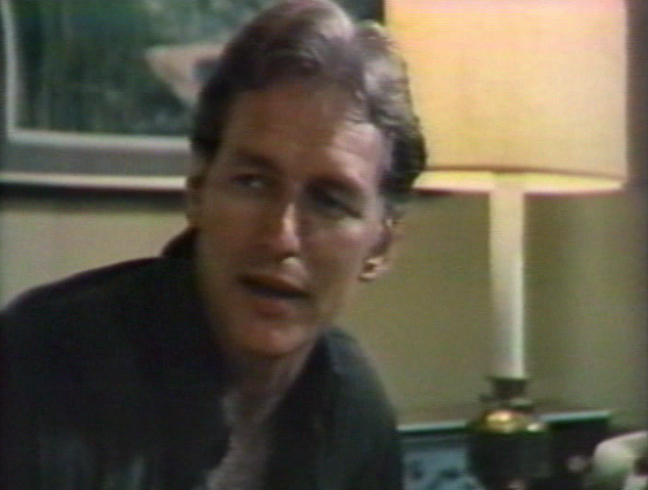 Don Peterson
Extract from 'Getting It Up For A Porn Movie', by Ronan O'Casey, Playboy magazine (March 1977):
Mark (Don) was sweating, white-faced and limp. He went on trying, hour after agonizing hour, but no joy. We had ignored Dolly's advice and had no fluff for this emergency. Annie would have taken the bit between her lips, but Holly (Catherine Earnshaw) was inexperienced.
It could have been a scene from 'Phallus in Wonderland', so dreamlike and un-sexual was that room. Yet there we stood, our hopes rising and falling on one man's cock. After a lot more sweating, Mark managed to get it up and in.
Ronan O'Casey
It wasn't until 1.30am that Don gave us the sign that he was ready to go again, and it was almost 4.00am by the time we finished.
Bob Gill
After that we didn't leave the hotel room. The cameraman and I slept in the bed.  It was like a war zone, it was terrible.  Everybody else went home, got a few hours' sleep; but the cameraman and I were so exhausted that we just stayed there.
Day 4 (Bree and Tony):
Ronan O'Casey
If Day 3 had been difficult from a sex scene perspective, Day 4 was a breeze.
Tony Richards was playing a gay man who was being seduced by Bree Anthony, and our only problem was that he couldn't keep his erection down! I kept shouting out "You're supposed to be queer, Tony – act like your cock knows it!"
The scene was perfect, the couple was beautiful, and the experience was a turn on.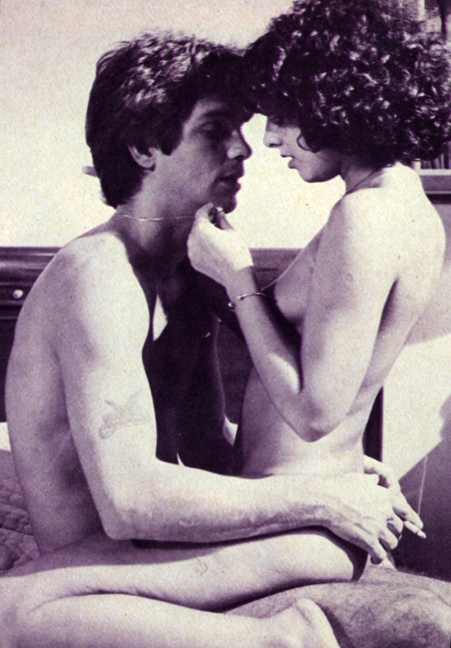 Tony Blue and Bree Anthony in a still from 'The Double Exposure of Holly'
Bob Gill
Oh, it was exhausting.  It was still hot outside, but you couldn't turn the air conditioner on because we were shooting sound.
Ronan O'Casey
Despite the late hours everything was going to plan, until we got a call from Don Peterson. He said that he'd fallen sick and would not be able to return for his next scene – a threesome with two girls. We suspected that his absence was more related to his hard-on hardship rather any illness, so we tried to persuade him to return, but he wasn't interested.
I thought back to Terri Hall's advice when we first met her: "Jamie Gillis is the most reliable stud in town" so we gave him a call and sure enough Jamie was happy to turn up the following day.
My big problem was that I now had to re-write the script – as Don's threesome scene was part of the film's ending.
Bob Gill
I still didn't like it. It was still an uncomfortable environment. I slept in the hotel room another night.
Day 5 (Jamie the Superhero):
Ronan O'Casey
We'd lined up Nancy Dare, a beautiful dancer with an amazing body, and Annie Sprinkle for the threesome scene. The girls arrived early and were excited.
Annie kept saying that this was a much bigger production than she was normally used to; we had about ten people on the crew that day – obviously way more crew than was normal for a sex film.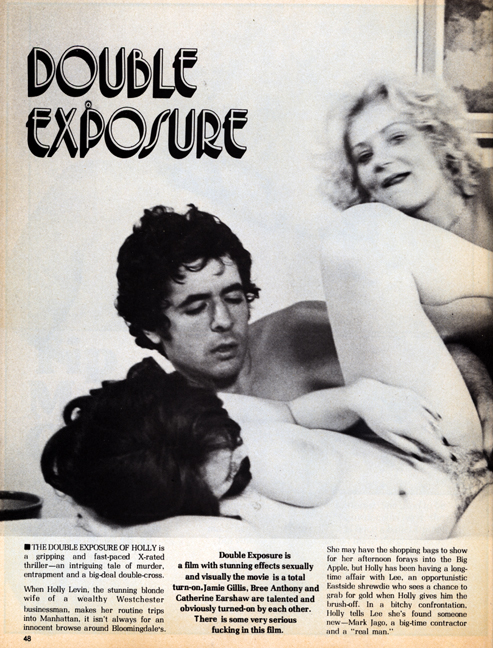 Annie Sprinkle, Jamie Gillis, Nancy Dare
I remember enjoying the scene so much that I just kept it going for way longer than it needed to. I suggested different angles for the cameraman, and then went back to fucking the girls some more. We could've been finished in half the time but I was having too much fun.
Extract from 'Getting It Up For A Porn Movie', by Ronan O'Casey, Playboy magazine (March 1977):
Jamie was incredible. That session lasted for well over three hours and he never stopped fucking – even when the camera had to be re-loaded. There was just one moment when he seemed almost human. He'd been screwing Annie for about ten minutes when Bob suggested that he'd be ready to film her orgasm.
There followed five more minutes of deep thrusting, with Annie really enjoying herself, before Jamie, with a touch of asperity, said. "Annie, it doesn't have to be a real orgasm; you could fake it just this once."
Annie was utterly dismayed. "But Jamie, I'm very close." So Jamie plunged on and Annie delivered.
The seven men and two women of the crew watched this performance with rapt attention. The women were impressed by Jamie, but the men suffered a genuine case of penis envy. Naturally Jamie delivered a perfect ten-second cum shot.
A virtuoso on his instrument, truly a classical penist.
Bob Gill
I hated it from beginning to end. Except I knew it was an interesting experience.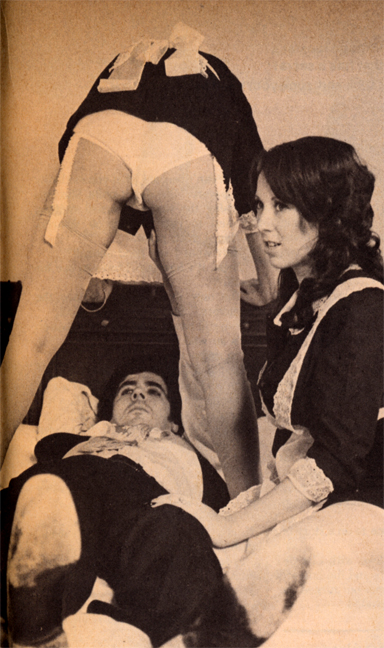 Nancy Dare's legs, Jamie Gillis, Annie Sprinkle in a still from 'The Double Exposure of Holly'
Day 6 (Marty Feldman):
Ronan O'Casey
Jamie had got us back on track, and we'd started to review the rushes which looked good.
Day 6 was a quiet day with a few dialogue scenes. On a break from the shooting I ran into Marty Feldman (below) who I knew well from the London film world. He asked what I was up to so I mentioned our porn film.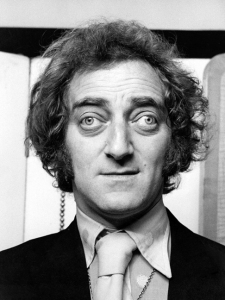 His eyes grew even wider than usual – and that's saying something! He asked to come along to see the action. I remember he turned up at the Warwick Hotel and stuck around to see a few scenes later in the production.
It was difficult for anyone to stay focused with Marty around. I remember he had everybody in stitches when he started interrogating the continuity girl.
He asked: "Do you have to remember how far the girl was being penetrated at any given point? What about the exact angle?"
Herman Huxley
Bob Guccione came to the set too; he was interested in buying the finished film.  He showed up bedazzled in his gold jewelry.
Day 7 (Terri's illness):
Ronan O'Casey
Just when thought we had the hang of it, we'd have another setback; this time we had a call from Terri Hall who told us she had appendicitis.
She was due to shoot that day but ended up in hospital instead. Fortunately the doctors told us it was just a virus, not appendicitis, and that she could possibly be better the following day.
To make matters worse our film equipment had stopped working so we shut down everything – and kept our fingers crossed for Day 8.
Day 8 (Annie experiments):
Ronan O'Casey
We eventually got the film equipment working but Terri was still not feeling 100%, so we filmed a quick dialogue scene between Annie Sprinkle and Nancy Dare. As Terri was in all the remaining scenes, we had to postpone everything else until the following day. This meant more time and more money so we weren't in the best mood.
Annie came up to us when we'd finished her dialogue scene with an offer we couldn't refuse.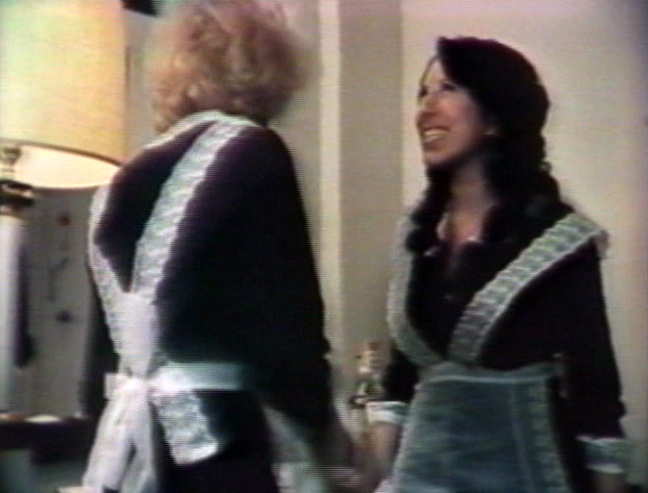 Nancy Dare and Annie Sprinkle
Extract from 'Getting It Up For A Porn Movie', by Ronan O'Casey, Playboy magazine (March 1977):
"Is there any chance of trying two cocks in one cunt? I tried it last night and it's terrific."
We all expressed incredulity. But Annie was adamant.
"One guy lies on his back and I lie on top of him, on my back. The other guy lies on top me. All that rubbing is great."
I wondered if the Earl of Sandwich had ever tried it.
Ronan O'Casey
We did our best to film it, but sadly it never fit in the final film so Annie's great moment was never actually seen.
Day 9 (Connecticut):
Ronan O'Casey
We relocated everyone to Connecticut for the final two days shooting. It was good to get out of the Warwick Hotel which had started to feel very stale.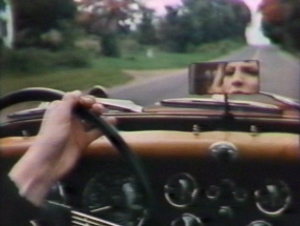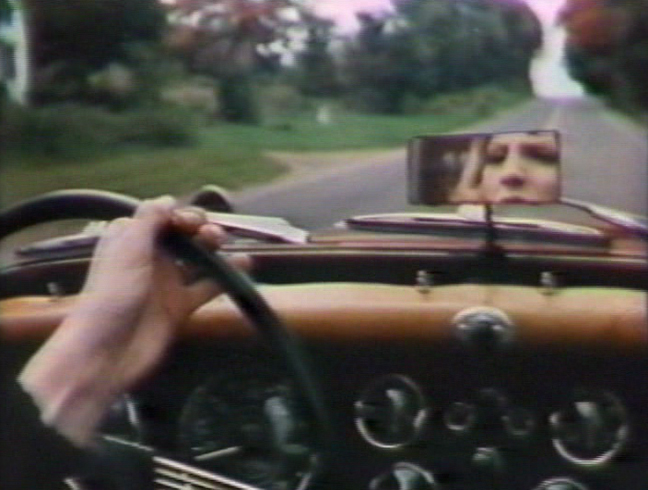 This meant relocating twelve crew members as well as Catherine Earnshaw, Jamie Gillis, Annie Sprinkle and Terri Hall. Surprisingly we also got a call from Don Peterson who said that he was feeling better and was ready for action, so he came along too.
We shot an erotic orgy scene there which featured all the actors – with Terri Hall as the center of everyone's attention.
Extract from 'Getting It Up For A Porn Movie', by Ronan O'Casey, Playboy magazine (March 1977):
Bob decided that all the sex would be vertical. Terri asked why.
"Why not? Anybody can do it lying down."
Jamie even managed to suspend Terri in mid-air and slide her up and down on his ever-ready and upstanding pego.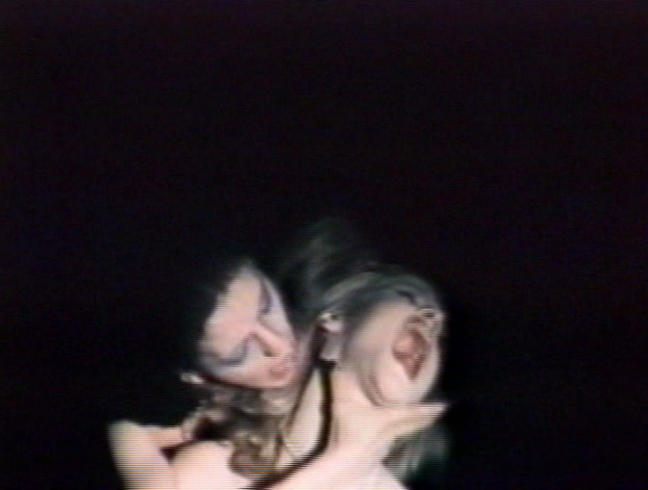 Terri Hall and Catherine Earnshaw
Day 10 (Last day – Terri and Jamie's finale):
Ronan O'Casey
The last day was the most important from a sexual point of view; we had to get a masturbation scene with Terri, followed by the climax of the film: Terri and Jamie.
Terri seemed incapable of putting on an act; she was just a real person, no artifice. And that was her downfall too. She seemed to have a skin too few, and you feared for her mental safety in the sex industry. She was naïve, innocent, and a little frail. Like someone who'd had a bad acid trip.
Extract from 'Getting It Up For A Porn Movie', by Ronan O'Casey, Playboy magazine (March 1977):
For the final championship bout, our two pros got together in royal style. (Terri) mounted (Jamie) and rode his rod like a Valkyrie. The champion took his time and, in turn, Terri was topped and tailed, tongued and tupped. Finally, the stallion climbed aboard for a rearing, bucking, thrusting finale. Terri rose flushed from the bed and, with a seraphic smile and a tremulous voice announced, "That was the best fuck I ever had on-camera."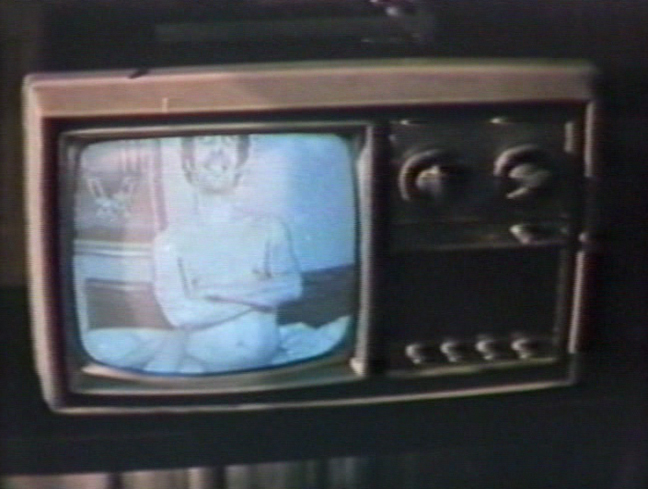 Jamie Gillis on TV
Post-Production:
Ronan O'Casey
The extra day's shooting had brought the cost to $50,000 – and we still needed another $40,000 for editing, dubbing, mixing and music. Bernie edited a rough cut and we shopped it around in early 1976 but all the deals that we got offered wouldn't even let us break even.
Extract from 'Getting It Up For A Porn Movie', by Ronan O'Casey, Playboy magazine (March 1977):
A film producer with an impressive list of credits and healthy source of finance liked what he saw and came up with the $40,000. He thought the picture would benefit by re-shaping and re-shooting and, as he was right and willing to pay for everything, we agreed.
Ronan O'Casey
We were introduced to Ron Sullivan in February 1976 and he was the one who took over from then on. Ron Sullivan had been making soft core sex films since the 1960s and had worked with everyone, so he had lots of contacts in the industry.
At that time I'd pretty much stopped making softcore films and was looking to produce and distribute films. I saw a bunch of films made by people who were first timers and they had no clue on what to do when they finished the film.
I saw another film that I liked called 'Obsessed' (1977) but we couldn't come to an arrangement. Then I saw 'The Double Exposure of Holly' and though it still needed some work, it had potential to make money.
Ronan O'Casey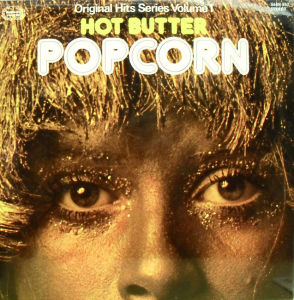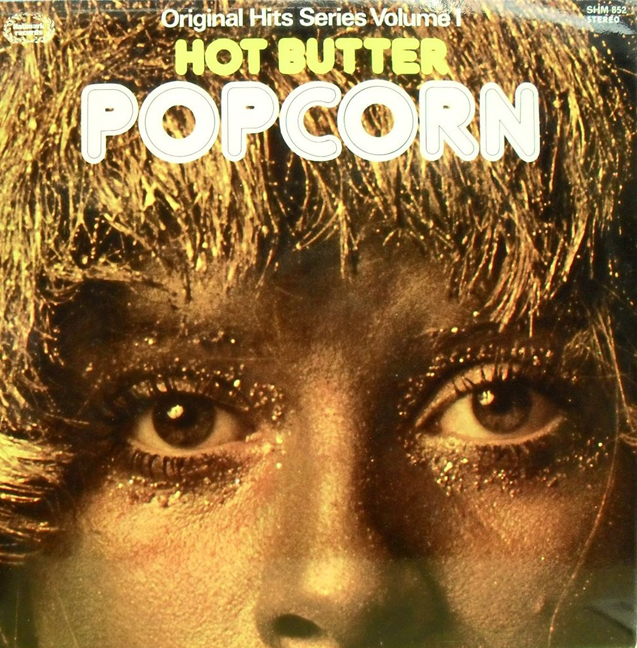 Ron got this jazz composer called Stan Free who had played with everyone – from The Four Seasons to the Mamas and Papas and the Monkees. He'd composed a bunch of soundtracks for Joe Sarno in the late 1960s – but he really hit pay dirt when he formed a band called 'Hot Butter' that had a huge worldwide hit with the single 'Popcorn' in 1972. It sold over two million copies!
God knows why he agreed to work on a soundtrack for us – maybe he was just doing Ron a favor.
Ron Sullivan
I formed a company called Scope Pictures Inc. in March 1976 and 'The Double Exposure of Holly' was the first film we put out.
I later used the company for 'The Budding of Brie' (1980), 'The Devil in Miss Jones Part II' (1982), and 'G-strings' (1984).
All in all 'Holly' did pretty good for us over the years.
Bob Gill
I didn't see any share of the profits. In fact I don't think I saw much money at all. I certainly wouldn't have done it for nothing, but I don't think it was very profitable.
Ronan O'Casey
We eventually released it in New York in September 1976 – to the relief of everyone involved!
Bob Gill
After the experience I noticed that if I casually mentioned that I had directed a porno, without an exception, people thought it was the most amazing thing they'd ever heard.  It's every guy's fantasy to direct a porno, but I couldn't wait to finish it.
I mean, nobody twisted my arm, I could have quit any time. But, as unpleasant as it was in many ways, it was still a fascinating experience. Just the unusual activity of having people screwing in front of the camera is an interesting thing.
John Cocchi review of 'The Double Exposure of Holly' in Box Office magazine
"A rarity – a sexer which is exceptional in every department."
Extract from 'Getting It Up For A Porn Movie', by Ronan O'Casey, Playboy magazine (March 1977):
The little porn film that was going to be quick and easy has taken 20 months of blood, sweat, tears, and ulcers.
Bob Gill
I never saw it. In fact I've never seen the film. I mean I guess I must have seen it when it first came out, but I have no memory of it at all.
I recently got a call from some clown saying they were showing it at a festival or something in New York, and they'd like to invite me to see it. I said I'm sorry, but I… I'm not interested.
If it was next door, I'd go around the corner and look at it out of curiosity, but I certainly wouldn't travel two subway stops to see it.
Jamie Gillis
Epilogue:
Ronan O'Casey returned to the UK before moving to the US permanently in 1980. He started acting again – and had roles in many US television shows, including 'LA Law', 'Easy Street', 'Falcon Crest' and 'Dallas'.
In later years he turned his acting skill as a reader at his local Third St elementary school, where children joyously greeted him as "Mr. Ronan".
Ronan died in Los Angeles in 2012.
Bob Gill went on to write 'Beatlemania', a Broadway musical revue focused on the music of The Beatles as it related to the events and changing attitudes of the tumultuous 1960s. It was hugely successful and ran from 1977 to 1979 for a total of 920 performances. Saturday Night Live even had a parody – Beatlemaniamania. It was playing at the Winter Garden at the same time that 'The Double Exposure of Holly' was in the grindhouses. Bob Gill suggested that they add 'Holly' to his resume' in the Playbill, but the producers were afraid to, fearing that it would embarrass the musical.
After closing on Broadway, Beatlemania shows were opened in Los Angeles, Chicago, Cincinnati, and London. Tours of Australia, Europe, Asia and Africa took place and revival tours continue today.
Bob lives in New York.
Bernard Stone has since worked on many film projects including the documentary 'Roses in December' (1982), which Time magazine listed as one of the best films of the year. He also edited the Emmy-winning 'America Remembers John F. Kennedy' (1983) and ABC's '20/20' program.
He lives in New York today.
Herman Huxley had a successful career as a cinematographer, and is now retired living in New York.
Stan Free died in New York in 1995.
Bob Maroff went on to act in films such as 'Annie Hall' (1977), 'Stardust Memories' (1980) and 'Arthur' (1981), and TV shows like 'Kojak', 'Cagney & Lacey', and 'Hill Street Blues'. He died in 1991.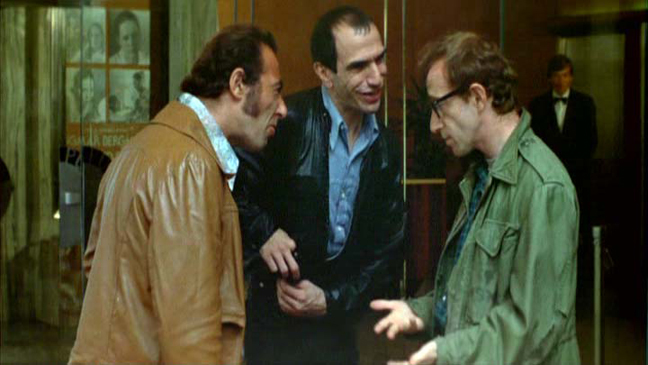 Bob Maroff (left) with Woody Allen in 'Annie Hall' (1977)