Erotic-X Film Guide was an incarnation of 'Erotic Film Guide' – one of the longest-running and most colorful magazines to cover the adult film industry. As The Rialto Report previously shared, the publication was the brainchild of David Zentner and Jim Dawson, partners who couldn't have been more different and yet who aligned on a unique magazine concept.
Over the years, Erotic-X Film Guide/Erotic Film Guide saw a variety of staff grace its masthead – from writers to art directors to adult film stars like Marlene Willoughby, Candida Royalle and Paul Thomas who leant their names for industry credibility and publicity. One contributor was Joel Holzman, whose name can be found under the staff photographer heading of every issue of the 1984 Erotic-X Film Guides profiled in this post.
In this Rialto Report, Joel shares his memories of shooting for men's magazines like Erotic-X Film Guide and how it led him to work as an on-set photographer for hundreds of films including Skintight, All American Girls II: In Heat and The Ribald Tales of Canterbury.
We also re-publish digitized issues of all of Erotic-X Film Guide's issues from 1984.
You can find The Rialto Report's ever growing library of digitized resources by clicking Library in the menu.
Click on the covers below to access the full magazines. Due to the fact that the magazines are scanned in high definition, allow a little time for each page to load. If you are viewing on a phone, view in landscape orientation.
___________________________________________________________________________________
Photographer Joel Holzman's Memories
I was born in Brooklyn, but grew up in Little Neck and I'd been a photographer since I was a kid. I'd shoot, I'd do darkroom work, I'd do everything – it was my hobby. But I didn't go professional until I left New York in 1975 and moved to San Francisco. I had been living in the Village on Bleecker Street in New York, just doing odd jobs, and I was tired of it. A friend and I started a moving company and I did that until I had enough money to take a six month road trip before landing out west.
When I got to San Francisco, I met back up with a childhood friend from Little Neck named Steve King who was working as an editor for Cheri Magazine. He knew about all my years as an amateur photographer and that I was looking to go professional so he started to give me assignments for the magazine. I began by shooting sex news – profiles of things like swing clubs, nudist camps… events like the San Francisco Hooker's Ball.
Once I started that work in the sex industry, I began making connections in Los Angeles and moved there in 1980. Once I was in L.A., I started getting assignments to be the still photographer on porn sets, so I wound up doing that and working for mens magazines for the next 13 years.
I used my real name from the beginning – one of the few people who did. Everyone used a pseudonym. But I felt I was doing it; I was totally involved in it. I always like to have my name next to things, so I said, screw it, I'm just gonna use my real name instead of making up something.
The first film set I shot on was Skintight up in San Francisco. It was directed by Ed DePriest and that's where I first met Paul Thomas. PT connected me with Swedish Erotica and so I did a lot of work for them. One job led to another and I wound up shooting on hundreds of film sets through to the early 1990s.
I never had any issues shooting adult material. I was made for that stuff. It just came naturally to me. I wasn't sleazy and I wasn't trying to sleep with all the girls – I was just trying to do my job, and the subject matter didn't throw me. It's something I did well.
I'm not saying it didn't have an effect on me though. Shooting sex for 15 hours a day can change you. It could do some weird things to my head too, and it was exhausting. But the money was good and steady and I made the best of it.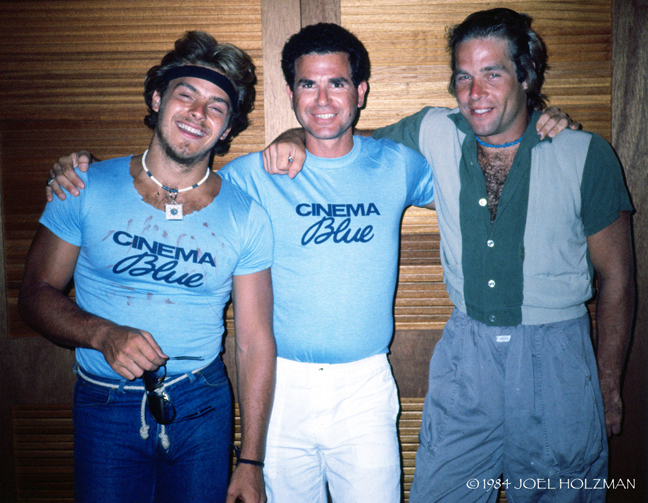 From left: Jerry Butler, Joel Holzman, Jan Serling
I also became friendly with some people from the business. Jerry Butler was one of them. We used to hang together a lot – he practically lived in my LA studio at one point. It was a loft in downtown L.A. and people would just drop by there. I became friend with Gerard Damiano when I worked on a few of his films. And when I shot on location I often hung out afterwards with the crew and the cast.
I became really close with the magazine editor Pat Reshen – working with her on Velvet. She was full of energy and she loved the stuff that I did, so she would push me forward for more jobs.
She'd send me to cities to photograph the local sex scene. I'd go to a place like Dallas, Texas, she'd hook me up with a local strip club owner or some such, and that person would introduce me to the local scene to shoot. I would also take local girls and shoot them in a location-specific setting – like taking a bunch of models to a fishing village and shoot them half naked on fishing boats. I had a good imagination, so I could put this stuff together quickly. I made good money when I did those trips.
I was recently digitizing a bunch of my old chromes and found all the shots I did for Svetlana and David's Hawaiian movies from the mid 1980s. I also have tons of shots of Ginger Lynn and Jerry Butler – lots of behind-the-scenes stuff where they're all just goofing around and partying, real candid stuff. I sold a lot of shots from those films because Svetlana and David allowed me to keep the photos as long as I was promoting their films. It was great publicity for them.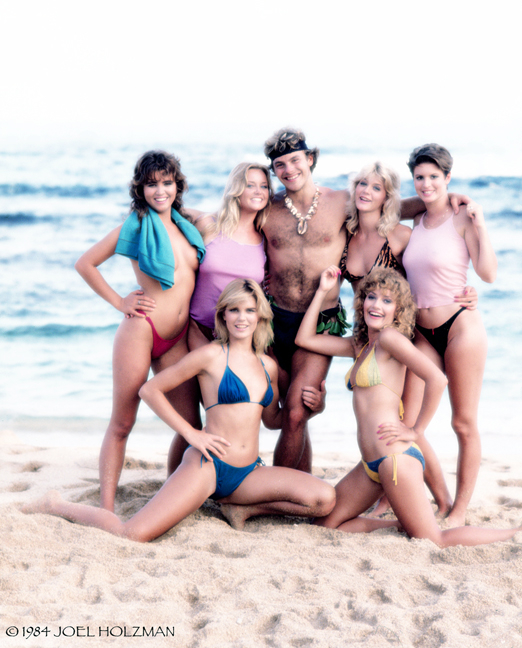 The cast of Surrender in Paradise (clockwise from top left): Diva, Crystal Holland, Jerry Butler, Ginger Lynn, Lois Ayers, Renee Tiffany, Stacey Donovan
As for Erotic-X Film Guide, I can't say that I remember too much about it specifically. With a lot of these magazines, I had a somewhat transactional relationship with them. They'd tell me what they wanted, I'd go out and shoot it, then bring them back the best images to choose from. A lot of them would give me t-shirts with the magazine name on them – I'd take those and get people to wear them at parties or on set, then shoot them.
One thing always led to another. When I was working for Cheri I'd travel back to New York where they had an office. US magazine was in the same building and somebody introduced me to them. They needed a celebrity photographer and were excited that I was in L.A. so they started giving me assignments. There was some overlap too. Like once I shot David Carradine's daughter for Oui magazine and ended up taking some shots of the two of them together – which opened doors for me.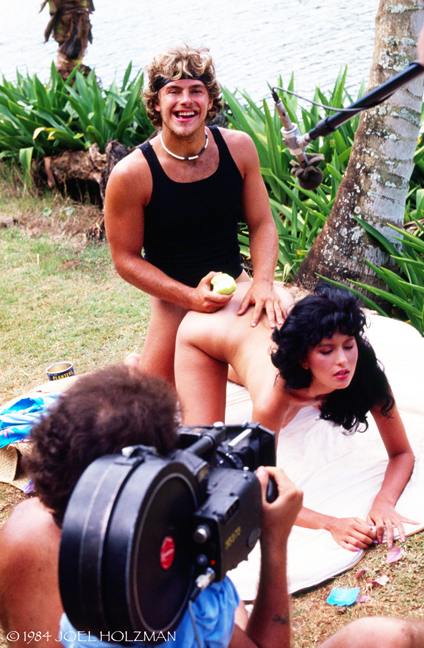 Jerry Butler eats an apple with Raven
By 1993, I was burned out in L.A. and with the adult industry, so it was time to move on. Pat Reschen invited me to spend some time with her in Belize so I took a Greyhound bus from L.A. to Miami and we flew to Belize from there. We spent two weeks at a resort and I went crazy for skin diving. So crazy that when we landed back in Miami, I enrolled at the University of Miami, where I had briefly studied in the 1960s, and took up my studies again. I graduated with a degree in marine science. After that I joined the Peace Corps and was in Africa for two and a half years.
As for the adult industry, I gradually lost contact with pretty much everybody. The last person I saw was Ron Jeremy: he came to my wedding when I got married in L.A. back in 2014. I tried to stay in touch with him after that but we drifted apart.
Nowadays I look back to those shots from the 1970s and 80s and really believe I was a good photographer. The quality of the pictures speaks for itself. It seems clear that there was more to what we were doing than just exploitation. You can see real people doing what they do best. It's beautiful to see.
*
Erotic-X Film Guide: 1984
January 1984
(click on cover to view full magazine)

____________________________________________________________
February 1984
(click on cover to view full magazine)

____________________________________________________________
March 1984
(click on cover to view full magazine)

____________________________________________________________
April 1984
(click on cover to view full magazine)

____________________________________________________________
May 1984
(click on cover to view full magazine)

____________________________________________________________
June 1984
(click on cover to view full magazine)

____________________________________________________________
July 1984
(click on cover to view full magazine)

____________________________________________________________
August 1984
(click on cover to view full magazine)

____________________________________________________________
September 1984
(click on cover to view full magazine)

____________________________________________________________
October 1984
(click on cover to view full magazine)

____________________________________________________________
November 1984
(click on cover to view full magazine)

____________________________________________________________
December 1984
(click on cover to view full magazine)

*