'The Sins of Ilsa' is Radley Metzger's most mysterious film as a director – mainly because no one has ever heard of it, let alone had the chance to see it.
The story of Radley's film career is well-known – and for good reason: Radley was one of the pioneers of American adult cinema, directing his own highly stylized films – including Therese and Isabelle (1968), Camille 2000 (1969), The Lickerish Quartet (1970), and Score (1974) – and distributing many European movies through his New York based company, Audubon Films. His films straddled both the soft and hardcore eras, and included a mainstream effort, The Cat and The Canary (1978), before the cinematic landscape changed in the early 1980s. The advent of shot-on-video adult films and the waning appetite for elaborately produced, plot-driven erotica meant that his career effectively came to a standstill. After directing The Princess and the Call Girl in 1984, he retired from making feature films and turned his attention to producing a series of videos on alternative health care.
Except that's not the full story.
In 1984/85, Radley directed one more film: a soft-core movie called 'The Sins of Ilsa' that has remained unknown until now.
The Rialto Report came across a copy of the film and watched it – perhaps the only people to see it in the last 30 years.
Over the past year, we've spoken to many people to piece the story together – actors, agents, crew members, friends, crew who provided locations or equipment, and more. We are indebted to them all for their time and for the details they provided to us. Some asked to remain anonymous, and so have been redacted from documentation they provided at their request.
This is the story of Radley Metzger's unreleased final film.
_______________________________________________________________________________________________
2015 – Prologue
During the final decade of Radley Metzger's life, I had lunch with him each week, usually at the Palace Diner on East 57th St in New York. Perhaps it was fitting that in many of our last meetings, our conversation often turned to the films he'd never made.
He spoke lovingly about films he'd wanted to make, films he'd researched thoroughly, films he had deals to make, but somehow films that never quite materialized. And there were many of them – from a documentary about the how the Spanish Civil War was portrayed on the silver screen through to countless scripts he'd written that remained unproduced, even including an early 1970s blaxploitation movie. With hindsight, these conversations were fitting and poignant, as he looked back wistfully at the different paths his career could have taken.
In one of these conversations, he mentioned a curious anomaly: a film that he HAD made, but that had never been released.
He said it was a film that never appeared on his filmography, had never been shown to the public, and that he'd never mentioned to anyone in interviews. Typical of Radley, he was enigmatic about the details, amusing himself by teasing me with new scraps of information each time we met. After a few conversations about it, I had a vague outline of the mystery film: it had been shot in New York and Paris in 1984/85, he'd directed and written it himself (though he'd used a series of pseudonyms in the credits), and, like many of his films, it was drawn from a literary source.
And the film had a title: it was called 'The Sins of Ilsa'.
*
1975 – 'The Sins of Ilsa' – The Origin
The story behind 'The Sins of Ilsa' starts ten years before it was actually made.
In the summer of 1975, Radley was preparing to shoot his magnum opus, The Opening of Misty Beethoven – which would be filmed in October and November 1975. At this stage, 'Misty Beethoven' was just referred to as 'Project 175', before assuming the working title, 'Society' (the eventual title of the film was only settled later in post-production.)
Radley's first choice for the titular role in 'Misty Beethoven' was French actress, Béatrice Harnois, who'd just starred in the French smash-hit Le Sexe qui Parle (1975) (aka 'Pussy Talk' in the United States, though sometimes bowdlerized in newspaper ads at the time to just 'Talk'.)
'Le Sexe qui Parle' was France's equivalent of Deep Throat (1972): it may not have been the first French hardcore production, but it enjoyed unprecedented box-office success thanks to a short-lived wave of 'porno-chic' in a newly sexually-liberated and erotic-curious marketplace.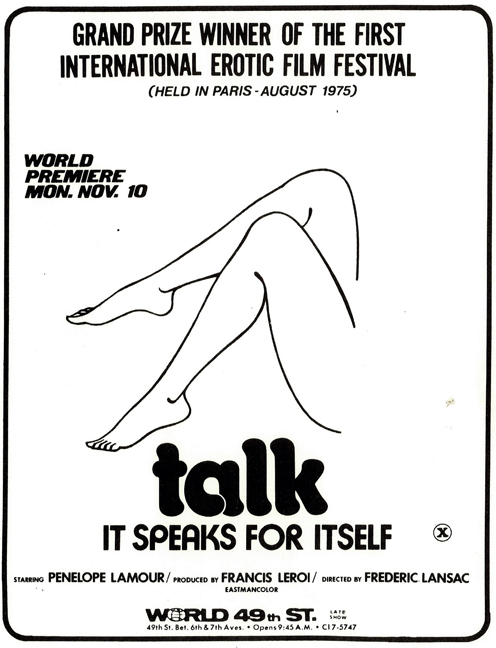 In September 1975, Radley invited Harnois to New York to audition for the lead role in 'Misty Beethoven' and to film some test footage with her. In actual fact, Radley had a little more in mind than just shooting test footage: he'd worked up a short script that he intended filming, and needed several other actors to complete the cast.
He contacted Dorothy Palmer, a New York talent agent who ran an ostensibly mainstream clearing-house for actors, but who earned more for persuading performers to disrobe and have sex on screen. ("It's all part of method-acting, my darling" she'd say to convince her charges. "It will help you shed your inhibitions.")
Radley's only stipulations to Palmer were that she provide him with talent that was both attractive and could act, and that hadn't been used before. Palmer recommended a couple that were experienced theater actors but who were new to the X-rated business, Robert Kerman and Crystal Sync. Palmer also sent him a young all-American-looking male, who went by the suitably all-American nom-de-fuck of Lance Knight. Knight wanted daytime TV soap opera work and was on the fence about making the plunge into porn, but was eventually persuaded as he'd been a fan of the movies Radley had made in the 1960s. Three additional one-shot-wonder actors, who would never be seen again on X-rated screens, rounded out the group.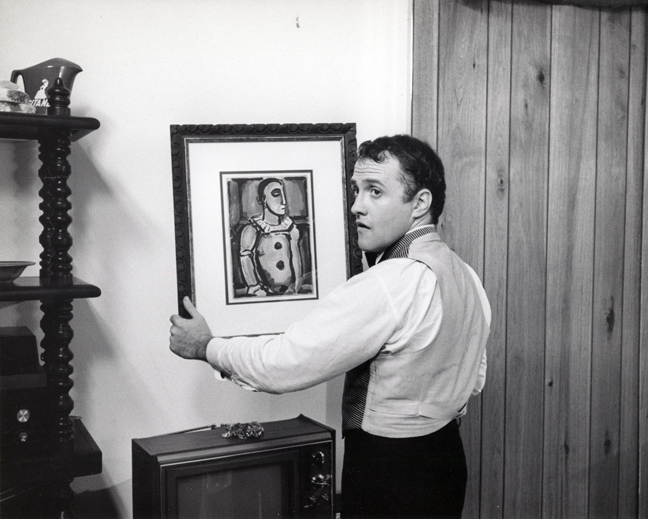 Robert Kerman, in a still shot by Radley, from 1975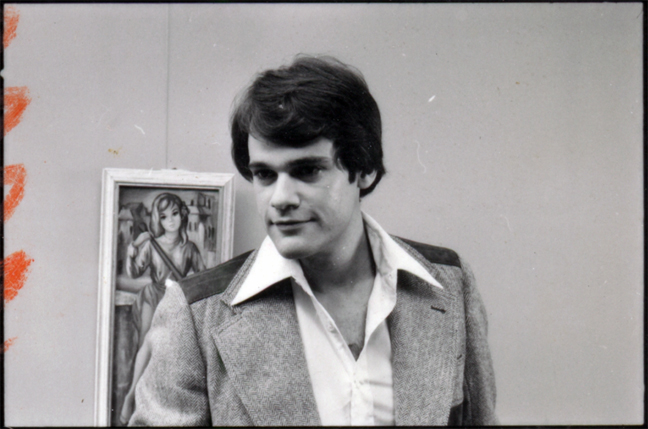 Lance Knight, in a production photograph shot by Radley, from 1975
Over the course of two busy days, September 20th and 21st 1975, Radley filmed several scenes using Béatrice Harnois and the other actors recruited from Dorothy Palmer. The scenes had dialogue, and all included hardcore sex.
The convoluted plot for this short film, as far as it can be established, concerns Brigette, a French visitor to New York (played by Béatrice Harnois) who meets the 'Hat Lady' at a diner near Times Square. After they leave the restaurant, they somehow end up in Brigette's hotel room where the Hat Lady forces Brigette into having sex with her at gunpoint. The Hat Lady then returns to her own apartment where she has a weekly role-playing game with her butler (played by Robert Kerman). The butler assumes the role of a jewel thief and pretend-rapes the Hat Lady when she finds him stealing from her. However, this time they're discovered by the Hat Lady's husband (played by Lance Knight), who reacts by leaving in disgust. While walking the streets, the husband meets Brigette, they become friends, and return to her hotel room for sex. Afterwards, Brigette gives the husband a neck scarf to remember her by. But when the husband returns home to the Hat Lady, the Hat Lady takes it from him saying that she'd lost it earlier in the day.
The scenes that Radley shot for this scenario are as follows:
Diner scene / Street scene, with Béatrice Harnois and Actress 1 (the Hat Lady)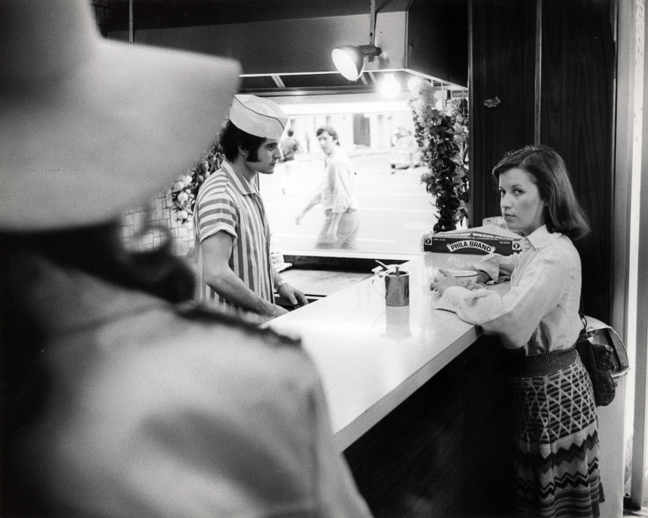 Béatrice Harnois, in a still from 1975
Sex scene with Béatrice Harnois and Actress 1 (the Hat Lady)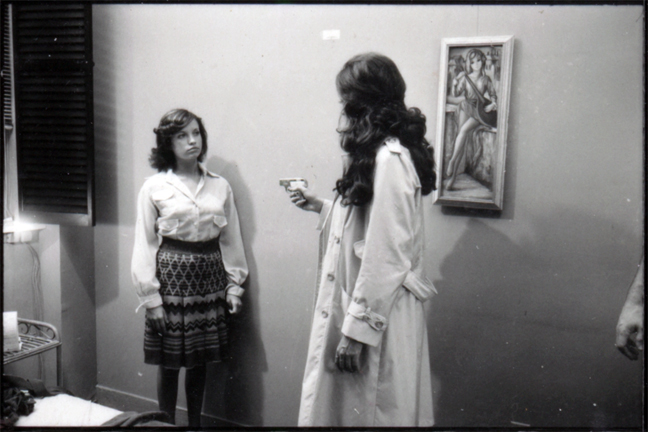 Béatrice Harnois, in a production photograph from 1975
Sex scene with Robert Kerman and Actress 1 (the Hat Lady) with Lance Knight walking in on them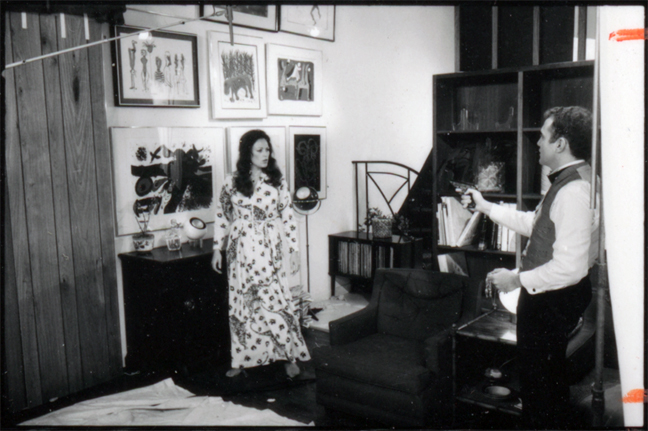 Robert Kerman and Actress 1 (the Hat Lady), in a production photograph from 1975
Street scene with Beatrice Harnois and Lance Knight (playing the partner of the Hat Lady)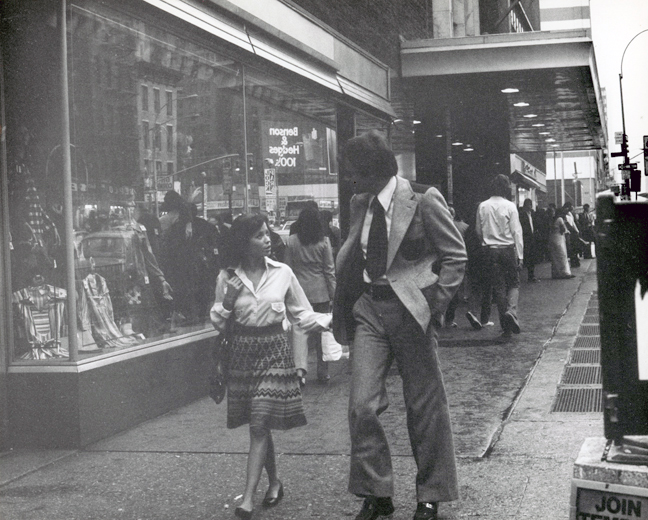 Béatrice Harnois and Lance Knight, in a still from 1975
Sex scene with Béatrice Harnois and Lance Knight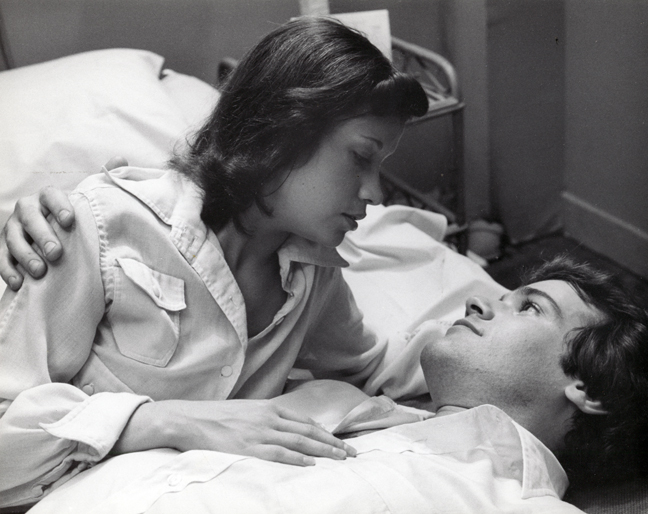 Béatrice Harnois and Lance Knight, in a still from 1975
Apartment scene with Lance Knight returning to the Hat Lady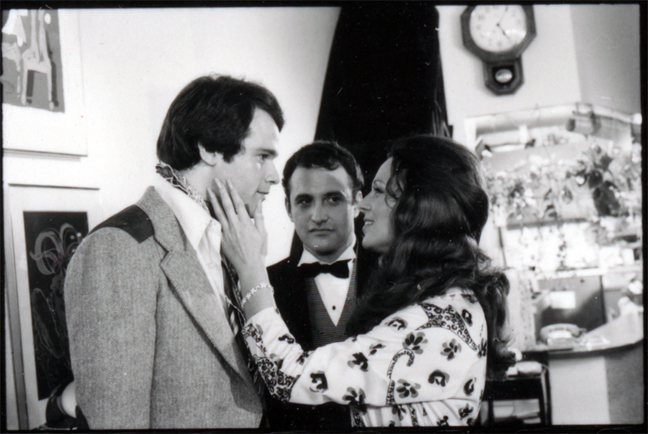 Lance Knight, Robert Kerman and Actress 1 (the Hat Lady), in a production photograph from 1975
In addition to the above, Radley shot five additional scenes which did not form part of the above narrative. They are as follows:
Sex scene with Actress 2 (playing a hooker) by herself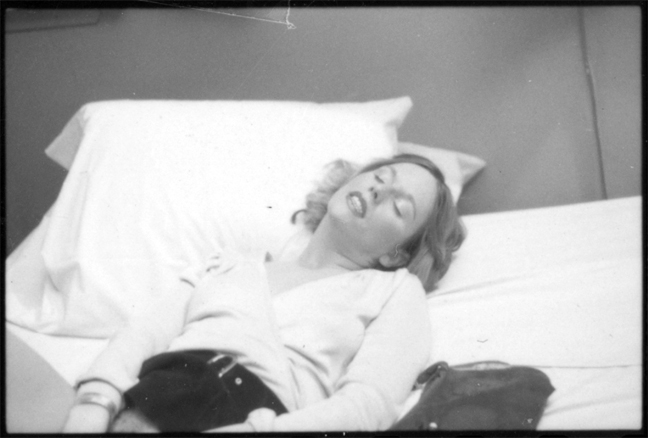 Sex scene with Béatrice Harnois and Actress 2 (playing a hooker)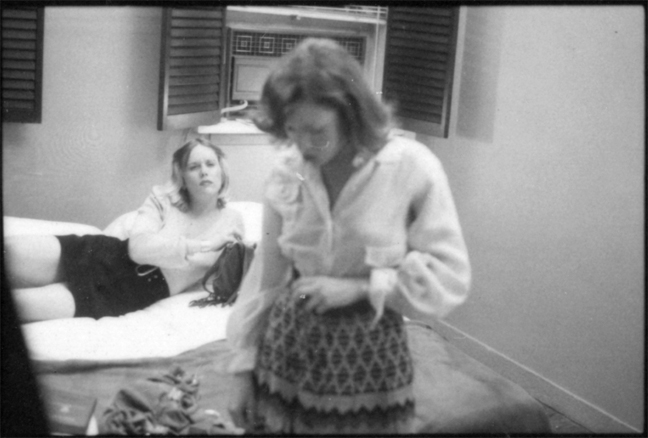 Sex scene with Crystal Sync by herself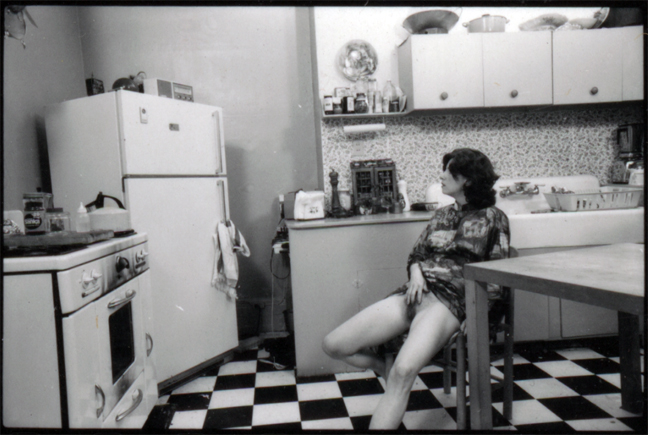 Sex scene with Crystal Sync and Actress 2 (this time playing a nurse)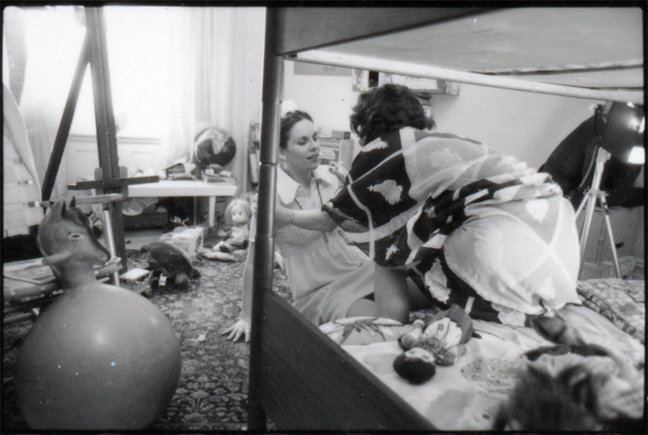 Sex scene with Crystal Sync and Actor 1 (playing Crystal Sync's partner)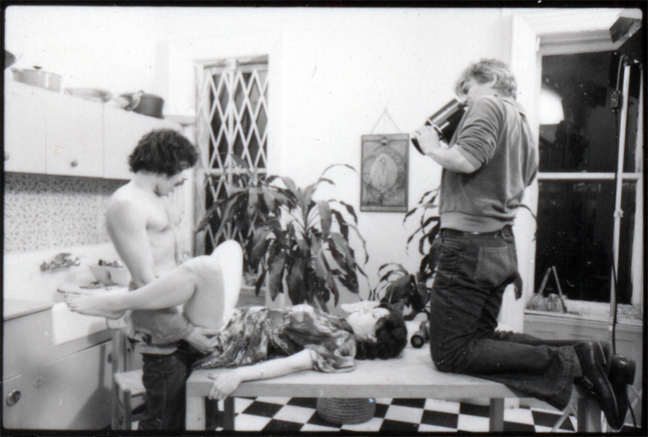 Radley shooting the scene with Crystal Sync and Actor 1 (playing Crystal Sync's partner)
Apart from the restaurant scene, which was shot at the Greek diner Syntagma Square at 680 Eighth Ave, just off 43rd St, all scenes were filmed in the apartment of Ava Leighton, Radley's long-time Audubon partner. Much of the same artwork that was previously seen on the walls of The Private Afternoons of Pamela Mann (1974), which was also shot in the same location, is visible.
Radley remembered working with Béatrice Harnois: "She was tiny, probably no more that 5' tall, and was very sweet. She was no trouble to work with at all."
I pushed Radley on why she didn't become Misty Beethoven: "She had a strong French accent, and I wasn't convinced she could handle the dialogue. I could have dubbed her lines, but I also thought that she had the air of a sweet, young girl, which wasn't a perfect fit for the role of a prostitute. Then I came across Sue (Jensen, aka Constance Money) and I thought she'd be more suited to the part."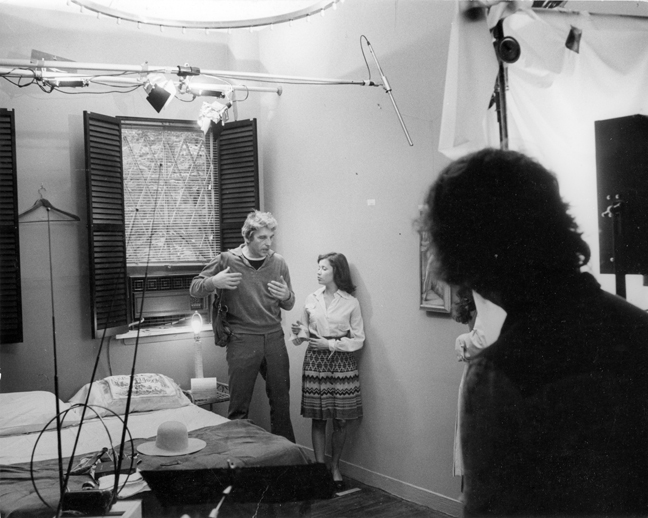 Radley on set with Béatrice Harnois
After the two day shoot in New York, Harnois returned to Paris. Radley remembers: "We didn't stay in touch. I inquired about her a year or so later as I had another role in mind for her. I was told that she'd fallen in love, married, and disappeared from the film business. I never heard anything about her again after that."
By now, the production schedule for 'The Opening of Misty Beethoven' was fast approaching, so the scenes he'd shot were placed in his storage facility over the river from Manhattan in Long Island City, where they were largely forgotten for almost 10 years.
*
1984 – 'The Iris Movie' – Pre-Production
After Radley released 'The Opening of Misty Beethoven' in 1976, he made a further four X-rated films: two more using the Henry Paris pseudonym, Barbara Broadcast (1977) and Maraschino Cherry (1978), and two in which his directorial role was uncredited, The Tale of Tiffany Lust (1981) and Aphrodesia's Diary (1983). He also directed two other films, the mainstream horror mystery The Cat and the Canary (1978), and a soft-core movie for the Playboy Channel, The Princess and the Call Girl (1984).
The mid 1980s were not a happy period for Radley: the advent of VHS and the abundant quantity of cheaper, less artistic adult films effectively took away the market for his trademark style of stylish, elegant erotica.
He turned down offers and stayed out of the business until in 1984, against his better judgement, Radley was persuaded to make another film.
The decision to make another movie was one of the few areas relating to this film that Radley opened up about: "The money was attractive. Not in terms of the overall budget – which was fairly low – but in terms of what I was being offered. My terms were simple: I would produce, write, and direct it, but I insisted that my name would not be associated with it in any way."
I pushed Radley on the reason for this: "Just as I didn't want Henry Paris to be associated with the films I'd made with my real name in the 1960s, I didn't want this film to be associated with any of my other work. I also didn't want people to put me in the same box as always – as a sex film director."
As with many of his films, Radley took inspiration from a literary source – in this case it was an Iris Murdoch novel. And so the working title of the film became 'The Iris Movie'.
Radley wrote a script which told the story of Joanie, an aspiring New York journalist, who decides to write an article on a former adult film star, Iris, who has disappeared since she retired many years before. Joanie travels to Paris to look for Iris, but instead meets Iris's former boyfriend, Salvador, who tells her that Iris now resides in New York. Joanie returns home where she finds the former star running an S&M studio. Joanie befriends Iris, and together they watch many of Iris's old films together. Joanie reunites Iris with Salvador, and decides not to write a story about her, as it would betray Iris's confidence.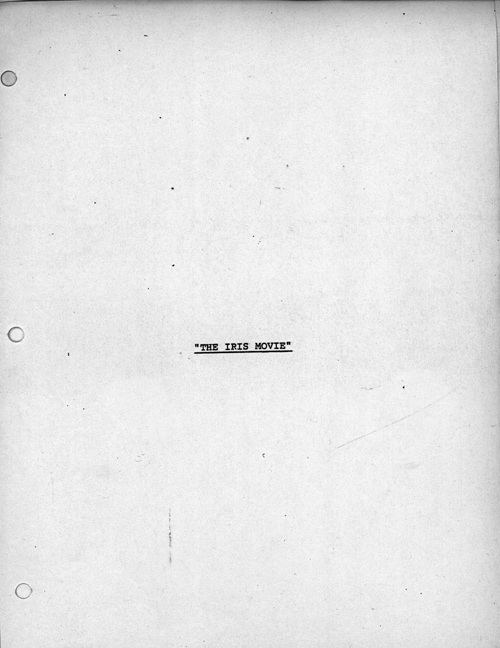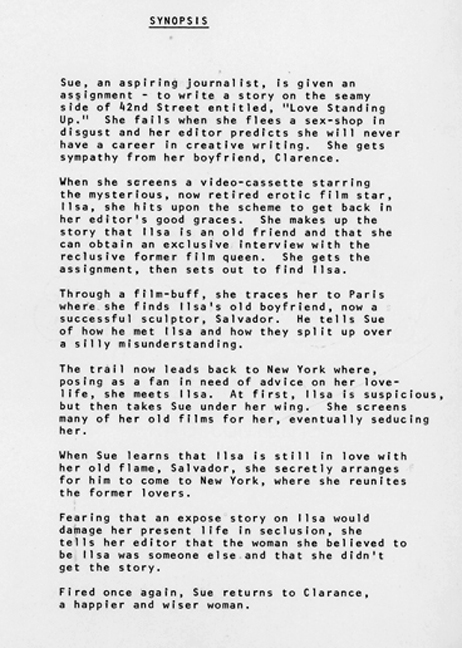 Initial synopsis for 'The Iris Movie'

Radley wanted to make the film as inexpensively as possible. One way he achieved that was to use much of the Misty Beethoven test footage he'd shot back in 1975. He would cut this footage the new film by positioning it as Iris's old movies that she shows to Joanie. In the end, eight of the ten test scenes from 1975 would be used in this way in the new film (the only exceptions were the two scenes shot with 'Actress 2' who played a hooker. These sequences were not used and only stills from these scenes are thought to exist today.)
The new film would be shot in New York over seven days from December 14th to December 20th 1984. In addition, Radley decided to travel to Paris to film exteriors, just as he had done for 'The Opening of Misty Beethoven back' in 1975.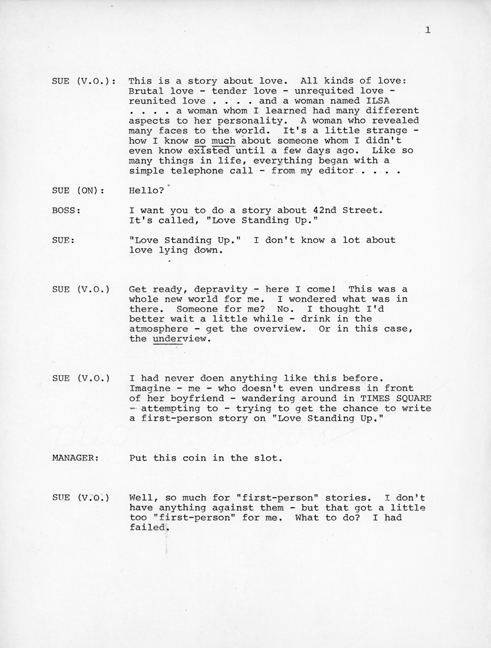 *
1984 – 'The Iris Movie' – The Casting
Radley had been wrestling with whether to shoot 'The Iris Movie' with explicit sex, or just make a 'cool' version (Radley's preferred term for soft-core): "I favored a 'cool' film, but I knew that it would make more money if I produced two versions. It was a big decision because it also impacted the choice of actors. Also, the footage that I'd shot in 1975 was all shot hardcore. Sometimes you can edit hardcore sex into a cool version, but other times it's more difficult."
On November 8th, 1984, a casting call went out to adult film agents and industry contacts on both coasts – including Jim South, Hal Guthu, and John Seeman.
The communication invited photos and resumes to be submitted to 'Idlewild Productions', the production company run by Radley and Ava Leighton, though it listed a different name for the film's director. In fact, there was no direct reference whatsoever to the fact that this was a Radley Metzger film.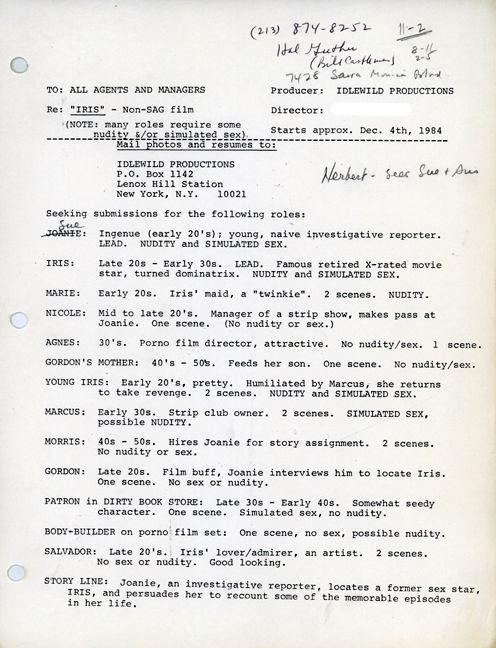 As Radley hadn't made a final decision about whether the film would be explicit or not, it was announced that, "many of the roles require nudity and/or simulated sex." Radley's notes from his phone call with Jim South read like a who's who of the mid-1980s California adult film business. Jim recommended Traci Lords (listed as Kristie Nussman), Amber Lynn, Raven (listed as 'Vickie Vickers'), Dino Alexander, Jade Nichols, Stacey Donovan (listed as Kelly Howell), Bunny Blue (sic), Misty Regan (listed as 'Mistie Blackmore'), and Peter North (listed as Al Brown). Radley called Jim on the phone to discuss the options, and wrote the individual names down, including comments from Jim relating to each of them, such as 'pretty,' 'busty', 'coke husband,' 'does all,' and even 'yeast infection'.
Radley liked one actress, a Teutonic older woman named Helga Sven, whose blonde looks reminded him of Marilyn Monroe: "She had the ability to look gentle and kind, but also become fearsome and dominant. There weren't many other actresses in her age range, so I asked for more details about her experience and inquired about her availability."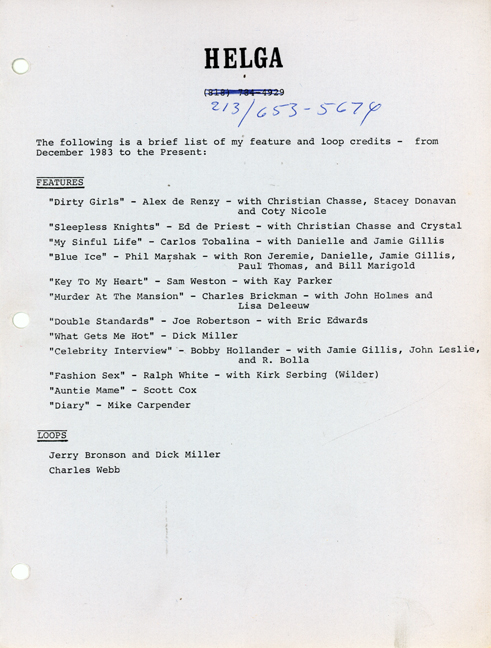 Radley liked what Jim South sent him about Helga, and sent a draft agreement to Jim for her to sign, agreeing to pay her for two days work and cover the costs of flying her in from her home in Los Angeles plus per diem expenses. The rest of the cast was recruited from New York, including the lead role of Joanie, played by Sharon Moran, an actress who went on to small roles in several of Chuck Vincent's last movies.
Today, Helga remembers working with Radley with great fondness: "He was a real gentleman, quite elegant and European. But there was an edge to him that you didn't want to provoke. He was in complete control over all aspects of the production, and if you didn't pay attention to him, he would express his displeasure. Fortunately I stayed on his good side, and so the experience was a pleasure."
In the end, Radley decided to make the 'The Iris Movie' as a soft-core film. But he wanted to leave the door open to the possibility that he might change his mind in post-production and use the hardcore footage from 1975. If he did that, he recognized that this could create a legal issue with actors – who may have objections about unwittingly appearing in a pornographic film. To get around this risk, he inserted a clause into the actor's releases which specified: "There is a possibility that there will be a hard-X version of the film (for some territories) but it is specifically agreed that the artist will not appear in any hard-X scenes."
It seemed to do the trick, in that none of the actors objected – though, in our research, the only version of the film that we found was a softcore one.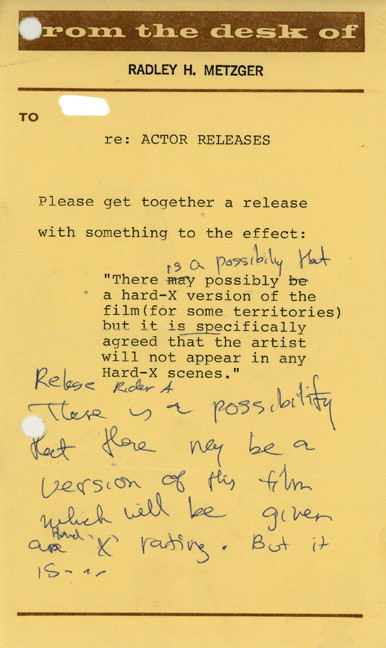 *
1984 – 'The Iris Movie' – The Production
As the film shoot approached, Radley still had not decided on a title.
He wanted something that would be instantly commercial, and perhaps resonate with fans of cult movies. He remembered a conversation he had with his old friend, cult horror film producer Richard Gordon: "Richard and I were discussing film franchises that had been successful, and we were both marveling at the enduring success of the 'Ilsa' series, which had done so well."
The Ilsa series had portrayed the adventures of an evil Nazi warden – whether in a death camp conducting medical experiments in Ilsa: She Wolf of the SS (1975), in a white slavery ring in the deserts of the Middle East in Ilsa, Harem Keeper of the Oil Sheiks (1976), or in a Stalinist gulag 14 in Ilsa the Tigress of Siberia (1977).
Radley decided to take advantage of the name recognition of the 'Ilsa' series, and include Ilsa in the title of his film. It was a nakedly exploitative decision: apart from a light scene of S&M, Radley's film bore no resemblance to its Ilsa predecessors, either in tone or theme. Nevertheless, at the last moment, the lead character's name was changed from 'Iris' to 'Ilsa' to reflect the title of the film. (The other lead character's name was also changed from 'Joanie' to 'Sue'.)
But Radley still wasn't sure what to call the movie: while he had decided that it should contain the name 'Ilsa', he was still playing with titles such as 'Young Ilsa' and 'Sinful Ilsa'. As a result, he still continued to call the movie 'The Iris Movie' for the duration of the shoot.
As planned, the production started on Friday 14th December with shooting beginning at 6am. The production crew had been drawn from the New York film community, and the equipment was hired from Goblin Market Film Services out on Staten Island.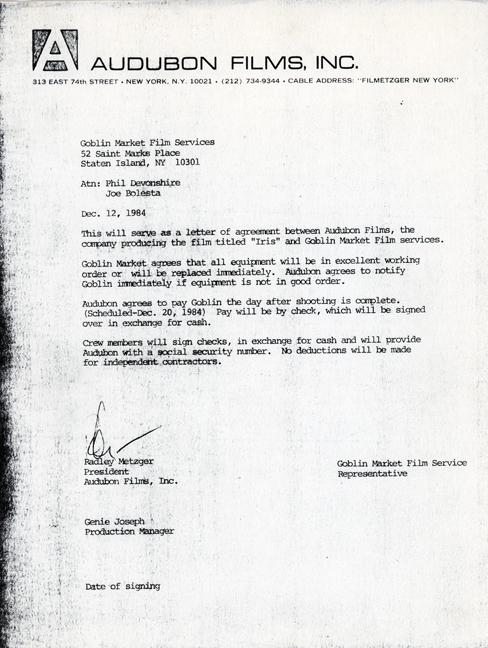 The first scene was shot inside the Pink Pussycat, a West Village sex shop that doubled as a Times Square sex emporium. (The Pink Pussycat is still in the same location at 167 West 4th Street.) The sequence includes a sex scene in a video booth at the back of the sex shop, but this was filmed in the afternoon, back at Ava Leighton's apartment – the same location where the inserted footage had been shot nine years earlier. Ava's apartment would be used for several other scenes in the film, each representing different locations. Helga flew in on schedule from Los Angeles for the fifth and sixth days of shooting, which took place in a townhouse on East 16th St that had a sauna and large jacuzzi.
The shoot concluded after seven days on Thursday 7th December back at Ava's apartment.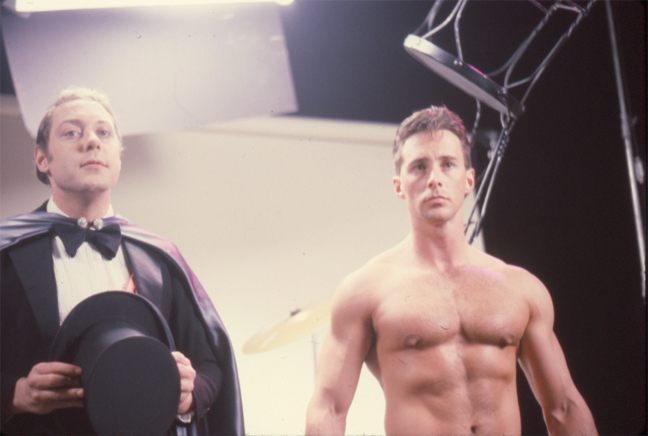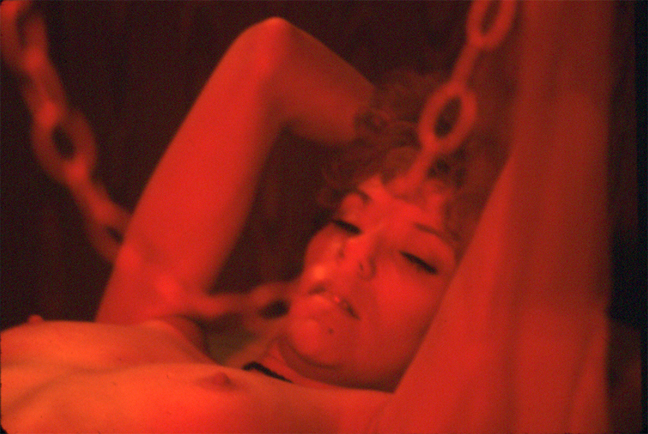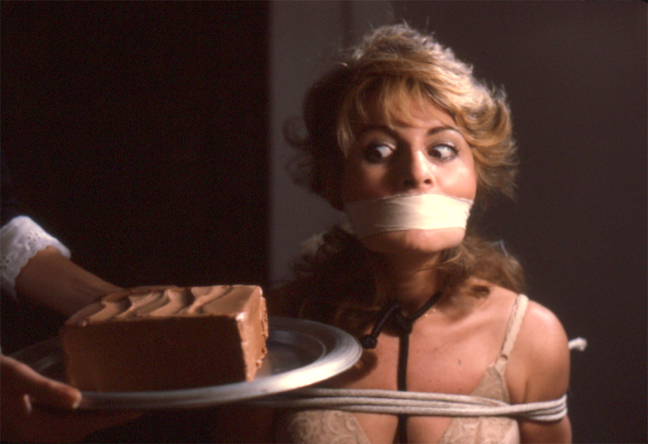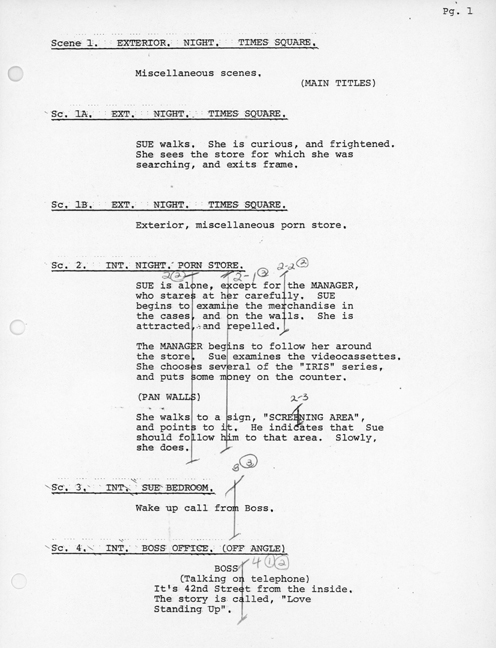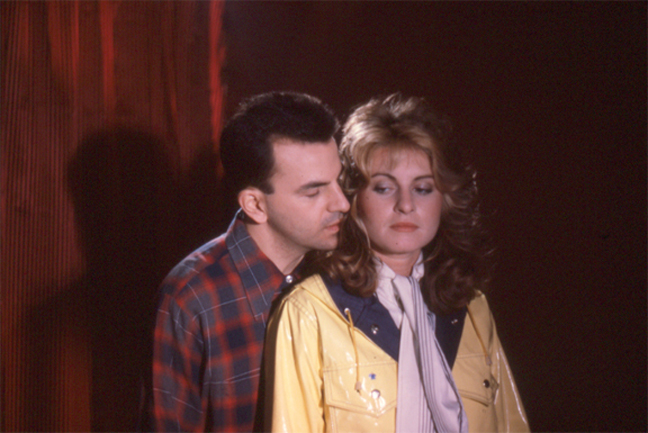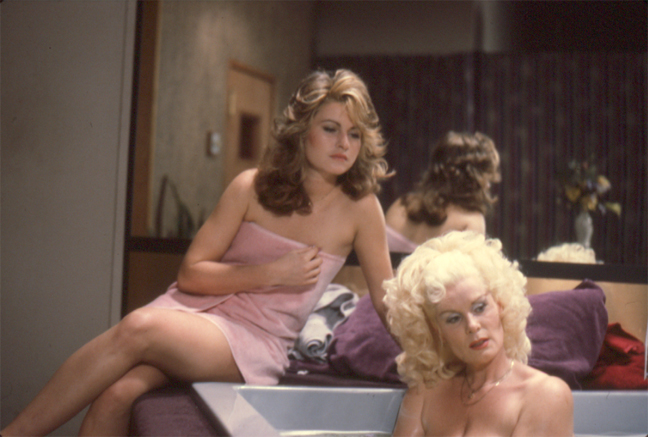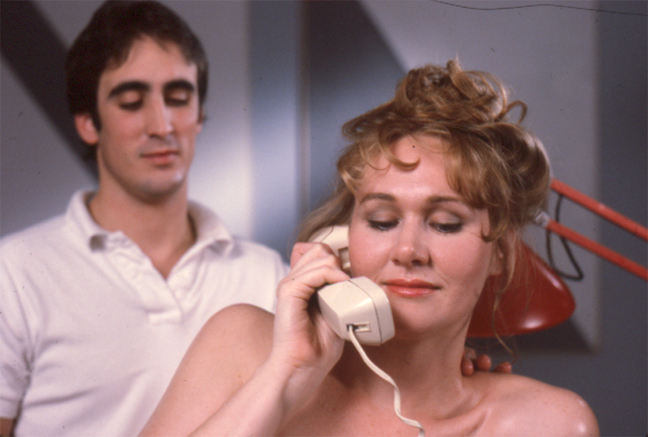 Four months later in April 1985, Radley set off for Paris to shoot exteriors that depicted Sue's visit to Paris to look for Ilsa. Before he left, he sent photographs of the actress who played Sue (Sharon Moran) to an old friend, adult film producer/distributor Wilfrid Dodd, requesting that Dodd provide him with a girl who was the same "general outline and figure." Radley shot Dodd's supplied actress on the streets of the city wearing a wig that made her look like Sue. Radley had the footage developed while in Paris so he could assess whether he needed to re-shoot any scenes and, when he was satisfied, he shipped the film stock back to New York and returned home.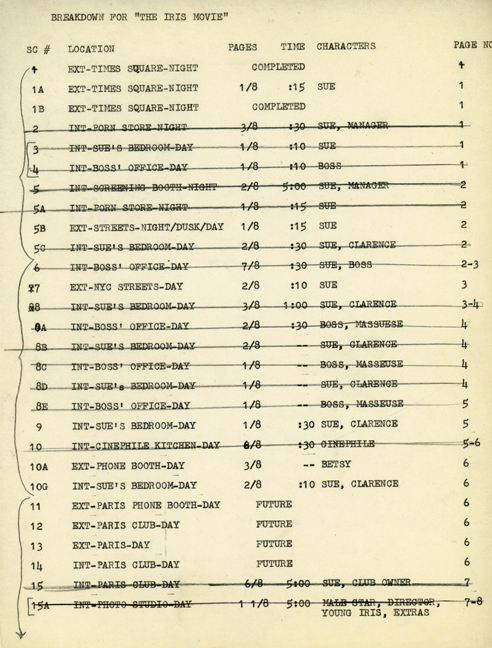 *
1985 – 'The Sins of Ilsa' – Post-Production
Back in New York, Radley had various one-sheet poster mock-ups produced that showed stills from the movie – trying out a few different titles before finally settling on 'The Sins of Ilsa.'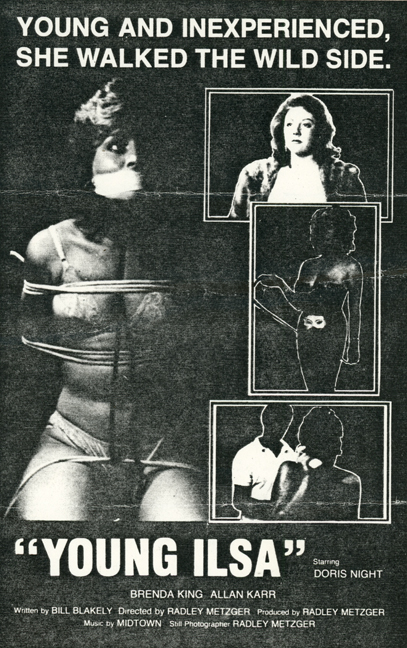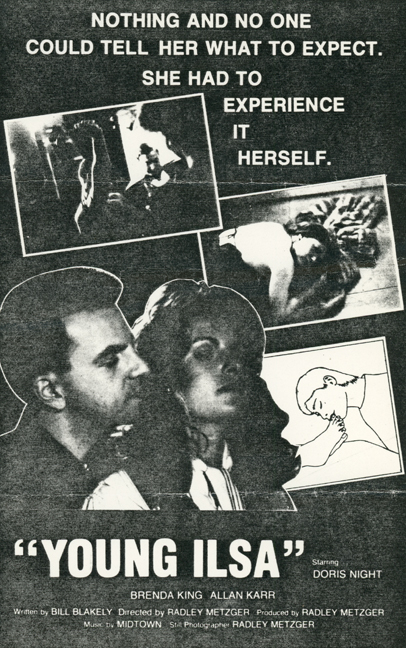 According to the film's credits, 'The Sins of Ilsa' was edited by Jimmy McDonough, nowadays perhaps best known for his biographies of Russ Meyer, Andy Milligan and Neil Young. McDonough remembers getting a job with Radley several years earlier: "Radley wore a scarf during my initial appointment for the gig. Something I never thought I'd experience… a job interview with a fancy scarf-wearing man. It was like a scene out of one of his movies."
Jimmy had worked as Radley's editorial assistant on The Princess and The Call Girl, but says he remembers little about 'The Sins of Ilsa' today: "Radley often had me working on these little invisible projects of his, and much of the time I didn't know what they ended up being."
The 1975 footage was inserted into the newer film – and the crude editing betrays the fact that the earlier footage was shot hardcore.
As promised, Radley didn't use him own name in the credits, instead choosing 'Gene Borey' for the story, 'Peter Wolfe' in his role as producer, and 'Stanley Paul' as the director.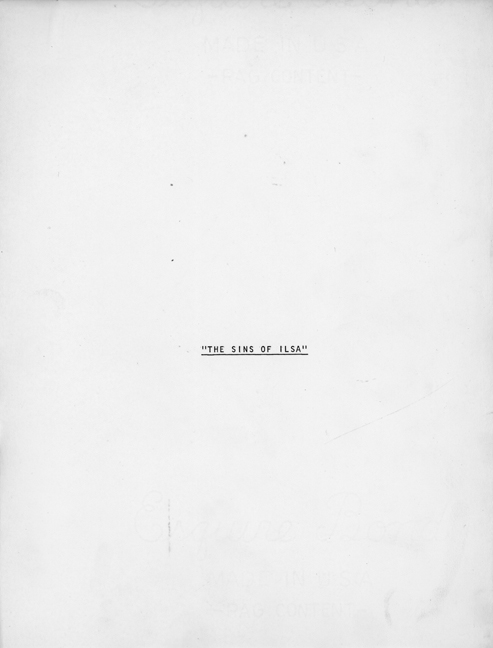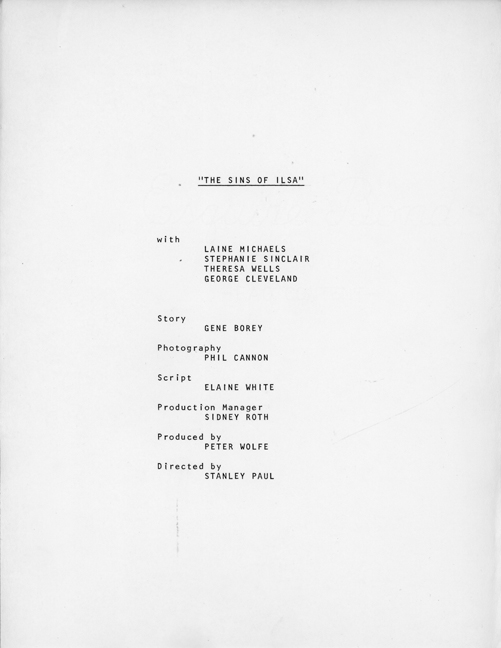 When a rough cut of the film was ready, a viewing was set up on September 17th, 1985, attended by Radley and two producer friends. It didn't go particularly well, and many pages of notes and suggestions were compiled.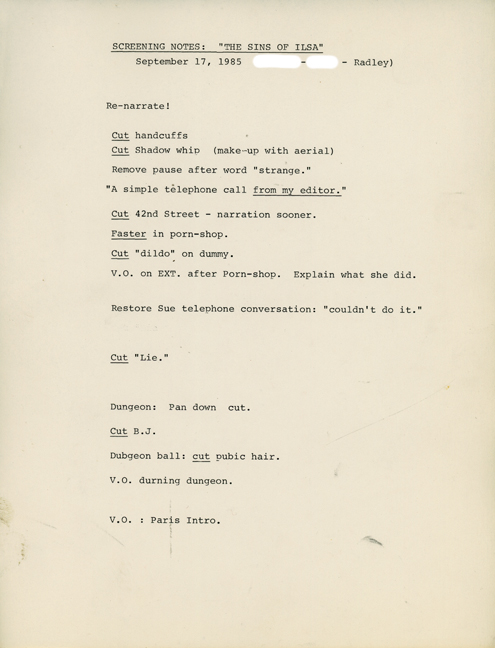 After retreating into the editing suite and making the necessary changes, the film was deemed ready to be sold – and was shopped around to various home entertainment companies such as Vestron Video.
As 1986 dragged on, the film was rejected by all, and its prospects looked bleak. Having invested time and money, it seemed like no one wanted the film unless it bore the 'Radley Metzger' name. Radley stood firm in his desire not to use his name, and in truth his attentions were elsewhere: Ava Leighton, his business partner of over 25 years, was being treated for cancer. She would die in August 1987.
That year, 'The Sins of Ilsa' was shelved definitively.
*
1985 – 'The Sins of Ilsa' – The Aftermath
Perhaps predictably, given its perfunctory fate, 'The Sins of Ilsa' is not Radley's lost masterpiece. In fact, it's not a great film by any standards. The undemanding plot is full of holes, the script lacks Radley's trademark sparkling humor, the performances are listless and flat, and there is none of the creative cinematography or imaginative art design that marked his successful works.
Perhaps the most valuable aspect of 'The Sins of Ilsa' is that it contains the footage that Radley shot with Béatrice Harnois in anticipation of making 'The Opening of Misty Beethoven.' Previously thought to be lost, it allows us to see Beatrice Harnois acting in a Henry Paris-era movie, with the strong French accent that Radley remembered so well. It's intriguing to imagine how 'Misty Beethoven' would have turned out with her in the starring role.
After the disappointment of 'The Sins of Ilsa', Radley turned his attention to producing videos on alternative health care which included a five-part video series on homeopathy.
'The Sins of Ilsa' remained forgotten – until now. It is an intriguing, though minor, footnote to an otherwise successful and always fascinating career.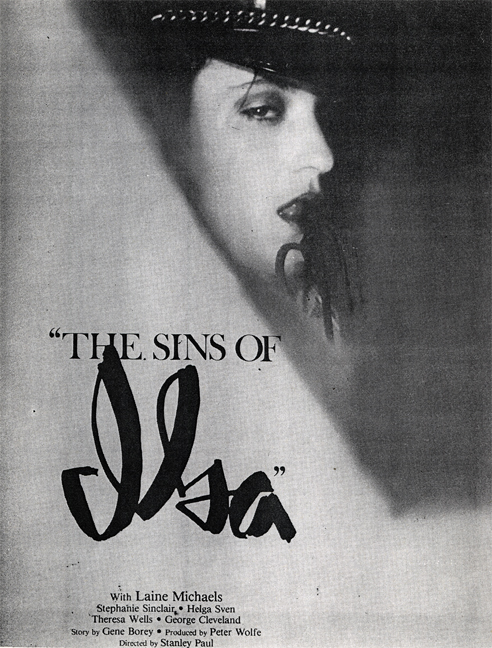 [evp_embed_video url="https://www.therialtoreport.com/wp-content/uploads/2019/06/Sins-of-Ilsa-Clip-2.mov" poster="https://www.therialtoreport.com/wp-content/uploads/2019/06/Sins-of-Ilsa-Clip-2-preview.jpg"]
Edited footage, shot in September 1975
[evp_embed_video url="https://www.therialtoreport.com/wp-content/uploads/2019/06/Sins-of-Ilsa-Clip-1.mov" poster="https://www.therialtoreport.com/wp-content/uploads/2019/06/Sins-of-Ilsa-Clip-1-preview.jpg"]

Opening sequence for 'The Sins of Ilsa', shot in December 1984
*