If an adult film director shoots footage of an actor which he then uses across multiple films, is he obliged to pay that actor multiple times? Constance Money certainly thought so.

In 1975, Radley Metzger was preparing to shoot his third explicit sex film, 'The Opening of Misty Beethoven', under his nom-de-porn pseudonym, Henry Paris. As well as shooting 'Misty Beethoven', he planned to film additional scenes – with some of the same actors – that he would use in future movies.
'Misty Beethoven' is one of the great adult films, and featured one of the great performances by Constance Money in the lead role. But behind the scenes, it was a troubled production. When shooting completed in November 1975, Radley was relieved that he could finally move on to post-production. Little did he know, the real problems were ahead of him.
The release of the film was followed by acrimonious arguments, a four-year legal process, and a staggering multi million dollar claim for damages brought by Susan Jensen – Constance Money herself.
The Rialto Report has researched this story for several years in forensic detail, obtaining original documentation relating to the case – presented here for the first time.
It tells a fascinating behind-the-scenes story of this landmark film and confrontation.
What do you think of the merits of the parties involved?
The concluding part of this story will appear on The Rialto Report next week.
_______________________________________________________________________________________________
1975 – 'Society':
It all started with a brown envelope.
It was sent to Radley Metzger at the offices of Audubon Films in New York. It arrived on September 22nd, 1975, and was stamped 'A.L.' and 'R.M.' – denoting the owners of Audubon Films, Ava Leighton and Radley Metzger. It was sent by Harold Adler, owner of a San Francisco-based provider of acting talent, the Adler Theatrical Agency.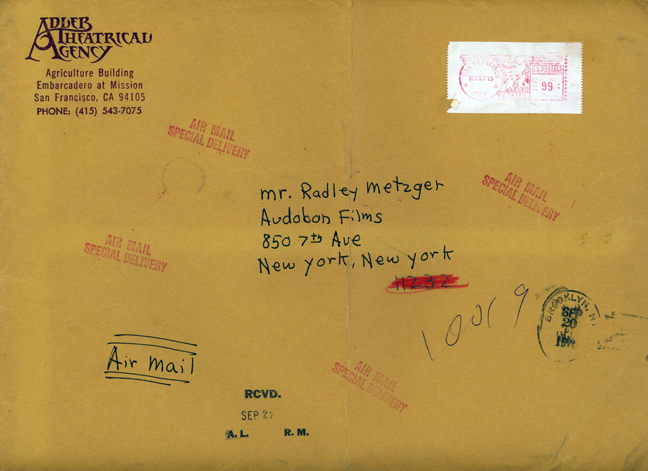 Inside was a single picture of a nude 20 year old, and a summary of her vital statistics. Her name was given as 'Jennifer Baker.'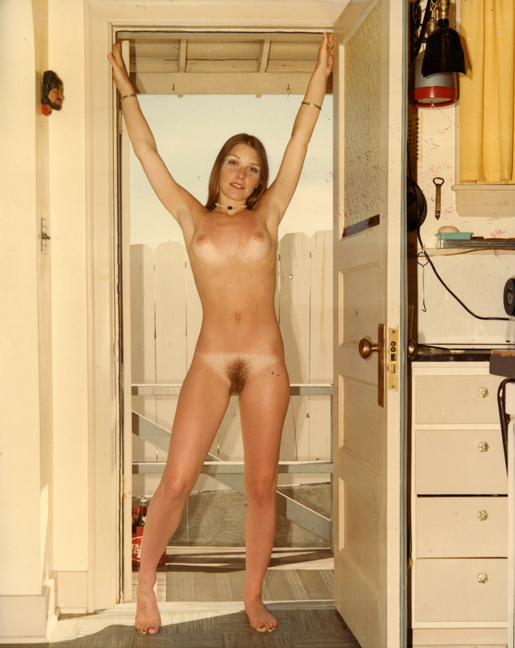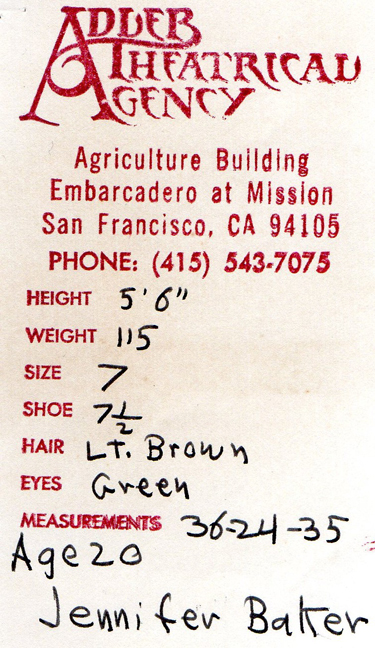 Radley had been looking for lead actors for his new film, tentatively called 'Society'. He had originally cast the French actress Béatrice Harnois in the lead female role, and the West Coast actor Tyler Reynolds as the male lead. Radley had shot test footage with both – to see their acting and sexual abilities – but was unsatisfied with the two of them. In the summer of 1975, he visited San Francisco and auditioned a number of actresses – including 'Jennifer Baker.'
Radley liked her, and when he received the photograph back in New York he showed it to Ava Leighton. She agreed with his choice, and two days later, he sent two letters to 'Jennifer Baker'. The letters acted as preliminary agreements that Baker would appear in two film projects. The first film was 'Society' – which would eventually be called 'The Opening of Misty Beethoven.' The second was an unnamed project, referred to only as 'Project 175.'
Both letters specified the payment terms: Baker would receive $150 per day, plus a per diem expense allowance and travel costs to New York.
Both letters were signed at the bottom by Radley and Baker.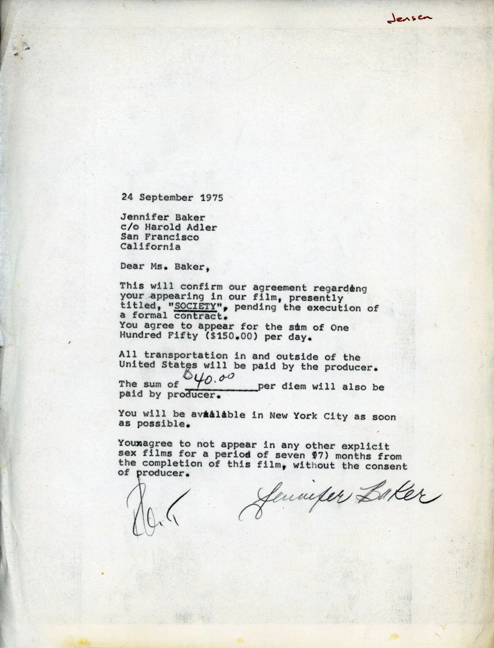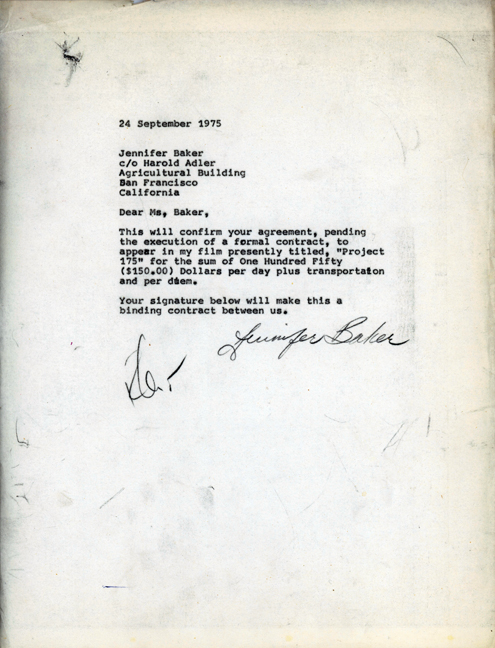 Radley soon learned that 'Jennifer Baker' was actually Susan Jensen, a west coast drop-out and occasional actor in adult films.
Radley wanted to move quickly as he planned to shoot in the fall of 1975. The start of the project had already been delayed multiple times.
He booked a flight for Susan to travel to New York just two days later – on September 26, 1975. She was given a room in the Gorham Hotel at 136 W 55th St. for the next month and a half.
The schedule was lengthier than any of Radley's previous films. It provided for 10 days pre-production work, followed by a month of shooting.
The filming included scenes for 'Society', as well as for the still-unnamed 'Project 175.'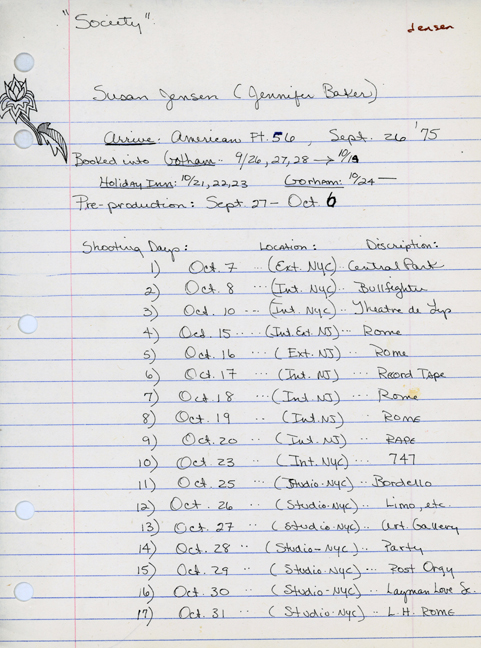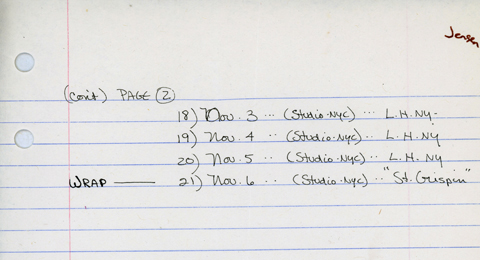 Susan arrived in New York on schedule, and Radley finalized plans to being. This consisted of a series of large spreadsheets listing all the characters and the individual scenes to be shot each day.
Interestingly the assistant director was shown as Graham Place, future director of 'Men In Black', 'The Hudsucker Proxy', and 'The Addams Family'.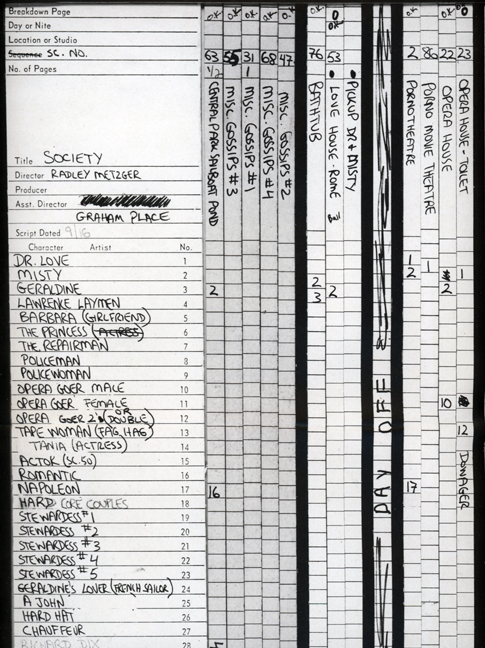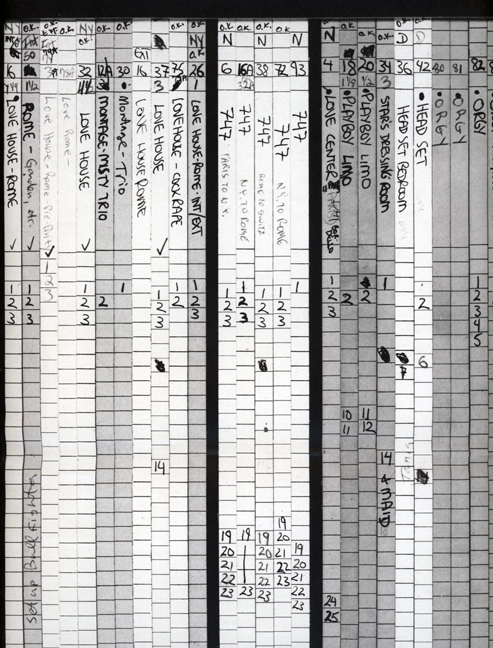 Shooting began on schedule on October 7th, 1975.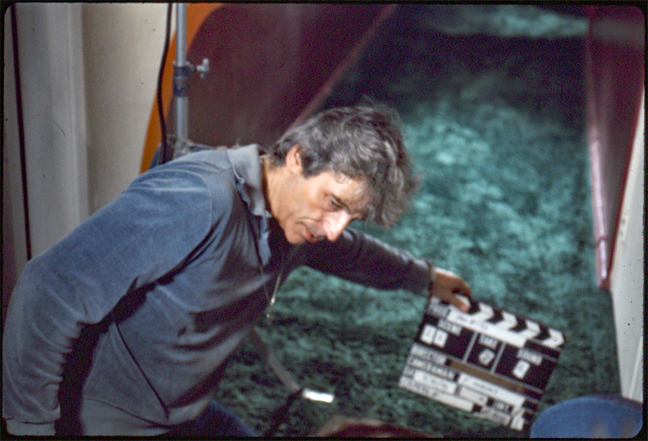 Previously unseen photo of Radley on set in 1975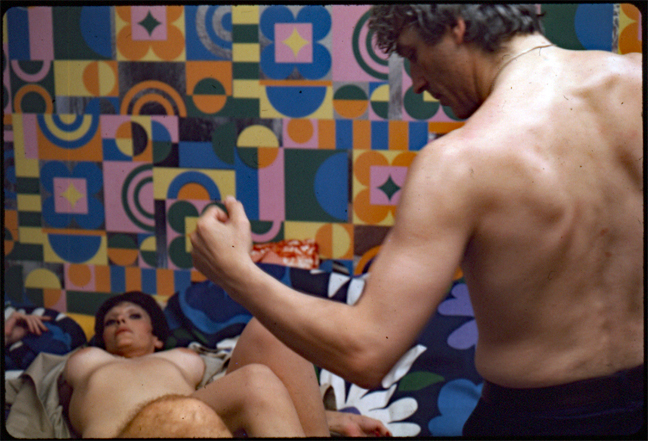 Previously unseen photo of Radley directing Gloria Leonard in 1975
Susan Jensen signed a release for her acting work on October 19th – just after shooting began. It referred only to the work for 'Society'.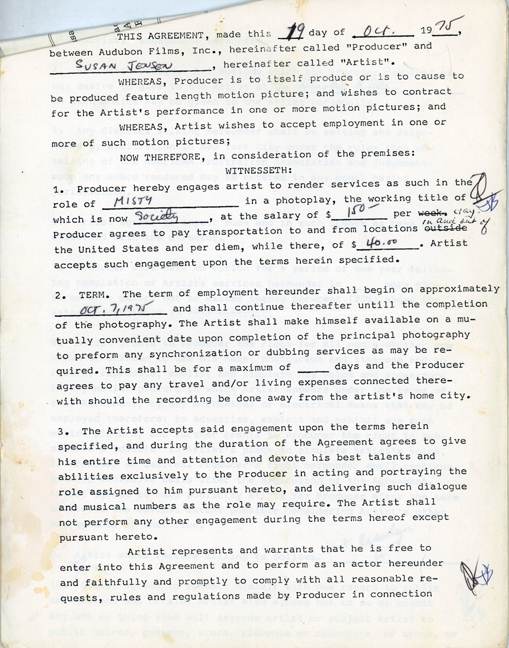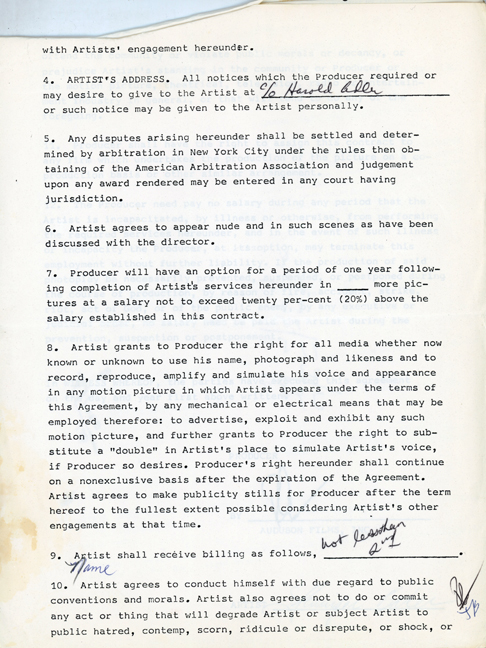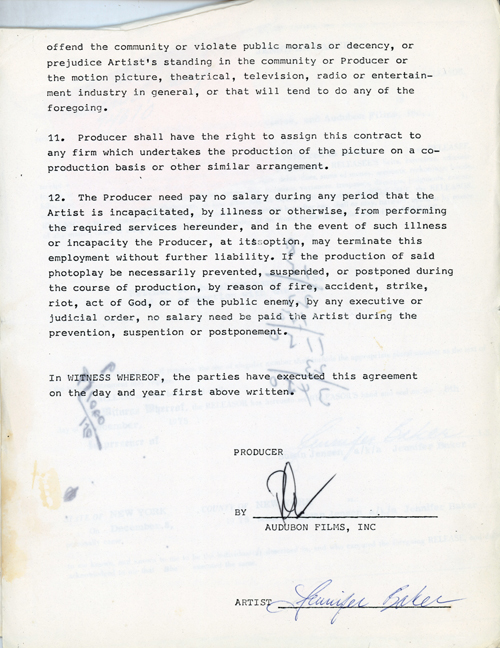 Susan received her $40 per diem in cash each day. She also requested an advance of $400 to be paid to her mother in Bothell, WA.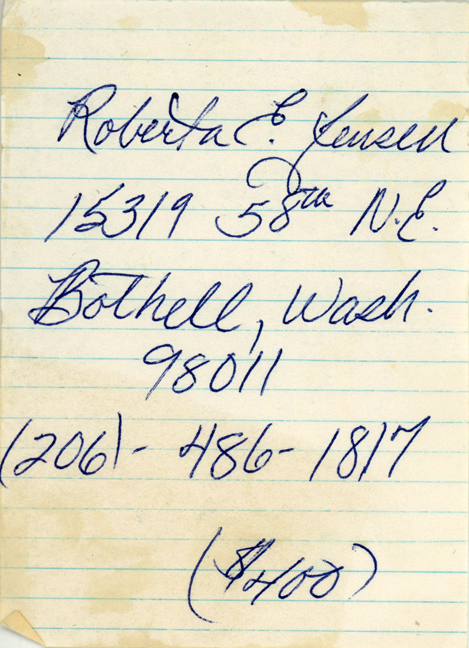 Radley kept financial notes of amounts owed to Susan, which were then typed into a statement at the end of the shoot. It showed that in total Susan was owed $2,511.64.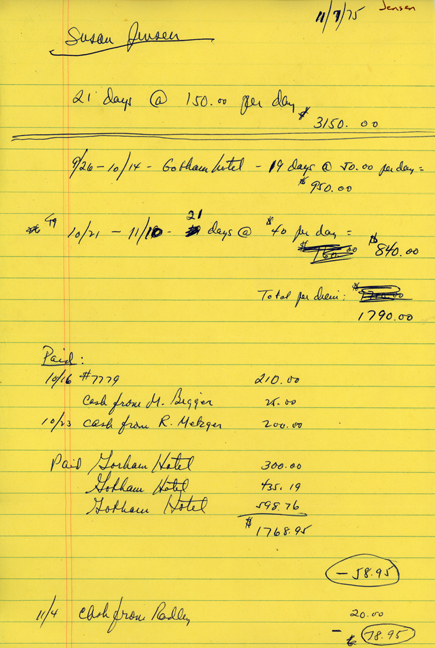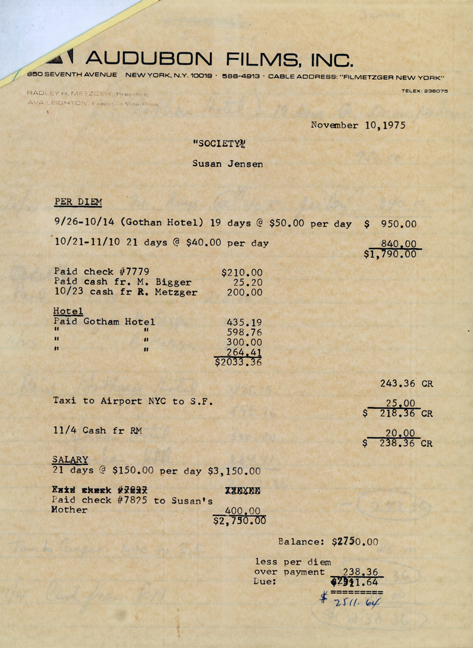 In truth the relationship between Radley and Susan during the shoot had not gone well.
Radley felt Susan was not coming to the set prepared. In short she hadn't learned her lines of dialogue and was often unwilling to perform as the script outlined. Susan, on the other hand, accused Radley of mistreating her, by asking her to submit to excessive takes of simulated non-consensual sexual activity.
Co-star Jacqueline Beudant sided with Susan in the conflict, causing further problems for the production.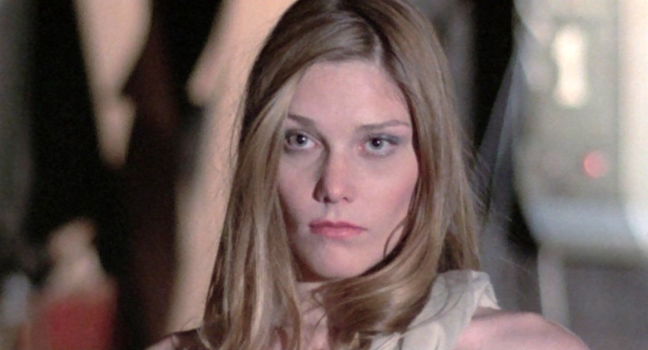 Susan Jensen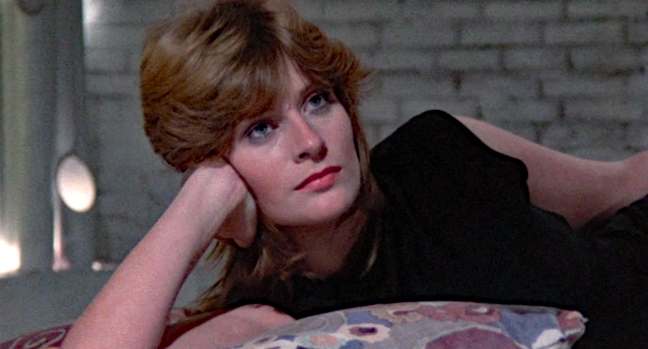 Jacqueline Beudant
Matters came to a head when Susan claimed that she had been asked to work an additional three days that had not been included in the original working schedule. This claim amounted to $450.
Not just that, but she also presented a list of personal items that she claimed had disappeared during the days spent on location in New Jersey – in a house that doubled as a Roman mansion. The items consisted of clothes, a camera, cosmetics and jewelry.
Susan claimed that the value of the items added up to $1,216. She requested that Radley reimburse her in full for all these items.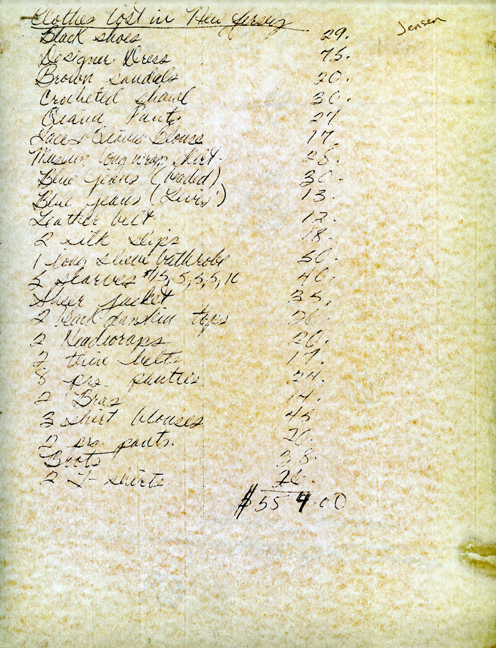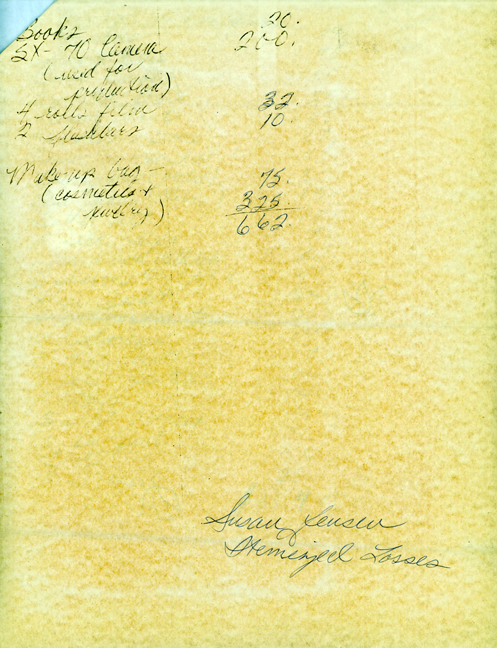 Radley responded to the list on 8th December 1975, by drawing up an additional payment for part of the losses claimed by Susan. However the amount he offered came to only $250 for the additional shooting days, and $150 for the personal items.
Both Radley and Susan initialed the workings as evidence of their agreement, and two checks were drawn up and sent to Susan. They totaled $2,646.64 – which represented her full payment for her participation in the shoot.
Just over $2,600 wasn't a huge payment, but it nevertheless represented one of the larger amounts paid to a lead actor in a 1970s porn film.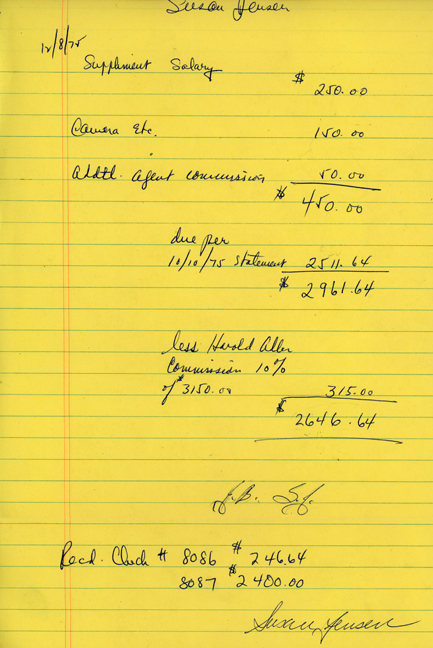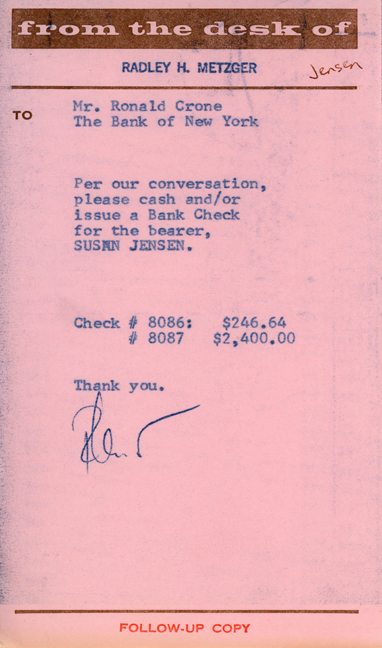 The final step was for Radley to get Susan's formal consent for her appearance. This was obtained on December 8, 1975, by Radley's attorney, Ed Grainger, a partner of the legal firm, O'Brien, Raftery, Rosenbloom & Grainger.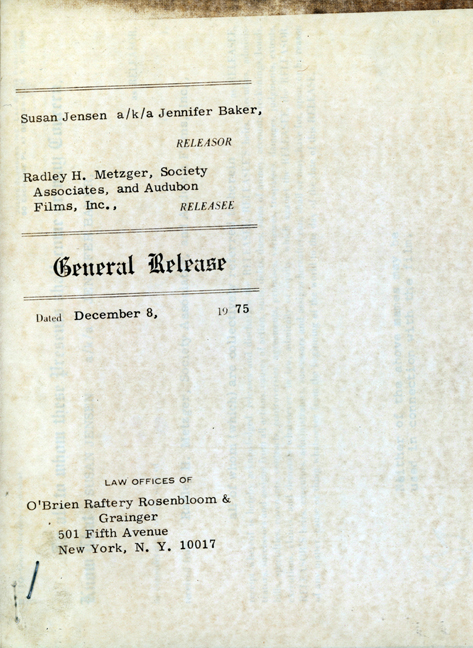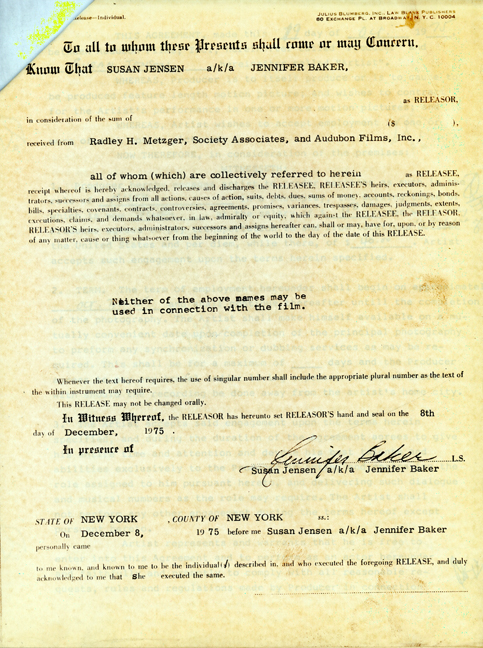 Susan requested that a copy be sent to her address at the time, in Oakland, California.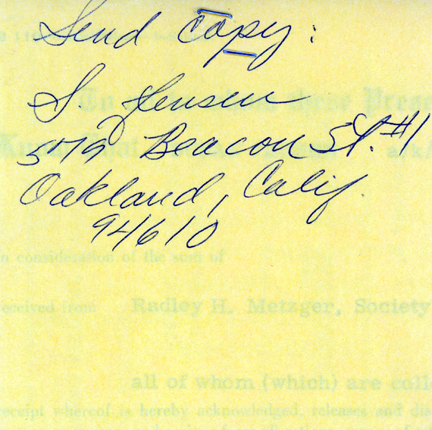 *
1976 – 'The Opening of Misty Beethoven':
When post-production on the film started, the title of the film still continued to be 'Society'.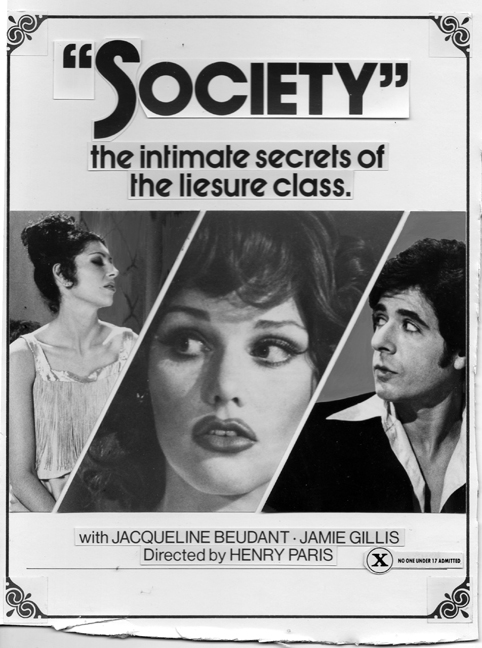 However Radley eventually decided to change the title to 'The Opening of Misty Beethoven'.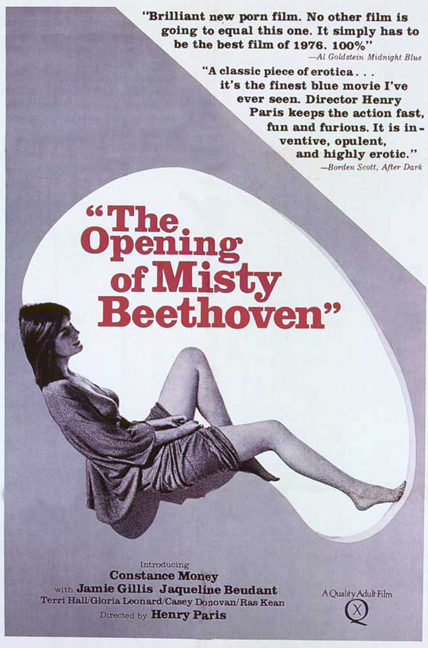 'The Opening of Misty Beethoven' opened in New York in March 1976, and it was a huge and immediate success.
Radley used pseudonyms for everyone involved. When it came to certain people's names, crew members remember Radley selecting their names with a sly humor: Susan was called 'Constance Money' (as a reference to her claim for additional compensation), and her female co-star was called 'Jacqueline Beudant' (as a sarcastic French reference to her uneven teeth).
Year later, when Radley was interviewed by The Rialto Report, he denied this: "I gave Susan the name 'Constance' and then I wanted something with an M and I came up with Constance Michaels. Then I was cutting in the cutting room one day, and I have a very vivid memory of getting on the phone and calling her and asking her if she minded changing her name from 'Constance Michaels' to 'Constance Money'? She said, "No, I've always liked Money, that's fine".
I've read somewhere that she got the name Constance Money because she loved money, and it sounded like she was avaricious and would do anything for money, and that was the most important thing in her life. That was certainly very far from the truth. I don't know where on earth that came from."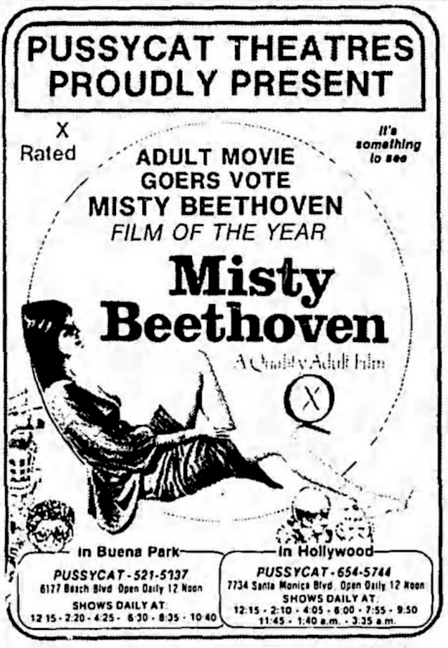 'Misty Beethoven' was also acclaimed by critics winning several awards.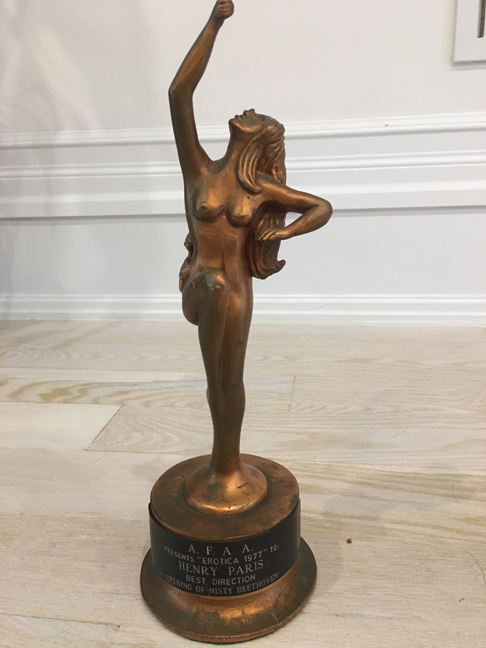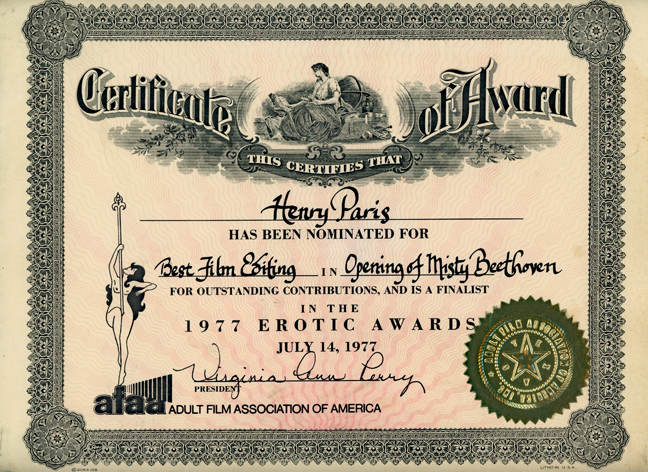 After completing 'Misty Beethoven', as expected Radley had several scenes left over that he'd shot the previous fall that had not featured in the final cut.
Four featured Susan: Two of the scenes had originally been intended for 'Misty Beethoven', while two other scenes were filmed for the future 'Project 175'
These scenes were as follows:
Scene 1, shot for 'The Opening Misty Beethoven':
A scene shot in a bath, featuring Susan and Jacqueline Beudant. It was shot on Wednesday 8th October, 1975.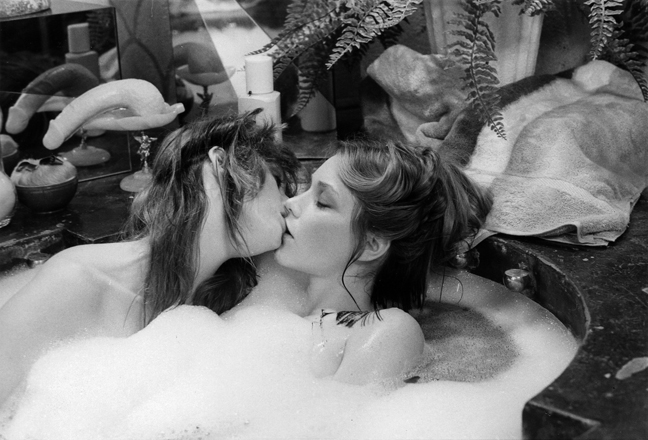 Scene 2, shot for 'The Opening of Misty Beethoven':
A bondage scene, featuring Susan and Jamie Gillis. It was shot on Monday 20th October, 1975. Years later, The Rialto Report interviewed Radley about the scene. He claimed: "She had some proficiency in S&M, so she was a big help in assisting me direct it due to her familiarity all the paraphernalia that went into that scene."
Scene 3, shot for 'Project 175':
A vignette in Central Park followed by a sex scene, featuring Susan and Lance Knight. The Central Park scene was shot on Tuesday 7th October, 1975, and the sex scene was shot Monday 3rd November 1975.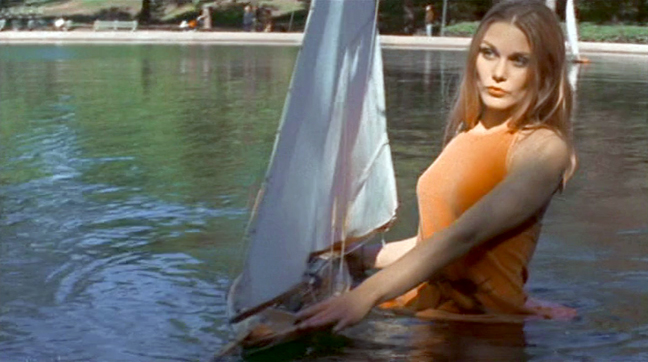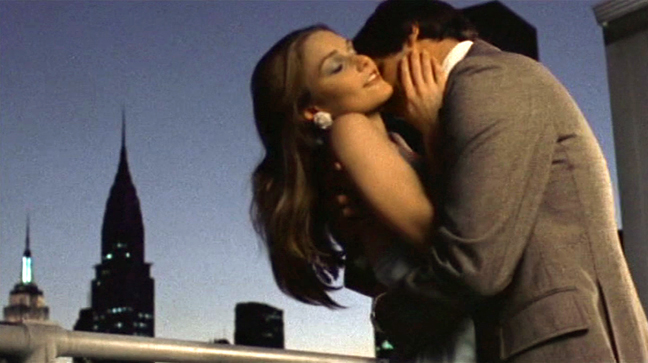 Scene 4, shot for 'Project 175':
A group sex scene with a matador played by Marc Valentine. It was shot on Wednesday 8th October 1975.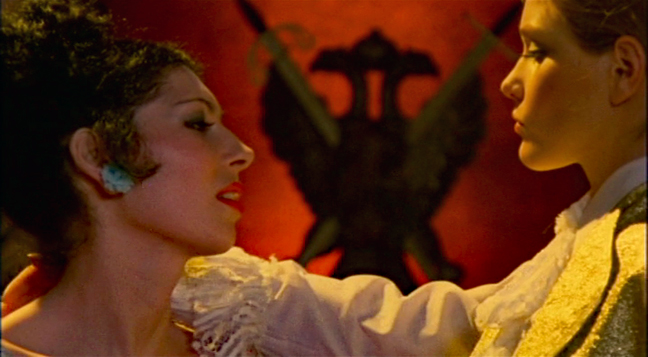 Radley planned to use these scenes in two further X-rated films.
He would make the first of these films for Audubon, the company he co-owned with his business partner, Ava Leighton. This film would be called 'Barbara Broadcast.'
The second film would be made for Sam Lake and Bob Sumner's Mature Pictures, and would be called 'Maraschino Cherry.' In the summer of 1976, Radley met with Sumner and they agreed that Radley would be paid $105,000 for delivery of the film.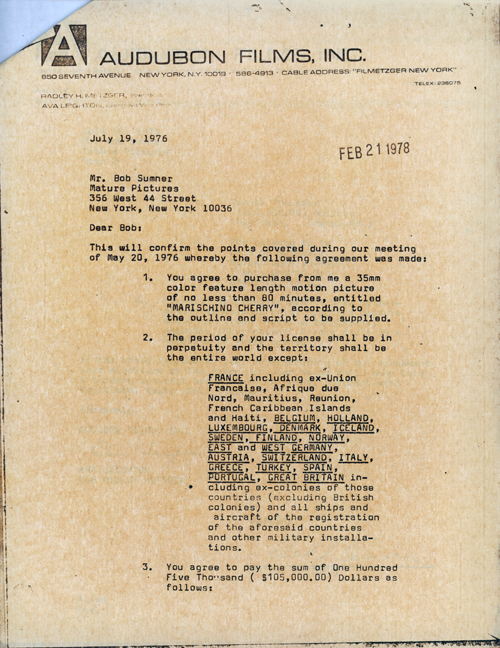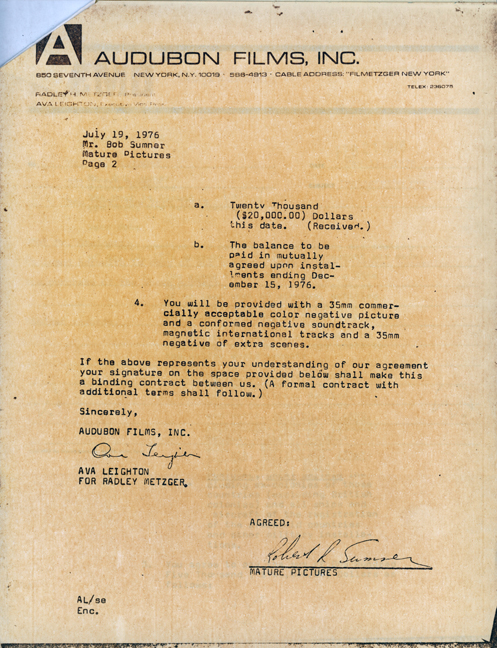 After the stresses of 'Misty Beethoven,' the two new pictures would be relatively easy to make. The footage had largely all been shot, and so it was more a matter of assembling them together. To space out their release dates, Radley planned to put out 'Barbara Broadcast' in early 1977, with 'Maraschino Cherry' intended to come out later that same year.
*
1977 – 'Barbara Broadcast':
As intended, Radley used the previously shot footage with Susan in his two new films:
In 'Barbara Broadcast', Radley used the bondage scene that he'd shot with Susan and Jamie Gillis;
In 'Maraschino Cherry', he used the Central Park sailing boat/sex vignette, and the matador scene;
The fourth scene that featured Susan, the bath sex scene with Jacqueline Beudant, was discarded completely.
When both films were nearing completion, Radley attempted to contact Susan to remind her of his intention to include the scenes in his new films. At this time, Susan was alternating her time living in Oakland, CA and Yakutat, Alaska, and initially Radley had no luck in contacting her.
When Radley finally managed to get hold of her, Susan's reaction was less than positive. Eighteen months had passed since the footage had been shot, and she now claimed that she had only signed a release for 'Misty Beethoven', and had not been paid for any additional scenes.
Radley disagreed, pointing to the day-rate that she had been paid for all of her work, but he reluctantly offered to pay her (again) for the three days filming that resulted in the scenes he intended using. This came to an additional payment of $450. At the end of the call, Susan seemed amenable to the offer but said she would need some time to consider it.
A few days later, Radley's business partner, Ava Leighton, attempted to resolve the issue by sending Susan a letter, confirming the offer of $450.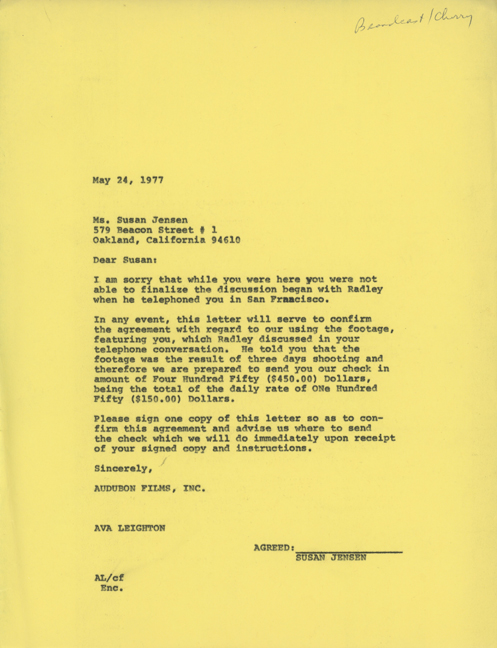 The response from Susan was nuclear: She hired an attorney, Andrew Gillan, who fired off an angry response to Radley and Ava. In his letter, Gillan claimed that Susan had no knowledge that any footage shot in New York for 'Misty Beethoven' would be included in future films. Furthermore, Gillian made other incendiary claims: that Susan had not been paid overtime on the production, that she had also suffered at the hands of actor Jamie Gillis, and that the bondage scene had not been filmed in a consensual manner.
In short, a lawsuit against Radley and Audubon Films was threatened.
While the matter was being discussed by attorneys on both sides, 'Barbara Broadcast' was released, and in July 1977, Susan appeared in Playboy magazine in an article entitled 'The New Girls of Porn' (… "a new – and better-looking – breed of uninhibited actress is showing up on the screen of your X-rated cinema"…)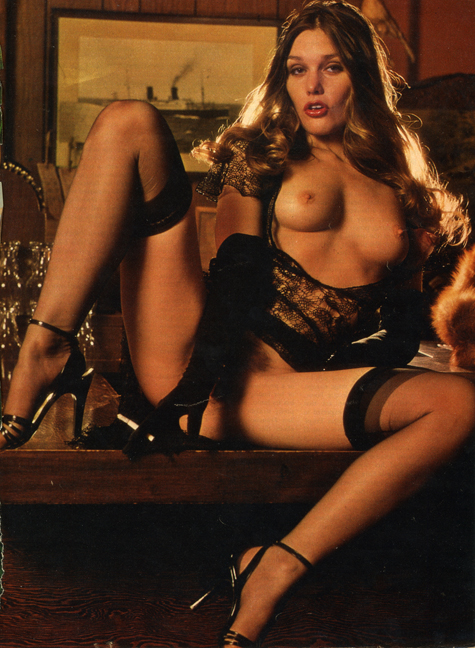 In the meantime, Radley left the U.S. to go to England where he made his first mainstream film, 'The Cat and the Canary.'
While he was away, Ava Leighton and Audubon attorney Ed Grainger, eventually reached an agreement with Susan and her lawyer. It prescribed that Susan would be paid an additional $2,000 for the scenes used in 'Barbara Broadcast' and 'Maraschino Cherry'. This would bring the total amount amount paid to her to just over $4,600.
It required Susan to sign another release that was drawn up by Radley's attorneys.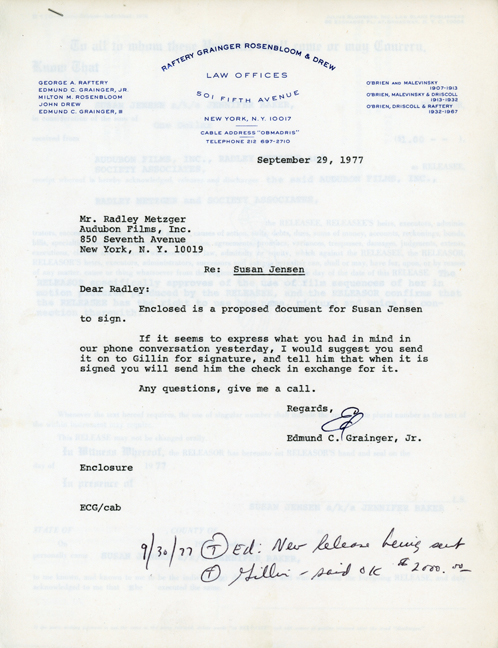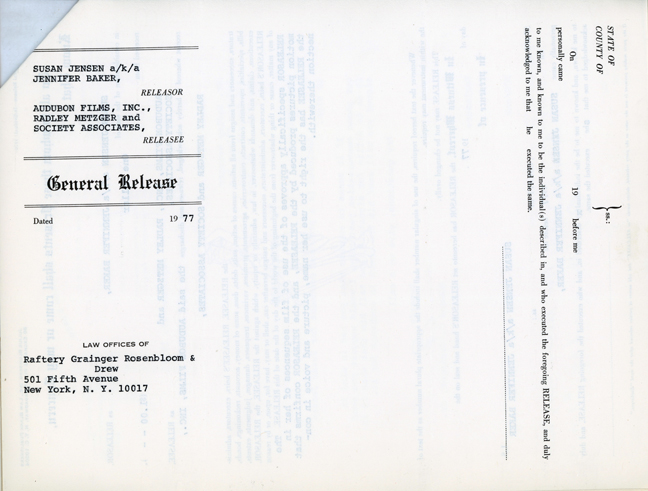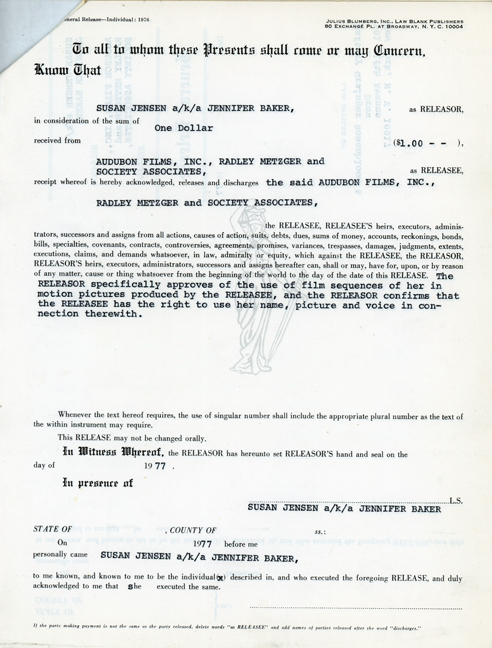 The $2,000 check was written to Susan on October 28, 1977, and cashed by Susan the following month.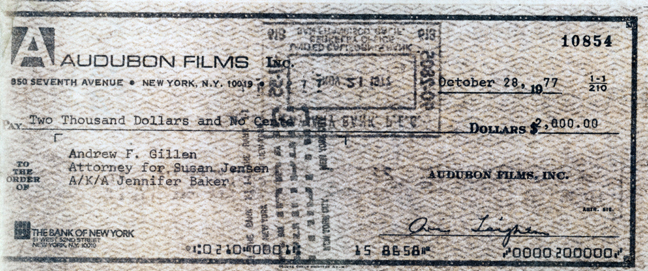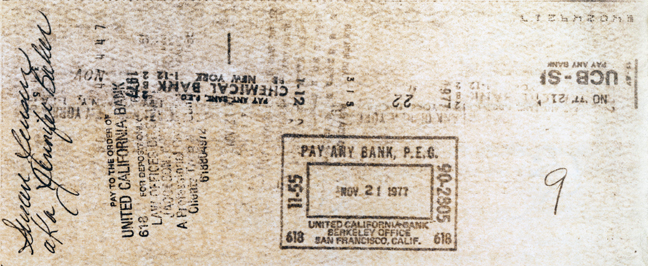 In December 1977, with 'Barbara Broadcast' already in theaters, Radley arranged for a meeting with Sam Lake and Bobby Sumner to discuss the film 'Maraschino Cherry' that he had made for them.
Sam and Bobby had already paid $105,000 to Radley for 'Maraschino Cherry' – but the delivery of the film had been delayed due to the legal issues with Susan. They wanted to understand the status of the dispute with Susan – as she featured in two scenes of their film.
Radley told them the full story, and indicated that the issue was now likely resolved by the $2,000 payment to Susan – though he mentioned that he had been threatened with a lawsuit a few months earlier.
Sam and Bob's response befitted old-school exploitation film distributors. They told Radley that they would welcome a lawsuit, as it could be "the handle" they were looking for.
Radley summarized the meeting in a memo to his attorney.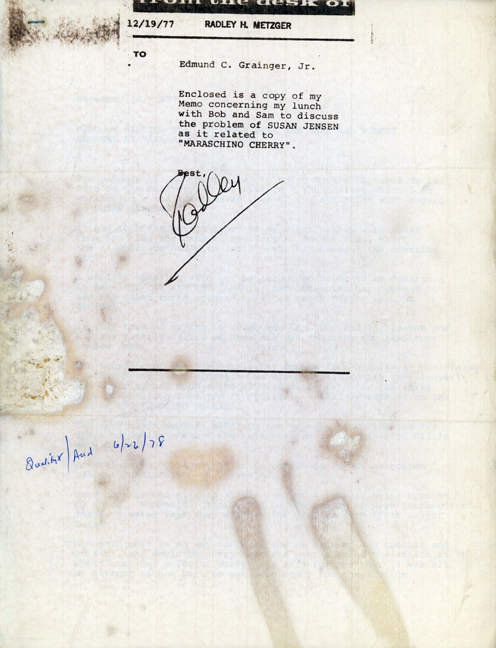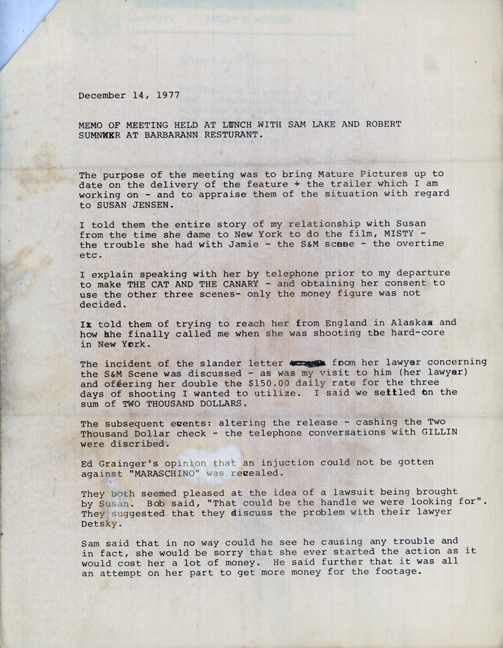 *
1978 – 'Maraschino Cherry':
Just when everything appeared to be resolved, there was an unexpected and serious development.
In March 1978, Radley, Ava, Audubon Films, Maturpix, and others were served with a summons by Susan's New York attorneys.
(Click on the picture below to read the full multi-page document).
The legal documents stated that Susan had been unaware that footage of her would appear in any other film apart from 'The Opening of Misty Beethoven', and that she had not been compensated for it.
Her claim was split into five areas:
A restraining order and a permanent injunction preventing the distribution of 'Maraschino Cherry' was requested;
Due to footage of Susan having appeared in 'Barbara Broadcast' and 'Maraschino Cherry', compensatory damages of $250,000, and exemplary damages of $750,000 were requested;
Due to the damage to Susan's reputation as an actress as a result of the footage being used across multiple films, damages of $250,000 were requested;
Due to fact that Susan would not have appeared in 'Misty Beethoven' had she been aware of Radley's intentions, compensatory damages of $250,000, and exemplary damages of $750,000 were requested;
All legal and court fees associated with this claim should be paid by Radley.
As if the monetary sums being threatened weren't large enough, Sam Lake and Bobby Sumner also started making unhappy noises: If their upcoming film was going to be subject to a permanent injunction, they were quick to point out that they may be forced into legal action against Radley as well.
So two and a half years after Radley hired Susan Jensen to appear in 'The Opening of Misty Beethoven', he was now facing a claim totaling $2,250,000, plus an injunction against his new film, plus a potential additional lawsuit from Sam and Bobby.
'The Opening of Misty Beethoven' had been a great commercial success – but was it worth it?
*
In the next part of this investigation, we look at the concluding events of this case.
Save