We look back at the east coast publication Cinema Blue by reviewing the magazine's first year in business – 1984 – and speaking with Joyce James, the magazine's editor during the first years.

These issues include articles and photo spreads with Shauna Grant, Lee Carroll, Cassandra Leigh, Kimberly Carson, Annette Heinz, Cody Nicole, and features on film such as Pleasure Channel, Piggy's (1983), Reel People, Flesh Pants (1983), Aphrodesia's Diary (1984), Corruption (1983), Public Affairs (1983), and much more.
Fully digitized copies of each 1984 magazine can be found in the article below. You can find The Rialto Report's growing collection of digitized resources by choosing Library in our site menu. 
Click on the covers below to access the full magazines. Due to the fact that the magazines are scanned in high definition, allow time for each page to load. If you are viewing on a phone, view in landscape orientation.
Magazines are fully searchable; use the icon displayed in each magazine to search by keyword.
Publications are being shared here purely for the purpose of research. They should not to be used or reproduced for any commercial gain.
_______________________________________________________________________________________________
Cinema Blue – An Interview with Editor Joyce James
What is your family background?
My entire family are New York City police officers. My mother was actually a famous female detective in New York City, so I grew up with a well-known hero-mom, who won lots of awards for bravery.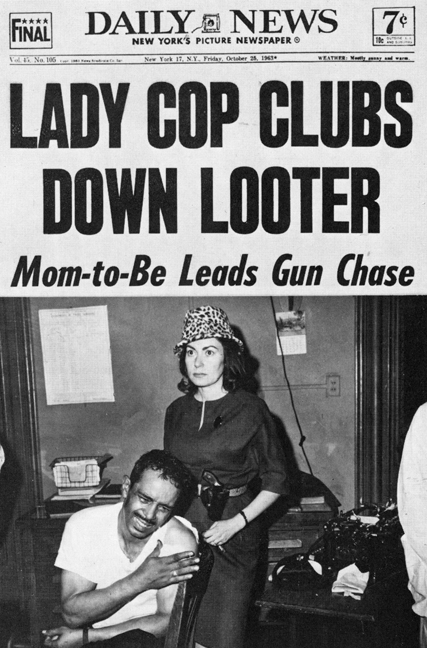 Joyce James' mother in action
What had you been doing prior to your involvement in adult magazines?
I was at the University of Buffalo finishing my PhD in English literature. I got married when I was 21, like a good little Italian girl. As I was finishing my PhD, I got pregnant with my first son… which completely sidelined me as pregnancy has a tendency to do. The next thing I knew I had a kid, was in an unhappy marriage, and had no work.
How did the opportunity in adult magazines come about?
My marriage was breaking up and I had a two-year-old son to support. I was at a Leche League meeting and asked if anyone knew of any job openings. A friend of mine, who was in the middle of squirting milk into her child's mouth, said that a friend of hers knew a guy who was a magazine editor – and his name was Peter Wolff. She said he badly needed an assistant.
I looked at her and said, "An assistant to a magazine editor? Are you crazy? I've never written or edited anything except my doctoral thesis. She said that Peter was so desperate he'd hire anyone with a college degree.
All she knew was that the magazine was called Oui. The name meant nothing to me whatsoever, but I was excited.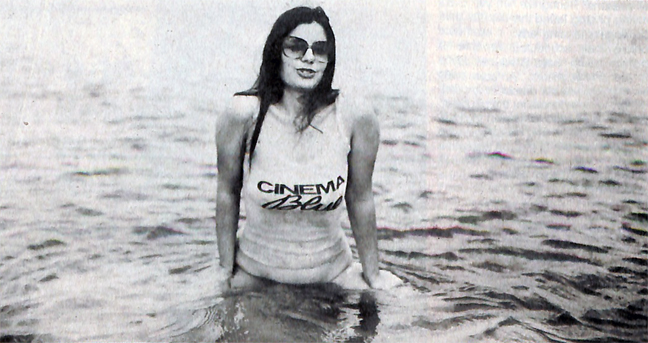 Joyce James
Do you remember going into work your first day?
I was 28 at the time, and I remember I dressed up in a blue silk suit with a white ruffled blouse. I looked like a college professor. Or actually Miss fucking Congeniality.
I went into this sleazy, dirty building in midtown that had no signs. I opened the door and it looked like an old deserted, insane asylum. It was like walking into The Twilight Zone.
What did you find inside?
I walked up the hallway, and found people in various stages of undress walking out of this one office. I went up to the door, and there was a piece of paper taped to it on which someone had written 'Oui' in pen. So I opened the door and went in.
Inside it was like a zoo. There was a very beautiful black woman named Sparky Vasc. She was a good kid. She was there with a girl named Lisa Cintrice. They were working at this place, and I think Susie Nero and Sharon Mitchell were there too.
Of course, Dian Hanson was always there, with her husband Little Bobby Hanson who was a magazine photographer. She was Peter Wolff's second in command. Dian was such a powerhouse. She and I would disagree, very strongly, on a lot of things.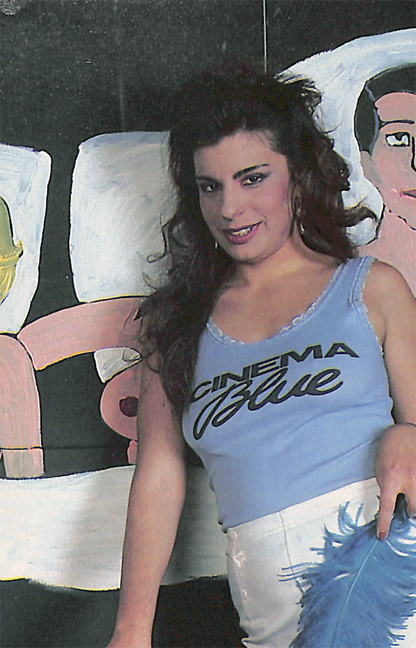 By now, you must have figured out that Oui was essentially a pornographic publication?
Yes, they had copies of the latest issue laid out on the tables. I saw it had a girl on the cover and her boobs are out and inside there were centerfolds and so on. I figured that basically it was a low-rent Playboy or Penthouse magazine.
What experience had you had with pornography before that?
I thought I was a pretty hip person, but I was also an English professor who was used to academia and libraries. I'd never seen an X-rated film before.
The closest I'd come to pornography was in my marriage: my husband had, on occasion, bought Penthouse Letters, which we read and thought were entirely genuine reader experiences. That's how naive we were. And we'd say, isn't it weird that the people who write these letters always have these amazing experiences and we don't? We were in awe of the people who are having all this crazy consensual sex.
What was the reaction of the people at Oui magazine to have someone as inexperienced as you turn up for work?
All the women were wearing little tank-tops with names like Show World or Oui emblazoned on their boobs, so I thought I was going to struggle to fit in. They all looked me up and down, and they cracked up like Mary Tyler Moore had just walked into their office.
Then I saw a porn star on her hands and knees lapping at a bowl of water. Really?! Is this supposed to be someone's idea of sexy? Later on I saw Peter put Lisa and Sparky on leashes and walk them around the office. I wasn't a prude, but I also felt I knew what is sexy and what's not sexy. And I certainly didn't see anything remotely sexy about what Peter was doing.
So I was expecting the worst.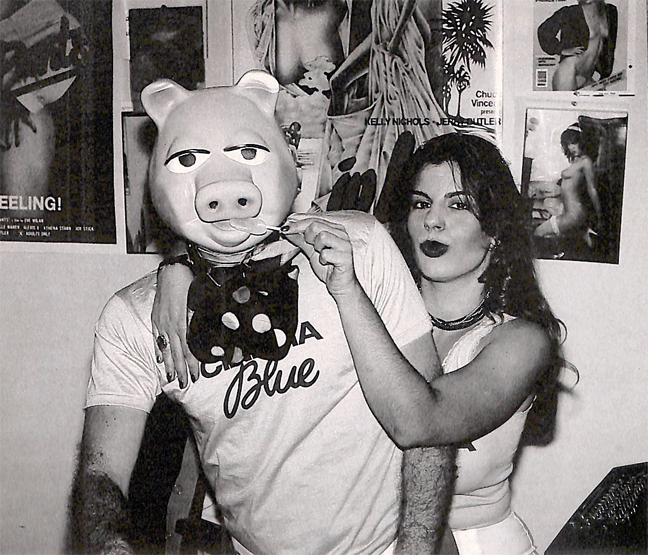 Do you remember the first instructions you were given?
Peter came out of his office and took a look at me. He had a huge stack of papers in his hand and threw them on a desk in front of me and said, "Sit here, edit this, this is the next magazine." Then he went back into his office, and closed his door.
Most of the papers were typed, but there were also illegible little pieces of paper written in pencil that I was told I had to edit. Dian told me that the scraps were Ron Jeremy's monthly gossip column. She said there wasn't usually very much there, and that I should do whatever I could with it.
I said, "Who's Ron Jeremy?" I had no clue.
I noticed that all of the copy that'd been handed to me said 'Adult Cinema Review' on the top. No one had told me that I wasn't hired to work on Oui magazine. So I finally asked someone and found out that they'd actually hired me to be the editor of Adult Cinema Review, not Peter Wolff's assistant.
How did you balance the job with being a mother?
It worked out well. I had split custody of my son with my ex, and I was still teaching college a couple of nights a week. The rest of the time I was working on the magazine – and best of all, I actually had an income now.
What was your family's reaction to your job?
My mom was extremely protective, so you can only imagine her response when I told her what I was doing for a living. I'll never forget her reaction. She said, "But I lock up people who do what you do…"
I felt so sorry for her. I was very much a Mamma's girl, so that was rough. But in some ways, I was following in my mom's footsteps – she was a rebel who'd been told to stay at home, be a nice Italian girl, make pizza, and bring your husband his slippers. And she said, "Nope, I'm going to become a fantastic lady detective. I'm going to show them." So I felt I was similar to her in being rebellious… even though I was rebelling against my mom. I did it on my own terms.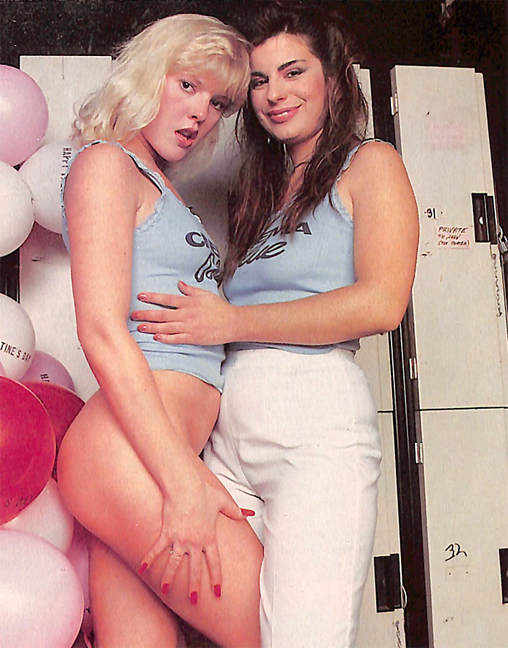 Joyce James, with Danielle
How difficult was it to get up to speed on the requirements of being a magazine editor?
I knew nothing: I'd never edited, I didn't even know how to proof-read. I was expected to take this material that someone else had written and turn it into stuff that could actually appear in a magazine. I didn't know how to do any of it at all. There was so much I was supposed to know and I never let on that I was clueless.
At the beginning, it was like someone was speaking hieroglyphics to me. I didn't know what a font was, or a subhead. What's a blurb?
But I listened. I bluffed. And I found people outside of the company that could explain things to me. I learned these little mysteries, but it took a long time.
Do you remember the first interview that you did for the magazine?
Peter Wolff came up to me with a scrap of paper. Everything was on scraps of paper. It was a piece of an envelope with an address in Queens. Peter said I had to go out there to interview the producer of a film that we were going to feature the following month.
I expected it to be a film studio but it was this guy's apartment. He opened the door wearing one of the 1970s shirts that stuck to your skin. It was open to his naval, showing off full chest hair and tons of bling.
He talked me through the plot intricacies, and then showed me the movie. It was the first X-rated film I'd ever seen in my life – and it was terrible. Absolutely the worst, most exploitative sleazy porn movie – though to be fair, I hadn't seen any others so I was in no position to judge just how bad it was. All I knew was objectively, it was bad.
But I didn't complain, and I think Peter accepted me after that. I think I proved my spurs because I could've come back and said, "How dare you send me there by myself? Instead I think he thought, "She's got something."
Who else worked with you to put the magazine together?
I had an art director. One of my first tasks was to go and meet him. Peter gave me his address, which was in the East Village. He was this odd, little gnome man, much shorter than me, probably in his forties. And he looked like he'd never left his apartment. I would put good money on the fact that I was the first woman who'd ever knocked on his door: the look on his face when I showed up was priceless.
I said, "Apparently we're supposed to work together on the next magazine, so why don't you show me how you usually do it with Peter?"
He had all the necessary equipment in the apartment – a slide projector and a screen for us to view the chromes and to decide which to use. We started to review the photographs, and obviously they were all pictures of people screwing. This wasn't pin-up photography, these were from hardcore sex shoots.
About five minutes into this, he stands up and I see that he's got his dick in his hand. Now it turns out that this dwarf-like man is very well-endowed. In fact, with his cock in his hand, I was surprised he didn't topple over onto his face.
He says, "I hope you don't mind me jerking off."
I was thinking, "Okay. This must be how they do it. Every month everyone must sit around, jerk off, and that's how they figure out what's going to be in the magazine. Oh my God, am I now expected to start masturbating too?"
So I said, "Oh sure, that's fine."
After a while, he finished. He pulled his pants up and he didn't say another word. He certainly didn't touch me. He made no attempt to grab me. He didn't even come near me. And from that moment on, he had such a crush on me. It was a trial-by fire initiation, but it was nothing cruel. It wasn't Louis C K: he didn't slam the door on me, turn around and start masturbating and force me to stay until he finished, threatening to ruin my career if I spoke about it. It wasn't like that. No, no. So as it turned out, the world of porn might be safer for women than the world of comedy. Other than that, I can't say I saw anyone abused or mistreated in any way on the set of a porn movie or photo shoot. I never saw anyone forced to do a scene. I mean, no one wanted to screw Ron Jeremy, but that's another story.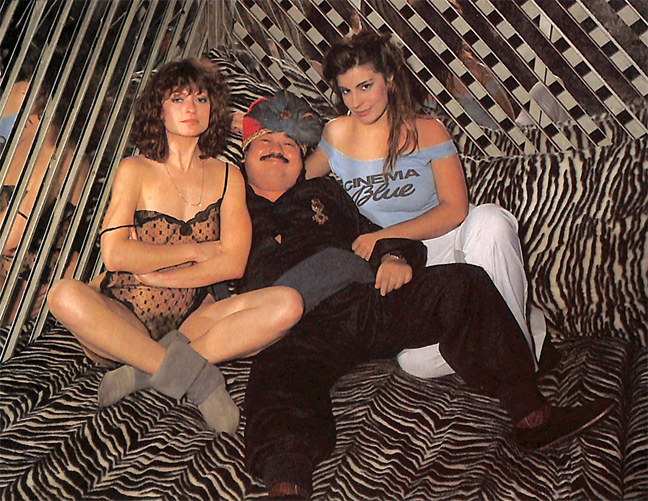 Joyce James, with Kelly Nichols and friend
What do you remember about Ron Jeremy?
He came in to see me each month to hand in his latest gossip column. He was getting paid about $400 a column – an outrageous amount of money for doing virtually nothing. He would plead with me and say, "Can you edit it into something that sounds like it was written properly?"
I treated him like one of my students. Eventually, he learned to not bust my chops.
What challenges did you face with regards to censorship?
My aim was always to get as close to showing penetration as we could. I fought with every publisher over the dots and the spots and the bars that they wanted to add to the pictures to cover the point of penetration and obscure it. I even designed a pig head to cover the action. I wanted to make fun of it because I thought it was ridiculous.
I became very pro-pornography and pro people's right to watch it. That became something that I wanted to fight for. It was very important to me.
So you eventually got used to the job?
The way I saw it was that I was this hot, bright, single woman investigating the underworld of pornography and erotica. I used it to get myself into all kinds of situations so that I had great stuff to write about. It made my life that much more exciting.
I adopted a persona, who I called 'Joyce James' – which was the reverse of the writer 'James Joyce.' Joyce James' life became 'The Portrait of the Artist as a Young Pornographer.' During the week, I was very much the observer. And then I'd go back up to Westchester, and I'd go to the La Leche League meetings, and I'd go teach college, and I'd take my baby to Rye Playland, and we'd play in the sand and ride the ponies. And my son had a perfectly normal childhood because he was never near any of what I did in the city.
After a while, I thought: this is actually fun. I feel safe here.
*
Cinema Blue: The Complete 1984 Issues
February 1984 (Vol 1, No. 1)
(click on cover to view full magazine)

Cinema Blue contents:
– Shauna Grant: Discovery of the Year
– Pleasure Channel, bu John Christopher, with Jerry Butler
– Virginia (1983), with Paul Thomas, Shauna Grant
– Piggy's (1983), John Christopher's on-set diaries
– Reel People (1984) by Anthony Spinelli
– Body Talk (1984), with Angelique Pettyjohn
– Bodies in Heat (1983), with Annette Haven, Lisa DeLeeuw
– Undercovers (1982), by Ann Perry, with Samantha Fox
____________________________________________________________
March 1984 (Vol 1, No. 2)
(click on cover to view full magazine)

Cinema Blue contents:
– Flesh Pants (1983), with Tanya Lawson, Athena Star
– Caught From Behind (1982), on-set report
– Daddy's Little Girls (1983), with Tigr, Sharon Kane
– Deva, Porn's newest star
– Summer Camp Girls (1983), with Kimberly Carson, Shauna Grant
– Lee Carroll, photo layout
– Sex Games (1983), with Nicole Black, Shauna Grant
____________________________________________________________
April 1984 (Vol 1, No. 3)
(click on cover to view full magazine)

Cinema Blue contents:
– Nasty Nurses (1984), with Janey Robbins, Kay Parker
– Golden Girls (1983), with Rachel Ashley, Shauna Grant
– G-Strings (1984), by Henri Pachard, with George Payne
– Lady Lust (1984), with Edy Williams, Annette Heinz
– Kimberly Carson profile
– Hot Pursuits (1983), with Annette Haven
– Glitter (1983), by Roberta Findlay
– Eat At The Blue Fox (1983), with Kitten Natividad
– All American Girls II: In Heat (1983), with Shauna Grant
– Caught From Behind II (1983), with Angel Cash
____________________________________________________________
May 1984 (Vol 1, No. 4)
(click on cover to view full magazine)

Cinema Blue contents:
– Aphrodesia's Diary (1984), by Radley Metzger, with Dominique Saint Claire
– Getting Ahead (1983), with Angel Cash
– Corruption (1983), by Roger Watkins, with Jamie Gillis
– Public Affairs (1983), by Henri Pachard, with Annette Haven
– Cassandra Leigh profile
– Office Fantasies (1984), with Eric Edwards
– Doing It! (1982), with Lili Marlene, Drea
– White Hot (1984), by Carter Stevens
– Yes, My Lady (1984), by Fred Lincoln with Tiffany Clark
____________________________________________________________
June 1984 (Vol 1, No. 5)
(click on cover to view full magazine)

Cinema Blue contents:
____________________________________________________________
July 1984 (Vol 1, No. 6)
(click on cover to view full magazine)

Cinema Blue contents:
____________________________________________________________
August 1984 (Vol 1, No. 7)
(click on cover to view full magazine)

Cinema Blue contents:
– Body Girls (1983), by Bob Chinn with Hyapatia Lee
– Desiree Lane profile
– Pussy Galore (1984), by Henri Pachard with Honey Wilder
– Brooke Fields profile
– Bridgette Monet profile
– Sex Star (1983), with Danica Rhae
– Show Your Love (1983), with Sharon Mitchell, Joanna Storm
– Stud Hunters (1984), by Suze Randall with Misty Regan
– Throat… 12 Years After (1984), by Gerard Damiano
– Surrender in Paradise (1985), by David I. Frazer, Svetlana
– Bodacious Ta-Ta's (1985), with Kitten Natividad
____________________________________________________________
September 1984 (Vol 1, No. 8)
(click on cover to view full magazine)

Cinema Blue contents:
____________________________________________________________
October 1984 (Vol 1, No. 9)
(click on cover to view full magazine)

Cinema Blue contents:
____________________________________________________________
November 1984 (Vol 1, No. 10)
(click on cover to view full magazine)

Cinema Blue contents:
____________________________________________________________
December 1984 (Vol 1, No. 11)
(click on cover to view full magazine)

Cinema Blue contents:
*