In 1976, Deep Throat (1972) went on trial in Memphis in a high-stakes showcase event.
The U.S. government contended that Deep Throat was obscene because of its depiction of oral-genital sex. Defense lawyers argued that the case was an attack on freedom of expression.
The affair was high-profile as well as high-stakes: the world's media descended on the courtroom, the lawyers became semi-celebrities; even Jack Nicholson was due to speak in defense of artistic expression – until the judge ruled his testimony inadmissible.
In actual fact, it was 12 men who went on trial. The film's producers, suspected mobsters, distributors, and theater agents, as well as its male star, Harry Reems.
Since the trial, nearly every defendant has died. The Rialto Report interviewed one of the few survivors, 'Deep Throat' distributor, Anthony Battista, to find out what really happened.
For more information about the life of Anthony Battista – and his family, read The Pornographer's Daughter by his daughter, Kristin Battista-Frazee.
————————————————————————————————————————————–
1. Distributing 'Deep Throat'
Where were you working in the early 1970s?
I was a stockbroker in Philadelphia, working at a company called W.E. Hutton.
So no involvement with the adult film industry?
I had an investment in a theater in Florida, the Premiere, with an old college friend, Tony Arnone. It played adult films.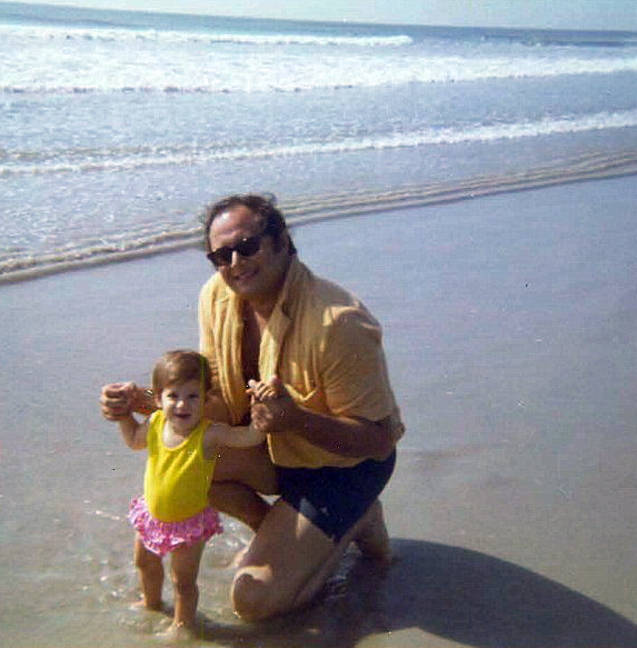 Anthony Battista, and his daughter Kristin
Is that when you first came into contact with Deep Throat?
Yes, Deep Throat played at the Premier when it was first released. It did well there.
How did you get involved in distributing 'Deep Throat'?
My business partner, Tony, had been doing business with the Peraino family. They were looking for people to help them distribute the movie in the northeastern states.
What was the nature of Tony's business dealings with the Perainos?
Tony had become tight with them in the early 1970s when he was building his adult theater business in South Florida. Then, when 'Deep Throat' broke, he helped them create a national network to distribute it.
How did Tony do that?
He found theaters all over the country to book 'Deep Throat', and he would arrange for the prints to be shipped to those theaters, and for the proceeds to be collected.
Tony also looked out for bootleg copies of 'Deep Throat' that were being shown in theaters that were not 'authorized' by the Perainos.
What happened if anyone did that?
You don't ask questions. But you probably don't hear from them anymore.
There was this one guy called Bobby DeSalvo in Fort Worth. Tony found that Bobby had been showing an unauthorized copy of Deep Throat there. So Tony told the Perainos about Bobby. And the Perainos paid a visit to Bobby. Everyone feared for Bobby, but then something strange happened: the Perainos couldn't believe that Bobby had stood up to them; that he had challenged them. They ended up making Bobby a partner in their national distribution network.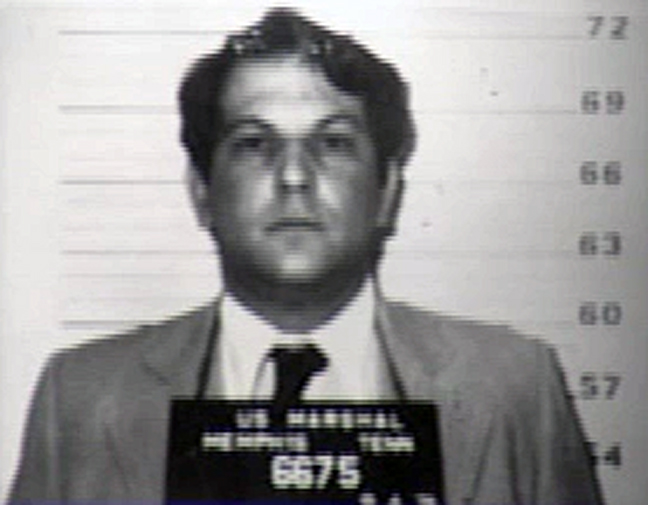 Bobby DeSalvo
Who were the members of the Peraino family that Tony dealt with?
Lou Peraino was the main guy you dealt with. He was producer of 'Deep Throat.' He used the name 'Lou Perry' for that film, but everyone called him Butchie.
Anthony Peraino was Lou's father. Everyone called him 'Old Man.' He paid for the 'Deep Throat' production. The money for it came from 'Old Man.'
And then there was Lou's uncle, Joe Peraino. He was the guy behind the distribution. Big guy. Everyone called him 'The Whale'. He was over 300 pounds.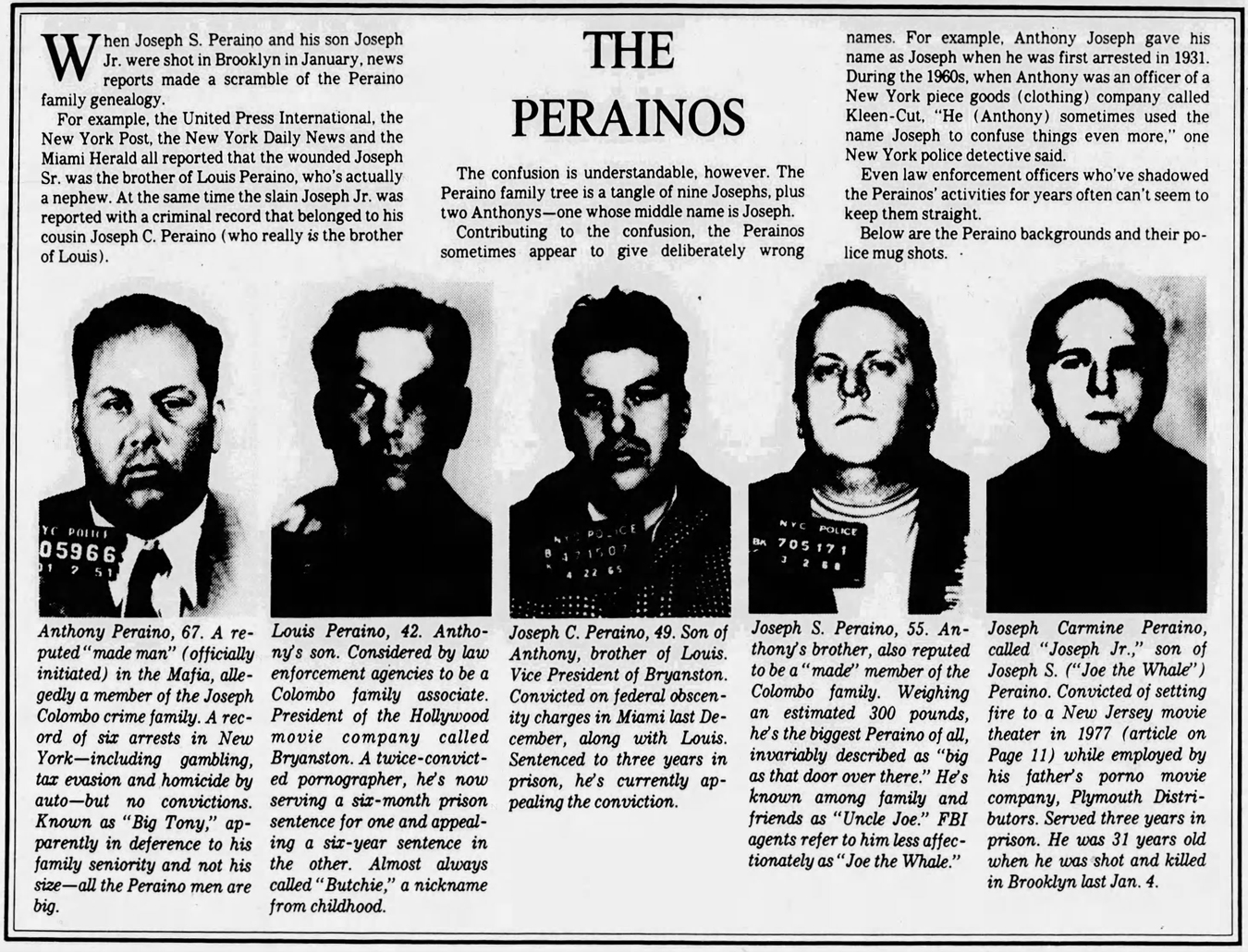 Did you know how connected the Perainos were to the New York mob?
No, but you just assumed that they were. No one knew the details but you didn't ask questions.
There was a menace to the Perainos, and they were unpredictable. I wasn't afraid of them, but there was a threat of violence. They could be difficult.
The smart wise guys didn't get involved in pornography. That was delegated to the family members who weren't too intelligent. I used to say the Perainos were like 'The Gang That Couldn't Shoot Straight' – but you knew there was a lot of muscle behind them, so you didn't want to cross them either.
What was the distribution offer that your friend, Tony, made to you?
He said that Lou Peraino needed distributors in the northeast. They were looking for people who could set up deals with theaters for them. In return you'd get 5% of the gross from all the theaters where you booked it.
Had you seen 'Deep Throat' at this point?
Sure. I didn't like it much. It was a strange movie. The main actor, Harry Reems, was pretty good, but the whole thing was wacky and not sexy at all.
Were you interested in the offer to distribute 'Deep Throat' in the north east?
I figured I could do it in my spare time while working my day job as a stockbroker, and the extra money would be useful. So I said yes.
Did you have any concerns about any legal problems?
I didn't pay much attention to whether the film was considered obscene or controversial. I would only book the movie into the north east. These were large, modern cities. We're not talking the deep South, which was religious and had a less liberal approach.
I couldn't see how I would get into difficulties.
How did you start to distribute 'Deep Throat'?
I started almost immediately. I got a list of the theaters that would be interested and made phone calls from my stockbroker's office.
Was it difficult to keep both jobs going?
It was a lot of work. I worked long hours, and some days it was nearly all 'Deep Throat.'
Where did you book it at first?
I did pretty well getting it into small theaters. But I wanted to get some publicity by booking it into larger theaters. I knew that would open the door to more theaters.
I chose the Midtown Theater in Philadelphia, downtown on Chestnut St. It had 900 seats, and was one of the classic theaters in the city. It was where I took my future wife on our first date.
'Deep Throat' had already played at Theater 1812, also on Chestnut Street, a year earlier, and barely anyone noticed it. So I was confident we wouldn't have problems if we got it into the Midtown.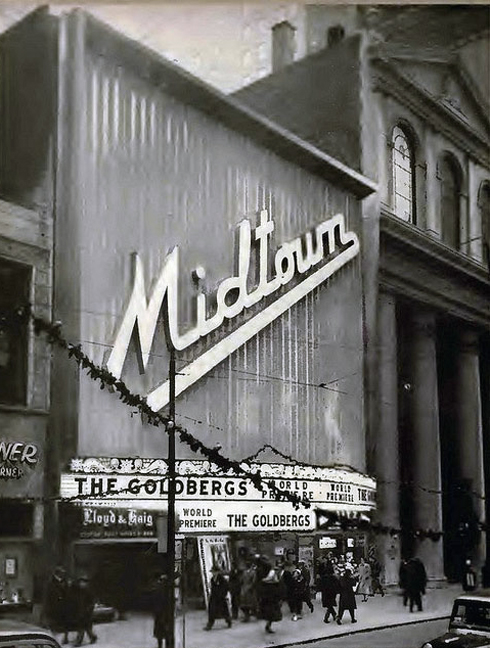 Midtown Theater, Philadelphia, 1950
How did you approach a big-name location like the Midtown?
The Midtown was part of the BudCo chain of theaters, so I called the booking agent for BudCo. A guy named Mitch Goldman. Mitch liked the idea, but he knew we'd have problems with the Midtown owner, a guy named Claude Schlanger, who was a strict German Catholic. Schlanger hated the idea.
But then they had a cancellation of a Hollywood picture, so they needed a replacement movie to fill the gap for a week. Schlanger relented and took 'Deep Throat.'
Simple as that?
Not really. I wanted to charge $5 for a ticket. I knew that was a high price because regular movie tickets were only $1.50 at the time. But I thought that theatergoers would be too curious about the film to care about the ticket price. Schlanger hated the ticket price idea as well, but we eventually convinced him to charge $4.
The second problem was that the Perainos always insisted on being paid in cash. They would hire 'checkers' – these were guys who stood by the ticket office of every theater and counted the number of people buying tickets for 'Deep Throat.' At the end of each night, this same guy would calculate and demand the exact amount of cash he was owed – and he'd take it to a local safe house. This process was called 'sweeping.'
The problem was Schlanger only paid distributors by check.
How was that resolved?
Bobby DeSalvo intervened. He liked the Midtown Theater deal, so he convinced the Perainos that they should take a check each day from Schlanger instead of cash. He said that Philadelphia was an important city for them, and that the Midtown deal would help them establish credibility there.
He was right.
When did 'Deep Throat' open at the Midtown?
It was in January, 1974. I remember because it was a freezing cold day… and the lines stretched around the block. All nine hundred seats were full. It grossed $73k that week, breaking the previous record of $40k for 'The Sound of Music.'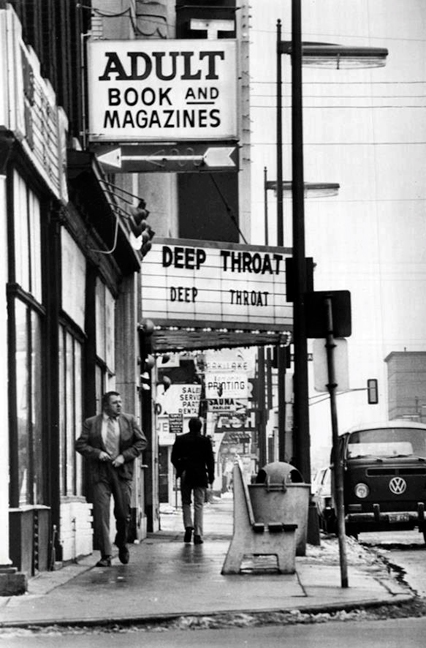 How long did it play there?
Nine weeks, and it grossed an average of $50k each week.
My salary at W.E. Hutton was $40k a year, and in the first year, I earned an additional $30k.
Did the Midtown booking open the doors to other theaters as you'd hoped?
Yes. The BudCo booker, Mitch Goldman, moved it to other BudCo theaters in town, such as the Goldman Theater on Fifteenth and Chestnut, and then to BudCo theaters in Plymouth, Wilmington, Delaware and other cities.
By now I wasn't chasing theater owners, they were chasing me!
And all this time you stayed working as a stockbroker?
Yes. I did hire my uncle, Ercole DiColla, or Uncle Coke as we called him, to be a checker and a sweeper for 'Deep Throat.' Uncle Coke picked up prints in New York in his suitcase, and deliver them to theaters. Then at the end of the night, he would pick up the cash proceeds and deliver the film prints and the cash to my house.
I stored the film reels for Deep Throat at my home in Philadelphia, under the bed or up against the wall. I had piles of bills everywhere too, but I was always very careful in accounting for everything.
What would you do with all the cash?
Bobby DeSalvo would arrange for us to fly down to the Peraino's office in Wilton Manors, Fort Lauderdale twice a month. Lou Peraino had a son-in-law down there, Mikey Cherubino, who would collect the incoming cash from all over the country, and ship it by truck back to the Peraino's office in Brooklyn.
I remember going to the Wilton Manors office once, and on several occasions, they unlocked the door for us but it wouldn't open. That was because there was a mountain of banknotes behind the door jamming it closed. That place was swimming in cash.
Why did you ship the money down to Florida, only for it to be shipped back to Brooklyn?
To mislead the FBI. They were often watching us so we took the money in the opposite direction to where they expected it to go.
Did you ever go up to the Peraino headquarters in Brooklyn?
No. Never went there. It was just Bobby DeSalvo who met the Perainos there.
*
2. Arrested for 'Deep Throat'
When did you start having legal problems relating to distributing 'Deep Throat'?
July 1974. I was arrested for conspiracy to violate federal obscenity laws by transporting the film Deep Throat to Memphis, Tennessee.
How did the arrest take place?
I was arrested at my office at W.E. Hutton. They came in and handcuffed me, and walked me out.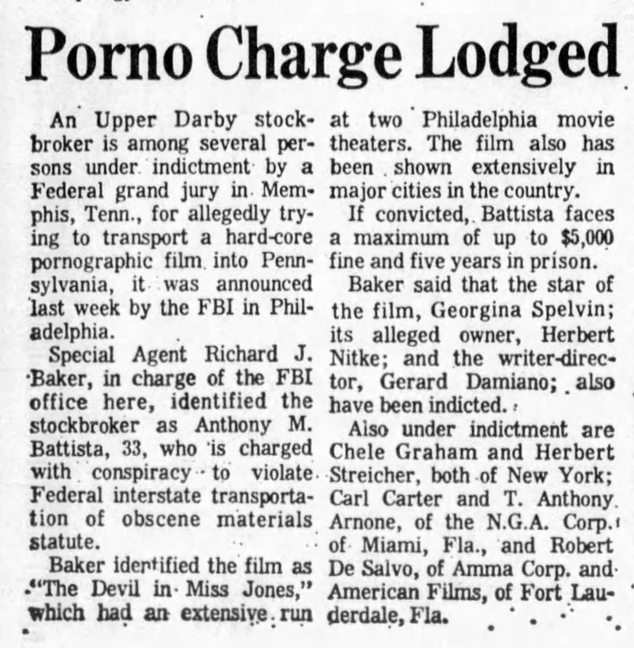 Did you make bail?
Yes. I was released on a $10k bond on condition that I'd report to Memphis for the trial. As soon as I got released, I rushed back to the office to explain what had happened, but I was fired when I got there.
I found out that Bobby DeSalvo and Tony Arnone had been arrested the same day.
How worried were you?
To be honest, I wasn't that concerned by the trial. I knew that I hadn't distributed 'Deep Throat' to any theaters in Tennessee, so at first, I figured there must have been some mistake. I knew I hadn't broken any laws in Pennsylvania. I hadn't ever been to Memphis either so I was confident of acquittal.
While you were waiting for the trial, how did you earn money? Without your day job as a stockbroker, I imagine the legal costs would have been expensive, for example.
The arrest was big news in the newspapers, and I knew that no one would hire me because of that. It was strange in a way… because Deep Throat was the source of the legal problems, but it was suddenly also my only source of income. So I redoubled my distribution efforts, and made calls to all the theaters to get them to show 'Deep Throat.'
While you were waiting for the Memphis trial, didn't you buy a night club in Philadelphia?
Yes. I had a client named Tommy Rizzo who had shown 'Deep Throat' at the Locust Street Theater in town. Tommy wanted to expand into live entertainment – strippers, burlesque – and he needed a partner and investor.
I agreed to invest $15k. It was a strip club in a bad area of town at 1233 Locust Street. We called it the 'Golden 33.' We opened it on Labor Day weekend in September 1974. We did all the furnishing and hired the girls from Wanted Ads in the local newspapers.
Did you have an alcohol license?
No, it was a bottle club. That meant we sold glasses with just ice or soda for $5 a glass. Customers supplied their own alcohol.
In fact, on the second night, I served whiskey to a few people, and I was approached by this guy to whom I'd just given a glass of soda. He said: "You're under arrest for selling alcohol without a liquor license." Tommy, me, and a few girls were arrested and taken to the station.
We got out of that one.
Did you hire any of the newly famous adult film actresses as featured acts at the club?
A few. I remember Tommy hired Honeysuckle Divine. She did this notorious act whereby she shot ping pong balls out of her pussy – and other things. Al Goldstein was making a movie called Screw on Screen (1975) – and he wanted to feature her act in the film. He was looking for a venue to film her act, so we arranged for the shoot to take place at the Golden 33.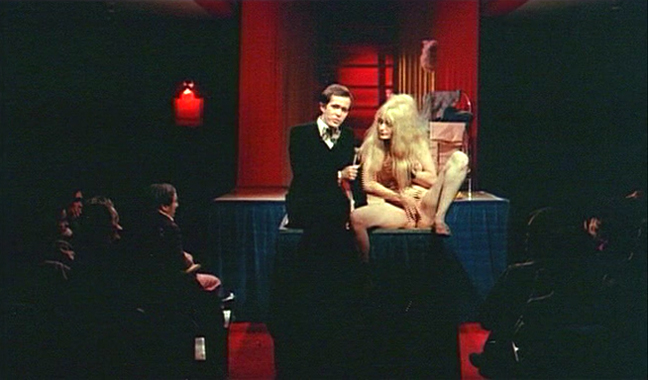 Honeysuckle Divine, in 'Screw on Screen', onstage at the Golden 33
When she came to town, her act got a lot of publicity: she was on the evening news and all over the newspapers. I was nervous in case the cops busted us for obscenity. With all of the legal issues that I was having, I decided not to be at the club on the nights when she performed her act.
Sure enough, on the first evening, Tommy was arrested with Honeysuckle for open lewdness – and I was arrested as co-owner of the club the next day. The rest of their shows were canceled.
The court battle took years. They even brought up the ping-pong balls as evidence.
It was a sign of how strange those days were: while Honeysuckle Divine waited for the courts to decide if she was obscene, she was returned to appear at the Golden 33. She was religious too: she attended St John the Evangelist Catholic Church to pray for her success in court each day.
It ended up working out for us. The publicity over the bust meant we doubled the price of the admission to her show, and the case was eventually dropped in June 1976 because her acts were not considered sexual.
Did you acquire any other adult theaters?
In February 1975, I opened the old RKO Theater at 16700 North Board St as The Lane Theater. That was specifically to show 'Deep Throat' and Devil in Miss Jones (1973).
But there was local resistance about The Lane, and we had to shut it down in Summer 1975, mainly due to the community protests. People didn't want to come. We tried strippers, mainstream movies, but nothing worked.
But Golden 33 and Premier were still doing well, so I was earning a good income.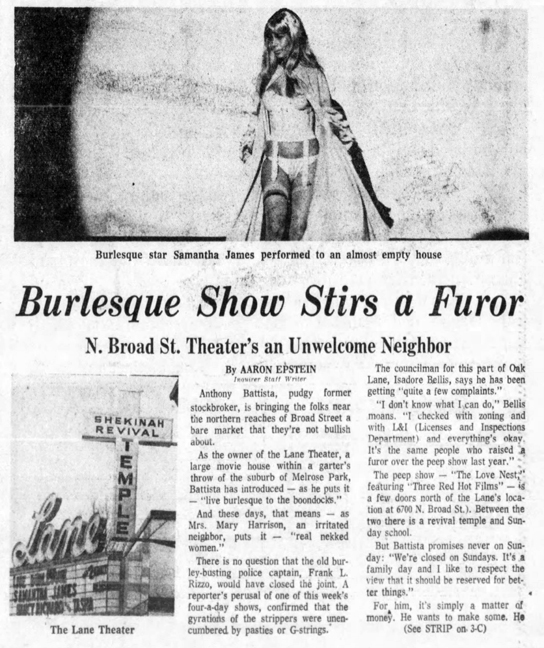 *
3. On Trial for 'Deep Throat'
The 'Deep Throat' case eventually came to trial in 1976.
Yes. In February 1976, I flew to Memphis to attend pre-trial hearings. I had stopped distributing Deep Throat in the lead-up to the trial. I didn't want to make life more difficult for myself.
You said that when you were first arrested, you thought there was perhaps a mistake because you had never been to Memphis, nor had you distributed the 'Deep Throat' there: but here you are flying to Memphis to prepare for a major trial?
I saw all the other people involved and I couldn't understand why I was being charged. I was on trial with all the heavy hitters from the movie and its distribution: There were 12 of us together – including Lou Peraino, his father Anthony 'Old Man' Peraino, his uncle, Joe 'The Whale' Peraino, the movie's star Harry Reems, Bobby DeSalvo, Mikey Cherubino, and my old friend and business partner, the guy who had got me into the distribution network, Tony Arnone.
Finally Bobby DeSalvo explained I was charged because Tony Arnone had used a company that I was President of. It was a company called AMMA Corporation we'd set up years before 'Deep Throat' to help him open new theaters in Florida. He figured he needed an out-of-state address because the cops would find it more difficult to shut down. At the time, he asked me to be the President of AMMA so I accepted – and thought nothing of it. That same company was used as a front to distribute 'Deep Throat.'
How did that make you feel?
How do you think? As a result of that, I was on trial with a group of mobsters.
What do you remember about you legal team?
We each had our own representation. I chose a local Memphis attorney named Phillip Kuhn. He looked like Abraham Lincoln. The prosecutor was Larry Parrish, a fundamentalist Christian. They called him 'The Memphis Heat.'
What do you remember about the trial?
The first shock was that Bobby DeSalvo had disappeared. Vanished completely. And he has never been seen since then.
What did people think happened to him?
I don't know anything. Some said that he'd been whacked in the UK. The Perainos owed him some money there, and apparently, he went there to collect. No one ever heard from him again.
The trial drew a lot of attention.
Oh yes. The local newspapers were full of it. The courthouse was packed. Harry Reems got most of the attention.
It started at the beginning of March 1976 – and we didn't expect it to last long. But as soon as it began, the prosecution introduced all manner of experts, and we realized it was going to take a while.
The Jury consisted of eight women and four men – and they all looked like they were going to church on Sunday. I remember my attorney said that there were fewer African American women on the jury because they supposedly hated oral sex.

Did you try and distance yourself from the Perainos and the other mob-related figures?
The problem was that we were all being tied together. The Perainos were described by their attorneys as "good Italian boys from New Jersey." The prosecutor painted them as violent thugs. Gerard Damiano, the film's director, was described as having sold his share of the film for $25,000 to the Perainos.
Uncle Coke appeared as a witness to the prosecution, and described his work as a checker and sweeper of money and film reels.
I was described as being a major part of the distribution network with Tony and AMMA Corporation. I confronted Tony about using my name as president of AMMA. This was mentioned many times during the trial. He said there was no proof that AMMA was why I was arrested.
In the end, I didn't think that the trial was achieving anything. It was a show trial, a spectacle, an invasion of people's privacy. It was guided by religious extremism.
What do you remember about the verdict?
It came two months later, at the end of April 1976. We were found guilty on all obscenity charges and nationwide conspiracy to distribute 'Deep Throat' in Memphis.

What happened next?
The sentencing and appeal were dragged out for years. My lawyer said it was good because times were changing – and that would help our case, but I was still uncomfortable having this hanging over me. In the meantime, Larry Parrish was trying to get us defendants to pay the cost of the trial. That was estimated to be around $500,000.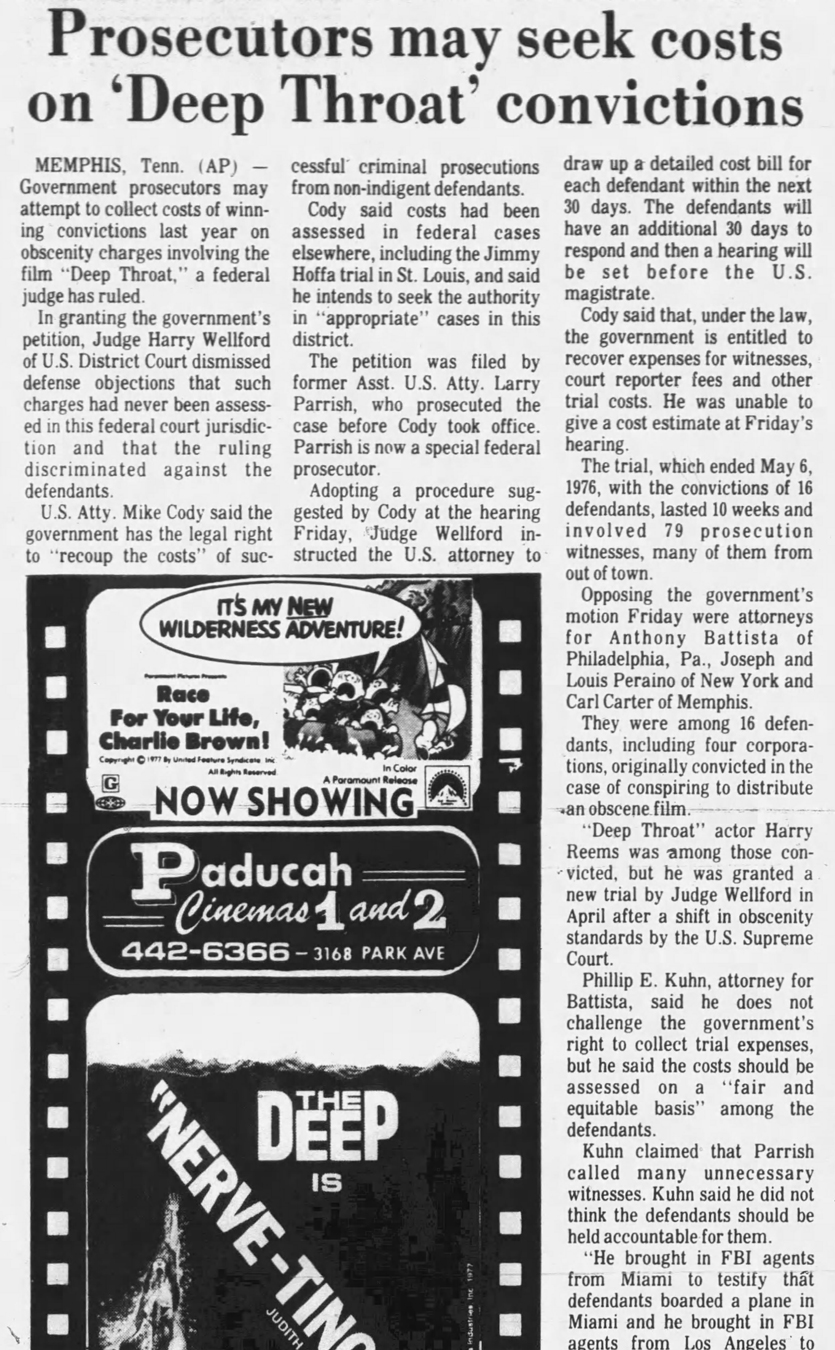 It was complicated by another 'Deep Throat' court case that was taking place in Kentucky at the time, against theater owners who were being prosecuted for showing the film. The basis of that case was that as 'Deep Throat' had been made before the Supreme Court Miller ruling about obscenity, then these obscenity convictions should be overturned.
Yes, we had to wait for the verdict of that case. But when the result came through, all our convictions were upheld, except for Harry Reems' conviction. That was overturned.
And what was the sentence?
I was sentenced to four months in prison and a $4,000 fine. I was on probation and barred from dealing with obscene material. Tony got five months and $6,000 fine.
Along with the rest of the defendants, I appealed.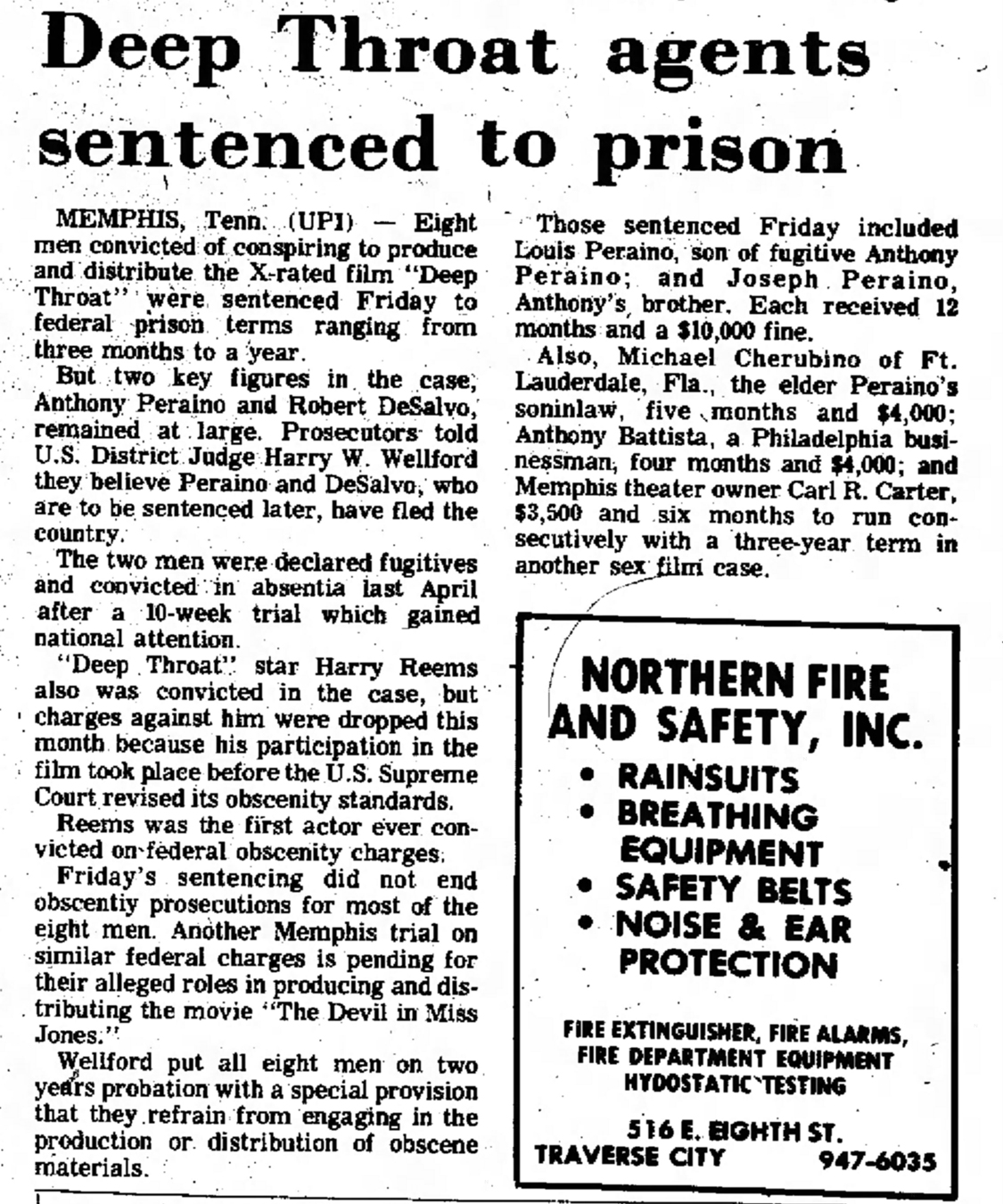 What did you do while you awaited the appeal?
I moved to Fort Lauderdale in 1977 and bought three adult theaters in Florida. I was still managing the Golden 33 as well.
Was Florida an easier state to operate in?
Not really. Not long after we got there, my wife noticed a guy in a suit going through our trash. Sure enough, in August 1977, I was indicted by a grand jury in Fort Lauderdale for distributing obscenity.
How did that happen?
There was a company called Spectrum Design, which was a film warehouse for storage. This warehouse was raided and 245 films were seized. Evidence was taken from my trash that linked me to Spectrum.
You had been prohibited from dealing with obscene material as part of the 'Deep Throat' sentencing. So what was the impact of this latest arrest?
Larry Parrish, the prosecutor, loved it. He said that it was evidence that I had violated my probation and I was a danger to my community. Go figure.
So now you've got two trials: the 'Deep Throat' appeal and the Fort Lauderdale bust?
Yes. The Fort Lauderdale trial came first in March 1978, and I was found guilty. The sentencing was delayed because the Deep Throat convictions were still under review.
In July 1978, the 'Deep Throat' convictions were reversed and a new trial was ordered for the remaining 11 defendants. We tried to get the venue changed back to New York, but no luck.
That new trial started in November 1978, and we all went back to Memphis for five weeks.
Then in December 1978, I was convicted again, and this time, I was fined $2,000 and sentenced to two years in prison, with all but four months suspended. We appealed the decision to the Supreme Court, but on November 9 1981, the court refused 7-2 to review the case thereby upholding the convictions.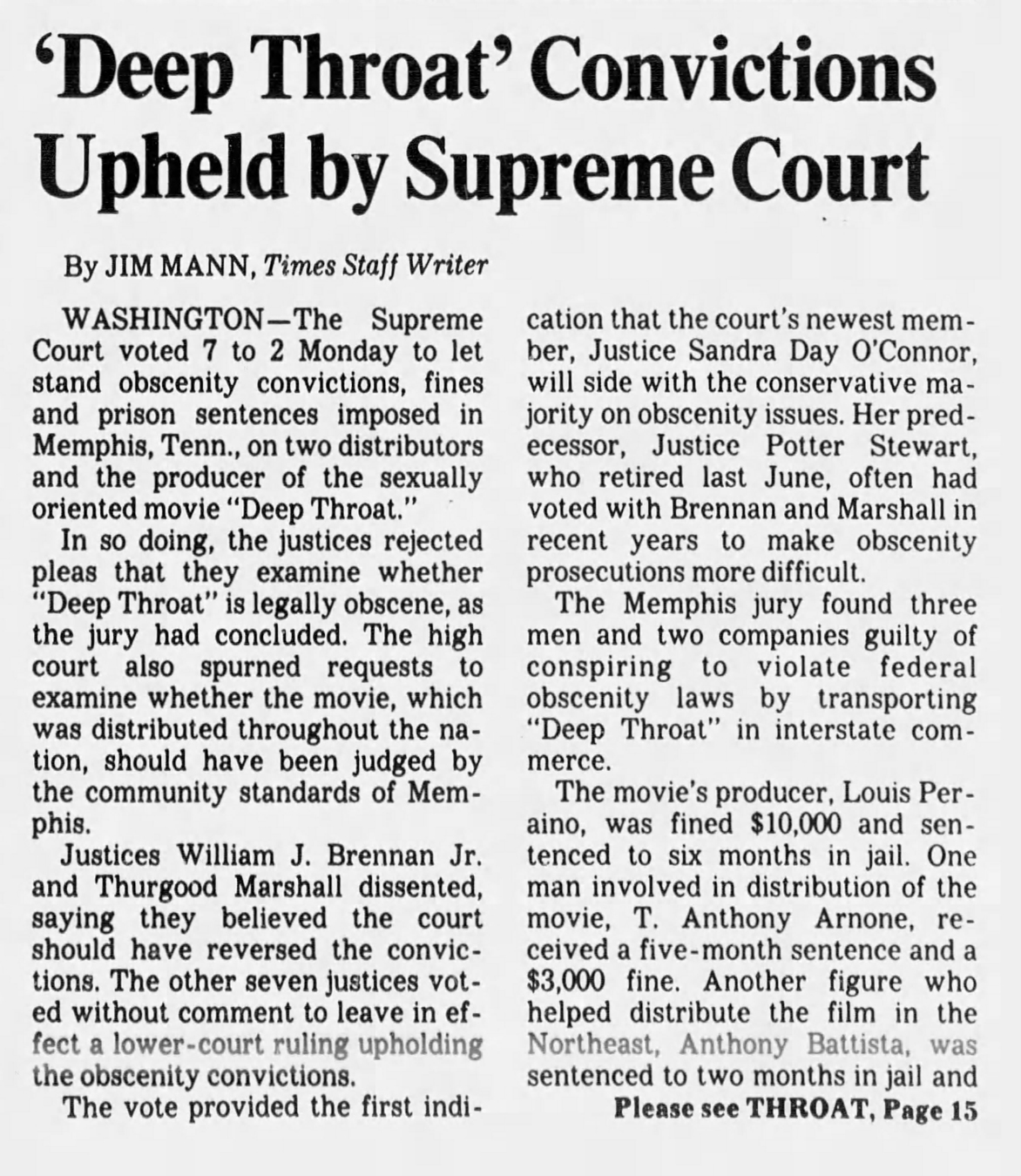 How do you look back on the 'Deep Throat' years?
It had highs and lows. I worked each day like it was my last, and my businesses did well.
But I remain convinced that the court cases served no useful purpose to society. They wasted time and money that could have been used to tackle much more urgent issues. It was frustrating because they tried to make examples of us, but instead they exposed the hypocrisy of society.
Society became freer and more open, but what concerns me now is that in places like Florida, the state in which I still live, I see a return to the hypocritical and repressive ways that I thought, and hoped, we'd left behind.
*