We look back at the east coast publication High Society by reviewing the magazine's second year in business – 1977 – and our unpublished interview with Gloria Leonard, who took over as the magazine's 'publisher' during the year.

How did an adult film star come to be involved in publishing a major men's magazine?
These issues include photo spreads with Dyanne Thorne, Sharon Mitchell, Bettie Page, Clea Carson/Loren Michaels, Wendy O. Williams, Serena, Kelly Nichols, Samantha Fox, Annie Sprinkle and Luis 'Short Stud' De Jesus, Nancy Dare, Marlene Willoughby, Jean Silver, Elda Stiletto, and Alexandria in the Psycho Ward. They also include articles on Tiny Tim and Harry Reems Celebrity Defense Fundraiser, and features on films such as Blowdry (1977), and much more.
Fully digitized copies of each 1977 magazine can be found in the article below. You can find The Rialto Report's growing collection of digitized resources by choosing Library in our site menu. 
Click on the covers below to access the full magazines. Due to the fact that the magazines are scanned in high definition, allow time for each page to load. If you are viewing on a phone, view in landscape orientation.
Magazines are fully searchable; use the icon displayed in each magazine to search by keyword.
Publications are being shared here purely for the purpose of research. They should not to be used or reproduced for any commercial gain.
_______________________________________________________________________________________________
High Society – An Interview with Gloria Leonard
The Rialto Report met with Gloria on several occasions from 2005 until her passing in 2014 – each time interviewing her about a different part of her varied life.
The first time we spoke with her, we asked her about her role in High Society. We took several copies of the magazine to show her – which she admitted she hadn't seen for many years.
Surprisingly, she said it was the first and only time she'd been interviewed about getting into the magazine business.
This is an extract from that interview.
*
Before we discuss High Society, let's put some context on where you came from: what is your family background?
I was the last of four children, and when I say the last of four, the sister closest to me was married and gone by the time I was five – so for the most part I grew up sort of like an only child.
Where did you grow up?
The Bronx, though I knew that I didn't belong there from an early age. As soon as I was 18, I was out of there and as much as I loved New York, moved to California where I stayed for a couple of years. But I missed New York dreadfully and so I came back. That would be the late 1960s. I'm the quintessential Native New York babe.
What do you remember of the city when you moved back?
New York now versus New York at that time is like a tale of two cities. Back then people wanted to have a good time and have fun – that meant going out. The 1970s were the beginning of the disco era which had a lot to do with how people celebrated and partied. It changed the complexion of New York City – in that people who didn't normally go out on a Friday or Saturday night were now going to clubs like Regine's, which was a posh disco in the Hotel Drake. Of course then came Studio 54 and a couple of others like it. It was great fun, and there was a lot of sex, drugs, and rock n roll. It was a wild and crazy time; it was kind of like the Wild West but in the Wild East.
Ultimately I think the birth control pill had the most to do with a more liberal attitude towards sex because both women and men were always terrified of a pregnancy. Once the pill came along, it gave women the ability to explore things that perhaps otherwise they would have been reluctant to do.
What was your working life before you became involved in the adult industry?
I was divorced, raising a child on my own, doing the 9-5 thing as best I could. I toiled at a variety of careers and jobs, from working as a secretary and a waitress to being a publicist where I used to represent Johnny Carson.
I can't for the life of me actually remember the person who introduced the idea of appearing in a porn film to me, but I thought jeeze… the money sounds great, you know? I mean in those days $200 dollars a day was big money. At first I appeared in films while I juggled my 9-5 job, but I got offered more and more film work as word spread quickly between producers and directors. I was getting calls from just about everybody. Some I turned down, some I didn't. There were some that I wish I did turn down, there were some films I appeared in that I'm very proud of, and there were others that I wish I could crawl under this couch when I think about them.
I entered this business perceiving myself to be an actress in a film that happens to have sex in it. I had done some straight acting work as well, and acting with sex wasn't any different than other acting. Sex is a natural thing that people do.
You were considerably older than most other actors at the time.
Yes. In fact I was somewhat taken aback with how well I was accepted into the adult business because I was easily ten years older than almost every other woman. I was in my 30s when I got into this business and the prospect of becoming a so-called sex symbol was strange to me. I was raising a child at the time as well. I did explain it to my then 13-year-old daughter. I didn't do it arbitrarily: we sat down and talked about it before I actually performed for the first time. I explained to her that in the same way that there are films with comedy, and films with action, and films with crime, there are also films with sex. I told her I had been asked to appear in one of those. My daughter said, "Well Mom, you do whatever it is you need to do as long as its safe. But you must remember that you have to give me the same latitude when I grow up." And of course that's kind of difficult to argue with.
What do you remember about the men's magazine business in the mid 1970s?
A lot of those so called girlie magazines, or as we used to call them 'men's sophisticates', had been around for a long time, even before the adult film business came alive. But when porn films started to be popular, they were a rich resource of material for the magazine pages. Suddenly they're interviewing the stars or the directors, or featuring several pages with stills from a film. It was a great marriage of the print media and the film world.
Then of course, magazines started up that addressed nothing but the adult film business. My late husband Bobby Hollander created several of them.They were devoted solely to the people and the products of the adult business.
How did you get involved in High Society?
I was invited to do a column for High Society, which was easy work. I remember being described as 'Porndom's newest shining star'. I would write about life on adult film sets and erotic adventures offset.
One day, I received a call from Carl Ruderman, the gentleman who owner Drake Publishers, which put out High Society.
Carl had made an adult film actress named Sue Richards the titular head of the magazine. He gave her the title of 'Publisher' but in reality she was just a nominal figurehead to provide some glamor. Sue had done some films and was popular, but her behavior – particularly on the road representing the magazine – had become less than professional. The rumor was that she had a drug problem.
Carl called me to say that he'd dismissed Sue, and he wanted to discuss me taking on her role. We met for lunch at the Palm. I made it clear that if I was to take on the mantle of publisher of the magazine, I would expect to be 'hands-on' and compensated accordingly. Carl was skeptical, but I showed him where I could add value – I had contacts, I could write, I was a good spokesperson, I knew how to deal with difficult people, and I was commercial – and he eventually agreed.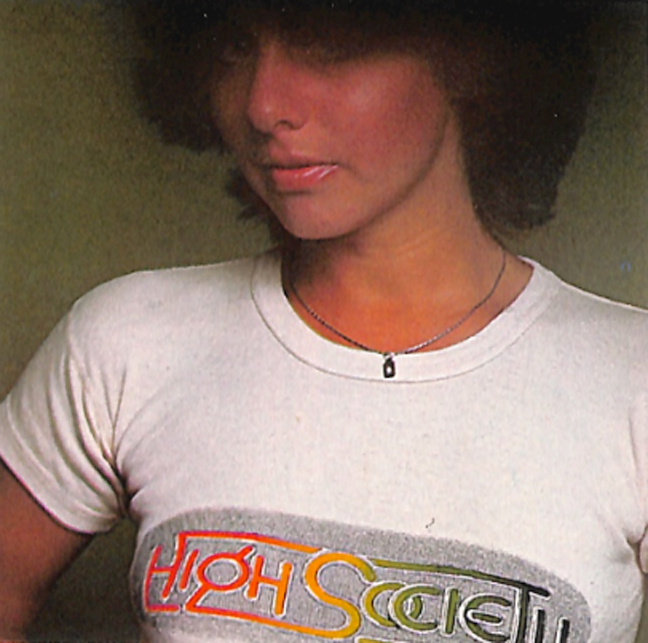 Sue Richards
There was a big party to celebrate your new role…
Yes! We had a party at Regine's with seven hundred people. Reggie Jackson was there – and that was the year that the Yankees and Reggie Jackson had kicked butt. He was hot and it was a great party. I have a lovely photo of me and Reggie Jackson whispering to one another. We also hired all the lookalikes in New York for that particular party, such as Barbra Streisand, Liza Minnelli. We took pictures of them, and used them in our publicity.
I wore a gardenia in my hair for the party – which was very difficult to find because gardenias have a limited shelf life and so very few florists carry them. But it was important to me because I had long been a great Billie Holiday fan. Gardenias were her trademark and I wanted to pay tribute to her.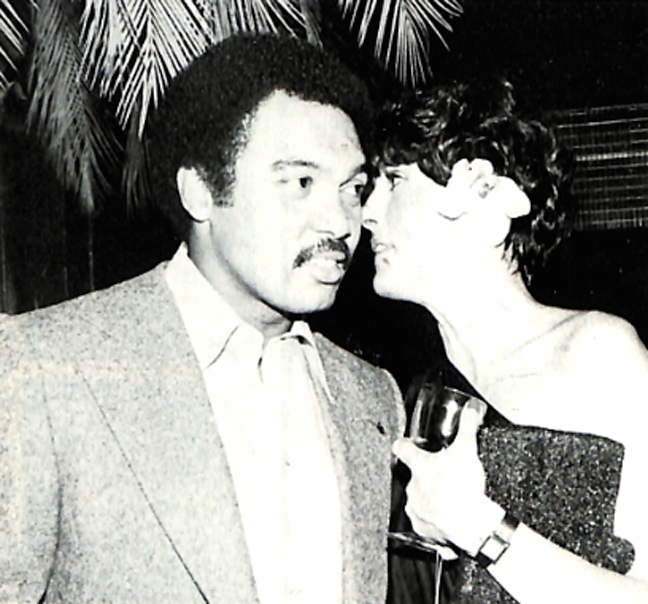 Gloria with Reggie Jackson
What did you see as your main responsibilities at the magazine?
From the start I wanted High Society to be much more than a sex magazine. I wanted proper articles, good fiction, cultural essays and so on. I didn't want it to be filled with endless pictorials of nude women. Of course, I wanted plenty of that too, because that was the raison d'etre of High Society – but I wanted to do more.
I wasn't alone in having that vision: people like Al Goldstein and Larry Flynt had the same desire to shake up society and challenge the way people thought. I saw myself as being part of that group.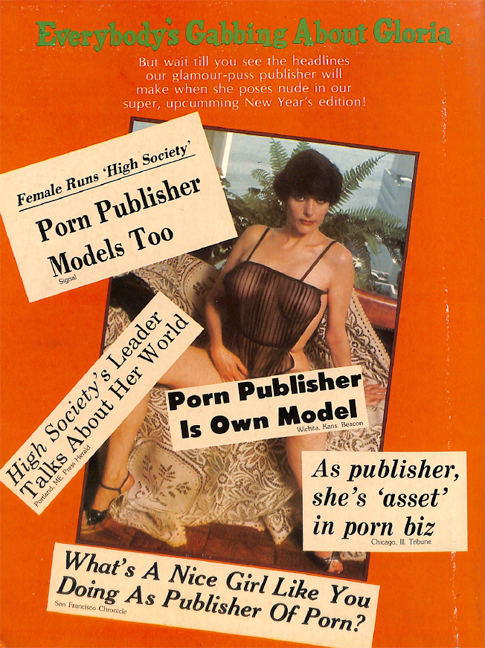 What was your level of involvement in the magazine?
I was very much engaged in the day to day running of that operation. I did everything from writing blurbs and captions for photos to writing cover lines on the front, to doing interviews. I also oversaw the shoots of the centerfolds.
I traveled back and forth across the country looking for stories, and writing articles. One of the favorite things I ever did was go out to California where I joined a bunch of people who skydived naked out of airplanes. And I enjoyed going to one of those legal whore houses in Nevada and spending a day interviewing the girls there. I had a couple of photographers with me, and as a reward for their hard work I managed to get a session for each of them with one of their favorite ladies. We added it to the expense tab. Talk about job perks…
I didn't just contribute to the magazine. I went on the road and visited the different wholesalers who delivered High Society to the newsstands across the country. I would bring a carousel of slides and materials with me to show them what was coming up in the next issue so they'd invest in us. Then I'd go out and meet the drivers, the guys who delivered the magazine to the newsstands, and buy them coffee and donuts at 6am in the morning. I even went up to the printers occasionally and checked things out.
I was very involved.
What was your relationship like with Carl Ruderman?
It was good. He had no clear idea what he wanted to do with High Society, so he appreciated strong opinions and a can-do attitude – both of which I brought to the table.
The first year of the magazine had been characterized by high staff turnover and low morale, and that started to change when I became involved.
He was adamant about one thing though: there was to be no reference to his involvement anywhere in the magazine or in the press. The fact that I had a higher profile meant that I took the heat and the publicity away from him, and he appreciated that.
What do you remember about the first year that you were involved in High Society?
I wanted to make a mark, and ensure that people realized there was a new gal in town. So I went for broke. I didn't take prisoners.
With hindsight, I think that some of my decisions were a little… misguided. I took advantage of the power I had, and the end result wasn't always perfect.
But I have no regrets.
What are you referring to?
There were a few articles which caused controversy.
The first issue that I put out was in July 1977, and it was a 'Special Racism' issue. We wanted to poke fun at racial stereotypes in America – especially against black people. So we commissioned an outrageous comic strip, and there was a KKK sex pictorial in which the KKK members in robes were black women. Some people didn't see the funny side… We had serious articles in there too, but they were over-shadowed by the more offensive material. C'est la vie…
I wanted to show you some present-day copies of High Society – and get your reaction to them.
Wow… I haven't looked at any High Society magazines for decades…
(Looking at the masthead at the beginning of the magazine) Wow – so there is no more 'Publisher'?
(Looking at the first few pages) Wow, they really do hit you fast with all the porn stuff, huh? And the pictures are so explicit. Woah! TMI! I'm somewhat shocked to tell you the truth… These girls… pierced tongues… what is that about? There are too many photo layouts, not enough articles.
(Looking at the last pages) Its all ads, there's no real content – just sex…
This is nothing like the magazine that I edited. There's nothing counter-cultural about this.
It's sad, but life moves on, I guess. That's progress for you.
*
High Society: The Complete 1977 Issues
____________________________________________________________
January 1977 (Vol 1, No. 9)
(click on cover to view full magazine)

High Society contents:
– Gerry Damiano's discovery of Linda Lovelace
– The Mother/Daughter Hooker team
– Dyanne Thorne pictorial
– Gloria Leonard column
– Film reviews of The Affairs of Janice, Hot Nasties, Baby Rosemary
– Sex on the Subway pictorial
____________________________________________________________
February 1977 (Vol 1, No. 10)
(click on cover to view full magazine)

High Society contents:
– How the Porn Vote swung the election
– Blowdry (1977) preview
– One Fucked over the Cuckoo's Nest – the story of sex in mental asylums
– Sharon Mitchell pictorial
– Jean Silver, Alexandria, and Elda Stiletto in the Psycho Ward
– Clea Carson/Loren Michaels pictorial
____________________________________________________________
March 1977 (Vol 1, No. 11)
(click on cover to view full magazine)

High Society contents:
– X rated film reviews, including Peach Fuzz, The Spirit of Seventy Six
– History of Pornographics
– Richard Miler's Guide to Pimps
– Wendy O. Williams pictorial by Rod Swenson
– Rock n Roll orgy with Alexandria
– Harry Reems Celebrity Defense Fundraiser
– Nancy Dare and Marlene Willoughby Dracula pictorial
____________________________________________________________
April 1977 (Vol 1, No. 12)
(click on cover to view full magazine)

High Society contents:
– Tiny Tim interview
– X-Rated film reviews, including Blonde Velvet, Tapestry of Passion, The Starlets
– Bettie Page retrospective
– Sharon Mitchell pictorial
____________________________________________________________
May 1977 (Vol 2, No. 1)
(click on cover to view full magazine)

High Society contents:
– Annie Sprinkle and Luis 'Short Stud' De Jesus pictorial
– High Society party, with Marilyn Chambers and Sue Richards
– Jean Dalton pictorial
____________________________________________________________
June 1977 (Vol 2, No. 2)
(click on cover to view full magazine)

High Society contents:
– Suze Randall book release
– Investigation into Voodoo: the occult world of possession, sex and drugs
– X-Rated films reviewed, including The Autobiography of a Flea, The Porn Brokers, The Kink Ladies of Bourbon Street
– The sensuous art of eating ice cream
____________________________________________________________
July 1977 (Vol 2, No. 3)
(click on cover to view full magazine)

High Society contents:
– 'Special Racist Edition'
– Vintage erotica
– X-Rated film reviews, with Odyssey, The Garden of Beauty, Madam Kitty
____________________________________________________________
August 1977 (Vol 2, No. 4)
(click on cover to view full magazine)

High Society contents:
– Gloria Leonard takes over High Society
– Most Heinous Sex Crimes in History
– X-Rated film reviews, including Captain Lust, Sweet Taste of Honey, Heat Wave
– Violence on Japanese TV
– High Society Birthday Party with Jennifer Welles, Jamie Gillis, and celebrity lookalikes
____________________________________________________________
September 1977 (Vol 2, No. 5)
(click on cover to view full magazine)

High Society contents:
– X-Rated film reviews, including Desires Within Young Girls, Eruption, Bel Ami, Visions
– Marlene Willoughby pictorial
____________________________________________________________
October 1977 (Vol 2, No. 6)
(click on cover to view full magazine)

High Society contents:
– Watching XXX films in the privacy of your home
– X-Rated film review, including Sex Crazy, Cherry Hustlers, The Violation of Claudia
____________________________________________________________
November 1977 (Vol 2, No. 7)
(click on cover to view full magazine)

High Society contents:
– X-Rated film reviews, including Barbara Broadcast, Inside Jennifer Welles
– Hookers through history
– Serena home improvement pictorial
____________________________________________________________
December 1977 (Vol 2, No. 8)
(click on cover to view full magazine)

High Society contents:
– Kelly Nichols wrestling pictorial
– X-Rated film reviews, including Feelings, Big Thumbs, My Sex-Rated Wife
– Vintage erotica
– Samantha Fox pictorial
– 1978 Calendar
*