Michael Findlay was one of the most prominent of New York's sexploitation filmmakers in the 1960s. He and his wife Roberta specialized in early slasher films which contained sadomasochistic sex scenes.
In the 1970s, his career and personal life changed direction, as he separated from Roberta and became interested in developing a new technology for making 3-D films, before he was prematurely killed, at age 39, in a tragic accident on top of the iconic PanAm building in Manhattan.
The Rialto Report has spoken to those closest to him to piece together the story of his last year.
_______________________________________________________________________________________________
Roberta Findlay (filmmaker, wife of Michael Findlay):
Michael wasn't really interested in making dirty films: he just felt this compulsion.
I think what he really wanted to do was murder women, so he did it on film instead. Without the films he would probably have killed women for real. He was a troubled person.
Actually he was a big coward, so he probably wouldn't have followed through.
John Amero (filmmaker, Michael Findlay's best friend):
Mike was my closest friend after I arrived in New York.
In 1961 I was working for ABC, and one day I was met by an awkward, gangly young man. He was tall and wearing a shirt much too small for his 6' 2" frame. He was just standing there looking unhappy. I approached him and he anxiously replied "This is only my first day. I'm sorry but I really don't know anything."
He looked like he was about to have a nervous breakdown. Out of a combination of pity and curiosity, I introduced myself, and he told me his name was Mike Findlay.
Roberta Findlay:
Personally Michael was a very sweet guy. But he had his demons and was very crazy, and had a lot of problems.
All his brothers were the same. His older brother was a psychologist, who once told me: "The only difference between me and the mental patients I treat is the desk that I sit behind."
I blame their mother. A crazy Irish woman.
John Amero:
I invited Mike for a drink after work, and though he was painfully shy, we hit it off right away. It was clear that he had an enormous knowledge of and passion for movies so we talked endlessly about film.
Mike and I became fast friends, and we'd regale each other with stories about our favorite films, actors, and scenes. I quickly realized that while we both enjoyed many of the same movies, I liked the full spectacle of the show, whereas Mike was often more interested in the racier elements. He told me he'd once skipped school when Rita Hayworth's 'Salome' (1953) played at the Roxy Theater – he hoped, in vain, that he'd see a flash of nudity.
Roberta Findlay:
I moved in with Mike, and we got married. I was in love with him – for about 2 weeks. Somehow I stayed with him another 10 years.
I was crazy as well, so we were probably well-suited for each other.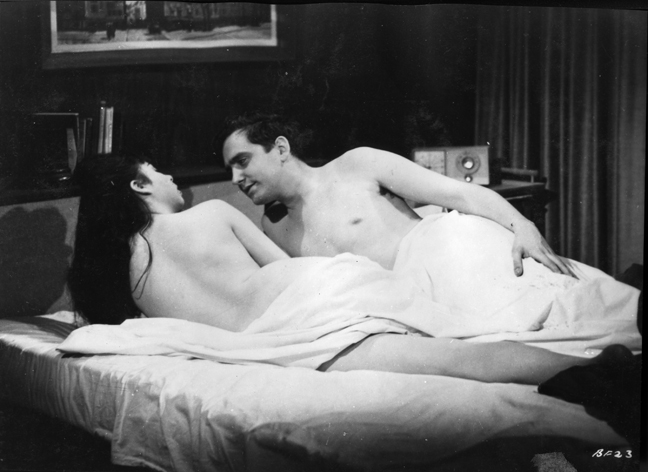 Michael and Roberta, Body of a Female (1964)
John Amero:
As I got to know Mike better, it became clear that his strange demeanor the day I met him was not unusual. He was wildly neurotic by nature and full of Catholic guilt and repressed sexual feelings – all of which was tempered by regular doses of Valium. But there was something about him that I found endearing and fascinating.
Roberta Findlay:
Michael was smart – in all fields. He was very bright, almost like an idiot savant.
He was fascinated with cameras and lenses, and would spend hours taking them apart and experimenting with them.
We hired a camera once for a film he was making, and of course he dismantled it. The tightly wound spring that was inside exploded out of the camera. It was lucky no one was hurt. There was no way we could get it back in – so we had to return it like that.
We told the rental shop we had no idea what happened.
John Amero:
The films that Mike made, like the 'Flesh Trilogy', were in some way a release – a relief – for him. A way that he could express his neuroses.
We used to go to the bar together and conjure up more and more imaginative ways that we could have strippers murdered on screen. It was fun – and we didn't take it seriously at all.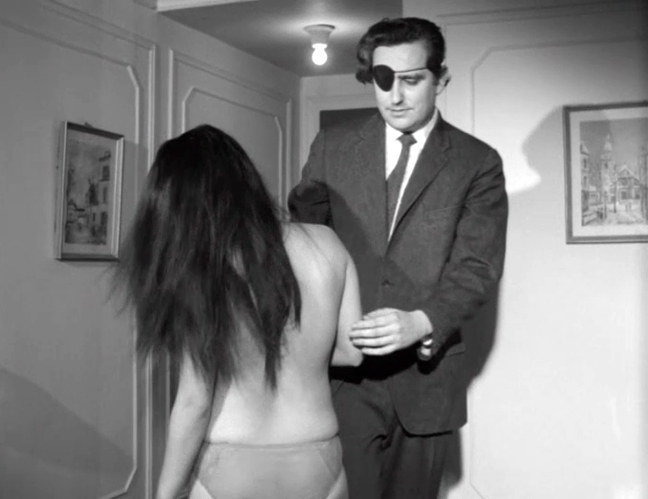 Michael, in The Curse of Her Flesh (1968)
Roberta Findlay:
By the early 1970s, Michael and I didn't have much of a relationship left.
We'd had a kid, which we put up for adoption, and then I left him and moved in with (film producer) Allan Shackleton.
John Amero:
Mike wanted to keep their child. It pained him that Roberta insisted on giving it up – and then she walked out.
I think that really had an effect on him.
Jamie Gillis (actor):
Mike, as I recall, was pretty devastated when Roberta moved out. I didn't know him that well, but I saw he retreated into himself, and started resembling the character he'd played on screen in the 'Flesh' movies.
Mumbling, unkempt, and withdrawn.
Roberta Findlay:
John Amero called me up one day, and said that Michael wasn't doing well. Apparently Michael wasn't making any money, and John said he wasn't taking care of himself. He said that Michael was living like a homeless person. He urged me to reach out and go and help him.
I thought about it, but decided against it.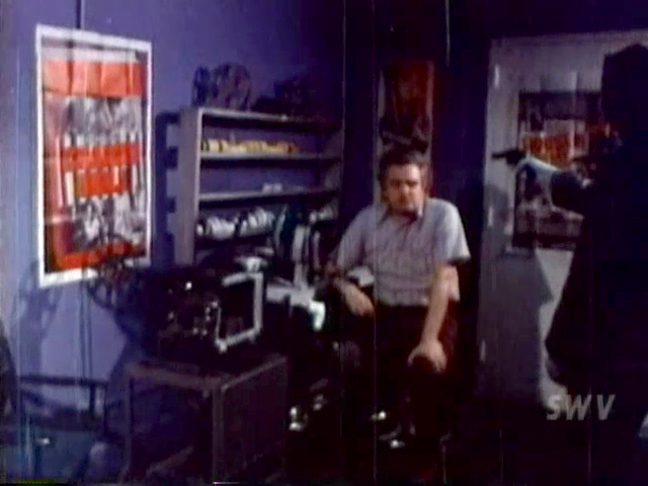 Michael, in Virgins in Heat
John Amero:
I encouraged Mike to divorce Roberta since there was no likelihood of them reuniting. She was with Shackleton and showed no interest in getting back with him.
To deal with the pain, Mike was regularly taking Valium – which we jokingly referred to as 'brain candy' or 'attitude adjuster' tablets. He washed them down with copious quantities of beer.
But despite Mike's struggles he remained good company, and I valued our friendship.
Ute Erickson (actor):
I was never really close friends with Michael, but after I stopped acting in the 1960s, he came into a midtown bar in which I was working.
He didn't recognize me – probably because I always wore a wig in his films. He sat at the bar, and drank and drank.
John Amero:
The owner of the Big Top Theater and the Broadway Baths, Bill Perry, asked me if I'd be interested in making a gay feature for him. I was intrigued by the idea, but I knew I wouldn't be able to make it by myself. So I approached the only other person I thought could assist me; my old partner-in-crime Mike. Talking to him about Bill's offer was going to be a difficult conversation. For a start, despite our close friendship, we'd still never discussed my being gay.
My strategy was to take him out for drinks and see if I could convince him to make this film with me. After numerous beers, I laid out my proposal, with an added emphasis on the monetary component to pique his interest.
I could almost see Mike doing the math, adding and subtracting. For good measure I repeated, "We'd make a few thousand dollars apiece in a couple of weeks. It'll be a challenge but who knows, it might be fun."
Mike finally agreed, and we made a series of films together under the name 'Francis Ellie.'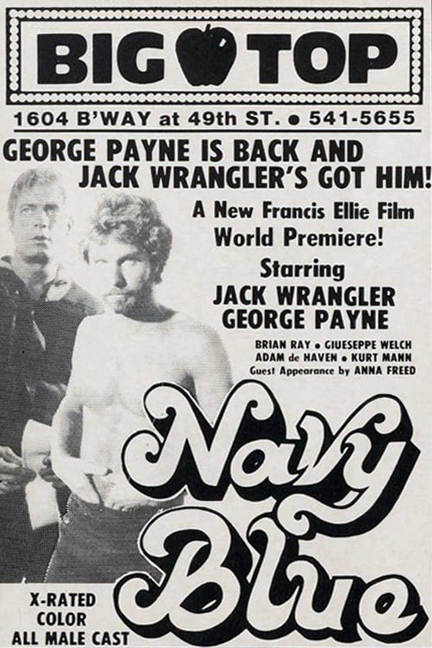 Roberta Findlay:
Michael made fewer sex films of his own in the 1970s, and became more involved in lenses and optics.
I wasn't intimately involved because we weren't together by that point, but he told me he'd started developing this portable 3-D system.
John Amero:
Mike's 3-D system was called 'Super Depth.' We talked about it all the time, and I saw the prototype he was working on with an engineer.
The problem with 3-D for exhibitors was you needed two cameras to shoot it, and you needed two projectors to show it…which also meant that you had to stop the film in the middle and reload everything, because both projectors were running. Michael came up with this idea of having two lenses on the front of one camera – one for the left eye, one for the right eye. When the images come through, a prism or mirrored device makes one go to the top of the 35 mm frame and one go to the bottom. So what you've got on a negative, that's still the same shape as the 35 millimeter square film, is the left eye and the right eye. The projection lens reverses the process.
This was real 3D, not the phony red and blue.
Lorraine Borden (film publicist, wife of film distributor Stanley Borden):
Stan had been friends with Mike since the 1960s, when he distributed some of Mike's films. He thought Mike was brilliant.
As Mike started work on the camera, Stan offered to fund its development – in return for a share of the profits when it was sold.
Roberta Findlay:
What had been used in the 1950s for 3-D was a tremendously cumbersome camera system that lost an incredible amount of light. Michael's new system got around all of the limitations that had been so problematic in the past. As I understand it, it was two lenses that were attached to the front of one camera, and they blended the images in a synchronized way in front of the lens and the film plane. It could be adapted for any camera.
John Amero:
When the 3-D equipment was ready, Mike called me and asked me to help him shoot some test footage.
The first sequence I worked on was a diving board scene – and we wanted to film the same stripper that had appeared in A Touch of Her Flesh back in 1967, the one that was outrageously dirty. The idea was that she would be playing on a diving board. Not in a swimming pool, just a diving board. We shot it in the basement of the Paramount Hotel, where Stan Borden had his offices. Michael wanted to track in and just head right for her snatch, with her legs spread way, way, way around the camera – and show that in 3-D…
The problem was that she'd put on some weight since the 1960s, and when she got to the end of the diving board, we could see that she was too heavy for the structure we'd built – sort of a box to hold the camera. The structure started tipping over because of her weight. We resolved it by building a box at the other end of the diving board, and I had to climb inside the box and sit in it as a counter weight so the diving board wouldn't collapse on the floor while she was throwing her legs around.
Mike was loving it. But I wasn't confident that I was heavy enough for when she started gyrating and grinding and humping the diving board.
But it held. And after that we worked on a few other sequences, all shot in the same place.
Michael was operating the camera all the time. I never touched it.
Roberta Findlay:
I had nothing to do with the 3-D system. Never used it, never made a film with it. That was just Michael's thing.
John Amero:
Mike was very protective – in that he didn't want anybody to know what he was doing. He was trying to keep his invention secret – until he was ready to market it.
Lorraine Borden:
Stanley was getting nervous that he'd given money to Mike to develop this thing, but had seen nothing back. So he suggested that Mike make a quick 3-D porno that they could put out cheaply and make some quick money.
Mike used some of the test footage that he'd shot, and Stan put out the film calling it Funk 3-D. That was late in 1976, I think.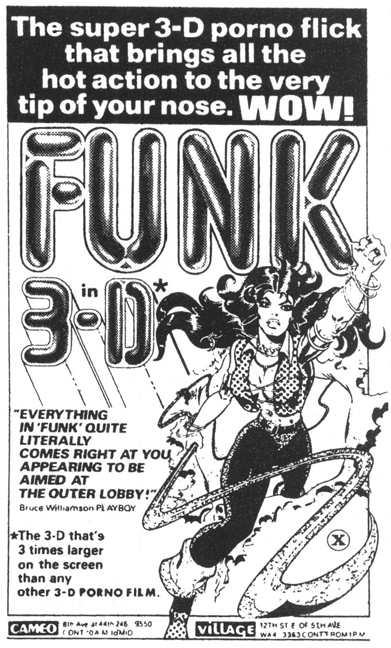 John Amero:
Mike called me up one day and told that he'd made a sex film out of the test footage I'd helped him shoot.
I said, "Oh, I gotta see it."
It opened at the Cameo Theater. Outside the theater, somebody had built a clever little octagonal viewer, almost like a View-Master where you could stick your eye, and look in and see 3D slides of the film. It was like a peep show. It was neat.
Lorraine Borden:
Stanley heard about some interest in Michael's 3-D idea from places overseas, like Taiwan.
Some Taiwanese filmmakers came over to New York, and we met with them and showed them 'Funk 3-D'… which was a little embarrassing, given that it was an explicit sex film.
Anyway they liked what they saw and signed a contract with us to use the equipment for two Kung Fu films.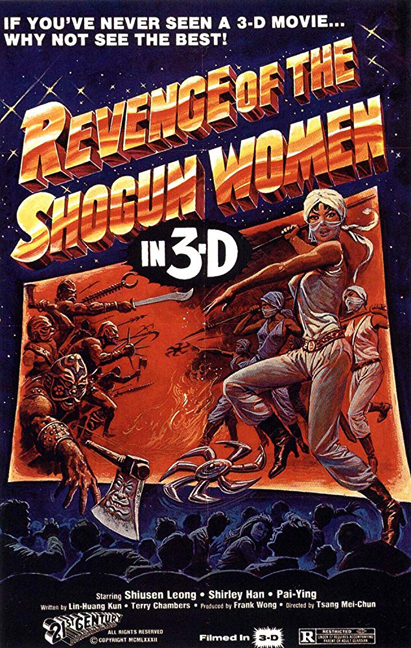 John Amero:
When Mike interested these Taiwanese filmmakers in using his 3-D idea, they invited him to go over there as the technical supervisor so he could oversee how they used the equipment. I think he went over there twice, and each time he would write me letters explaining how it was going. Because I actually understood it, although not to the extent that Mike did, and I found it fascinating.
He also sent me his checks, and I was depositing them for him in his bank account in New York.
Roberta Findlay:
Michael loved the Far East, so when the chance came for him to go to Hong Kong and Taiwan to work, he jumped at it.
He brought me back gifts from those trips.
Jung-Shu Chen (cinematographer):
Michael was introduced to me by the director Mei Chun Chang. We were in pre-production for the film Dynasty, and the director wanted to use a new 3-D system invented by Michael.
Michael was a tall, big man, but very soft-spoken and gentle. Of course, he was knowledgeable about the 3-D camera, but he was also very helpful in telling us how to shoot scenes that would have the maximum 3-D impact on screen.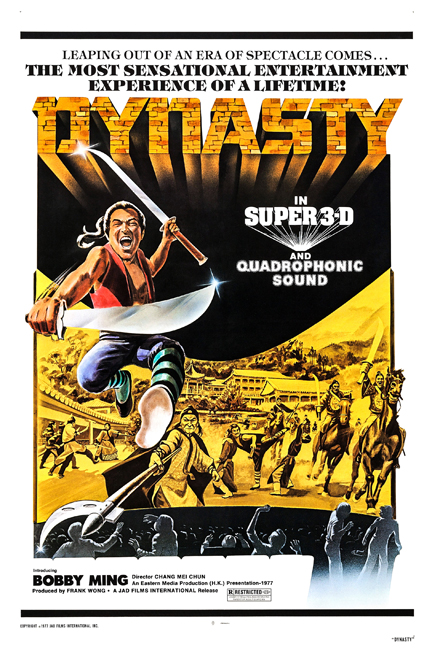 John Amero:
I remember seeing one of the films, 13 Nuns (aka 'Revenge of the Shogun Women'), which was shot with Michael's lens in Taiwan.
'13 Nuns' opened at the Rivoli on Broadway. It's the one where they saw the top of a guy's head off. The guy is in a vice, like in a big oak table. It's pretty gruesome.
Jamie Gillis:
I ran into Mike in midtown in the mid 70s. He was more upbeat than I'd seen him in ages. He was talking about this new 3-D camera that he'd invented. He was upbeat and animated, excited about the opportunity he had.
He told me that he was going to Cannes to exhibit the camera, and hoped to raise money from investors so he could turn it into a successful commercial venture. He was very upbeat.
John Amero:
I sensed a real improvement in Mike's state of mind and felt he'd started to return to his former self. I was excited for him, and it was encouraging to see him optimistic and energized by his 3-D venture.
I was keen to give him a good send-off on his trip to Cannes. So late afternoon on May 16, 1977, my brother Lem and I went to the top of  the PanAm Building near Grand Central to see Mike off.  He'd paid $25 to take the 10-minute helicopter ride to JFK airport. Mike was terrified of flying, so traveling to the airport this way was a bold move for him. I took it as a sign of his new-found confidence overcoming some of his phobias and perhaps enjoying himself at last.
We met at the PanAm Building's 'Copter Club.' We enjoyed a few drinks and discussed his plans for Cannes. As it came time for Mike to leave, Lem and I asked the staff if we could accompany him to the flight deck but were told that for safety reasons, only passengers were allowed up top. Lem and I hugged Mike goodbye, wished him a great trip and left him at the elevators.
Publicity materials from 1968, Pan American Heliport, Manhattan, New York:
The heliport is located on top of the Pan American Building, at 200 Park Avenue, New York.
It is at an elevation of 855 feet m.s.1. and has an effective landing area of 131 feet by 131 feet.
The heliport pavement is of reinforced concrete. A lighted windsock is located at the northwest corner and another at the extreme northeast corner.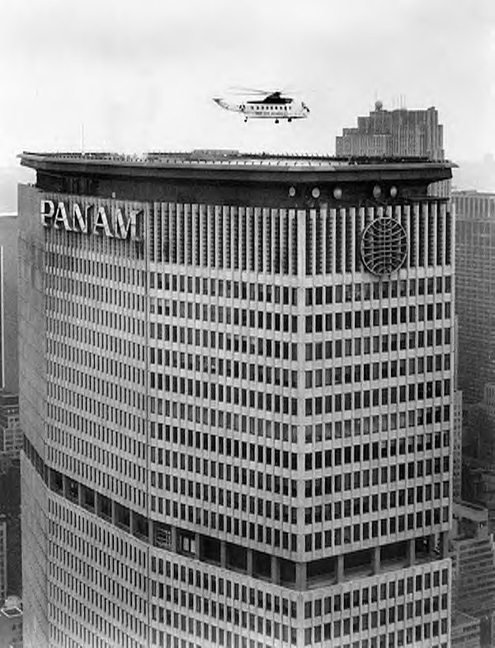 History of the Pan American Heliport Operation:
Heliport operations began in 1965 from the PanAm Building with New York Airways (NYA) operating Boeing Vertol 107 equipment. There was public pressure against the NYA petition for noise and safety reasons. Hearings were held and the operation was ultimately approved. A 5-year permit from the NYC Planning Commission was issued for the period of 1964 through 1969.
In February 1968, NYA ceased operations from the heliport because of a contractual disagreement between Pan American World Airways and Trans World Airlines. No further petitions were presented, and in 1969 the NYC Planning Commission permit expired.
On November 24, 1976, the New York City Planning Commission held a public hearing to consider the application of New York Airways, Inc., for a resumption of scheduled helicopter operations from the roof top heliport on the Pan American Building. The operation was approved by the New York City Board of Estimate, the Department of Marine and Aviation, and by the Federal Aviation Administration.
Operations began again on February 1, 1977, and New York Airways conducted 7,240 helicopter operations from the rooftop until May 16th, 1977.
John Amero:
As we exited to the street from the PanAm building, Lem and I looked up to see if we could catch Mike taking off. We were surprised to see several helicopters hovering near the top of the building. We waited a few minutes to see if Mike's helicopter would ascend but when it didn't we decided to set off to meet a friend.
Radley Metzger (film director):
I remember going to the Friar's Club and seeing a lot of commotion by the PanAm building.
Smoke, helicopters, police cars, ambulances, and crowds of people running around.
From Aircraft Accident Report, National Transportation Safety Board, New York Airways – Sikorsky S-61L, N619PA:
On May 16, 1977, New York Airways, Inc. (NYA) Flight 972, a Sikorsky S-61L, N619PA, was being operated as a regularly scheduled passenger flight from the rooftop heliport (JPB) of the Pan American Building at 200 Park Avenue, Manhattan, New York, to John F. Kennedy International Airport (JFK), New York, New York.
The flight originated as Flight 971 from JFK Airport and landed at the heliport at about 17.32. There were 20 passengers and a crew of 3 aboard.
After landing, the aircraft was taxied to the boarding gate, and the passengers began to deplane. According to witnesses and passengers, the landing had been smooth and gentle.
The captain remained in his seat with his hands on the controls. The captain estimated that they had been sitting on the heliport for 1 to 2 minutes before the outbound passengers began to board.
At about 17.35 , the right landing gear of helicopter, N619PA, failed while the aircraft was parked, with rotors turning. The captain heard a "faint noise," which he believed to have come from the rotor system, followed immediately by a "crumpling, crunching noise" and a buckling sound. The crumpling sound was accompanied by a settling and yawing motion, followed by a roll of the aircraft to the right.
The aircraft rolled over on its right side and was substantially damaged. Four passengers had boarded the aircraft and other passengers were in the process of boarding. The passengers and the three crew members onboard received either minor or no injuries; however, four passengers who were still outside the aircraft and were waiting to board were killed and one was seriously injured. One pedestrian on the corner of Madison Avenue and 43rd Street was also killed and another seriously injured when they were struck by a separated portion of one of the main rotor blades of the aircraft.
The five color coded main rotor blades had been damaged exclusively. Each blade was 28 feet 10 inches long and weighed 209.3 Ibs. All blades had bent upward along their span, and heavy surface contact smears were located on their bottom surfaces beginning at midspan and continuing outward toward the tip.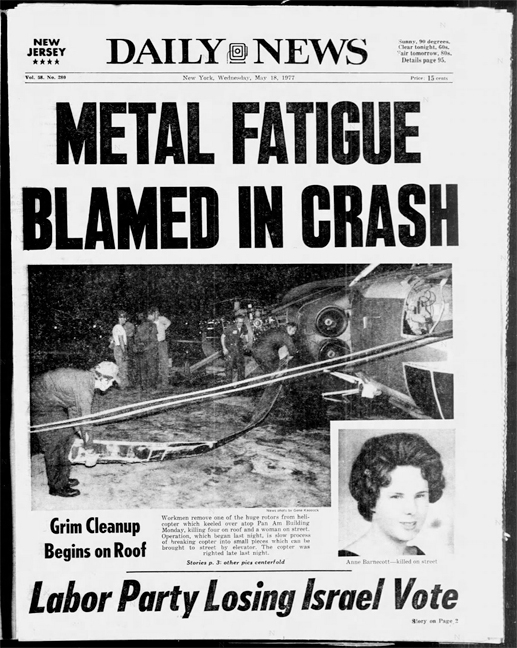 John Amero:
When we arrived at our friend's apartment, we found him glued to his television set. There was a breaking news story about an accident at the PanAm Building. The landing gear of a helicopter waiting to take off for JFK had malfunctioned, turning the craft on its side and breaking off a rotor blade. That blade had slashed four of 21 waiting passengers, killing three of them instantly. The blade fell over the side of the building, falling to the ground along with a shower of glass from breaking windows. It ultimately came to rest on the street below killing one more person, a woman walking on Madison and 43rd St.
I silently prayed that Mike wasn't one of those killed and held my breath for what seemed like an eternity. My worse fear was confirmed when the name Mike Findlay was displayed on screen, listed as one of the deceased. He'd been struck in the chest by the spinning rotor and died almost immediately.
(Click on the cover to access the full report)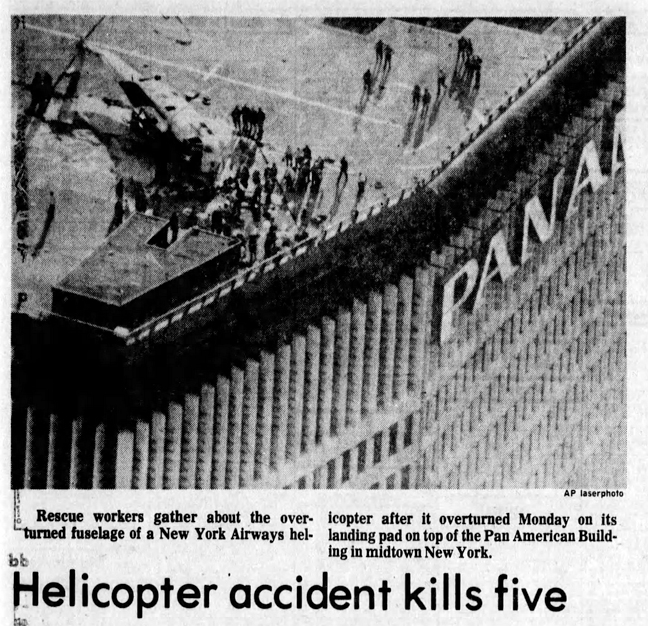 Roberta Findlay:
I first heard about Michael's passing from John Amero. He left me a message that said there had been an accident and that "Michael hadn't made it."
I didn't understand the message at all.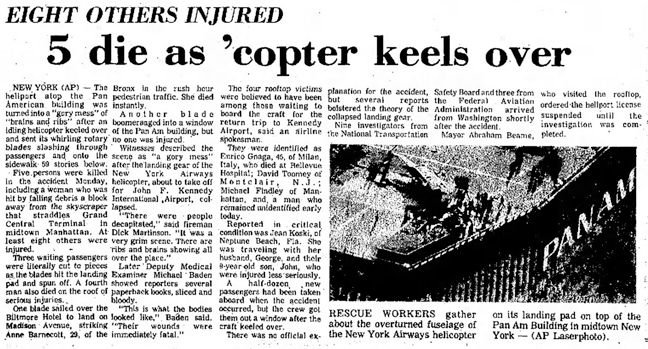 John Amero:
We were all in shock. I felt incredibly numb as I tried to take in the fact that one of my dearest friends was dead. Mike had been like a brother to me, and his importance in my life is impossible to overstate. We'd shared innumerable hours talking happily about films. We'd made our first film together and continued to make movies with each other over the years. We'd experienced life's ups and downs together, and creating Frances Ellie had brought us even closer.
The gangly, awkward and lovely young man I'd met in the shipping department of ABC was now gone before he was even 40 years old.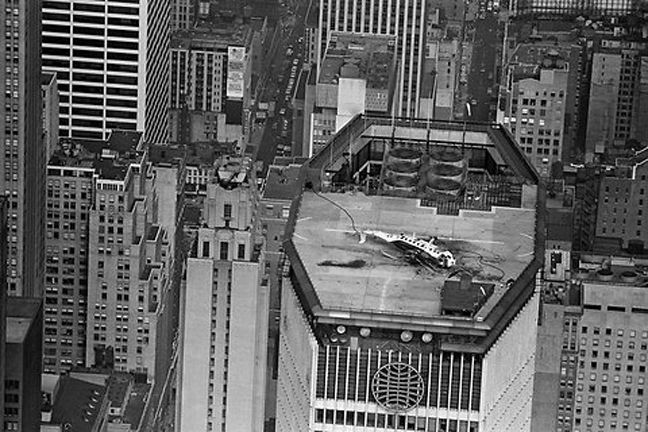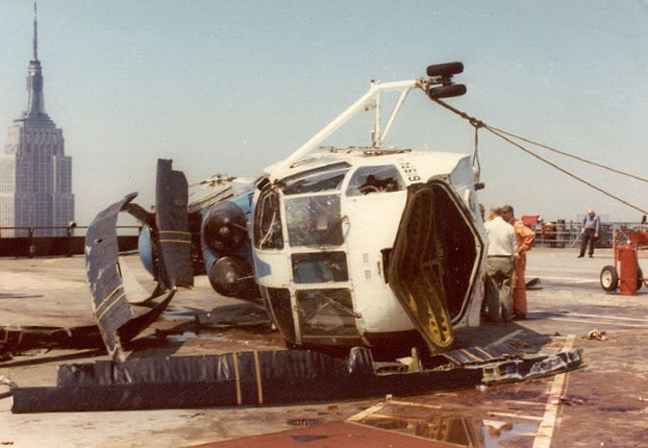 '5 Victims Had Diverse Backgrounds,' Daily News, May 18, 1977:
"Michael Findlay was a brilliant advertising man who invented a patented 3-D projection device," said Lorraine Borden, his associate at Great Scott Inc., 57 West 57th St.
Findlay, who lived at 325 West 45th St, had sold his projection system to a Taiwanese film company, and was leaving for Cannes, France for its debut at a film festival.
"In the field of optics, Michael was a genius," Mrs. Borden said.
Jamie Gillis:
I read that parts of the helicopter were found all over midtown. It was amazing that more people weren't killed. Helicopter parts were sprayed everywhere.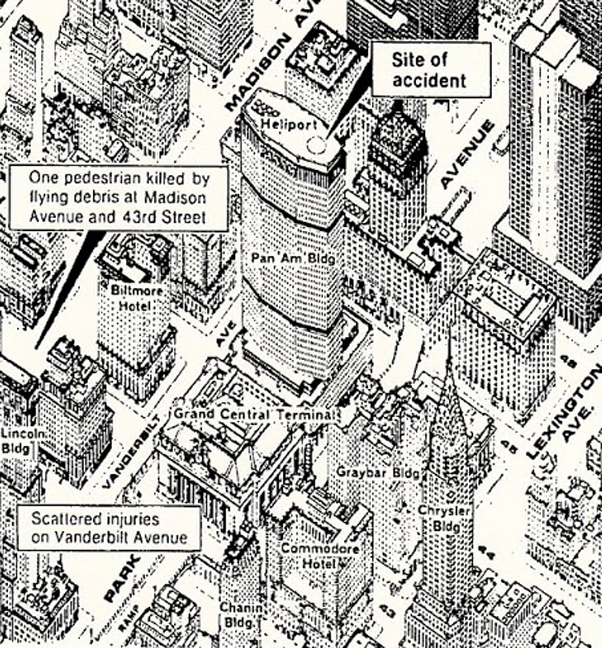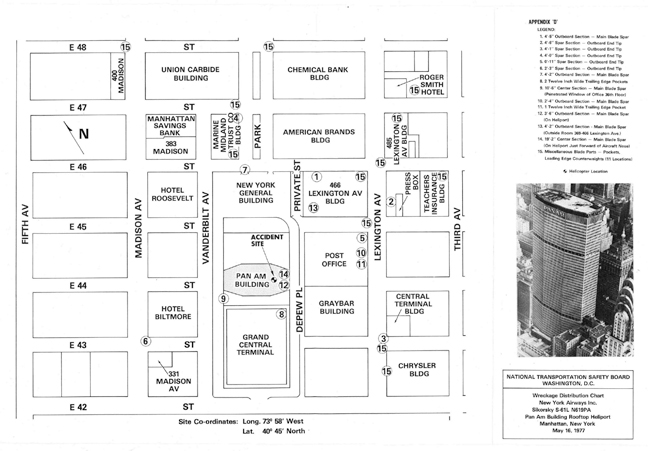 John Amero:
Mike's funeral was a heart-wrenching affair. His brother organized the service which took place at a Catholic church on the Upper East Side. It was well-attended though there was a noticeable split between one side of the church where his understandably devastated parents and relatives sat, and the other side where Mike's film friends such as Bobby Sumner, Chuck Vincent, Lorraine Borden, and Lem and myself sat. As is Catholic tradition, it was an open casket ceremony and it was surreal to see our friend made up and carefully arranged.
Roberta also attended the funeral. She told us that she deliberately left her strong prescription eye glasses at home as that was the only way she could approach the open casket without breaking down.
Roberta Findlay:
When Michael died, Lorraine Borden contacted me – because apparently I had inherited the copyright for the system. I was still his wife, so I guess it all reverted to me.
She asked me to sign papers to pass ownership of the system, the intellectual property, over to her and Stan. No payment involved, just basically give them the rights to it. I was with Walter Sear by then, and he disagreed saying I should negotiate a sale to them, but I went ahead and did it anyway. Can you imagine that? Me of all people… giving something away for free…
Lorraine Borden:
Stan had sunk a lot of money into Mike's project, hoping that it would become a big success. When Mike was killed, Stan wanted to recoup his investment. He took it around to a few people, but wasn't a technical expert, and couldn't sell it.
Then Stan died – so nothing ever happened with it.
John Amero:
Lorraine and Stan didn't understand the process very well, so the whole thing died with Mike. I'm sorry that I never got my hands on any of the technical stuff that Michael would have shown to the Taiwanese people.
The engineer who worked with Mike on the prototype is still around. Occasionally I see his name on the credits of a movie.
I don't know who has the device now.
Roberta Findlay:
There was a payout for the victim's families as a result of the helicopter accident. Sikorsky, who were found to be responsible for the crash, negotiated settlements.
The payments were apparently substantial – except that they found that I had not been living with Michael for a while. They said that I'd abandoned him – which was true.
So they reduced my payment to $30,000. I gave most of it to Michael's mother.
John Amero:
I didn't go to the cemetery the day of the funeral because we were too distraught. It was a heavy loss.
I felt immense sadness for many years after, and still think about Mike to this day.
*